These Poke Bowls are packed with veggies, fresh sushi-grade fish, sticky pressure cooker rice, a delicious marinade, and an easy spicy mayo drizzle. A poke bowl bar, if you will! If you love poke bowls as much as I do, these colorful nutritious bowls are for you! They are delicious, beautiful, fresh, and the perfect meal that everyone will love! This post is made in partnership with Kamikoto.
I am so excited to partner with Kamikoto knives to bring you today's post! I am obsessed with having really great knives, since I cook every single day. Hence my excitement to get my hands on these beauties. A good knife is a true game changer in the kitchen, whether you cook for a living or not. If you've ever cut with a dull knife and then used a great sharp knife, you know what I mean!
What do I look for in a good knife?
They have to be sharp, durable, strong, and they need to last for a long time if I'm going to invest some money into them!
I seriously love these knives. They are heavier than some of my other knives but in a good, non-flimsy type of way. Another good measure of a great knife is cutting sushi grade fish. A flimsy, dull knife will simply not result in those perfect cubes of tuna or salmon! Trust me, I've tried this. I was so excited to immediately put these knives to use for cutting raw fish!
A little background on these beauties: Kamikoto knives are handcrafted in Japan, from high-quality steel from the Honshu 新潟市 prefecture. Honshu knife-making history goes back over 800 years, their blacksmiths use a secret combination of metals to forge the strongest, sharpest knives in the world.  I am excited to be able to host a giveaway (see the end of the post), so one of you can try them out, too!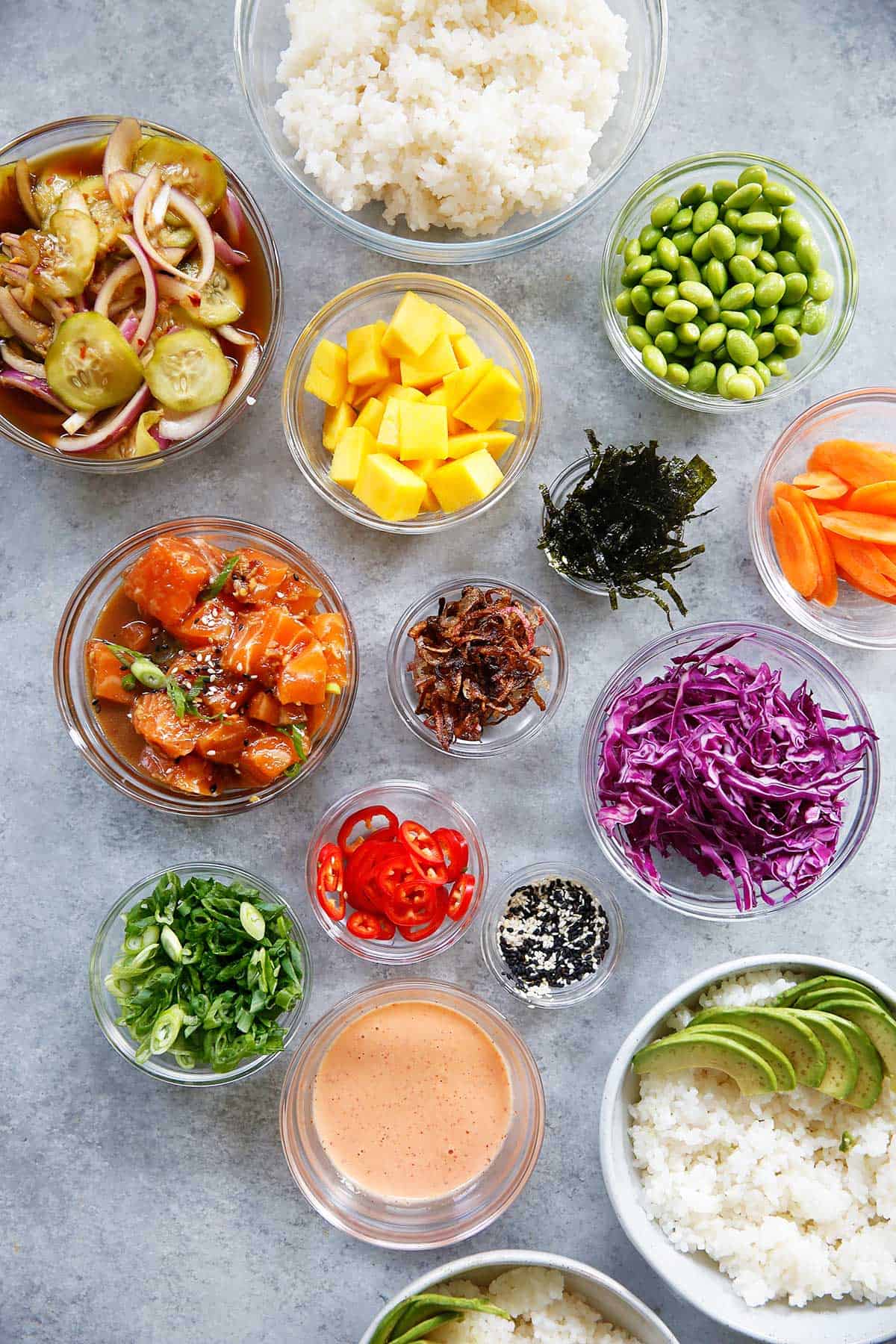 Poke bowl bar, for the win!
This bowl is the perfect meal prep item! The longer the cucumber, onions, and salmon (or tuna) soak up the flavors in the marinade, the more delicious this recipe will be! Prep the toppings a day or two ahead of time, cook the rice right before assembling, and have creative poke bowls all week long!
Watch the video:
Ingredients
Sticky Rice
Marinade for the Sushi Grade Fish, Cucumber, and Onion
Spicy Mayo
Toppings
Instructions
In a medium mixing bowl, mix the marinade ingredients until well blended. Pour half the marinade in another small mixing bowl. Add tuna or salmon to one bowl and red onion and cucumber to the other. Mix well so that the fish and vegetables are well coated. Cover each bowl and place in the refrigerator for at least 4 hours. The more both marinate, the more flavorful the poke bowl will be. We recommend marinating these overnight!
Make the sticky rice in an Instant pot: Pour water, salt, and rice vinegar into your instant pot. Whisk until the salt has evaporated. Add in the washed rice. Place the cover on. Press MANUAL and adjust the setting to HIGH PRESSURE for 8 minutes. Allow for natural pressure release for 10 minutes. Carefully remove the lid, fluff with a fork. Grease a bowl with rice vinegar. Pour the rice into the greased bowl and cover with a damp towel until ready to use.
In a small mixing bowl, whisk together mayonnaise and Sriracha. Taste and adjust Sriracha based on how much you like spice. Set aside.
Assemble: Place a generous amount of rice in each serving bowl. Top with salmon or tuna, marinated cucumbers and onions, and the other toppings you desire! Drizzle with spicy mayo, garnish with scallions and sesame seeds and devour. Optional: Use the leftover marinade from the cucumbers as another sauce for your bowl!
Recipe Notes
*How to cook sticky rice on the stovetop: Rinse 2 cups of sushi rice until the water comes out clear. Place in a medium saucepan with 2 1/2 cups of water. Cover and bring to a boil over medium-high heat. Once at a boil, remove lid and simmer over medium-low heat until the water has been absorbed, about 20 minutes. Take off heat and cover for 10 minutes. In a small bowl whisk together the rice vinegar and salt until the salt has dissolved. Once the rice has steamed for 10 minutes, remove lid and fluff with a fork. Place in a bowl and pour in the rice vinegar mixture. Using a spatula, carefully mix. Cover with a towel until ready to eat!
**How to fry shallots: Place 1/4 cup of avocado oil in a small saucepan. Bring to frying temperature and place in thinly sliced shallots. Let fry until light brown. Using a slotted spoon, gently scoop out the fried shallots and place on a plate lined with a paper towel until cooled.
GIVEAWAY
use our hashtag!
I am so excited that you are making a recipe and would love to see how it turns out! Make sure to use the hashtag on social media!
#LEXISCLEANKITCHEN
share this post!
subscribe to the email list!