This Broccoli Soup is hearty, creamy, and delicious, without any of the junk! It's hands down one of my new favorite recipes that will totally surprise you!

Years ago, the broccoli cheddar soup at Panera Bread was my jam. I loved that soup. Now, looking back, I can't believe how often I consumed it. For so long I have wanted to create a version that was creamy and delicious, that I wouldn't feel bad (or feel sick) after eating. This soup is it!
Broccoli has also in season in my CSA these few weeks, so broccoli soup it is! Lighter comfort food is the best.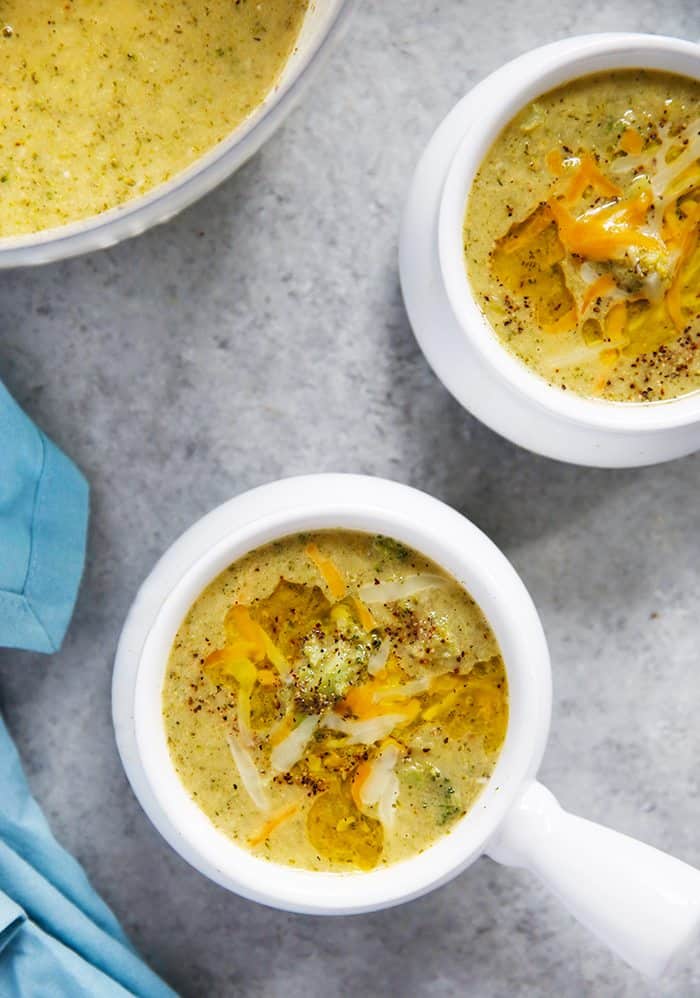 Instructions
Cut broccoli into florets. In a pot over medium heat, bring 3 cups of water to a boil. Add in broccoli florets, reduce heat to medium, and parboil until fork tender, 3 to 4 minutes. Drain and transfer broccoli to a bowl and set aside.
In your pot, heat butter and sauté leeks and garlic for 1 minute. Add in half of the broccoli and sauté for 3 minutes until veggies are sweating and broccoli is soft.
Add in vegetable broth, bring to a boil then reduce heat and let simmer for 15 minutes until the soup reduces slightly.
Using an immersion blender, blend soup until smooth. Add in remaining broccoli florets, salt, pepper, and red pepper flakes. Let simmer for 15 minutes. If adding cheese, do so here and stir to combine. Taste and adjust seasoning as desired.
Serve hot.