Copycat Chipotle Chicken Burrito Bowls [VIDEO]
These Copycat Chipotle Chicken Burrito Bowls are the perfect low-carb, grain-free, dairy-free, and Whole30 compliant make ahead meal! Delicious Mexican cauliflower rice paired with homemade pico de gallo, avocado, and perfectly seasoned grilled chicken is meal prep perfection. Made in partnership with my friends at Farmer Focus.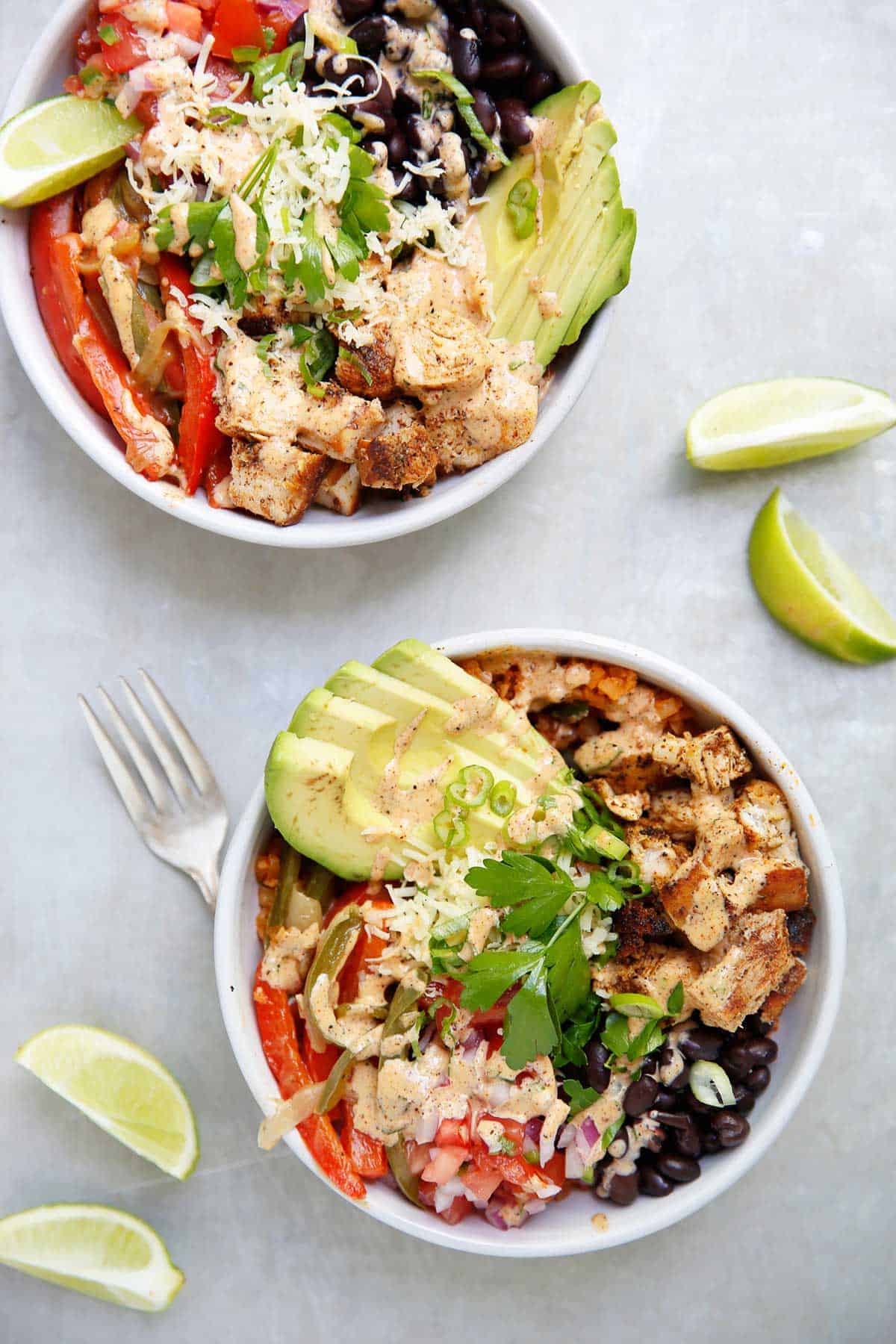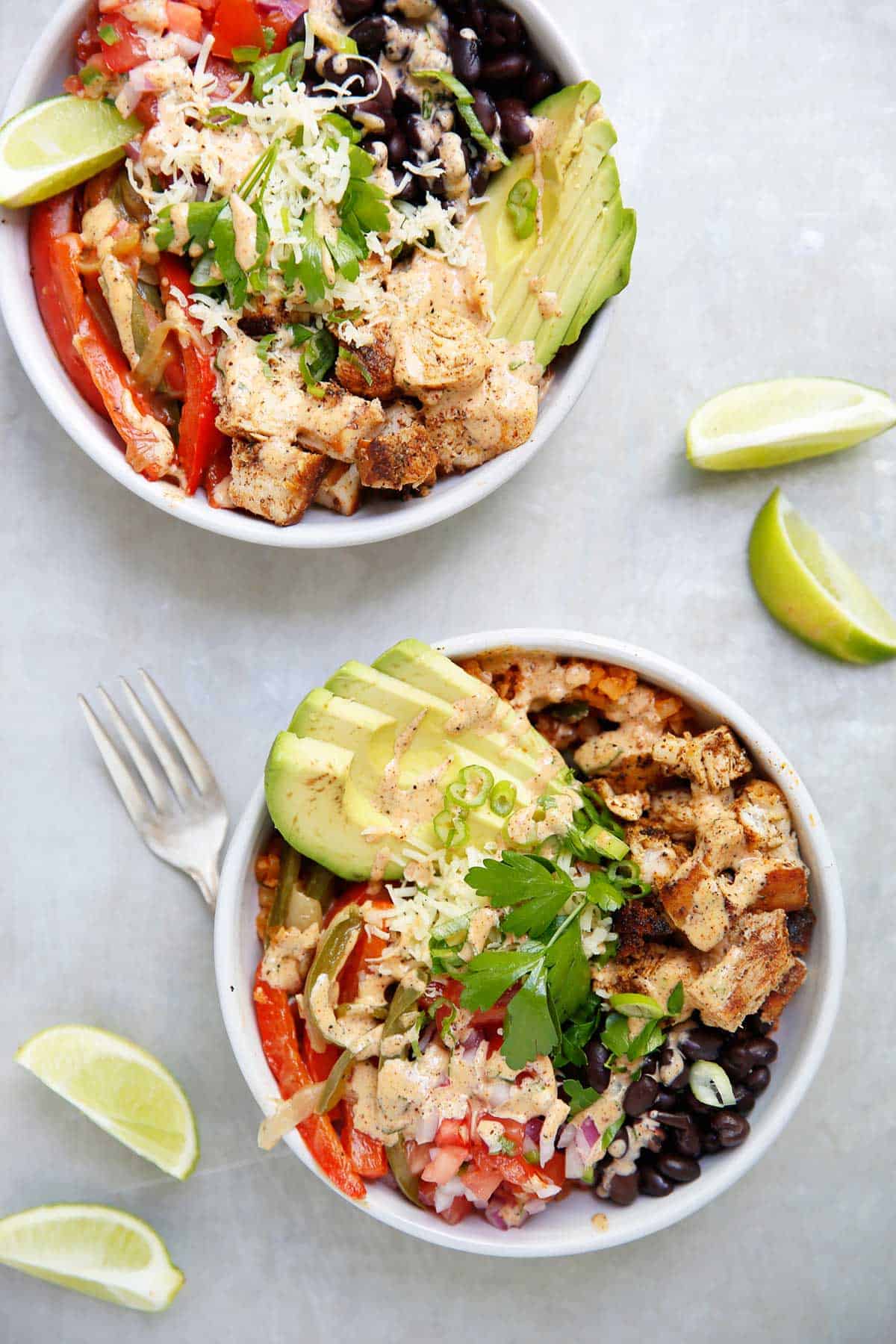 I am so excited to partner with my friends at Farmer Focus (formerly Shenandoah Valley Organic) to bring you today's post! Farmer Focus is truly one of  my favorite chicken companies because they pride itself in producing the highest quality chicken grown on family-owned farms. Their chickens are humanely raised and fed a diet free from animal byproducts, pesticides, and antibiotics.
On their website you can see where all of the farms are located, so you know just where your chicken was raised.
Their chicken is seriously amazing. You can literally taste the quality! Their business model is one that I love. It's a farmer focused one; created by farmers, for farmers.  It was created this way to provide the highest quality organic chicken at an affordable price while encouraging healthy eating and cultural awareness.
These burrito bowls are a game changer. An amazing chipotle crema, fresh pico de gallo, marinated chicken, and all the fixins'!
Plus, this Mexican-style cauliflower rice is AMAZING.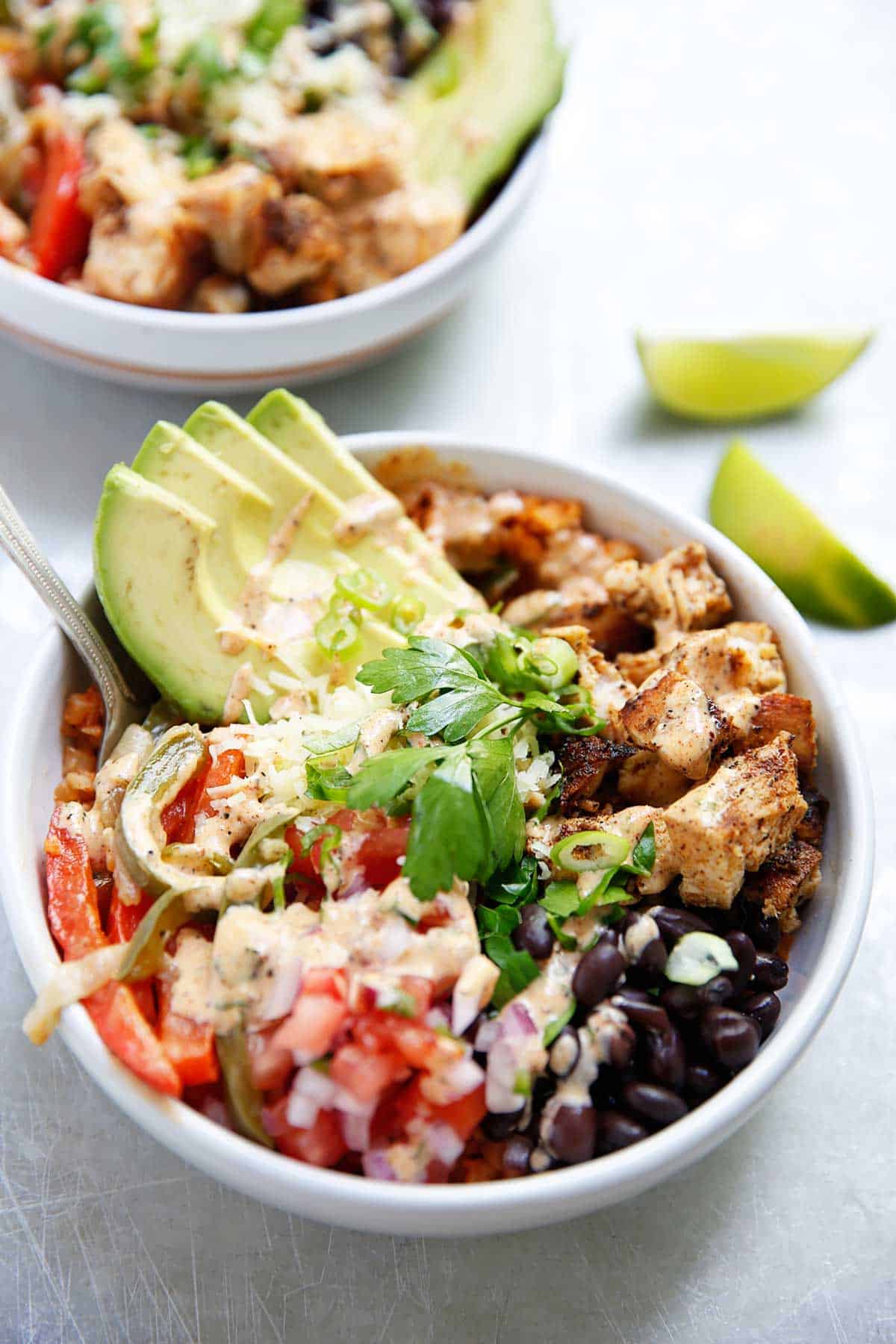 Watch the video:
Copycat Chipotle Chicken Burrito Bowls
---
---
Ingredients
Wet Rub

2 tablespoons extra virgin olive oil
1 teaspoon chili powder
1/4 teaspoon cayenne pepper
1 teaspoon paprika
1 teaspoon garlic powder
1 pound boneless skinless chicken breast

Pico De Gallo

1 jalapeño, diced
1 red onion, diced
3 ripe tomatos, diced
2 tablespoons cilantro, roughly chopped
1 lime, juiced

Sautéed Peppers and Onions

Oil of choice
1 bell pepper, sliced
1 onion, sliced

Mexican Cauliflower Rice

1 12-ounce bag cauliflower rice, or one head cauliflower
1/2 teaspoon onion powder
1/2 teaspoon garlic powder, more to taste
1/2 teaspoon sea salt, more to taste
1/2 teaspoon black pepper, more to taste
1 tablespoon tomato paste
1/2 teaspoon cumin
1 teaspoon paprika
1/4 teaspoon cayenne powder
Scallions, sliced for garnish

Chipotle Crema

1/3 cup mayo
1 teaspoon chili powder
1 teaspoon garlic powder
1 teaspoon onion powder
1/2 teaspoon paprika
1/4 teaspoon ground cumin
1/2 teaspoon sea Salt
1/2 teaspoon pepper
1 lime squeezed, more to taste
Directions
1. Pat chicken dry and season generously with salt and pepper. Place chicken in a bowl and add the rest of the wet rub ingredients. Mix until chicken is well coated in the spice rub.
2. Grill chicken for about 5-6 minutes on each side, or until chicken is opaque and fully cooked through. If using a grill pan, cover the pan during the cooking process to make sure the chicken cooks through.
3. While chicken is on the grill, prepare the cauliflower rice. Heat a medium skillet with 1 tablespoon olive oil. Add in cauli rice and the rest of the ingredients and saute for 5-8 minutes, until the cauliflower is cooked through. Take off heat and set aside. Taste and adjust seasoning as needed.
4. Once chicken is cooked through, let cool, dice and set aside until ready to eat.
5. In a separate medium skillet, heat 1 tablespoon extra virgin olive oil. Add in sliced onions and peppers. Saute until onions begin to caramelize, about 8 minutes. Take off heat and set aside.
6. Add pico de gallo ingredients to a medium mixing bowl and stir until well combined. Set aside until ready to eat.
7. Add chipotle crema ingredients to a small mixing bowl and whisk until well combined.
8. Assemble bowl: Place cauliflower rice on the bottom, top with grilled chicken, sauted onions and peppers, black beans if using, pico de gallo, scallions, and a drizzle of chipotle crema.
Recipe Notes
*This is a great meal prep item! Prep all of the ingredients the day before, and then simple assemble the bowl when ready to eat! Simply omit beans and cheese for whole30!
---
Nutrition
Loading nutrition data...
This post is sponsored by Farmer Focus! All opinions are always 100% my own.
Subscribe to
Lexis Clean Living
Join our email list to get instant updates and weekly summaries of our top content and special exclusive offers along with our free clean eating kickstart guide!
This website may at times receive a small affiliate commission for products that we shared with you in our posts. Although we may receive a commission for linking certain products, there's no additional costs to you and all of our opinion and suggestions are 100% our own and unbiased. That's our promise to you!