Bound to be a hit at your next party, this Healthy Spinach Artichoke Dip has all that creamy flavor without any dairy. This paleo, vegan and Whole30 friendly appetizer is simple to put together and nobody will know this isn't the classic version.
Healthy Spinach Artichoke Dip
Is there anything better than Spinach and Artichoke Dip? It is such a classic appetizer that everyone loves. We wanted to update it to make it a bit more healthy so we took all the flavors to create a nutrient-dense dip that is so creamy and delicious without any actual cream! We did leave an option to top it with cheese and broil it, but the dip itself is so flavorful it won't be missed if you need to leave it off for a totally dairy-free dip.
This crowd favorite is perfect for parties, or for an appetizer for a night in. It's simple to make, made with mostly pantry staples and can even be made ahead of time (no more than a day) and reheated.
Ingredients Needed
Olive Oil

Frozen Spinach 

Canned Artichokes

Garlic

Salt and Pepper
Cashew Cream

Cheddar Cheese (optional, omit for dairy-free)
How to Make Healthy Spinach Artichoke Dip without Dairy
To make this dish free from any dairy, we turned to cashew cream. Cashew cream is simply soaked cashews that are blended until they are smooth and creamy. It's a great replacement for heavy cream or in some recipes cream cheese. It can be used for both savory or sweet recipes! We've used in so many different dishes, and it's our number one choice to replace dairy where it fits.
We left it optional to add a bit of cheese on top of the dish to get that traditional spinach and artichoke dip feel, but you won't miss it too much if you omit it to make this dish totally dairy-free.
What to Serve with this Dip
Serve this dip with crackers (homemade or store-bought), tortilla chips, and cut up veggies.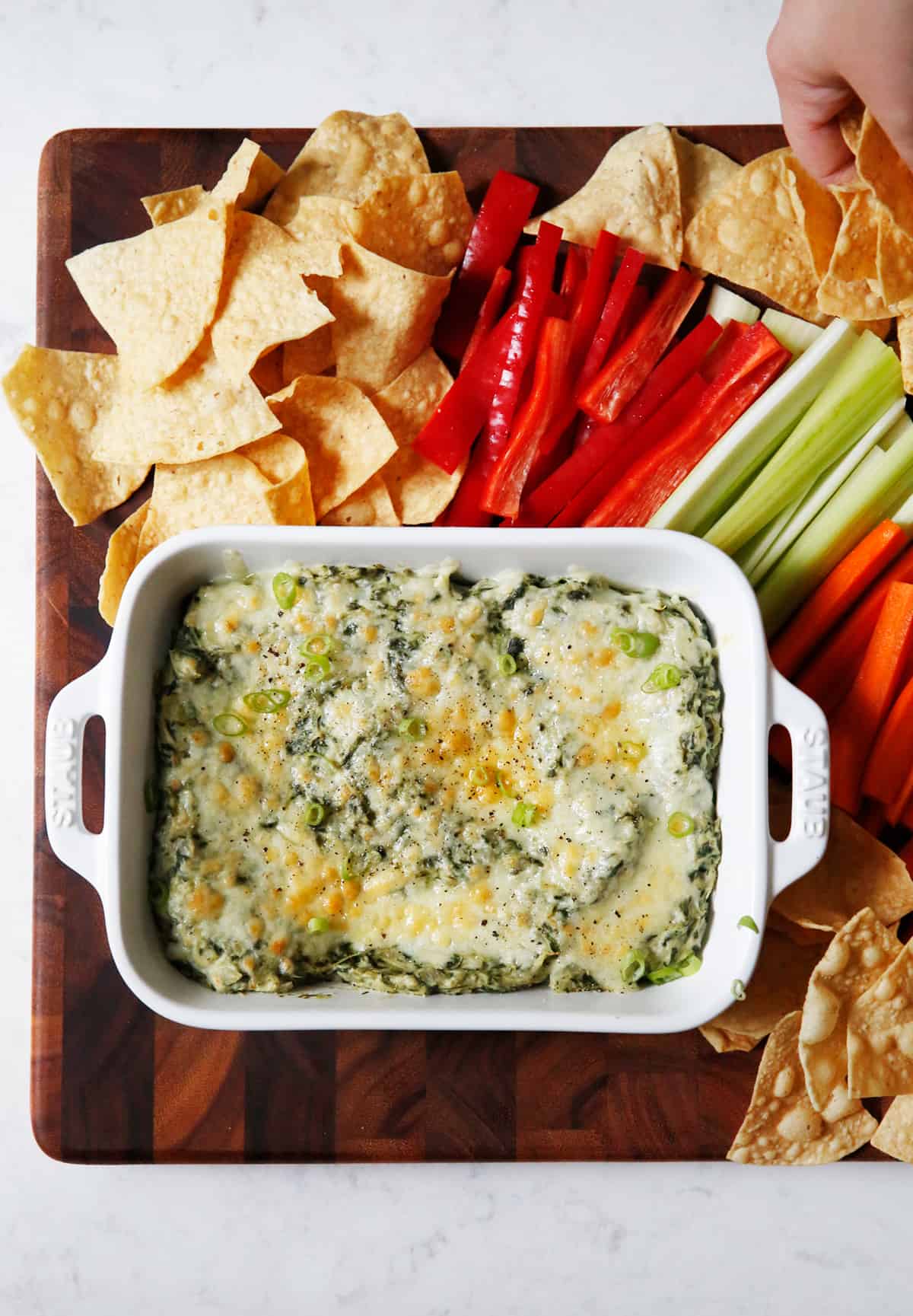 If you like this healthy dip recipe, check out these others:
If you like this spinach and artichoke recipe, check out these others:
[simple-recipe:8736a]