I am a true believer in self reflection. I think it is so important to step back and think about how you want to grow as a person; set goals, follow through, and reflect often. What motivates you? What drives you each and every day? What empowers you? I found this video so powerful and so moving that I felt I just had to share it with you all, and share my 5 ways to be empowered each day.
I walked away from the computer screen thinking, how can I make a meaningful difference in my life, and in the lives of others on a daily basis? So, here are my five ways to feel empowered every day, inspired by Anne's story.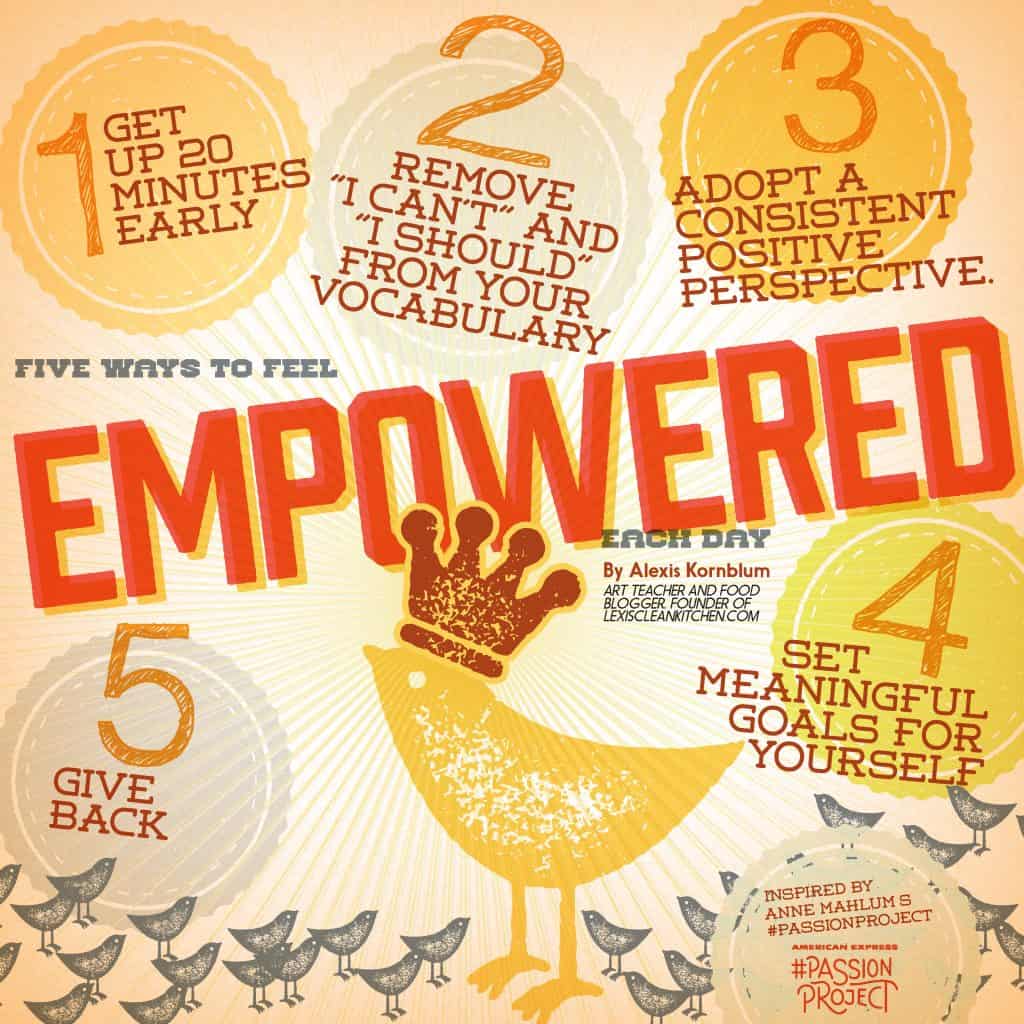 1. Get up 20 minutes early. Modern humans are a sleep deprived species. But if you arise 20 minutes before your customary get-up time, you'll find the rest of the day will be a far less stressful affair. Because here's what you can do with those 20 minutes: make your bed. Fold some laundry. Open the mail. Or relax. Yes! Relax! Sit down with a cup of coffee and stare at the ceiling, stare at the rain, or stare at your partner. By starting your day gently and on your terms, you'll feel much more in control, no matter what the next 14 hours throw at you.
2. Remove "I can't" and "I should" from your vocabulary: "I should eat better." "I can't work out today." If you spend all your energy dwelling on what you "should" do – or it's evil twin: what you "can't" accomplish – you won't have time to focus on doing things that you actually want and are able to achieve. Each time you use the words "should" and "can't," think about how doing so positively or negatively affects your attitude right at that moment, your overall opinion of yourself, and the way you go about your daily life. Pretty soon you'll start catching yourself before you inwardly utter them. That's when the time is ripe to think about what you actually want to do, and what you actually can accomplish – a much healthier attitude to carry through your day…and life.
3. Adopt a Consistent Positive Perspective. You, individually, are the only one who can decide the outcome of your day. You can choose to find the good in a bad situation, or you can choose to think negatively about every development and allow negative energy to become your default setting. Has your day ever started off with a flat tire, an email you didn't want to get, or a cappuccino exploding all over your new shirt? Of course it has – because it happens to all of us. So next time you get a fly on your morning muffin, instead of thinking: "Wow, what a bad way to start my day," remind yourself that the same type of thing is happening to millions of people around the world at that very moment. It's part of being alive. Then, after you realize that you're not alone, you'll be ready to change your mood and be receptive to all the positive energy that surrounds us – and which dramatically outweighs the negative.
4. Set Meaningful Goals For Yourself. Stop procrastinating and take control! Set meaningful, achievable goals for yourself and keep track of them. It could be a goal at your job, a fitness goal, a healthy eating goal, or a simple goal to turn off the TV at a certain time and spend time with your family (or all of these – it helps to have more than one!). Whatever your objective, write it down, look at it every morning, then decide how you're going to make progress toward achieving it every day.
5. Give Back: Making even the smallest difference in another person's day can be extremely rewarding. Ask a coworker how her weekend was, volunteer at your child's school, call your grandmother, mail a card just because. Causing the tiniest little positive ripple in someone else's day can make you feel like an everyday superhero!
For more on this post and Anne's Story, visit American Express' Tumblr page!

So, team, let's chat. How do you feel empowered?
use our hashtag!
I am so excited that you are making a recipe and would love to see how it turns out! Make sure to use the hashtag on social media!
#LEXISCLEANKITCHEN
share this post!
subscribe to the email list!