Our Backyard Engagement Party
I am so excited to start sharing some details of our wedding planning with all of you wonderful people! The first post of the wedding planning series has to be our recent
backyard engagement party

! We added tons of DIY fun details that I am just so in love with.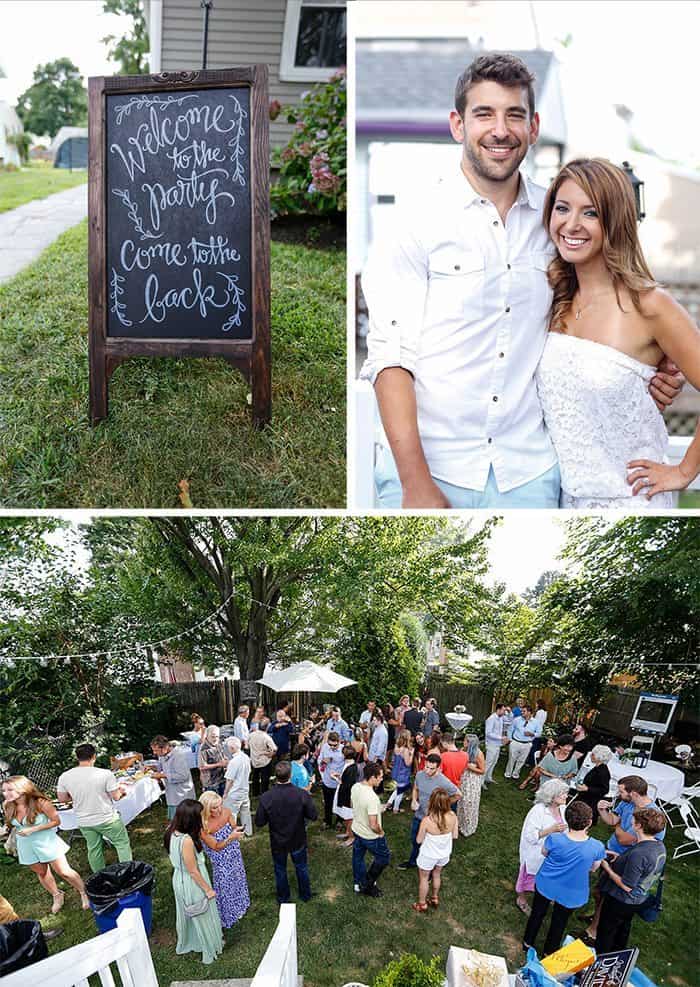 So, the day: We had 75 of our closest friends and family at our house! We totally lucked out with the weather. I think I checked the weather.com app every 20 minutes for two weeks, but PHEW it was perfect- and not too hot! The day/night was filled with food, cocktails, laughter, new & old friends meeting, and so much more. It was just the best. I'm now even more excited for our wedding next summer, since so many people met and got to know each other!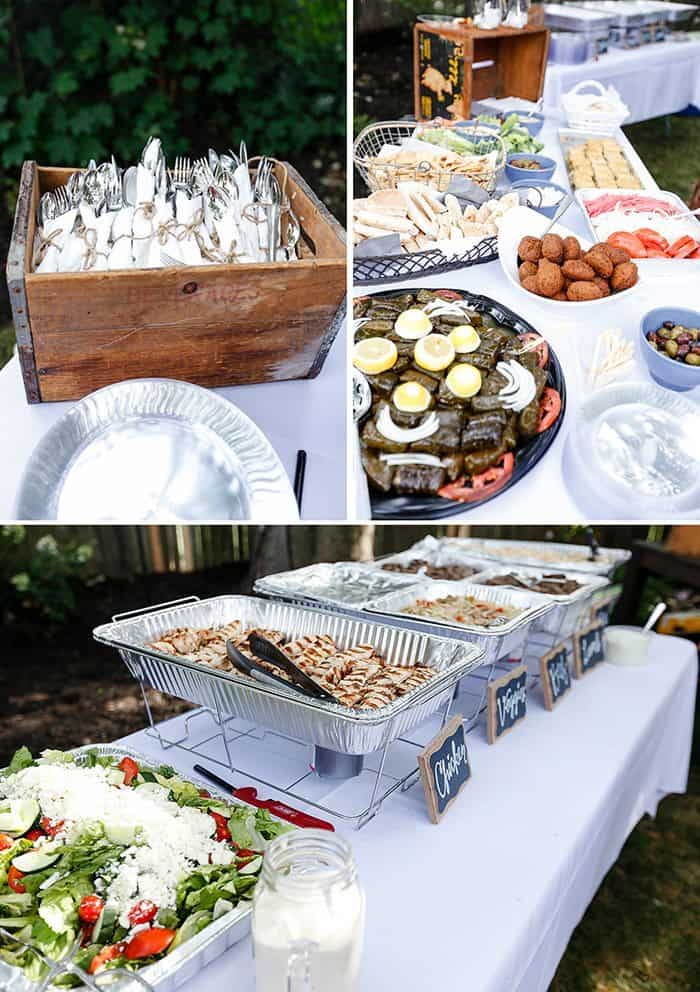 We went back and forth about what to do catering for a few months (I decided me cooking was out- since I wanted to enjoy the party and would have so much to do prior already), and then Mike and I stopped into this little Mediterranean cafe when visiting Nashua New Hampshire and and fell in love with the food. We asked them if they'd deliver to Boston and they happily agreed!
We thought it would be the perfect food for an outdoor backyard party, a little more than the traditional BBQ, but still perfect for the summer weather. We had chicken, beef, lamb, grilled veggies, rice, salads, stuffed grape leaves, fresh pita, hummus, spinach squares, falafel, sauces, veggies, and more!
And now we can't forget to mention the bar! On the table was my homemade sangria (recipe coming soon), boozy lemonade, pineapple-infused vodka, beer, wine, and mixed drinks!
Mmmmm, the cake! Last year for Mike's birthday Lynn made his cake and NOBODY knew it was gluten-free & dairy-free (unless we told them ;)). We asked her to make the cake again for the party and I couldn't have been happier with how it turned out. It was EXACTLY what we wanted! I ordered this cake topper, accented myself with the flowers, and there you have it!
I knew I wanted some little fun element to the party so of course had to bring LCK into the mix! Our Instagram cut-out & props were an absolute hit. I loved watching everyone have fun and get silly with it!

Now you're likely thinking… what about THOSE SIGNS!!!!! The amazingly talented Jen, from Love Always Cards, made all the signs around the yard! From food & drink signs, to a large save the date sign hung in the tree; all of her signs added such an awesome touch to the yard. I highly recommend them and love how you can customize them however you want!
The final touch to the backyard party- Honey Jar Gifts! I am so excited that my favorite olive oil company, Kasandrinos, will be bringing honey to their website this Fall! All of our family & friends went home with some amazing, fresh, local honey from this family run business and they were just the cutest ever!

We threw some labels on them, tied the honey sticks with a burlap string and wa-la! Honey sign from Jen, of course!
Abigail from Abigail Kuzia Photography spent a few hours with us and these are ALL of her amazing photographs. She captured so many awesome moments and all of the details! She was super sweet, fun, and a pleasure to work with!
---
Details:
The Food: Mediterranean, Cedar's Cafe
The Cake: Gluten-Free & Dairy-Free Marble Cake, Creative Cakes by Lynn
The Cake Topper: All Things Angela, Etsy
Instagram Cut-Out: Social Cut-Outs, Etsy
Props: Oriental Trading Company (one, two, three)
Signs: Love Always Cards, Etsy
Custom Napkins: Gracious Bridal, Etsy
Romper: Nordstrom
Beverage Dispensers: Amazon
Globe Lights: Amazon
---

A whole 'lotta laughs!
---
Photographs © Abigail Kuzia Photography.
What is your best wedding planning advice?!
14 comments
August 2, 2015
Subscribe to
Lexis Clean Living
Join our email list to get instant updates and weekly summaries of our top content and special exclusive offers along with our free clean eating kickstart guide!
This website may at times receive a small affiliate commission for products that we shared with you in our posts. Although we may receive a commission for linking certain products, there's no additional costs to you and all of our opinion and suggestions are 100% our own and unbiased. That's our promise to you!