7 Layer Taco Dip
This 7 Layer Taco Dip is just what any party, or fun Saturday night needs! 7 layers of Mexican inspired flavor that is so delicious! This dip is gluten-free and optionally dairy-free and paleo!
7 Layer Taco Dip Recipe
Is there any better food to bring to a pot luck or serve at your own party than a 7 Layer Taco Dip? Don't think so! This classic dip is made healthier here with a few homemade substitutes for standard store-bought ingredients, and so so worth it! This version is gluten-free and we offer a few substitutions to make it paleo and dairy free if you need it.
Be warned: there is no way there will be any leftovers when this dish is served, so make sure you get in there early if you want to have some yourself!
How to make a 7 Layer Taco Dip
Make or gather all of the layers!
Layer 1: Refried Beans

(or extra guacamole for paleo/whole30)

Layer 2: Cooked beef mixture

Layer 3: Salsa

Layer 4: G

uacamole

Layer 5: Cooked beef mixture

Layer 6: Cheddar cheese (substitute another layer of salsa for paleo/whole30/dairy-free)

Layer 7: Chopped Lettuce, Tomato, Red Onion
Layer in all of the ingredients in an oven 8″x8″ (or similarly sized ) oven safe dish. After placing in cheddar cheese put in the oven to melt. Layer on the remaining and serve with hearty tortilla chips and veggies.

Can this be made ahead of time?
You can assemble and prep this entire dish 1 day ahead of time, with the exception of adding the fresh ingredients on top. You can prep those ahead of time though and have them all ready to go for your party. Right before serving place the assembled dip under the broiler to warm up and melt the cheese, and then top with fresh lettuce, tomato and onion.
What to serve with this dip?
Serve it with the classics: Tortilla chips (either corn or a grain free option like Siete) and veggies like celery, cucumber, peppers or carrots.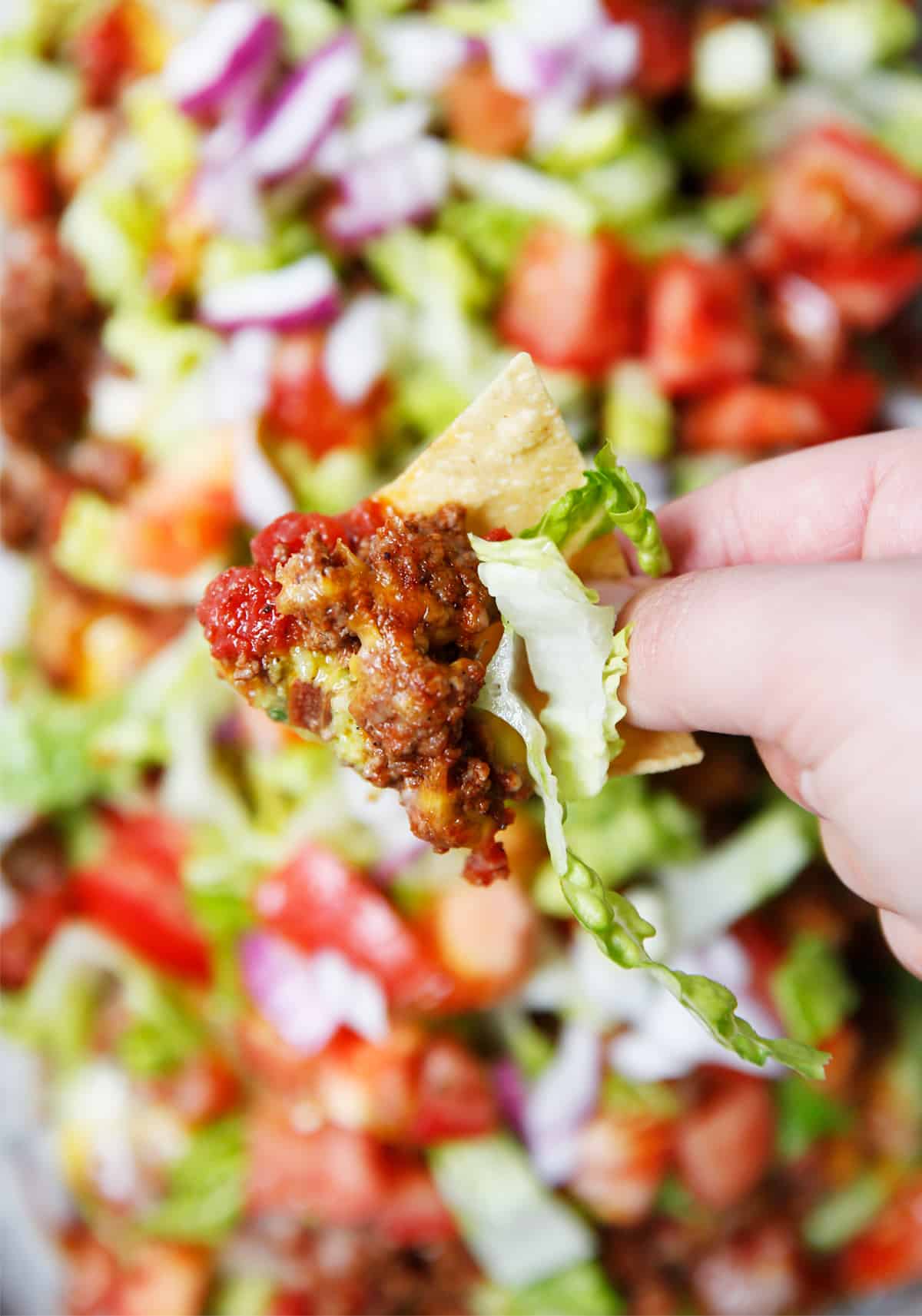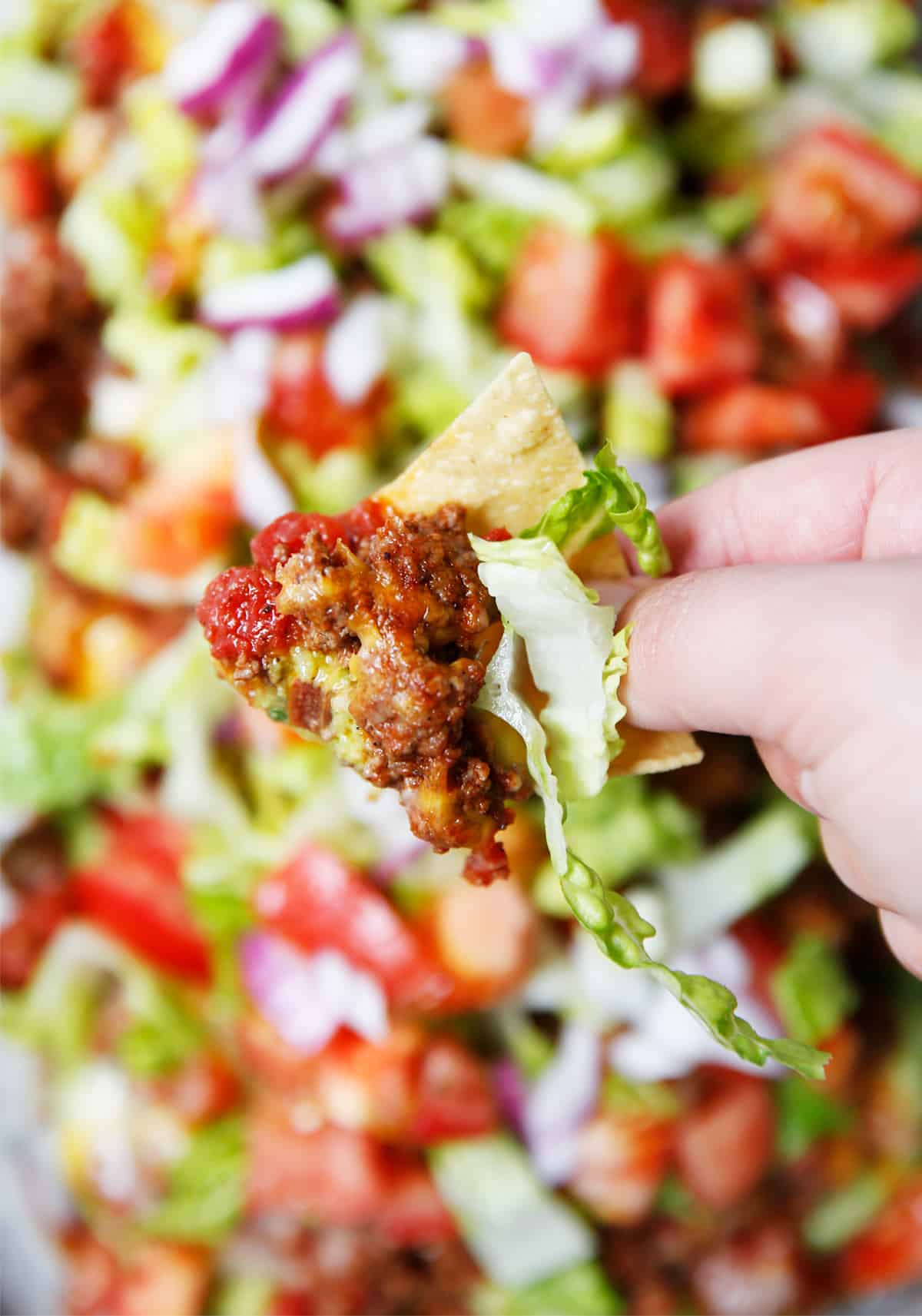 If you like this dip recipe, check out these others:
7 Layer Taco Dip
---
---
Directions
1. Make refried black beans- Heat 1 tbsp oil of choice in a pan
2. Add in beans and let heat for 3-5 minutes, begin mashing
3. Add in spices, mash and mix well
4. Add in 2 tbsp water; mix until water is combined
5. Remove from heat and set aside
7. Add in beef and cook until brown
8. Add in tomatoes, spices, and hot sauce; let cook for 3-5 minutes then remove from heat and set aside
9. Make guacamole and chop lettuce, tomato, and onions for layer 7
10. Once all the layers are prepared, start assembling in your dish; serve and enjoy!
---
Nutrition
Loading nutrition data...