Crispy Buffalo Chicken Bites
These crispy Buffalo Chicken Bites have the perfect touch of spice and are made totally gluten-free and paleo-friendly! Chicken breasts is cut up, dipped in batter and pan-seared before being coated in the easiest buffalo sauce. Perfect for an appetizer or for dinner when served with your favorite side.

Crispy Buffalo Chicken Bites
Buffalo Chicken Bites are our new favorite appetizer, snack, or chicken dinner that nobody will guess is completely allergy-friendly! They are easy to make (watch the video below), and are both kid-friendly and a hit with adults as well. Serve with your favorite side for dinner or dish up for game day with ranch or blue cheese and all the cut up veggies.
Ingredients Needed
Avocado Oil
Boneless Skinless Chicken Breast
Eggs
Tapioca Flour
Salt and Pepper
Hot Sauce (we used Frank's)
Grass-Fed Butter or Ghee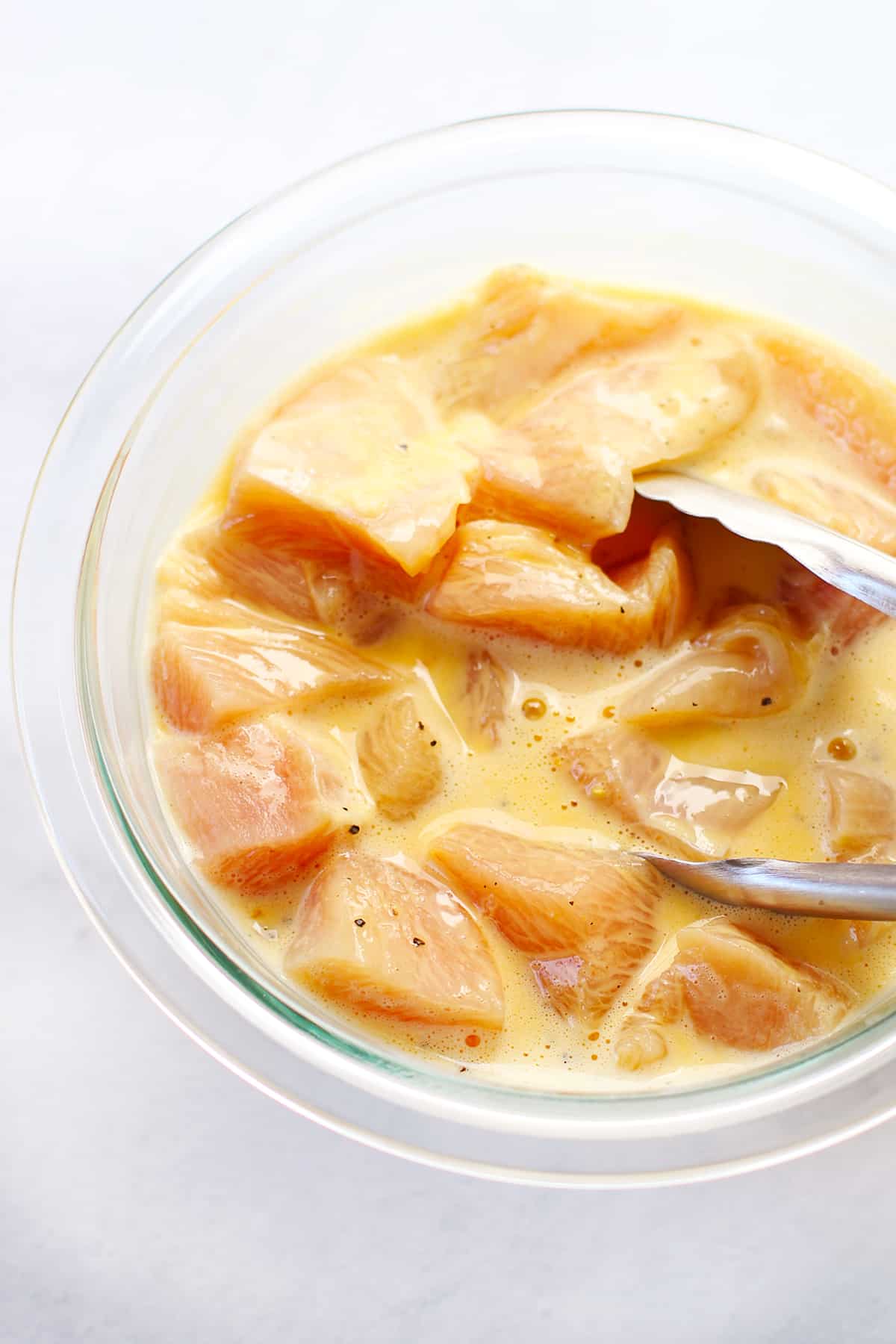 How to Make Gluten Free Buffalo Chicken Bites
Heat the oil. We use avocado but feel free to use whatever high heat oil you want.
Whisk together the batter ingredients.
Coat the chicken with the batter.
Fry and then let excess oil drain on paper towels.
Make buffalo sauce by heating hot sauce and butter (or ghee) together in a skillet. Whisk together until fully combined.
Toss chicken with buffalo sauce.
For extra crispy chicken broil for a few minutes.
Serve immediately with vegetable crudités and your favorite dipping sauce.
Sides to Pair
Fresh Veggies (celery, carrots, cucumber) & Ranch (in my cookbook)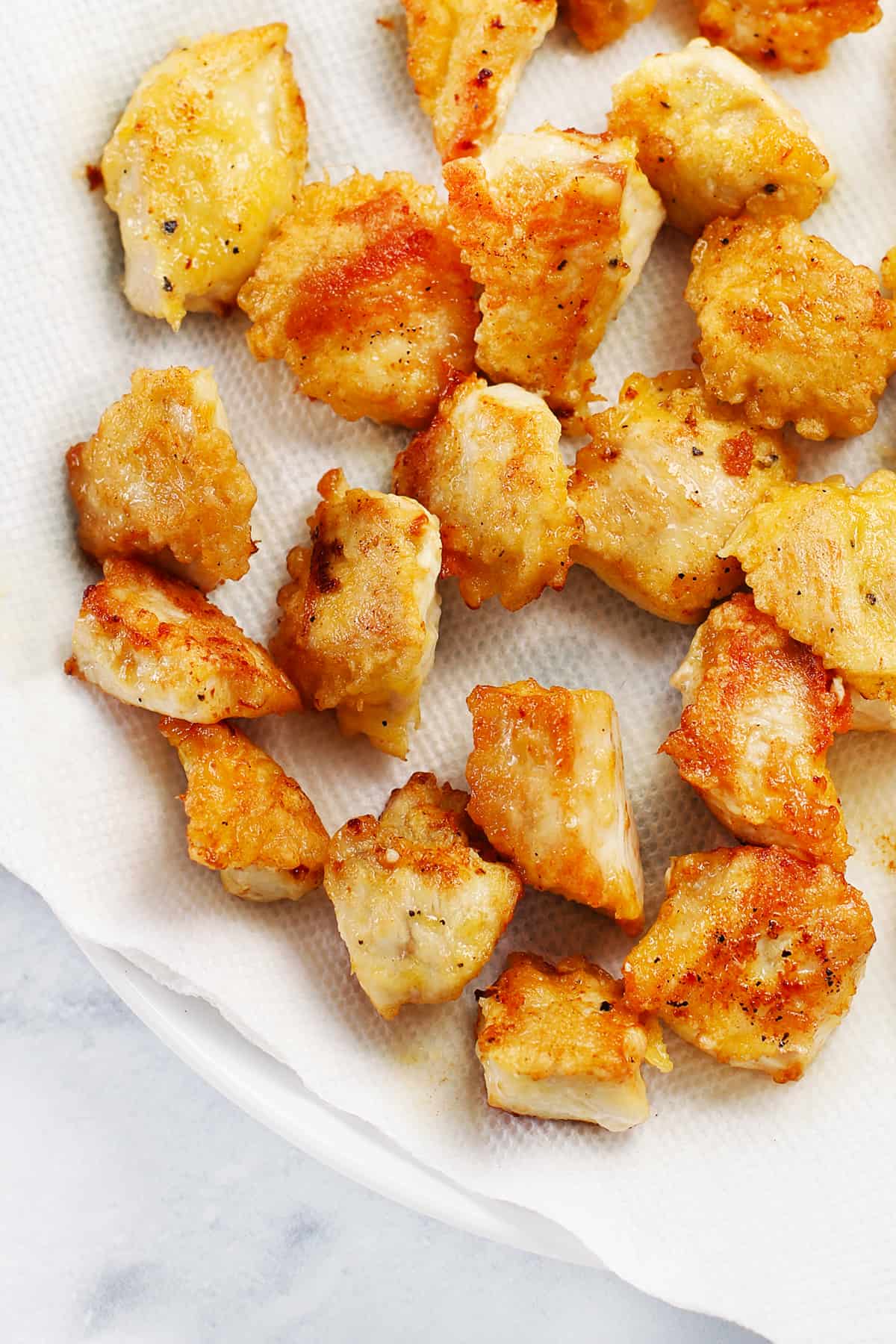 Watch the video: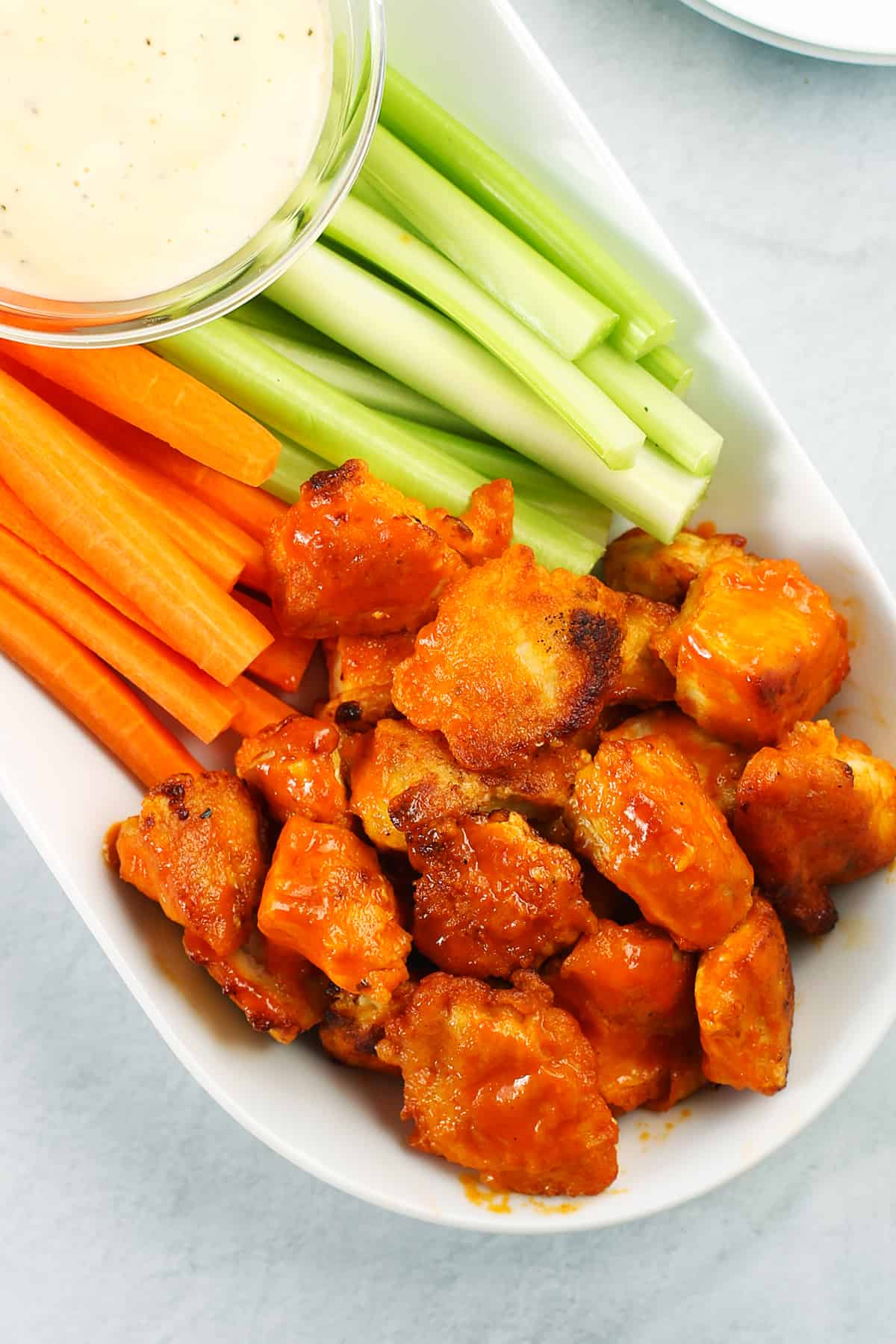 Want other Buffalo Chicken Hits? Try these favorite recipes:
Crispy Buffalo Chicken Bites
Bound to be a hit at your next party, this Healthy Spinach Artichoke Dip has all that creamy flavor without any dairy. This paleo, vegan and Whole30 friendly appetizer is simple to put together and nobody will know this isn't the classic version.
Healthy Spinach Artichoke Dip
Is there anything better than Spinach and Artichoke Dip? It is such a classic appetizer that everyone loves. We wanted to update it to make it a bit more healthy so we took all the flavors to create a nutrient-dense dip that is so creamy and delicious without any actual cream! We did leave an option to top it with cheese and broil it, but the dip itself is so flavorful it won't be missed if you need to leave it off for a totally dairy-free dip.
This crowd favorite is perfect for parties, or for an appetizer for a night in. It's simple to make, made with mostly pantry staples and can even be made ahead of time (no more than a day) and reheated.
Ingredients Needed
Olive Oil

Frozen Spinach

Canned Artichokes

Garlic

Salt and Pepper
Cashew Cream

Cheddar Cheese (optional, omit for dairy-free)
How to Make Healthy Spinach Artichoke Dip without Dairy
To make this dish free from any dairy, we turned to cashew cream. Cashew cream is simply soaked cashews that are blended until they are smooth and creamy. It's a great replacement for heavy cream or in some recipes cream cheese. It can be used for both savory or sweet recipes! We've used in so many different dishes, and it's our number one choice to replace dairy where it fits.
We left it optional to add a bit of cheese on top of the dish to get that traditional spinach and artichoke dip feel, but you won't miss it too much if you omit it to make this dish totally dairy-free.
What to Serve with this Dip
Serve this dip with crackers (homemade or store-bought), tortilla chips, and cut up veggies.
If you like this healthy dip recipe, check out these others:
If you like this spinach and artichoke recipe, check out these others:
[yumprint-recipe id='244′]
Healthy Spinach & Artichoke Dip
Savor the last long weekend of the Summer with these gluten free and paleo healthy labor day recipes to make at home or bring with you on-the-go!
Healthy Labor Day Recipes
Labor Day Weekend is bittersweet! It's the last long weekend of the Summer where everyone gets a chance to soak in the last of the sun with final beach days, BBQ's, and the chance to make all of those summer recipes you've been pinning and saving. I've rounded up some favorite appetizers, side dishes, main dishes, and treats to satisfy every person at your home this weekend with these healthy labor day recipes!
---
Labor Day Appetizers
These late summer appetizers are perfect to make at home or to share!
---
Labor Day Pasta Salads and Sides
Sometimes the salads are the BEST part of a BBQ
---
Labor Day Cocktails
Make them as cocktails or mocktails!
---
Labor Day BBQ Ideas
Get that grill lit up, because we need to fire up the end of summer!
---
Labor Day Desserts
A sweet finish to the end of summer!
Healthy Labor Day Recipes (Paleo & Gluten-Free)
This 7 Layer Taco Dip is just what any party, or fun Saturday night needs! 7 layers of Mexican inspired flavor that is so delicious! This dip is gluten-free and optionally dairy-free and paleo!
7 Layer Taco Dip Recipe
Is there any better food to bring to a pot luck or serve at your own party than a 7 Layer Taco Dip? Don't think so! This classic dip is made healthier here with a few homemade substitutes for standard store-bought ingredients, and so so worth it! This version is gluten-free and we offer a few substitutions to make it paleo and dairy free if you need it.
Be warned: there is no way there will be any leftovers when this dish is served, so make sure you get in there early if you want to have some yourself!
How to make a 7 Layer Taco Dip
Make or gather all of the layers!
Layer 1: Refried Beans

(or extra guacamole for paleo/whole30)

Layer 2: Cooked beef mixture

Layer 3: Salsa

Layer 4: G

uacamole

Layer 5: Cooked beef mixture

Layer 6: Cheddar cheese (substitute another layer of salsa for paleo/whole30/dairy-free)

Layer 7: Chopped Lettuce, Tomato, Red Onion
Layer in all of the ingredients in an oven 8″x8″ (or similarly sized ) oven safe dish. After placing in cheddar cheese put in the oven to melt. Layer on the remaining and serve with hearty tortilla chips and veggies.

Can this be made ahead of time?
You can assemble and prep this entire dish 1 day ahead of time, with the exception of adding the fresh ingredients on top. You can prep those ahead of time though and have them all ready to go for your party. Right before serving place the assembled dip under the broiler to warm up and melt the cheese, and then top with fresh lettuce, tomato and onion.
What to serve with this dip?
Serve it with the classics: Tortilla chips (either corn or a grain free option like Siete) and veggies like celery, cucumber, peppers or carrots.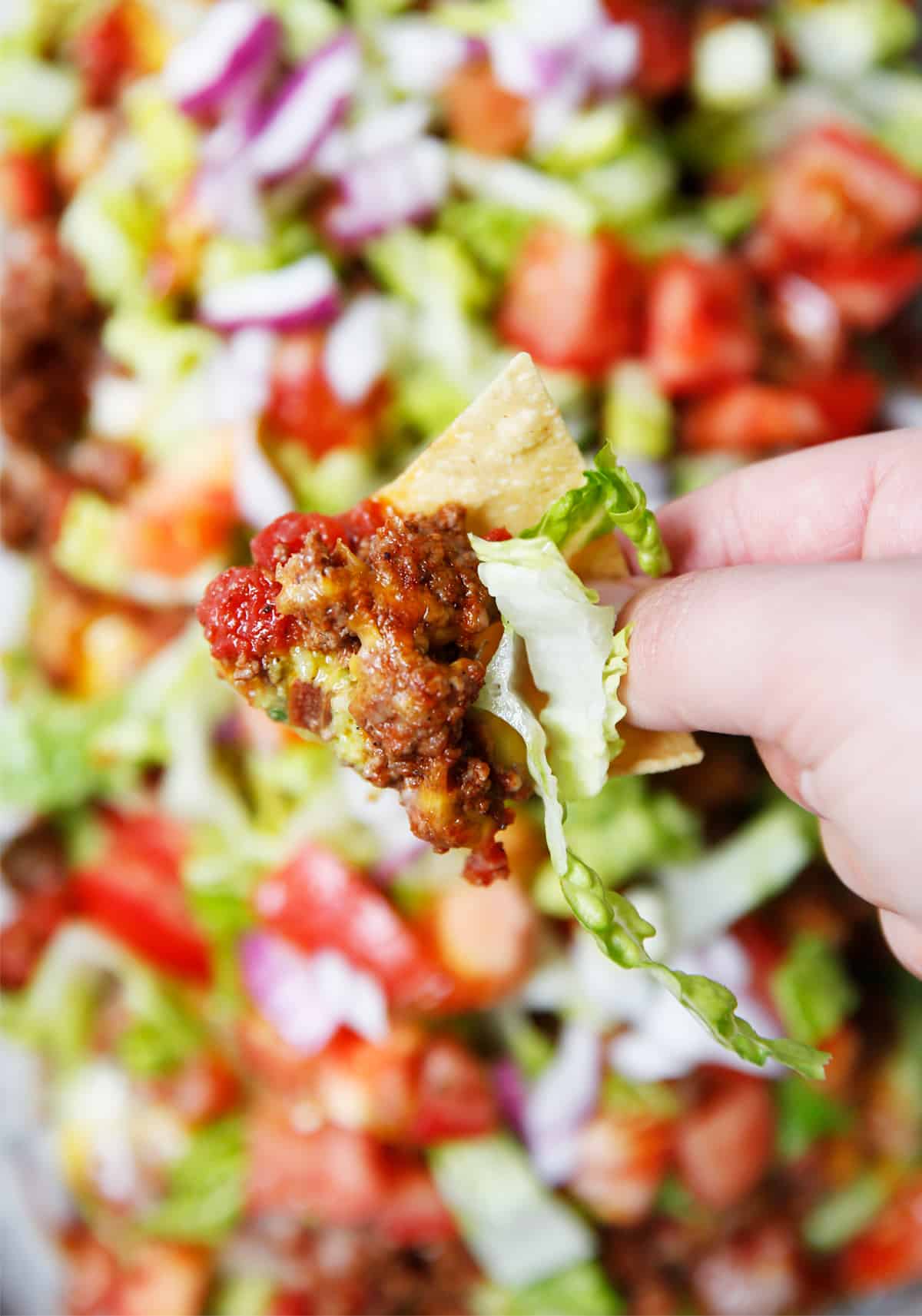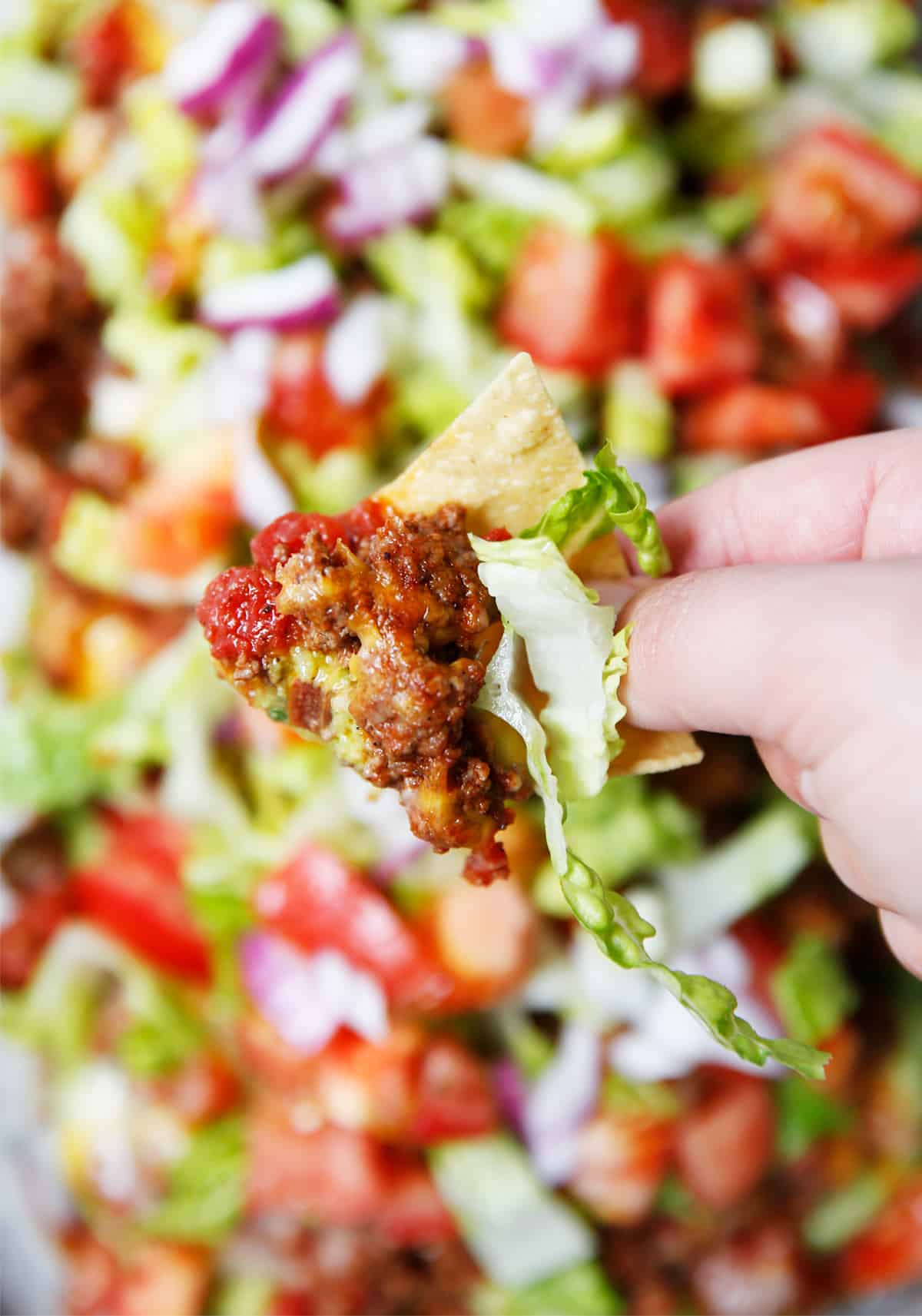 If you like this dip recipe, check out these others:
7 Layer Taco Dip
Cauliflower to the rescue again! These buffalo cauliflower nuggets made in the air fryer are downright addictive, with a crispy exterior coated in an easy spicy buffalo sauce. These easy vegetarian bites are gluten free and low carb, with an option to make it paleo and dairy free.
Air Fryer Buffalo Cauliflower Wings
Cauliflower has masqueraded as many different things here on LCK, such as hummus, hash browns, rolls and pizza bites. But these Buffalo Cauliflower Nuggets, from the new Skinny Taste Air Fryer Cookbook might be a new favorite! They are easy to make, and fun to eat!
If you don't know my friend Gina, not only is she one of the kindness people I know, she works so hard, and her cookbooks are a total reflection of that dedication and work ethic! Her newest cookbook is no exception! Gina shares 75 of her best recipes that work in every type of air fryer, including basket models and countertop ovens with air fryer settings. I seriously am amazed at all of the things she makes happen in the air fryer! Not only is the cookbook amazing, but in true Gina fashion, she also has her very own AIR FRYER that you can go ahead and purchase now!
This book is not only an amazing air fryer guide but of course it's filled with with crave-worthy recipes for favorites such as:
Appetizers:

Cauliflower Rice Arroncini
Crispy Coconut Shrimp, Za'atar Chickpeas
Cheesy Crab Stuffed Mushrooms
Pickle-Brined Chicken Tenders

Dinner fav's:

Korean Pork Lettuce Wraps
Roasted Fish with Lemon-Almond Crumbs
Sugar and Spice Acorn Squash
Apple Stuffed Pork Chops
Charred Sesame Green Beans

Baked goods:

Homemade Bagels
Petite Spiced Pumpkin Bread
Cinnamon Rolls with Cream Cheese Icing
This book has plenty of swaps for dietary restrictions, including gluten free and is just all around a great resource.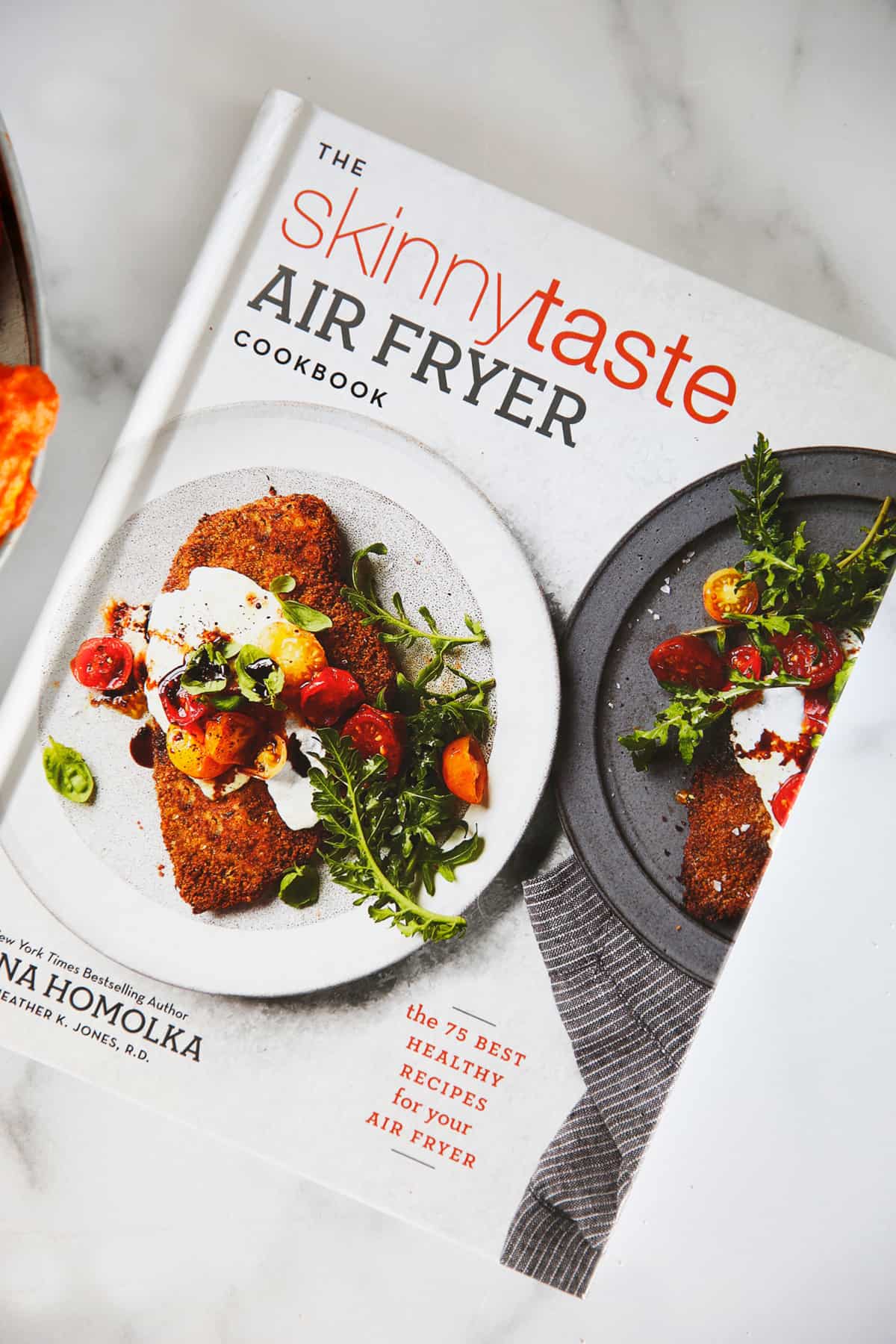 Tips for Making Buffalo Cauliflower Bites
Make sure to cut your cauliflower into similar sized pieces. The cook timing on this recipe is based off of bite sized pieces, which are around 1″ to 1-1/2″ pieces of cauliflower.
Gina instructs to individually coat the pieces, instead of breading them inside of a bag or in large batches. It takes a little bit more time but is well worth it because these bites came out so crispy!
There is no seasoning inside of the breading or egg because the hot sauce is quite salty, but feel free to add some garlic powder or pepper if you desire.
If you want to make the buffalo sauce dairy free, substitute with ghee.
Gina suggests serving this with blue cheese, but ranch would also work as well!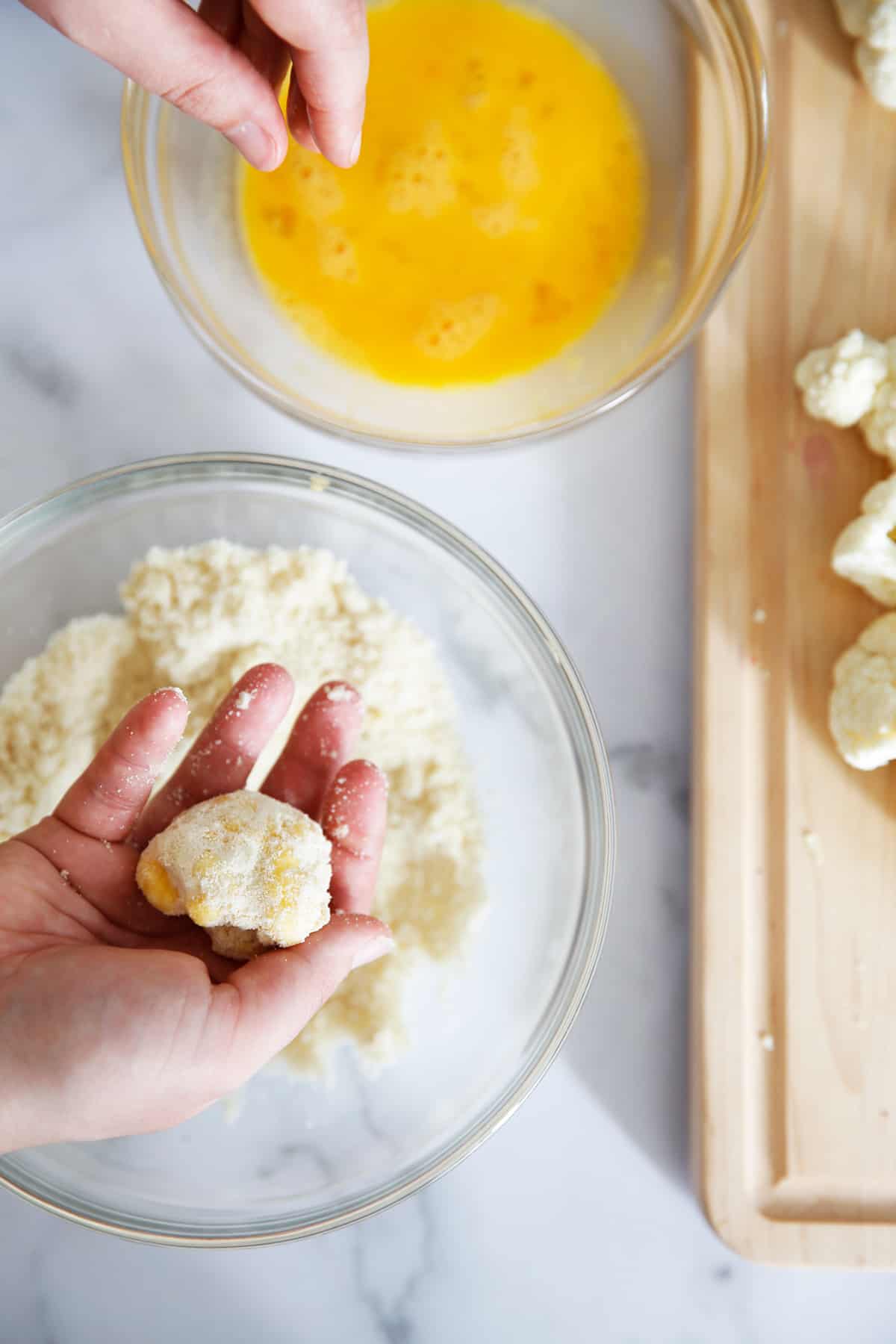 What type of air fryer should I get?
Gina has her very own air-fryer launching in July, which you can grab here!
One we haven't tried, but plan to, is a toaster-style one.
Note: While we love our air fryer, you should know that they are not a small appliance, so just make sure you have the space! And in case you don't, we went ahead and tested these baked for you!
Can these be baked?
If you don't have an air fryer (YET!), these cauliflower bites can be baked on a sheet pan lined with parchment paper in a preheated 375ºF for 25-30 minutes, flipping halfway through, until cauliflower is tender.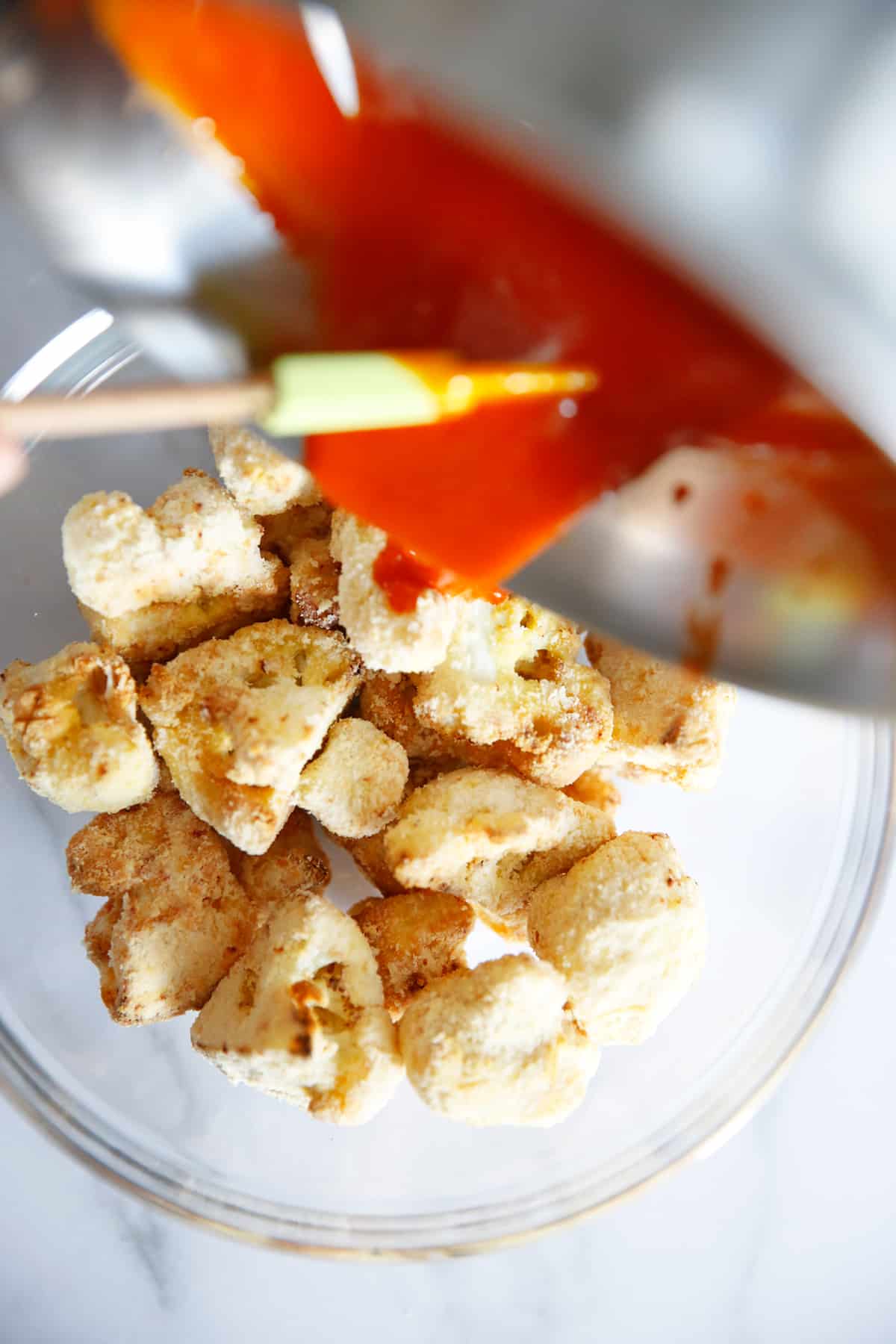 If you like this cauliflower recipe, check out these others favorites:
Love Buffalo Sauce like we do? Try these Buffalo favorites:
Grab your copy of The Skinny Taste Air Fryer Cookbook here!
---
Air Fryer Buffalo Cauliflower Nuggets
These Buffalo Chicken Stuffed Sweet Potatoes are so creamy, flavorful and delicious and make a great lunch or dinner! They also could be perfect as a make-ahead meal option. This buffalo chicken sweet potato recipe is nutritious and filling, gluten-free and optionally made Paleo and Whole30 by omitting the cheese.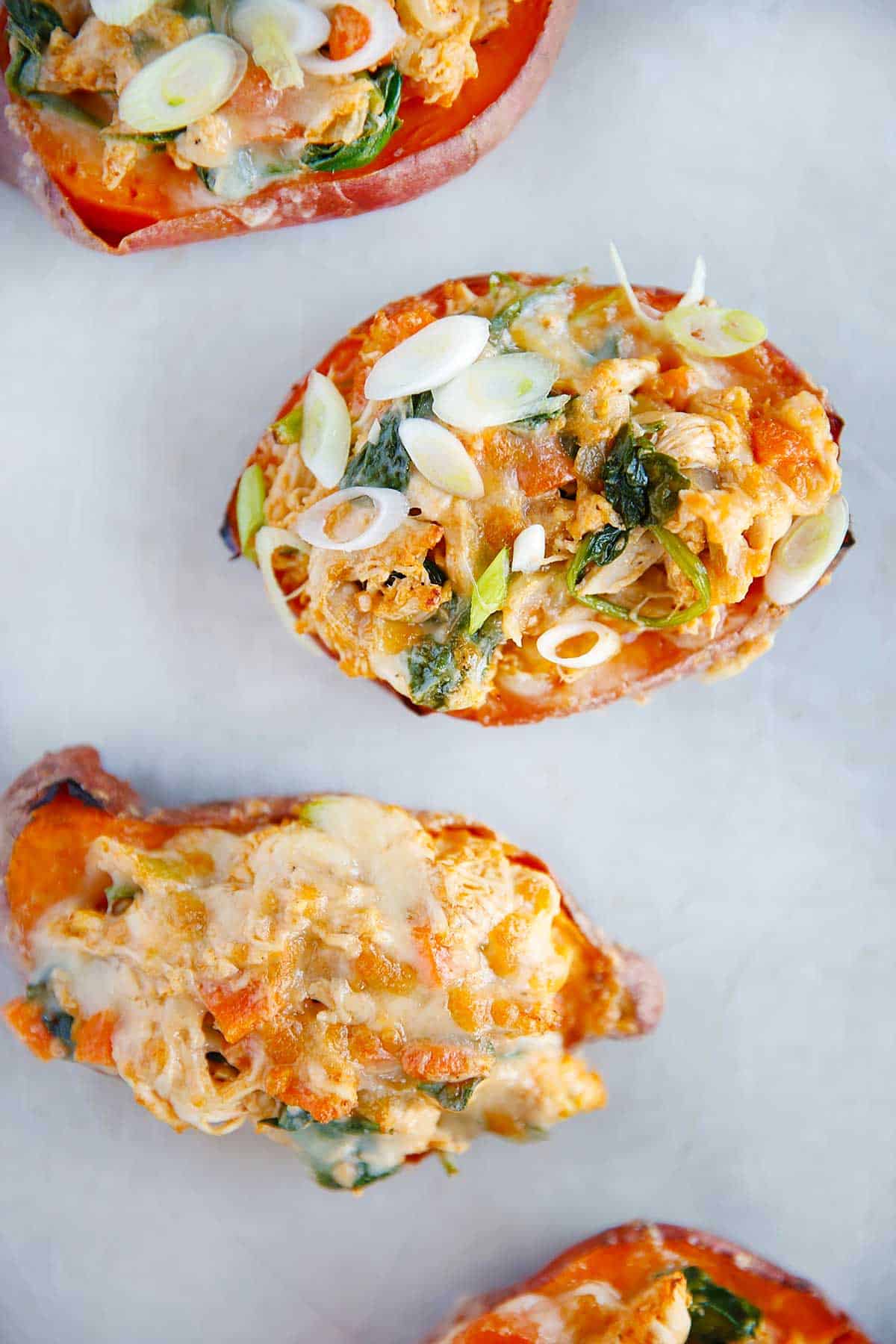 Buffalo Chicken Baked Sweet Potato
Who doesn't love potato skins? Nobody! Who doesn't love potatoes skins that are made healthier but still with all the flavor? Can't think of anyone! These healthier baked sweet potato skins are stuffed with a creamy buffalo chicken dip packed with extra veggies and nutrients. These are the perfect appetizer for a game day party, or a super delicious lunch or dinner. We love the portability of these and think they'd be a great make-ahead meal as well.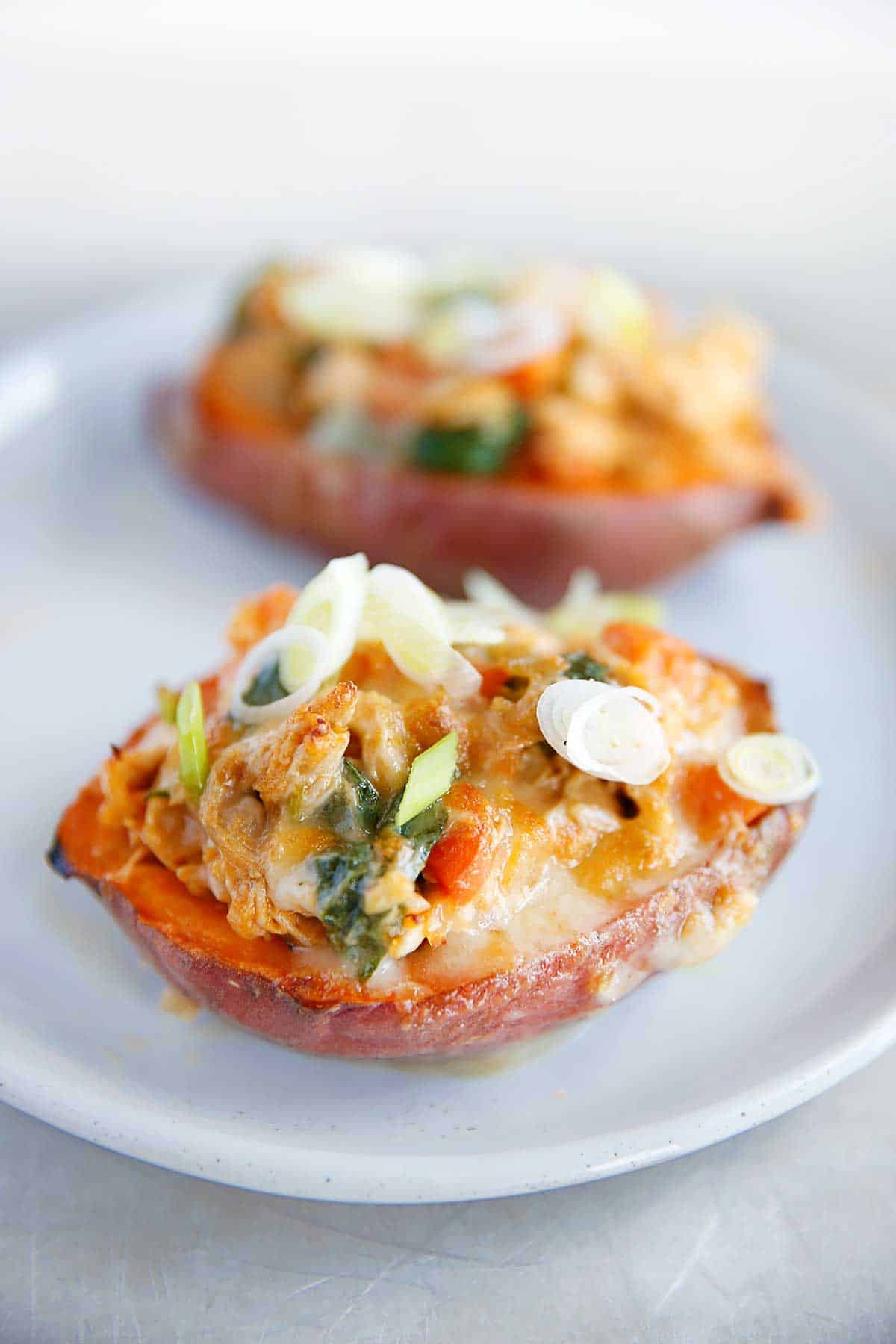 What type of sweet potatoes are best for this recipe?
We choose small to medium sweet potatoes to minimize the time roasting in the oven. You can choose larger ones, but they will take longer to roast. Just make sure they are all about the same size, and as round as you can get to fit in more of the buffalo chicken stuffing.
Can you cook the sweet potatoes in the Instant Pot instead?
You could, but it will likely take you the same amount of time to roast in the oven between the time it takes to come up to pressure and the time it takes to naturally release. Put the sweet potatoes on a basket and add 1 cup of water. You can use the steam function for 10 minutes, with a natural release.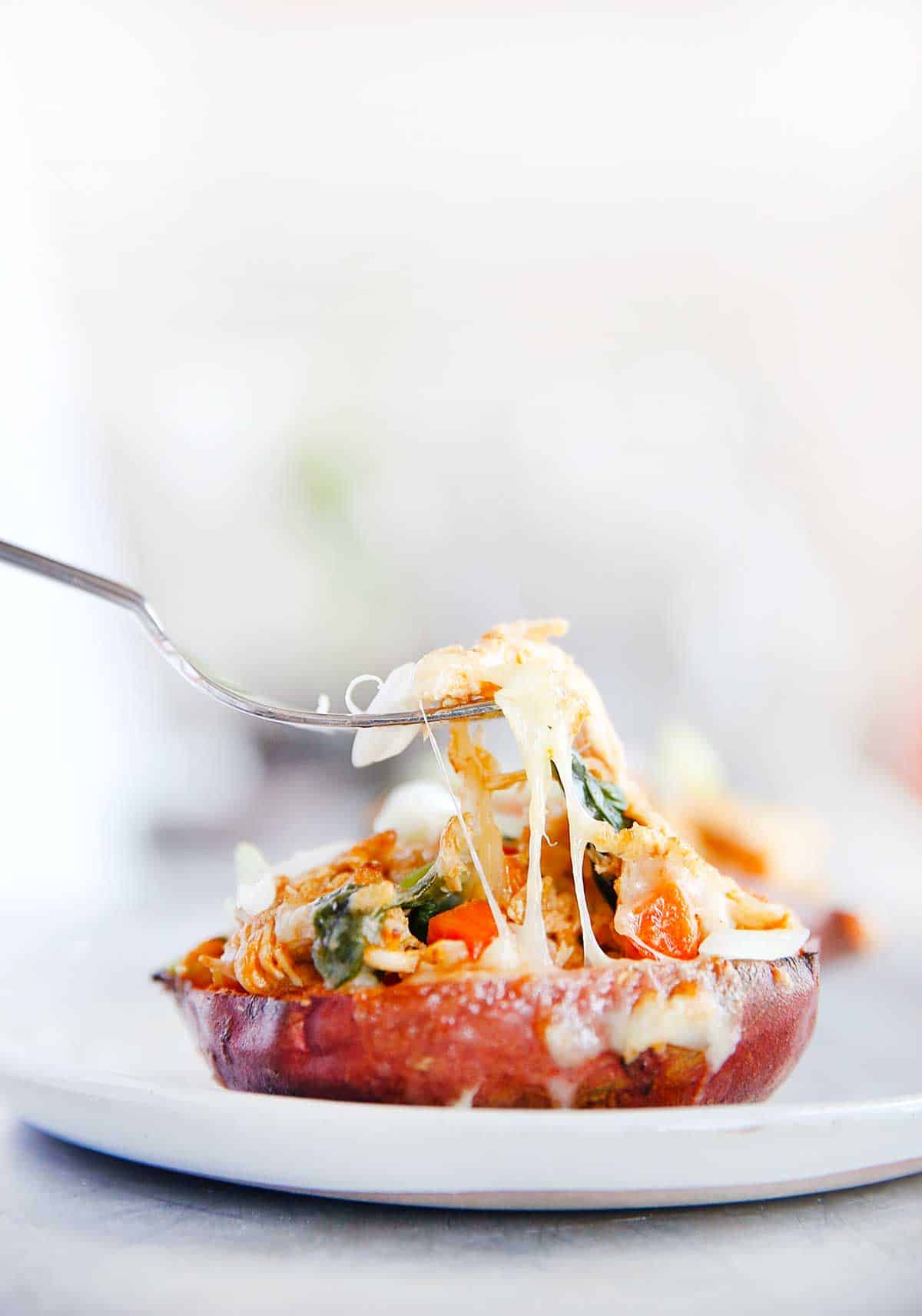 How can you store these Buffalo Chicken Stuffed Sweet Potatoes for meal prep?
If you wanted to make these for a few days of lunches, complete the recipe as directed and then cool the broiled sweet potatoes completely before placing in a container in the fridge. We like using glass containers because they can double as a storage container and can be heated up in either a microwave or a toaster oven. These would taste better if heated up in a toaster oven, but if the only option when you are at work is a microwave that will work as well!
If you like this recipe with buffalo sauce, check out these others:
Buffalo Chicken Stuffed Sweet Potatoes
These Gluten Free Pigs in a Blanket are as perfect for a large holiday gathering as they are for game day eats. They are made using an easy gluten-free and nut-free dough that doesn't need any chilling time. These are a sure crowd pleaser for both kids and grown-ups alike!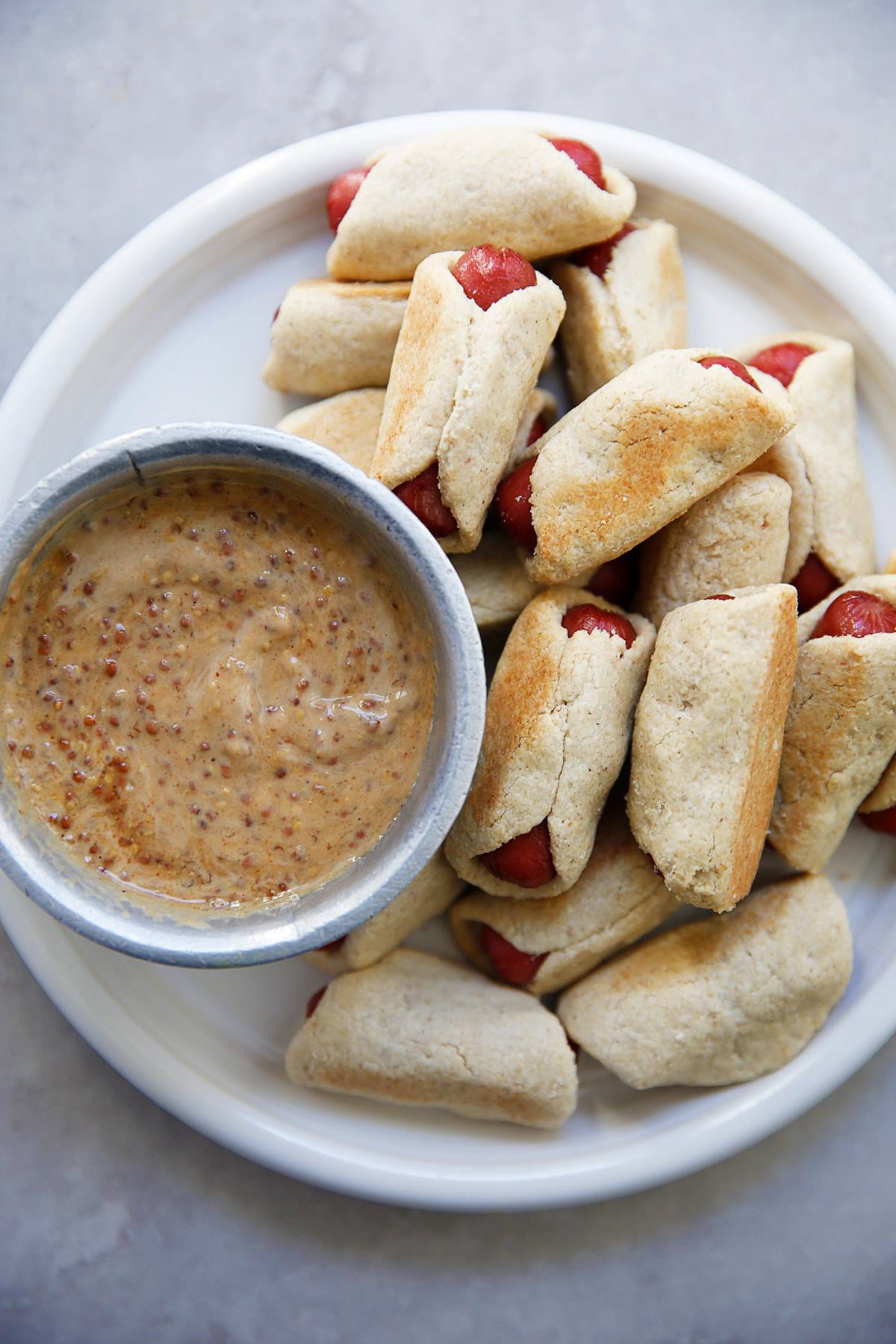 Gluten Free Pigs in a Blanket
Just because we don't eat wheat doesn't mean we shouldn't be able to eat pigs in a blanket, right? This Gluten Free Pigs in a Blanket recipe saves the day because this adorable appetizer is both tasty and easy to put together for the next time you need to feed a crowd!
I'll let you in on a little secret, this recipe was in development for a while! Sometimes you get a recipe right in the first trial or two, and sometimes you question whether you are ever going to get it to right where you want it to be! And there was a moment when we didn't think we would ever hit publish on our Gluten Free Pigs in a Blanket. But we had a breakthrough and we're so happy with the final result.
The first few times we tested this we were using our typical almond flour and tapioca flour blend that is usually our first stop in baked goods. Unfortunately these resulted in dough that had good flavor but was a bit too crumbly for our liking, and was somewhat hard to roll out.
While we were testing these we were also testing our new gluten-free and nut-free crust on Pumpkin Pie. We really loved the ease of working with that dough and thought it had a nice neutral flavor so we gave it a go on our Pigs in a Blanket and it was then we knew we were on to something. We changed up a few things including introducing more savory elements and at last we had a winner! We added apple sauce to this dough and loved the results. You don't know there is apple sauce in it, but it contributes to an improved flavor and texture.
Ingredients needed for Gluten Free Pigs in a Blanket
Oat flour (store-bought only)
Tapioca flour
Butter (we always use grass-fed butter such as Kerrygold)
Applesauce
Spices
Mini Hot Dogs
The dough comes together in a food processor in a few minutes. Just make sure that you don't overprocess the dough: Once it has come together stop running the processor. After it's made you CAN roll out the dough right away, which we love. This is unusual for pie crusts, that usually need to wait to rest and firm up. We found it easiest to roll the dough between two sheets of plastic. Normally we shy away from plastics, but in this crust it really is easiest if you use that vs. parchment paper. But if you don't keep plastic in your home (we get it!), parchment will do in a bind!
During testing we discovered that oat flour is a bit difficult to measure out properly in the cup measurement because sometimes it is more densely packed in the bag than others. For fool proof measuring you can weigh out the oat flour instead. If you find your dough a bit more wet than the above photo add in oat flour a tablespoon at a time until it feels workable.
Working with Oat Flour Crust
To roll it out we suggest using plastic wrap. Parchment paper can work too, but it isn't as easy. Wax paper might work as well, but we did not test that.
Once it's rolled out we use a simple round cookie cutter, with the width the same size as the hot dogs we were using to stamp out a piece of dough and then wrap it around. We preferred this method than cutting out triangles and rolling them, because this method gave us equal portions of hot dog and dough!
For this recipe we used these tools:
Circle cookie cutters
Essential items: Sheet Pan, spatula, plastic wrap
If you like this fun appetizer recipe, check out these others:
Gluten Free Pigs in a Blanket
These Crispy Baked Buffalo Wings are the perfect appetizer recipe for football Sunday or Super Bowl! They are crispy with frying, and are a great lightened up version of your classic fried buffalo chicken wings!
Crispy Baked Buffalo Wings
You can't have a Superbowl party without wings (in my opinion)! You can though, have them crispy and flavorful without being fried. I visited friends at the University of Buffalo years back. We, of course, got the famous Buffalo wings and as you can imagine they were fabulous.

In college I was a big fan of Wings over Amherst (these are not healthy). I definitely still think about those fried boneless wings (and the cajun cheese fries). Many of my friends ordered honey mustard, BBQ, garlic parmesan… me? Give me Buffalo any day of the week.
Can you bake chicken wings?
The tip I found years back that I love (and successfully tried with my Sweet Potato Chili Fries), is placing a wire rack on the baking sheet. Gets everything nice and crisp!
Can you use chicken legs or chicken thighs?
Yes! Just adjust cooking time and sauce amount as needed.
Like this wing recipe? Try these:
Watch the video:

Want more football recipes? Try these:
Easy chicken wing recipe
Crispy Baked Buffalo Wings (VIDEO)
These healthy Spinach Dip Stuffed Mushrooms are a lightened up take on the classic hearty spinach dip we know and love, made into the perfect holiday baked stuffed mushroom appetizer. This stuffed mushroom recipe is easy to prepare, and simply omit the cheese on top for a vegetarian, whole30-approved, and dairy-free stuffed mushroom!
Spinach Dip Stuffed Mushrooms
It's the anniversary of my COOKBOOK!!!! One year ago today, the Lexi's Clean Kitchen cookbook hit shelves everywhere, and entered the homes of so many of you! Do you have the cookbook? Do you love it? I'd love to hear your favorite recipes in the comments below! If you don't have it yet, it make for a fabulous holiday gift 🙂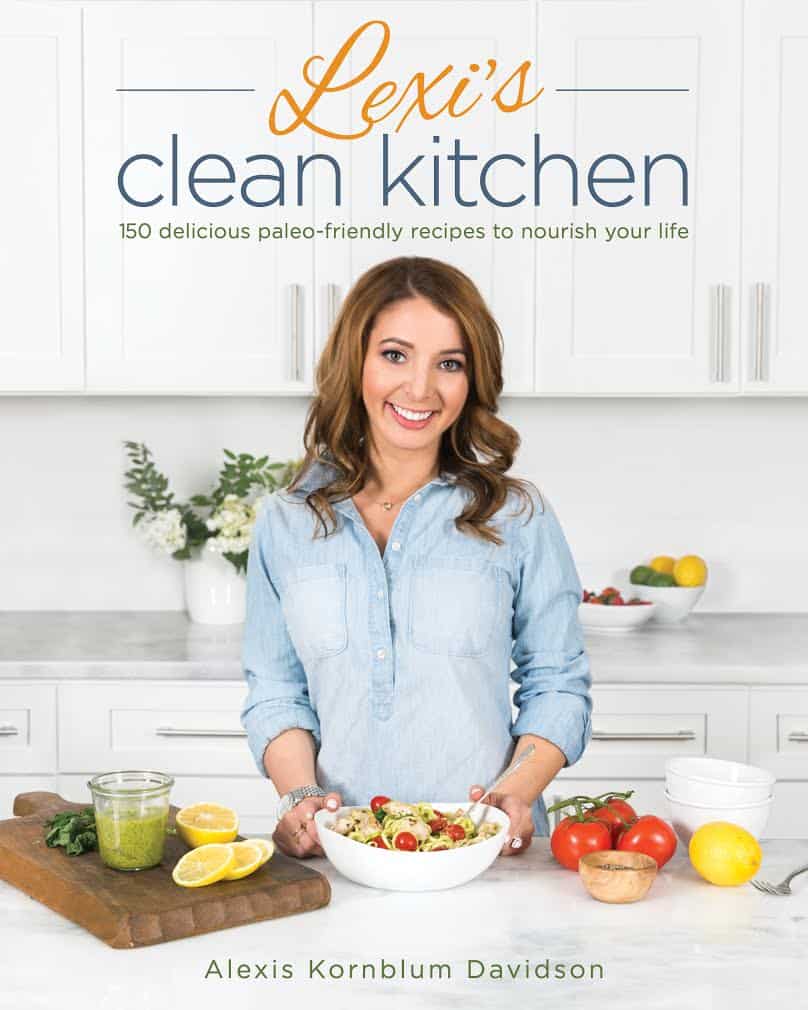 To celebrate the one-year anniversary, I thought I'd share on of the popular appetizers that is PERFECT for holiday entertaining. I demo'ed these at many book signings last year, and they were a hit every time!
How do you make stuffed mushrooms?
Spinach dip was my favorite way back when, and this recipe nails that exact spinach dip flavor I love, but is made with healthier ingredients and is transformed into delightfully handy pass–around appetizers!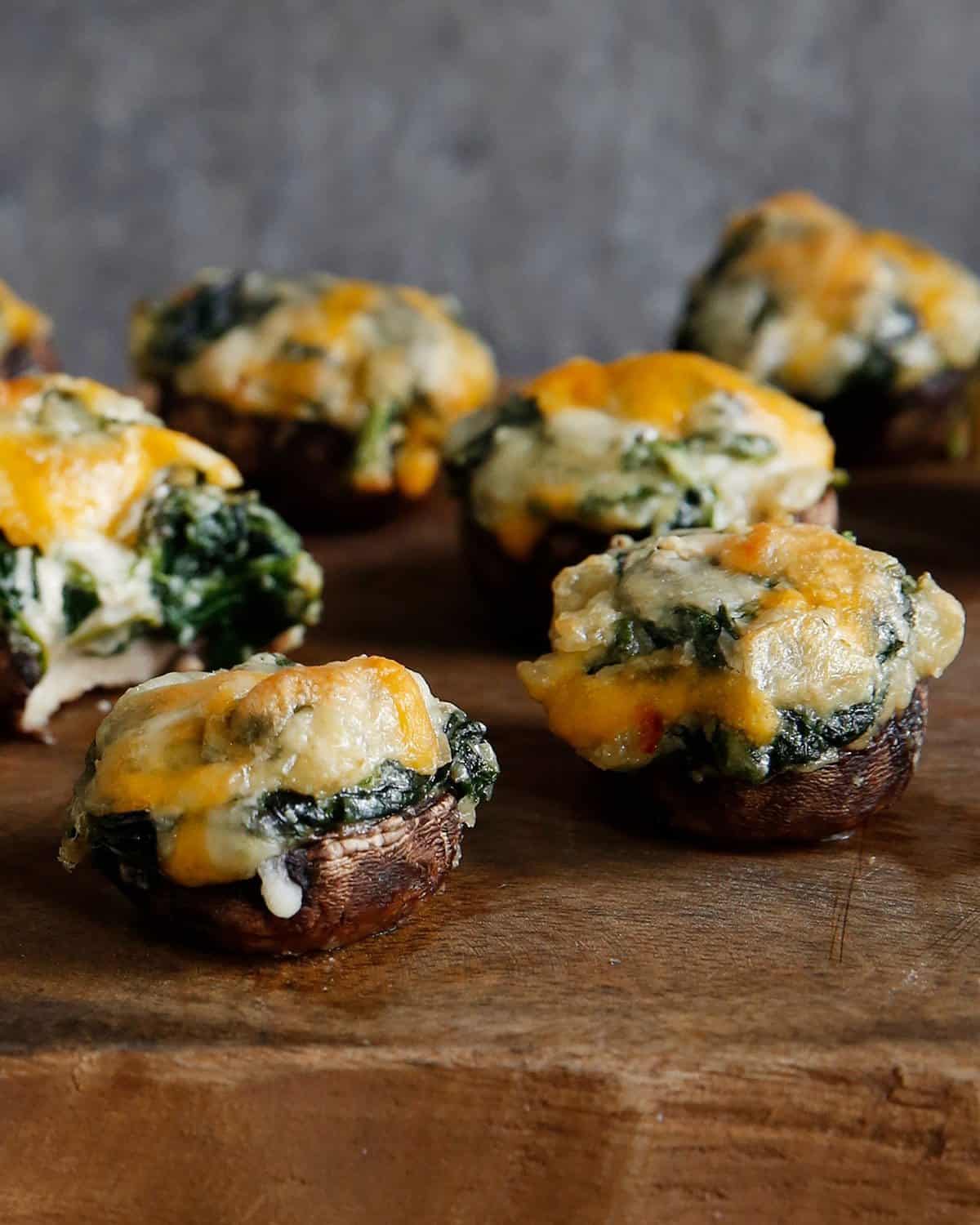 If you like this recipe, try these other Thanksgiving Side Dish Recipes:
Want to check out more about the cookbook? Learn more here! See what my blogger friends have made from the cookbook here!
Spinach Dip Stuffed Mushrooms (Healthy Lightened Up Appetizer!)
These Thai Meatballs are paleo, gluten-free, and bursting with flavor. They are a healthy meatball recipe that everybody will love. This thai meatball recipe is loaded with veggies and infused with the perfect flavor combination of ginger, chili, garlic, and more. A total crowd pleaser that gets rave reviews!

Thai Meatballs
It took me a good three attempts to perfect these Thai Turkey Meatballs just right, and man are they a hit. The first time, the flavors just weren't there… The second attempt was better, but needed a little more. Third times a charm because these FLEW off the plate. We couldn't stop talking about how much we loved them and wanted them again.

Healthy Thai Turkey Meatballs
Plus, these could not be easier to make. Mix all the ingredients, toss on a baking sheet, bake, and enjoy! They make for a great meal prep option too! Protein packed, nutritious, and easy to take on the go.
Best Ground Turkey to Buy
We always buy organic ground turkey whenever possible!
What should I eat with meatballs
Cauliflower Rice
Rice
Stir Fry Veggies
Roasted Veggies
Zucchini Noodles
Rice Noodles
Thai Salad
… As MEAL PREP!

Watch the video:
Like this healthy meatball recipe? Try these other favorite meatball recipes:
---
Thai Meatballs
Today's Healthy Food Friday feature with American Express is a definitely a favorite of mine. It's all about COCONUT, and it's perfect to keep up with this month's theme inspired by travel. Coconut may remind you of a tropical vacation, a favorite ethnic dish, or a delicious dessert treat. They are a great example of a healthy fat (don't be afraid of fat, you guys), which is why I am super excited to share it today! No, it's not a low-calorie snack, but the health benefits out weigh that any day, in my opinion!

Today you get two recipes in one… Coconut shrimp, that makes for the perfect appetizer, AND an orange chia marmalade which can be used as a jam for other savory things, too! Super delicious, and compliment each other perfectly. I'll be serving these at my next summer get together, for sure.



[yumprint-recipe id='153′]
I was selected by American Express to contribute to their Tumblr community. As such I was paid for my services, but all opinions in general and about American express are my own.


What is your all-time favorite coconut recipe?
Coconut Shrimp with Orange Chia Marmalade
This Tropical Easy Shrimp Ceviche recipe is the perfect light appetizer or meal that is easy to make and requires no cooking! Everyone loves the flavors in this homemade ceviche! It's gluten-free, paleo, and Whole30 friendly! Plus it's made in 1 bowl in under 15 minutes!
Easy Shrimp Ceviche Recipe
Last month I taught a cooking class here in Boston and this Tropical Shrimp Ceviche was a major hit. Generally speaking, ceviche uses raw seafood, but in this ceviche I used precooked shrimp. Not everyone at your dinner party may be up for raw, so I make it this way to accommodate all my guests. It is absolutely the perfect no cook appetizer to make when entertaining! It also is put together in under 15 minutes and in one bowl! Trust me, you're going to love this!

I love the citrus in this dish! When I am feeling under the weather one of my go to routines is to bust out my simple hand juicer and have some fresh squeezed OJ. I supplement with vitamin C daily, but there's just something about fresh squeezed orange juice that makes me feel all happy and healthy. Alternatively, when I am making a dish for company I go right to oranges for the bright color and perfect citrus flavor.

Want more shrimp recipes? Try these favorites:


I was selected by American Express to contribute to their Tumblr community. As such I was paid for my services, but all opinions in general and about American express are my own.
Easy Tropical Shrimp Ceviche
I love a good meal or appetizer that is simple yet sophisticated (and of course, delicious). These stuffed portobello mushrooms are just that. They are bursting with flavors; warm balsamic, garlic, fresh tomatoes, and a hint of spice.



[yumprint-recipe id='113′]

What's your favorite simple yet sophisticated meal?
Stuffed Portobello Mushrooms
These chicken meatballs would make the perfect healthy Superbowl appetizer or… serve it over
cauliflower rice
with a side of stir-fry veggies and have yourself a nice, quick and easy dinner!
[yumprint-recipe id='112′]

What do you bring when you are a guest at a party?
Light Sesame Asian Meatballs
Let's start with this… I love salads. But sometimes in the winter I want something warm. Now let's combine the two… a warm salad for the perfect meal starter (or hey, add some protein and make it your entire meal)! Warm baked apples, roasted sweet potato and onions drizzled with walnuts and a homemade dressing. Sweet, Savory, and flavorful perfection. Assembling this salad is a breeze, and you can shop Membership Rewards points along the way!
[yumprint-recipe id='88']
In this recipe:
I was selected by American Express to help educate consumers about how to use Membership Rewards points. As such I was paid for my services, but all gift choices selected and opinions about the gifts and American Express are my own. http://t.cmp.ly/68ee5b1be62ebaeb5a