Gluten Free Apple Cider Donut Holes
Who doesn't love a good munchkin? These Gluten Free Apple Cider Donuts are grain-free, dairy-free, and free of refined sugar! The batter is made in one bowl and easily baked up in the oven for the perfect fall treat.

Gluten Free Apple Cider Donuts
'Tis the season for Apple Cider Donuts! For many it's a fall right of passage to go apple picking, and what is apple picking without those amazing apple cider donuts? Well, obviously most farms are not frying up gluten-free versions, so we knew this is just the time to whip up a batch of these gluten free Apple Cider Donut Holes! They are SO EASY to make, simply whisk together in one bowl, and then bake up in the oven. You can make them in a mini donut hole pan like we did, or in a regular donut pan. Once they've come out of the oven they get a quick dip in butter or coconut oil and a mixture of coconut sugar and cinnamon. They're free from refined sugars, dairy-free and SO GOOD.
Gluten Free Apple Cider Donut Ingredients
Fresh apple cider

Eggs

Maple Syrup or Honey

Vanilla Extract

Almond Flour

Coconut Flour

Cinnamon

Baking Soda

Baking Powder

Nutmeg

Salt

Coconut Sugar
Can These be Made into Regular Baked Donuts?
Yes! This recipe makes 20 donut holes or it can be baked in a regular donut pan to make 6 donuts.
Don't Have a Donut Pan?
Make these in a mini muffin pan and turn them into apple cider mini muffins. Line the muffin tin with parchment or silicone liners, and once cooked you can coat the top in the butter and sugar mixture.
Other apple recipes we're loving right now: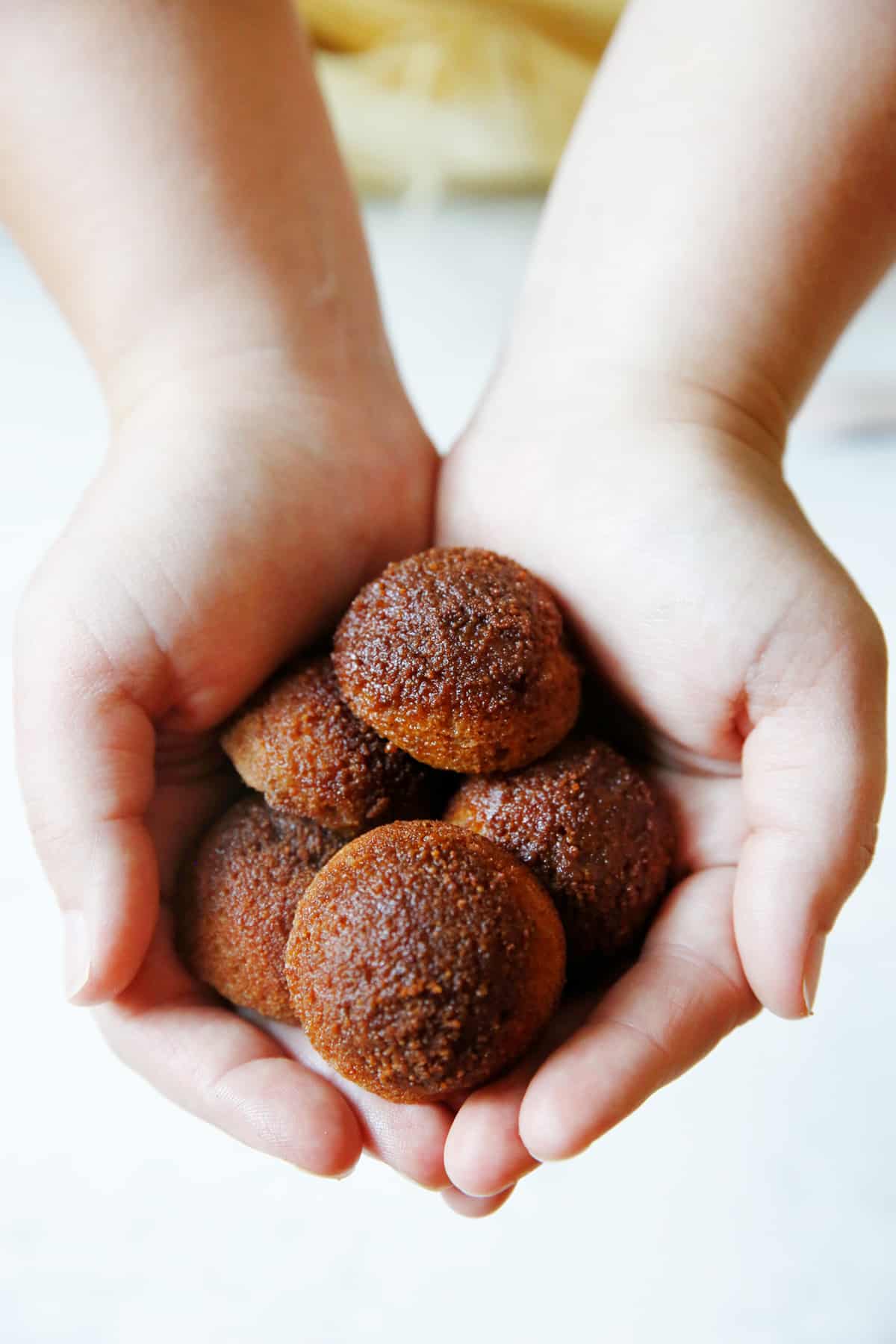 If you like this fall inspired recipe, check out these others:
Gluten Free Apple Cider Donut Holes
This Apple Cider Sangria is everyone's favorite Fall cocktail! It's flavorful, packed with cinnamon, ginger, apple cider, and white wine for the perfect dinner party sangria! Serve it with a caramel rim (or opt out for simplicity), make a large pitcher, and enjoy this easy fall cocktail!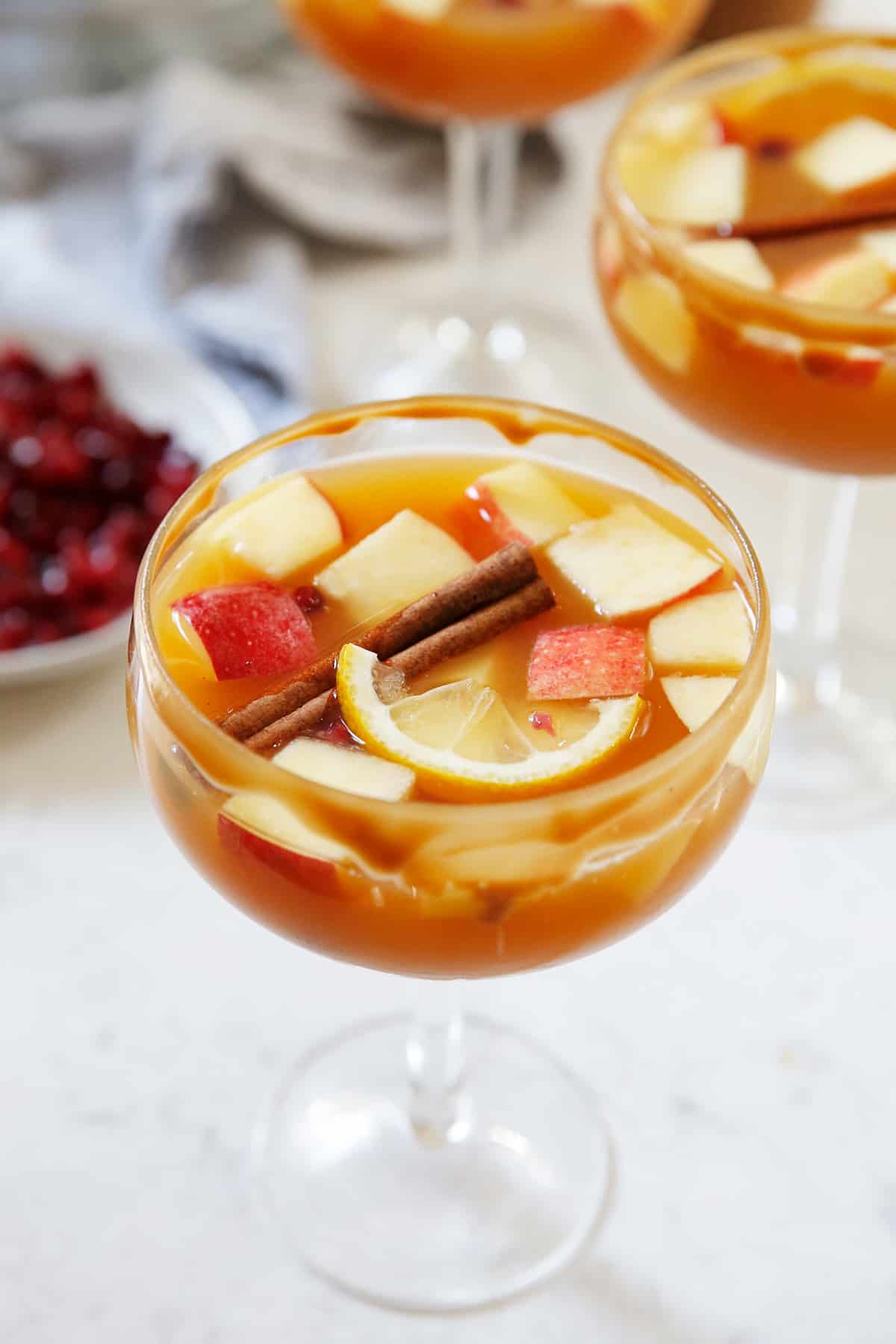 Apple Cider Sangria
This Apple Cider Sangria has everything you love about fall: it's spiced just right, is so comforting and has all that classic apple flavor! It's also super easy to make and a great cocktail to serve at a party without having to individually make drinks for each guest. Make this sangria using white wine flavored with fall fruit ahead of time and check one thing off your to-do list. It's refreshing, festive and so delicious. Want to make it even more special? Garnish the rim of the glasses with this paleo caramel! It'll be worth it!
Ingredients Needed
1 bottle white wine
Fresh apple cider
Carbonated water
Cinnamon sticks
Gluten-free vodka
Apples
Honey
Cinnamon
Pomegranate Seeds
Orange slices
How do you make Apple Cider Sangria?
We're not lying when we say sangria is easy to make! All you do is mix together all of the ingredients and then let sit for anywhere from 2 to 24 hours. When you are ready to serve, you can add in the carbonated water. Additionally, you may want to have some fresh fruit on hand to top off the glasses with.
How to Make it a Mocktail
This drink is so festive for all of the fall holidays and gatherings. Make it a cocktail by omitting the white wine and vodka and replacing it with additional half carbonated water and half fresh squeezed orange juice!
How far in advance should sangria be made?
Sangria should be made at least 2 hours before serving, so all the fruit can mix well with the rest of the ingredient and so that it can have time to chill! Sangria gets better and better as it sits, so even 24 hours ahead will be great.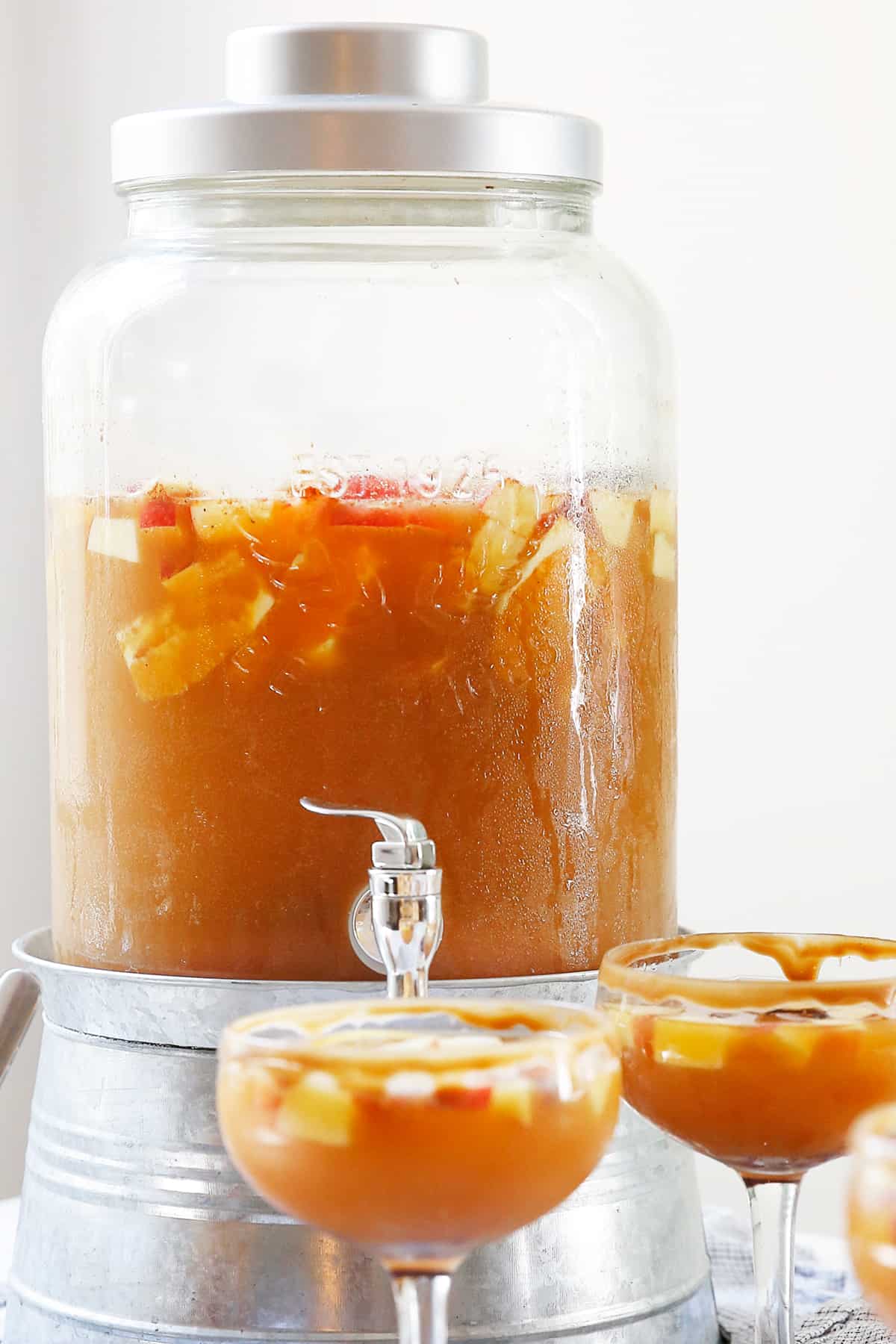 Watch the video:
Other favorite cocktail recipes:
---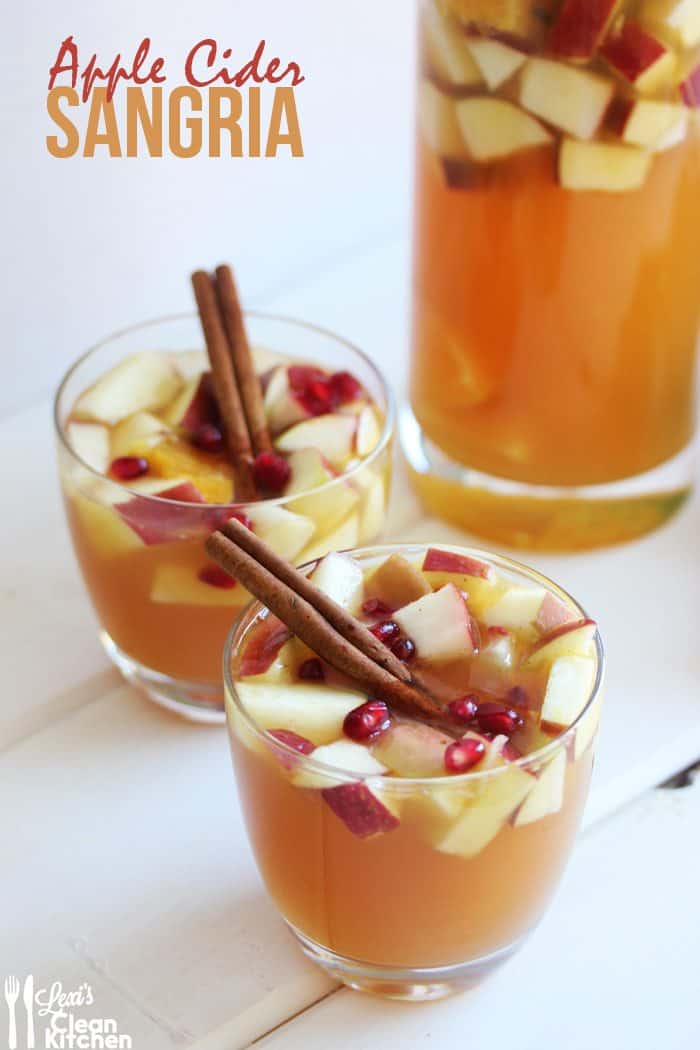 Apple Cider Sangria
Slow Cooker Mulled Cider with a Caramel Pecan Rim will be the hit of your parties or dinner parties all Fall and Winter long! The combination of the caramel and nutty pecans with the warming cider is perfection, and made with no added sugar.. Have it without any alcohol, or spike it as desired with your favorite liquor! Made in partnership with the American Pecan Council!
Slow Cooker Mulled Cider with Caramel Pecan Rim
No sugar added, simple to make, and definitely a new go-to drink when entertaining for the holidays! I put this out and let everyone add in their favorite alcohol: caramel vodka, brandy, bourbon, or wine!
If you love the combination of cinnamon + warm apple cider + a touch of cranberries, this is definitely a must-try! The best part? All you have to do is toss everything in a slow cooker and BOOM. Mulled cider perfection.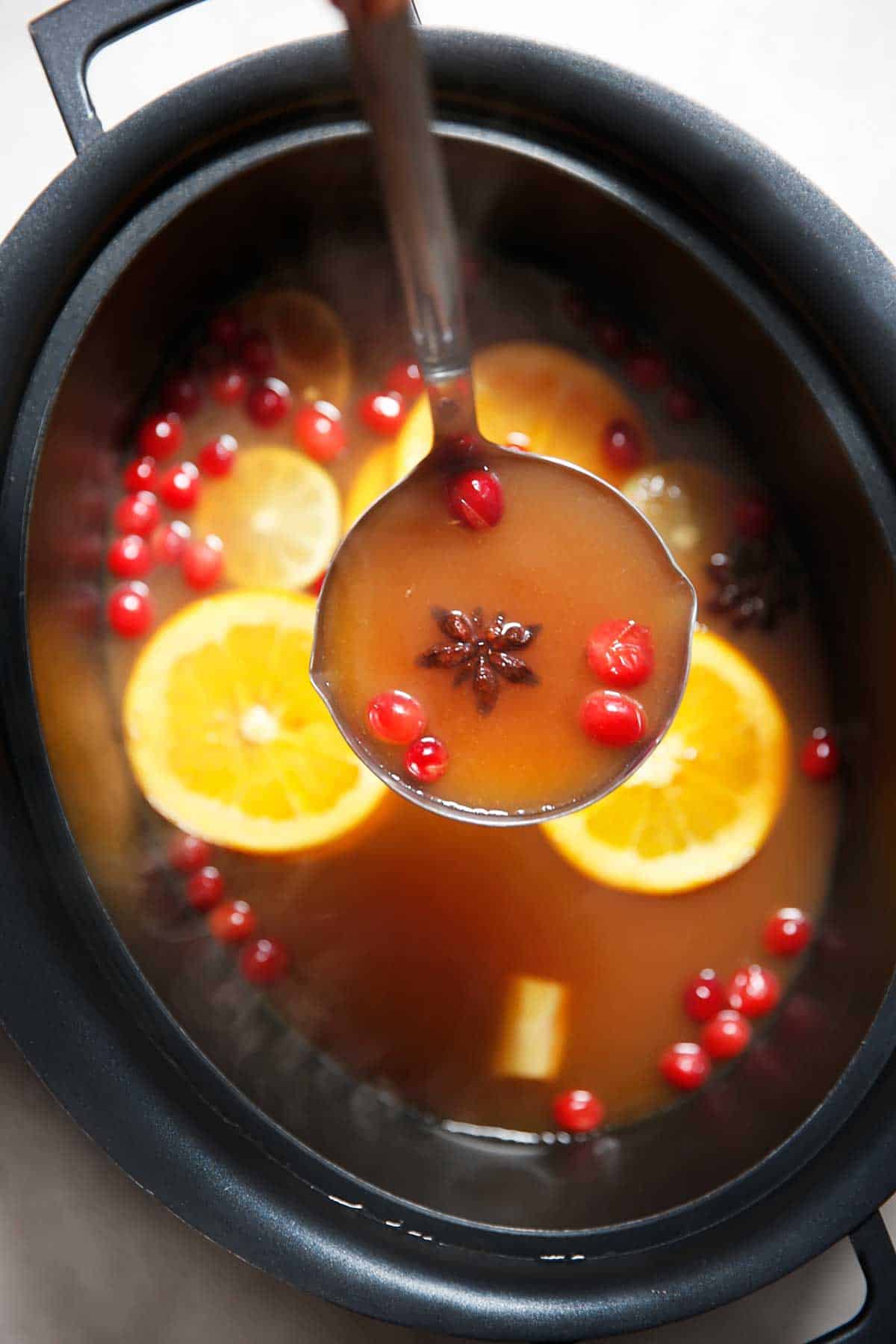 Get creative with this recipe for holiday entertaining by creating an individual spiked cider bar! Simply place liquor such as bourbon, red wine, or rum next to the slow cooker and let friends or family create their own spiked mulled cider beverage!
I'm back with another fabulous recipe in partnership with my friends at the American Pecan Council! Pecans are my favorite nut! They are lower in carbs and higher in fiber compared to many other nuts, and they're a "good" source of monounsaturated fat, including the beneficial oleic acid that's found in olive oil! A handful of pecans (about 19 halves) is a good source of fiber, thiamin, and zinc, and an excellent source of copper and manganese – a mineral that's essential for metabolism and bone health. Plus, they have that yummy, buttery flavor! I love using pecan pieces to make my life easier during the chopping of them!
For more information, visit the American Pecan Council's website! All thoughts and opinions are always 100% my own! Thank you for continuing to support LCK and the brands I work with!
Slow Cooker Mulled Cider with Caramel Pecan Rim
This Braised Apple Cider Chicken is made into a complete meal with Brussels Sprouts and Bacon. It's the perfect one pan fall dinner recipe! Packed with vegetables and hearty autumn flavor, this dish will be the hit of any dinner, weekday or weeknight! Made in partnership with Shenandoah Valley Organic!
Braised Apple Cider Chicken with Bacon and Brussels
The salty bacon, sweet apple cider sauce, brussels sprouts, and perfectly cooked fall off the bone chicken is the ultimate flavor combination for when you are craving something comforting! I love this Braised Apple Cider Chicken for an easy weeknight meal that everyone will love. It's dairy-free, grain-free, and low-carb, made with only a few simple ingredients and made into a compete one pan dinner.
Ingredients Needed
Bone-in Chicken Thighs or Drumsticks
Fresh Apple Cider
Bacon
Leeks
Garlic
Cinnamon
Salt and Pepper
Fresh Thyme
Dijon Mustard
Maple Syrup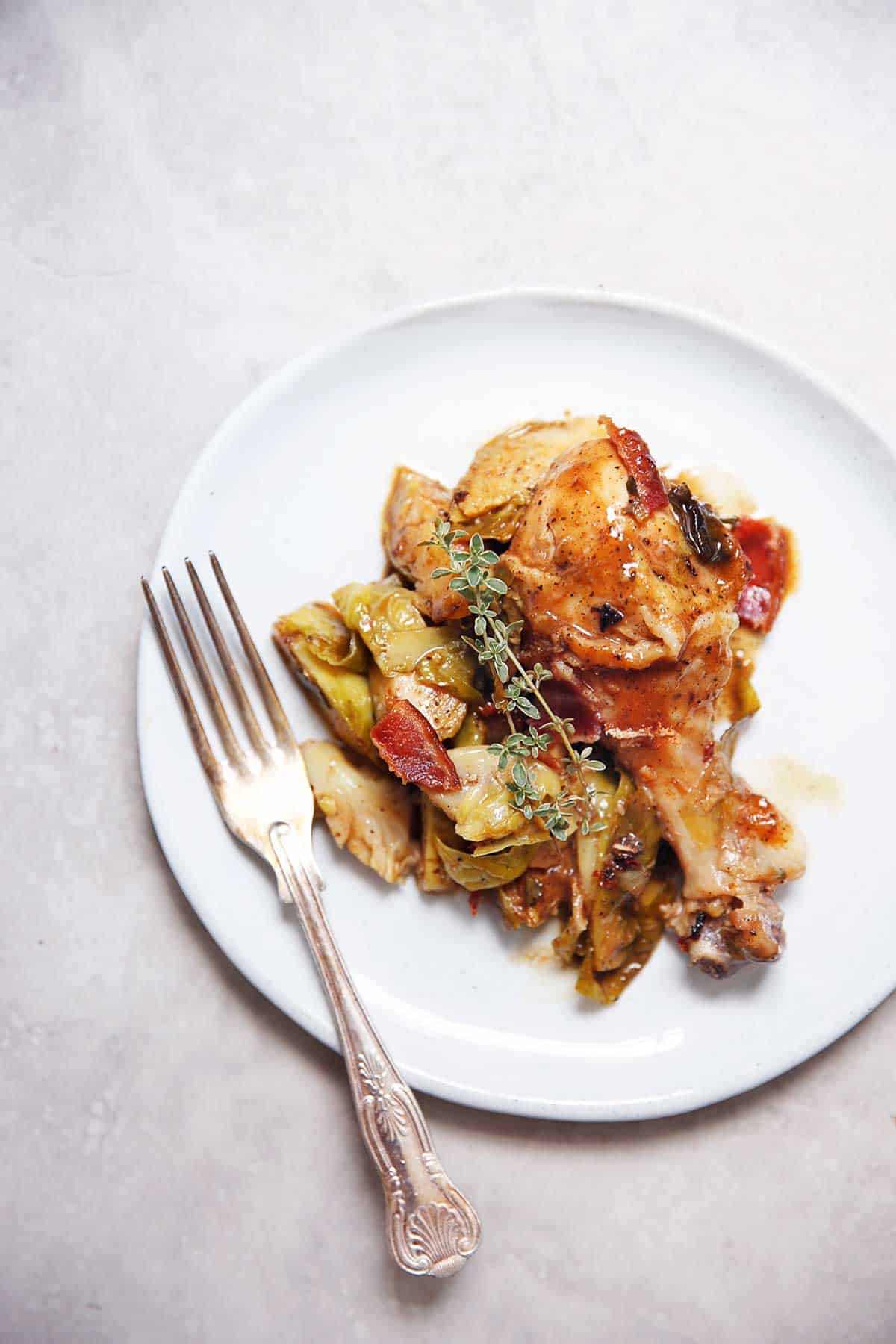 I am so excited to partner with my friends at Shenandoah Valley Organic for today's awesome dish. SVO is a locally minded company that prides itself in producing the highest quality chicken grown on family-owned farms. Their Farmer Focus line allows you to actually see what farms your chicken is coming from, since each package you pick up at the store has a Farm ID for easy navigation on their website!
Watch the video: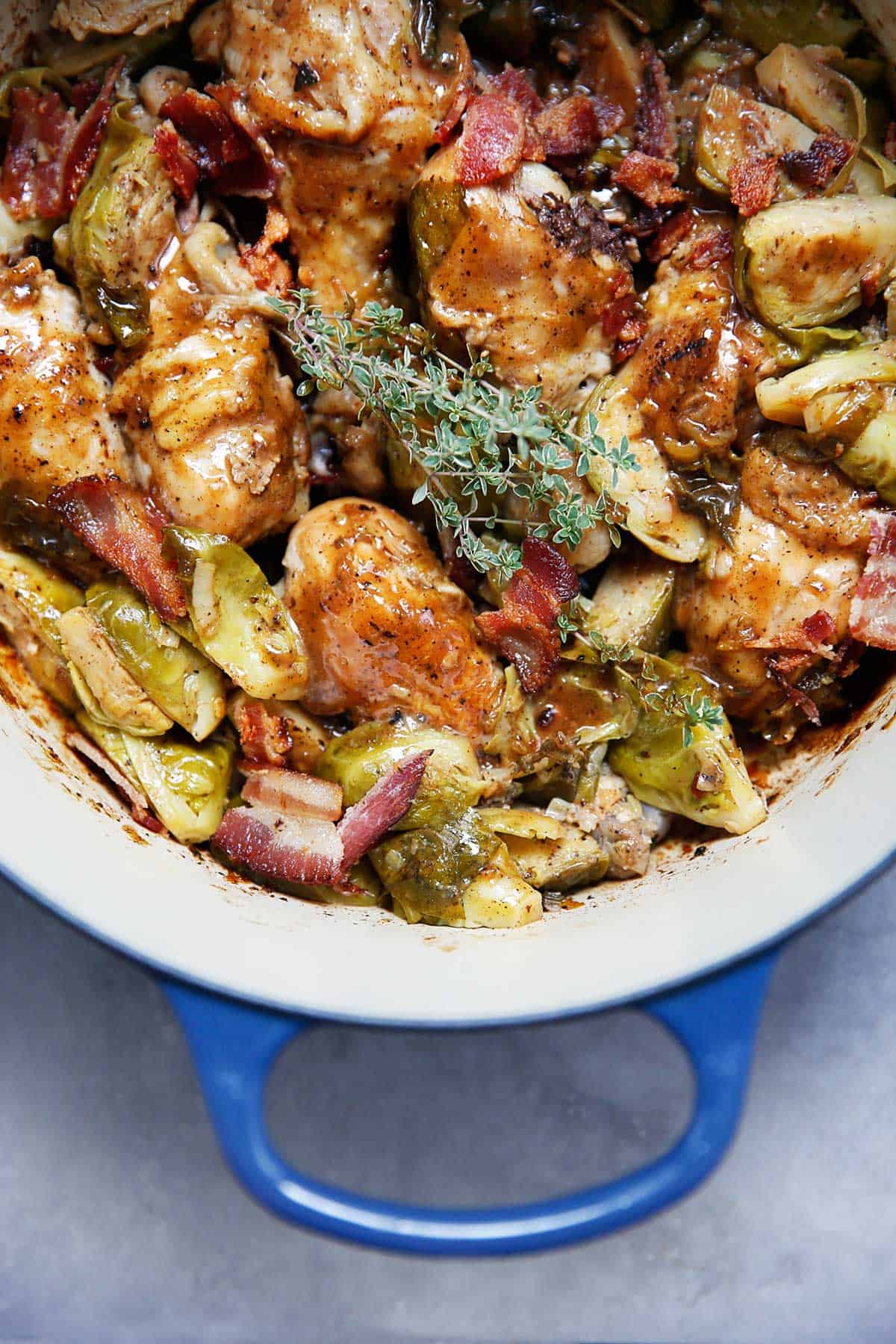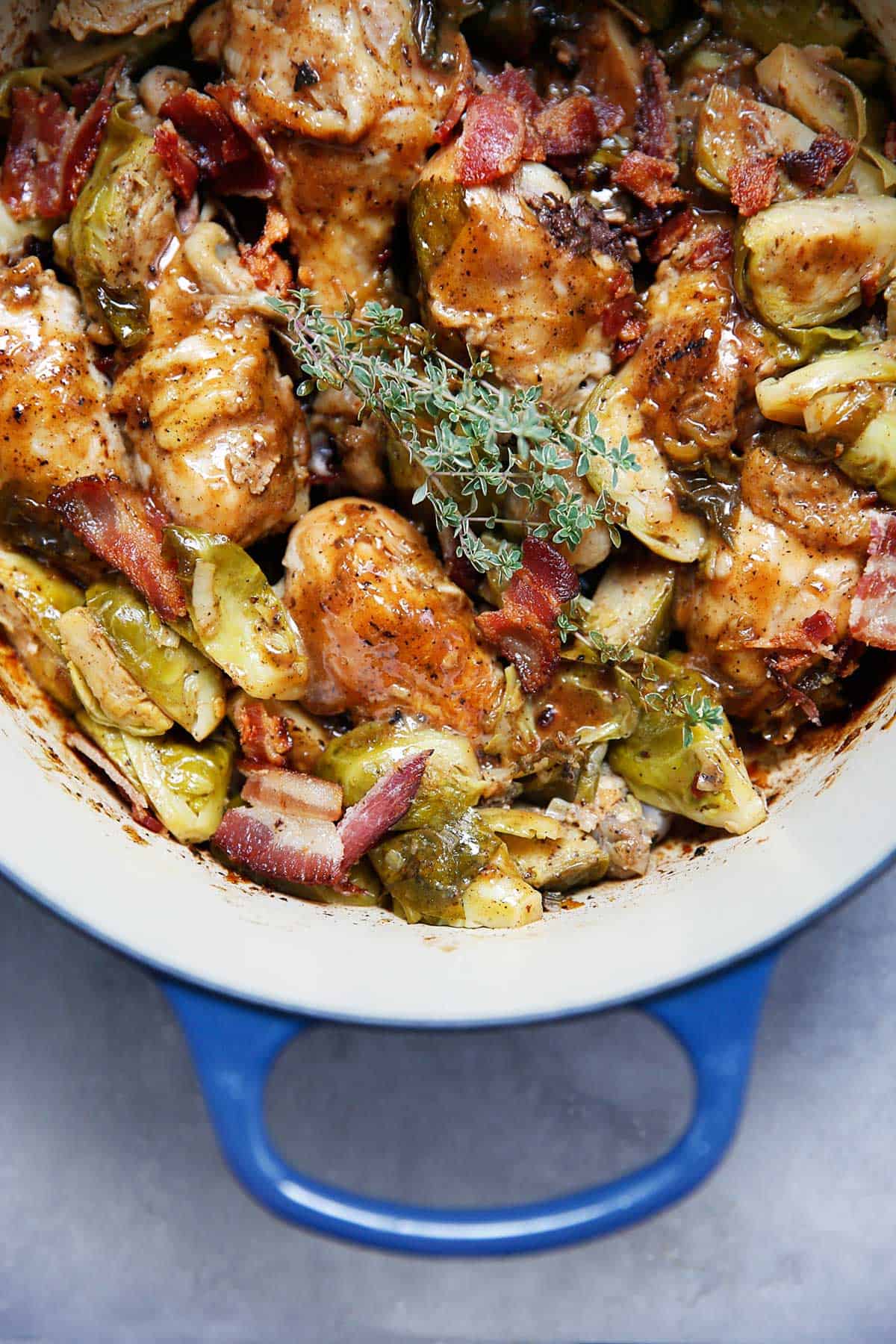 Want other delicious chicken recipes? Here are some favorite:


Find SVO in a store near you by plugging your zip code into their store locator here. This post is sponsored by Shenandoah Valley Organic. All thoughts and opinions are always 100% my own! I love the integrity of their products and think you'll love them too. Thank you for continuing to support LCK and the brands I work with!