Korean Ground Beef Bowls (Meal Prep!)
Sweet, salty and with a hint of spice, this Korean Ground Beef recipe is a take on the classic dish of beef bulgogi. Prepared in well under 20 minutes, these Korean Ground Beef Bowls are simple to prepare, so delicious and absolutely perfect for meal prep! This dish is also dairy and gluten free, as well as low-carb and paleo-friendly. Made in partnership with my friends at Ello Products.
Korean Ground Beef Meal Prep
When it comes to eating healthy and fueling your body, there is one strategy that seems to work above all else: plan ahead! Making a plan and prepping the food is the best way to make sure you actually have access to and eat what food makes your body feel it's best. And that is exactly where these Korean Ground Beef Bowls come in! They check off all the boxes:
So delicious

Simple to make

Uses only a few ingredients

Keeps well for a few days
Making these ground beef bowls is as easy as cooking up some ground beef with Korean inspired flavors, and pairing it with some quickly sautéed cauliflower rice, and some chopped fresh veggies. Top with some gochujang sauce or other spicy sauce for an extra kick and some sesame seeds.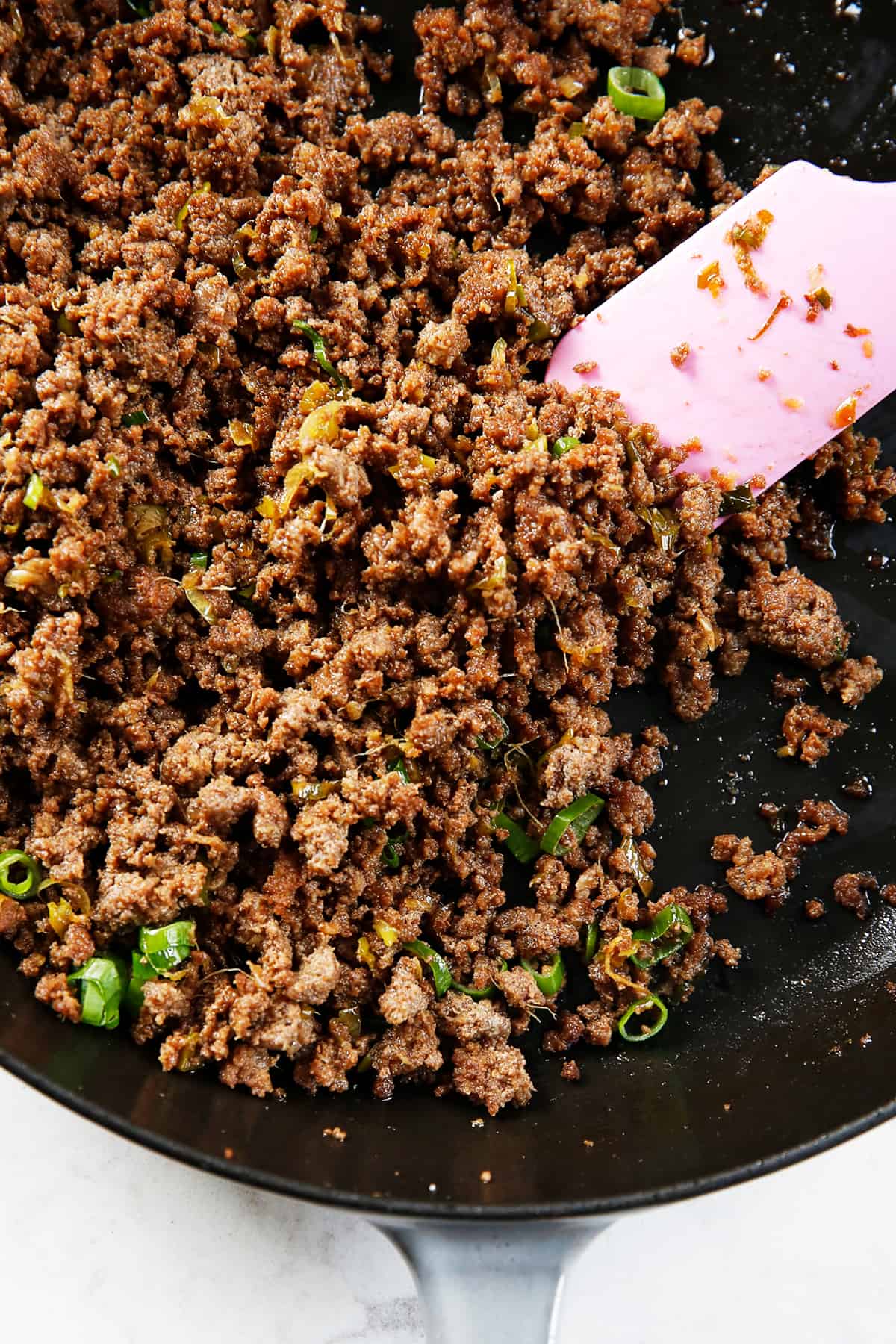 Korean Ground Beef Ingredients
While our take is by no means authentic, the inspiration from this ground beef bowl comes from the flavors of beef bulgogi. The quickly seared beef is flavored with a little bit of sweet, a little bit of salty and optionally some heat. While we list red pepper flakes in the ingredients, if you happen to have Gochujang at home, feel free to use that in the recipe!
Avocado Oil

Ground Beef

Garlic

Ginger

Scallions

Coconut Aminos (a soy sauce substitute)

Coconut Sugar

Sesame Oil

Red Pepper Flakes (or gochujang)
To serve this ground beef recipe, pair it with either cauliflower rice or white rice, and add in some fresh carrots and cucumber!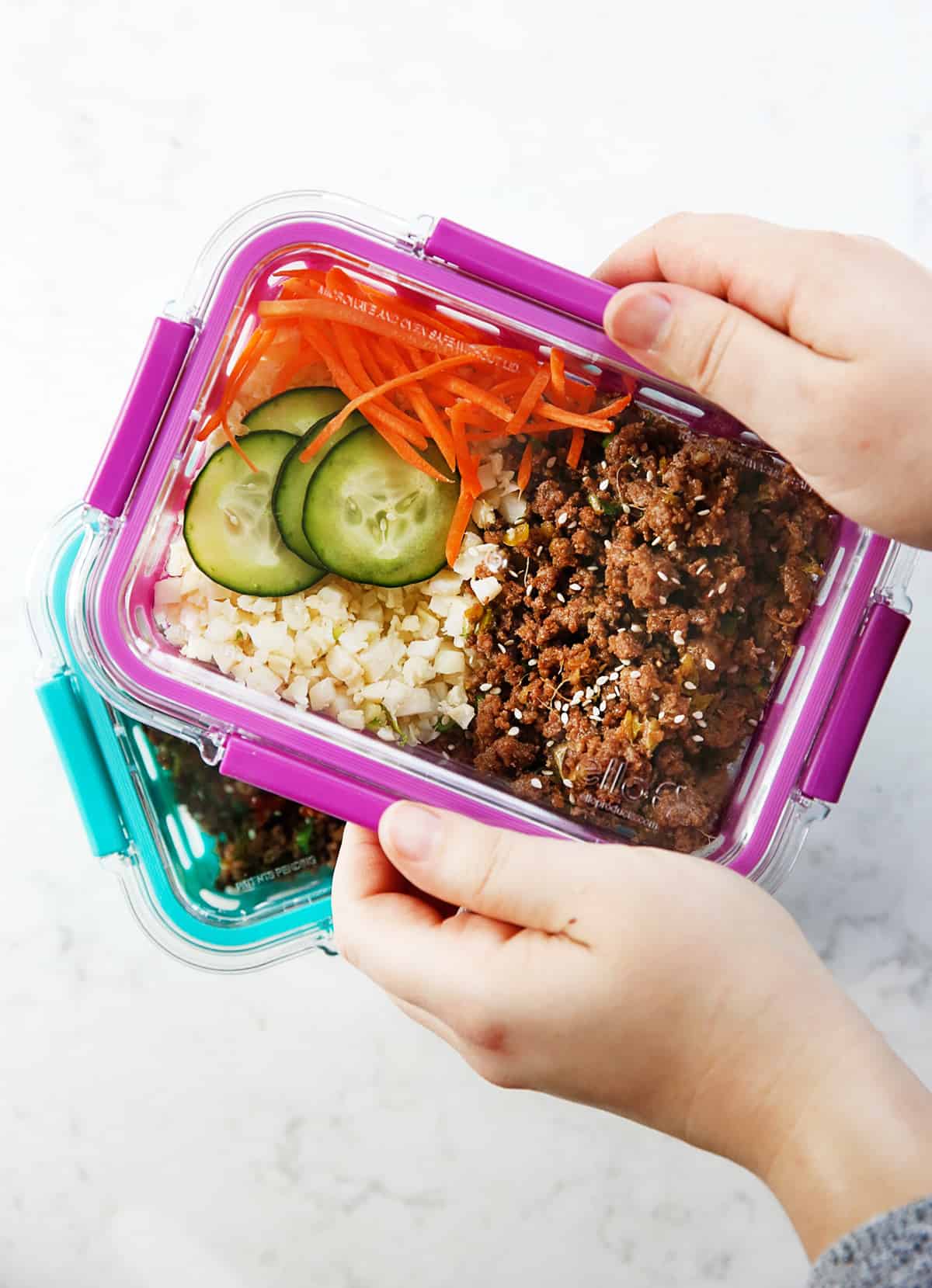 Why we LOVE Meal Prepping in Ello Storage Containers
We've been using Ello DuraGlass Meal Prep Containers for about 2 years now and they have been our favorite storage containers by far. Not only are the colorful silicone sleeves cute and helpful in pairing the containers with the matching lid, but they also serve a purpose! The silicone protects the glass and they act as as a trivet so a dish can go from the freezer or refrigerator, to the toaster oven (or microwave) and then right to the table.
I love using glass for storage (and re-heating) because it's free of harmful chemicals, can be heated in the oven (without lids), toaster oven or microwave and is (top-rack) dishwasher safe. Plus the crystal clear Tritan lid and colorful silicone sleeve let's me easily see what is in the containers so I can keep my refrigerator more organized. This is especially helpful when you have a refrigerator full of meal prep and you need to stay organized.
Plus these air-tight lids WILL NOT leak, and that is always a bonus when commuting with your lunch to work!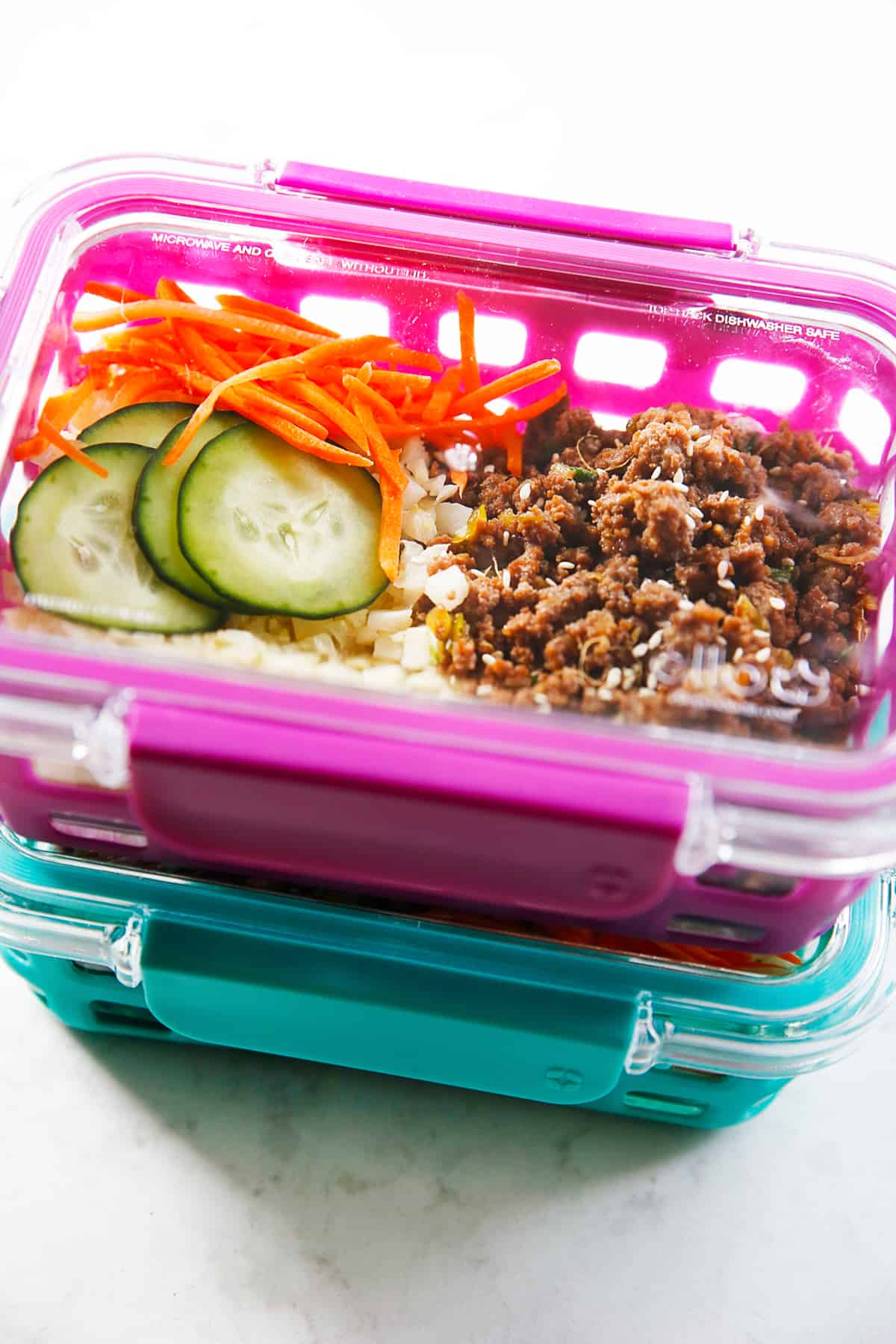 How long will this Korean Beef meal prep last?
Ground beef keeps really well in the refrigerator for about 3-4 days. We prepped these bowls with cauliflower rice, thinly sliced cucumbers and carrots to create a filling and healthy bowl, which generally will keep well in the refrigerator about 3 days. If you prefer to have really fresh vegetables feel free to portion out the ground beef ahead of time in the meal prep containers and add the veggies the night before or that morning.
If you like this meal prep recipe, check out these others:
Korean Ground Beef Bowls (Meal Prep!)
This Egg Roll Soup is an easy, weeknight dinner that is full of the flavor of an egg roll, without any of the fuss of wrapping and frying! This veggie and pork soup is family friendly and would make great leftovers! We also offer options to make it vegetarian, and it's already Paleo, Whole30 and Keto friendly too!
Easy Egg Roll Soup
If you're looking for a weeknight dinner win, you've found it with this deconstructed egg roll made into a soup! It really taste like an egg roll only it isn't fried, which makes it an easy, cleaned up version of your favorite Chinese take-out appetizer! This low carb soup is super filling and is a family friendly dinner. The best news is you can have this on the table in about 30 minutes and everybody will be satisfied.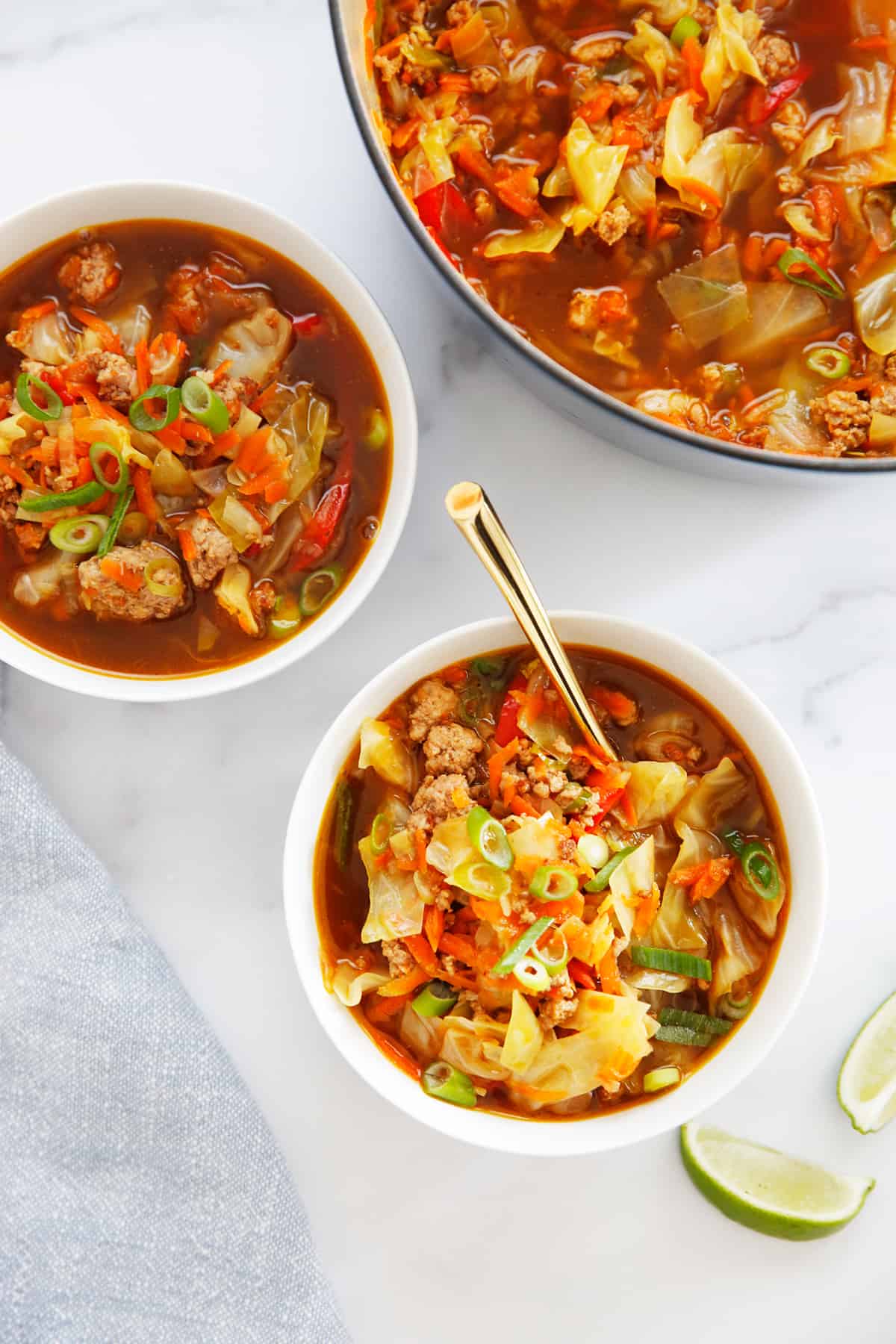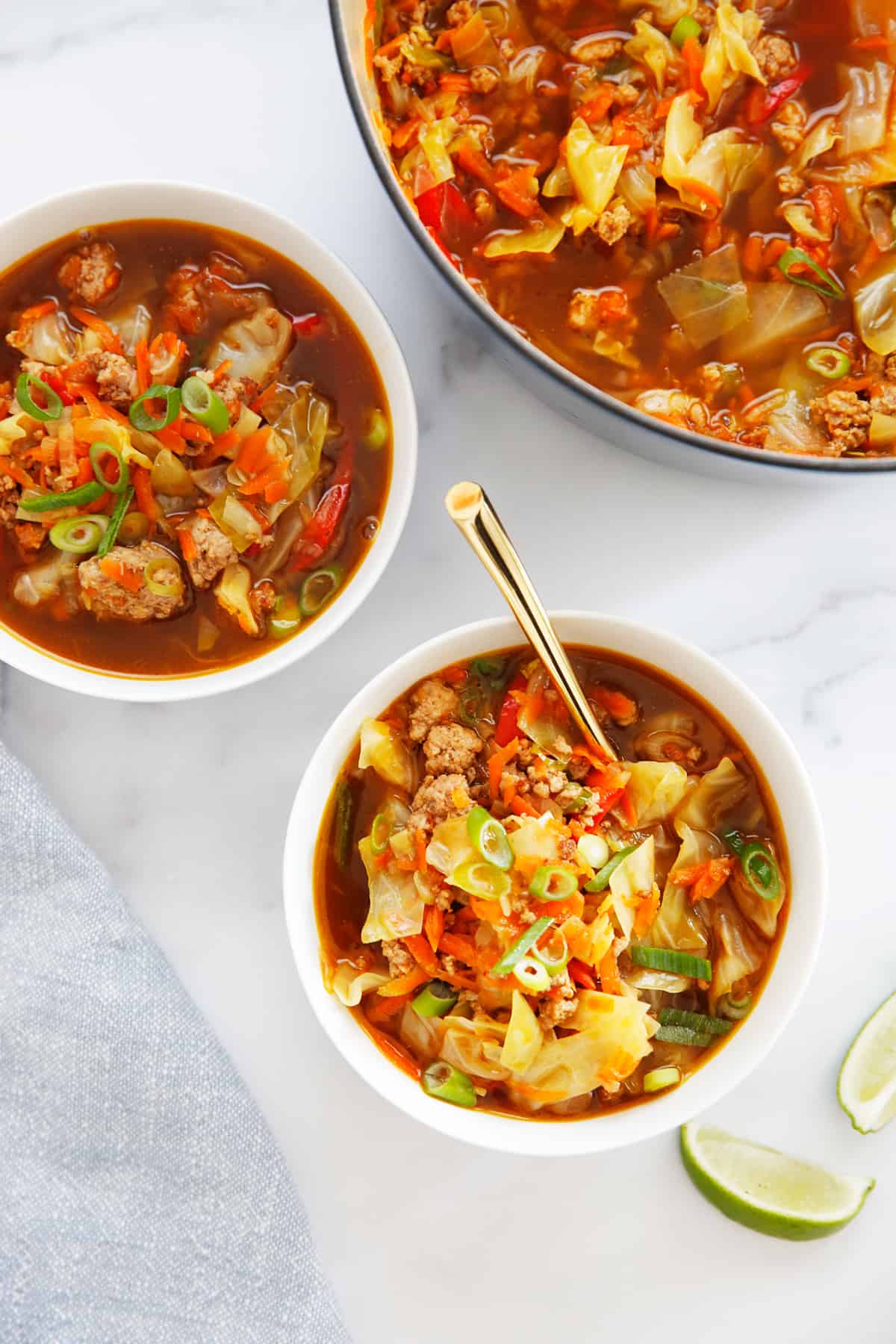 What ingredients do you need for this paleo egg roll soup?
Ground pork (but feel free to make this vegetarian by substituting in mushrooms here)

Onion

Red pepper

Fresh ginger

Beef broth

Green cabbage
Carrots
Coconut aminos (this is a soy free substitute for Tamari or Soy sauce)
Fish sauce
Rice wine vinegar (you can substitute white wine vinegar, or lime juice if you don't have this)
Can you make this soup ahead of time?
Soups are the ultimate make ahead meal and it's freezer-friendly! This would be a great meal prep item to make a double batch of. Freeze some to eat later, and eat some throughout the week for lunches or dinners.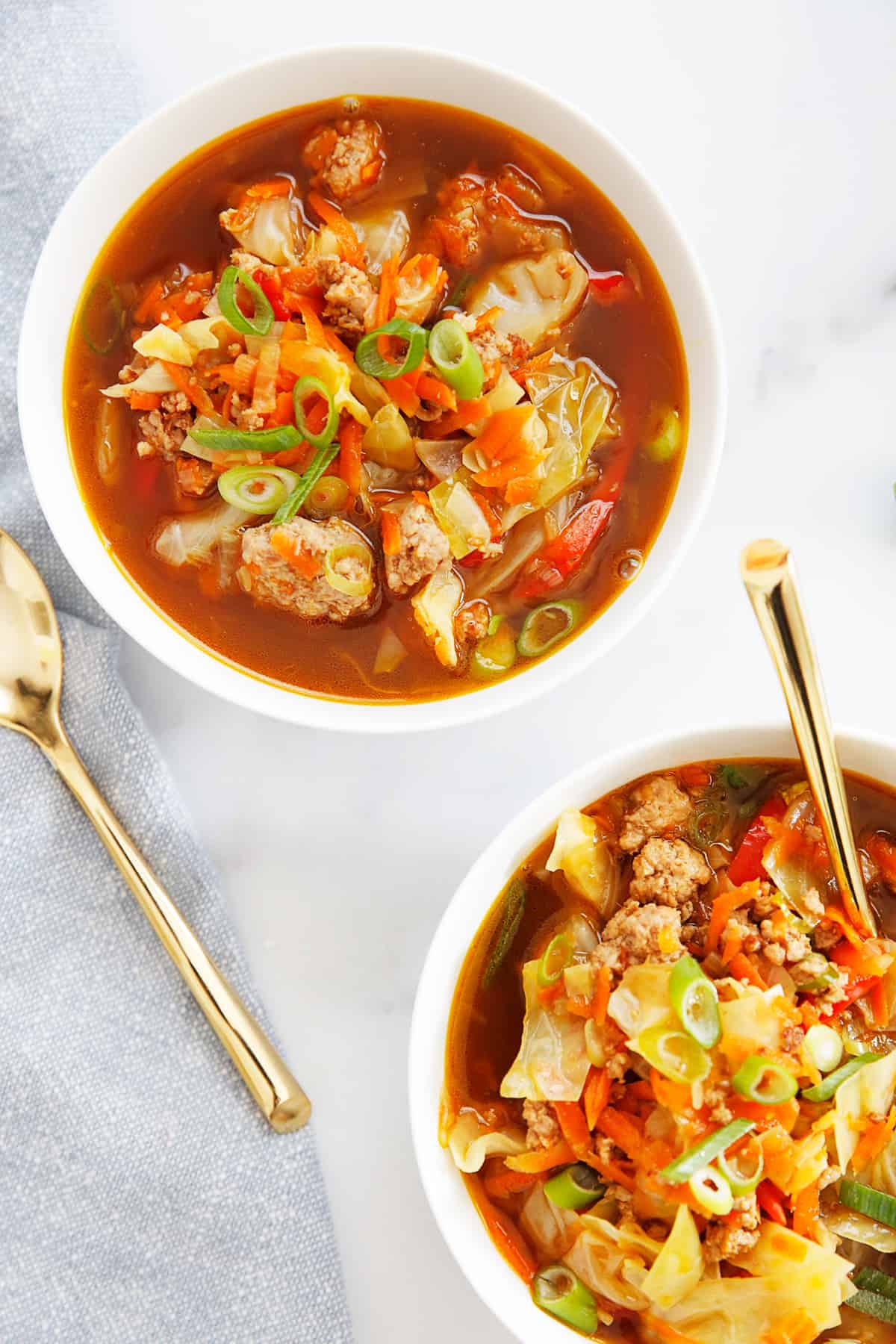 If you like this soup recipe, check out these others:
Egg Roll Soup
Adorned with a sweet and sticky glaze, this Asian Salmon recipe is just what a fun and delicious dinner looks like. Plus, it's super simple to put together and pairs well with just about any veggies for a side. It's gluten-free, dairy-free and Paleo and calling your name to put on the dinner list this week!
Sticky Asian Salmon Recipe
Salmon is hands down one of my favorite ways to put a quick dinner on the table, and this Sticky Asian Salmon dinner is no exception. It is flavorful and is simple to put together. The salmon is quickly marinaded in common pantry staples like coconut aminos (a soy-free soy sauce alternative) and honey and then quickly broiler up before brushing on some of the reduced sticky marinade! Serve with a simple side of steamed or roasted veggies and dinner is served!
Ingredients Needed
Wild Salmon

Coconut Aminos

Honey

Rice Wine Vinegar

Garlic

Ginger
What to Serve With It
Because salmon is such a quick dish to make, it's best to serve with either a prepped ahead veggie dish (we like to roast a big batch of veggies at the beginning of the week to use throughout the week) or something that takes just a few seconds to put together, like a salad!
Some other options are to serve with a quick cole slaw, like this one or this one, some zucchini noodles or other veggie noodles, or some cauliflower rice.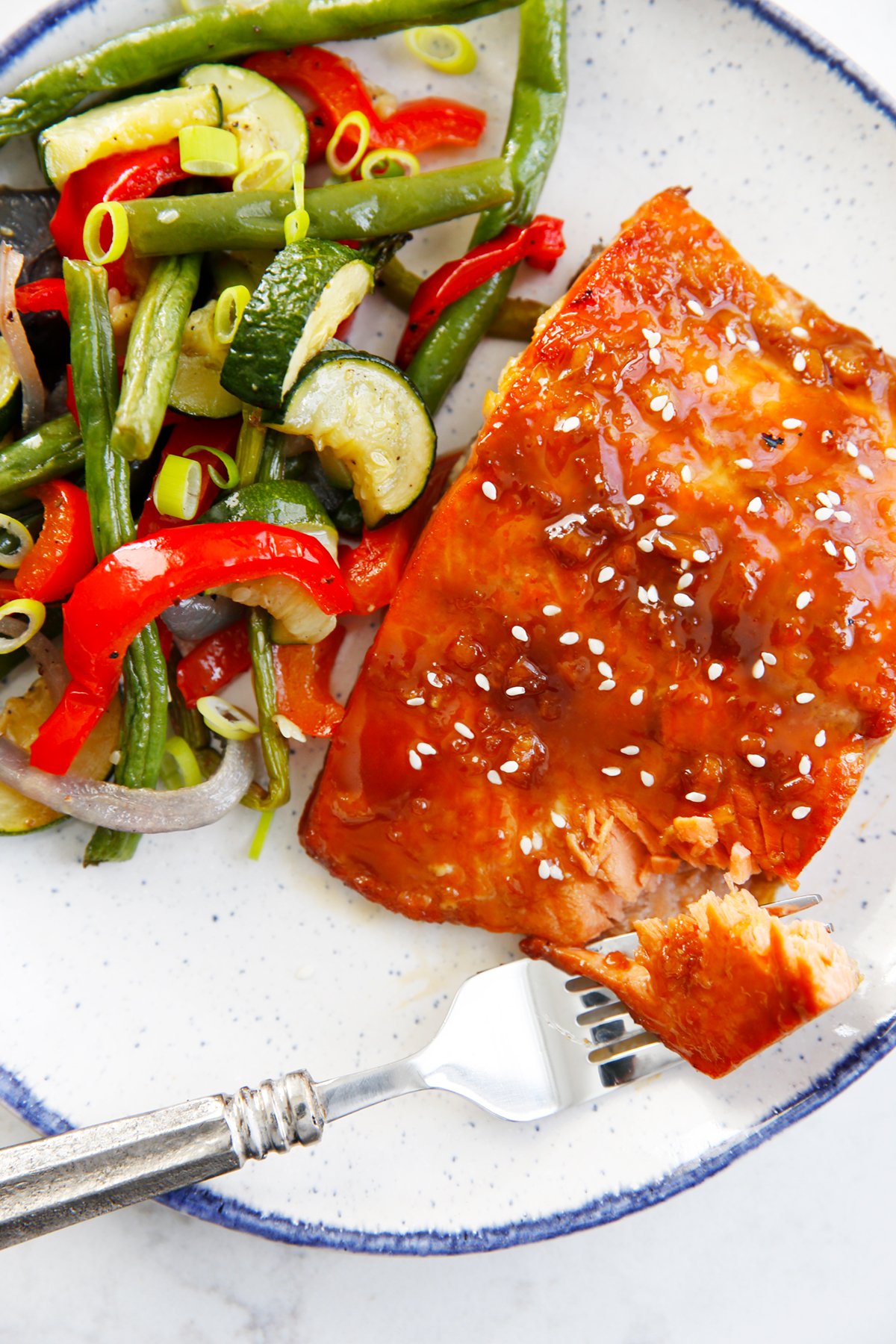 If you like this salmon recipe, check out these others: