13 Easy Baking Recipes to do with Kids
Finding yourself in the kitchen a lot these days with kids under your feet? We are sharing 10 of our favorite baking recipes that are simple to do with your kids. These recipes are healthier than traditional, so you can feel good about your kids eating them!
Baking Recipes for Kids
Baking with your kids can not only be a great way to spend family time together, but it's also educational! Baking is a great STEM activity that exposes kids to different elements of science and math, among other things. It also teaches kids organization skills, can improve concentration skills and the importance of following directions. But above all, it usually results in something really delicious to eat! We've gathered a baker's dozen of our favorite recipes to bake with kids! These recipes have simple instructions and are generally on the healthier side of treats!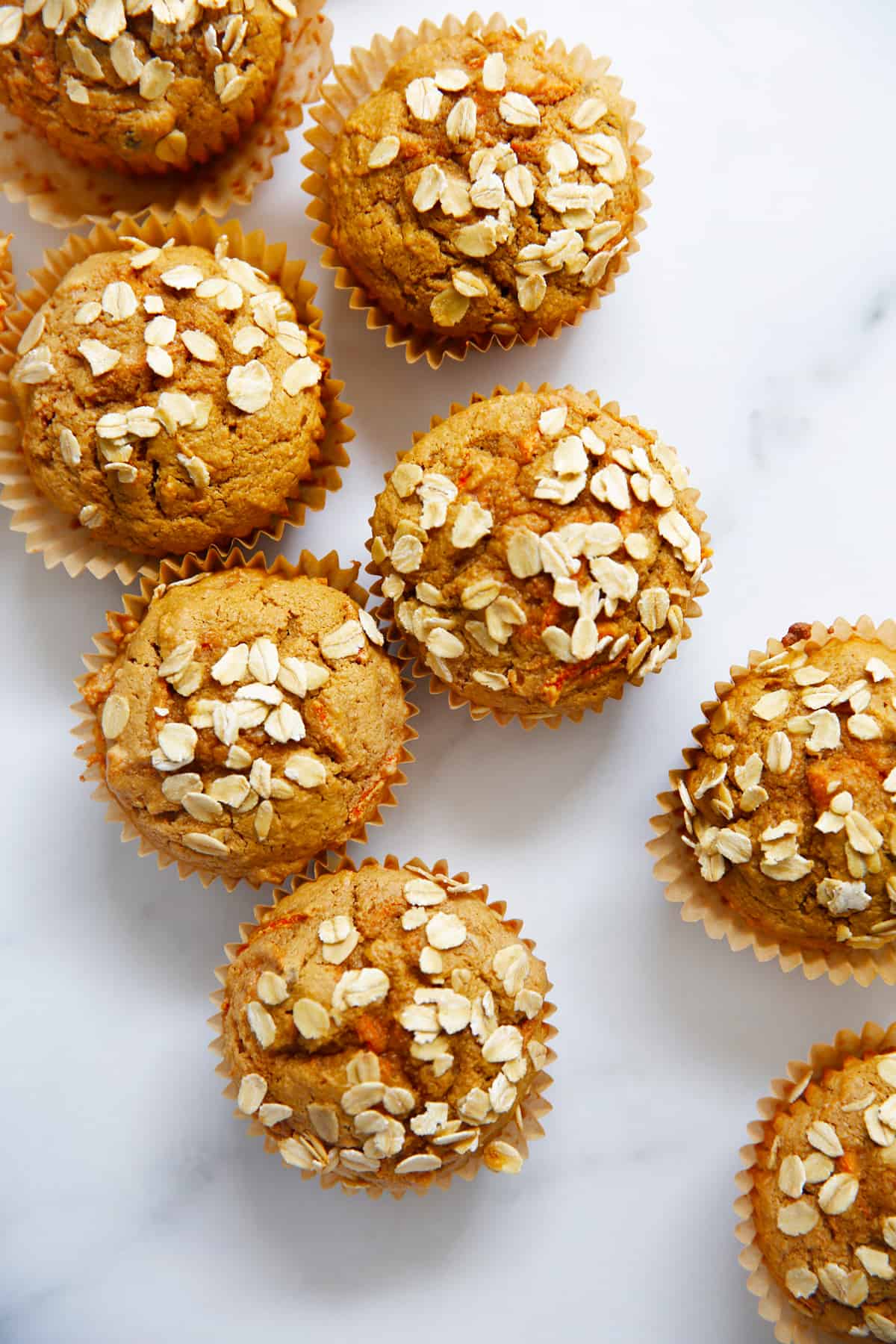 Healthy Carrot Muffins (Gluten-Free and Nut-Free): These muffins are made with oat flour and coconut flour, packed with vitamin C rich carrots and raisins and use just one bowl to put together! These gluten free carrot muffins would be a great on-the-go breakfast or snack, will be a hit with picky kids and are 100% nut-free!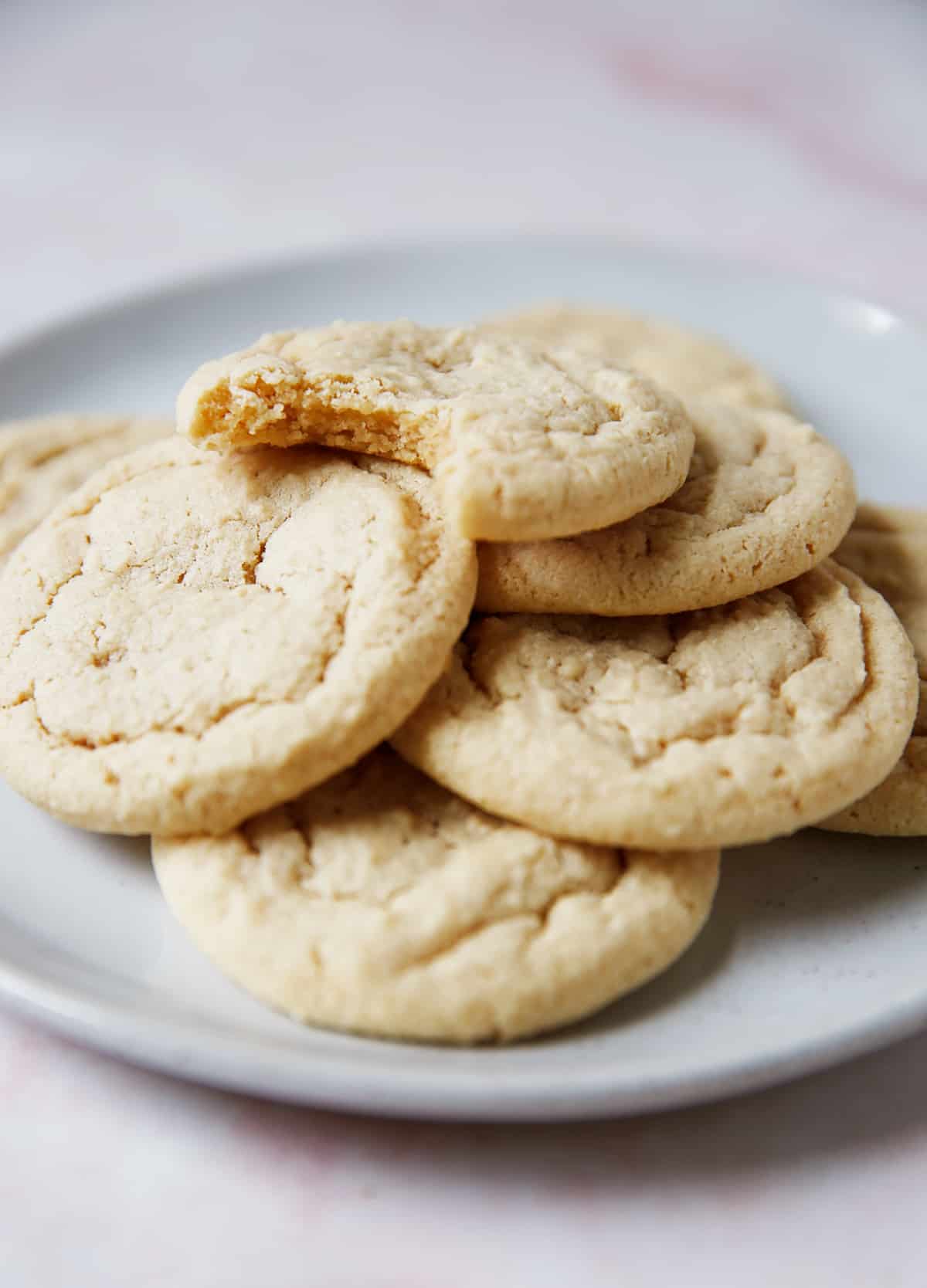 Gluten Free Sugar Cookies: These buttery sweet cookies have a soft vanilla flavor, a crisp exterior and a soft and chewy middle, just like any good sugar cookie should have. Better yet, they are simple to prepare using only a handful of ingredients and needing just a bowl and spoon to make the batter.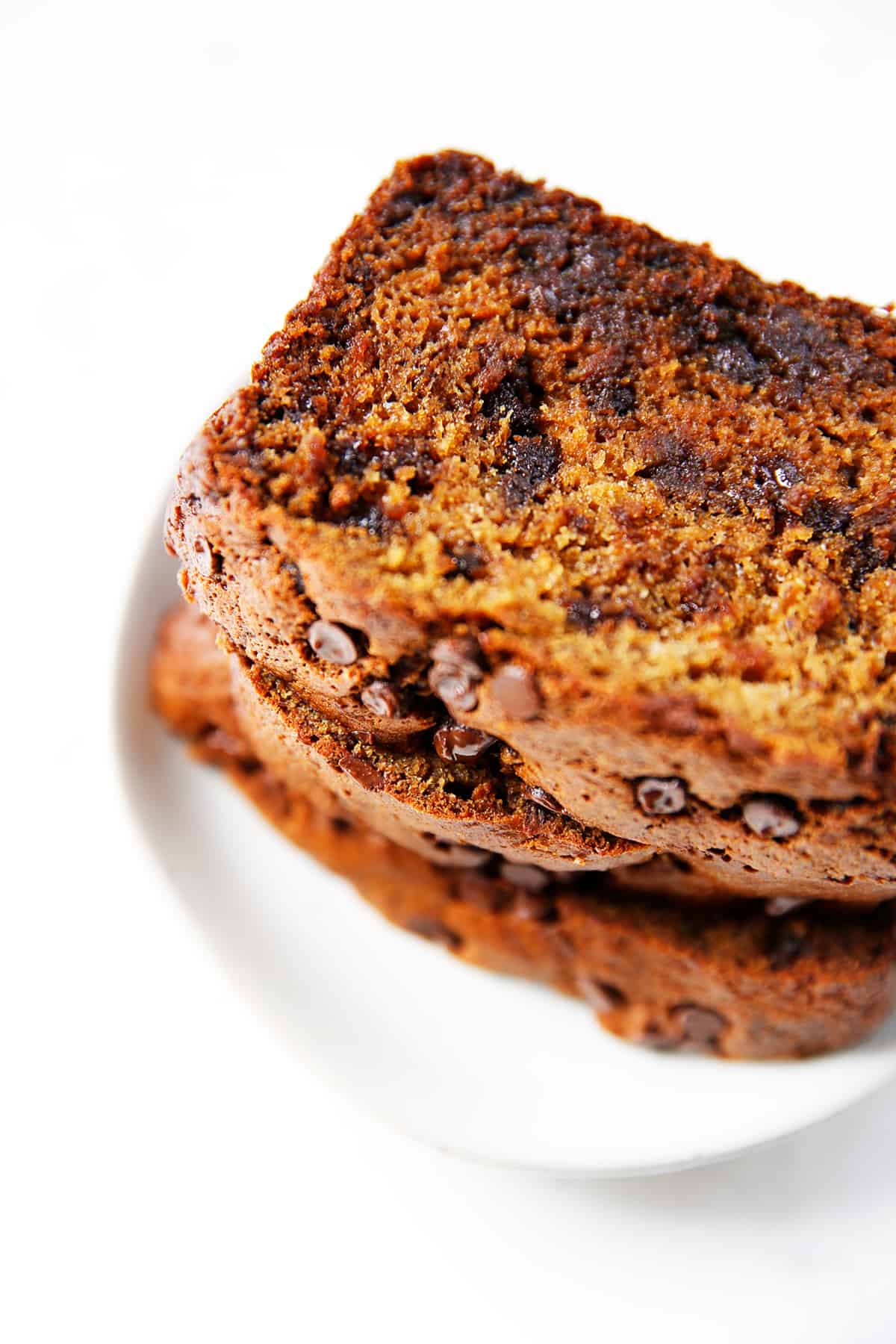 Gluten Free Banana Bread: This banana bread tastes just like the classic version you know and love but made with a blend of healthy oat flour and coconut flour. It is also happens to be dairy-free! This brunch staple is moist, simple-to-make and will be loved by everyone, gluten-free or not!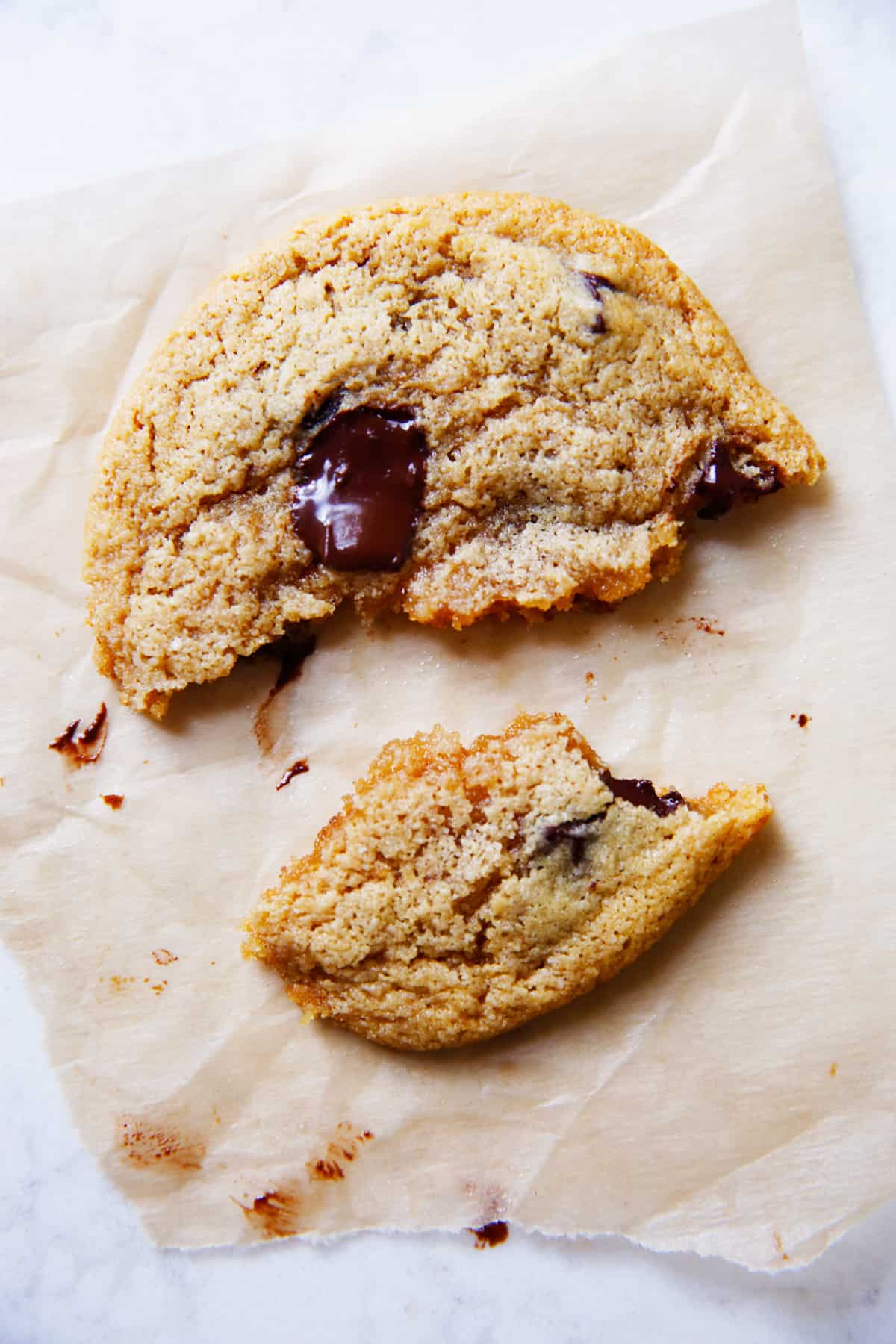 Gluten Free Chocolate Chip Cookies: Crispy on the outside and soft and chewy in the middle, these CCC are the real deal. They're also easy to put together, using just 1-bowl and no fancy equipment. Made without any refined sugar, and using nutrient-dense baking flours, this cookie is not only delicious, but one you can feel good about eating.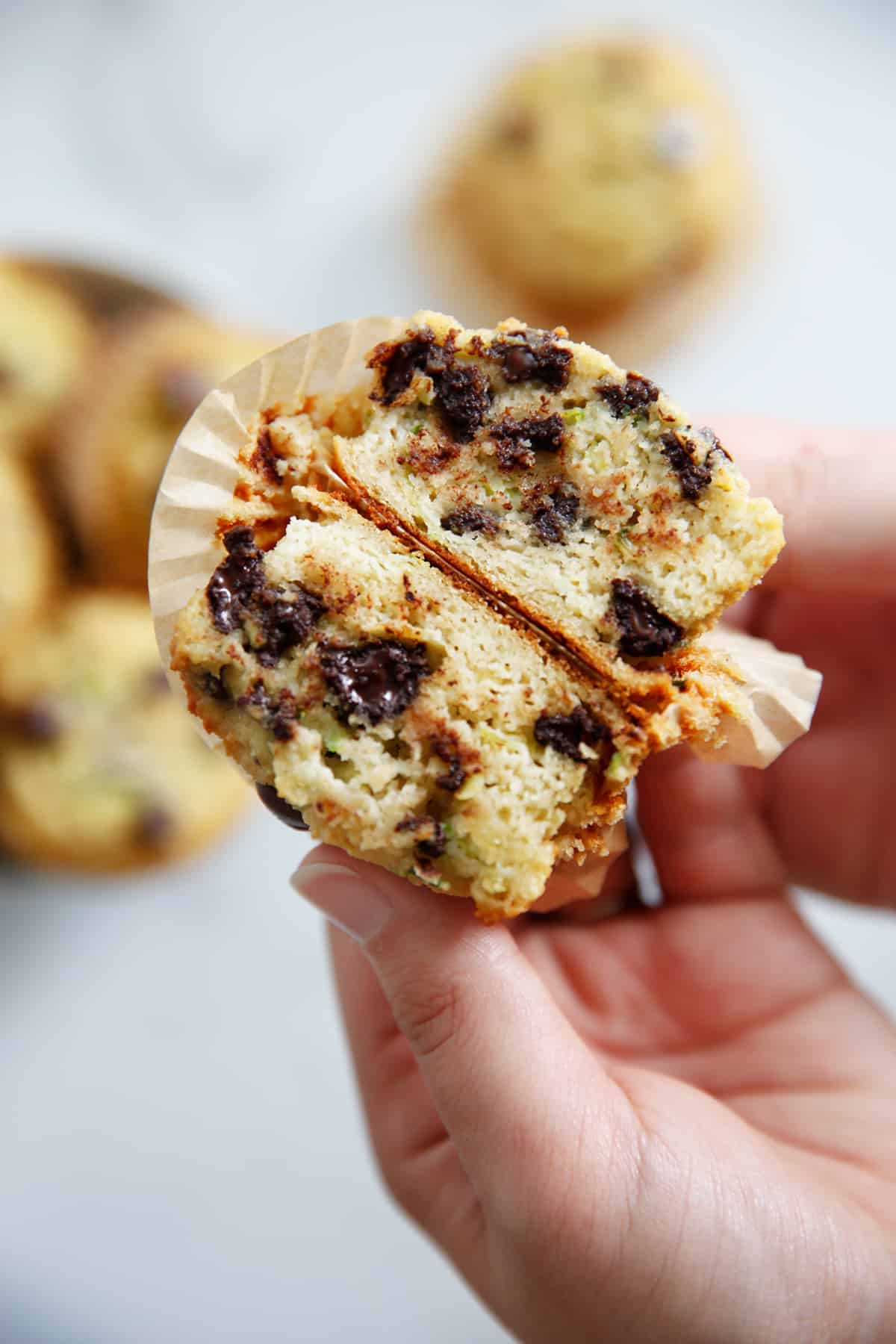 Chocolate Chip Paleo Zucchini Muffins: These muffins are fluffy, moist, and packed with good-for-you ingredients. Made with a combination of almond flour and coconut flour, this gluten-free muffin recipe is made with unrefined sweeteners, zucchini, dark chocolate and is the perfect grab-and-go breakfast!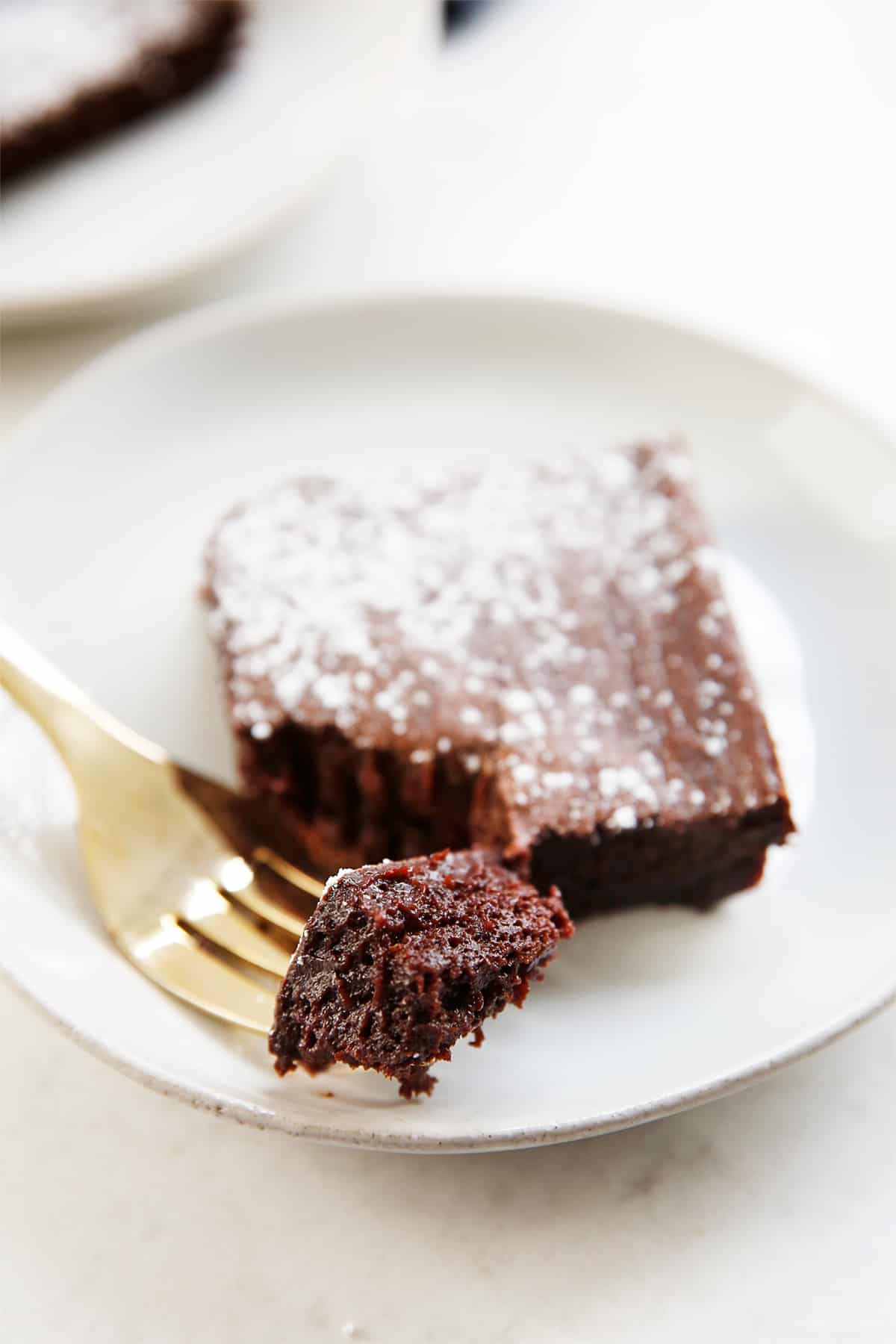 Avocado Brownies: These dense and fudgey brownies have a secret ingredient that's packed with nutrients and healthy fats, and nobody will know it! Chocolate Avocado Brownies are the perfect sweet treat to end a meal or even to pack in the lunch box with the kiddos. They're flourless and Paleo friendly without any refined sweeteners.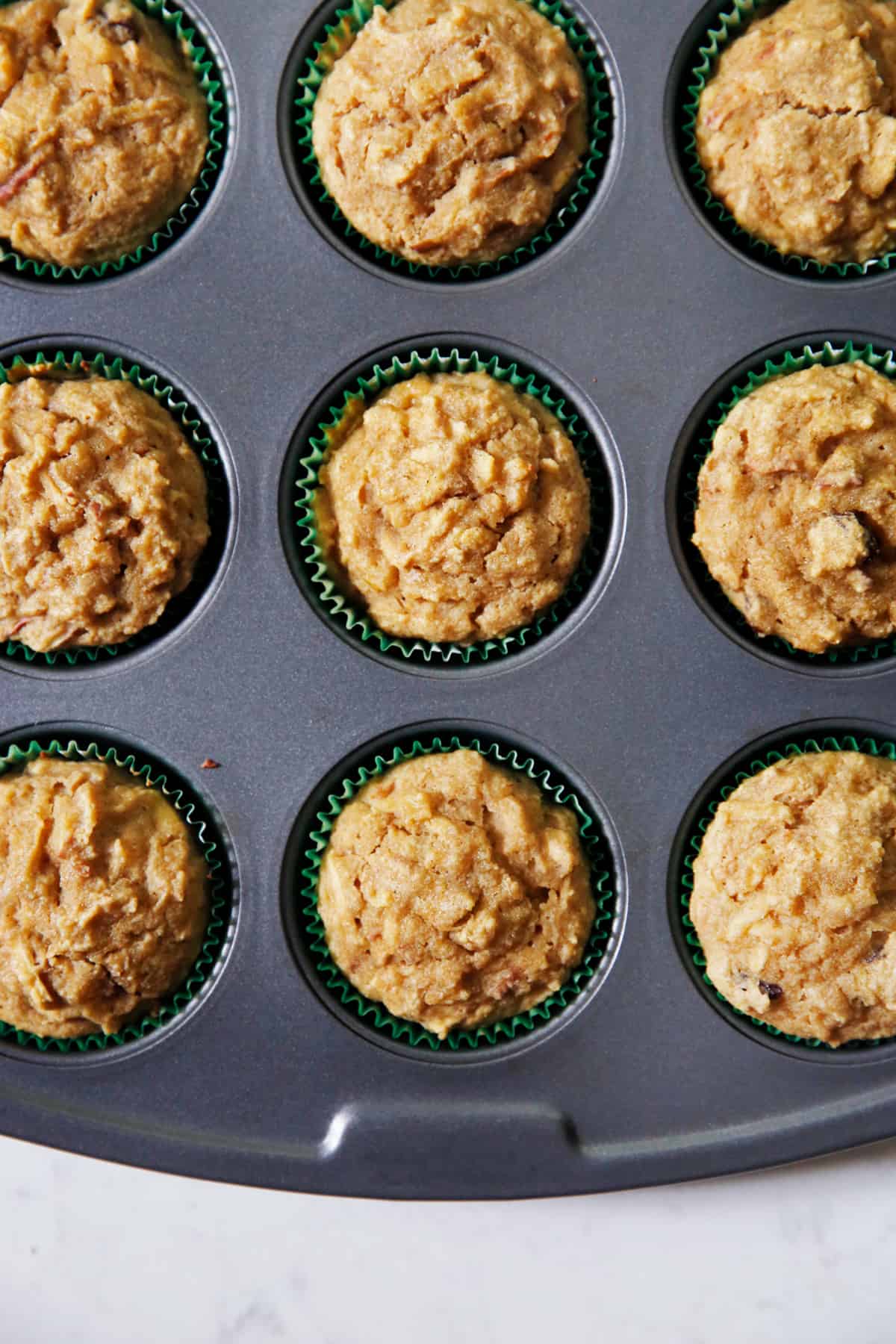 Gluten Free Apple Muffins: These muffins are made with oat flour and are packed with seasonal apples and raisins. These gluten free apple muffins are easy to make, using just one bowl to put together!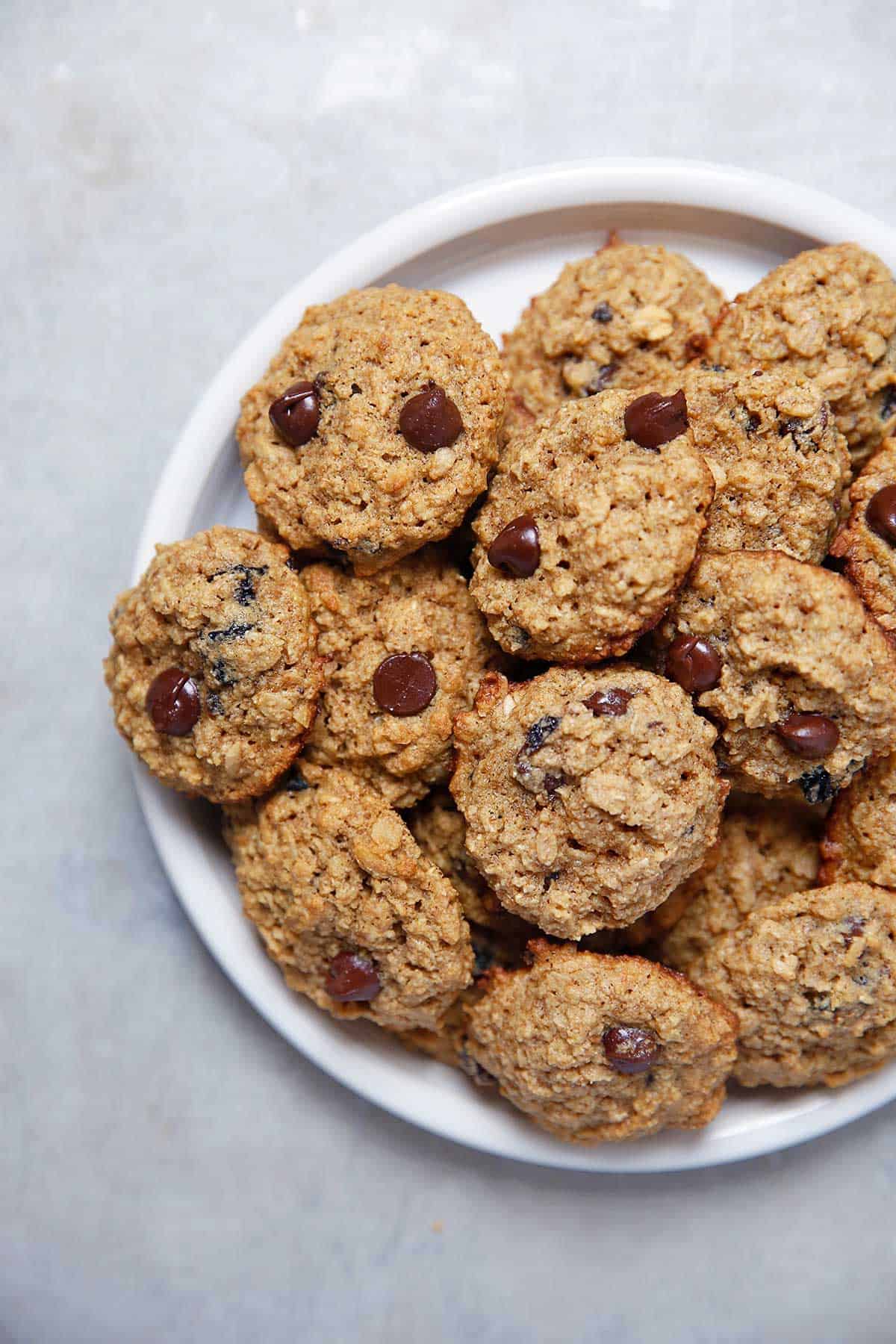 Gluten Free Oatmeal Raisin Cookies: These oatmeal raisin cookies with chocolate chips are so perfectly chewy, soft, and delicious! The combination of cinnamon, chocolate, and raisins in these are heaven. No one will be able to tell that these are gluten-free and refined sugar-free!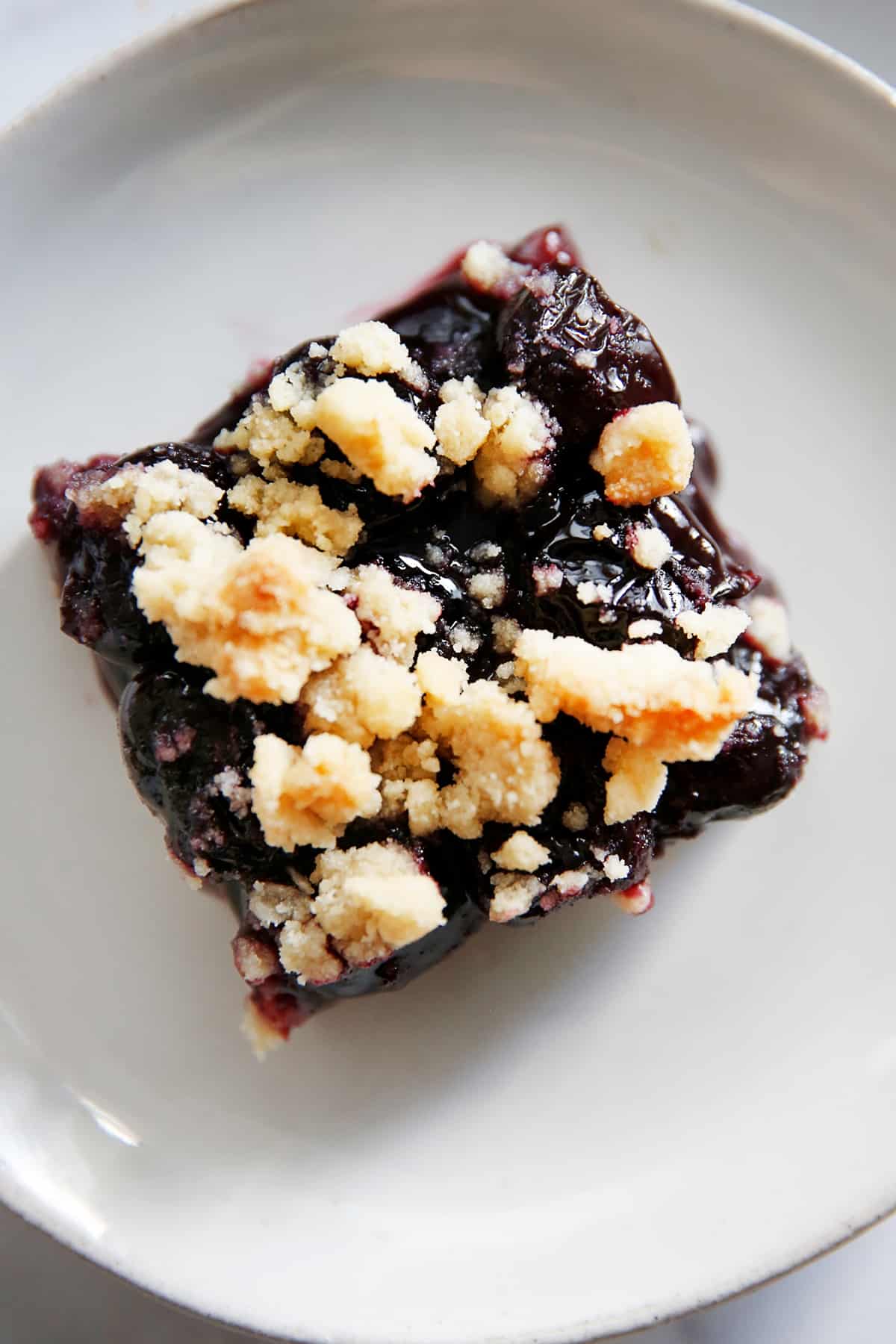 Cherry Pie Bars: These gluten-free cherry pie bars have all the deliciousness of a cherry pie without the time needed to actually making one! It uses nutrient-dense almond flour to make the crust and the crumble on top and is packed with fresh cherry flavor. These bars are gluten-free, dairy-free friendly, and the ultimate summer dessert!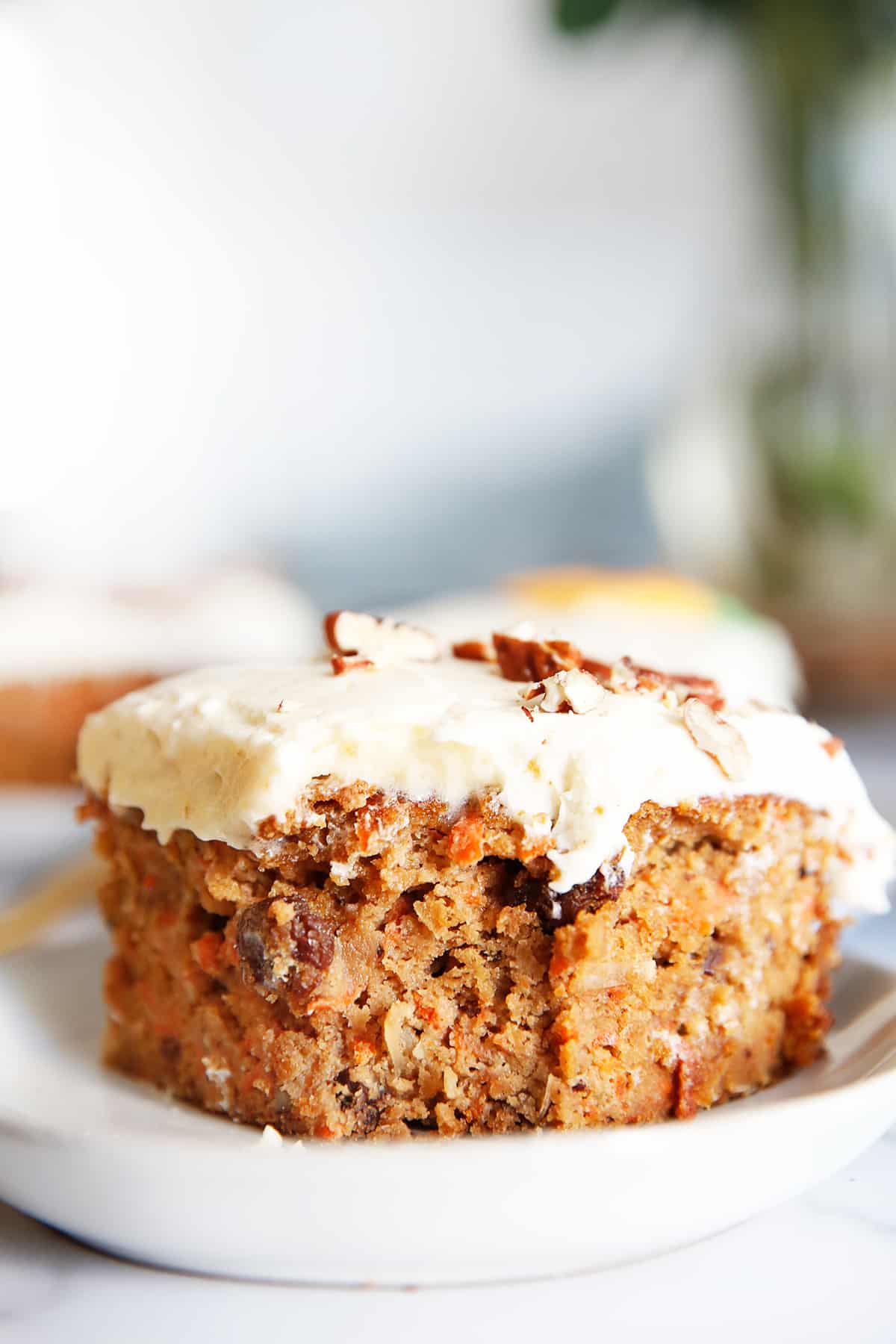 Gluten-Free Carrot Cake (Easy Sheet Cake): This cake is so easy to make, has such classic flavors and is perfect to serve a crowd. This healthier, more nutrient dense take on the classic carrot cake is gluten-free, dairy-free, paleo friendly and made without any refined sugars! It can be topped with a classic cream cheese frosting, or made dairy-free with homemade fluff. Either way it will be welcome at any celebration or holiday dinner (or just a regular tuesday afternoon)!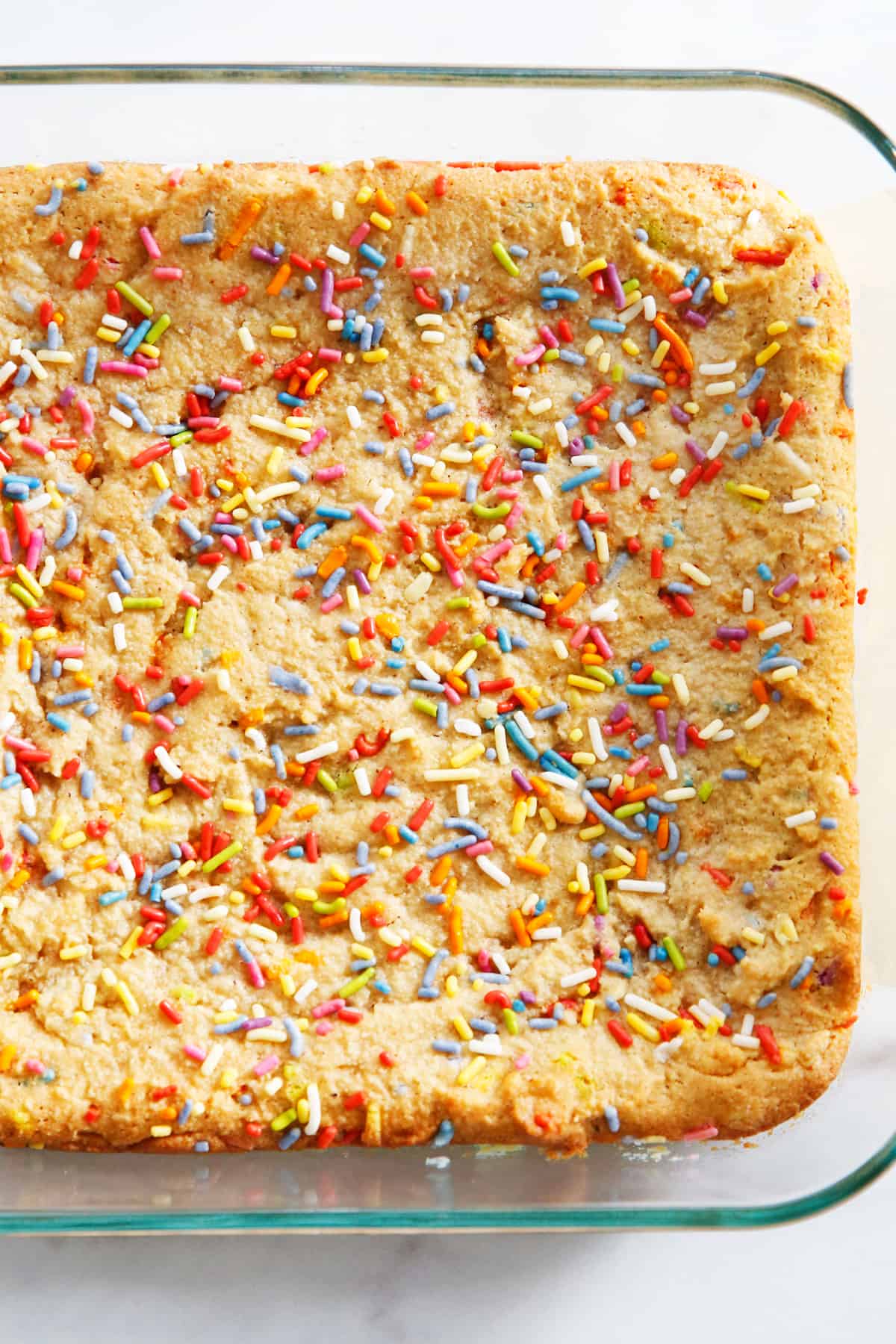 Gluten-Free Funfetti Blondies: If you like buttery, chewy and dense blondies that are speckled full of sprinkles and also happened to be gluten-free with a dairy-free paleo option, then you are going to love these Funfetti Gluten Free Blondies!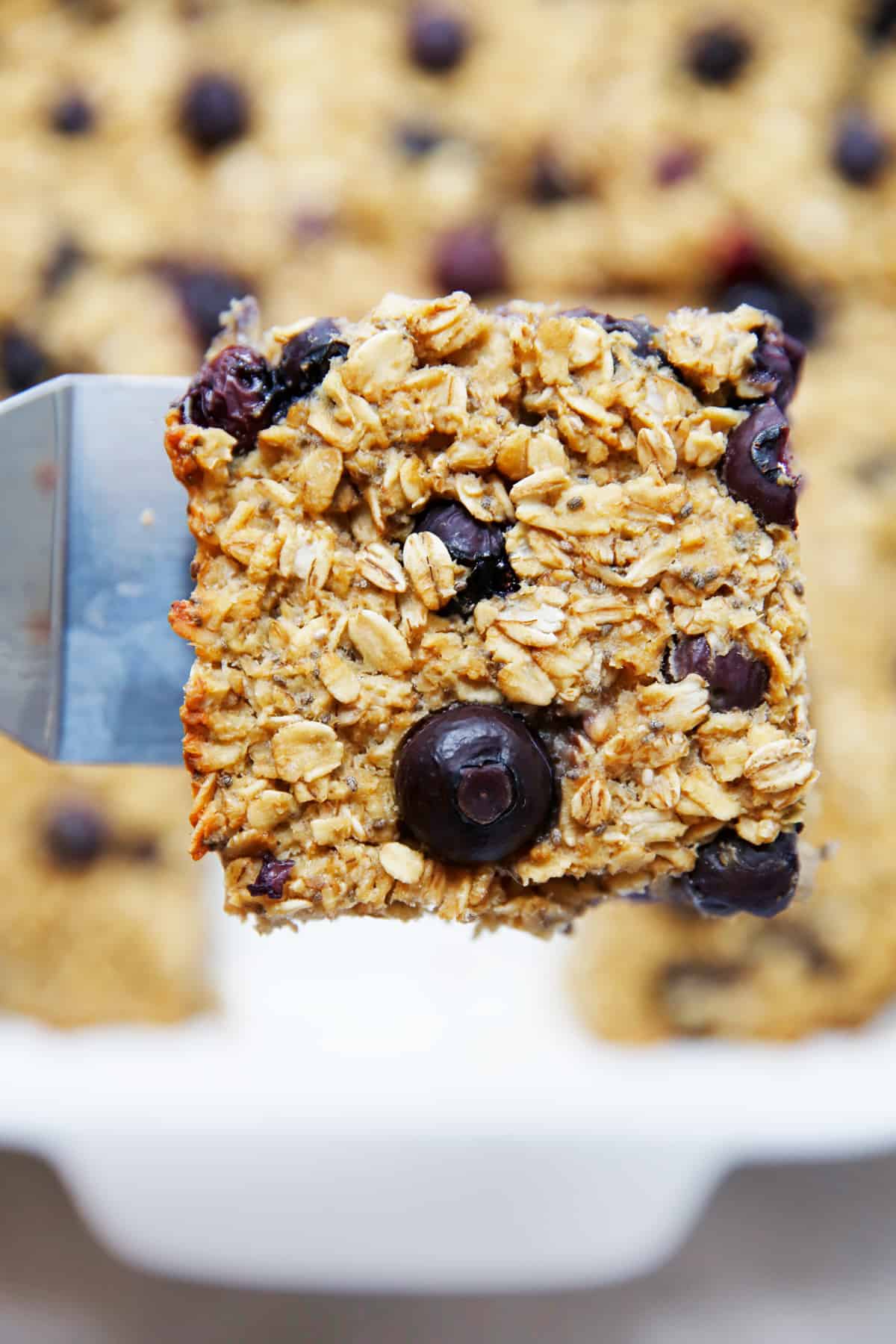 Maple Blueberry Baked Oatmeal: This recipe is perfect for a make-ahead breakfast or to serve at brunch. This 1-bowl breakfast bake is dairy-free, gluten-free and made without any refined sugars. This oatmeal bake makes a great fiber-rich and filling breakfast or snack.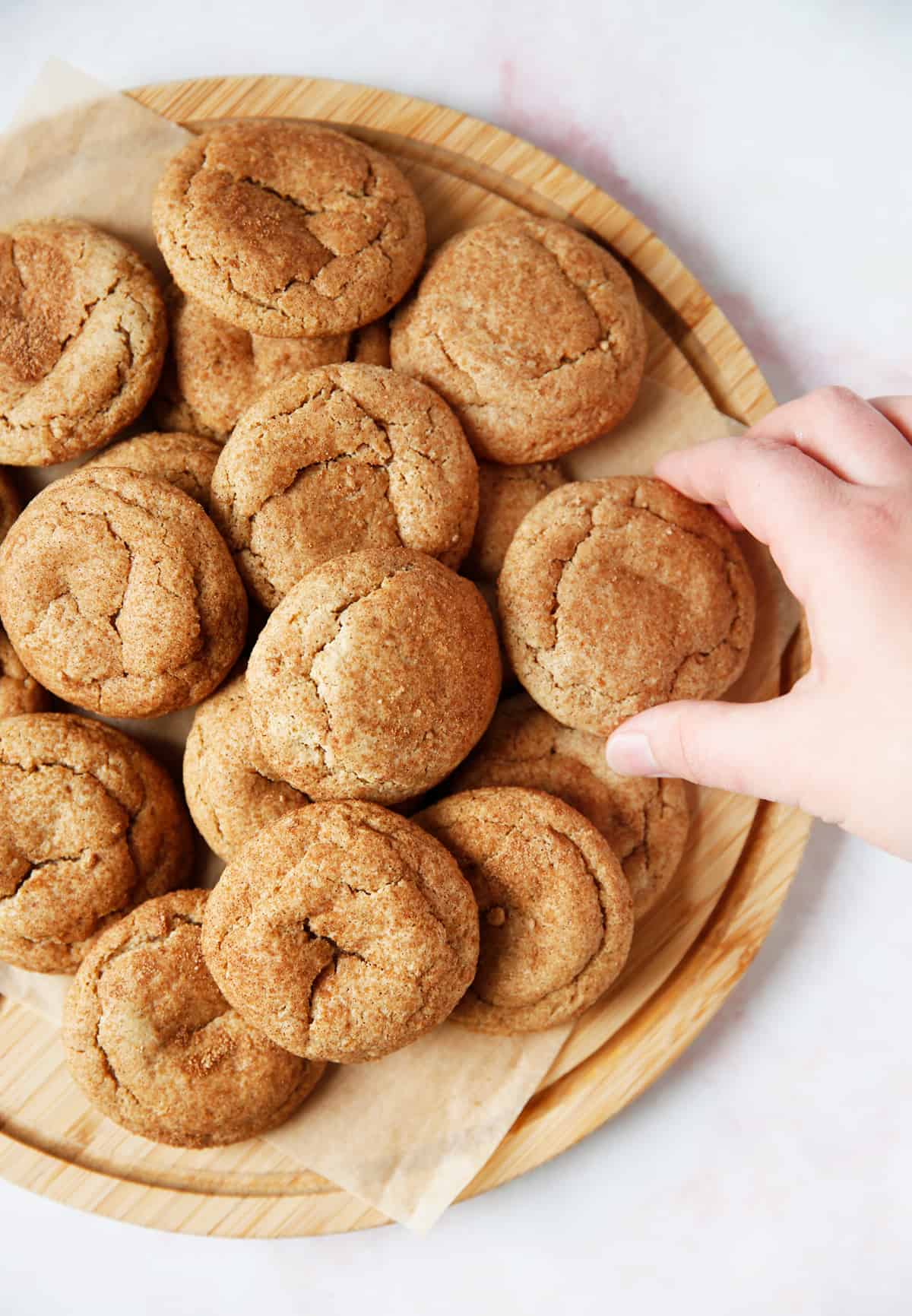 Snickerdoodles: These chewy little cookies are spiced just right, easy-to-prepare and perfect for the holidays, or year round. The dough is made in 1-bowl, then rolled in a cinnamon and sugar mixture. They are free from gluten, grains and refined sugar but still perfectly delicious.
13 Easy Baking Recipes to do with Kids
Have you ever had a baked good come out terribly wrong, even though it came from a trusted source and you are sure you followed the directions? LCK Food Editor and baking expert Kelli Avila talks all about why and how you should be using a scale when baking, especially with gluten-free flours!
Why You Should be Using a Scale for Baking and How to Do it
by: Kelli Avila
If you are looking to improve your baking and cooking skills there is one actionable measure you can to today to do so: buy a kitchen scale. Measuring any type of flour, whether gluten-free or not, can vary when you are using a standard measuring cup. Lexi and I could stand next to each other and each measure a cup of almond flour from the same bag and the actual amount could vary drastically. Various factors can cause the measurement difference such as how much we filled the cup, or how hard we scooped it up, or how tightly the flour was packed into the bag. The bottom line is that there is not much consistency with paleo or gluten-free flour measurement when you are using a standard cup to scoop it out. Not even if you sift it and fill the cup up with a spoon and then level it.
While I've personally and professionally been working with a scale for the last 10 years, it became more apparent when I started working here at Lexi's Clean Kitchen and developing recipes with alternative flours, that a scale is an essential tool to maintain accuracy for gluten-free and paleo baking or cooking.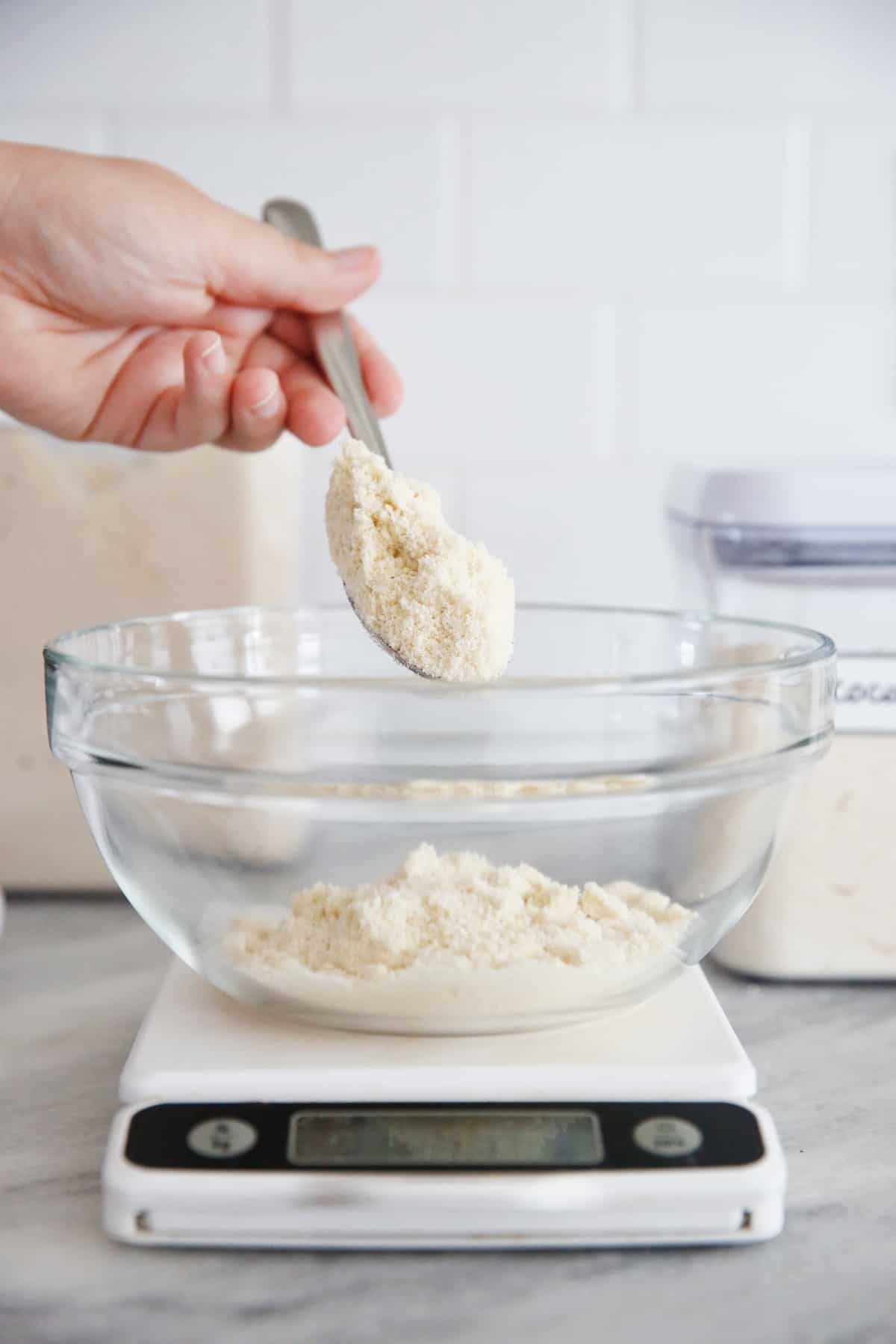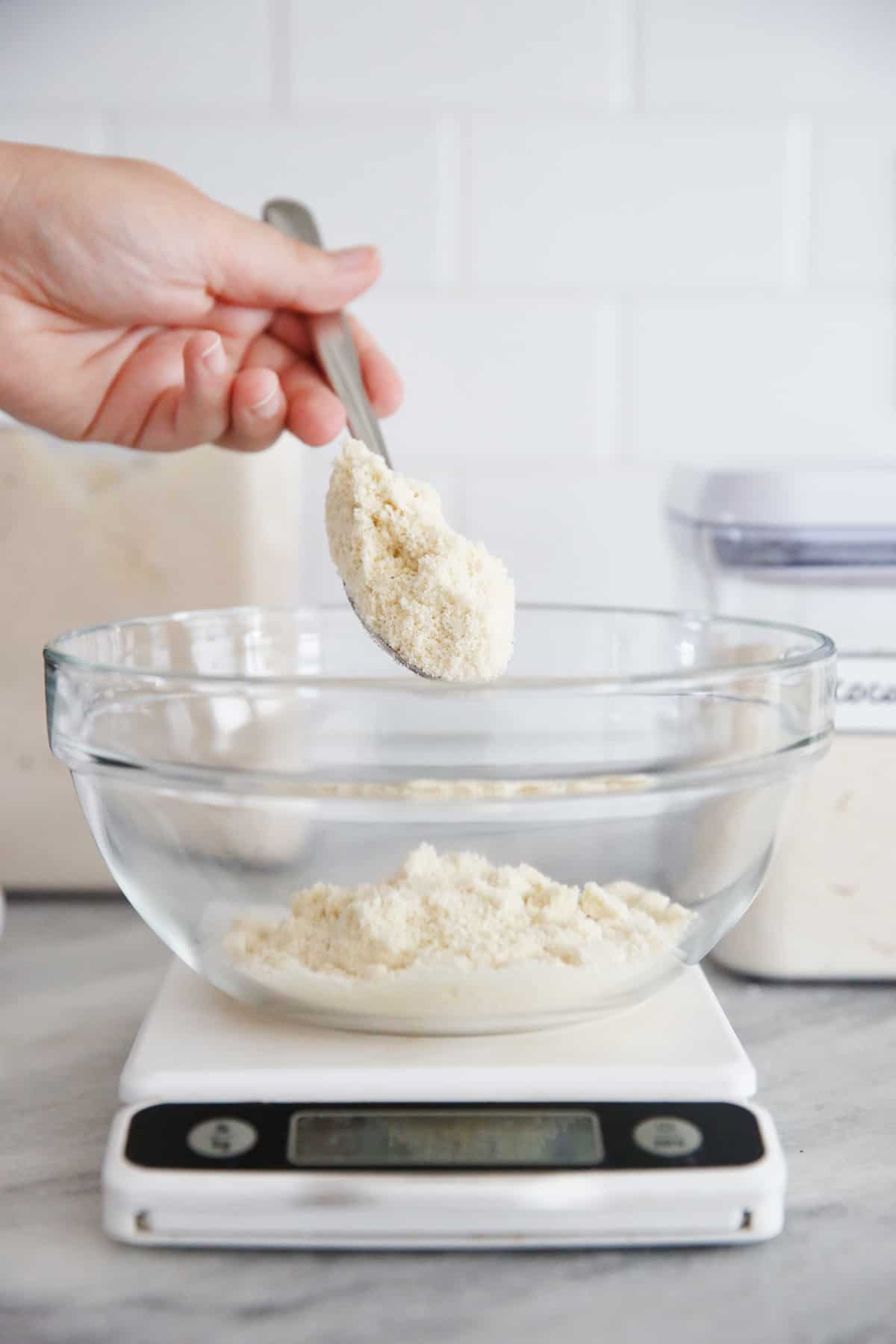 Why we made the switch
When we were developing the oat flour muffins we noticed that the muffins changed texture depending on the brand of the oat flour we were using. This was not because of the actual brand, but it was because the brands varied on how tightly their oat flour was packed in the bag. Consequently, this effected how much was measured out in a cup measurement. Once we switched over to only using a scale to measure the oat flour we were able to bake up consistent (super delicious) oat flour muffins, with no difference between brands of oat flour.
Recipes using coconut flour are even more important to weigh because just an extra teaspoon of coconut flour could affect a recipe negatively since it's so absorbent.
We've also noticed that previous tried and true recipes came out different when we measured the flour with the scale as opposed to with the cup measurement. For instance, we found that when we made the gluten-free biscuits with the scale they baked up flatter than when they did when we measured the flour with a cup measurement. The reason for this was because consistently when we measured the almond flour with the cup measurement we were actually getting about 1-1/4 cup as opposed to the 1 cup the recipe was calling for. That meant that the actual correct amount of almond flour needed for that recipe to be a success was 1-1/4 cup of almond flour, when measured correctly. When we discovered this we knew it was officially time to talk about how important it is to pick up a scale and use it if you want consistent results.
Have I convinced you yet that it's time to make a tiny investment in a kitchen scale to improve your baking? Please say yes!
Why Using a Scale will Change your Life
Your baked goods will come out consistent (so long as you're baking from a trusted source, like Lexi's Clean Kitchen!)
You'll wash less dishes: a scale means you'll use way less measuring cups and spoons!
You'll need less prep time because you won't be reaching for this or that size measuring cup or spoon
You won't have to sift any flour again (though if it's really clumpy you can whisk it in the bowl it's been measured in)
You can easily divide batter between cake pans or for any other recipe that calls for it
How to Use a Scale
Place your empty bowl on the scale and press "tare" or "zero" until it reads 0.
Add your ingredient until it reaches your desired number. If your scale allows (and hopefully it does) you can easily switch between grams and ounces, depending on what the recipe calls for.
Before adding your next ingredient press the "tare" or "zero" button to get back to 0.
FAQs on Kitchen Scales
What kind of scale should I get?
There are a few different types on Amazon. Here is the one we use in the test kitchen. Just make sure the one you buy can switch between grams and ounces.
What's the difference between grams and ounces?
They are different units of measuring! As we stated above, get a scale that you can switch to with a touch of a button, so there is no need to convert any recipes. Most recipes will state a weight in either grams or ounces. We typically use grams in our new recipes as they are the most precise. So if any given recipe calls for grams in the measurement of the flour, you make sure the scale is on that measurement. If later in the recipe it switches to ounces (like if you are measuring liquid) just press the button and switch over to it!
What happens if it shuts off?
On occasion a scale might shut off right in the middle of measurement. Some scales will automatically revert to the previous number it had before it shut off. If your scale doesn't do this, you can figure out the weight of what you are measuring by placing an empty bowl on the scale, zeroing it out and pouring the food you were measuring into the new bowl, and this will give you the number you left off with. If the bowl had more than one ingredient in it, you'll have to add up the weight of anything you previous put in it and then subtract that by the measured number on the scale and you'll get the amount you left off with.
Can I measure everything in the same bowl?
Yes, and you should! Use the tare button to zero out the scale each time you want to add a new ingredient.
If you have any questions about how to use a scale, leave them in the comments and we will be sure to answer them!
Pin it for later:

How to Use a Scale for Baking
This nut-based Gluten Free Pie Crust is buttery and so delicious! It uses almond flour and tapioca flour and it is great for both savory and sweet pies and is so easy to work with. It's gluten and grain free, with option for a dairy-free alternative.
Gluten Free Pie Crust
This gluten free and grain free pie crust has been on the Lexi's Clean Kitchen website (and book) for some length of time, but we've never taken it out of the various recipes and singularly focused on how to make it, and shared all the tips we can in one spot. So we're doing that now to talk all about how to make this buttery and delicious crust! It uses our trusted blend of almond flour and tapioca flour and it's made quickly in the food processor. It can be used in sweet pie recipes, such as Apple Pie, or savory recipes such as Spring Vegetable Quiche or other fun projects like Pop Tarts or Hand Pies!
Here is what is in this Classic LCK Gluten Free Crust
Salt
Butter (can sub ghee or coconut oil, but we prefer the taste of grass-fed butter by far)
Egg
Honey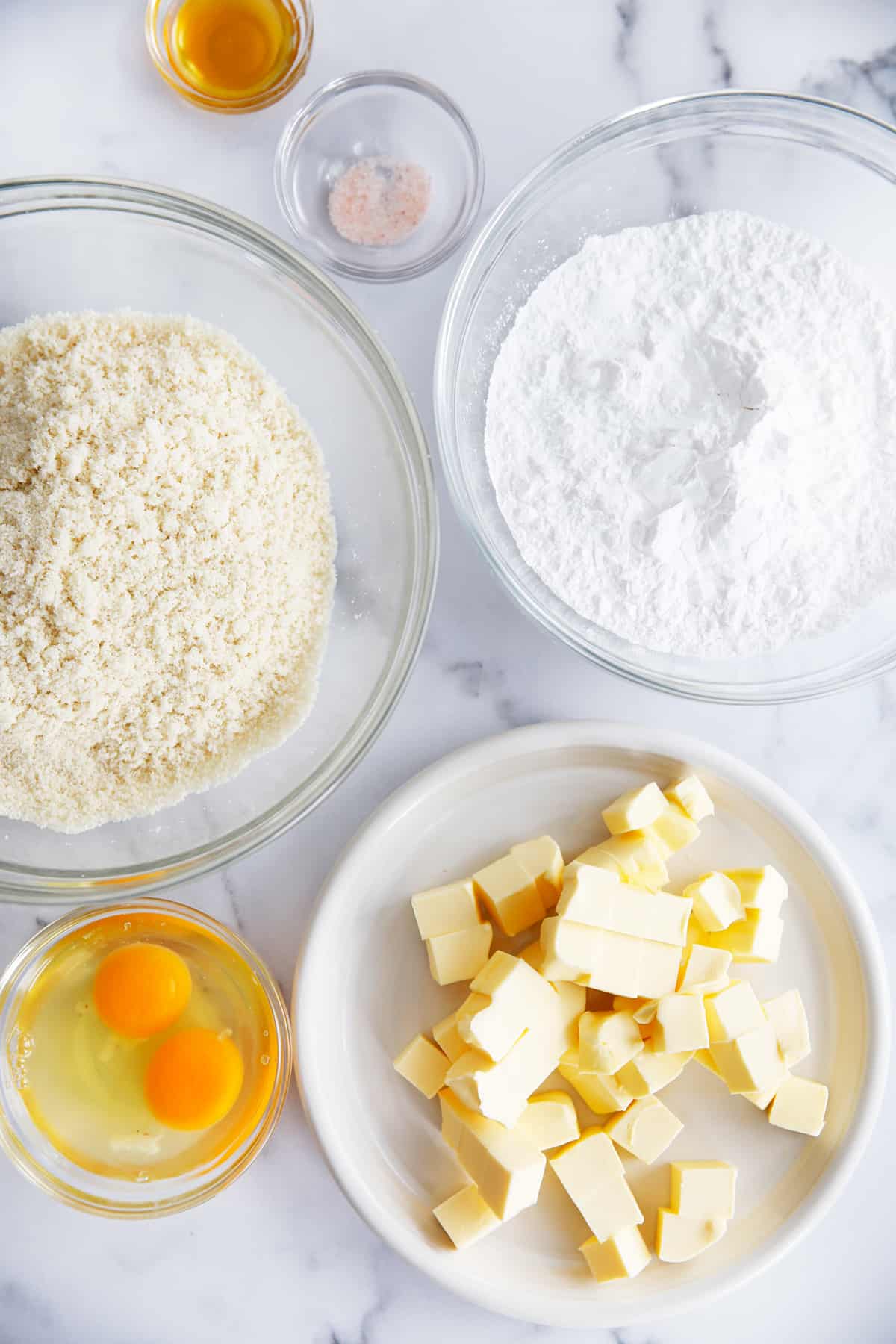 Tips for Making Gluten Free Pie Crust:
Get all of the ingredients prepared before you begin: Measure out the dry ingredients, cut the butter and make sure it is chilled and crack the egg with the honey in a bowl.
Don't over-process the dough: Once it has come together stop running the food processor.
Wrap it up! Wrap the dough tightly in plastic wrap, either in 1 or 2 disks, depending on if you are making a double batch.
Let it chill! The longer this dough chills, the better. It's best to let it sit overnight, but at a minimum it needs 4 hours.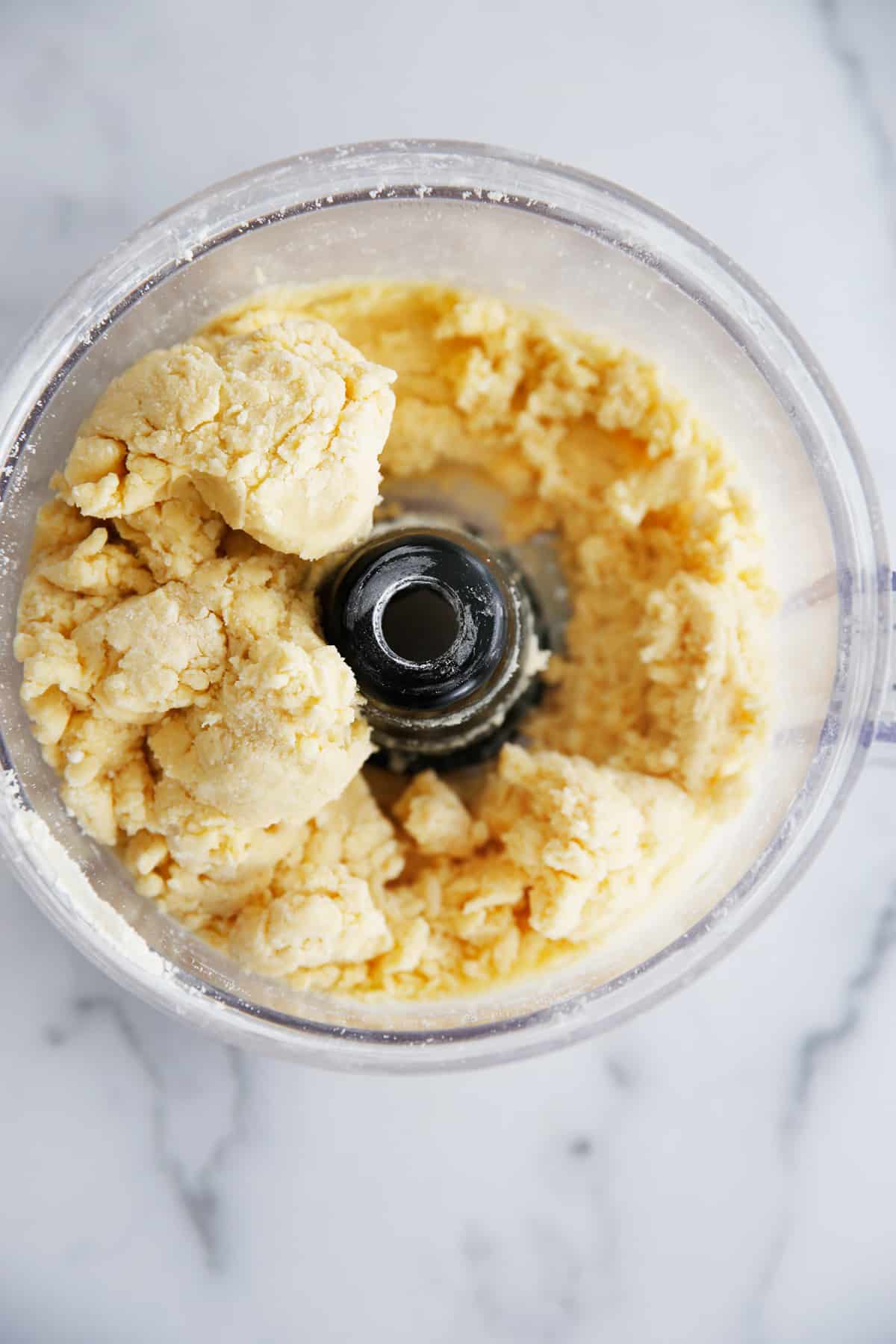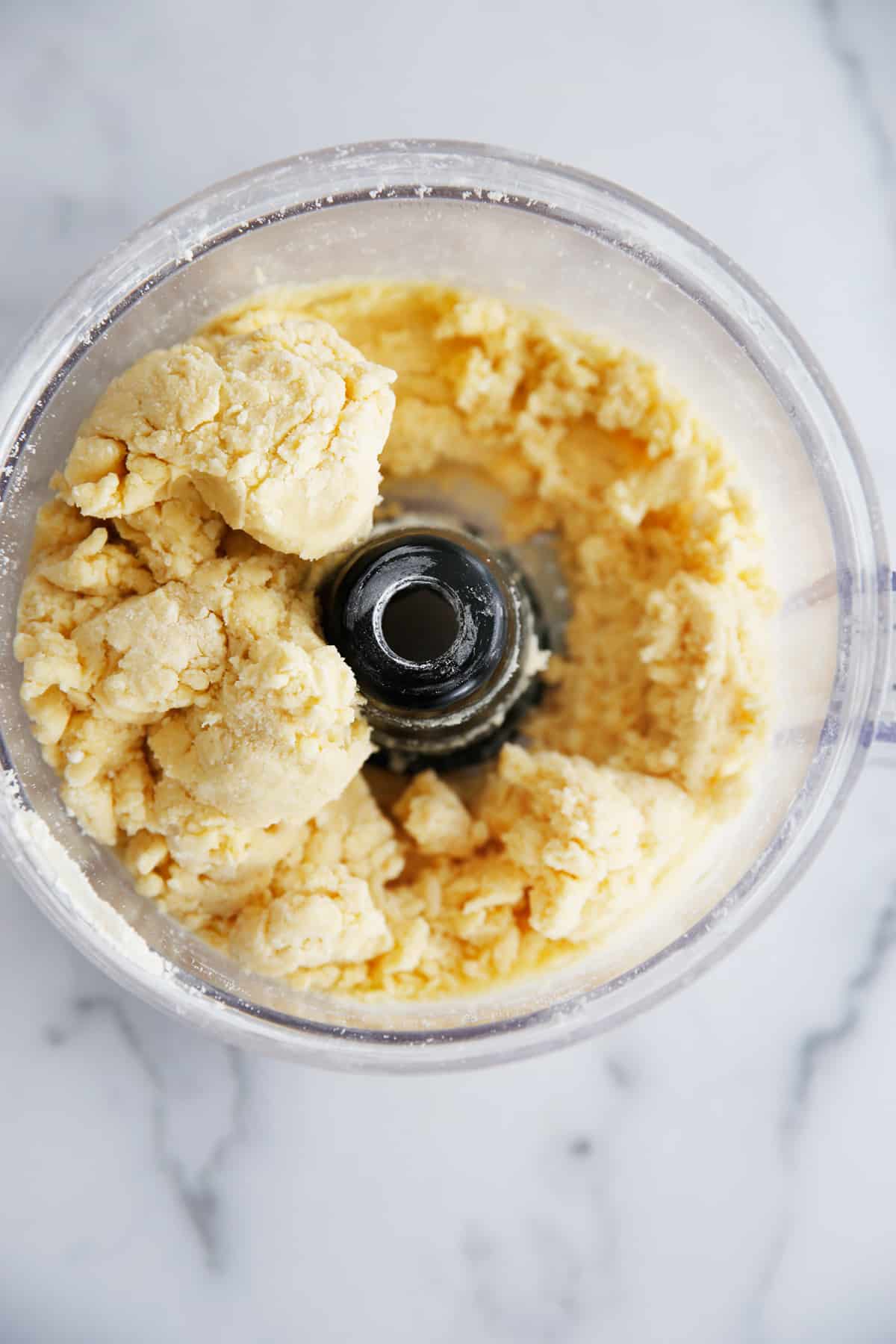 Tips for Rolling Out Pie Dough
Make sure your dough is thoroughly chilled first: this is the best tip we can offer! This dough is hard to work with when it is warm.
To roll it out we suggest using plastic wrap. Place a piece of plastic wrap down, then place the dough on top, then place another piece of plastic wrap and roll out between the two. We don't normally tend to suggest using plastic for anything, but with this dough it really works out better on plastic vs. parchment. If you don't own plastic wrap (we don't blame you!) parchment paper can work too. Wax paper might work as well, but we did not test that.
Work quickly when rolling, or working with the dough. If it warms up and becomes hard to work with just place it in the refrigerator to cool back down and then begin again. This is especially true in the summer if your home is hot.
If you are making a standard 9″ pie, roll the dough out into an 11″ circle. Then take off the top piece of plastic or parchment, place the pie tin on top of the dough and invert the rolled dough into the dish. Then you can crimp the crust if you desire.
What is par-baking?
Par-baking a pie crust means that you will partially or fully bake the pie crust before placing in the filling. Each recipe you use for the filling will indicate whether or not you need to par-bake the filling, but typically if the pie filling is going to be cooked for long periods of time (like fruit fillings) you do not need to parbake. But if you are making a pie such as a custard or even a no bake filling you'll want to partially to fully bake the pie crust.
We don't recommend baking this pie crust at a temperature higher than 350ºF so if you are using this pie crust in place of a regular wheat crust in another pie recipe you might have to adjust the temperature so this crust doesn't burn.
Can you make this dough ahead of time?
Yes, the dough can be made up to 5 days ahead of time. Wrap it tightly in plastic wrap twice. We do not recommend freezing this dough.
Troubleshooting Tips
Pie dough is too sticky! Simply add a bit more tapioca flour to it. We always recommend weighing gluten-free flours for baking, as they need to be as precise as possible. With this dough, if you don't have enough flour, it can be too sticky.
Pie dough is too soft! Put it in the refrigerator. This dough should be completely chilled before working with and if it gets too warm at any point, put it back in the refrigerator to chill down.
The pie dough melted in the oven! Either your oven wasn't hot enough, or your dough was too soft. The goal is always to get chilled pastry dough in a very hot oven so that it cooks and "sets" very quickly, before the butter has a chance to melt and slump down.
The pie crust is too brown! This crust browns more easily because it is made up of almond flour. It doesn't affect the taste in a negative weight, except if it is burnt. Brown is fine! Burnt isn't.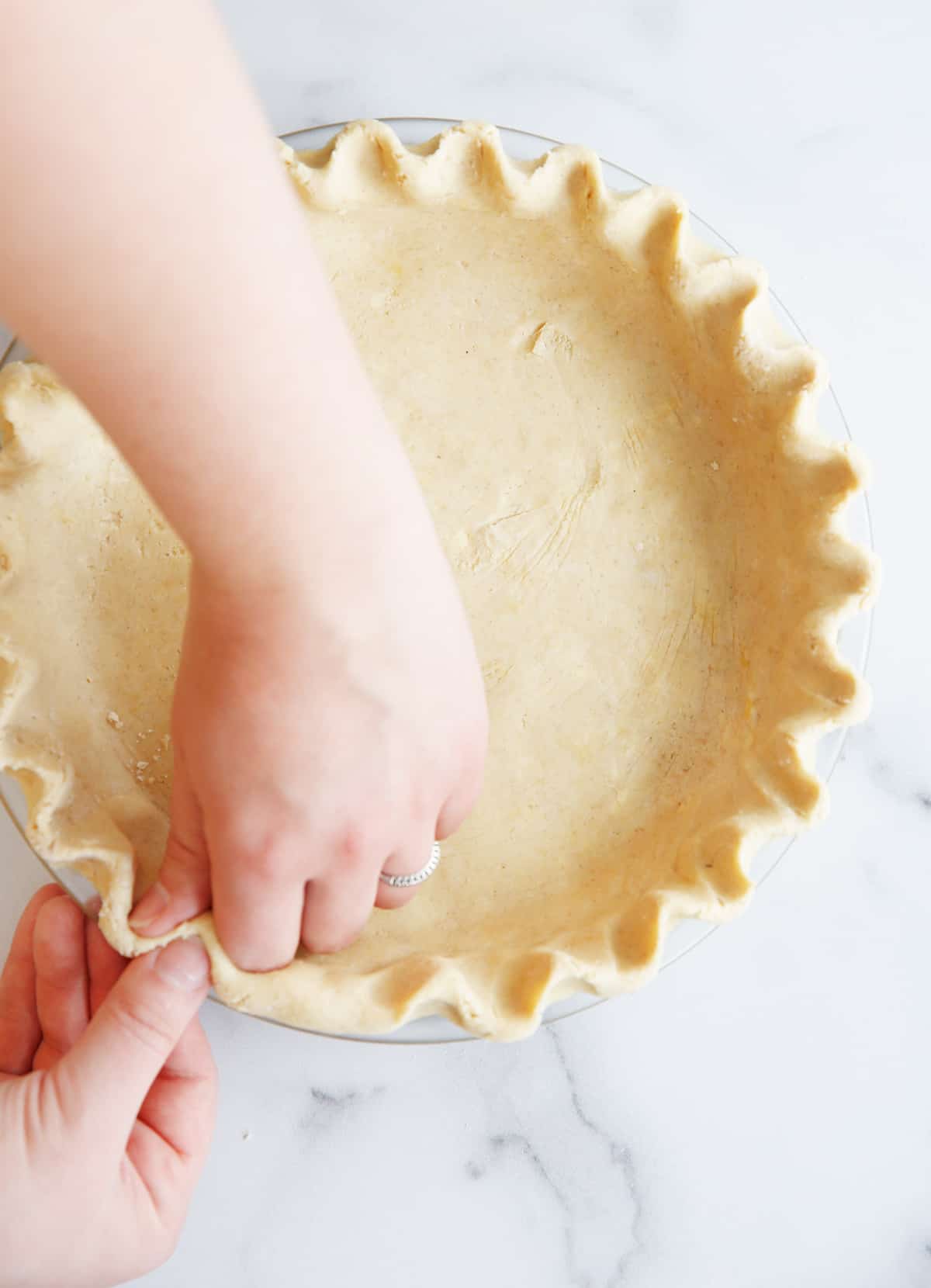 For this recipe we used these tools:
Essential items: Bowls, Whisk, Spatula
Check out these pie recipes:
---
How to Make a Gluten-Free Pie Crust
Homemade Vanilla Extract requires only two ingredients, and we're going through the step-by-step process of how to make it. It's better quality than anything you can buy at the store, for less money and it makes a great gift!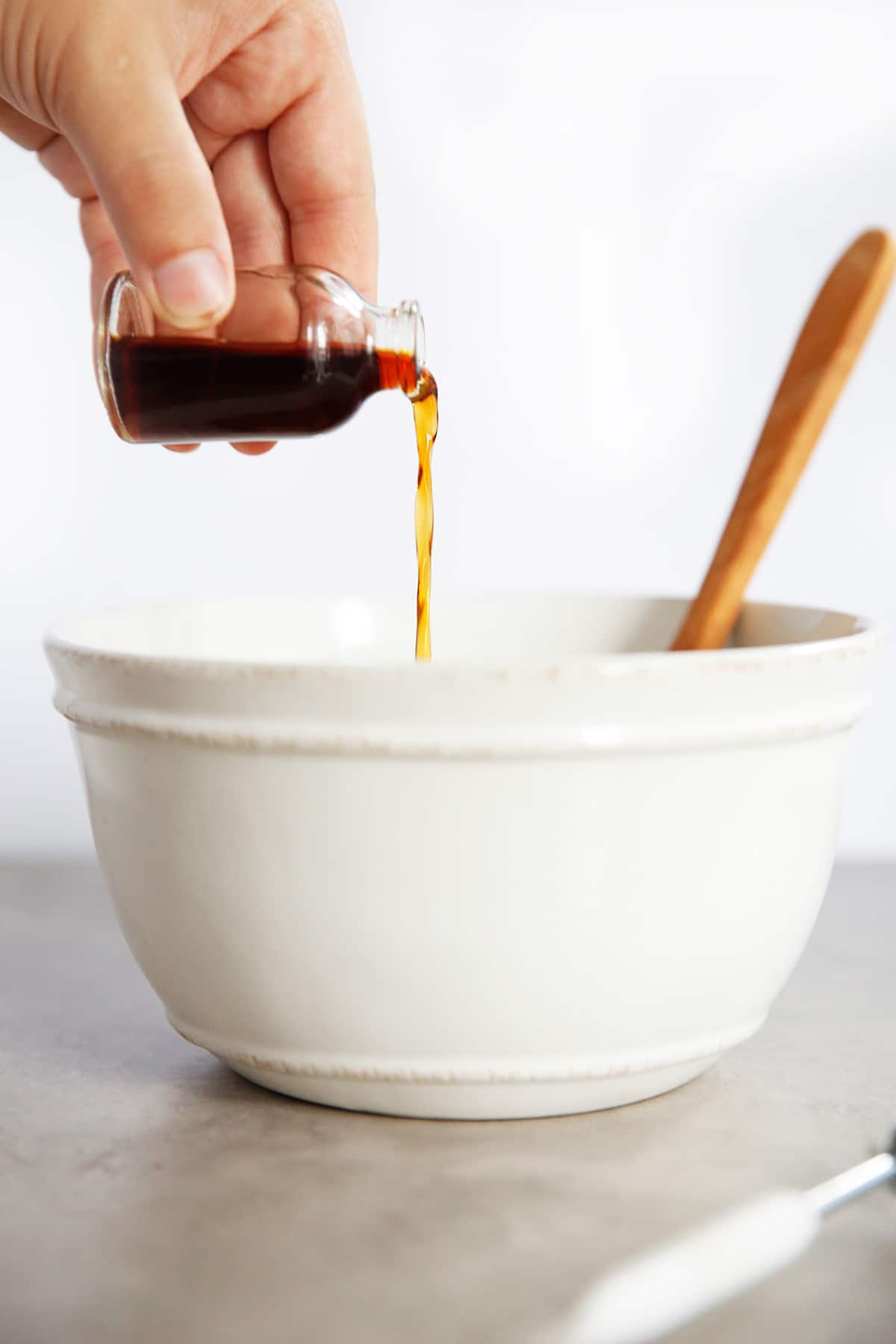 How to Make Homemade Vanilla Extract
Here at LCK, we treat vanilla extract like liquid gold. We love using it in all of our baked goods like muffins, cookies and cakes. A good vanilla extract can make a big difference in a recipe, especially ones that only have a few ingredients in it. The price of vanilla beans fluctuate from year to year, and currently they are trending to be very expensive causing the cost of store-bought vanilla extract to rise. In addition to this, there are often quite a few added ingredients besides vanilla bean in the extract that are questionable. All this being said, it makes total sense to make it at home because Homemade Vanilla Extract is SO EASY to make. All you need are two ingredients (vanilla beans and vodka) and about 10 minutes of time to put together a batch!
We've included instructions to make a one cup batch, but this is something that is so easy to double or triple to make a great big batch to last a while, or to give out as gifts during the holidays.
How Do You Make Homemade Vanilla Extract?
It is so simple! All you need to do is scrape out the beans from 5 vanilla pods (beans) and cut the pods to fit the size of your jar. It is best to use grade B vanilla beans which are better for making extract because they are drier than grade A, which are better for baking with. Place the scraped beans and the cut pods inside of a clean jar and top with 1 cup of alcohol and close with a tight-fitting lid. Scraping the beans leaves the extract with flecks, which we think makes it more authentic, but you can also skip this step and just slice open the beans and place in the jar, or strain it if you don't want any flecks.
What Kind of Alcohol is Used To Make Vanilla Extract?
Any neutral tasting alcohol like vodka is a good choice, but really any 80 proof alcohol like brandy, rum or bourbon is fine so long as you are okay with it imparting a slight flavor. We like to use a gluten-free vodka, like Tito's.
How Long Does Homemade Vanilla Extract Last?
The jar sits at room temperature and is ready to use at 6 weeks, though it is best to leave it as long as possible. We've tasted it at 6 weeks, when it is similar to store-bought extract, and then at 6 months where it is pretty phenomenal and after a year, it is truly the most amazing extract you have ever smelled. Pure extracted vanilla in alcohol has an indefinite shelf life.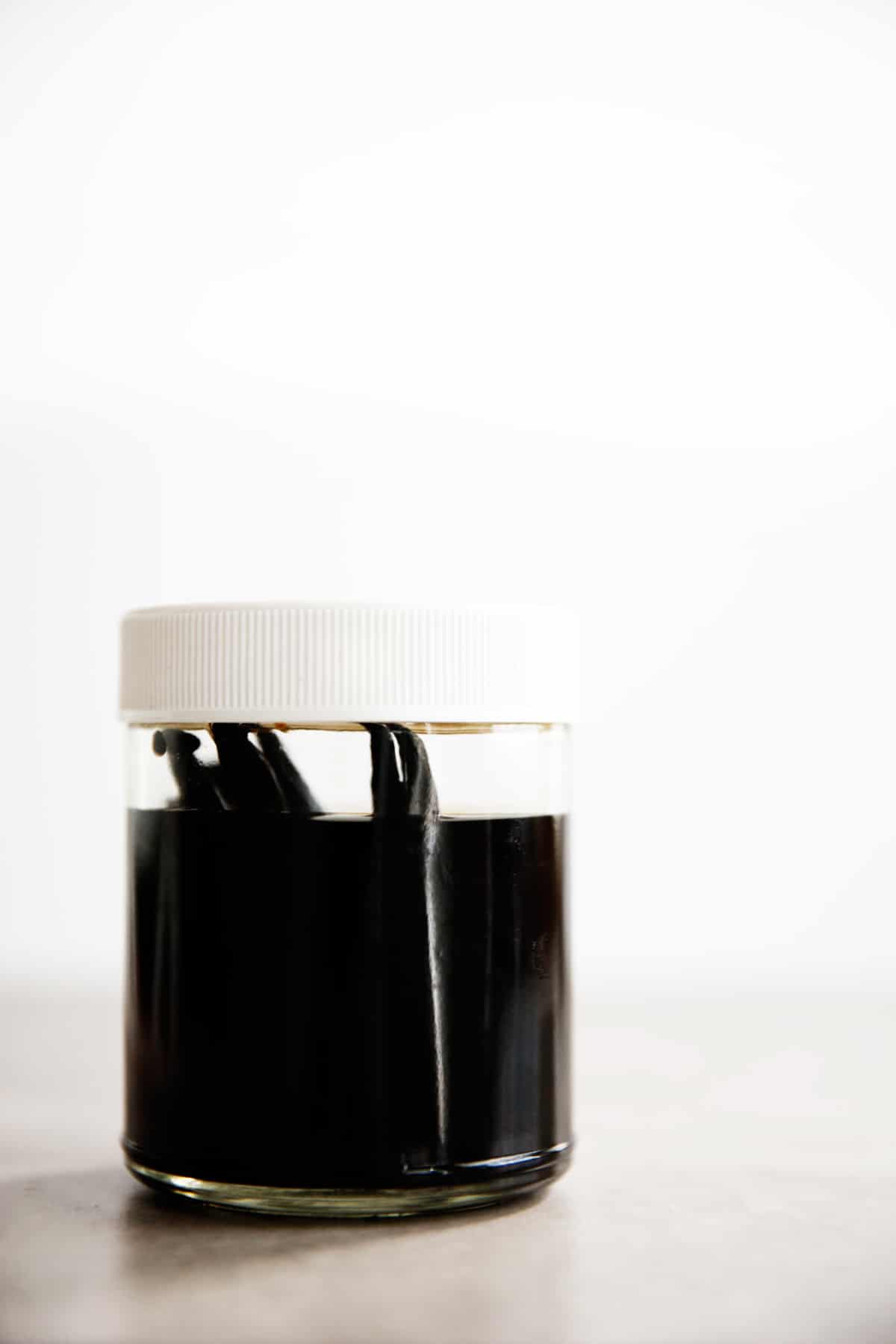 If you make more than one jar at a time you can make sure you never run out. When one jar starts to get low, place in a few more scraped vanilla beans and top it off with some vodka and set it aside while you start on your second jar.
BONUS: You can also give these out as gifts by purchasing some small jars and putting on a cute label and with some ribbon.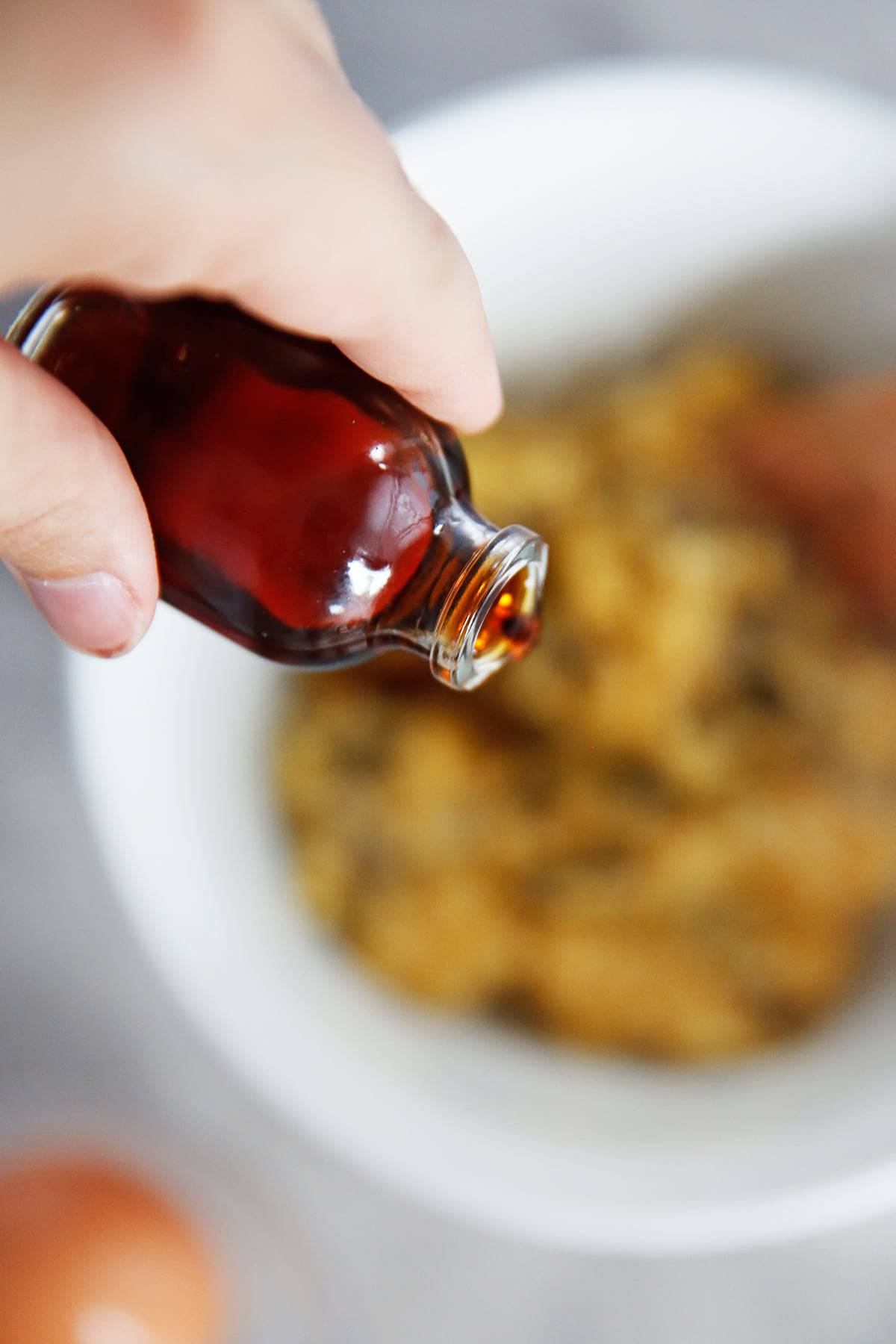 If you like this "how-to" recipe, try these others:
Watch the video:
P.S. We buy our grade b vanilla beans here.

How to Make Homemade Vanilla Extract
This paleo-friendly, SUPER EASY, Peach Raspberry Crisp is the perfect healthy Summer treat! Packed with Summer fruit, just the right amount of tartness, and so so flavorful! It will definitely be a staple for Summer gatherings with friends and family! It's grain-free, dairy-free, egg-free, and so so simple to make!
Peach Raspberry Crisp Recipe
When I think of summer I think of fresh fruit, delicious summer meals, and being outdoors with friends and family. What is a better addition to that combination than a healthy treat filled with delicious berries? This Raspberry and Peach Crisp is so perfect. Aside from the amazing taste, this dessert is loaded with nutrients! Filled with fresh organic fruit, ground flax, and topped with a blend of raw nuts = fruit crumble perfection. It's grain-free, dairy-free, egg-free, and so so simple to make!
Ingredients Needed:
Peaches
Raspberries
Honey
Cinnamon
Ground flax
Walnuts
Almond flour
Vanilla Extract
Can I use other fruit?
Yes! This recipe is very customizable. You could use nectarines, apricots, or blueberries!
Add this to your weekend brunch spread, or pack it away for Summer potlucks and it will definitely be a crowd pleaser again and again!
Want more easy summer fruit desserts? Here are our favorites:
---
Paleo Peach Raspberry Crisp
You know the feeling when you find an awesome recipe and you get so excited and then you realize you're missing one or two ingredients? And then those same ingredients keep popping up in other recipes? Well, I know the feeling and I am never happy! I get a lot of questions from people asking about the essential items I have in my kitchen at all times. I feel like this list is ever-growing, but I came up with a (rather large) list that I feel has all the items I use regularly.
Oils:
Condiments:
Coconut Aminos (soy-free soy sauce alternative)
Coconut Aminos Teriyaki Sauce
Hot Sauce
Sriracha (store bought or homemade)
Dijon Mustard
Vinegars:
Sweeteners:
Organic Raw Honey
Pure Organic Maple Syrup
Organic Powdered Sugar
Spices:
Pepper Mill
Garlic Mill
Red Pepper Flakes
Italian Seasoning
Garlic Granules
Onion Granules
Cinnamon
Basil
Cayenne Pepper
Paprika
Rosemary
Parsley
Oregano
Cilantro
Cumin
Chili Powder
Sesame Seeds
Minced Onion
Dill
Curry Powder
Celery Seed
Turmeric
Baking:
Baking Powder
Baking Soda
Pure Organic Vanilla Extract
Unsweetened Cacao Powder
Unsweetened Coconut Flakes
Ground Flax
Powders/Flours:
Protein Powders (I use SFH grass-fed whey protein powder- Code LEXI for 10% off)
Coconut Flour
Arrowroot Flour
Shelf Items:
Fresh:
Garlic
Bananas
Veggies
Fruit
Lemons (for fresh juice)
Limes (for fresh juice
Basil (amongst other herbs, but I love my organic basil plant!)
Unsweetened Almond Milk
Frozen Organic Berries
Organic farm-fresh eggs (local, pasture-raised whenever possible)
Spinach

Print a printable PDF version HERE.
---
This post contains affiliate links.
Kitchen Staples
These Mocha Fudge Muffins are a decadent, yet healthy way to start a day! These  paleo muffins are rich and chocolate-y and give you just the right amount of coffee buzz to get your day going. They are a gluten-free treat you can feel good about eating with no white flour and no refined sugar and with packed healthy fats! Make these for the holidays, a weekend brunch or for a more delicious weekday morning and you won't be disappointed.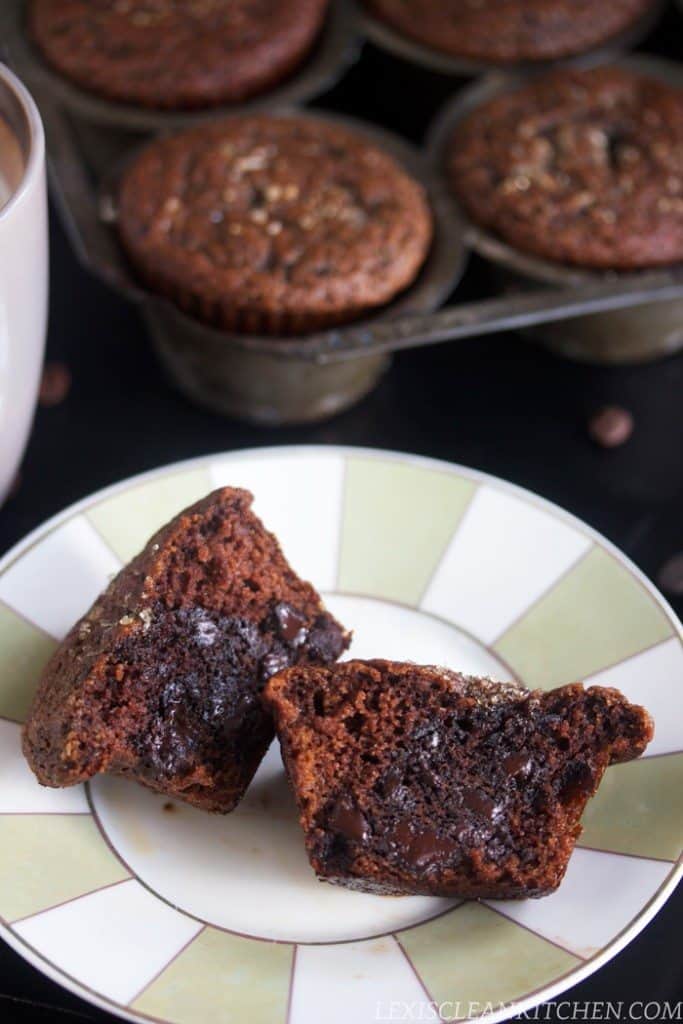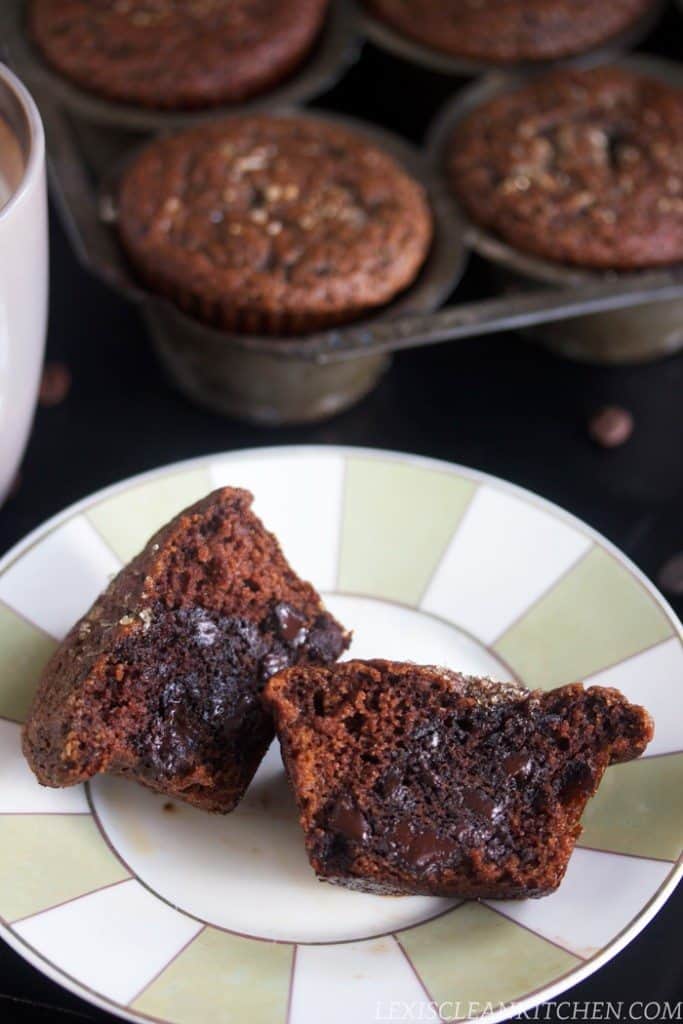 Mocha Fudge Muffins
These muffins have the perfect texture. I love using almond flour as the base for my muffin recipes because they make the best gluten-free muffins without needing to add a lot of other fussy ingredients. Adding the cocoa powder to these combines to create a fluffy and light muffin that is still able to hold up the fudge filling.  Plus, they're a breeze to make!

If you like this chocolate muffin recipe, check out these others: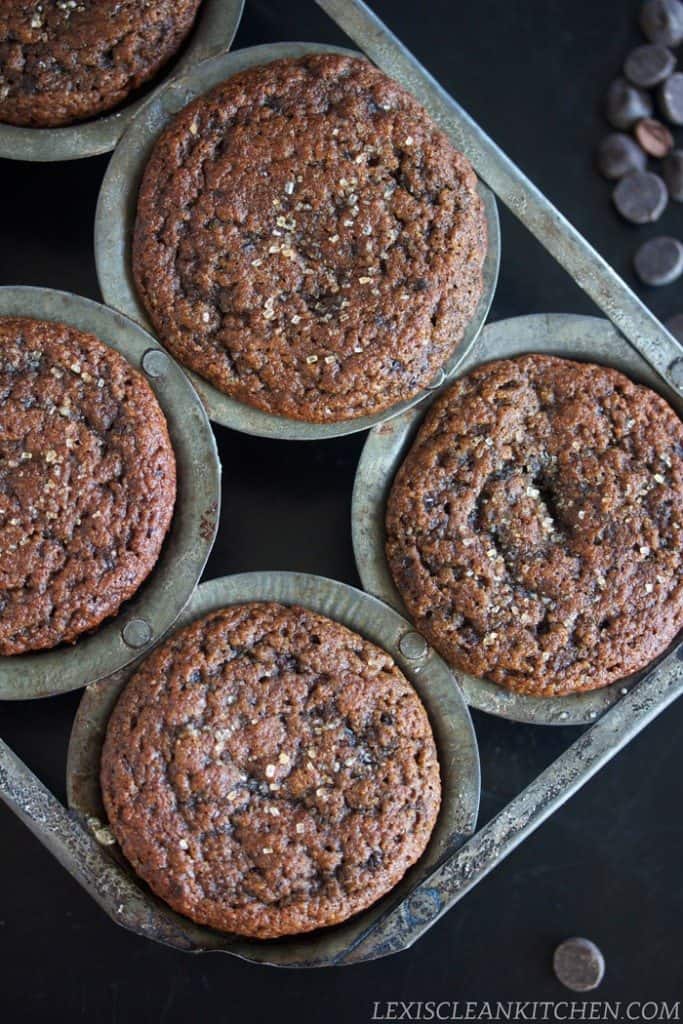 What is your all-time favorite muffin flavor?
Mocha Fudge Muffins
Looking for the perfect Paleo Chocolate Chip Cookies? These are soft, chewy, chocolate-y, and simply delicious. They are easy to make and are sure to be a hit in your home! You won't be able to tell that they are gluten-free, grain-free, and paleo-friendly!
Paleo Chocolate Chip Cookie Recipe
A warm chocolate chip cookie dipped in milk (or in my house, almond milk) just feels like home. The smell of cookies baking in your house is heavenly! These Paleo Chocolate Chip Cookies are a treat, and one that is nutrient-dense with almond flour as it's base and SO SO delicious.
What's in them?
almond flour
coconut flour
baking soda
fine sea salt
grass-fed butter, at room temperature or coconut oil
egg
honey
vanilla extract
paleo chocolate chips
coarse sea salt, optional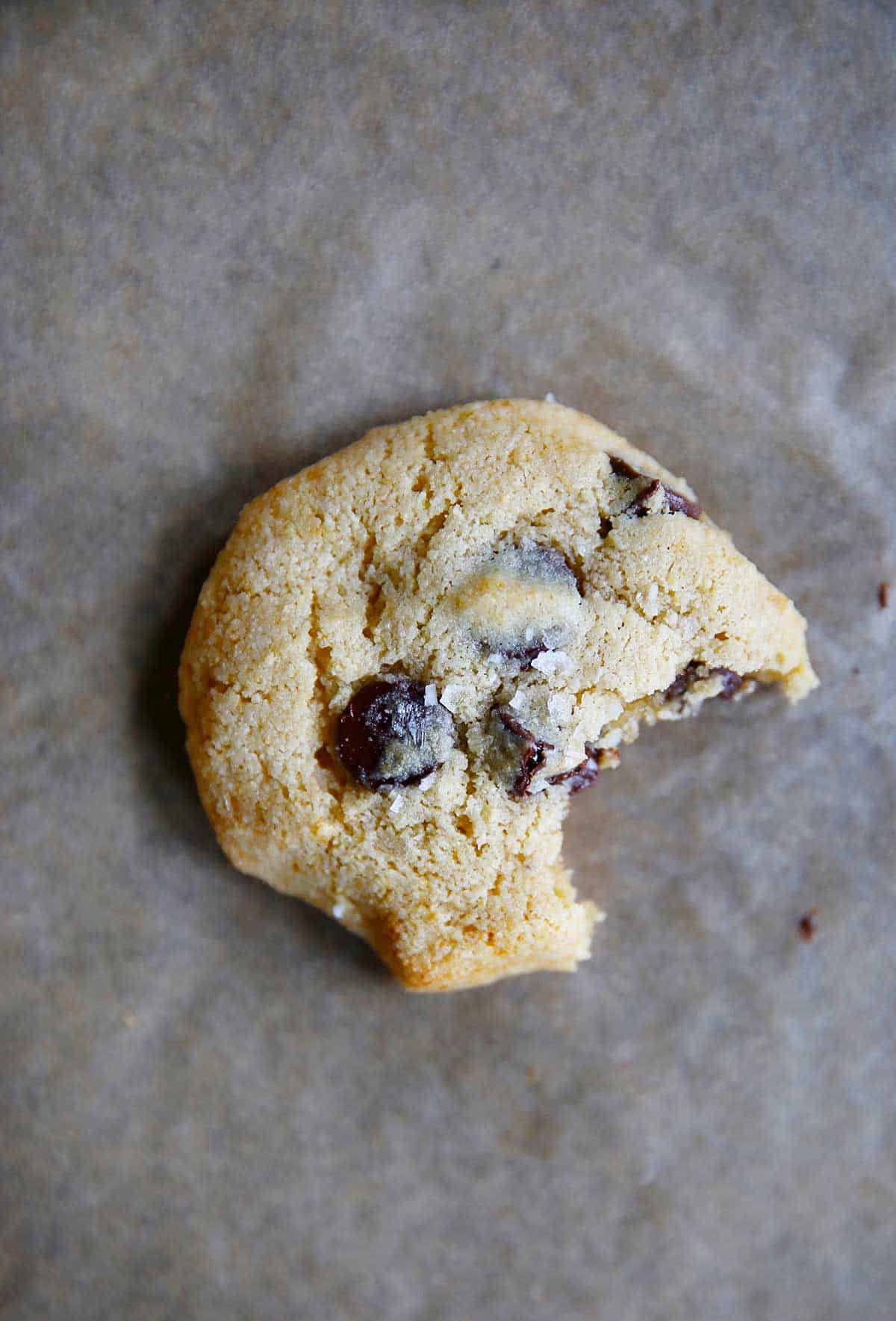 Want to make it extra special?
I like to sprinkle the cookies with a coarse flaky sea salt before baking, because sea salt and chocolate are the ultimate combo in cookies! And Mike LOVES these straight from the freezer! You can store them so you'll always have a little treat on hand when you are having a craving!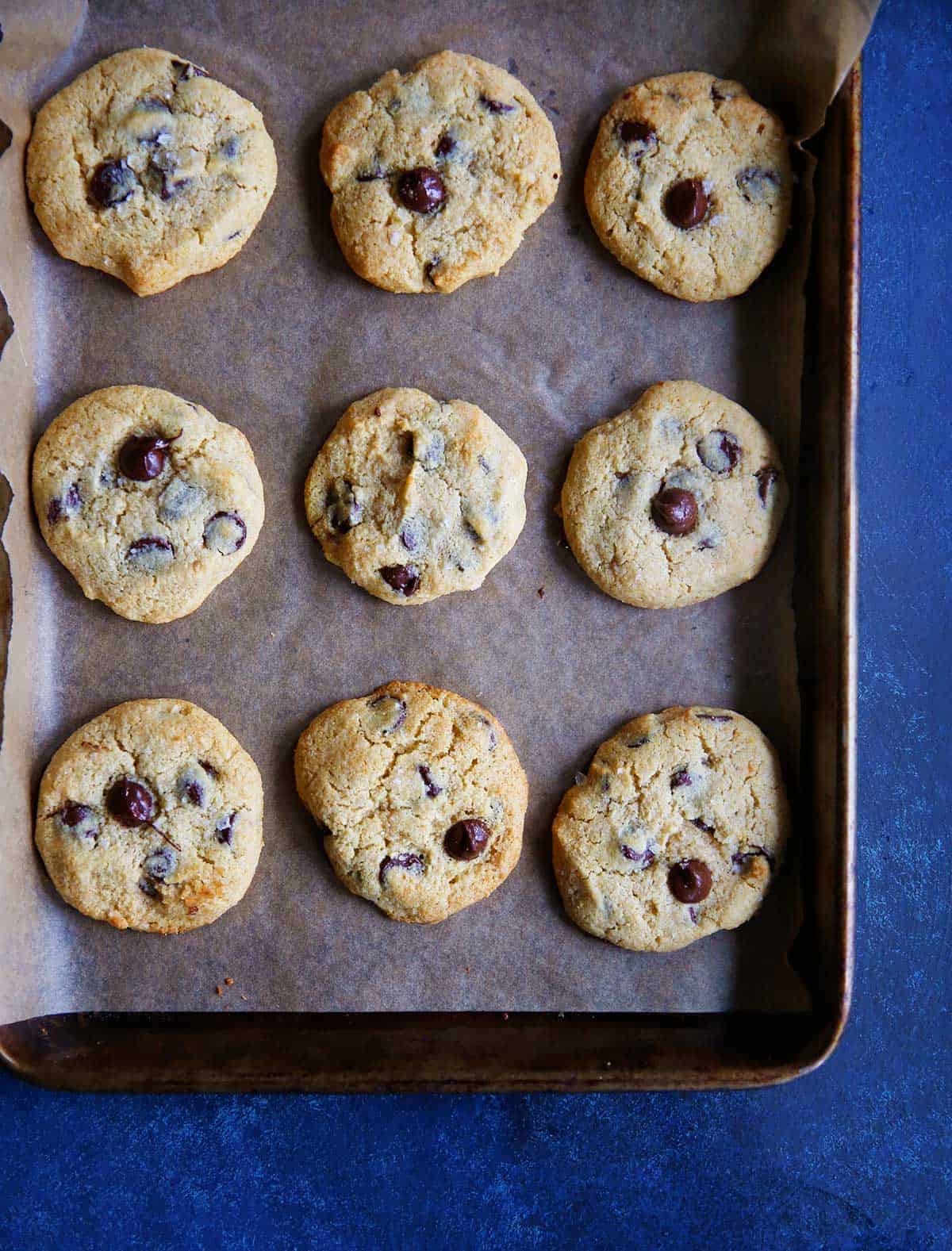 If you like this cookie recipe, check out these others: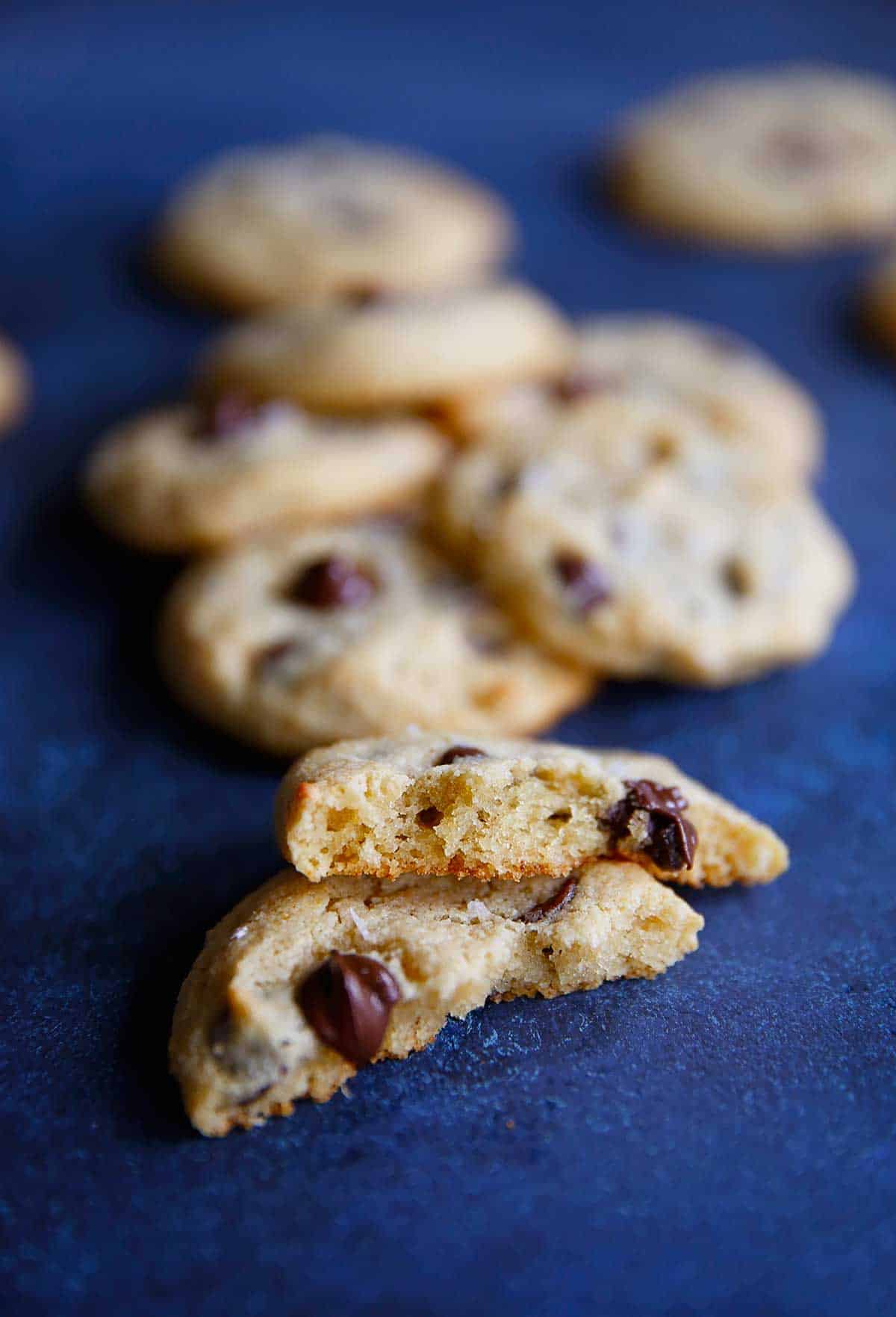 Check out these recipes featuring chocolate chips:
Paleo Chocolate Chip Cookies
These Double Chocolate Muffins are so moist and delicious! The perfect morning treat to wake up to! Eat them plain or top them with some melted chocolate of choice for a delicious dessert option. Grain-free, dairy-free, gluten-free, and done in 20 minutes!
Sometimes you just need a treat (in moderation) and these double chocolate muffins are great for when you are craving chocolate! Just the right amount of sweetness and moist on the inside but crumbly on the outside = muffin perfection.