Paleo Lemon Blueberry Muffins
These Paleo Blueberry Muffins are bursting with lemon flavor and plump blueberries! They come together easily, are gluten-free, made with almond flour, and the perfect healthy muffin recipe for any brunch or as a snack!
Paleo Blueberry Muffins
These grain-free Paleo Lemon Blueberry Muffins are so simple, moist, and delicious. They are bursting with blueberries, with a fluffy texture and a bright lemon flavor. Nobody will know these muffins are gluten-free, grain-free, and paleo-friendly! They are so easy to make and can easily be made for a quick brunch or breakfast at home. Get the kids and they can help too!
Here's what you need to make them:
Almond flour
Coconut flour
Baking Soda
Eggs
Honey
Vanilla extract
Unsweetened applesauce
Lemons
Fresh blueberries
Swapping with Frozen Blueberries
It's so nice during blueberry season to include them fresh in this muffin, but in the dead of winter, frozen blueberries can work too! To avoid turning the muffin batter blue fold the blueberries in while they're still frozen. They might need an extra minute or two to cook in the oven, but otherwise the recipe will work the same.
Is Almond Flour Healthy?
Almond flour is a delicious and nutrient dense alternative to any other flour. It is low in carbs and high in fat which makes it a great healthy flour that you can feel great about eating.
How to Measure Almond Flour
If you have an electronic kitchen scale at home, it's best to use it here to measure almond flour. Almond flour can be tricky to measure as it can be easily compacted, even straight from the bag. The same goes for coconut flour too since it's such an absorbent flour. Even a small measuring error with coconut flour can impact a recipe. So we've included the weight in grams here. Any electronic kitchen scale can switch between grams and ounces. Since grams are more precise we're use that. If you don't have a scale: whisk almond flour until it's lightened up and lightly scoop the almond flour or coconut flour into the cup measurement and level it off.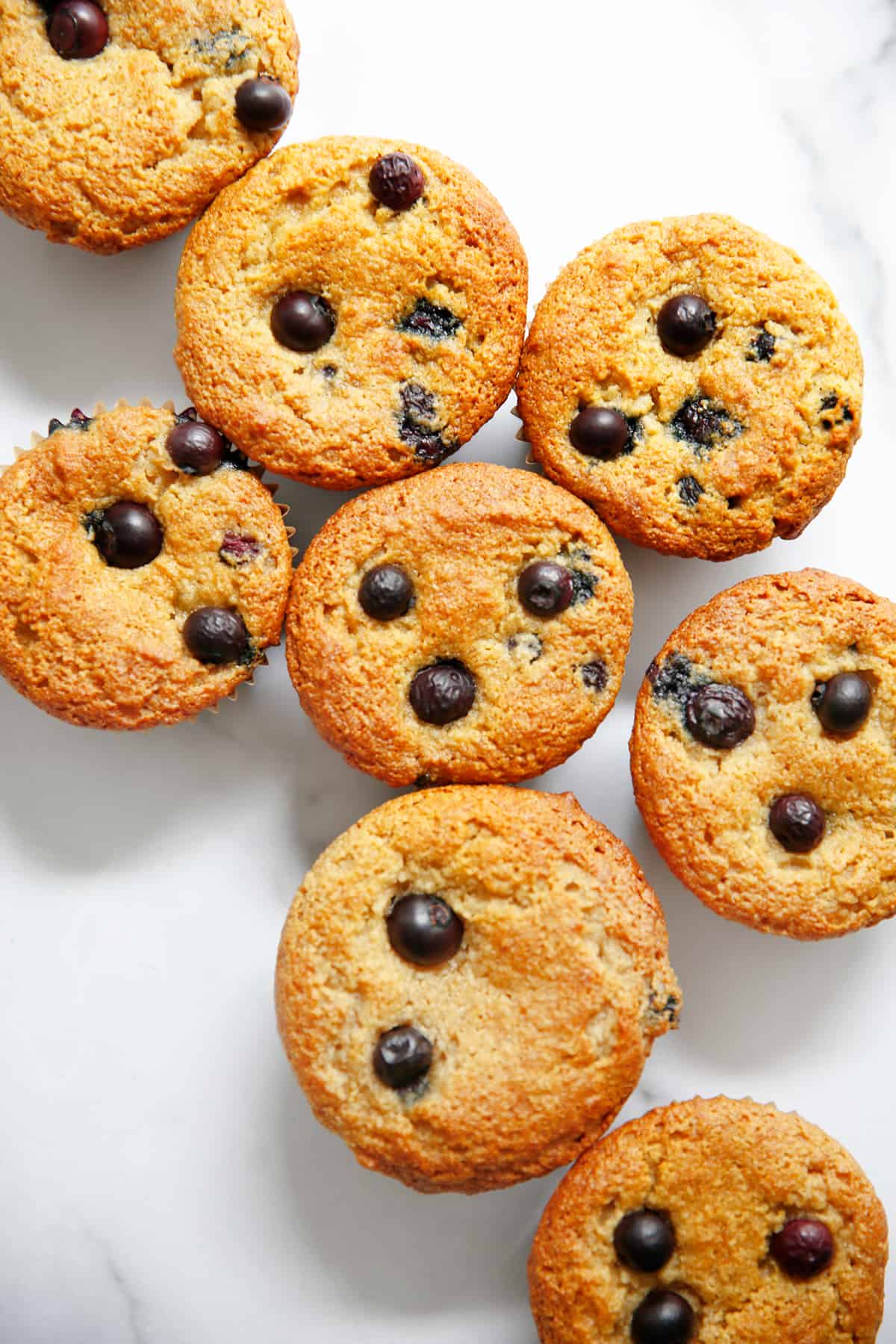 If you like this muffin recipe, check out these others:
If you like this blueberry recipe, check out these others:
Paleo Lemon Blueberry Muffins
This Gluten Free Blueberry Pie is the perfect dessert to serve at a backyard summer party or potluck! It's juicy and sweetened just right (using unrefined sweeteners) and will be a hit with everyone! It's gluten-free, with dairy-free options and can be made with either fresh or frozen blueberries. Let's get baking!
Gluten Free Blueberry Pie Recipe
It's PIE SEASON! And this Gluten-Free Blueberry Pie does NOT disappoint! And nothing says Independence Day like digging into the juiciest blueberry pie, and maybe having it topped with a little bit of ice cream won't hurt either! This blueberry pie is so delicious, perfectly balanced and made gluten free and without any refined sweeteners. We know you're going to love this one! You can make it festive for the holiday with decorative stars and and stripes, or you can just top it with a double crust and it will still look beautiful.
Here's what you need:
2 batches of gluten-free use either the almond flour pie crust or the oat flour pie crust

Frozen or fresh blueberries

Tapioca starch

Maple syrup

Coconut sugar

Lemon zest

Cinnamon

Salt

1 egg, for egg wash (optional)
Raw sugar, optional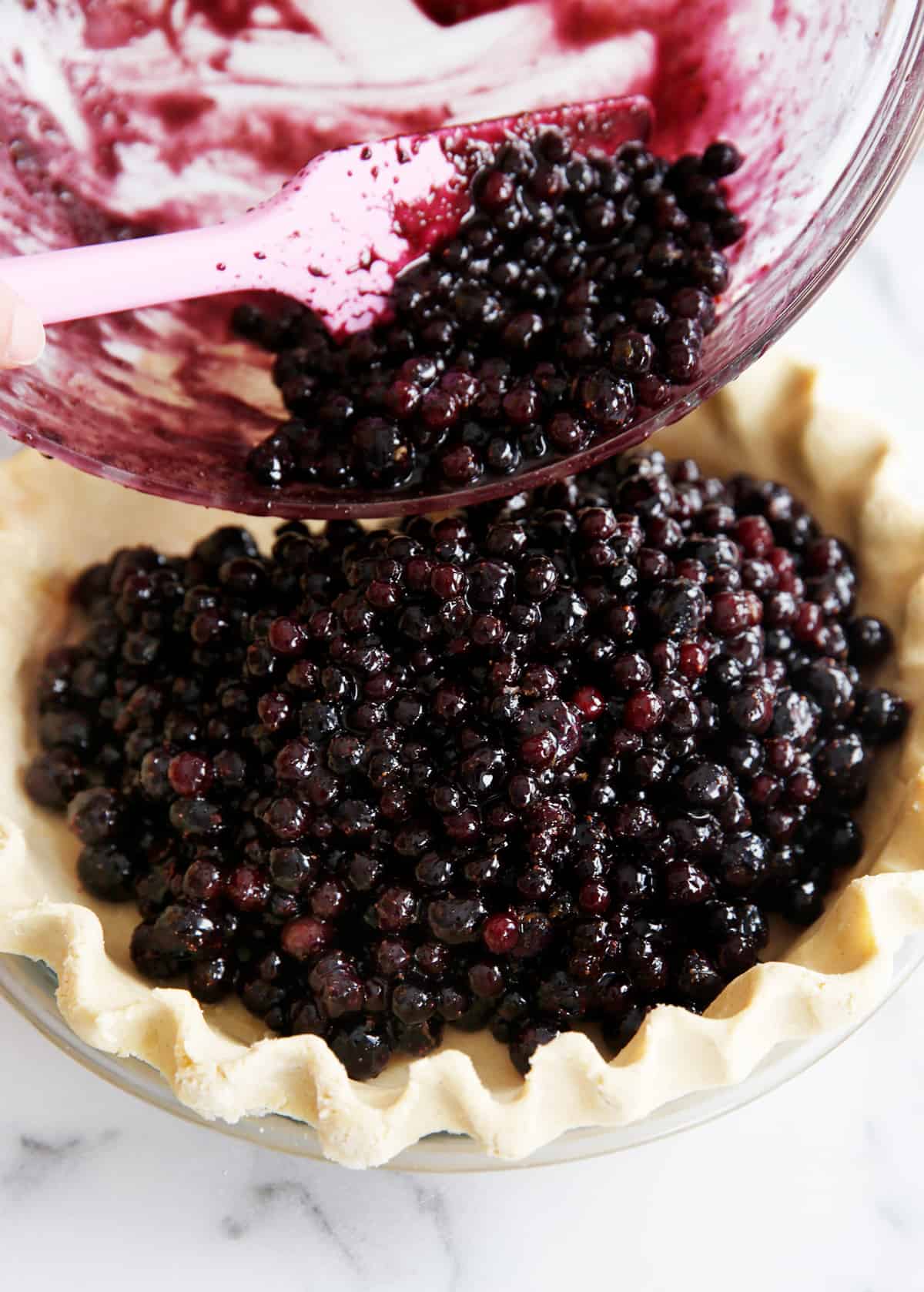 Tips for baking this Gluten Free Blueberry Pie:
Make the crust 1-2 days ahead of time. Check out this gluten-free almond flour crust recipe and this gluten and nut free oat flour recipe to figure out which one you'll want to use!
Roll the crust out ahead of time. Place the bottom crust in a tin and cover with plastic and chill until ready to use. Place the top crust on a parchment lined baking sheet, and cover with plastic wrap and chill until ready to use. This ensures it doesn't dry out. You can do this a day ahead or a few hours ahead of time. It also makes it easier to work with the crust since it's already cold. If you are choosing to make the stars and stripes design, or weave a lattice, do so on a piece of parchment paper.
You can make the blueberry pie filling ahead of time, up to 2 days.
Make the whole pie a day ahead of time! You can leave it at room temperature, covered, for 24 hours. Simply place in the oven at 350 for about 10-15 minutes to warm up, if desired.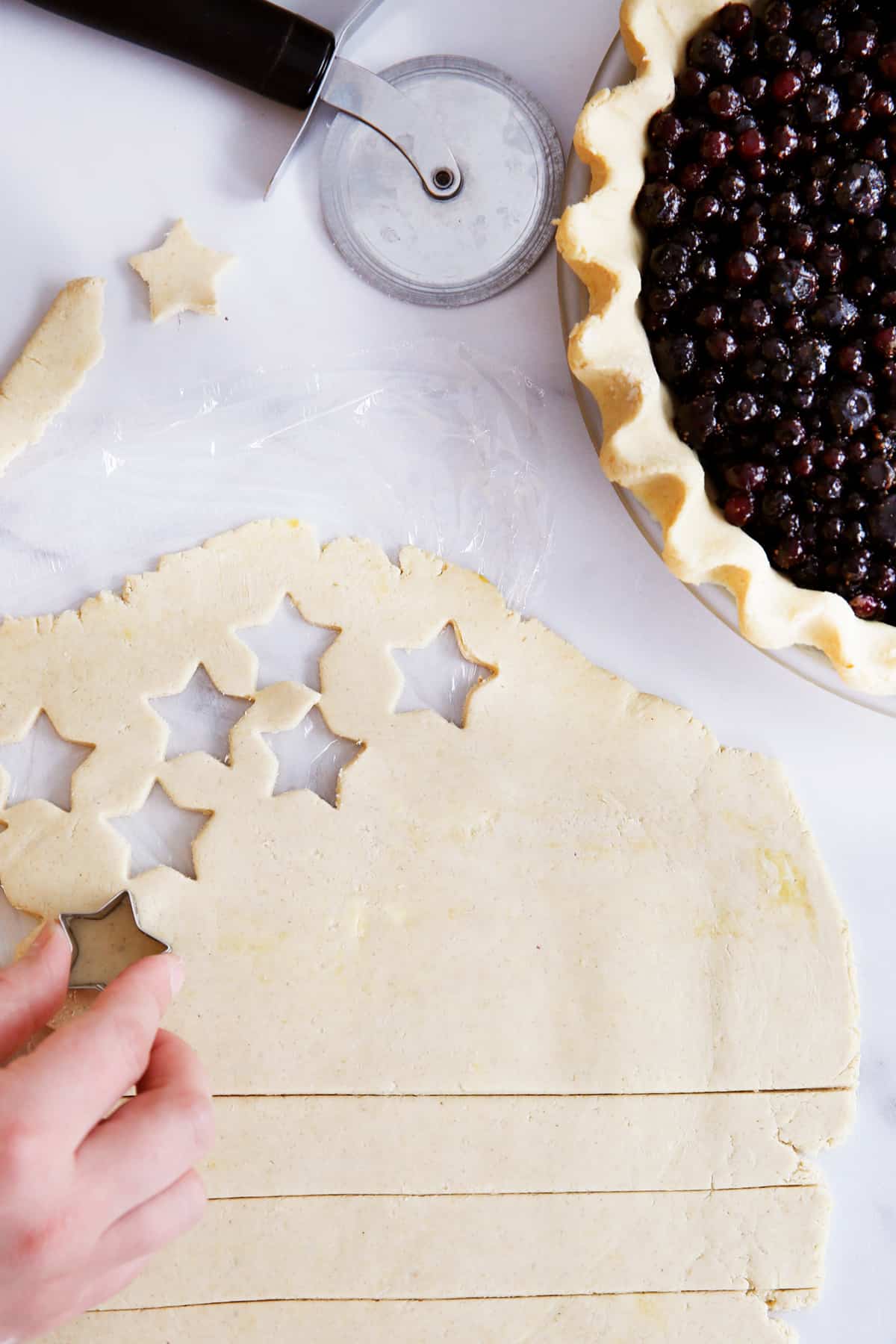 How to Decorate for the 4th of July
To make this into a stars and stripes pie you'll need a star shaped cookie cutter or stamp and either a pizza wheel or a knife to make the stripes. Make sure your pastry is chilled when you are are working with it. If at any point the dough is too soft, place it in the refrigerator to chill for about 10-15 minutes.
Roll out dough.
Using a pizza wheel cut 6 strips of dough. Place them on the pie evenly, using scissors to cut them to the correct size in order to make the stripes of the flag. Don't forget to leave a space in the upper left corner.
Stamp out 8-12 stars, depending on the size of your cookie cutter and place them in the upper left corner.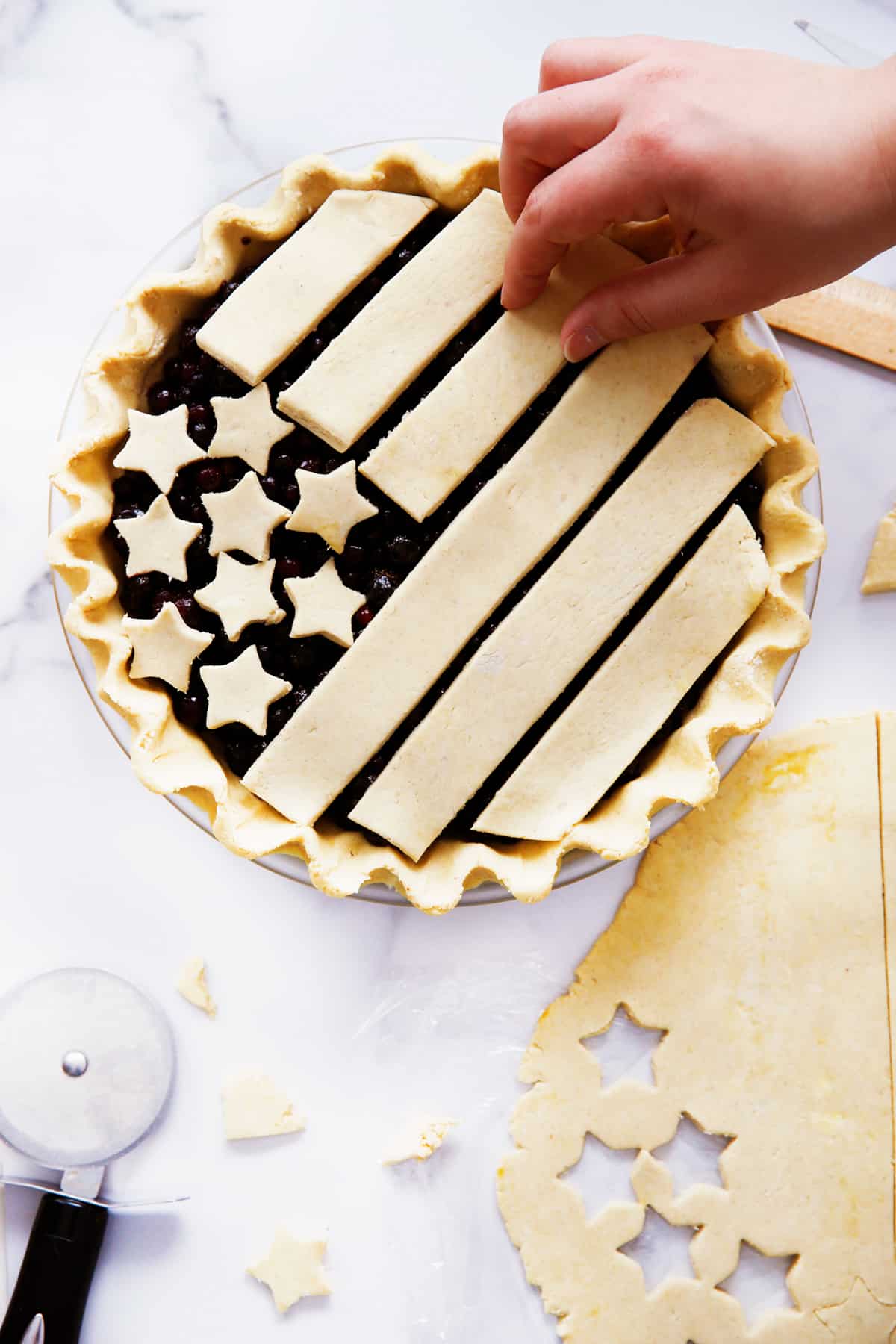 Other Ways to Decorate it
You could also top this pie with:
a plain double crust with a few holes cut into it for steam to escape
a lattice; use bigger strips of pastry for this gluten free crust. See this post for more information on making a lattice.
a crumble topping! Use this recipe for making a crumble topping.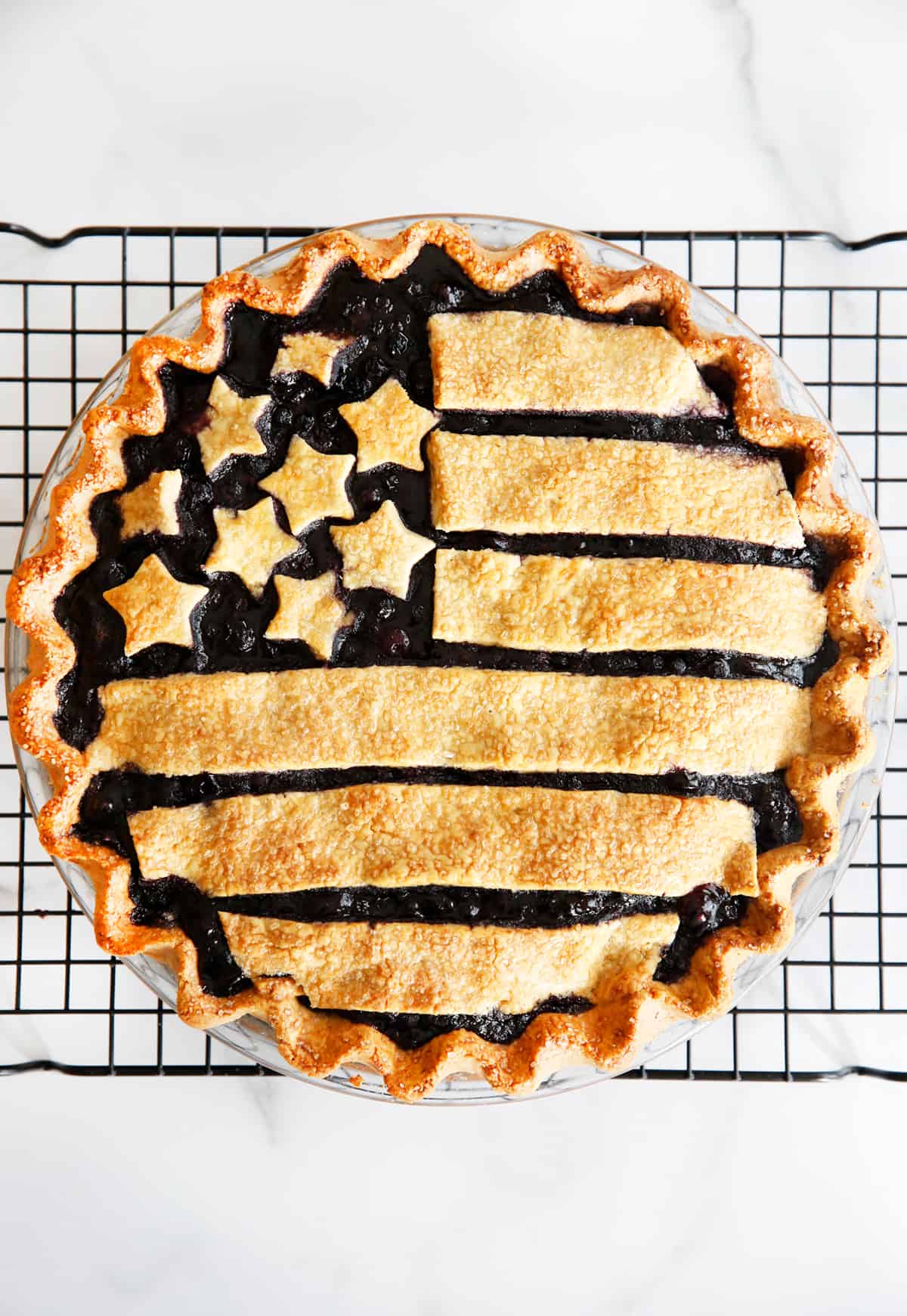 We used these kitchen tools in this recipe:
If you like this pie recipe, check out these others: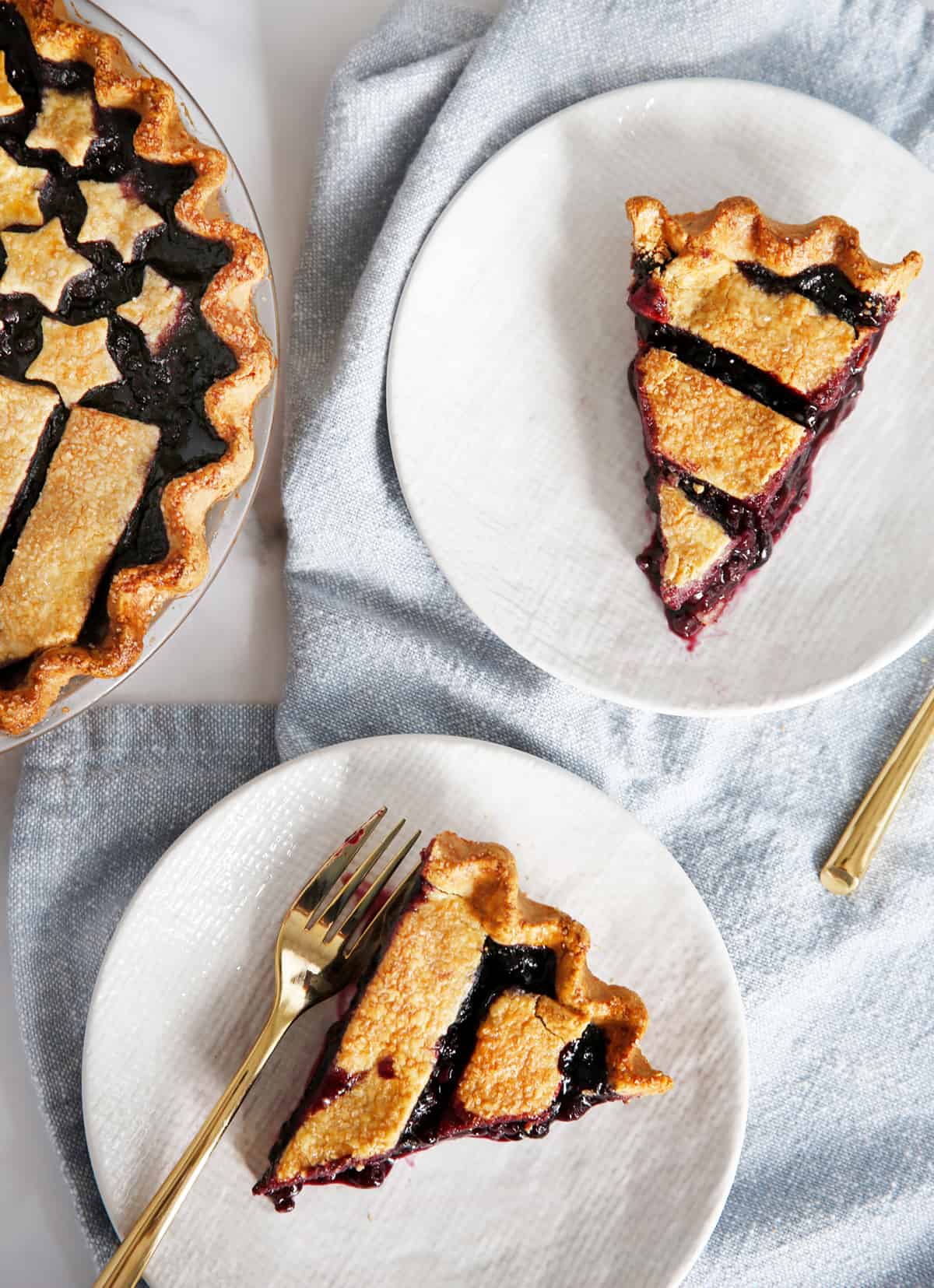 Gluten Free Blueberry Pie
These Blueberry Pancake Fat Bombs are so easy to make and the perfect quick snack to have either on-the-go or as a pick-me-up between meals. They are no bake, taste just like blueberry pancakes and are gluten free and keto-friendly.
Blueberry Pancake Fat Bomb
If you don't have time to wake up early and cooking yourself up a pile of fresh pancakes, make these Blueberry Pancake Fat Bombs instead the night before! We love these high-fat, low (or no) sugar snacks that can keep hunger at bay in between meals or substitute in to keep your energy high. These no-bake Blueberry Pancake Fat Bombs are not only super easy to make, but they really taste like Blueberry Pancakes!
The key to the blueberry pancake taste is using freeze dried blueberries and a hint of maple syrup. If you are on a keto diet there are a some options out there for sugar-free maple syrup substitutes like the one from the brand Lakanto which is a blend of monk fruit and erthyritol.
What are fat bombs?
Similar to energy balls, fat bombs are small treats or snacks that pack a punch of energy, but instead of being made with ingredients like dates, dried fruit and nuts fat bombs prioritize ingredients like coconut oil, cacoa butter and other high-fat, low-carb ingredients. They're also called keto bombs or fat fudge. You don't have to be on a keto diet however to benefit from eating fat bombs as you only need a small amount to strike down any sudden hunger pangs that will help you making good decisions about your food choices until your next meal!
Are fat bombs healthy?
Everybody is going to have their own personal level of fat that they want to include in their diet. We love that these are heart-healthy fats and fats that fuel your brain like coconut oil.  When eaten in moderation fat bombs can help you make better food choices instead of grabbing whatever you can find in a state of hunger, or as a better alternative for a refined-carb high-sugar dessert. These will fill you up when you eat only one because it is a dense amount of fat (or energy).
If you like this keto friendly recipe, check out these others keto recipes:
---
Blueberry Pancake Fat Bomb
I am head over heals for these Blueberry Crumb Bars! They are gluten-free, grain-free, and free of refined sugar, and they are also exploding with flavor!

Today I've teamed up with Wyman's of Maine to bring you these divine bars that are absolutely perfect for your weekend brunch, as an on-the-go snack, or to bring along to a party!
I just love these wild blueberries! They are BURSTING with flavor.

I love how easy these come together. In this recipe, we are using the frozen blueberries straight out of the bag! These bars are the perfect combination of crust and fruit topping. They are a hit all year long.


This post is sponsored by Wyman's of Maine. All opinions are always my own. Thanks for supporting the brands that make LCK grow!
 What is your favorite blueberry recipe?
Blueberry Crumb Bars
This 4-Ingredient Easy Blueberry Jam is thickened with chia seeds, lightly sweetened, and seriously delicious! It's kid-approved and Paleo friendly.
Easy Blueberry Jam Recipe
This month we're celebrating Summer fun, and what better than to celebrate with a healthy kid-friendly chia seed jam that can be topped or spread on everything! Ice cream, crepes, oatmeal, muffins, yogurt, pancakes, waffles, toast, or even have a spoonful plain! Blueberries are a superfood that I simply cannot get enough of. When they are back in season I stock up weekly and when they're just about to go out of season, I freeze a bunch for smoothies and muffins!
Say goodbye to store-bought jam loaded with preservatives and sugars. This jam is free of refined sugars and such a fabulous healthy alternative to traditional jam. You are going to be amazed at just how quickly it comes together and how thick it gets! I give the credit to the chia seeds, a super healthy seed used as the thickener!
Ingredients Needed For Blueberry Chia Jam:
2 cups fresh blueberries
2 tablespoons honey
2 tablespoons lemon juice
2 tablespoons chia seeds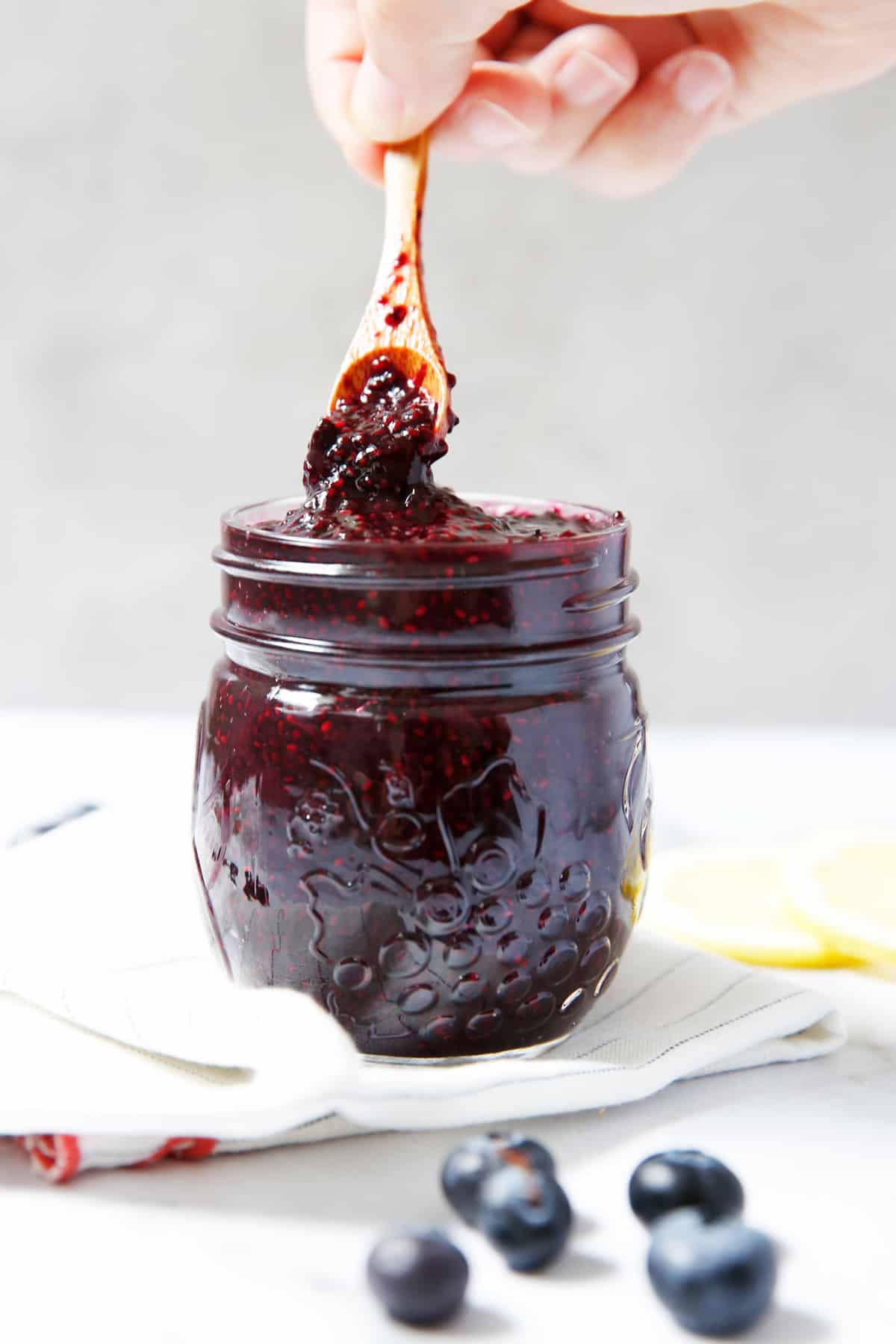 Are Chia Seeds Healthy?
Yes! Chia seeds are a Paleo-friendly and nutrient-dense. They're easy to digest and can even aid in digestion by helping this move along! They are also contain omega-3's which means they're not only good for your body but also good for your brain!
Can you make jam without pectin?
Absolutely! The chia seeds thicken this jam wonderfully by absorbing a lot of the liquid of the strawberries without having to cook the mixture for hours. As the directions state, we recommend cooking it a bit to get the correct desired consistency, and then after cooking the chia seeds will continue to absorb liquid to thicken up the jam.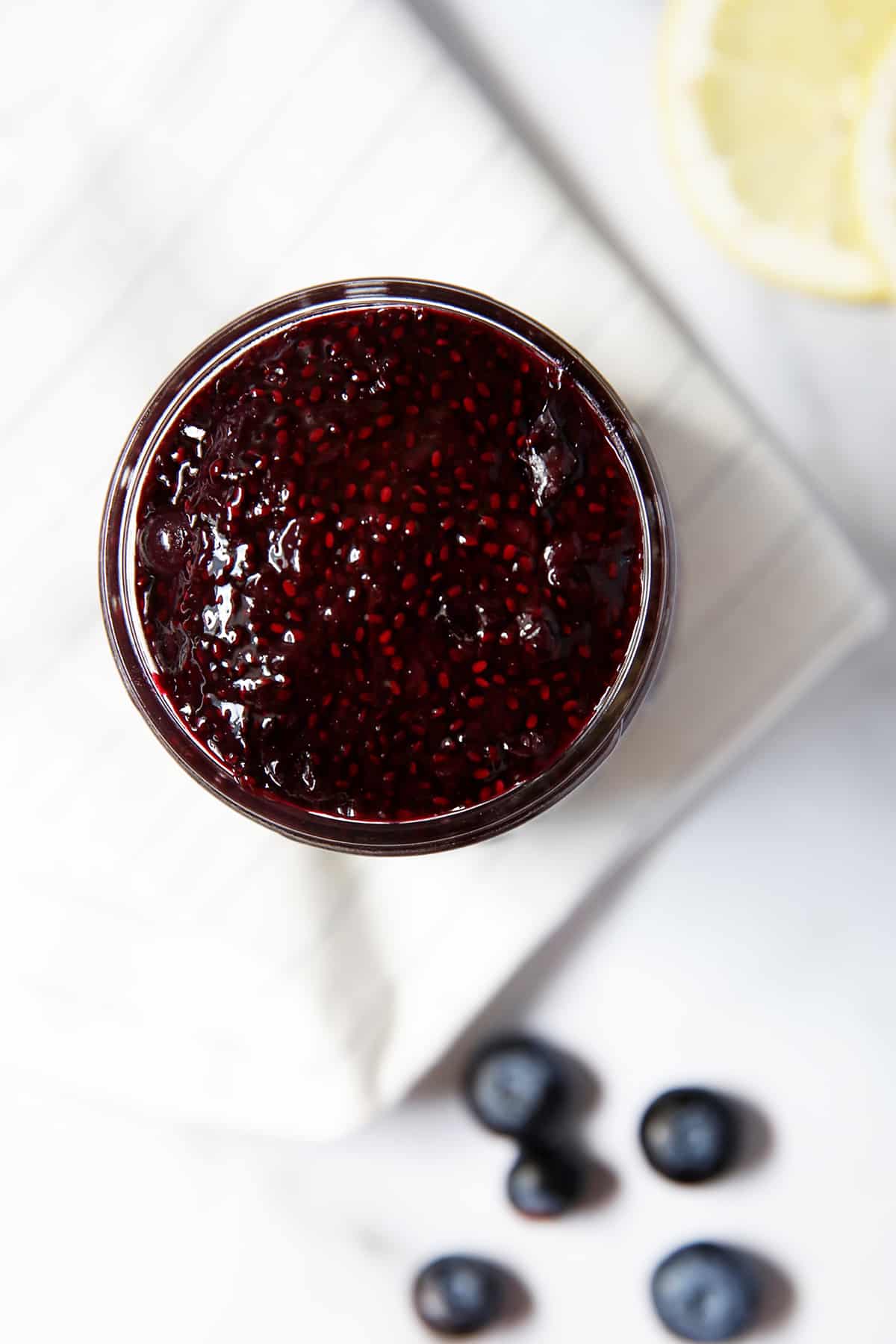 How long will this Blueberry Jam last?
Store in a mason jar for up to 10 days in the refrigerator!
If you like this healthy jam recipe, check out these similar recipes:
Easy Blueberry Jam with Chia Seeds
Have 30 minutes? These Paleo Banana Very Berry Muffins are bursting with fresh berries and make for the ultimate make ahead breakfast or mid-day treat! They're gluten-free and dairy-free and so delicious. This is one of the first muffin recipes I published on my site and what inspired me to bake all of the other ones that came later. Once you make them you'll know why they inspired me so much!
Paleo Banana Muffins with Berries
These fluffy, moist, paleo banana muffins are the perfect morning treat! I love this recipe because it's paleo baking at it's best with minimal nutrient dense ingredients. Moreover, nobody will know they're grain-free and paleo-friendly! In addition, these muffins are also so easy to prepare! Add everything to one bowl, mix, bake and BOOM. The ultimate berry treat in no time!
Here's what in them:
almond flour
coconut flour
salt
baking soda
coconut oil
eggs
honey
banana
blueberries
raspberries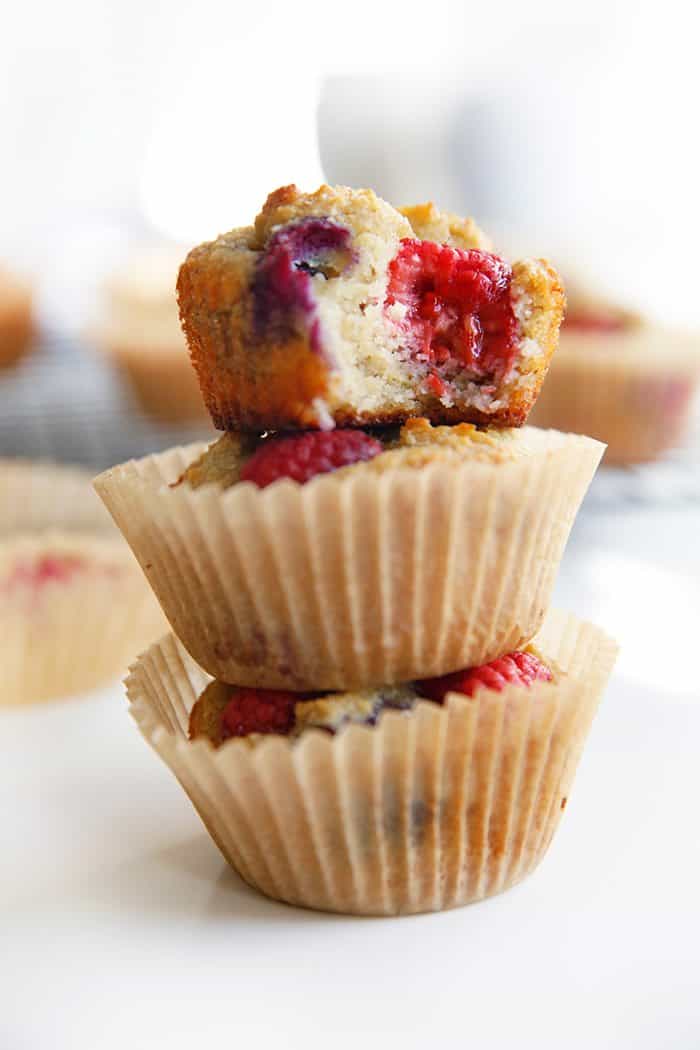 These paleo muffins are easy to make and are loved by so many! They also make your kitchen smell amazing. These muffins use my trusty almond flour and coconut flour blend, with very little added sugar. They make the ultimate banana muffin with berries!
How to Make Paleo Muffins
Mix the dry ingredients
Mix the wet ingredients
Combine wet into dry ingredients and Fold in blueberries and raspberries if using.
Bake!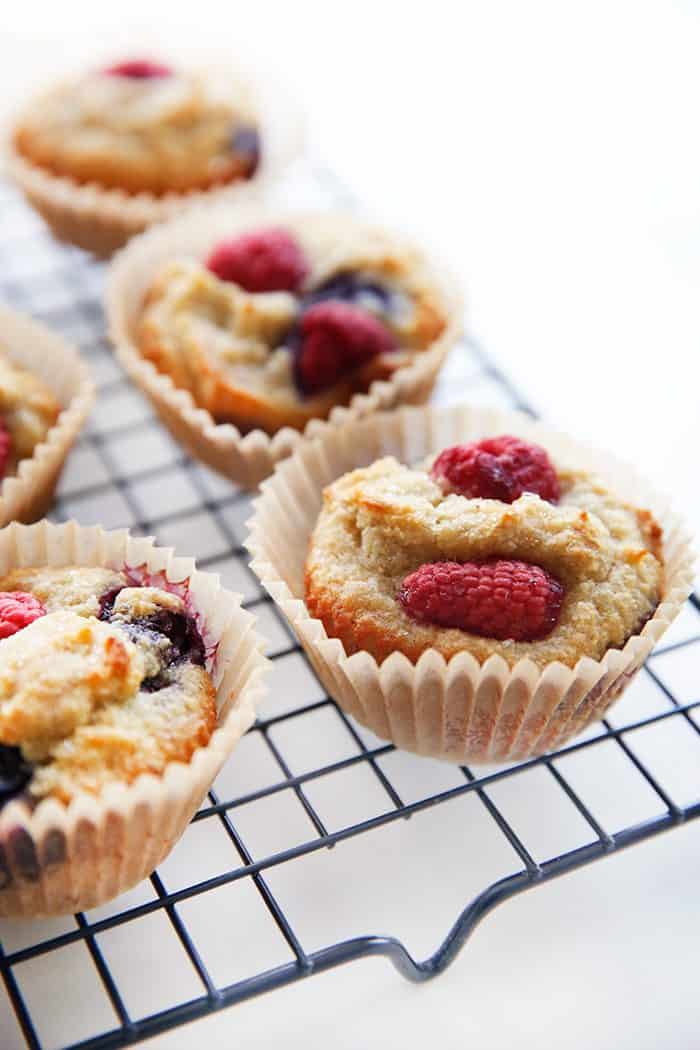 If you like this paleo muffin recipe, check out these others:
Watch the video:
---