These Freezer Breakfast Burritos are the perfect grab and go breakfast filled with all of your favorite breakfast fixings! They are great when cooking for others or for when you needed a meal prep breakfast ready to go! They're customizable based off of what you love and easy to make.
Freezer Breakfast Burritos Recipe
Monday mornings come fast after a long weekend, but that doesn't mean you shouldn't have a healthy, filling breakfast. Cue the make ahead Freezer Breakfast Burritos! These burritos can be customized to your liking, frozen ahead of time and heated up for a handheld on-the-go breakfast! The prep doesn't really take that long, and when you pull one of these from the freezer you'll be thanking yourself you did it. I stuffed my burrito with home fries, ground Spicy Italian Sausage, bacon, fluffy scrambled eggs and beans for the ultimate protein packed quick and easy breakfast! But feel free to get creative and add your favorite burrito add-ins!
Meal Prep Breakfast Burrito Filling Ideas
The truth is you can put just about anything you like in your meal prep breakfast burritos. The trick is to make sure the filling is too wet, or else it will make the burrito soggy. Here are some of the filling ideas we used for our breakfast burritos, but feel free to get creative.
Homemade Homefries
Bacon
Sausage
Scrambled Eggs
Cheese
Scallions
Black Beans
Avocado
How to Store Freezer Breakfast Burritos
The first tip I have to offer is to make sure that when you assemble your burritos that the filling isn't very hot. Let it cool slightly before packing it. The quicker you can get this to freeze, the better.
Once you've assembled and wrapped your burritos in either plastic wrap or aluminum foil, lay them on a sheet pan to flash freeze in your freezer. Once they're fully frozen, place them in a tightly sealed bag for long term storage. You can store these up to 3 months in the freezer.
How to Heat them Up
To reheat, unwrap them and place on a plate with the seam side down. Reheat in a microwave for 2-4 minutes until heated through, or place in a toaster oven and bake for 15 minutes, or until heated through.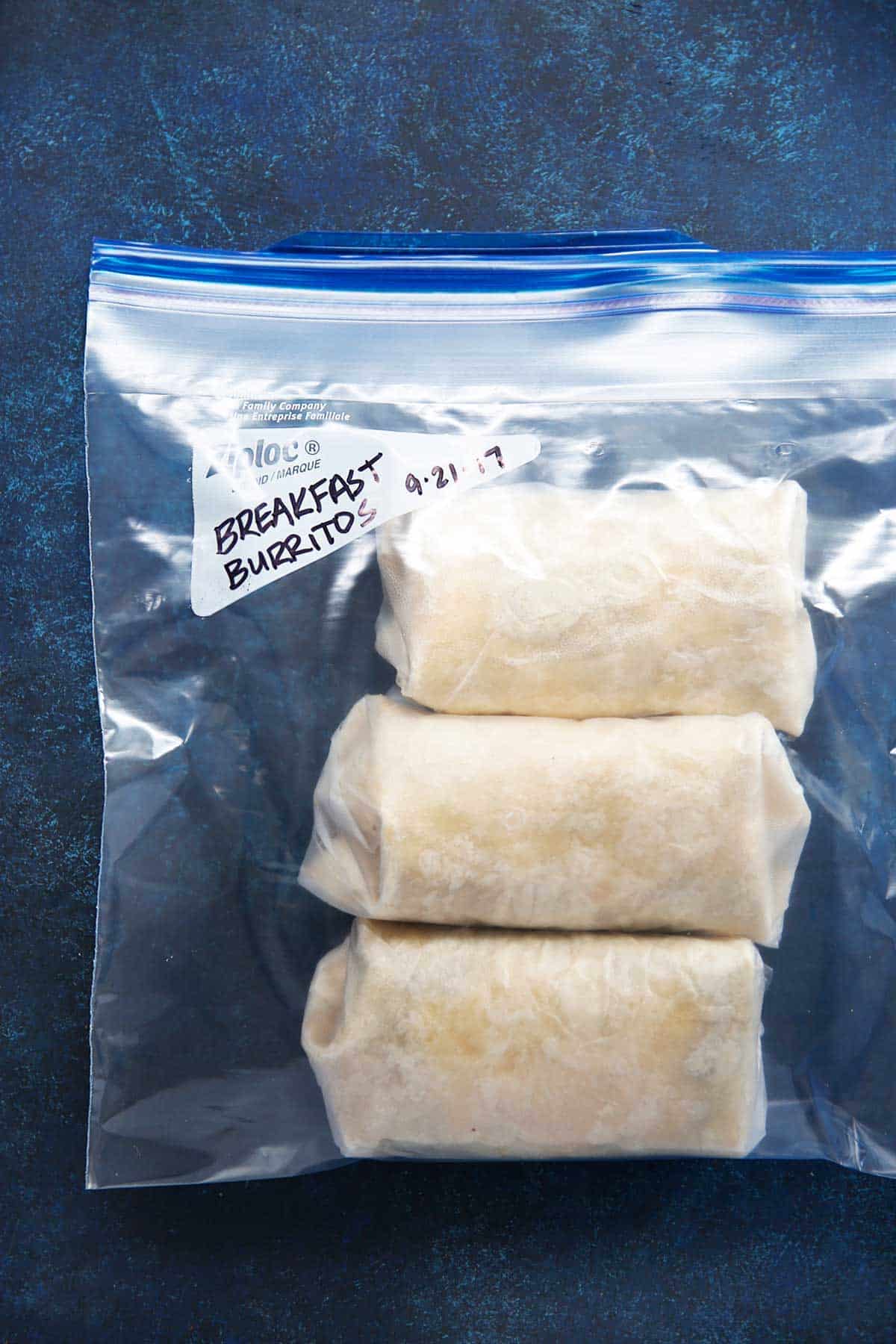 If you like this meal prep recipe, check out these others:
If you like this breakfast recipe, check out these others:
Freezer-Friendly Breakfast Burritos
Ingredients
Classic Home Fries from page 42 of the Lexi's Clean Kitchen Cookbook
2 cloves garlic, minced
1 large onion, diced small
1 green bell pepper, diced small
1 red bell pepper, diced small
2 tablespoons ghee, butter, or oil of choice
4 medium russet potatoes
1 teaspoon garlic granules
1 teaspoon paprika
1 teaspoon sea salt
1/2 teaspoon black pepper
Optional: 1/8th teaspoon cayenne pepper
Other
1 package nitrate-free bacon, cooked according to package instructions
1 cup cheddar cheese, more as desired
2 tablespoons scallions
1 Spicy Italian Sausage, casing removed
1 15-ounce can black beans
4 eggs, soft scrambled
1 package gluten-free tortillas or tortillas of choice
1 avocado, diced
1 tablespoon scallions, sliced thin
Directions
Pre-heat oven to 375 °F.
Heat the ghee in a large ovenproof skillet over medium heat until hot, about 5 minutes.
Add the minced garlic, diced onion, and diced pepper to the skillet. Cook stirring often, until the vegetables are slightly soft, about 5 minutes.
Add in the potatoes and cook stirring often for about 10 minutes. Add more ghee here if the potatoes are sticking to the pan.
Add in spices and mix until well combined.
Place in the oven and bake for 25 minutes or until the potatoes are soft, tender and golden brown.
Let cool slightly. Place in a bowl and set aside for assembly.
While the potatoes bake, cook the bacon, the sausage, and the scrambled egg in three separate skillets.
For the Italian sausage, heat a medium skillet with ghee or oil of choice. Add the sausage to the pan and cook until fully cooked through and no pink remains. Once cooked through, remove from heat and let cool slightly. Place sausage in a food processor and pulse once or twice. Pour into a bowl.
Assemble: Lay a tortilla flat. Place home fries, bacon, sausage, black beans, scallions, and avocado in the center of the tortilla. Fold in the sides and roll, making sure to use your fingers to keep in all of the filling while rolling. Either eat right away or wrap individually in tinfoil, freeze or refrigerate to enjoy for later!
Recipe Notes
Refrigerator: The burrito will last for 3-4 days.
Freezer: The burrito will last for up to three months. To thaw the frozen burritos, remove the tinfoil and place the burrito on a microwave-safe plate. Microwave for 60-90 seconds, or until warmed through. You can also thaw the burrito in the oven: pre-heat oven to 375 °F and bake for 30 minutes in the tinfoil, or until warmed through.
Loading nutrition data...
There may be affiliate links in this post! By clicking on them, or purchasing recommended items I may receive a small compensation, at no cost to you! However, I only recommend products I absolutely love and use in my own home! Thank you for supporting Lexi's Clean Kitchen when you shop! See my
privacy policy
for more information about this, the information we save, and more!