Who wants a super easy, hearty and flavorful side dish? This Sweet and Crunchy Thai Slaw with chicken works equally as well as both a crunchy side dish at a BBQ or as a light lunch option for meal prep! It's also gluten-free and paleo friendly!
Sweet & Crunchy Thai Slaw with Chicken
Who doesn't love a good slaw? But even more, this Sweet Thai Slaw with Chicken is full of different flavors and textures: sweet, spicy, crunchy, soft and just so darn delicious! There are a few things you'll need to slice and prepare, but after that it's easy breezy to put together: toss in a bowl and that's it! We suggest toasting the sesame seeds and slivered almonds for an extra special flavor boost, but honestly you can skip it if you don't want to do the extra step. We're all about easy, here. It's also gluten-free and paleo friendly and sure to be a hit with everyone.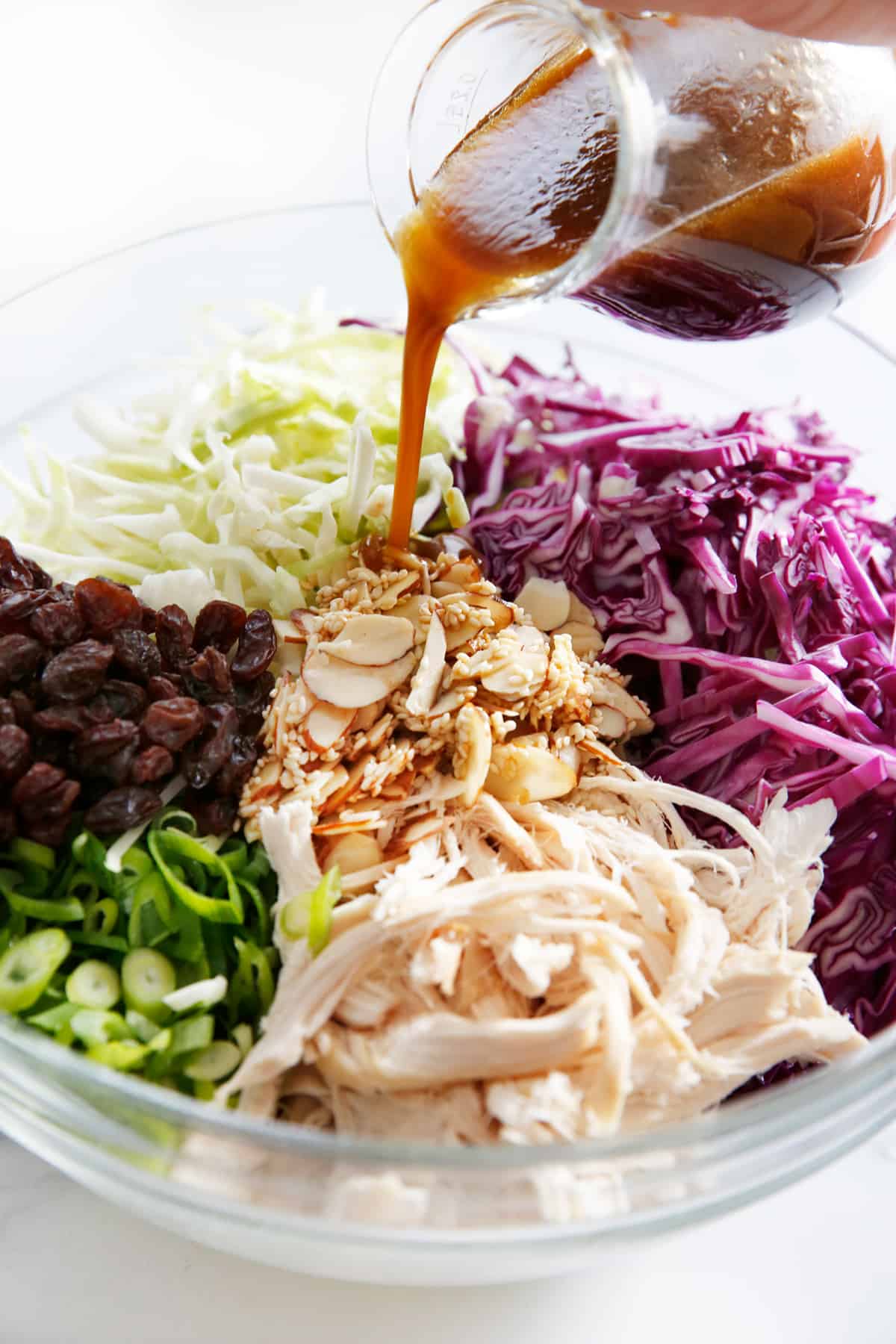 Here's what's in it:
Sesame oil
Slivered almonds
Sesame seeds
Purple cabbage
Green cabbage
Green onions
2 cups cooked shredded chicken (check out this post)
Raisins
Rice wine vinegar
Olive oil or avocado oil
Coconut aminos
Coconut sugar
Want to make this super easy?
If you really, really wanted to make this even easier? Grab a bag of Cole slaw mix at the store and swap 4 cups of it for the green cabbage. Even easier than that? Grab a rotisserie chicken while you are at it and shred that to add in.
Can you leave the chicken out?
Yes! But we obviously love it with it in, or else we wouldn't have included it in the recipe. As a stand alone lunch leave the chicken in however!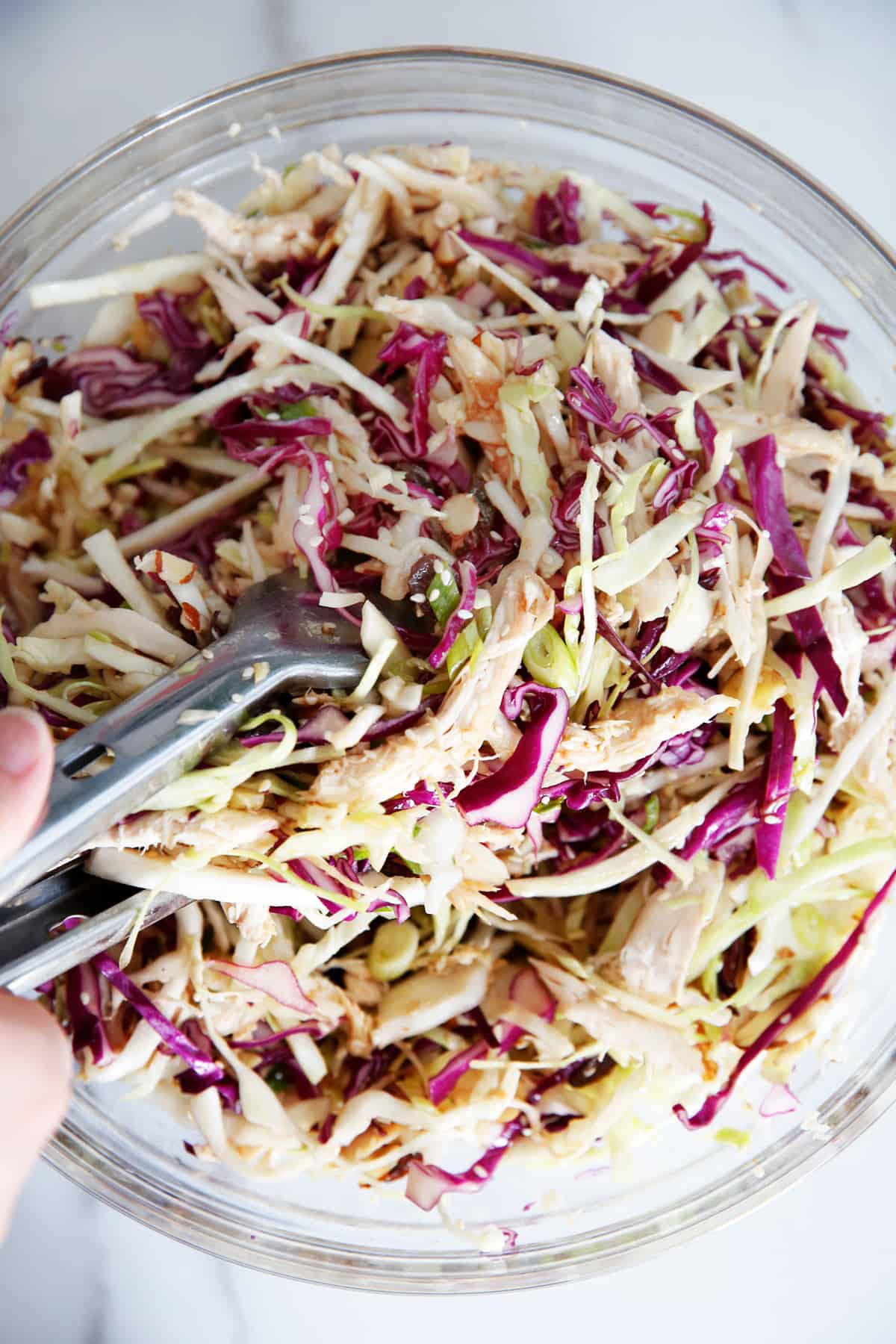 If you like this slaw recipe, check out these others:
Sweet & Crunchy Chicken Slaw
2014-07-26 23:36:58
Serves 6
Ingredients
2 cups red cabbage
4 cups white cabbage (or bag of cole slaw mix)
1/4 cup scallions, chopped (more to taste)
1 lb organic chicken, shredded (poached or crock-pot)
1/2 cup slivered almonds
1 tbsp grass-fed butter
2 tbsp sesame seeds
1/4 cup vinegar
1/3 cup sesame oil or extra virgin olive oil
1/4 cup coconut aminos
1/4 cup coconut sugar
Optional: 1/3 cup raisins, more as desired
Instructions
1. In a bowl mix shredded red cabbage, white cabbage, and shredded chicken (prepare chicken before hand- either by poaching poaching it or using shredded crock-pot chicken)
2. In a small bowl whisk together vinegar, oil, coconut aminos, and coconut sugar
3. Add the dressing into the cabbage and chicken and mix well
4. In a pan heat 1 tbsp butter and saute almonds and sesame seeds for 2-4 minutes
5. Remove and add into the bowl
6. Chop scallions and add into the bowl- mix well, add raisins, and serve
Lexi's Clean Kitchen https://lexiscleankitchen.com/