Quick Restaurant-Style Salsa
Nothing tastes better than fresh homemade salsa! This restaurant style salsa is SO easy to make, much less expensive than buying it in the store and customizable to suit your exact tastes. Get this BEST EVER salsa recipe right now, grab your ingredients (likely already in your pantry) and serve it up with your favorite chips or tacos.
Easy Restaurant Style Salsa
Have you ever gone to a restaurant and been served salsa and chips and realize, just as your meal is coming, you aren't hungry anymore because you've devoured so much of the them? Same. And same thing will happen at home with this delicious restaurant-style salsa! It's delicious and fresh tasting (all while using mostly pantry staples) and a CINCH to put together. Seriously it takes like 5 minutes from start to finish. Serve as is, or pair with your favorite taco recipe (we've got a few you might like).
Ingredients Needed for Salsa
Canned Diced Tomato (this is essential for that restaurant style taste)
Canned Green Chiles
Garlic Clove
White Vinegar
Tomato Paste
Red Onion
Diced or Grape Tomatoes (you can omit if you don't have them, but this gives the salsa a bit of a fresh feeling!)
Salt
How to Make Salsa in a Blender
This explanation is going to be short and sweet because all you need to do to make restaurant style salsa in the blender is place all of the ingredients in the blender and give it a few pulses! That's it. Depending on what type of blender to use, just start off with two pulses and then check to see the consistency. Keep pulsing with the blender until it is the right consistency for you. I found 3 pulses were enough to blend my salsa! This can also be done in a food processor.
Do I need to use fresh tomatoes for salsa?
NO! While you definitely can, we made a version that comes together so quickly, doesn't require fresh tomatoes, and tastes just like the restaurant salsa you know and love!
Customize your Salsa
This recipe is pretty basic. Feel free to add in some other flavors or ingredients to customize it the way you want. Here are some ideas:
You can use fresh tomatoes if you have an abundance on hand: now, it will taste less like restaurant style salsa, but can be pretty darned delicious.
Add in fresh herbs: grab some fresh cilantro!
Add in some spices: have some fun with some smokey flavor with either smoked chipotle peppers or even smoked paprika. Other spices? Cumin, chili powder, black pepper, and garlic powder!
Want a kick? Add fresh jalapeño! Remember, the seeds are the spiciest part. Know your audience, too.
Make it different: add in roasted red peppers for a unique twist.
Add in some bonus items: you can add fruit, such as pineapple or mango for a tropical twist.
Brighten it up: once you make it, taste and if you want a little something extra, add a little fresh lime juice.
How long will homemade salsa last?
It should last for roughly one week in the fridge in a sealed container!
Serving salsa:
It goes great with so many things, like our Homemade Guacamole, 15-Minute Chicken Tacos, Two-Ingredient Salsa Chicken (Instant Pot or Slow Cooker), and as dressing on our Taco Salad!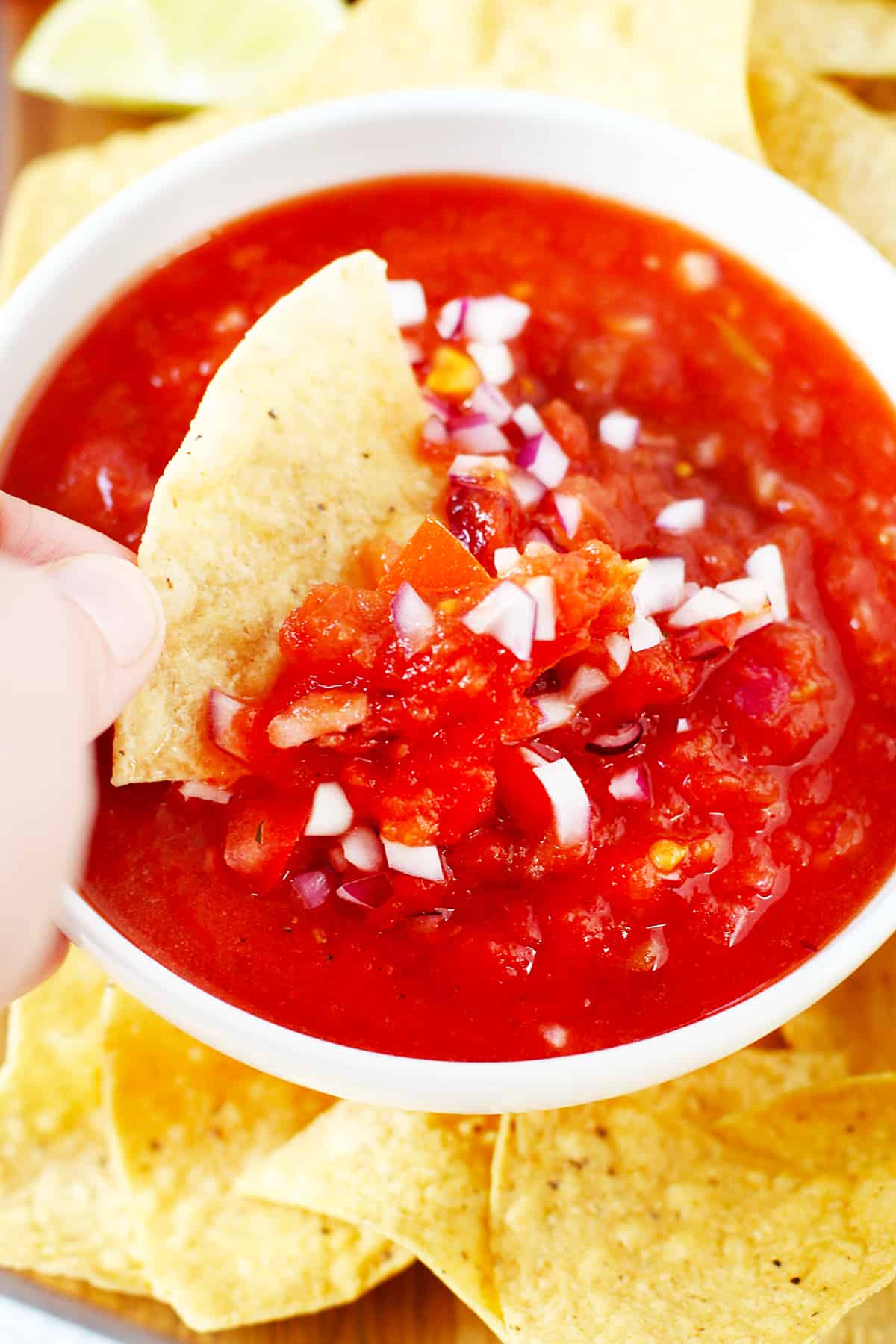 If you like this salsa dip recipe, check out these other appetizer dips we love:
[yumprint-recipe id='241′]