Healthy Carrot Cake Loaf
When Spring is so close you can just about touch it, it's time to break out the bowl and the whisk and bake up this Healthy Carrot Cake Loaf! It is so moist and made using a gluten-free and paleo-friendly blend of almond and coconut flour. This carrot bread is the perfect weekend (or weeknight!) baking project.
Healthy Carrot Bread
It is no surprise I am a big fan of Carrot Cake as we've done it a few times with this cake and these cookies and these muffins. Which is why I am so excited about this Healthy Carrot Cake Loaf! It's stuffed full of carrots and optionally raisins, nuts or chocolate and SO SO GOOD. It's made gluten-free using almond and coconut flour but this bread will be loved by everyone, whether you need to be gluten free or not. It's got just enough cinnamon and it's moist and so tender! Plus, it's made all in one bowl, and that is a win!
Ingredients needed for this carrot bread
Almond Flour

Carrots
Coconut Flour
Eggs

Unsweetened Apple Sauce

Honey

Coconut Oil

Vanilla Extract

Baking Powder + Baking 

Soda

Ground Cinnamon

Fine Sea Salt
There are a few optional ingredients depending on how you want to flavor this bread! You can add in raisins, chocolate chips or nuts! I love the combination of the carrots, raisins and nuts the best!
To Glaze or Not to Glaze
We opted to put a quick maple glaze on this bread, but you can skip it if you want to keep it a little lighter! This glaze uses organic powdered sugar. If you prefer to skip it and use a glaze without any refined sugars, check out the glaze we use on our Cinnamon Roll Overnight French Toast Bake!
Watch the video here:
If you like this carrot recipe, check out these others:
For more recipes for spring, check here:
Healthy Carrot Cake Loaf
Studded with chicken meatballs and filled with veggies, this Italian Wedding Soup is a lightened up take on the classic. This hearty soup is family-friendly and would make great leftovers. Opt to make it lower carb by skipping any added pasta, or go ahead and make it the classic way with your favorite pasta shape.
Healthy Italian Wedding Soup
There is nothing like a hearty soup for a cool winter day! And this Healthy Italian Wedding Soup does not disappoint. The soup has some similar flavors to a classic chicken soup, but instead of the chicken there are tiny meatballs added along with hearty greens. If you are wondering why it's called Italian Wedding Soup, it isn't because this is traditionally served at weddings! The name refers to the marriage of flavors between the meatballs and the greens here. And they really are a great combination! This healthier version uses nutrient-dense kale and lightened up ground turkey or chicken meatballs. We've opted to leave out the pasta here for a more low-carb take, but feel free to cook some of your favorite small pasta shapes here.
Ingredients Needed
Ground Chicken or Ground Turkey

Kale
Carrots
Garlic
Onion
Celery

Egg

Chicken Stock (homemade or store-bought)

Almond Flour (this is used to bind the meatballs)

Herbs and Spices
Parmesan Cheese (optional)
Salt and Pepper
Can you change the greens for something else?
We've opted to use kale here. But feel free to change it add in spinach or escarole instead. If adding spinach, you don't need to cook it as long so add it in towards the end along with the meatballs.
How to Add Pasta
The exact timing of when you add in the pasta will depend on the type of pasta you are using, but it will be added in when you are simmering the soup. Check out the cook time on the box of pasta and simmer it for the length of time specified.
Do you need to bake the meatballs?
We opted to bake the meatballs and then add them into the soup to simmer. If you prefer to sear the meatballs on the stove first or even add them in raw to cook in the broth that works too.
Can you make this soup ahead of time?
Soups are the ultimate make ahead meal and it's freezer-friendly! This would be a great meal prep item to make a double batch of. Freeze some to eat later, and eat some throughout the week for lunches or dinners. Once frozen, leave in the refrigerator overnight to defrost and them simmer gently on the stovetop until reheated.
If you like this soup recipe, check out these others:
Healthy Italian Wedding Soup
This easy-to-make Healthy Turkey Chili is perfect for a big gathering, football Sunday festivities, or for weekly meal prep option since there are tons of leftovers! With ground turkey, beans and tomatoes, it is hearty comfort food. It's made easily in the slow cooker or Instant Pot and easily customizable by adding on all your favorite toppings. It's gluten-free, dairy-free and Paleo friendly.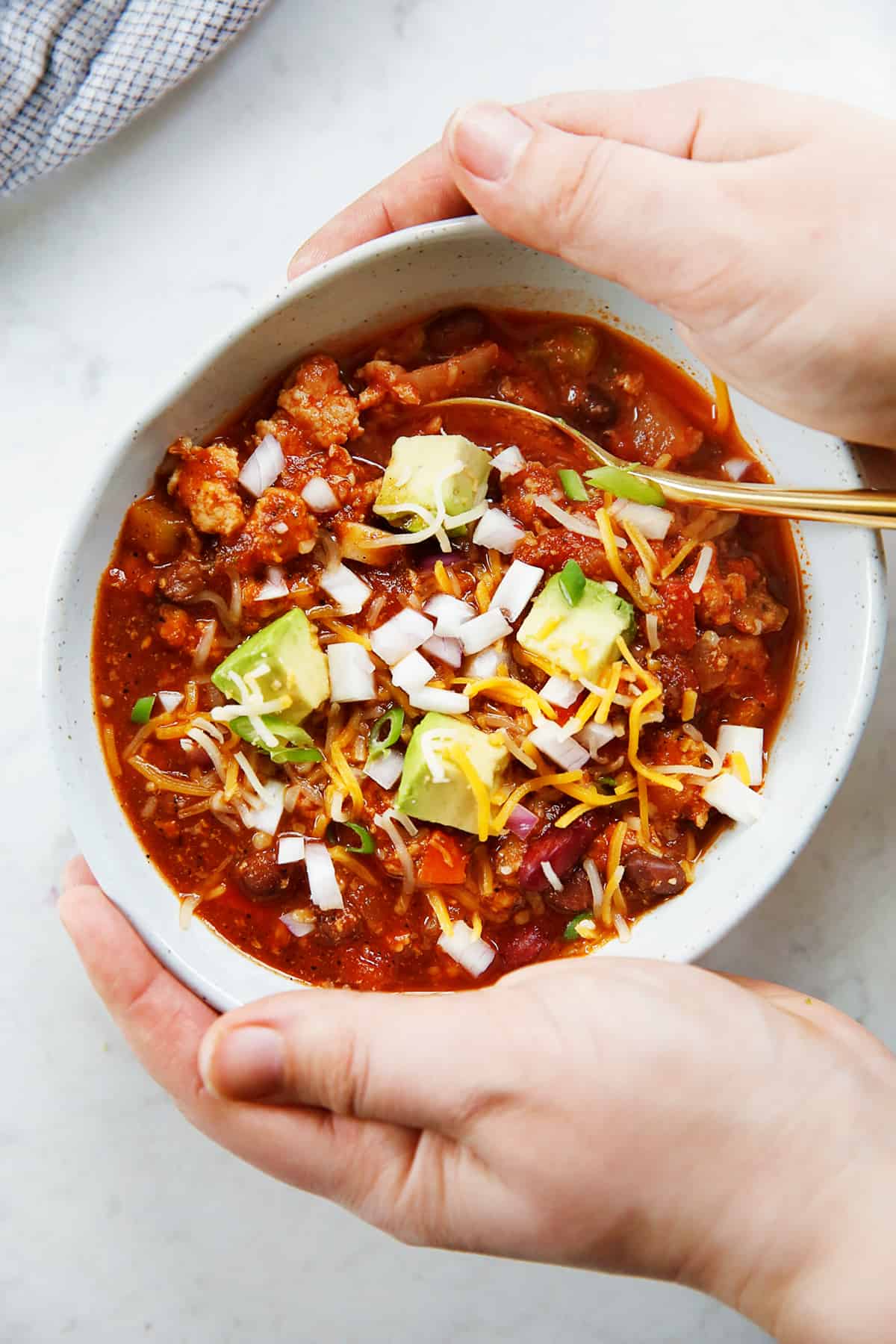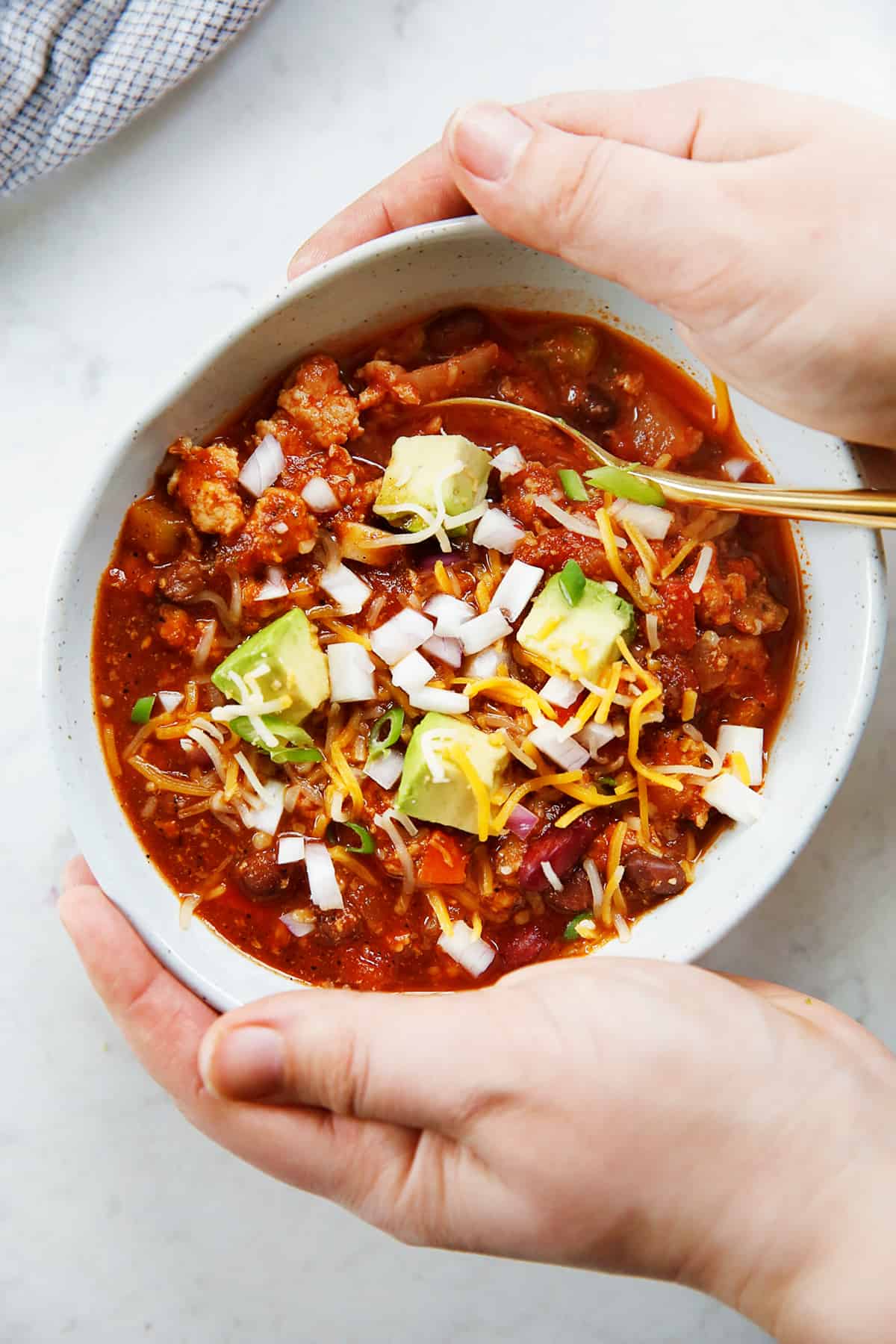 Healthy Turkey Chili Recipe
This is my classic go-to healthy turkey chili recipe all fall and winter long. I think I could make this recipe with my eyes closed at this point because I truly make it weekly! It is always a huge hit and it's one of my top rated recipes for years now. We've given the photos an update so more of you can find this amazing recipe. It's perfect for game day eats or even meal prep. The best part of the chili is you can customize to your liking, some days I'll add more vegetables based on what's in season! For a beanless turkey chili, and to make this Whole30 compliant and Paleo, simply omit the beans! And of course you get to choose the toppings to customize your dietary needs.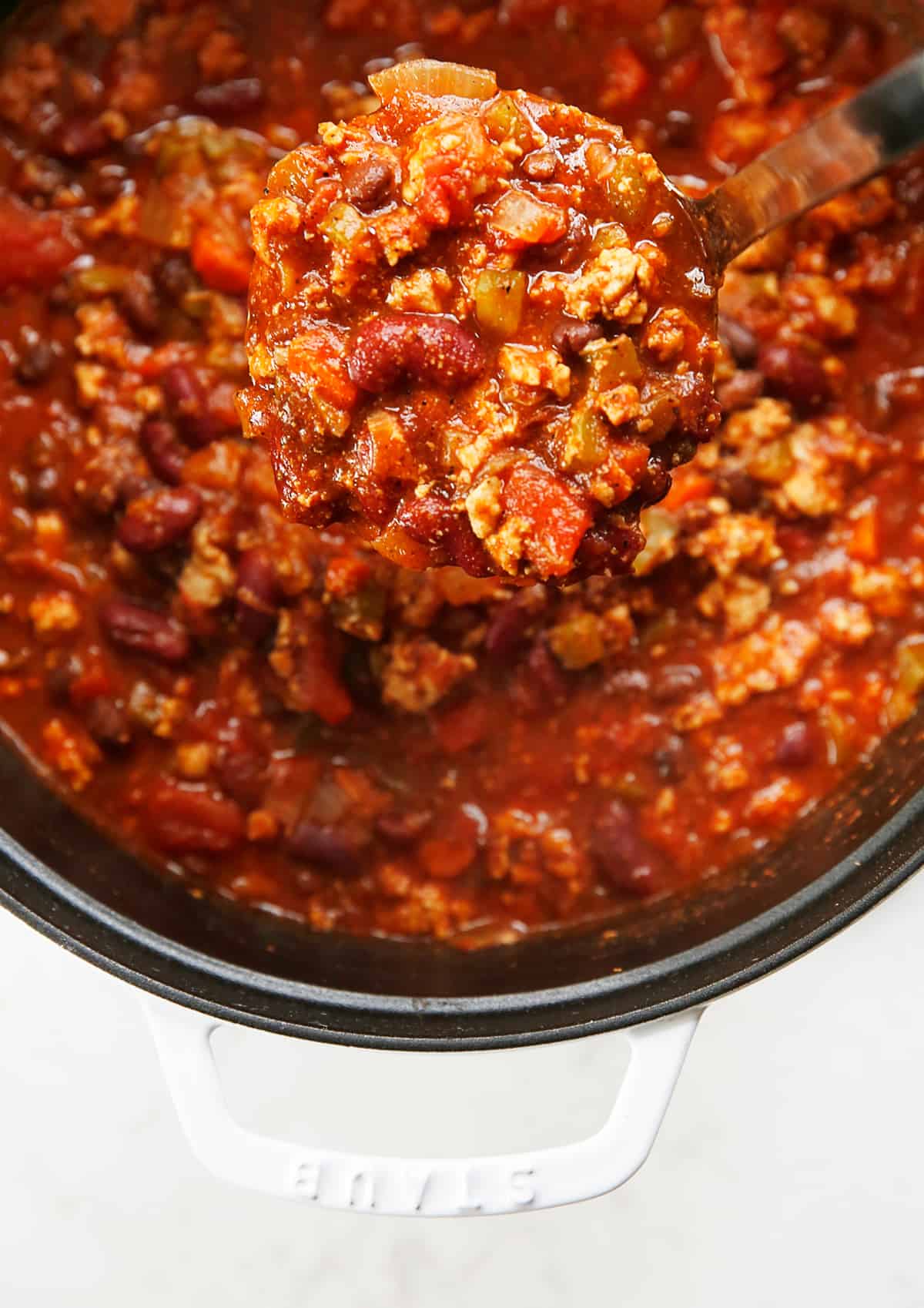 Ingredients Needed
Ground Turkey or Beef
Bell Peppers
Celery
Carrots
Onion
Garlic
Sweet Potatoes (optional)
Beans (optional)
Broth
Spices
Tomato Sauce and Paste
Diced Tomatoes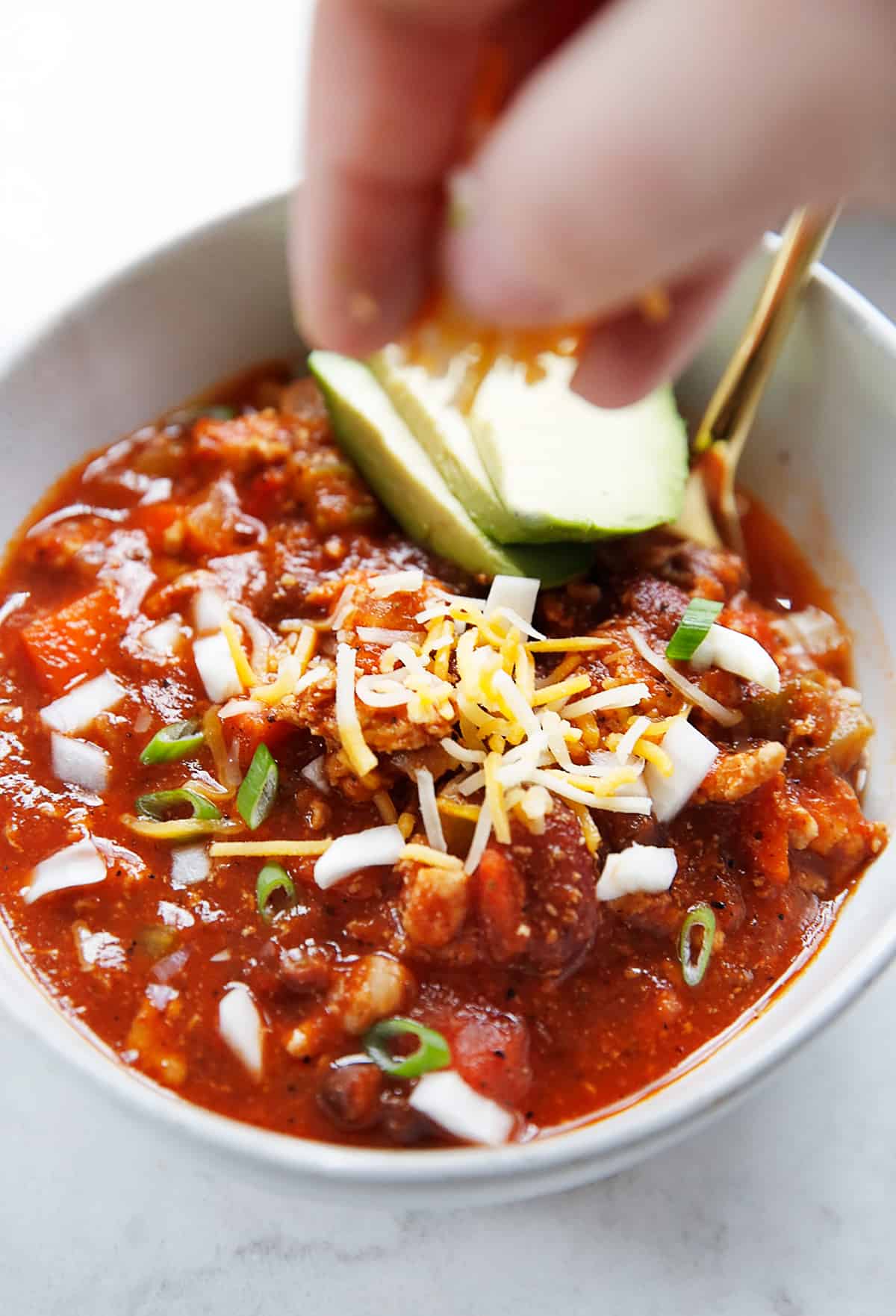 How to Make It
We've got options for making this for both the stove top and the pressure cooker.
Making it in the Instant Pot is great because it builds flavor quickly without much hands on time. The chili is under pressure for 15 minutes, with a quick pressure release. However, don't forget to account for the prep time (gathering up your ingredients and dicing some up), the saute of the veggies and the time it takes to come up to pressure. It will take at most about an hour to cook this in the Instant Pot. But it's mostly hands-off cooking time and it adds a ton of flavor.
When I cook this on the stove top I simmer it for a long time, close to 2 hours, so it's perfect to cook on a slow Sunday afternoon. Make sure to check back in on it, stirring occasionally and adding in more water if needed.
Chili Toppings
Scallions
Avocado Slices
Cheese
Cilantro
Diced or Marinated Onions
Cilantro
Diced Tomatoes
Guacamole
Tortilla Chips
Shredded Lettuce
Sour Cream
Cornbread with Chili?
OH yeah, if it's your thing! Cornbread is super popular served with chili. Here is our easy recipe for cornbread and it's a winner for sure.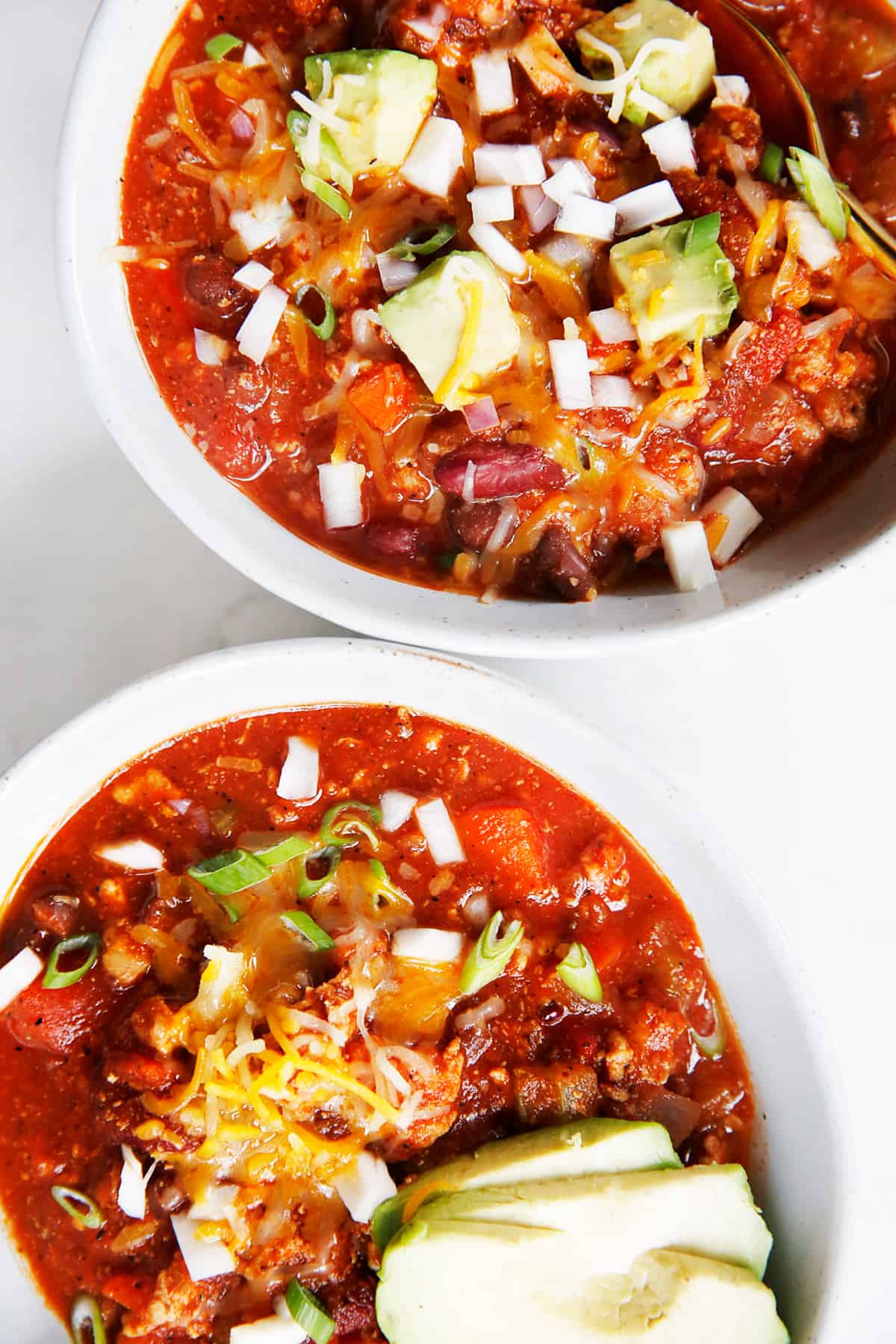 If you love chili, check out these other recipes:
For more soup recipes, check out these:
---
Healthy Turkey Chili
With bold flavor and super fresh ingredients, these Thai Chicken Lettuce Wraps are perfect for meal prep for lunch or for a flavorful dinner. Marinated chicken is cooked together with Thai flavors, cabbage, bean sprouts and carrots before being placed inside of a lettuce wrap. Top with the creamiest peanut sauce to really make this special! Made in partnership with my friends at Stonewall Kitchen.
Thai Chicken Lettuce Wraps
I used to love the lettuce wraps at that popular Asian chain restaurant, and they are totally the inspiration for this dish. Of course this recipe is a healthier version using real ingredients and my favorite soy-free alternatives to still get that classic taste. These lettuce wraps are topped with a creamy peanut sauce that completely makes the dish. Don't worry though, there is an easy swap to make this peanut-free making this dish Whole30 and Paleo friendly.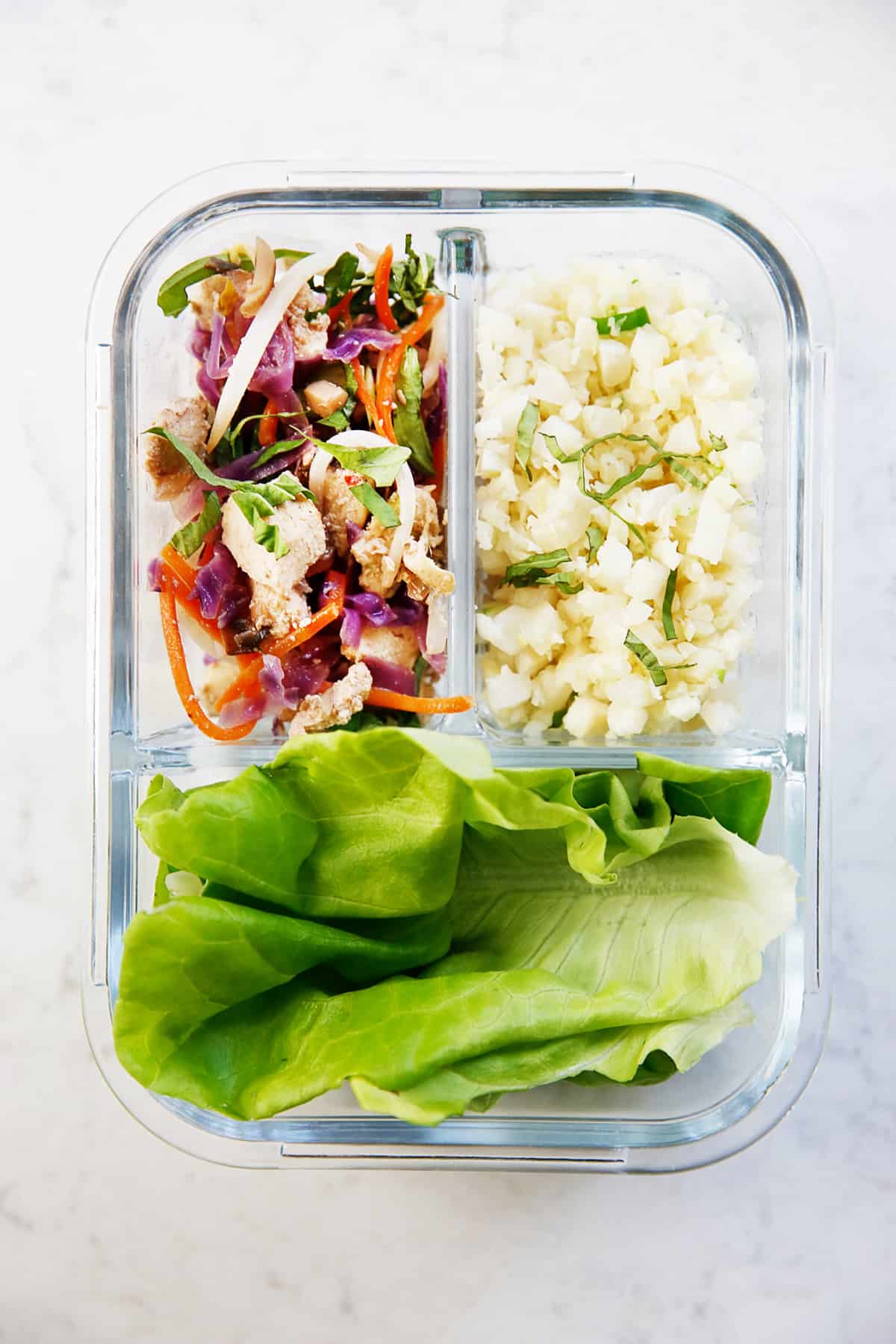 Ingredients for Thai Lettuce Wraps
Chicken

Coconut aminos

Rice vinegar

Avocado Oil

Sesame Oil

Mushrooms

Scallions

Garlic

Ginger

Red Pepper Flakes

Red Cabbage

Bean Sprouts

Carrot

Basil or Cilantro

Lettuce

Sesame Seeds

How to Make It
The first thing you want to do is marinate the chicken! This is going to add in some savory flavor to the dish. While we are suggesting to do this for about 30 minutes, it can be as quick as 15 minutes or as long as overnight. Obviously the longer you do it the better the flavor.
Once the chicken has been marinated, and all of the ingredients are prepped up heat up a large pan. Once hot, cook the mushrooms until all of the liquid has been evaporated.
Next add in the cabbage and a big pinch of salt and pepper cook until it's softened. Move the mixture to the side to make room for the chicken! Add in the remaining 1 teaspoon sesame oil to the pan and cook chicken until no pink remains, about 3-5 minutes. You'll be leaving behind any of the excess marinade.
Finally, add in bean sprouts, and carrots and let cook until the bean sprouts are slightly wilted. Season the chicken and veggies to taste with salt and pepper and garnish with fresh basil and remaining green parts of the scallions. That last addition of the fresh herbs really helps this dish pop in flavor.
This dish will be garnished with a peanut sauce, that can be made with peanut butter or almond butter for those looking to keep it Whole30 or Paleo-friendly. To make it add all of the sauce ingredients to a bowl and whisk together. Depending on your thickness of nut butter, you may need to add in a bit more hot water. Add in more hot water if needed to reach desired sauce consistency.
Serve the chicken and veggies inside of lettuce cups and drizzle with the peanut sauce. Garnish with additional fresh herbs and sesame seed! Or make into meal prep. See below for more details on that!
Why Stonewall Kitchen Products are Always in My Pantry
One of the most frequently asked questions I get about maintaining a clean-eating lifestyle is: what's in my pantry? The simple answer is that it's important to keep a wide range of products in your pantry that allows you to whip up a quick dinner or snack at a moments notice. Ones that don't compromise on ingredients and that you can feel good about eating and serving.
Headquartered in York, Maine (the cutest place ever), Stonewall Kitchen is the maker of some of my favorite gourmet specialty foods that always have a place in my pantry. Chances are, you've likely seen their famous jam in a grocery store near you (even Costco has it right now!). But in case you didn't know, they have a wide range of healthy products that make it easy to maintain a good-for-you diet.
Their Creamy Peanut Butter is one of my favorites (you can also grab it on Amazon) and it's the perfect addition to these Thai Chicken Lettuce Wraps. Made with only roasted peanuts & salt (no added sugars or oils) you can feel good about enjoying it! While the chicken filling is good on it's own, adding that creamy peanut sauce on top REALLY makes the dish.
Meal Prep Options
There are two ways that you can prepare this dish for the week ahead! If you wanted to eat this as actual lettuce cups you'll want to store cleaned and dry lettuce leaves separately from the cooked chicken mixture. You can eat this cold or warm, so if you wanted to heat it up make sure to pack it separately from the lettuce so it can be heated.
Or you could make this into meal prep bowls by serving with cauliflower rice or regular white rice, and omit the lettuce cups all together.
If you like this meal prep recipe, check out these others:
For more chicken recipes, check these out:
---
Thai Chicken Lettuce Wraps
These Moroccan Ground Chicken Burgers are packed with flavor and make for the perfect light chicken burger! You'll love them paired with this delicious simple sauce.
Moroccan Ground Chicken Burgers Recipe
These healthy ground chicken burgers are my all-time favorite. They are light, flavorful, and perfect for a weeknight or weekend dinner. They are made with ground chicken and made special with added carrots and Moroccan flavors. And don't forget to dress them up with all your favorite fixin's and add that special sauce!
I love food that is Moroccan flavored, no surprise given previously published recipes such as Moroccan Chermoula Carrots, One Pan Moroccan Fish and Moroccan Eggplant. And I can't deny my love for Moroccan food didn't fuel my desire to travel to Morocco two years ago!
Ingredient Needed:
Ground chicken
Onion
Garlic
Sriracha
Cumin
Salt and Pepper
Cinnamon
Ginger
Carrots
Lemon
Cayenne pepper

Tips for Making Chicken Hamburgers
Making burgers from ground chicken can be a sticky situation! Mix up the ingredients with a silicone / rubber spatula to avoid getting your hands covered. Then when you are ready to form the patties make sure you have a bowl of fresh cold water near you. Having wet hands makes it easier to work with the chicken mixture!
If you like this lightened up burger recipe, check out these others:
---
Watch the video:
Moroccan Chicken Burgers with Special Sauce
This One Pan Moroccan Fish is a super flavorful and easy-to-prepare weeknight dish! It's got a nice hint of heat and is loaded with hearty veggies! Made in under 30 minutes, this Paleo and Whole30 friendly dish is your ticket to healthy and comforting dinner.

One Pan Moroccan Fish
I love getting inspired by other cuisines. I am always impressed with the different combinations of various spices and how they come together to bring delicious warm flavors. This one pan Moroccan fish recipe is just that: it's loaded with flavor and packed with veggies. It's also an elegant looking dinner that nobody would guess was super easy to prepare. It takes less than 30 minutes and requires only ONE pan.
This spiced Moroccan Fish recipe is so hearty and comforting. You start off by sautéing some veggies in a pan and then keep building the flavor up from there with warms spices and tomatoes. Next, you nestle in the halibut for a quick 7 minute cook time. It is filling all on it's own, but certainly can be served with some rice or even some light beans, like chickpeas!
How can you tell when fish is cooked through?
Fish cooks quickly and becomes more "fishy" if it's overcooked so it's important to cook it correctly! There are a few ways to tell when a fish is done. A fish is cooked through when it is opaque and flakey on the outside. To ensure it's cooked through in the middle you can stick a thin butter knife into the center of the fish. If the fish gives any resistance, then it's still needs a bit more cooking time. If the butter knife is inserted easily inside the fish without any resistance the fish is done. Remove it from the heat immediately.
Alternatively you can take the fish temperature with an instant read thermometer. Properly cooked fish can be taken off of the heat at 140ºF, and it will continue to cook for another minute or two off of the heat naturally and will bring it up to the proper temperature of 145ºF.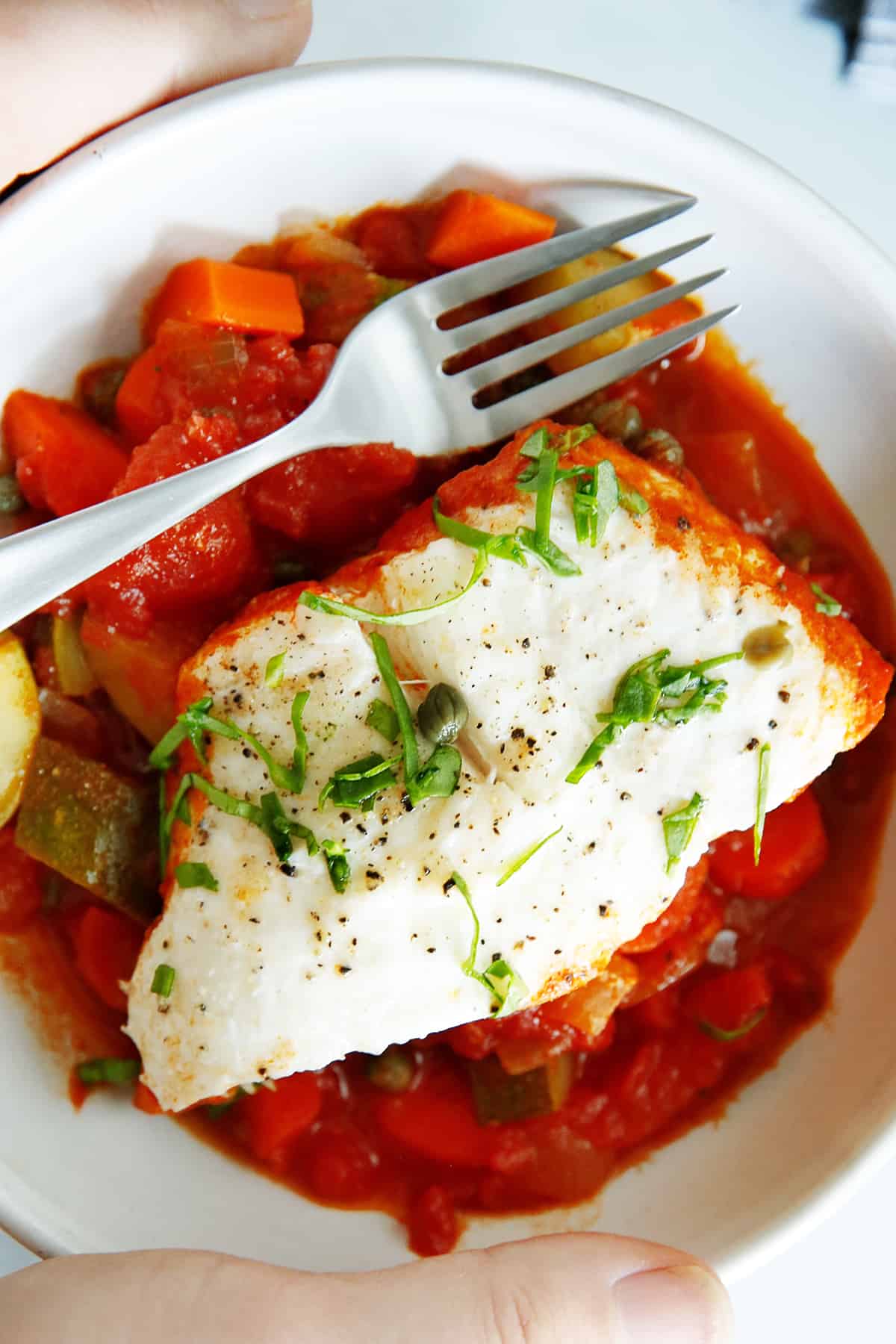 If you like this Moroccan inspired recipe, check out these others:
If you like this fish recipe, check out these others:
One Pan Moroccan Fish
This might be a recipe for a Classic Macaroni Salad, but that doesn't mean it has to be boring! This dish is a staple at picnics and potlucks and for good reason–it's delicious! Serve it for a crowd, or pair it with protein for a cool, summer dinner.
Classic Macaroni Salad Recipe
This site is no stranger to pasta salads, having previously made a BLT Pasta Salad, Caprese Pesto Pasta Salad, and Chicken Caesar Pasta Salad. But we realized as summer rolled on in that we were missing the beloved deli style pasta salad! This refreshing Classic Macaroni Salad may look simple, but it's bright, with crunchy veggies and perfect for any summertime gathering. This creamy pasta salad looks like the same version you can buy in a deli, but obviously OH SO DELICIOUS because it's homemade with fresh ingredients.
Want to know the best part about this pasta salad? It is a make-ahead dish! So make it a day before that party you're bringing it to, or combine it with some protein like tuna, hard boiled eggs or shredded chicken and prep yourself lunch for a few days.
Ingredients for our Classic Macaroni Salad
We admit, using the word classic can be touchy because everybody can have their own version of what makes something classic. But we decided on a version that's creamy and bright (thanks to a hefty addition of apple cider vinegar), with lots of crunchy fresh vegetables and just the right amount of sweetness that brings the whole thing all together.
Here's what's in it:
Elbow Macaroni (gluten-free if you need it, of course!)

Mayonnaise (we use avocado oil mayo)

Apple cider vinegar

Honey

Dijon mustard

Salt and pepper

Celery

Red bell pepper

Carrots

Red onion
Proteins to Pair to Make it a Meal
This is the perfect side dish to pair with just about any grilled main dish, but it would also make a great summer dinner or lunch meal prep. Pair it with a protein to make it a but more substantial:
Canned tuna
Canned chickpeas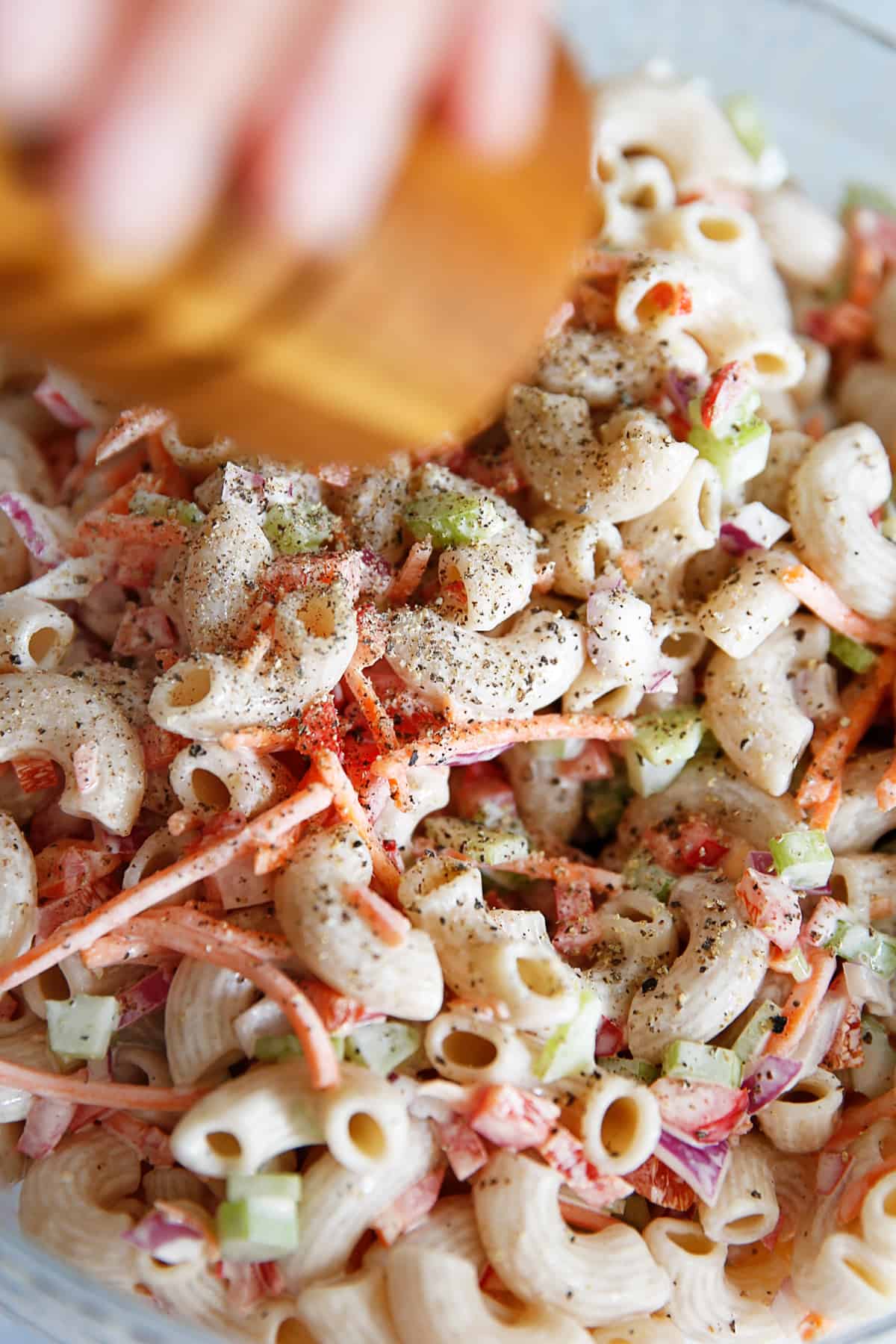 If you like this potluck favorite, check out these others:
---
Classic Macaroni Salad
These Healthy Carrot Muffins are made with oat flour and coconut flour, packed with vitamin C rich carrots and raisins and use just one bowl to put together! These gluten free carrot muffins would be a great on-the-go breakfast or snack, will be a hit with picky kids and are 100% nut-free!
Healthy Carrot Oatmeal Muffins
After perfecting this site's first gluten-free and nut-free muffin a few weeks ago, we knew we wanted to get right to making another option for our readers with nut allergies. This new healthy carrot muffin is made using oat flour, coconut flour and are nut-free, gluten-free and refined sugar free! They're made all in one bowl and ready in under 30 minutes! We know despite the pieces of carrots in these muffins, they are picky toddler approved! And they are safe to send to school, since they are nut-free. This carrot oat muffin is a great substantial snack that truly everyone will love!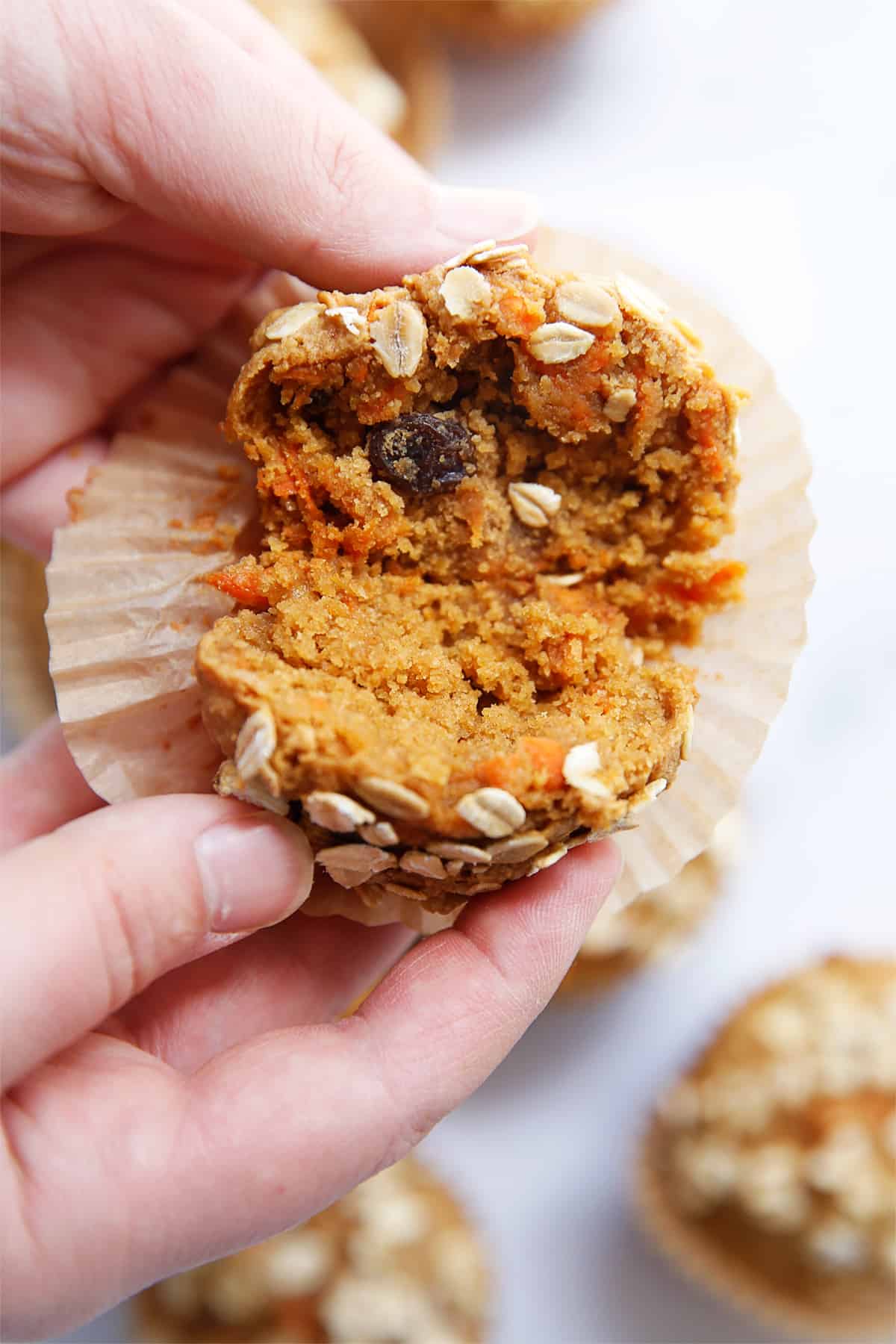 How healthy is oat flour?
Oat flour is made from rolled oats. If you tolerate this grain, rolled oats are a good source of fiber. We've been working a lot with oat flour over the last year, and are impressed with this gluten-free flours ability to replace our typical go-to combination of either almond flour and tapioca flour or coconut flour. This is a good alternative gluten-free flour if there is a nut-allergy, or you are looking to add more fiber to your diet.
What kind of oat flour should I use for these gluten-free carrot muffins?
As we've said in previous oat flour recipes, we recommend you buy premade oat flour. It isn't expensive and easy to purchase in stores these days. We tested this with homemade oat flour and feel the final result is effected by it. However, if you want to make your own oat flour, you certainly can. We just recommend you try to get it as fine as possible.
How do you measure oat flour
If you have an electronic kitchen scale at home, it's best to use it here to measure oat flour. Oat flour can be tricky to measure as it can be easily compacted, even straight from the bag. The same goes for coconut flour because such a small difference in measuring can impact a recipe because it's such an absorbent flour. So we've included the weight in grams here. Any electronic kitchen scale can switch between grams and ounces, and grams are more precise so we're offering that. If you don't have a scale: lightly packing the oat flour into the cup measurement gets you as close to the correct measurement as possible. For coconut flour scoop it in the tablespoon and then level it off.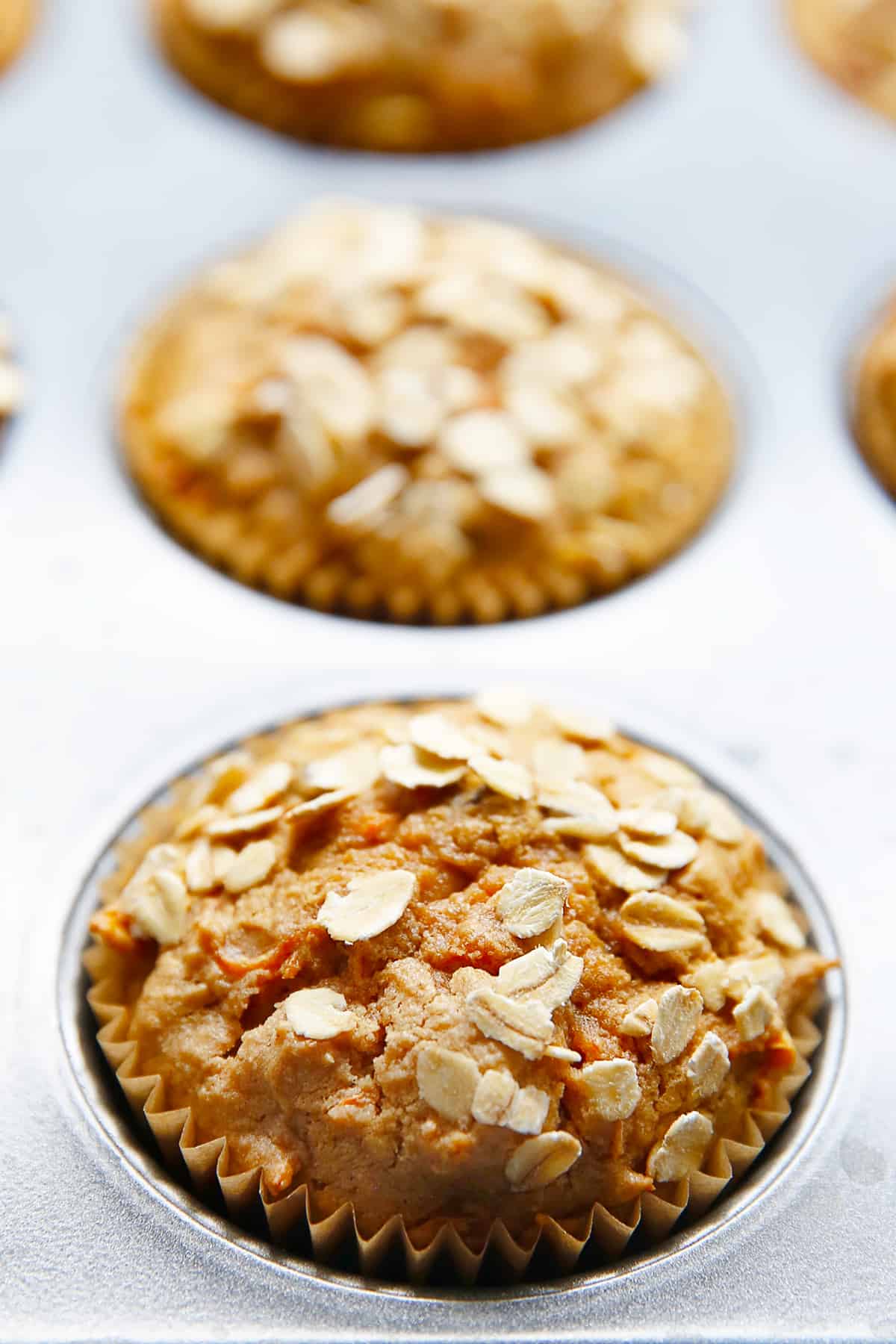 How to store Healthy Carrot Oatmeal Muffins
We've tested storing these at room temperature covered (but not air tight), in an air tight container and in the freezer. They all work! But we prefer to keep these at room temperature covered (in a non-air tight way) for two days at most. The muffins get more moist as the days go on, especially in an airtight container, which can make them feel dense.
So if you want to keep them the freshest you can store in the freezer. If you are packing these for lunches for kids, or a snack for yourself, you can take them from the freezer the morning of and place in a container. In an hour or two the muffins are defrosted and ready to eat.
If you like this muffin recipe, check out these others:
Healthy Carrot Muffins (Gluten-Free and Nut-Free)
This Egg Roll Soup is an easy, weeknight dinner that is full of the flavor of an egg roll, without any of the fuss of wrapping and frying! This veggie and pork soup is family friendly and would make great leftovers! We also offer options to make it vegetarian, and it's already Paleo, Whole30 and Keto friendly too!
Easy Egg Roll Soup
If you're looking for a weeknight dinner win, you've found it with this deconstructed egg roll made into a soup! It really taste like an egg roll only it isn't fried, which makes it an easy, cleaned up version of your favorite Chinese take-out appetizer! This low carb soup is super filling and is a family friendly dinner. The best news is you can have this on the table in about 30 minutes and everybody will be satisfied.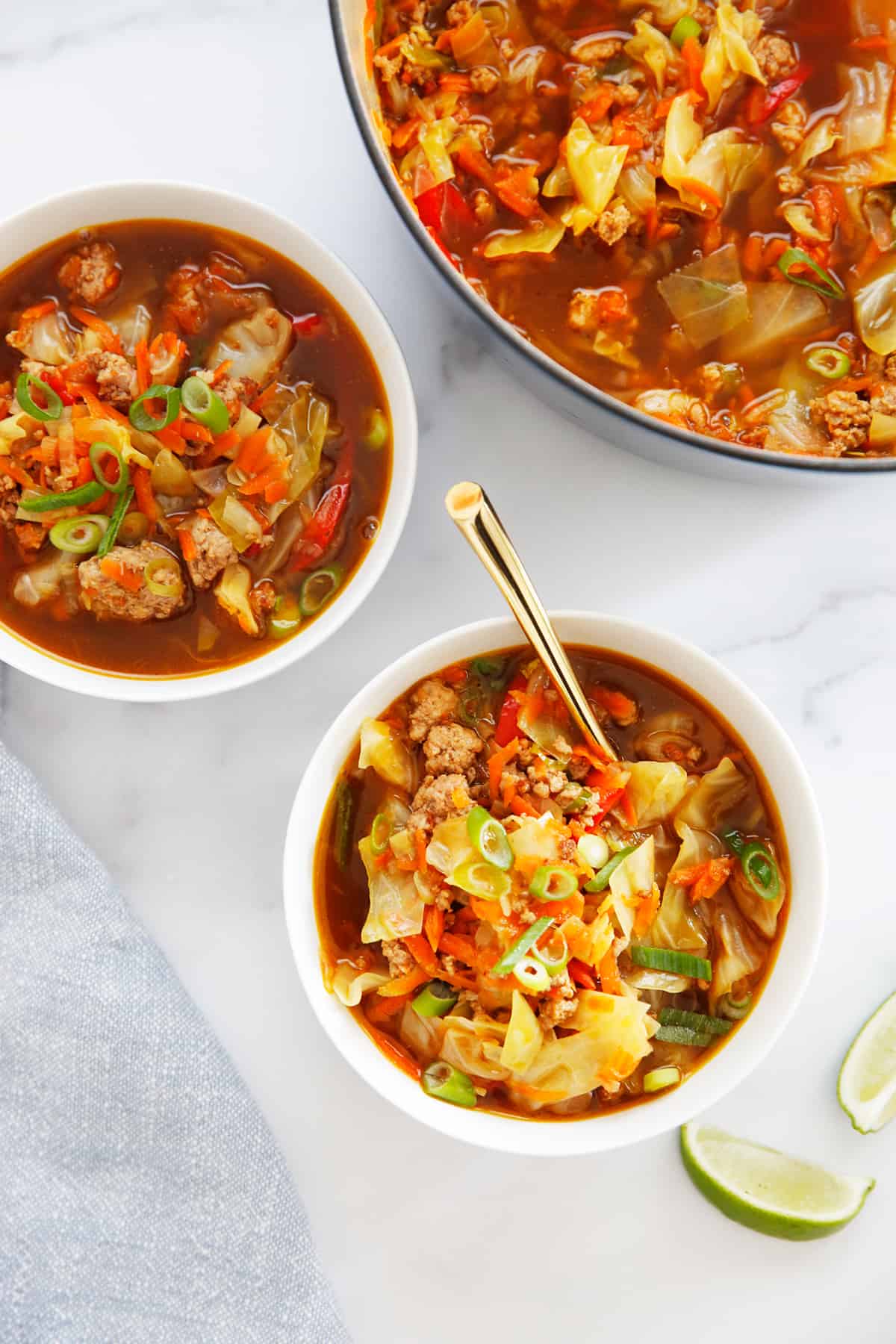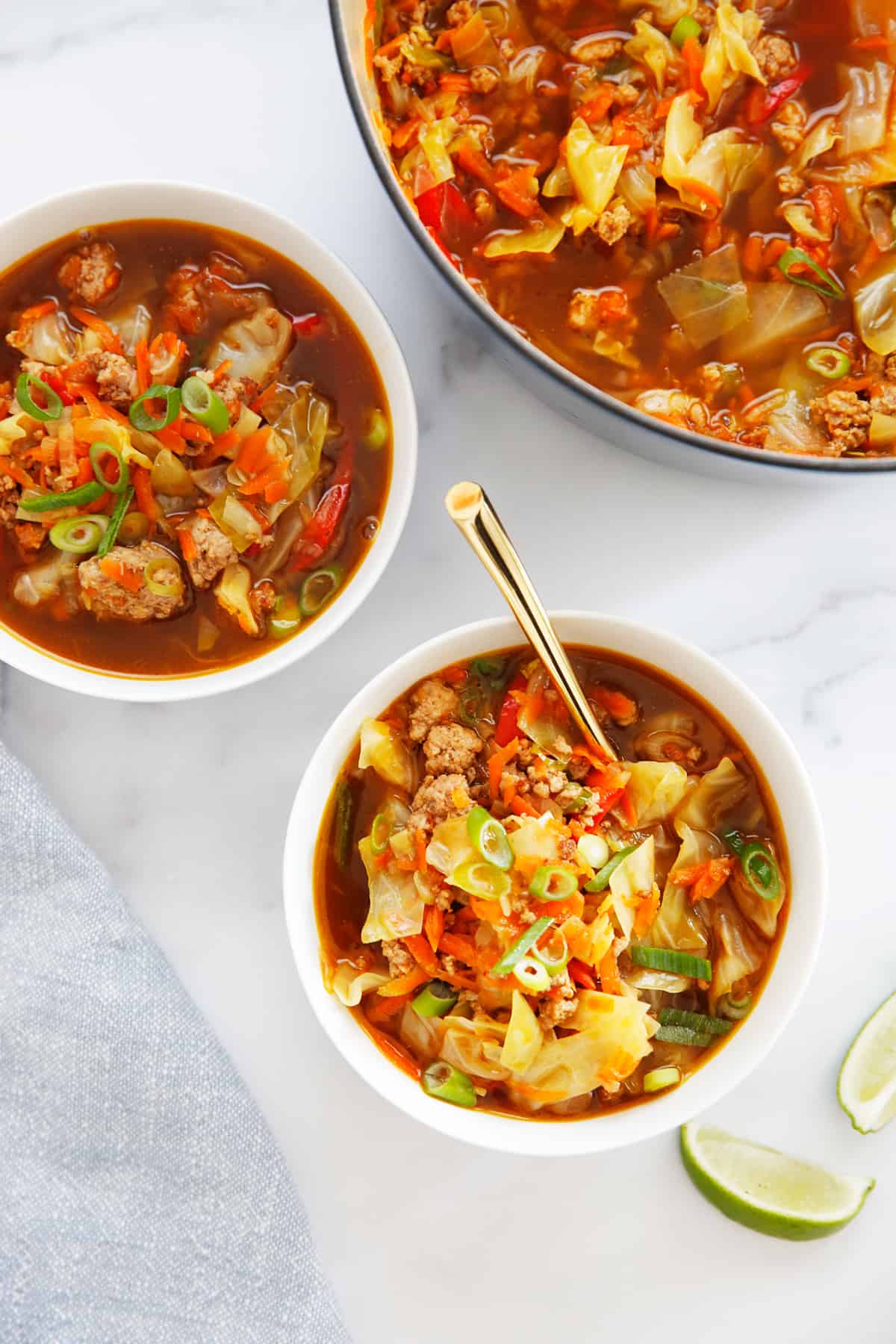 What ingredients do you need for this paleo egg roll soup?
Ground pork (but feel free to make this vegetarian by substituting in mushrooms here)

Onion

Red pepper

Fresh ginger

Beef broth

Green cabbage
Carrots
Coconut aminos (this is a soy free substitute for Tamari or Soy sauce)
Fish sauce
Rice wine vinegar (you can substitute white wine vinegar, or lime juice if you don't have this)
Can you make this soup ahead of time?
Soups are the ultimate make ahead meal and it's freezer-friendly! This would be a great meal prep item to make a double batch of. Freeze some to eat later, and eat some throughout the week for lunches or dinners.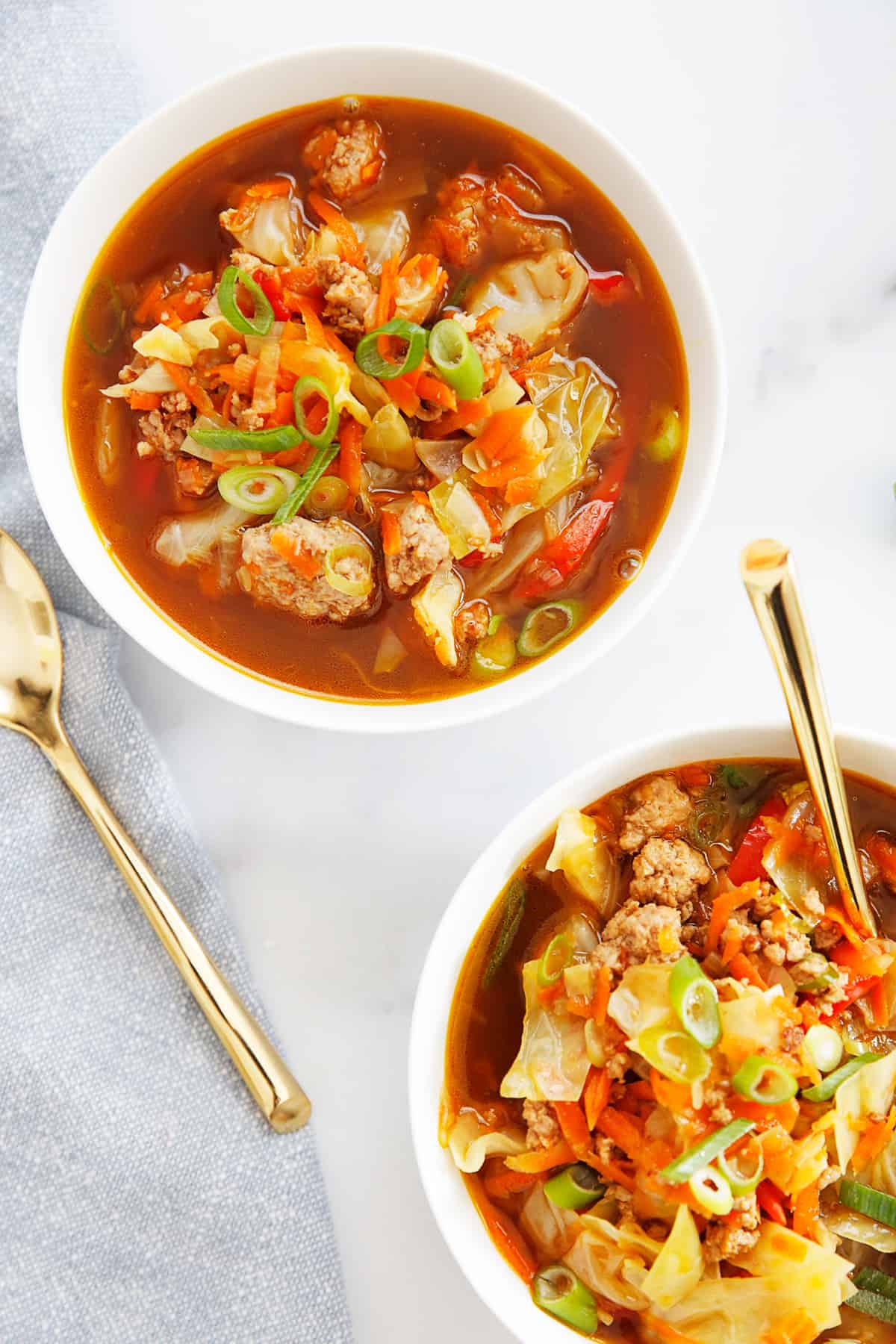 If you like this soup recipe, check out these others:
Egg Roll Soup
This Gluten-Free Carrot Cake is so easy to make, has such classic flavors and is perfect to serve a crowd. This healthier, more nutrient dense take on the classic carrot cake is gluten-free, dairy-free, paleo friendly and made without any refined sugars! It can be topped with a classic cream cheese frosting, or made dairy-free with homemade fluff. Either way it will be welcome at any celebration or holiday dinner (or just a regular tuesday afternoon)!
Gluten-Free Carrot Cake
We are so in love with this Gluten-Free Carrot Cake! Aside from the fact that this carrot cake is just darn delicious, our version is so much more nutrient dense and healthier than a traditional cake that we don't feel so ridiculous eating it for breakfast. It's the perfect cake to serve at a celebration of family holiday and is a breeze to make! The cake itself is also dairy-free and paleo, plus we give options below for changing out the cream cheese frosting..
This Gluten Free Carrot Cake is SO EASY to make because it's made all in one bowl! So we wanted to keep the rest of the cake simple too by making it a sheet cake. We baked it in a 9×13″ cake pan, but it will work in any similar sized baking dish. We've done layer cakes in the past year (see chocolate and vanilla versions) so this just felt like the way to go, though you can bake this as a layer cake if you wanted. In the past we've recommended always baking our style of gluten free cakes in 6″ pans because they are slightly more delicate while also being heavier than traditional wheat cake, but this one might work well baked in 2-8″ cake pans if you'd like to make it a layer cake.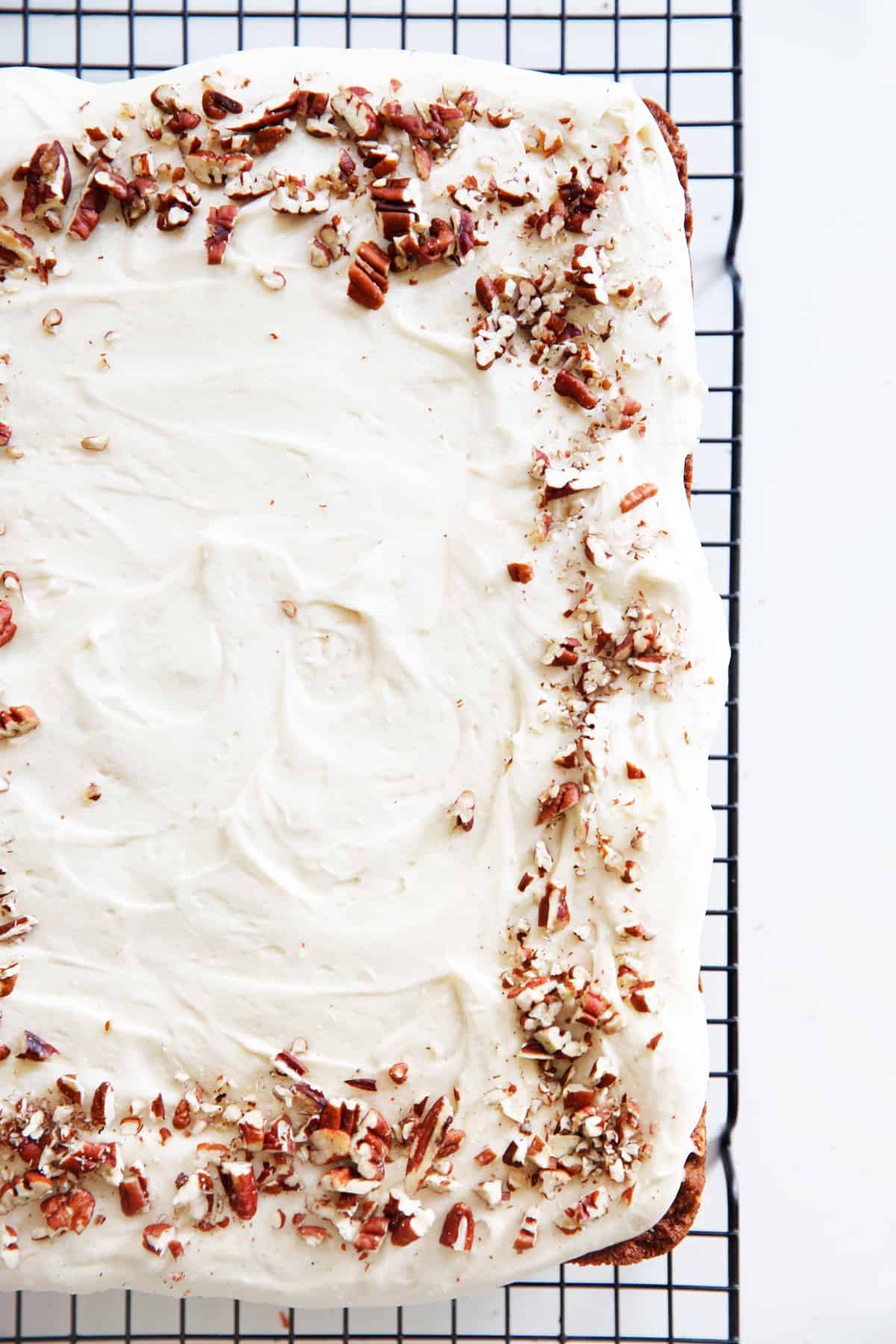 Which gluten free flour is best for cake?
As always we love our favorite blend of almond and coconut flour. It is so moist and tender and really easy to use. Most people wouldn't be able to tell the cake was gluten free. If you are looking for a nut free cake, check out this recipe here.
Other frosting options:
We've opted to top this with a classic cream cheese frosting, but you can feel free to use either a dairy-free cream cheese with this recipe or instead top it with our Marshmallow Fluff recipe which is dairy and refined sugar free. This cake is also delicious by itself and can be served alone, but this gluten-free carrot cake uses less sugar than most carrot cakes so you may notice it more without a frosting.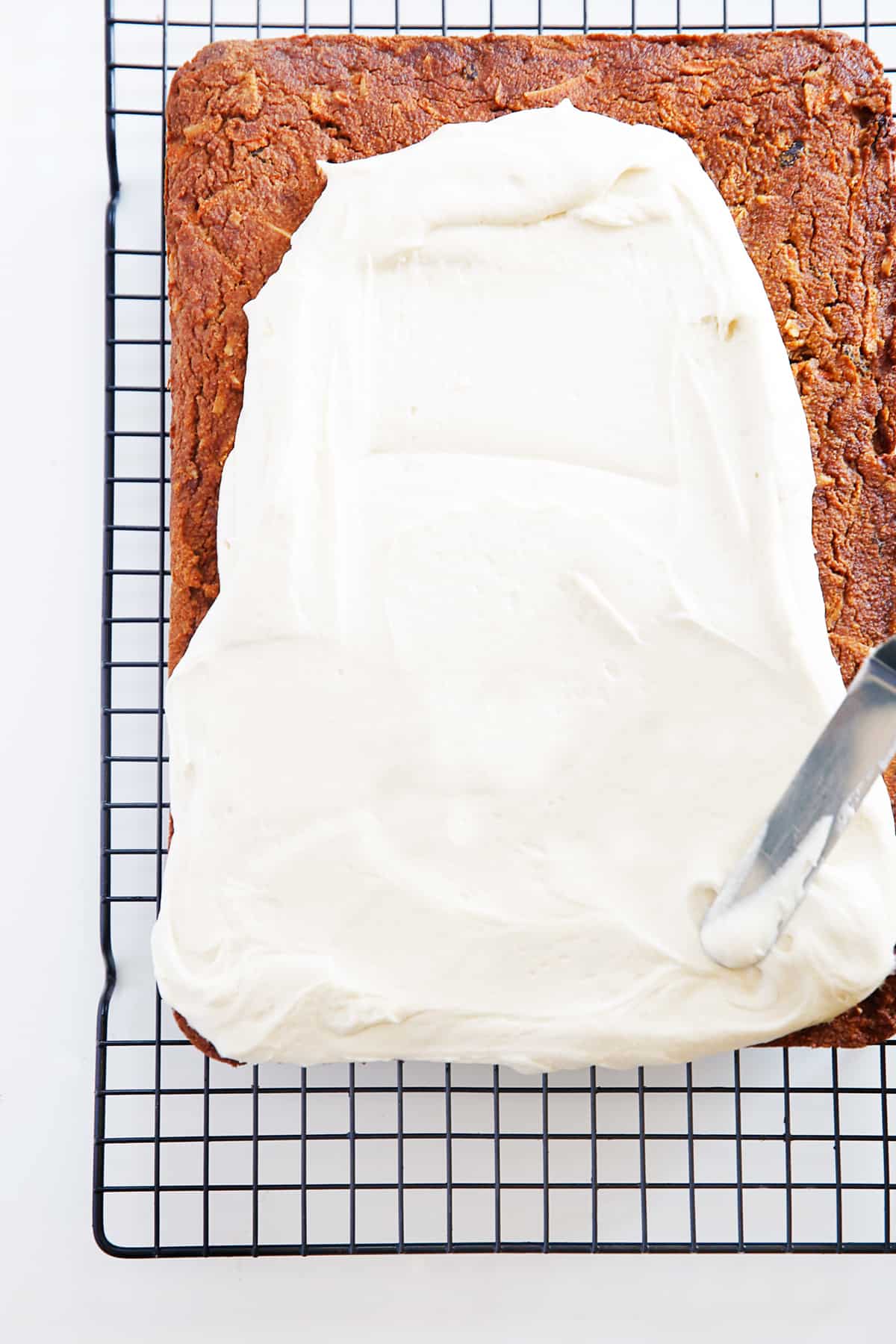 Tips for Making Gluten-Free Cake
Sift your almond flour and coconut flour first if they are lumpy. It makes it easier to fully incorporate.
Use an electronic kitchen scale if you have one. It makes it easier to measure the gluten free flours, and we've included grams in the ingredient list.
Gluten free cakes are a little tricker to check when they are done. Some signs to look out for: the cake is nice and golden brown, it has completely puffed up throughout, cracks are not uncommon, when you stick toothpick it it should come out clean, and when you gently press in in the center of the cake it will spring back as opposed to leaving a dent (which is a sign it is underdone).
Let the cake cool completely before frosting.
The cake can be made up to two days in advance. Leave it at room temperature covered until ready to frost.
We direct you to use a parchment paper sling to bake the cake in. If you plan to serve the cake inside of the baking pan you do not need to use this. If you want to take the cake out and serve on a different platter the sling will help you easily take it out of the pan.
Once it is frosted it needs to be kept in the refrigerator. It can be assembled up to two days in advance. As most cakes, it will get more moist each day it sits.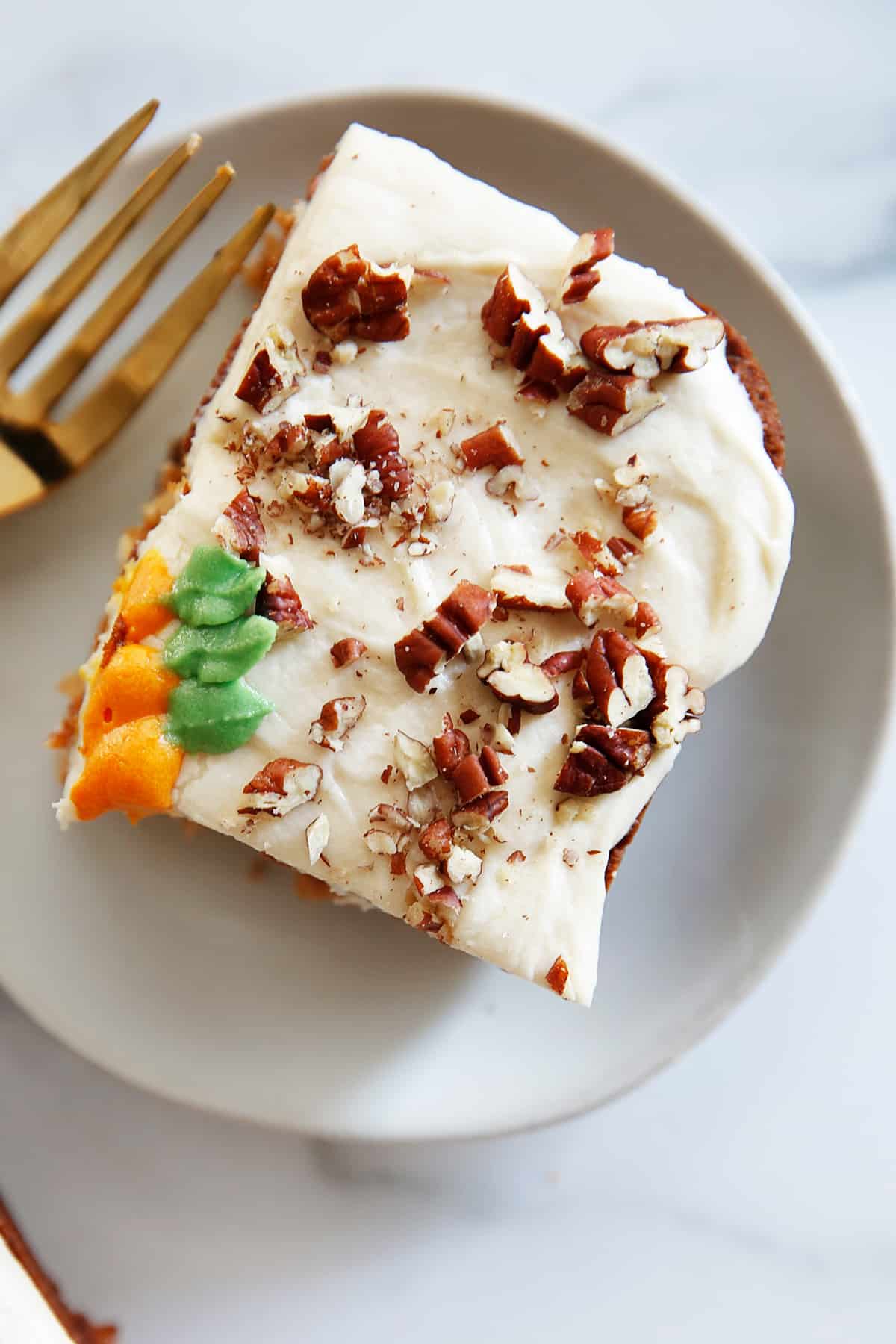 In this recipe, we used these tools:
Electric Mixer (for frosting)
Other Essentials:

Bowls
Whisk
Rubber spatula
If you like this cake recipe, check out these others:
Gluten-Free Carrot Cake (Easy Sheet Cake)
This Slow-Cooker Beef Stew is the perfect healthy comfort food for cold days! It's hearty, flavorful, packed with veggies, and easy to make right in your crock pot. Make it for a cold winter night, or a festive St. Patrick's Day meal! Beef stew is a simple recipe that will wow everyone who tries it.


The Slow Cooker is an amazing phenomenon in my opinion. Even those friends of mine who aren't big cookers use it! Throw all the ingredients in with the right flavor combo and BOOM: the perfect stew. It's hands off, easy to use, and safe!
What is Irish stew made of?
Filled with beef, carrots, mushrooms, onions, and potatoes is the perfect main dish for your St. Patrick's Day celebrations. The beef is so tender, it just melts in your mouth!
Tips For Slow Cooker Beef Stew
Brown your meat
Don't use too much liquid
Don't skimp on the cook time
Layer your beef and veggies
Set it and forget it! The beauty of a slow cooker!

This stew is: hearty, flavorful, tender melt-in-your-mouth beef, and packed with veggies! It is also paleo-friendly, dairy-free, whole30 compliant and has no sugar added… does it get any better than that? I love making this soup at the beginning of the week and enjoy it all week long!
What defines a stew?
In a stew you aren't looking for the consistency of a soup, so minimizing added liquids is helpful!
Beef stew doesn't need to be super, super thick. You'll most likely be using potatoes, and their starch will naturally thicken your stew! If not, don't worry, this stew thickens whithout it, too.
What kind of beef is used for stew?
You can buy beef stew meat, which is cut and cubed and is generally chuck or round! Beef round cuts (bottom and eye) are generally leaner than chuck (shoulder, leg and butt) and very well-suited to stew.
I always add beef stew meat to my ButcherBox order in the cold weather months. Each month, ButcherBox curates a one-of-a-kind selection of the healthiest, tastiest meats, humanely raised and free of antibiotics and hormones. Or you can customize your box and select your favorite cuts and get 20% more meat.The price works out to less than $6.00/meal and shipping is always free. You can also space it out so it's not every 4 weeks, too! ButcherBox delivers your meat for the month, saves you money, and is the best quality! Order Today and get this amazing deal:
Get FREE bacon
FREE Shipping
$15 OFF!
Can you put raw meat in a slow cooker?
You certainly can, but for this beef stew recipe, we prefer to sear the meat first to bring out the amazing flavor that you'll get!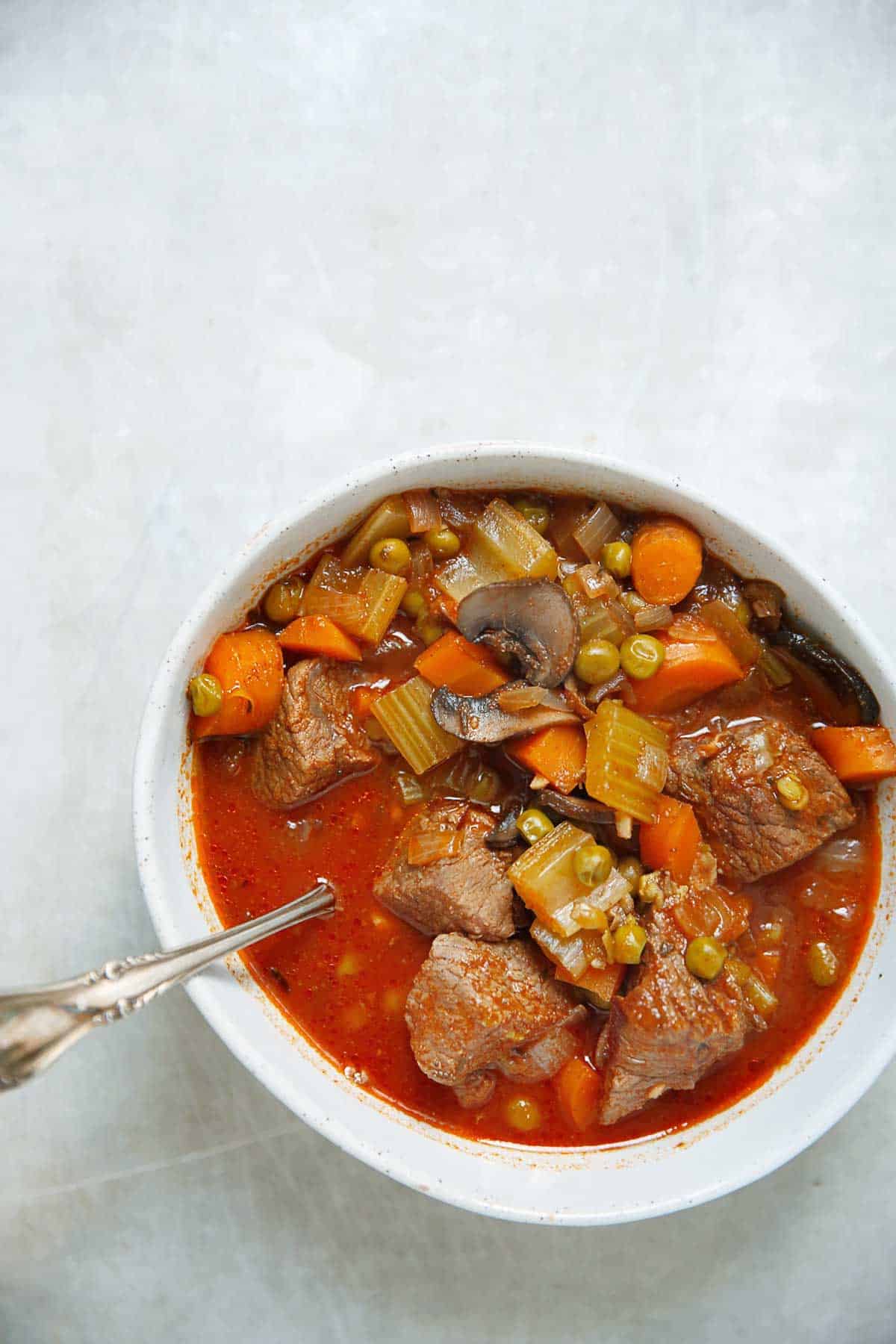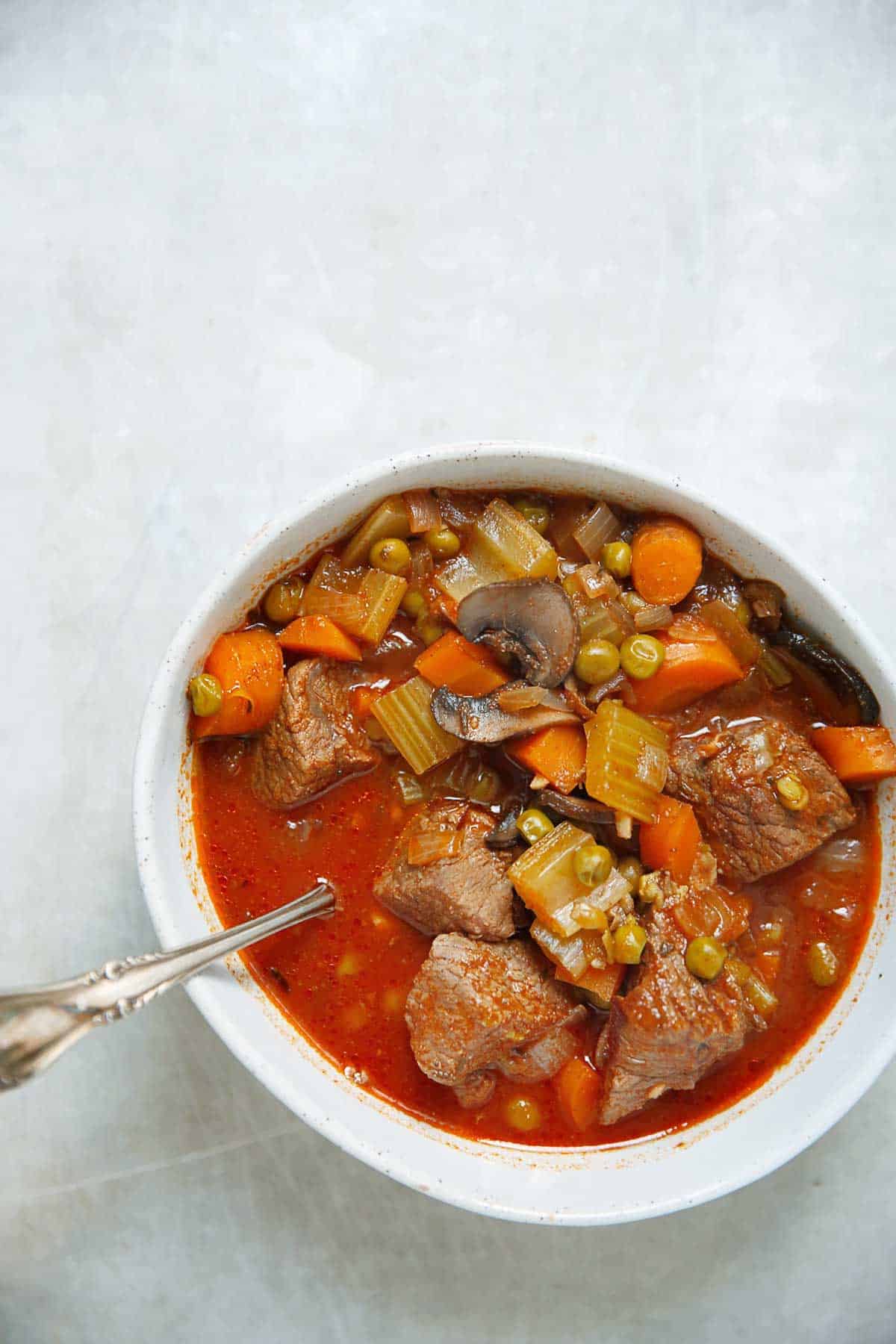 Tools used to make this easy slow cooker beef stew recipe:
Want other slow cooker recipes? Try these favorites:
If you like this beef stew recipe, make these other St Patrick's Day Favorites:
Slow-Cooker Beef Stew
This One Pot Turmeric Chicken and Rice is a hearty, warm and comforting weeknight dinner option! It's full of veggies and uses both fresh and dried turmeric. It is dairy-free and gluten-free and is bound to be a new, and easy, family favorite!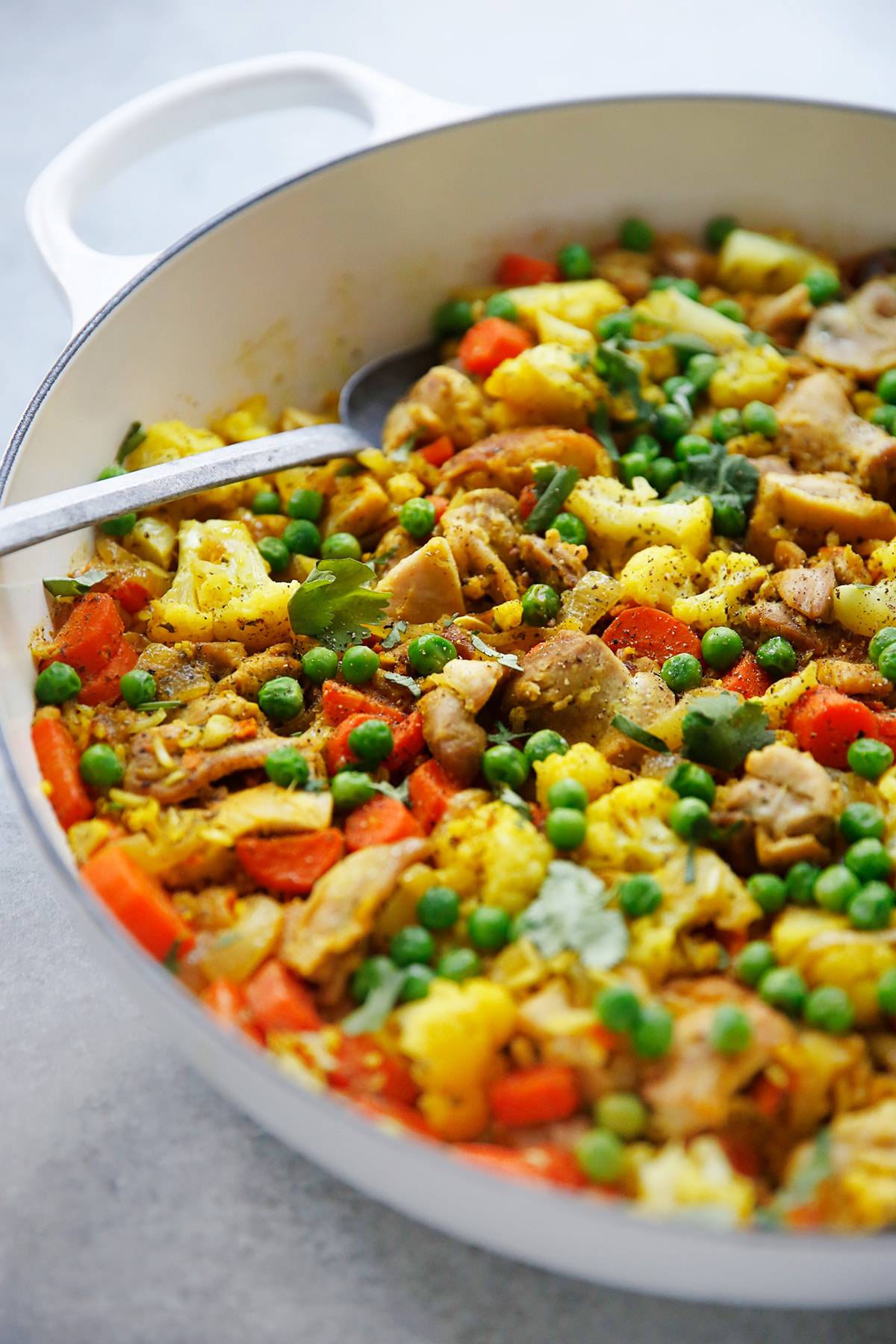 One Pot Turmeric Chicken and Rice
We love an easy-to-make and easy-to-love weeknight dinner and this One Pot Turmeric Chicken and Rice is one of them! A warm and comforting spiced chicken and rice dish that consists largely of unattended cooking and is made all in one pot for a simpler clean up! This dish uses both fresh and dried turmeric for an extra punch of flavor and has so many veggies packed in!
Let's talk turmeric:
We've talked quite a bit about turmeric on this site before because turmeric is a trendy food topic these days, but for good reason: it provides significant anti-inflammatory effects that can benefit a wide variety of health concerns! Curcumin, which is a nutrient found within turmeric, is a powerful anti-inflammatory. Chronic inflammation has been linked to a number of larger medical conditions such as diabetes, arthritis and heart disease. A natural and easy way to help keep inflammation down is through the foods you put in your body. This One Pot Turmeric Chicken and Rice uses both fresh turmeric and dried turmeric. Now are we saying if you eat this rice all of your inflammation will go away? Nope! But we are big believers in using a whole and real food approach to healthy living and including as many nutrient dense ingredients in our every day meals is a good start.
Where can you buy fresh turmeric?
Almost any major grocery store will sell turmeric. Look for it in the section where they sell fresh ginger, and it looks similar!
What do you do with fresh turmeric
You don't need to peel the thin skin off of fresh turmeric, but we prefer to especially if it isn't organic. The easiest way to do this is to take a spoon and gently scrape off the skin. You can grate the turmeric with a microplane or finely mince it. Just be careful about where you prepare the turmeric because it will leave yellow everywhere it touches, including your hands!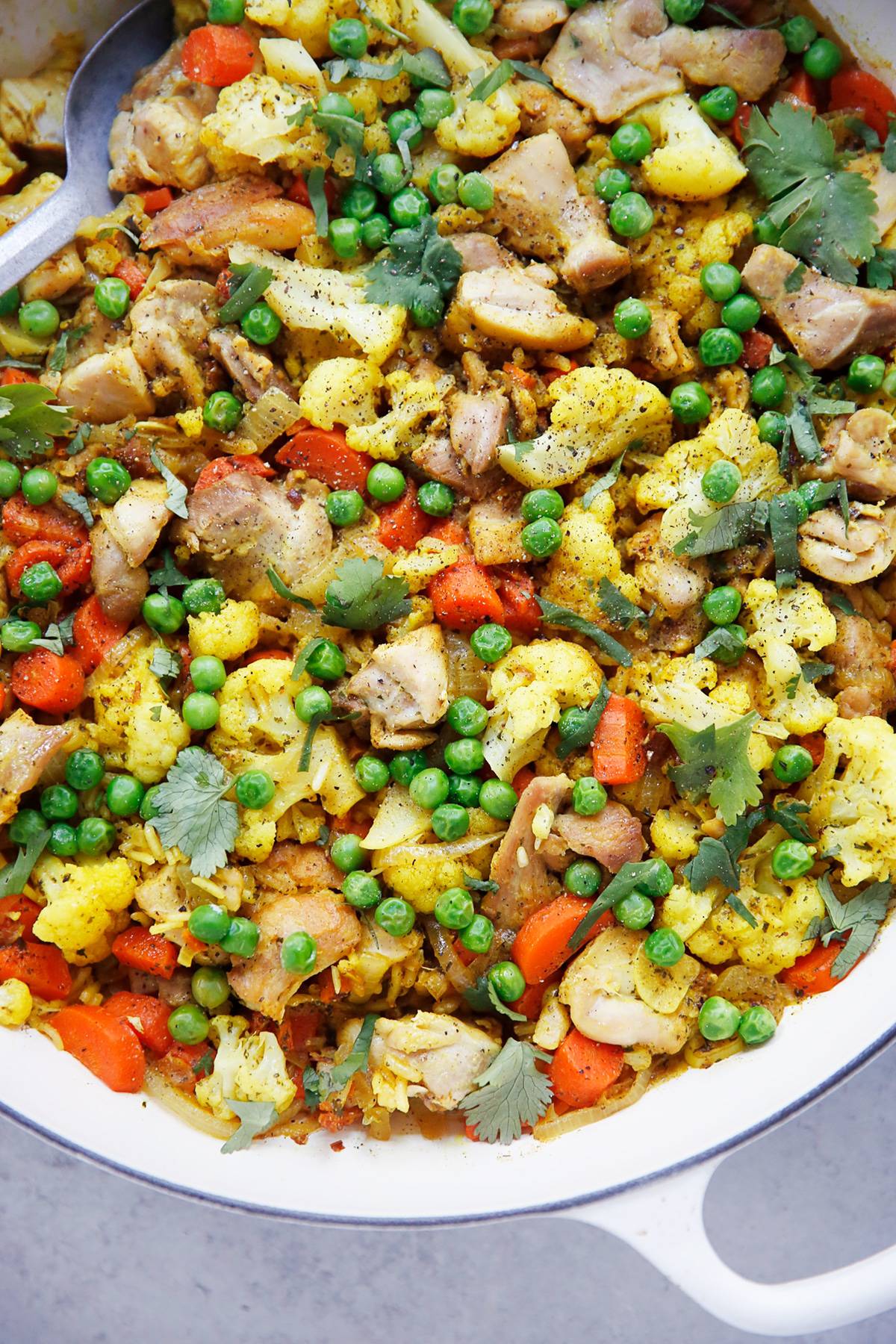 If you like this easy weeknight dinner recipes, check out these others:
---
One Pot Turmeric Chicken and Rice
This Pork Carnitas recipe, made either in the Instant Pot or Slow Cooker, is an easy and flavorful dinner or meal prep for a healthy start to the New Year. It's Whole30, Paleo and Keto friendly and pairs with so many different sides (including this Healthy Cole Slaw recipe) that makes it a no-brainer to put on your cooking list now.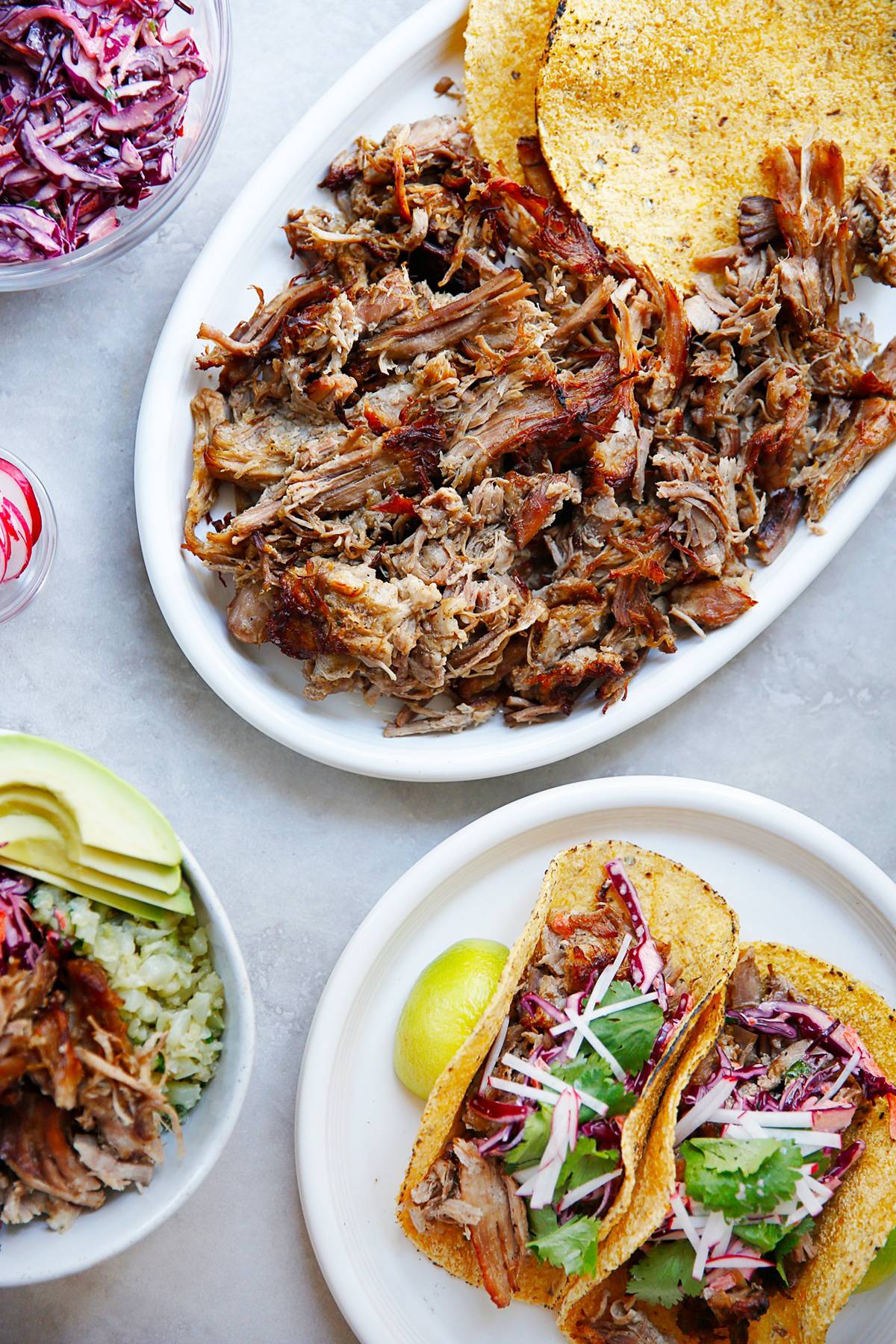 Pork Carnitas (Instant Pot and Slow Cooker)
This recipe is a favorite at our Food Editor Kelli's home. It's on rotation at least twice a month and served for both dinner and then for lunch a few days of the week. It's so easy to put together in either the slow cooker or the Instant Pot and with minimal ingredients. It's also versatile in how you serve it: you can put it in tortillas as a kid-friendly dinner, serve it with cauli-rice if you're doing the low-carb thing, or as Kelli's favorite over a simple slaw for a quick meal that can be eaten for lunch over a few days.
We love the simplicity in the flavors here: the pork isn't inundated with too many spices but really relying on the basics: an onion, a teaspoon of chili powder and a pinch of garlic and cinnamon. Wondering about the cinnamon? There is no sugar in this recipe, but the cinnamon gives it the most subtle hint of warmness that you couldn't detect what it is, but would surely be missing out if it wasn't included. Trust us on this one.
We've included recipes for both the long method in the slow cooker, or the faster version in the Instant Pot. For the Instant Pot version there isn't any liquid included in the ingredients. The onion and the pork will release so much liquid that it isn't needed and will safely come up to pressure.
After the pork is fork-tender you can do the optional step of broiling the carnitas until they're nice and crispy. Garnish with a bit of lime and a splash of the cooking liquid and this meal is simplicity at it's finest. Check out the Healthy Cole Slaw recipe to pair it with!
Watch the video: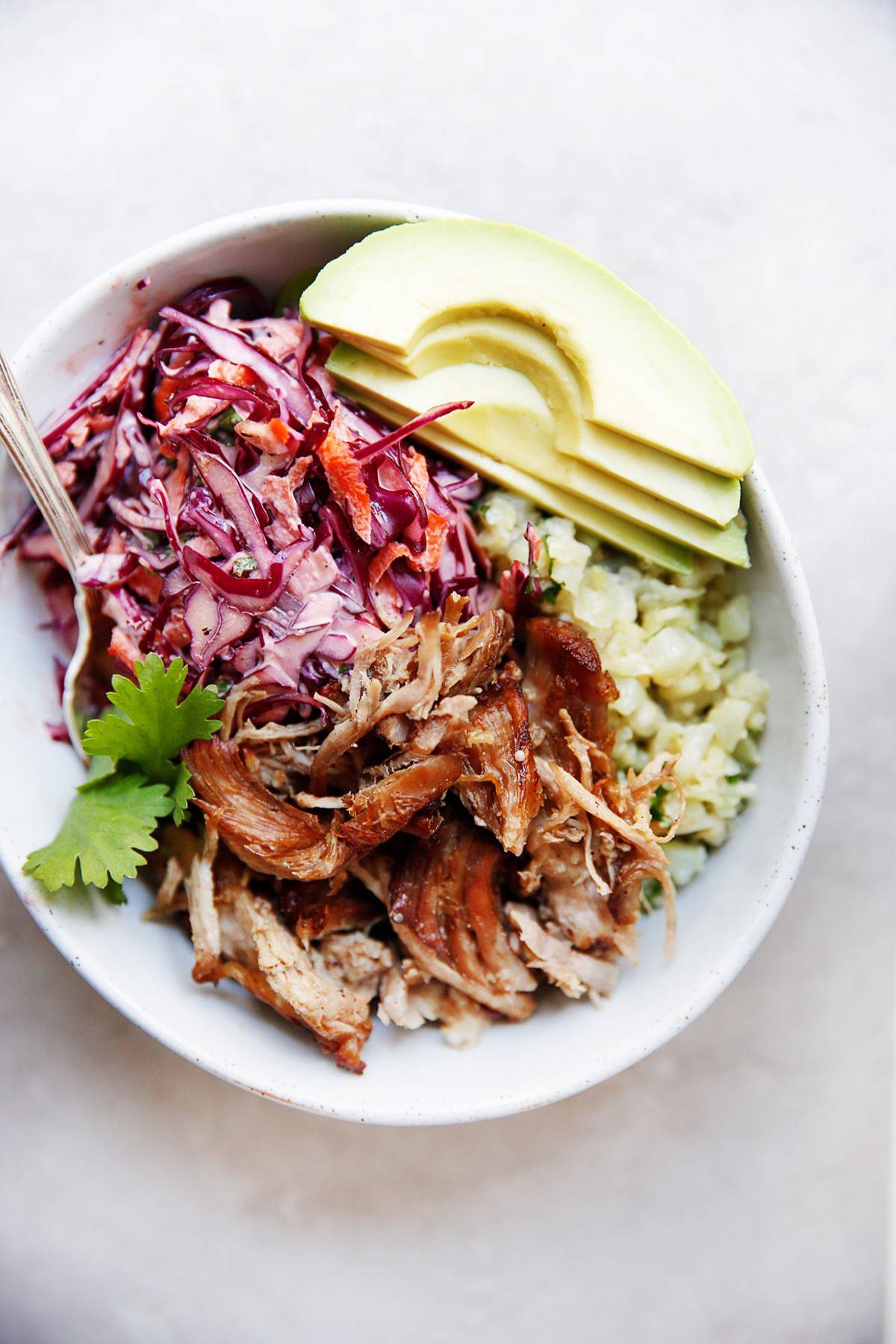 Tools to make this Pork Carnitas recipe:
If you like this easy meal prep recipe, check out these others:
---
Pin it for later:
Pork Carnitas (Instant Pot and Slow Cooker)
We are well into cold and flu season and this Ultimate Kick-that-Cold Juice is a recipe you need in your back pocket! If you feel a cold coming on, or you are currently in the throes of one, this juice recipe with oranges, lemon, carrots, ginger and turmeric will give you an extra boost of vitamin C and antioxidants to help your body naturally feel better!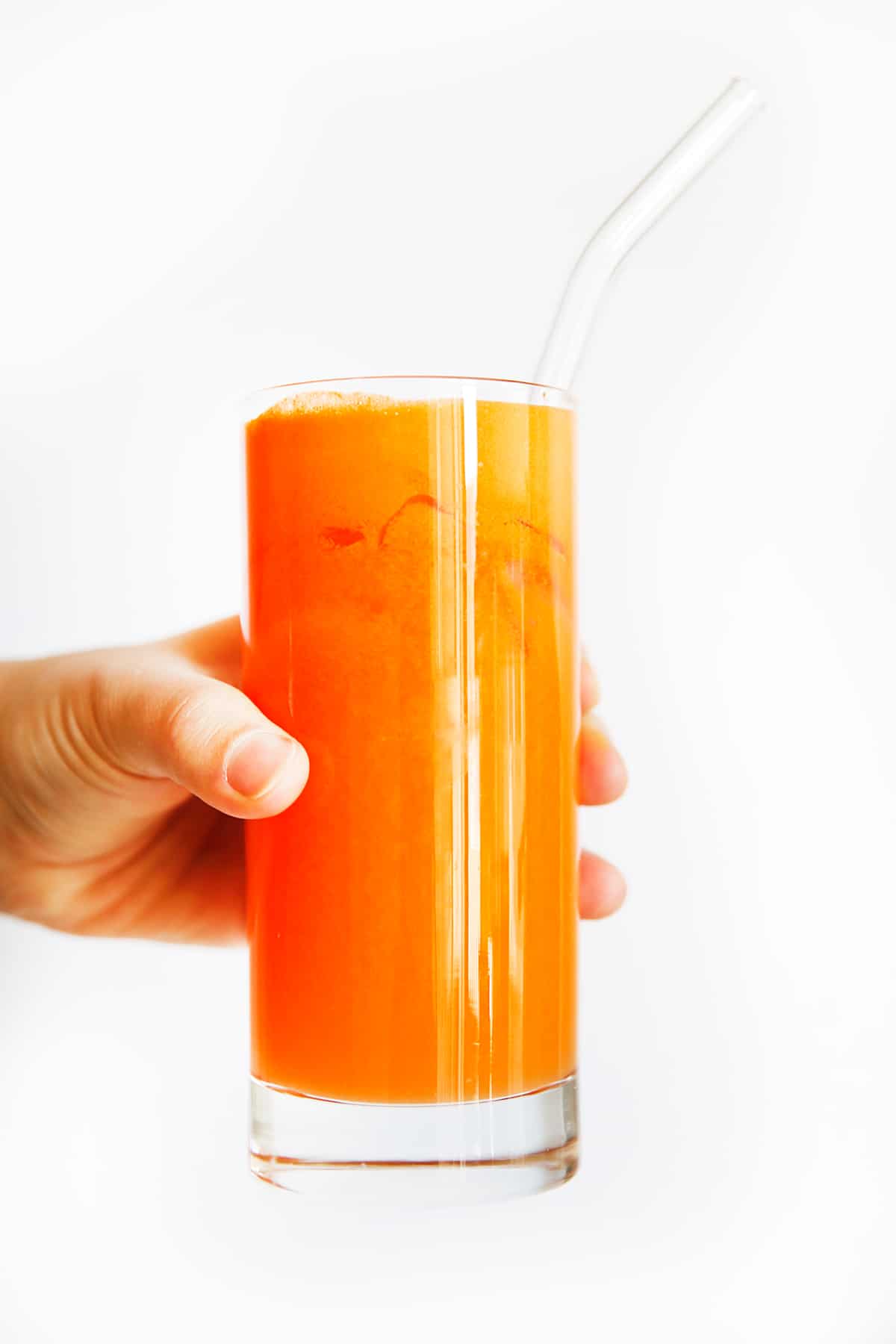 Kick-that-Cold Juice
When cold and flu seasons hits staying healthy can be a top priority. Our bodies naturally do a great job at utilizing their own defenses to fight off colds but it can never hurt to arm yourself with some extra Vitamin C and antioxidants to do it. This recipe has been used in my house for years and it's time it's officially landed on the blog. If we feel ourselves starting to get sick we immediately make this Ultimate Kick-that-Cold Juice and drink up! I swear by it, but it's also super delicious and a good pick-me-up.
Benefits of juicing:
Juicing can be controversial in the health world as it does remove some fiber from the fruit and veggies, but I've found, when I am coming down with something, this really does the trick! While of course fiber IS important (because it also contains nutrients and helps digestion), practically speaking, you will absorb more nutrients because the gut doesn't need to digest all that fiber at the same time! Want more info? I like this article!
Juicing extracts the juice from fresh fruits or vegetables. The resulting liquid contains most of the vitamins, minerals and phytonutrients found in the whole fruit! Since you have to use a far larger quantity of fruits and vegetables to make a glass of juice than you typically would eat in a sitting, you will get higher doses of those micronutrients and phytochemical. Juice quickly reaches your vital organs, can help reset your body, re-oxygenates yourblood, flush out fat, and more!
What I will say is: when ordering juice out, ask them how much fruit is going into your juice (so you can watch the sugar intake). Nobody needs 3 apples in one sitting!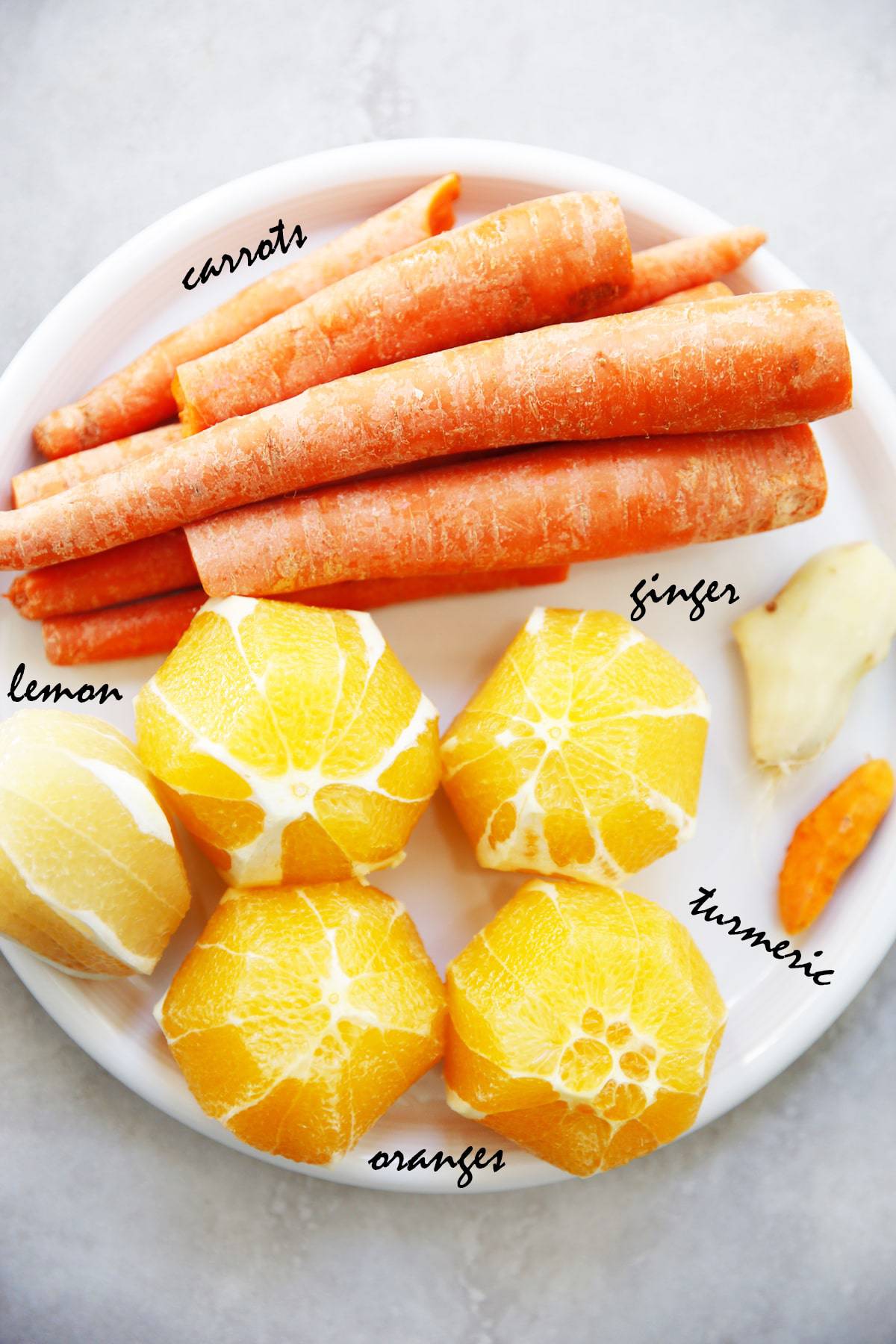 The juice is made up of oranges, carrots, lemon, fresh ginger and turmeric! The citrus and carrots add a much needed boost of vitamin c and antioxidants, the ginger is a natural antiviral and the turmeric has the nutrient curcumin which is a powerful anti-inflammatory.
To prep the fruits and veggies you remove the rinds from all of the fruit before juicing. This is important because the skin/rind is what can hold the most pesticide residue and we want to keep away all that harmful chemicals, especially when your body is fighting off a cold. You can either just wash the carrots, or peel them.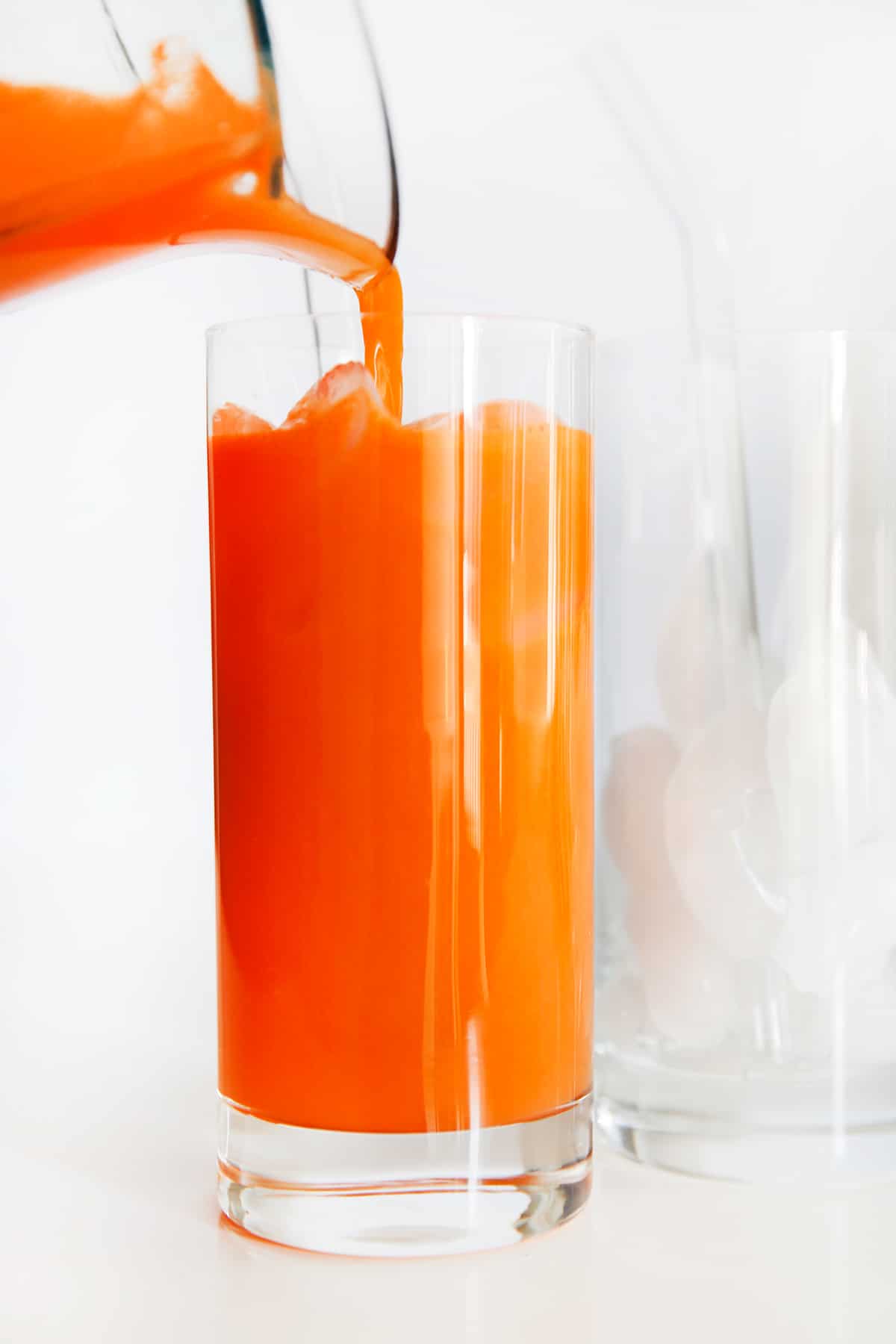 ---
Tools for juicing:
If you like this good-for-you recipe, check out these others:
Pin it for later:

What is your go-to natural cold remedy?
Ultimate Kick-that-Cold Juice
This Split Pea Soup with Ham is the perfect meal to use up leftover baked ham (but don't worry there is an option to use ham steak as well)! It's a comfort meal in a bowl: warm, hearty and so delicious! This one pot meal is easily going to be your new favorite soup!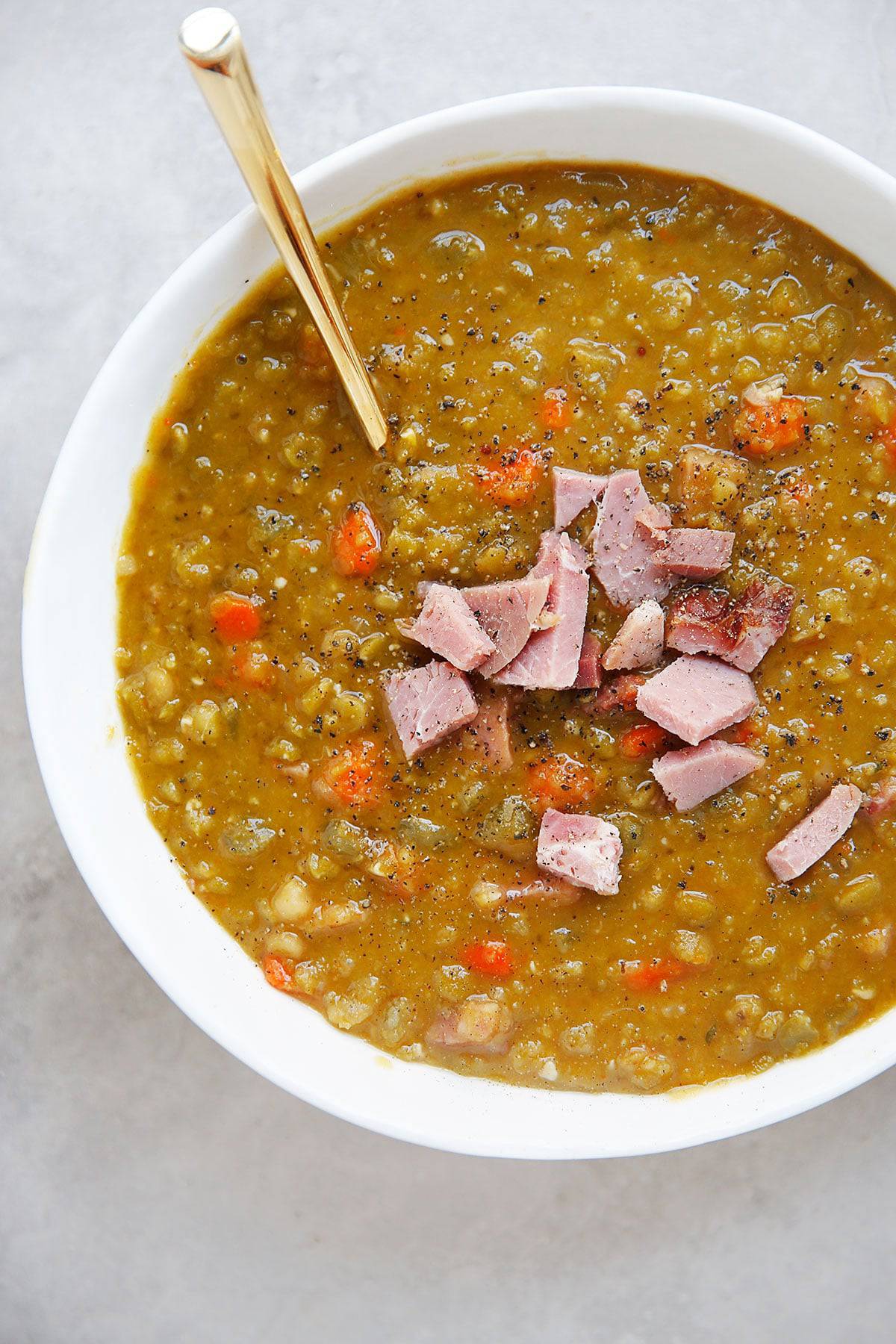 Split Pea Soup with Ham
I've been wanting to make a Split Pea and Ham Soup recipe for so long now! While we were planning out our holiday menu for LCK the first thing I thought after we decided we were making a Maple Glazed Ham was SPLIT PEA SOUP! And this one does not disappoint. It's so flavorful and the ultimate comfort food! The whole thing simmers away in one pot on the stove, and while it has some cooking time to it, it's really easy to put together.
We use of course the leftover ham bone from our baked ham, but you can easily swap it out for a store-bought ham steak. This soup has such a classic flavor but we have two secret ingredients that really make this soup special: a pinch of nutmeg really rounds out the flavor of the soup and a touch of apple cider vinegar at the end of cooking brightens everything up! We know you are going to love this comforting soup as much as we do!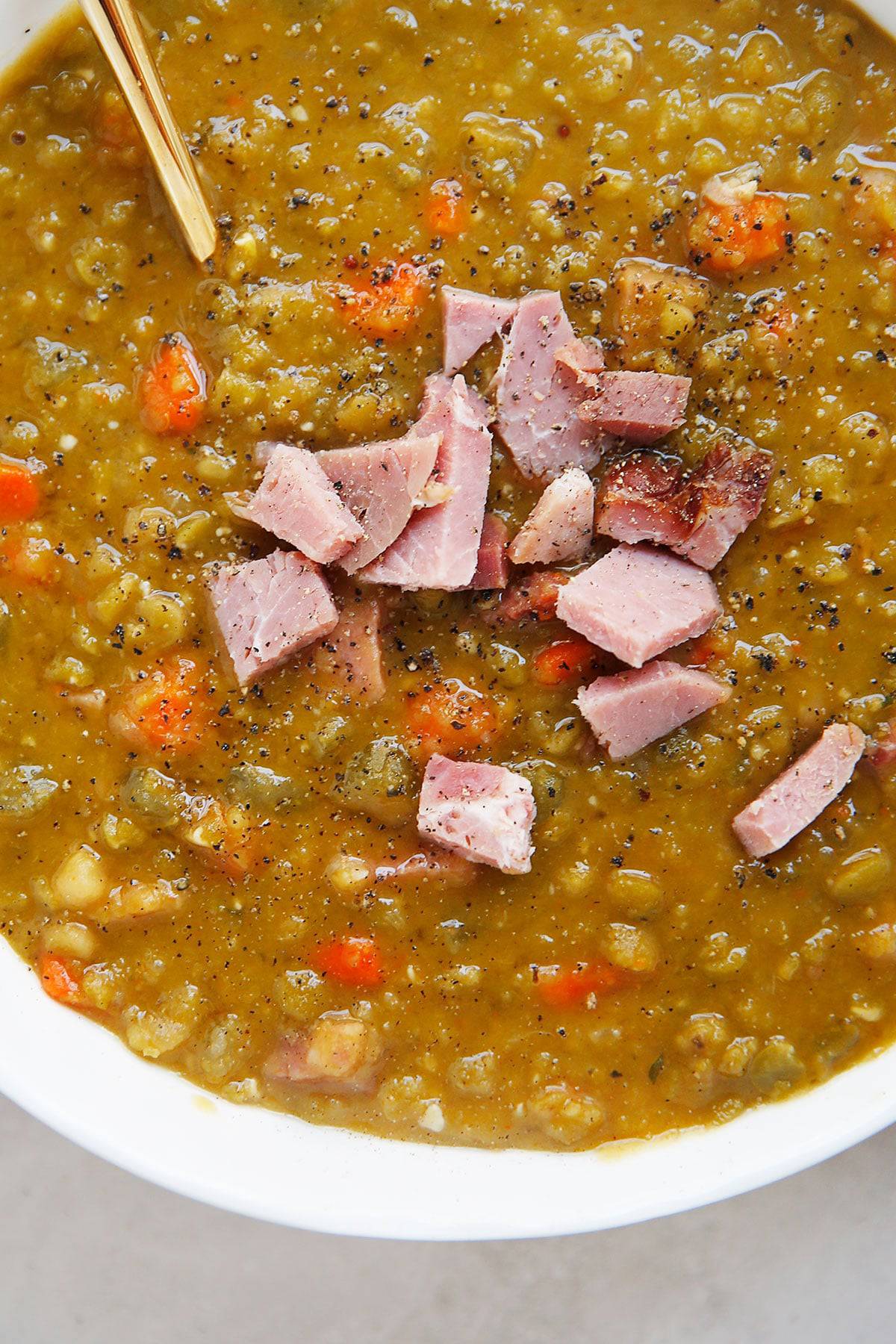 Additionally if you are looking for a Split Pea Soup recipe and prefer to leave the ham out all together, this recipe will work well without the meat. Just make sure to use a high-quality vegetable stock, or better yet, a homemade one!
This soup takes about an hour and a half to cook. If you don't have all that time before you want to get dinner on the table and you have an Instant Pot go ahead and use that! We've included directions for that in the recipe! The peas don't hold their shape as well in the Instant Pot so this soup is slightly pureed, but just as tasty.
How to Make Split Pea Soup with Ham
First you start by cooking up the onion, carrots and celery until they're nice and soft. Next add in the spices and garlic and cook until aromatic.

At this stage you are going to add in your dried split peas and leftover hambone, along with broth and water and cover to cook. Start with 2 cups of water, and add more if needed to reach your desired consistency of the soup. The longer you cook, the more broken down the peas will get, causing the soup to get thicker.

Uncover and add diced ham and continue to cook down the soup, until the peas are cooked to your desired consistency. You can add more water, if needed.

Finally add in a splash of apple cider vinegar, and additional salt and pepper. This helps brighten up the flavor of the dish. Before serving, remove the hambone and chop up any leftover meat and add to the pot. Serve immediately.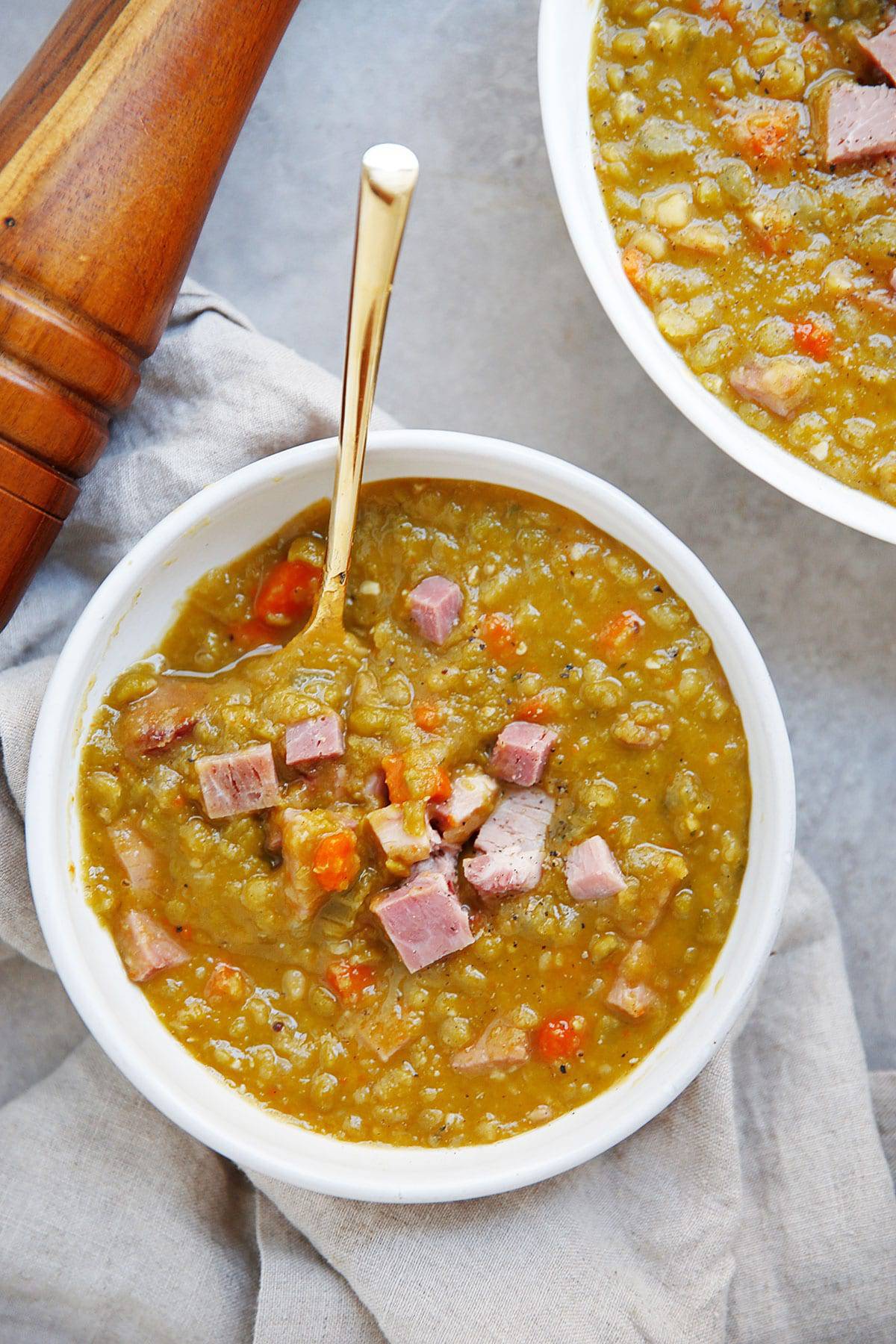 If you like this soup recipe, check out these others:
Watch the video here:
Split Pea Soup with Ham
With Korean fermented cabbage as its base, this Kimchi Fried Rice is a great weeknight dinner when you want to spice it up a bit. It's tangy and spicy and a great way to use up leftover rice or cauli-rice and veggies in your refrigerator. It is vegetarian, paleo friendly (with cauli-rice) and ready in under 30 minutes.
Kimchi Fried Rice
With the busy holiday season upon us we thought it was time to make a quick and easy weeknight dinner that is also SUPER DELICIOUS and fun. And we love a good fried rice here at LCK, and this Kimchi Fried Rice is no exception! I almost always have Kimchi hanging around in my fridge (it lasts nearly forever) which makes it the perfect base to add to a fried rice that uses primarily pantry items. It's super flavorful and we've included directions to make this with white rice or cauli-rice.
What is kimchi?
In short kimchi is fermented vegetables! It is native of Korean cuisine and can range from spicy to mild depending on what brand you are buying (or making, if you're feeling adventurous).  Aside from being delicious Kimchi is a nutrient dense food but probably what makes me most excited about it is the naturally occurring probiotic strains that occur during fermentation. This is a great food to eat if you're in the process of healing your gut or you want to have healthier digestive functions.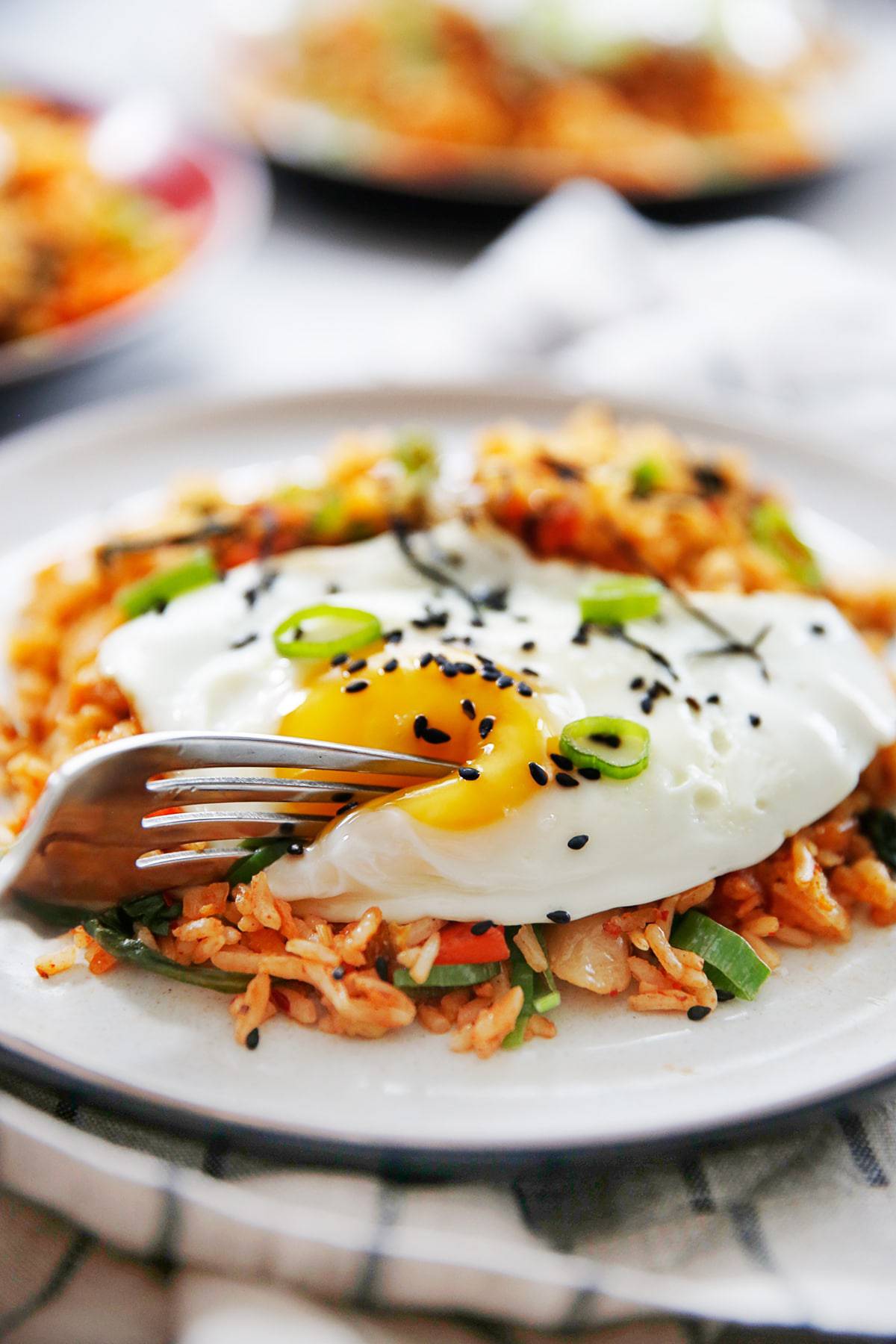 What type of kimchi should I buy?
A good kimchi will bring a balance of salty, sour and spicy flavor while holding a nice crunch to it. We're partial to kimchi made from cabbage, but really the most important thing is to buy a kimchi that has only natural ingredients added to it. In other words, if you can't pronounce or clearly recognize anything on the ingredients label, skip it!
Tips for making a good stir fry:
Fried rice is a stir fry using rice as the base instead of noodles. It's a simple dish to make, but the following tips will make sure that your fried rice will shine:
Make sure your pan is nice and hot! We like to use a cast iron skillet for this, which retains heat nicely! But if you have a wok feel free to use that.
Have all ingredients ready and prepped before you begin cooking!
Use a high heat oil, like avocado oil.
Always top it with a fried egg!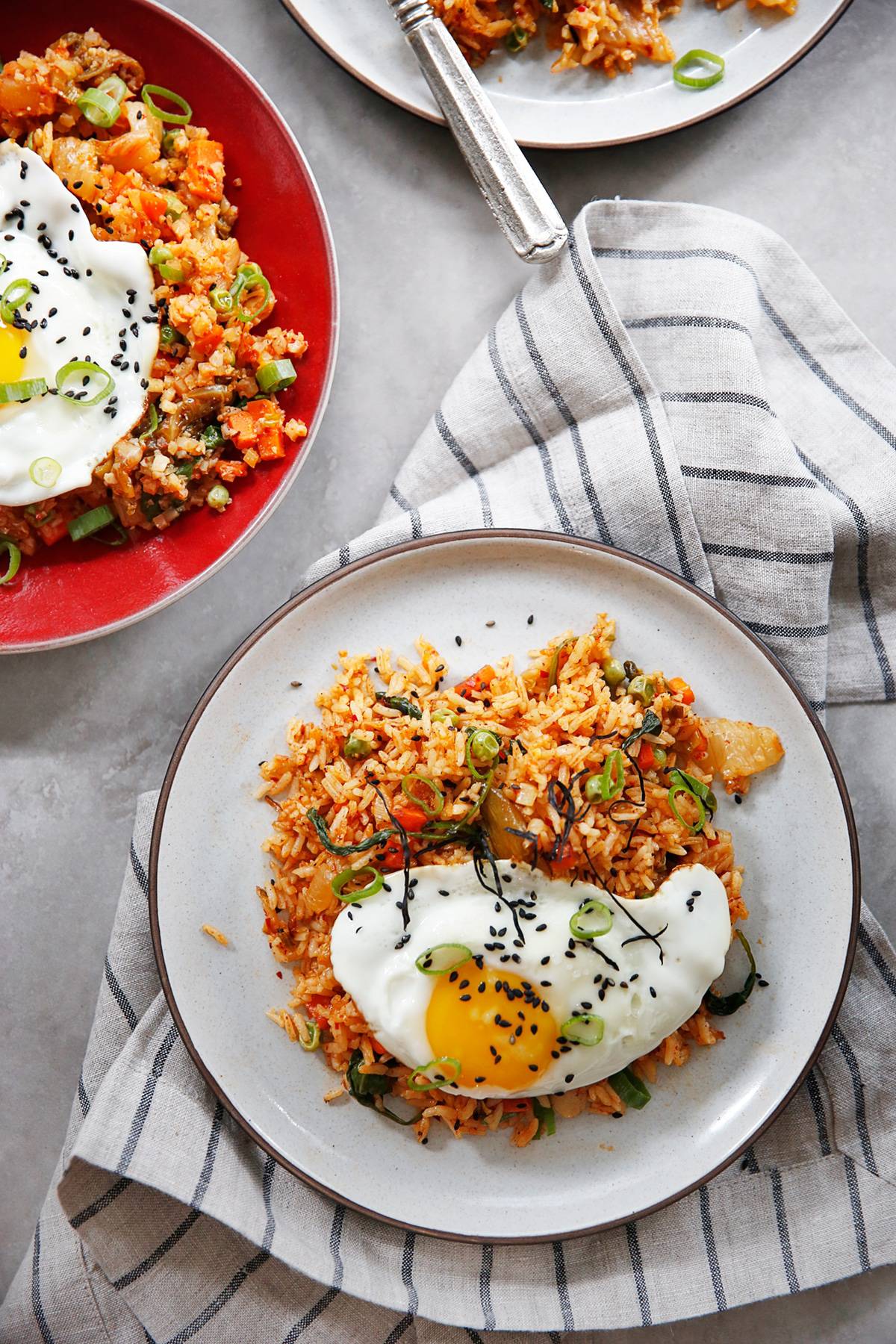 If you like this stir fry recipe, check out these others:
Kimchi Fried Rice (Cauliflower Rice or White Rice)
This Turkey Wild Rice Soup recipe is the perfect lunch or dinner to whip up after a great Thanksgiving meal. If you don't have turkey leftovers, no problem because it also works great with leftover shredded chicken as well! This easy to prepare soup is full of veggies, it's warm and hearty and so delicious!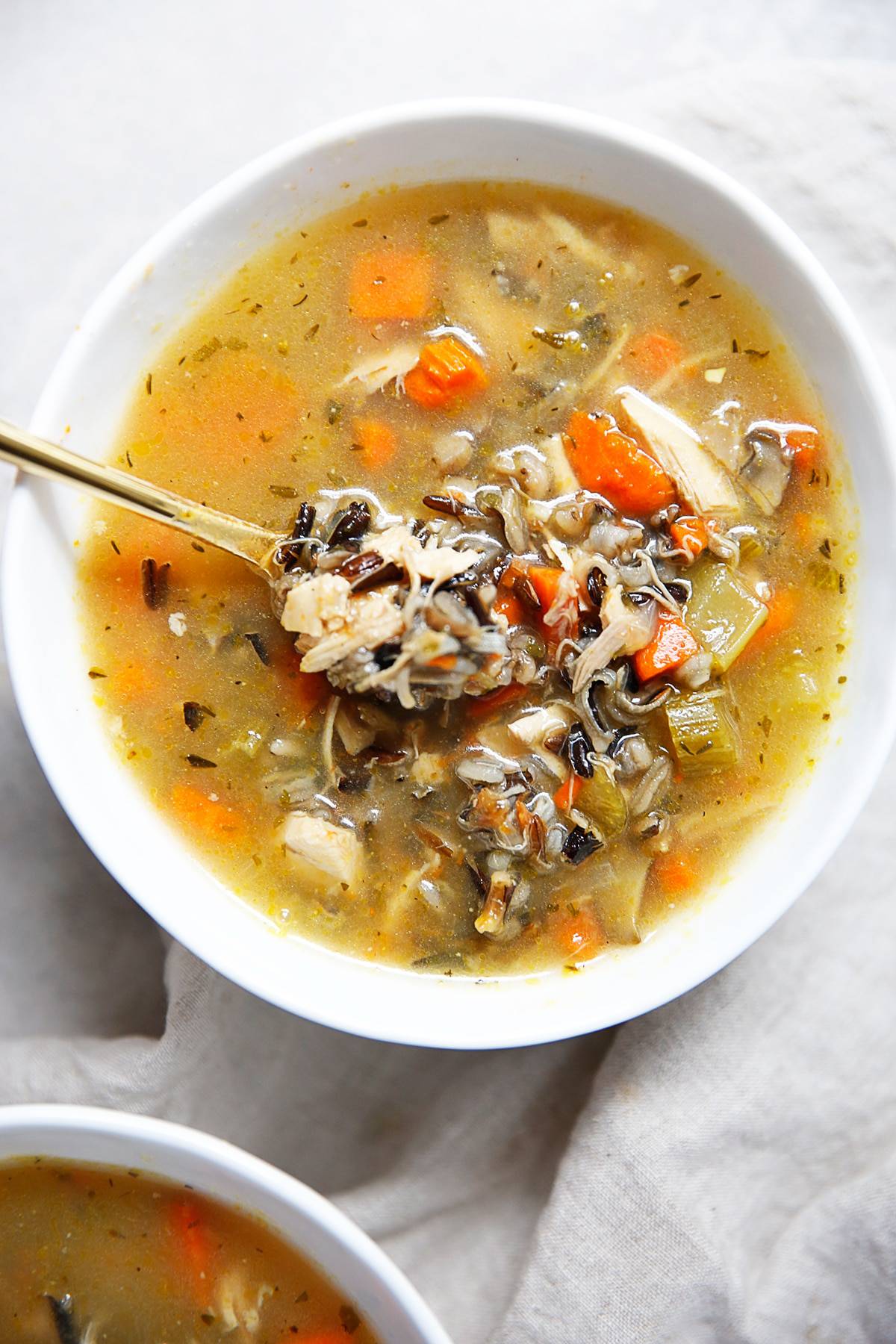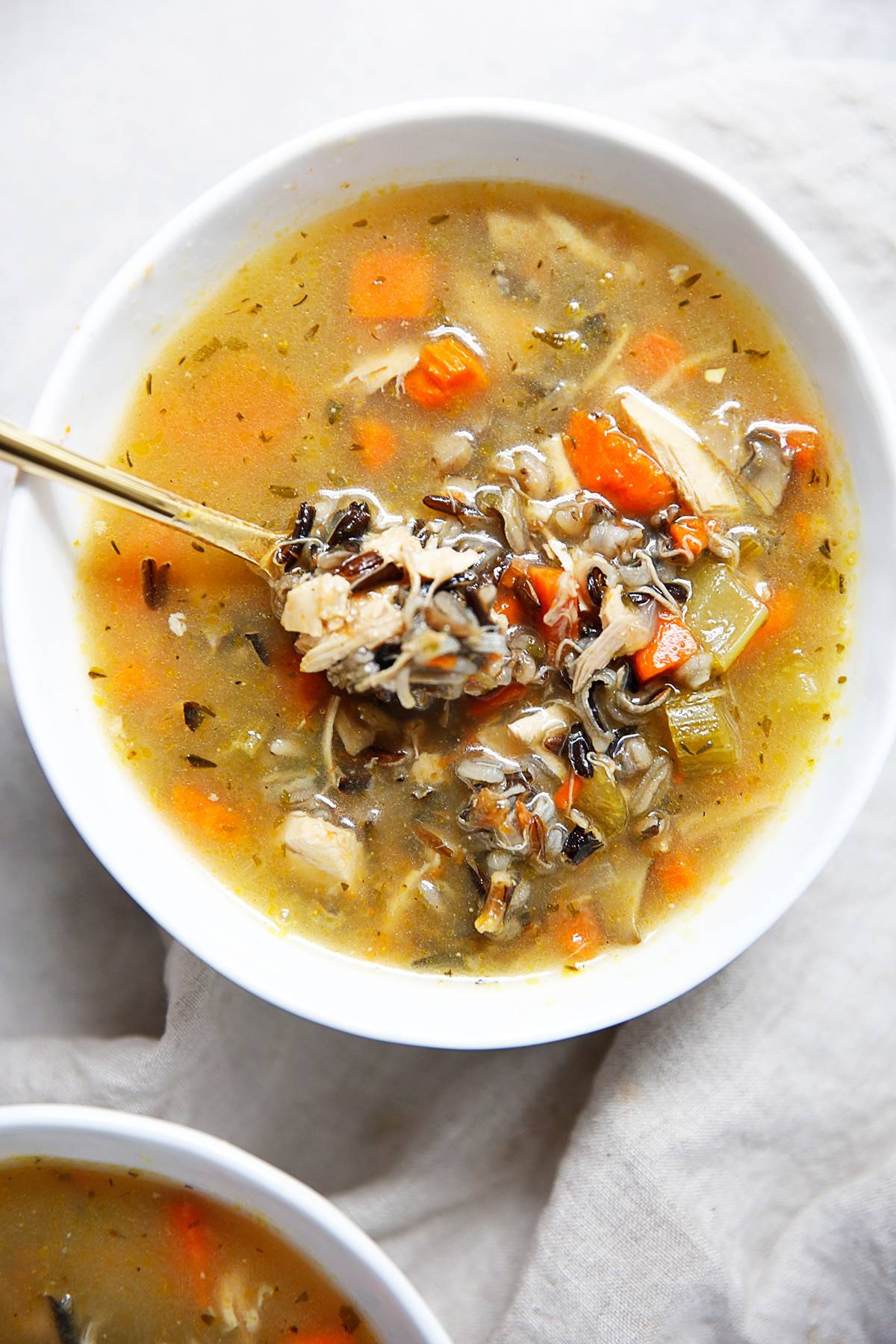 Turkey Wild Rice Soup
I found myself a few weeks ago with a lot of unseasonal turkey leftovers thanks to our recipe testing and preparation for all of our new 2018 Thanksgiving recipes. I whipped up this Turkey Rice Soup because Mike and I needed to eat dinner and we loved it so much I decided I should share it here!
I love the heartiness and the different texture of the wild rice and that it is so full of veggies! If you are able to utilize the leftovers of a turkey carcass to make bone broth with, like I did, it takes it up to another level! The better the broth, the better the soup so make sure if you aren't making your own to buy a good quality brand!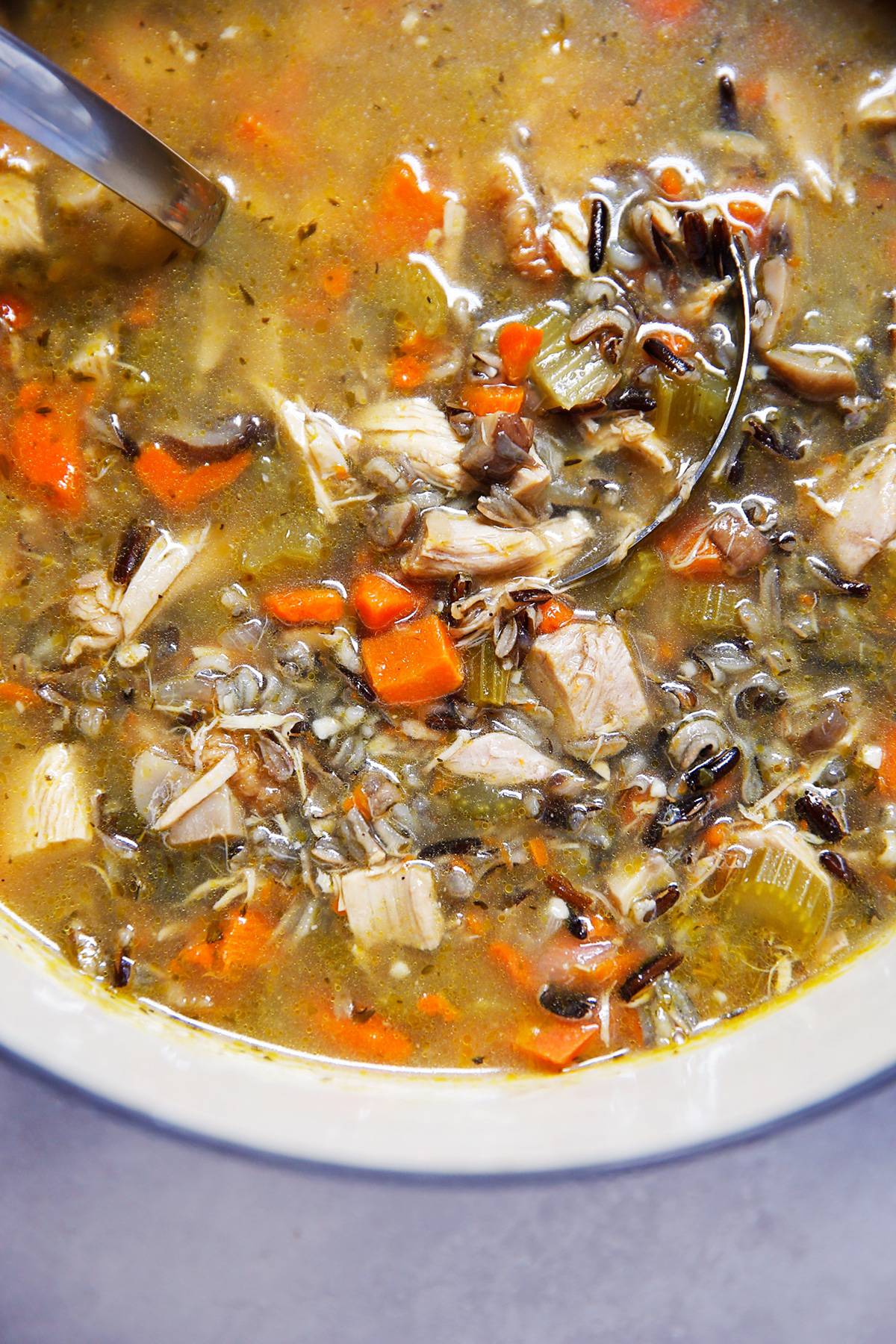 Turkey Rice Soup Ingredients
Wild Rice
Leftover Roasted Turkey (or Rotisserie Chicken)
Carrots
Celery
Mushrooms
Garlic
Salt and Pepper
Dried Thyme
Dried Parsley
Turkey Bone Broth or Regular Broth
Fish Sauce (this gives it another flavor dimension, but you can omit if you want)
How do you make turkey rice soup from leftover turkey?
You'll want to pick off as much of the meat as possible from the turkey after it has been carved. If you are able to, pick all the meat from the turkey while it's still warm because it is much easier to do! Our recipe calls for about 2-3 cups of leftover turkey meat. Once you've picked off meat from the turkey you should make a bone broth with it to use in your soup!
Once you've got your meat and your broth your ready to make the soup! And we aren't reinventing the wheel here: You saute your aromatics, add some spices, meat, rice and broth and simmer away until the rice is fully cooked through and you have a flavorful dinner on your hands!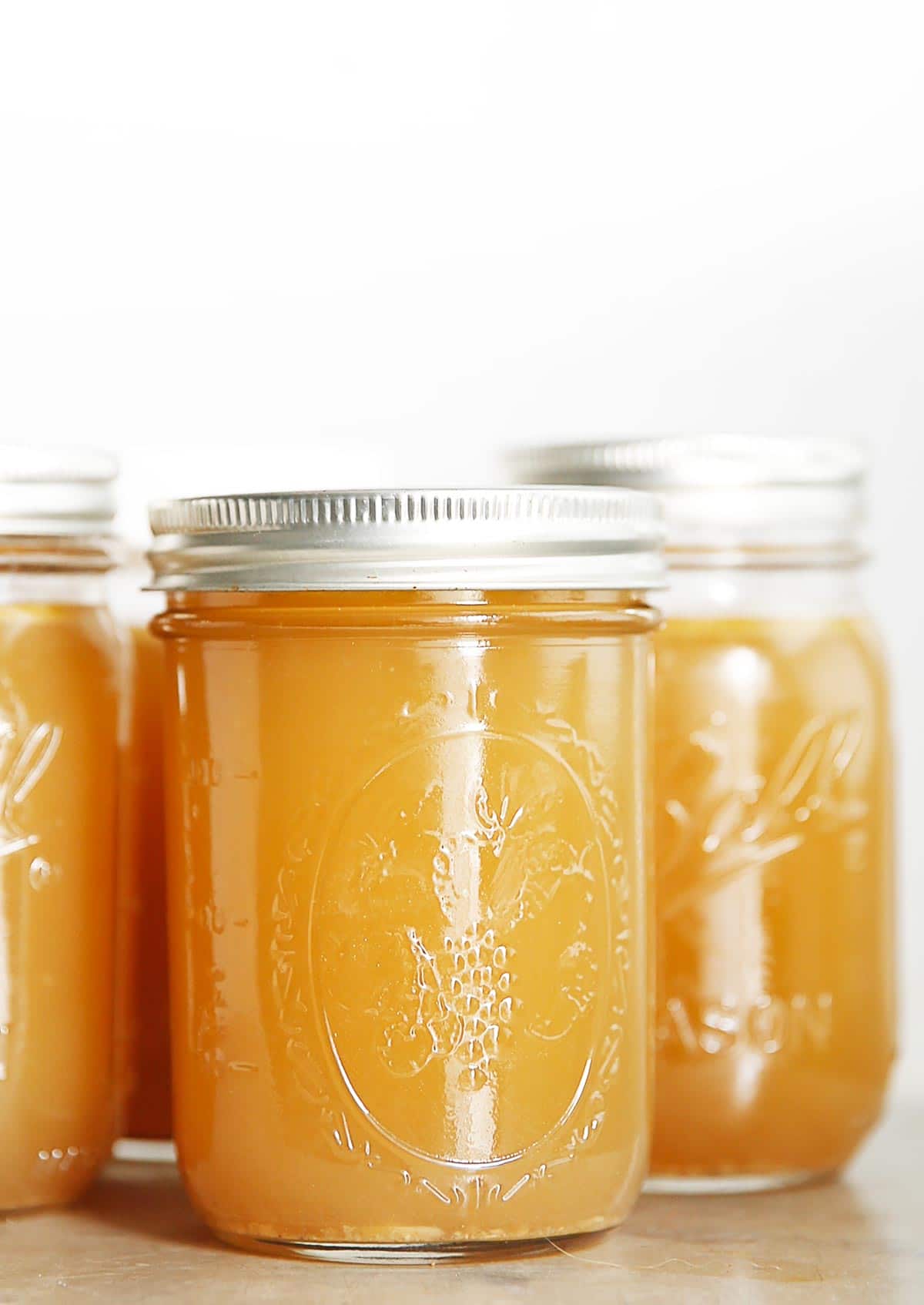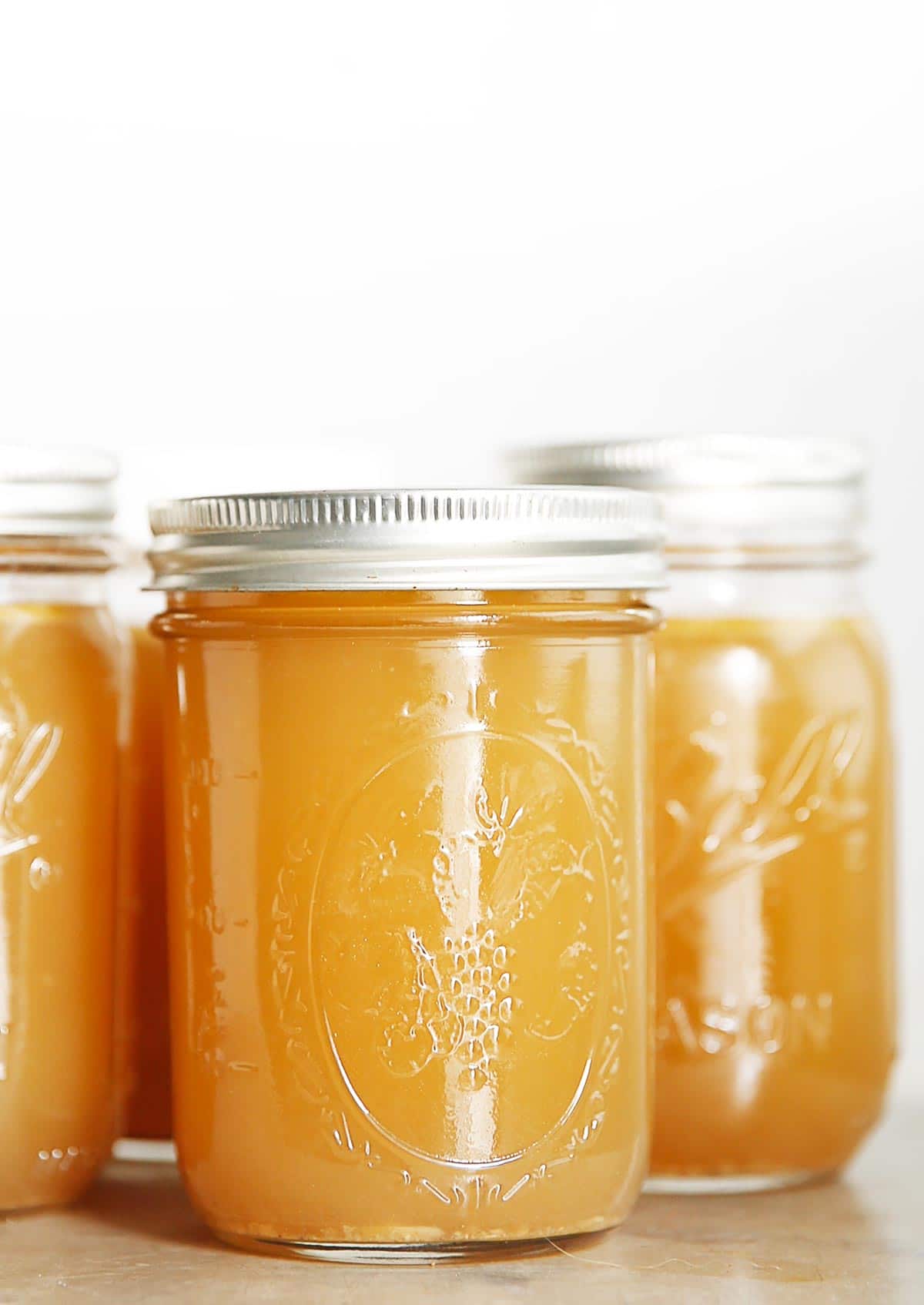 How do you make homemade turkey broth?
I made a super quick turkey bone broth with the leftover carcass and it was so simple! I used the Instant Pot, of course, but you can also do this on the stove top. I put the whole carcass, a few aromatics, spices and water in the Instant Pot and cooked on high pressure for 50 minutes. It might have been the best broth I've ever tasted and was just so perfect in this soup. I've included instructions for both in the notes of the recipe if you want to make your own as well, but if you aren't going to you can use regular bone broth or stock.
Turkey Bone Broth from Leftover Turkey
1 turkey carcass
1 large onion, halved
2 large carrots, halved
2 teaspoons peppercorns
6-8 cups water (depending on your size of Instant Pot)
1 teaspoon white vinegar
For Instant Pot: Combine all ingredients in a 6 or 8 quart Instant Pot and cook on high pressure for 50 minutes. Use the natural release function.
On Stove Top: Simmer all ingredients away for 4-6 hours.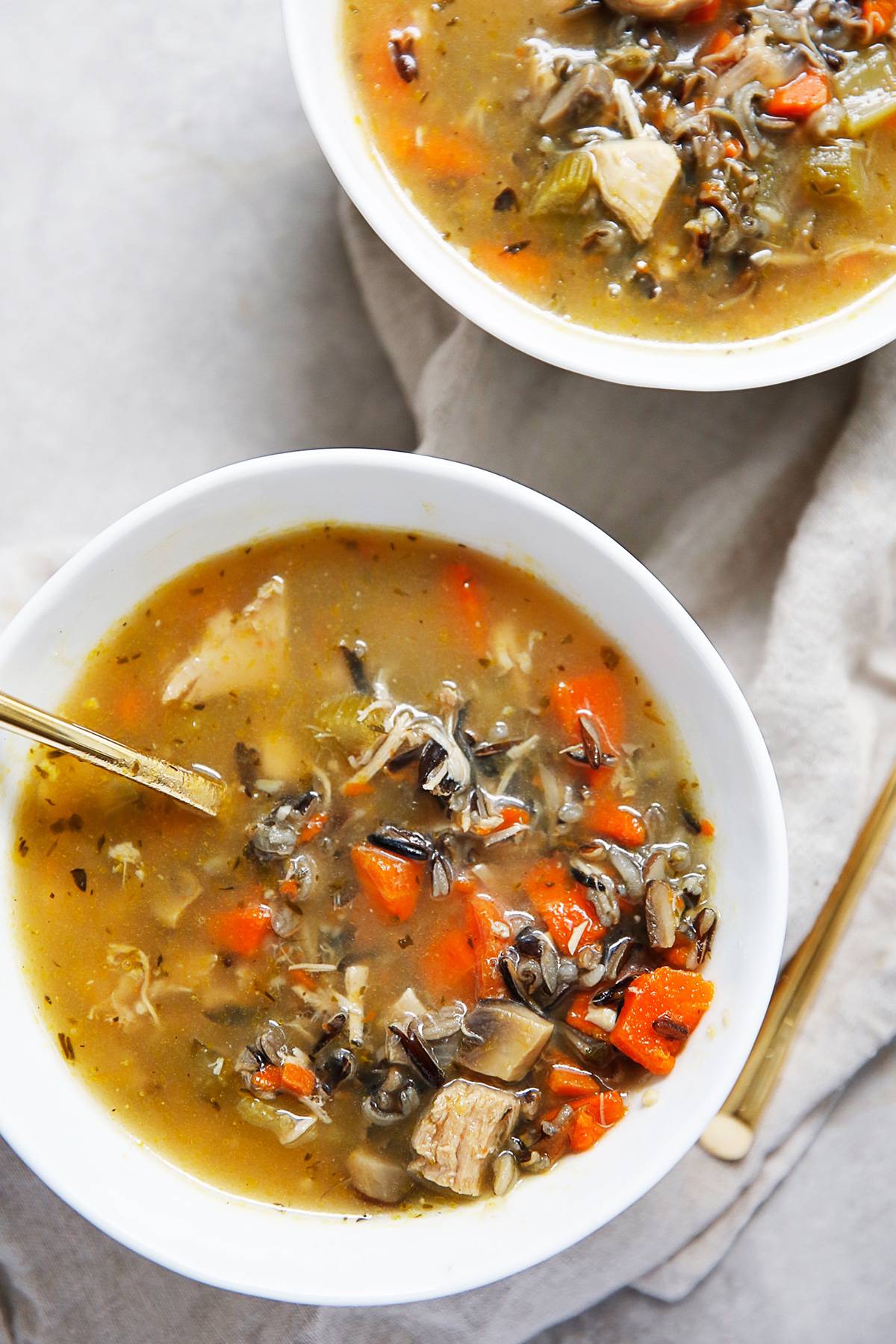 What vegetables are good in turkey rice soup?
We choose to include onions, carrots, celery and mushrooms! But if you have other leftover veggies like green beans you can add those in at the very end of the cooking time just to reheat!
If you like this soup recipe, check out these others:
Turkey Wild Rice Soup
These Honey Glazed Carrots are the perfect fuss-free side dish. They're cooked in one pan and result in the most tender, slightly sweet glazed carrots. They are so good they are borderline addictive and both kids and adults will love them! They're paleo friendly and easily made dairy-free and a great addition to a holiday feast or a special weekend dinner.
Honey Glazed Carrots Recipe
When we were thinking up a name for these Honey Glazed Carrots, we were seriously considering crack carrots, because we couldn't stop eating them. They are so addictive! They're also really easy to make and a great compliment to a roasted bird on a holiday table, or a delicious weekend dinner.
If you can, find the beautiful rainbow carrots that are so plentiful this time of year. If you can't, regular orange carrots will work too! The most important part is to cut these carrots as evenly as possible. Our recipe says to cut them on the bias, at 1/4″ of an inch. Take a look at the photos and see that even though the carrot shapes are different sizes, they are all basically cut about the same size with some of the smaller looking ones having a greater thickness so that they cook even with the larger size ones. This is important so that you cook the carrots as evenly as possible!
Ingredients for Honey Glazed Carrots
Carrots (we used rainbow carrots, for a pretty presentation!)

Honey

Oil

Butter (replace with additional oil for dairy-free)
Salt
Water
How to Make Glazed Carrots?
We opted to make these on the stove top! We love the idea of cooking up this quick side dish, all in one pan, without having to boil them. Some recipes call for boiling the carrots and then draining them out before glazing. We always try to avoid boiling vegetables because it doesn't preserve as many of the nutrients as steaming them does. For our method we place in a small amount of water and steam the carrots, and then evaporate the liquid so as much of the nutrients remains as possible.
Once the carrots are cooked through you add additional butter (or other dairy-free oil) and honey and cook them down until the sauce has glazed the carrots. There are a few minor details to pay attention to (like cutting the carrots correctly and making sure they cook properly) but all-in-all it's a pretty fuss-free side dish to prepare.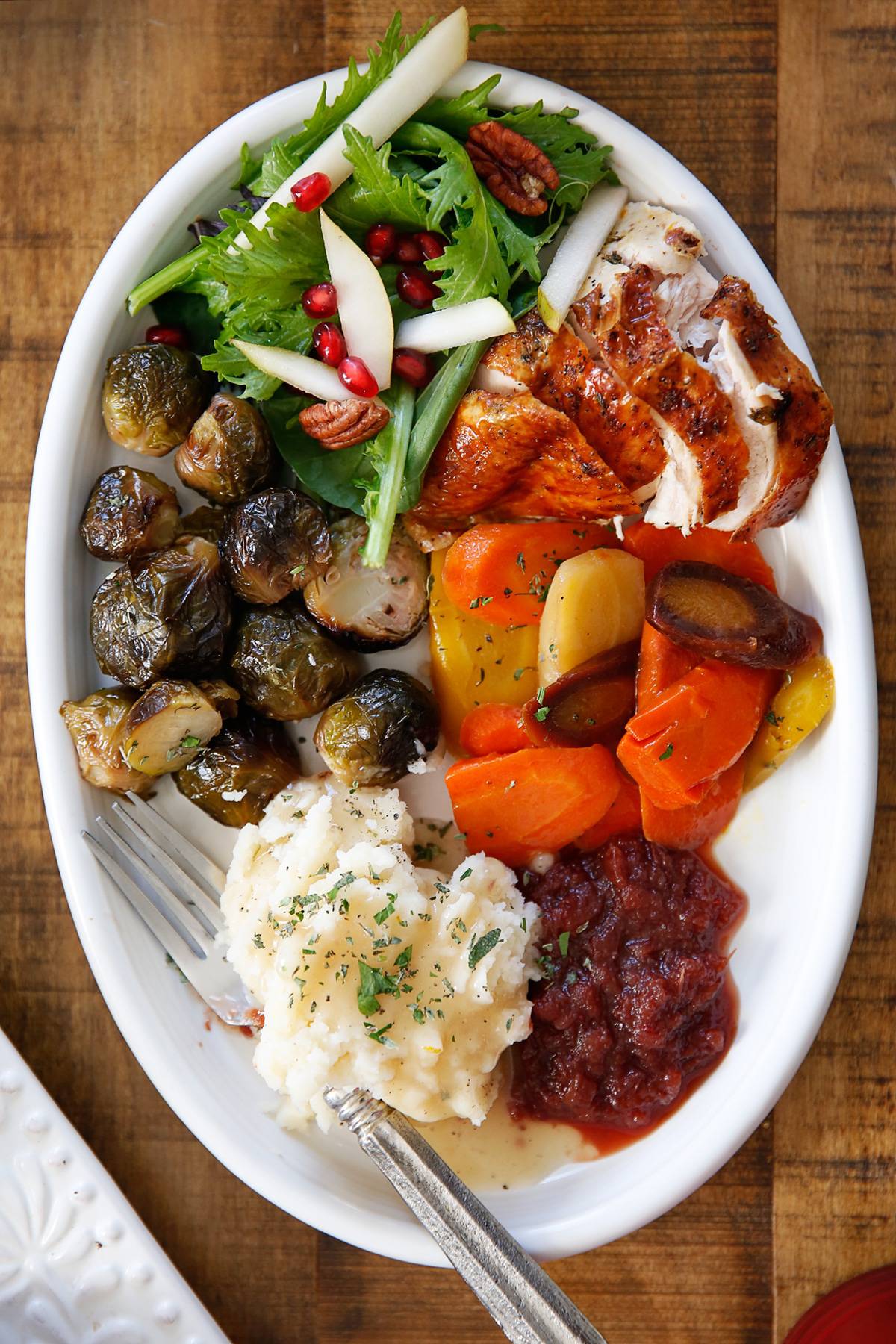 For other carrot recipes, check out these:
If you like this side dish recipe, check out these others:
Honey Glazed Carrots
This Instant Pot Chicken Tikka Masala is a great short-cut to a flavorful weeknight dinner! This delicious dinner uses the pot in pot cooking method, which means cooking the dish *and* the rice all together right in the pressure cooker! This gluten and dairy free dish also reheats well for meal prep and is a great addition to your Instant Pot repertoire!
Instant Pot Chicken Tikka Masala
This popular Indian dish is bright, rich and creamy and comes from my friend Megan's new cookbook: The Fresh & Healthy Instant Pot Cookbook. This dish is typically made with heavy cream and few vegetables, so Megan has given it a nutrient upgrade with more than a pound of cauliflower and carrots. The resulting meal may not be quite as authentic, but we just love how the vegetables become nearly undetectable in this rich sauce. Serve it with naan (if you tolerate), and use coconut milk to give it a dairy-free creaminess, but you could leave it out for less fat and a richer tomato flavor!
This recipe uses the pot in pot method of cooking two different meal components in the Instant Pot at the same time. It was our first time using the PIP feature and we're glad we took the plunge, thanks to Detoxinista, because it's a game changer.
What is Pot in Pot Cooking?
The 'Pot in Pot' method of cooking allows food to cook in a separate bowl that's placed on a steam rack in the Instant Pot.  Steam generated from liquid below the steam rack is used to build pressure and cook the food. Note: the container being used for PIP cooking must be placed on a rack, and not directly in the inner pot.
Can you use Pyrex in an Instant Pot?
Yep! Any pyrex is fine for it although stainless does have an advantage in that it wouldn't require extra time. Anytime you use glass, pyrex, ceramic or any other heat absorbent material for "pot in pot" cooking, add about 5 minutes to the time under pressure!
I was so excited to get Megan's new cookbook, The Fresh & Healthy Instant Pot Cookbook! For starters, you know I LOVE my Instant Pot! Secondly, I adore Megan and all of her recipes, so I knew it would be a total winner of a cookbook. You can check it  out and grab a copy here!
What I love about this book? For starters, there are gluten-free options for each recipe, and all recipes are free of refined sugar and many of the most common food allergens, yet don't scrimp on flavor!! Some dishes I cannot wait to make: Korean Chicken Bowls, Eggplant Parmesan Bake, Peanut Butter Crunch Granola Bars, Flourless Banana Oat Bread, and One-Pot Chocolate Cake and Frosting!!
Tools you need to make this recipe:
Immersion Blender or Blender ($20 off + free shipping)
Oven safe bowl/container made of stainless steel, oven-safe glass, or ceramic/porcelain.  The container shouldn't touch the walls of the inner pot and should allow the Instant Pot lid to be closed easily!
Which Instant Pot to get?
I love my 6 qt. Duo. If you're often cooking for more than 4 people, I'd go for the 8 qt.
If you like this Instant Pot recipe, check out these others:
Instant Pot Chicken Tikka Masala
This vegetarian Hot and Sour Soup is a super flavorful and easy weeknight dinner that comes together quicker than it takes to order from your neighborhood takeout! It's packed full of veggies, is so warm and comforting, and a healthier option because you control the ingredients that go in to it! This easy soup is gluten and dairy free, low carb and with options for paleo and whole30 friendly.
Hot and Sour Soup Recipe
When Mike and I were in Toronto visiting family a few months back, our cousin Maggie (hi love!) made a hot and sour soup that was hearty and flavorful, and totally veggie-packed. I immediately came home and got to creating a recipe similar to hers because I knew you all would love it as much as I did. It's such a comforting and hearty weeknight dinner, AND it's makes great leftovers!
There are many different recipes and versions of Hot and Sour Soup, but today we are focusing on making a vegetarian version with a ton of veggies, and making it as easy as possible to prep for a quick (and flavorful) weeknight dinner.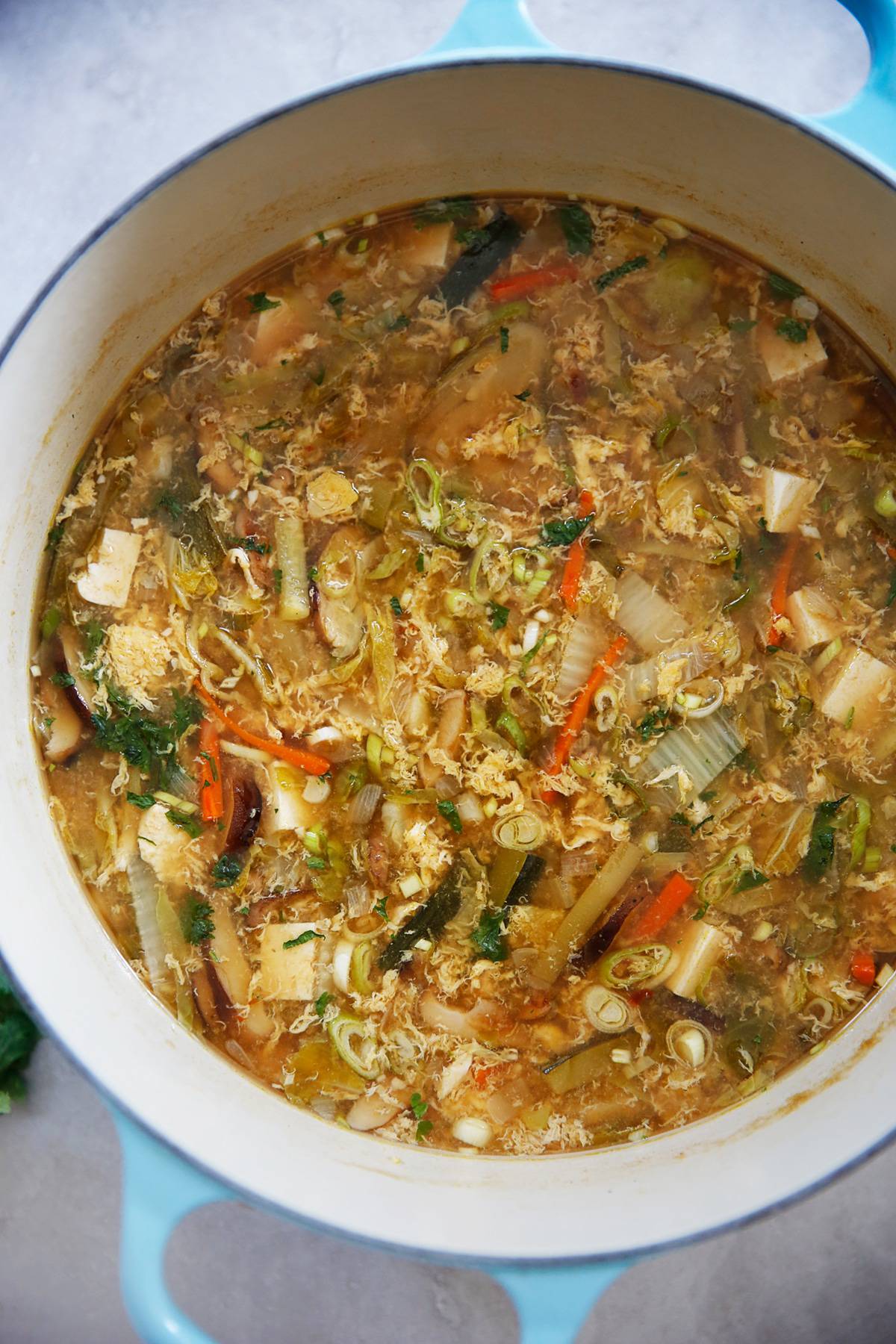 What is in hot and sour soup?
The "hot" in this soup traditionally comes from using fresh ground white pepper, and the "sour" comes from using vinegar. The soup is also made rich and flavorful from mushrooms. Traditionally this would be dried mushrooms (along with some other ingredients like dried lily buds) but we are trying to keep this really approachable using easy to find ingredients at the store, so we opted for fresh shiitake mushrooms. They're cooked separately first to evaporate the water in them and concentrate their flavor.
Our Approach to Hot and Sour Soup
Veggies make up the the bulk in this recipe, with carrots, shredded brussels sprouts (a fun unique addition), napa cabbage, and zucchini that are poached in the soup, but you can substitute whatever you have on hand. The soup is slightly thickened using a bit of arrowroot and then some scrambled eggs are added in to make fine "ribbons". Wait until the end to add white vinegar and ground white pepper so that those flavors really shine through!
Additional Options for this Easy Soup
Add tofu (I generally avoid soy, but occasionally will use non-go tofu if it fits a recipe, like this soup.)
Red pepper flakes to add a bit more heat to it
If you wanted to add more protein chicken or pork would work well here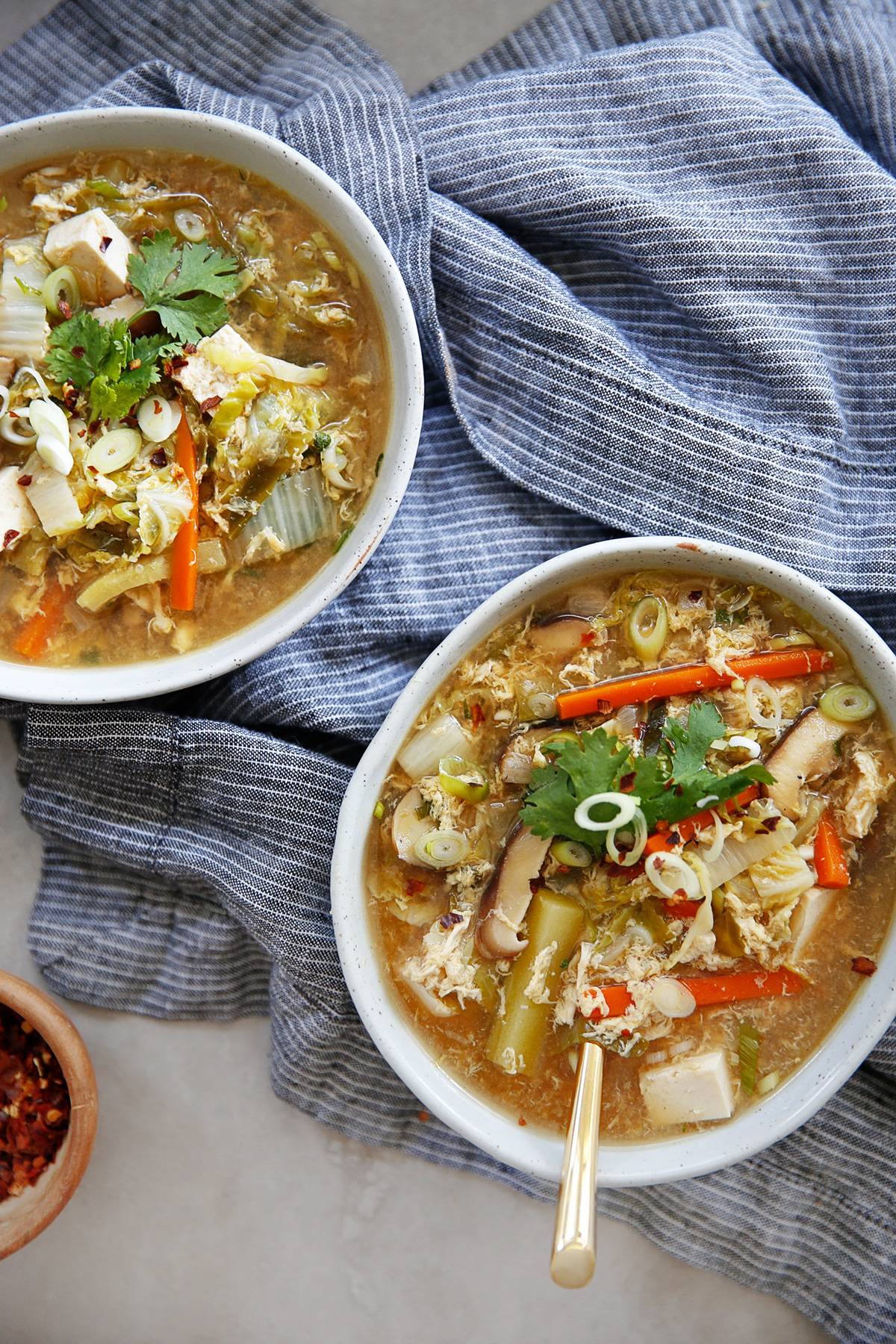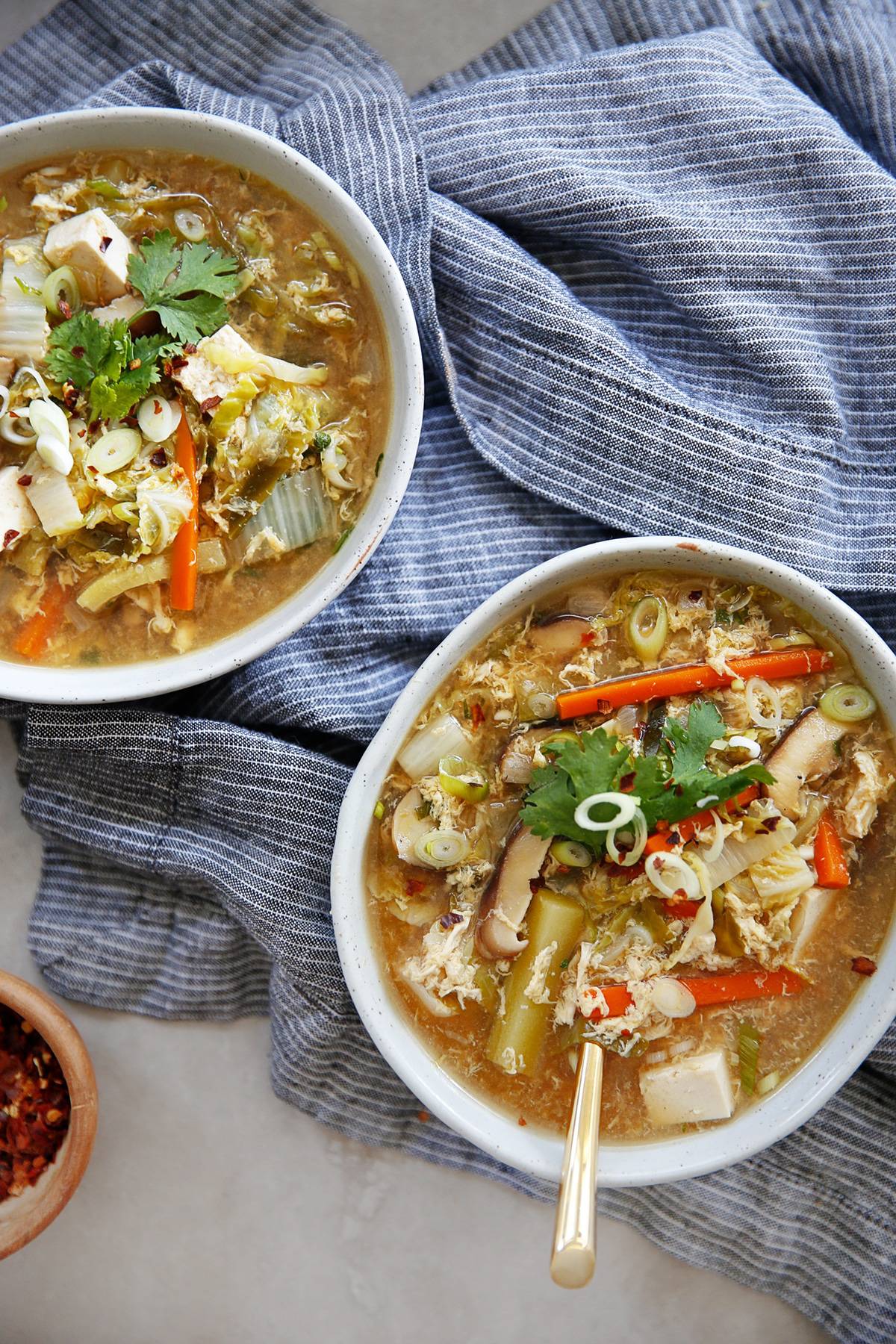 What You Need to Make this Recipe
1 tablespoon avocado oil
5 ounces shiitake mushrooms
1 onion
3 garlic cloves
1" piece ginger
2 large carrot
2 cups shredded brussels sprouts (look for pre-shredded in the produce)
1 small napa cabbage
1 medium zucchini
6 cups chicken bone broth or veggie stock
1 teaspoon fish sauce (optional, leave out for vegetarian)
1 tablespoon arrowroot
1/4 cup coconut aminos (soy sauce substitute)
3 eggs
1/4 cup white vinegar
1 teaspoon white pepper (this is what makes it "hot")
2 scallions, for garnish
Cilantro, for garnish
1 cup firm tofu (optional)
Red pepper flakes and salt
If you like this easy soup recipe, try these others:
Easy Vegetarian Hot and Sour Soup
This No-Bean Paleo Falafel is such a delicious low-carb and paleo-friendly option that tastes just like the real thing! Serve over lettuce and tomatoes with the dairy-free Tzatziki sauce for a delicious, light dinner.
Paleo Falafel Recipe
This No Bean Falafel recipe took us a TON of recipe testing to perfect, but man was it worth it! So what makes this falafel Paleo-friendly? Well, traditional falafel, a Middle Eastern dish, is made of mashed, spiced chickpeas. It's traditional served in a pita bread with a delicious creamy sauce. This Paleo Falafel recipe takes that same concept and flavor profile, but omits the use of beans in favor of our favorite veggie, cauliflower! It truly did take us quite a bit of testing to arrive at something we thought could pass for falafel, but we think it was worth the wait.
This Paleo Falafel made without beans is crispy, spiced just right and so delicious. We especially love it served over lettuce, red onions, tomatoes and our dairy-free Tzatiki sauce!
Ingredients for Paleo Falafel
Cauliflower
Carrot
Onion
Ground Flaxseeds
Chia Seeds
Fresh Ginger
Cilantro
Parsley
Egg
Garlic
Salt and Pepper
Ground Coriander
Ground Cumin
Lemon
How to Make Bean Free Falafel With Cauliflower
There is a two step cooking process for making the Paleo Falafel. But first, start with making the mixture. Add all falafel ingredients to a food processor. Pulse until just combined and until the vegetables are pea sized. Then, roll the dough into small balls and set aside.
Now the falafel needs to get crisped on the outside. Heat a large skillet with extra-virgin olive oil. Once hot, work in batches to pan-fry the falafel just until both sides are browned, about 2-3 minutes on each side. Use a spatula to press down on each falafel while cooking.
To finish off the cooking process, you need to bake the falafel until firm. Place the pan-fried falafel on the parchment lined baking tray and bake for 35-40 minutes, or until firm to touch.
Serve with dairy-free tzatziki sauce and veggies.
Watch the video: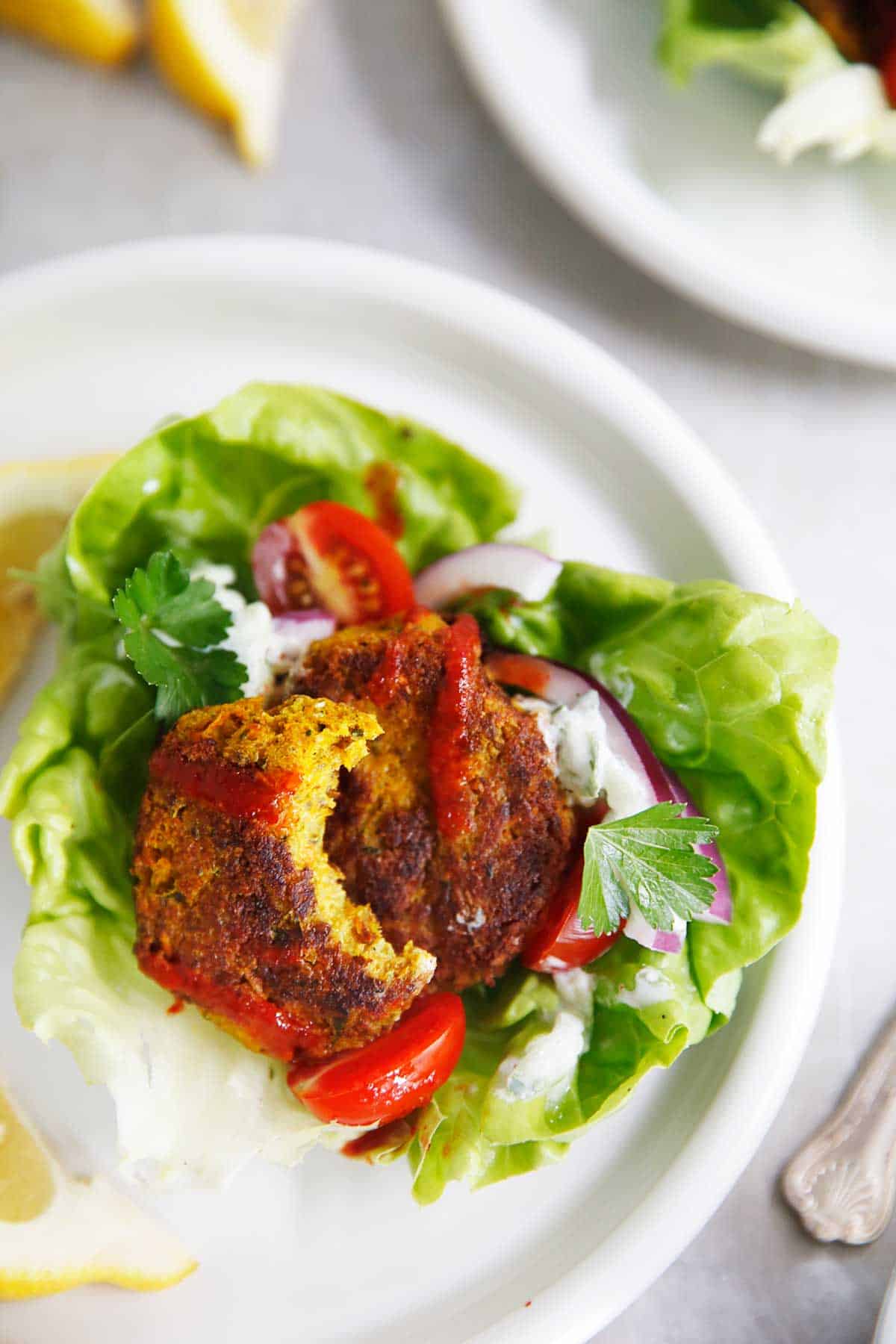 If you like this paleo recipe, check out these others:
No-Bean Falafel
Looking for a veggie side dish? These Mediterranean Veggie Fritters are packed with veggies, loaded with Mediterranean flavors, and are gluten-free, vegetarian, and paleo-friendly!

Mediterranean Veggie Fritters
Meatless Monday is here, and today we're giving you our new favorite side dish! These fritters can be baked or pan-fried, and are SO flavorful. Crispy on the outside, just the way we like them!
How to make veggie fritters
Bonus: You'll be eating all the veggies!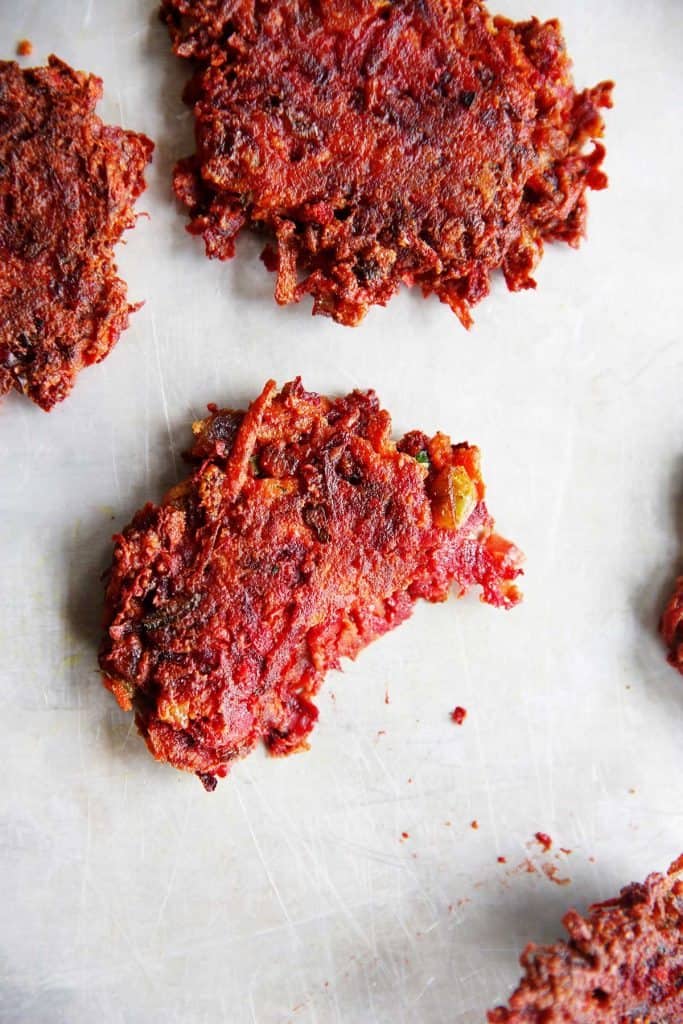 Watch the video:
Mediterranean Veggie Fritters [VIDEO]
This Crockpot Chicken and Vegetables recipe has everything you want, made in one slow cooker dish. Tender chicken and flavorful veggies are cooked together with herbs and a flavorful sauce. It's the perfect dish to have waiting for you after a long day!
Crockpot Chicken and Vegetables
I love one pot meals, especially when they are made hands-off in my Slow Cooker! This easy Crockpot Chicken and Vegetables is a classic. Made with bone-in chicken thighs, a bunch of veggies that are customizable and a dreamy sauce, this is sure to be a new family favorite. Set it in the morning and have the perfect meal waiting for you when you arrive home.
Ingredients Needed for Crockpot Chicken and Veggies
Bone-In Chicken Thighs
Butter or Oil
Garlic Cloves
Onion
Carrots
Potatoes
Celery
Sweet Potato
Chicken broth
Fish sauce
Fresh ginger
Fresh Herbs
How to Make Crock Pot Chicken and Vegetables
It couldn't be simpler to make this slow cooker dinner. Simply:
Add all of the ingredients to the insert on your crockpot. Pour over the sauce and cook on high for 3 hours, or on low for 7 hours.
To get the chicken skin crispy, so ahead and broil it for a few minutes.
Serve the hot chicken and vegetables with some extra sauce.
If you like this slow cooker recipe, check out these others:
If you like this chicken recipe, check out these others:
Slow Cooker Chicken and Veggie Dinner
These Healthy Morning Glory Muffins are made with almond flour and are packed with so many delicious add-ins, such as raisins, carrots, apples and nuts. These gluten-free and dairy-free muffins are easy to make and use just one bowl to put together! They make a great on-the-go breakfast or snack, will be a hit with picky kids.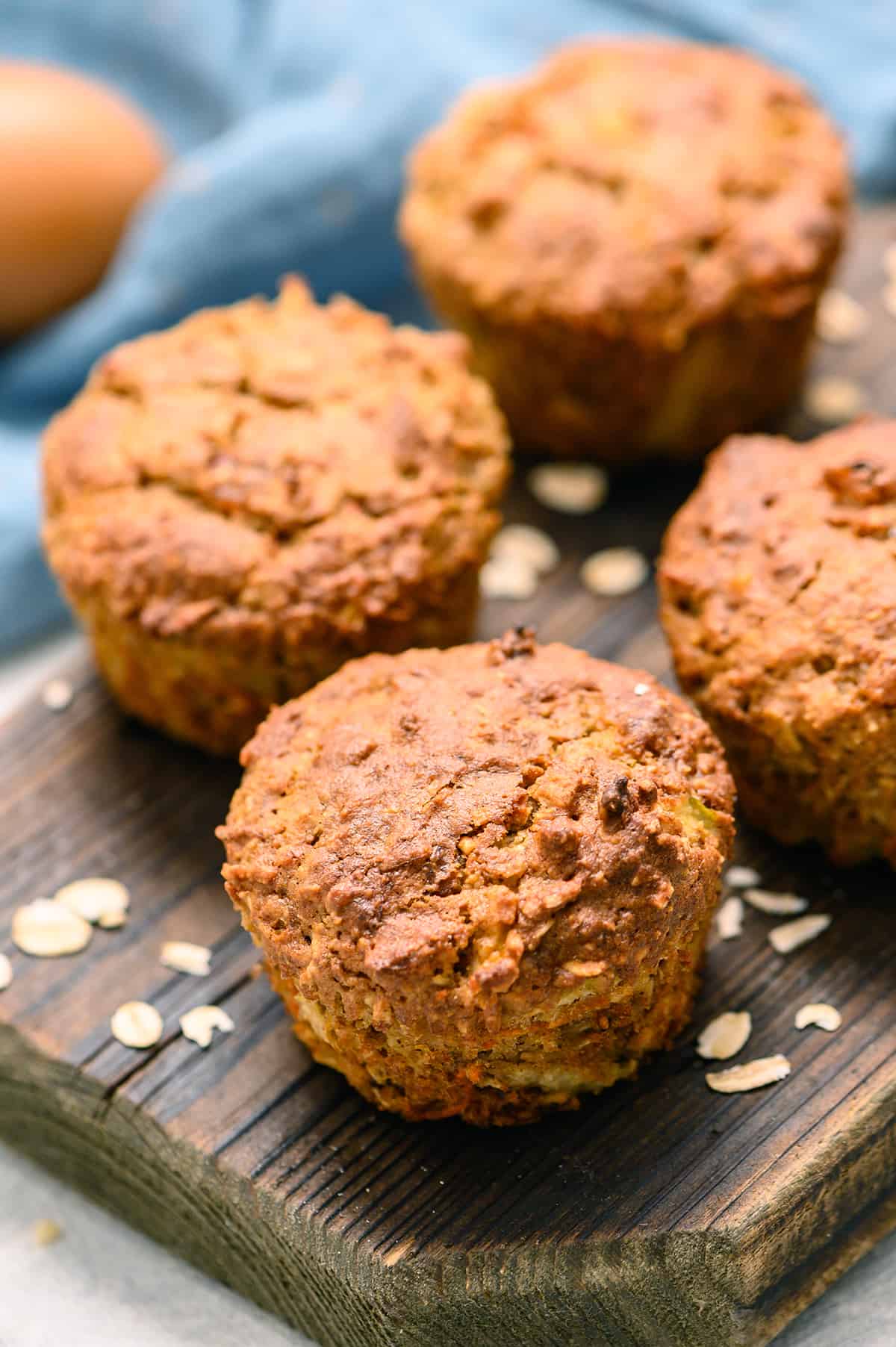 Healthy Morning Glory Muffins
These Healthy Morning Glory Muffins are made with almond flour and ground flaxseed and are stuffed with shredded apples, carrots, raisins, shredded coconut, nuts and oatmeal. They are the perfect make-ahead breakfast that is happens to be gluten, dairy and refined sugar free! These kid-friendly muffins are easy to make (and a fun baking project with the kids). They also freeze well so you can keep a batch in the freezer and pop it out whenever you need a healthy pick-me-up.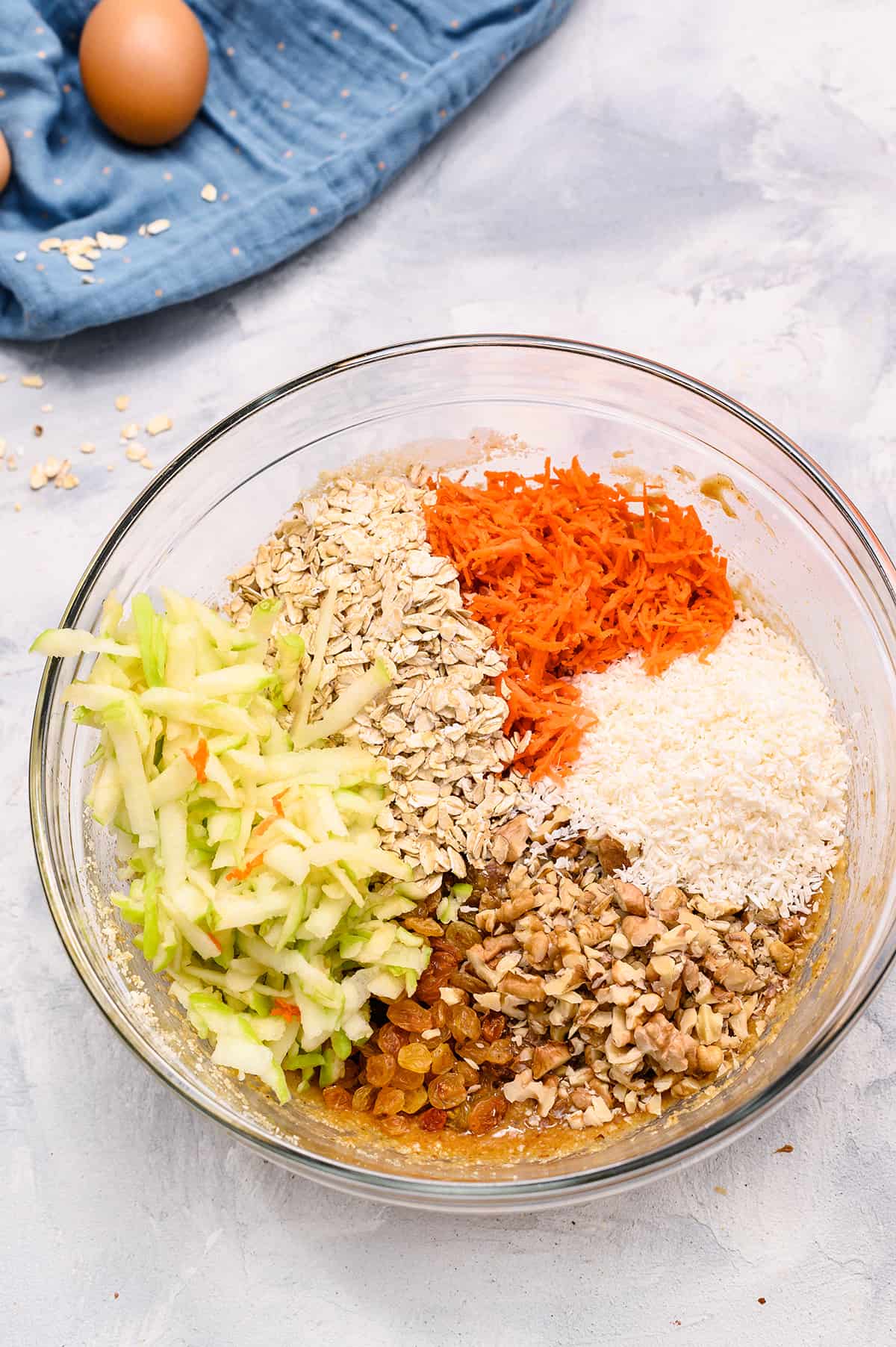 Ingredients Needed
Almond Flour

Ground Flaxseed

Eggs

Coconut Oil

Apple Sauce

Coconut Sugar

Vanilla Extract

Baking Soda + Salt
Shredded Apple

Carrots

Oats

Raisins

Nuts

Shredded Coconut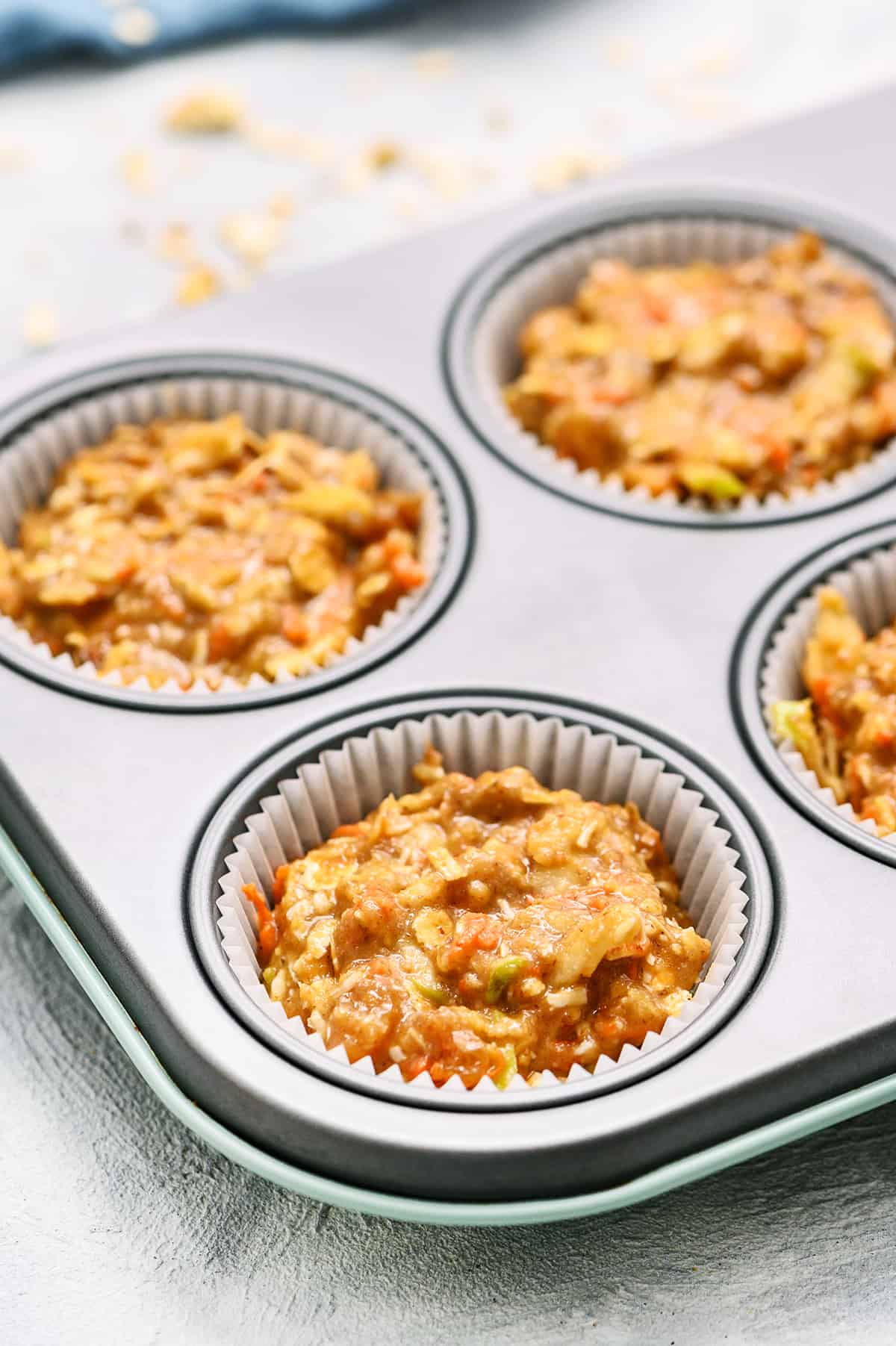 To Peel or Not to Peel the Apple
The apples are grated before being folded into the batter. Grating the apples both adds moisture to the muffin and makes sure that the apples are cooked through quickly. You can leave the peel on the apple, or you can peel it off. We prefer the texture and nutritional value that leaving the (organic) peel on imparts, but feel free to remove it if you prefer.
How to store Healthy Apple Oatmeal Muffins
We've tested storing these at room temperature covered loosely, in an air tight container and in the freezer. They all work! But we prefer to keep these at room temperature covered (in a non-air tight way) for two days at most. The muffins get more moist as the days go on, especially in an airtight container, which can make them feel dense.
So if you want to keep them the freshest, you can store in the freezer. If you are packing these for lunches for kids, or a snack for yourself, you can take them from the freezer the morning of and place in a container. In an hour or two the muffins are defrosted and ready to eat.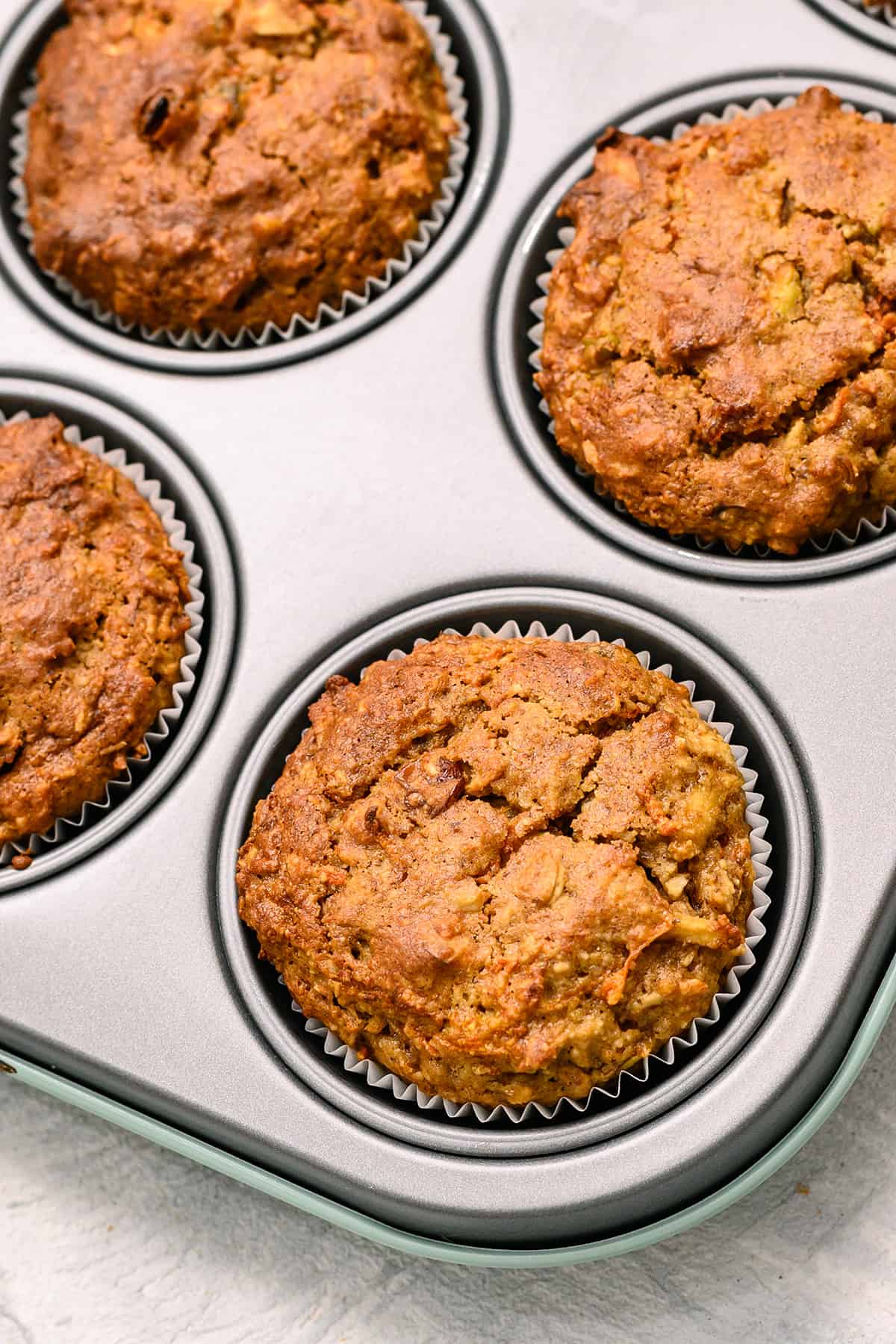 Watch the video:
If you like this muffin recipe, check out these others:
[yumprint-recipe id='103′]

Morning Glory Muffins
This Chicken Kale soup is perfect for when your body needs an easy, delicious and light meal. Packed with veggies and healthy protein, this soup is easy to whip up. It's low-glycemic, paleo-friendly, egg-free, dairy-free, and Whole30 compliant!
Chicken Kale Soup Recipe
Swap the juice detox for a soup detox this season! I call this Chicken Kale Soup my detox soup because it is light, healthy, and packed with anti-inflammatory vegetables that are easy on the digestive system! The fiber from the veggies combined with the protein from the chicken makes this such a filling meal for any day of the week!
Mike and I recently came back from a weekend in New York, where we were visiting my family and our friends! It was a truly great weekend! After a weekend of eating out, drinking, and changing up my daily exercise routine though, my body definitely needed a boost. That's where this soup comes in! This soup is now one of my go-to recipes when I feel that I need to detox for a day! I love that every ingredient in this soup is from my local farm! It is also so simple to throw together!
Ingredients for Chicken Detox Soup
Olive Oil
Onion
Garlic
Carrots
Celery
Organic Chicken Breasts
Organic Chicken Stock or Bone Broth
Kale
Fresh Ginger
Fresh Lemon
Salt and Pepper
Fresh Parsley
In addition to eating as healthy as we can, Mike and I have also been working on "detoxing" other things in our life. Check out this list: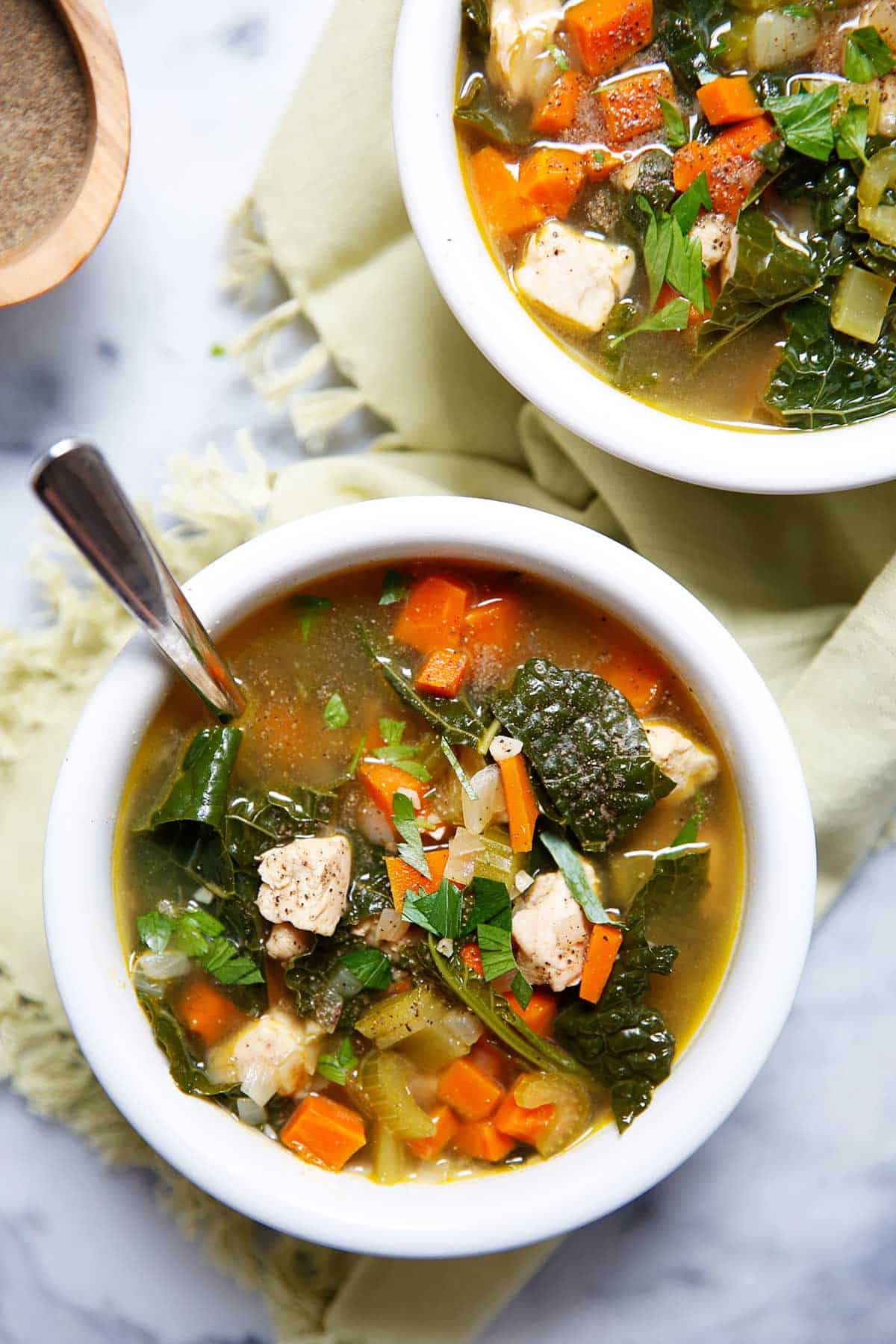 If you like this soup recipe, check out these others: