Paleo Orange Chicken
This easy-to-make Paleo Orange Chicken is simple, flavorful and perfect for a weeknight dinner. It'll be loved by both kids and adults alike and it just so happens to be gluten-free, dairy-free and paleo!
Healthy Orange Chicken Recipe
It's almost hard to believe that this healthy and flavorful orange chicken recipe only takes about 20 minutes to get on the table, but it's true! The paleo orange chicken has simple ingredients and simple instructions and your whole family will love it! Serve it with your favorite side, but we suggest cauliflower rice and if you're feeling like you need some extra veggies in your life some green beans or broccoli would fit right in here.
We love this orange chicken because it's one of those magical recipes that is so easily made paleo and with other dietary restrictions in mind by simply using real whole ingredients. Fresh orange juice as the main player in this dish, giving it a bright, bold flavor. The chicken is coated in arrowroot starch which helps make it crispy after it's quickly pan seared and it also helps thicken the sauce to keep it gluten-free.
Here is what's in it:
chicken breast (or thighs)

arrowroot starch

Salt and pepper

oil

fresh orange juice

orange zest

rice wine vinegar (or apple cider vinegar)

fish sauce

honey

garlic

ginger

sesame oil

Pinch red pepper flakes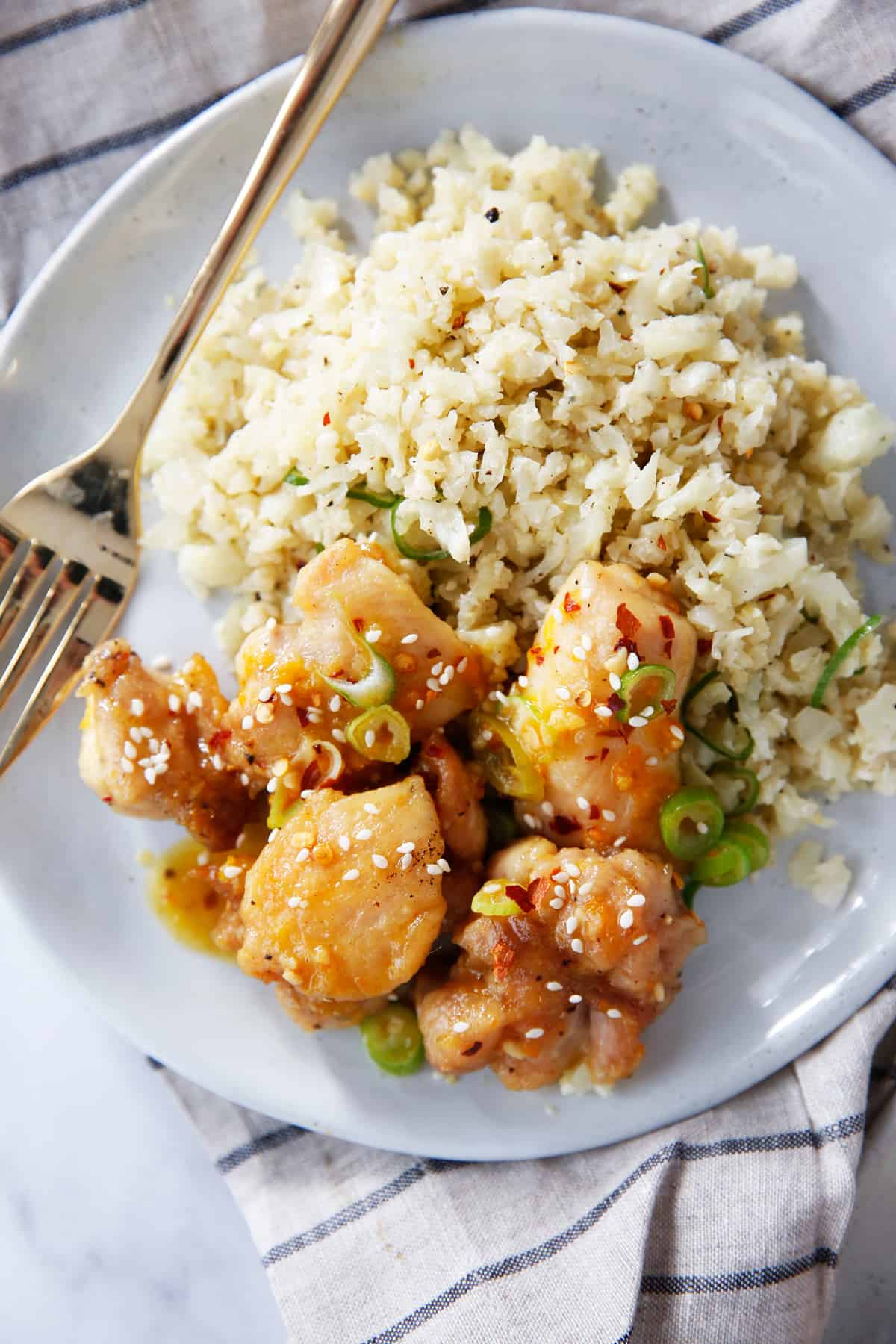 What can you serve with this Paleo Orange Chicken?
We served ours with cauliflower rice, but it would also go well with:
white rice
brown rice
quinoa
steamed broccoli
cooked green beans
steamed cauliflower
roasted spaghetti squash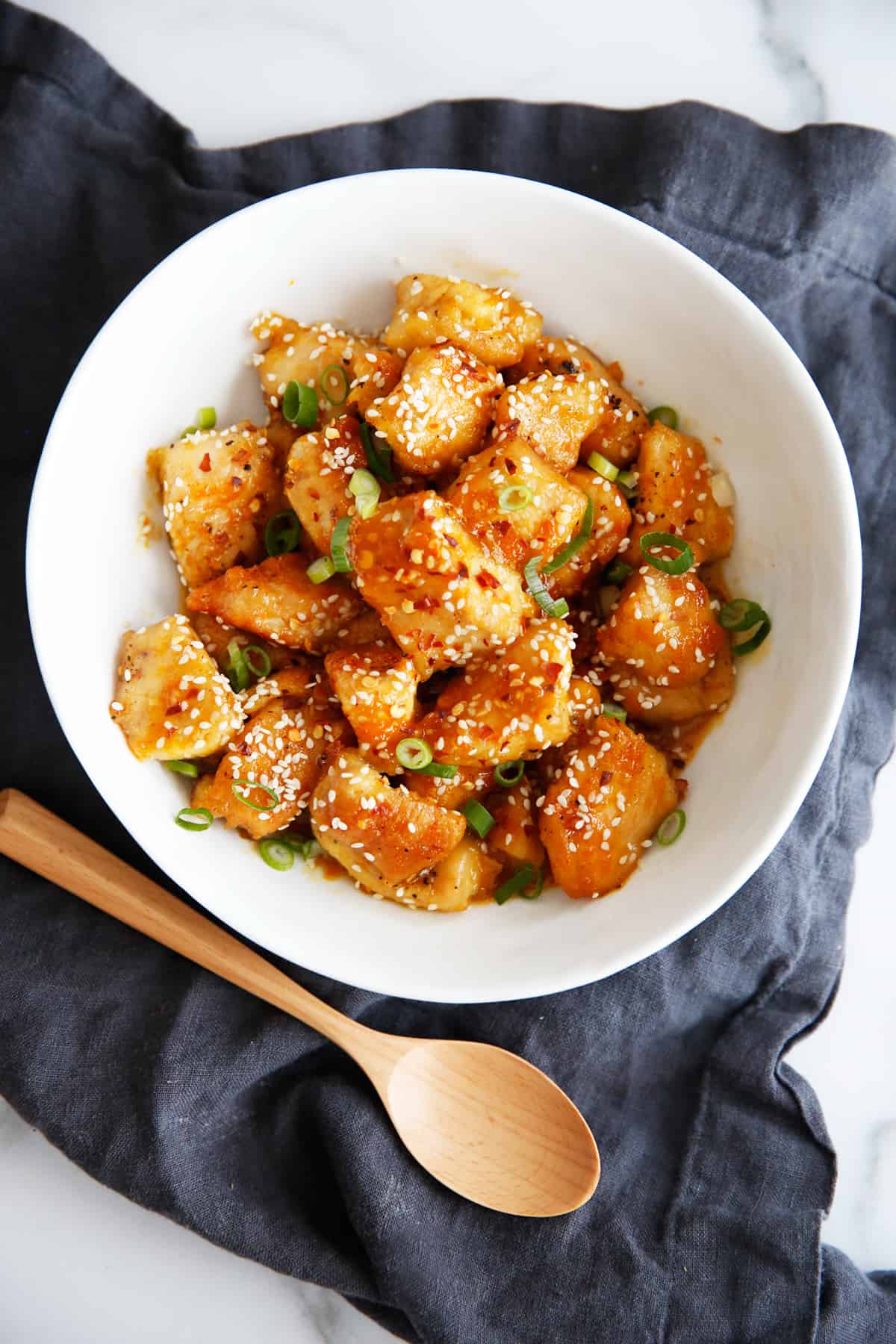 If you like this quick weeknight chicken dinner, check out these others:
Paleo Orange Chicken
With Korean fermented cabbage as its base, this Kimchi Fried Rice is a great weeknight dinner when you want to spice it up a bit. It's tangy and spicy and a great way to use up leftover rice or cauli-rice and veggies in your refrigerator. It is vegetarian, paleo friendly (with cauli-rice) and ready in under 30 minutes.
Kimchi Fried Rice
With the busy holiday season upon us we thought it was time to make a quick and easy weeknight dinner that is also SUPER DELICIOUS and fun. And we love a good fried rice here at LCK, and this Kimchi Fried Rice is no exception! I almost always have Kimchi hanging around in my fridge (it lasts nearly forever) which makes it the perfect base to add to a fried rice that uses primarily pantry items. It's super flavorful and we've included directions to make this with white rice or cauli-rice.
What is kimchi?
In short kimchi is fermented vegetables! It is native of Korean cuisine and can range from spicy to mild depending on what brand you are buying (or making, if you're feeling adventurous).  Aside from being delicious Kimchi is a nutrient dense food but probably what makes me most excited about it is the naturally occurring probiotic strains that occur during fermentation. This is a great food to eat if you're in the process of healing your gut or you want to have healthier digestive functions.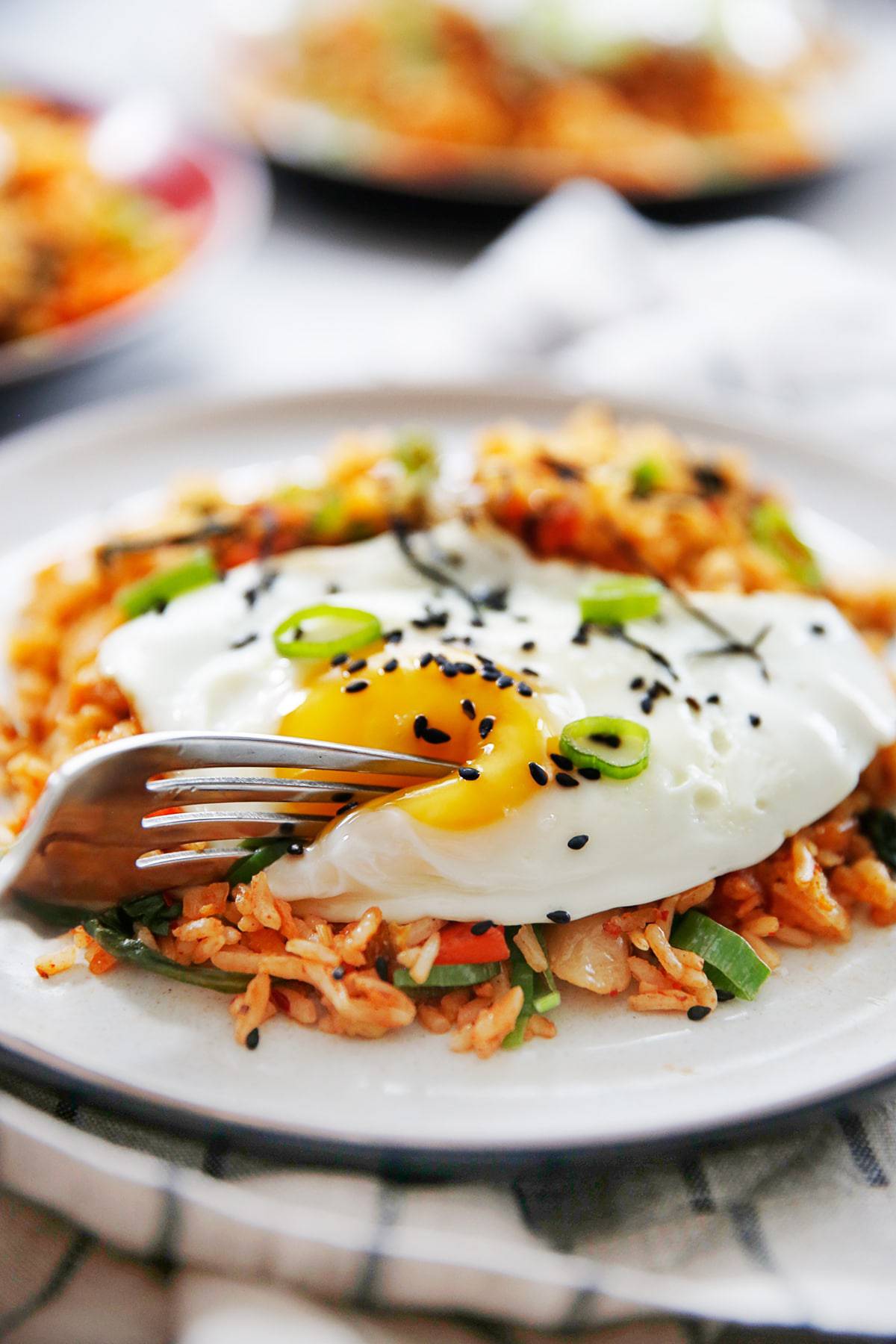 What type of kimchi should I buy?
A good kimchi will bring a balance of salty, sour and spicy flavor while holding a nice crunch to it. We're partial to kimchi made from cabbage, but really the most important thing is to buy a kimchi that has only natural ingredients added to it. In other words, if you can't pronounce or clearly recognize anything on the ingredients label, skip it!
Tips for making a good stir fry:
Fried rice is a stir fry using rice as the base instead of noodles. It's a simple dish to make, but the following tips will make sure that your fried rice will shine:
Make sure your pan is nice and hot! We like to use a cast iron skillet for this, which retains heat nicely! But if you have a wok feel free to use that.
Have all ingredients ready and prepped before you begin cooking!
Use a high heat oil, like avocado oil.
Always top it with a fried egg!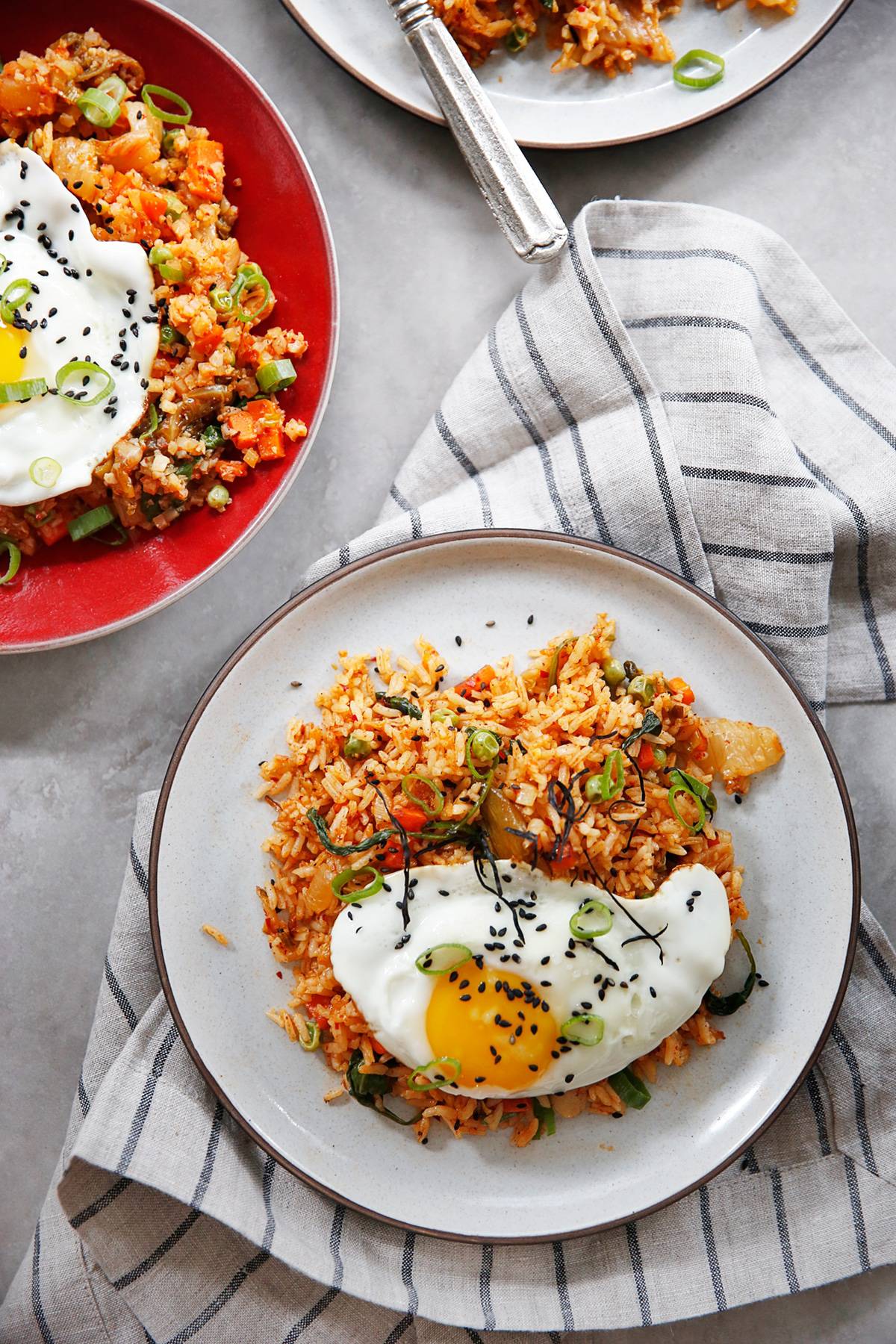 If you like this stir fry recipe, check out these others:
Kimchi Fried Rice (Cauliflower Rice or White Rice)
These Thai Turkey Burgers with Spicy Sriracha Slaw are our new favorite low carb and paleo-friendly dinner! You can grill them outside or inside on your grill pan, and then serve them as low carb thai turkey burger bowls, or as a lettuce wrapped burger! The spicy slaw is packed with veggies and mango for a sweet and spicy crunch! This dinner is a must-make!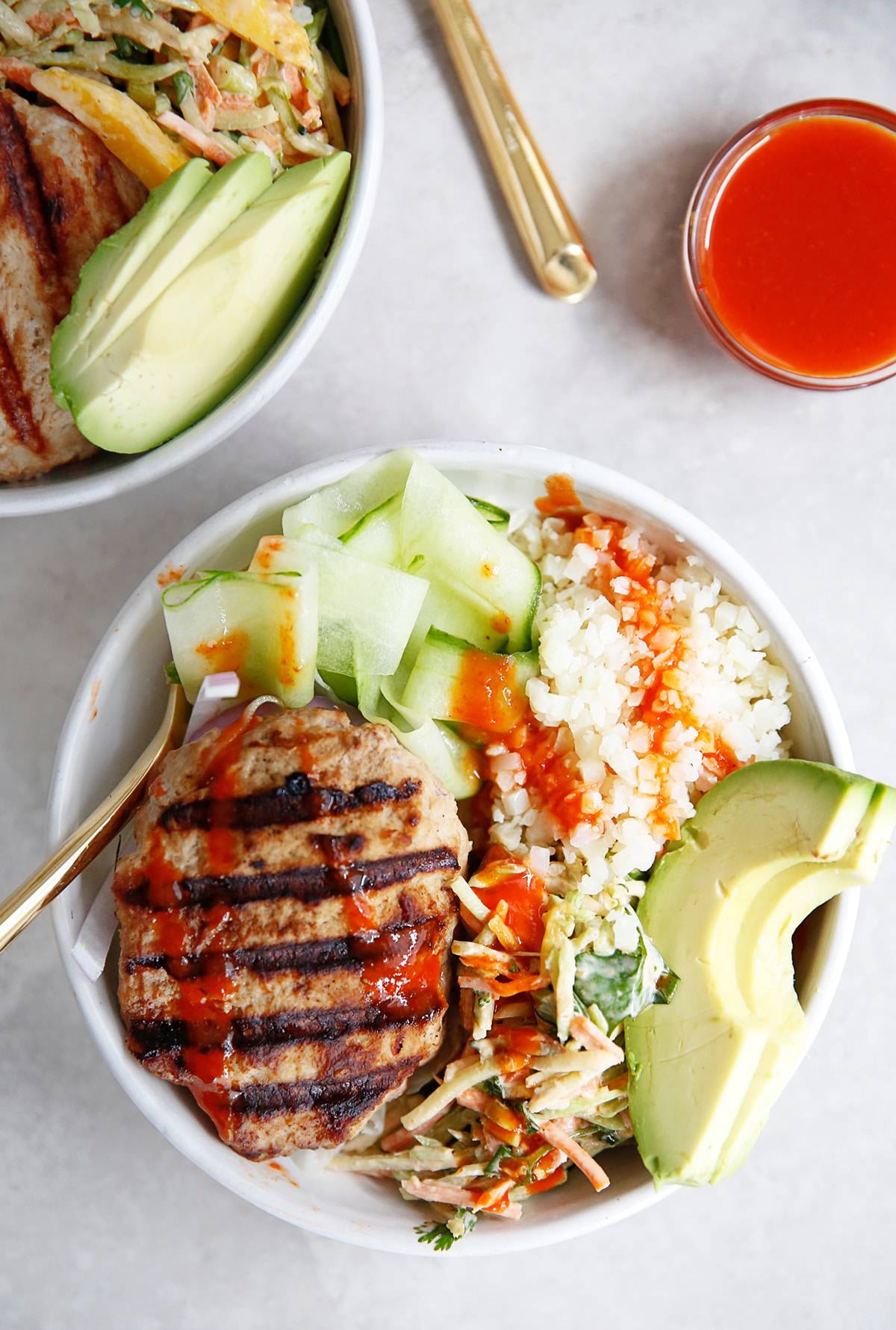 Thai Turkey Burgers with Spicy Sriracha Slaw
I am all about these thai turkey burgers right now! The dish takes a quick 30 minutes to put together but is full of exotic flavors to make a weeknight meal special. You can enjoy the last of the summer weather we are having and take this outside to prepare on the grill or savor this dish all year long and make on the grill pan inside. The burgers are flavorful and moist and a great low carb dinner!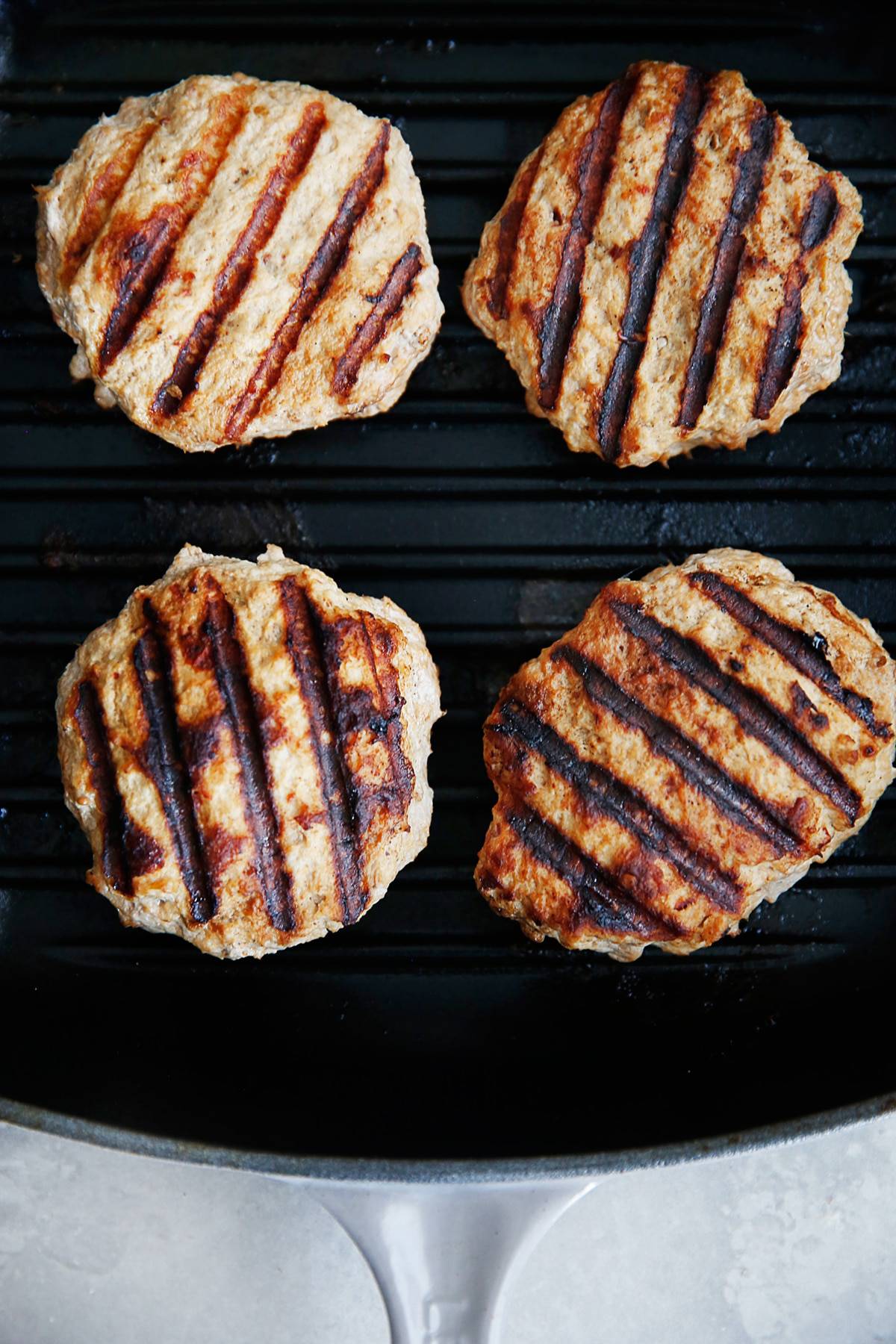 We wanted to keep the accompanying slaw simple so we prepared this using a pre-shredded broccoli and carrot slaw mix, but if you don't have this readily available go ahead and shred some using a food processor or a box grater. The mangos REALLY make this side dish stand out but just make sure to use a perfectly ripe one so it adds the right amount of sweetness.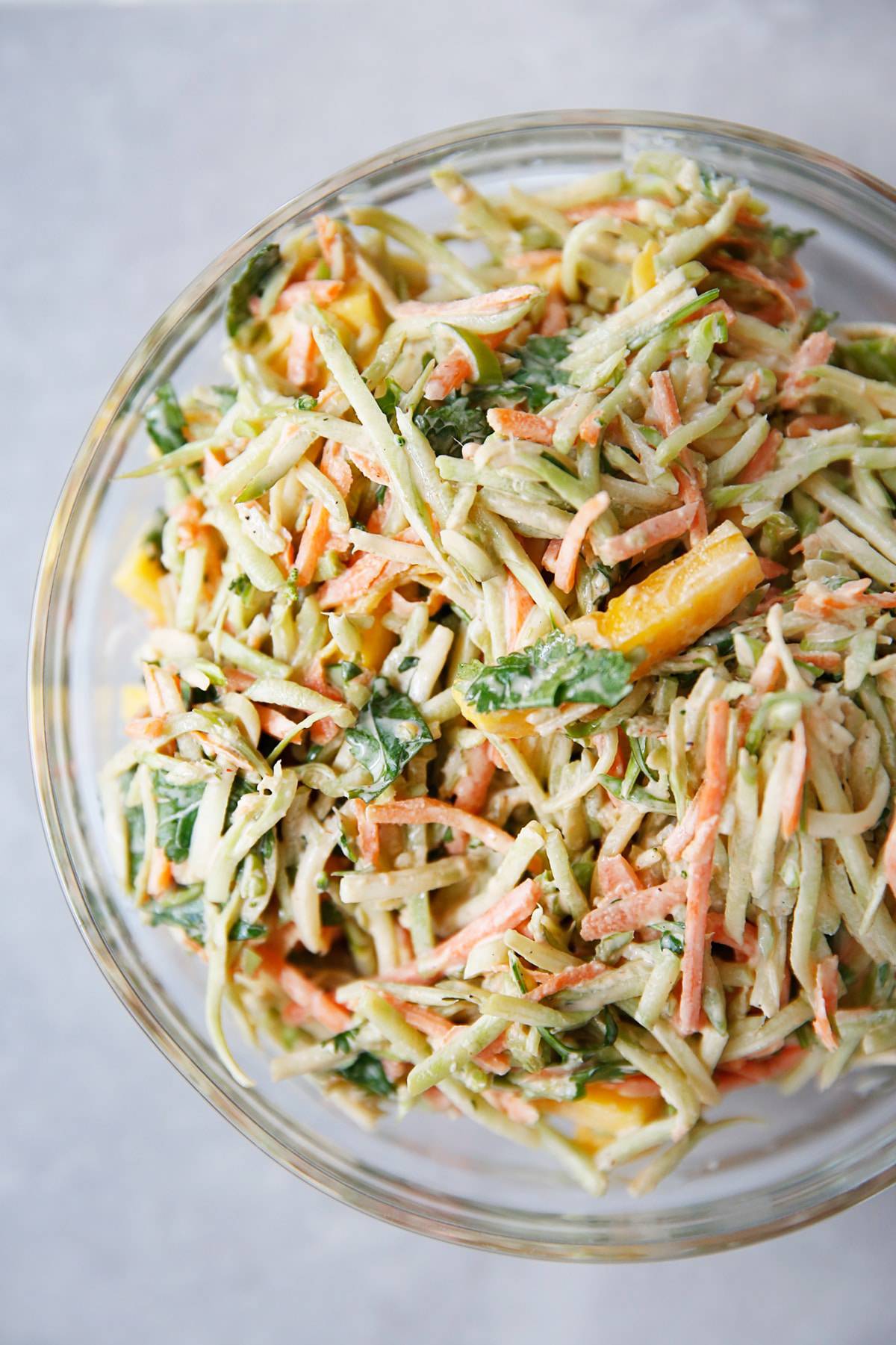 You can serve them as lettuce wrapped burgers for the perfect low carb dinner that satisfies!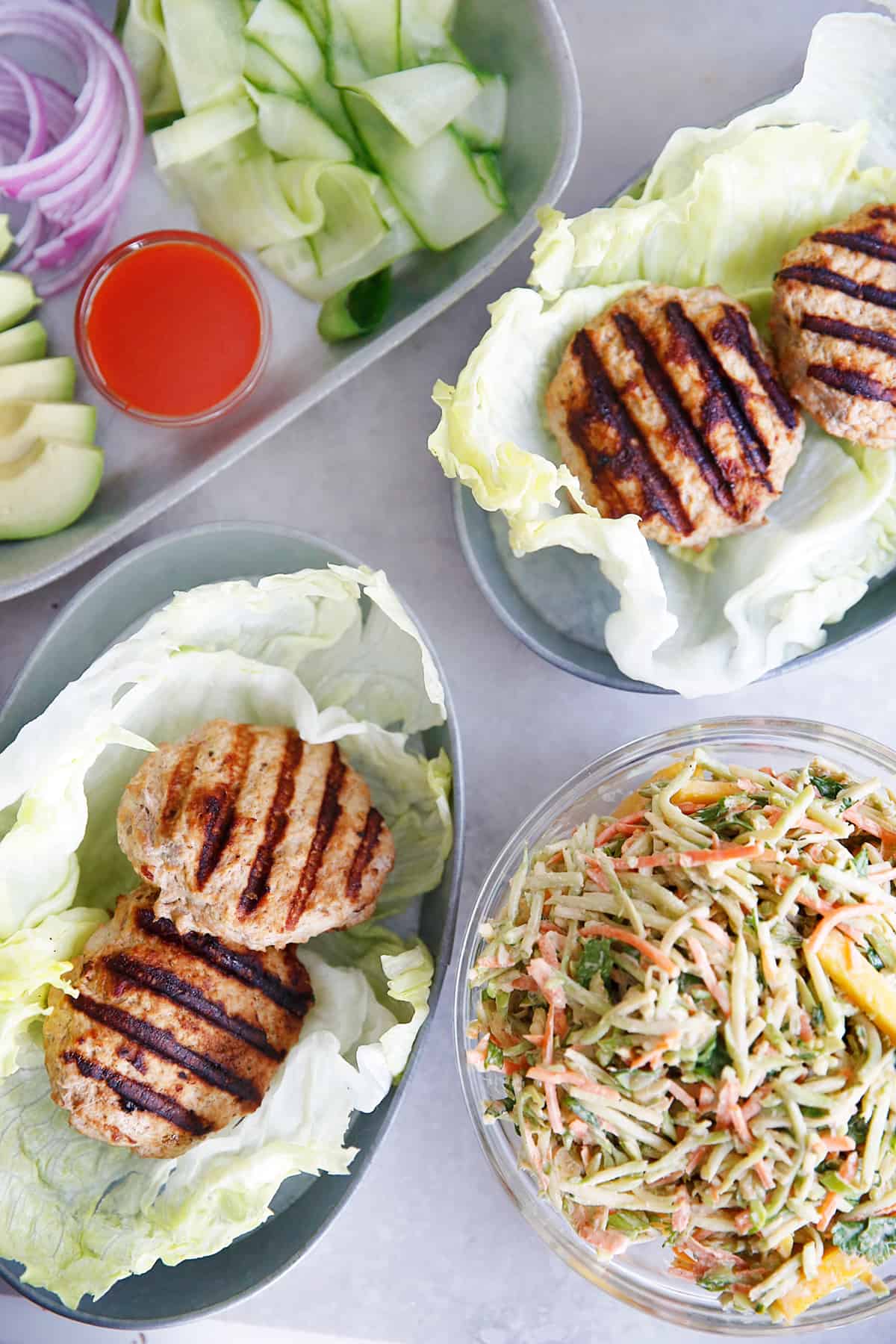 Or make it into a low carb burger bowl with the slaw, cauliflower rice, avocado, red onion, and ribboned cucumber drizzled with a little extra sriracha. PERFECT!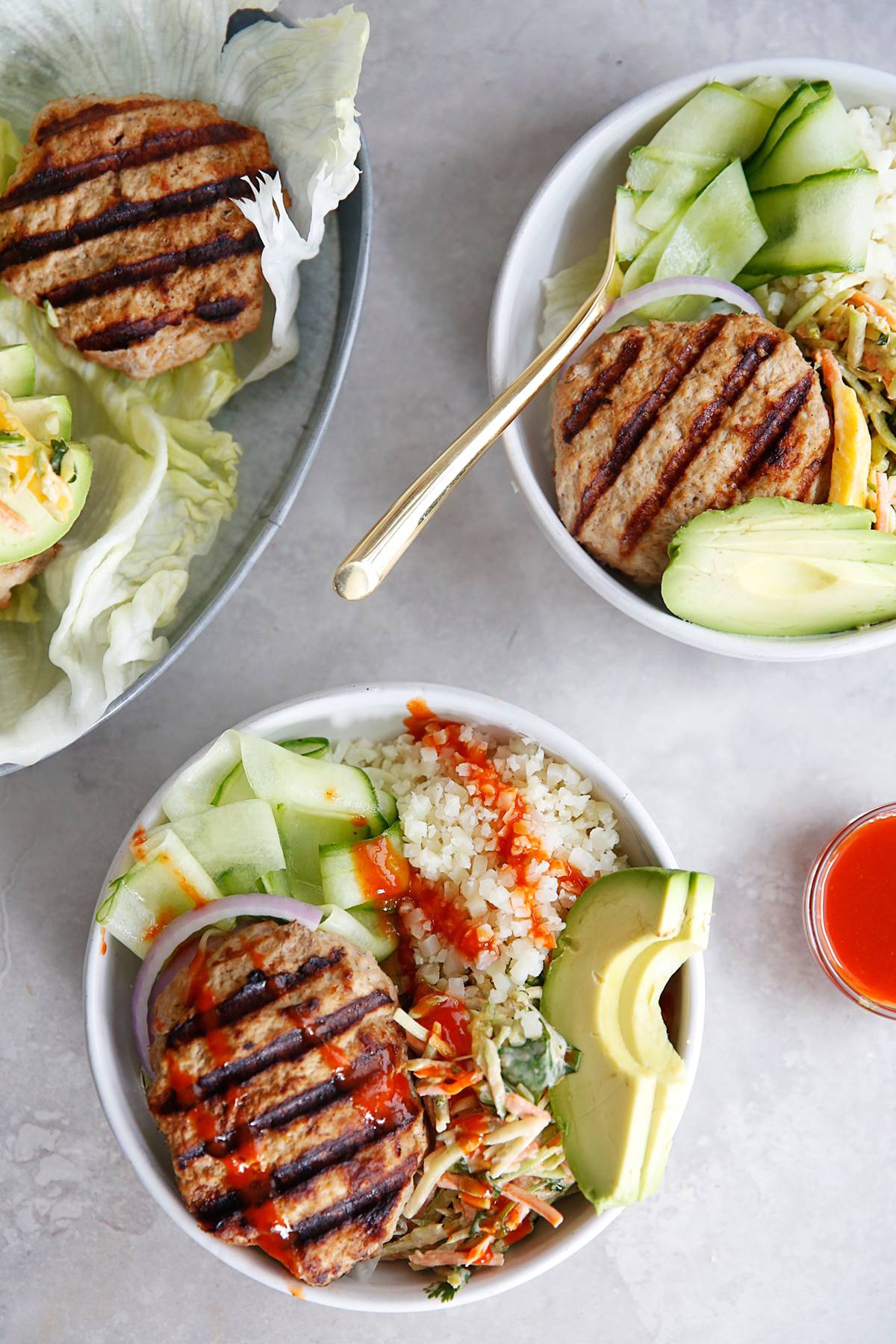 Want other burger recipes? Try these favorites:
Thai Turkey Burgers with Spicy Sriracha Slaw
These Greek Veggie Bowls with Greek Cauliflower Rice are a weeknight favorite of ours! Packed with veggies, fresh herbs, hummus, and so much flavor, these easy-to-prepare gluten-free bowls are a fabulous dinner or lunch, and perfect for meal prep!

I am loving all things Mediterranean, Greek, and Middle Eastern lately. If you tried my Mediterranean Fritters or Bowls, you know just where I'm coming from. The flavors are just so delightful, healthy, and fresh!  These Greek Veggie Bowls are simple and perfect for meal prepping or a quick meal any night of the week!

All those fresh herbs going into that cauli rice!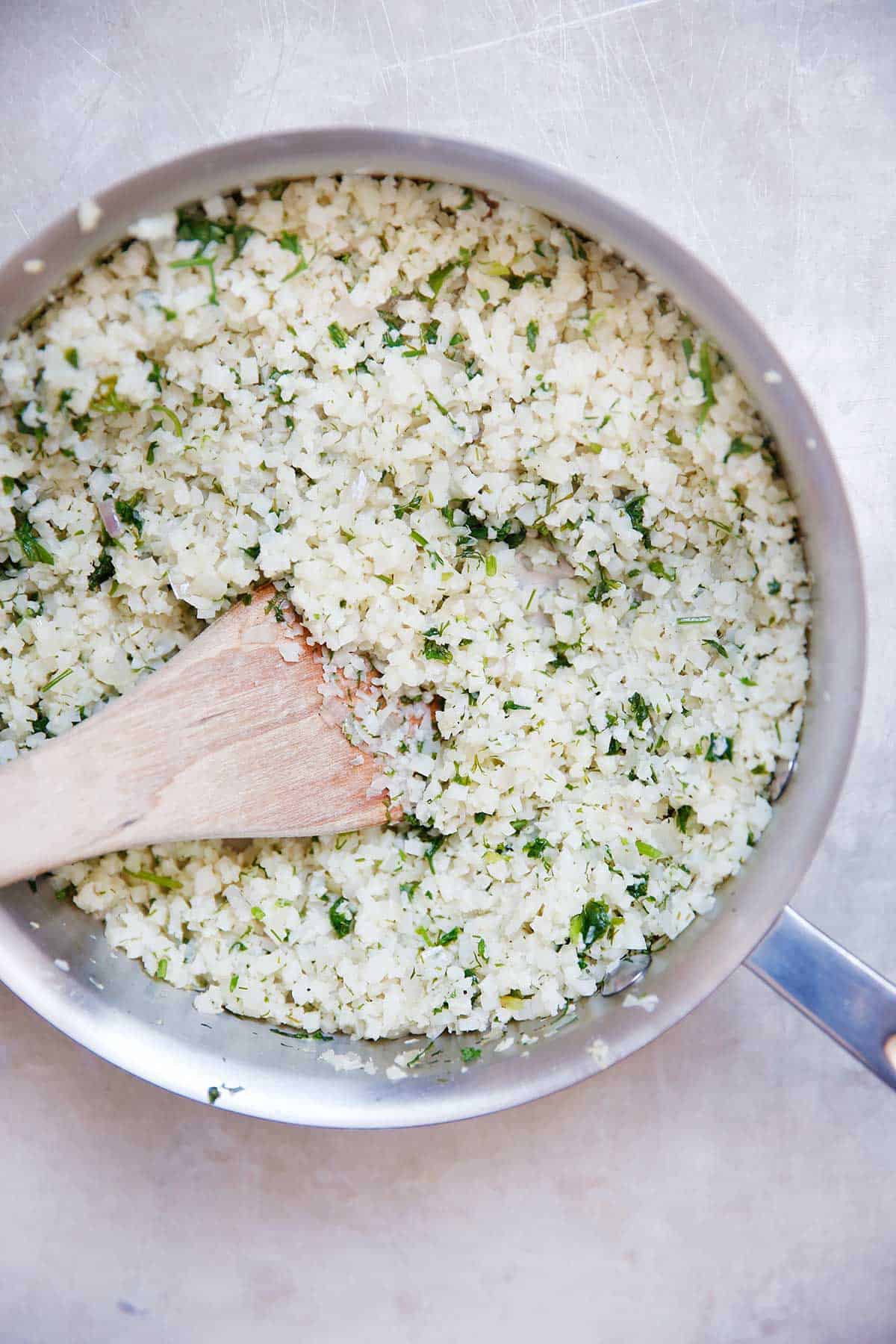 These bowls are loaded with:
Roasted or Grilled Veggies
Fresh herbs
Greek Cauliflower Rice
Hummus to top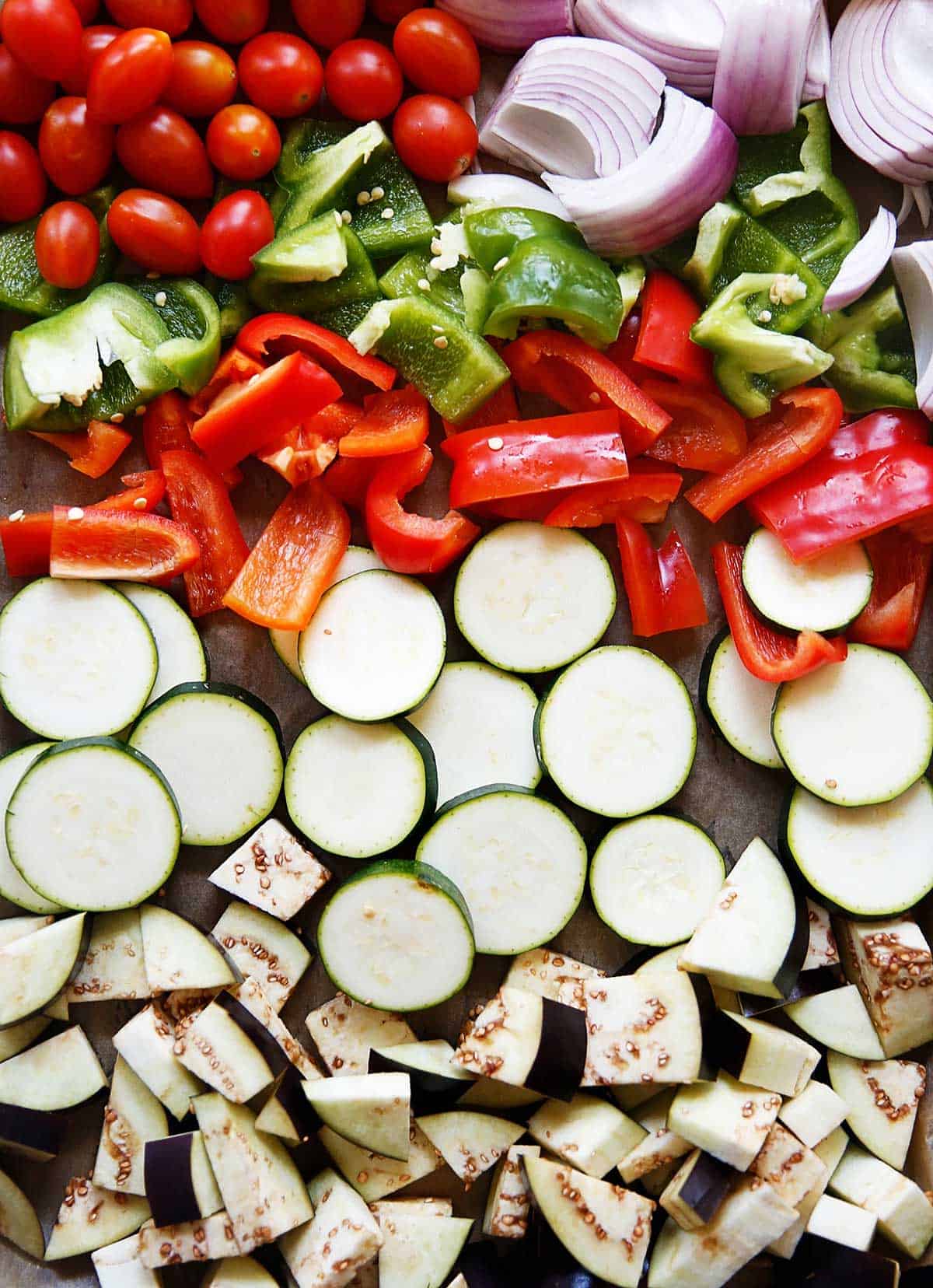 Roasted veggie time!