Baked Apple Pie Chia Pudding
This Apple Chia Seed Pudding is the perfect make-ahead breakfast! It is a delicious egg-free breakfast option that everybody will love, and the topping taste like a healthy apple pie filling! This seasonal breakfast is gluten-free, paleo and vegan.
Apple Chia Seed Pudding Breakfast
If you don't know what chia seed pudding is, you are definitely going to read this! Chia seed pudding is simply chia seeds that are thickened with a milk of choice until they've reached a pudding like consistency. It's an easy and healthy breakfast option that is simple to make. I love chia seeds because of their nutritional value, and I really enjoy the texture. So it's a no brainer to use them to make Apple Chia Seed Pudding. And now that Fall is in the air (and the farm is stocking up with my favorite Fall produce), I wanted to mix in something warm, like warm apple pie filling infused with just the right amount of cinnamon. You with me on this one? Packed with nutrients, delicious, and filling.
Apple Chia Seed Pudding Ingredients
Chia seeds
Almond milk
Apples
Honey or Maple Syrup
Cinnamon
Raisins
Are chia seeds paleo and healthy?
Yes! Chia seeds are a Paleo-friendly and nutrient-dense. They're easy to digest and can even aid in digestion by helping this move along! They are also contain omega-3's which means they're not only good for your body but also good for your brain!
Benefits of Chia Seeds:
Loaded with iron, calcium, omega 3′s, magnesium, and antioxidants
Mineral powerhouse
Natural detoxifier
Improves health of hair, skin, and nails
2 tbsp chia seeds (above serving) contains 11g fiber and 4g protein
How long will this apple chia pudding last?
Chia pudding will last for a few days in the refrigerator, up to about 5. It's preferable to store the apple filling separate from the chia seed pudding, but it will still hold up alright if you'd like to completely make this ahead of time.
The recipe can easily be halved, double or tripled for an easy grab and go breakfast or healthy snack.
If you like this healthy make-ahead breakfast, check out these others:
[yumprint-recipe id='43']
Baked Apple Pie Chia Pudding
This Lemon Curd and Blueberry Compote Breakfast Parfait is a fabulous on-the-go breakfast option! It has all of my favorite flavors and textures in one hearty breakfast parfait!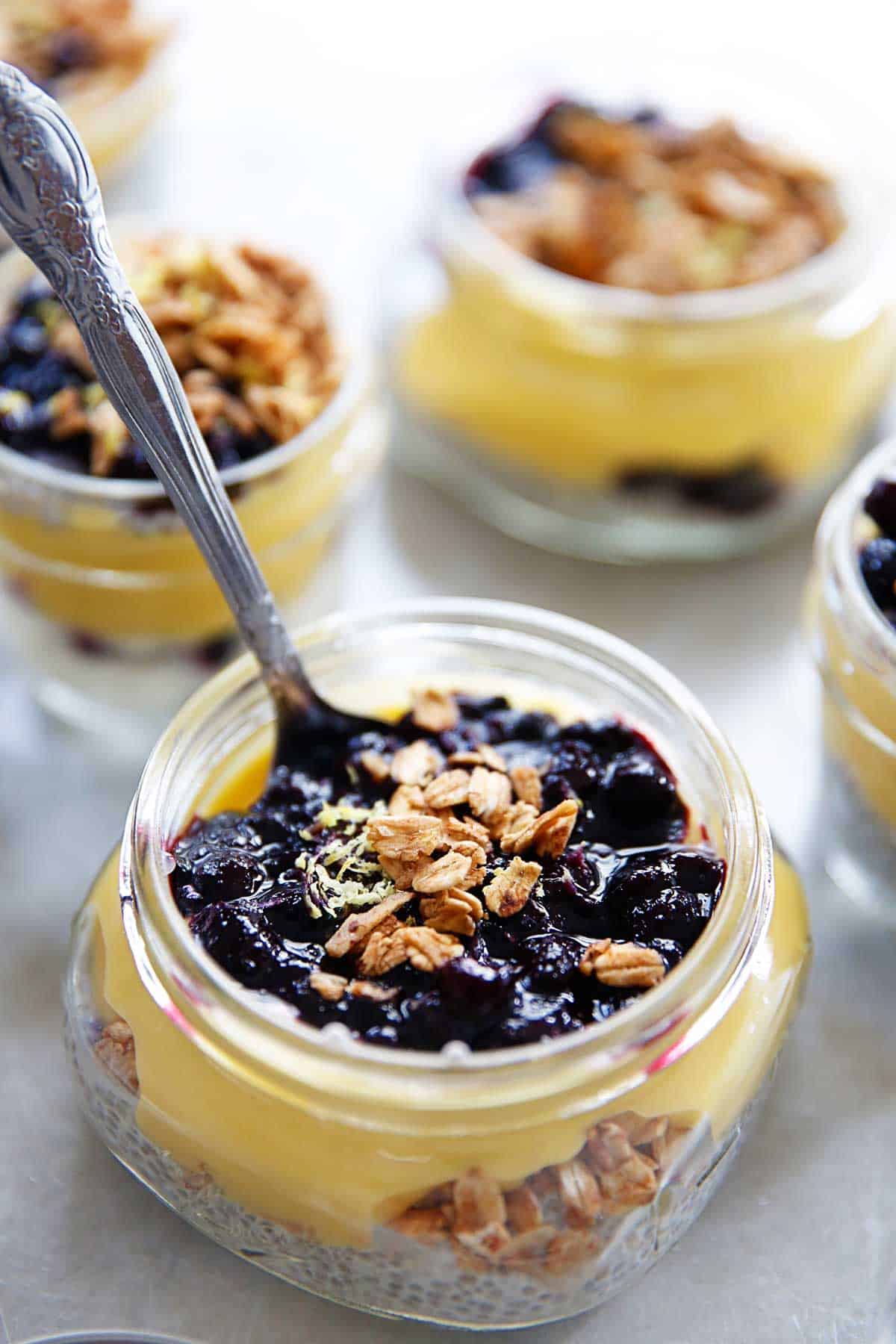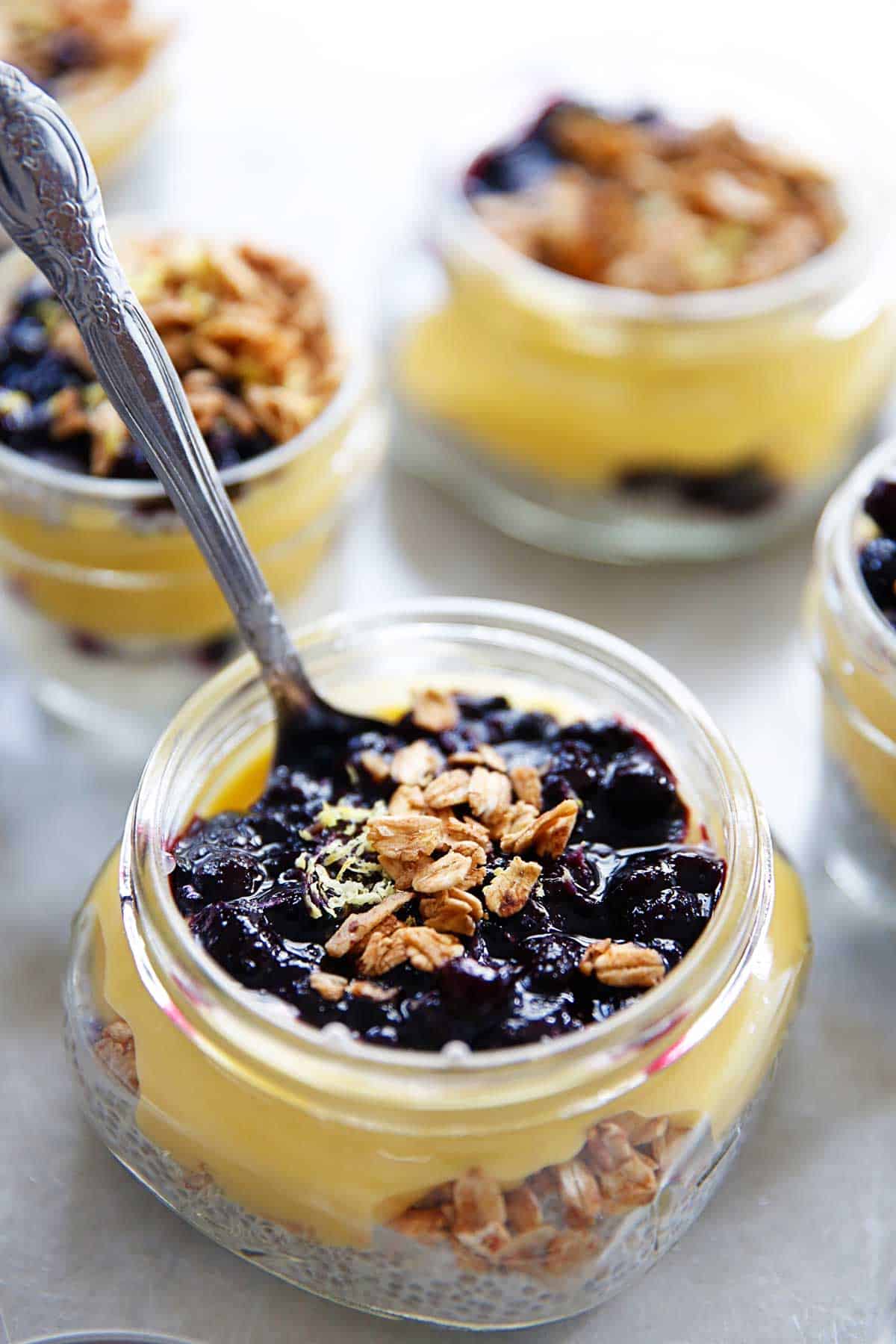 Creamy lemon curd, sweetened-just-right blueberry compote, nutritious chia pudding, and crunchy granola! Made in partnership with Wyman's Wild Blueberries.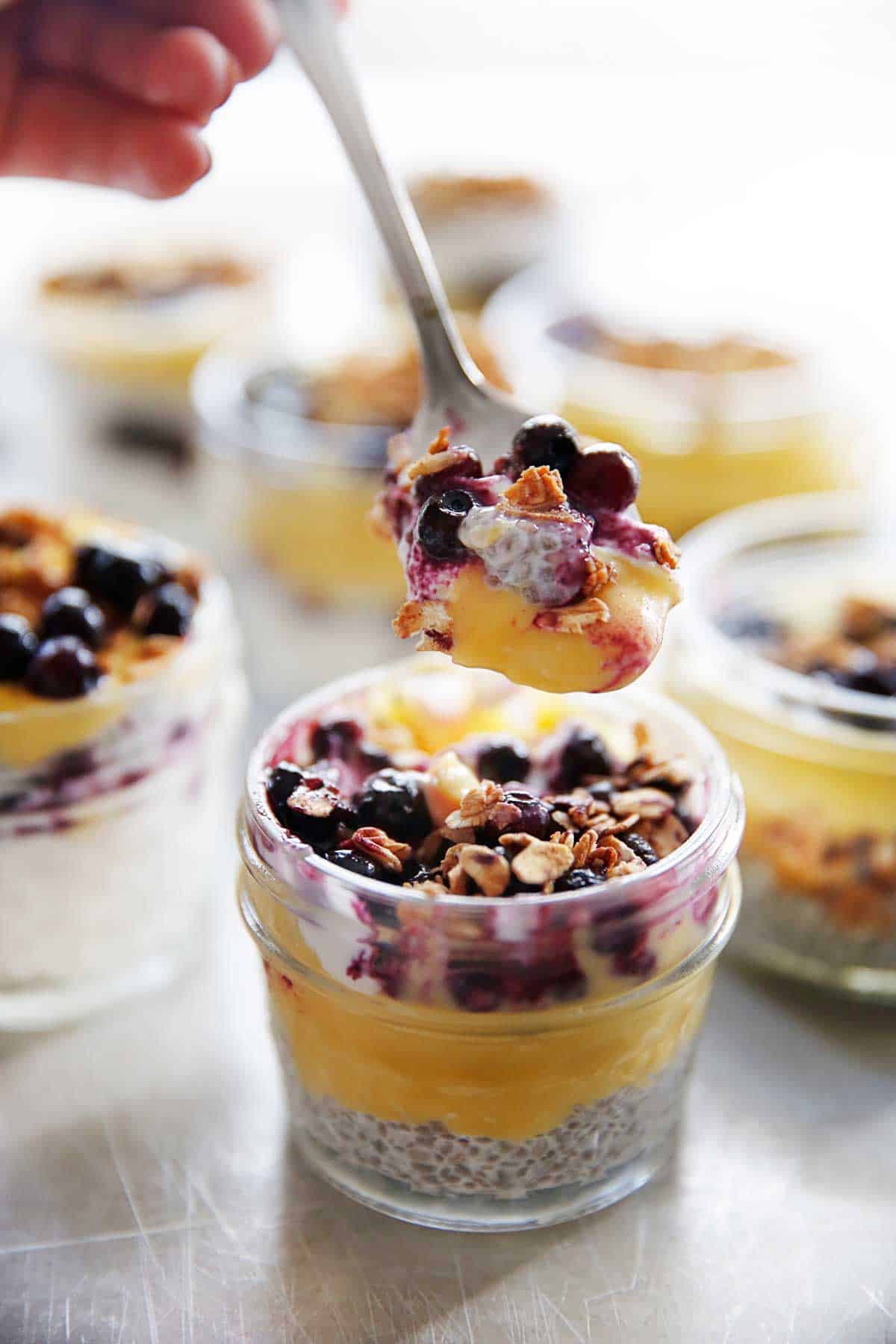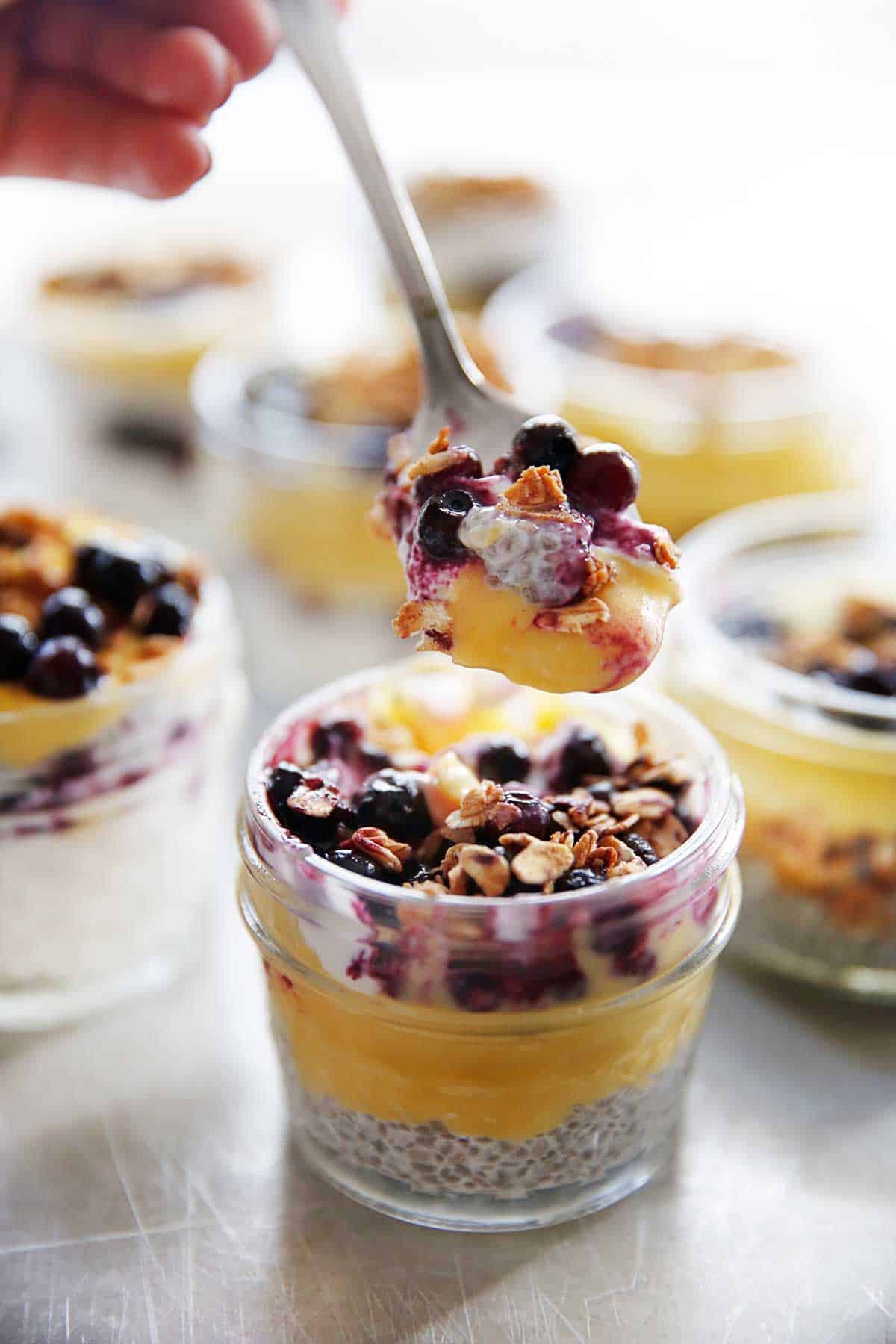 I am so excited to partner with my friends at Wyman's today to bring you this nutritious and delicious breakfast option! Wild blueberries are smaller and have more antioxidants than domesticated blueberries, and 2x the antioxidant power! Wyman's prides itself on harvesting wild blueberries, which are picked fresh and immediately frozen to maximize health benefits to consumers.
Wyman's Wild Blueberries have no added sugars, preservatives, sodium, or starches and since they are smaller and more compact, you get more wild blueberries per pound!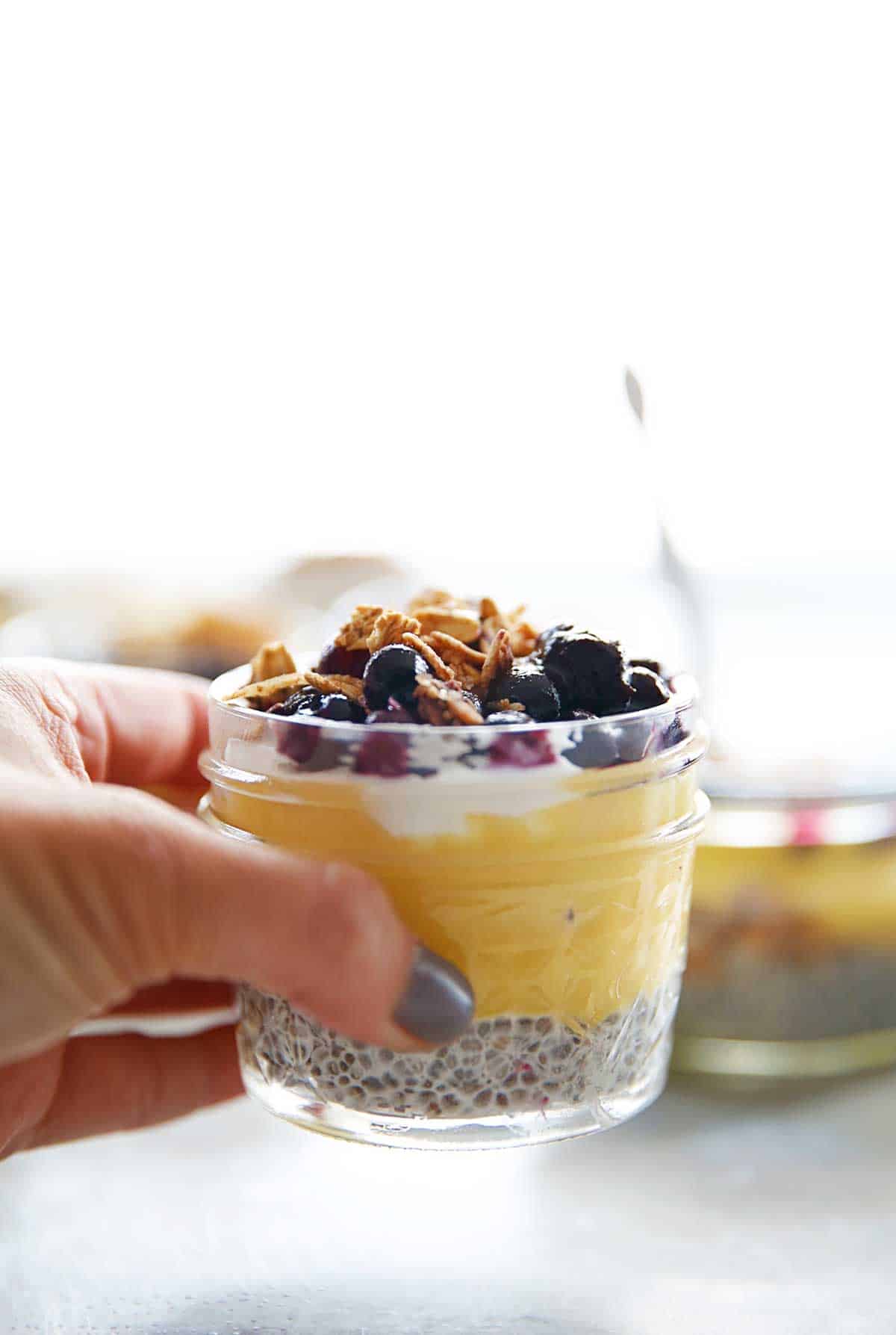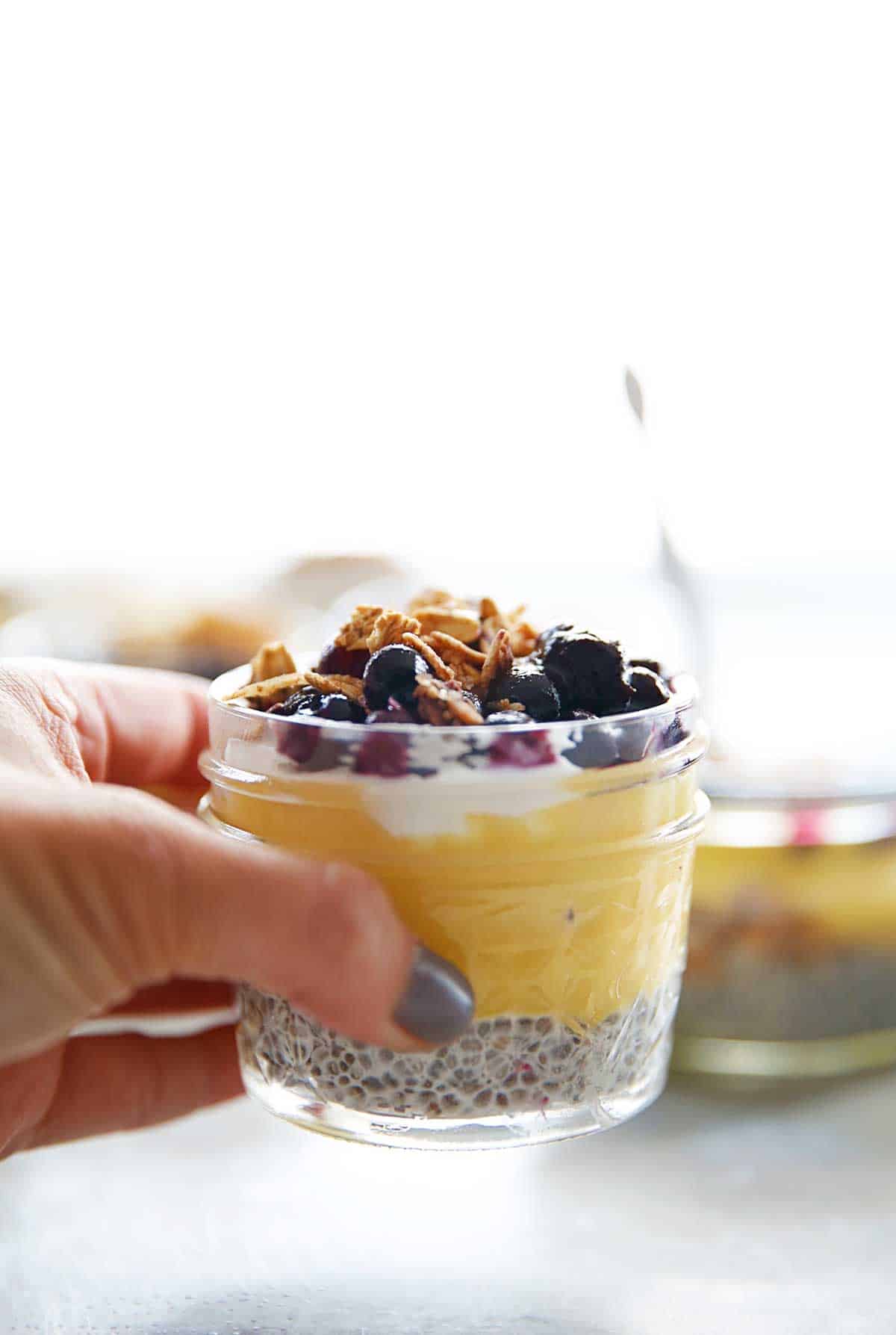 Tart lemon, sweet blueberries, creamy chia pudding, and optional Greek yogurt = the perfect protein-packed breakfast for any day of the week!
Lemon Curd and Blueberry Compote Breakfast Parfaits
---
---
Ingredients
Blueberry Compote
3 cups Wyman's Frozen Wild Blueberries
1 tablespoon plus 1 teaspoon honey
1 tablespoon lemon juice
Chia Pudding
1 cup unsweetened cashew milk, or any nut milk of choice
1/4 cup chia seeds
Optional: 2 teaspoons honey
1 batch gluten-free granola
Other Ingredients
2 teaspoons lemon zest for garnish
1/2 cup Wyman's blueberries
Optional: 2 cups plain Greek yogurt
Directions
Heat all blueberry compote ingredients in a small saucepan over medium-low heat. Let simmer for 10-15 minutes until most of the liquid has evaporated. Taste and adjust lemon and sweetener as desired. Once done, take off heat and let cool before pouring into a small mixing bowl.
Divide the lemon curd, blueberry compote, chia pudding and Greek yogurt (if using!) among 8 4-ounce containers or 4 8-ounce containers. Top with granola and lemon zest and either eat right away or store in the fridge for later!
Recipe Notes
*Save the rest of the lemon curd for more delicious treats! We love using it in our lemon bars, top it with whipped coconut cream and berries for a fun no-bake treat, or even as a topping on our favorite Fluffy Paleo Pancakes!
*This should keep refrigerated for 1-2 weeks!
---
Nutrition
Loading nutrition data...


This post is sponsored by Wyman's of Maine. All opinions are always, 100% my own!
Lemon Curd and Blueberry Compote Breakfast Parfaits
This Bananas Foster Chia Pudding is the perfect make-ahead chia seed pudding recipe! It is a delicious egg-free breakfast option that everybody will love, and the Bananas Foster topping is one of my all-time favorites!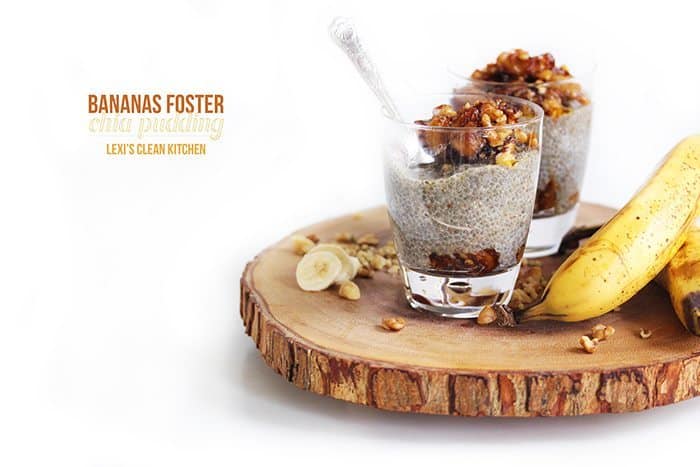 Bananas Foster Chia Pudding
Life sometimes gets busy. Right now, life for me is super super busy. Have you noticed I've been blogging less the past few weeks? Don't worry, it's about to pick back up! I'm finishing up the school year with my students, then off to embark on my new journey (you can read about that here). So, with the twenty million tasks I've set for myself in these busy few weeks, I've also set myself on a mission to make some delicious nutrient-packed snacks and breakfasts that have a fun twist to them
Now, I'm currently all about exploring egg-free breakfasts. Not because I'm not eating eggs, but because sometimes you just want to switch things up a bit!
This chia pudding is packed with omegas, nutrients, and potassium, while also throwing in the delicious flavors of decadent bananas foster. I seriously love bananas foster. All this is missing is the vanilla ice cream, but I promise you won't miss it! When we were in Jamaica one of the desserts was a bananas foster bar which sparked my current obsession. It's just so good!
Chia Seed Pudding Recipe
It's as simple as throw it in a jar and leave it overnight. Then boom! It's ready to devour. Love me some simple, healthy, and quick snacks!
How to make chia pudding

Watch the video:


[yumprint-recipe id='282′]

This is a sponsored post on behalf of Pacific Foods. All opinions on Lexi's Clean Kitchen are always my own. My sponsors help make LCK possible!
Have you tried chia pudding? What flavor combination would you like to see next?