Loaded Paleo Breakfast Hash
This Loaded Paleo Breakfast Hash is such a delicious hash for weekend BRUNCH or when you are craving breakfast for dinner! The spicy chicken sausage and bacon pair so perfectly with the sweet potato, onions, and peppers. It can be eaten as is for a veggie and protein filled breakfast, or topped with an egg!
Loaded Paleo Breakfast Hash
Normally when preparing sweet potatoes for breakfast I make these Roasted Cinnamon Sweet Potato Home Fries. But today, seeing as it was a 'breakfast for dinner' kind of night, I decided to be adventurous. I loaded up my skillet and cooked up a hash that was a huge hit. This loaded hash with eggs and hot sauce… I think I could be in heaven!
Ingredients Needed:
Olive oil
Garlic
Sweet Potato
Red Pepper
Green Pepper
Onion
Tomato
Chicken sausages
Bacon
Salt and pepper
Baby spinach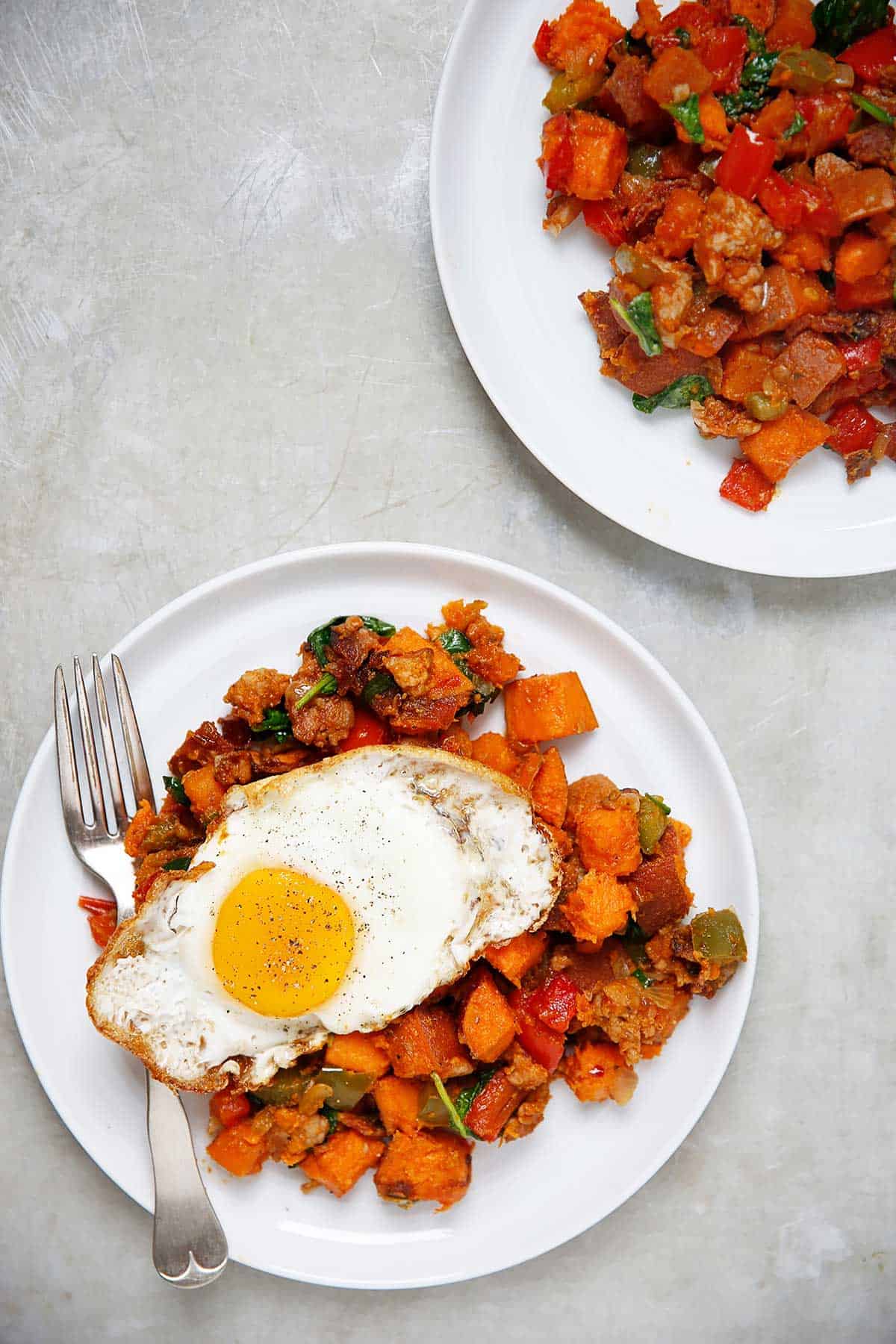 This would also be a great make ahead breakfast idea that you can prep ahead of time on a Sunday and enjoy the next three mornings, with or without eggs! It's great because it's packed with veggies, protein and fat and will keep you satisfied for the whole morning!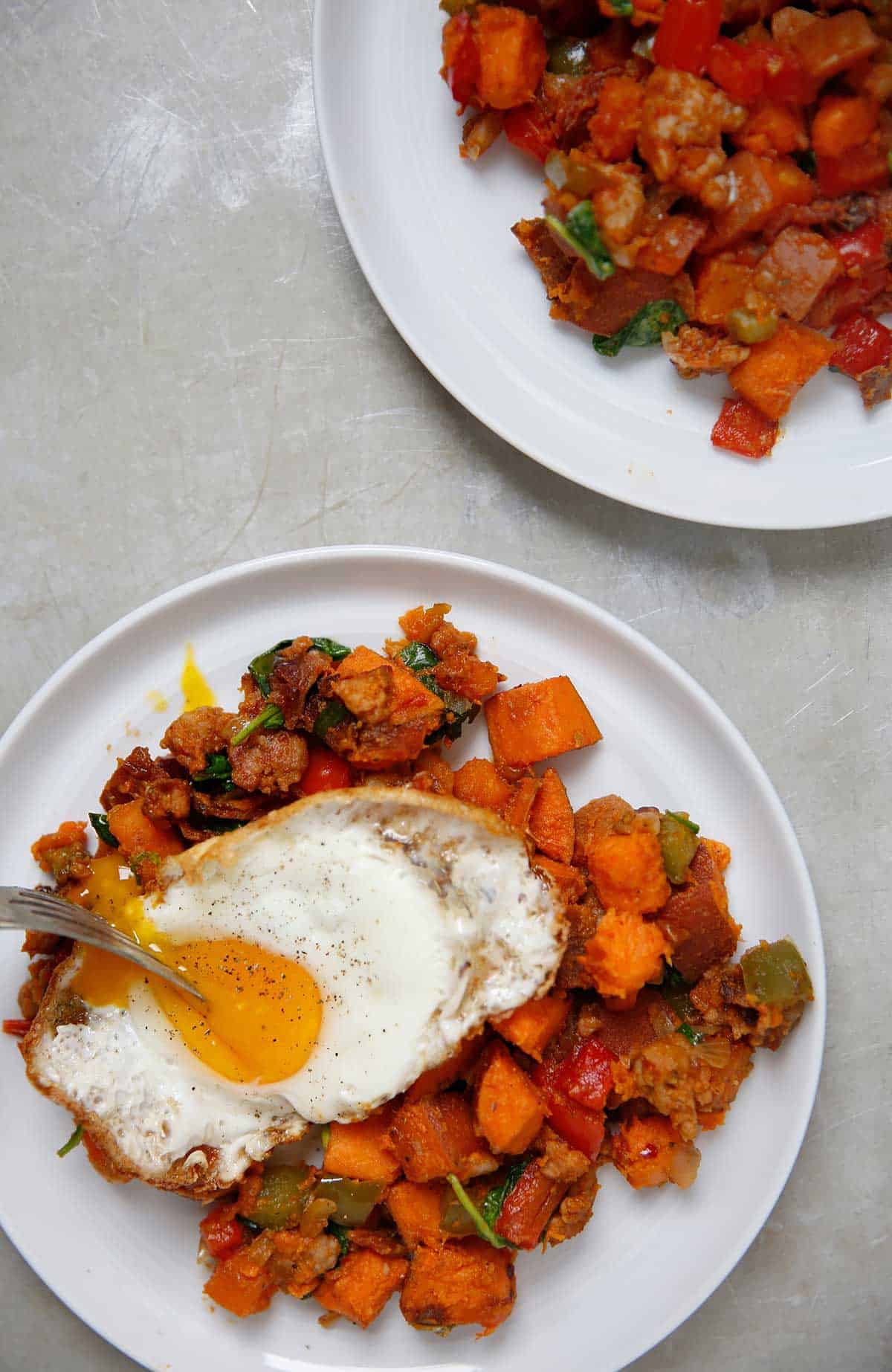 If you like this Sweet Potato Hash Paleo recipe, check out these others:
Loaded Paleo Breakfast Hash
---
---
Ingredients
1 1/2 teaspoons extra-virgin olive oil (or oil of choice)
2 cloves garlic, minced
1 large sweet potato, diced
1 red pepper, diced
1 green pepper, diced
1 cup fresh organic spinach
1 tomato, finely chopped
Optional: 2 organic chicken sausages, pre-cooked and sliced
1/4 teaspoon sea salt, more to taste
1/4 teaspoon black pepper, more to taste
Directions
In a large skillet, sauté oil and garlic over medium heat for 1 minute.
Add in sweet potato and cook for 5 minutes, or until the potato starts to soften.
Add in peppers, onion, and tomato and cook for an additional 10-15 minutes, stirring often. If you want to reduce the cooking time, cover the pan at this stage until the sweet potato is fork tender.
Mix in fresh spinach, and cook for an additional 2-3 minutes, or until the spinach has wilted.
Taste and adjust seasoning as desired. Remove from heat and serve hot.
Optional: Top with fresh organic over easy eggs
Recipe Notes
*To get your eggs perfect, cook them slow over medium/low heat with the pan covered.
*Photos updated April, 2016.
---
Nutrition
Loading nutrition data...
Loaded Paleo Breakfast Hash
This Sausage and Vegetable Pasta is my go-to gluten-free dish for a quick weeknight meal or for entertaining. It's delicious, serves a crowd, is easy to prepare, and is made using only ONE POT!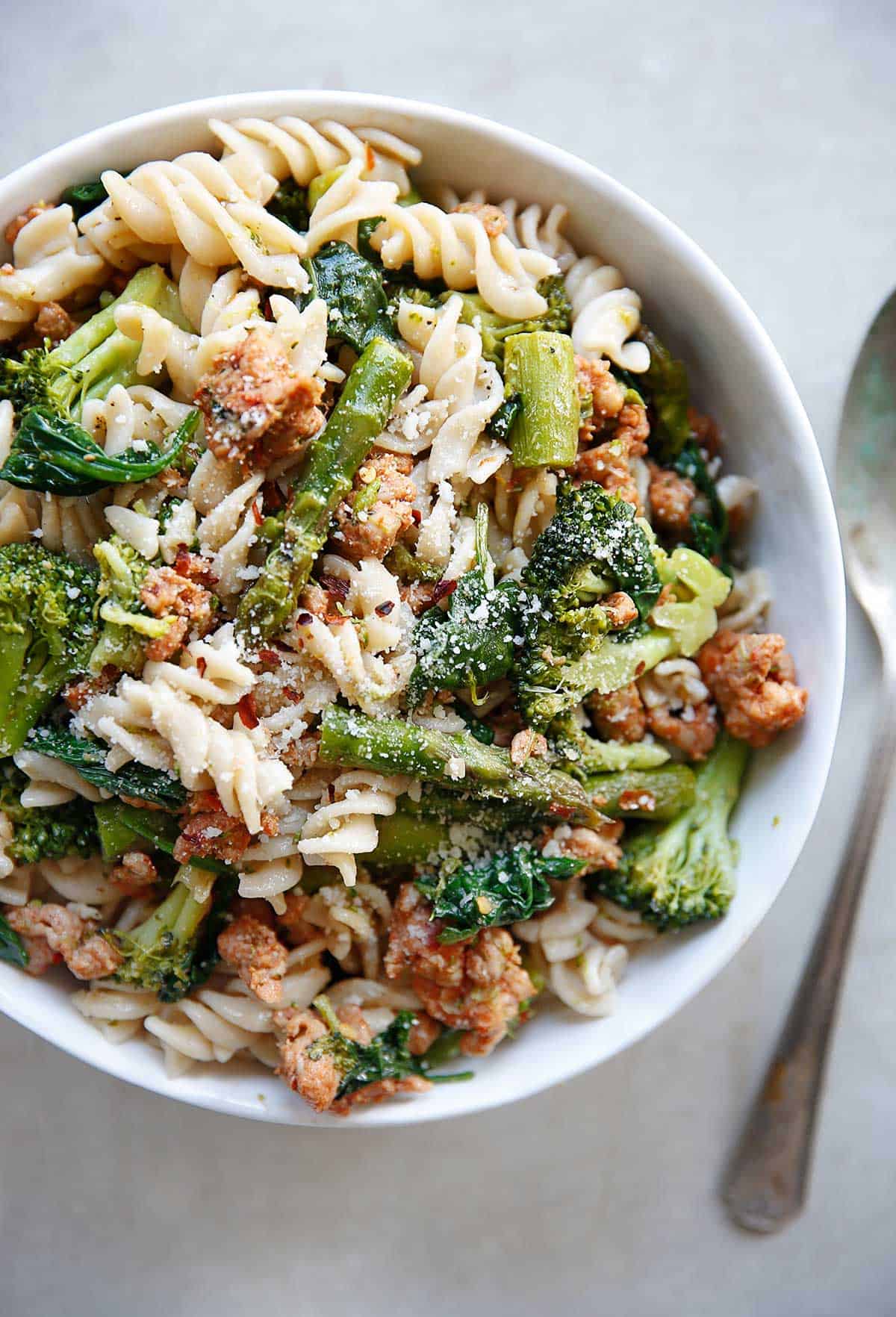 Sausage and Spring Vegetable Pasta
My blogging girlies and I are excited for SPRING, so we've teamed up to bring you five recipes packed with our favorite Spring produce. You have carrots, potatoes, leeks, broccoli, asparagus, spinach, strawberries, peas, and radishes!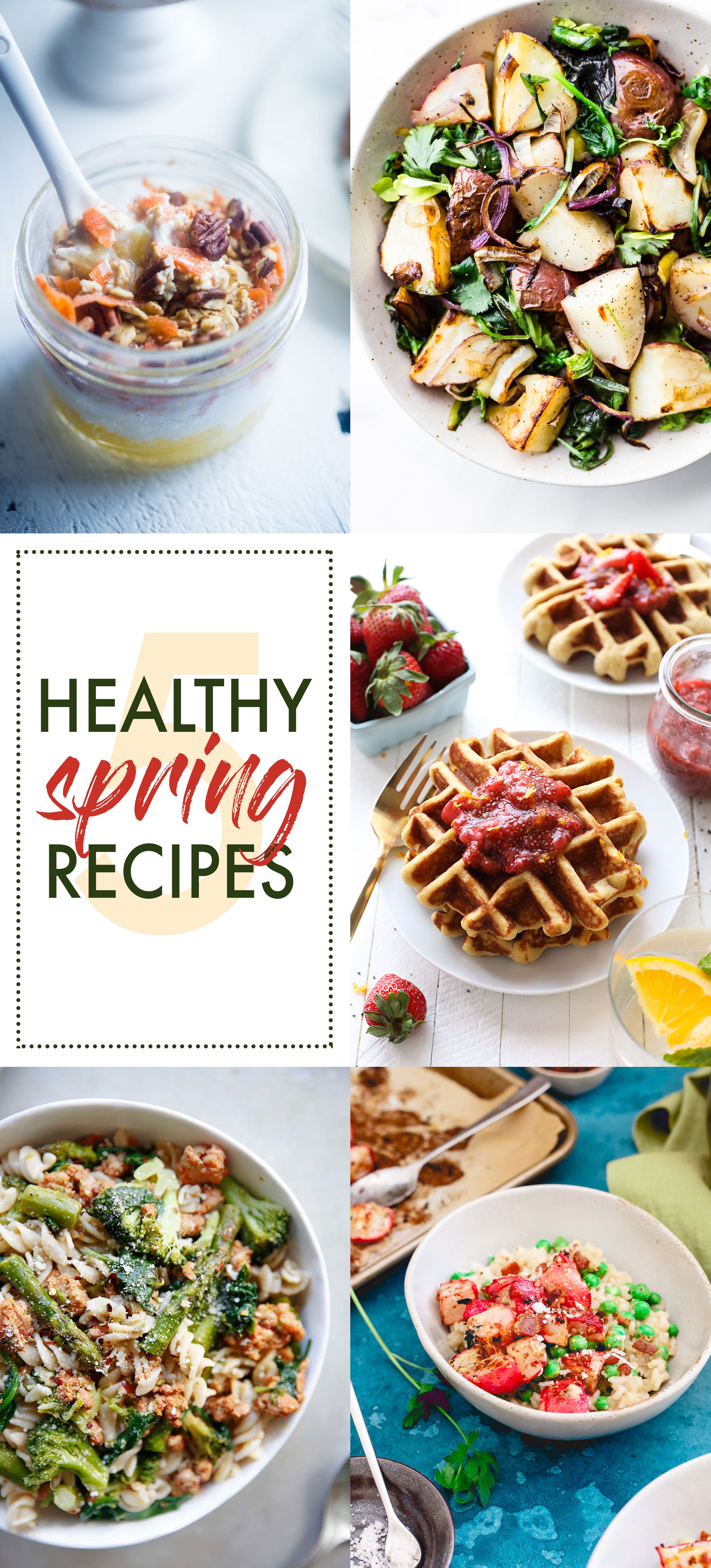 Now, this pasta!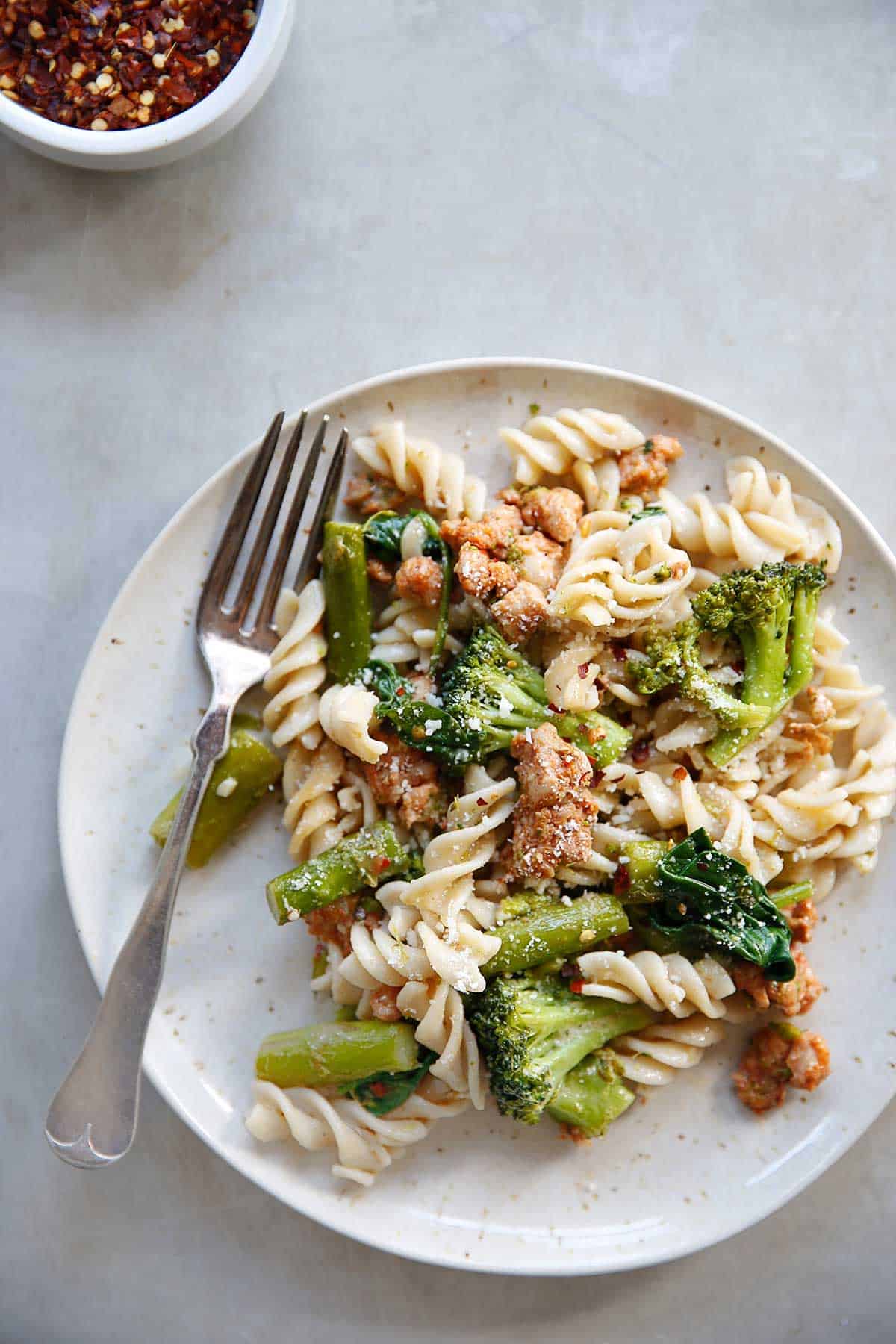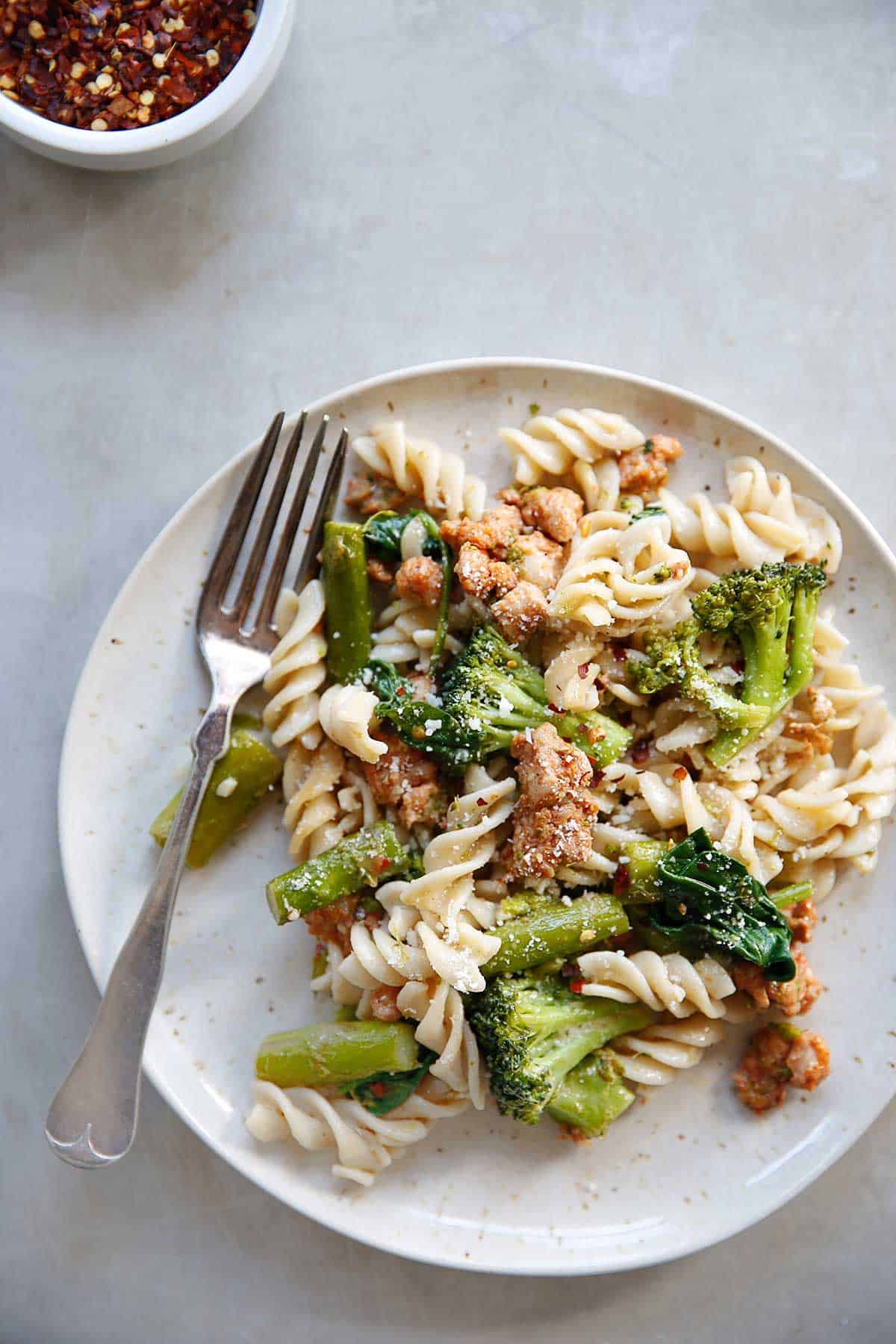 I always make this dish when entertaining. Super Bowl, a dinner party, or just having friends or family over. It's always a hit, and super easy to prepare!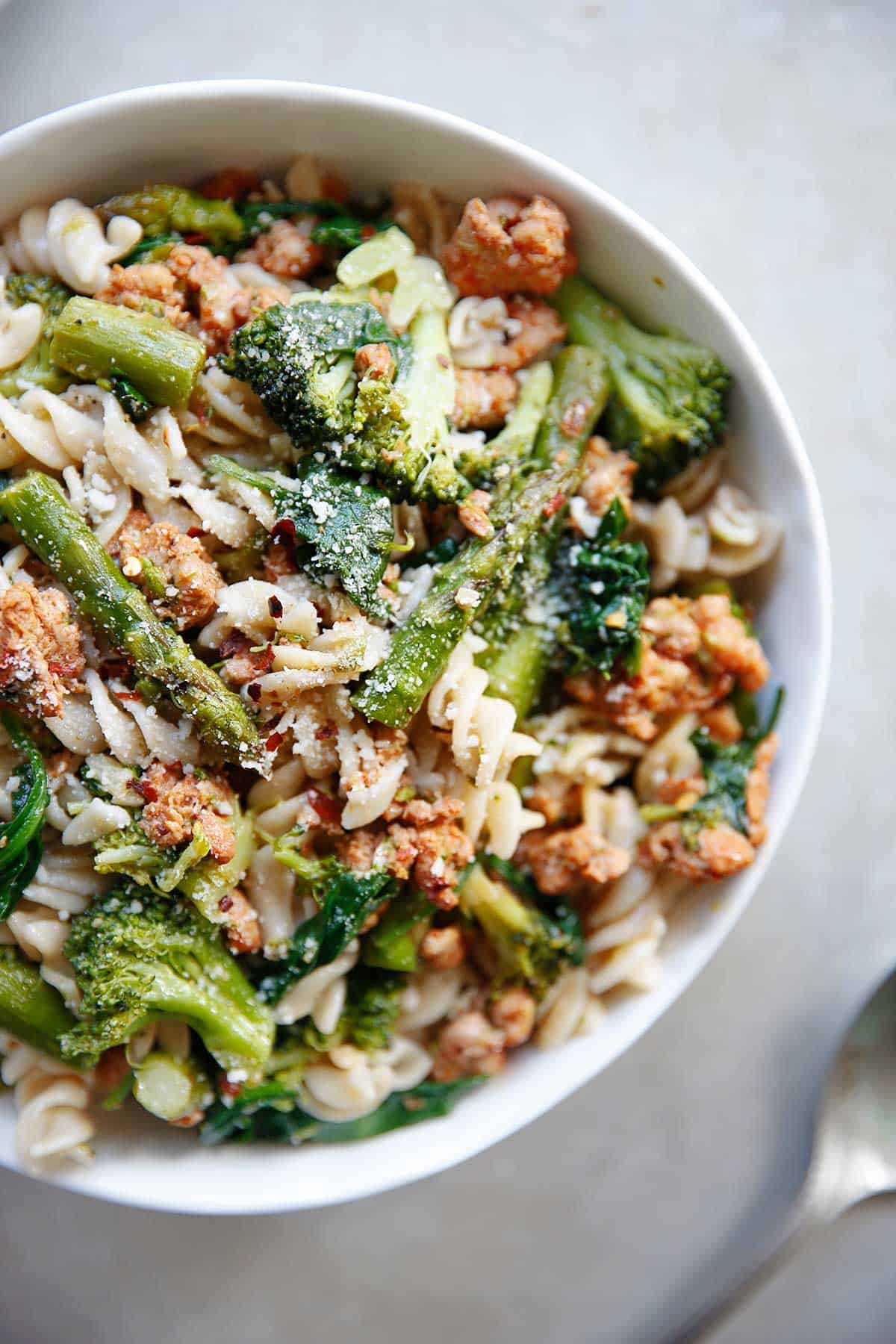 Watch the video:
Want more gluten-free pasta recipes? Try these favorites:
Sausage and Spring Vegetable Pasta
---
---
Directions
In a large pot, make pasta as directed on the box/bag of pasta you are using.
Drain pasta and set aside.
In the same pot, heat 1 tablespoon of oil and sauté garlic for 30 seconds. Add in broccoli and asparagus and sauté for 5 to 10 minutes until fork tender. To speed up the time, add 2 teaspoons of water and cover the pot.
Remove the casing from the sausage and add to the pot. Cook until no pink remains.
Add the spinach and sauté until wilted.
Add the pasta into the pot, add remaining olive oil, and salt, pepper, red pepper flakes, and parmesan if adding. Taste and adjust spices as desired.
Serve hot!
---
Nutrition
Loading nutrition data...