Lexi's Weekly Dinner Plan Week 1 (2017)
2017 is here, 2017 is here! Wow, 2016 simply flew by. If you're like me, and you have committed to kickstarting your year off right, join me on eating right through my 2016 Weekly Dinner Plans. We'll keep ourselves accountable together on social media!
Here you have it! One month of meals to start your year off on the right track and build good routines. My meal plans last year were such a hit, that I took your feedback and refined them for 2017.
What you'll see this year? More detailed shopping lists, a weekly dinner plan from my website and from my cookbook- both equipped with shopping lists! I'll share them on Saturday or Sunday morning super early, so you can shop and prep for your week ahead!
These weekly plans are designed to give you a well-rounded week of meals that will (ideally) have leftovers for lunches and help you eat healthy and clean, while also delicious.
Tuesday: Leftovers
Thursday: Tequila Lime Shrimp over cauliflower rice/regular rice/or served with veggies
Friday: Taco Salads (Whole30 Approved)
Saturday: Dinner Out or Take Out
Download your printable shopping list here!
---
Option: Swap these meals above for a meal (or meals) from the Lexi's Clean Kitchen Cookbook!
Monday: Slow Cooker Spicy Chicken Tortilla Soup (page 122, Whole30 Approved)
Tuesday: Leftovers
Wednesday: Thai BBQ Salmon (page 188, Whole30 Approved)
Thursday: Breakfast for Dinner- Shakshuka (page 64, Whole30 Approved)
Friday: Dinner Out or Take Out
Saturday: Nanny's Potted Chicken (page 160, Whole30 Approved)
Sunday: Leftovers
Download your printable shopping list here or grab your copy for under $15 here!
As always, you can mix up the days you eat these on depending on what you are in the mood for, how busy you are, and so on!
Happy Cooking!
Lexi
Week 1 | Week 2 | Week 3 | Week 4
Lexi's Weekly Dinner Plan Week 1 (2017)
This Broccoli Rabe and Sausage Pasta is the perfect light Italian-style dish that comes together in no time!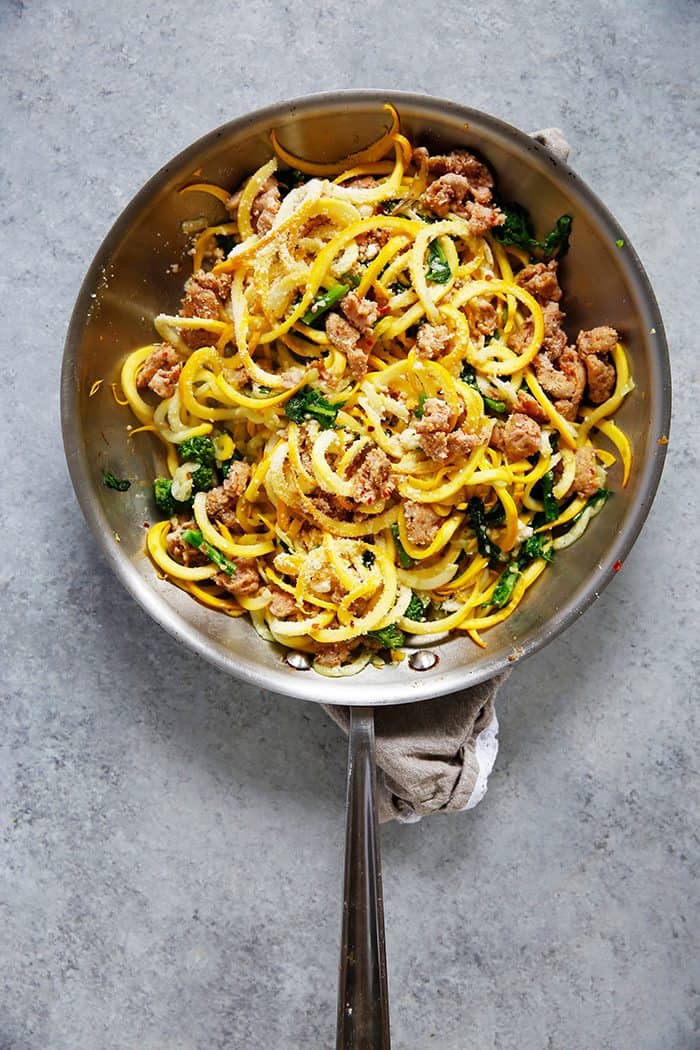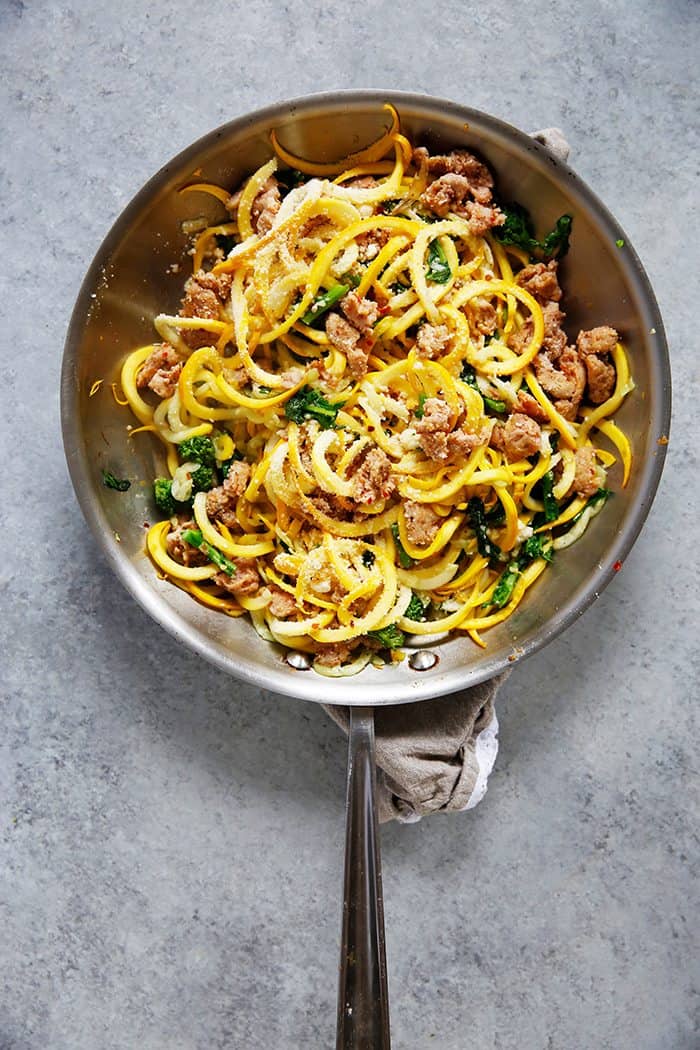 When I received Ali's newest cookbook, Inspiralize Everything, in the mail, I was immediately so excited. Ali has created an awesome online resource for all things spiralized, she has her first cookbook which was fabulous, so I knew I would just love her second book!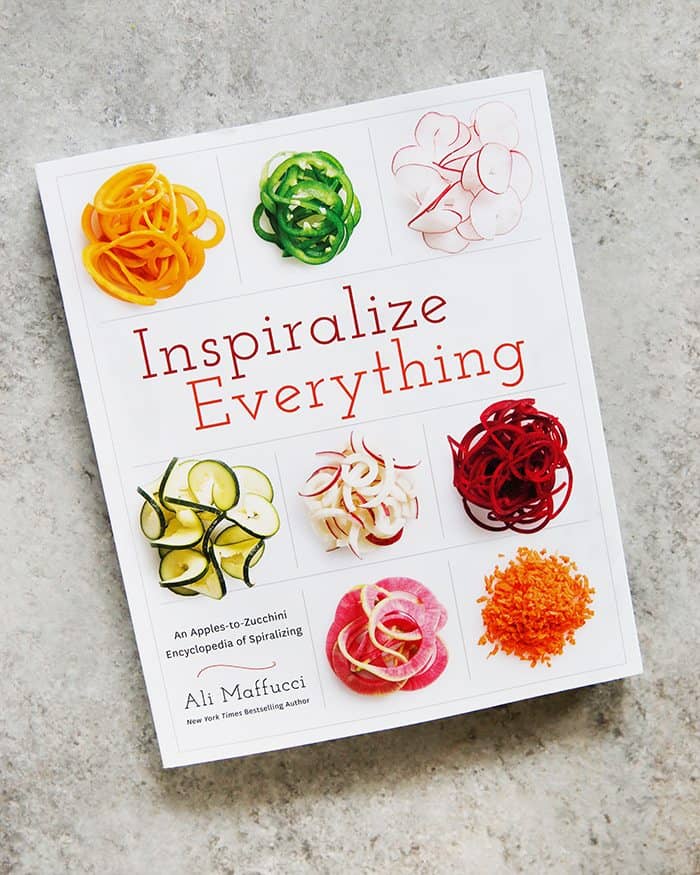 This book is beyond gorgeous and packed with so many recipes all categorized by various vegetables. I can't wait to make the Turkey, Spinach, and Hummus Roll Ups as a snack, and the Winter Lasagna with Butternut Squash, to name a few!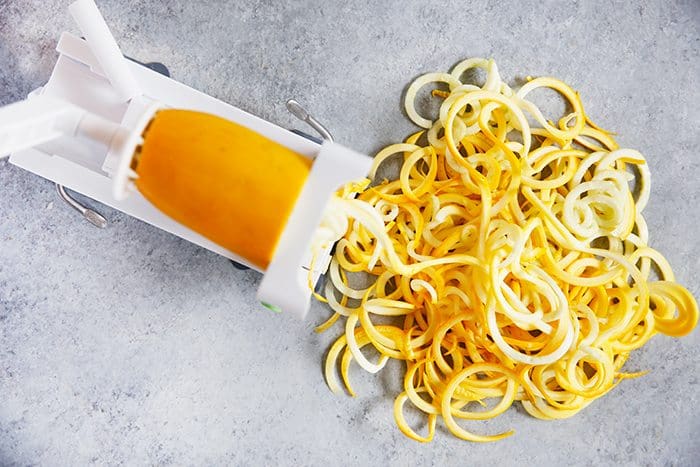 I have been eying the Broccoli Rabe and Sausage Parsnip pasta, but I had summer squash from the farm leftover, so I decided to spiralize it and sub that in, and man was it delicious! I love light Italian meals that are flavorful but not super heavy!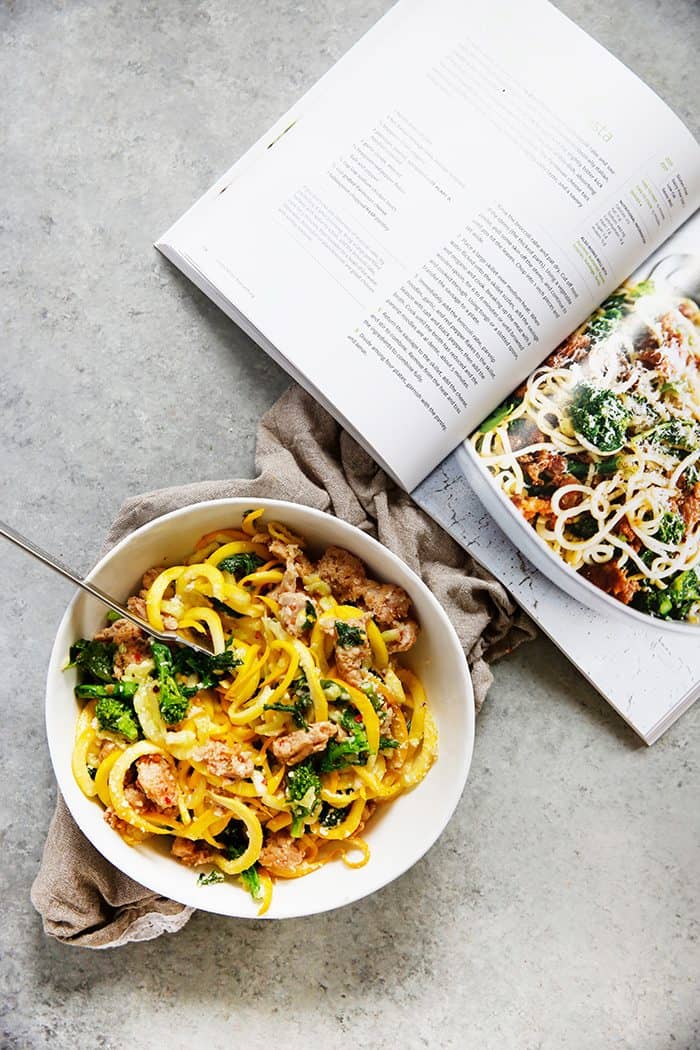 [yumprint-recipe id='385′]
I highly recommend you picking up a copy of this fabulous cookbook if you love your spiralizer as much as I do!
Happy cooking!
Broccoli Rabe and Sausage Parsnip Pasta
---
---
Ingredients
1 bunch broccoli rabe
2 hot Italian sausage links, casings removed
1/2 teaspoon dried oregano
2 parsnips, peeled, spiralized with blade d, noodles trimmed
2 garlic cloves, minced
1/4 teaspoon red pepper flakes
Salt and pepper
1/2 cup low-sodium chicken broth
1/2 cup grated Parmesan cheese
1 tablespoon chopped fresh parsley
Directions
Rinse the broccoli rabe and pat dry. Cut off most of the stems (the thickest parts). Using a vegetable peeler, pull some skin off the stems, and continue to until you hit the leaves. Chop into 1-inch pieces and set aside.
Place a large skillet over medium heat. When water flicked onto the skillet sizzles, add the sausage and oregano and cook, breaking up the meat with a wooden spoon, for 6 to 8 minutes or until browned and cooked through. Using tongs or a slotted spoon, transfer the sausage to a plate.
Immediately add the broccoli rabe, parsnip noodles, garlic, and red pepper flakes to the skillet. Season with salt and black pepper, then add the broth. Cook until the broth has reduced and the parsnip noodles are al dente, about 5 minutes.
Return the sausage to the skillet, add the cheese, and stir to combine. Remove from the heat and toss the ingredients to combine fully.
Divide among four plates, garnish with the parsley, and serve.
Recipe Notes
1. I used 1 large summer squash instead of parsnips, so I omitted the chicken broth step!
2. If you don't like the bitterness of broccoli rabe, try parboiling it after trimming. Bring a large pot filled halfway with water to a boil, add the broccoli rabe, cook for 3 minutes, then transfer to a bowl of ice water. Otherwise, broccolini or plain broccoli are great choices with similar textures.
---
Nutrition
Loading nutrition data...
Broccoli Rabe and Sausage Pasta

If you follow me on social media, you've likely seen me posting about the release of the Best Paleo Recipes of 2015 eBook that released last week. This year's book is truly an incredible resource. It features recipes from over 30 of the top names in the Paleo community, and so many that I'm lucky to call friends! This years group of contributors includes names like Juli Bauer, Danielle Walker, Mark Sisson, Vanessa Barajas, Caroline Potter, Russ Crandall, Brittany Angell, and so many more. With nearly 500 pages of recipes, this book has something for everyone, and every occasion.
The Details:
192 recipes
Over 30 never-before-seen, exclusive recipes
Contributions from 32 of the top Paleo Authors and bloggers
Instant-download, interactive PDF and tons of shortcuts for easy use
What Bloggers & Authors?
Nearly 500 pages of talent brought to you by these amazing authors and bloggers!
Recipes I can't wait to make?
For starters, these four are high on my list!
The really cool thing about this eBook is that it's totally a portable format and mobile-friendly. Download a copy to your phone, a copy to your tablet, and a copy to your home computer. Need a dinner idea in a hurry? Browse the table of contents to view all of the recipes quickly and easily. Because it's an interactive PDF document, getting around the eBook is just like getting around a website. A couple clicks takes you where you want to go in the eBook.
What I contributed?
Get more information about this AMAZING resource and buy it here for only $29.95!
---
---
Best of Paleo Recipes 2015 eBook
Today marks my first day as a full-time blogger.
WHOA.
In good fashion, it seems fitting to share some more big news with you on this day!
First, have you noticed some changes on the blog today? LCK has gotten a major MAKEOVER. Jim, from my J Louis Technology team, and I have been hard at work (mostly him) making the new site amazing, easy to navigate, and just perfect for all of YOU!
New look. New layout. Same trusted recipes!

---
Now… remember a few weeks back on my two year blog anniversary I announced that I was leaving my teaching job to blog full-time?
Check. Check. Is this thing on?
I have MORE news.
For the past number months I've been secretly planning a project and It's finally ready for me to talk about!
This year… I'll be writing my first COOKBOOK.
Not an e-cookbook, you guys! A real deal printed book, with my publisher, full of resources, recipes, recipe variations, and so much more! I am jumping with joy that I can finally include all of you in the book process details. After all, it's thanks to your support that this is all happening!
So what is it all about?
✔︎

The book will have recipes for everything! Breakfast, Lunch, Dinner, Dessert, Condiments, Breads, Soups, and so on. Simple to prepare, kid-friendly, kitchen-tested, and just down right good-for-you recipes.
✔︎

This book won't be your ordinary cookbook! It will be made up of base recipes with tons and tons of variations to go with them! Why? I want you to have a recipe you trust, that you can easily adapt to satisfy the different wants and needs of you and everyone you know! For example: One muffin recipe, with 4 different simply delicious flavor variations, or one cake recipe, different flavor variations. You get the gist!
✔︎

Each recipe will have big beautiful photographs to go along with it.
✔︎

The book will be on shelves everywhere around November 2016 and will be available for pre-order soon enough!
✔︎

The entire book is due in May AKA I'm going to be a busy busy busy person the next several months, but don't worry, I'll still be posting recipes on here!
✔︎

You'll see tons of sneak peeks along the way on all of my social channels!
THANK YOU!
I am so beyond humbled by this opportunity. I am so excited to bring you a cookbook that I know you are going to absolutely love. Thank you for your constant support. Stay tuned for all of the updates, details, and opportunities to be involved in the Lexi's Clean Kitchen Cookbook process! I cannot wait to share with you what will be going into this book. I am so proud of where it is headed already!
QUESTIONS?
Don't forget to sign up to be in the know for exclusive content, book details, and more! You even get a free eBook with 10 awesome recipes when you do!