This Gluten Free Cornbread Stuffing is the perfect side for your Thanksgiving meal! It's sweet and savory and packed with herbs and cranberries and the best gluten-free cornbread! This vegetarian stuffing is easy to prepare and will definitely be a winner on your holiday table.
Gluten Free Cornbread Stuffing
Whether you are looking for a Gluten Free Cornbread Stuffing recipe or a Gluten Free Cornbread Dressing recipe, we're here to help! While technically this isn't a stuffing, as we don't advise you to actually stuff it and bake inside of your turkey, we're from the Northeast so we always call it stuffing, instead of dressing! We worked so hard on our Gluten Free Cornbread recipe that when it came time to prepare for Thanksgiving recipes we knew we wanted the chance to use it again and give you all the choices when it came to stuffing!
We do have a grain-free Easy Gluten-Free Stuffing recipe that we did last year if you are looking for a different recipe if you do tolerate grains, so check that one out too!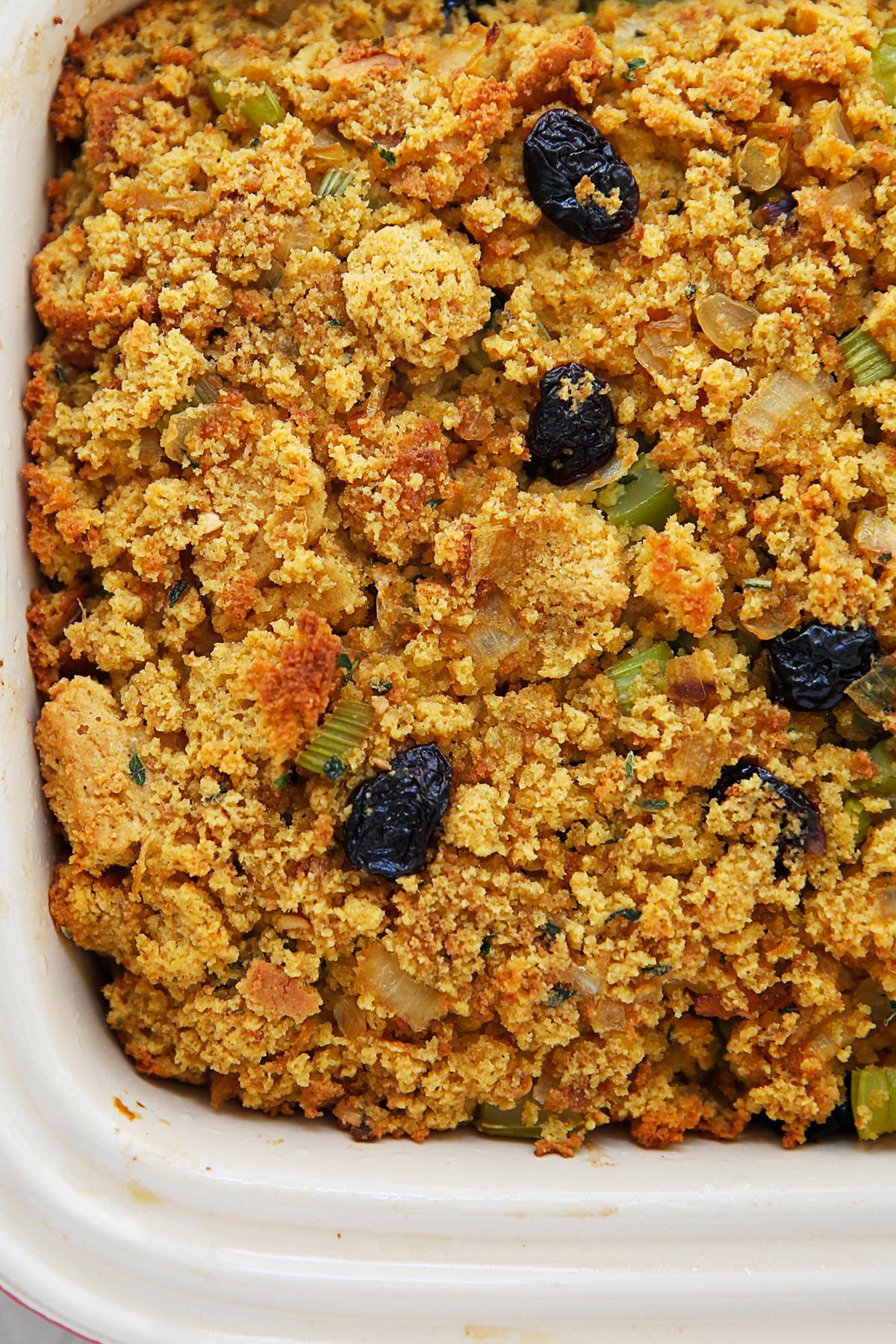 Is cornbread gluten free?
The short answer is no. Most cornbread, or cornbread mixes that you will find in the store have wheat flour in them along with cornmeal. We are so happy with how are Gluten Free Cornbread recipe came out, so we of course recommend you use ours. It is simple to make! If you choose to use a cornbread with wheat in it, you may need to add in a bit more broth than we did. Please see the notes in the recipe for more information on this.
How do you make gluten free cornbread stuffing?
To start you need your cornbread! Our recipe calls for about 6-7 cups of cornbread, or about a batch baked in an 8″ x 8″ pan.
You'll need to dry out the cornbread out and you can do this in two ways, either crumble it and leave it out on a sheet pan the night before, or you can toast it in your oven.
Cook off your aromatics
Whisk together the wet ingredients
Combine with dried cornbread, herbs, dried fruit.
Bake uncovered for 30 minutes!
Watch the video: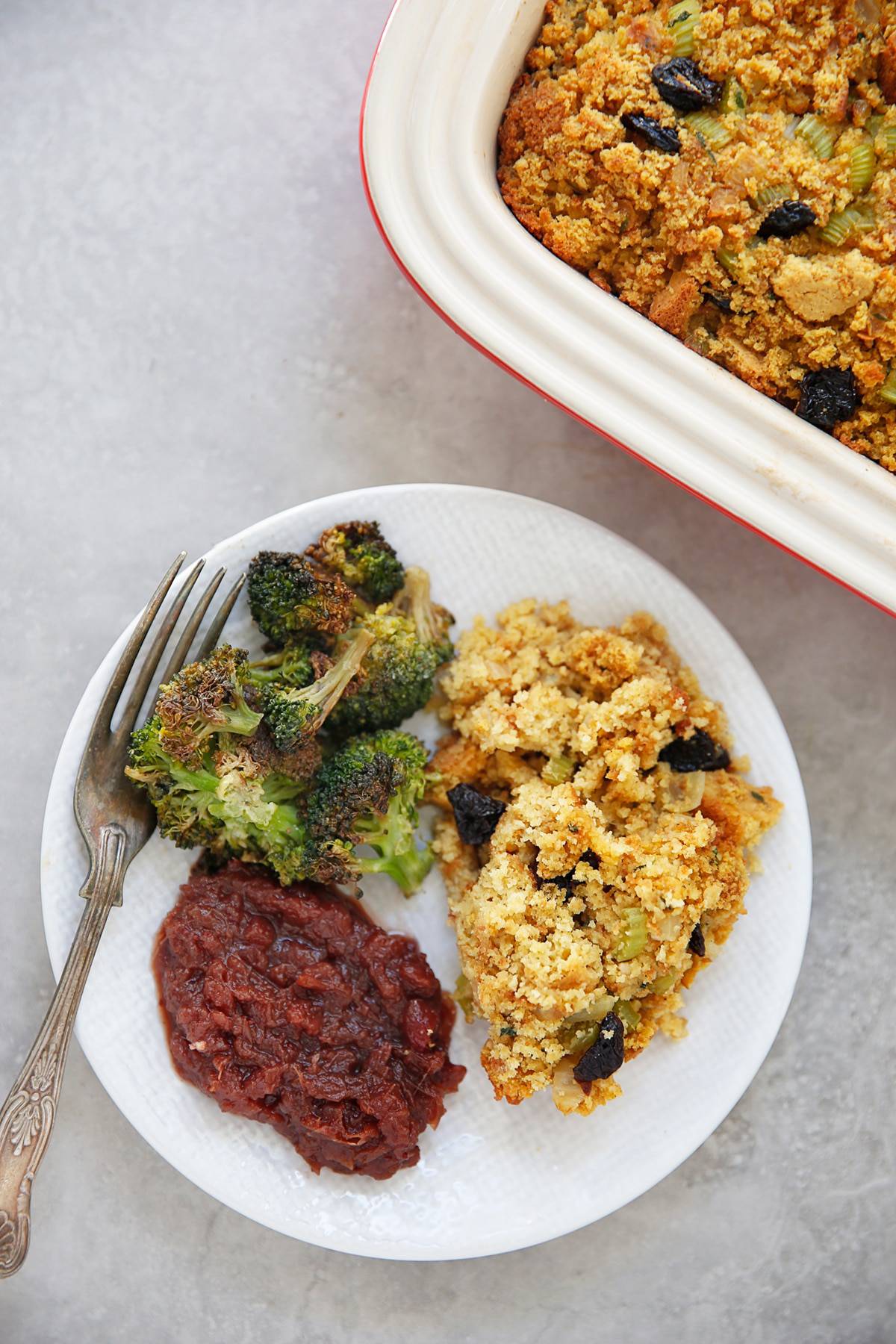 Check out these other Thanksgiving recipes:
Ingredients
1 batch of cornbread (see recipe here), about 6-7 cups (see note)
2 tablespoons grass-fed butter, or oil

1 large onion, diced

3 stalks of celery, diced

3 cloves of garlic, minced
2 tablespoons fresh sage, thinly chopped

1 tablespoon fresh thyme, picked from the stem

1-½ teaspoon salt
1 teaspoon black pepper
3 eggs
1-½ cups broth (veggie, turkey, or chicken broth), more if needed

½ cup dried cranberries or dried cherries, soaked in ½ cup warm water
Directions
Bake cornbread, using this recipe, if possible the day before. If using store-bought cornbread or a different homemade recipe please see notes below.

To prepare cornbread: Break apart the cornbread into large crumbles, about ½" pieces, and spread out on a baking sheet. To dry it out, either toast in a 350ºF for 15 minutes, or leave out overnight.

Pre-heat oven to 350ºF, if not already on, and grease an oven safe dish at least 8" x 8" big (see note).

Over medium heat, add butter to a skillet and cook onion and celery until beginning to soften, about 5-7 minutes.

Add garlic, sage and thyme and cook for 30 seconds. Remove from heat and let cool slightly.

In a large separate bowl whisk together salt, pepper, eggs and chicken broth. Add drained dried cranberries, toasted cornbread and cooled onion mixture and gently mix until fully combined. Mixture should be slightly moistened. (see notes)

Pour into a the greased dish and bake at 350ºF for 30 minutes until the top is lightly toasted.
Recipe Notes
If using store bought cornbread, you'll want to buy one baked in an 8x8 pan, or about 6-7 cups of cornbread crumbles.

If using store bought cornbread you may need to add more broth. What you'll want to see is that the mixture before going in to the oven is moist. We tested our recipe with our gluten free cornbread, and 1-1/2 cup broth was the perfect amount but if yours feels a little on the dry side before baking feel free to add a 1/2 cup more at a time until the mixture is slightly moist.

We baked this in a deep 8" x 8" dish, but it will also work in slightly larger sized dish as well. Just don't go any smaller than an 8" x 8"!
Loading nutrition data...
There may be affiliate links in this post! By clicking on them, or purchasing recommended items I may receive a small compensation, at no cost to you! However, I only recommend products I absolutely love and use in my own home! Thank you for supporting Lexi's Clean Kitchen when you shop! See my
privacy policy
for more information about this, the information we save, and more!