How to Make Pumpkin Butter
Pumpkin Butter is a sweet spread made up of cooked pumpkin puree with added sweetener and warm spices. It can be made either in the Instant Pot or in the Slow Cooker and is guaranteed to make your home smell delicious while it's cooking! Use it on your favorite bread, muffin, on top of oatmeal or straight from the spoon!
Pumpkin Butter Recipe
I first tried pumpkin back in my college days at this adorable little restaurant called Judie's. Back before I changed my diet, I would enjoy the giant popovers they served, slathered with the most delicious pumpkin butter or apple butter. It has been a while since I've been there, but luckily I get to remember it every time I make and eat this amazing healthy pumpkin butter! This sweet spread is easily made in the slow cooker or the Instant Pot and is perfect to serve on just about anything. We also use it to make our new favorite Easy Pumpkin Coffee, with a recipe coming for that this week!
Ingredients Needed
Pumpkin Puree (homemade or store-bought)
Honey or Maple Syrup
Coconut Sugar
Cinnamon
Pumpkin Pie Spice
Sea Salt
Apple Cider
How to Make Slow Cooker Pumpkin Butter
Making crock pot Pumpkin Butter couldn't be easier because all you do is add in all the ingredients and let it cook away for 6 hours, or until it's reach the desired consistency! The recipe calls for a total of 4 cups of pumpkin puree and assumes you are using a standard 6 quart model. If you had a smaller slow cooker you could (2-3 quart) halve the recipe with success.
How to Make Pumpkin Butter in the Instant Pot
Cooking it in the Instant Pot is a bit more complicated than in the slow cooker. Because the pumpkin puree is pretty thick, there is a possibility that the mixture has a "burn" notification when cooked in the Instant Pot. To avoid this you must place your ingredients in the Instant Pot in a certain order, and not mix all of the ingredients together. Don't worry all of the flavors still infuse throughout, and will be thoroughly whisked together after it's finished cooking.
In addition, because the Instant Pot does not let any liquid escape during cooking, the Instant Pot Pumpkin Butter isn't as concentrated as Crock Pot Pumpkin Butter. We didn't find this to be a problem, and really enjoyed the flavor of both versions, but if you prefer a thicker spread feel free to let it sauté for 10 or so minutes after it has finished cooking or until it's reached your desired consistency.
A Note about Pumpkin Puree
We tested this recipe with several different brands of pumpkin puree, as well as a homemade version. They all varied in thickness and concentration. The homemade version, depending on the type of pumpkin you use, will have a higher water content. Organic pumpkin puree also has a higher water content compared with the conventional store-bought puree. If you find your pumpkin butter feels too thin, feel free to cook it until it reaches your desired consistency.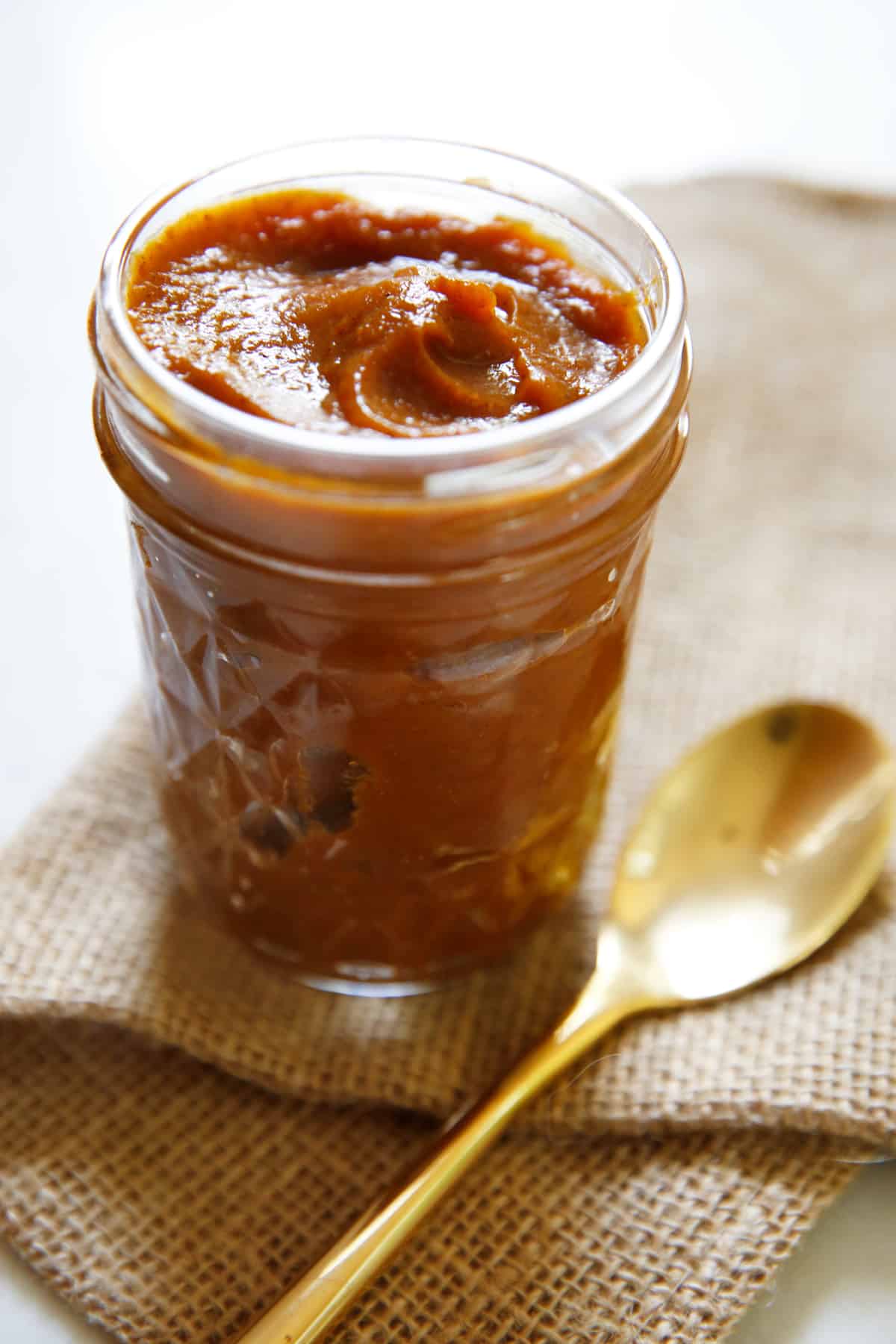 How to Use It
Use this pumpkin butter just like you would apple butter:
On toast
On a muffin
In oatmeal
In Pumpkin Bread (recipe coming soon)
In Coffee (recipe coming soon)
If you like this fall recipe check out these others:
[yumprint-recipe id='316′]
How to Make Pumpkin Butter
This Slow-Cooker Beef Stew is the perfect healthy comfort food for cold days! It's hearty, flavorful, packed with veggies, and easy to make right in your crock pot. Make it for a cold winter night, or a festive St. Patrick's Day meal! Beef stew is a simple recipe that will wow everyone who tries it.


The Slow Cooker is an amazing phenomenon in my opinion. Even those friends of mine who aren't big cookers use it! Throw all the ingredients in with the right flavor combo and BOOM: the perfect stew. It's hands off, easy to use, and safe!
What is Irish stew made of?
Filled with beef, carrots, mushrooms, onions, and potatoes is the perfect main dish for your St. Patrick's Day celebrations. The beef is so tender, it just melts in your mouth!
Tips For Slow Cooker Beef Stew
Brown your meat
Don't use too much liquid
Don't skimp on the cook time
Layer your beef and veggies
Set it and forget it! The beauty of a slow cooker!

This stew is: hearty, flavorful, tender melt-in-your-mouth beef, and packed with veggies! It is also paleo-friendly, dairy-free, whole30 compliant and has no sugar added… does it get any better than that? I love making this soup at the beginning of the week and enjoy it all week long!
What defines a stew?
In a stew you aren't looking for the consistency of a soup, so minimizing added liquids is helpful!
Beef stew doesn't need to be super, super thick. You'll most likely be using potatoes, and their starch will naturally thicken your stew! If not, don't worry, this stew thickens whithout it, too.
What kind of beef is used for stew?
You can buy beef stew meat, which is cut and cubed and is generally chuck or round! Beef round cuts (bottom and eye) are generally leaner than chuck (shoulder, leg and butt) and very well-suited to stew.
I always add beef stew meat to my ButcherBox order in the cold weather months. Each month, ButcherBox curates a one-of-a-kind selection of the healthiest, tastiest meats, humanely raised and free of antibiotics and hormones. Or you can customize your box and select your favorite cuts and get 20% more meat.The price works out to less than $6.00/meal and shipping is always free. You can also space it out so it's not every 4 weeks, too! ButcherBox delivers your meat for the month, saves you money, and is the best quality! Order Today and get this amazing deal:
Get FREE bacon
FREE Shipping
$15 OFF!
Can you put raw meat in a slow cooker?
You certainly can, but for this beef stew recipe, we prefer to sear the meat first to bring out the amazing flavor that you'll get!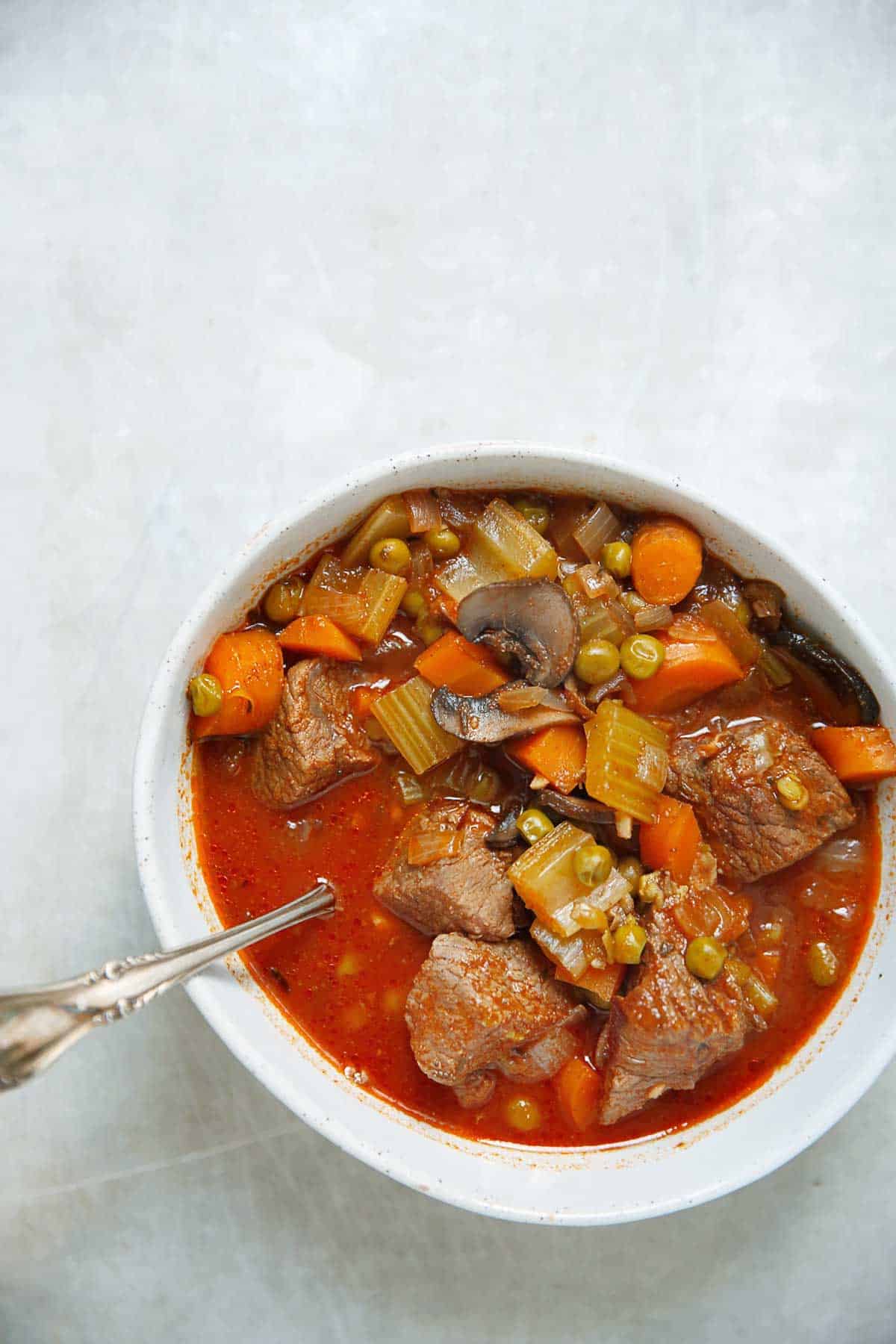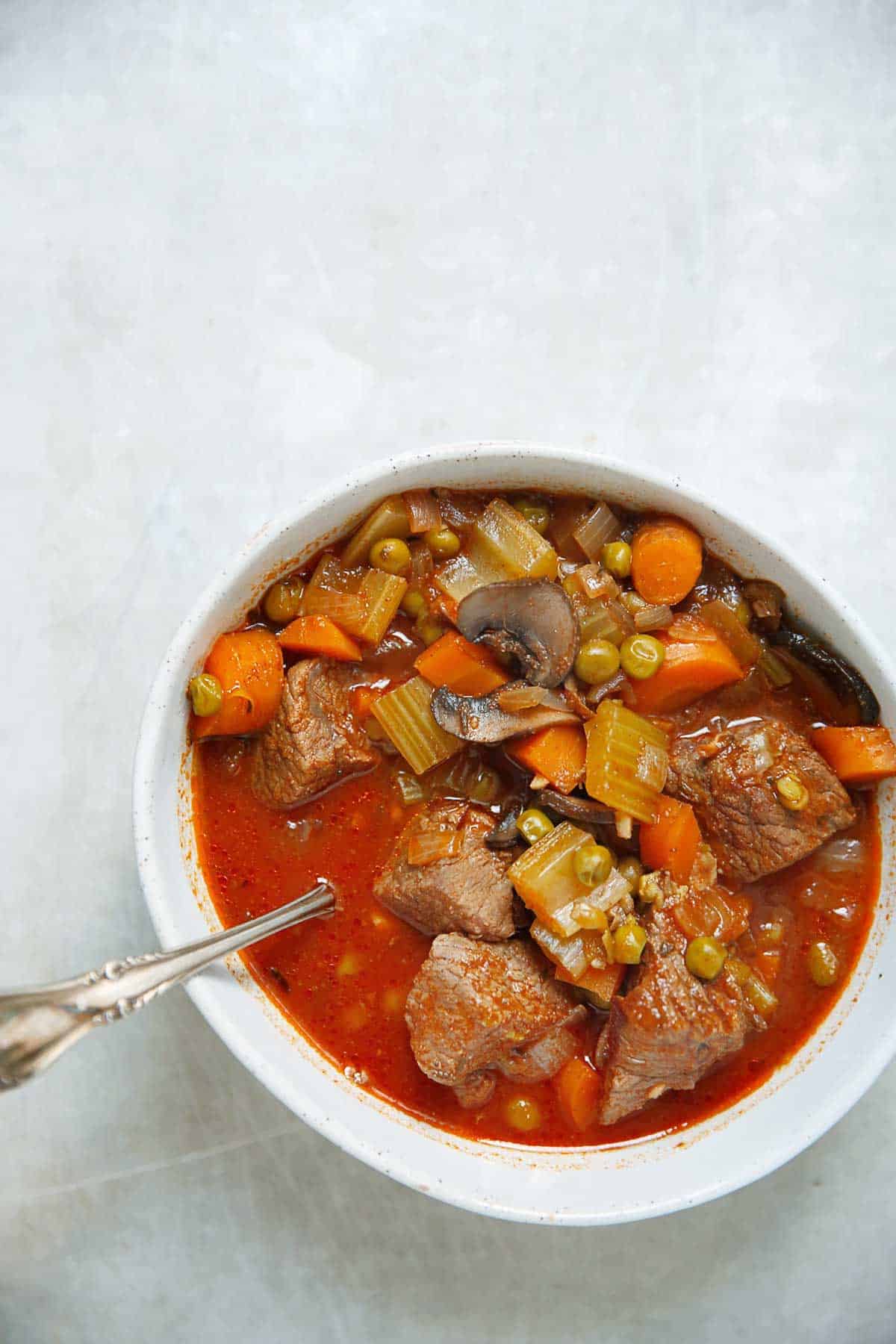 Tools used to make this easy slow cooker beef stew recipe:
Want other slow cooker recipes? Try these favorites:
If you like this beef stew recipe, make these other St Patrick's Day Favorites:
Slow-Cooker Beef Stew
This gluten-free and healthy Slow Cooker French Onion Soup is comfort food at it's finest. It's made using simple ingredients you likely already have in your pantry, is largely hands-off cooking, is an economical meal and is so rich and flavorful. It can be eaten as is as a light soup, or more traditionally topped with melted cheese and either store-bought or homemade bread.
Slow Cooker French Onion Soup
French Onion Soup is such a classic comfort food, it's hard not to love. If you've only eaten it at restaurants you might think it's difficult to make because it's SO rich and flavorful, but truly it isn't that hard at all! And we've made it even easier by throwing the whole thing in the slow cooker for easy, hands-off cooking! This Slow Cooker French Onion Soup is a great example of taking really basic pantry items like onions, broth and a few other simple ingredients and turning it into something amazing by slow and low cooking. Recipes using pantry staples are a great to have in your back pocket on days when you don't have time to run to the grocery store but still want to be able to cook up a great meal for your family.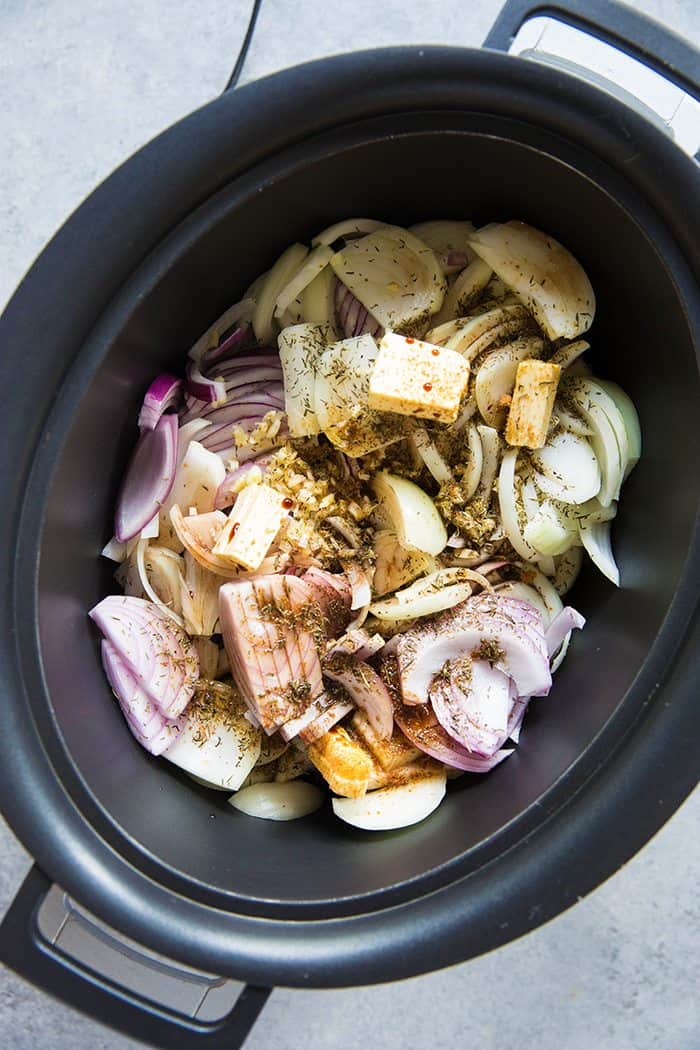 What is French Onion Soup Made Of
Traditionally French onion soup is made by slowly caramelizing onions on the stove top, which can require lots of babysitting and stirring to make sure the onions don't burn. The onions are then coated in flour and simmered for longer with broth. This Slow Cooker French Onion Soup recipe however takes all the amazing flavors of this bistro classic and tosses them all in the slow cooker to make while you are busy doing other things! The first step is to cook all the onions for about 6 hours, which doesn't require any stirring. This step can have some wiggle room if you are about and about because it's hard to burn onions in the slow cooker, so if you aren't home during the end of the 6 hours of cook time, the onions will likely be fine for 2-3 hours after. Next you simmer the onions in the broth for the remainder 2 hours of cooking time. Classic French onion soup is topped with a large crouton-like piece of bread and cheese. We've given directions on how to do this, but truly you can leave this off and this soup is still really flavorful!
What is the best onion to use for French onion soup
This Slow Cooker French Onion Soup recipes uses two kinds of onions. Yellow onion are more sweet with a really bright flavor and red onions have more depth with a touch of bitterness. Together they make a really nuanced and flavorful french onion soup!

Can you cook French Onion Soup in the Instant Pot?
The short answer is: yes! We've included the directions for cooking this soup in the Instant Pot in the notes section of this recipe. However we have to say that it is a little bit more hands on cooking than the slow cooker version.
If you like this slow cooker SOUP recipe, try these other favorites:
Want to try other crock pot comfort food favorites? Try these:
Watch the video:
---
[yumprint-recipe id='389′]
Slow Cooker French Onion Soup (Gluten-Free)
Slow Cooker Mulled Cider with a Caramel Pecan Rim will be the hit of your parties or dinner parties all Fall and Winter long! The combination of the caramel and nutty pecans with the warming cider is perfection, and made with no added sugar.. Have it without any alcohol, or spike it as desired with your favorite liquor! Made in partnership with the American Pecan Council!
Slow Cooker Mulled Cider with Caramel Pecan Rim
No sugar added, simple to make, and definitely a new go-to drink when entertaining for the holidays! I put this out and let everyone add in their favorite alcohol: caramel vodka, brandy, bourbon, or wine!
If you love the combination of cinnamon + warm apple cider + a touch of cranberries, this is definitely a must-try! The best part? All you have to do is toss everything in a slow cooker and BOOM. Mulled cider perfection.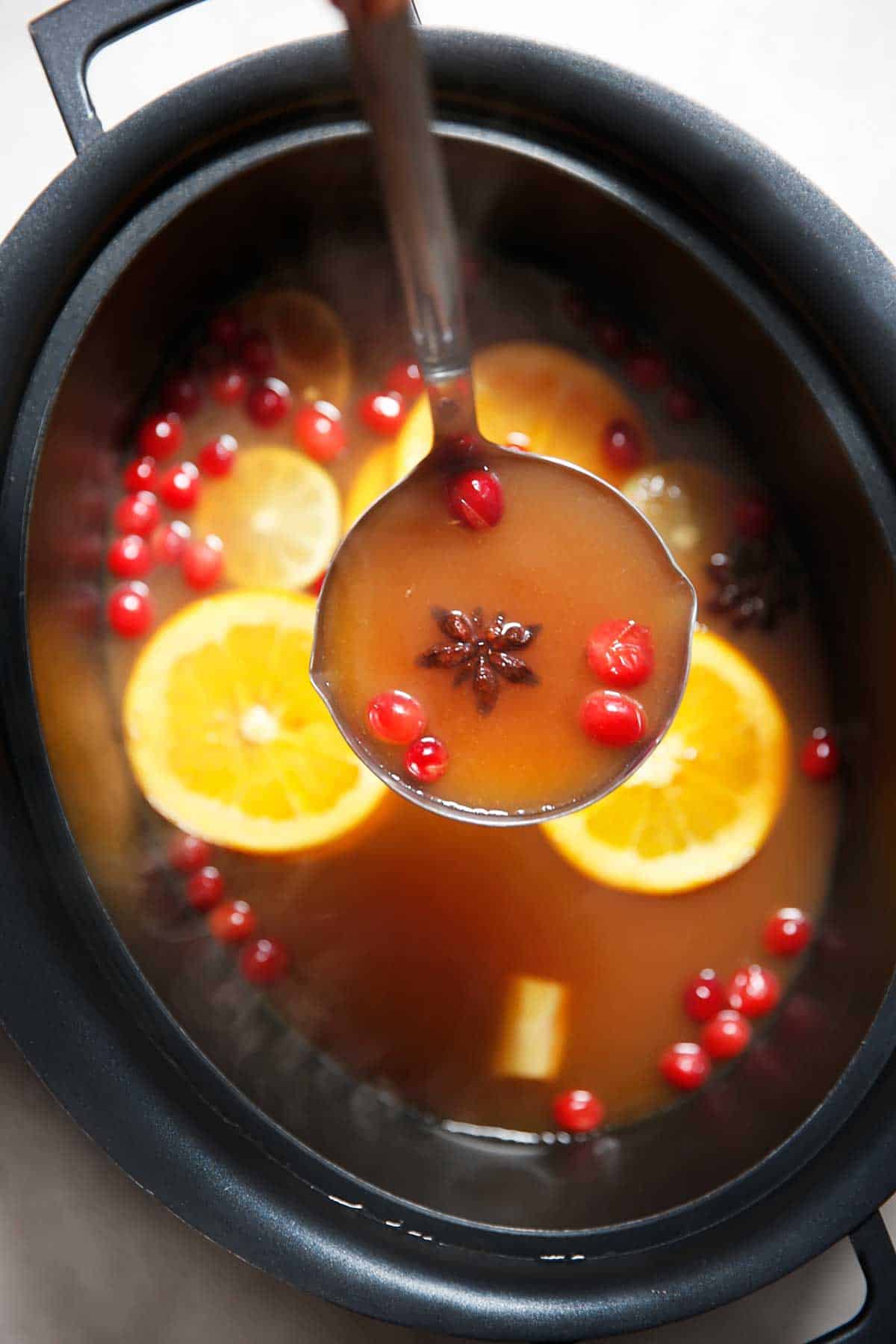 Get creative with this recipe for holiday entertaining by creating an individual spiked cider bar! Simply place liquor such as bourbon, red wine, or rum next to the slow cooker and let friends or family create their own spiked mulled cider beverage!
I'm back with another fabulous recipe in partnership with my friends at the American Pecan Council! Pecans are my favorite nut! They are lower in carbs and higher in fiber compared to many other nuts, and they're a "good" source of monounsaturated fat, including the beneficial oleic acid that's found in olive oil! A handful of pecans (about 19 halves) is a good source of fiber, thiamin, and zinc, and an excellent source of copper and manganese – a mineral that's essential for metabolism and bone health. Plus, they have that yummy, buttery flavor! I love using pecan pieces to make my life easier during the chopping of them!
For more information, visit the American Pecan Council's website! All thoughts and opinions are always 100% my own! Thank you for continuing to support LCK and the brands I work with!
Slow Cooker Mulled Cider with Caramel Pecan Rim
I am so in love with these Easy Slow Cooker Baked Apples! They are just the right amount of sweet, they swarm your home with the most delicious fall scent, and they are super EASY to throw together.

Slow Cooker Sunday is officially onto it's second month and I am so excited that so many of you are loving this series like I am!
Baked apples always used to intimidate me. I always thought they'd be a challenge to make. Not with your slow cooker! They come together so flawlessly.
[yumprint-recipe id='393′]
Check out the rest of the series here:
Easy Slow Cooker Baked Apples
This Slow Cooker Short Rib Stew is comforting, light yet hearty, and full of flavor! It's the perfect slow cooker Sunday meal that will have leftovers for lunches and dinners throughout the week!
Two weeks ago I was in Indiana with an amazing group of bloggers visiting with Tuttorosso tomatoes, a brand I've worked with for a while now that I truly truly love.
We ate some REALLY good food, had a great food photography workshop led by Amanda of Heartbeet Kitchen, toured one of their tomato farms, and went to their factory. They even made lunch from all of our blogs!
It was pretty amazing to see the tomatoes go from the truck and in just 45 minutes, right into the cans ready for us consumers. The quality and care that goes into each Tuttorosso can is really, really amazing to see, and is clear by their superior product. Here's a little snippet from the trip, if you didn't see it on my social media channels!

Now, without further ado, SLOW COOKER SUNDAY. My new favorite series to hit LCK! This soup is brought to you in partnership with Tuttorosso Tomatoes. It is made with simple ingredients, has hearty flavor, and is perfect for the cooler weather that's creeping up.
Hearty flavor, tender short ribs… mmm!
[yumprint-recipe id='391′]
Happy cooking, friends!
Slow Cooker Short Rib Stew
This Slow Cooker Thai Curry Chicken will soon become your favorite lunch or dinner. It's packed with delicious flavor and comes together in a pinch! We ate it all week long on top of white rice or cauliflower rice, and it would be great over rice noodles with veggies, too!

 Slow Cooker Thai Curry Chicken
Week 2 of Slow Cooker Sunday is here and it's a goodie! I am so happy to see so many of you making and sharing your Carne Asada from last week, so let's keep it going strong this week!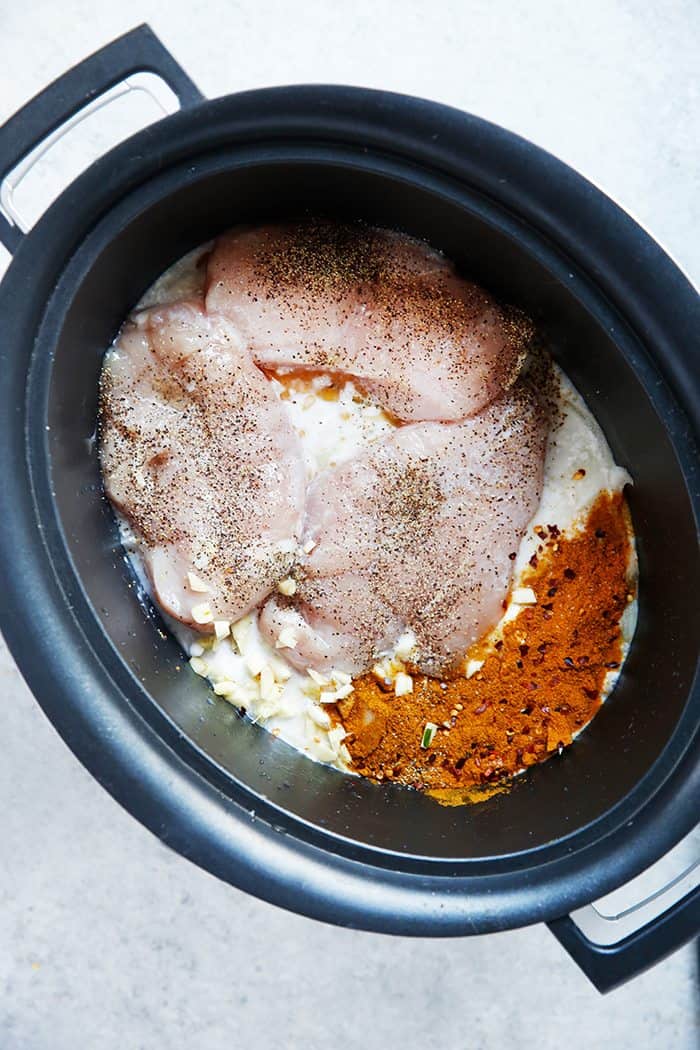 You put it all in…
Mix it up…
Then set it and forget it, and voila! Perfect Thai Curry chicken!

Watch the video:
Slow Cooker Thai Curry Chicken [VIDEO]
This Slow Cooker Carne Asada is the perfect set it and forget it meal. On top of a salad, nachos, in lettuce cups for healthier tacos — the options are endless!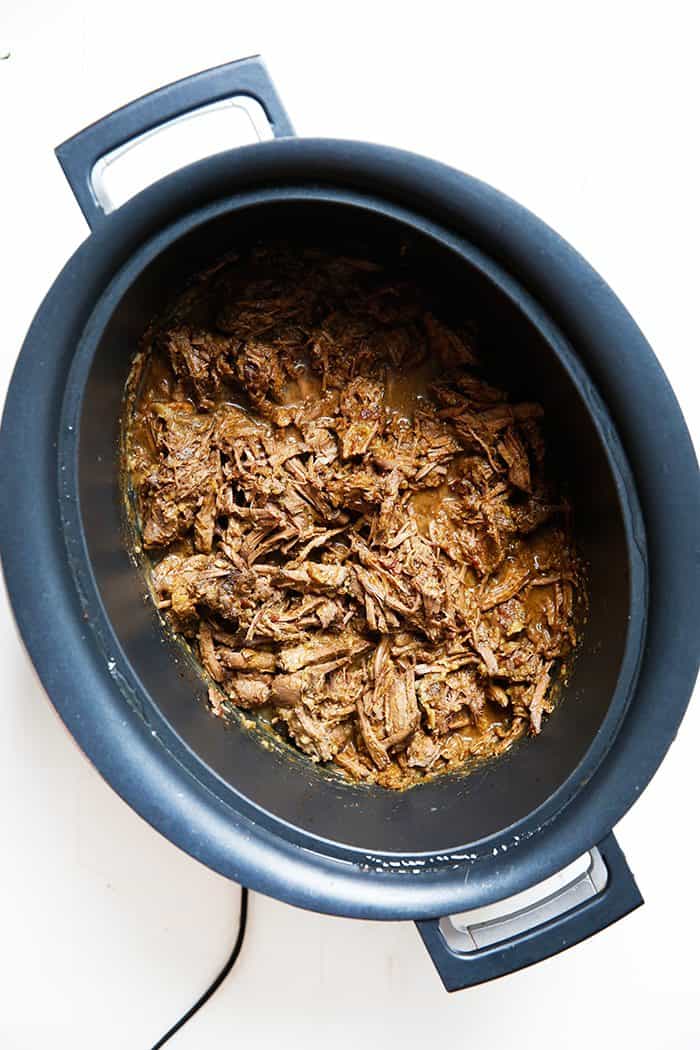 A new series is HERE: Slow Cooker Sunday!! All Fall, I'll be sharing a slow cooker recipe each Sunday for you to pop in your slow cooker and head out for the day, and then come home ready to eat and/or use for your weekly meal prep!
First of all, happy start of FOOTBALL! If you've read my blog for some time, you'll know I love entertaining and creating spreads for Football Sunday– more than I love watching the games!
Another thing you'll know if you've read my blog for a while is that the slow cooker is one of my all-time favorite kitchen tools for that reason. I love a no-fuss meal, and love not having to slave over the stove to make it!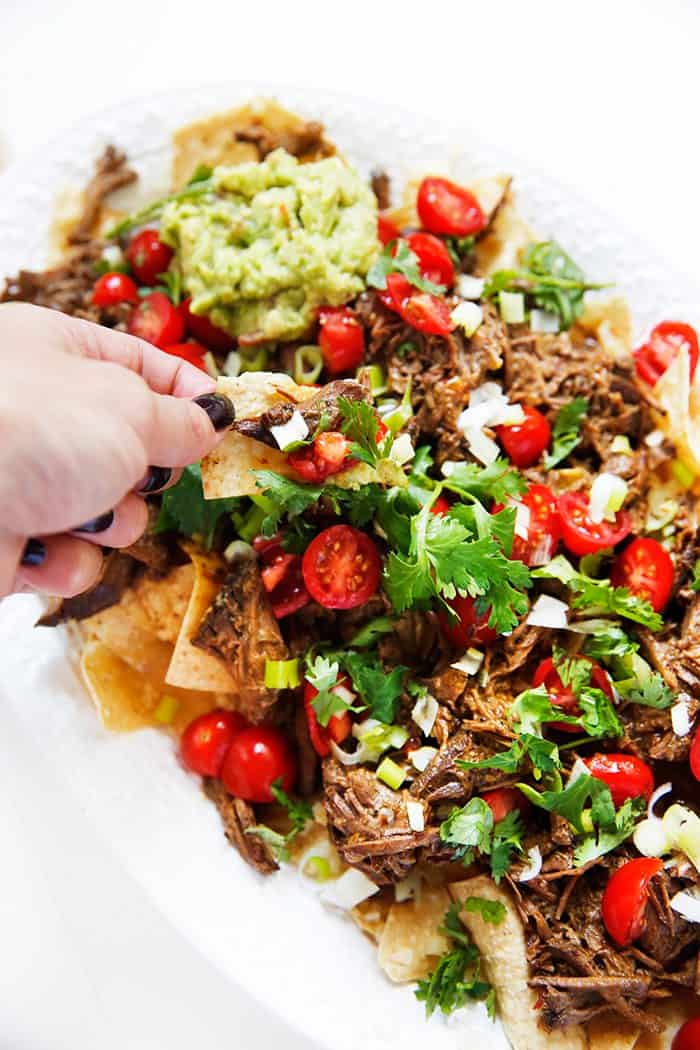 [yumprint-recipe id='386′]
Are you as excited for this series as I am? I have so many awesome slow cooker recipes coming, and I'd love to hear if there are any you are hoping to see! Feel free to comment below or email me!
Slow Cooker Carne Asada
These Vietnamese Beef Cabbage Wraps will be the new hit of your weeknight dinner! Flavorful slow cooker shredded Vietnamese beef topped with pan-fried okra and blistered shishito peppers wrapped in napa cabbage for a delicious meal pulled together from your CSA or farmer's market haul!!
I love this dish! I had some napa cabbage from my CSA and wanted to put it to good use as a lettuce wrap replacement. I want to put this beef on EVERYTHING. It is cooked slow with my favorite set it and forget it method, and has ALL THE FLAVORS. I wanted to use up all of my CSA haul, so I breaded some okra, pan fried it up, and blistered some shishito peppers for the ultimate dinner win.
Week 4 of the CSA summer series with Fed and Fit and PaleOMG is already here. Where is summer going? We're getting married in less than 4 weeks. NUTS.
Check out the recipes for Week 1, Week 2, and Week 3– and of course this week!

It's a unique combo, but trust me, you'll want to make these! The beef is EVERYTHING.
[yumprint-recipe id='375′]

---
Bursting with fresh flavor, this dairy-free, Paleo fennel pesto makes for a delicious roasted chicken and craveable pesto zucchini spaghetti!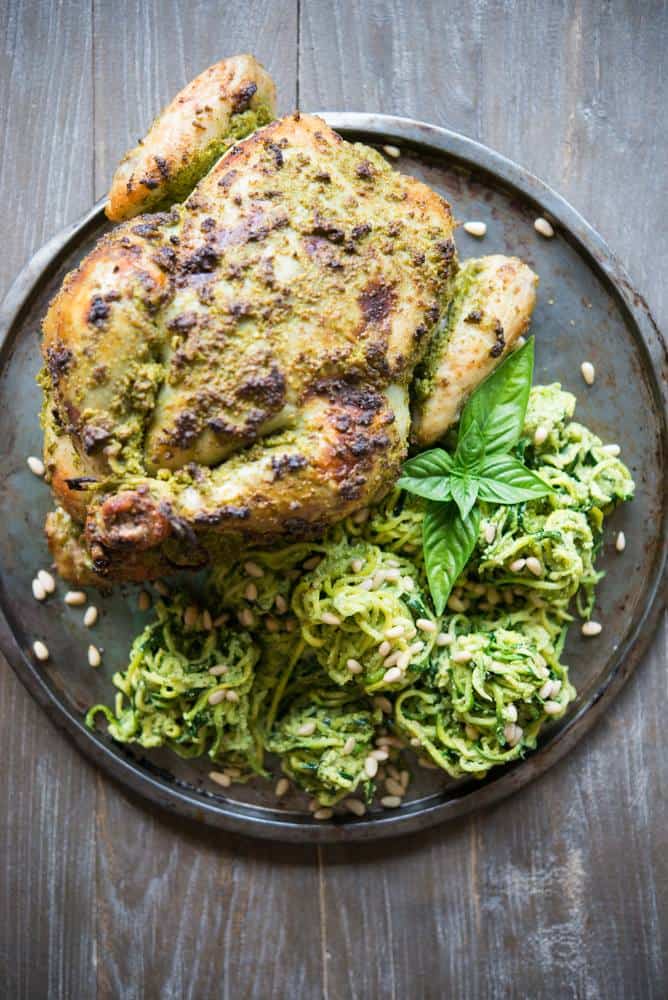 A cold soup for the hot summer months that is filled with cucumber, carrots, and tomatoes, mixed with ingredients like coconut milk and lime leaves to give it a Thai flavor and spice!

Vietnamese Beef Cabbage Wraps
Delicious flavors come together in this slow cooker Caribbean Pulled Chicken, served as lettuce wraps and topped with a simple fresh mango salsa!
It's one of our favorite slow cooker chicken recipes of all time! Such a delicious combination of sweet, savory, and flavorful spices!

Make it a light, yet hearty meal by piling this flavorful chicken into your lettuce wraps, top with your favorite add-ons, and devour!
You can even add this chicken to your favorite greens for a delicious, protein packed salad any night of the week!
I love making this chicken at the beginning of the week and adding it to my lunch and dinner's throughout the week! The best hands-free recipe for my Sunday meal prep days!

Doesn't that mango and avocado look so heavenly?! I use bibb lettuce for my lettuce wraps, but you can get creative and use any base lettuce you like!

Watch the video:
My blogging ladies are back at it with an awesome post this month.
Slow cooker recipes perfect for those days when it's just too hot to turn the oven on!
I can't wait to devour all of these in the next few weeks!
Set it and forget it! My summer motto.

Let's see what we're working with!
Load your summer farmers market haul into the slow cooker for a delicious ratatouille that you can use in a variety of ways. Serve as a side, over pasta or bread, with a grilled protein or even in an omelet.
No need to order takeout with this Slow Cooker Sweet and Sour Chicken. Perfectly tart and sweet all at the same time, this easy, one-pot dinner recipe is sure to be a family favorite!
This whole30 approved slow cooker mango chicken has a sweet mango coconut sauce and sweet potatoes! It's a healthy, one pot meal that's perfect for busy weeknights!
This slow cooker frittata is bursting with grated zucchini, sun dried tomatoes, basil and prosciutto then topped with a simple arugula salad. Great for a summer breakfast or dinner!
Caribbean Pulled Chicken Lettuce Wraps [VIDEO]
Game day weekend is here! Do you have your menu planned and ready to go? Throw this Game Day White Chicken Chili into your slow-cooker, then simply set it and forget it! As soon as it's time for the game, whip out those bowls, spoons, garnishes, chips, and DEVOUR! Sound like a good plan?
Crock Pot White Chicken Chili
I was so excited to walk into my local Shaw's and Star Market this week and find the essential part of this recipe: Chopped Green Chiles from Old El Paso. They pack in the flavor into this soup!
Place all of your ingredients in, add in your broth and spices. Set it…. and forget it! How easy is that?
How Do You Make White Chicken Chili?
Make it in the slow cooker,  or make it on the stove top!
Want more soup recipes? 
[yumprint-recipe id='344′]
This is a sponsored conversation written by me on behalf of Albertsons. The opinions and text are all mine.

Crock Pot White Chicken Chili
If you follow me on Instagram you've likely seen the ribs we've been devouring all week. When my local Whole Foods had grass-fed ribs in stock I got way too excited and bought ALL OF THE RIBS. I was going back and forth with how I wanted to make them, and with a busy few days I decided to whip out my slow-cooker. Because set it and forget it is one of the best sayings ever.
Also, have you made my Homemade BBQ Sauce yet? It is SO easy and free of all the junk those store-bought sauces contain. Do it, trust me.

These ribs are tender, flavorful, meat-y, and deeeeeelicious.
Finger-Lickin' good.

[yumprint-recipe id='294′]
What type of slow-cooker recipes are you looking for? Dinners? Soups? Comment below!