Paleo Asian Beef and "Rice" Meal Prep
This healthy asian paleo beef recipe, made mostly in the slow cooker, is the perfect make ahead lunch or dinner! It's paired with cauliflower "rice" and veggies and is a great low-carb, whole30 and paleo meal prep. Double the recipe and you can also make it dinner one night and lunch for the next few days!
Paleo Asian Beef Rice Bowl
This Whole30, Keto and Paleo Asian Beef and Rice bowl is a great addition to your meal prep rotation! The savory shredded beef is cooked in a slow cooker and then served with veggies, paleo cauliflower rice and a really delicious asian style sauce. We use onions, red pepper and broccoli but you can really swap out with any veggies you have on hand that you think will go well in this dish like carrots, bok choy, or cauliflower.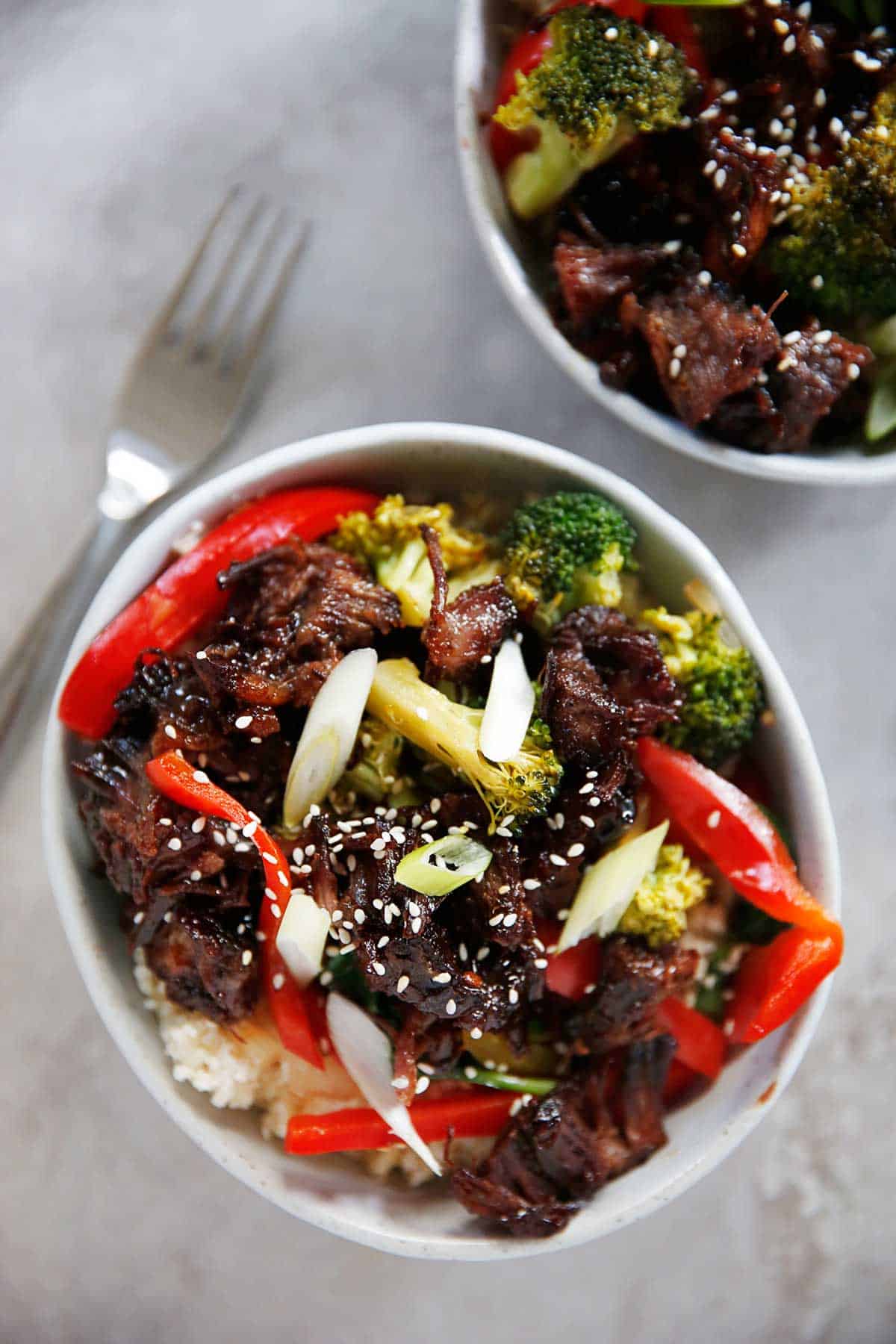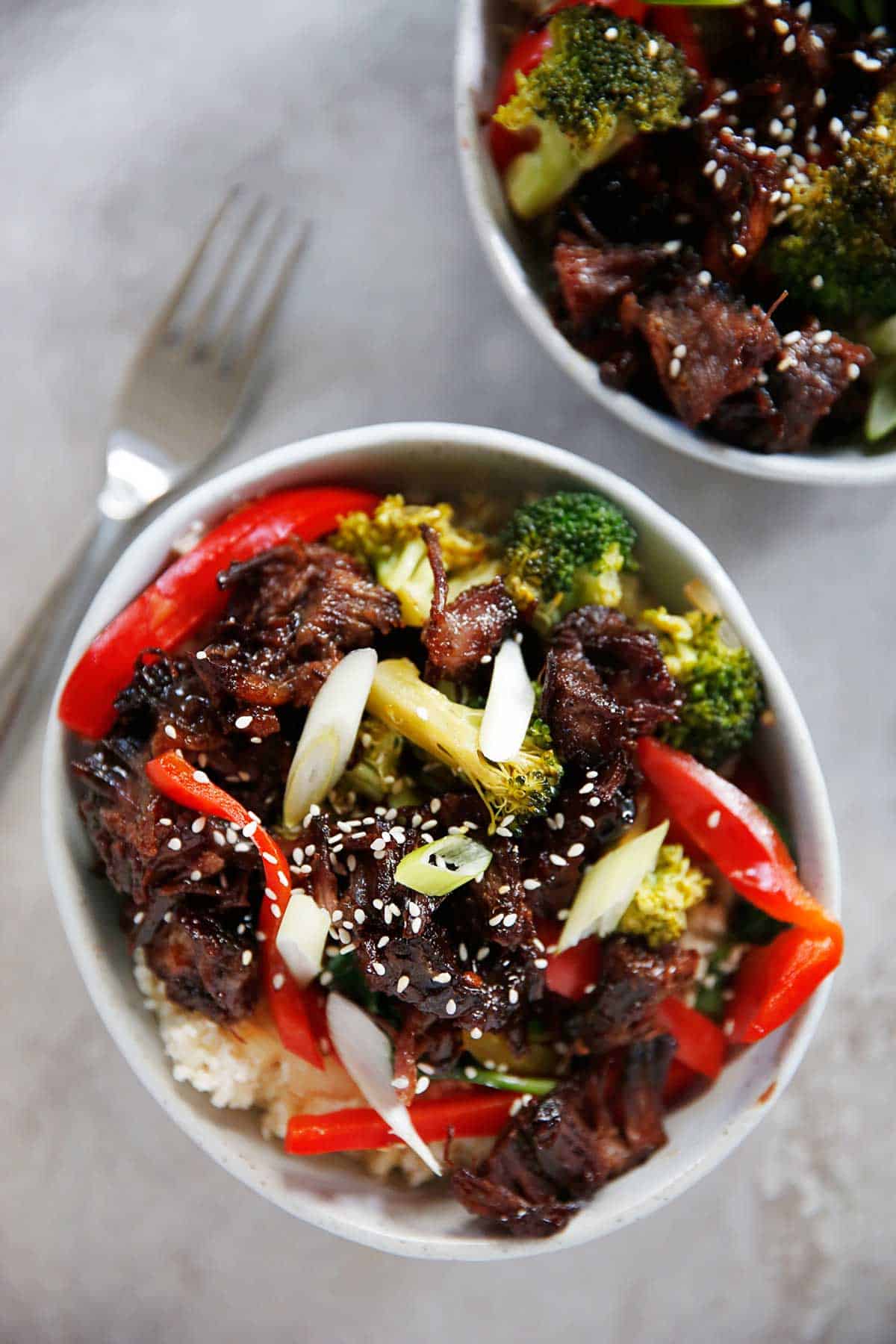 What You Need to Make this Slow Cooker Paleo Beef Recipe:
Boneless chuck roast (feel free to double this amount if you want extra meat for future meals)

Coconut aminos (this is a soy-free and gluten-free alternative to soy sauce)

Coconut sugar

Rice wine vinegar

Garlic

Toasted sesame oil

Ginger

Cauliflower (to make the grain-free "rice")

Red bell pepper

Onion

Broccoli florets

Scallions
Sesame seeds
Can You Use Premade or Frozen Cauliflower Rice?
Yes! We take advantage of frozen cauliflower all the time, and love that it's readily available now. There isn't much difference between fresh or frozen except that the frozen can hold a little bit more water in it. So if you don't want to do the extra step of making your own cauliflower rice, feel free to use premade!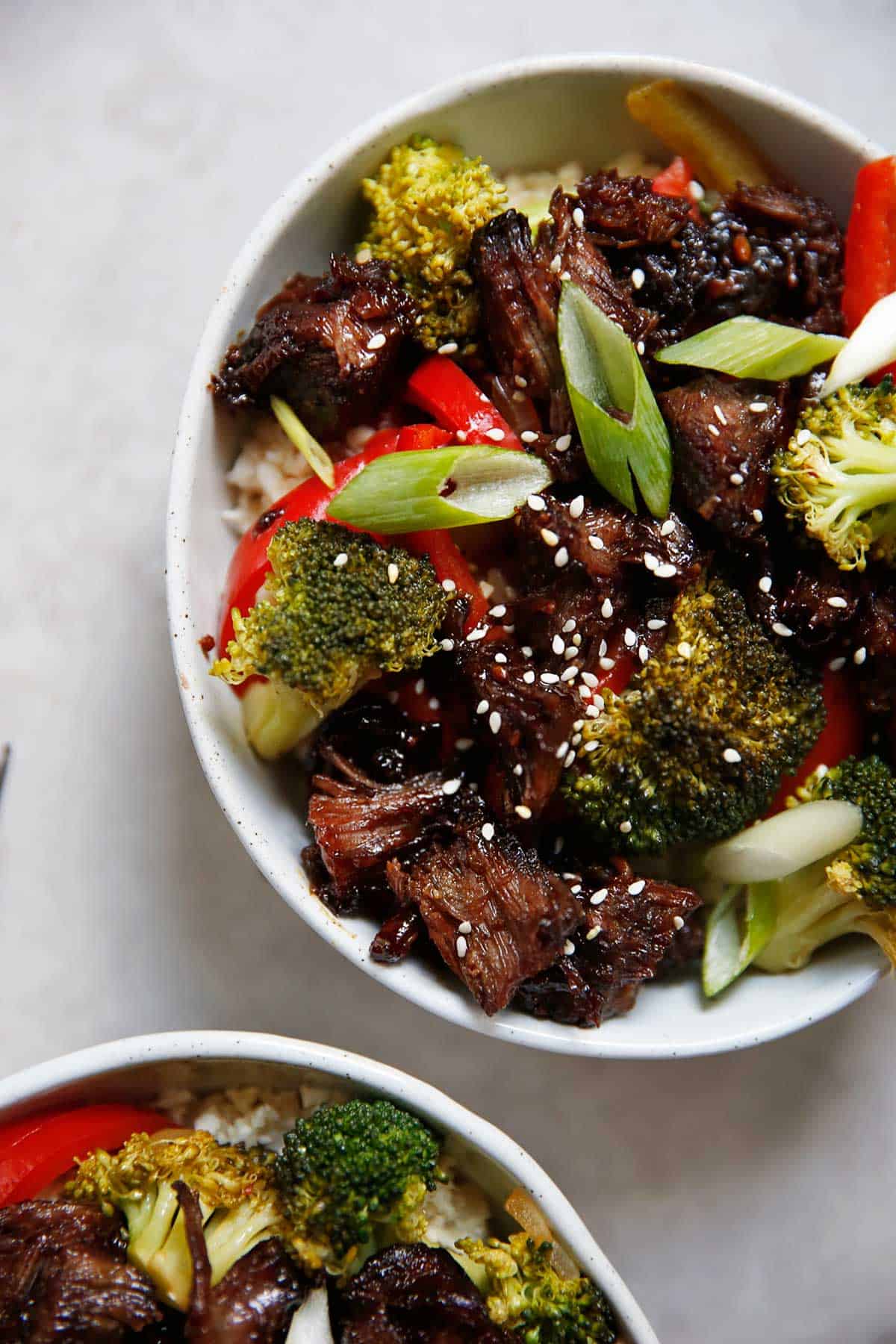 Watch the video:
If you like this asian inspired recipe, check out these others:
---
Paleo Asian Beef and "Rice" Meal Prep
This Crockpot Chicken and Vegetables recipe has everything you want, made in one slow cooker dish. Tender chicken and flavorful veggies are cooked together with herbs and a flavorful sauce. It's the perfect dish to have waiting for you after a long day!
Crockpot Chicken and Vegetables
I love one pot meals, especially when they are made hands-off in my Slow Cooker! This easy Crockpot Chicken and Vegetables is a classic. Made with bone-in chicken thighs, a bunch of veggies that are customizable and a dreamy sauce, this is sure to be a new family favorite. Set it in the morning and have the perfect meal waiting for you when you arrive home.
Ingredients Needed for Crockpot Chicken and Veggies
Bone-In Chicken Thighs
Butter or Oil
Garlic Cloves
Onion
Carrots
Potatoes
Celery
Sweet Potato
Chicken broth
Fish sauce
Fresh ginger
Fresh Herbs
How to Make Crock Pot Chicken and Vegetables
It couldn't be simpler to make this slow cooker dinner. Simply:
Add all of the ingredients to the insert on your crockpot. Pour over the sauce and cook on high for 3 hours, or on low for 7 hours.
To get the chicken skin crispy, so ahead and broil it for a few minutes.
Serve the hot chicken and vegetables with some extra sauce.
If you like this slow cooker recipe, check out these others:
If you like this chicken recipe, check out these others:
Slow Cooker Chicken and Veggie Dinner
There is no better cure for anything than Chicken Soup. The chicken and broth warms the soup, and the vegetables brighten everything up. It's a classic for a reason! Plus this Slow Cooker Chicken Soup is simple to make and easily freezes!
Classic Slow Cooker Chicken Soup
I am SO excited about this soup. Growing up in a Jewish home, chicken soup was a staple (and still is) for holidays and anytime someone started to come down with something. I've eaten A LOT of chicken soup in my day, and this is hands down my favorite. PLUS, it's literally the easiest recipe to throw together. It has all the flavors of your classic chicken soup just like grandma used to make. Packed with tons of veggies and tender chicken, this classic comfort soup is perfect for anytime you need to warm yourself up on a chilly day.
Crockpot Chicken Soup Ingredients
Whole Chicken
Garlic
Onions
Carrots
Celery
Fresh Dill
Salt and Pepper
Bay Leaf
How to Make Slow Cooker Chicken Soup
What I love most about this recipe is how simple is to make. Simply:
Add all of the ingredients to the slow cooker. Cook on low for 8 hours.
Shred the meat off of the chicken, and stir back into the soup.
Serve hot, or cool down before storing in the refrigerator.
Want to make it faster in the Instant Pot?
Place veggies in the bottom of your Instant Pot.
Top with chicken, herbs, and spices.
Add 6 cups water.
Push 'Soup' and let cook for 30 minutes. Let slow release or use quick release.
Shred chicken, discarding skin and bones.
Adjust salt and pepper as desired.
NOTE: For frozen chicken, cook for 40 minutes.
Should Noodles be Cooked before Adding to Soup?
While this recipe doesn't specifically call for noodles, you could add them if you want. If you cook the noodles in the soup they will suck up most of the broth, so it's best to cook noodles separately. However, it's better to add the noodles directly to single hot bowl of soup instead of to the whole pot because the noodles will continue to suck up the liquid of the soup and become waterlogged.
If you like this soup recipe, check out these others:
If you like this slow cooker recipe, check out these others:
---
Watch the video:


[yumprint-recipe id='395′]
Classic Chicken Soup (Slow Cooker & Instant Pot)
This Slow Cooker Pulled Pork is the ultimate pulled pork recipe! Tender and flavorful pulled pork cooked in a homemade sweet and smoky refined sugar free BBQ sauce… doesn't get much better than that! Summer BBQ perfection.
Slow Cooker Pulled Pork
This slow cooker shredded chicken is an all-purpose recipe that goes with just about anything and is made easy in the crock pot! The slow cooker is one of my favorite kitchen appliances, especially if you have a busy schedule.
Slow Cooker Shredded Chicken
This basic all-purpose chicken recipe is great because you can turn it into so many things. From shredded buffalo chicken lettuce wraps to chicken soup, chicken salad, and shredded chicken tacos, this easy recipe is so simple and always delicious!
What is the best way to shred chicken?
Shred chicken with two forks!
How do you shred chicken with a mixer?
Place fully cooked chicken breasts into the KitchenAid Stand Mixer. Make sure your chicken is still warm. With your paddle attachment connected and chicken inside the mixer, turn it onto low until shredded!