Berries and Cream Parfaits
This Berry and Cream Dairy Free Parfait recipe is the perfect healthy treat when looking for a simple dairy-free and vegan friendly option! They come together quickly with only 4 ingredients and just the right amount of sweetness!
Berries and Cream Dairy Free Parfait Recipe
Hello perfect dairy free summer dessert recipe! This no-bake stress-free summer time treat is perfect for when you are craving something a little sweet but still want to keep it healthy and nutritious. This would also be a fun and seasonal 4th of July parfait to serve with the red and blue berries! Don't want to use berries? You could also mix it up with some stone fruits like peaches or nectarines as well.
Sometimes simple is better, and this four ingredient dessert is it.
Ingredients Needed:
Coconut cream

Berries (or fruit of choice)
Tips for Making Coconut Whipped Cream
Look for coconut cream instead of coconut milk. It will give you more of the solid part of the coconut milk that you need to whip up.
You absolutely must refrigerate your coconut cream. We recommend doing so for 24 hours, but if you are in a pinch, 8 hours will work.
Use powdered sugar as a sweetener. It helps thicken the consistency of the coconut cream. If you were avoiding refined sugar you could use honey, but it will result in a thinner whipped cream.
Add vanilla to give it an extra flavor boost!
Serve immediately. You can make it up to 4 hours ahead of time, but it can harden back up in the refrigerator if it's left for much longer.
If it does stiffen up too much in the refrigerator you can rewhip it again to get it to a consistency you desire.
Other Toppings for this Dairy Free Parfait Recipe
Want to add some extra toppings in to this parfait while still keeping it healthy?
Chopped nuts
Chopped dark chocolate
Seeds
Nut butter drizzle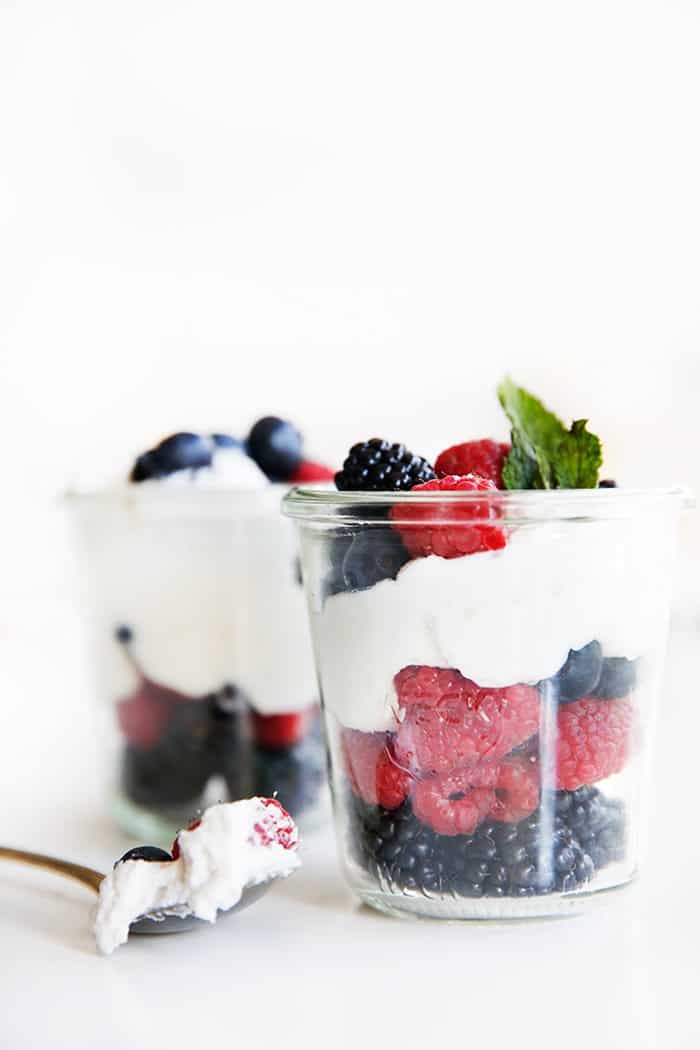 If you like this summer dessert, check out these others:
[yumprint-recipe id='425′]