2-Ingredient Paleo Chocolate Frosting
Looking for the easiest Paleo Chocolate Frosting that's dairy-free and requires only 2 ingredients? This is it! It's so simple to put together and can be used in a variety of ways to make the prettiest and rich and chocolately cupcakes or cakes.
Paleo Frosting Recipe
When you find out how to make this recipe you are going to wonder how something so easy can look so beautiful! This recipe requires just 2 ingredients (though there are some optional add-in's if you want) and is pretty simple to make! It's the perfect rich chocolate frosting, even if you don't need to be dairy-free and Paleo. Use this chocolate frosting to top your favorite cupcake, to decorate a cake or even to make those beautiful chocolate drips on a cake!
Here is what you need to make it:
Dark Chocolate (take care to use dairy-free if you need, such as Enjoy Life's brand)
Coconut Cream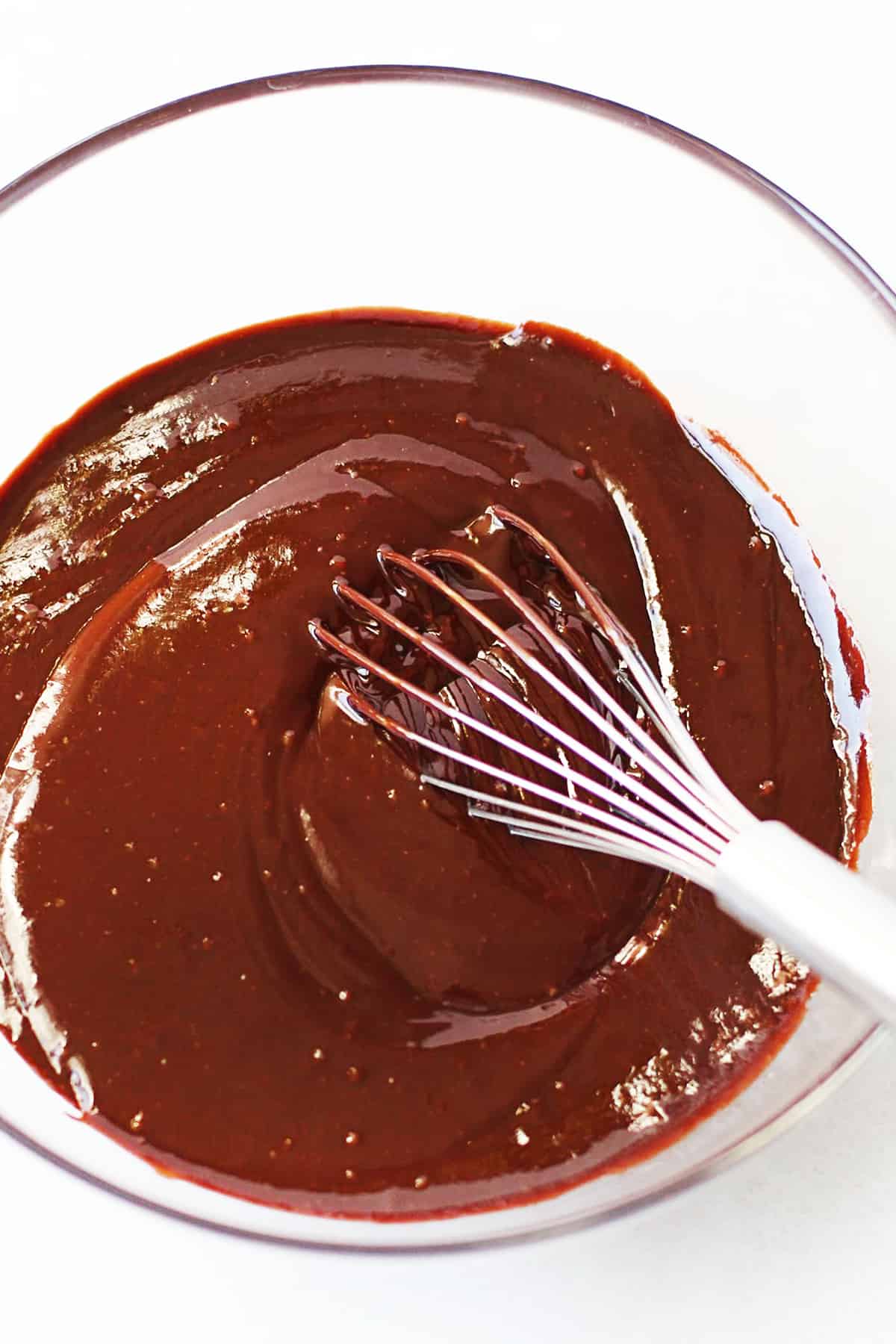 How to Make Dairy Free Chocolate Frosting
In the most basic form, this is a paleo ganache frosting. Basically the chocolate is melted with hot coconut cream, and it's stirred together until silky and smooth. Just make sure to use coconut cream. If you can't find the cans specifically labeled coconut cream, you can chill a can of coconut milk and scoop off the solidified cream.
Different Ways to Use It
I love how versatile this frosting is! Here are the two different ways you can use it:
As a Ganache Topping
A cupcake could be "frosted" with just the plain silky ganache as is. It creates a beautiful and thick glaze on top of the cupcakes (just like in this recipe here). To do it: dip the top of each cupcake carefully into the glaze and swish around to make sure it's covered completely. Then gently lift it up to let to let the excess glaze drip off and quickly flip it back right side up on a wire rack to cool completely.
As a Whipped Frosting
Once the ganache is completely chilled (but not too hard) you will whip it with an electric mixer. Whipping it will add air to the chilled ganache and make it light and fluffy. It will significantly lighten the color and make it spreadable and easy to use in a piping bag.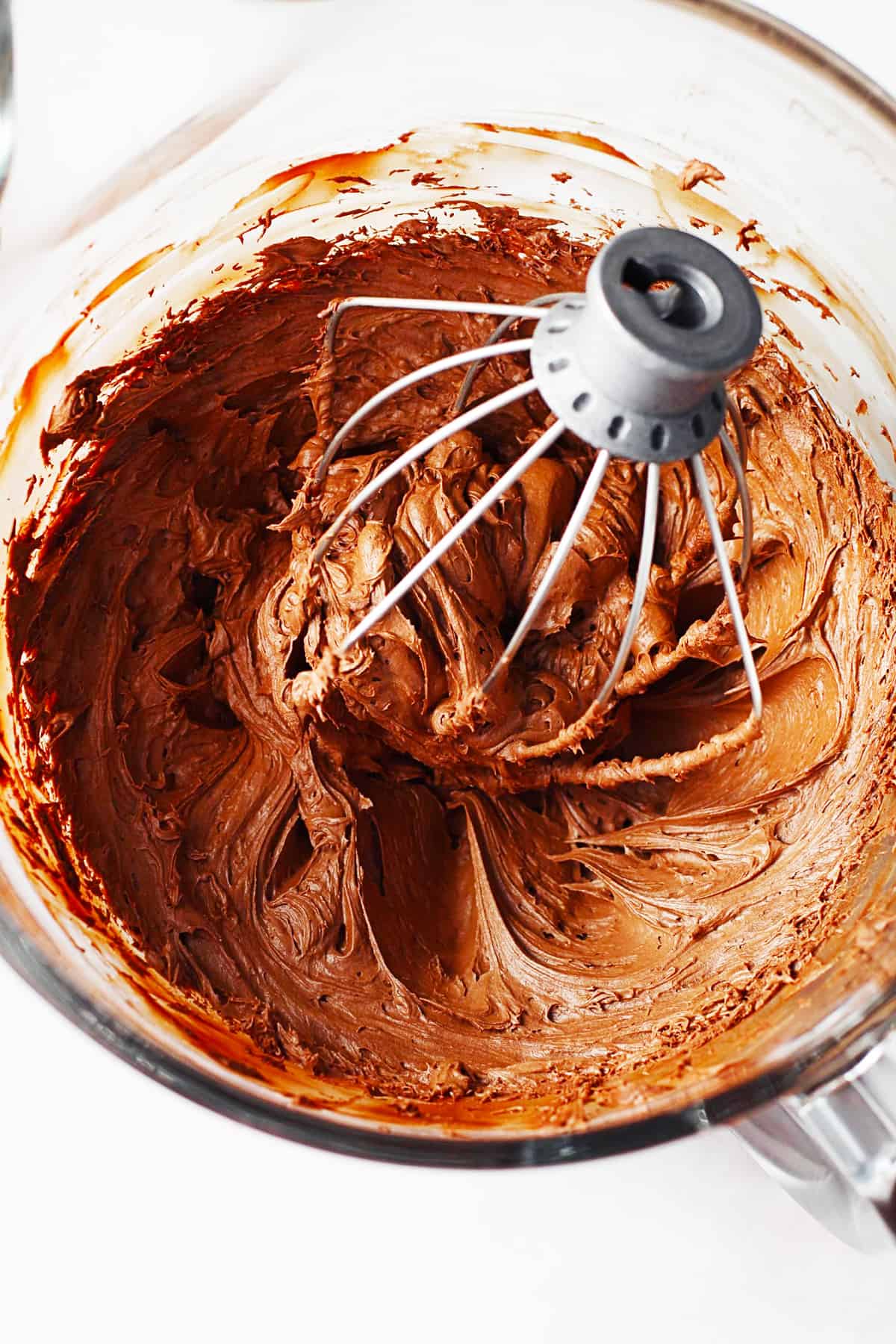 Optional Additions
So the frosting as it is written is pretty decadent and ALL about that chocolate flavor. Which is great, but it also is possible to switch up the flavor a bit and add in some different ingredients and dress up your cupcakes / cake.
Powdered Sugar: Looking for a more sweeter chocolate frosting? Add in about 1/2 cup organic powdered sugar when you are melting it. Of course, this makes it NOT paleo, but still leaves it dairy-free.
Extracts: There are so many different flavors you can add in here! The most obviously being vanilla extract. Start with 1 teaspoon for that. Other flavors could be peppermint, orange, or even almond. Start with 1/4 teaspoon for those and increase as desired.
Flaky Sea Salt: After you've finished frosting your cupcakes go ahead and sprinkle on some flaky sea salt. A little sprinkle of sea salt always is a welcome addition.
Sprinkles: Because, of course! Add these after you've finished frosting your cupcake.
Freeze Dried Fruit Powder: Using a sprinkle of freeze dried fruit powder not only can make the cupcakes or cake look pretty, but it also adds a nice punch of flavor without adding in extra moisture. Raspberry or strawberry would be great here! But feel free to experiment. Freeze dried fruit can be commonly found in most grocery stores now, just make sure to read the ingredient list. Look for a brand that lists only the actual fruit as the ingredients. Add this after you've finished frosting your cupcake.
Use this Paleo Chocolate Frosting with these recipes:
2-Ingredient Paleo Chocolate Frosting
Nothing in this world is better than chocolate and raspberry together and that's why these Raspberry Swirl Brownies are the absolute best. You know what else makes these the best? They're a decadent treat that's on the healthier side by using coconut oil and almond flour. That means they're also grain-free, dairy-free and Paleo, while still being totally delicious.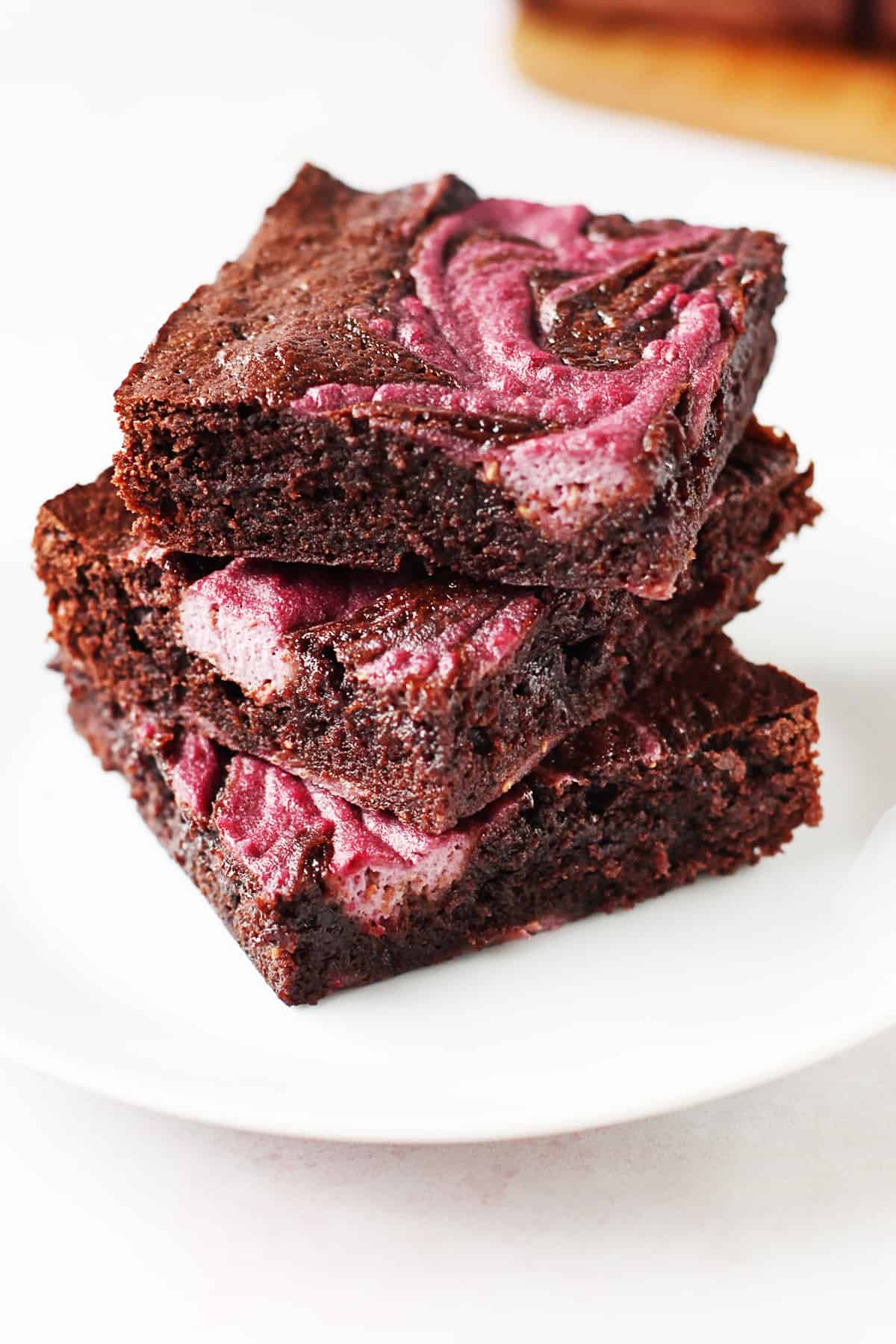 Chocolate Raspberry Brownies
It is the most perfect time of the year for making a chocolate treat for the one you love, and these Chocolate Raspberry Brownies should be the ones you make. They are fudge-y and chewy with a beautiful raspberry swirl throughout! Did I mention they're also on the healthy side, made without refined sugar, grains or dairy? The raspberry swirl is actually made from cashew cream (our absolute favorite thing) and freeze dried raspberry powder! It adds a big raspberry flavor without weighing down the brownie from all the moisture from fresh raspberries. Trust us, you'll want to make them.

Ingredients Needed
Coconut Oil (or butter, if you want!)

Dark Chocolate

Coconut Sugar

Eggs

Almond Flour

Tapioca Flour

Unsweetened Cocoa Powder

Baking Powder

Salt

Freeze Dried Raspberry Powder

Maple Syrup
Cashew Cream
We love using cashew cream in place of cream or cream cheese in recipes. It's more nutrient dense and just plain delicious. Cashew cream is simply soaked cashews that are blended until they are smooth and creamy. It works perfectly as a creamy base for the raspberry swirl.
Can I use fresh fruit?
Freeze dried fruit is preferred here, since fresh fruit will have too much moisture. If you want to use fresh fruit, the alternative would be to make a jam since the fruit will need to be cooked down.
Note: We have not tested this with jam, so can't promise the same results! Have no fear though, freeze dried fruit is available in nearly every major grocery store, and is inexpensive!
A Word about Freeze Dried Raspberry
Freeze dried fruit is now commonly found in most grocery stores and inexpensive. Make sure to read the label to check that the only ingredient listed is the actual fruit and does not include any additives. To make the powder needed for this raspberry, either crush up the raspberries directly in the bag or you can blitz them in a food processor.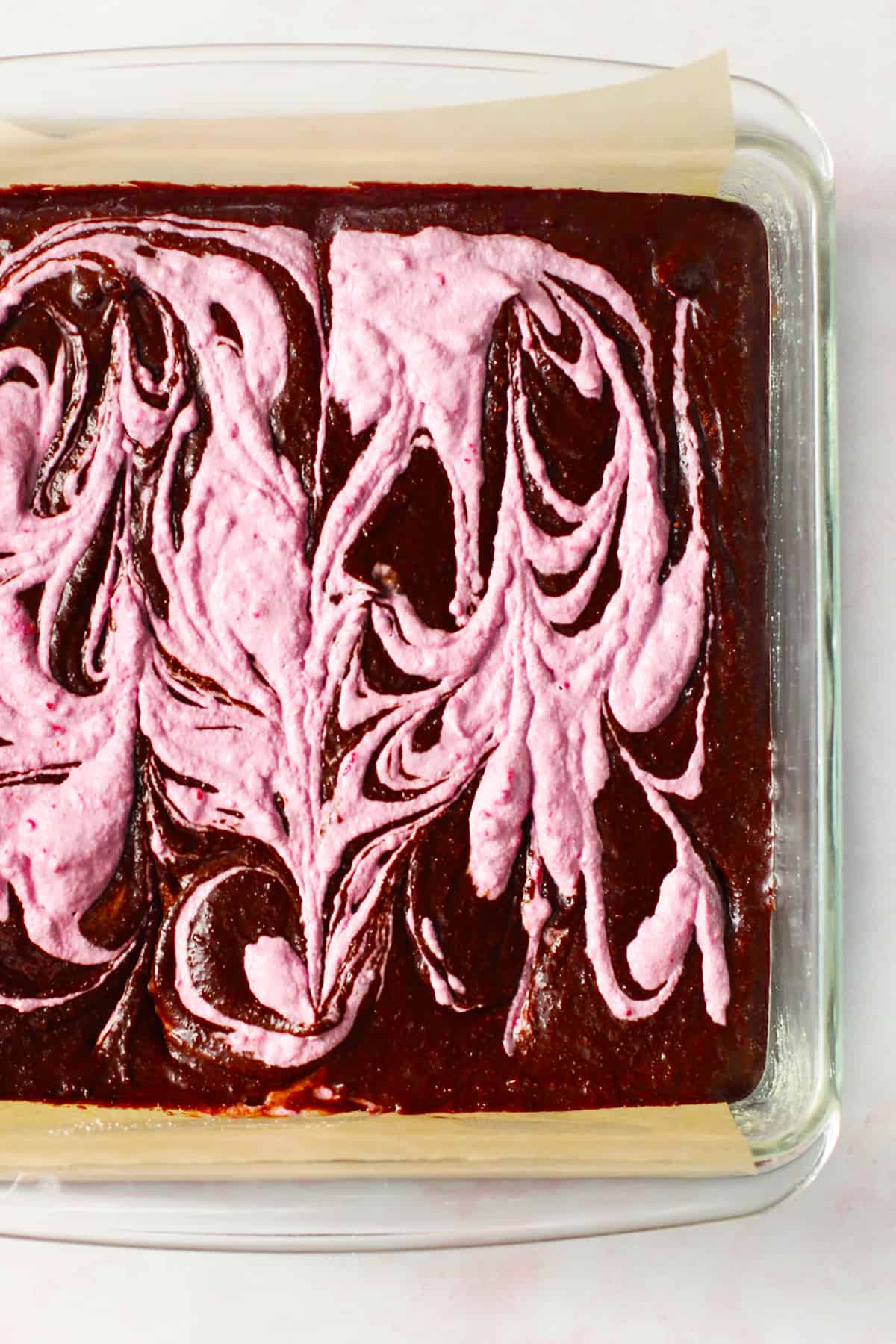 How to Get That Perfect Swirl
Making that beautiful swirl in batters can be so soothing and can look like a work of art! The more you swirl, the more intricate the design gets, but be careful of playing with it too much because in this batter, the raspberry could end up covering the chocolate if played with too much.
Using a knife or a toothpick, gently swirl either up and down the batter or in circles, or a mix of both.

How to Cut Perfect Squares
Use a parchment paper sling so you can easily remove the brownies in one piece.
Let your paleo brownies cool close to room temperature, or place it in the refrigerator to cool down. And use a warm knife that has been run under hot water and dried to cut your brownies.
To get even pieces without using a ruler always cut down the middle! Make your first cut directly down the middle. Then cut each half in half down the middle. This of course only works if you are looking to make an even amount of slices.
Storing Chocolate Raspberry Brownies
As is the case with most brownies, these are best eaten within the first day or two. However they can be stored! Store these at room temperature for up to days in a covered container, or in the refrigerator for 4-5 days. They can also be frozen for up to 2 months.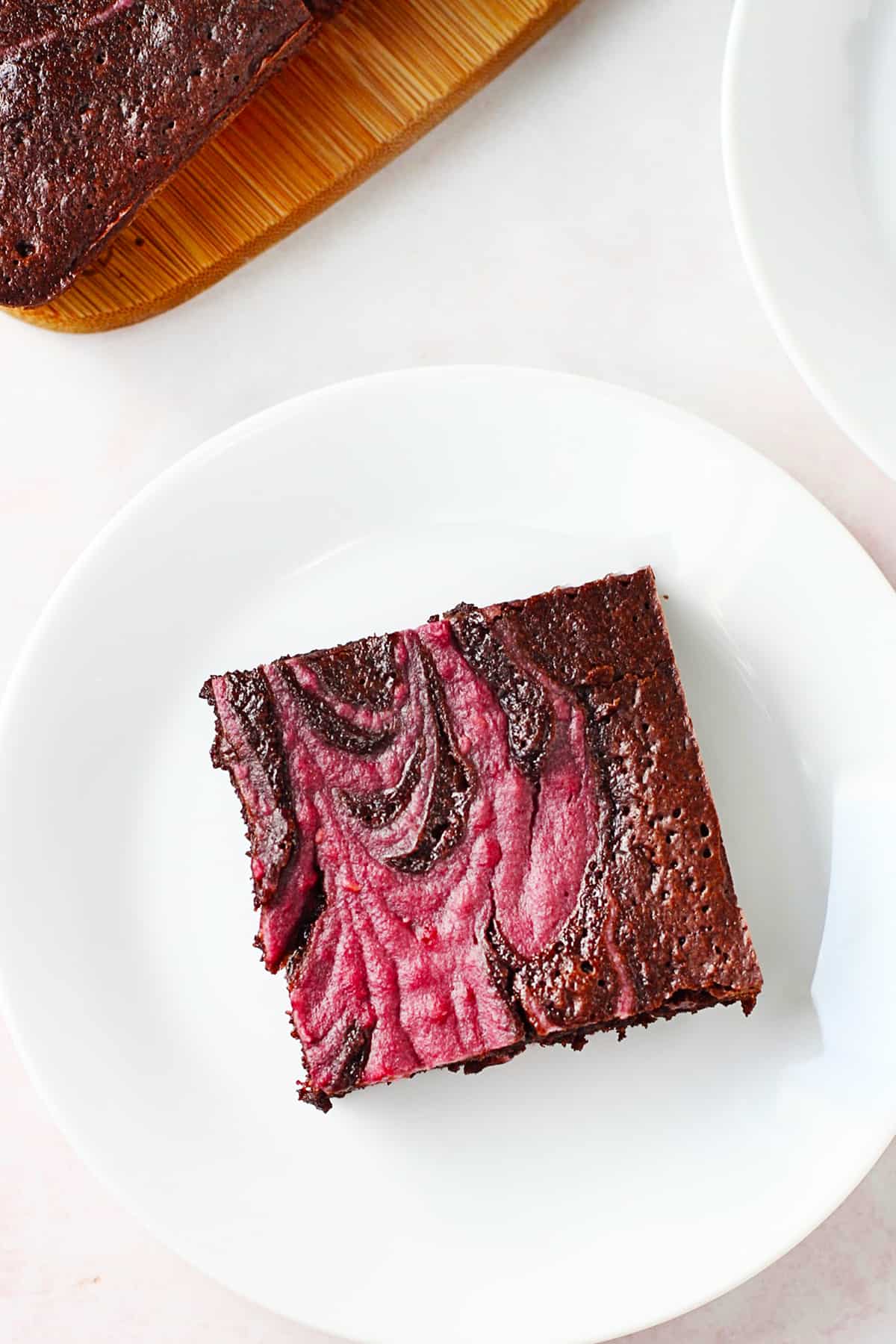 If you like this brownie recipe, check out these others:
If you like this healthy treat, check out these others:
Raspberry Swirl Brownies
The holidays are here which means it's time to start planning! We've got a great list of our favorite Healthy Holiday Recipes starting with brunch and ending with dessert. These healthy but super delicious recipes will be loved by all!
Healthy Holiday Recipes
The holiday season is here, which means it is finally my favorite season for entertaining! If you are looking for healthy, flavorful, and simple meals to make this season, we have got you covered! From my favorite brunch recipes to serve a crowd and ending with all of those holiday treats. Scroll through to see our favorite LCK Holiday Recipes that everyone is going to love!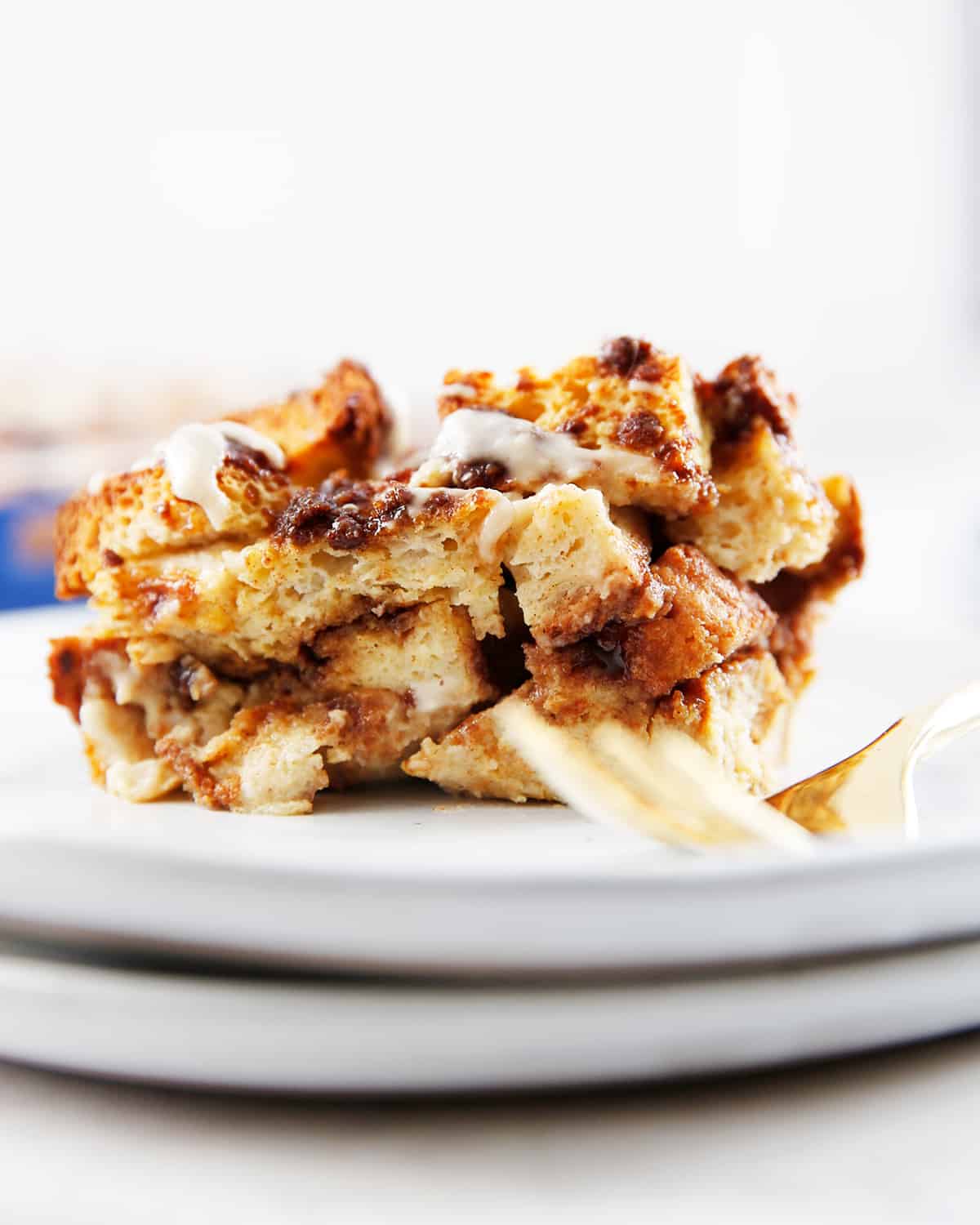 Healthy Holiday Brunch Recipes
If you are hosting family from out of town for the holiday, sometimes it isn't just the big meal you have to think about. However, not everyone has the (space) or time to create a massive brunch. We've compiled a list of some easy breakfast recipes to feed a crowd!
---
Cinnamon Roll French Toast Bake: This Cinnamon Roll French Toast Casserole is the the absolute best holiday brunch. It literally taste just like a cinnamon roll, without all the work of making cinnamon rolls. Plus, it's great to prepare the night before and either bake up for guests at home, or to bring along to a pot luck brunch. Trust me, you are going to love this one.
Gingerbread Muffins: Nothing says December and a comforting holiday breakfast like a warm gingerbread muffin. These gluten free muffins are easy to make and so delicious.
Sheet Pan Classic Breakfast Bake This Sheet Pan Classic Breakfast is made up of Eggs, Bacon, & Home Fries and comes together in a pinch and made using only ONE PAN. It's a great one pan breakfast bake that is perfect for a brunch to feed a crowd with little to no mess!
Orange Cranberry Overnight Oats This Orange Cranberry Overnight Oats recipe is the best make-ahead breakfast, and you can make a big batch of it, if you need. It's creamy (without any dairy) and bursting with seasonal orange, cranberry and pecan flavor. It's vegan-friendly and gluten-free.
Breakfast Prep Baked Egg Cups These healthy baked egg cups make the perfect breakfast meal prep. Make the night before, and heat up as needed throughout the morning.
Chocolate Peppermint Baked Oatmeal This oatmeal bake is a perfect make-ahead breakfast to feed a brunch crowd, and it's easy to make. It's dairy-free, gluten-free and made without any refined sugars.
Everything Bagel Hummus Breakfast Toast Try this non-recipe recipe for an easy breakfast idea! It's an easy way to to get a quick breakfast on the table that is full of protein and fiber and tastes SO GOOD.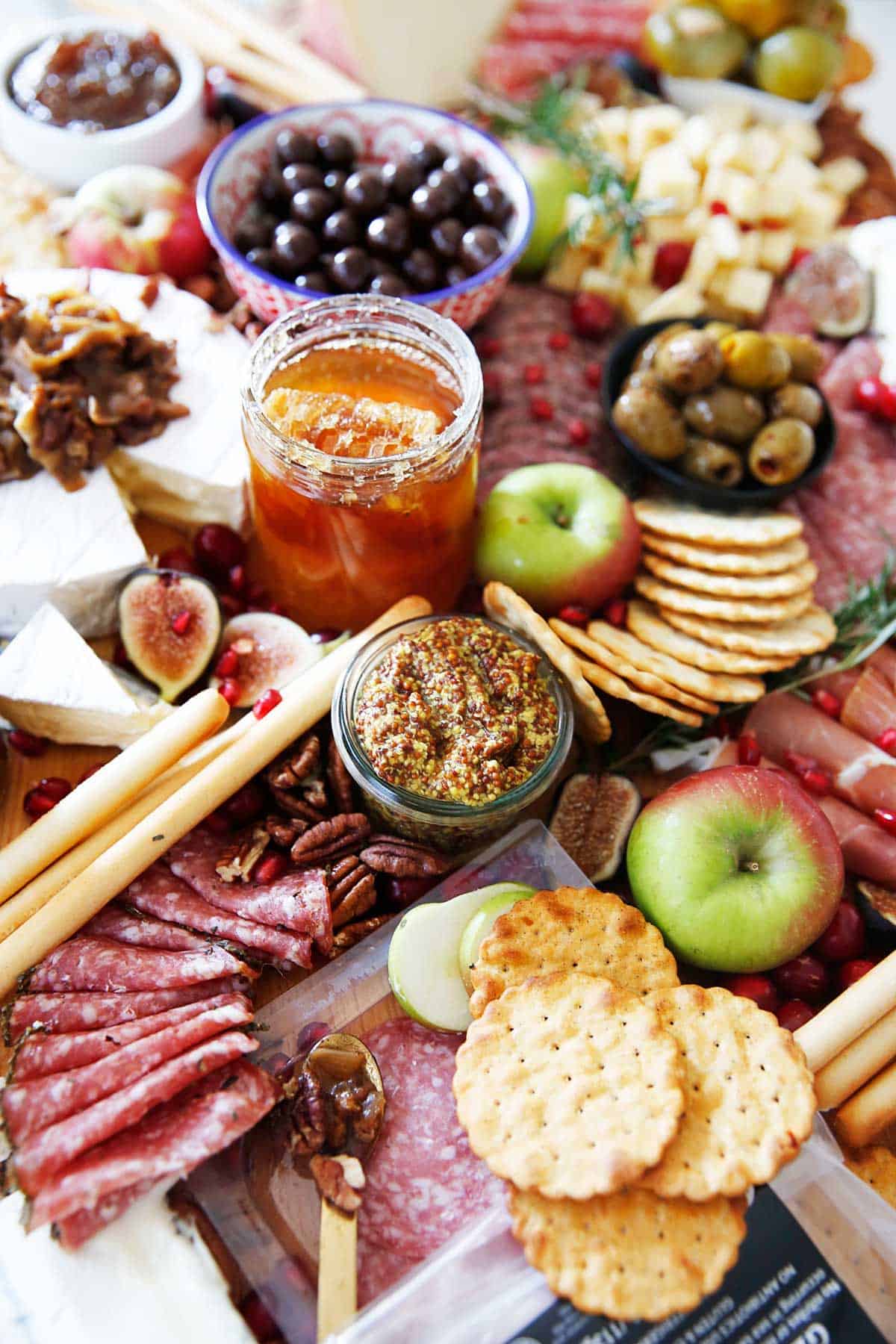 Healthy Holiday Appetizers
Appetizers for everyone to love!
---
How to Build The Ultimate Charchuterie: A charcuterie board is a quick, delicious and beautiful appetizer idea to feed a crowd. Fill a big board (or platter) with all of your favorite meats, cheeses, and crudités, and follow my tips to make it gorgeous, for the most festive spread this holiday season!
Gluten Free Pigs in a Blanket: These Pigs in a Blanket are as perfect for a large holiday gathering as they are for game day eats. They are made using an easy gluten-free and nut-free dough that doesn't need any chilling time. These are a sure crowd pleaser for both kids and grown-ups alike!
Crudité Platter This Crudité Platter with Dairy-Free Tzatziki Sauce makes for such a light and refreshing snack, appetizer, or side-dish! The perfect bright and colorful dish to make with any seasonal veggies you have on hand! Dairy-free, egg-free, grain-free, gluten-free, and Whole30 compliant! This will be the most gorgeous appetizer on the table, for sure!
Deviled Eggs with Bacon: These are your answer for an easy-to-make appetizer to please a crowd! They are so delicious and can even be made ahead of time! The addition of bacon and chives bump these deviled eggs up to the next level!
Potato Latkes: These Gluten Free Classic Potato Latkes are just like grandma makes them, only made without any refined white flour! They have the classic delicious flavors you want, and I guarantee that nobody will know they are gluten-free!
Buffalo Chicken Baked Hummus Dip: This 5-Ingredient Buffalo Chicken Baked Hummus Dip is the perfect lightened-up appetizer to serve for game-day or for any gathering! It is simple to prepare, made with minimal ingredients, has all of the buffalo chicken flavors you love, and it's made with a healthy, creamy alternative: hummus
Spinach and Artichoke Dip: Bound to be a hit at your next party, this Healthy Spinach Artichoke Dip has all that creamy flavor without any dairy. This paleo, vegan and Whole30 friendly appetizer is simple to put together and nobody will know this isn't the classic version.
Thai Meatballs: These Thai Meatballs are paleo, gluten-free, and bursting with flavor. They are a healthy meatball recipe that everybody will love. This thai meatball recipe is loaded with veggies and infused with the perfect flavor combination of ginger, chili, garlic, and more. A total crowd pleaser that gets rave reviews!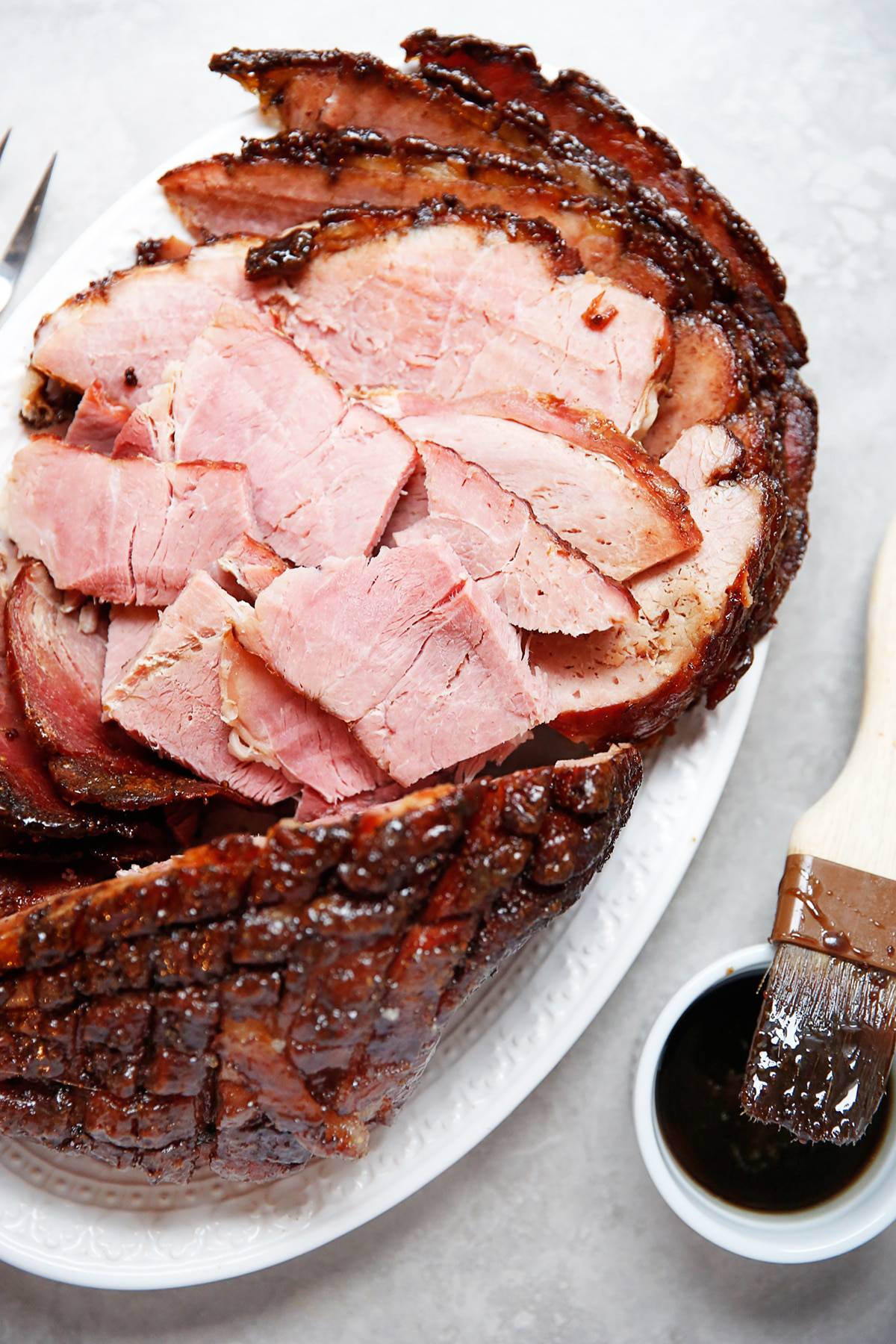 Healthy Holiday Mains
Pick that main dish before you choose what you are going to serve with it!
---
How to Roast a Turkey: If you've never roasted a turkey before, this for a Citrus Herb Turkey explains it all!
Maple Glazed Ham: Looking for a turkey alternative, or an extra protein to pair with the turkey for a large crowd? This sweet and salty Maple Glazed Hame would be perfect.
Kale and Sweet Potato Stuffed Turkey Breast: This is perfect for a dinner party or small Thanksgiving feast. A boneless turkey breast is stuffed with quick caramelized onions, kale, sweet potato and herbs, then baked in the oven in just about an hour. Double the recipe to feed a crowd! It's also gluten-free, Paleo and Whole30 friendly.
Lamb Chops with Crispy Shallots and Pomegranate Sauce : This Lamb Chops with Crispy Shallots and Pomegranate Sauce recipe makes for a decadent meal done in under 20 minutes! It's elegant, super flavorful, and comes together quickly and works equally as well for a romantic dinner for two, or a weeknight easy meal.
Pork Chops with Apples: This skillet Pork Chops with Apples recipe is the quintessential fall meal. The pork chops are perfectly cooked and paired with sweet and savory fall flavors like sage, apple cider and apples.
Bone-in Pork Chops with Cherries: Perfectly cooked pork chops topped with Tart Cherry Compote is the perfect festive holiday meal that will make you feel fancy in no time!
Turkey Roast with Pear Chutney: This turkey breast roast is perfect for smaller holiday gatherings and was a staple at my family holiday dinners!
Spinach Artichoke Stuffed Spaghetti Squash: Looking for a great vegetarian main that doesn't involve tofu? This is it! All the classic flavors of spinach and artichoke dip made healthy and stuffed into a low-carb and nutrient-rich spaghetti squash! You can optionally add-in chicken to make it heartier, or leave it as a vegetarian main dish. Make it dairy-free using cashew cream, or not.

Healthy Holiday Side Dishes
Side dishes are for some the BEST part about a holiday dinner, and we've got quite the list for you!
---
Healthy Sweet Potato Casserole: This classic casserole makes the absolute perfect side dish at your Thanksgiving dinner or at your December holiday party. Do you want to know the best part? It's lighter than your typical sweet potato casserole and free of refined sugar! Plus it's easy to make-ahead of time and the perfect side to bring along
Classic Mashed Potatoes These Dairy Free Mashed Potatoes taste just like the classic version. They are everything you want in that comforting and warm side dish, but lightened up to include chicken broth and olive oil. They're soft and creamy and a cinch to make. Plus they're Whole30, paleo, and vegan friendly.
Garlic and Herb Mushrooms: This mushroom recipe is the last one you'll ever need to look up for a side dish idea. These Ultimate Herb and Garlic Mushrooms are packed with umami flavor, are quick to make and topped with fresh herbs. Serve these at your next Thanksgiving or dinner party and everyone will rave about them!
Honey Glazed Carrots These are the perfect fuss-free side dish. They're cooked in one pan and result in the most tender, slightly sweet glazed carrots. They are so good they are borderline addictive and both kids and adults will love them! They're paleo friendly and easily made dairy-free.
Maple Roasted Brussels Sprouts with Bacon These addictive brussels sir outs with bacon and maple syrup is sure to make this side dish a fan favorite for everybody! This paleo-friendly recipe is sweet and savory and definitely going to be in your winter meal plan rotation!
Herb and Garlic Quinoa: This easy and delicious Herb and Garlic Quinoa is the perfect side dish to accompany just about anything. What's even better is the recipe uses pantry staples so you can throw it together whenever you are looking for an easy side dish to pair with dinner.
Healthy Creamed Spinach (Made Without Cream!) This Creamed Spinach is a lightened up version of your favorite holiday classic and is made without cream for the perfect healthy and veggie-packed side for Thanksgiving! Creamy, flavorful and so simple to make!
Green Bean Casserole This lightened up, healthier version of a Green Bean Casserole is sure to be a crowd pleaser. It's dairy-free, made without any soup mix, and EASY to make.
Scalloped Potatoes Creamy with just the right amount of cheese, lightened up, and baked to perfection, this au gratin scalloped potato recipe will be a favorite.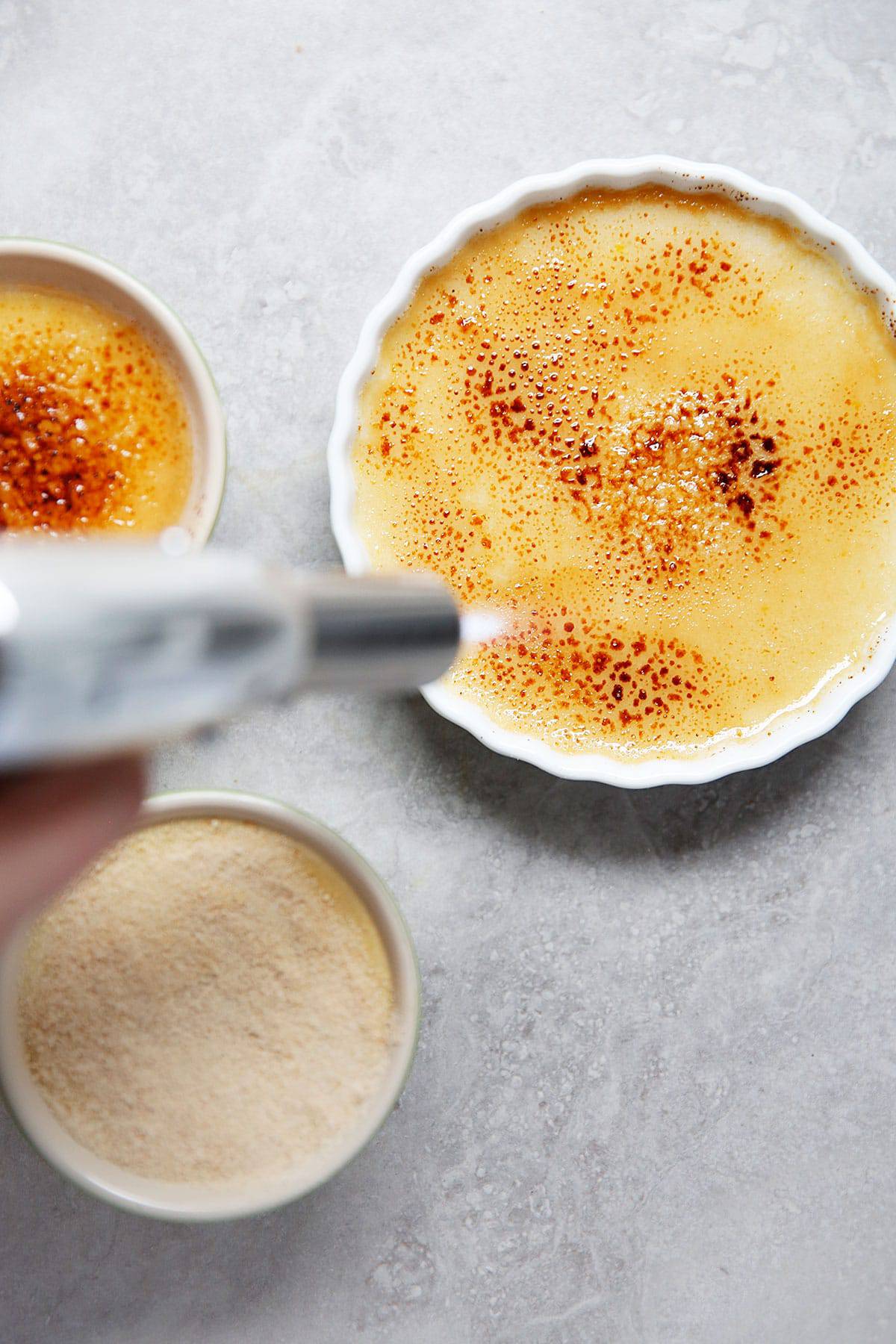 Healthy Holiday Desserts:
Even sweet treats can be lightened up, and nobody will know the difference!
---
Cut Out Cookies: These Gluten Free Cut Out Cookies are the best for decorating holiday cookies! They are so simple to put together, can be rolled out immediately and decorated (or not) to celebrate any holiday! These versatile cookies are made with only 5 ingredients (plus a pinch of salt!) and are a great activity to do with the kids. We've included tips and tricks for decorating using an easy powdered sugar icing so you can get your holiday bake on now!
Peppermint Bark: Using only 5 ingredients, this Peppermint Bark is simple to prepare and perfect for giving away to friends and family as holiday gifts. It's as easy as melting and spreading chocolate, but truly looks fancy. Top it with candy canes for that super festive look (and taste)!
Double Chocolate Macadamia Cookies: These Double Chocolate Chunk Macadamia Nut Cookies are the perfect gluten-free and paleo-friendly cookie that everyone will love! Soft, chewy, and bursting with chocolate and macadamia nuts! A household favorite!
Cookie Truffles: These Cookie Truffles are the CUTEST gluten-free treat that you can make for any occasion. They're made using a handful of ingredients, including our favorite gluten-free chocolate cookie, are no bake and are so easy they'd be a great activity to do with the kids! Perfect to serve up for any fun event!
Easy Slow Cooker Baked Apples: These easy-to-make "baked" apples have just the right amount of sweet, they swarm your home with the most delicious fall scent, and they are super EASY to throw together.
Creme Brûlée: This dairy-free and refined-sugar free version is just as decadent as the classic version but lightened up with a secret healthy ingredient! It's perfectly sweetened with a blend of honey and maple sugar and despite it feeling fancy it is really easy to make.
Apple Galette This is similar to an apple pie with a buttery crust with thinly sliced juicy apple, but easier to put together! It's the perfect dessert to serve during the holidays or a fun weekend baking project to celebrate the fall season! It's made using unrefined sweeteners and uses the BEST gluten-free crust.
Classic Apple Pie This classic pie has a buttery crust with thinly sliced juicy apples laced with cinnamon and nutmeg. It's made using unrefined sweeteners and uses the best gluten-free crust.
Pecan Pie: This Pecan Pie made in a tart pan is absolutely stunning, yet simple to put together. And the best part? It's made without any refined sugar or corn syrup!
Nut-Free Pumpkin Pie This Gluten Free Pumpkin Pie is smooth and creamy (without any cream) with just the right note of spice. It's made using our nut-free and gluten-free crust that is so simple to put together!
Grain-free Cranberry Apple Crisp This healthy apple crisp is made without oats, with a pop of color and tartness thanks to added cranberries and is sweetened just right!
Creamy Peppermint Coconut Cups: These Creamy Peppermint Coconut Cups are the perfect treat to have in the fridge! They are chocolate-y, peppermint-y, and coconut-y! They are keto-friendly, too! Perfect keto cups!
Espresso Candied Pecans: These Espresso Candied Pecans are the perfect DIY gift giving treat! They are easy to make, and you can make large batches to package up for friends and family this holiday season!
Healthy Holiday Drinks:
We've got your covered with both virgin and alcoholic festive drinks for the holiday season!
---
Apple Cider Sangria: This Apple Cider Sangria is everyone's favorite Fall cocktail! It's flavorful, packed with cinnamon, ginger, apple cider, and white wine for the perfect dinner party sangria! Serve it with a caramel rim (or opt out for simplicity), make a large pitcher, and enjoy this easy fall cocktail!
Pumpkin Coffee: This recipe for easy Pumpkin Spice Coffee can be made using your favorite regular coffee or made into a Pumpkin Spice Latte. It's refined sugar-free and customizable so you can make it dairy-free if you need to!
Golden Milk Latte: This Golden Turmeric Latte with Espresso is about to become your new favorite morning pick-me-up! It's dairy-free, packed with nutrients, and is such a fabulous alternative to your standard cup of coffee or afternoon drink!
Slow Cooker Mulled Cider: Slow Cooker Mulled Cider with a Caramel Pecan Rim will be the hit of your parties or dinner parties all Fall and Winter long! The combination of the caramel and nutty pecans with the warming cider is perfection, and made with no added sugar.. Have it without any alcohol, or spike it as desired with your favorite liquor!
Sparkling Citrus Punch: This Sparkling Citrus Punch is the ultimate holiday and New Year's Eve lightened up cocktail! It is so delicious, it serves a crowd, and it is made with fresh, good quality ingredients you can feel good about serving!
Pumpkin Smash Cocktail: This Pumpkin Smash Cocktail, made with Stoli Gluten Free, has all the flavors of Fall in one delicious cocktail! The easy vanilla bean pumpkin syrup makes a batch large enough to whip up a number of cocktails, perfect for a dinner party
---
Looking for more holiday recipes, check out:
Healthy Holiday Recipes
Savor the last long weekend of the Summer with these gluten free and paleo healthy labor day recipes to make at home or bring with you on-the-go!
Healthy Labor Day Recipes
Labor Day Weekend is bittersweet! It's the last long weekend of the Summer where everyone gets a chance to soak in the last of the sun with final beach days, BBQ's, and the chance to make all of those summer recipes you've been pinning and saving. I've rounded up some favorite appetizers, side dishes, main dishes, and treats to satisfy every person at your home this weekend with these healthy labor day recipes!
---
Labor Day Appetizers
These late summer appetizers are perfect to make at home or to share!
---
Labor Day Pasta Salads and Sides
Sometimes the salads are the BEST part of a BBQ
---
Labor Day Cocktails
Make them as cocktails or mocktails!
---
Labor Day BBQ Ideas
Get that grill lit up, because we need to fire up the end of summer!
---
Labor Day Desserts
A sweet finish to the end of summer!
Healthy Labor Day Recipes (Paleo & Gluten-Free)
This Gluten Free Chocolate Zucchini Bread is the perfect way to use up all the zucchini that summer brings, while also sneaking in some veggies in a healthy treat. This zucchini bread is so moist and decadent while still being nutrient-dense, Paleo-friendly and dairy-free!
Gluten Free Chocolate Zucchini Bread
This Zucchini Bread is a delicious treat that nobody will even think there is zucchini added to it! This bread is decadent while still being healthy and will be sure to become a staple every summer in your house. This healthy Gluten Free Chocolate Zucchini bread is made with almond flour and so dang delicious! It's easily made in 1-bowl and is paleo friendly and dairy-free. The zucchini adds just the right amount of moisture to the bread and we of course love the added nutrition!
Here is what you need to make it:
Almond Flour

Coconut Flour

Cocoa Powder

Coconut Sugar

Espresso P

owder

Baking Powder

Sea Salt

Chocolate Chips

Zucchini
Eggs
Avocado Oil

Unsweetened Apple Sauce

Maple Syrup

Vanilla Extract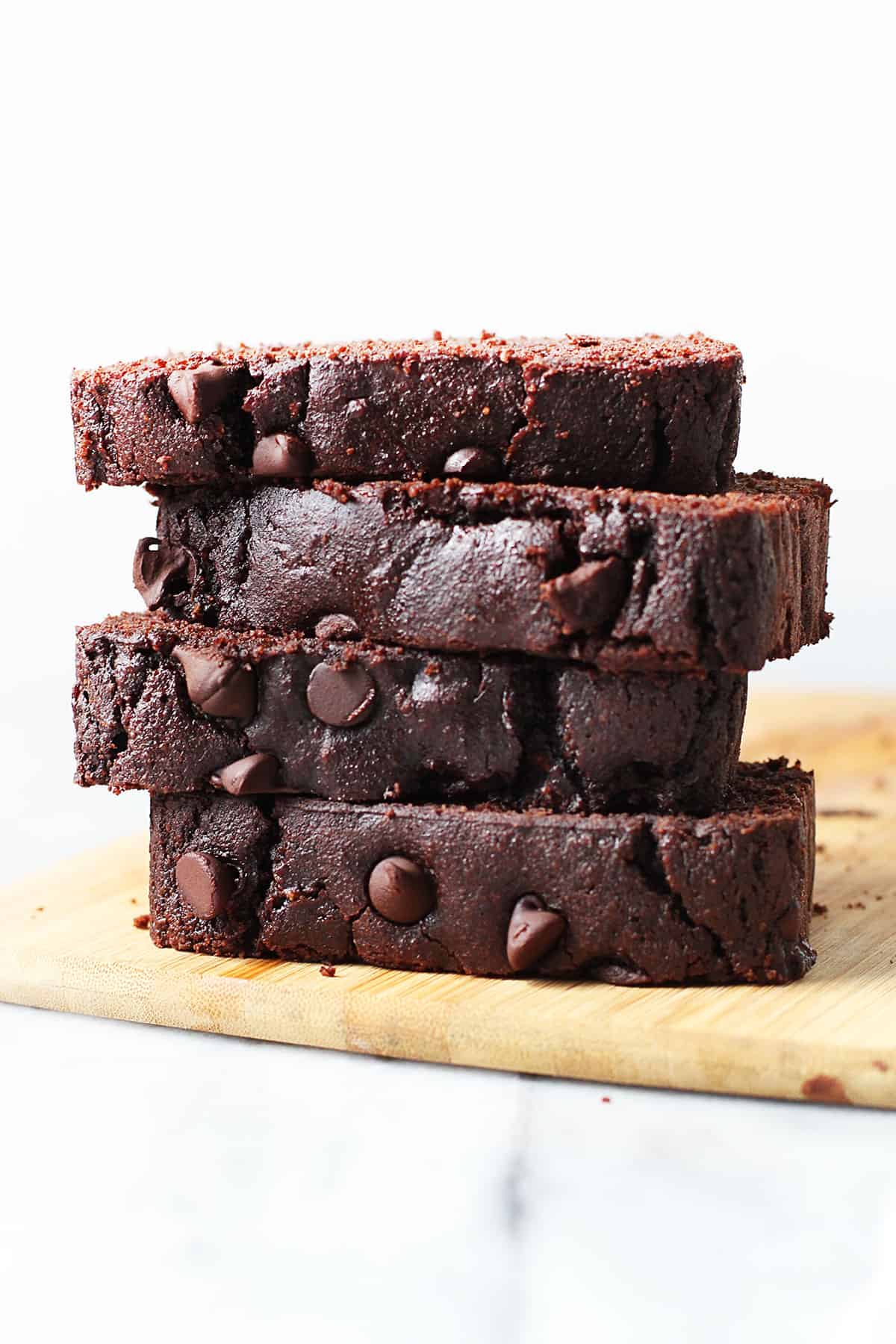 Can you leave out the Espresso Powder?
Yes! Espresso powder just enhances the chocolate flavor. It's a minimal amount, but if you want to avoid any caffeine feel free to omit this ingredient.
Why Apple Sauce?
You won't taste it at all! Apple sauce is a great ingredient to use to add moisture to a bread without needed to add lots of oil. While there is still oil in here, I like to use apple sauce in combination with it to get the right texture.
How to Store this Paleo Chocolate Zucchini Bread
Store this bread in the refrigerator or freezer after it has been cooled. In the refrigerator it will last a couple of days. You can leave it at room temperature for a few hours to take the chill off if desired. It will last up to 1 month in the freezer. Let it sit at room temperature uncovered to defrost.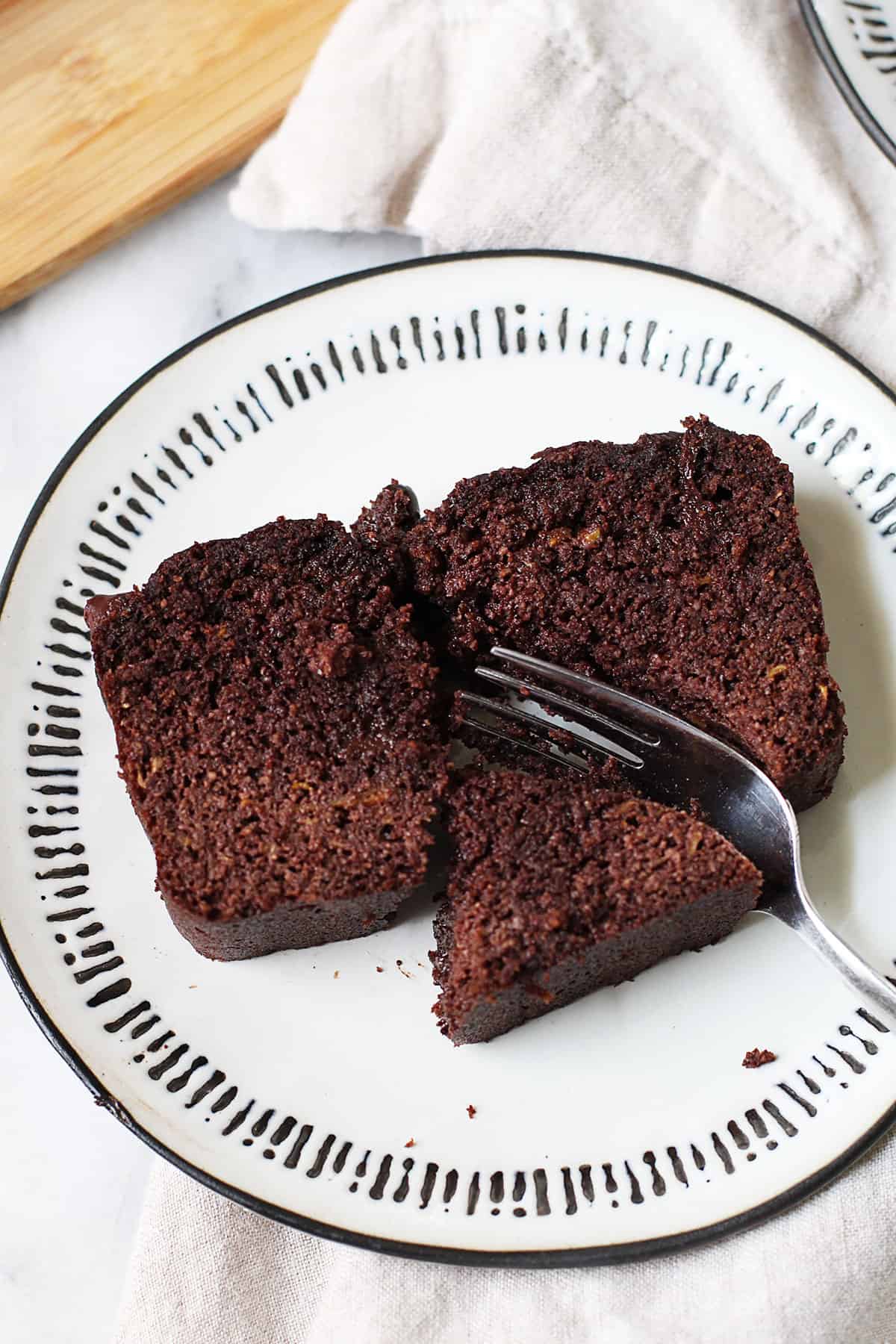 If you like this zucchini recipe, check out these others:
If you like this gluten-free baking recipe, check out these others:
Double Chocolate Zucchini Bread
Knowing How to Make Coconut Whipped Cream is essential for making delicious, dairy free whipped cream! This healthy alternative is more nutritious and tastes amazing! It's made with three ingredients, and aside from chilling time, comes together within 5 minutes!
How to Make Coconut Whipped Cream
This dairy free Coconut Whipped Cream is a great recipe to have on hand for when you want an alternative to regular whipped cream that still tastes great! Even if you don't need to be dairy-free, this coconut whipped cream is so good! It's creamy with a hint of vanilla and perfect with so many different dishes. We're dishing all the details on what you need to know on how to make!
Here is what you need to make it: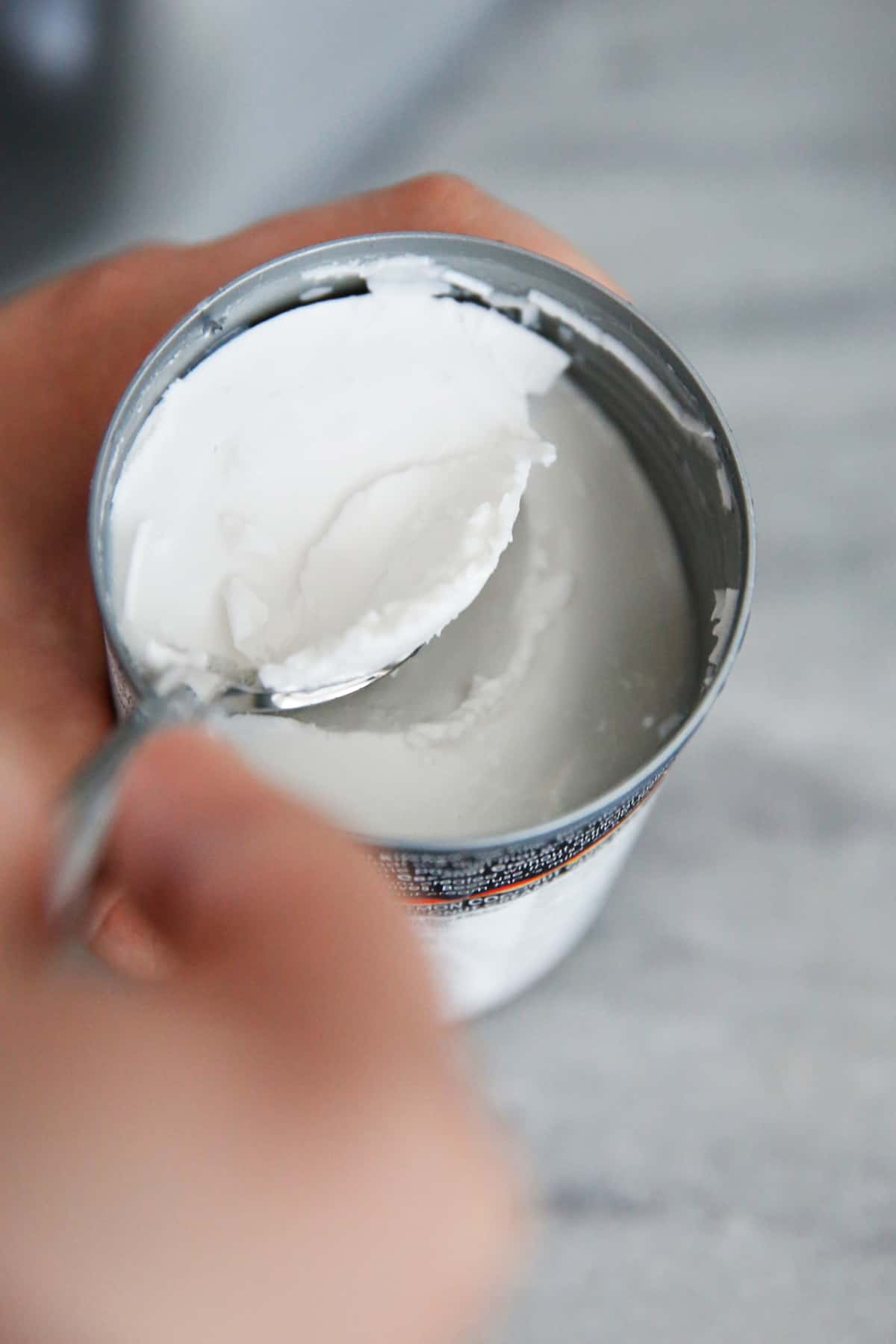 Tips for Making Coconut Whipped Cream
Look for coconut cream instead of coconut milk. It will give you more of the solid part of the coconut milk the that you need to whip up. If you can't find it, you can use regular coconut milk, but you may need about 2 cans to get enough of the solid part of the coconut milk.
You absolutely must refrigerate your coconut cream. We recommend doing so for 24 hours. However, if you are in a pinch 8 hours will work.
Use powdered sugar as a sweetener. It helps thicken the consistency of the coconut cream. If you were avoiding refined sugar you could use honey, but it will be a bit thinner.
Add vanilla extract to give it an extra flavor boost!
Serve immediately. You can make it up to 4 hours ahead of time, but it hardens back up in the refrigerator if stored for much longer.
If it does stiffen up too much in the refrigerator, you can rewhip it again to get it to a consistency you desire.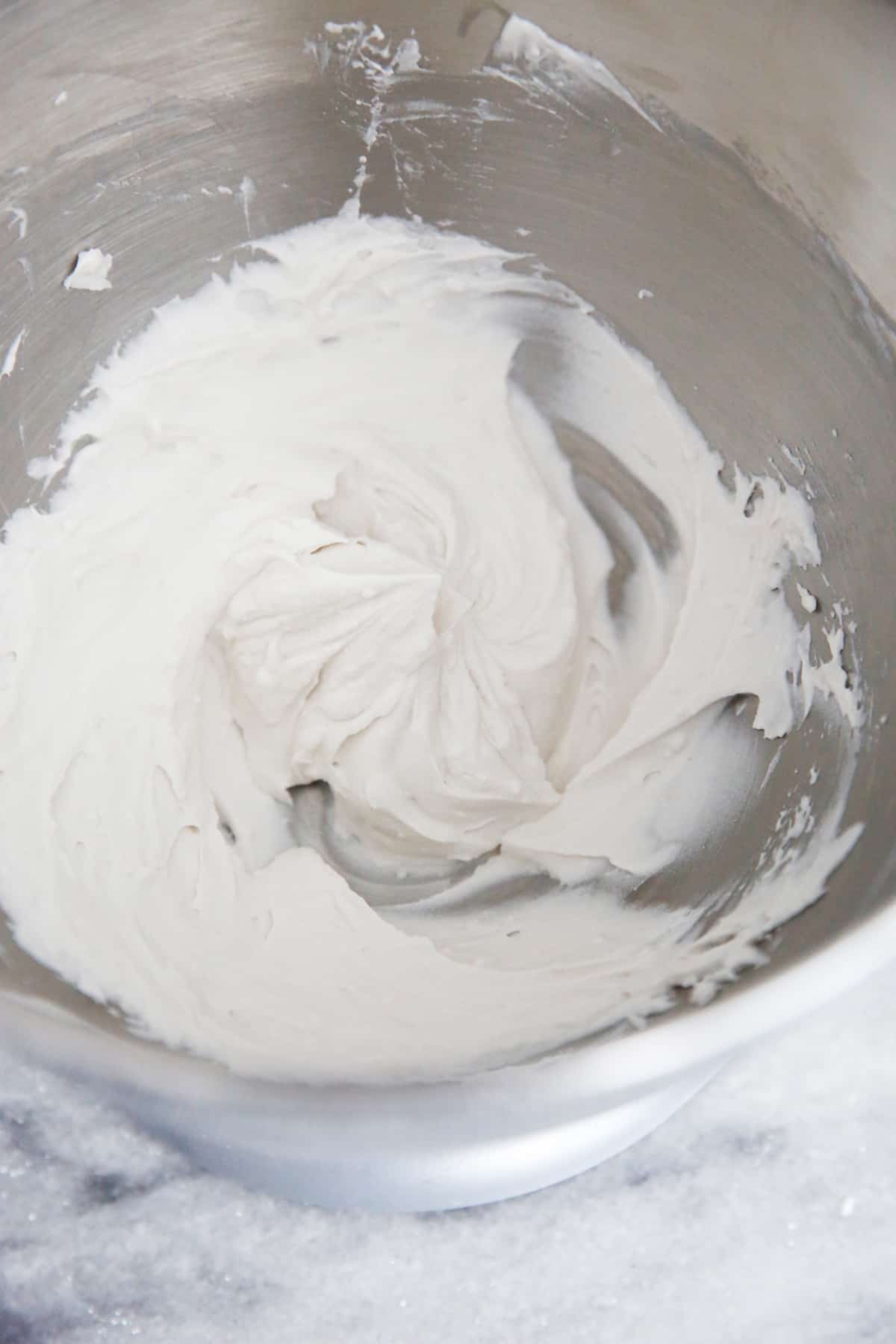 Ways to Use It
Use coconut whipped cream in place of many of your favorite uses for regular whipped cream! Just know that it is very susceptible to warm temperatures so it will not hold up as long as traditional whipped cream does.
Coconut whipped cream is delicious with: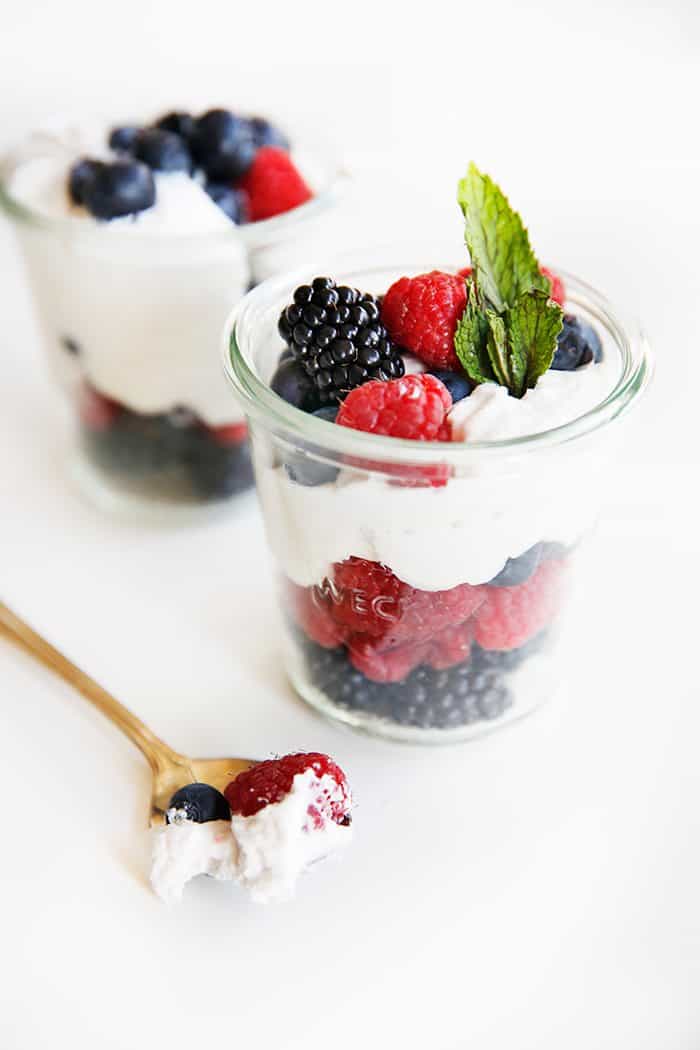 If you like this How To recipe, check out these others:
---
How to Make Coconut Whipped Cream
These gluten-free cherry pie bars have all the deliciousness of a cherry pie without the time needed to actually making one! It uses nutrient-dense almond flour to make the crust and the crumble on top and is packed with fresh cherry flavor. These bars are gluten-free, dairy-free friendly, and the ultimate summer dessert!
Gluten-Free Cherry Pie Bars
There is nothing better than an awesome summer dessert that is easy-to-make and made healthier using simple wholesome ingredients. These gluten-free cherry pie bars are just so delicious and so quick to put together! The crust is made out of almond flour and the filling is jam-packed with cherries that are sweetened just the right amount.
We use the same mixture for the crust as well as the crumble topping, and precook the cherry filling on the stove top so that it's just the right texture with minimal baking time!
Let's talk cherries
We tested this with two different types of cherries: fresh sour cherries and frozen sweet cherries. They do result in slightly different flavors and textures but both are equally delicious. The fresh cherries are of course, a bit less sweet and have a firmer texture. The frozen cherries are sweeter and are a bit more juicy. The photographs shown in this article are the frozen sweet cherries and they have a darker color, but the video features fresh cherries. You can use whatever is available to you whether it be fresh or frozen cherries.
What you need to make these cherry pie bars:
Almond flour

Tapioca flour

Coconut oil or butter

Maple syrup

Vanilla

Sea

salt

Cherries, fresh or frozen

Maple sugar (or coconut sugar)

Arrowroot
Here are the kitchen tools you need: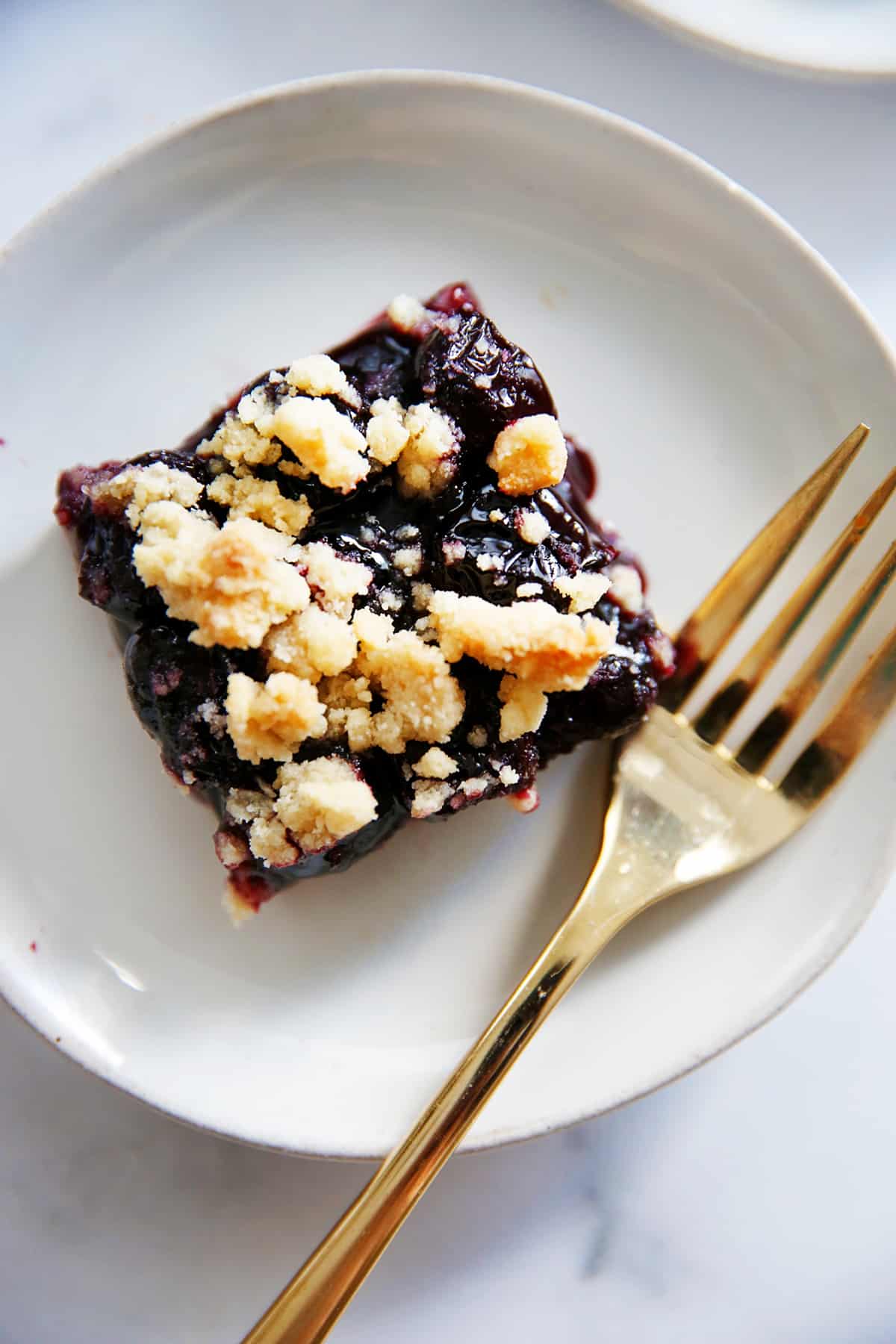 If you like this summer dessert, check out these others:
Watch the video:
Gluten-Free Cherry Pie Bars
This gluten-free Key Lime Tart is made using honey and coconut milk for a rich, tangy and smooth filling! It's simple to prepare and can be optionally topped with a honey meringue for a showstopper dessert. It's gluten-free and made without any refined sugars.
Key Lime Tart
This Key Lime Tart is the perfect (and beautiful) dessert to roll out in both hot and cold weather. This simple tart is made using our favorite gluten-free pie crust, filled with a tangy and smooth key lime filling and optionally topped with a delicious honey meringue that you can either leave as is or toast it!
Key Lime Tart Ingredients:
tapioca flour / starch
butter
eggs
key lime juice or regular lime juice
lime zest
honey

coconut milk
Can I use regular limes in place of key limes?
What makes a key lime pie a key lime pie is, you guessed it: key limes. But they are only available certain times of the year and they are much smaller than regular limes (known as Persian limes) so they take a bit more work to get the total amount of juice needed. And while there might be slight difference in taste (key limes have a bit heavier taste of "lime" with higher acidity), it is perfectly acceptable to use regular limes!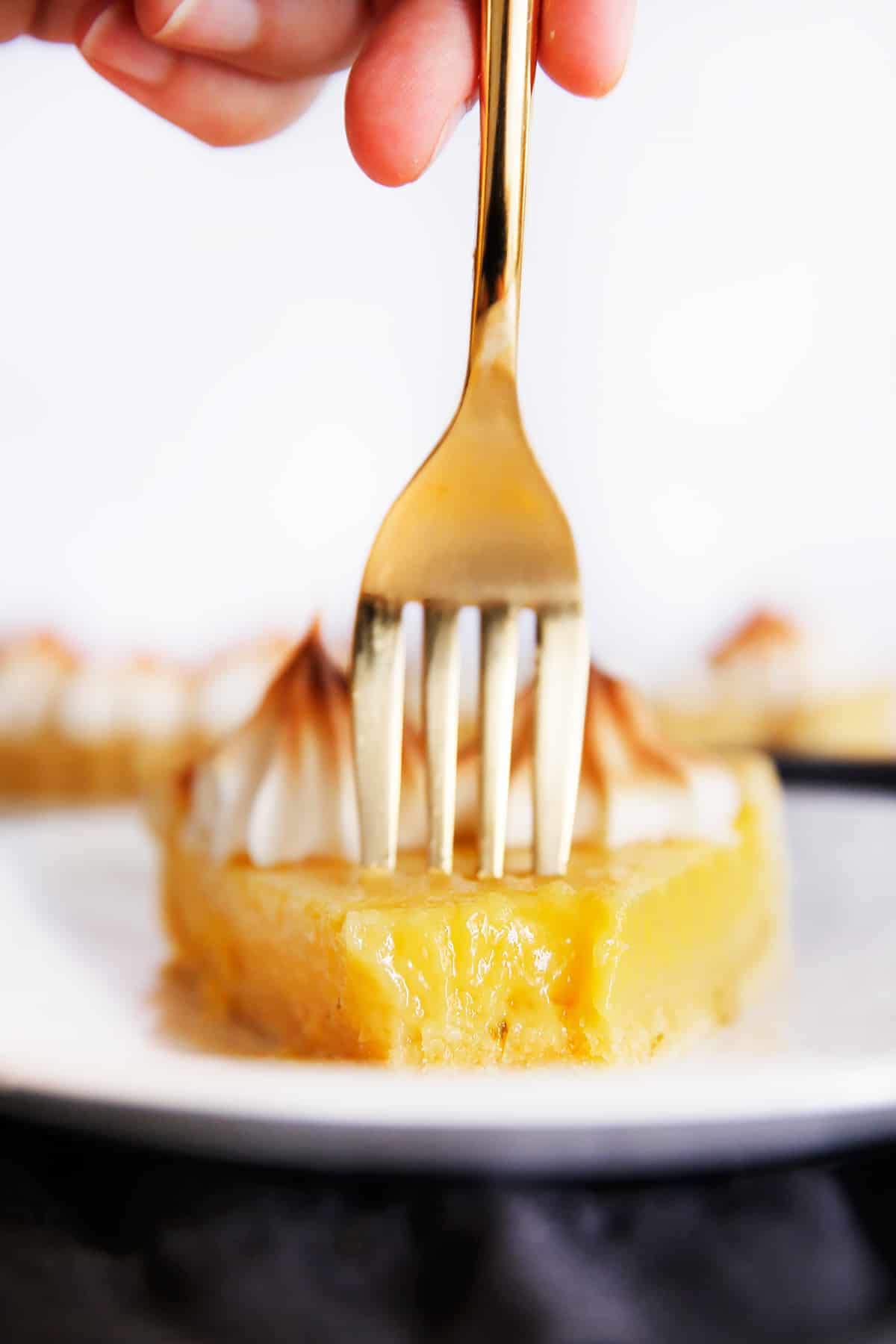 Can I bake this in a pie tin?
Technically yes you can. But depending on the size pie tin you are using, the filling might be a little low, as this is meant for a 9″ in tart.
Topping Options
Honey meringue (you can either pipe a pretty border, or cover the entire tart)! Toasting is optional but a nice touch.
Coconut whipped cream
Regular whipped cream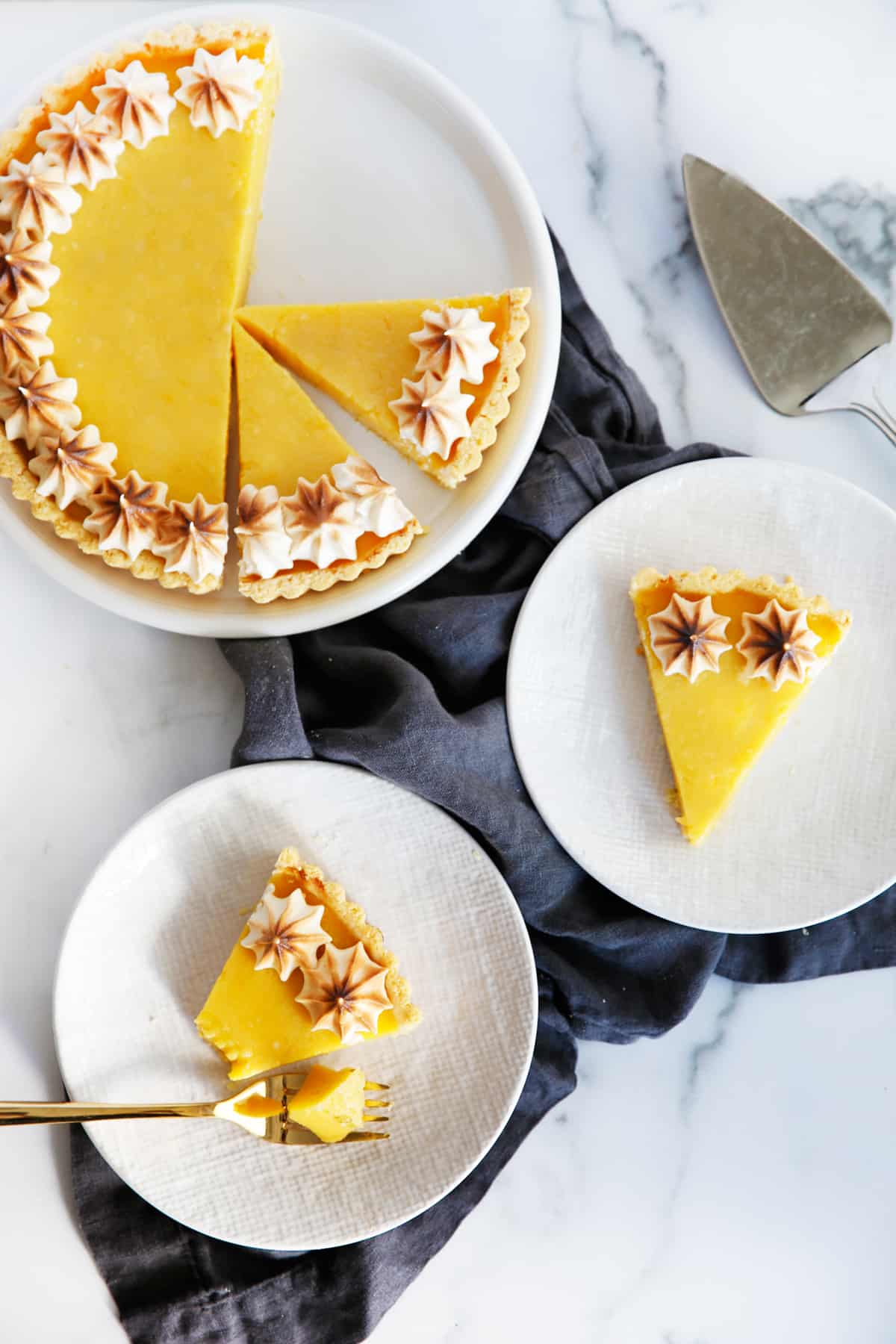 If you like this tart recipe, check out these others:
[yumprint-recipe id='280′]
Gluten-Free Key Lime Tart
This Gluten Free Pumpkin Pie is smooth and creamy (without any cream) with just the right note of spice. It's made using our nut-free and gluten-free crust that is so simple to put together! It's the quintessential fall pie, destined to be the star of your holiday dessert table!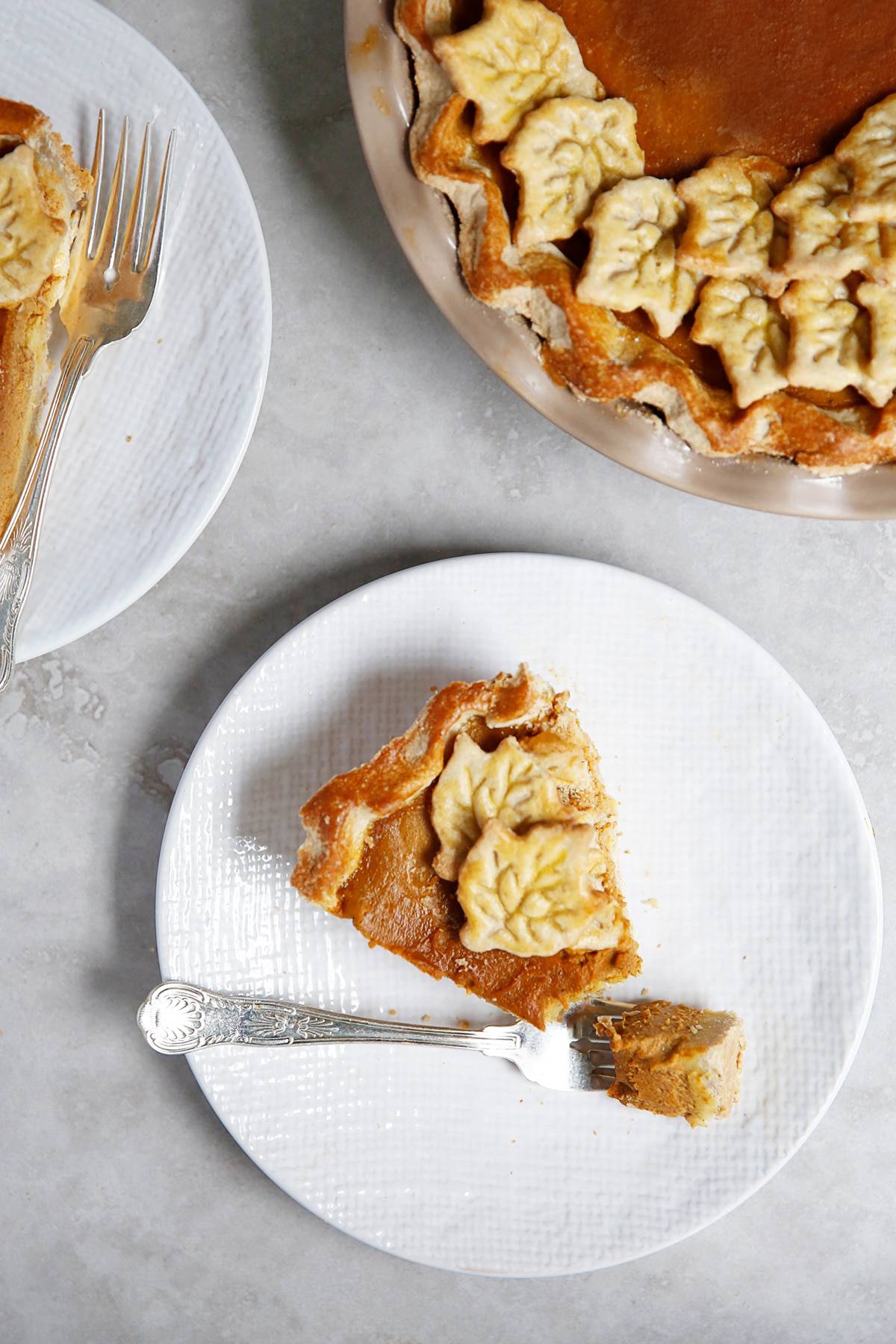 Gluten Free Pumpkin Pie
Thanksgiving is coming and I think you'd be hard pressed to find a Thanksgiving dessert table without a Pumpkin Pie on it. We're excited to share our Gluten Free Pumpkin Pie recipe with you today, introducing our new NUT-FREE crust that so many of you have been asking for. If you don't need to be nut-free and would rather avoid oats, feel free to use our classic pie dough, found here. The pie filling is dairy-free (but the crust isn't as we use butter, but we offer a few subs in the notes) and the pumpkin flavor really shines through in the filling!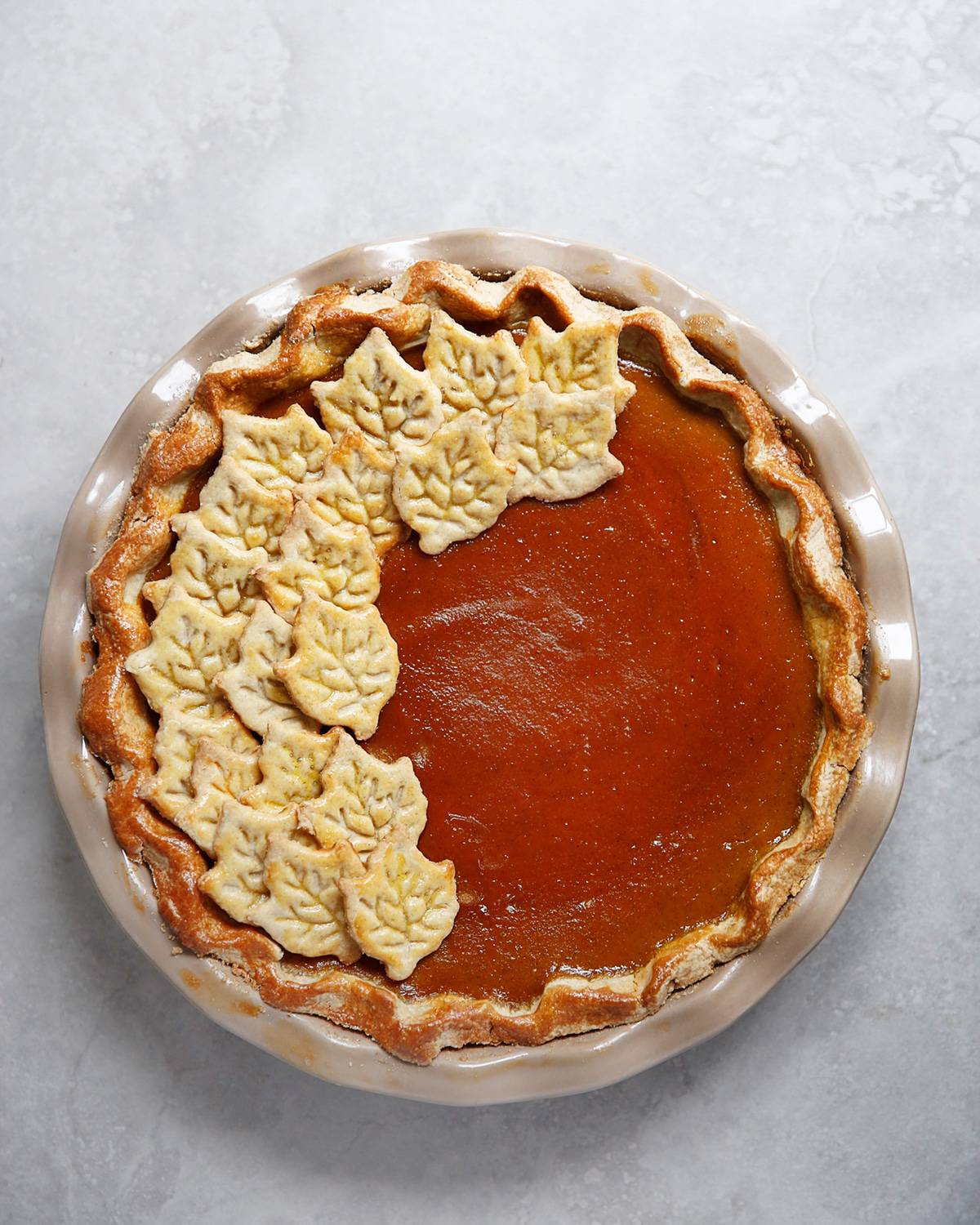 How to Make Gluten Free Pumpkin Pie
Typically our crust recipe, featured in our Gluten Free Apple Pie recipe, among others, uses almond flour as the base. So many of you have reached out to ask for a replacement because of nut allergies so we worked hard bringing you this nut-free crust. You may have noticed that we don't develop a lot of recipes that use gluten-free mixes and flour blends because we love to be able to control what is added to our food. While they certainly have their place in the gluten-free world, here at LCK we would rather start with one type of gluten-free flour and build a recipe off of that to minimize what is added to our food.
Usually, that is almond flour first and foremost, so we really had our work cut out for us when we began developing a nut free crust for you. We started working on nut-free recipes by switching over the Best Paleo Bread to the best Nut-Free Bread using a 1-1 sub with store-bought oat flour. It worked so well we knew we wanted to start there.
After we got the proportions down, we needed to adjust the moisture level since oat flour can suck liquid up (like oatmeal does). For this recipe we found that adding in the right level of salt, maple syrup, and egg and a touch of water did the trick. In the future we are going to experiment with adding in different spices and flavors with this crust to see if it works in other recipes, but for now we are super happy with how this works for our Gluten Free Pumpkin Pie.
How To Make Gluten-Free Pie Crust
The best part about this crust is that it is SO EASY to put together. The dough comes together in a food processor in a few minutes. Just make sure that you don't overprocess the dough: Once it has come together stop running the processor. After it's made you CAN roll out the dough right away, which we love. This is unusual for pie crusts, that usually need to wait to rest and firm up. We found it easiest to roll the dough between two sheets of plastic. Normally we shy away from plastics, but in this crust it really is easiest if you use that vs. parchment paper. But if you don't keep plastic in your home (we get it!), parchment will do in a bind!
We really loved working with this dough and found it simple. It should look similar to the photo above. We worked with this dough over a dozen times and have always found it super simple to work with, but we've gotten some feedback that some people making the dough found it wet. After testing it some more, while we never have been able to accidentally make a wet dough when following the recipe, we've discovered that oat flour is a bit difficult to measure out properly in the cup measurement because sometimes it is more densely packed in the bag than others. For fool proof measuring you can weigh out the oat flour instead. If you find your dough a bit more wet than the above photo add in oat flour a tablespoon at a time until it feels workable.
Blind Baking the Pie Crust
Once the dough is rolled out, invert into the pie pan right way and parbake the crust to ensure no soggy bottoms! If you'd rather wait to roll the crust you can store the pastry, wrapped in plastic, in the refrigerator for two days, but let it warm up a tiny bit before rolling (about 5-10 minutes depending on how warm your kitchen is). Once you have par-baked the pie you MUST bake it with the filling immediately after. If you wait in between par-baking and filling the shell there is a chance the crust can crack a bit. It's not the end of the world if it does, as the pie will still bake up alright, but it's an easy mistake to avoid by making sure you par-bake the crust and bake the filling together without waiting in between those two steps. If it does crack a bit, which we did see happen in testing if we waited in between par-baking and filling, the slight cracks magically came back together the next day.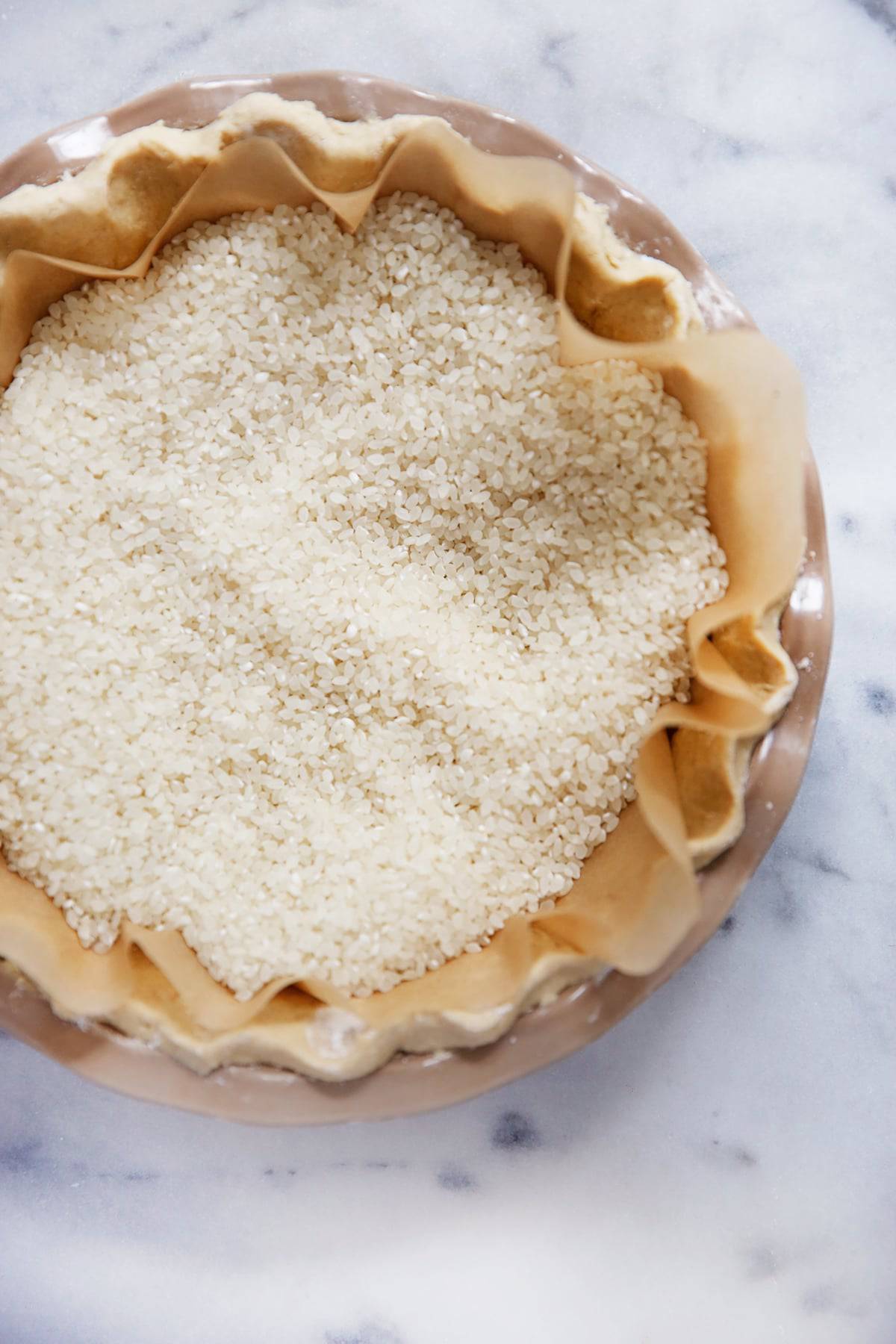 Tips for Rolling Out Dough and Baking
Don't overwork the dough in the food processor! Once it "comes together" stop! Take it out.
You can roll the dough right away! The oat flour crust works best when it is made, rolled and baked all at the same time. Luckily it really doesn't take too much time! If you need to make the pie in steps it is better to make the dough ahead of time (up to 2 days) and then let it warm up a bit before rolling. But you must par-bake and bake the filling all at once.
Don't over whip the eggs in the filling. Whisk the eggs until they are combined with the filling. One classic mistake people make when baking pumpkin pie is to over whisk the eggs. This creates air in the custard and can lead to the custard rising too quick and then falling or cracking.
Want to avoid a big crack in the filling? Don't overbake the pie! Your pumpkin filling (or custard) should be just starting to set up when you take it out of the oven. The edges of the filling should be slightly puffy, but the center should still wiggle. The pie will continue cooking after it has come out of the oven and sets up in the refrigerator. Don't worry if you do get a crack, it won't affect the flavor but it is prettier without it.
Cool the pie completely before placing in the refrigerator, and then let it set up completely in the refrigerator before slicing, at least 3 hours.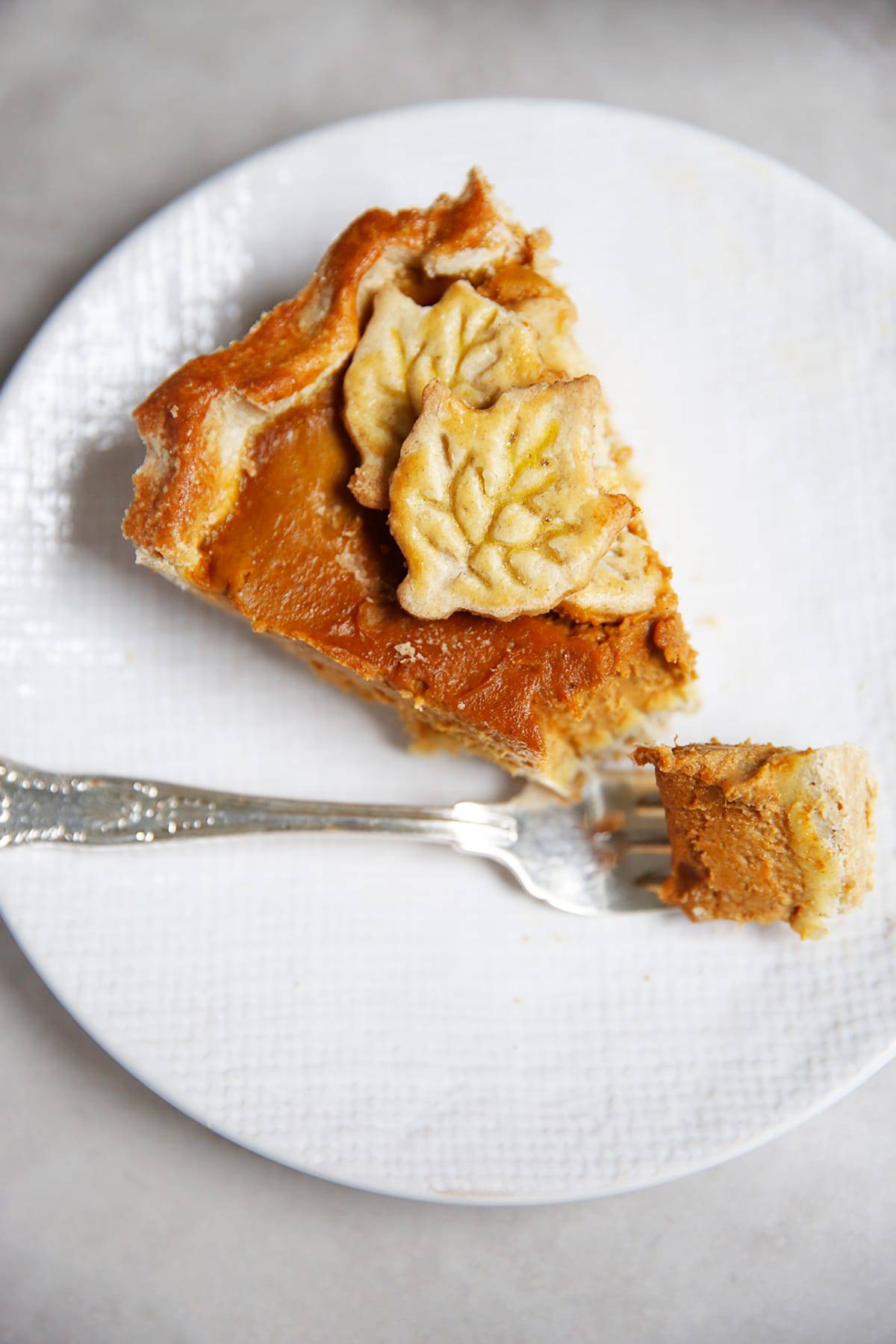 For this recipe we used these tools:
Essential items: Bowls, Whisk, Spatula
Like this gluten free holiday recipe, check out these others?
Watch the video:
Gluten Free Pumpkin Pie (Nut-Free, Too!)
These Cookie Truffles are the CUTEST gluten-free treat that you can make for any occasion. They're made using a handful of ingredients, including our favorite gluten-free chocolate cookie, are no bake and are so easy they'd be a great activity to do with the kids! Perfect to serve up for any fun event! Think Christmas, Hanukkah, Halloween, Valentine's Day, or just for a sweet treat! Made in partnership with my friends at Simple Mills!
Cookie Truffles
How cute are these gluten-free Cookie Truffles? They are a super easy treat to put together and they are SO DELICIOUS! I was inspired to make these based off of those Oreo truffles that you see all over the internet. I won't lie, that version is good, but the ingredients in them are no longer a part of my diet so I knew when planning for halloween recipes that it was time to re-create it!
The truffles couldn't be easier to make! They use minimal ingredients with super simple directions and could definitely be a fun family activity to get in to the halloween spirit. We decorated our truffles as mummies, which include a white chocolate coating, but we're also including substitutes to make dairy free versions using dairy free dark chocolate and dairy free cream cheese. We tested both versions and both were equally delicious.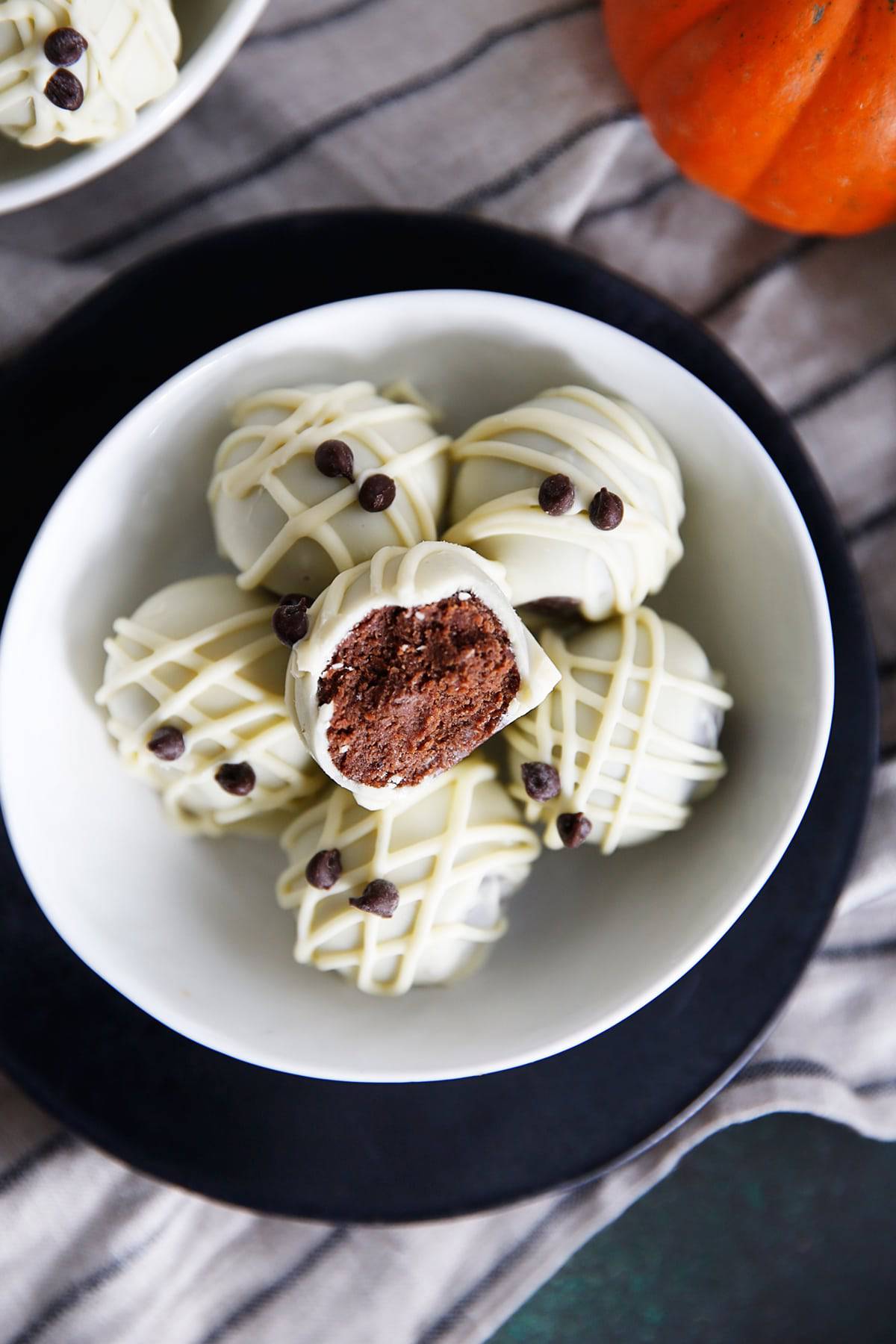 A few notes and tips on making Cookie and Cream Truffles:
To crush the cookies you can either do so in a food processor, or you can place the cookies in a zip tight bag and roll over them with a rolling pin. We did it both ways and the outcome of the cookies were the same either way! Because it involved washing less dishes we preferred doing it by hand with a bag and rolling pin.
Make sure to cool the cookie truffles before coating with the chocolate! This helps the truffle hold its shape, and it helps the chocolate set quicker. If you are making the mummy version, make sure to also cool the white chocolate coated truffles before piping or drizzling on the stripes.
When decorating the mummies with the stripes, move quickly to place on the chocolate chips "eyes" because the white chocolate can set quickly.
Choose a high quality white chocolate! We found a few versions that had only about 6 ingredients! If doing a dairy free dark chocolate truffle make sure to check that the chocolate you buy is dairy free.

Best Store-bought Cookies to Use for Cookie Truffles
The most important element to this recipe is the cookie! I came across Simple Mills products a few months ago and was instantly in love. The crackers were the first product I tried and I loved how much they reminded me of my beloved childhood saltine. Now, they're a staple in my house and have since tried many more of the products. So when I was looking for the best cookie to make these truffles I knew Simple Mills would be it! I find them in many grocery stores, on Thrive Market, and on Amazon here! When we tested these cookie truffles, we were blown away by these crunchy cookies and knew they were the answer for our convenient no-bake treat!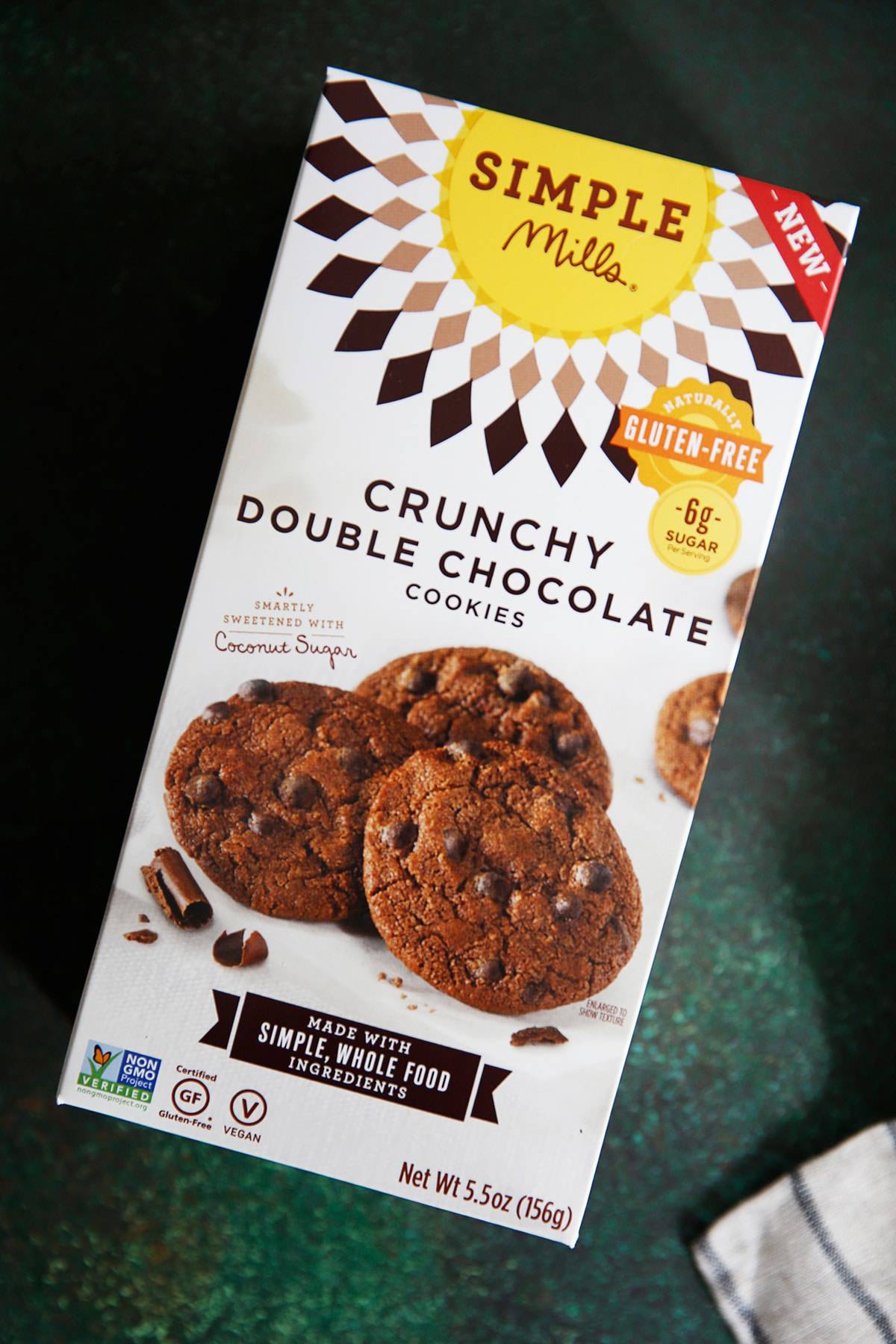 If you like this easy treat, check out these others: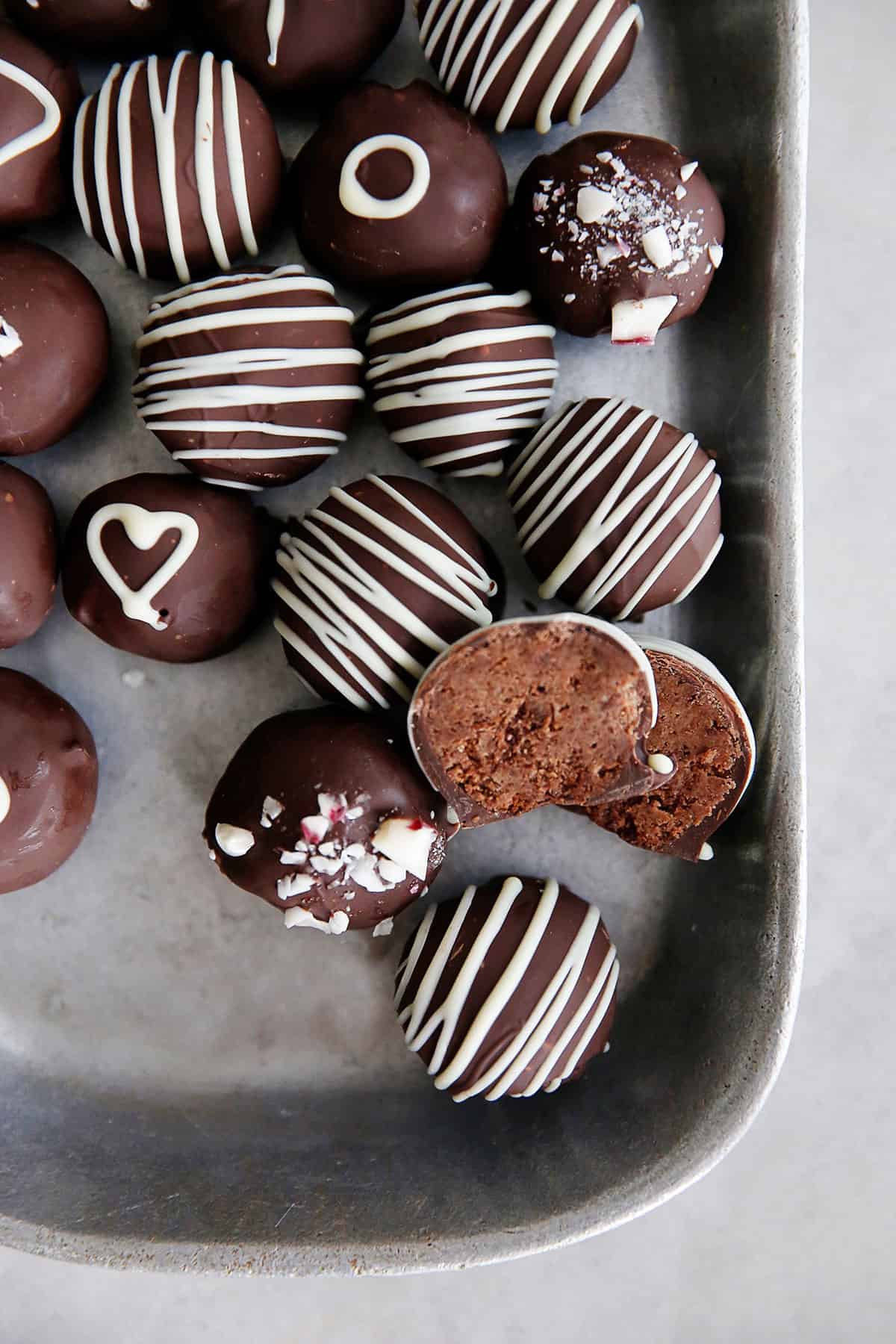 This post is sponsored by Simple Mills. All thoughts and opinions are always 100% my own! I love the integrity of their products and think you'll love them too. Thank you for continuing to support LCK and the brands I work with!
Cookie Truffles
These Apple Hand Pies are such a great fall treat using my popular gluten-free pie crust recipe made with almond flour, and a classic apple pie filling that is heavy on the apple flavor, and perfect for so many things (hello pancakes & waffle topping)! They're gluten-free and and the cutest thing to bake up with the bushels of fresh apples undoubtedly piling up in people's homes this fall! Plus, they are NOT hard to make!!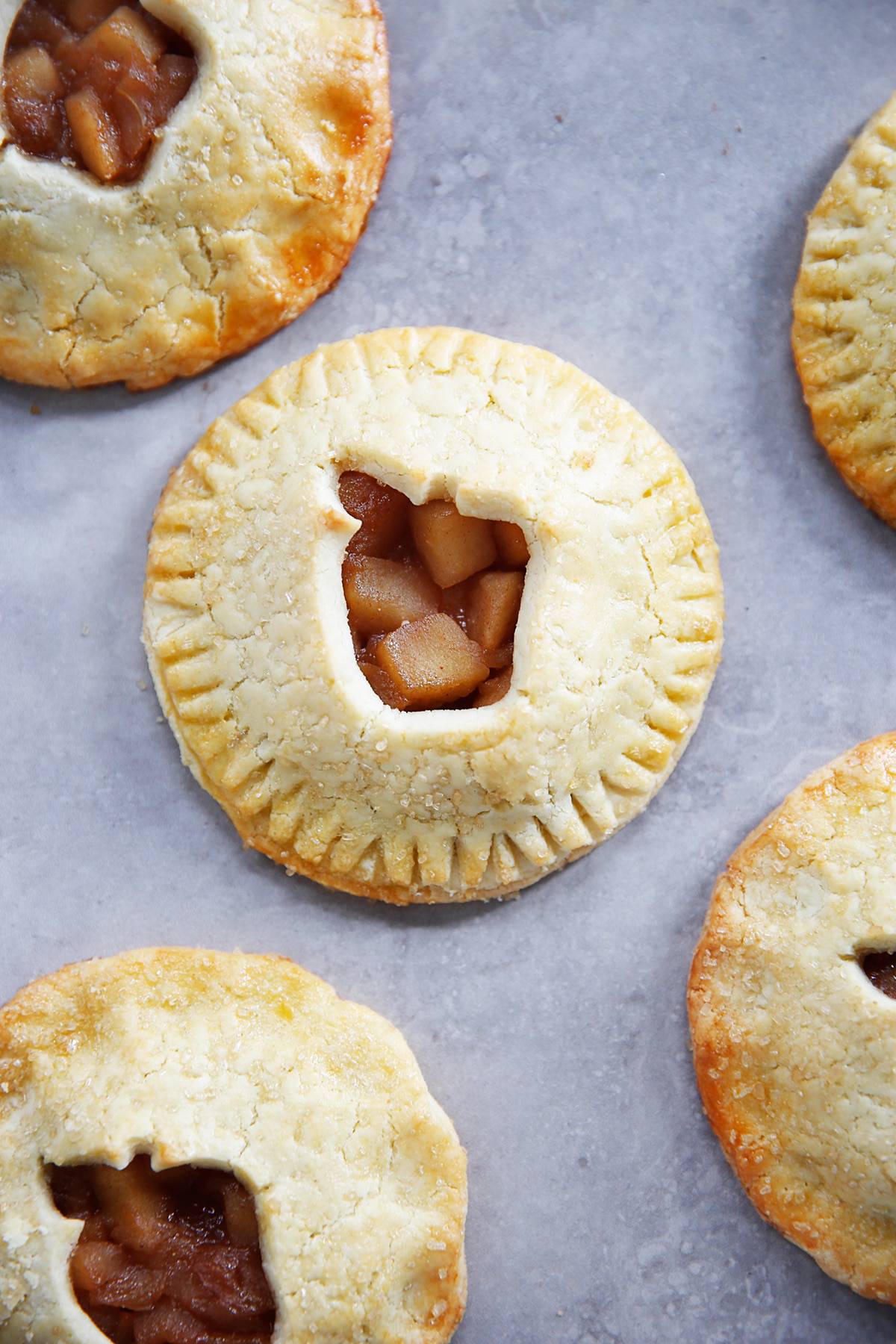 Apple Hand Pies
Apple season is upon us! The glorious time of year when we all head out to the apple orchards in our sweaters with lattes in hand and pick as many delicious apples as we can hold in our arms and carry back to our cars. While the act of picking the apples is always fun, even better is coming home and baking up all the goodies with our apple spoils. We've got a few new apple recipes coming your way this month, and this first one does not disappoint. I took my easy gluten-free pie crust recipe and made a quick stove-top apple pie filling to place inside the cutest apple-stamped hand pies.
When you make a whole apple pie (new recipe coming this month!) the apple filling is definitely the star of the show, but with a hand pie it is heavy on the crust. Since you all have been loving my pie crust recipe (we do too!), featured in a few recipes here on the blog and found in my cookbook, we knew we should start there. We added a touch more sweetener, in the form of honey or maple syrup, just to round it out.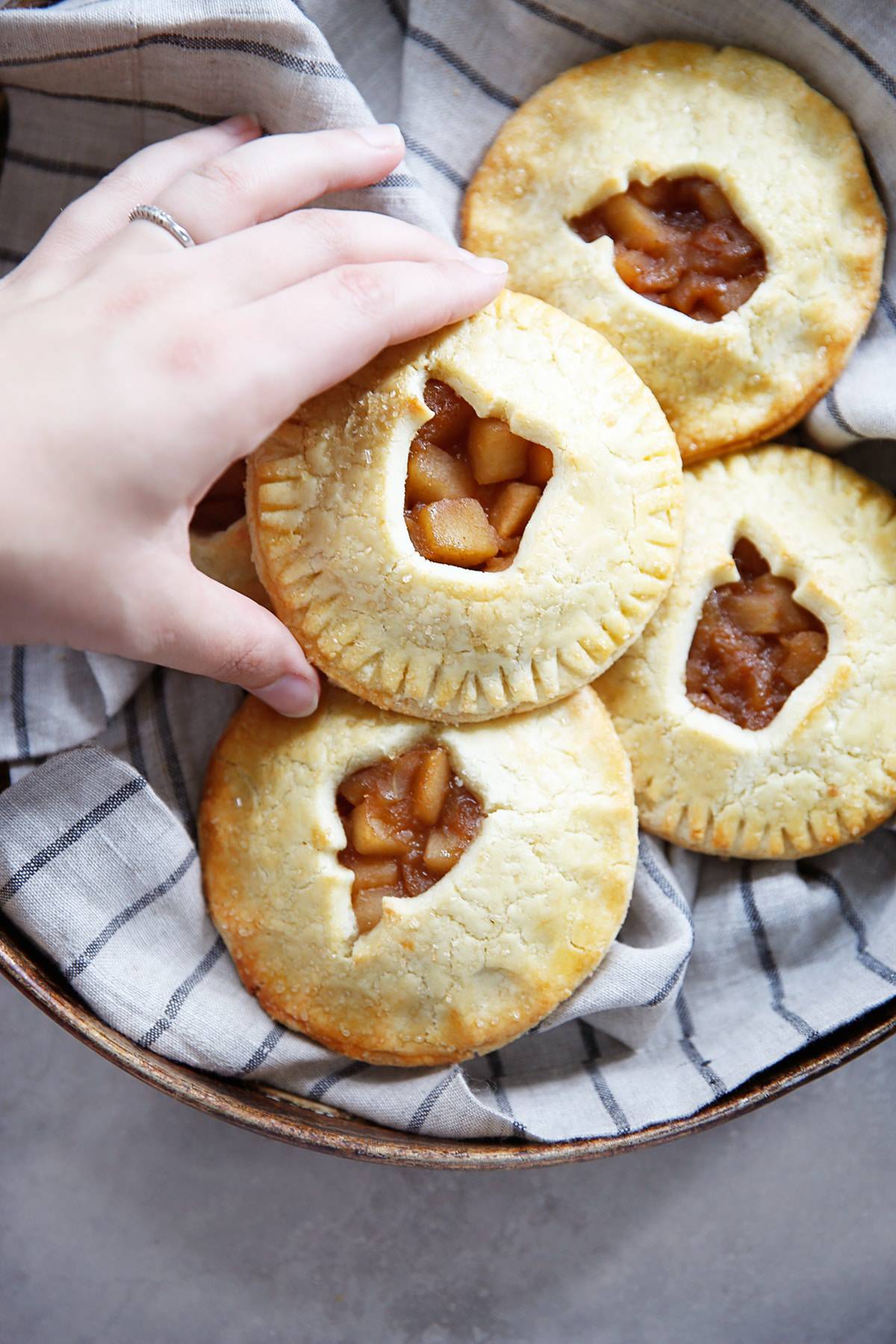 Next we moved on to our apple pie filling. Hand pies bake pretty quickly in the oven, so you have to pre-cook your apple filling. We chose to use gala and granny smith apples, but check out this Guide to Baking with Apples if you want to switch it up. Next we cooked them with apple cider to really accentuate the apple flavor. We don't go crazy with the spices, so it doesn't distract from the apple, but just enough to make it feel like fall. You have to fully cool the apple pie mixture before placing it in the hand pies, but luckily this step can be done 1-2 days ahead of time to make assembling these really easy.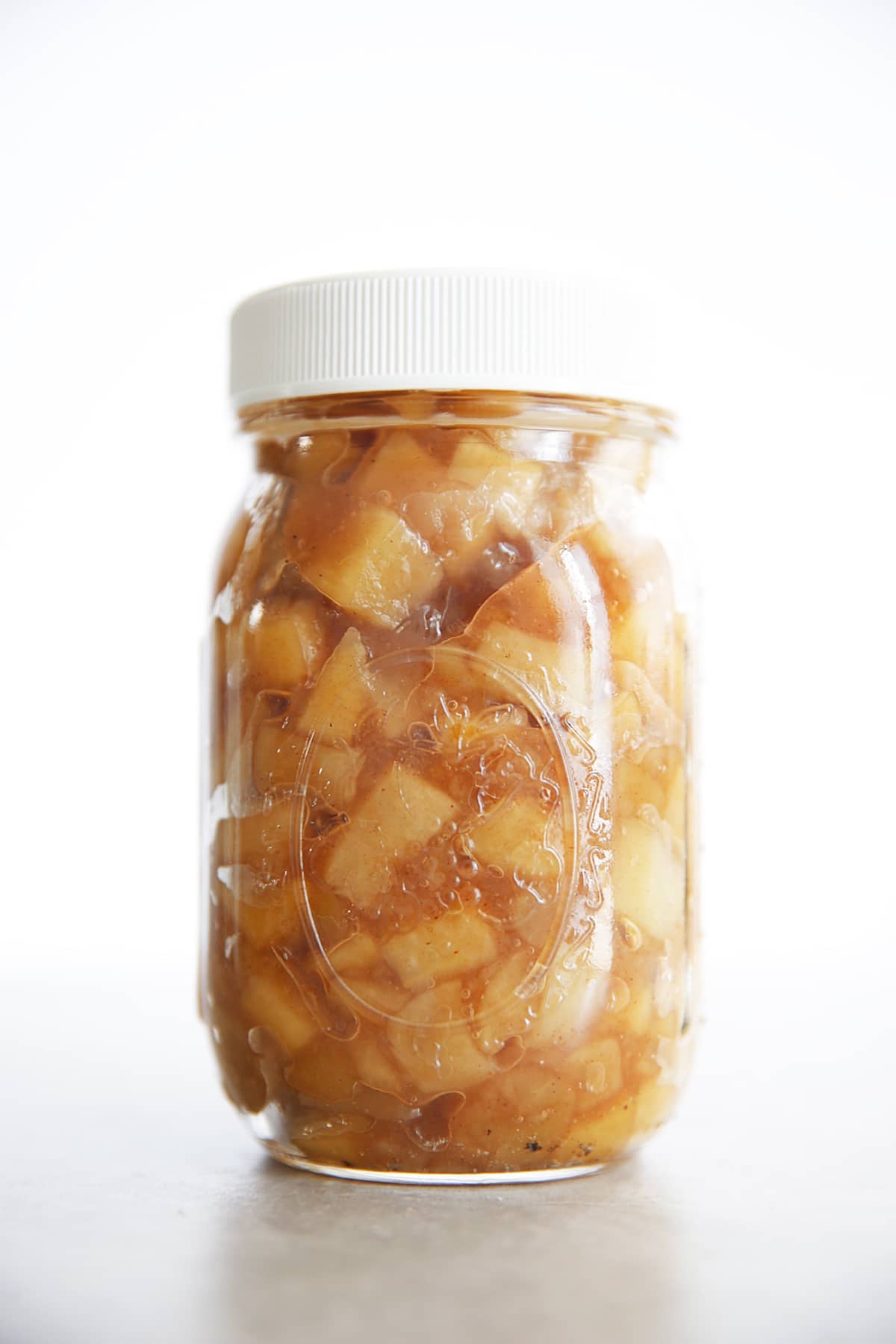 Tips for Rolling and Stamping Out Pie Dough
We know you aren't intimidated by rolling and stamping out dough thanks to the Healthier Pop-Tarts recipe, but just in case you are nervous about it, here are some tips:
Break down the steps: Make the pie dough ahead of time (1-2 days) then roll out the dough.
Use parchment paper to prevent the dough from sticking to the your work surface or rolling pin.
Work quickly when rolling, stamping and filling the hand pies. When the dough warms up, it's hard to work with. If it does get warm, no worries: just place it in the refrigerator to cool back down and then begin again.
Use cookie cutters to make uniform hand pies.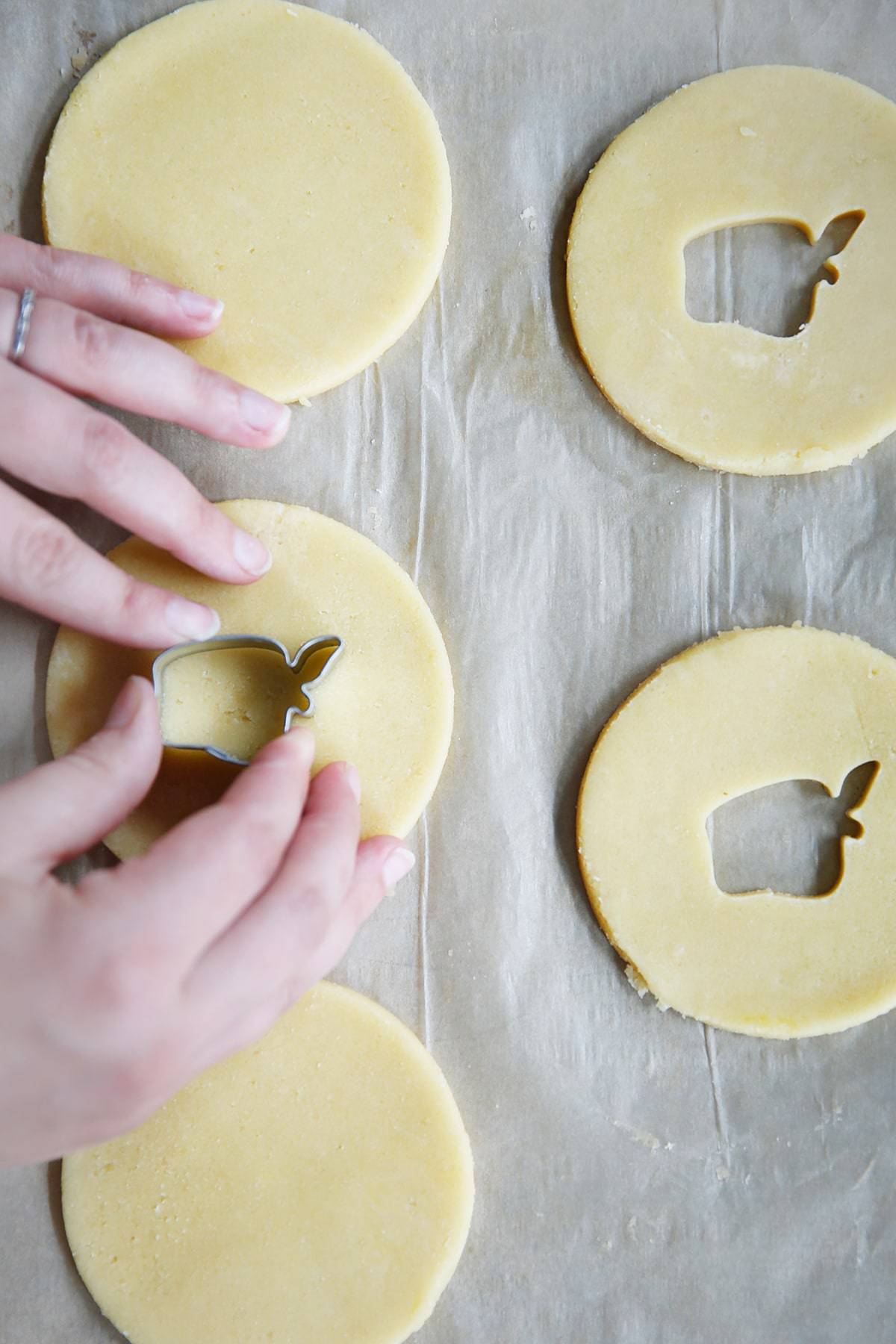 We filled the rolled out dough with about 3 tablespoons of cooled filling. As stated above, make sure the dough you are working with when placing the dough circles together is cooled so it doesn't melt and deform in your hands. Place one stamped out dough circle on top of the filled one and crimp with a fork to seal. No need to egg wash them together as they seal pretty nicely.
Tools we use:
How Long Do You Bake Hand Pies?
Once the hand pies are filled, egg washed on top and sprinkled with sugar (if using) they bake up pretty quickly in a 350ºF pre-heated oven for 15 minutes or so. We wanted a uniformly golden crust so halfway through we rotated the hand pies on the sheet tray. They last at room temperature about 2-3 days in an air-tight container, and can be reheated in a toaster to crisp up the crust.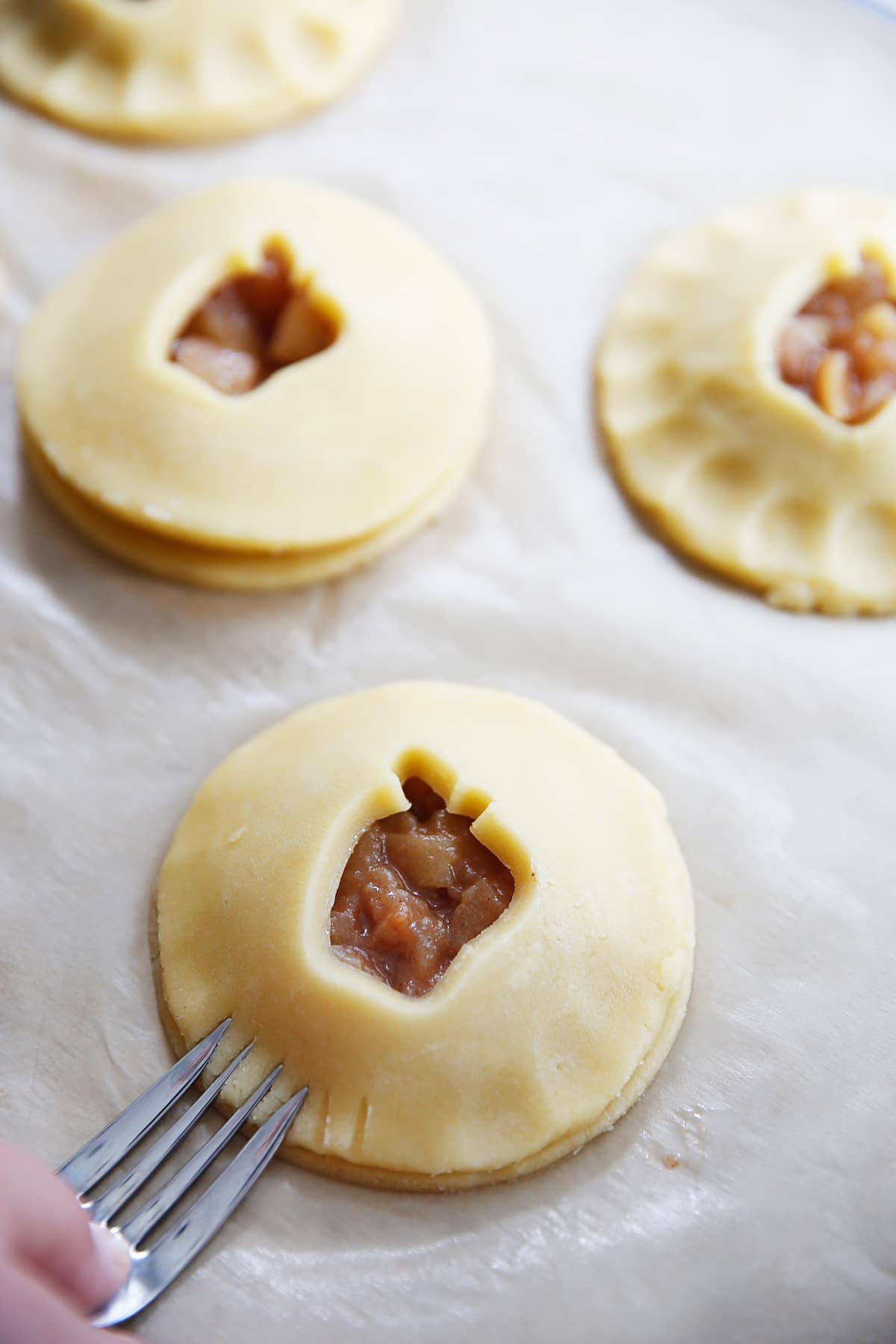 If you like this fall dessert recipe, check out these other fall favorites: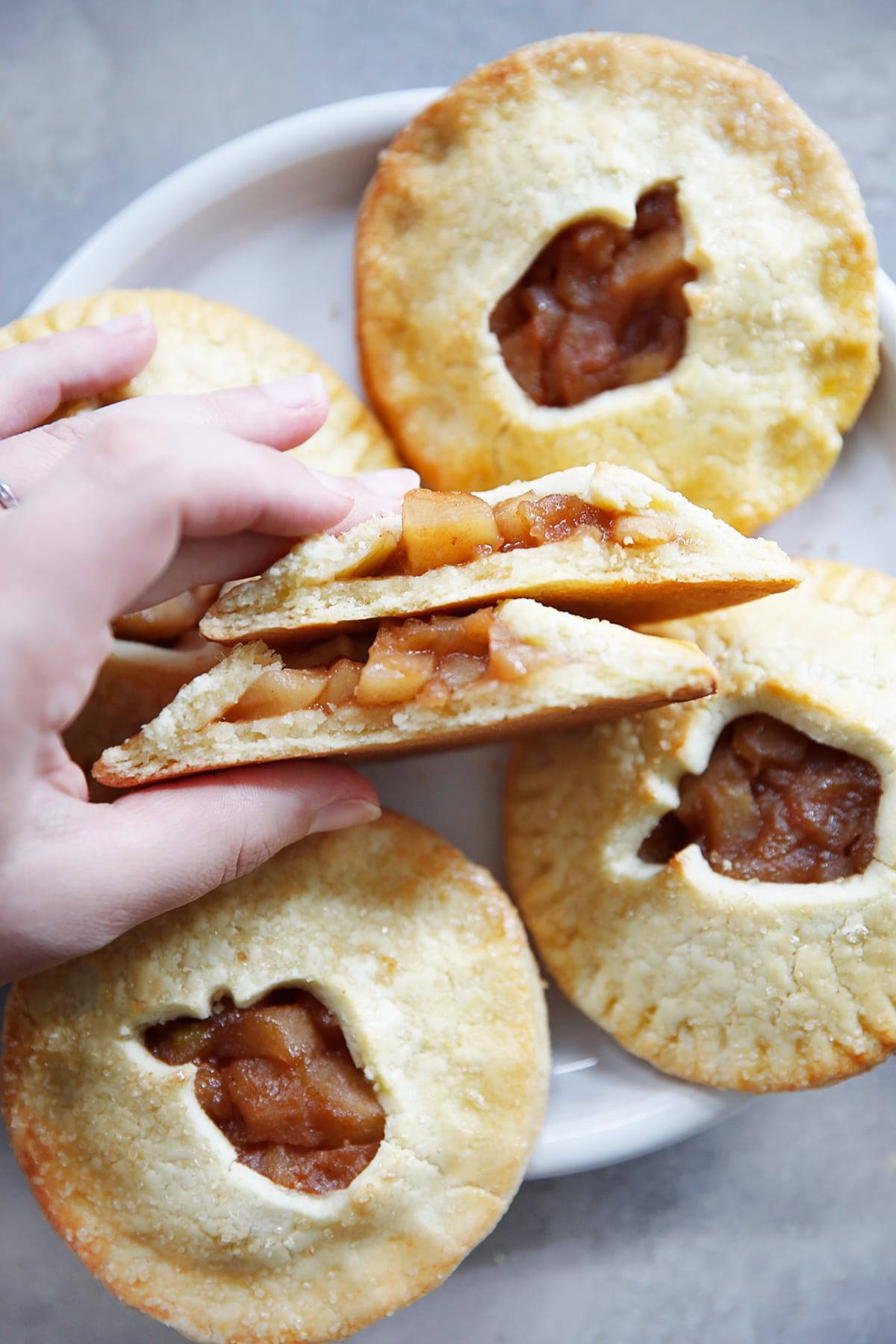 What apple treats do you plan to bake up this fall?
Apple Hand Pies (Gluten-Free)
Fourth of July weekend is coming!  Whether you are headed to a BBQ with family or friends or hosting a get together of your own, you'll need a classic festive cake for the all the parties! Let's make the most perfect (AND nut-free) vanilla cake topped with an easy buttercream and garnished off with tons of fresh fruit (red and blue for good measure)!

Gluten-Free 4th of July Cake (Nut-Free)
This super easy cake is a great gluten-free and nut-free cake recipe for any occasion! Top it with your favorite fruit, clean sprinkles, and other naturally colored frosting flavors for a perfect grain-free cake recipe!
If you've seen my new gluten-free cake recipe, you know it's pretty epic! BUT I get a lot of requests for a gluten-free cake that is nut-free and made with no almond flour! This cake is for you.

This cake is…
Fluffy and moist
Gluten, grain, dairy, and nut-free!
Flavorful
Topped with a perfectly sweet and fluffy buttercream
July 4th, Memorial Day, and Labor Day festive!
And loaded with fresh local, in-season berries!

Want other festive paleo desserts? Try these favorites:
Watch the video:


[yumprint-recipe id='288′]
How do you celebrate the 4th? What is your all-time favorite 4th of July festive meal?
Gluten-Free 4th of July Cake (Nut-Free)
This Easy and Healthy Berry Cobbler recipe is my new favorite Summer dessert. This healthy cobbler recipe is packed with fresh or frozen berries and topped with the best gluten-free biscuits. It will be your favorite dessert of summer!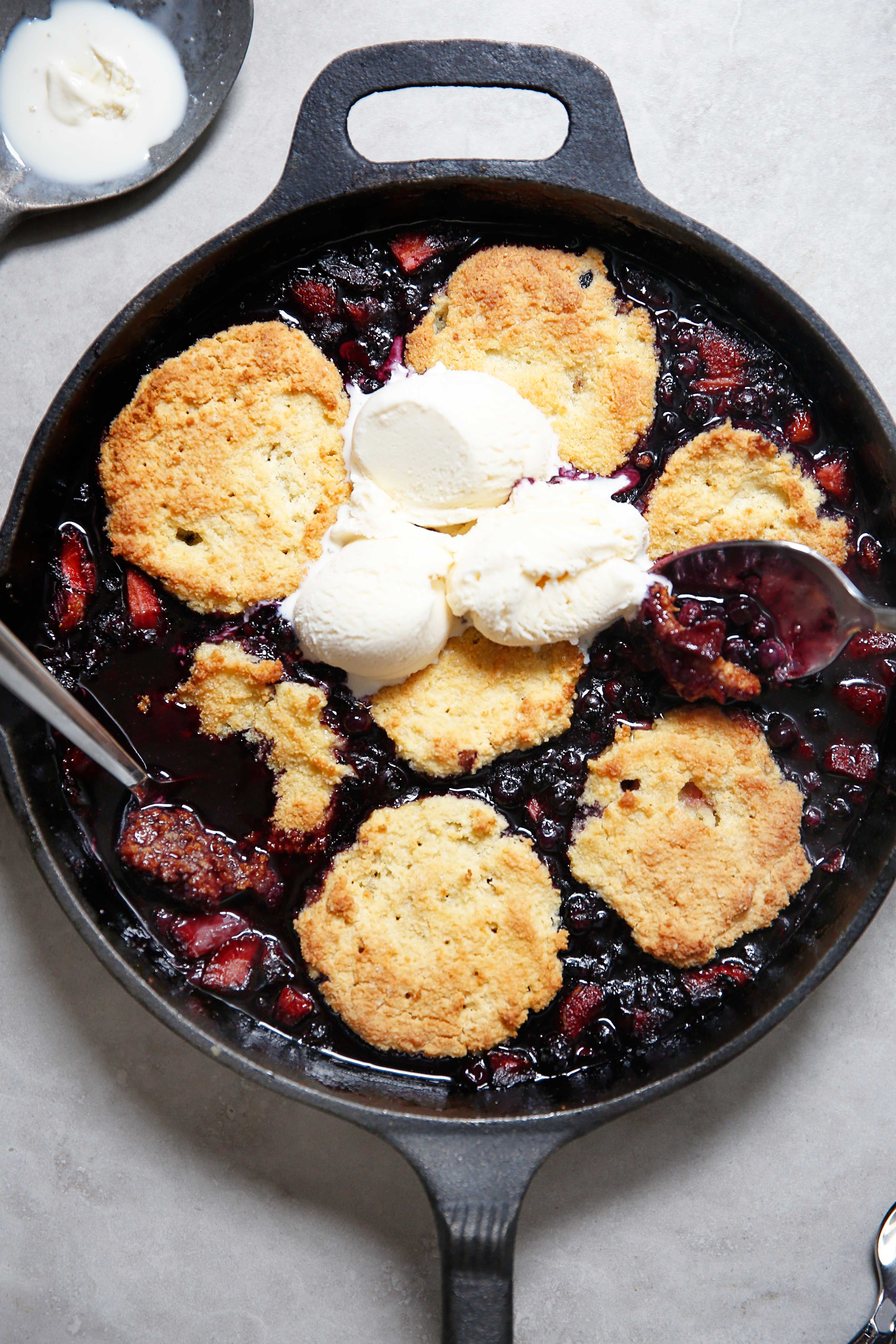 Healthy Berry Cobbler
Think Summer cookouts, 4th of July, Memorial Day, and Labor Day! Everyone will love this paleo berry cobbler. It's a perfect one-skillet dessert that's easy to prepare, and can be devoured by a crowd! You will be in love with our homemade paleo biscuits, too!
Can you use frozen fruit instead of fresh?
Yes, you can, but with some adjustments.
Can you sub other fruit, like peaches?
Yes, totally!!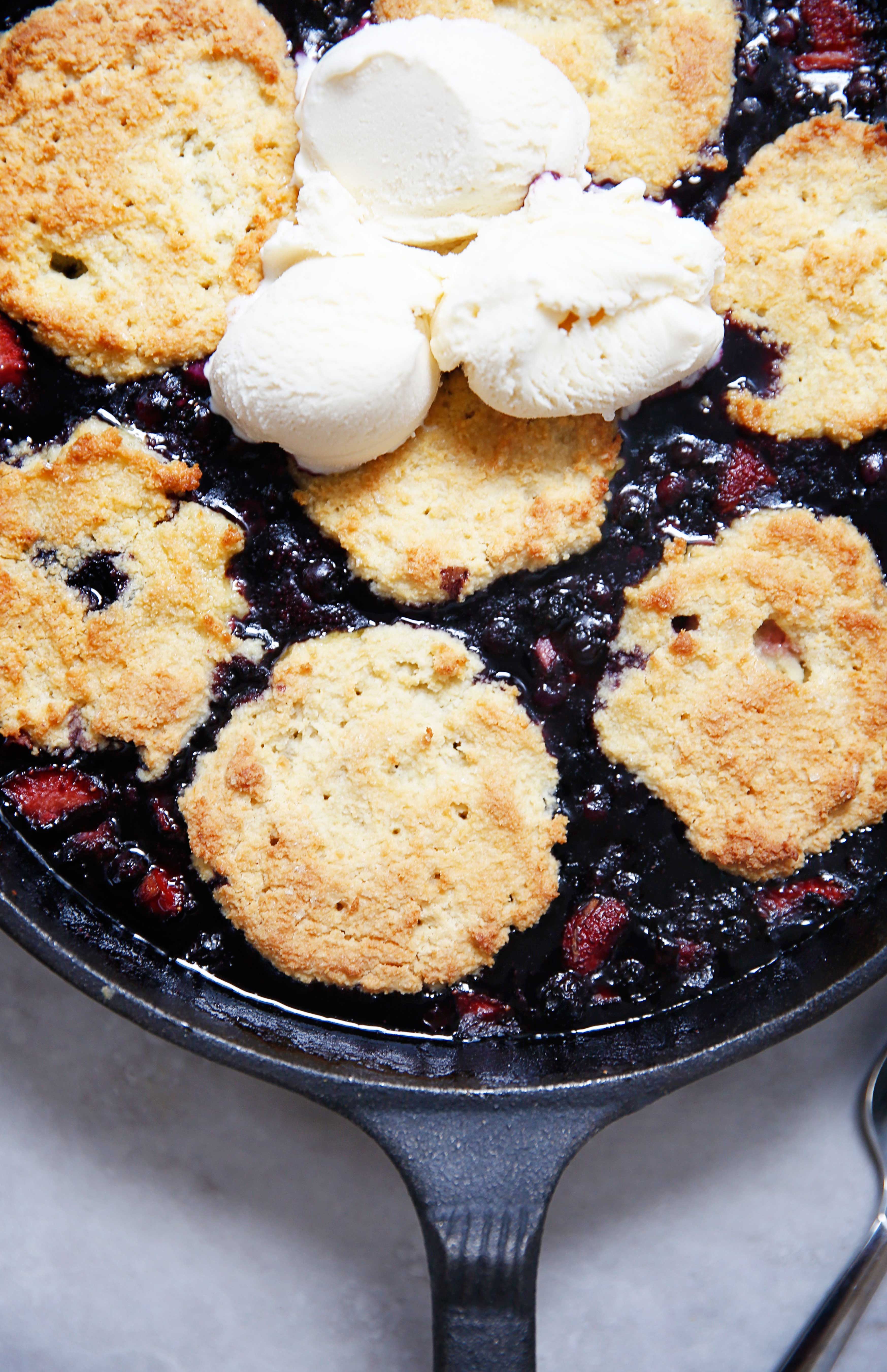 Want more gluten-free summer dessert recipes? Try these favorites:
Healthy Berry Cobbler (Gluten-Free)
These Mint Chip Energy Bites are the perfect on-the-go snack. They're easy to make, absolutely delicious, and require absolutely no cooking or baking.

I am so excited to be partnering with Quitter's Circle, a collaboration between the American Lung Association and Pfizer, to bring you today's recipe!
You all know how passionate I feel about helping you lead a healthier lifestyle. Since the day I started Lexi's Clean Kitchen, that has always been my core mission. Whether it's helping you on your clean eating journey, stocking your pantry, giving you tips to wake up feeling great, or giving you cleaner beauty and skincare ideas– I want you to be the best you!
Now, even though I've never personally been a smoker, I am so excited to partner with Quitter's Circle, an online quit smoking community, to show you my favorite ways to fuel your body and mind with healthy tips and recipes to help set you up for success!
Having people in my family who smoke, I've seen firsthand the negative effects that can come from it. This has made me passionate about helping others – whether you smoke, or you know somebody you love that smokes – make positive, healthy changes to their lifestyle!
Quitter's Circle is a fabulous resource that provides motivational tips and a variety of information ranging from how much money you can save from quitting smoking, to articles on why you need a quit smoking support squad, and I am so excited to bring you even more ways to be confident, feel great and glow from within!
These no bake energy bites are the perfect mid-day snack that you can grab in your hand and munch on. Easy peas-y, and gives you something to distract your hands and mouth on your work break!




This is a sponsored post written on behalf of Quitter's Circle, a collaboration between the American Lung Association and Pfizer. All thoughts and opinions presented in this post are purely my own.
Mint Chip Energy Bites
These Hassleback Pear Crumbles are a delicious and fun treat that can be made to accommodate as few or as many people you are serving! A twist on a traditional Pear Crumb, these single serve crumbles are lighter than your average pie!

Hasselback potatoes, pears, sweet potatoes, and apples are just so delicious and FUN. Theses are easy and fun to make, and even better to eat! Just the right amount of sweetness and baked to perfection. I love that you can make one for each person, and serve it up with some ice cream!
[yumprint-recipe id='405′]

What desserts are on your Thanksgiving menu this year?
Hassleback Pear Crumbles
I am head over heals for these Blueberry Crumb Bars! They are gluten-free, grain-free, and free of refined sugar, and they are also exploding with flavor!

Today I've teamed up with Wyman's of Maine to bring you these divine bars that are absolutely perfect for your weekend brunch, as an on-the-go snack, or to bring along to a party!
I just love these wild blueberries! They are BURSTING with flavor.

I love how easy these come together. In this recipe, we are using the frozen blueberries straight out of the bag! These bars are the perfect combination of crust and fruit topping. They are a hit all year long.


This post is sponsored by Wyman's of Maine. All opinions are always my own. Thanks for supporting the brands that make LCK grow!
 What is your favorite blueberry recipe?
Blueberry Crumb Bars
There's something about cookie bars that are just so different from your standard cookie. They are the perfect mid-day treat, party treat, or treat to frost and celebrate with!
Everyone of my trusty taste-testers (family, friends, neighbors) have raved about these cookies. The absolute perfect texture!

Warm classic cookies loaded with warm chocolate chunks. Pair them with a nice tall glass of almond milk!

This is a sponsored conversation written by me on behalf of Udi's Gluten Free. The opinions and text are all mine.
Cookie Bars
Looking for a healthier version of your favorite Girl Scout Cookie? These Paleo Thin Mints are just that! Crunchy, minty, chocolate-y, and just the right amount of sweetness! They are the REAL DEAL, while also being gluten-free, grain-free, dairy-free, and refined sugar free!

Girl Scout season is here… and if you are visiting my website you are likely avoiding the adorable little girls outside of the supermarket. It's been a long time, I mean a long time, since I have eaten one. Although they are delicious, I am happy these types of flours and sugars are out of my life. But let's be real for a minute, I totally want a cookie! 
Growing up I was definitely more of a Samoa/Tagalong kind of girl. As I grew up my palette switched to the Thin Mints. So naturally, I had to recreate.
These would be really good crumbled on top of a bowl of a thick vanilla protein smoothie. Just saying!
Watch the video:
What is your favorite Girl Scout cookie?
Paleo Thin Mints [VIDEO]
This Paleo Flourless Chocolate Cake is rich, decadent, and easy to make. It's a chocolate cake recipe favorite year after year! This paleo flourless chocolate cake is kid-friendly and loved by every adult who has tried it! Totally flourless and gluten-free, and so decadent and delicious.

Paleo Flourless Chocolate Cake
Call my corny, but I love Valentine's Day. Basically because I am a huge sucker for all things love-related, but I mean, who doesn't love a day when it is completely acceptable to eat loads of chocolate, have a nice fancy (and healthy) dinner, and possibly indulge in some delicious wine? Some may totally disagree and think it's just another ordinary day, but I can't help but love to get a little festive! I probably didn't feel that way when I was single, but I definitely remember doing the same thing with my girlfriends then, as I would now!

Speaking of girlfriends… I am excited that I have gotten so close with four of my favorite blogger-friends. We decided to bring you an awesome Valentine's Day Dinner Party featuring an appetizer, a main dish, a side dish, a cocktail, and a dessert. Full-course and absolutely killer. The entire menu is made up of healthy whole foods and is completely paleo-friendly. I brought you the dessert, and it is one of my all-time favorites! Check out the goods! This is an epic meal right here, if I do say.
Let's start this dinner party off with a Blood Orange and Grapefruit Cocktail (or mocktail), from Fit Foodie Finds, shall we? Find the full recipe here.
Next we have Kelly from Nosh and Nourish's Walnut Encrusted Scallops! Find the full recipe here.
Entree? Olena from iFoodreal has you covered with her Roasted Lamb Shoulder. Find the full recipe here.
But you can't have a main dish without a side. Davida from The Healthy Maven brings to you her Lemon Ginger Asparagus with Toasted Almonds. Find the full recipe here.
---
And lastly, my portion of the dinner party… the DESSERT.

This is one of my favorite recipes I have ever made. It is rich and heavenly, everything a flourless cake should be. Plus, it is topped with a delicious berry sauce that ties it all together. We can't get enough of this cake. It is an absolute new go-to around here.
How to make flourless chocolate cake
Make it this Valentine's Day!
Want other paleo dessert recipes? Try these: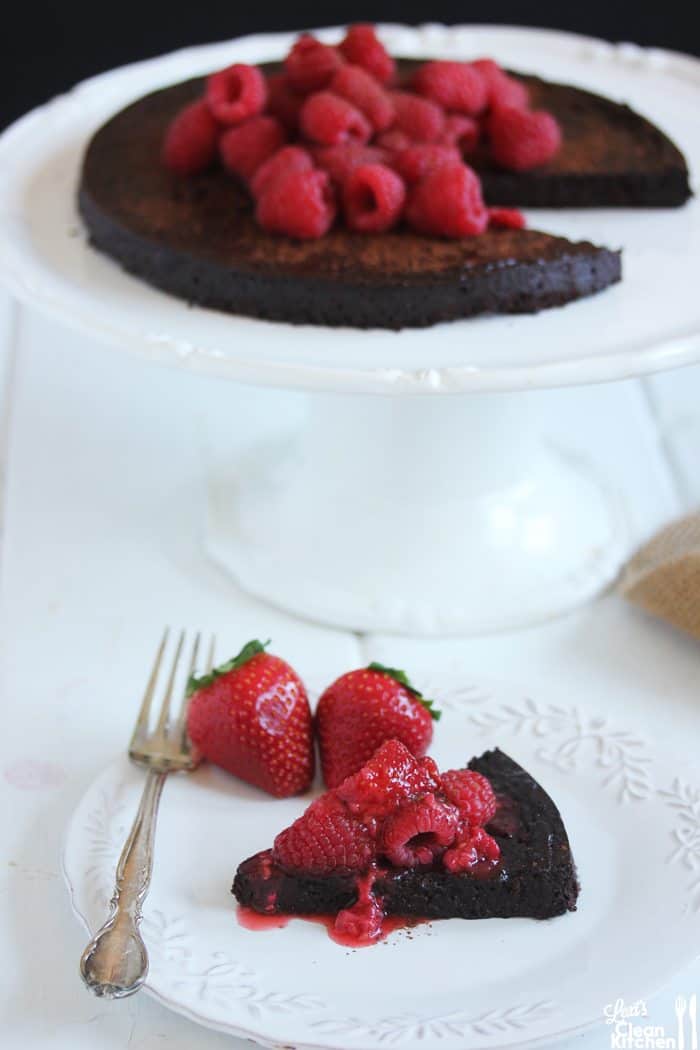 [yumprint-recipe id='106′]
What's on your agenda for Valentine's Day?
Paleo Flourless Chocolate Cake
These Double Chocolate Chunk Macadamia Nut Cookies are the perfect gluten-free and paleo-friendly cookie that everyone will love! Soft, chewy, and bursting with chocolate and macadamia nuts! A household favorite!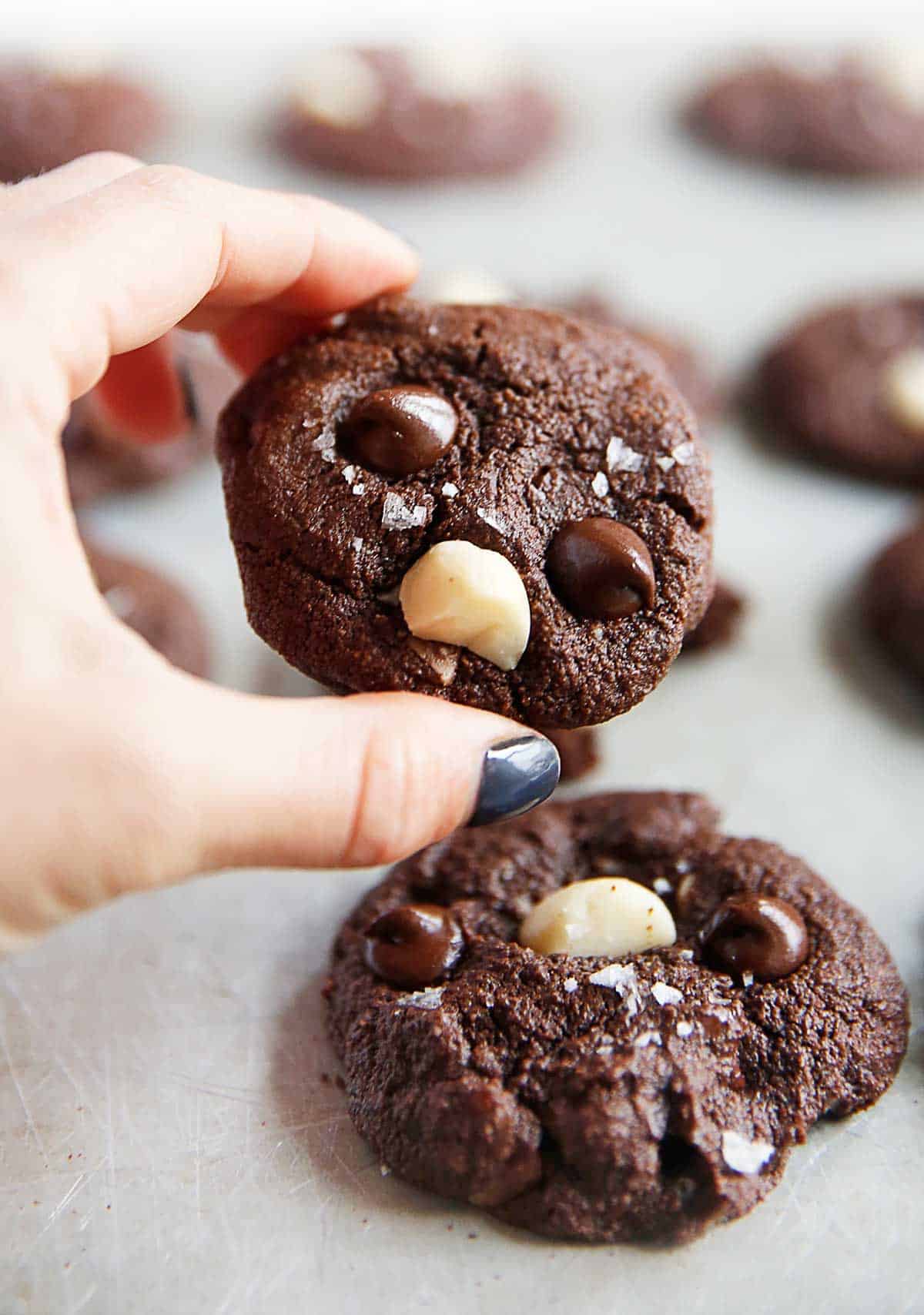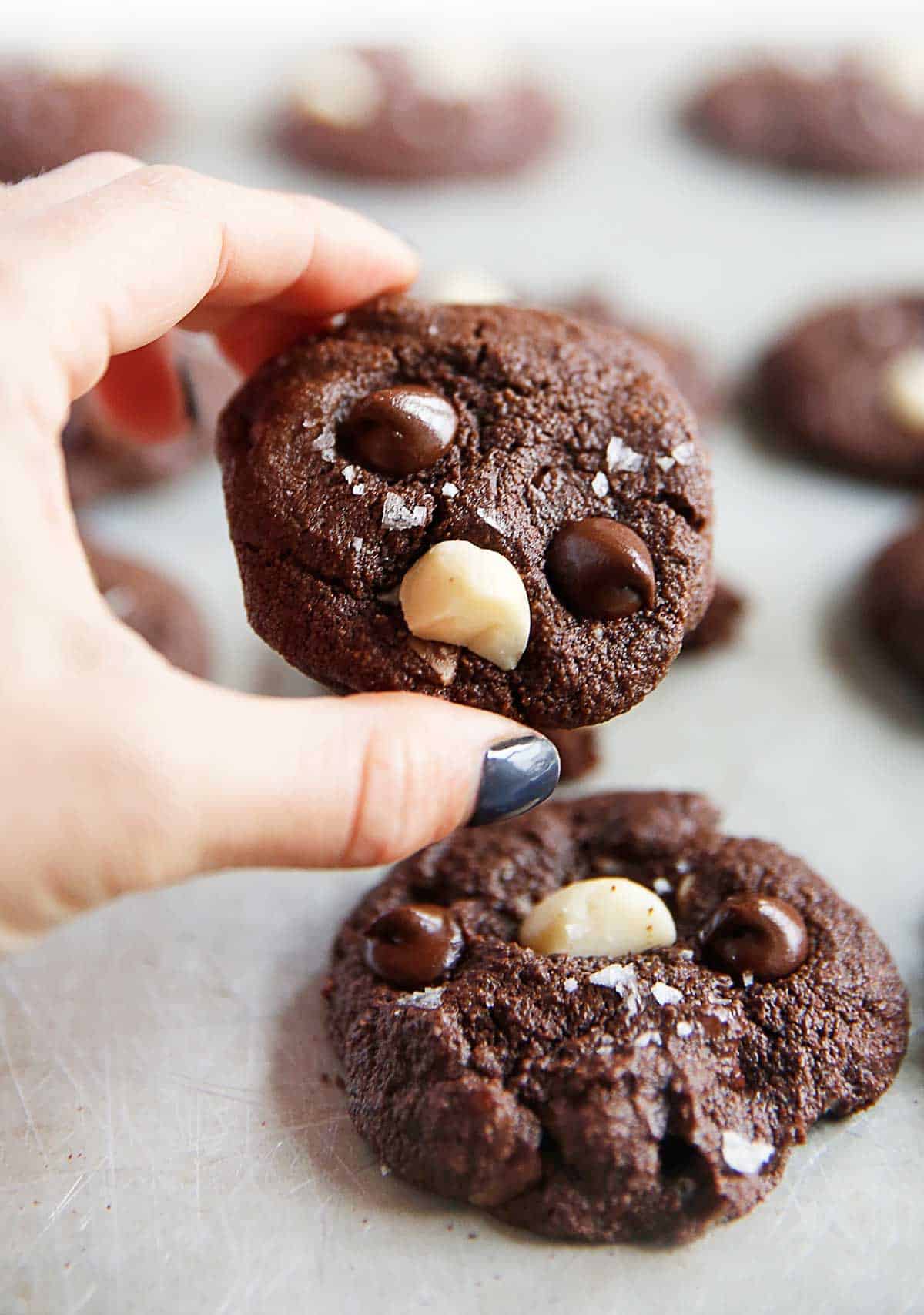 Double Chocolate Chunk Macadamia Nut Cookies
Nothing reminds me more of the holidays than a warm cookie oozing with chocolate chips and the just-the-right addition of macadamia nuts. I envision sitting by a fire with family and friends holding nice cup of coffee or a glass of almond milk and enjoying some delicious guilt-free cookies …or just standing In the kitchen shoveling them in as I taste-test the recipe, that works too.
I love the spirit of this season. It's festive, full of time with family, holiday parties with friends, and a lot of reflecting and happiness for the upcoming year. These cookies are perfect for your upcoming family get together, holiday party, or for the chocolate lover in your life!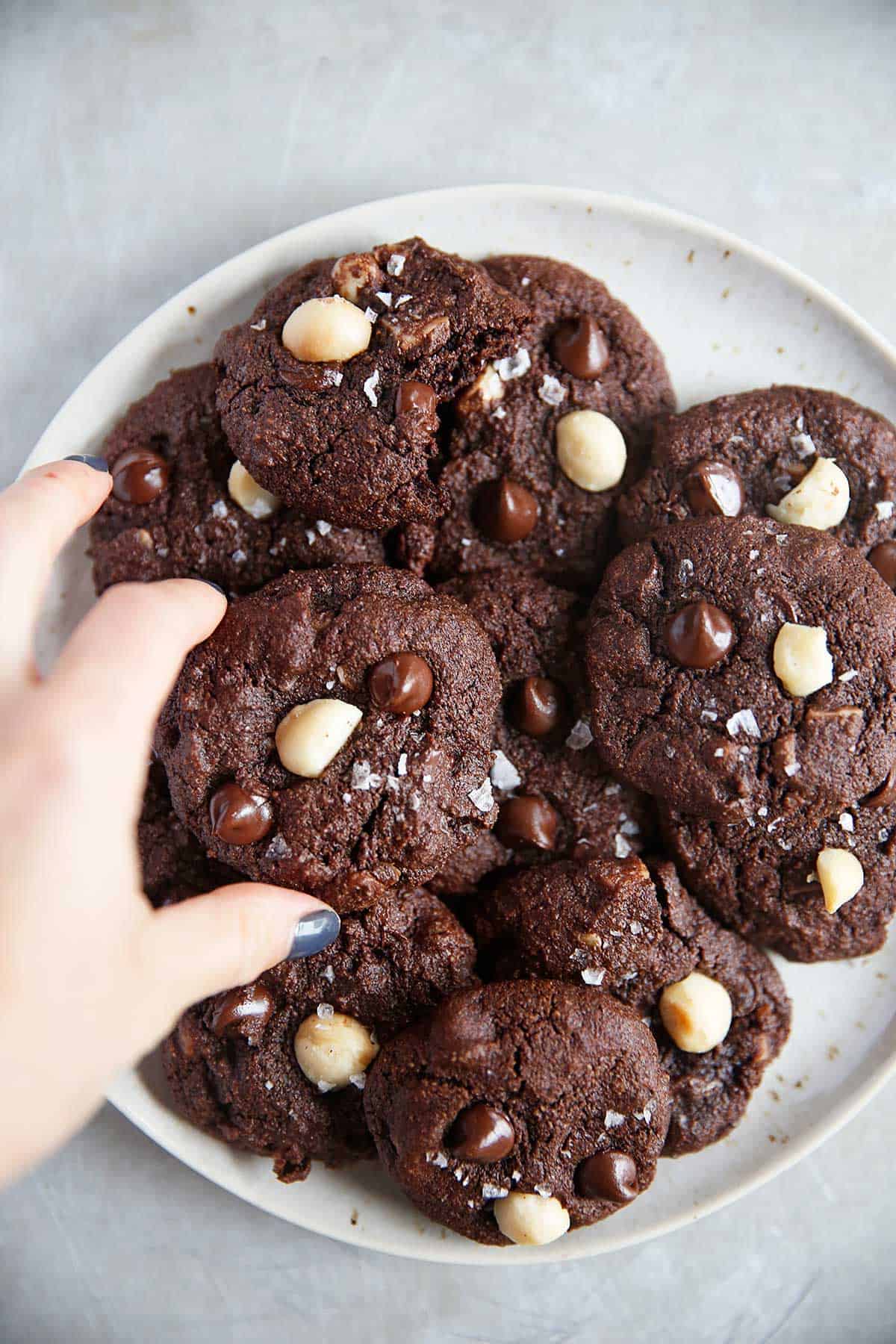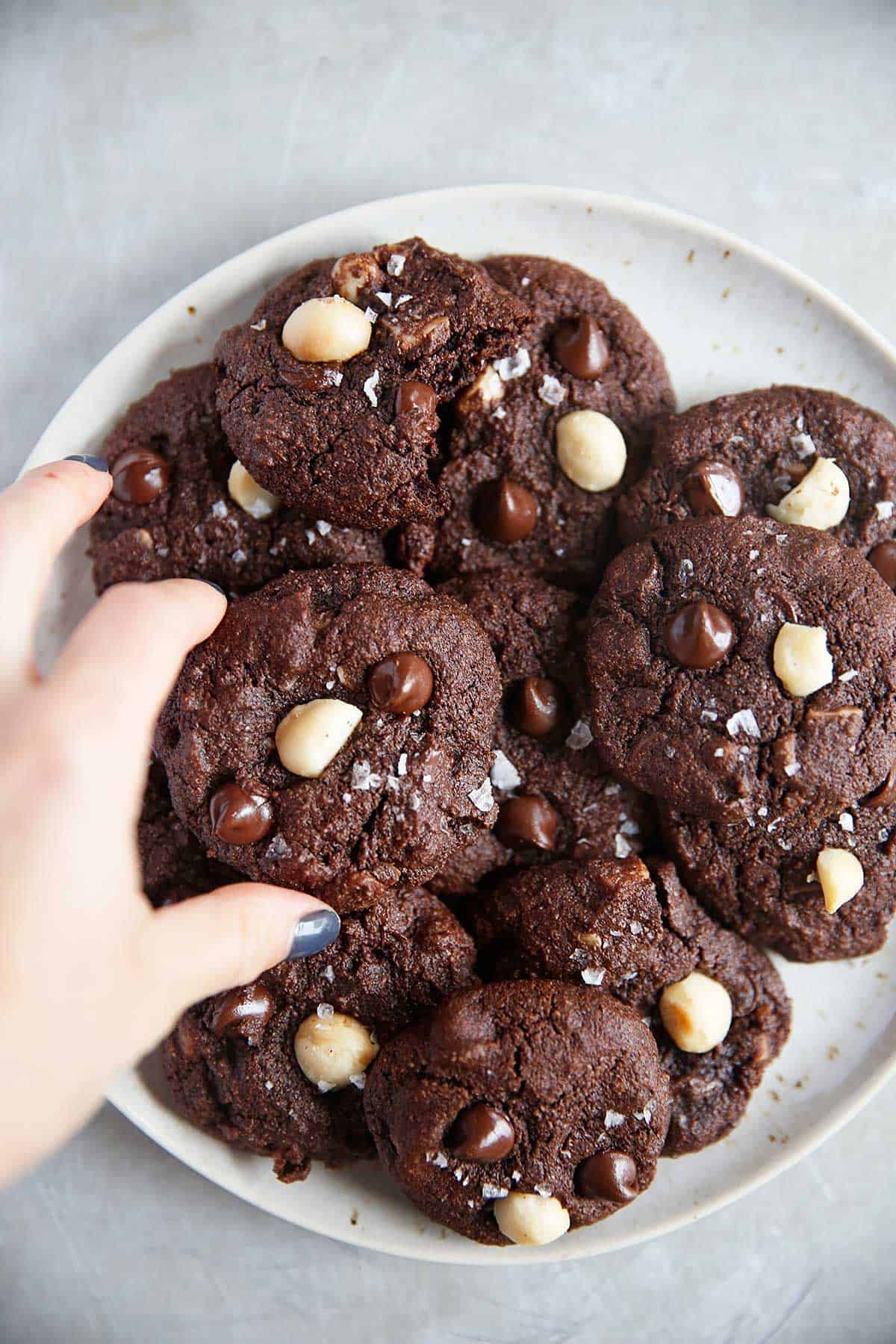 …And not that you need an excuse, but today is National Cookies Day, so get busy in the kitchen!

Try these other gluten-free cookie recipes:
Watch the video:
---
Double Chocolate Chunk Macadamia Nut Cookies
Looking for the perfect Paleo Chocolate Chip Cookies? These are soft, chewy, chocolate-y, and simply delicious. They are easy to make and are sure to be a hit in your home! You won't be able to tell that they are gluten-free, grain-free, and paleo-friendly!
Paleo Chocolate Chip Cookie Recipe
A warm chocolate chip cookie dipped in milk (or in my house, almond milk) just feels like home. The smell of cookies baking in your house is heavenly! These Paleo Chocolate Chip Cookies are a treat, and one that is nutrient-dense with almond flour as it's base and SO SO delicious.
What's in them?
almond flour
coconut flour
baking soda
fine sea salt
grass-fed butter, at room temperature or coconut oil
egg
honey
vanilla extract
paleo chocolate chips
coarse sea salt, optional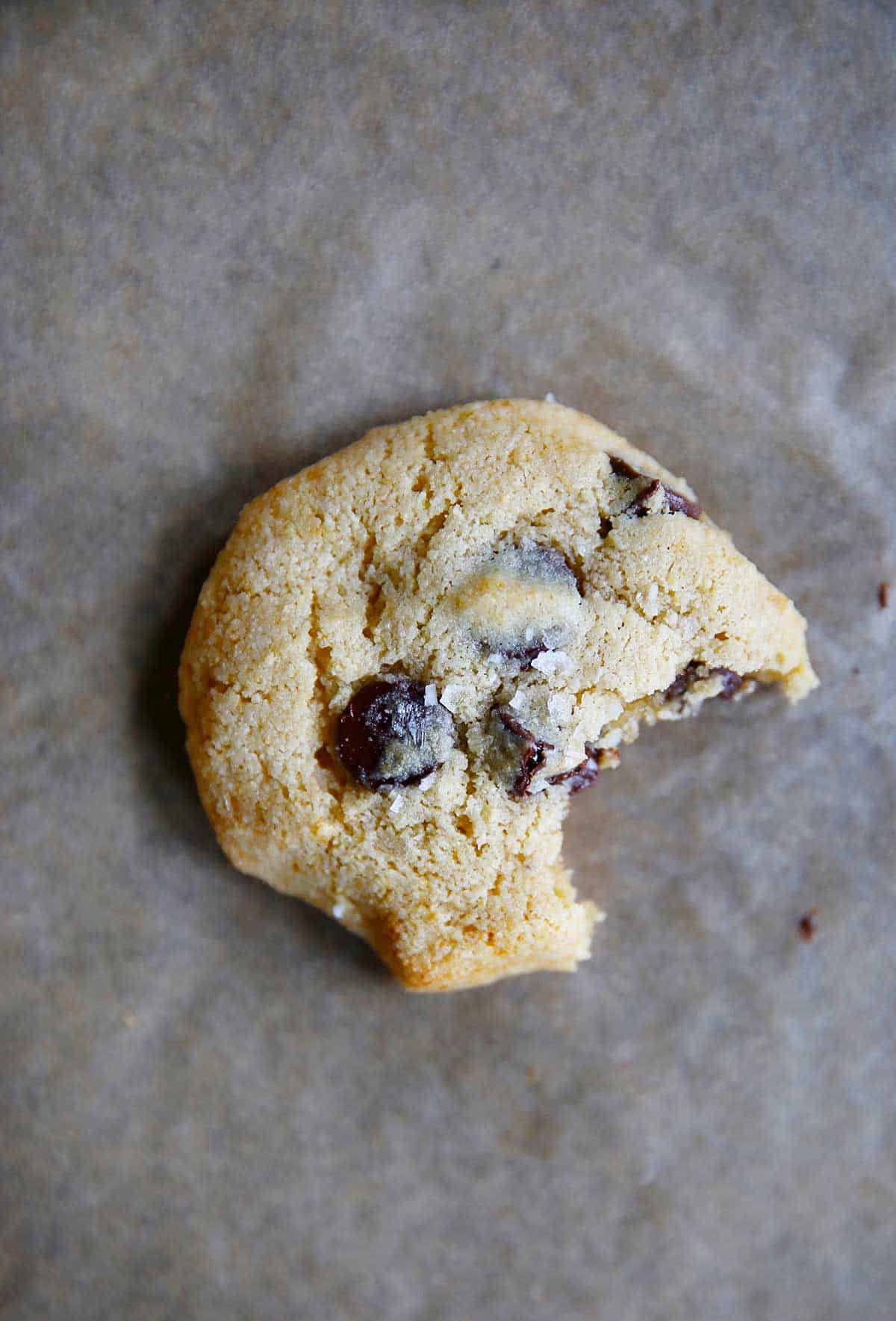 Want to make it extra special?
I like to sprinkle the cookies with a coarse flaky sea salt before baking, because sea salt and chocolate are the ultimate combo in cookies! And Mike LOVES these straight from the freezer! You can store them so you'll always have a little treat on hand when you are having a craving!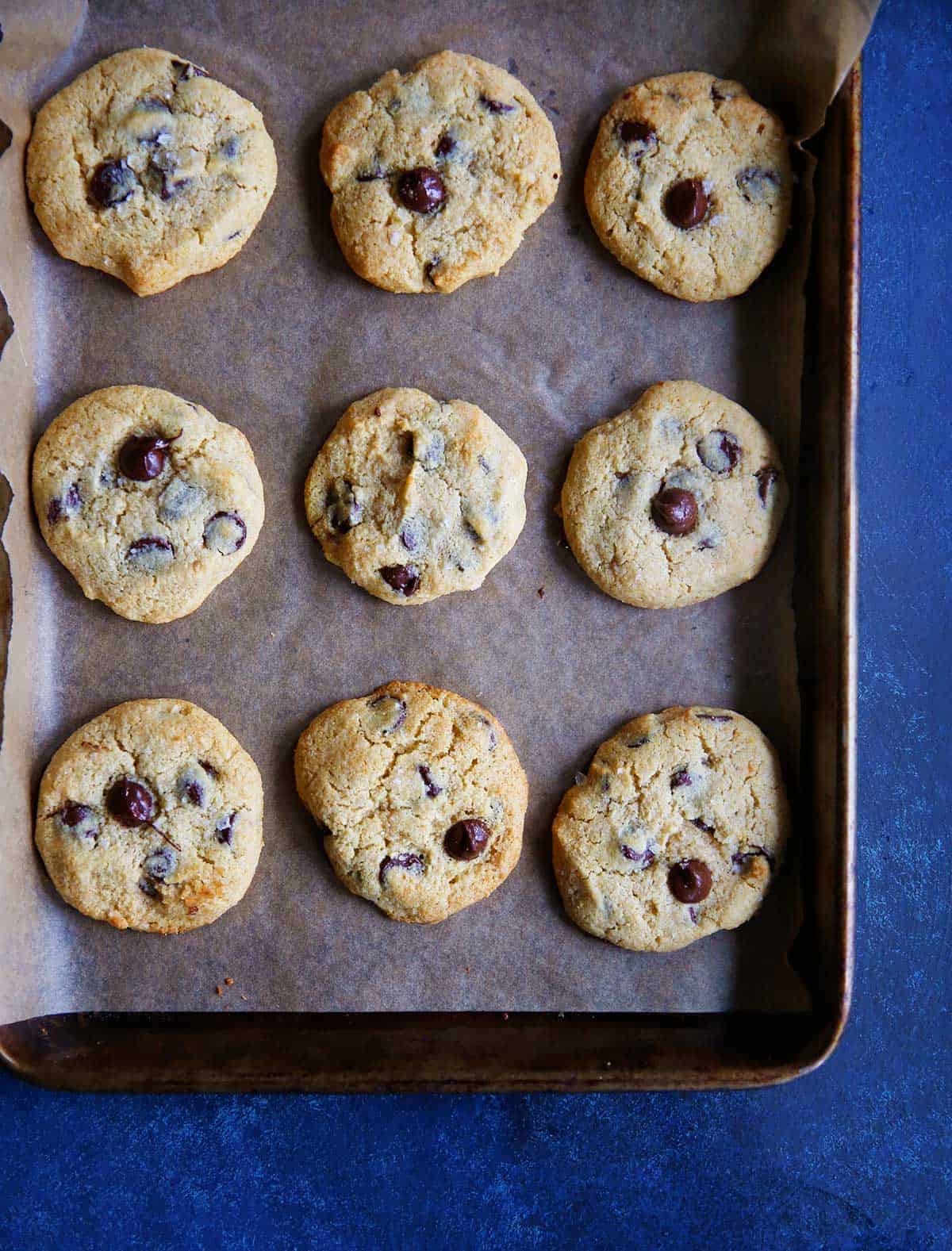 If you like this cookie recipe, check out these others: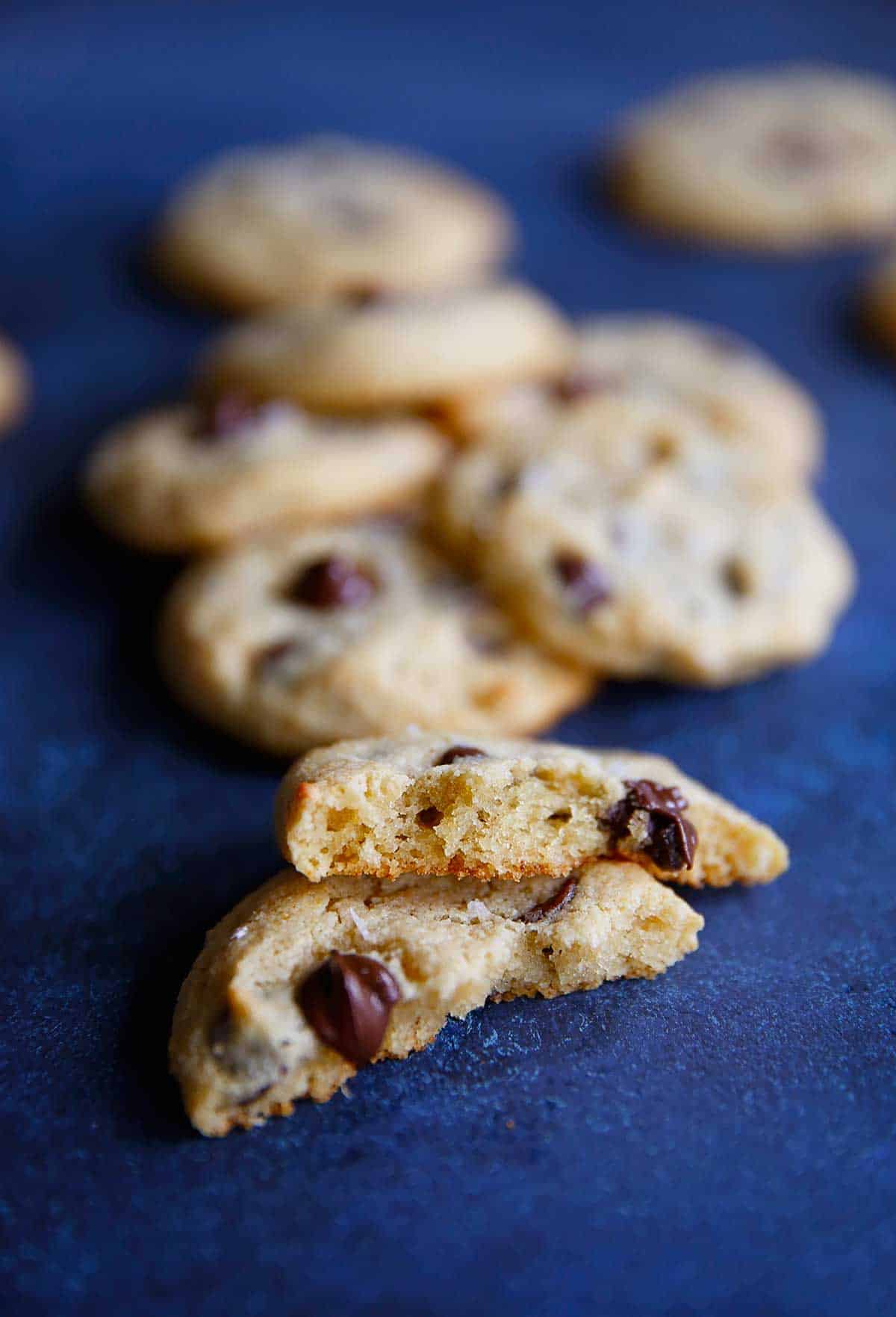 Check out these recipes featuring chocolate chips:
Paleo Chocolate Chip Cookies
These Double Chocolate Muffins are so moist and delicious! The perfect morning treat to wake up to! Eat them plain or top them with some melted chocolate of choice for a delicious dessert option. Grain-free, dairy-free, gluten-free, and done in 20 minutes!
Sometimes you just need a treat (in moderation) and these double chocolate muffins are great for when you are craving chocolate! Just the right amount of sweetness and moist on the inside but crumbly on the outside = muffin perfection.
Double Chocolate Muffins
When I hosted a brunch with these Paleo Chocolate Donuts on the table, this first comment made was "are they fried?" No, no my friends. These are clean, healthy, and baked… oh, and beyond delicious. Just little chocolate cake in the form of donuts. What's better than that?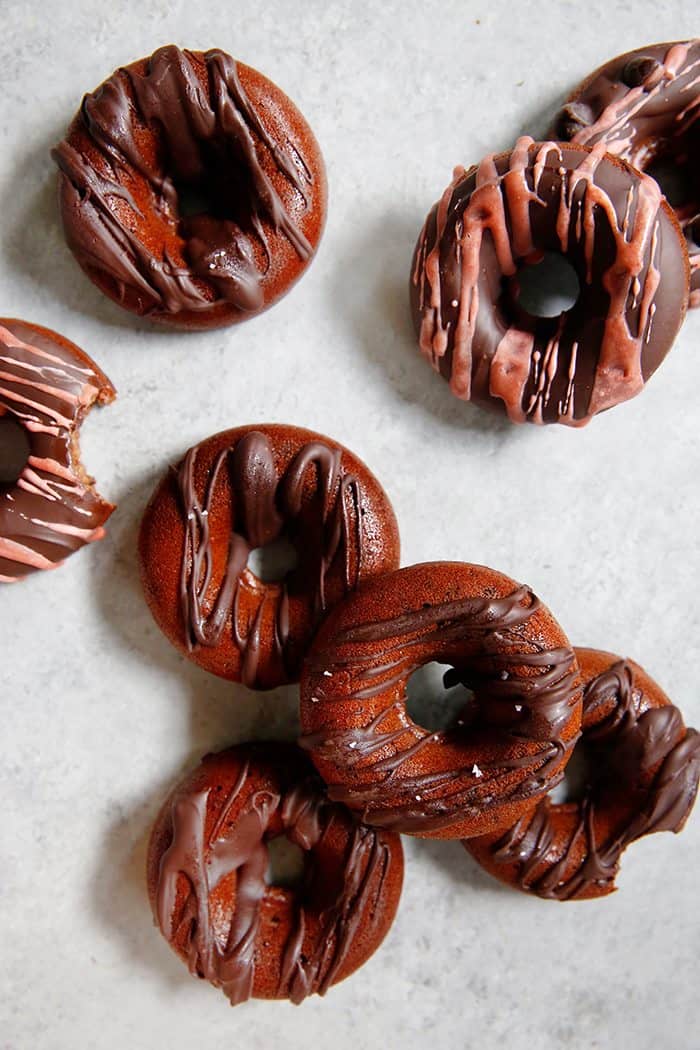 Watch the video: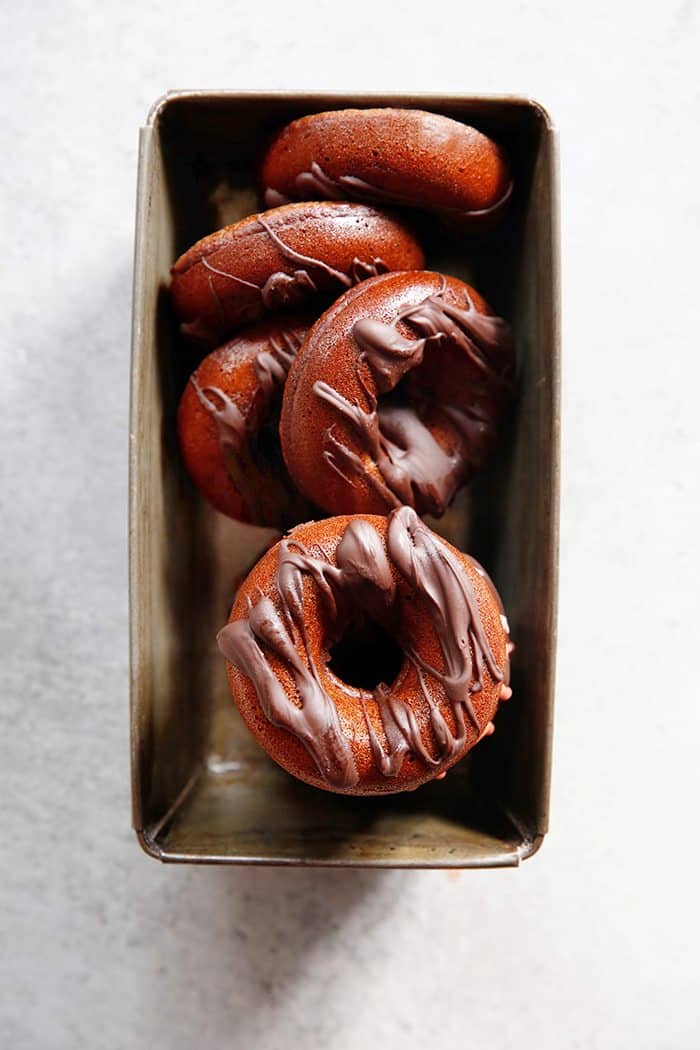 Paleo Chocolate Donuts