Easy Cioppino Stew
Happy Savory Sunday, my friends! I hope you had a wonderful Valentine's Day weekend. I absolutely loved seeing you pictures through Instagram, Twitter, and Facebook of all your LCK creations! It makes my heart happy to hear that you guys have success with my recipes and that it makes your transition to a clean eating, allergy-free lifestyle just a bit easier!
I made this recipe for Mike and I earlier in the week as an easy weeknight meal (yes, actually easy!), with no intention to photograph it. The life of a food blogger in the Winter months means not being able to photograph at night (unless using artificial lighting). So when we both tried it and nearly ate the entire batch in one sitting I knew I had to share it with you guys! I also knew that meant making another batch later into the week (fine by me), so I could catch some natural light. Perfect. We loved it both times. Traditional Cioppino Stew often times has mussels and clams, which you can definitely feel free to add in!


[yumprint-recipe id='120′]

What is your favorite type of soup? What is your go-to easy weeknight meal?
Easy Cioppino Stew
This one-pot Lemon Roasted Lemon Roasted Chicken with Garlic, Capers, and Artichokes is such a flavorful and hearty dish! The perfect dinner for those nights you want as little clean-up as possible! Whole30 compliant, paleo-friendly, nut-free, and egg-free!
Lemon Roasted Chicken with Garlic, Capers, and Artichokes
It's starting to feel like Winter is on the horizon. Heavier jackets have started coming out, and I woke up to a text of a backyard cover in snow this morning! In lieu, this week's Savory Sunday is here with a cozy Autumn/Winter meal that is loaded with bright and delicious flavors. This dish was a major hit; the chicken fell right off the bones and it is extremely simple to throw together, a one pan wonder! Perfect for a Sunday night family dinner, or a meal prep for your work week.
How to make roasted chicken
Want other chicken recipes? Try these: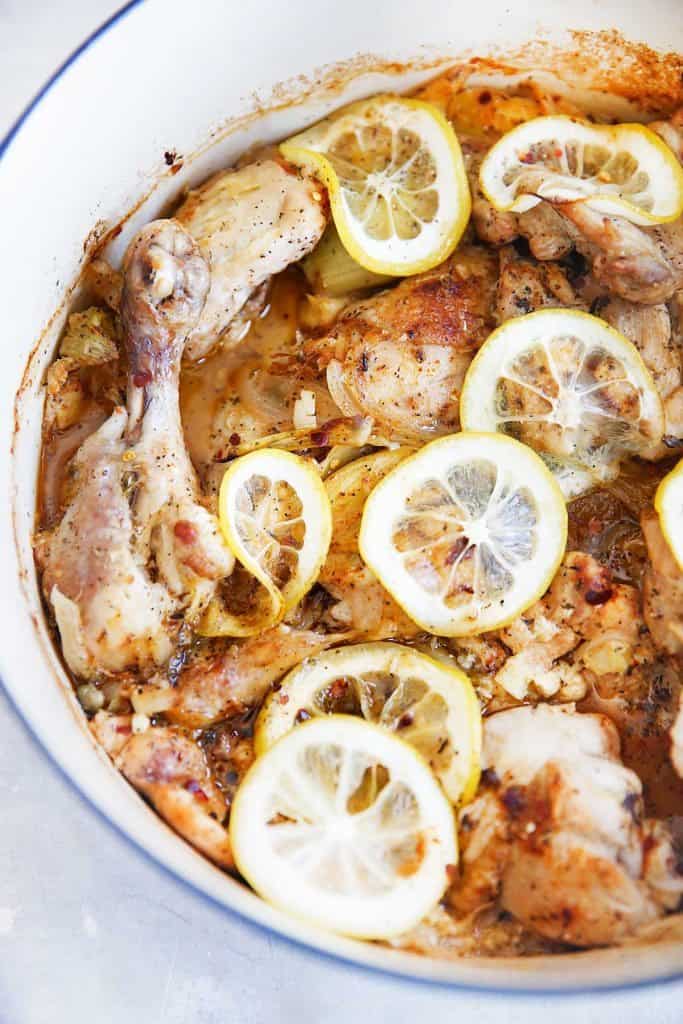 What is your go-to cozy Autumn/Winter meal?
Lemon Roasted Chicken with Garlic, Capers, and Artichokes
I didn't grow up eating shepherd's pie, but since making this recipe I have fallen in love! This Shepherd's Pie: Two Ways is such a perfect Fall dish when you are craving something hearty and comforting. Loaded with protein, Fall veggies, and topped with creamy sweet potato or cauliflower mash for a low-carb alternative!
If you love mashed potatoes as much as I do, this is a must-try!
Savory Sunday is back and this week's recipe is a good one! I can't believe it is Sunday. This weekend was relaxing and productive on my end. Speaking of the last post, did you guys kick it into gear with your November goals? I am pushing hard in my workouts this month.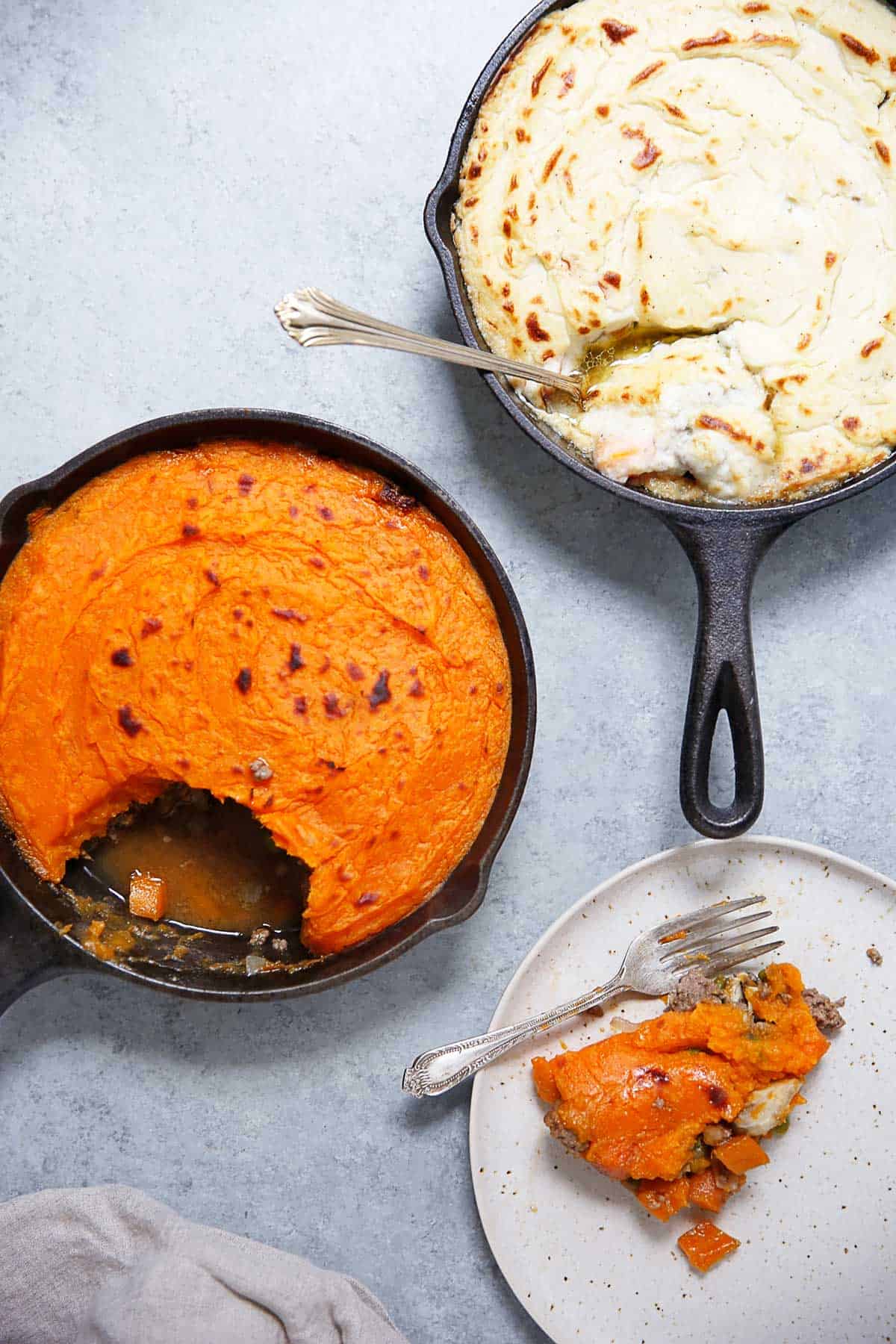 com·fort food
How do you feel about comfort food?
This definition kind of bothers me for some reason.
Maybe because I feel that food shouldn't necessarily be what provides one with a sense of well-being or consolation, and I don't generally find comfort in high sugar or high carb dishes, but I do find comfort in meals associated with home cooking.
This week's Savory meal idea is perfect for the Fall! Healthy comfort food made TWO ways, to satisfy everyone in your home.

What is your favorite comfort food? 
Shepherd's Pie: Two Ways
If you are looking for a pizza crust that is hearty, delicious, and filled with veggies, this Paleo Eggplant Pizza Crust is for you. My traditional pizza crust  is my go-to when I am craving a traditional thin-crust pizza dough, but I can't get enough of this veggie packed version!

I love pizza. I mean, I REALLY love pizza. I personally don't go for the store-bought gluten-free pizza crusts, or store-bought gluten-free cookies, crackers, etc. for that matter. I
often don't find these things to be healthier then the regular options, just allergy-friendly. So, I opt to invent.
Watch the video:
Making a crust that's gluten-free, dairy-free, paleo, and healthy? That's delicious? I'll take two, please! I have made tons of pizza crusts; from flatbread to cauliflower-based and this one takes the cake with the best reviews in my house!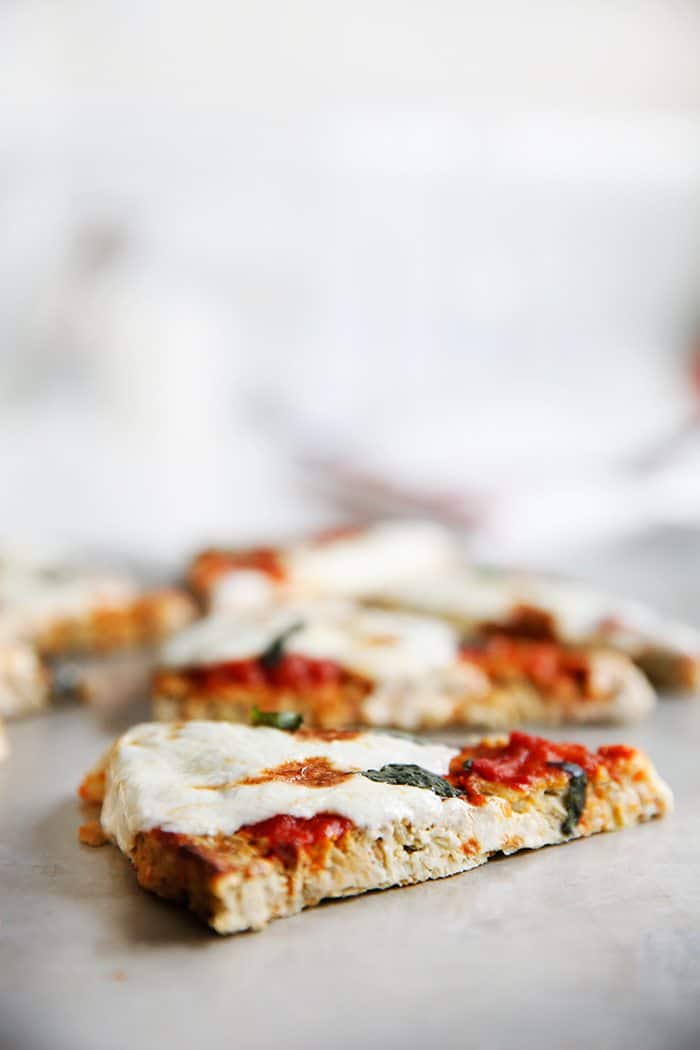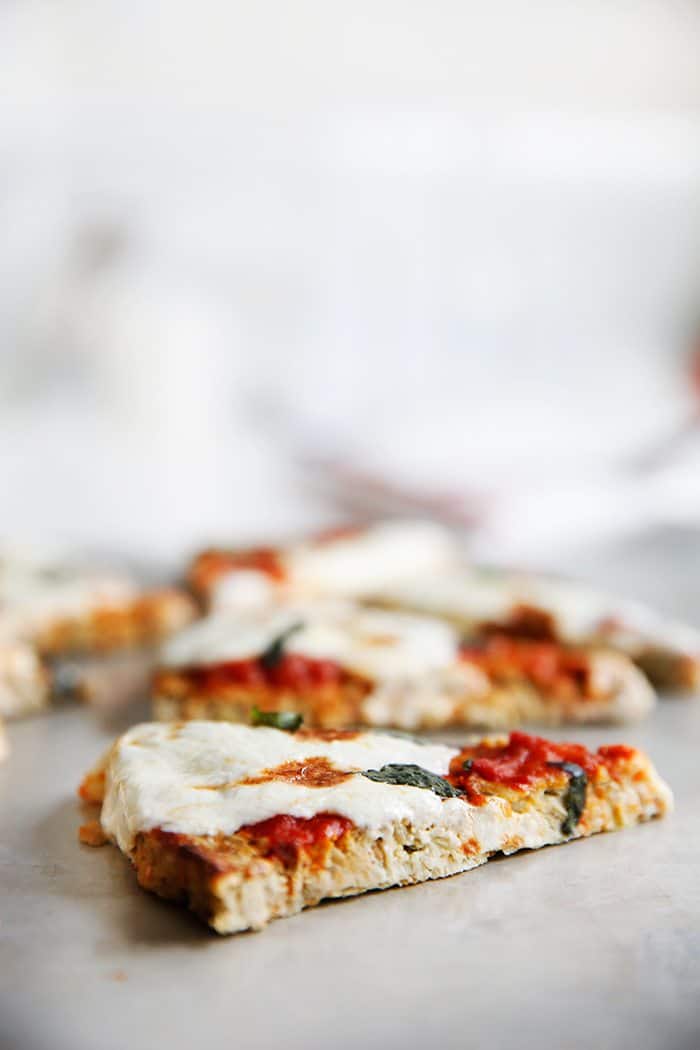 Such a great way to get your kiddos to add more veggies into their diet!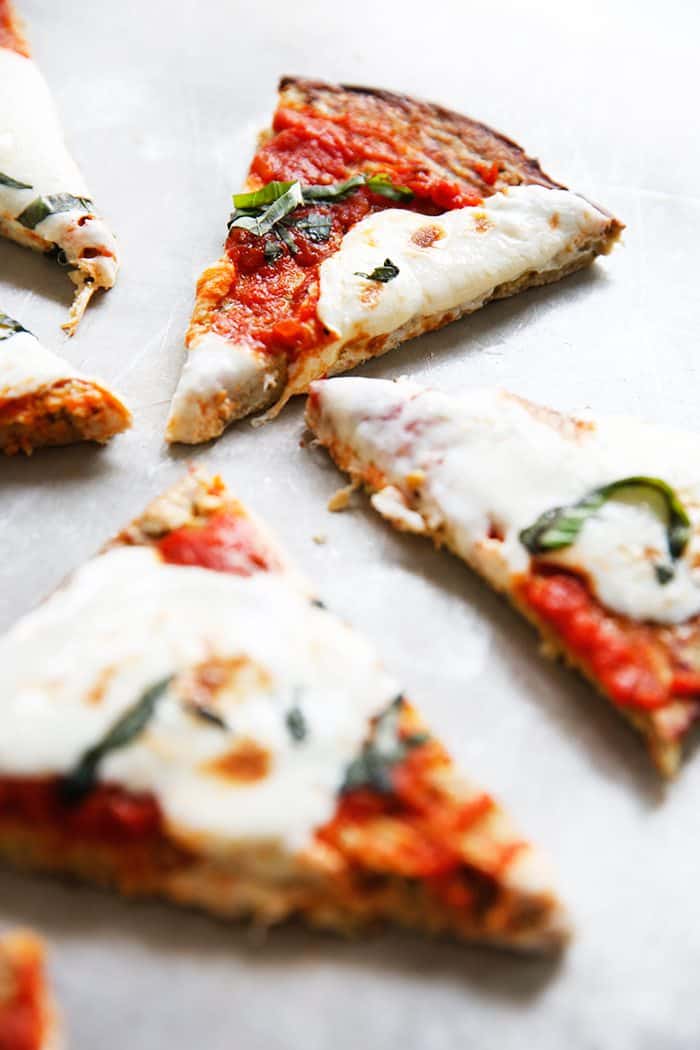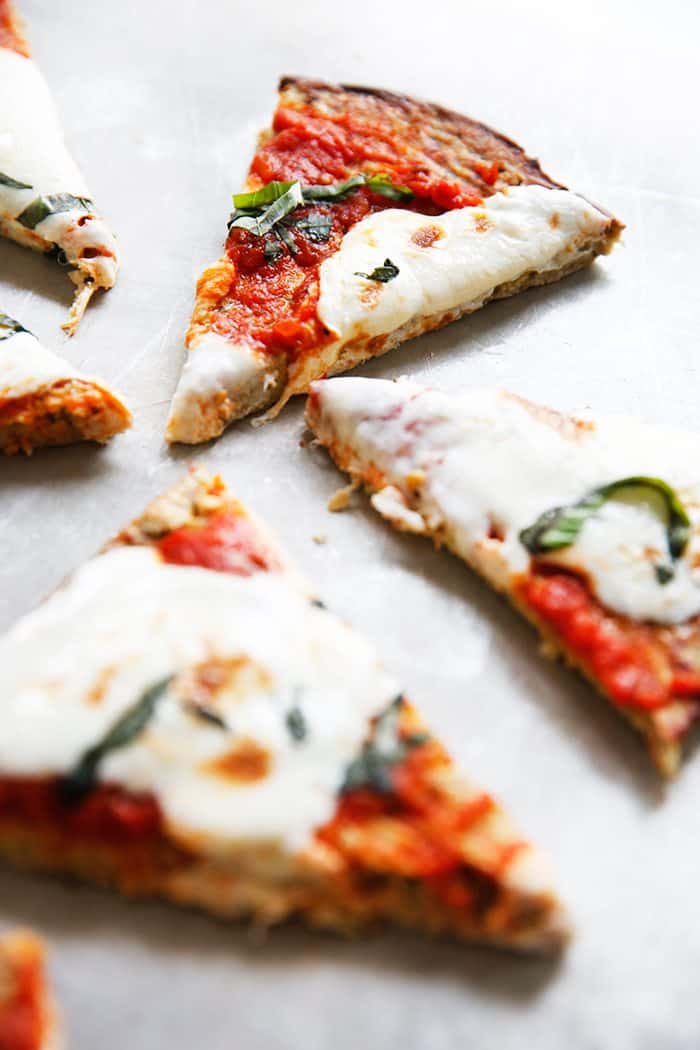 [yumprint-recipe id='33']
Paleo Eggplant Pizza Crust [VIDEO]
Football season is about to be here and that means Sundays for me are filled with game day cooking (my favorite)! I always try to prepare healthy game day foods and this Buffalo Chicken Chili will definitely be on the rotation. You can make this buffalo chicken chili recipe in the Instant Pot or on the stove top!
Buffalo Chicken Chili (Instant Pot or Stove Top)
This chili is a must-try, it's the perfect mix of flavors and textures. It's hearty, flavorful, and different! It went over big time in my house tonight!

If you like this chili recipe, try these recipes:
Buffalo Chicken Chili (Instant Pot or Stove Top)
This Spaghetti Squash Primavera is the perfect healthier spin on the Italian classic! Loaded with seasonal veggies, protein, and flavorful spices, it is the perfect hearty and nutritious meal for any night of the week! Dairy-free, grain-free, paleo-friendly, and no added sugar!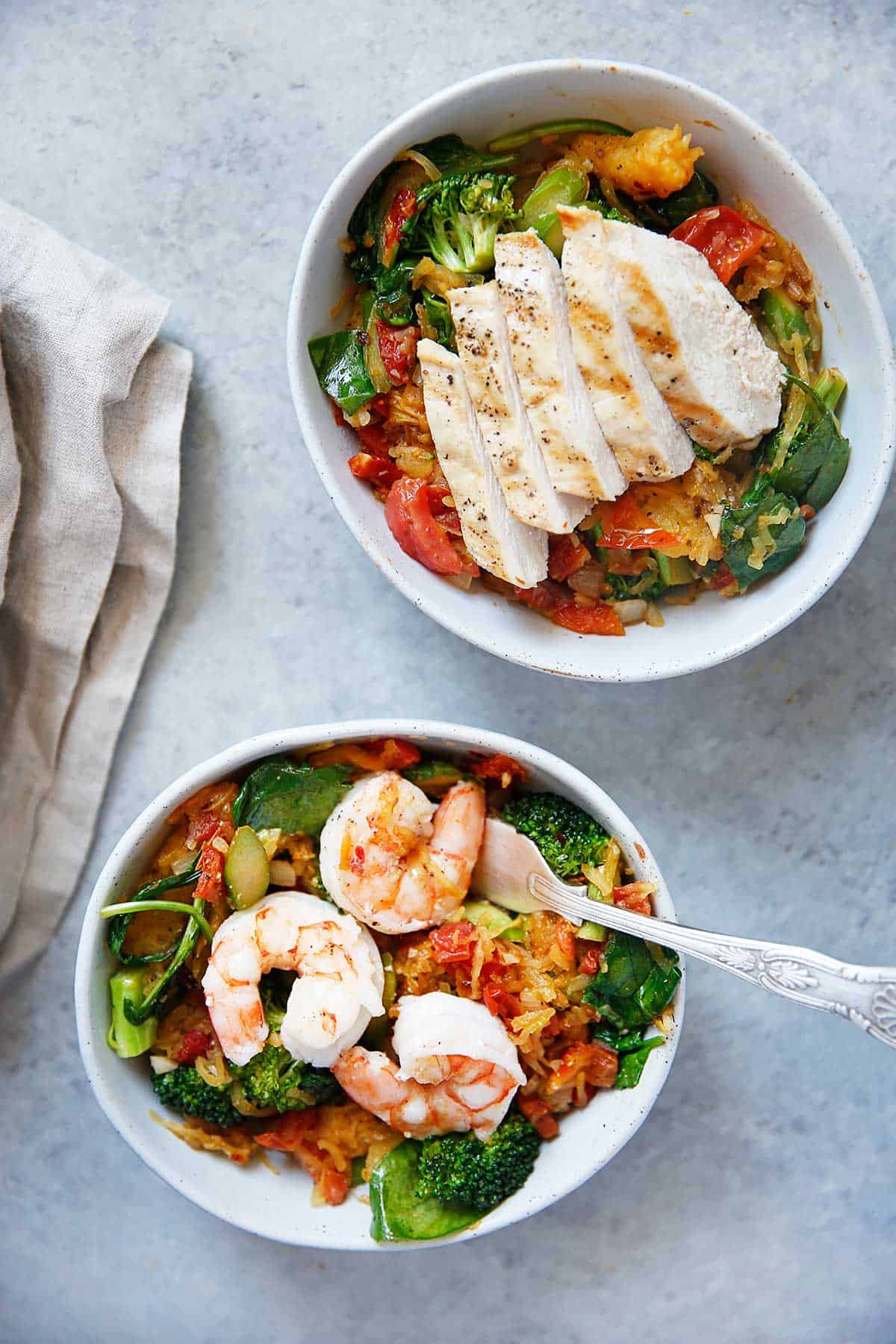 Spaghetti Squash Primavera
I love Italian cuisine! I mean who doesn't love combining meat, fresh vegetables, garlic, oil, and homemade tomato sauce? A ton of the dishes I make are Italian-inspired. This dish fulfills that delicious pasta craving, without the pasta! My version of "pasta" primavera is made with spaghetti squash and is the perfect combination of garlic, spices, meat, and vegetables!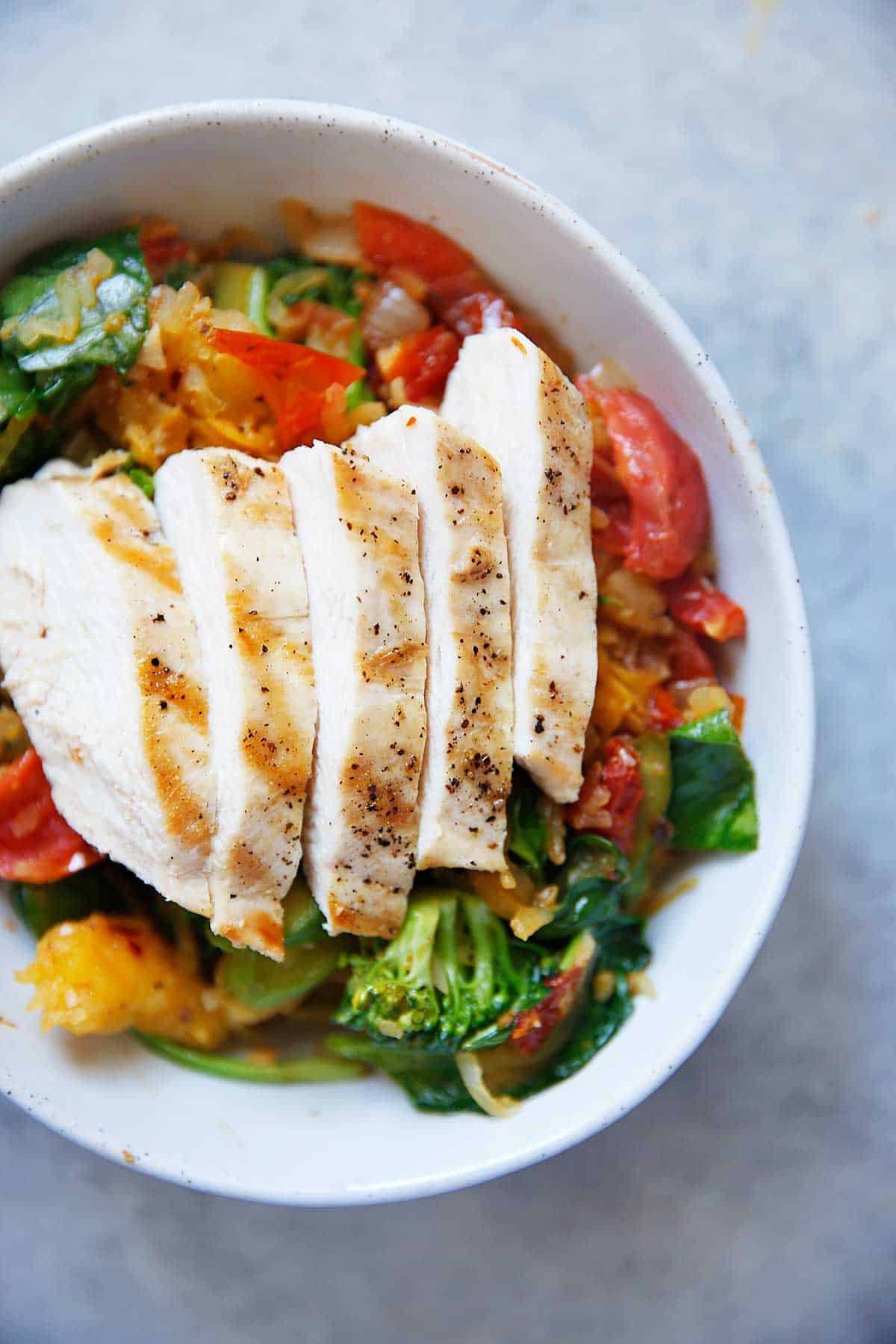 Watch the video:
Spaghetti Squash Primavera [VIDEO]
These Sweet Potato Buns make for the perfect nutrient-rich bread-alternative! I love how creative you can get with them. Breakfast sandwiches, the traditional BLT, avocado toast… the options are endless!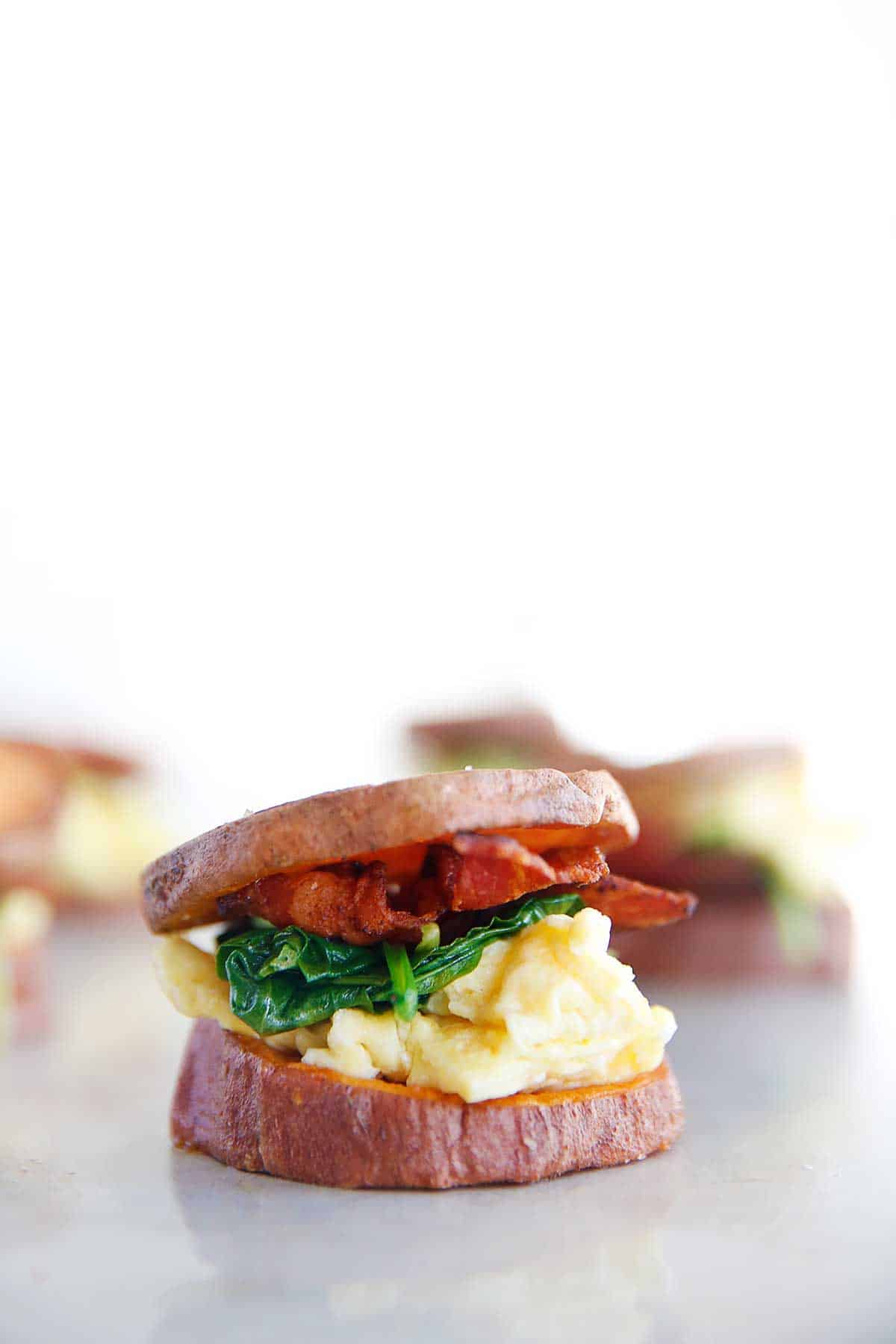 Sweet Potato Buns are my favorite! You can make them bigger or smaller, you can make them for  breakfast, for lunch, or for dinner! You can make them open face sliders or full sandwiches! So versatile!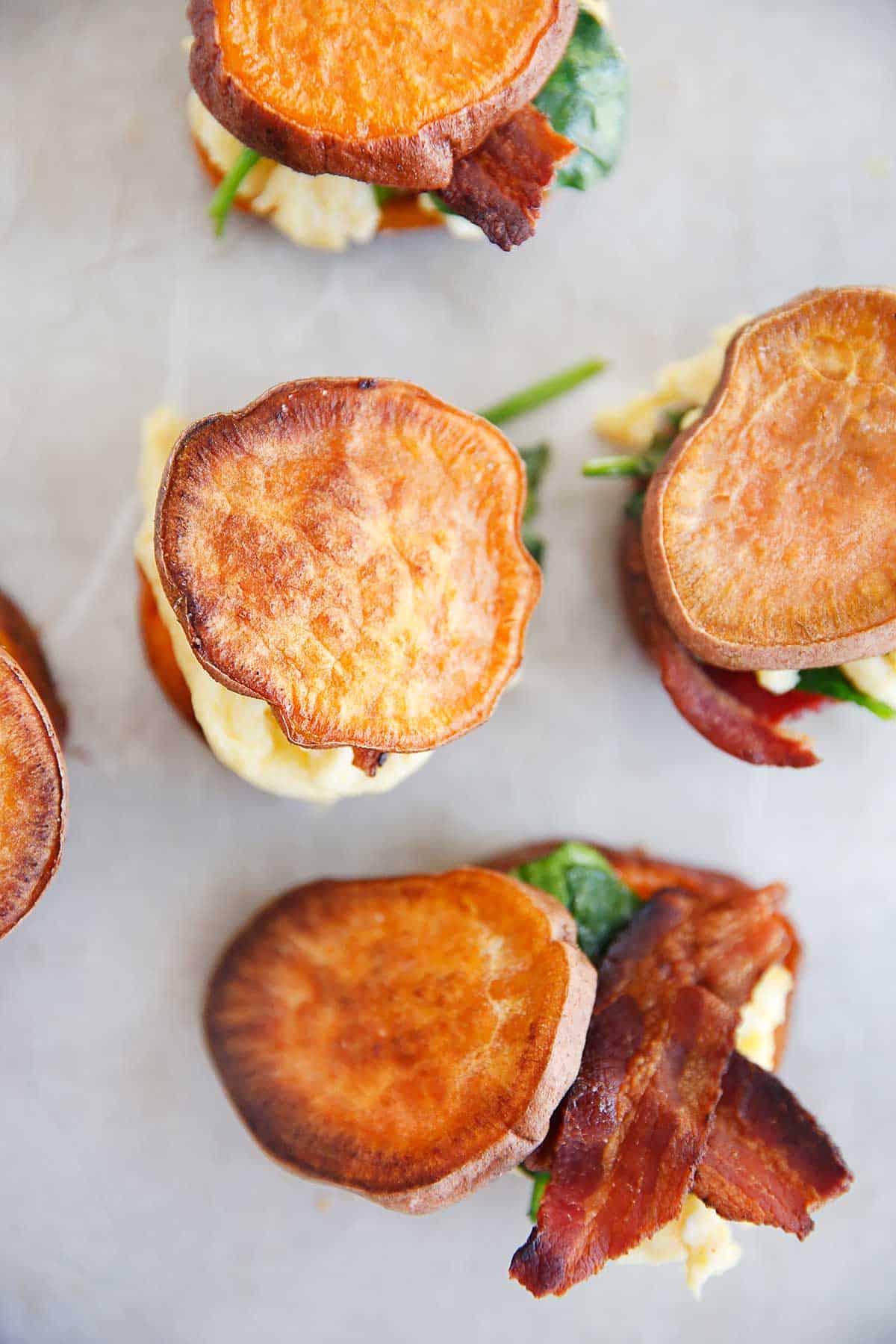 Simply roast the sweet potato, load with desired fillings, and DEVOUR! Whole30 compliant, grain-free, gluten-free, and dairy-free!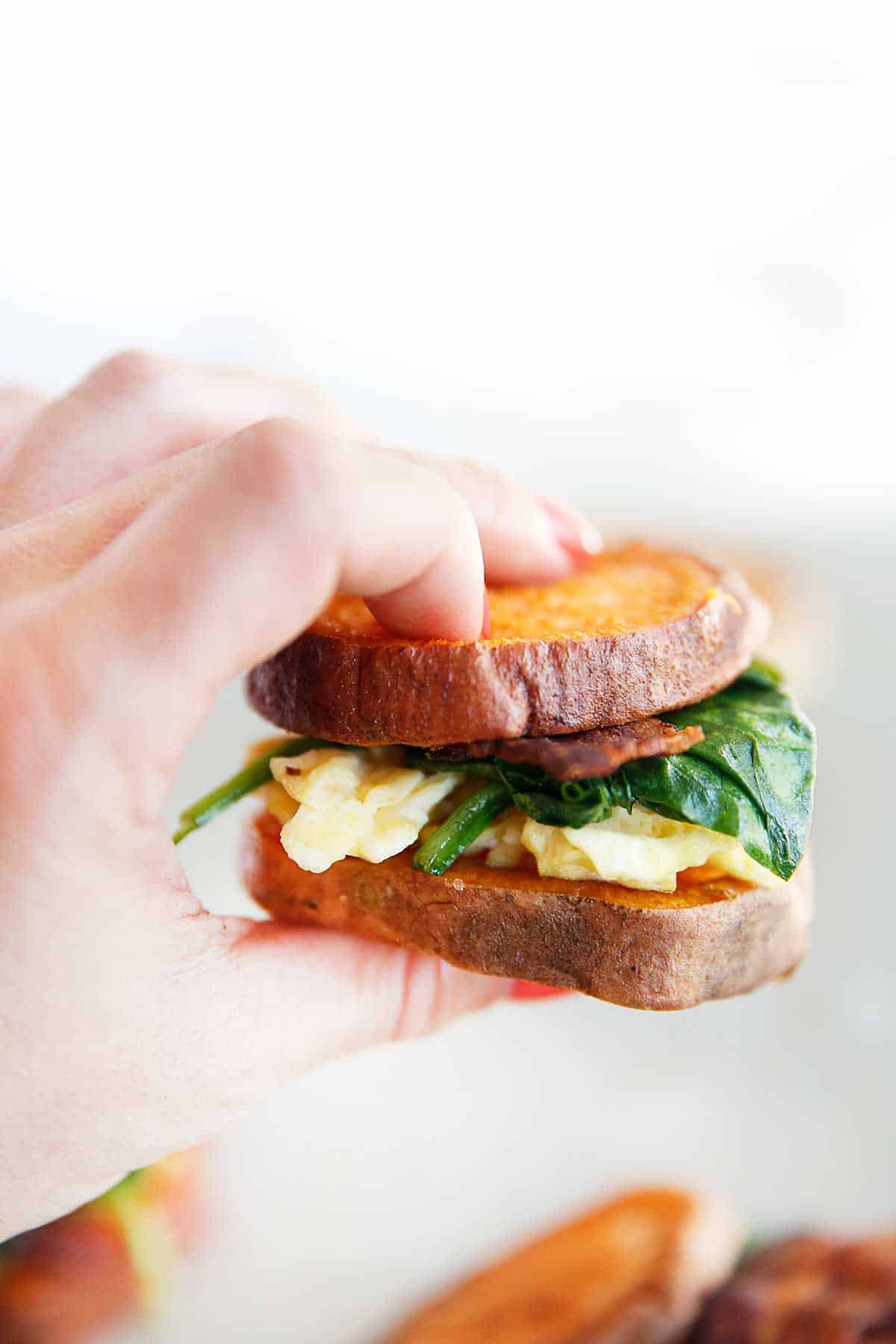 Sweet Potato Buns

---

---

Ingredients Make It Into A Breakfast Sandwich

Directions

Recipe Notes

*This recipe was updated in March, 2017.

---

Nutrition

Loading nutrition data...
Sweet Potato Buns
I am speechless over this Easy Salmon Puttanesca. The puttanesca sauce is so flavorful and pairs perfectly with the Wild Salmon. I couldn't get over how simple it was to make! 10 minutes and very little prep work! Such an elegant and flavorful dish for any night of the week! We paired the salmon with sautéd green beans, but you can use any veggies you have on hand!
I am a big fan of puttanesca sauce and always wanted to make my own version. I am so happy with how this one came out and love saving the extra sauce to use throughout the week! If you are looking for low-carb, simple meals to get you through the week, this is definitely a keeper!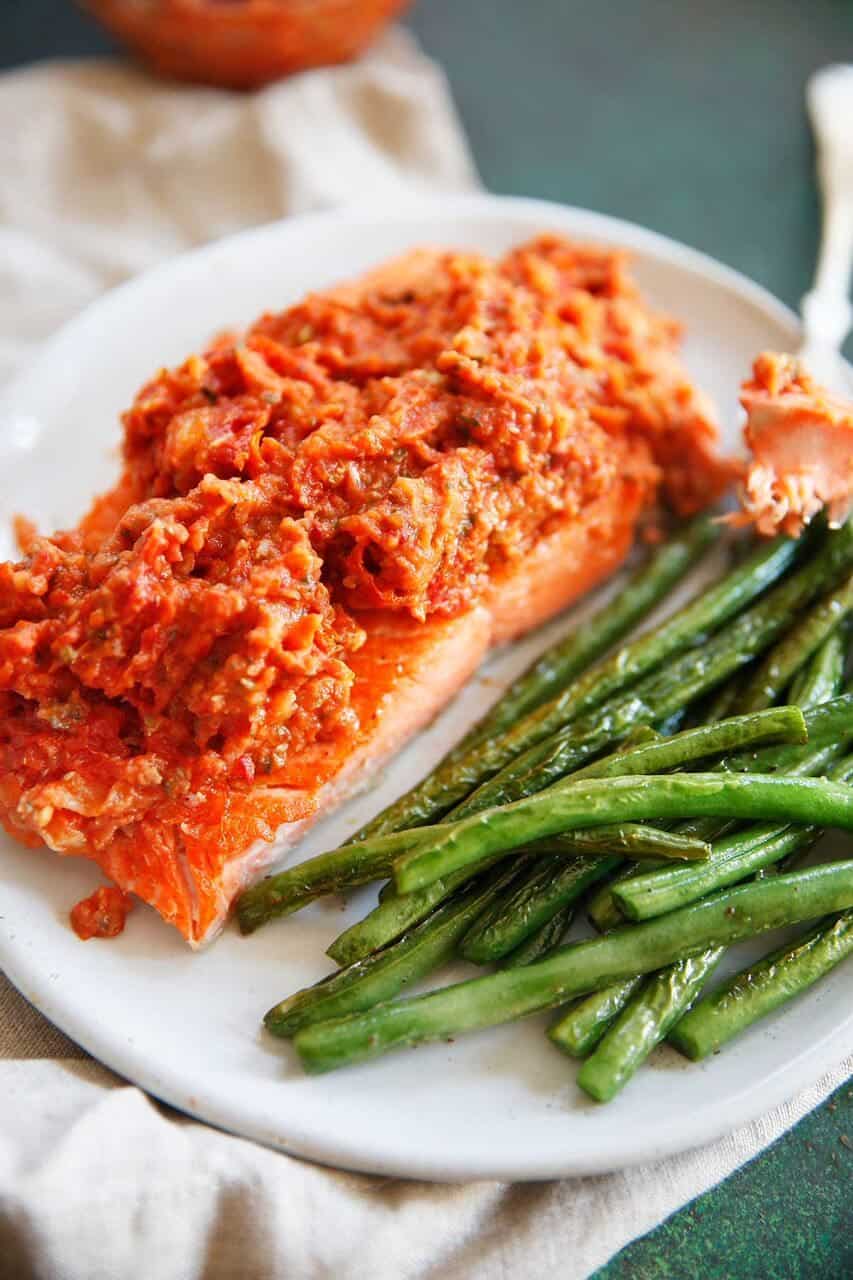 Easy Salmon Puttanesca
Italian night! Who needs real pasta? Spaghetti Squash Boats are a huge hit around here. They are filling, tasty, and fun to eat. They go perfectly with my homemade meat sauce or meatballs.
Spaghetti Squash Boats with Homemade Meat Sauce
This Seafood Primavera is the perfect healthy alternative to the classic pasta dish! Such a great simple, veggie-packed Dinner for any night of the week!
I realized yesterday that of my many dishes made with spaghetti squash, almost all are meat-based and none of them contain seafood. That had to be changed! I was in Whole Foods when I began conjuring up ideas. Spaghetti squash infused with white wine, spices, garlic, veggies, and seafood? DONE! Eating healthy never has to be boring!
Seafood Primavera
This slow cooker shredded chicken is an all-purpose recipe that goes with just about anything and is made easy in the crock pot! The slow cooker is one of my favorite kitchen appliances, especially if you have a busy schedule.
Slow Cooker Shredded Chicken
This basic all-purpose chicken recipe is great because you can turn it into so many things. From shredded buffalo chicken lettuce wraps to chicken soup, chicken salad, and shredded chicken tacos, this easy recipe is so simple and always delicious!
What is the best way to shred chicken?
Shred chicken with two forks!
How do you shred chicken with a mixer?
Place fully cooked chicken breasts into the KitchenAid Stand Mixer. Make sure your chicken is still warm. With your paddle attachment connected and chicken inside the mixer, turn it onto low until shredded!
How To Make Easy Shredded Chicken (Slow Cooker or Instant Pot)
This Spaghetti Squash Italian-Style Casserole is such a flavorful, simple, and healthy dinner casserole when you are craving comfort food! Craving Italian food? This spaghetti squash dinner filled with sautéed spinach and chicken is your answer.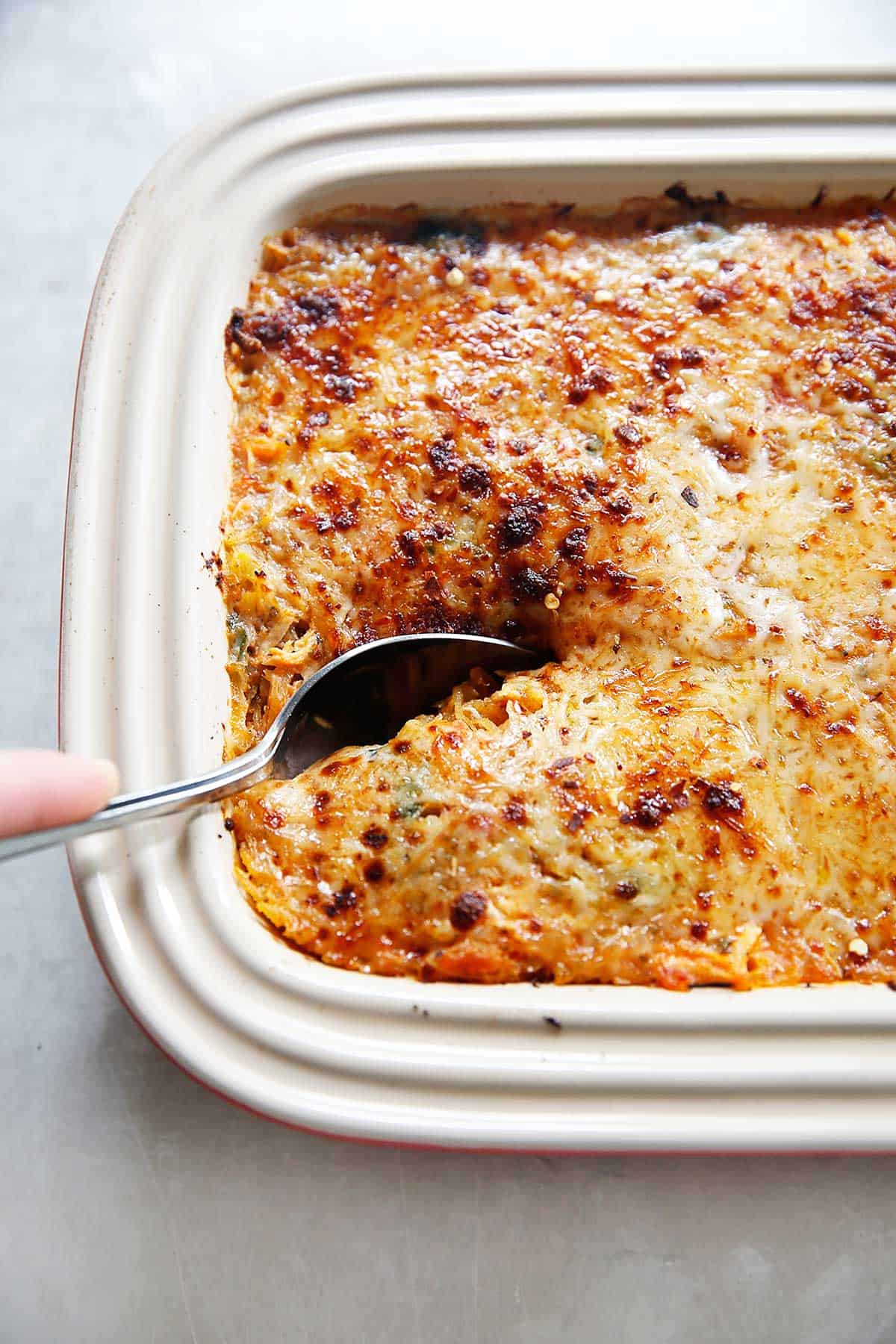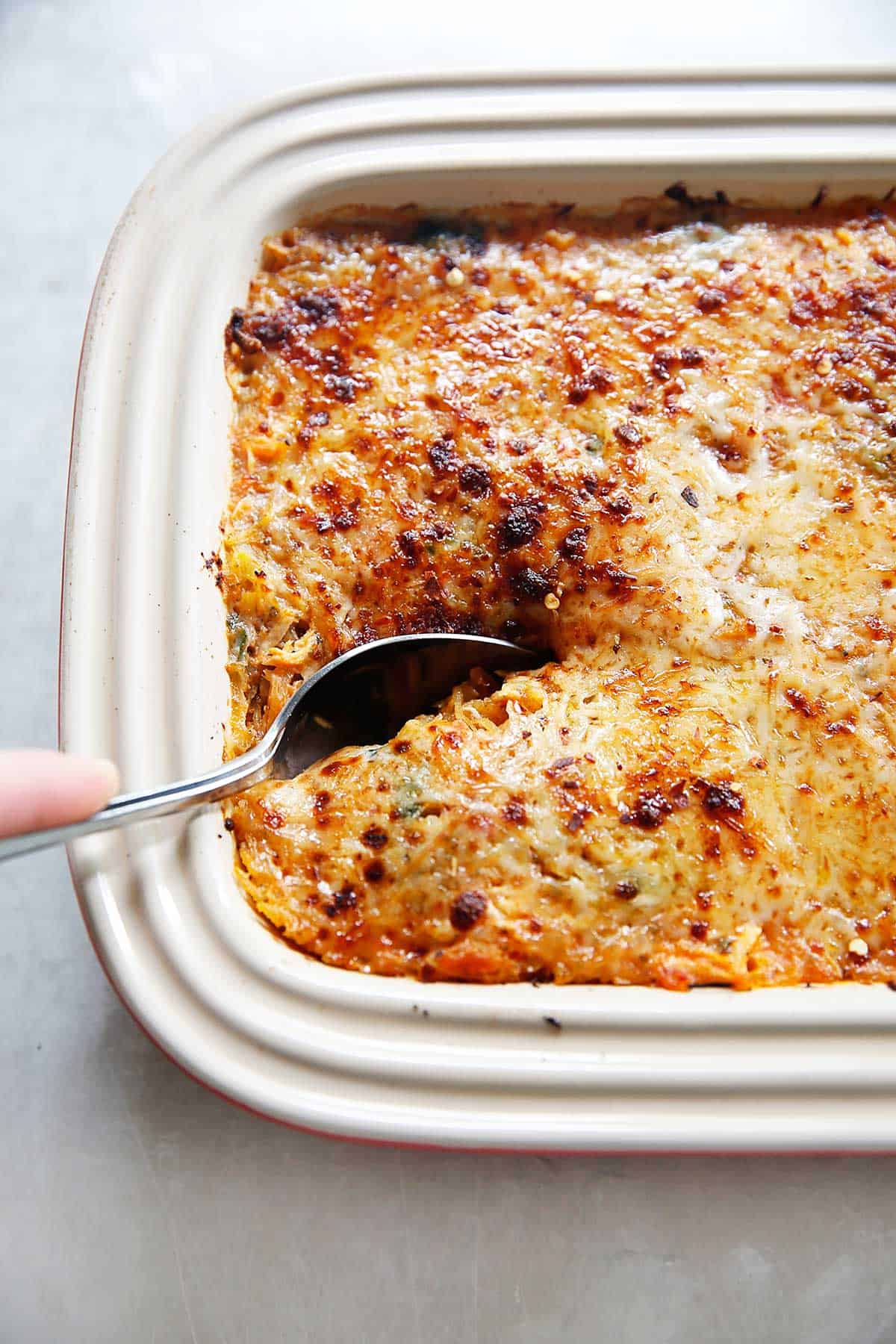 How to Make A Spaghetti Squash Casserole
This is an amazing dinner, my friends. Everyone who has tried it absolutely loves it. A huge hit all around!
How to Roast Spaghetti Squash
Preheat oven to 375ºF and line a baking sheet with foil or parchment paper.
Cut spaghetti squash in half, lengthwise.
Scoop out seeds.
Brush inside with oil.
Place facedown on baking sheet and adding water to the baking sheet.
Bake for 45-50 minutes, or until you can pierce with a fork.
Simply scrape out "spaghetti" with a fork and Enjoy!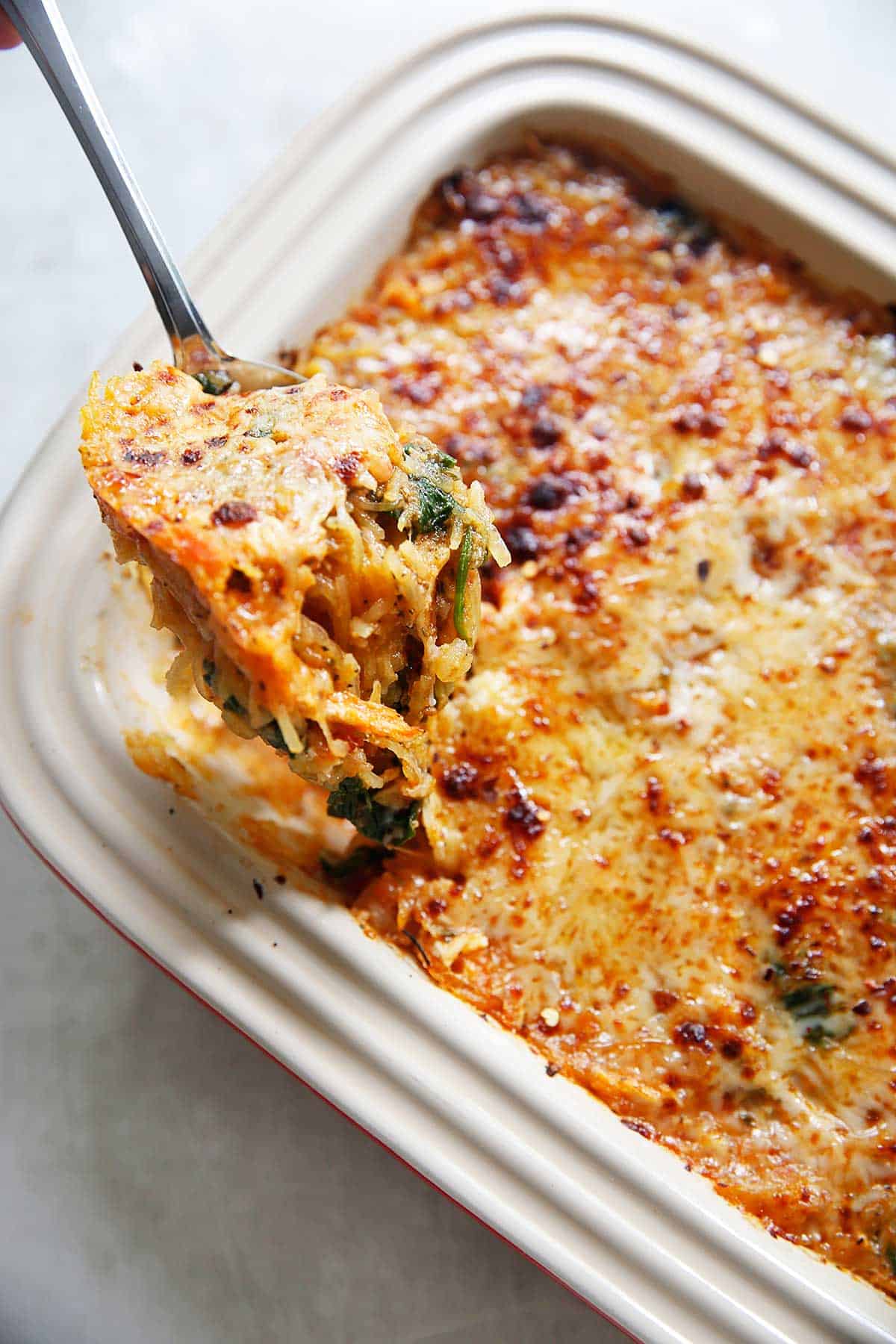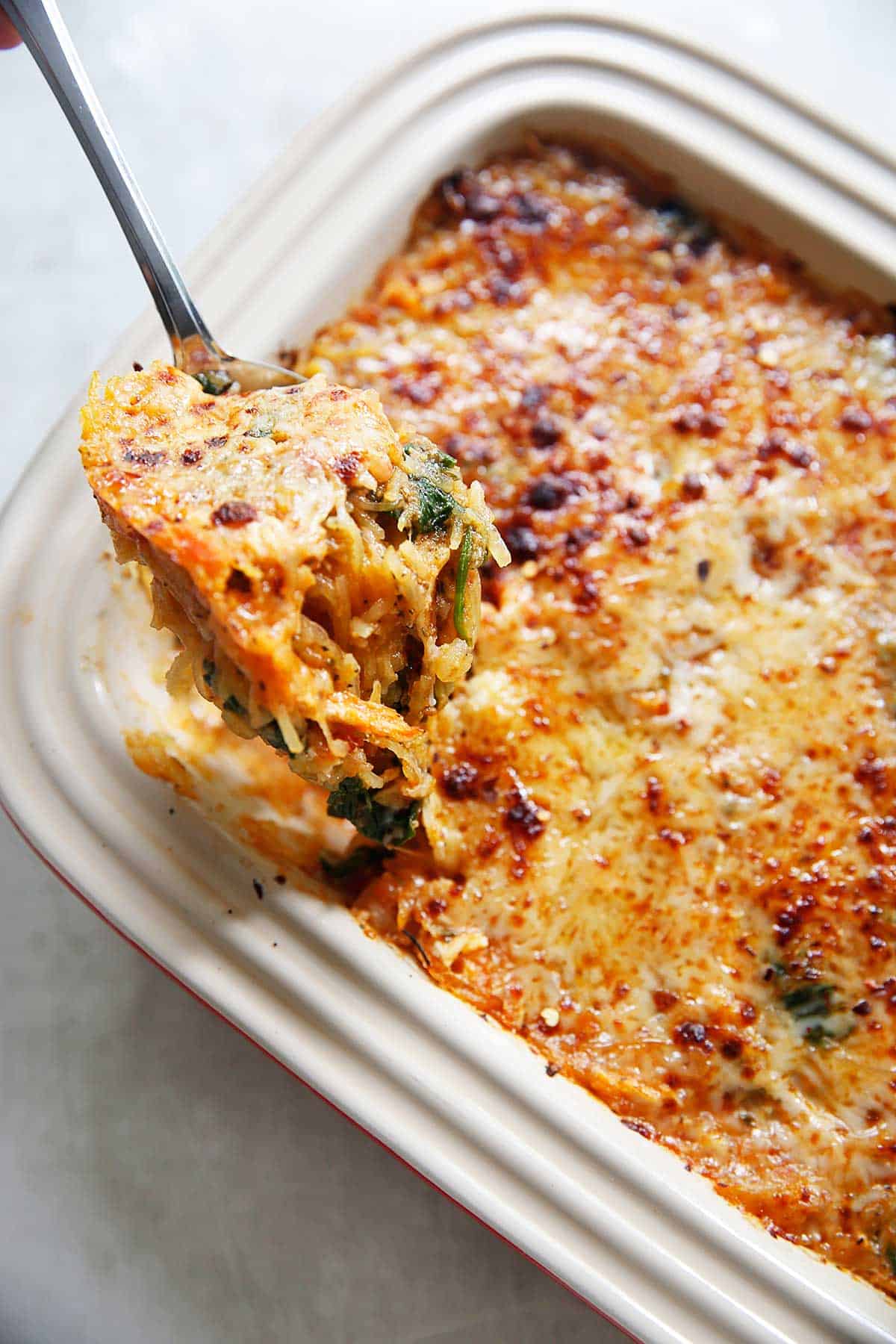 Gluten-free, Grain-free, dairy-free if you omit the cheese, and so filling! This dinner makes for the perfect meal-prep item as well. Make it at the beginning of the week and enjoy the leftovers for lunch or dinner all week long!
Other Spaghetti Squash Recipes: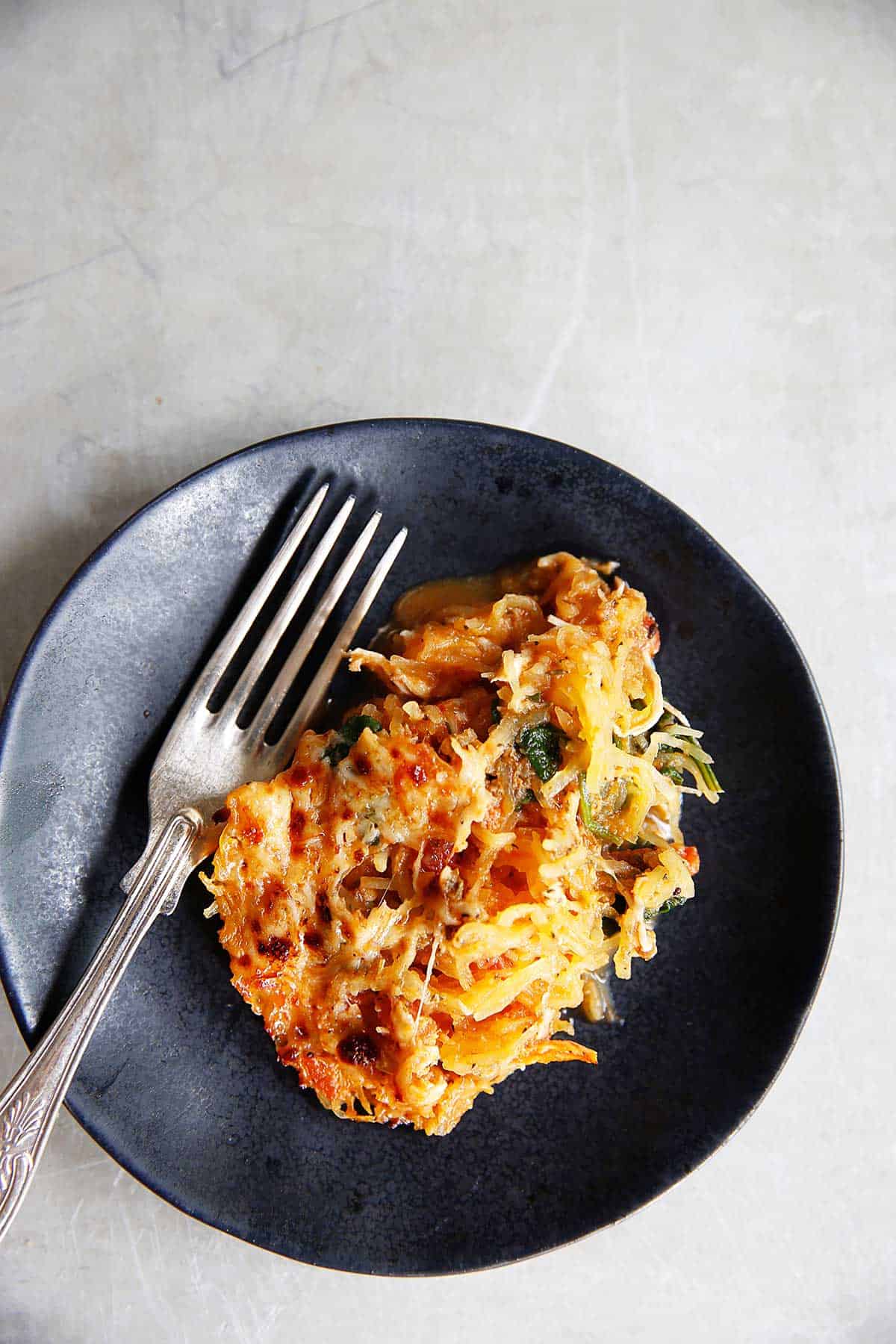 Watch the video:
Spaghetti Squash Italian-Style Casserole [VIDEO]
This Citrus Mahi Mahi with Avocado Salsa is such a great light and healthy Summer dish! The creamy avocado, fresh orange juice, and delicious smoky grilled fish is such a flavorful combination. I can't wait to make this again and again.
I am always looking for quick and simple meals, and this Citrus Mahi Mahi with Avocado Salsa is just that! It takes 30 minutes to prepare, and is loaded with delicious bright flavors! If you are having trouble finding fresh mahi mahi, feel free to substitute it for another white fish. The perfect tropical flavors for warm Summer days!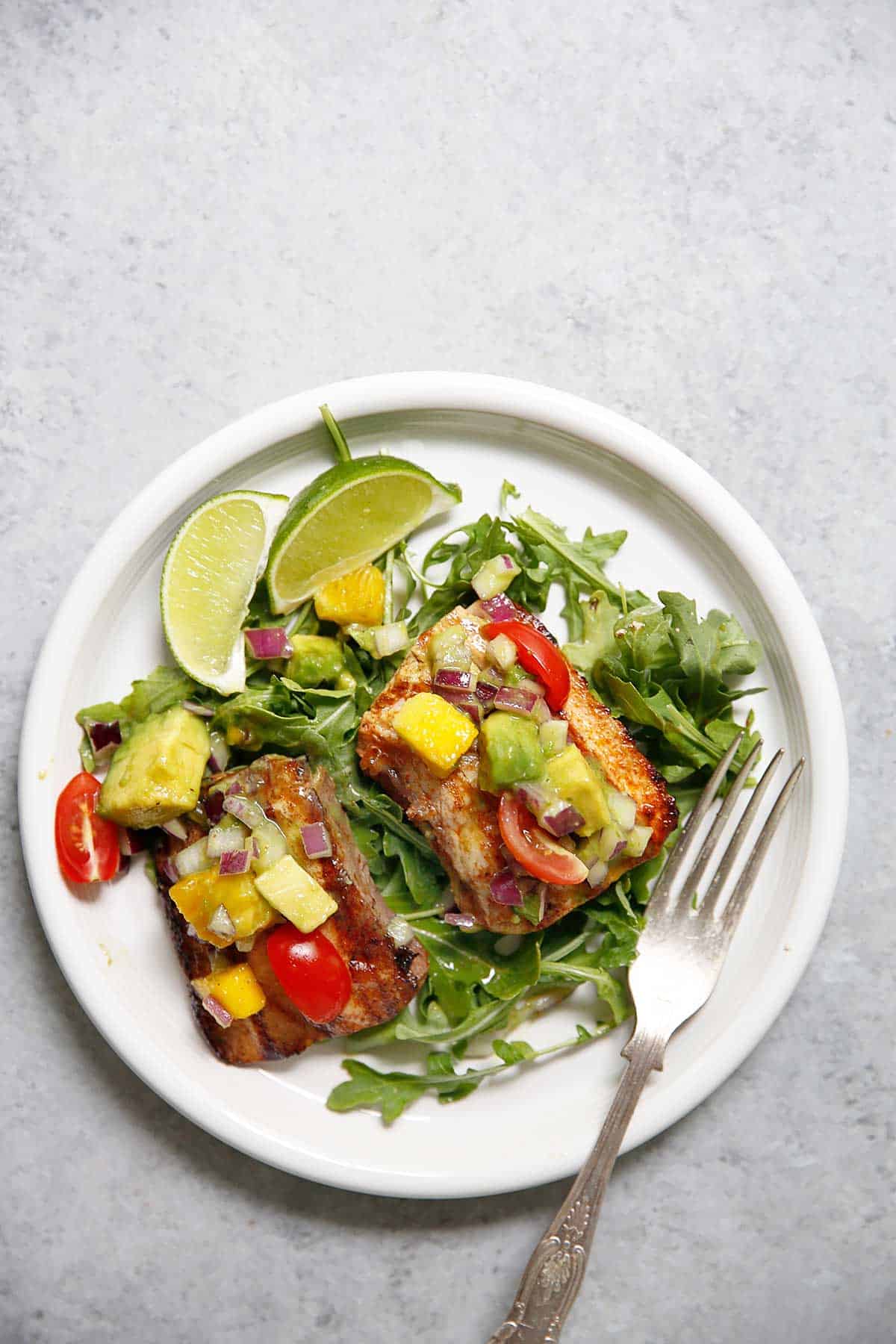 Citrus Mahi Mahi with Avocado Salsa
---
---
Ingredients
Mahi Mahi Marinade
1 avocado, diced
1/2 cup red onion, chopped
1 orange, diced  (can sub diced pineapple or mango)
1/8 teaspoon cayenne pepper
2 teaspoons lime juice
3 teaspoons fresh orange juice
1/2 teaspoon cilantro
1/2 teaspoon salt, more to taste
1/2 teaspoon black pepper, more to taste
Other Ingredients
1 lime, sliced into wedges for garnish
1 cup arugula
1/4 cup sliced cherry tomatoes
Optional: 1/4 cup diced mango
Optional: Pinch of red pepper flakes
Directions
In a bowl mix together the fish marinade ingredients. Place fish in the marinade, cover, and place in the fridge.
In a medium mixing bowl, combine all ingredients for the avocado salsa.
Mix well and set aside. Taste and adjust seasoning as necessary.
Oil your grill pan and place on the stove over high heat. Once hot, cook fish over medium heat for 4-5 minutes on each side. Fish should be opaque and flaky.
On a serving plate of choice lay down a bed of arugula with sliced tomatoes. Place cooked fish filets on the arugula and top with a generously amount of avocado salsa.
Drizzle with lime juice right before serving.
---
Nutrition
Loading nutrition data...
Citrus Mahi Mahi with Avocado Salsa
This low carb Zucchini Linguine Fra Diavolo is my healthy Italian take on this spicy dish; and man is it good! Since I love Italian food, I love even more making heavy Italian dishes into light healthy hits.
Zucchini Linguine Fra Diavolo
---
---
Directions
1. Heat oil in a large skillet. Cook garlic and onion until translucent. About 2-3 minutes.

2. Add the diced tomatoes, organic tomato sauce, and dry white wine.

3. Add in spices and let simmer until all of the wine cooks out. About 10-15 minutes.

4. Add shrimp to pan and let simmer all together until shrimp is opaque and fully cooked through. Taste, and add salt and pepper if needed.

5. In a small skillet, heat a tablespoon of extra virgin olive oil.

6. Add spiralized noodles to pan with a pinch of salt and pepper. Cook until soft, about 2-3 minutes.

7. Place the cooked spiralized noodles on desired serving dish and top with sauce. Serve warm.
---
Nutrition
Loading nutrition data...