Avocado and Corn Salsa
This Corn Avocado Salsa recipe is a quick and delicious side to serve up with just about anything! This cool summer side dish is easy to make and is gluten and dairy free!
Avocado and Corn Salsa Recipe
This is the perfect summery side dish to serve when the weather is HOT. This Avocado and Corn Salsa comes together quickly. It is the perfect easy side dish to throw together and flies off the table! This dish is served great with nearly anything, but we especially like it for other quick cooking summer dishes like this Blackened Fish, quick Chicken Tacos or this Garlic and Lime Grilled Steak.
Corn Salsa Ingredients
Fresh Corn on the Cob
Red Onion
Cherry Tomatoes
Avocado
Olive Oil
Lime
Cilantro
Salt and Pepper
Methods to Cook the Corn
The only piece of this salsa that needs to be cooked is the corn! There are a few different methods you can use to cook it. You can quickly boil it, as we suggest in the recipe. Or you could grill it! Additionally you can also cook corn in the Instant Pot using these directions here.
If you like this avocado recipe, check out these others:
If you like this side dish, check out these others:
[yumprint-recipe id='40']
Avocado and Corn Salsa
This Paleo Chicken Stir Fry uses cauliflower rice, whatever veggies you have on hand, and is so simple to throw together! It is a great Whole30, low-carb, dairy-free, egg-free, and gluten-free meal for any night of the week!
Paleo Stir Fry
Stir-fry night should also be called clean-out-your-refrigerator night to make a delicious, quick meal! Let this recipe serve more as a guide to using up what you have on hand to create a quick meal that everybody will love, with a really delicious paleo stir fry sauce. We serve this with a garlic scallion cauliflower rice, but you could alternative serve the stir fry with regular white rice if you would like!
You could also alternative use another meat here, like thin sliced steak or pork, or you could really fill up on the veggies and make this meatless!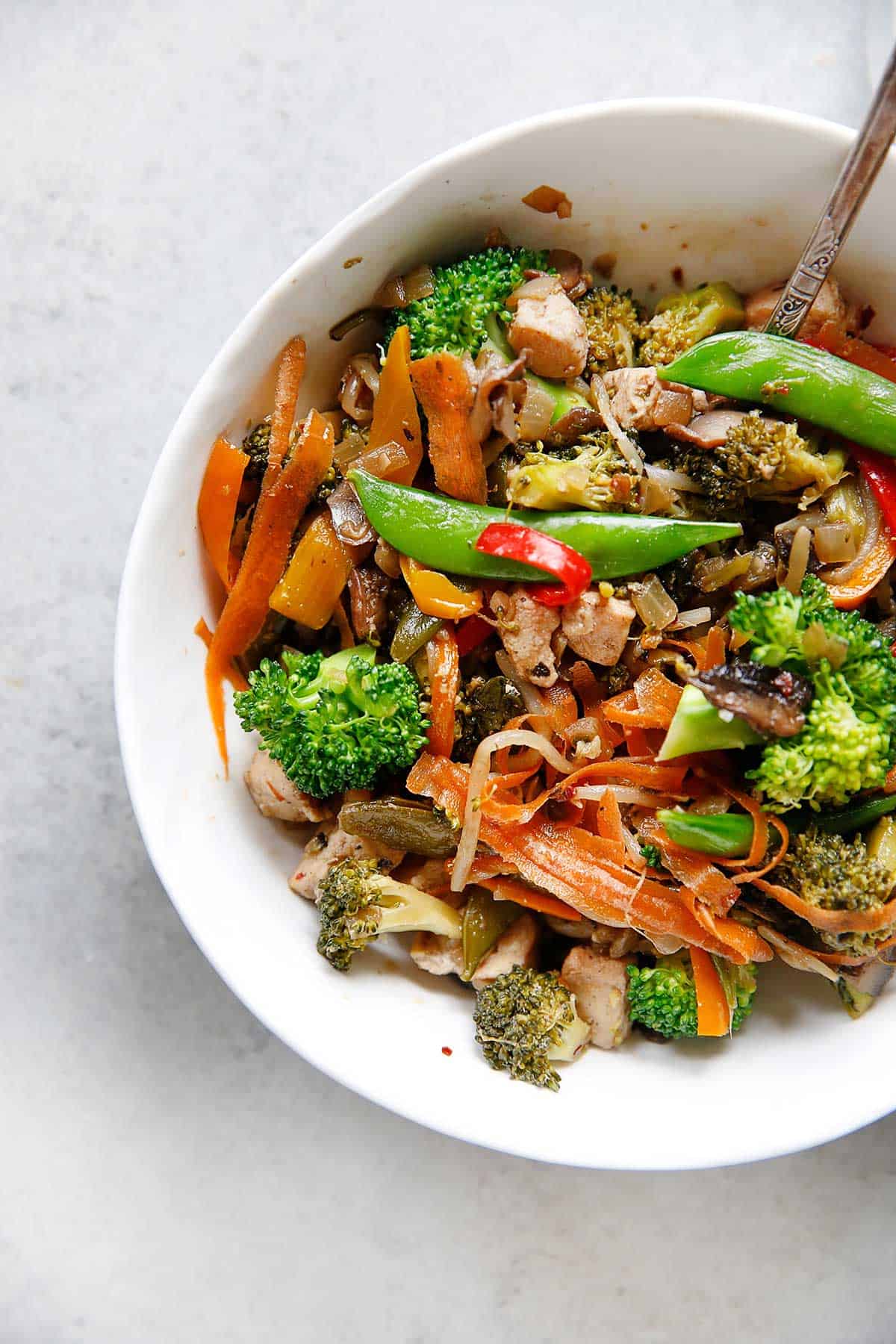 What Veggies Can You Use For This Paleo Chicken Stir Fry
In this recipe we used:
Broccoli
Red Pepper
Snap Peas
Bok Choy
Mushrooms
Carrots
Bean Sprouts
But you could really use any veggies you have on hand or what is in season. This is the perfect dish to cook up all year long, but particularly good during the CSA season when your refrigerator is full of veggies!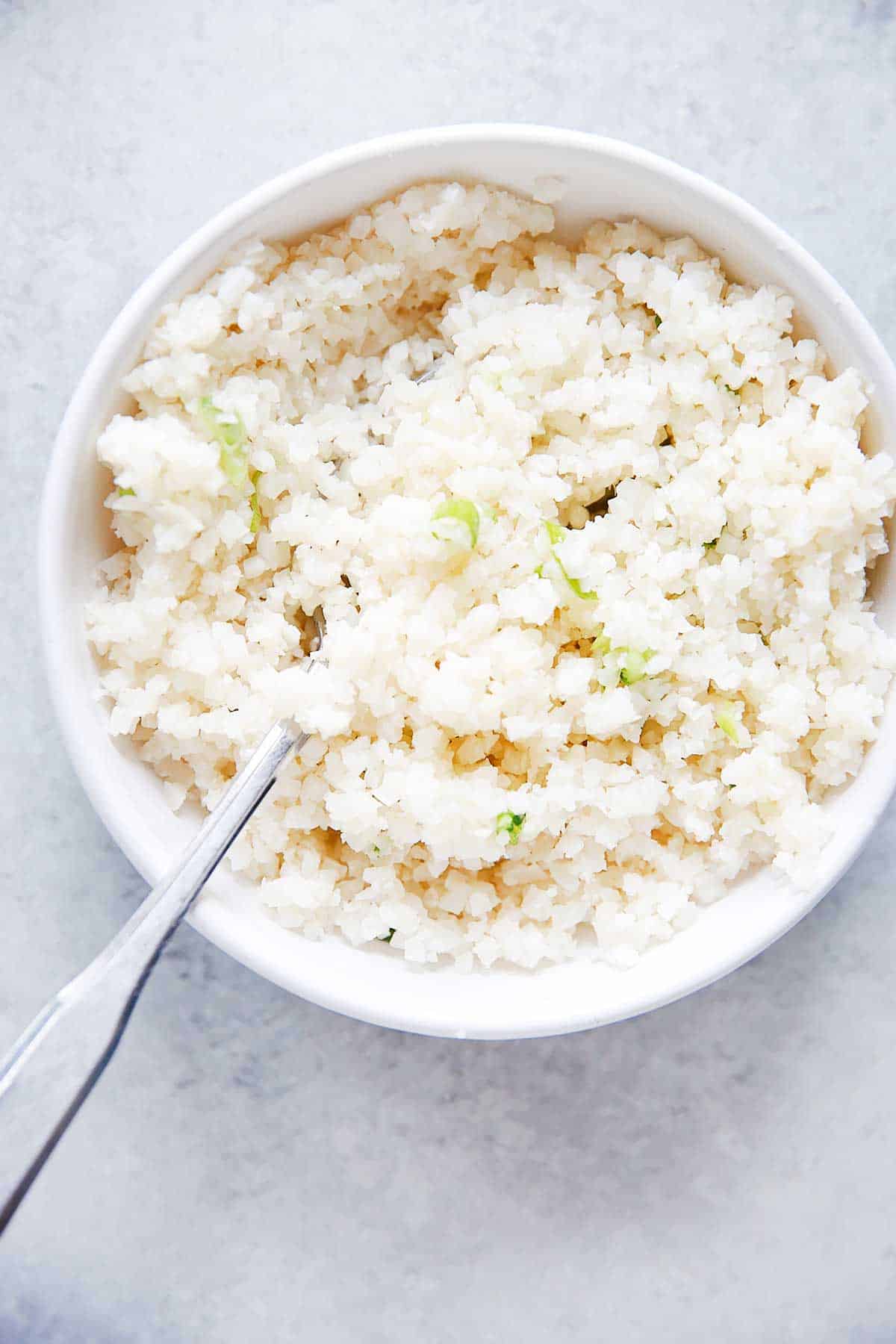 If you like this quick weeknight meal, check out these others:
Paleo Chicken Stir Fry
This Quick Spicy Italian Chicken in Tomatoes is such a simple and quick weeknight dinner, that is packed with so much flavor! There is option to turn up, or eliminate the heat of the dish, but either way it's delicious. Serve these chicken breasts in tomato sauce alongside roasted green beans and you have yourself a perfect low-carb, paleo-friendly, Whole30 approved meal that takes under 30 minutes to prepare! Talk about a WIN!
Quick Cooked Chicken Breast in Tomato Sauce
Easy weeknight dinners are THE BEST! This quick cooking Spicy Italian Chicken in Tomatoes is a super delicious dinner to cook when you have less than 30 minutes to get food on the table and you are relying on pantry staples!
We made this low carb by serving it with roasted green beans, but if you want to go a little heavier with the carbs and have a little bit more time on your hands you can serve it with roasted potatoes, rice or pasta.
Want to make this easy chicken and tomato recipe without the spice?
We love spice, but not everybody does, especially if you are serving kids at the table. Feel free to omit the red pepper flakes in this dish, or lower the heat by adding in just half.
Ingredients Needed to Make this Italian Chicken in Tomatoes:
Boneless, skinless chicken breasts

Italian seasoning

Dried Basil

Onion

Garlic
Whole Plum Tomatoes
Red Pepper Flakes
Green Beans
You can also substitute whatever seasonal veggies you have on hand to roast as well. Cauliflower would be great here, as would zucchini or eggplant.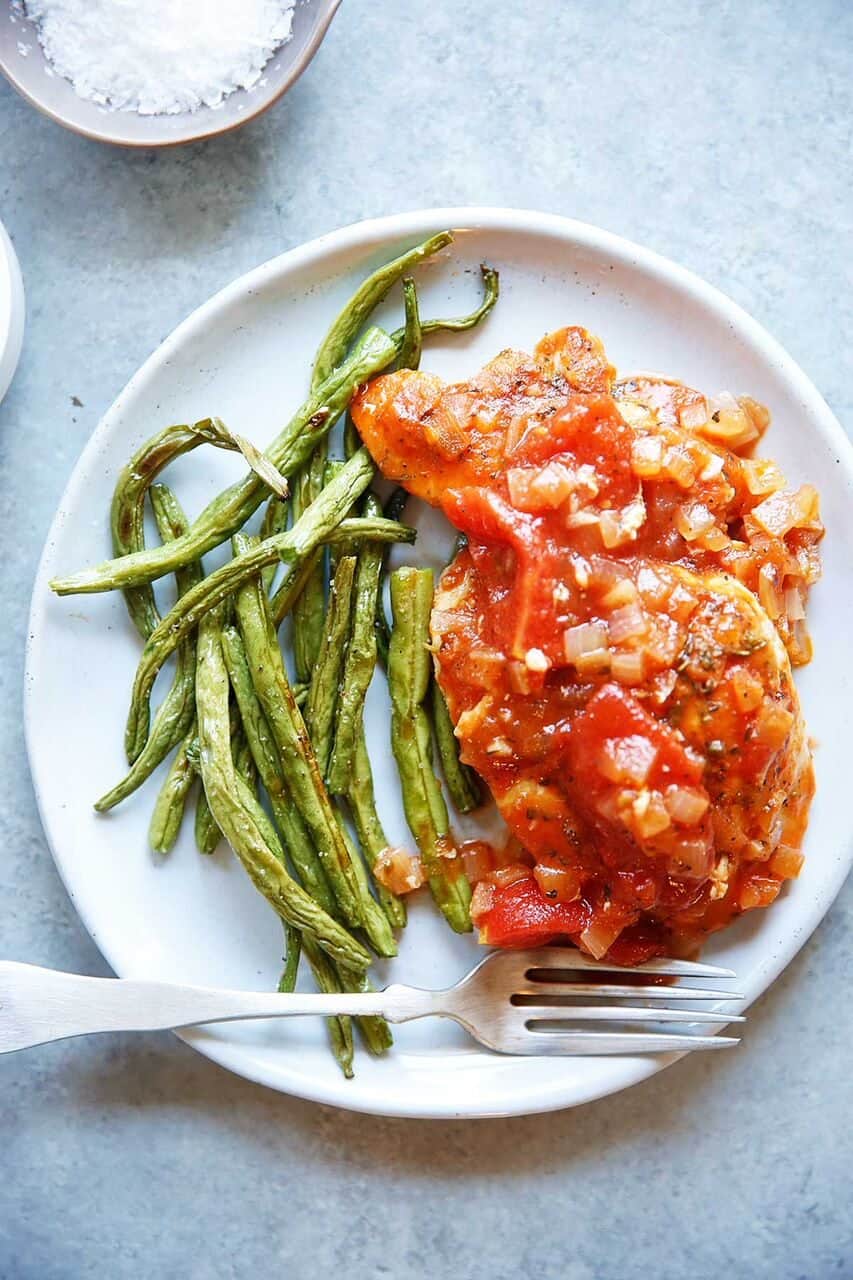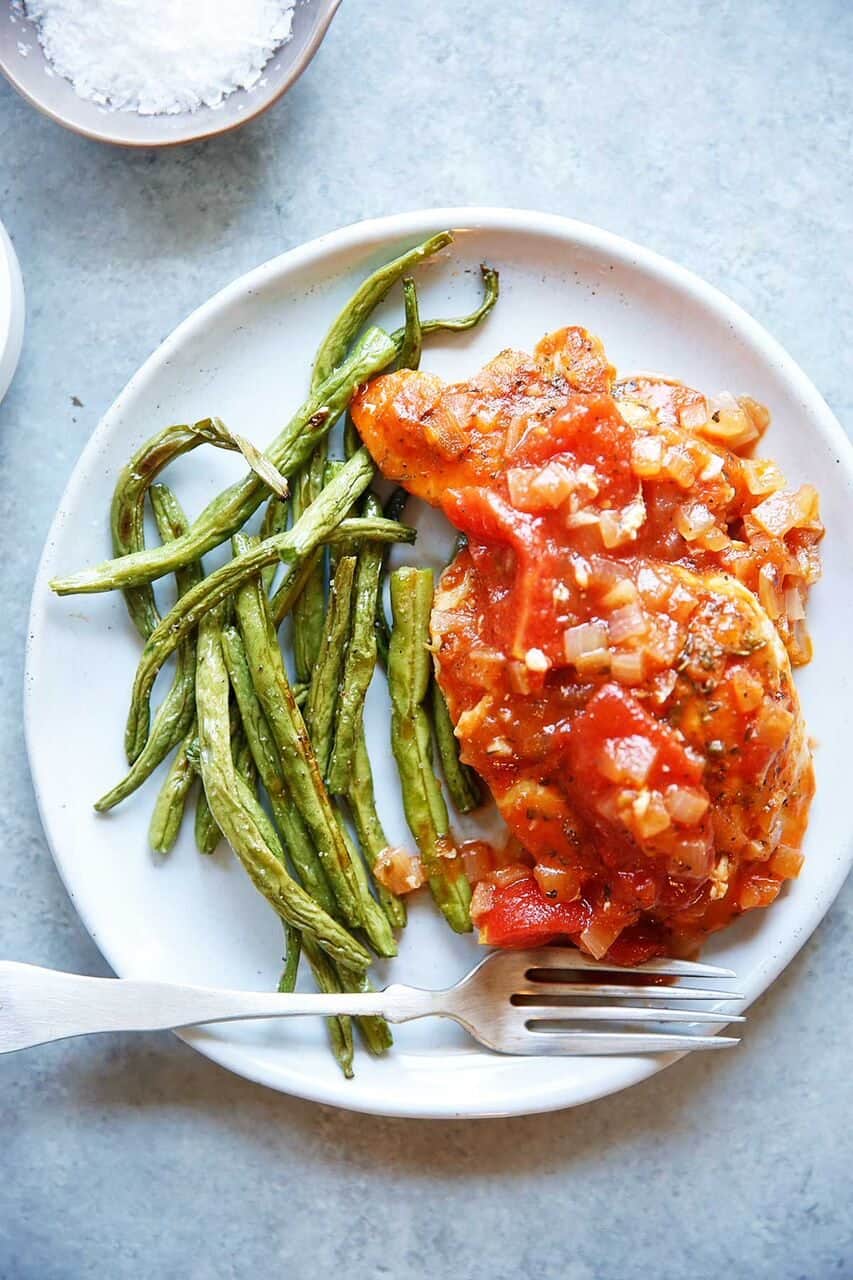 If you like this chicken recipe, check out these others:
Quick Spicy Italian Chicken in Tomatoes
If you are looking for a versatile side dish that works for both a quick weeknight meal or a decadent holiday dinner look no further than this recipe for Maple Roasted Brussel Sprouts with Bacon! Cooking the brussels sprouts with bacon and maple syrup is sure to make this side dish a fan favorite for everybody! This paleo-friendly recipe is sweet and savory and definitely going to be in your winter meal plan rotation!

Maple Roasted Brussel Sprouts with Bacon
I was never a fan of brussels sprouts until a few years ago, and now I can't get enough! These Maple Roasted Brussel Sprouts with Bacon convert just about anybody to be a brussel sprout lover. This easy brussel sprouts recipe combines savory and sweet tastes to adhere to just about anyone's liking! Plus, is there any greater combination than maple and bacon together?
Ingredients Needed:
We love the short ingredient list here, especially since this dish is so flavorful!
Brussels Sprouts
Bacon
Maple Syrup
Olive Oil
Salt and Pepper
Garlic Powder

What to serve with Roasted Brussel Sprouts
This dish is the perfect Thanksgiving side dish. But also, it's so darn good you'll want to have this on rotation all Fall and Winter long. This dish would be great served with:
Watch the video:
Like this veggie side dish? Try these other favorites:
[yumprint-recipe id='215′]
Maple Roasted Brussel Sprouts with Bacon
This easy Coffee Banana Smoothie Recipe is the perfect creamy and flavorful smoothie to add to your morning routine! It uses leftover coffee or cold brew, and is dairy-free, refined sugar-free, and SO delicious.
Coffee Banana Smoothie
This easy Italian meat sauce recipe is my probably my all-time favorite pasta sauce recipe! It's an easy homemade meat sauce recipe that is hearty and flavorful, and perfect for a weeknight meal. Make this healthy meat sauce with ground turkey or ground beef, and let it cook nice and slow! It's gluten-free, paleo-friendly, whole30 compliant, and so yummy! Serve it over zucchini noodles or spaghetti squash for low carb, or gluten-free pasta!

Homemade Meat Sauce Recipe
I LOVE Italian dishes. Especially a quick and delicious meat sauce! I often make my favorite Italian dishes into healthy versions that I love to dig into, weekly. This spaghetti meat sauce is delicious, always a hit and so versatile! Serve it over zucchini noodles, spaghetti squash, the options are endless! I often make a big batch to have for the week, and I never get sick of it!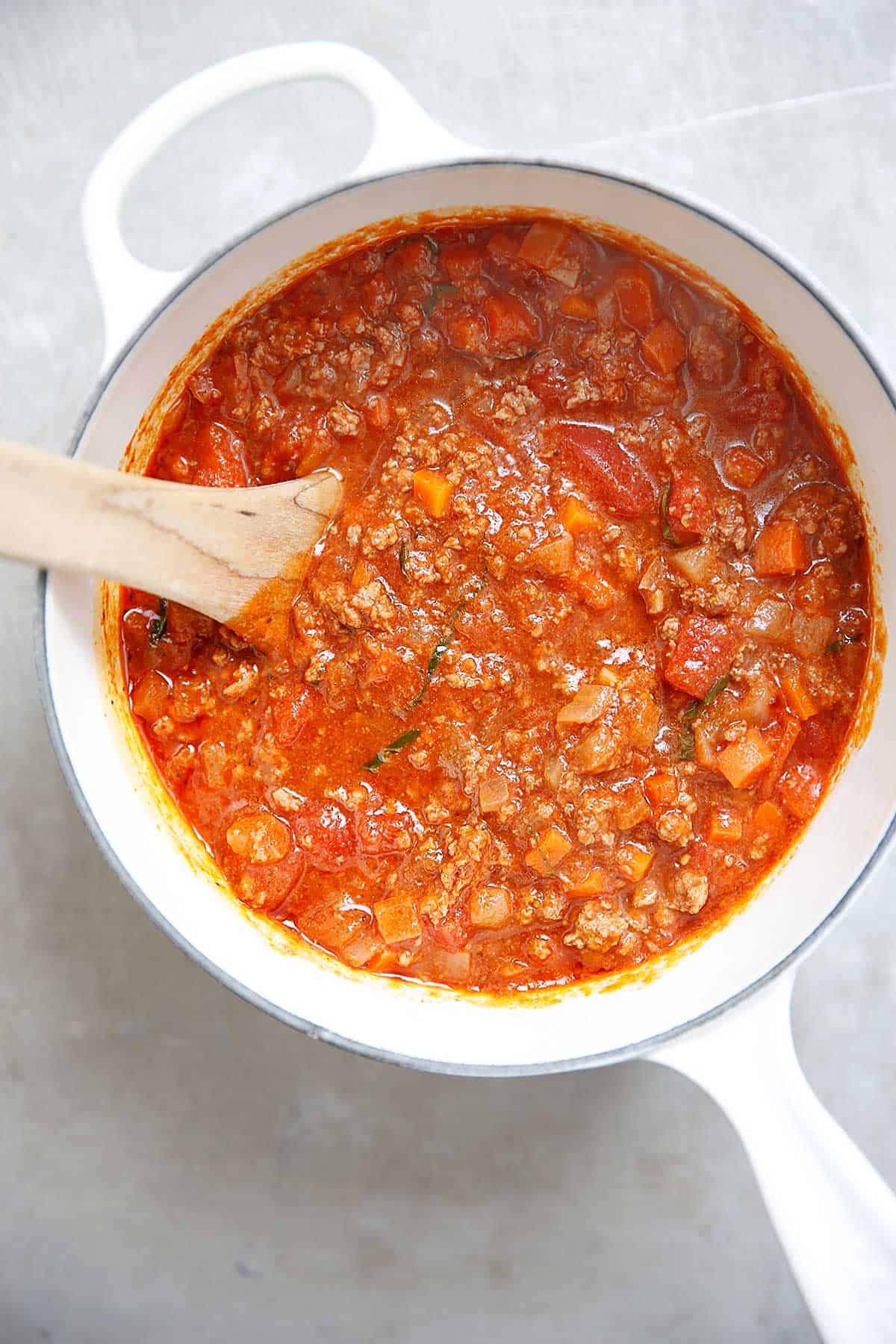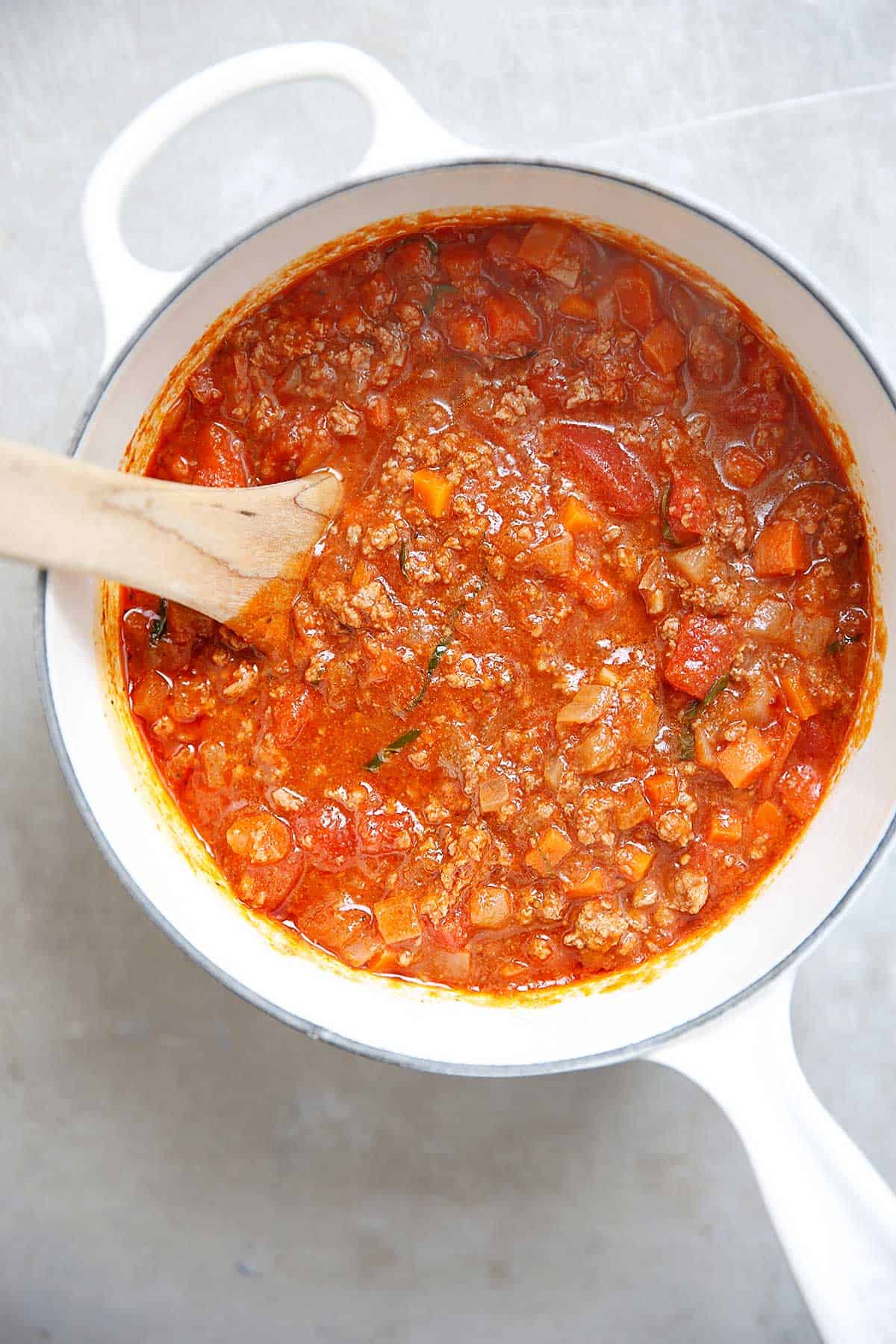 If you love meat sauce, try this spaghetti sauce in these recipes: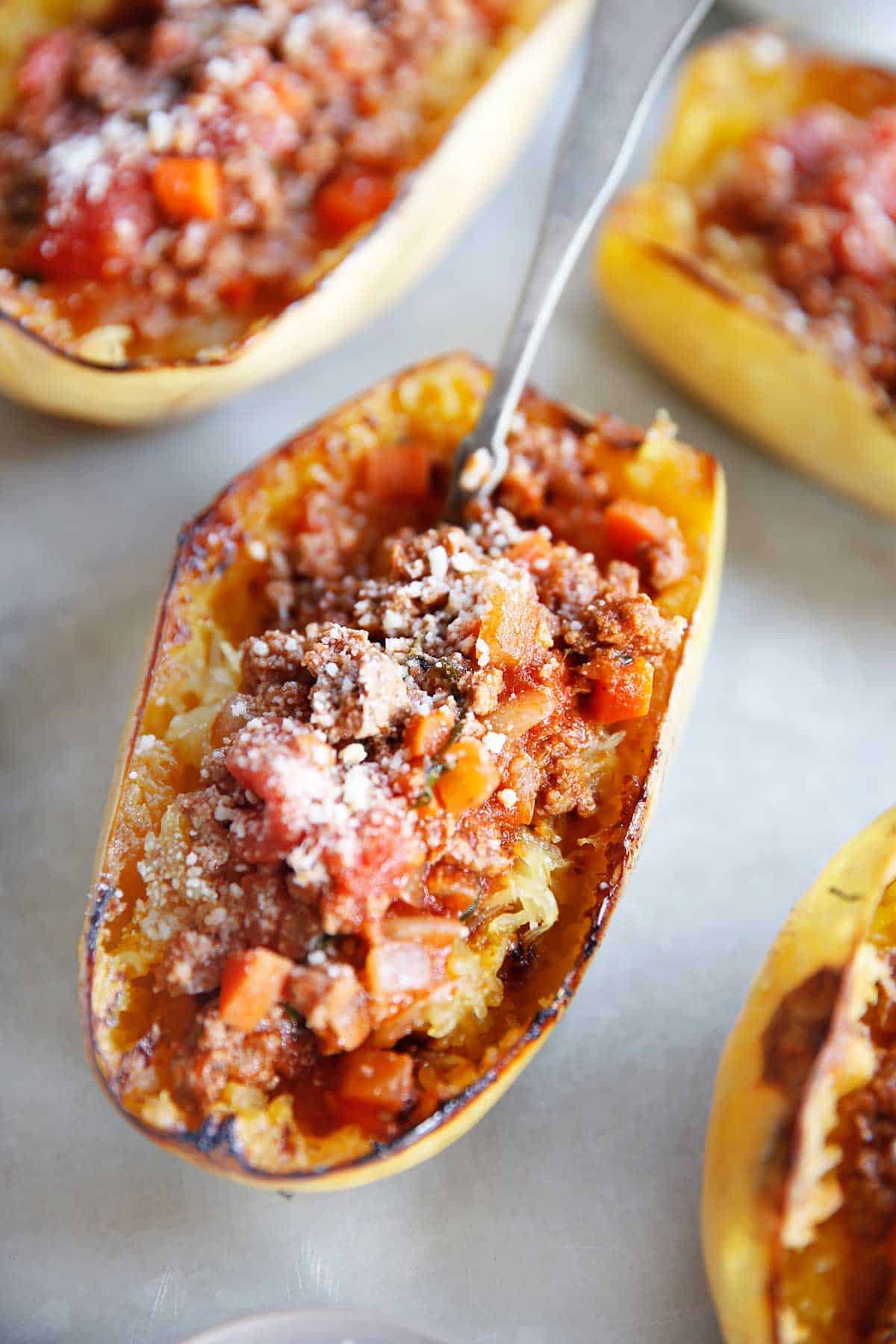 Want other healthier pasta recipes? Try these favorites:
How Do You Make Meat Sauce
Homemade Meat Sauce Recipe
If you like this smoothie bowl recipe, try this one, too!
Acai Bowl Toppings:
Chia Seeds
Bee Pollen
Fresh Fruit
Shredded Coconut
Nuts or seeds of choice
How can I thicken my acai bowl?
Start with less milk, and add more as desired until it reaches your desired thickness. You want the base of the acai bowl to be thick & scoop able, definitely not watery.
How do you make an acai bowl
Açaí Smoothie Bowl (Vegan & Gluten Free!)
This low-carb and keto-friendly Sausage, Peppers, and Onion, one-pan dish is made in just twenty-minutes! Such a perfect sausage and peppers recipe for any night of the week.
Sausage, Peppers, and Onions
Did you know that peppers are at their growing season peak right now? I was over at my favorite little farm and they had a bin with the most beautiful looking peppers, so I just had to get a bunch! This dish went over big time here.
This is the EASIEST sausage and peppers recipe! It is made in one skillet, is so flavorful, and you can use chicken sausage, pork sausage, or any sausage you like! I like to find ones with minimal added ingredients.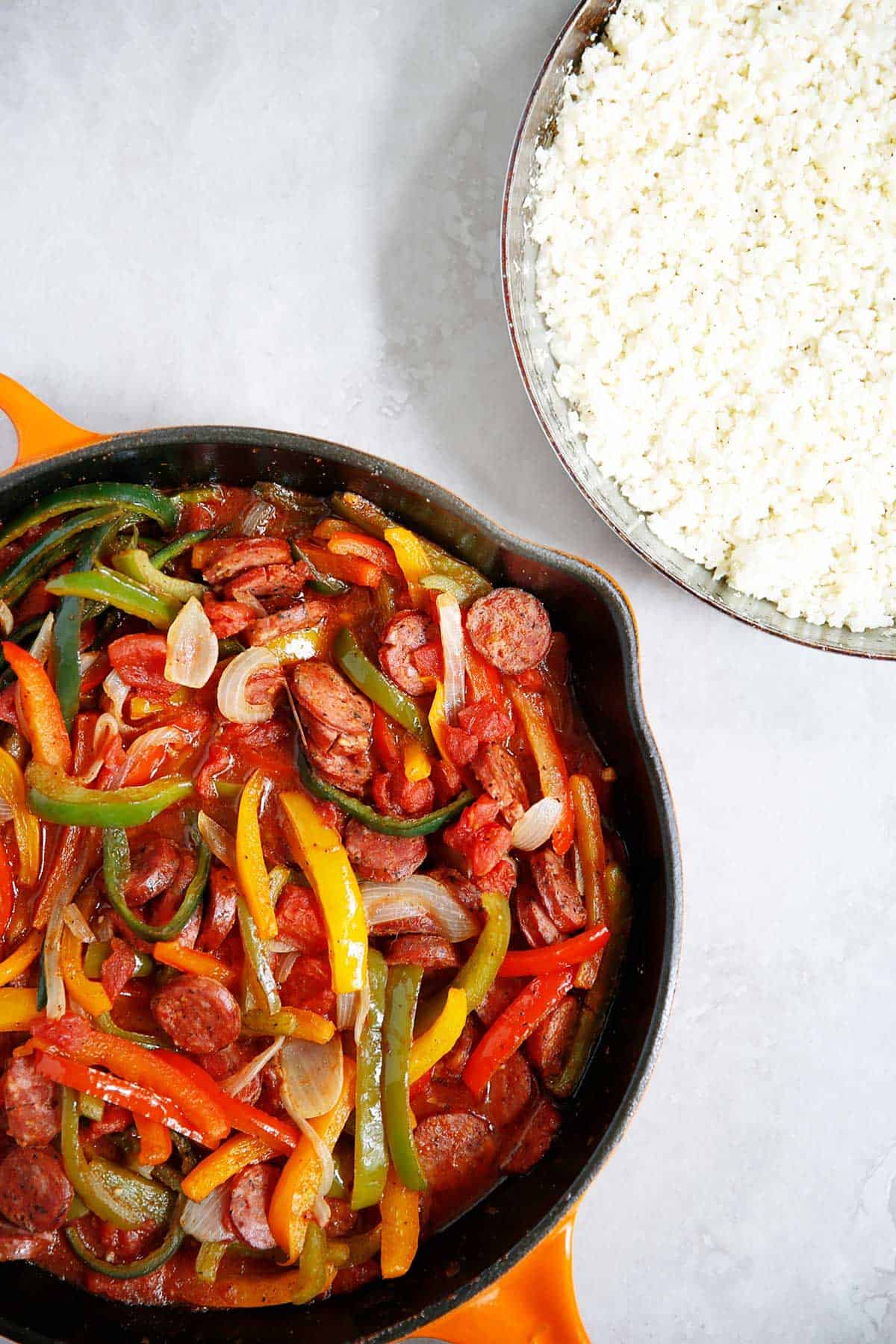 It is flavorful, comforting, and just plain delicious with the perfect amount of sauce. A great dish for football Sunday or those nights when you need a quick and easy meal!
How to make Sausage and Peppers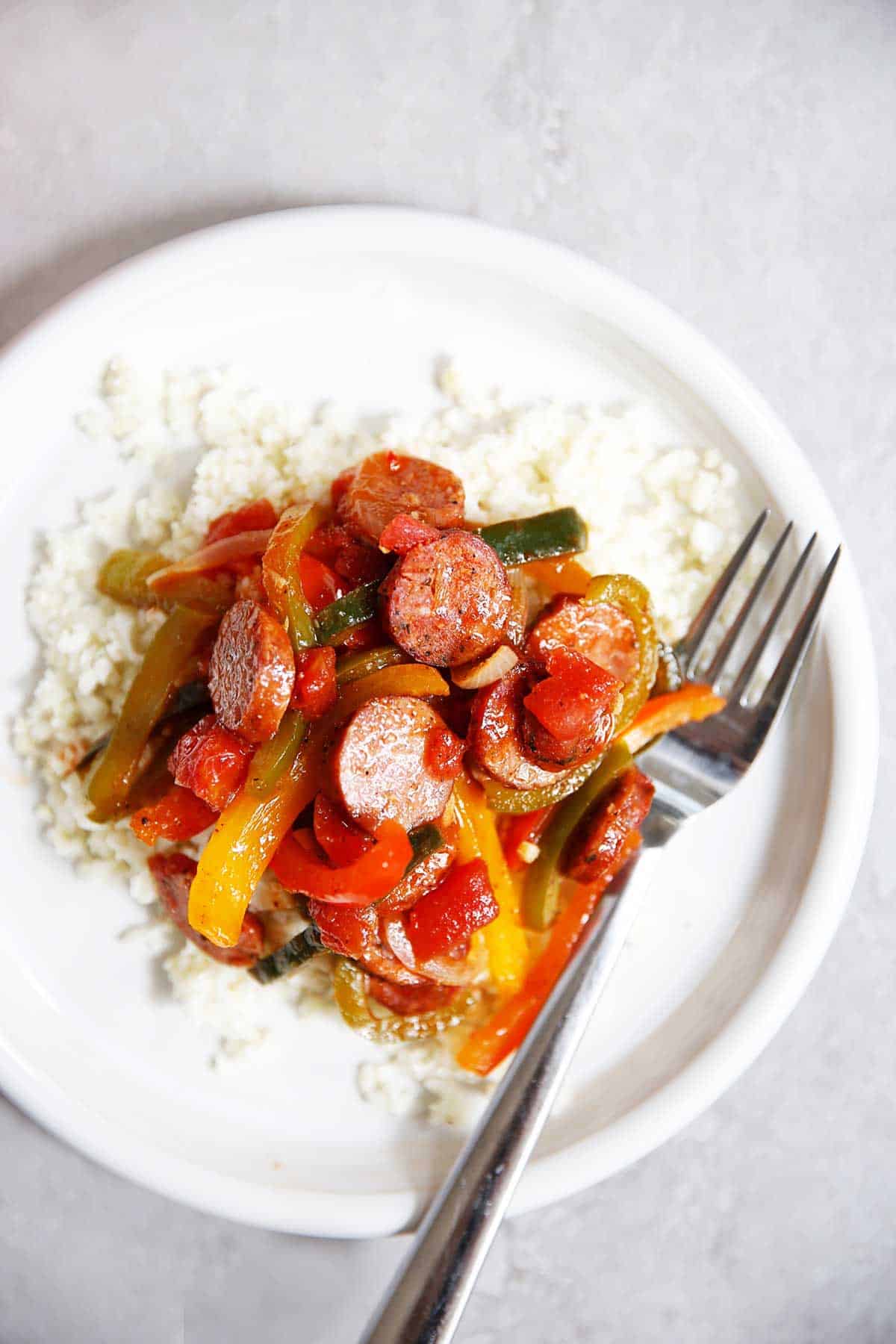 You can get creative with how you serve this dish! I love it served over roasted spaghetti squash or cauliflower rice but I bet it would be great with gluten-free pasta or spiralized veggies as well! This sausage and peppers recipe is Paleo friendly, whole30 compliant, dairy-free, grain-free, and no sugar added!
Like this easy skillet recipe? Try these other favorite one pan meals!
Sausage, Peppers, and Onions
This Loaded Chicken Salad Four Ways makes for the perfect customizable lunch! Make a big batch at the beginning of the week and enjoy it all week long in sandwiches, as a back-to-school snack on celery sticks, in a lettuce wrap, or in a salad! Made in partnership with Nuts.com!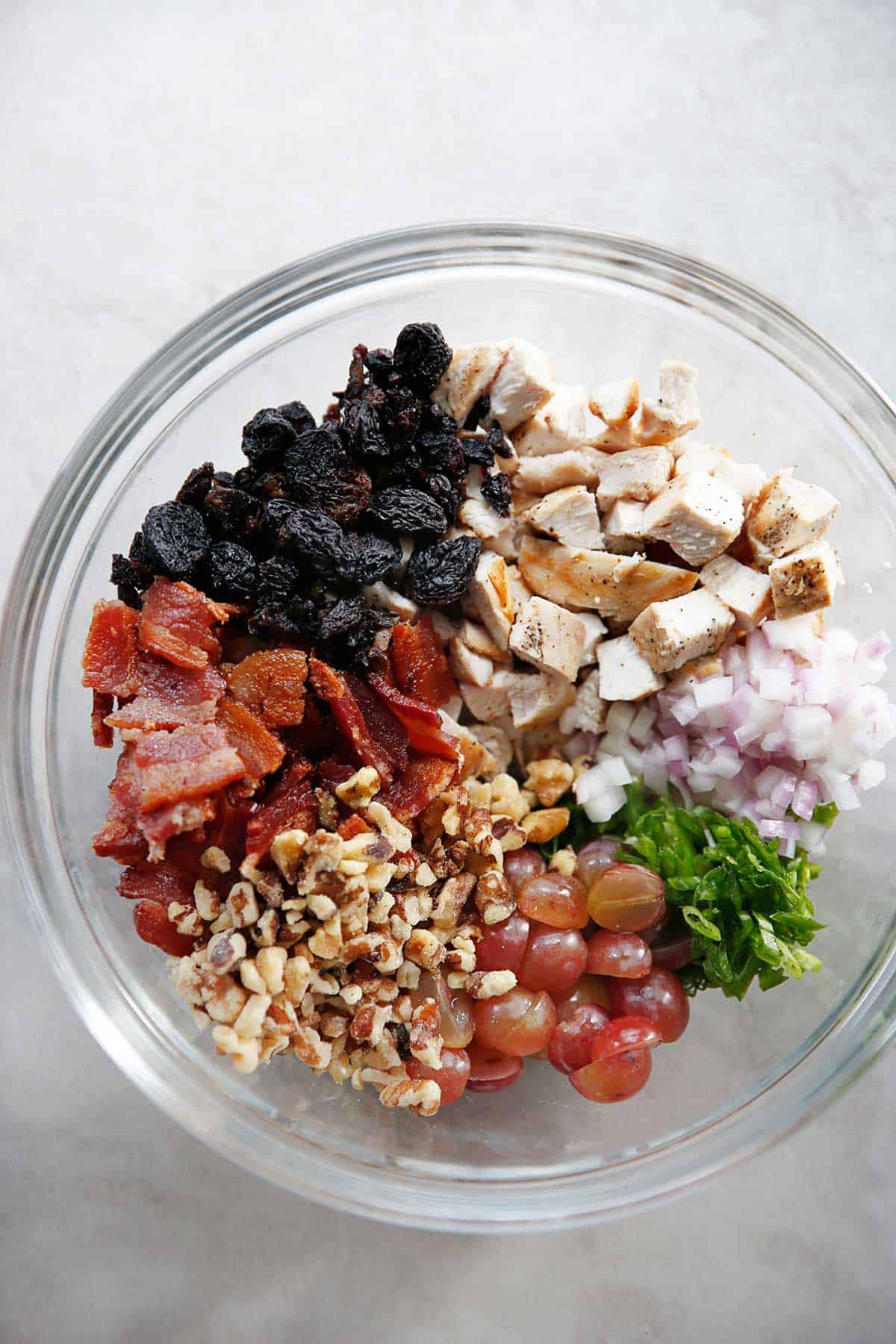 This Chicken Salad is filled with some of my favorite lunch flavors:
Perfectly seasoned baked (or boiled) chicken
Fresh chopped scallions
Crisp red grapes
Sweet royal raisins
Chopped walnuts, or nuts of choice
& crispy, smoky bacon
It seriously doesn't get much better than that!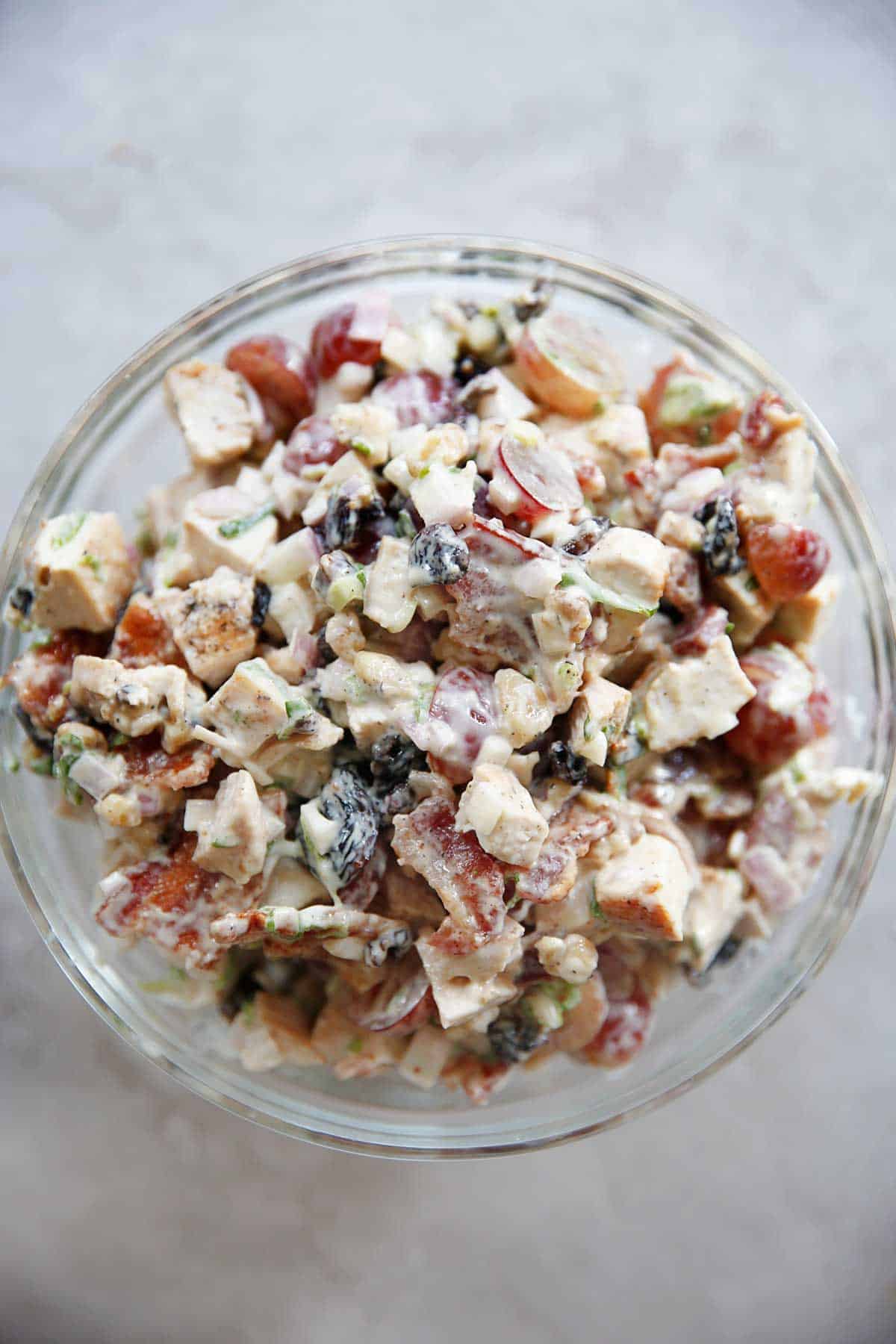 I am so excited to partner with my friends at Nuts.com to bring you today's recipe. This chicken salad is packed with nuts of choice, and my favorite, royal raisins! I simply can't get over how customizable and delicious this lunch recipe is.
Looking for a great back-to-school snack for when the kiddos get home? Serve this on celery sticks for a protein-packed snack.
If you are looking for a low-carb Whole30 compliant lunch option, make it a lettuce wrap!
Are you more of a salad person? Create a salad with this Chicken Salad by serving it over greens with your favorite salad fixings!
More of a sandwich person? Add this to your favorite bread with some extra add-ins such as tomatoes and avocado for an ultimate protein packed sandwich to keep you full and energized all day long!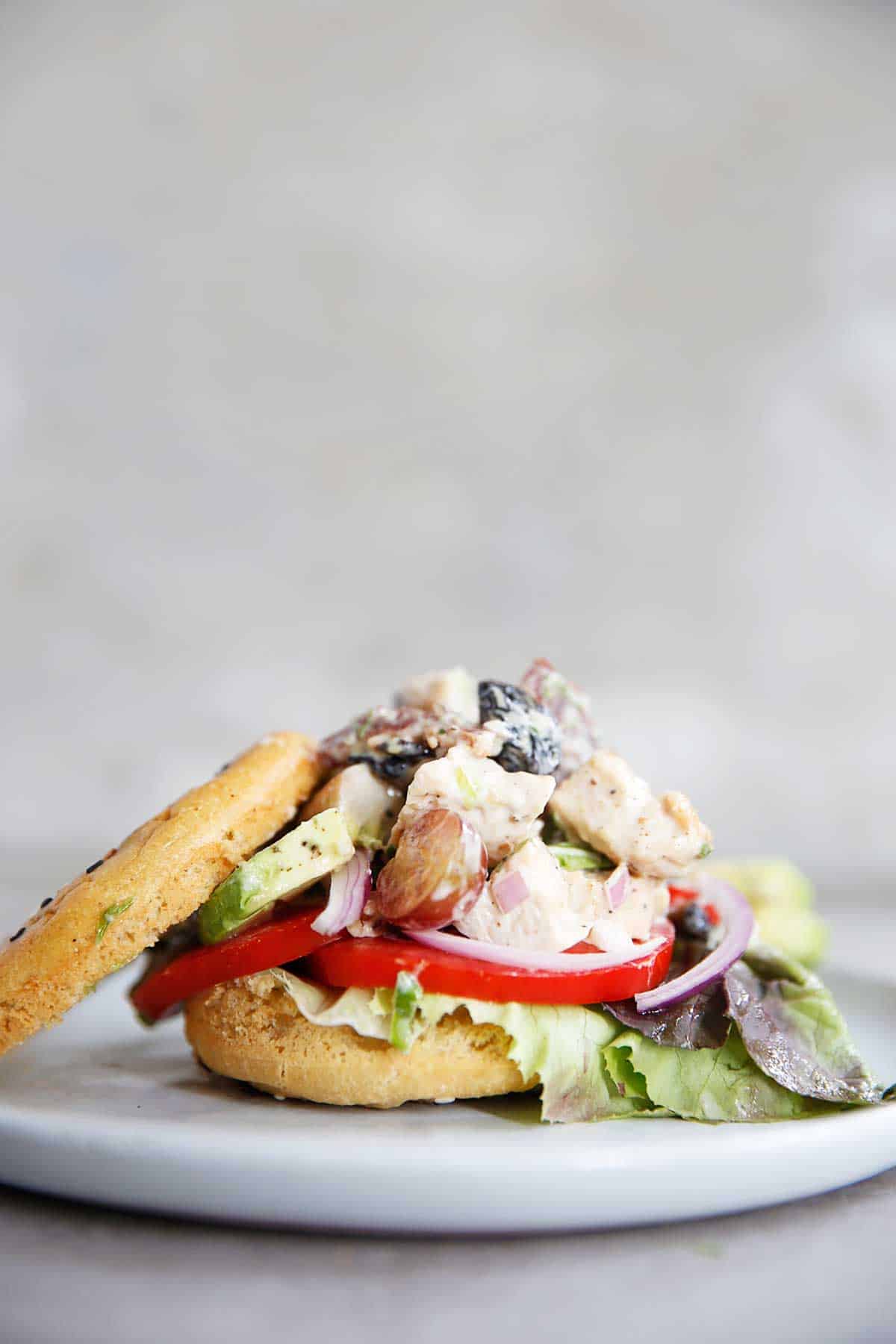 This post is sponsored by Nuts.com. All thoughts and opinions are always 100% my own! I love the integrity of their products and think you'll love them too. Thank you for continuing to support LCK and the brands I work with!
Loaded Chicken Salad: Four Ways
I didn't grow up eating shepherd's pie, but since making this recipe I have fallen in love! This Shepherd's Pie: Two Ways is such a perfect Fall dish when you are craving something hearty and comforting. Loaded with protein, Fall veggies, and topped with creamy sweet potato or cauliflower mash for a low-carb alternative!
If you love mashed potatoes as much as I do, this is a must-try!
Savory Sunday is back and this week's recipe is a good one! I can't believe it is Sunday. This weekend was relaxing and productive on my end. Speaking of the last post, did you guys kick it into gear with your November goals? I am pushing hard in my workouts this month.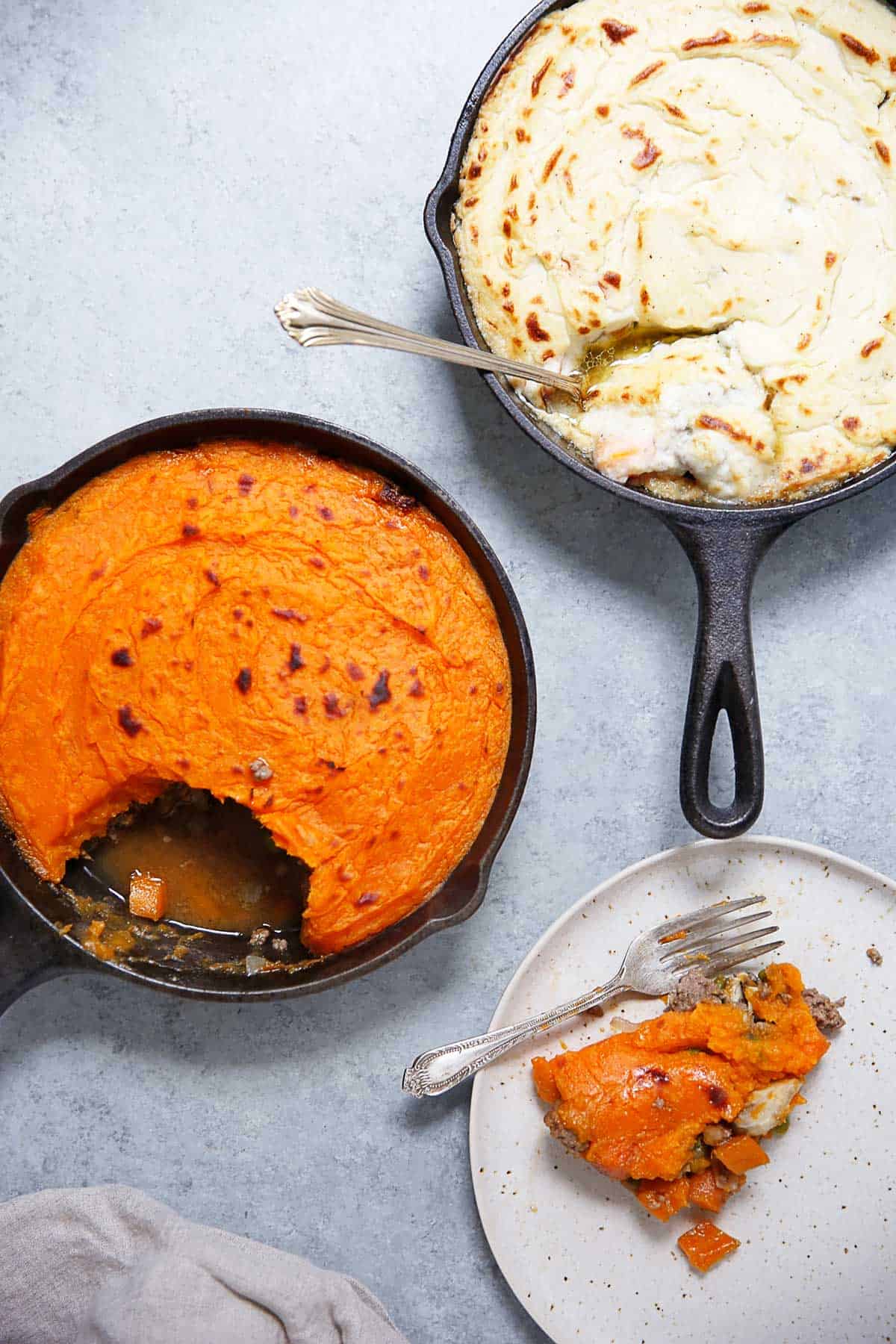 com·fort food
How do you feel about comfort food?
This definition kind of bothers me for some reason.
Maybe because I feel that food shouldn't necessarily be what provides one with a sense of well-being or consolation, and I don't generally find comfort in high sugar or high carb dishes, but I do find comfort in meals associated with home cooking.
This week's Savory meal idea is perfect for the Fall! Healthy comfort food made TWO ways, to satisfy everyone in your home.

What is your favorite comfort food? 
Shepherd's Pie: Two Ways
These oven baked eggplant fries are made without breadcrumbs. They are paleo, low-carb, and keto. They are the perfect side dish to any meal. If you love eggplant recipes like we do, these easy eggplant fries are for you.
Oven-Baked Eggplant Fries
The local farm had a barrel of their delicious (and just about out-of-season) eggplants last week. This got me to thinking that I haven't had eggplant in months! My Oven-Baked Zucchini Fries were such a hit that I had to go ahead and make some eggplant fries in the same style. The eggplant takes on the gluten-free breading nicely, making for a crispy exterior and a creamy interior. These fries are such a healthy alternative and to quote my trusty taste tester Mike, "mmm, these taste just like fries!" They were literally gone before I turned around.
If you like these baked eggplant fries, try these other healthy fries recipes:
If you like this eggplant recipe, try these other healthy eggplant recipes:
What's your favorite way to eat eggplant?
Oven-Baked Eggplant Fries (Low Carb)
This Chocolate Almond Butter Smoothie is loaded with healthy fats and protein, and exploding with flavor of a chocolate almond butter cup. It's the perfect way to start the morning, or for a quick afternoon snack.
Chocolate Almond Butter Smoothie
Sometimes I crave these Sea-Salted Dark Chocolate Almond Butter Cups, and sometimes I crave them for breakfast. And when that happens, I go ahead and make this Chocolate Almond Butter Shake. This quick smoothie is a healthy and nutritious breakfast to fuel up for the day. It's Dairy-free, paleo-friendly, and SO simple!
Ingredients Needed
Almond Milk
Chocolate Grass-Fed Protein Powder
Frozen Banana
Chopped Chocolate
Creamy Almond Butter
Honey
Pinch Cinnamon
If you wanted to swap out the almond butter with peanut butter, I can attest it tastes remarkably similar to a peanut butter cup. It's so good! Also if you didn't want to use protein powder, you could swap it out with 1 scoop of collagen peptides and 1 tablespoon of cocoa powder.
If you like this smoothie recipe, check out these others:
Chocolate Almond Butter Smoothie
Football season is about to be here and that means Sundays for me are filled with game day cooking (my favorite)! I always try to prepare healthy game day foods and this Buffalo Chicken Chili will definitely be on the rotation. You can make this buffalo chicken chili recipe in the Instant Pot or on the stove top!
Buffalo Chicken Chili (Instant Pot or Stove Top)
This chili is a must-try, it's the perfect mix of flavors and textures. It's hearty, flavorful, and different! It went over big time in my house tonight!

If you like this chili recipe, try these recipes:
Buffalo Chicken Chili (Instant Pot or Stove Top)
These Everything Bagel topped Cauliflower Rolls are low carb, paleo-friendly, and a perfect roll alternative. Growing up in New York, the "everything" bagel was my go-to sandwich bread. A toasted egg everything or a whole wheat everything… You name it, I loved it.
Paleo Cauliflower Rolls
Now, you know I don't eat those bagels anymore, not even the gluten-free ones, so I bring to you an alternative that is really so beyond good! When these rolls were baking in the oven my whole apartment smelled like those glorious everything bagels I loved so much.
I don't typically eat them as a total replacement to bread — they are made out of cauliflower! But they do hold up well if you want to!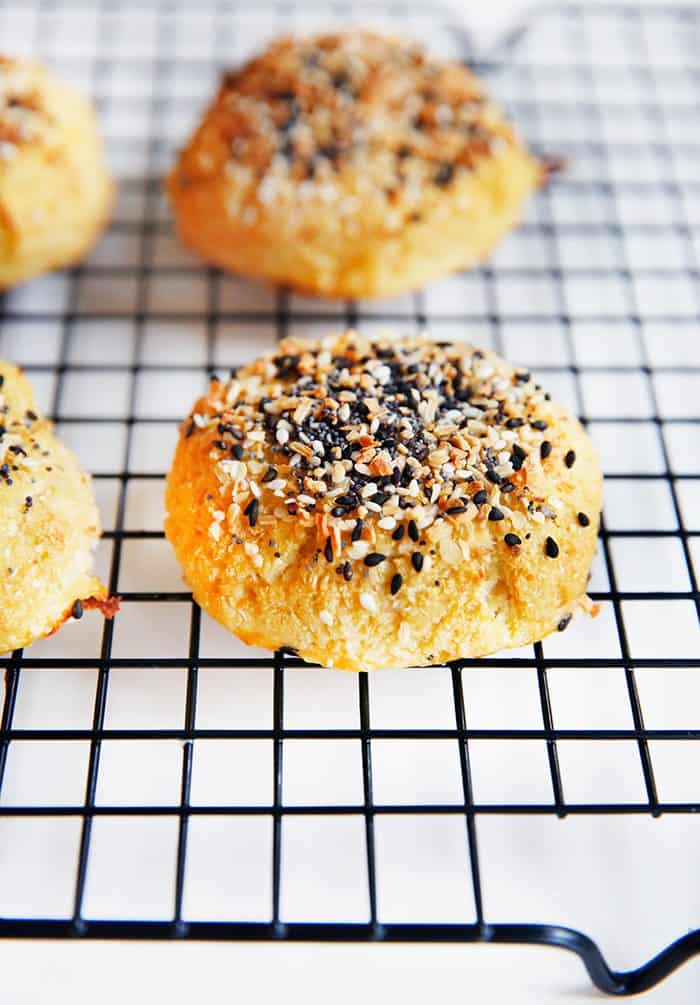 Cheers to another delicious and healthy alternative!
Can you use store-bought cauliflower rice?
Frozen or refrigerated pre-riced cauliflower is not riced fine enough for these rolls. Here's a guide on how to make cauliflower rice!
Is cauliflower good for Keto?
There are 2.9 grams of net carbs in an entire cup of this low carb vegetable, making it a great option. Plus it's super versitile!
Like this recipe? Try these other LCK reader favorites:
Want other cauliflower recipes? Try these:
Watch the how-to video:
---
'Everything Bagel' Topped Cauliflower Rolls [VIDEO]
Looking for the perfect Paleo Chocolate Chip Cookies? These are soft, chewy, chocolate-y, and simply delicious. They are easy to make and are sure to be a hit in your home! You won't be able to tell that they are gluten-free, grain-free, and paleo-friendly!
Paleo Chocolate Chip Cookie Recipe
A warm chocolate chip cookie dipped in milk (or in my house, almond milk) just feels like home. The smell of cookies baking in your house is heavenly! These Paleo Chocolate Chip Cookies are a treat, and one that is nutrient-dense with almond flour as it's base and SO SO delicious.
What's in them?
almond flour
coconut flour
baking soda
fine sea salt
grass-fed butter, at room temperature or coconut oil
egg
honey
vanilla extract
paleo chocolate chips
coarse sea salt, optional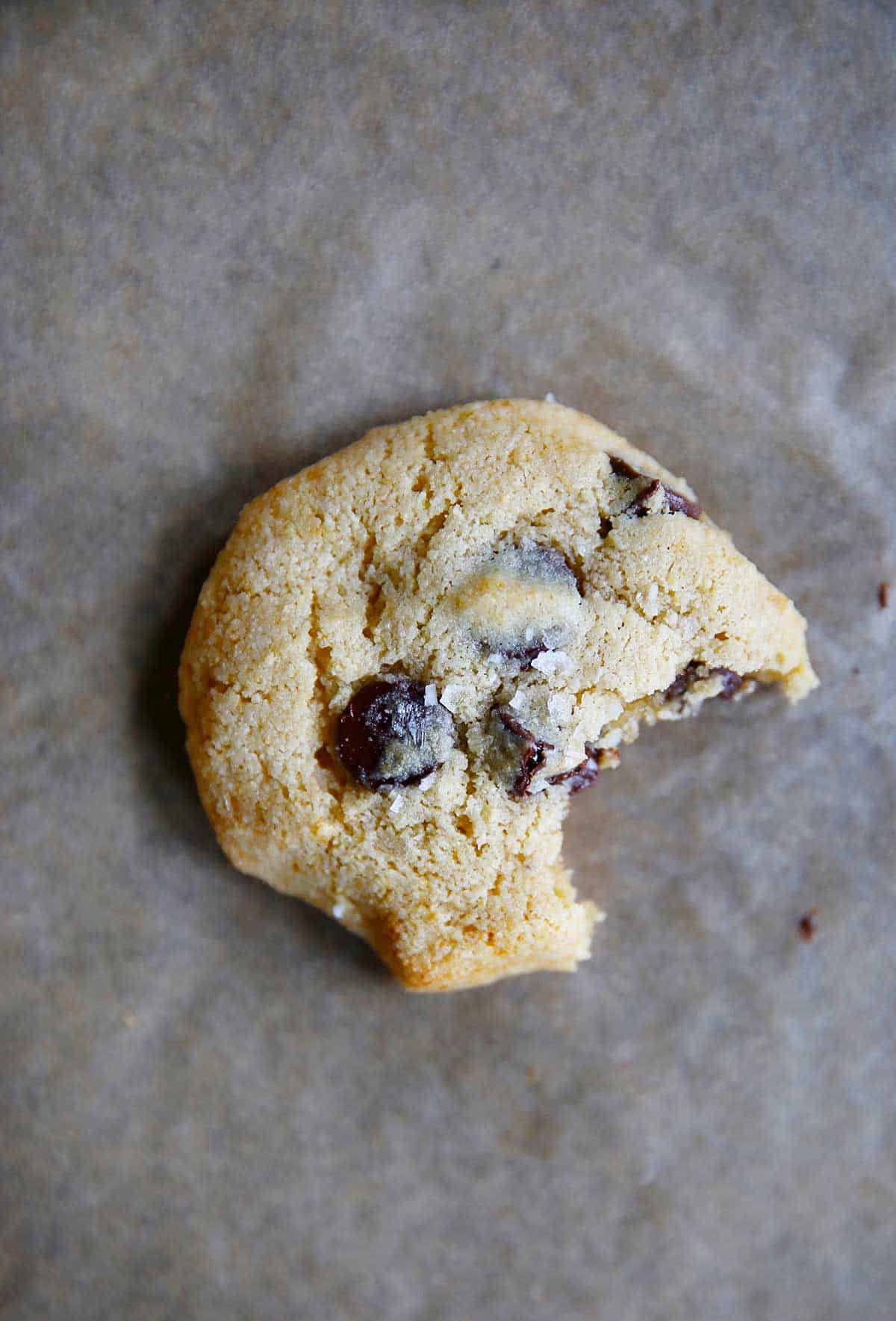 Want to make it extra special?
I like to sprinkle the cookies with a coarse flaky sea salt before baking, because sea salt and chocolate are the ultimate combo in cookies! And Mike LOVES these straight from the freezer! You can store them so you'll always have a little treat on hand when you are having a craving!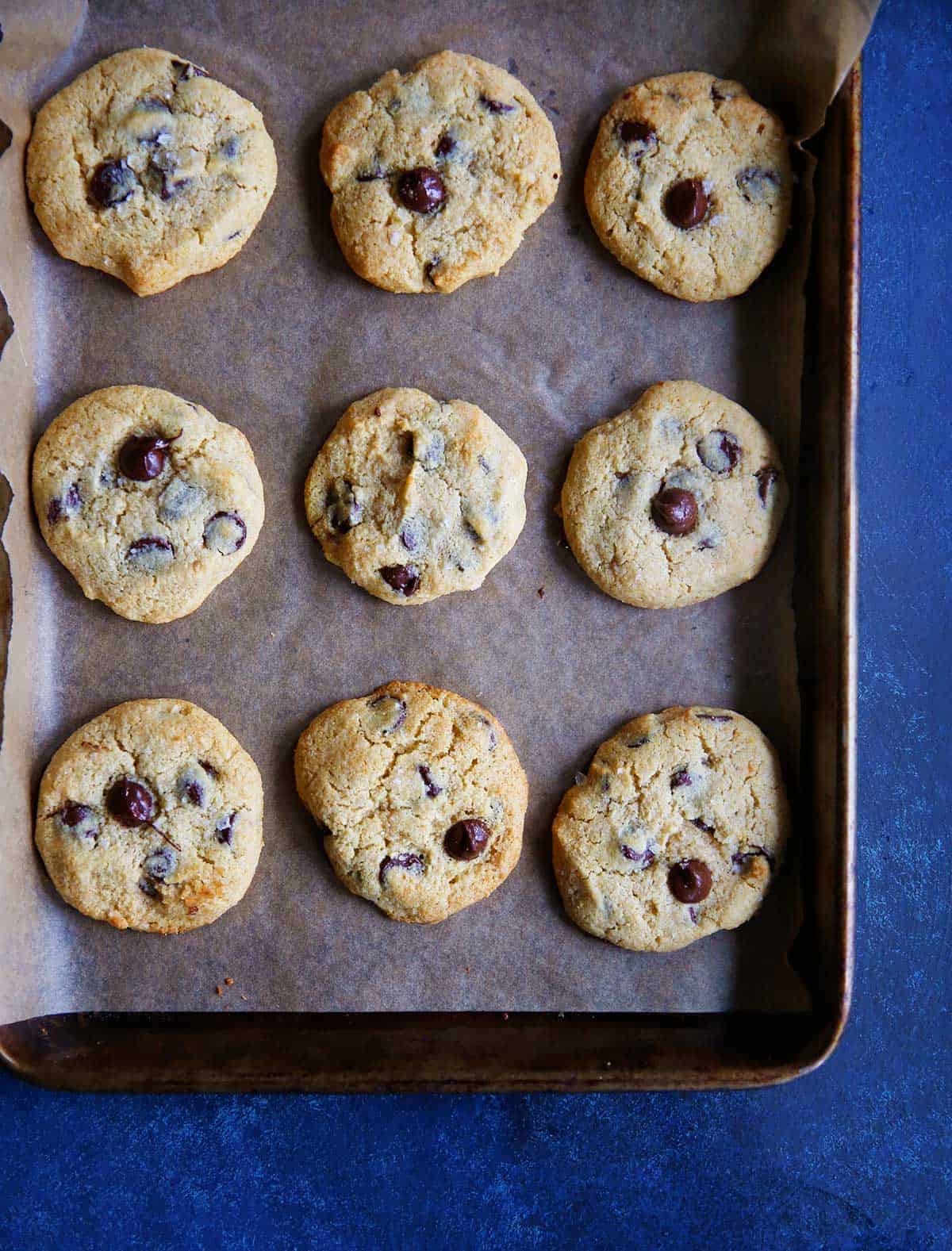 If you like this cookie recipe, check out these others: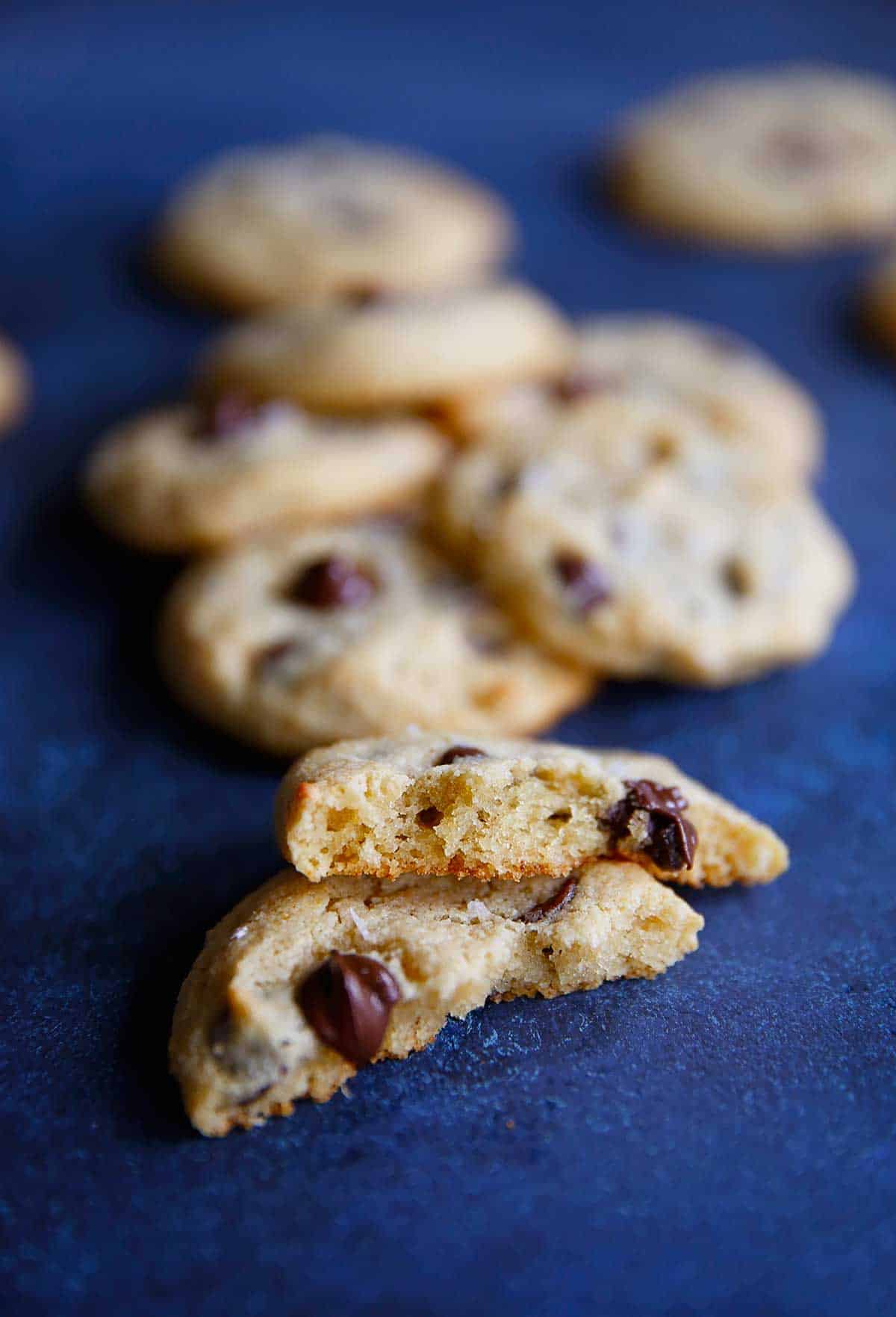 Check out these recipes featuring chocolate chips:
Paleo Chocolate Chip Cookies
This Spaghetti Squash Primavera is the perfect healthier spin on the Italian classic! Loaded with seasonal veggies, protein, and flavorful spices, it is the perfect hearty and nutritious meal for any night of the week! Dairy-free, grain-free, paleo-friendly, and no added sugar!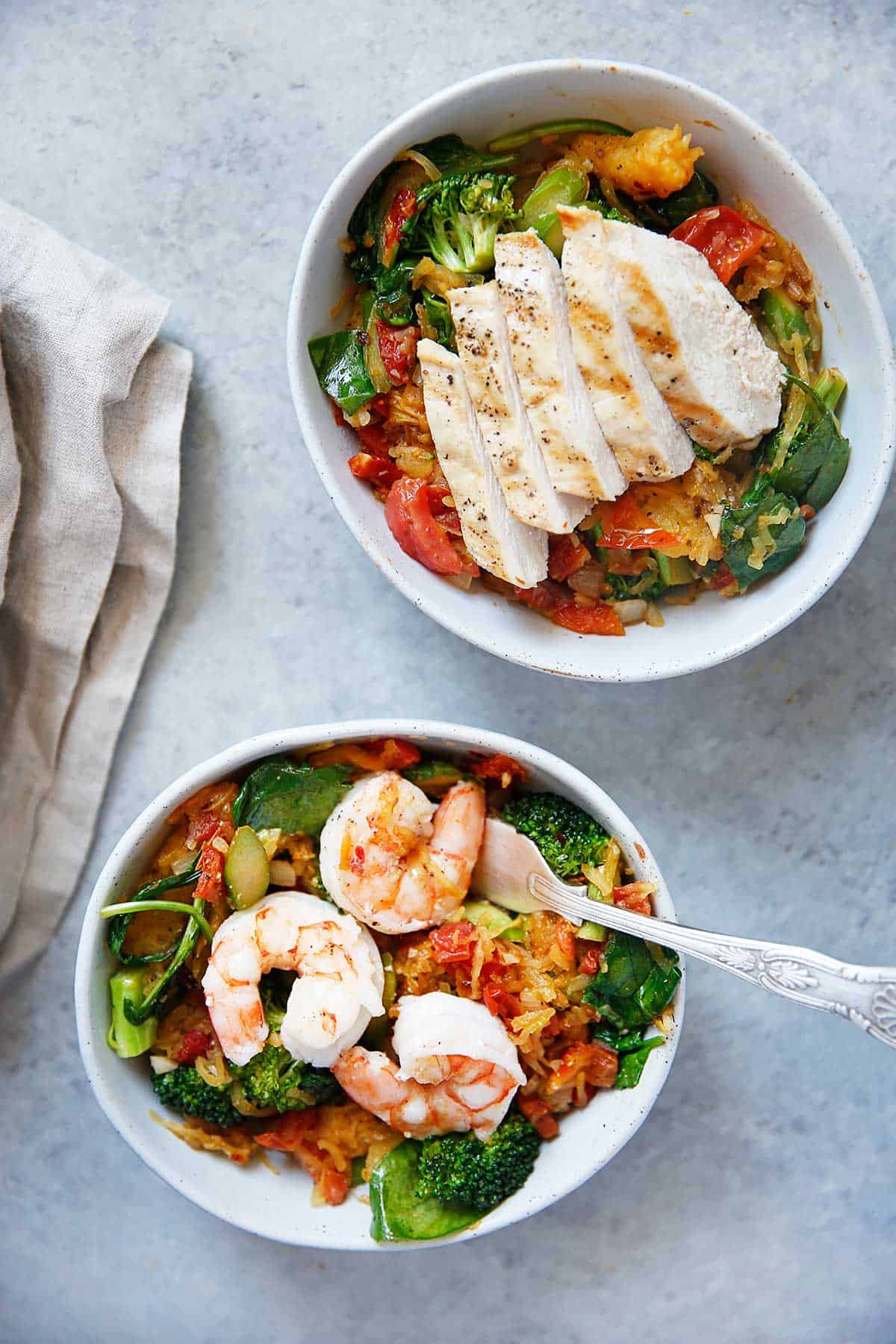 Spaghetti Squash Primavera
I love Italian cuisine! I mean who doesn't love combining meat, fresh vegetables, garlic, oil, and homemade tomato sauce? A ton of the dishes I make are Italian-inspired. This dish fulfills that delicious pasta craving, without the pasta! My version of "pasta" primavera is made with spaghetti squash and is the perfect combination of garlic, spices, meat, and vegetables!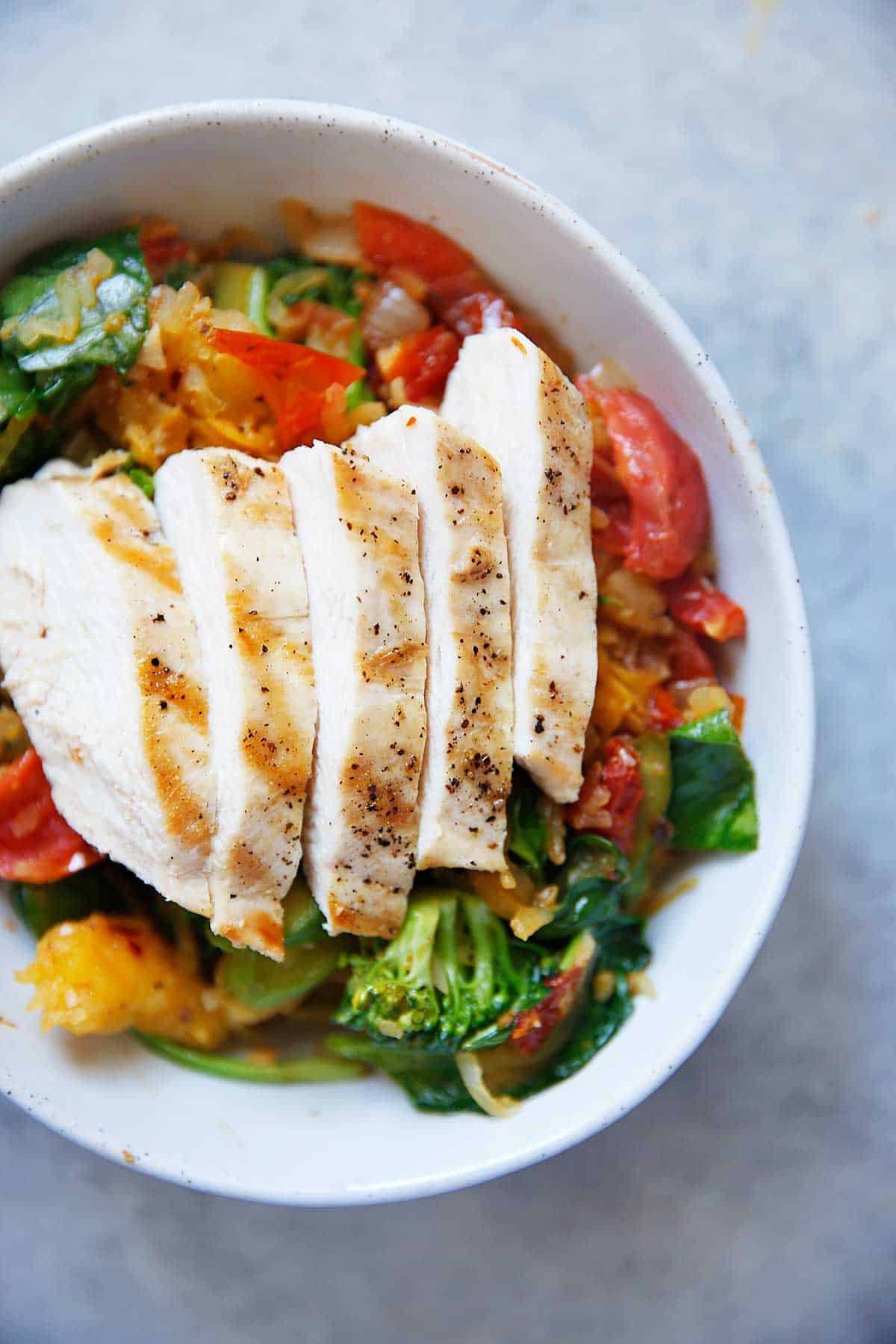 Watch the video:
Spaghetti Squash Primavera [VIDEO]
These Double Chocolate Muffins are so moist and delicious! The perfect morning treat to wake up to! Eat them plain or top them with some melted chocolate of choice for a delicious dessert option. Grain-free, dairy-free, gluten-free, and done in 20 minutes!
Sometimes you just need a treat (in moderation) and these double chocolate muffins are great for when you are craving chocolate! Just the right amount of sweetness and moist on the inside but crumbly on the outside = muffin perfection.
Double Chocolate Muffins
These Sweet Potato Buns make for the perfect nutrient-rich bread-alternative! I love how creative you can get with them. Breakfast sandwiches, the traditional BLT, avocado toast… the options are endless!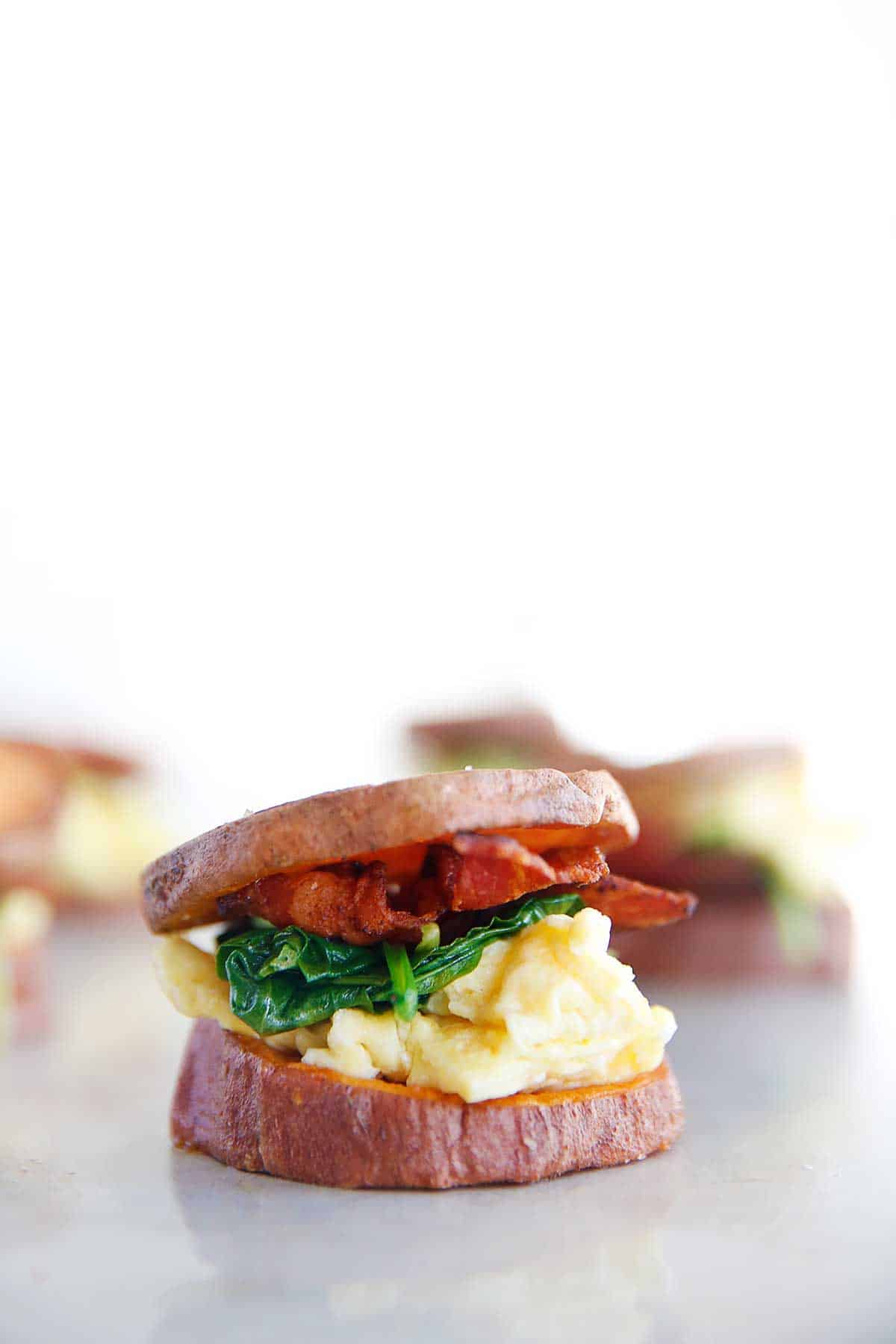 Sweet Potato Buns are my favorite! You can make them bigger or smaller, you can make them for  breakfast, for lunch, or for dinner! You can make them open face sliders or full sandwiches! So versatile!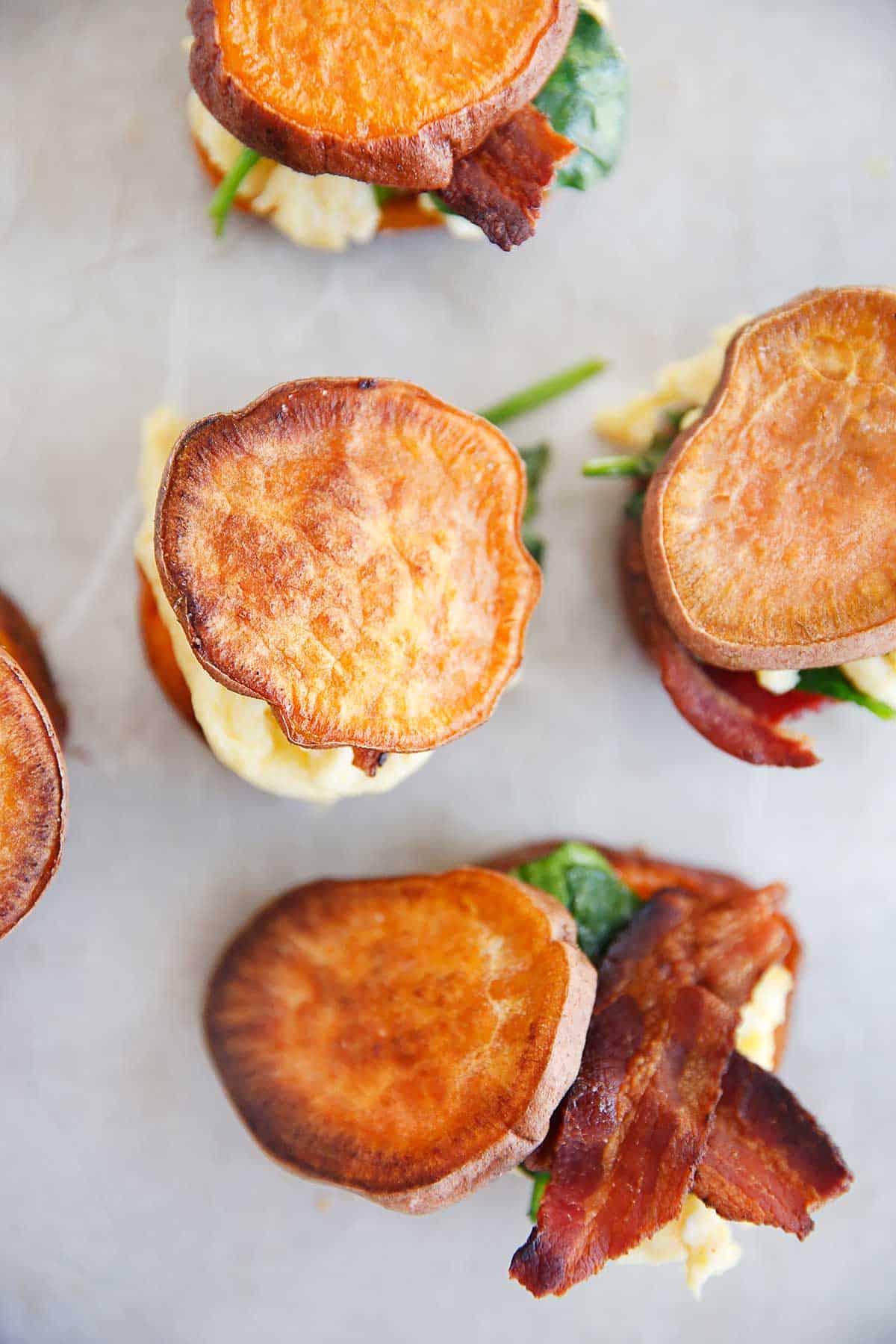 Simply roast the sweet potato, load with desired fillings, and DEVOUR! Whole30 compliant, grain-free, gluten-free, and dairy-free!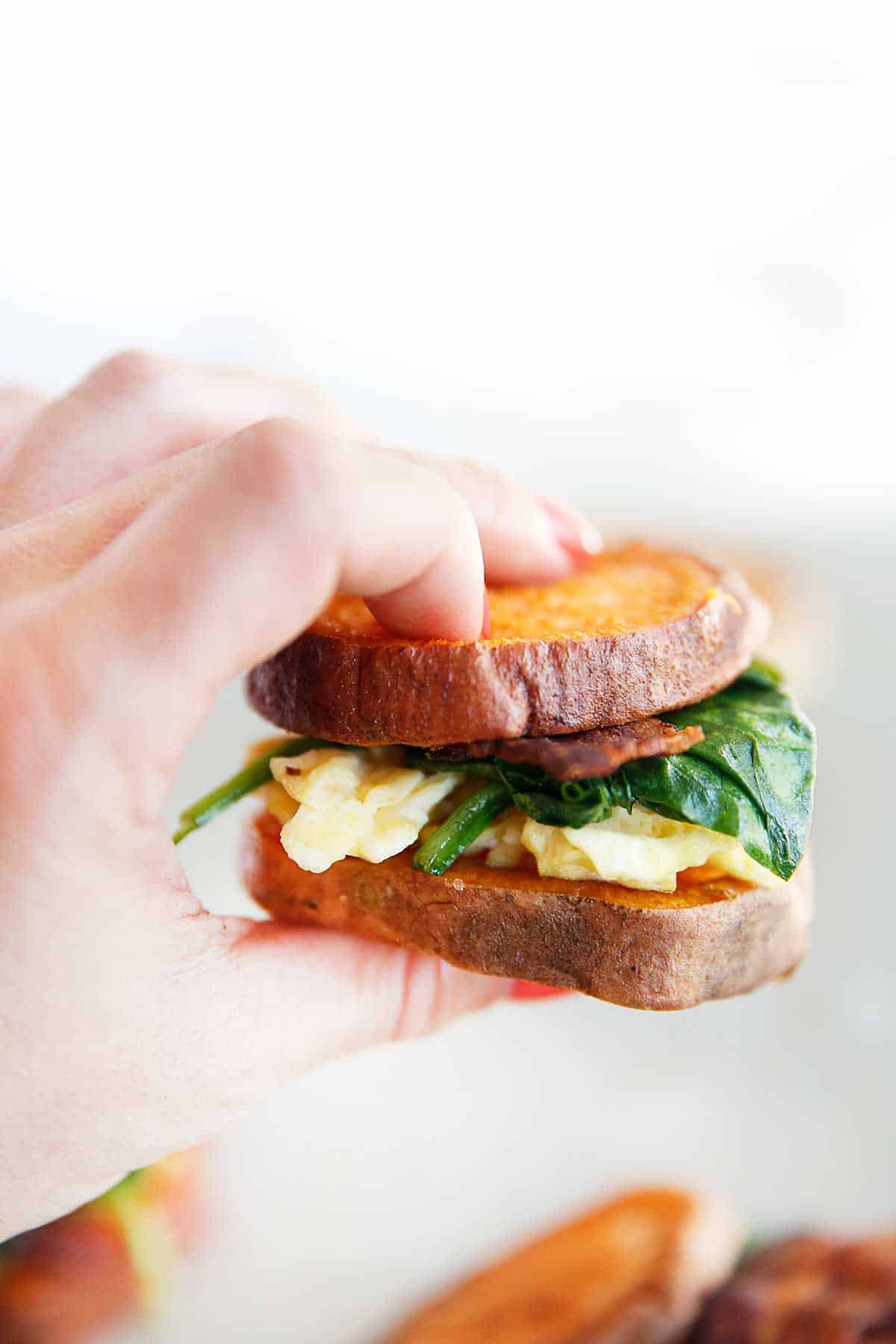 Sweet Potato Buns

---

---

Ingredients Make It Into A Breakfast Sandwich

Directions

Recipe Notes

*This recipe was updated in March, 2017.

---

Nutrition

Loading nutrition data...
Sweet Potato Buns
I am speechless over this Easy Salmon Puttanesca. The puttanesca sauce is so flavorful and pairs perfectly with the Wild Salmon. I couldn't get over how simple it was to make! 10 minutes and very little prep work! Such an elegant and flavorful dish for any night of the week! We paired the salmon with sautéd green beans, but you can use any veggies you have on hand!
I am a big fan of puttanesca sauce and always wanted to make my own version. I am so happy with how this one came out and love saving the extra sauce to use throughout the week! If you are looking for low-carb, simple meals to get you through the week, this is definitely a keeper!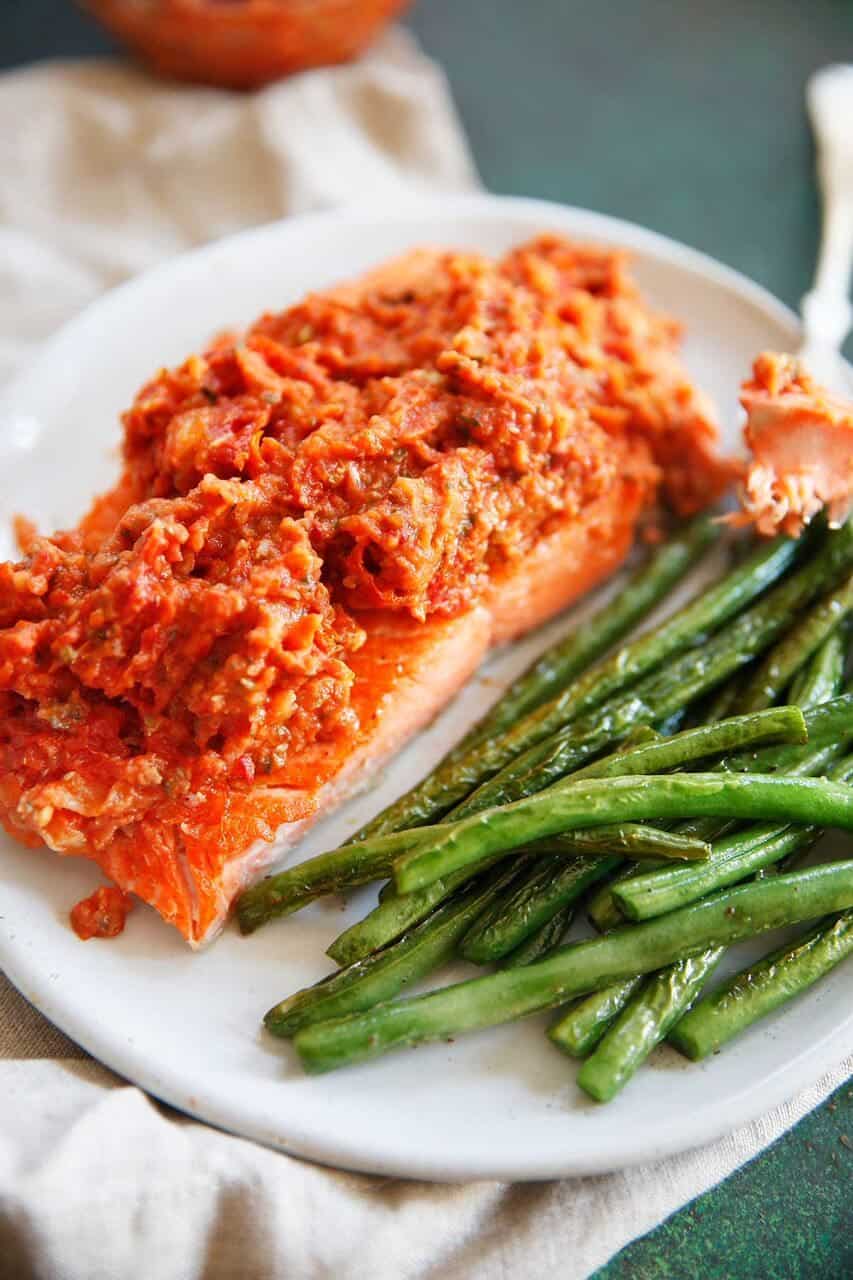 Easy Salmon Puttanesca
Italian night! Who needs real pasta? Spaghetti Squash Boats are a huge hit around here. They are filling, tasty, and fun to eat. They go perfectly with my homemade meat sauce or meatballs.
Spaghetti Squash Boats with Homemade Meat Sauce
This Slow Cooker Pulled Pork is the ultimate pulled pork recipe! Tender and flavorful pulled pork cooked in a homemade sweet and smoky refined sugar free BBQ sauce… doesn't get much better than that! Summer BBQ perfection.
Slow Cooker Pulled Pork
I'm feeling tropical this morning with this Piña Colada Protein Smoothie! For a few minutes I felt like I was back in Mexico sipping on a delicious refreshing drink; though this one has the health benefits I needed to start my day off right. Can you tell I'm feeling beach-ready?
The perfect balance of frozen mango and coconut! The perfect light and refreshing treat for these warm days!
Piña Colada Protein Smoothie

---

---

Ingredients

1 cup frozen pineapple chunks
1/2 cup organic unsweetened coconut milk or unsweetened vanilla almond milk
1 scoop vanilla protein powder
1 teaspoon chia seeds
1/2 tablespoon coconut oil
Optional: garnish with organic unsweetened coconut flakes

Directions

Place all ingredients in blender
Blend until smooth and creamy
Garnish and enjoy!

---

Nutrition

Loading nutrition data...
Piña Colada Protein Smoothie
This Seafood Primavera is the perfect healthy alternative to the classic pasta dish! Such a great simple, veggie-packed Dinner for any night of the week!
I realized yesterday that of my many dishes made with spaghetti squash, almost all are meat-based and none of them contain seafood. That had to be changed! I was in Whole Foods when I began conjuring up ideas. Spaghetti squash infused with white wine, spices, garlic, veggies, and seafood? DONE! Eating healthy never has to be boring!
Seafood Primavera
These Cinnamon Bun Banana Muffins are the perfect weekday or weeknight treat. Loaded with cinnamon, bananas, and my trusty almond flour and coconut flour blend, absolutely no one will be able to tell they are gluten-free!
Cinnamon Bun Banana Muffins
Muffins are the perfect mid-week snack or Mother's Day brunch recipe! These paleo muffins are easy to make and are loved by so many!
These muffins are:
Light
Fluffy
Moist
And SO flavorful!
They also make your kitchen smell amazing!