Crispy Buffalo Chicken Bites
These crispy Buffalo Chicken Bites have the perfect touch of spice and are made totally gluten-free and paleo-friendly! Chicken breasts is cut up, dipped in batter and pan-seared before being coated in the easiest buffalo sauce. Perfect for an appetizer or for dinner when served with your favorite side.

Crispy Buffalo Chicken Bites
Buffalo Chicken Bites are our new favorite appetizer, snack, or chicken dinner that nobody will guess is completely allergy-friendly! They are easy to make (watch the video below), and are both kid-friendly and a hit with adults as well. Serve with your favorite side for dinner or dish up for game day with ranch or blue cheese and all the cut up veggies.
Ingredients Needed
Avocado Oil
Boneless Skinless Chicken Breast
Eggs
Tapioca Flour
Salt and Pepper
Hot Sauce (we used Frank's)
Grass-Fed Butter or Ghee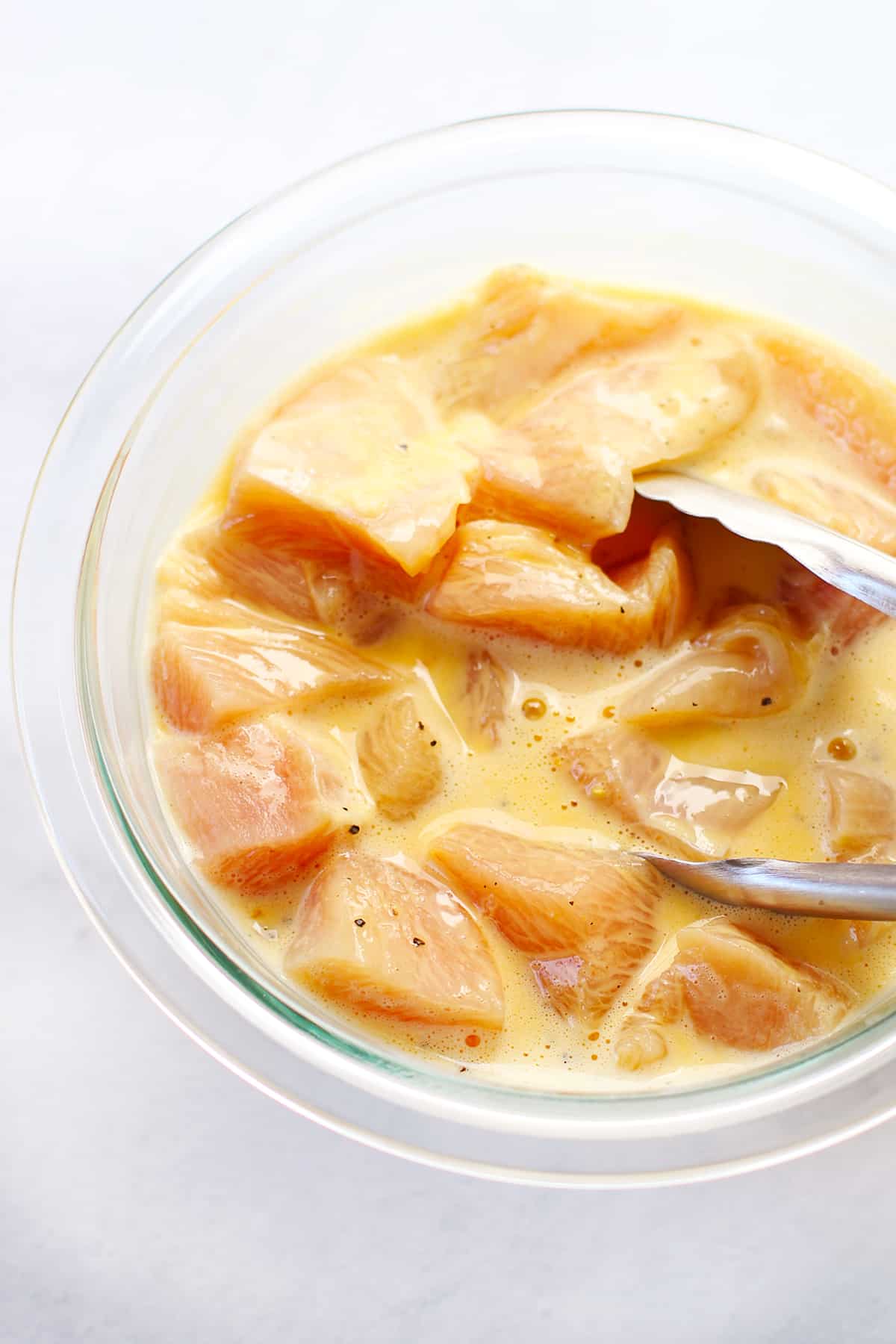 How to Make Gluten Free Buffalo Chicken Bites
Heat the oil. We use avocado but feel free to use whatever high heat oil you want.
Whisk together the batter ingredients.
Coat the chicken with the batter.
Fry and then let excess oil drain on paper towels.
Make buffalo sauce by heating hot sauce and butter (or ghee) together in a skillet. Whisk together until fully combined.
Toss chicken with buffalo sauce.
For extra crispy chicken broil for a few minutes.
Serve immediately with vegetable crudités and your favorite dipping sauce.
Sides to Pair
Fresh Veggies (celery, carrots, cucumber) & Ranch (in my cookbook)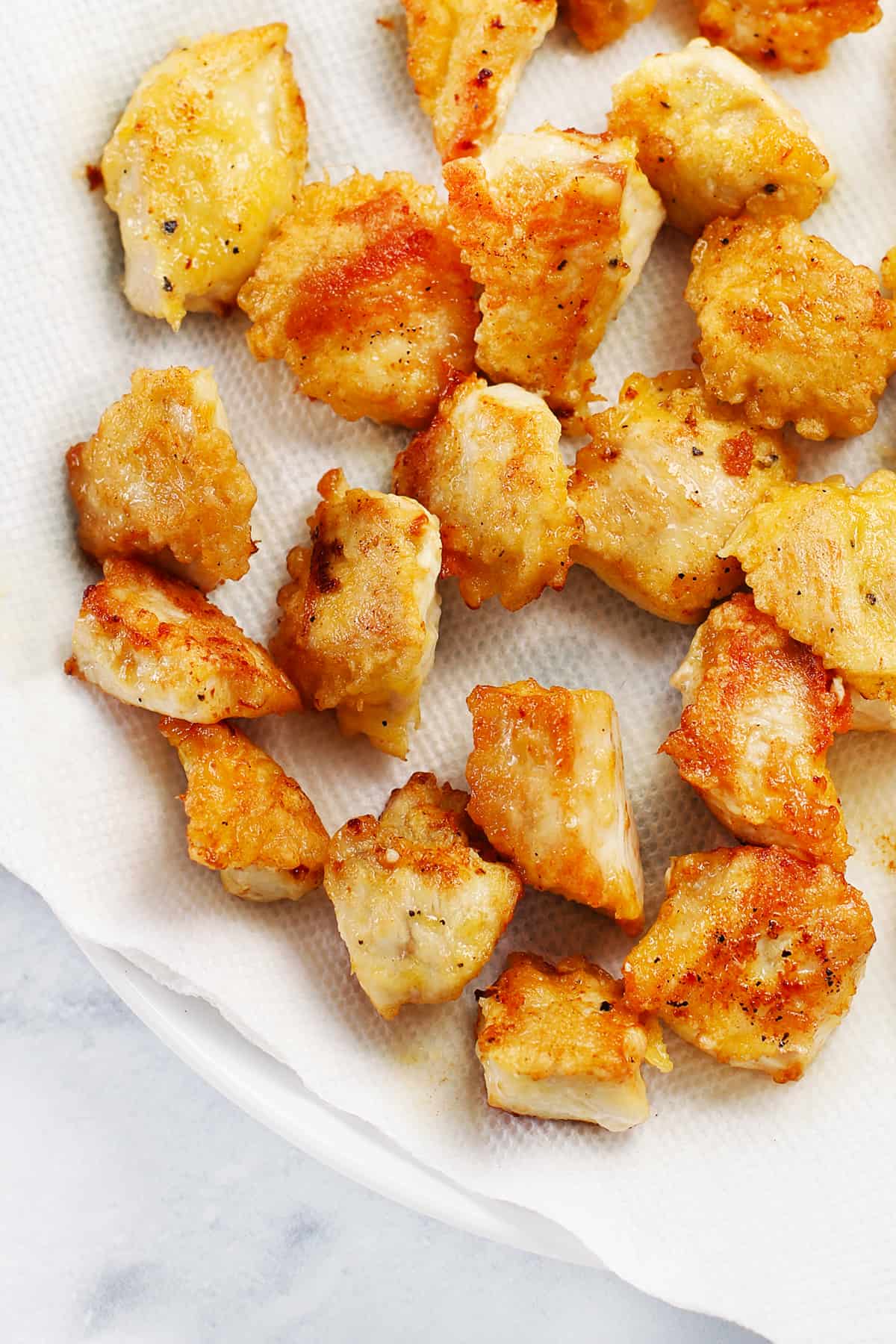 Watch the video: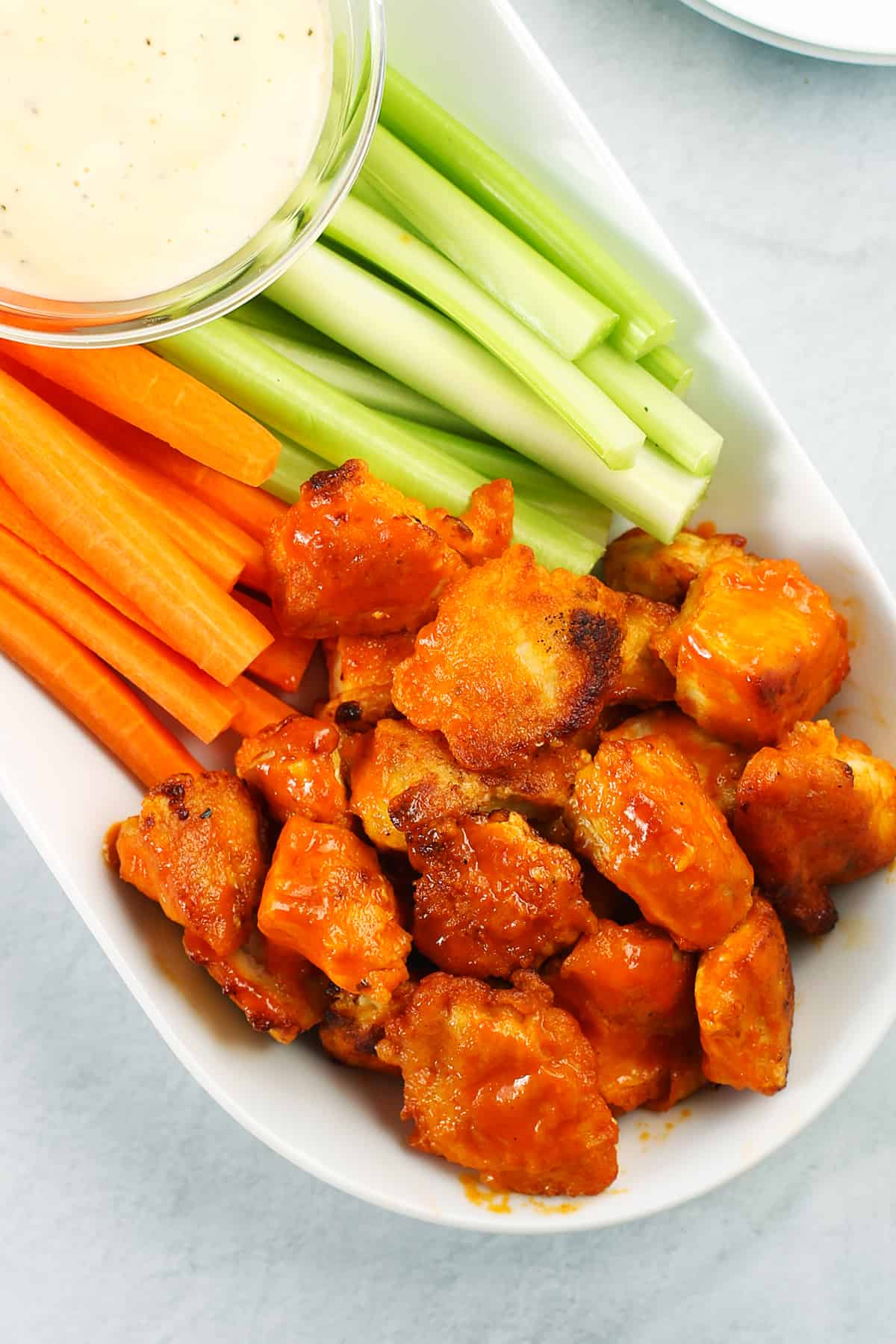 Want other Buffalo Chicken Hits? Try these favorite recipes:
Crispy Buffalo Chicken Bites
---
---
Ingredients
1 lb. organic chicken
1/4 cup avocado oil, or oil of choice
Batter
Sauce
Directions
In a skillet heat oil until hot*
Cut chicken into bite size pieces
In a bowl, combine batter ingredients
Place chicken into batter and toss until coated
Carefully place chicken into hot skillet
Let cook for 4-5 minutes on each side
Remove from skillet and place on plate lined with paper towels
Add in chicken and toss until coated
If you want your chicken extra crispy, after this step transfer chicken to a lined baking sheet and broil for 2-3 minutes on each side, watching carefully
Recipe Notes
*Splash a drop of water in the skillet, if it sizzles, it's hot and ready to go!
---
Nutrition
Loading nutrition data...
Crispy Buffalo Chicken Bites
These Gluten Free Classic Potato Latkes are just like grandma makes them, only made without any refined white flour! They have the classic delicious flavors you want, and I guarantee that nobody will know they are gluten-free!

Classic Gluten Free Latkes Recipe
There is almost nothing better than a crispy classic potato latke. Whether or not you serve yours with sour cream or applesauce, you are going to love this classic version, with straightforward flavor. The only difference here? It's made with arrowroot starch to keep this gluten-free for those who need it. But don't worry, nobody will notice the difference. Serve hot and crispy and make extra because these are going to go fast!
Ingredients for Potato Latkes
Russet Potatoes
Onion
Garlic
Eggs
Arrowroot Flour
Salt and Pepper
Oil, for frying
How to Make Gluten Free Latkes?
First start by peeling the potatoes. Then grate the potatoes and the onions into a strainer lined with a cheesecloth and squeeze out as much moisture as possible. Place strained mixture into a large bowl and add in the remaining ingredients.
Place oil into a large pan and heat the oil on medium-high heat.
Once oil is hot, make patties out of the potato mixture (squeeze out even more excess liquid as you make patties) and pan-fry until brown on both sides.
Should take about 3-4 minutes on each side but watch closely to avoid burning. Add more oil as needed.
Serve with applesauce or sour cream and enjoy!
Potato Latke Pro Tips:
Don't wear a shirt you care about while making these! The oil can spatter.
Make a tiny one to test in case you want to adjust salt for remaining batches.
I keep my strainer near by so I can strain extra liquid as needed.
After grating potatoes, place into a bowl of cold water. This helps bring out some of the starch!
Do I need to peel potatoes for latkes?
Wash and scrub the potatoes if you want to keep the skins on, or peel them!
Can you make gluten free potato latkes ahead of time?
Fry the latkes an hour or two ahead, place them on baking sheets in a single layer, then re-heat them in the oven when ready to serve! They taste best when hot and crispy!
Other Hanukkah recipe favorites include: 
Watch the video:
---
[yumprint-recipe id='412′]