The Ultimate Garlicky Mushroom Side Dish
This mushroom recipe is the last one you'll ever need to look up for a side dish idea. These Ultimate Herb and Garlic Mushrooms are packed with umami flavor, are quick to make and topped with fresh herbs. Serve these at your next Thanksgiving or dinner party and everyone will rave about them!
Garlic Mushrooms Recipe
Before I even began my thanksgiving planning, I knew I wanted to make the ultimate garlic mushroom side dish. One that was quick and simple to make but super delicious. I think we got it with this recipe for the Ultimate Herb and Garlic Mushrooms! This simple side dish is packed with flavor and will make a mushroom lover out of anyone. They're perfect for a thanksgiving side dish, or throughout the year. I'm thinking these would be amazing with a perfectly seared steak. Either way, these should be on your table real soon!
Ingredients for Garlic Mushrooms
Mushrooms

Garlic
Fresh Herbs
Salt and Pepper
Butter and Oil

Shallot

Balsamic vinegar
How to Clean Mushrooms
Mushrooms often come from the grocery store very dirty. Because they act like sponges, soaking them or rinsing them in water is out of the question. Instead, to clean mushrooms wipe them with a clean towel and a dry pastry brush. Get off as much excess dirt as possible.
Dishes to Pair with this Mushroom Recipe
Looking for some thanksgiving main ideas? Or just a simple dinner idea, check out these recipes:
If you like this side dish recipe, check out these others:
The Ultimate Garlicky Mushroom Side Dish
This easy and delicious Herb and Garlic Quinoa is the perfect side dish to accompany just about anything. What's even better is the recipe uses pantry staples so you can throw it together whenever you are looking for an easy side dish to pair with dinner.
Herbed Quinoa Recipe
You need to keep this recipe in your back pocket because whenever you are looking for a side dish to pair with your dinner, this is the one! Nutritious and earthy, quinoa is cooked up with pantry staples to make the best flavored quinoa side dish! You have the option to either add dried herbs or fresh herbs if you have them, making this the perfect seasoned quinoa dish to make all year long.
Ingredients Needed
Quinoa

Oil

Salt

Garlic powder

Onion powder

Italian herb blend (or fresh herbs)
Is quinoa healthy?
Our in-house nutritionist Gabby says: Quinoa is tremendously healthy, especially for those following a vegan or vegetarian diet. Quinoa is one of the very few plant proteins that contains all nine essential amino acids that our body cannot make by itself, making it a complete protein. Not only is it a rich source of protein, it is also naturally gluten-free, safe for those with celiac disease.
There is much debate about whether quinoa is a seed or a grain. Either way it is a nutrient-dense, high-fiber substitute for things like white pasta. Quinoa is high in many vitamins and nutrients that Americans are deficient in such as magnesium, thiamin, folate, iron, potassium, calcium and phosphorus.
Do you need to rinse quinoa?
This is controversial because some people feel strongly that they prefer to not rinse quinoa. But after all of our testing we feel that this is not a step that should be skipped, even if your quinoa says "pre-rinsed". Rinsing the quinoa gets rid of the natural powdery coating called saponin that has a strong, somewhat unpleasant flavor. To rinse it, put the quinoa in a strainer and rinse really well under cold water for 1-2 minutes. Then it's ready to use.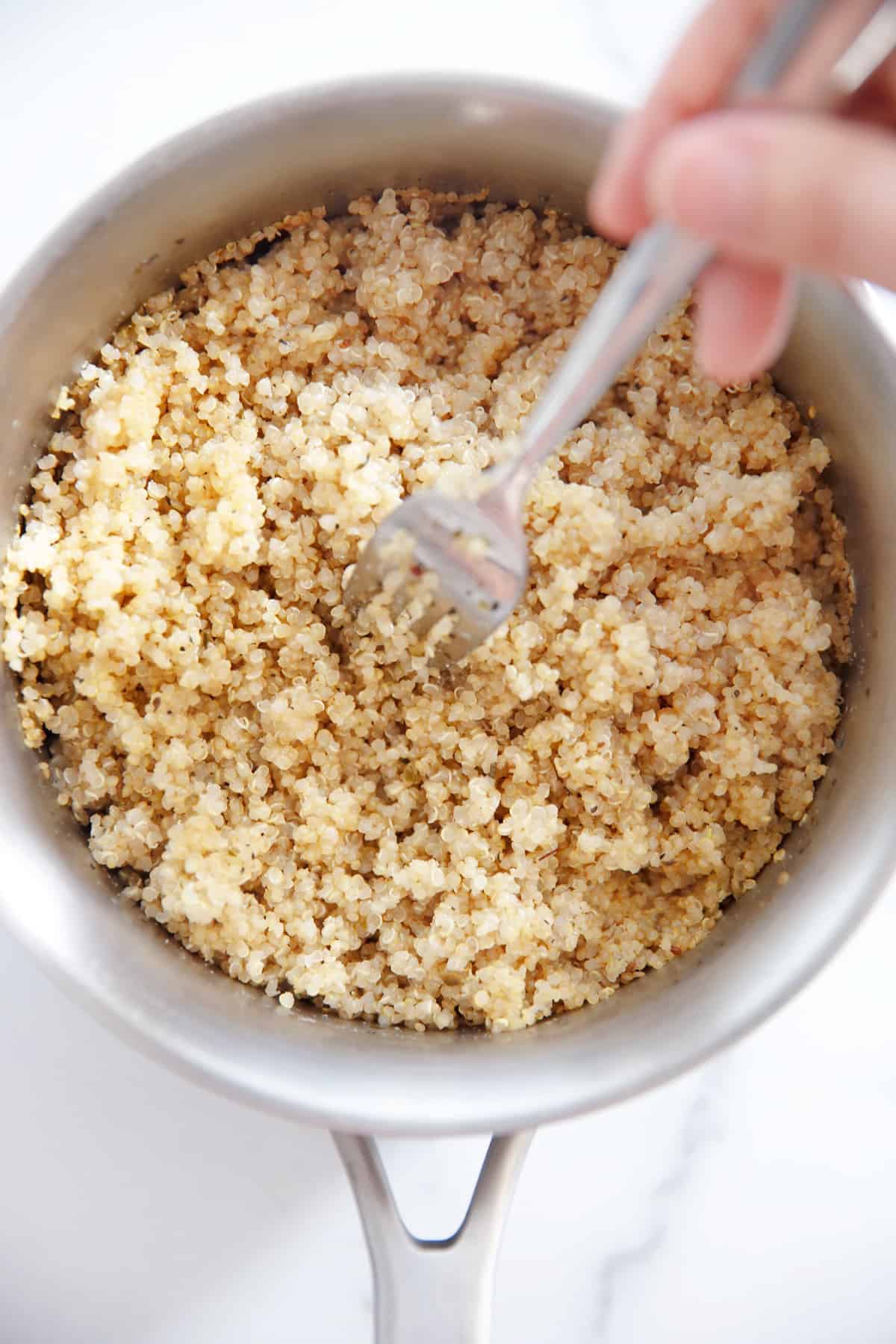 If you like this side dish recipe, check out these others:
Herb and Garlic Quinoa
If you've got 5 minutes, than you can put together this easy homemade taco seasoning recipe and always have some on hand for taco Tuesday, or any night of the week!
Homemade Taco Seasoning Recipe
It sure is easy to buy your own spice blend at the store, but you know what else is easy? Making it at home so you can control the ingredients and flavor and always have it on hand! Homemade taco seasoning mix is simple, can be customized to your tastes (though we're pretty sure you're going to love this blend), and can be used on an endless variety of meats and veggies for a quick meal any night of the week, and not just for tacos! Use it on chicken, beef, shrimp, beans, cauliflower, potatoes or even popcorn!
What's in it
Chili Powder
Cumin
Paprika
Garlic Granules
Ground Celery Seed
Fine Sea Salt
Pinch Cayenne Pepper (optional)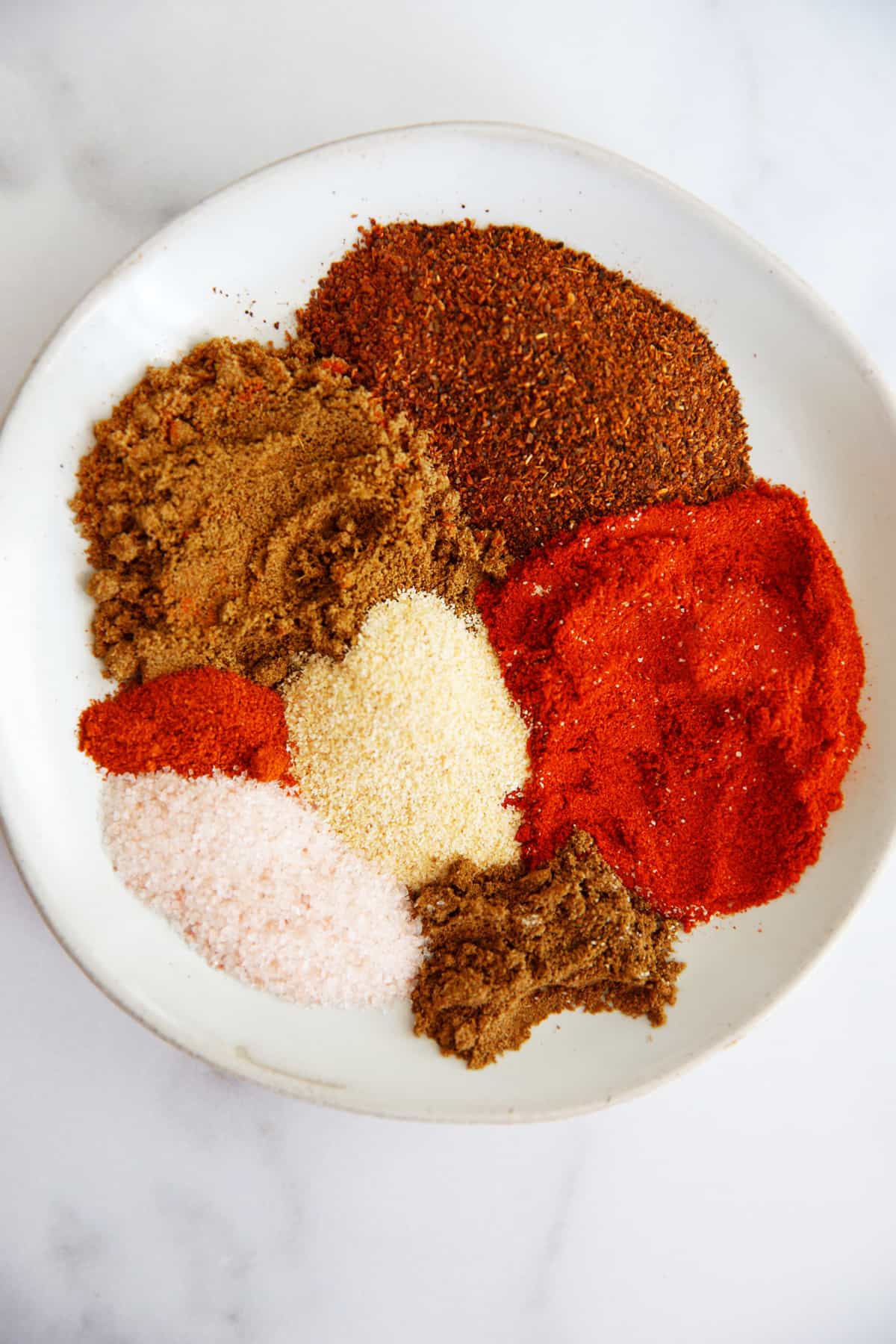 Why you should make your own DIY taco seasoning
The best part about making your own spice blend is that you can control the quality of the spice and quantity of each. When you are purchasing a bottle of it at the store there is always a chance you actually don't like the taste. You'll know what we mean if you've picked up a brand name bottle and hated it because they really can vary drastically in flavor. Taco seasoning, or Mexican spice blend is definitely one of the ones that can be hit or miss. But our blend of spices? It's the best, we promise! But also we list what we use and the quantity, so if you know you love a particular spice a lot and want to add a little extra, it's totally okay to do. Start with 1/2 teaspoon at a time of decreasing or increasing to adjust to your particular taste.
How long does it keep
So it's not that spices go bad, it's that spices lose their potency. It's generally accepted that spices should last about a year once opened, but that's assuming the store you are purchasing it from has a quick turnover rate and isn't let spices sit on the shelves for a while. If you are making this spice blend with spices that have been sitting on your shelf for a while your blend will lose its potency quicker. At the LCK test kitchen, if spices have been around for more than a year we toss and refresh with new ones.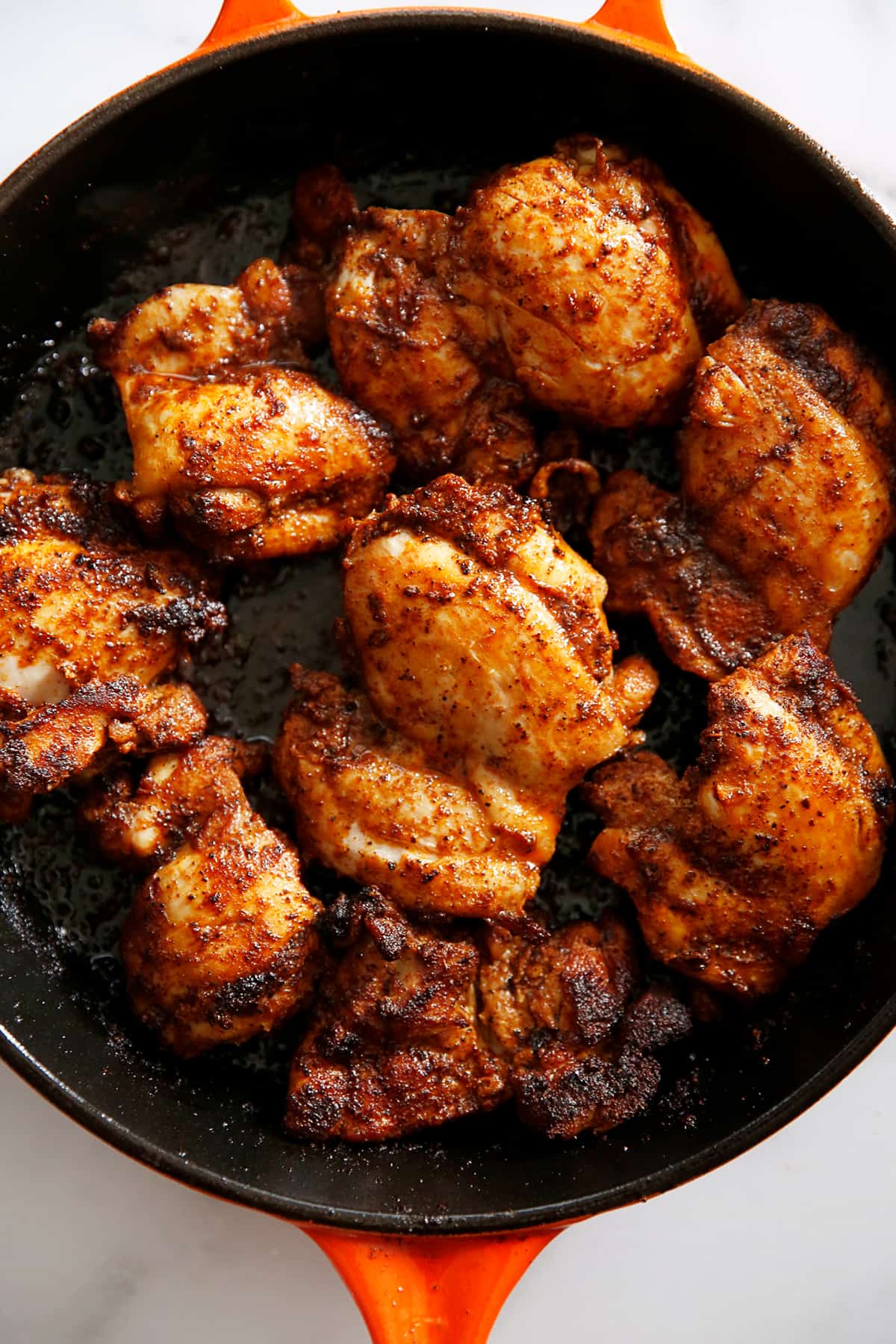 Taco seasoning is perfect on:
If you like this taco seasoning recipe, check out these others:
Easy Homemade Taco Seasoning
This Cauliflower Hummus recipe is so simple to put together and is a great vegan and legume-free alternative to traditional hummus. It's Whole30, Keto and Paleo friendly and truly you wouldn't notice it wasn't traditional hummus.
Cauliflower Hummus
Cauliflower really is a magical vegetable that can be turned into anything! Previously we've made noodle-free tuna casserole, hash browns, cauliflower parmesan, and pizza bites with cauliflower and now we've turned a classic dip into a legume-free version! This Cauliflower Hummus is so close in flavor to the real thing that most people eating it wouldn't know it wasn't traditional hummus. This is a great dip for people who can't tolerate beans, those eating a paleo diet or a low carb diet. But also it's just a really great dip: no special diet or lifestyle needed to love this one.
And the best part about it all is that it's so easy to make. Simply roast some cauliflower and garlic (of course!) and whirl it up in a food processor or blender with some traditional flavorings and it's done!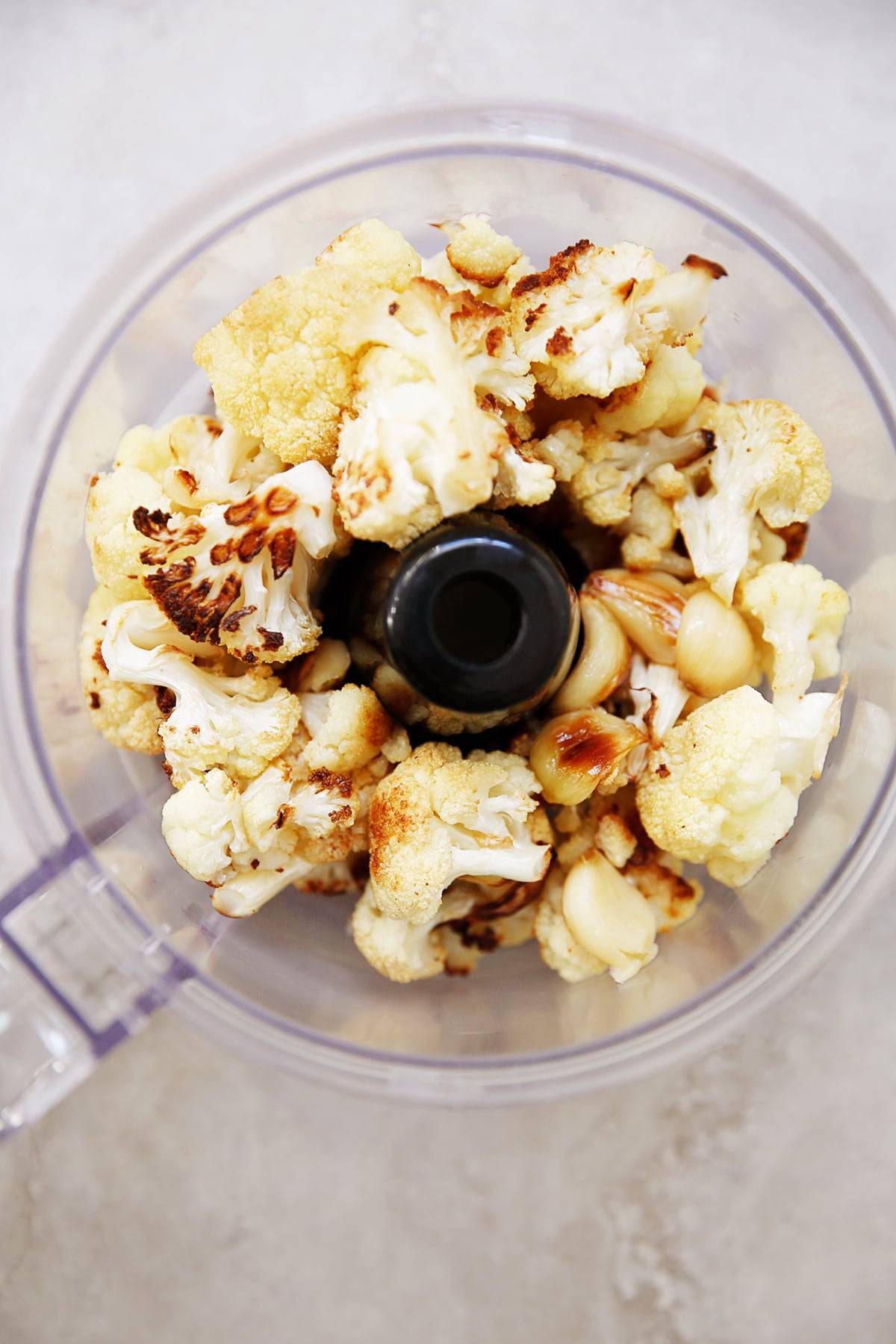 What do you serve cauliflower hummus with?
This is a great dip to serve alongside a spread of crackers, vegetables or pita or a gluten-free equivalent. This would also be lovely served along a dinner like grilled chicken and vegetables.
How long can you store cauliflower hummus?
It can be kept in a refrigerator for about 3 days. It can easily be made ahead of time if serving at an event!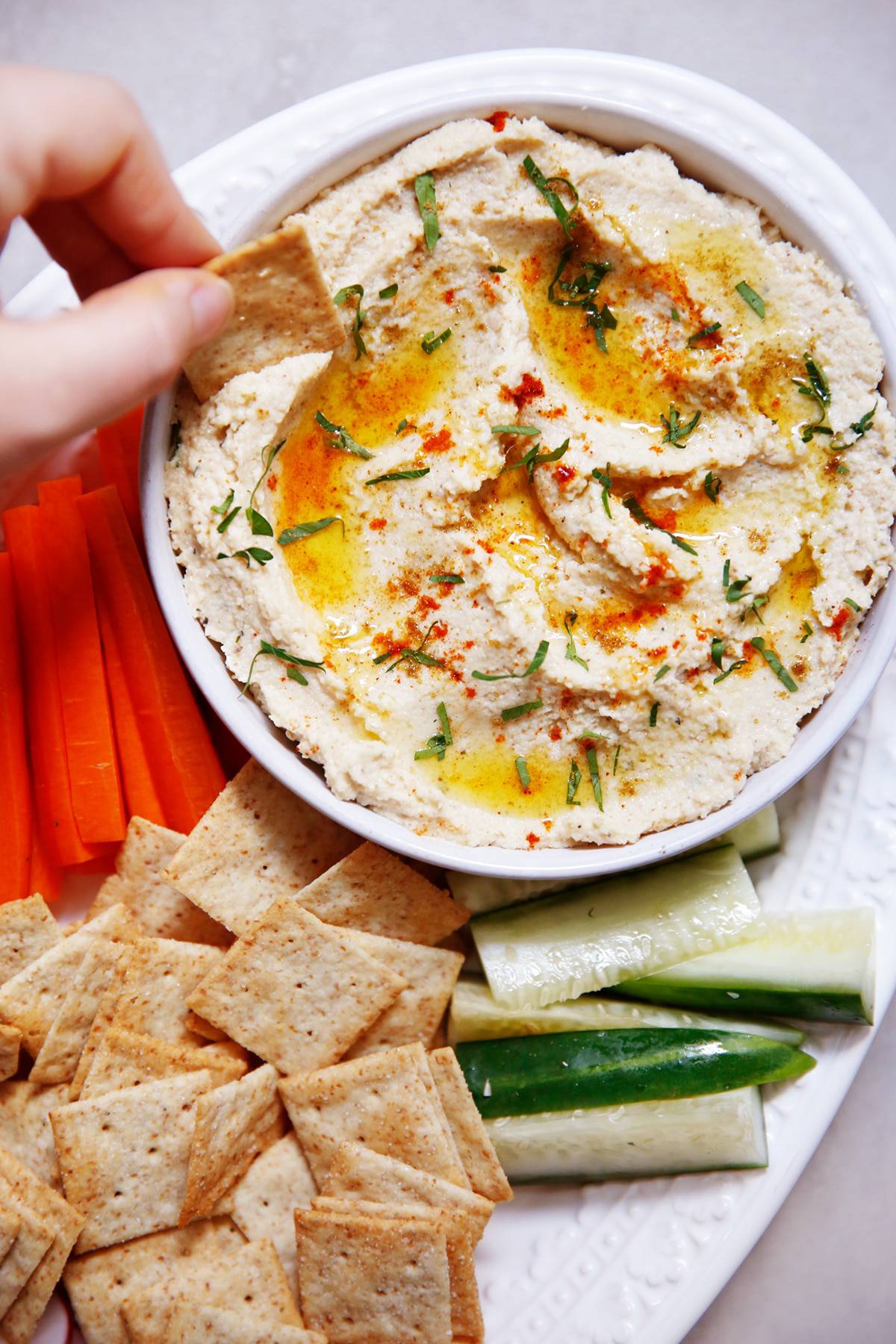 Tools we used in this recipe:
Sheet pan
Food Processor
Essentials: knife and spatula
If you like this dip recipe, check out these others:
Video:
---
Cauliflower Hummus
This Sausage and Vegetable Pasta is my go-to gluten-free dish for a quick weeknight meal or for entertaining. It's delicious, serves a crowd, is easy to prepare, and is made using only ONE POT!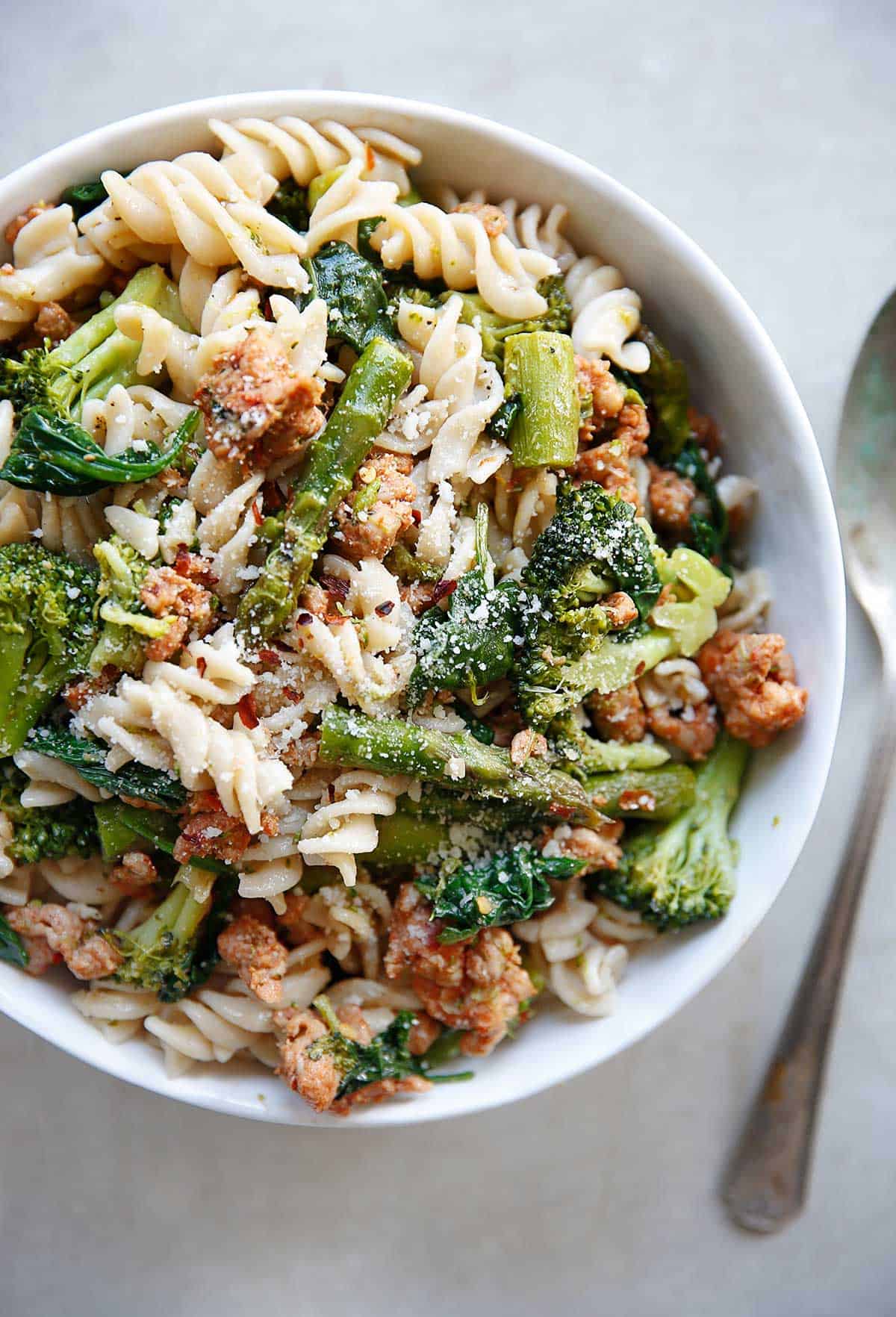 Sausage and Spring Vegetable Pasta
My blogging girlies and I are excited for SPRING, so we've teamed up to bring you five recipes packed with our favorite Spring produce. You have carrots, potatoes, leeks, broccoli, asparagus, spinach, strawberries, peas, and radishes!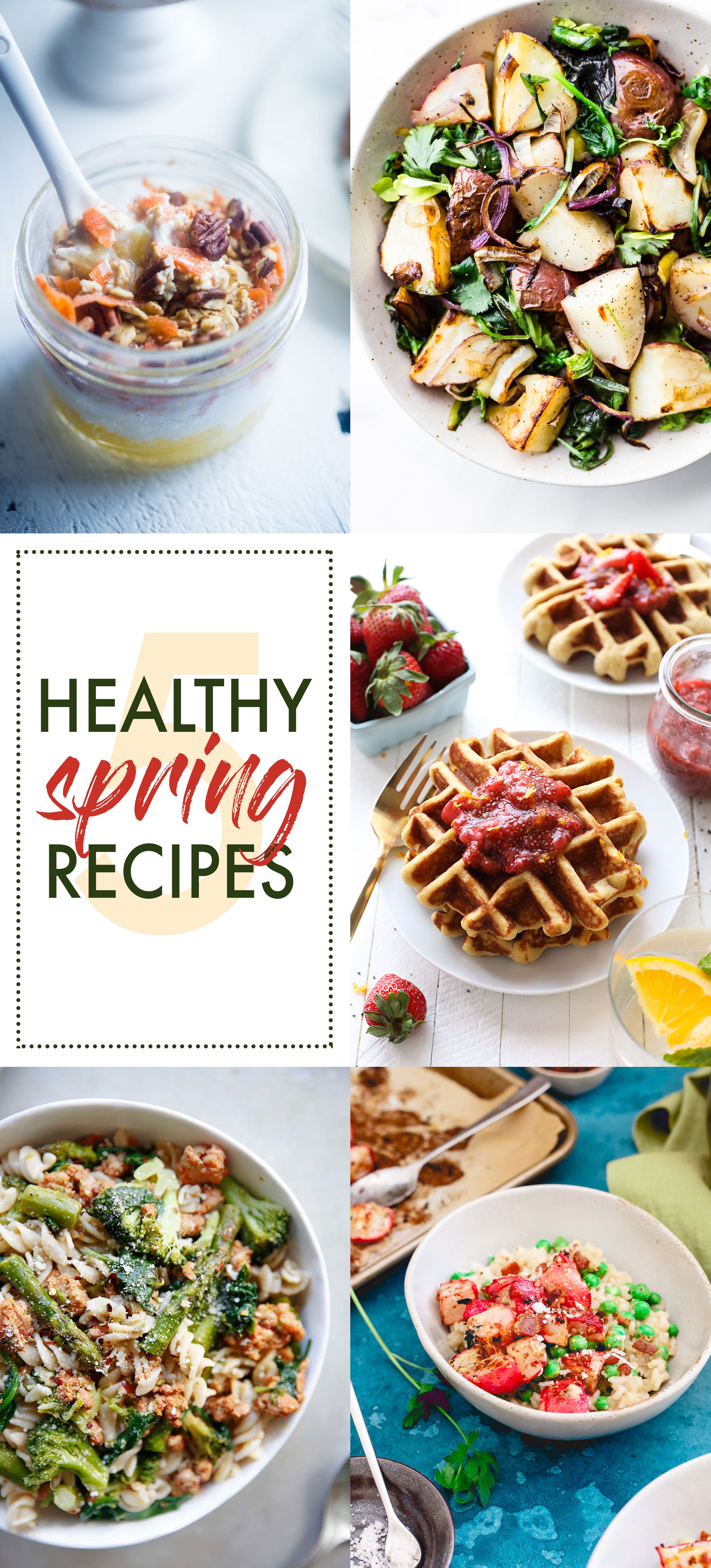 Now, this pasta!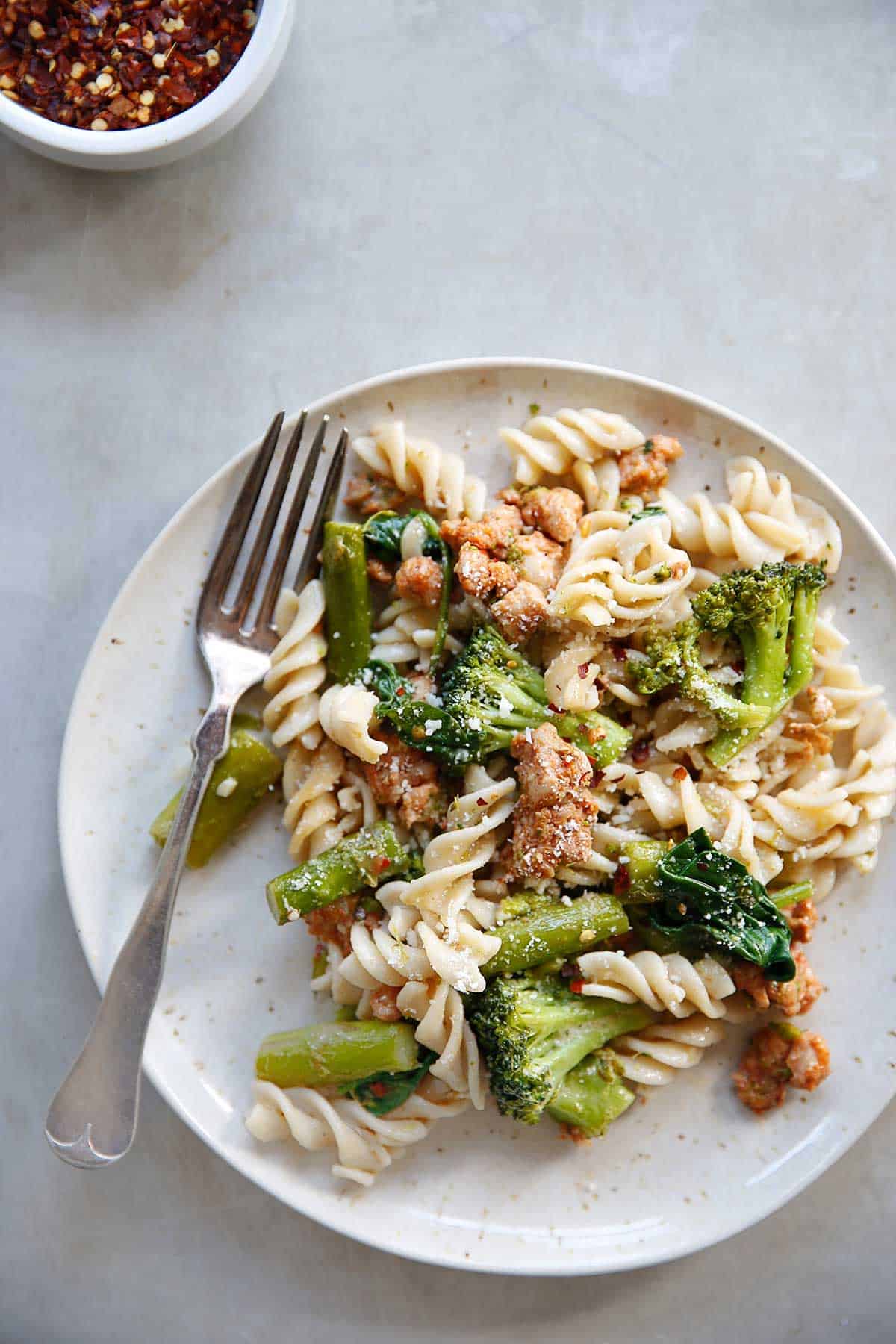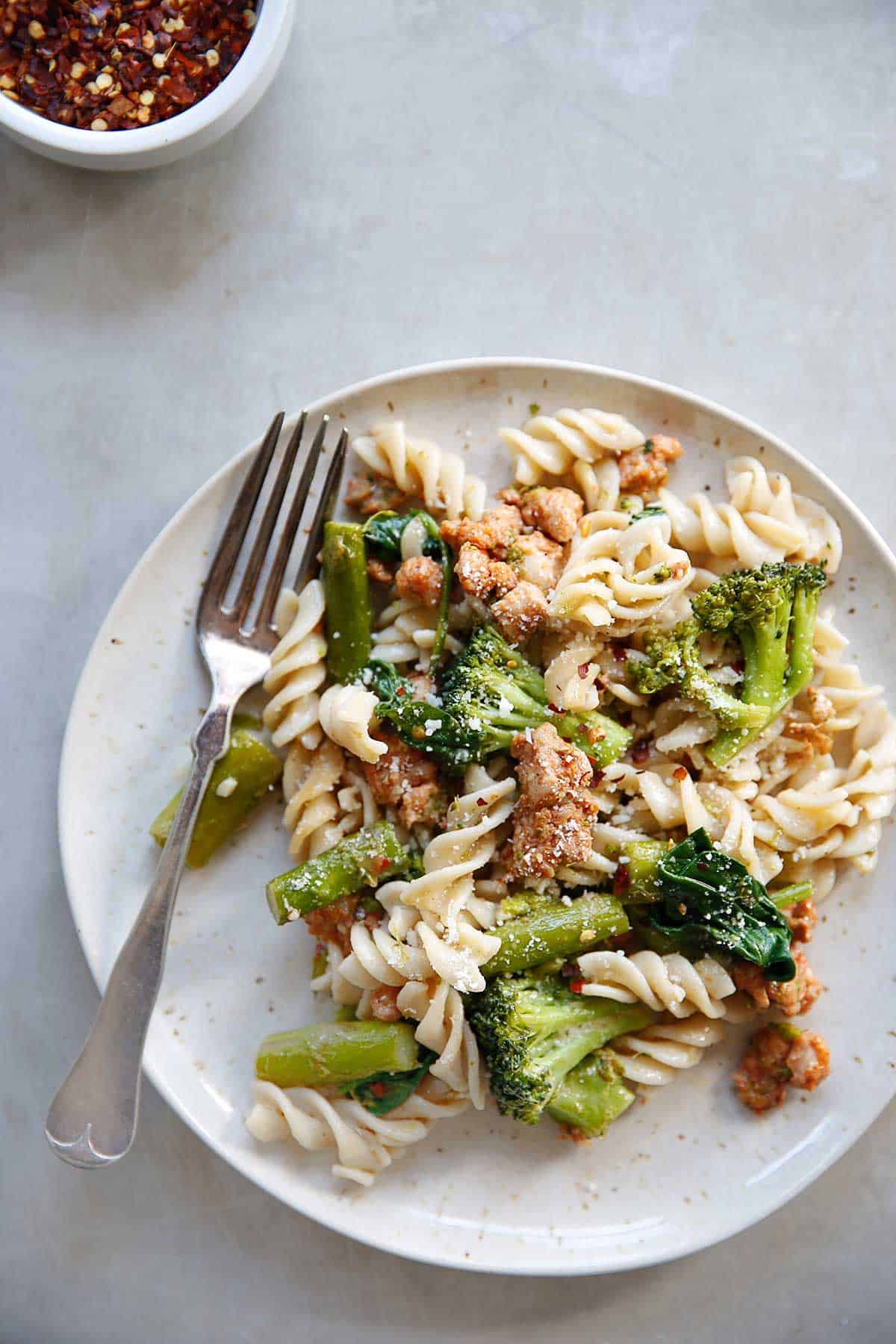 I always make this dish when entertaining. Super Bowl, a dinner party, or just having friends or family over. It's always a hit, and super easy to prepare!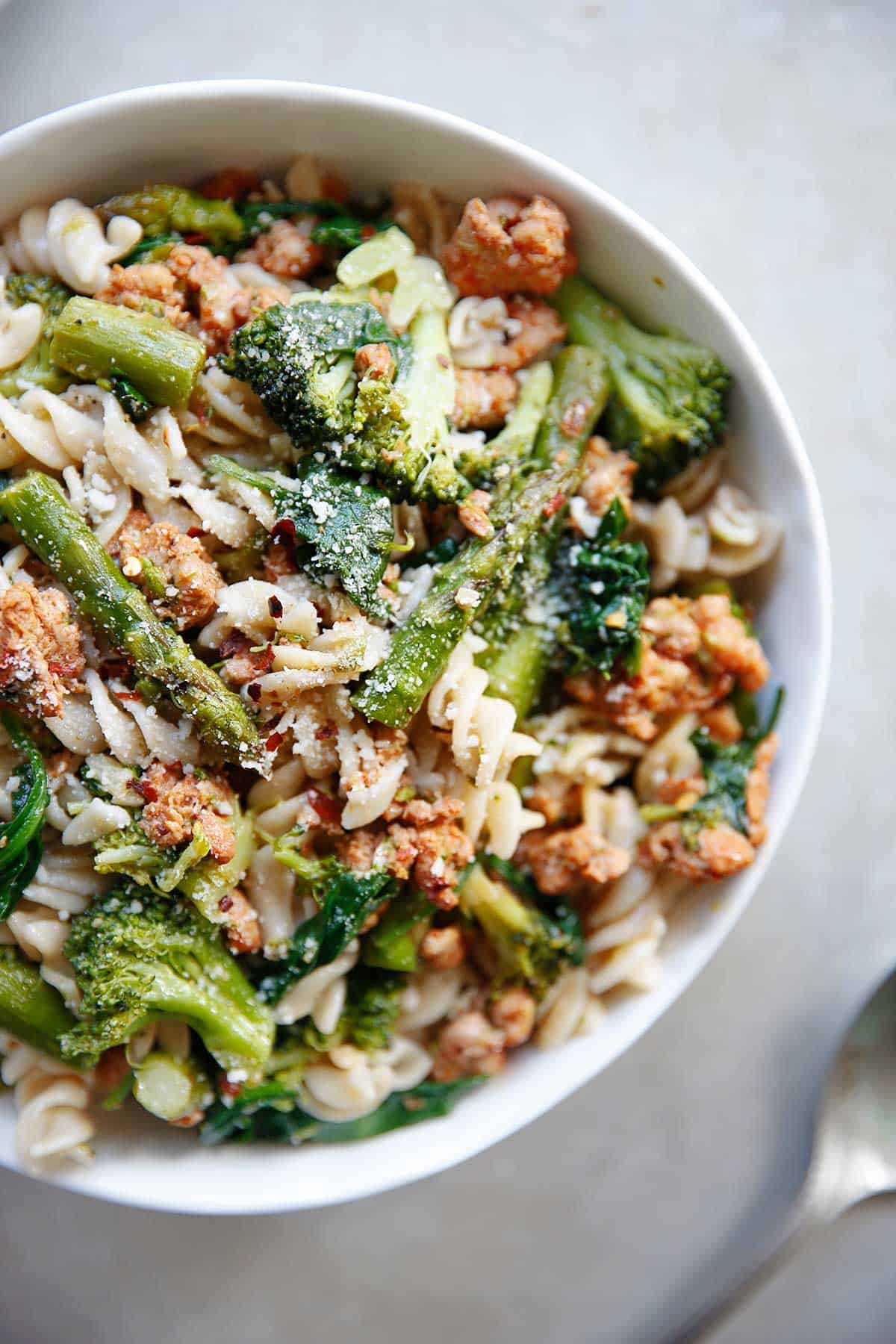 Watch the video:
Want more gluten-free pasta recipes? Try these favorites:
Sausage and Vegetable Pasta
This Grilled Salmon Bowl with Garlic Scapes and Kale makes for the perfect summer meal in a bowl. Packed with flavor and fabulous ingredients, this dish is packed with everything you need for a delicious and nutritious lunch or dinner.
Grilled Salmon Bowl Recipe
This Grilled Salmon Bowl is the perfect healthy dinner that will leave you feeling way better than before you ate it. It starts with some perfectly grilled salmon. You can grill either outside or "grill" underneath the broiler in the oven. Then pile that salmon with some garlicky wilted kale, rice and your choice of pairings. This is the perfect spring or summer dinner that is also paleo-friendly, Whole30 and gluten and dairy-free.
Last year was my first year of joining a local CSA and frequenting my new town's farmers markets. I came home week after week with incredible amounts of produce like this kale and garlic scapes, many of which at a loss of what to do with. (P.S. if you're looking to save money eating organic, a CSA is an amazing resource). This year I'm working through all the different types of produce I take home to create into delicious meals that can be recreated by you.
Salmon Rice Bowl Ingredients
For the fish:
Wild Salmon
Olive Oil
Dijon mustard
Coconut Aminos
Lemon
Salt and Pepper
Kale
Garlic scapes (if available, or garlic cloves)
Cooked White Rice
Salmon Bowl Toppings:
Top your salmon bowl with whatever you have handy or you think might go well with it. I enjoyed topping mine with these options:
Avocado
Cucumber
Scallions
Radishes
Soft-boiled eggs
Sesame Seeds
How to Grill Salmon
There are two choices for grilling this salmon. The first is on a traditional grill outdoors. Though if that isn't available to you, feel free to "grill" this under your broiler.
To "grill" fish in the oven: Place broiler on high. Place fish on a lined and greased baking sheet and broil for 7 to 9 minutes depending on the thickness of your fish. Add sesame seeds to garnish.
To grill on an outdoor grill: Grease grill and heat to medium. Place fish on a sheet of tin foil and cook for 8 to 10 minutes until fully cooked to your liking. Add sesame seeds to garnish.
If you like this salmon recipe, check out these others:
[yumprint-recipe id='368′]

Grilled Salmon Bowl with Garlicky Kale
These Gluten Free Garlic Breadsticks takes my favorite gluten-free pizza dough recipe and turns them into a garlic lover's dream! They're easy to make and perfect to serve as a snack or alongside your favorite Italian dish.
Gluten Free Garlic Flatbread
I love garlic sticks, and this gluten-free version definitely doesn't disappoint! They're easy to make, without the hassle of waiting for yeast to rise and they're so delicious! Easy to whip up on with a weeknight dinner to serve alongside your favorite pasta dish or soup!

Ingredients Needed for Gluten Free Garlic Breadsticks
Tapioca Flour
Coconut Flour
Baking Powder
Salt
Garlic powder
Garlic
Italian seasoning
Ground flax meal
Palm shortening
1 egg
Butter

If you like this Italian inspired dish, check out these others:
[yumprint-recipe id='303′]
Gluten Free Garlic Breadsticks
This Cajun Garlic Shrimp Paleo Noodles recipe is the perfect 20 minute meal! Whole30-compliant, easy, and delicious with a little kick of spice!
Cajun Garlic Shrimp Paleo Noodles
This simple weeknight dinner isn't complicated, but tastes absolutely fantastic! Using only a handful of ingredients this easy Paleo Noodle Bowl has tons of veggies and cajun garlic shrimp with a little bit of a kick.
Now, because this is paleo, there aren't actually any noodles in this recipe. Instead I use zucchini noodles. I love my spiralizer. I use it at least once of week and usually don't stray far from my beloved zucchini linguine. And it works perfect here as gluten free noodles!
Ingredients Needed
Shrimp
Avocado Oil
Garlic
Red Pepper
Onion
Spiralized Zucchini
Green Onions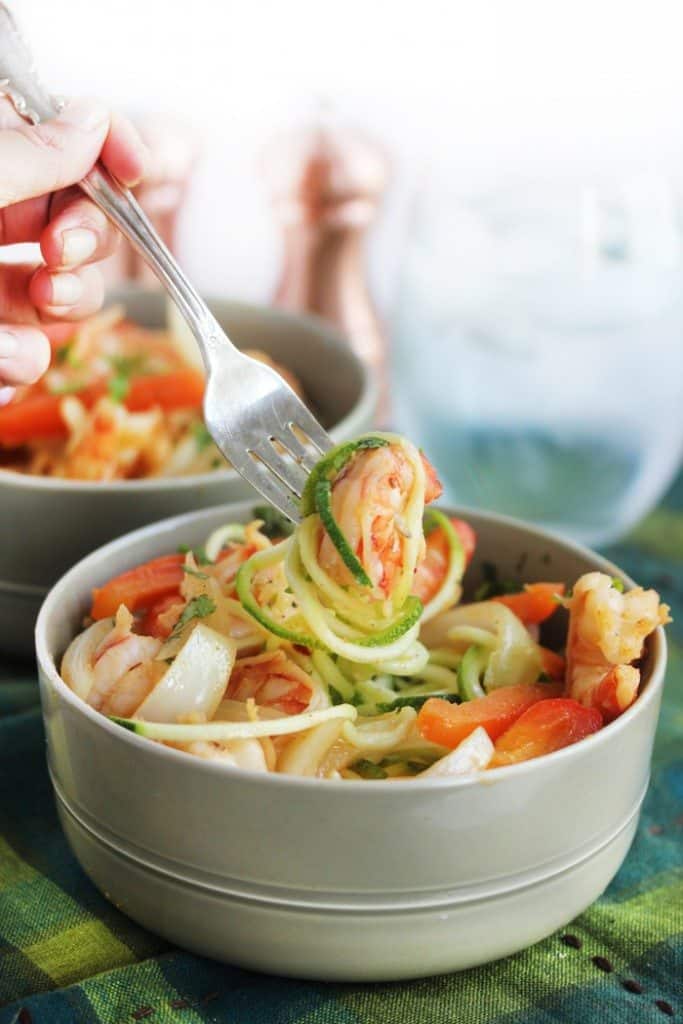 Check out these other Paleo Shrimp Recipes: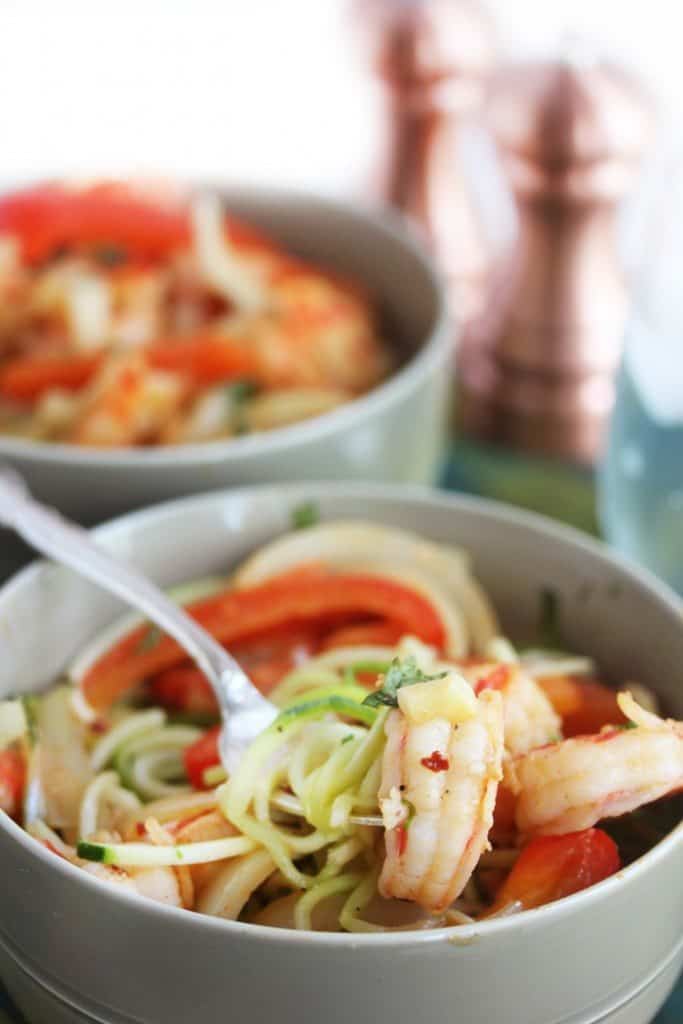 If you like this quick weeknight paleo dinner, check out these others: