This Loaded Grilled Eggplant with Creamy Herb Sauce is the perfect vegetarian dish to serve all season long! The perfectly grilled eggplant is topped with a nut based vegetarian filling, a creamy sauce and finished with tons of fresh herbs. It's unique and is so delicious. It's also gluten-free and Paleo and Whole30 compliant.
Loaded Grilled Eggplant Recipe with Creamy Herb Sauce
If you are looking for a hearty vegetarian Summer dish perfect for a Summer BBQ this is it! This grilled eggplant topped with a meatless umami flavored nut mixture and a creamy sauce will be the hit of any part it's served at. This interesting dish will be loved by meat eaters and non-eaters alike.
The inspiration for this recipe came from Yotom Ottolenghi's cookbook, "Jerusalem". He has an eggplant dish where he covers the eggplant in za'tar, baked it and then tops it with a buttermilk sauce! Ever since seeing it, I had to try to make my own dairy-free version with all sorts of fresh summer herbs!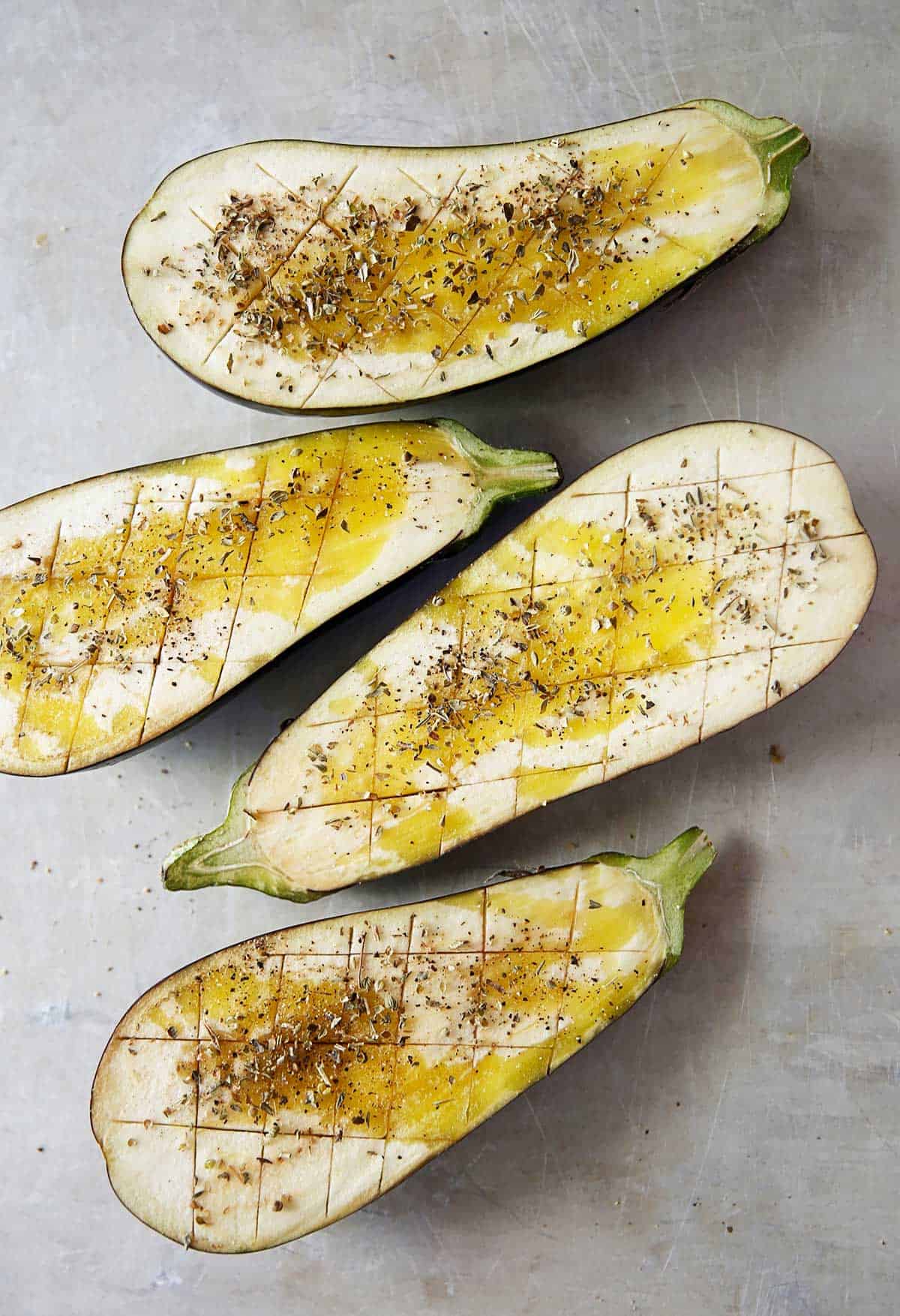 If you have ever cooked with baby eggplant before you know that they are not just adorable, but also have a slightly sweet flavor. The combination of the grilled baby eggplant with the savory creamy sauce is perfection. We now want to use this sauce on everything!
Steps to Make This Grilled Eggplant Recipe:
Make the dressing
Toast the meatless nut mixture
Grill the eggplant
Assemble the eggplants!
How to Grill Eggplant
Preheat grill
Slice the eggplant or cut in half, as desired. Score the eggplant if cutting in half.
Salt the eggplants for about 30 minutes to let the excess moisture drain out
Pat the eggplant dry
Brush with olive oil and pepper
Grill for 3-4 minutes on each side, until golden brown and soft to touch.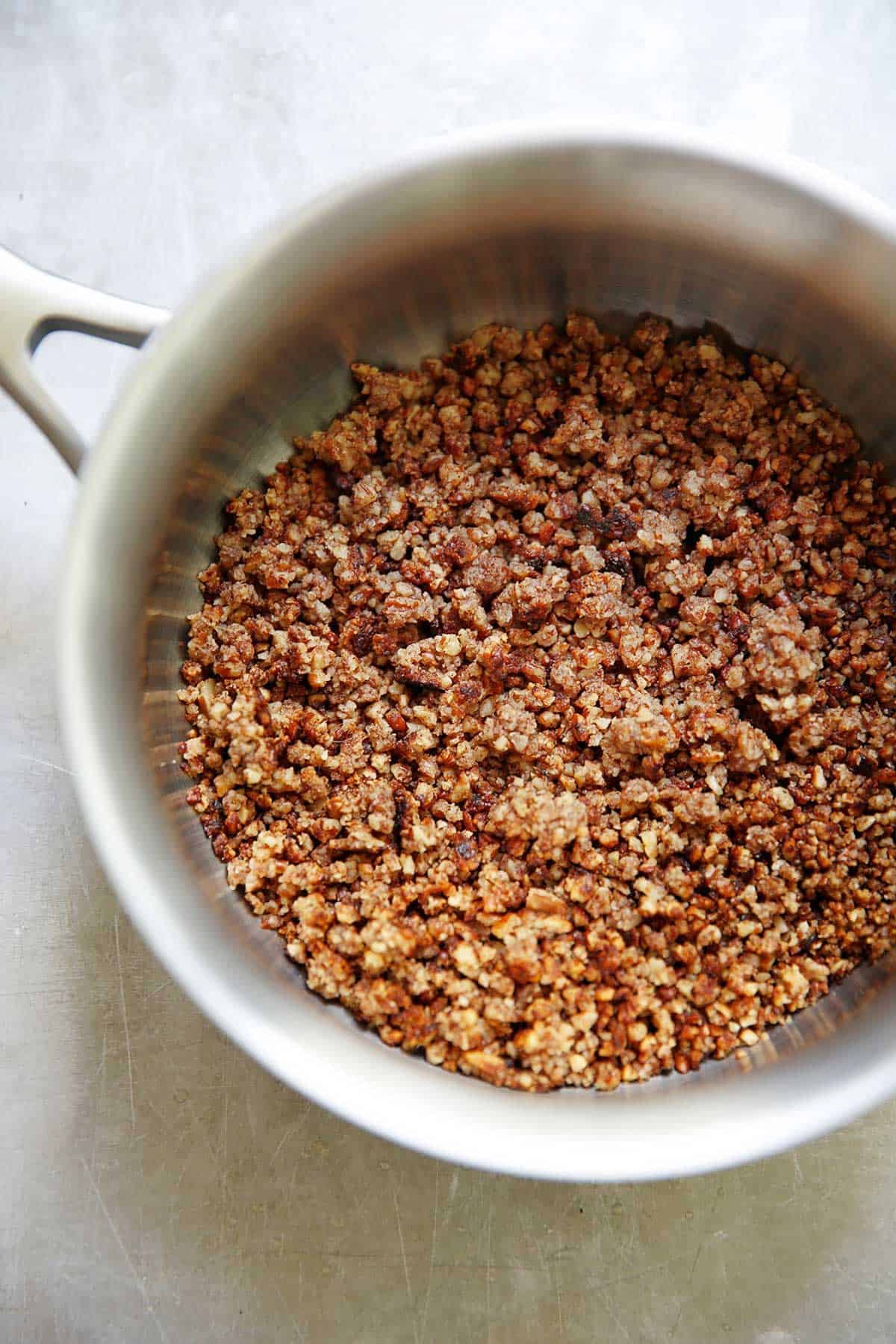 Watch the video: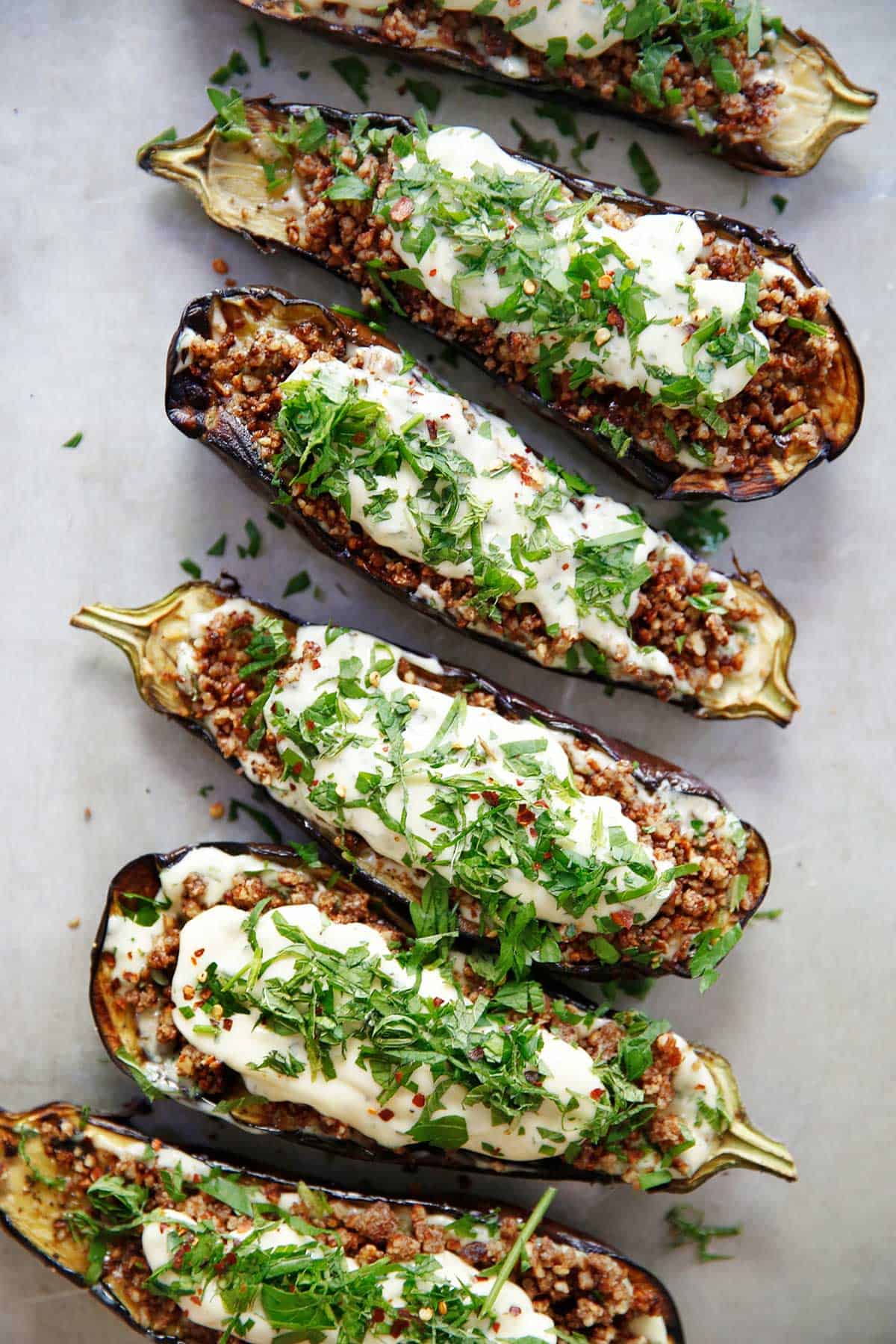 If you like this meatless dish, check out these others:
If you like this eggplant dish, check out these others:
Loaded Grilled Eggplant with Creamy Herb Sauce
Ingredients
Grilled Eggplant
Nut Crumble
Dressing
Garnish
Directions
Place all dressing ingredients in a blender and blend until well combined. Taste and adjust seasoning as needed. Place dressing in the fridge until ready to serve.
In a small saucepan, add the ingredients for the nut crumble over low heat. Mix until well combined and toast the nuts until fragrant. About 5-10 minutes. Set mixture aside until ready to serve.
Slice eggplant in half and score the flesh. Brush with olive oil and spices. Be generous with the olive oil and spices in this step. Heat and grease grill or grill-pan. Once hot, place eggplant on the grill, flesh side down. Grill for 3-4 minutes on each side, until golden brown and soft to touch.
Place Grilled eggplant on desired serving dish. Smear a generous amount of dressing onto each eggplant. Top with nut crumble and herbs. Serve warm!
Recipe Notes
*You can use regular eggplants here, but we find that this tastes best when you use Italian or baby eggplant!
Loading nutrition data...
There may be affiliate links in this post! By clicking on them, or purchasing recommended items I may receive a small compensation, at no cost to you! However, I only recommend products I absolutely love and use in my own home! Thank you for supporting Lexi's Clean Kitchen when you shop! See my
privacy policy
for more information about this, the information we save, and more!