These 30-Minute Thai Basil Turkey Bowls are a perfect meal prep recipe that comes together in no time! They are flavorful, delicious Whole30 approved, and packed with veggies to fuel you for your busy days ahead!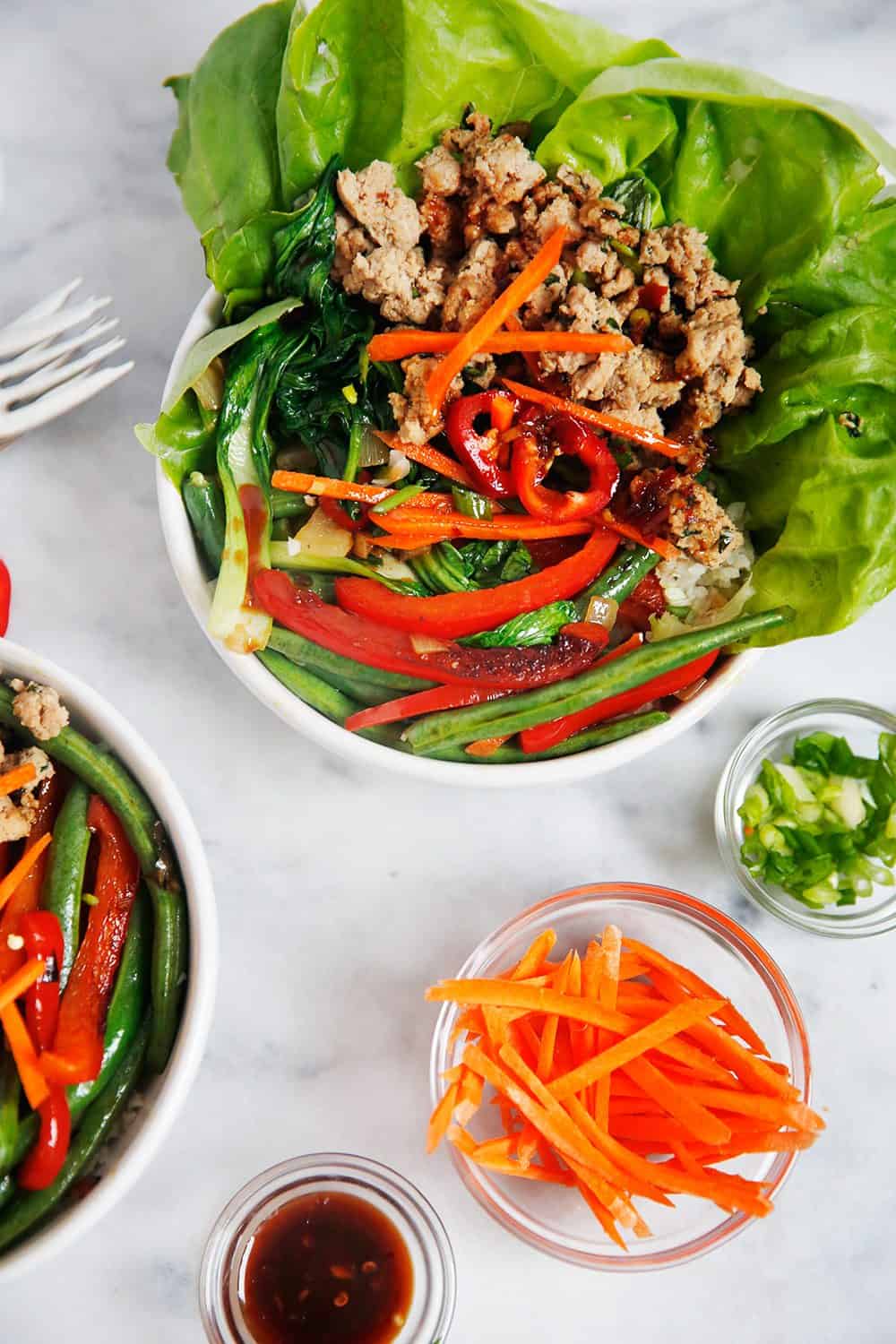 My blogging girlfriends and I have put together SIX meal prep recipes to help you have success in your kitchen this year! Meal prep is essential to setting yourself up for success during a busy week. It saves you time and money, and makes it so you don't even have to think about ordering something junky!
Taylor from Food Faith Fitness made you Greek Chicken Bowls
---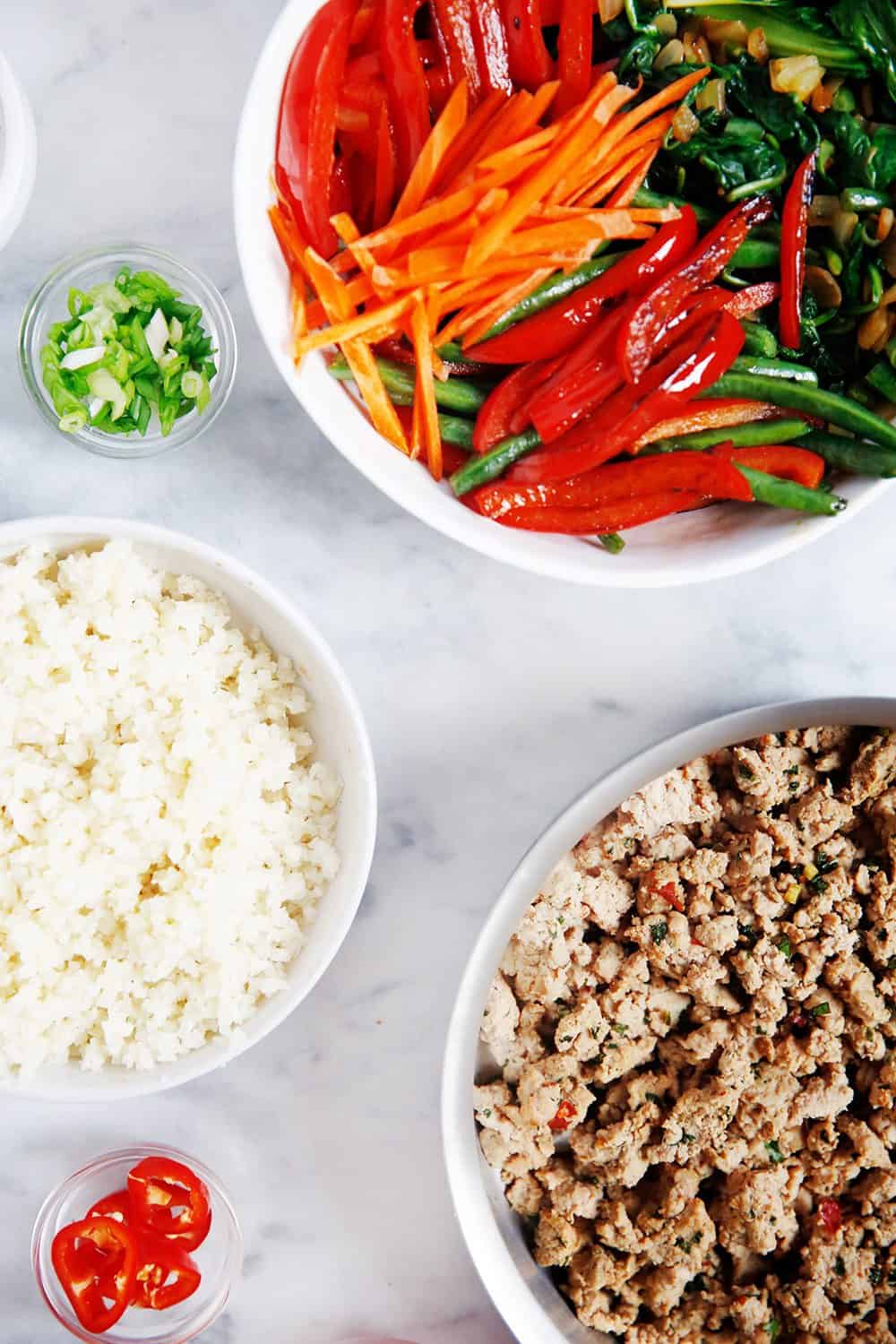 Seriously, these are my new favorite lunch or easy weeknight dinner. Each aspect of the dish can be made ahead of time (think Sunday meal prep), and then tossed together in individual containers to bring with you on-the-go anywhere!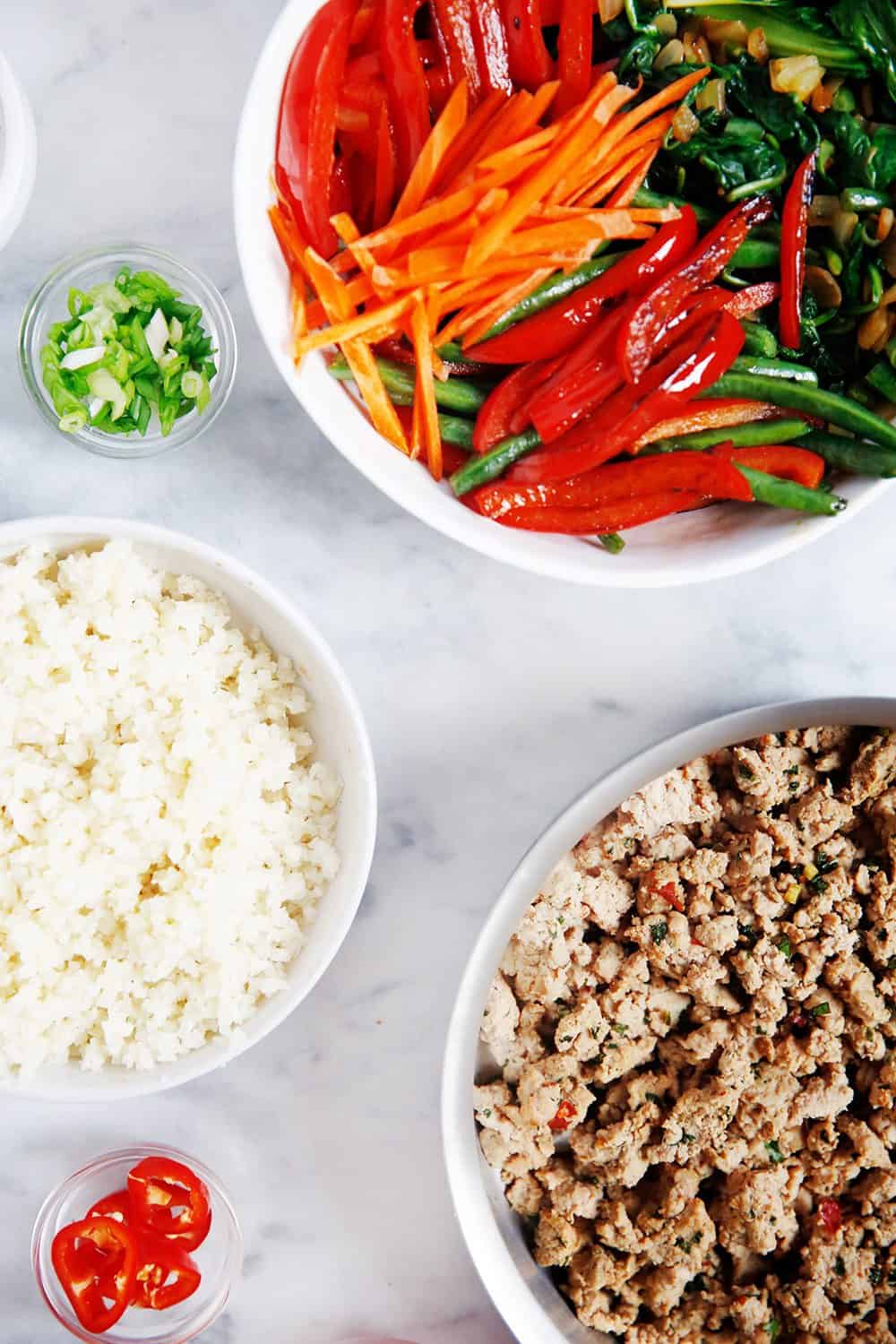 Prep your cauliflower rice.
Prep your turkey.
Prep your veggies.
Prep your additional sauce.
Assemble and GO! With the bonus of the most delicious lunch, ever!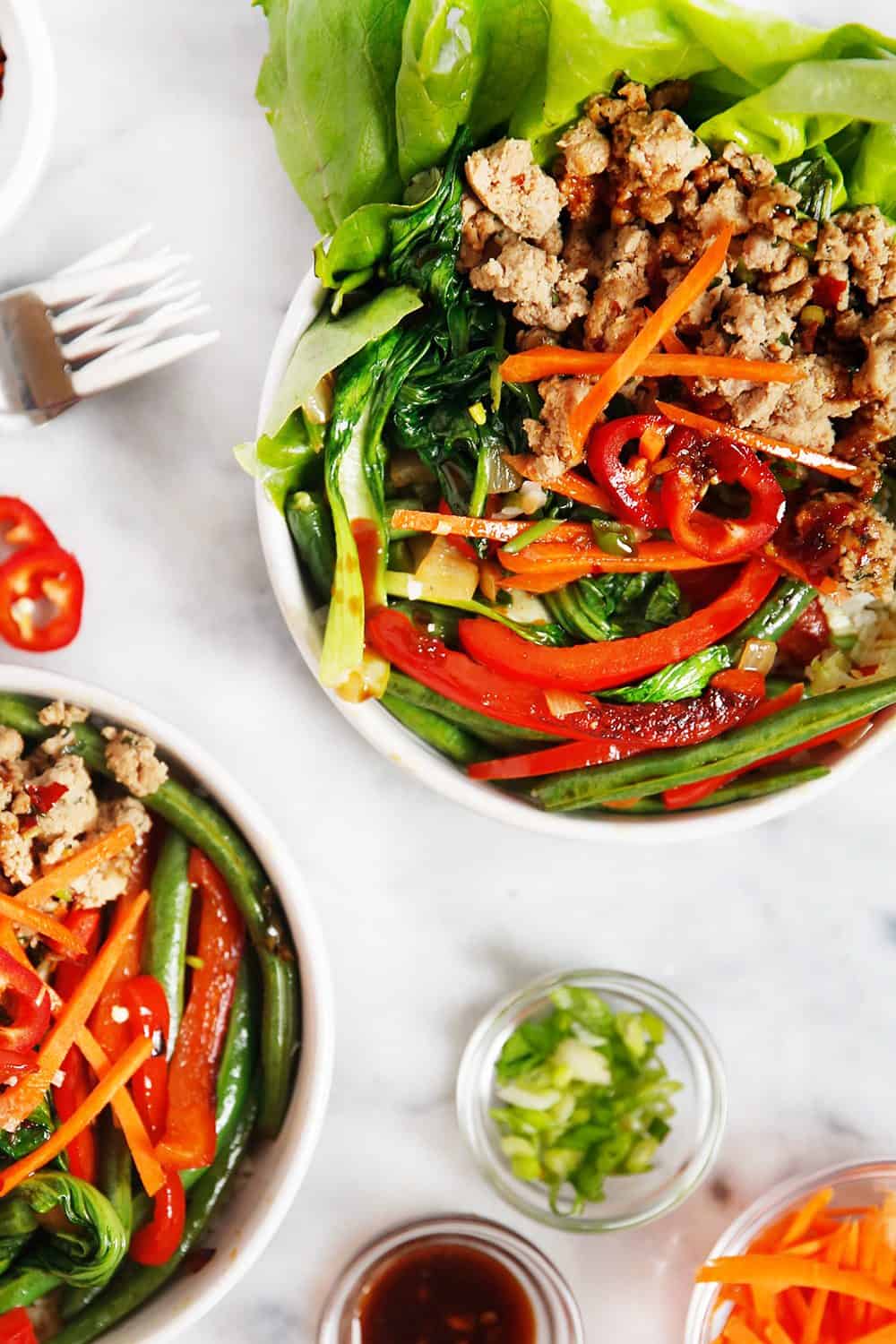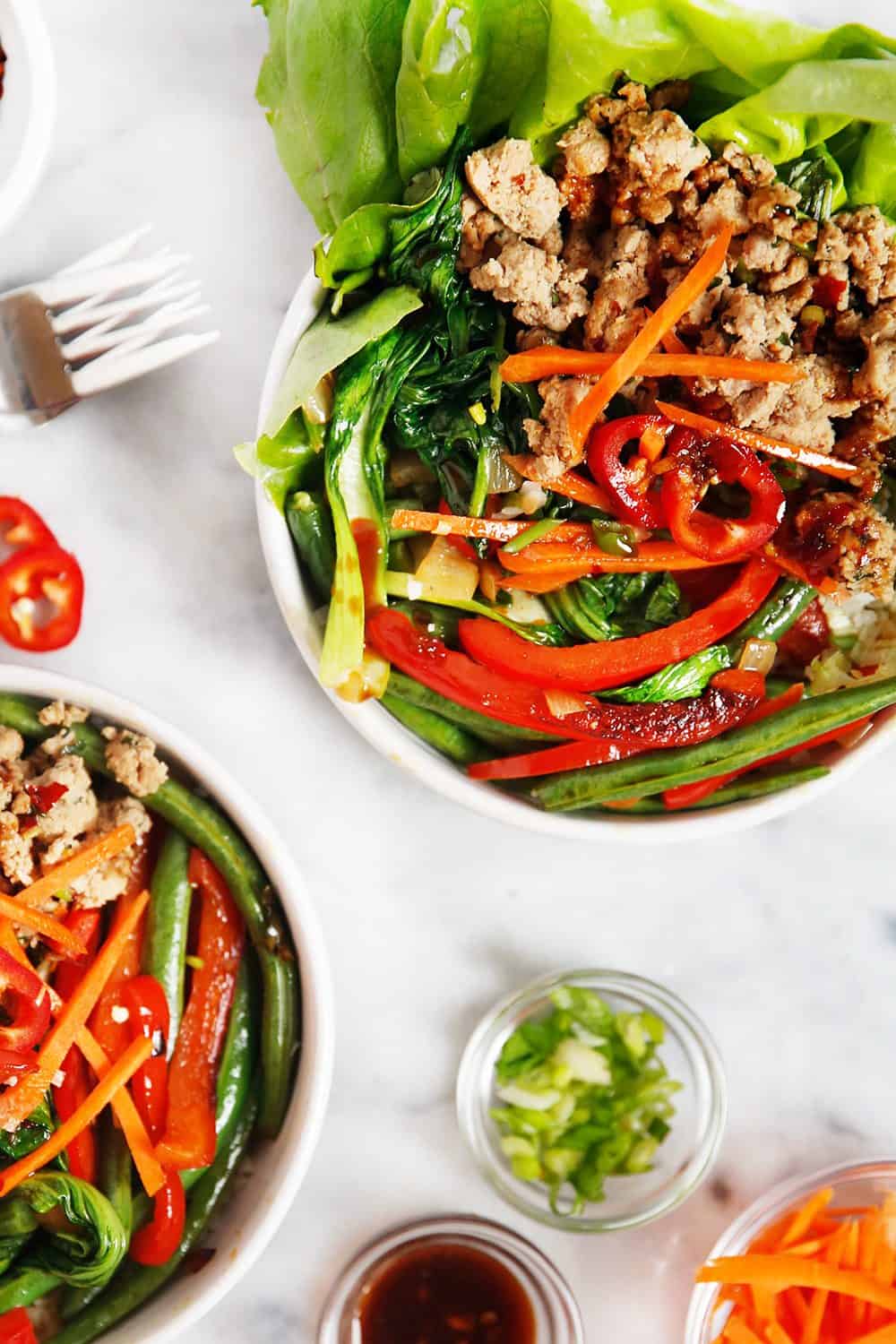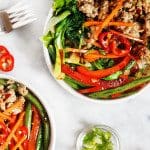 30-Minute Thai Basil Turkey Bowls
2017-01-07 00:32:10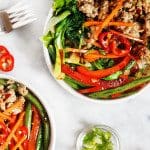 Serves 4
For the Turkey
1 teaspoon avocado oil
1 pound ground turkey
2 tablespoon coconut aminos
1 teaspoon sesame oil
1 teaspoon chili paste
1 teaspoon fresh ginger, minced
1/3 cup chopped basil
1 teaspoon lemon grass, sliced
1/2 teaspoon fish sauce
1/2 teaspoon salt
1/2 teaspoon pepper
For the Veggies
2 teaspoons avocado oil or extra-virgin avocado oil
1 bunch bok choy
1 medium onion, diced
2 Red Peppers, sliced
1/4 pound green beans
1 carton baby spinach
1/4 teaspoon fine sea salt
1/2 teaspoon black pepper
For the Cauliflower Rice
1 head of cauliflower, cut into florets
1/2 teaspoon fine sea salt
Sauce To Pour On Top
4 tablespoon coconut aminos
1 teaspoon chili paste
1 teaspoon fresh ginger
1/2 teaspoon fish sauce
Optional Toppings
1 red ghost pepper, sliced thin
1 tablespoon scallions, thinly sliced
1 carrot, julienned)
1 Head bibb lettuce, use the leaves to make lettuce wraps
Instructions
In a medium saucepan over medium heat, heat oil and add all turkey ingredients and mix until well combined (leaving 1 teaspoon of minced ginger aside for the dressing). Cook for about 3 to 5 minutes, until the turkey is browned and no pink remains. Taste and adjust salt and pepper as needed.
In a small saucepan add in the leftover ginger and the rest of the sauce ingredients. Bring to a boil over medium heat. Lower heat and let simmer for 1-2 minutes until it reduces slightly. Pour into a bowl and set aside for later use.
Pulse cauliflower florets in your food processor until it reaches a rice consistency and add salt. Sauté in a skillet for 2-3 minutes to slightly soften. Set aside.
Heat a separate saute pan with oil and add in diced onion, sliced red peppers and green beans. Cook until onion becomes translucent and veggies begin to soften. Add in spinach, box choy, salt and pepper. Cook until wilted. Remove from heat and set aside to cool.
Assemble
Place cauliflower into bowls or glass tupperware containers. Add veggies and turkey. Pour sauce on top and serve!
Lexi's Clean Kitchen https://lexiscleankitchen.com/