15 Cleaner Store-Bought Halloween Treats
Halloween is in the (fall) air, and if you're trying to keep your eating clean, it's a season that can be scary for more than just its spooky costumes. It's hard to go anywhere in October without seeing bags and bags of bargain candy lying around, chock full of artificial ingredients and ready to tempt you. But guess what? You don't have to choose between celebrating Halloween and offering healthy candy choices! It's actually possible to do both… and to give trick-or-treaters something fun to walk away with on October 31 without spending hours in the kitchen to get it done.
15 Healthy Candy Options for Halloween
Be the coolest (and healthiest) house on the block.
---
Check out these healthy candy options for Halloween treats, all of which you can order or buy in-store!
1. All the YumEarth Halloween Healthy Candy Options: Just because you're trying to keep things on the cleaner side with the snacks you're handing out to trick-or-treaters doesn't mean that you have to give up candy entirely! I understand that you probably have at least a little nostalgia associated with getting sweet treats on Halloween, and YumEarth's awesome products will give you a chance to spread the love to your neighborhood kiddos without spreading scary ingredients and allergens. All of YumEarth's offerings are organic, non-GMO, gluten-free, vegan, and nut-free, so you can feel really good handing out their lollipops, CANDY CORN, gummy bears, licorice, fruit snacks, sours, and hard candies come trick-or-treat night.
2. UNREAL Chocolate Treats: If chocolate is your Halloween treat weakness, then you need to check out UnReal's line-up. This awesome brand makes peanut butter cups, almond butter cups, chocolate-covered peanuts, chocolate bites with quinoa, and more to satisfy every one of your chocolate cravings in October and beyond. They also use exclusively fair trade, sustainable, and organic ingredients and are certified gluten-free, vegan, and non-GMO. No downside here, chocolate lovers!
3. Justin's Nut Butter Cups: Justin's is more than just their nut butter packs. In fact, their nut butter cups might be just the thing to round out your Halloween treat selection. Available in milk, dark, and white chocolate with peanut butter, cashew butter, and almond butter, these delicious little bites will make your sweet tooth sing… and with all-natural ingredients!
4. Enjoy Life Halloween Candies:The Enjoy Life company is great all year long, but they're really showing up for the upcoming occasion with mini dairy-free chocolates in dark chocolate, ricemilk, and ricemilk crunch flavors. All of Enjoy Life's products are free of gluten and other major allergens like soy, peanuts, egg, and sesame. The crunch is my personal favorite!
5. Hu Kitchen Dark Chocolate: Chocolate lovers, I have more good news for you — chocolate from Hu Kitchen gets the LCK stamp of approval and is another possibility for Halloween gifting! Every Hu product is free of dairy, GMOs, refined sugar, cane sugar, and sugar alcohols, so no matter which flavor you go with, you can feel pretty good about it. These might be just a litttttle on the pricey side for trick-or-treaters, but they are ideal clean treats to have on hand for you and your loved ones this Halloween season.
Other non-candy healthy Halloween treat options:
6. Pretzel Bags: There's absolutely nothing lame about handing out bags of mini-pretzels to costumed kiddos, so get over that stereotype. Most kids love snacking on pretzels… and parents will be thrilled to see their littles come home with at least a few treats that aren't chock full of sugar. Snyder's of Hanover offers mini-bags of gluten-free pretzel sticks. You might also consider pretzels from the Whole Foods 365 brand or cauliflower pretzels from From the Ground Up.
7. Sensible Foods Freeze Dried Fruit Packs: I've recommended freeze dried fruit as a convenient and healthy store-bought snack before (they're perfect as a clean travel snack!), but it's a great Halloween option, as well. The Sensible Food brand is perfect for the occasion, because they offer small, easy-to-hand-out packets in dried Fuji Apple, Cherry Berry, and Tropical Blend varieties. Best of all, they're all made with nothing but fruit, straight from nature! Yum.
8. Smashmallow Mini-Bags: Between s'mores and cocoa (like my dairy-free mocha hot chocolate recipe!), there's something just a little extra cozy and nostalgic about a marshmallow… and you can capture those vibes for trick-or-treaters this Halloween by handing out mini-bags of Smashmallows! More than just delicious, Smashmallows are marshmallows made with organic cane sugar and sustainable dark chocolate, and they're certified by the Rainforest Alliance, making them that much more guilt-free. Smashmallow Snack Packs are available in cinnamon churro and mint chocolate chip flavors, and I'm pretty sure any kid that comes to your house is going to be obsessed. You might also consider handing out Smash Crispies, individually packaged crispy rice treats that play by the same ingredient rules as the company's yummy marshmallow selection.
9. Annie's Organic Bunny Grahams: The perfect blend of graham and animal crackers, these delish Bunny Grahams from Annie's Organic are absolutely ideal Halloween handouts. Annie's has been making organic cool in mainstream spaces for years now, but in case you need a reminder, all of their products are certified organic and non-GMO. I would highly suggest picking up a few extra packs of Bunny Grahams for yourself! They're great to have on hand for snack cravings throughout the fall.
10. Boom Chicka Pop Sweet & Salty Kettle Corn: There's a reason people talk about the magical marriage of salty and sweet. It really is magical… and it appeals to lots of taste buds. I've tried to capture this myself with my recipe for Maple Kettle Corn, but you can skip the DIY portion and get the same effect for trick-or-treaters by picking up packets of Boom Chicka Pop's kettle corn. This popcorn is whole-grain, gluten-free, and free of cholesterol and trans fat, making it a healthier alternative to its competitors. As the bags say, "BOOM!"
11. Surf Sweets: Satisfy your craving for all things gummy this Halloween with the amazing Surf Sweets brand! You've got your gummy bears and your gummy worms — not to mention lollipops and jelly beans! — some of which are sour or flavored with cinnamon. Surf Sweets even has a Spooky Shapes multipack, which is (literally) made for October. The best part about all Surf Sweets products is that they're allergy free, making them that much safer for trick-or-treating, Halloween parties, and classroom celebrations. They're sweetened with organic cane sugar and organic fruit juice and are colored with vegetable dye… all of which sounds perfectly okay to me!
12. Skinny Pop Popcorn: SkinnyPop is basically just popcorn without all of the things that make regular popcorn questionable health-wise. It's made using just popcorn kernels, sunflower oil, and salt! I'm pretty sure you can't get much simpler than that. With this in mind, SkinnyPop's smaller bags might be just what you're looking for as a Halloween treat.
13. SmartSweets Gummies: "Kick Sugar, Keep Candy!' is the SmartSweets motto… and it's a plan that I can completely get behind. Gummy lovers rejoice, because this company believes that candy doesn't have to be terrible for you — and they're proving it every day with their line of gummies, all of which are made without sugar alcohols, artificial colors, artificial flavors, gluten, and GMOs. SmartSweets may be your new go-to destination for gummy fish, sour gummies, gummy bears, and peach rings —some of which are even plant-based — for Halloween and beyond.
14. Biena Baked Chickpea Puffs: Prepare to be the coolest neighbors on the block! I'm pretty sure most of your trick-or-treaters will be new to baked chickpea puffs, and it's hard not to be popular when you introduce something so fresh and so cool to your community! Biena's chickpea puffs are available in sample-sized bags in a variety of flavors (Vegan Ranch, Blazin' Hot, Aged White Cheddar). What's up, trendsetter?
15. RX Nut Butter Packets: Shake things up this trick-or-treat night by skipping the traditional candy and handing out healthy nut butter packets from RXBAR instead! This high-protein, no-filler brand offers a wide range of nut butters — everything from chocolate peanut butter and vanilla almond to honey cinnamon peanut butter and peanut honey butter, plus so many more! — in handy little packets that are perfect for tossing into a trick-or-treat bag. If you decide to hand these out, don't forget to have some alternative options on hand for kiddos with nut allergies. No trick-or-treater left behind!
P.S. Don't forget about the Teal Pumpkin Project for those who need non-food items! Check out everything you need for it here.
---
Pin these healthy candy options for later: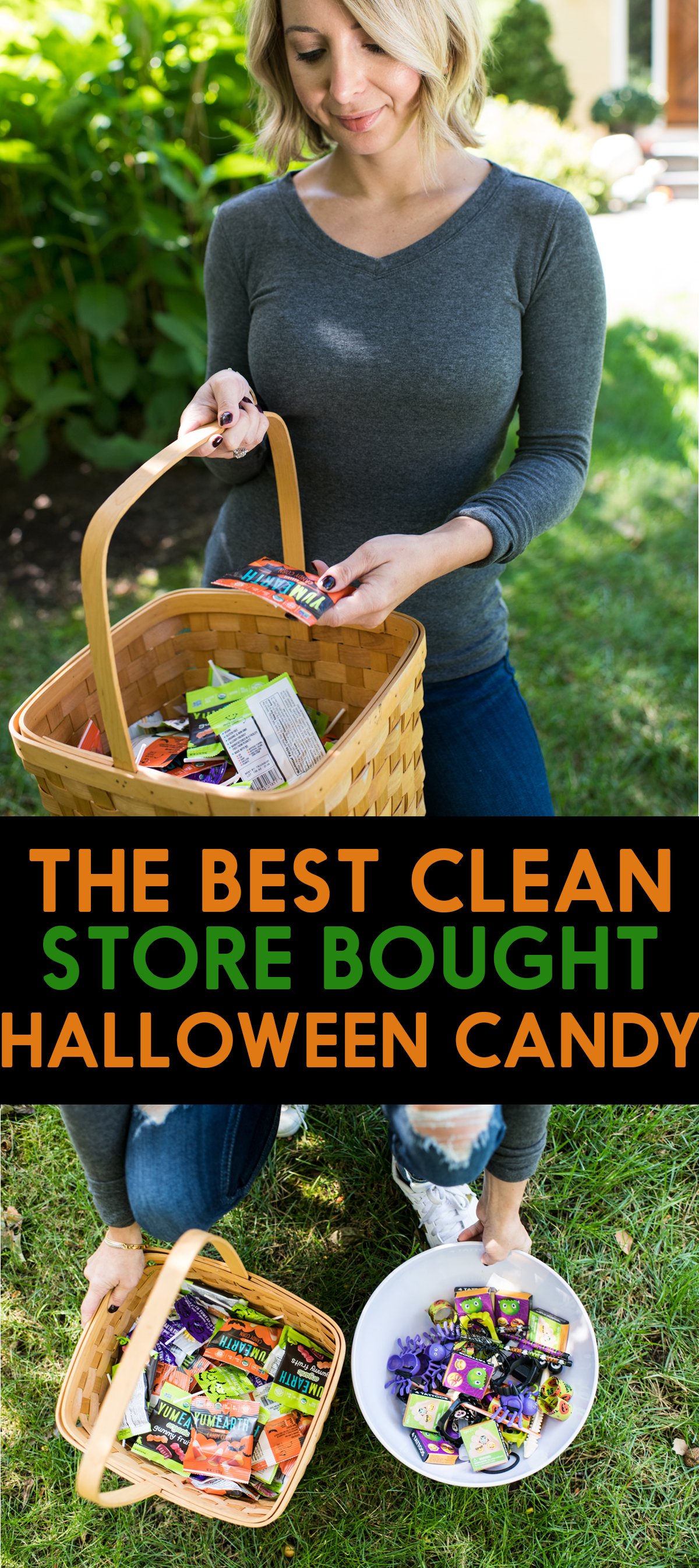 15 Cleaner Store-Bought Halloween Treats
Homemade Chocolate Pumpkin Cups are the easiest and most delicious DIY halloween candy to make in the fall. Plus these ones are healthy! Made with a handful of wholesome ingredients like pumpkin puree, chocolate and nut butter, these chocolate cups are paleo-friendly and made without any refined sugars.
Chocolate Pumpkin Cups
Time to get in the Halloween spirit with these healthy Chocolate Pumpkin Cups. They taste like an indulgence but are really a well balanced treat that you won't feel guilty about having! These pumpkin cups are made with a handful of good-for-you ingredients and healthy fats like pumpkin puree, nut butter and coconut oil, and are quite simple to put together. Make a batch now and have healthy "candy" in your freezer for whenever you need a treat.
Ingredients Needed for Chocolate Pumpkin Cups
What Type of Nut Butter to Use
While we developed this recipe using almond butter, feel free to swap out any nut butter that sounds good to you! Peanut butter and cashew butter would be great choices here as well!
Nut Free Options
You can make this nut-free with two options. You could replace the almond butter or peanut butter with sunflower seed butter. Or, you could replace the nut butter all together and stuff these chocolate cups with 1 heaping tablespoon of homemade pumpkin butter.
How to Melt Chocolate
Melting chocolate is really the only cooking that this recipe requires. We suggest melting chocolate over a double-boiler. Most people don't have an actual double boiler at home, so make up your own by placing a heat proof bowl over a simmering pot of water. Just make sure that the bowl is not touching the water. Using this method to melt the chocolate is easy and it ensures you don't over cook the chocolate. Overcooking the chocolate can make it separate, or "break".
The microwave is an alternative way to melt chocolate. If you do use the microwave heat the chocolate in very short bursts, no more than 20 seconds, while whisking in between each time.
If you like this homemade chocolate cup recipe, check out these others:
If you are all about the pumpkin recipes, check out these others:
Pumpkin Butter Cups
---
---
Directions
Melt chocolate as desired (stovetop or microwave.
Place mini cups on a baking sheet.
Place 1/2 tablespoon of chocolate into each of the molds.
Drop in 1 teaspoon of almond-pumpkin mixture into the center of the chocolate.
Cover with remaining chocolate. Sprinkle with coarse sea salt.
Place in refrigerator or freezer until cups harden.
---
Nutrition
Loading nutrition data...
Sea Salt Chocolate Pumpkin Cups
These Cookie Truffles are the CUTEST gluten-free treat that you can make for any occasion. They're made using a handful of ingredients, including our favorite gluten-free chocolate cookie, are no bake and are so easy they'd be a great activity to do with the kids! Perfect to serve up for any fun event! Think Christmas, Hanukkah, Halloween, Valentine's Day, or just for a sweet treat! Made in partnership with my friends at Simple Mills!
Cookie Truffles
How cute are these gluten-free Cookie Truffles? They are a super easy treat to put together and they are SO DELICIOUS! I was inspired to make these based off of those Oreo truffles that you see all over the internet. I won't lie, that version is good, but the ingredients in them are no longer a part of my diet so I knew when planning for halloween recipes that it was time to re-create it!
The truffles couldn't be easier to make! They use minimal ingredients with super simple directions and could definitely be a fun family activity to get in to the halloween spirit. We decorated our truffles as mummies, which include a white chocolate coating, but we're also including substitutes to make dairy free versions using dairy free dark chocolate and dairy free cream cheese. We tested both versions and both were equally delicious.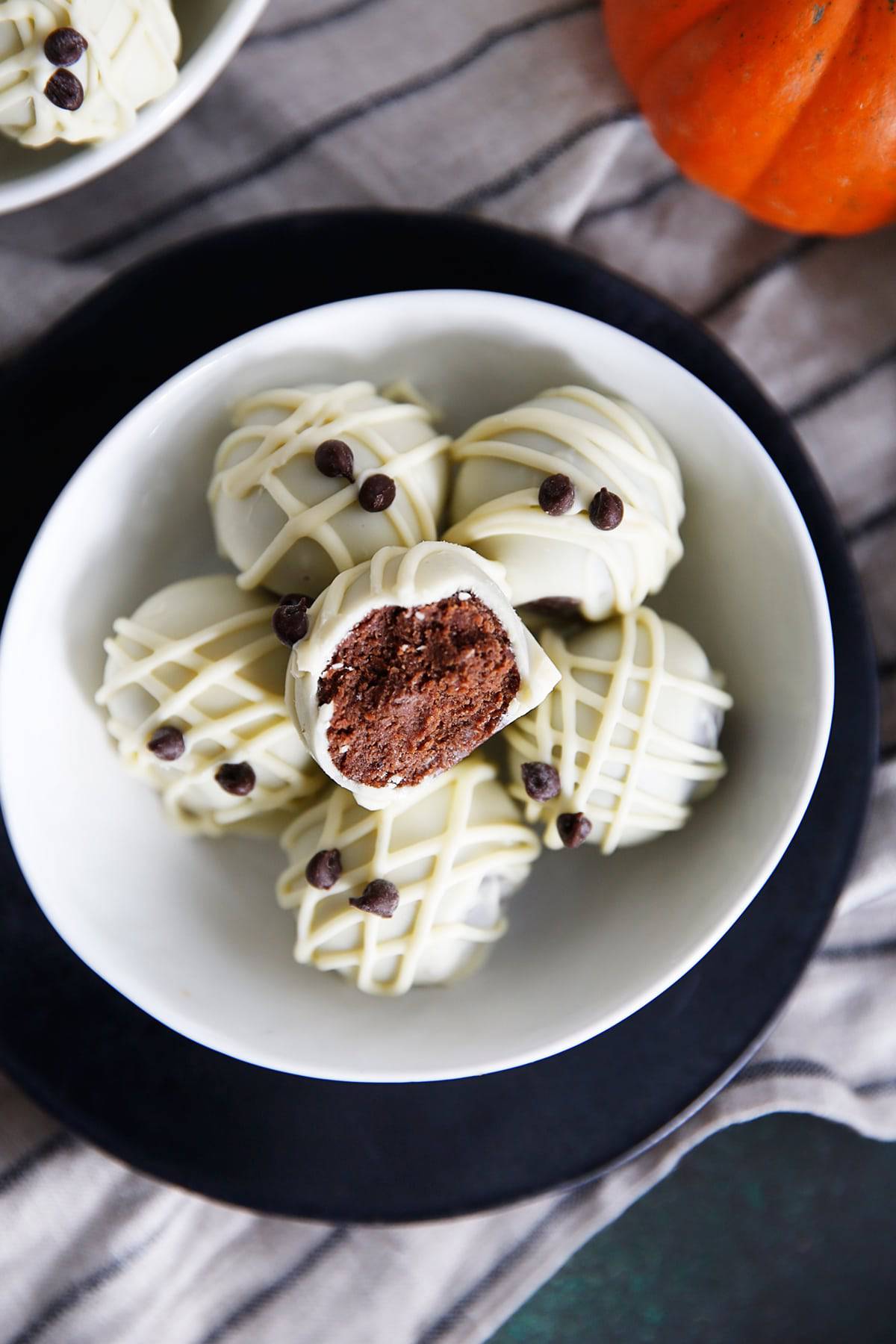 A few notes and tips on making Cookie and Cream Truffles:
To crush the cookies you can either do so in a food processor, or you can place the cookies in a zip tight bag and roll over them with a rolling pin. We did it both ways and the outcome of the cookies were the same either way! Because it involved washing less dishes we preferred doing it by hand with a bag and rolling pin.
Make sure to cool the cookie truffles before coating with the chocolate! This helps the truffle hold its shape, and it helps the chocolate set quicker. If you are making the mummy version, make sure to also cool the white chocolate coated truffles before piping or drizzling on the stripes.
When decorating the mummies with the stripes, move quickly to place on the chocolate chips "eyes" because the white chocolate can set quickly.
Choose a high quality white chocolate! We found a few versions that had only about 6 ingredients! If doing a dairy free dark chocolate truffle make sure to check that the chocolate you buy is dairy free.

Best Store-bought Cookies to Use for Cookie Truffles
The most important element to this recipe is the cookie! I came across Simple Mills products a few months ago and was instantly in love. The crackers were the first product I tried and I loved how much they reminded me of my beloved childhood saltine. Now, they're a staple in my house and have since tried many more of the products. So when I was looking for the best cookie to make these truffles I knew Simple Mills would be it! I find them in many grocery stores, on Thrive Market, and on Amazon here! When we tested these cookie truffles, we were blown away by these crunchy cookies and knew they were the answer for our convenient no-bake treat!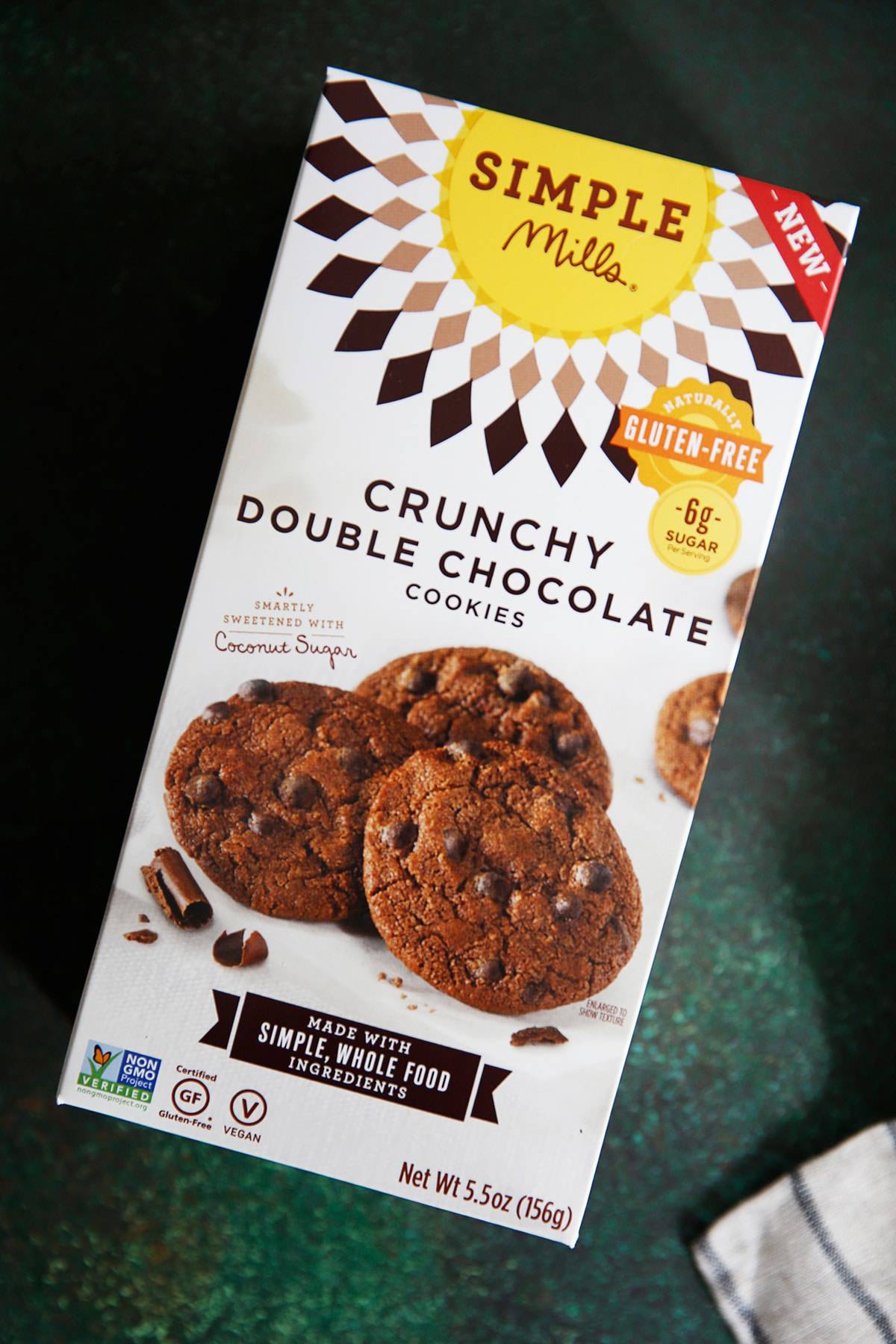 If you like this easy treat, check out these others: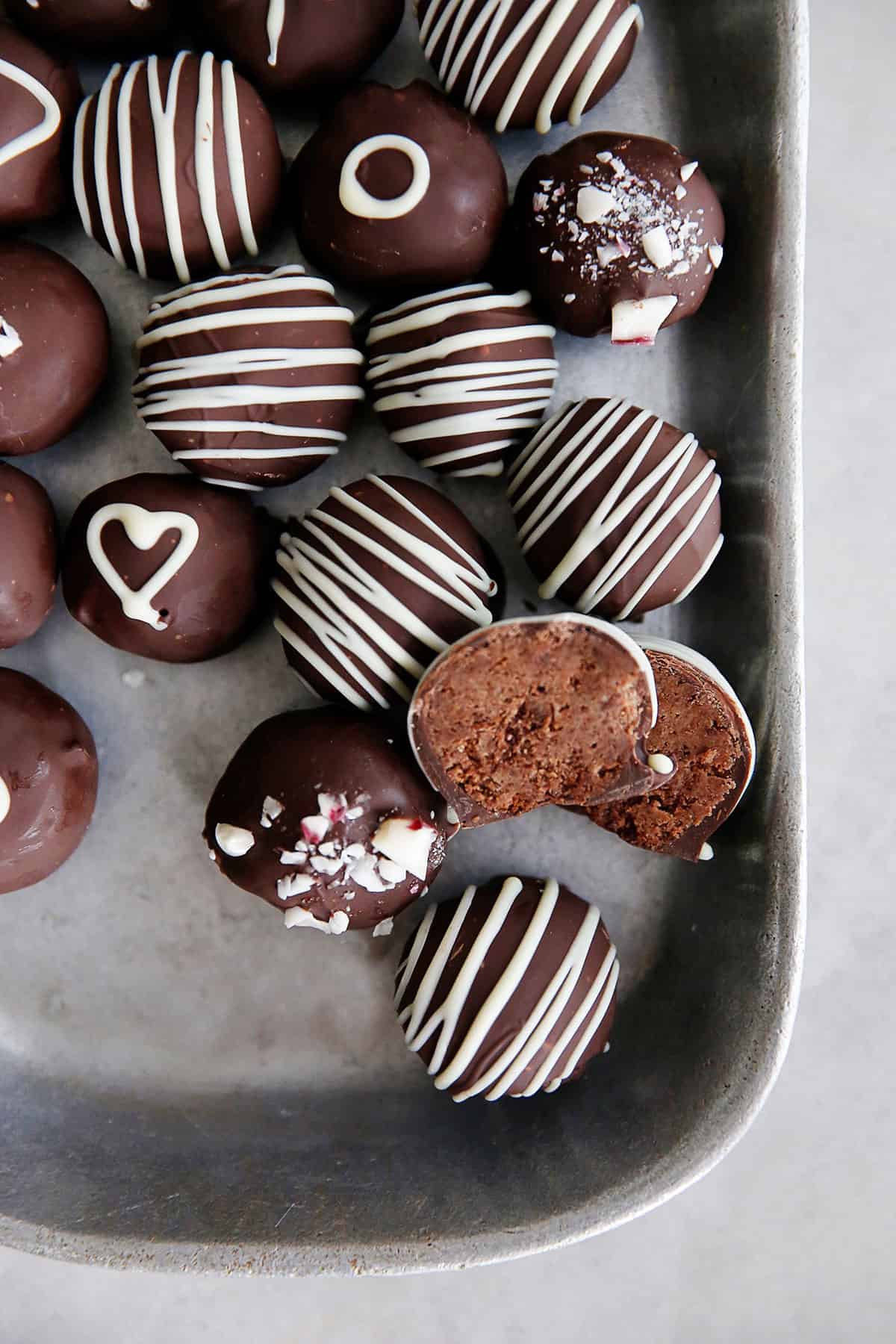 Cookie Truffles
These  Cookie Truffles are the CUTEST gluten-free treat that you can make for any occasion. They're made using a handful of ingredients, including our favorite gluten-free chocolate cookie, are no bake and are so easy they'd be a great activity to do with the kids! Perfect to serve up for any fun event!
---
---
Ingredients
8 ounces cream cheese, softened (see note for dairy free)

¼ cup organic powdered sugar or 3 tablespoons coconut sugar

2- 5.5oz boxes Simple Mills Double Chocolate Crunchy Cookies

1 teaspoon vanilla extract
8 ounces good-quality white chocolate or dark chocolate
Chocolate chips, to garnish
Other garnish ideas: Crushed Candy Canes, Sprinkles, etc.
Directions
In a stand mixer or with a hand mixer, beat cream cheese and powdered sugar until light and fluffy.
Crush chocolate cookies either with a food processor, or by hand in a plastic bag with a rolling pin, until finely ground.
Add ground cookies and vanilla extract to cream cheese mixture until fully combined.
Take a tablespoon of mixture and roll into balls, roughly about 28 and place on a small baking sheet lined with parchment.
Place in refrigerator to firm up, at least 20 minutes, or 1 hour.
Melt white chocolate, using preferred method (see note), and let cool slightly before moving on to next step, about 5-10 minutes.
Using a fork dip each truffle in melted white chocolate until fully coated and excess chocolate has dripped back into the bowl. Place truffle back on the baking sheet and continue until all are coated.
Return to the refrigerator to cool white chocolate coating, at least 10-15 minutes.
Once cooled finish decorating. Either place white chocolate in a piping bag with a small opening and drizzle over one truffle at a time (this method makes for less waste of white chocolate), or using a spoon drizzle the white chocolate over the truffle to make a mummy design. Immediately place two mini chocolate chips on truffles to make mummy eyes before drizzled white chocolate has cooled. Continue with this pattern until all truffles are decorated. (see note)
Store in refrigerator for 3-5 days until ready to serve.
Recipe Notes
Want to make this dairy free? Substitute regular cream cheese for your favorite dairy free version (We love the almond milk kind). And substitute the white chocolate for your favorite dairy free chocolate to turn these in to chocolate covered truffles. Simply dip the dairy free truffles in melted dairy free chocolate and garnish with sprinkles or leave as is.
We prefer to melt white chocolate slowly in the stove top, using a double boiler. This just means a bowl is placed over a barely simmering pot of water. But if you prefer, you can melt in the microwave slowly in 30 second increments until fully melted.
Take care to decorate one (or up to three) mummy truffles at a time with drizzle, and then place on chocolate chips. The white chocolate drizzle will firm up pretty quickly on the cooled truffle so you'll want to adhere the eyes before this happens.
---
Nutrition
Loading nutrition data...


This post is sponsored by Simple Mills. All thoughts and opinions are always 100% my own! I love the integrity of their products and think you'll love them too. Thank you for continuing to support LCK and the brands I work with!