Flavored with Italian seasoning, with a touch of spinach added in, these Paleo Turkey Meatballs make for a great weeknight dinner or meal prep solution! Double or triple the batch and serve some for now and save some for later. Serve with your favorite homemade or store-bought marinara and spaghetti squash and you've got the perfect lightened-up dinner.
Paleo Turkey Meatballs with Spinach
This gluten-free and Paleo Turkey Meatballs are a classic LCK recipe you've been loving since 2013! We went ahead and gave the recipe and photos a little update. We are so glad we did as it reminded us of how amazing these meatballs are, especially for meal prep! Make a double or triple batch of these Italian flavored meatballs and use some right away and then save some for later. Meatballs are great to keep in the freezer because they're quick and easy to pull out on a moments notice and reheat in your favorite homemade or store-bought marinara sauce.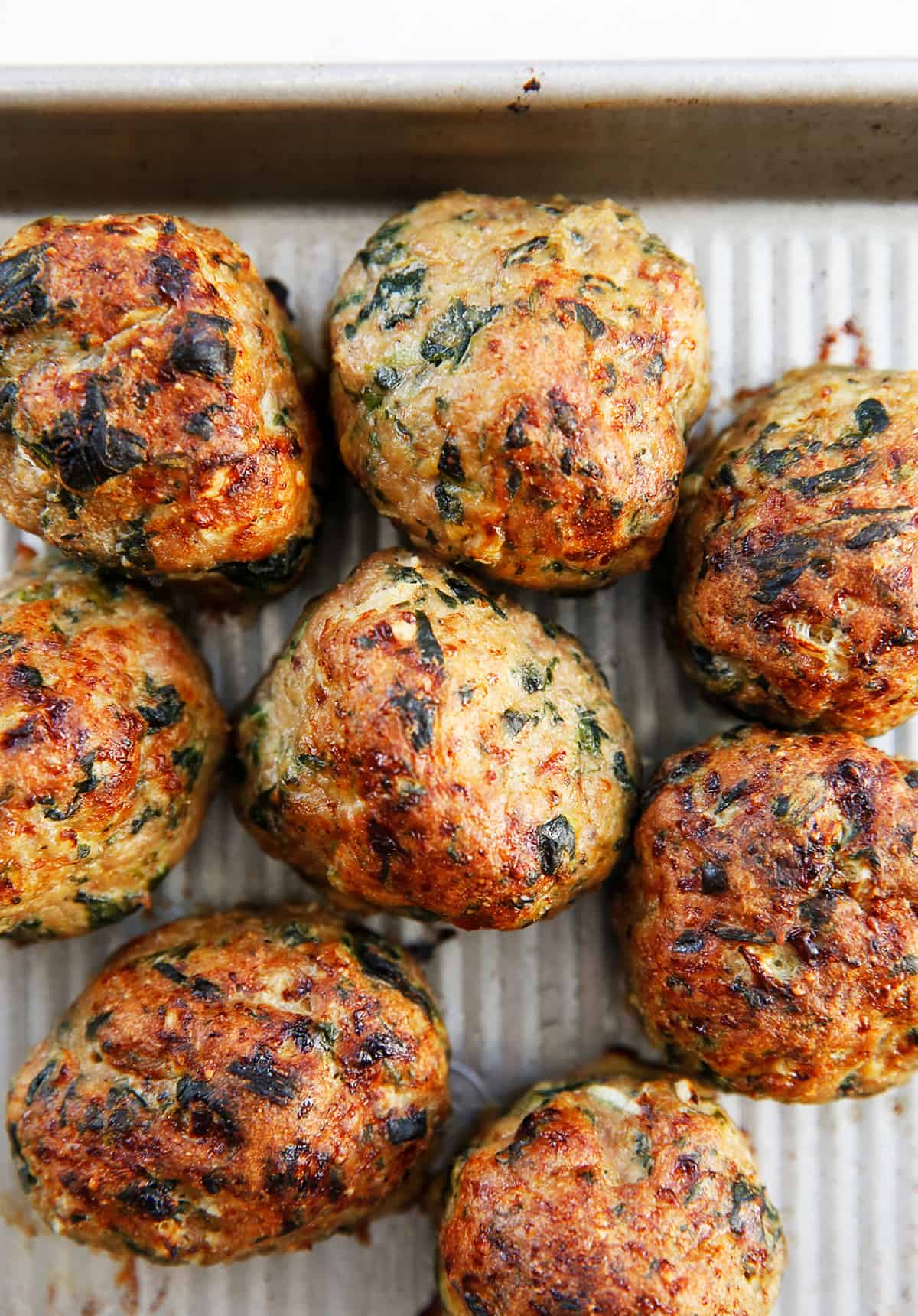 Gluten Free Turkey Meatball Ingredients
Ground Turkey (light or dark meat works here, though we prefer dark meat)
Frozen Spinach
Onion
Egg
Onion Powder
Garlic Powder
Italian Seasoning
Sea Salt and Pepper
Basil
Red Pepper Flakes
Make Ahead Meatballs and Freezer Instructions
Meatballs are the perfect make-ahead meal! They can made a few days ahead and left in the refrigerator or they can be frozen for up to 2 months.
To freeze meatballs, let them fully cool at room temperature and then transfer to a baking sheet lined with parchment paper. Let freeze for at least 1 hour, and then transfer them to a long term storage bag or container. Store for up to 2 months. Defrost in the refrigerator overnight, or warm up in your favorite pasta sauce over low heat.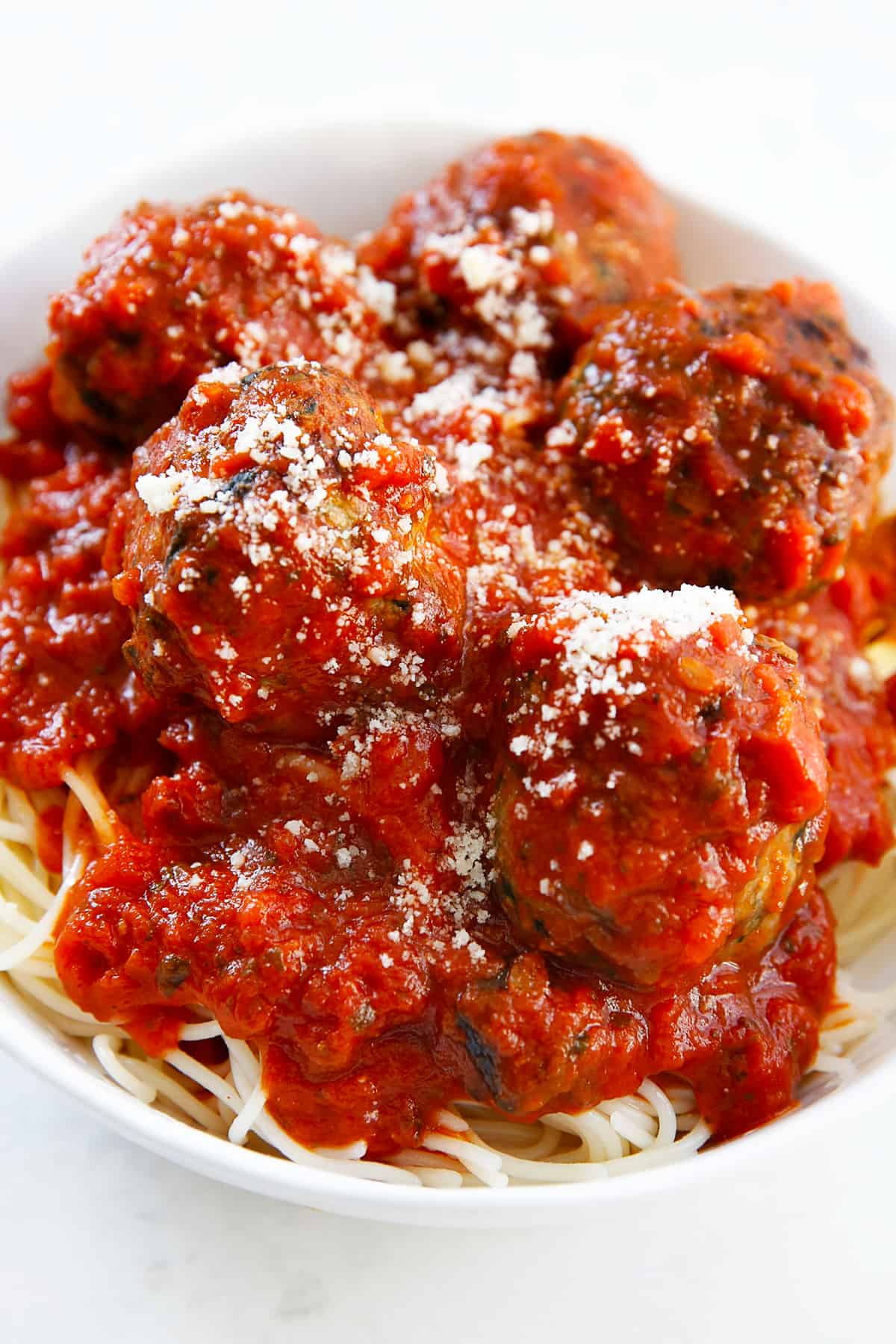 If you like this gluten-free classic recipe, check out these others:
If you like this meatball recipe, check out these others:
Loaded Turkey Meatballs
2014-08-04 19:50:32
Serves 4
Ingredients
1 lb. organic extra lean ground turkey
1/4 small onion, finely chopped
1 cup handful of frozen spinach (defrosted, drained, squeezed to remove excess water)
1 egg
1/2 tsp red pepper flakes (more if you like a little kick!)
1 1/2 tsp onion powder
1 1/2 tsp garlic powder
1 tsp oregano
1/2 tsp basil
1 tsp Italian seasoning
Himalayan sea salt and freshly ground pepper, to taste
Instructions
1. Preheat oven to 350
2. Line a baking sheet and grease lightly
3. In a bowl combine all ingredients and mix well
4. Roll into balls and bake on 350 for about 15-20 minutes, or until fully cooked through
5. Serve with sauce of choice!
Notes
Can sub ground chicken, too!
Lexi's Clean Kitchen https://lexiscleankitchen.com/