How to Make a Nut Free Basil Pesto
This Nut Free Pesto is the perfect condiment to brighten up any dish. It's also a great way to use up the overabundance of basil at the end of the season to put up for winter!
Nut Free Pesto Recipe
Everyone loves a good pesto recipe! But not everybody can have nuts and most pesto recipes call for them. So we whipped up a bright and flavorful basil pesto that doesn't use pine nuts so that everyone get can enjoy it. This pesto recipe also sneaks in some healthy greens by using a combination of basil and kale.
Basil pesto is great for nearly any dish. And it's simple to put together and a great way to use up an overabundance of herbs. It also freezes well so make a bunch now while it's abundant and you can use fresh pesto in your dishes all summer long!
Nut Free Pesto Ingredients
Basil

Baby Kale

Parmigiano Reggiano

Lemon juice

Garlic

Salt

Olive oil
How to Clean Herbs
Herbs can be very dirty and gritty, whether coming from the supermarket or the farmer's market. The best way to clean herbs is to fill up a big bowl with clean, cool water. Dunk the herbs in the water, letting all the dirt and grit sink to the bottom. Empty the water, fill it back up and repeat until no sand or dirt remains at the bottom of the bowl.
Ways to Use Pesto
This bright pesto would be great with so many dishes! It is great with both chicken, turkey or even pork. You can use pesto in pasta dishes, rice dishes, in a salad, as a dip or spread and served over a grilled meat or veggies.
Check out these recipes using pesto:
How to Freeze Pesto
Pesto freezes really well. You can freeze it in small jars for single serve portions. Small mason jars work well for this.
How to Prevent it from Turning Brown
Pesto turns brown when the fresh herbs oxidize by coming into prolonged contact with oxygen. It isn't harmful to eat brown pesto, but it can have an off taste and it looks unpleasant. To prevent browning you can float some olive oil over the top of pesto in the container. Make sure to cover the pesto entirely. This creates an airtight seal and will prevent the pesto from turning brown immediately.
You can freeze for up to 3 months. The longer you freeze fresh herbs, the less potent they become. To defrost leave in the refrigerator overnight.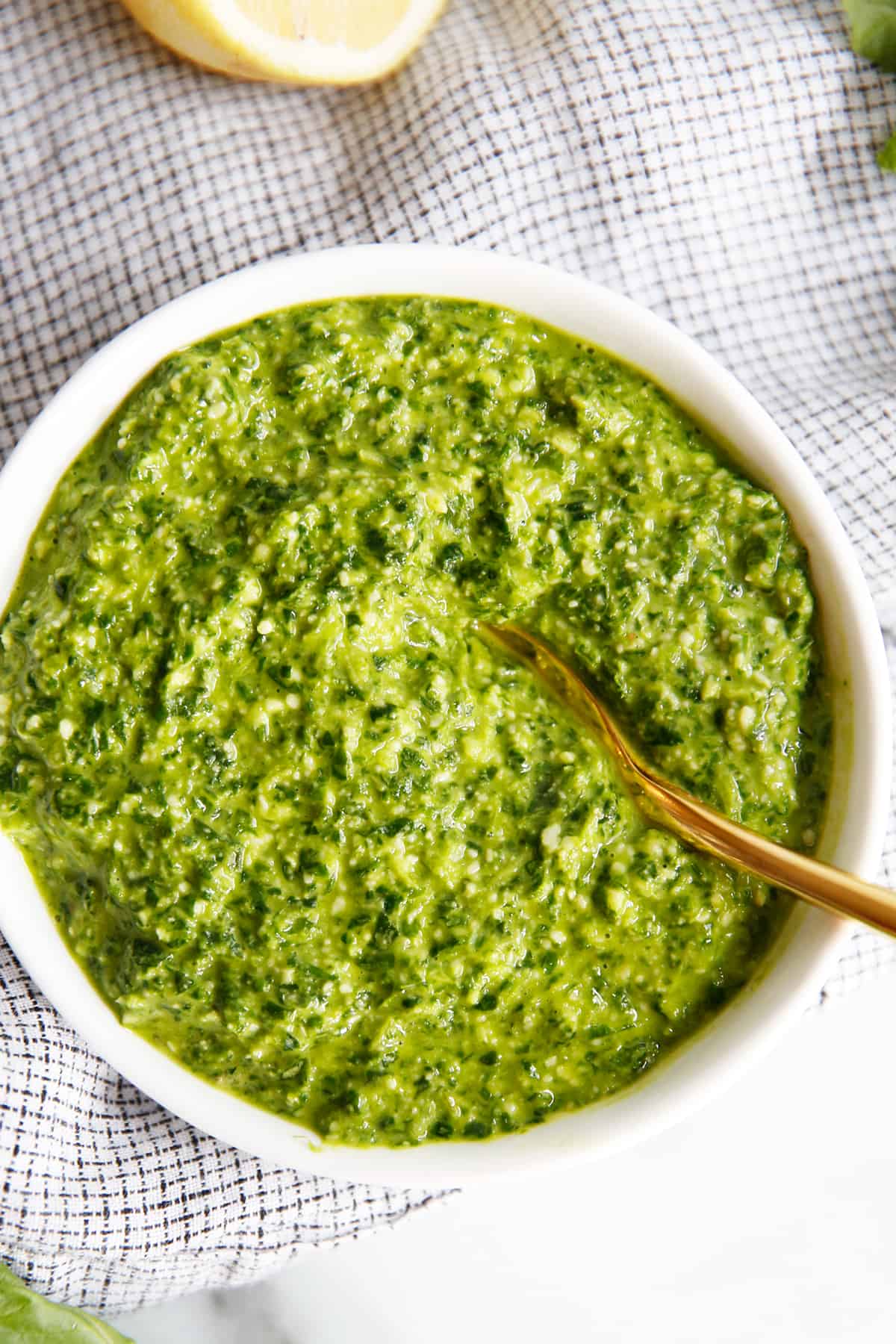 If you like this herb recipe, check out these others:
How to Make a Nut Free Basil Pesto
These Paleo Blueberry Muffins are bursting with lemon flavor and plump blueberries! They come together easily, are gluten-free, made with almond flour, and the perfect healthy muffin recipe for any brunch or as a snack!
Paleo Blueberry Muffins
These grain-free Paleo Lemon Blueberry Muffins are so simple, moist, and delicious. They are bursting with blueberries, with a fluffy texture and a bright lemon flavor. Nobody will know these muffins are gluten-free, grain-free, and paleo-friendly! They are so easy to make and can easily be made for a quick brunch or breakfast at home. Get the kids and they can help too!
Here's what you need to make them:
Almond flour
Coconut flour
Baking Soda
Eggs
Honey
Vanilla extract
Unsweetened applesauce
Lemons
Fresh blueberries
Swapping with Frozen Blueberries
It's so nice during blueberry season to include them fresh in this muffin, but in the dead of winter, frozen blueberries can work too! To avoid turning the muffin batter blue fold the blueberries in while they're still frozen. They might need an extra minute or two to cook in the oven, but otherwise the recipe will work the same.
Is Almond Flour Healthy?
Almond flour is a delicious and nutrient dense alternative to any other flour. It is low in carbs and high in fat which makes it a great healthy flour that you can feel great about eating.
How to Measure Almond Flour
If you have an electronic kitchen scale at home, it's best to use it here to measure almond flour. Almond flour can be tricky to measure as it can be easily compacted, even straight from the bag. The same goes for coconut flour too since it's such an absorbent flour. Even a small measuring error with coconut flour can impact a recipe. So we've included the weight in grams here. Any electronic kitchen scale can switch between grams and ounces. Since grams are more precise we're use that. If you don't have a scale: whisk almond flour until it's lightened up and lightly scoop the almond flour or coconut flour into the cup measurement and level it off.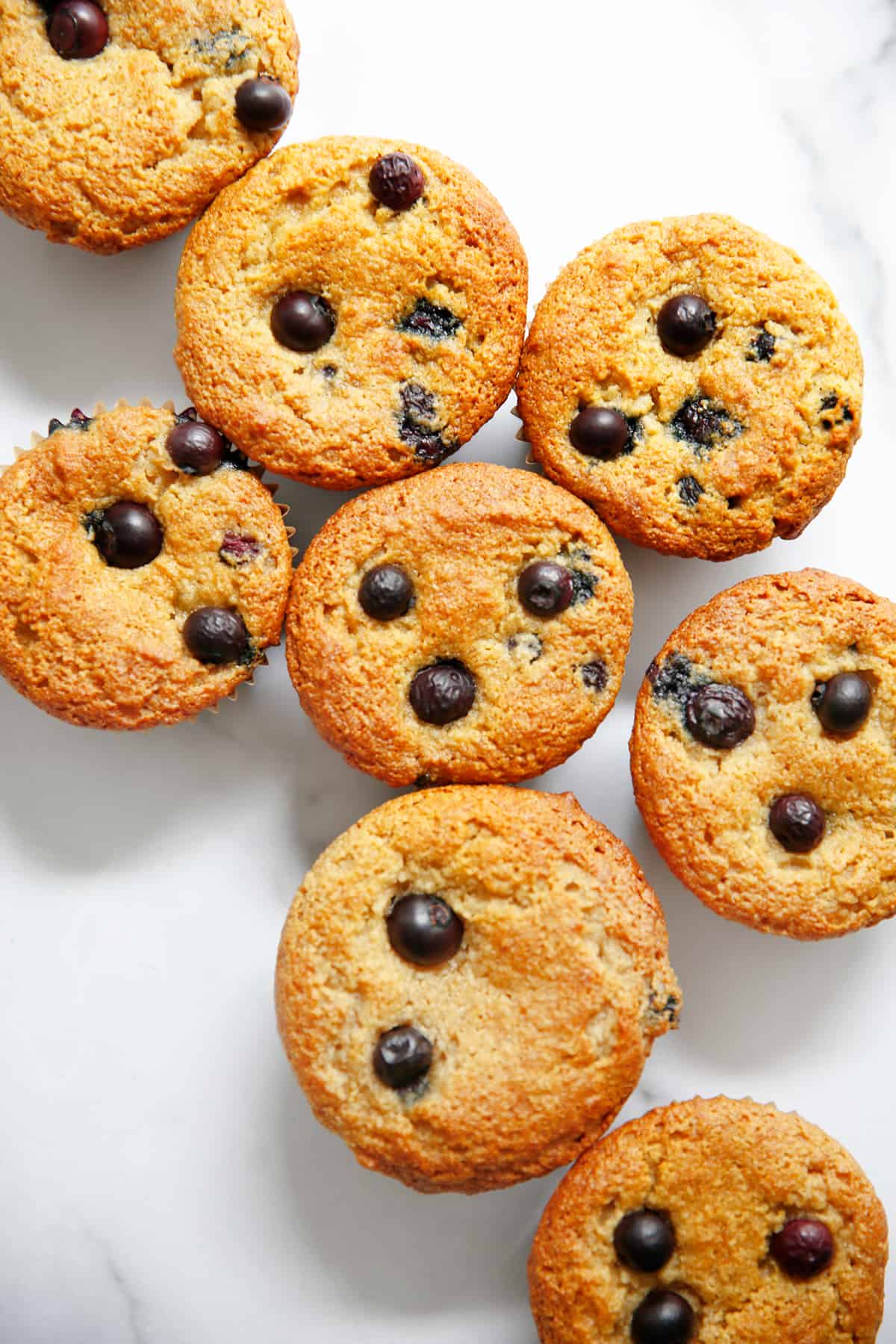 If you like this muffin recipe, check out these others:
If you like this blueberry recipe, check out these others:
Paleo Lemon Blueberry Muffins
Need a delicious light dinner that doesn't require much cooking and is so DELICIOUS? Then this Instant Pot Lemon Chicken with Artichokes and Asparagus is just what you need to make tonight! This seasonal and bright dinner is perfect for a night you still want something delicious but don't want to cook much. It's also gluten-free, paleo, low carb and whole30 friendly. Made in partnership with my friends at Shenandoah Valley Organic (SVO Farmer Focus)!
Easy Instant Pot Lemon Chicken Recipe
This Instant Pot Lemon Chicken recipe with asparagus and artichokes is exactly why we love the Instant Pot! It cooks up delicious meals, using mostly hands-off cooking, and quickly! We love how flavorful this dish is with the bright lemon that compliments the earthy artichokes, asparagus and hearty chicken. This meal is pretty low-carb on its own, but if you'd like you can serve it alongside pasta, rice or cauliflower rice.
Of course, not all of the ingredients cook at the same time so there are a few steps in this recipe. It's not difficult though, and it makes it so that you are mostly just placing ingredients inside the instant pot, and then letting it work it's magic!
Here's what you need:
SVO Farmer Focus chicken breasts

Dried oregano

Salt and Red Pepper Flakes

Garlic

Chicken stock

Lemon

Asparagus

Canned artichoke quarters

Arrowroot starch
How to Prep Asparagus
Asparagus is in season throughout the spring. Look for asparagus in the store with medium sized spears that have dry tips. Try giving the tips of the asparagus a quick smell, it should be earthy and fresh. If it smells funky, pass on them.
To clean asparagus rinse the spears to remove any grit. The end of the spear is woody. You can snap off the bottom and they will naturally break where the woody part is. Alternatively, if you prefer not to lose too much asparagus you could cut off 1″ of the stem and peel a few layers off of an additional 1-2″ of the spears.
How To Cook Asparagus in the Instant Pot
The timing for this asparagus is based off of fairly average supermarket asparagus. If your asparagus is very thin, you might be better off cooking the asparagus on the saute mode in the lemon broth instead. Simply saute until al dente. For average asparagus:
Clean the asparagus

Place in instant pot and cook on low pressure for ZERO minutes. The Instant Pot is cooking the food while it's coming up to pressure and this is just the correct amount needed to cook the asparagus.

Use the quick release function
I am so happy to partner with my friends at SVO Farmer Focus to bring you today's easy Instant Pot chicken recipe! Shenandoah Valley Organic (SVO) is my go-to trusted, farmer focus, chicken company for years now because they pride themselves in producing the highest quality chicken grown on family-owned farms.
These days you can go to the grocery store and *think* that you are picking up chicken that comes from an all-natural sounding brand that does things right, but then unfortunately if you look further into who owns that chicken company, you might be surprised to find out that it's just the giant chicken manufacturer in this country.
Shenandoah Valley Organic is building partnerships with growers through a Farmer Focus Business Model
I love that with SVO Farmer Focus you know that they are supporting their farmers and is a company that is working hard to do things right and truly raise and produce the highest quality chicken! Every SVO Farmer Focus product includes a 4-letter farm I.D. that traces your chicken to the farm that raised it. How cool is that? So aside from the best quality chicken (truly), Farmer Focus also delivers the peace of mind that I am supporting hard working family farmers.
SVO chickens are humanely raised and fed a diet free from animal byproducts, pesticides, and antibiotics. On their website you can see where all of the farms are located, so you know just where your chicken was raised!
You can also use their easy store locator to find where you can get this amazing quality chicken near you.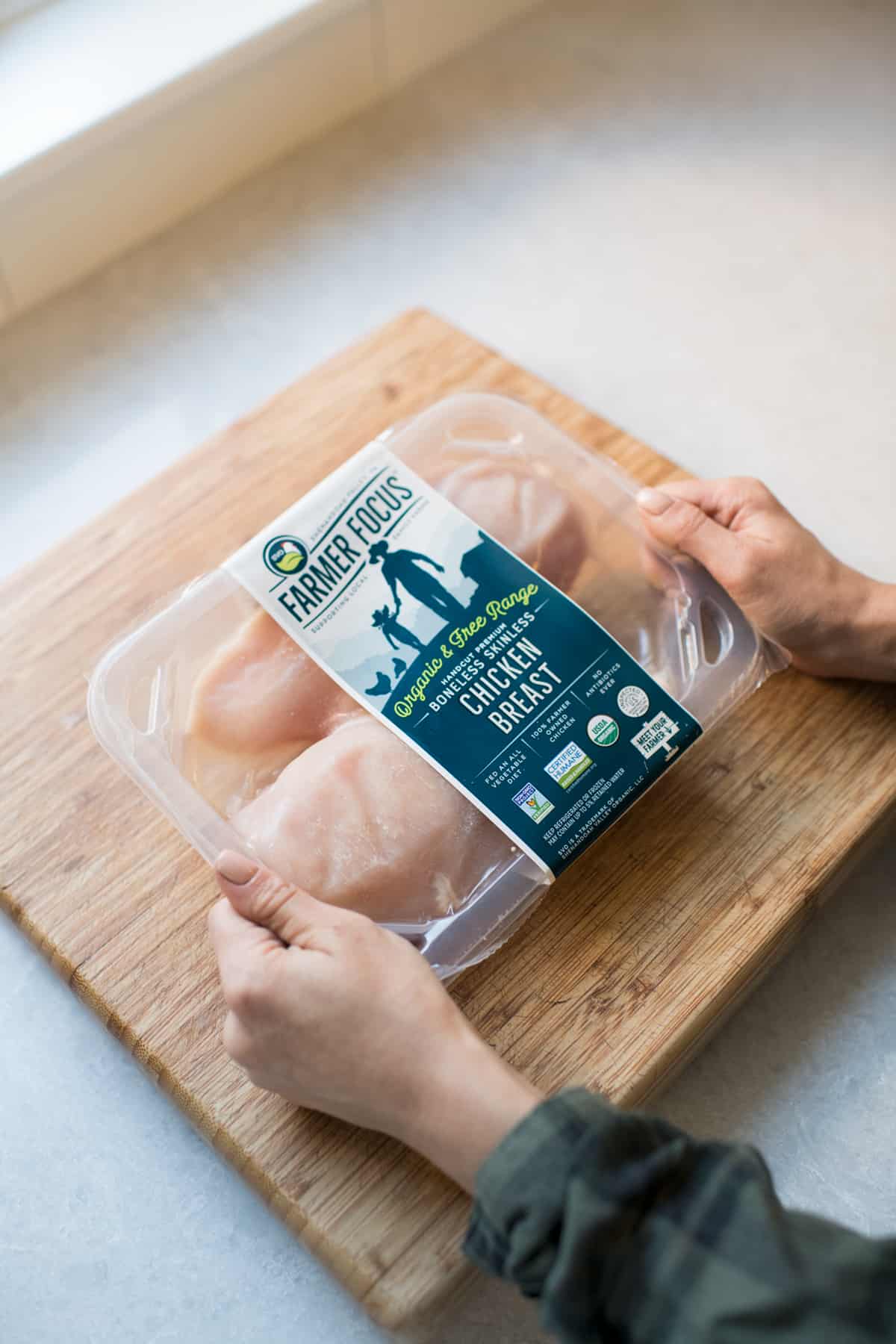 If you like this chicken recipe, check out these others:
If you like this Instant Pot Recipe, check out these others:
Watch the video:
---
---
This post is sponsored by Shenandoah Valley Organic! All thoughts and opinions are always 100% my own! I love the integrity of their products and think you'll love them too. Thank you for continuing to support LCK and the brands I work with!
Instant Pot Lemon Chicken with Artichokes and Asparagus
When your garden is overrun with cucumbers this summer, this is the salad to make! Or, when you just are really in need of a refreshing, flavor-packed, and super simple salad to throw together. This Easy Cucumber Salad with Herbs uses all of the fresh herbs (parsley, dill, and mint) and features the fresh, cool cumber to complement any dish you're serving up this summer
Easy Cucumber Salad Recipe
This recipe is for when you have found yourself googling: "How do you use a lot of cucumbers?" this summer. Throwing together this Easy Cucumber Salad with ALL THE HERBS is just the answer! This recipe is light, refreshing and a great side salad to accompany all of your grilling mains, seafood or chicken dishes this summer! And it's a great way to use up all those fresh herbs you have too!
This recipe works with either farm fresh large cucumbers you find in the summer, or if you're craving a refreshing side it can also work with store-bought English hot house cucumbers. If you are using extra large cucumbers from your garden or the farm feel free to scoop out the seeds and slice in half moon shapes.
Here's what's in it:
2 large cucumbers, thinly sliced
3 tablespoon extra-virgin olive oil
lemon juice
dijon mustard
dill
parsley
mint
salt and pepper
garlic powder
Pinch of red pepper flakes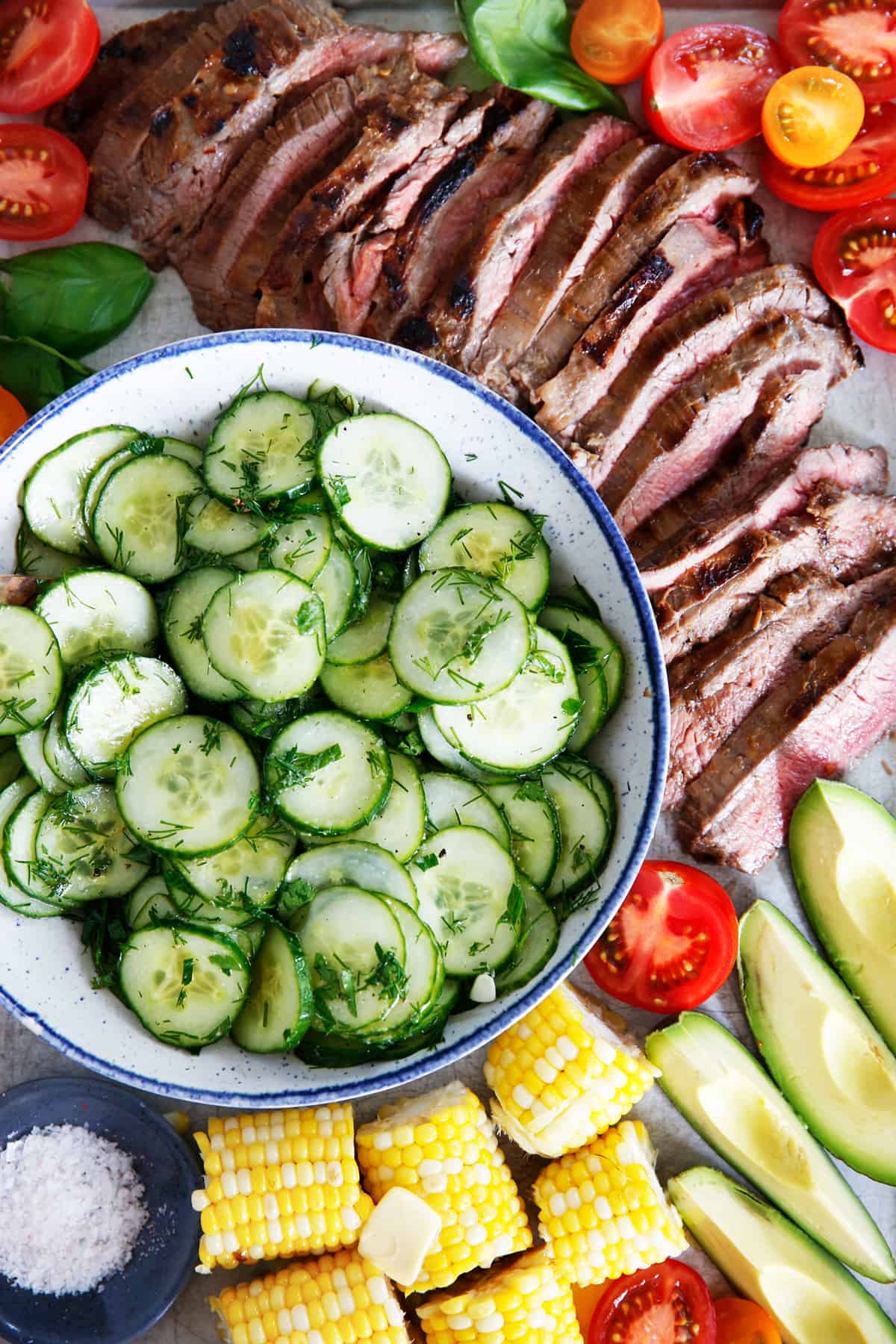 What goes with cucumber salad?
To begin, the best thing about this cucumber salad is that it is oh-so-versatile! It can go with just about anything! It's great to serve as a side for a barbecue, alongside seafood or just about any chicken dish. Here are some of our favorites that go great with this clean cucumber salad:
Looking for more summer sides recipes, check these out:
[yumprint-recipe id='369′]
Easy Cucumber Salad with Lots of Herbs!
This one-bowl Israeli Salad is the perfect refreshing Spring and Summer side-dish! I like to make a big bowl of it and keep it in the fridge all week long! The flavors from the lemon, tomatoes, onion, and herbs go so nicely with almost anything!
Israeli Salad Recipe
I discovered the delicious Israeli salad a number of years back on a trip to Israel and I have loved it ever since. I often forget about this simple salad, and go a long time without making it. This summer I am teaching art classes at the Jewish Community Center and have rediscovered my love for it, as they often have it in the Cafe. Now that your tomatoes are ripening, get ready to make this delicious salad all season long! Low-carb, vegan-friendly option, and so so simple to toss together!
Ingredients for this Israeli Salad:
Cucumbers
Ripe tomatoes
Red onion
Italian parsley
Extra-virgin olive oil
Lemon Juice
Salt and pepper, to taste
Feta cheese (optional)
Green pepper (0ptional)
Chickpeas (optional)
How to Make it:
This isn't complicated to make, but does involve some chopping! Once that's done, place all the ingredients in a bowl and toss to coat!
How long will this last?
I keep this salad for up to 5 days in the refrigerator, but it is best served within 2-3 days.
If you like this salad recipe, check out these others:
---
Israeli Salad
We are well into cold and flu season and this Ultimate Kick-that-Cold Juice is a recipe you need in your back pocket! If you feel a cold coming on, or you are currently in the throes of one, this juice recipe with oranges, lemon, carrots, ginger and turmeric will give you an extra boost of vitamin C and antioxidants to help your body naturally feel better!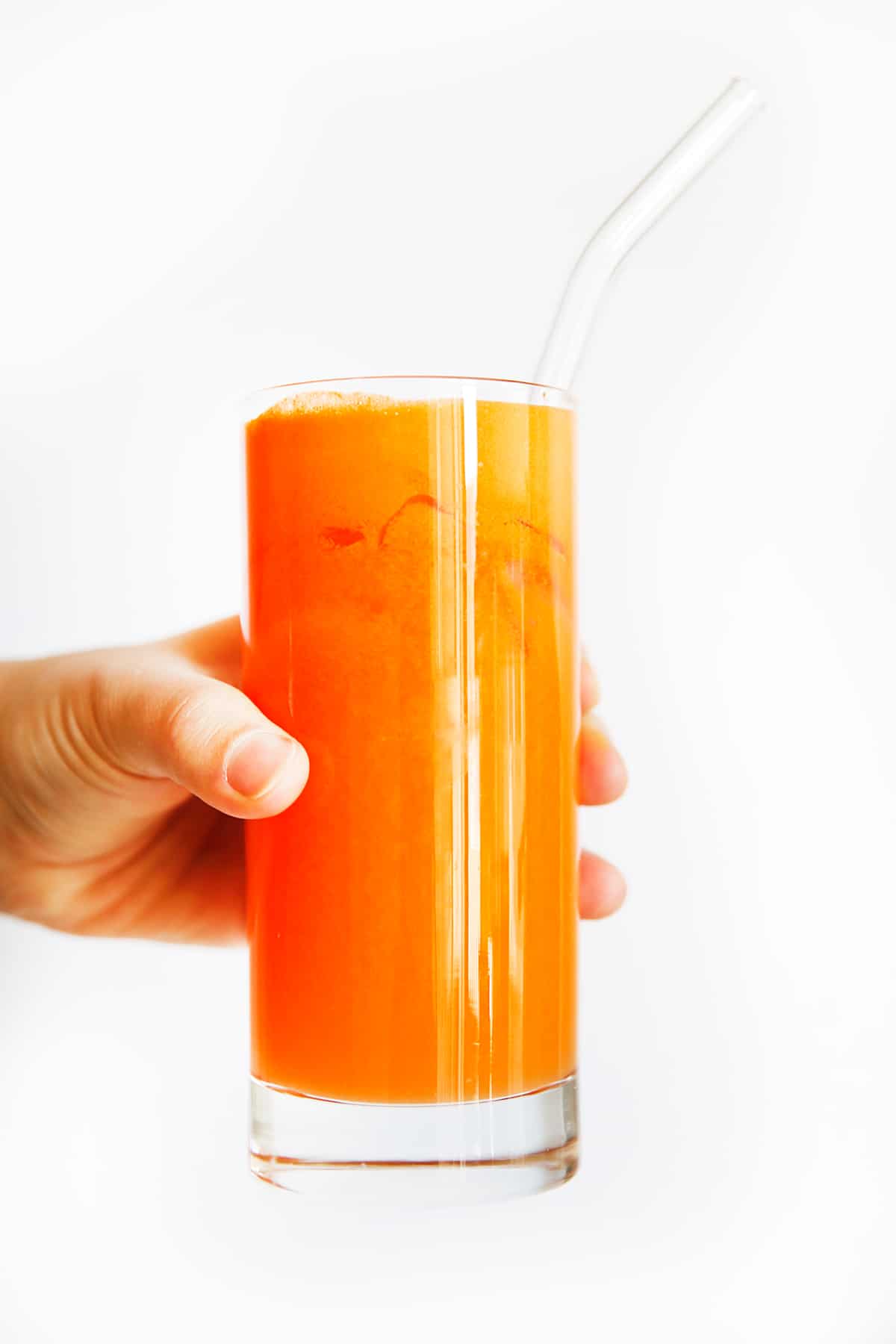 Kick-that-Cold Juice
When cold and flu seasons hits staying healthy can be a top priority. Our bodies naturally do a great job at utilizing their own defenses to fight off colds but it can never hurt to arm yourself with some extra Vitamin C and antioxidants to do it. This recipe has been used in my house for years and it's time it's officially landed on the blog. If we feel ourselves starting to get sick we immediately make this Ultimate Kick-that-Cold Juice and drink up! I swear by it, but it's also super delicious and a good pick-me-up.
Benefits of juicing:
Juicing can be controversial in the health world as it does remove some fiber from the fruit and veggies, but I've found, when I am coming down with something, this really does the trick! While of course fiber IS important (because it also contains nutrients and helps digestion), practically speaking, you will absorb more nutrients because the gut doesn't need to digest all that fiber at the same time! Want more info? I like this article!
Juicing extracts the juice from fresh fruits or vegetables. The resulting liquid contains most of the vitamins, minerals and phytonutrients found in the whole fruit! Since you have to use a far larger quantity of fruits and vegetables to make a glass of juice than you typically would eat in a sitting, you will get higher doses of those micronutrients and phytochemical. Juice quickly reaches your vital organs, can help reset your body, re-oxygenates yourblood, flush out fat, and more!
What I will say is: when ordering juice out, ask them how much fruit is going into your juice (so you can watch the sugar intake). Nobody needs 3 apples in one sitting!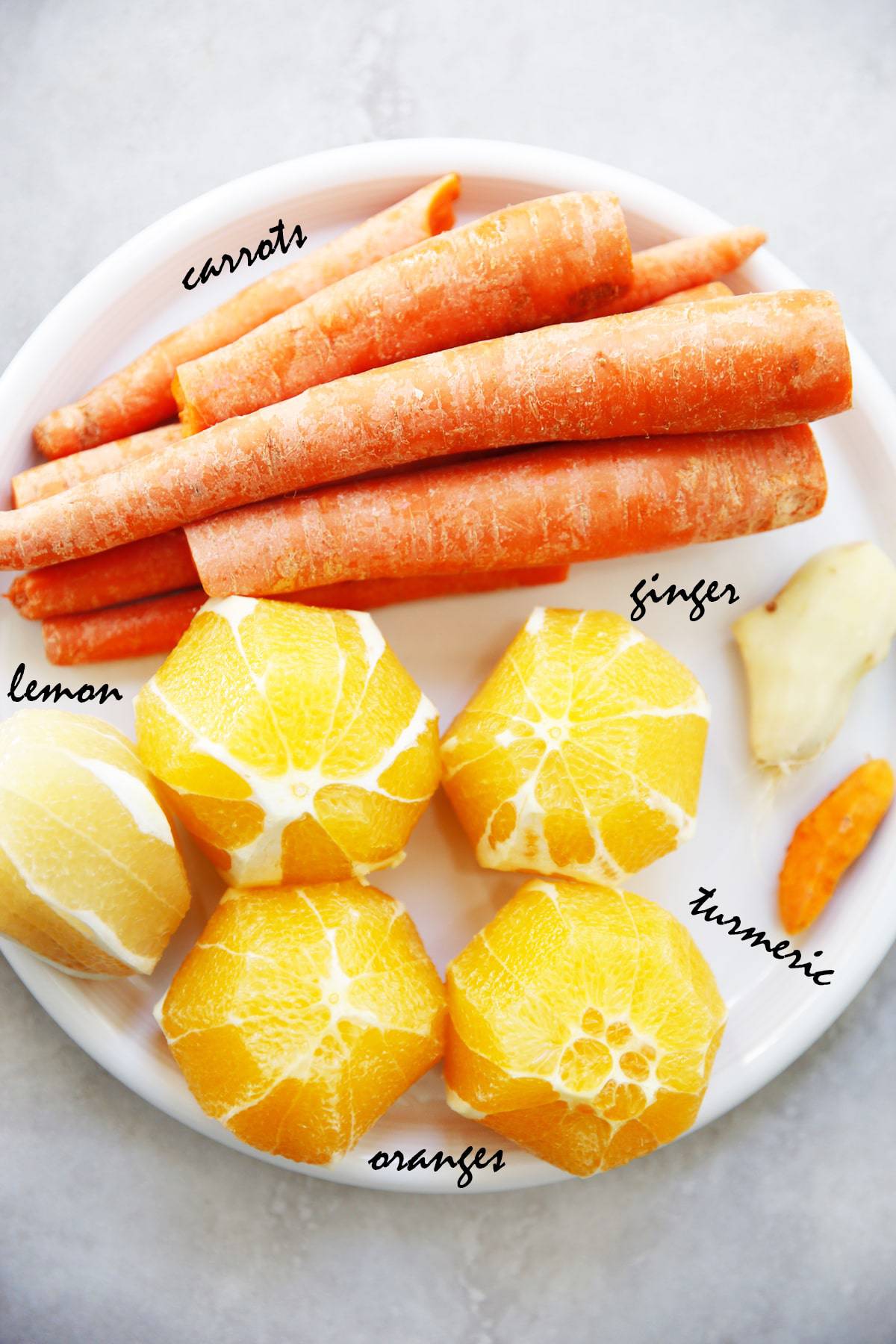 The juice is made up of oranges, carrots, lemon, fresh ginger and turmeric! The citrus and carrots add a much needed boost of vitamin c and antioxidants, the ginger is a natural antiviral and the turmeric has the nutrient curcumin which is a powerful anti-inflammatory.
To prep the fruits and veggies you remove the rinds from all of the fruit before juicing. This is important because the skin/rind is what can hold the most pesticide residue and we want to keep away all that harmful chemicals, especially when your body is fighting off a cold. You can either just wash the carrots, or peel them.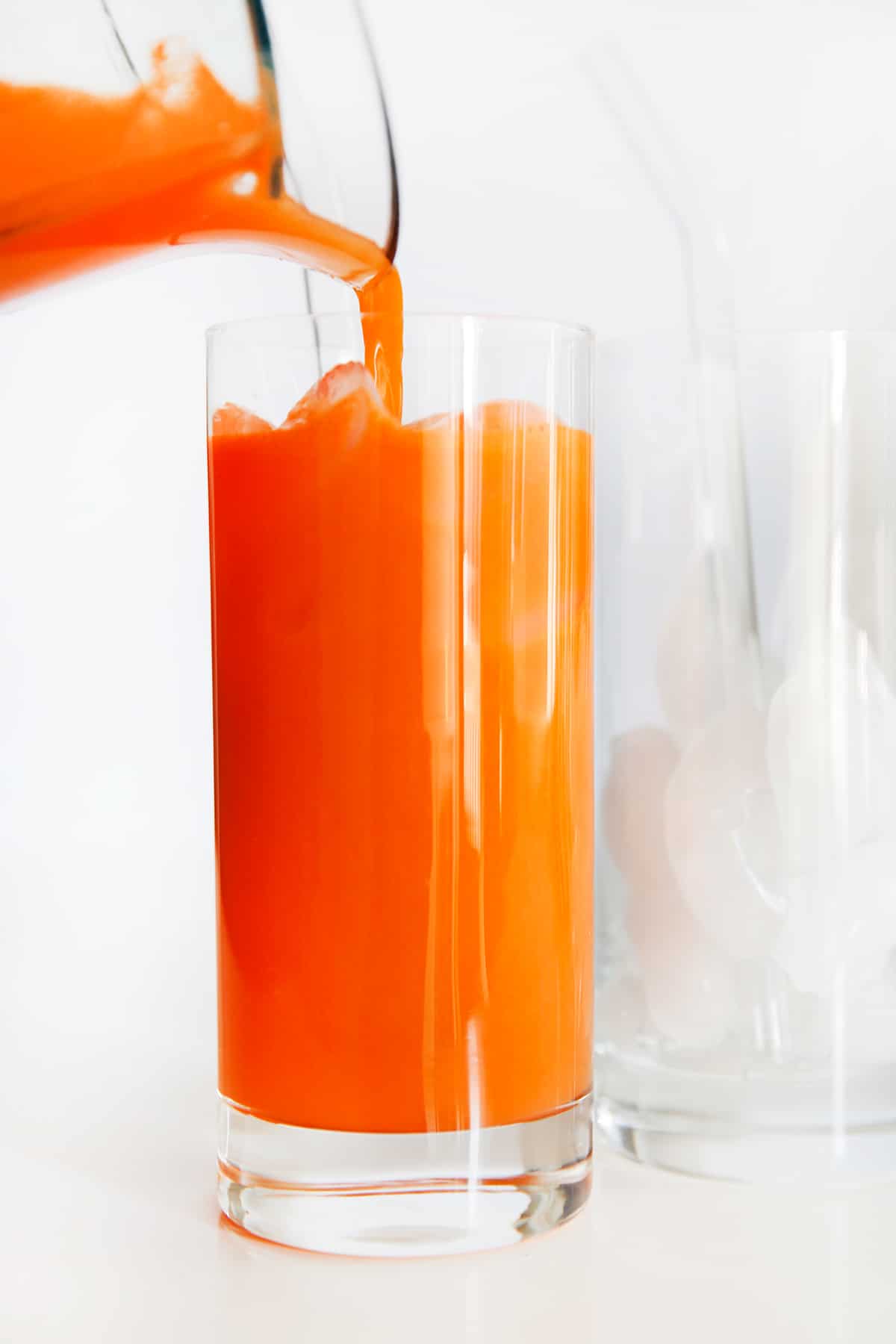 ---
Tools for juicing:
If you like this good-for-you recipe, check out these others:
Pin it for later:

What is your go-to natural cold remedy?
Ultimate Kick-that-Cold Juice
This Lemon Poppy Seed Overnight Oats recipe is the best bright start to a morning that doesn't involve any cooking. It's creamy (without any dairy), full of citrus and poppy seeds and packs a lot of fiber into your breakfast. This is the perfect make-ahead and egg-free breakfast that is also vegan-friendly and gluten-free (when using GF oats)!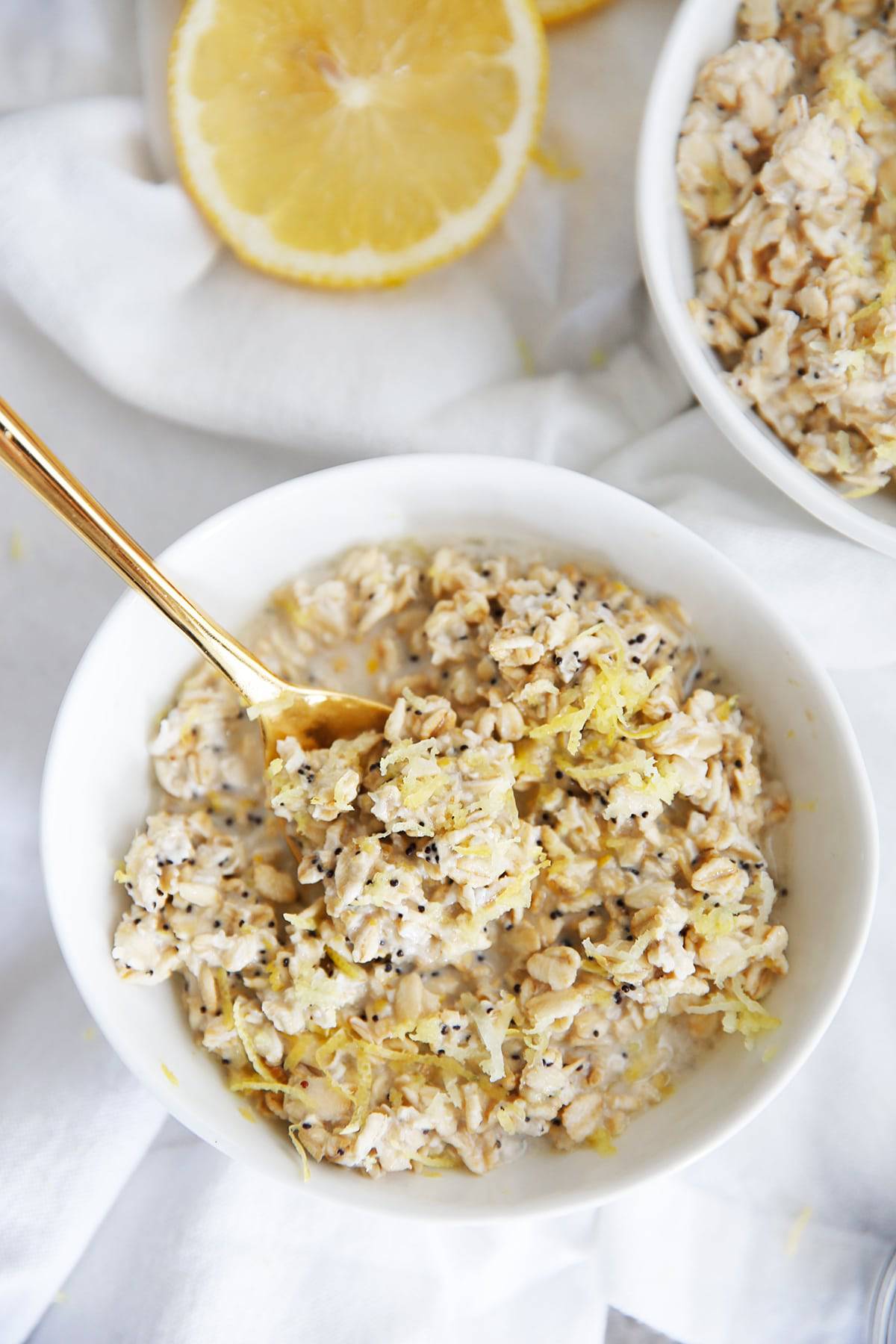 Lemon Poppy Seed Overnight Oats
We've heard you and we know you love oats! And we are positive these Lemon Poppy Seed Overnight Oats will not disappoint. They are such a bright and creamy start to the day. We love the citrus profile on these, and have been so happy with our almond milk to oats ratio that gives such a creamy and decadent taste.
How Do You Make Overnight Oats?
It's so super simple to make overnight oats! Simply measure out the oats, milk of choice and additional flavors and place in a mason jar. Give it a shake and close it up and place in the refrigerator. You can leave it to sit overnight, as the name suggests, but really it is ready to consume after about 3 hours.
Do you eat overnight oats hot or cold?
Overnight oats are a great and easy on-the-go breakfast! Grab it out of the fridge, cold or if you really want to heat it up place it in a small pan and warm it up with a little extra almond milk on low heat (or in the microwave if you use one).
What type of oats do you use for overnight oats?
We recommend using gluten-free rolled oats for this recipe. You can use quick oats, but they might have a slightly softer texture when compared to old-fashioned rolled oats.
How long can you keep overnight oats in the refrigerator?
I keep my overnight oats for up to 3 days in the refrigerator. If it has fresh fruit it will keep for 1 day.
If you like this oat recipe, check out these others:
Lemon Poppy Seed Overnight Oats (Gluten-Free)
This Sheet Pan Cod with Vegetables in Lemon Herb Sauce is the ultimate Spring or Summer meal with perfectly cooked lemon herb cod, tender veggies, and a delicious green sauce. It's the ultimate sheet pan fish dish everyone will love!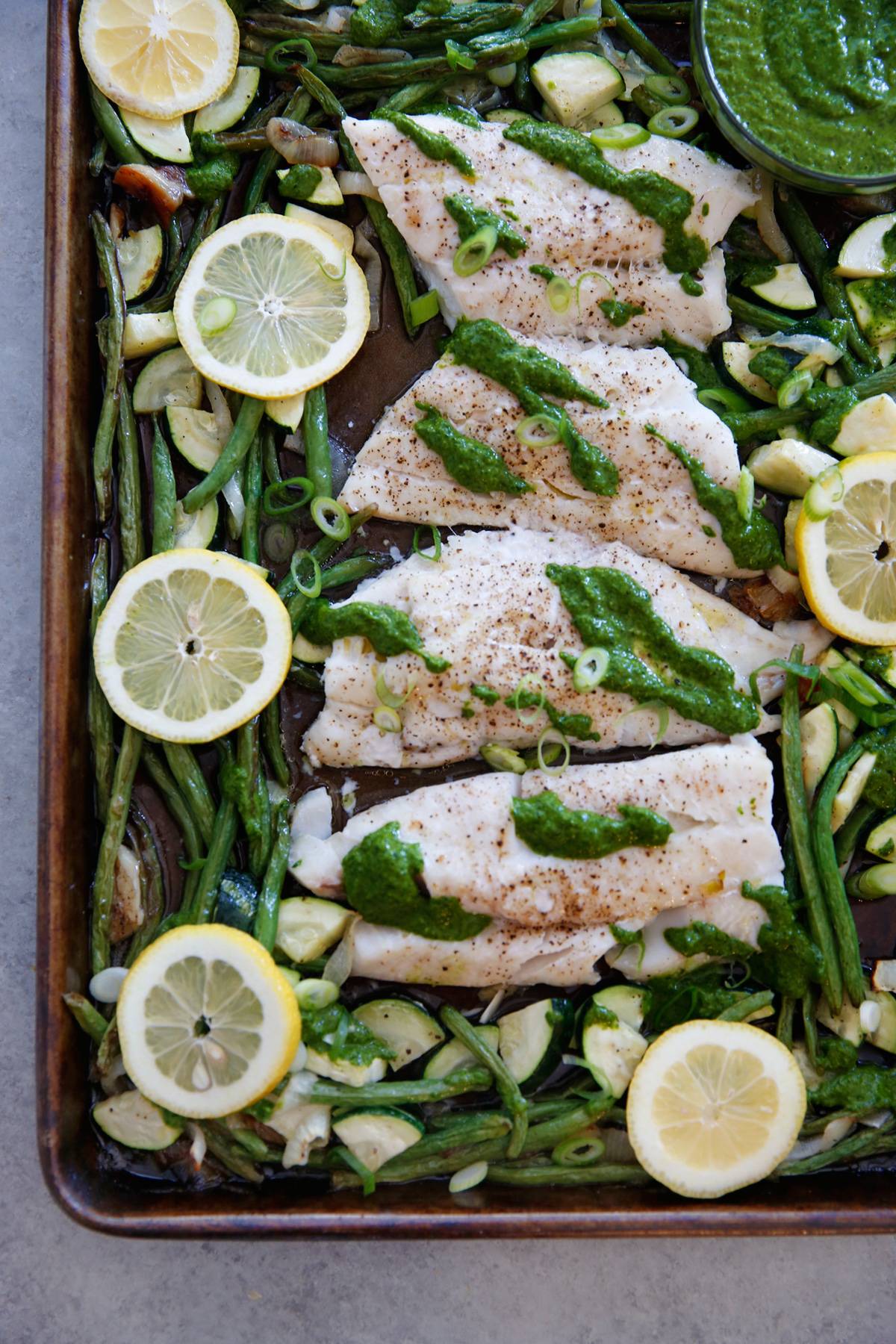 Sheet Pan Cod with Vegetables in Lemon Herb Sauce
This sheet pan fish dish is a light and quick weeknight dinner you can get on the dinner from start to finish in just over a half an hour with minimal clean up! Sheet pan dinners are the best because they minimize clean up by utilizing one cooking vessel and they make cooking hands off. This sheet pan dinner is low carb for a nice light meal that is still going to leave you satisfied because it is packed with flavor and loaded with fresh, in-season vegetables.
The green herb sauce is made of few different herbs and aromatics with a punch of acidity thanks to the lemon that makes this dish really stand out!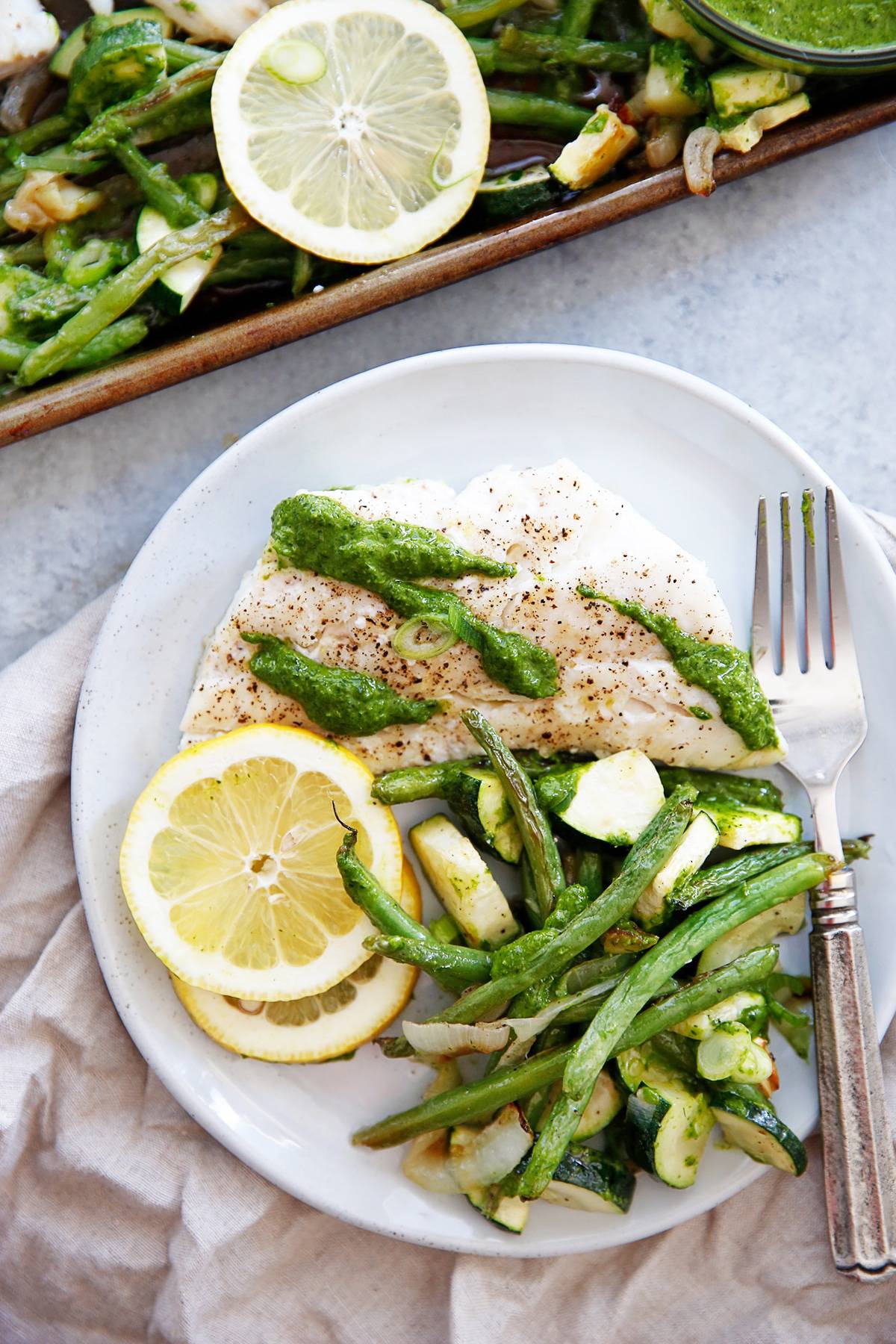 Tips for sheet pan cooking:
Read the recipe all the way through (of course) and plan to use a timer! Most recipes require different cooking times, so make sure to use a timer so you can truly walk away from the oven and not have to worry about when your adding anything in to the oven.
Do the prep ahead of time: Cut vegetables, make sauce or mix spices the night before or that morning if you are looking to speed up the process when it comes time for the actual cooking.
Use parchment paper to make clean up a breeze.
Use the correct size sheet pan. When we say sheet pan we are referring to the rimmed half sheet pan which is 18″ by 13″. The size of the sheet pan matters because you do not want to overcrowd the pan when cooking, so if you are using a smaller sheet pan you may need to use 2 to achieve the same result.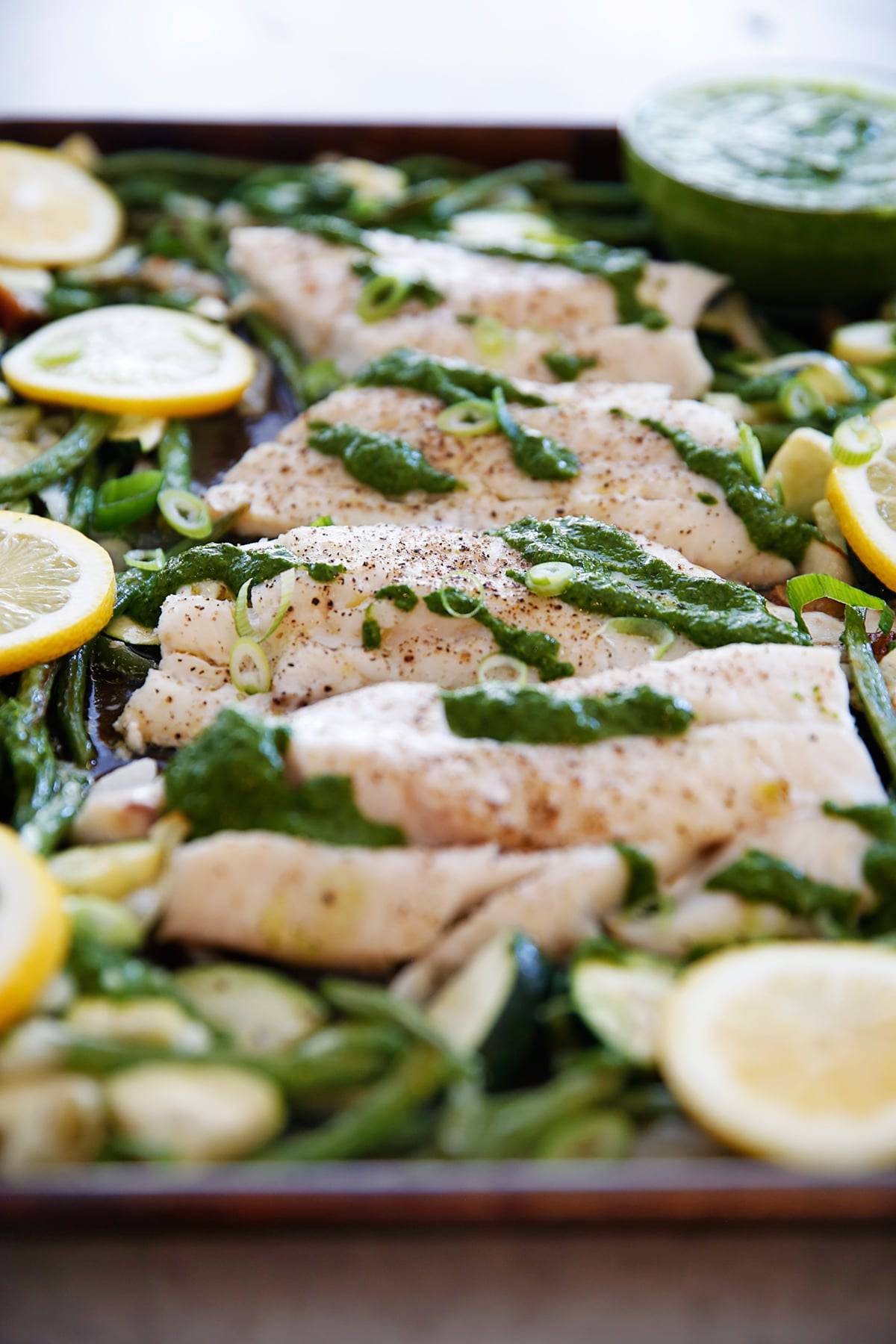 I love using cod over Tilapia since cod is almost always farm-raised. Farm-raised fish have been found to have high concentrations of antibiotics and pesticides so I try to avoid them and buy wild fish that I can trust!
If you like this recipe, try these other sheet pan meals: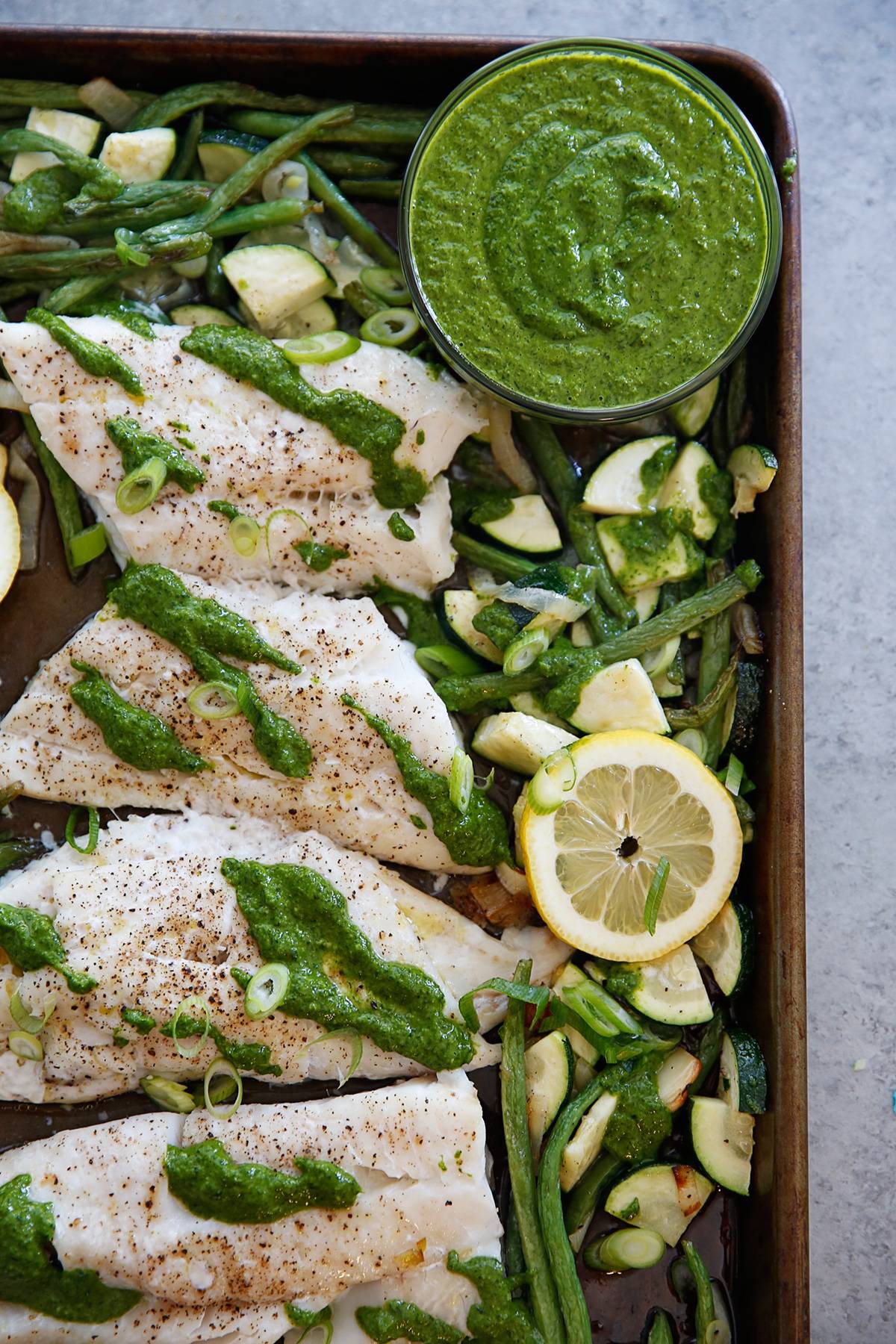 Sheet Pan Cod with Vegetables in Lemon Herb Sauce
This Lemon Parmesan Chicken with Zucchini Noodles is a perfect easy weeknight meal that comes together quickly and is packed with flavor! It's a fabulous chicken zucchini pasta recipe that is light, low carb, and so yummy. Made in partnership with Green Giant and their new Veggie Spirals!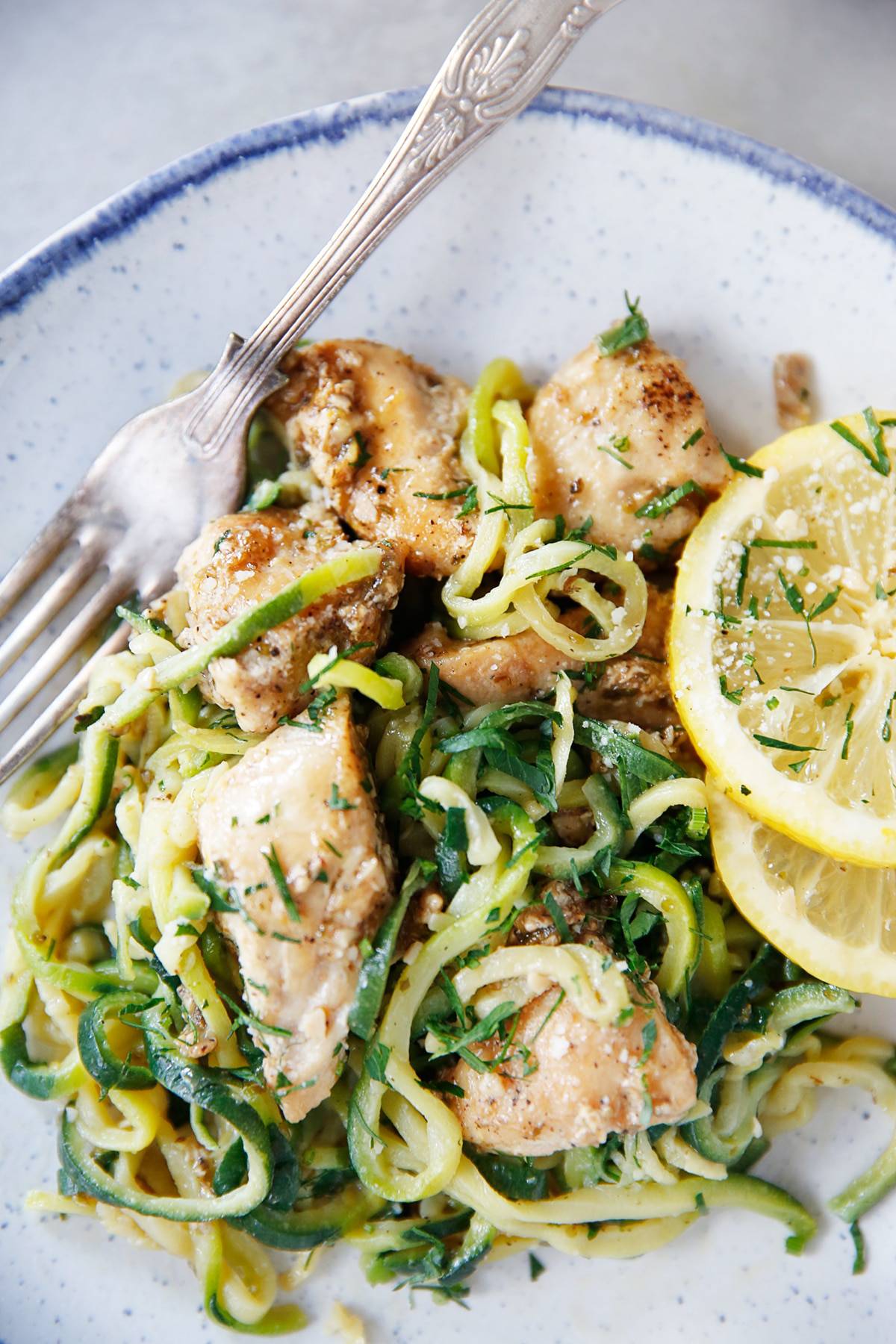 Lemon Parmesan Chicken with Zucchini Noodles
I am so excited to partner with Green Giant today and to work with their new Veggie Spirals for this dish! If you're busy like the rest of us, these veggie spirals are a perfect swap-in for traditional pasta and are super convenient! You don't need to grab your spiralizer and your veggies, it's all ready to go for you!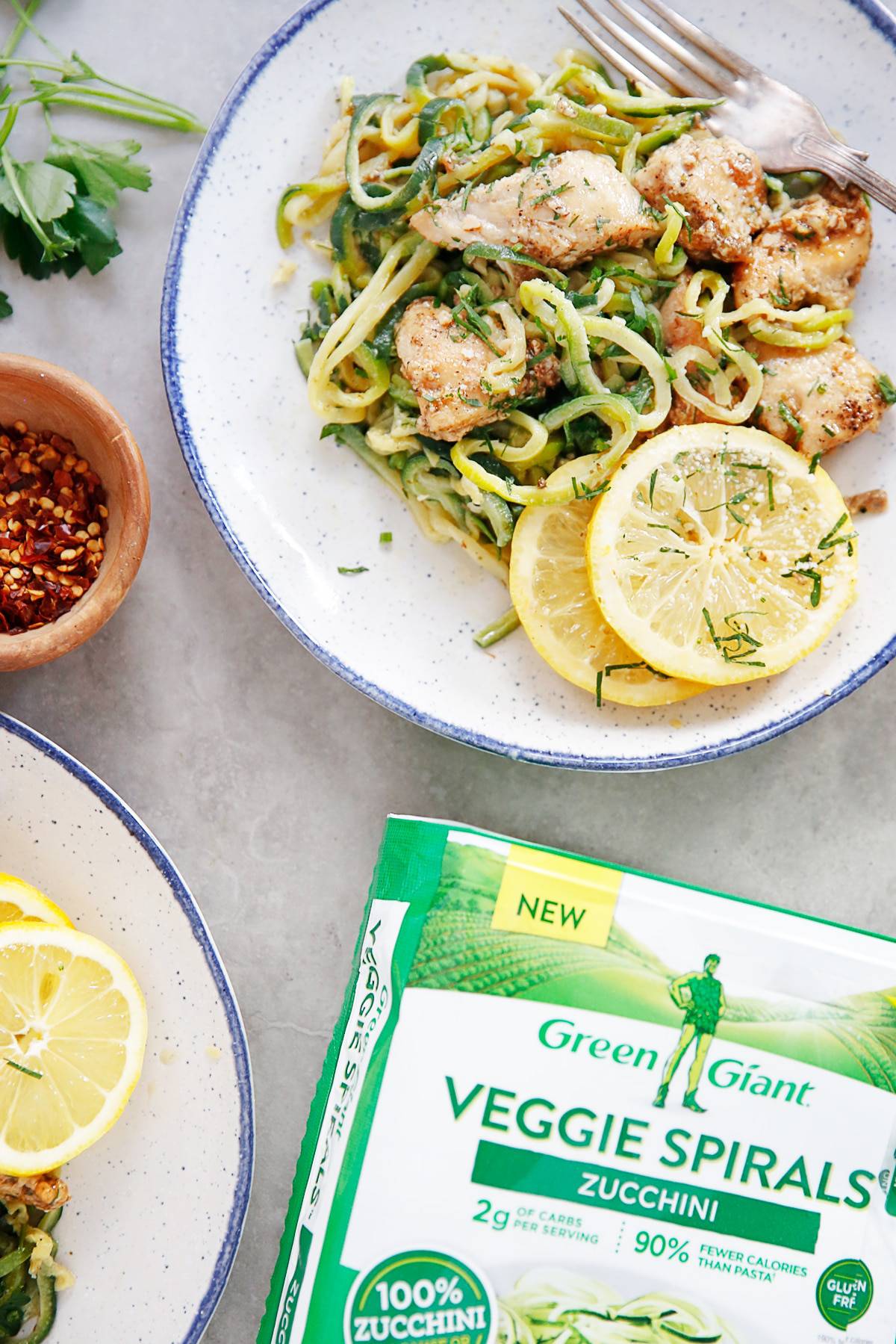 Green Giant Veggie Spirals™ are made with only the vegetable, are naturally gluten-free, and come without sauce or seasoning, so you can prepare them just the way you like! They come in beet, butternut squash, carrot, and zucchini and are great for throwing together a quick and healthy meal. I know my non-cooking hubby will be pulling these out of the freezer when he has to cook for himself!!
These lemon garlic noodles are:
Creamy
Bright
Flavorful
Veggie Packed
Low Carb
A perfect healthy weeknight meal!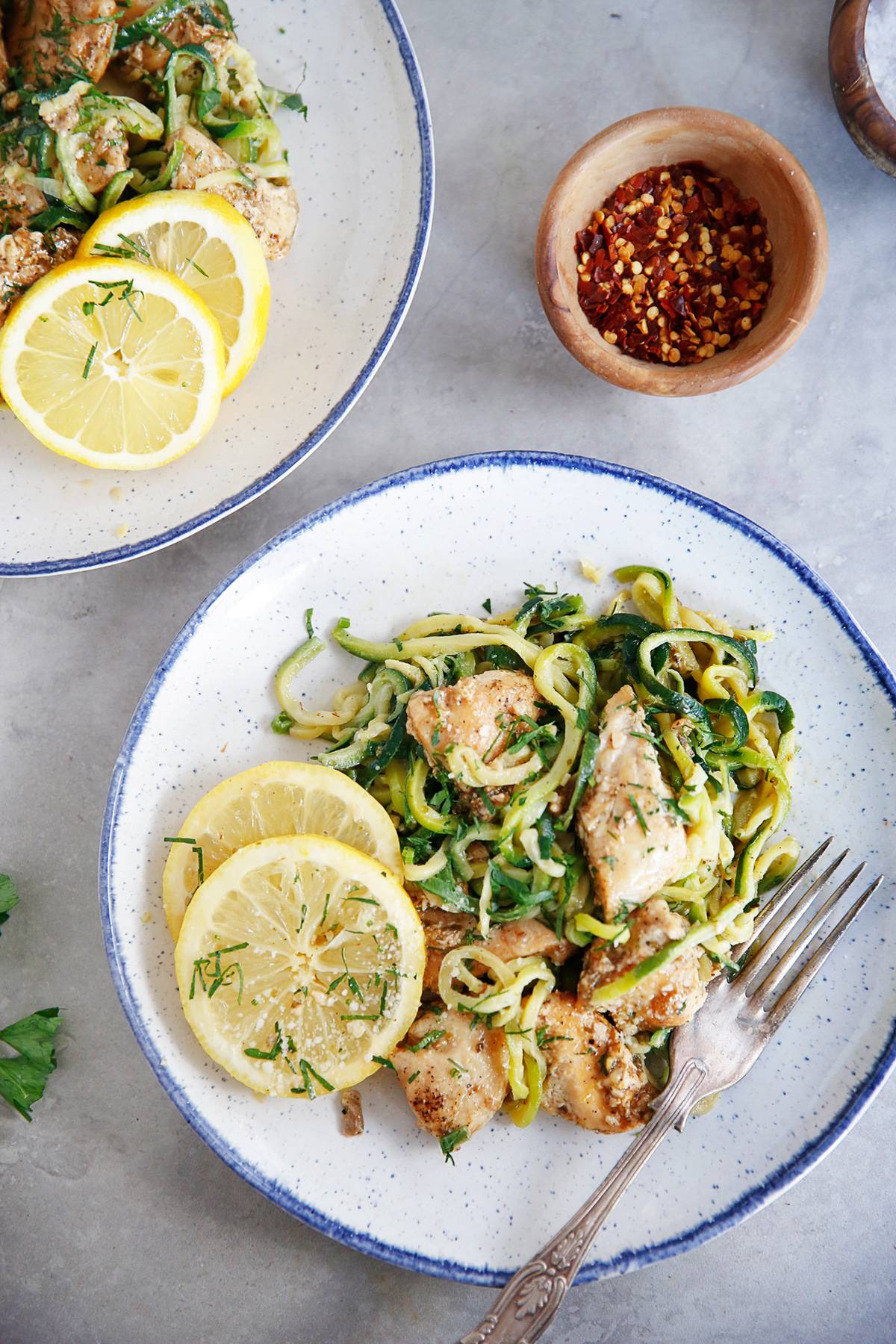 If you like this veggie-packed dinner, try these other spiralized pasta favorites: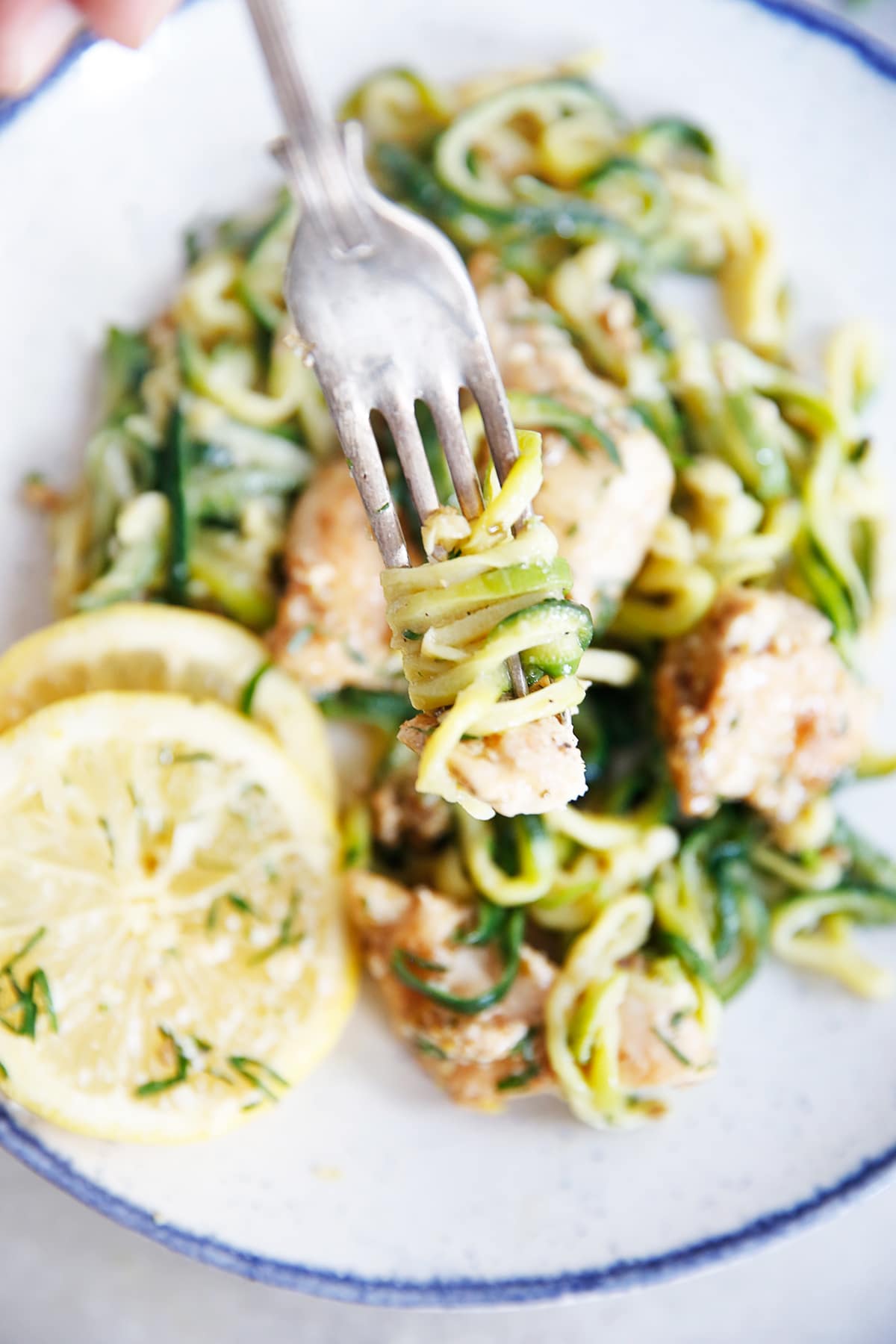 Watch the video:


This post is sponsored by Green Giant. All thoughts and opinions are always 100% my own! Thank you for continuing to support LCK and the brands I work with!
Lemon Parmesan Chicken with Zucchini Noodles
This easy Gluten-Free Chicken Piccata recipe is made with a delicious lemon caper sauce and is the perfect meal for the lemon lovers in your life! It's made in less than 30-minutes and made in one skillet!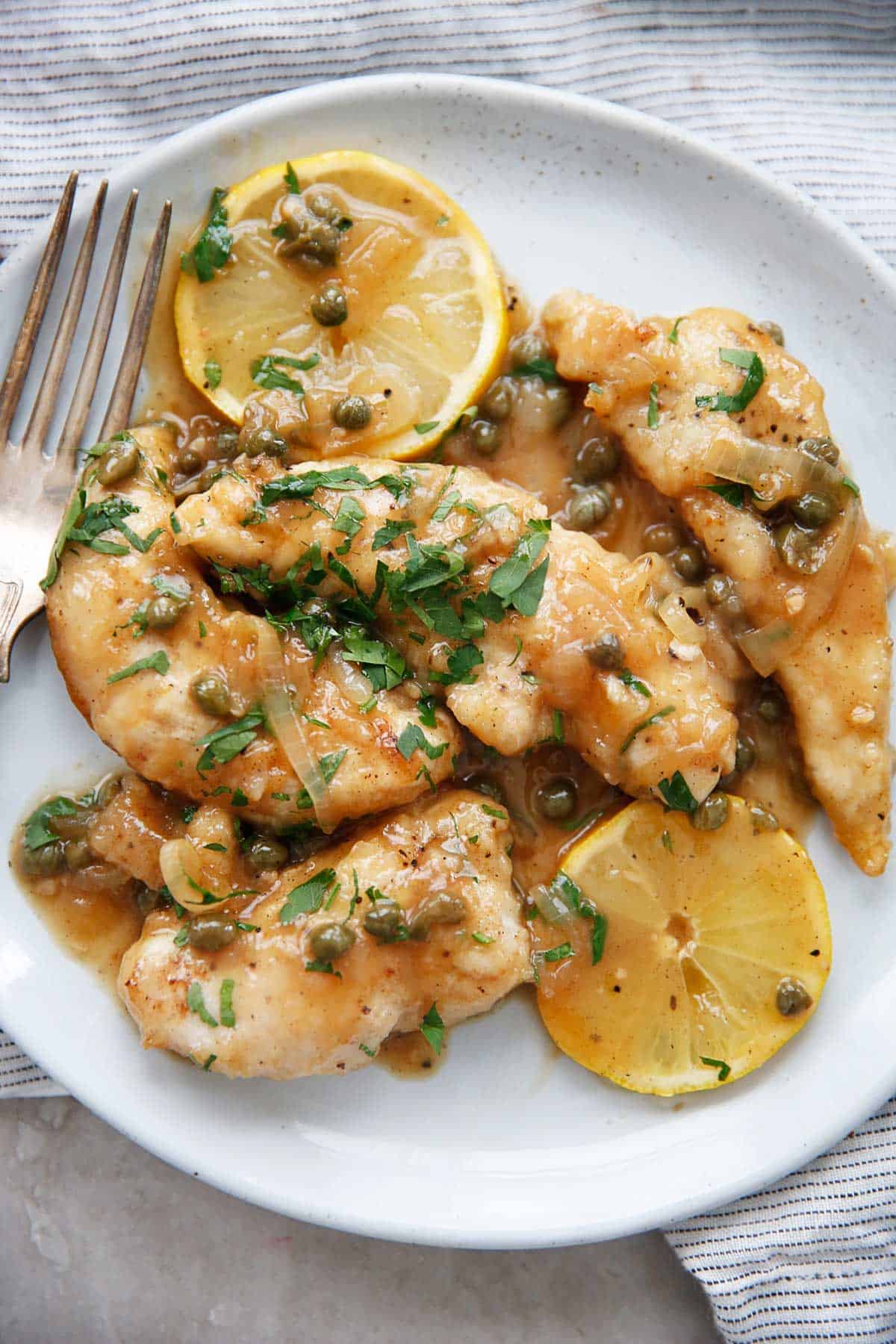 Gluten Free Chicken Piccata
This chicken piccata recipe with lemon, capers, and fresh herbs is one of my favorite weeknight meals EVER. It's perfectly cooked with an amazing sauce, and comes together so easily in only one-pan. Nobody will know it's gluten-free!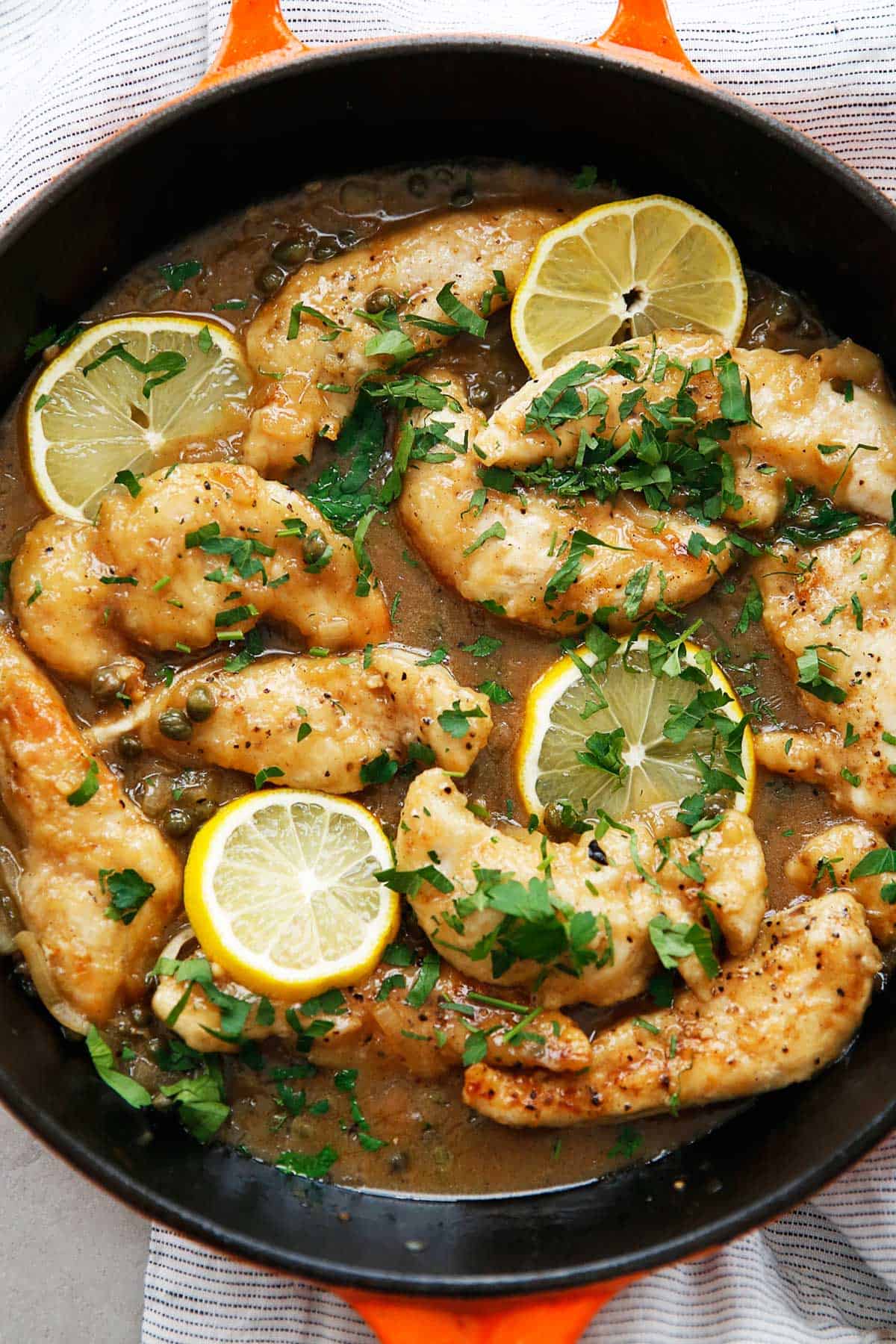 My friend Carissa LOVES Chicken Piccata and orders it everywhere, so I was on a mission to make a version that even the chicken piccata connoisseur would love!
Chicken Piccata Ingredients
Boneless Chicken Breasts
Arrowroot Flour
Salt and Pepper
Butter or Ghee
Oil
Shallot
Garlic Cloves
Chicken Broth
Lemon
Capers
Parsley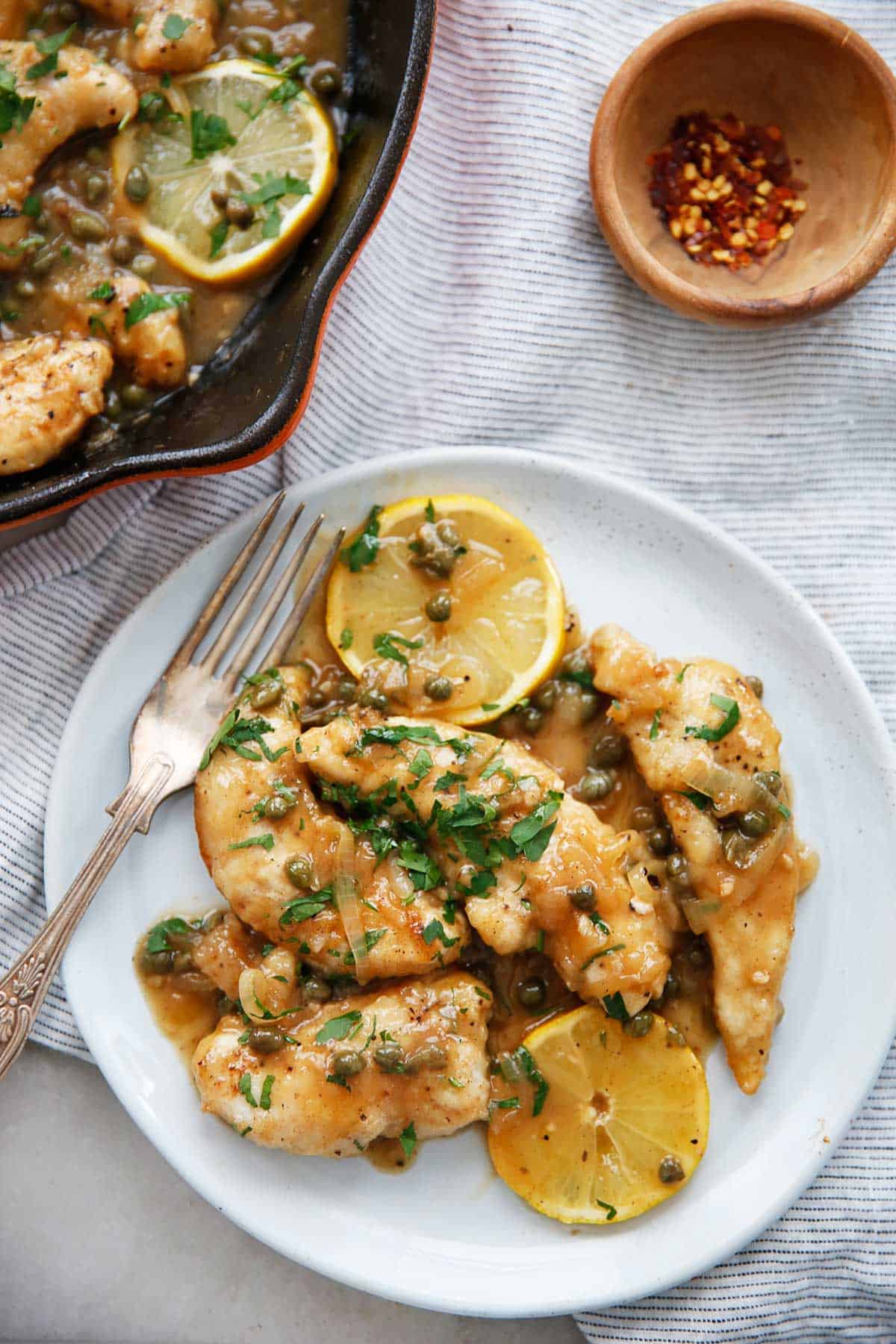 What to serve with chicken piccata:
Want other gluten-free chicken recipes? Try these favorites:
Watch the video:
30 Minute Gluten-Free Chicken Piccata
This Arugula Salad with Mint Chia Dressing inspired from a recent trip to Round Hill Jamaica will quickly become your new favorite salad dressing! It is flavorful, creamy, and bursting with fresh flavors!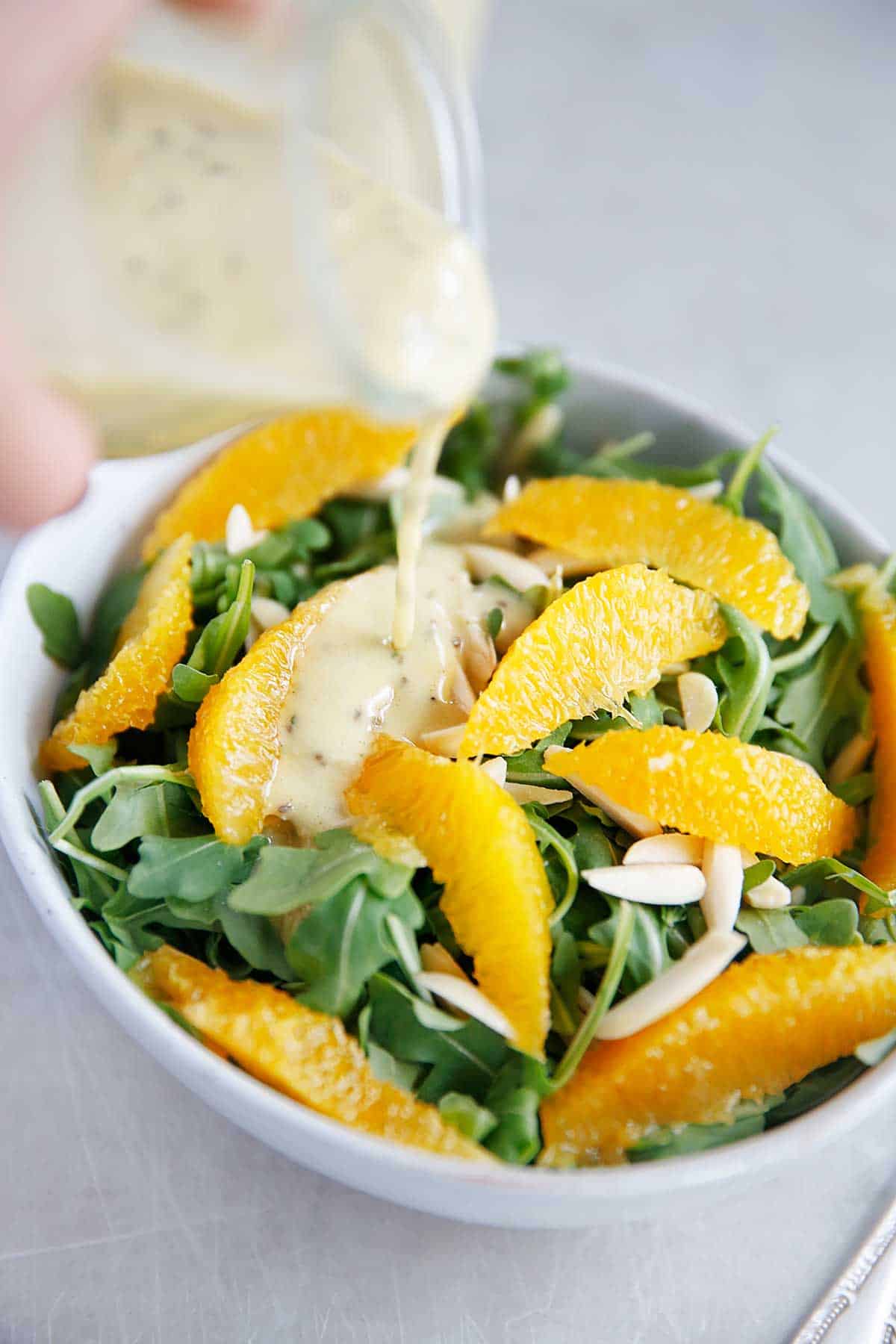 A few weeks ago you may have seen on Snapchat and Instagram that we were in Jamaica at our absolute favorite resort, Round Hill. This was our second stay there, and it was just as fabulous as our first stay!
The understated luxury, quaint beauty, and small size of the resort are some of my favorite features, aside from the sunsets (see below), and the amazing, local and fresh cuisine. They even have Billy's garden where they pick tons of their own fresh produce each morning!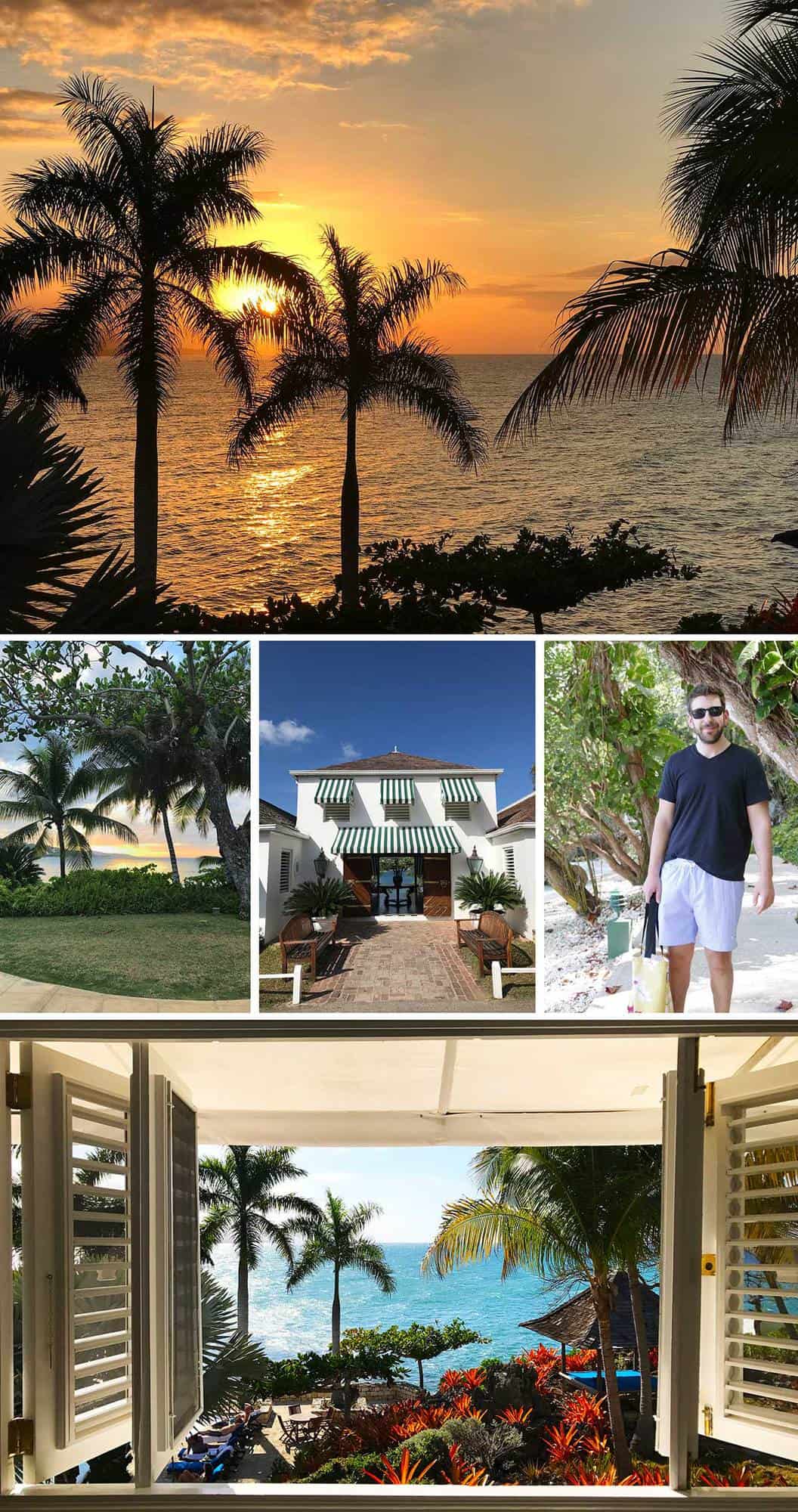 Each morning we started our day with a Tropical Green Smoothie and a big 'ol breakfast plate. One of the breakfast highlights was the Round Hill salad. Fresh arugula from their garden, slivered almonds, segmented oranges, and the best Mint Chia Dressing.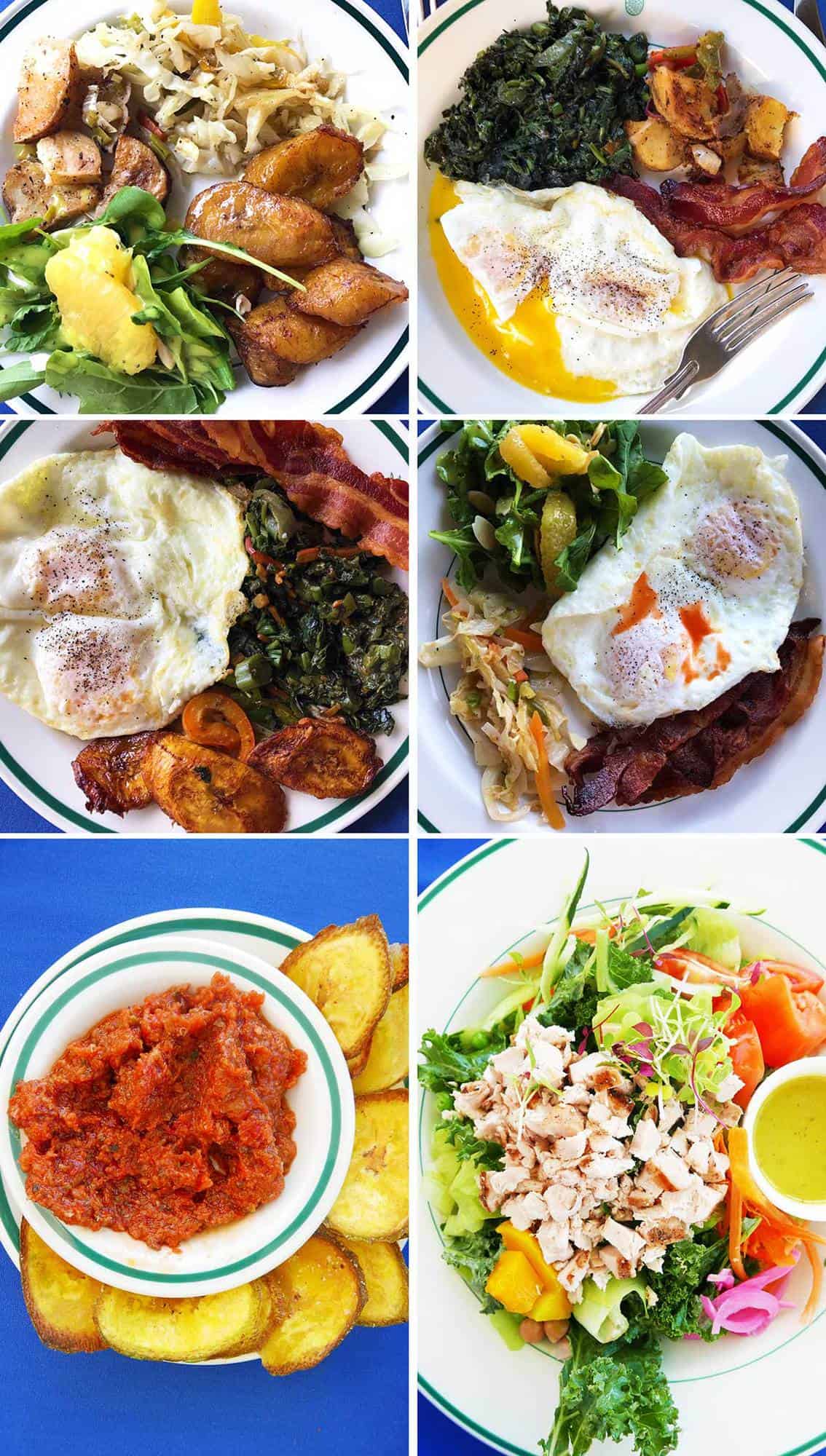 For lunch they start you off with fresh plantain chips and their homemade tapenade (ah-mazing, we took two jars home), and I ordered the chopped jerk chicken salad one MULTIPLE days. So fresh and delicious!
My fabulous friends at Round Hill said I could s hare with you the Mint Chia Dressing since I adored it SO MUCH.
This dressing is…
Creamy
Tangy
Sweet
Flavorful
Fresh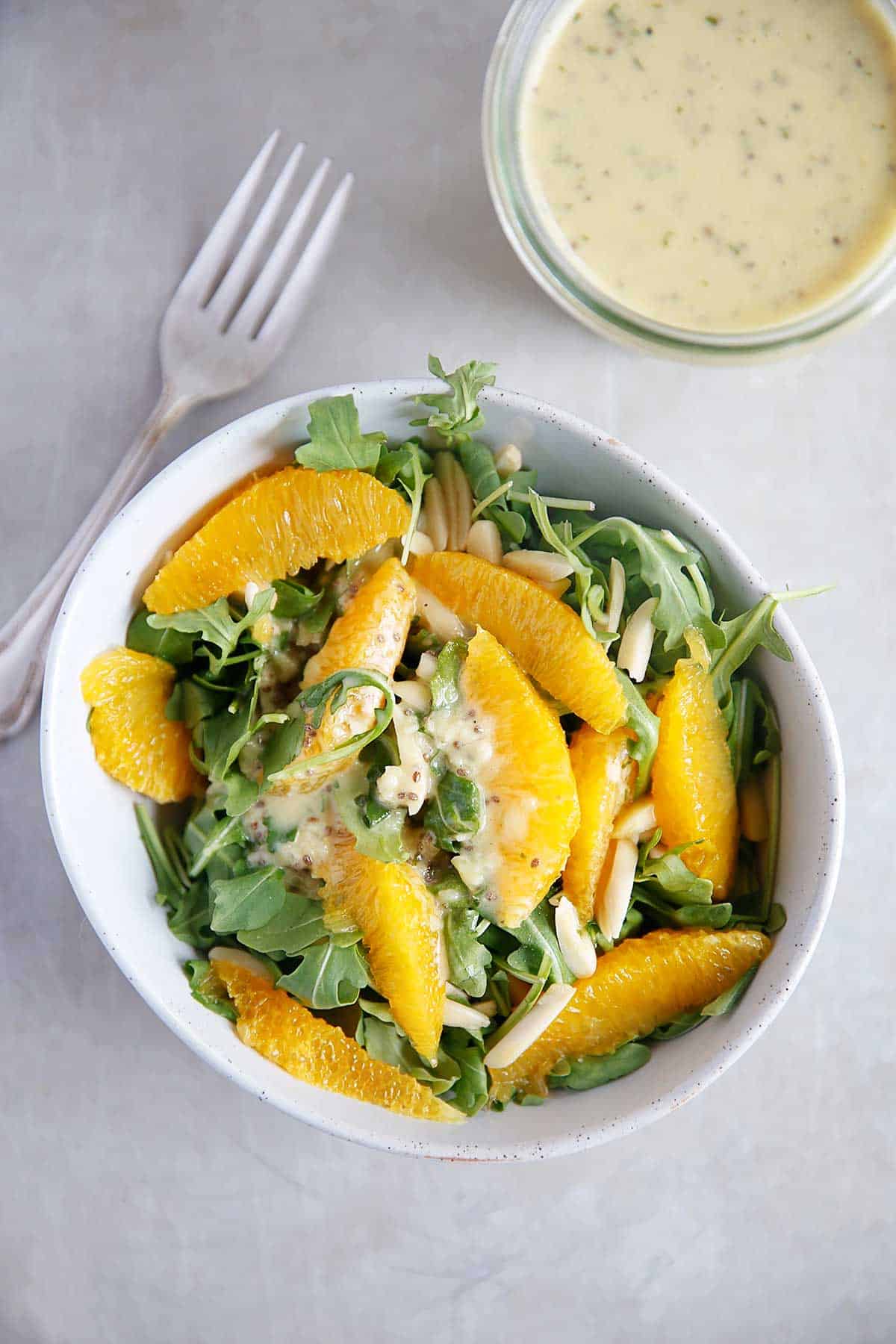 This is not a sponsored post. We did receive some complimentary meals and a few complimentary nights throughout our stay. All opinions are 100% always my own!
Arugula Salad with Mint Chia Dressing
These little honey vodka drink packs a whole lot of refreshing flavors; of ginger, honey, and lemon. Plus, an additional kick of vodka, because hey, sometimes we want to spice things up a bit. Leave out the vodka for a delicious lemonade beverage.
Honey Vodka Cocktail with Ginger
This simple and refreshing Lemon, Ginger and Honey Vodka Cocktail is simple and delicious. The ginger infused honey really amps up the flavor on this vodka cocktail. You could also use the ginger infused honey for lemonade!
How to Make Ginger Infused Honey:
There are two ways:
You can cook the ginger and honey together over a double boiler for about an hour. Be sure to check the water levels periodically so that the water doesn't evaporate.
Or you can simple placed the crystallized ginger in the honey for a few days, or indefinitely.

If you like this lemon recipe, check out these others:
If you like this cocktail recipe, check out these others:
[yumprint-recipe id='151′]
Ginger Infused Honey Lemonade Cocktails
This one-pot Lemon Roasted Lemon Roasted Chicken with Garlic, Capers, and Artichokes is such a flavorful and hearty dish! The perfect dinner for those nights you want as little clean-up as possible! Whole30 compliant, paleo-friendly, nut-free, and egg-free!
Lemon Roasted Chicken with Garlic, Capers, and Artichokes
It's starting to feel like Winter is on the horizon. Heavier jackets have started coming out, and I woke up to a text of a backyard cover in snow this morning! In lieu, this week's Savory Sunday is here with a cozy Autumn/Winter meal that is loaded with bright and delicious flavors. This dish was a major hit; the chicken fell right off the bones and it is extremely simple to throw together, a one pan wonder! Perfect for a Sunday night family dinner, or a meal prep for your work week.
How to make roasted chicken
Want other chicken recipes? Try these: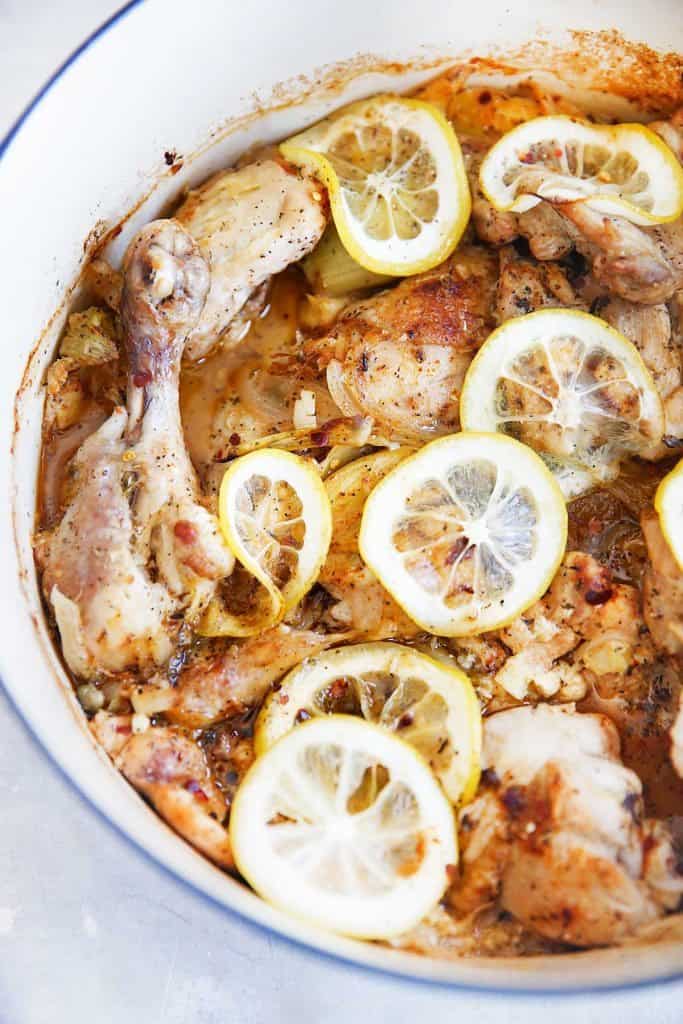 What is your go-to cozy Autumn/Winter meal?
Lemon Roasted Chicken with Garlic, Capers, and Artichokes
This Lemon Basil Shrimp Salad is tangy with a kick and the perfect refreshing lunch or light dinner on a summer day! Simply toss everything in a bowl, taste, and devour! Check out the video below for how to make it.
Lemon Basil Shrimp Salad Recipe
Don't you love easy, 1-bowl, super flavorful lunches or dinners? This Lemon Basil Shrimp Salad is light on the prep but heavy on the deliciousness. Eat this tossed shrimp salad in a lettuce cup, over a bed of grains or all by itself! It's my favorite meal to whip up super quickly that has so much flavor! The options are endless!
Here's what you need to make it:
1 lemon
rice vinegar
olive oil
garlic
fresh basil
sriracha
honey
dijon mustard
1 lb. (about 15-20) large cooked shrimp
cherry tomatoes
1 red onion
1 avocado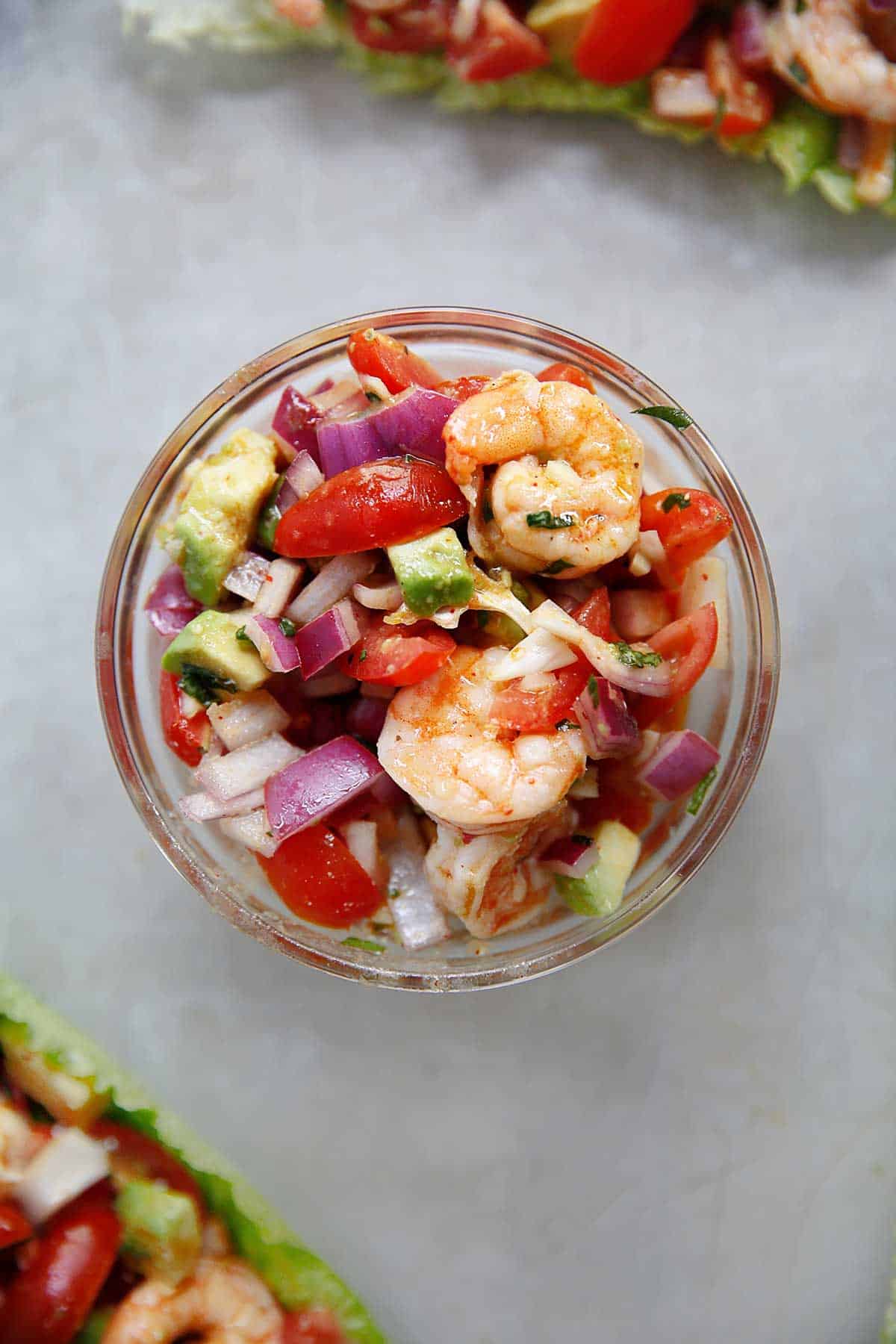 Can't buy precooked shrimp?
This shrimp salad recipe calls for fully cooked shrimp. If you can't buy them, you can starting with raw shrimp. Clean, devein, and remove the tail. Cook in a small skillet with oil of choice, salt, and pepper until pink, fully opaque and fully cooked through.
Can this be made ahead of time?
You can make this day up to 1 day ahead of time, but ideally served within a few hours after making it.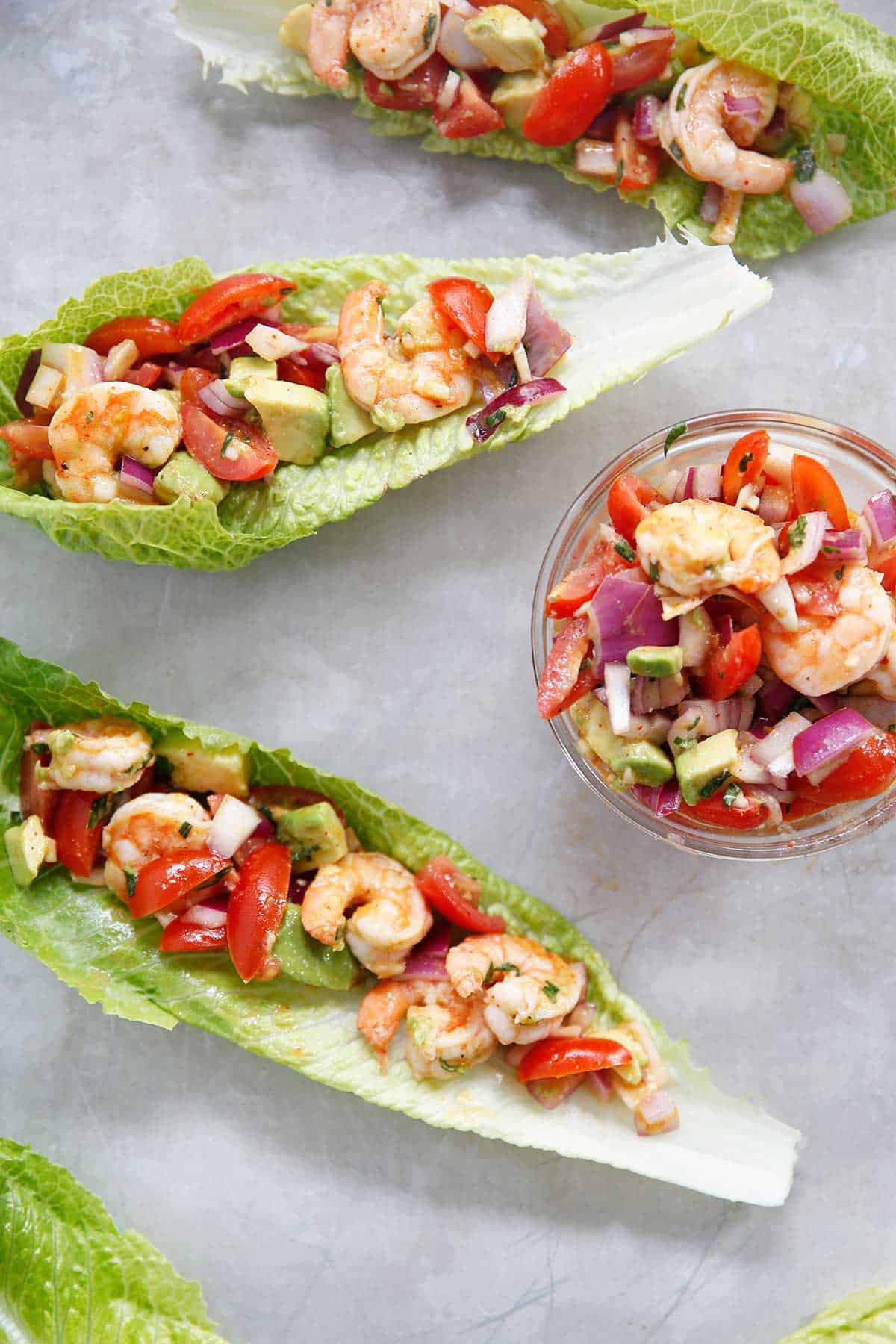 Like this shrimp recipe? Check out these others:
Watch the video here:
---