Strawberry and Mango Salsa Chicken
This Strawberry and Mango Salsa Chicken is the perfect light dish on a spring or summer night! It has contrasting sweet and savory flavors that make it so good! This mango chicken is also easy to put together and pairs so well with many other dishes! It's gluten-free and paleo too!
Grilled Mango Salsa Chicken Recipe
With grilling season upon us, this Grilled Strawberry and Mango Salsa Chicken should be on weekly rotation! We can't get enough of grilling with a touch of sweetness! The best part of this delicious dish is that it's simple to prepare, and EVERYONE is going to love it! The chicken is marinated in a sweet mango puree and then grilled to perfection and topped with a fresh mango and strawberry salsa. It's gluten-free, paleo and just dang delicious!
Why We Love Mangos
Did you know that mangos provide 100% of your daily vitamin C, 35% of your daily vitamin A and 12% of your daily fiber? And they're super delicious, of course! They are rich in antioxidants as well, which help fight free radicals. A diet rich in mangos and other vitamin C rich fruits can help aid in improving gut health as well!
How do you cut a mango?
There are a lot of different methods out there for cutting mangos. Some say to peel the mango and slice. We found the easiest way is to slice off two chunks of the mango on the flat side. Then cut up the pieces while it's still in the skin and then scoop it out.
Alternatively you could also cut the mango halves, then using a glass similar in size scope out the mango in one large chunk. Then dice it up!
Can you swap out other fruits?
We love this with mango and strawberries, but you could probably substitute a few other sweet fruits here, such as pineapple or peaches!
Using a Grill Pan or a Grill
Our first choice for cooking this recipe is to cook it on an outdoor grill. Since this chicken has a sweet mango marinade, cooking it on the grill where there is more air circulation is better and there is less likely of a chance to burn. However, we have tested it on a grill pan and it works, but you shouldn't leave too much of the marinade on the chicken before placing on the pan to grill since it has a tendency to burn before it is cooked through.
If you like this grilled chicken recipe, check out these others:
[yumprint-recipe id='355′]
Strawberry and Mango Salsa Chicken
These Thai Turkey Burgers with Spicy Sriracha Slaw are our new favorite low carb and paleo-friendly dinner! You can grill them outside or inside on your grill pan, and then serve them as low carb thai turkey burger bowls, or as a lettuce wrapped burger! The spicy slaw is packed with veggies and mango for a sweet and spicy crunch! This dinner is a must-make!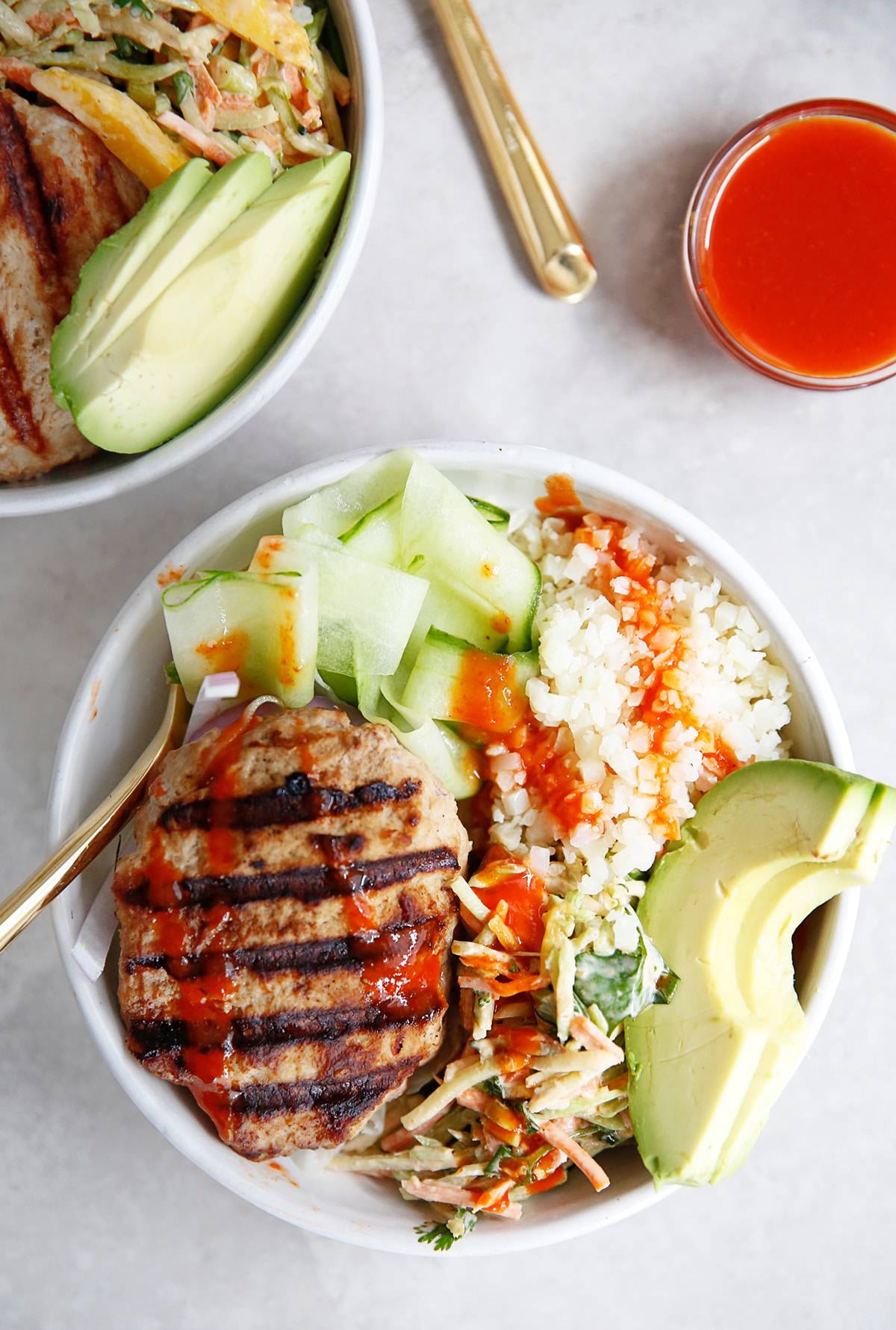 Thai Turkey Burgers with Spicy Sriracha Slaw
I am all about these thai turkey burgers right now! The dish takes a quick 30 minutes to put together but is full of exotic flavors to make a weeknight meal special. You can enjoy the last of the summer weather we are having and take this outside to prepare on the grill or savor this dish all year long and make on the grill pan inside. The burgers are flavorful and moist and a great low carb dinner!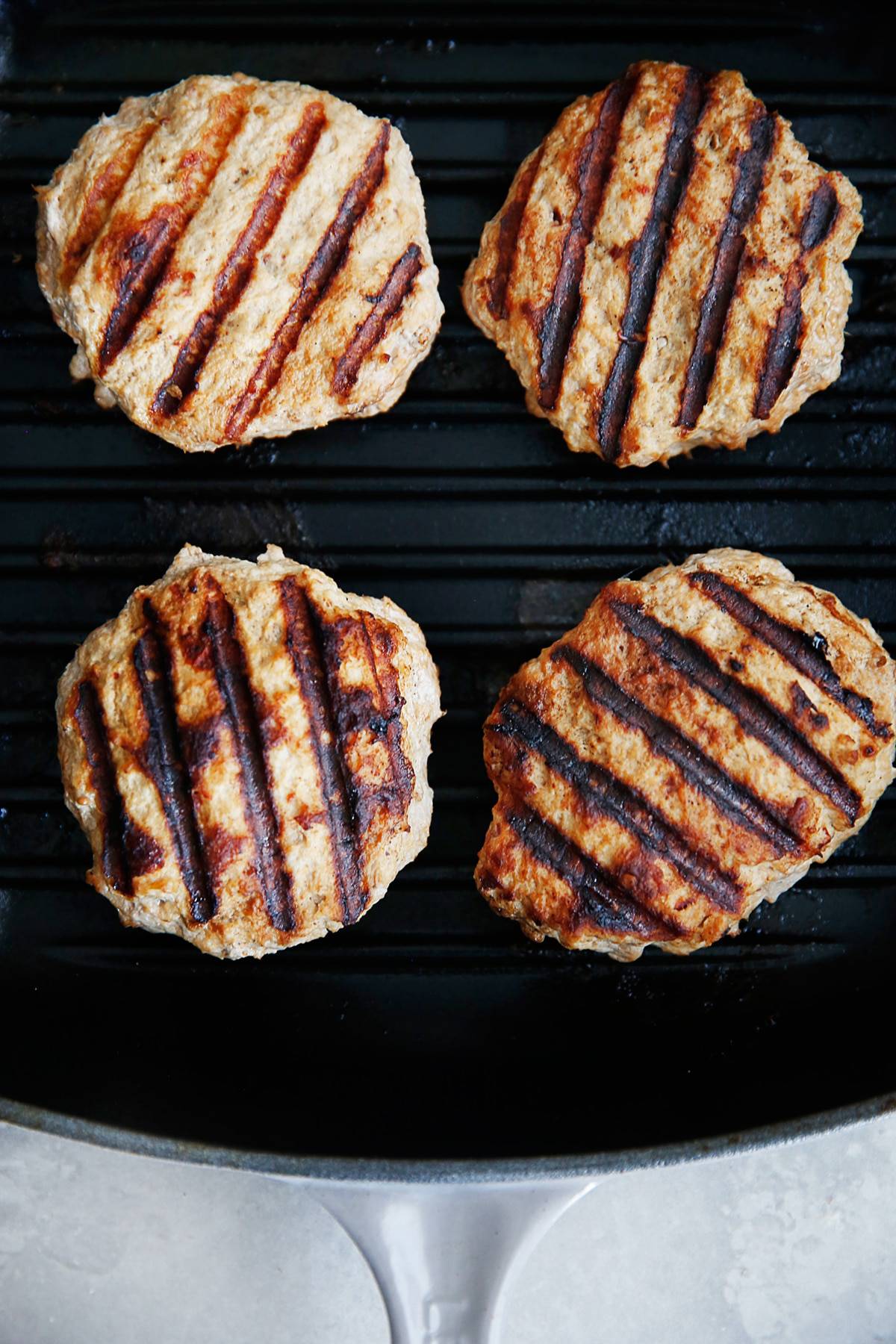 We wanted to keep the accompanying slaw simple so we prepared this using a pre-shredded broccoli and carrot slaw mix, but if you don't have this readily available go ahead and shred some using a food processor or a box grater. The mangos REALLY make this side dish stand out but just make sure to use a perfectly ripe one so it adds the right amount of sweetness.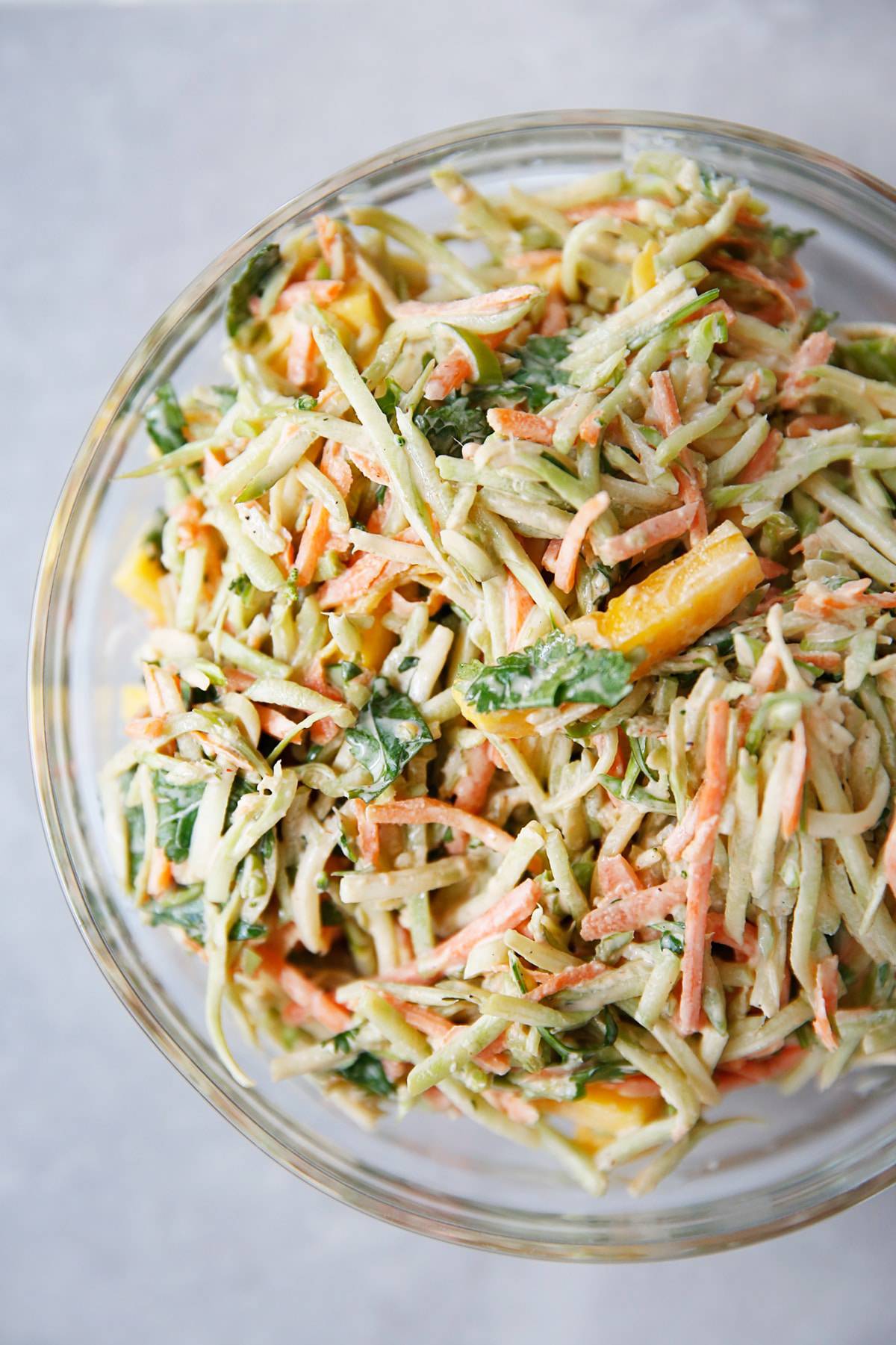 You can serve them as lettuce wrapped burgers for the perfect low carb dinner that satisfies!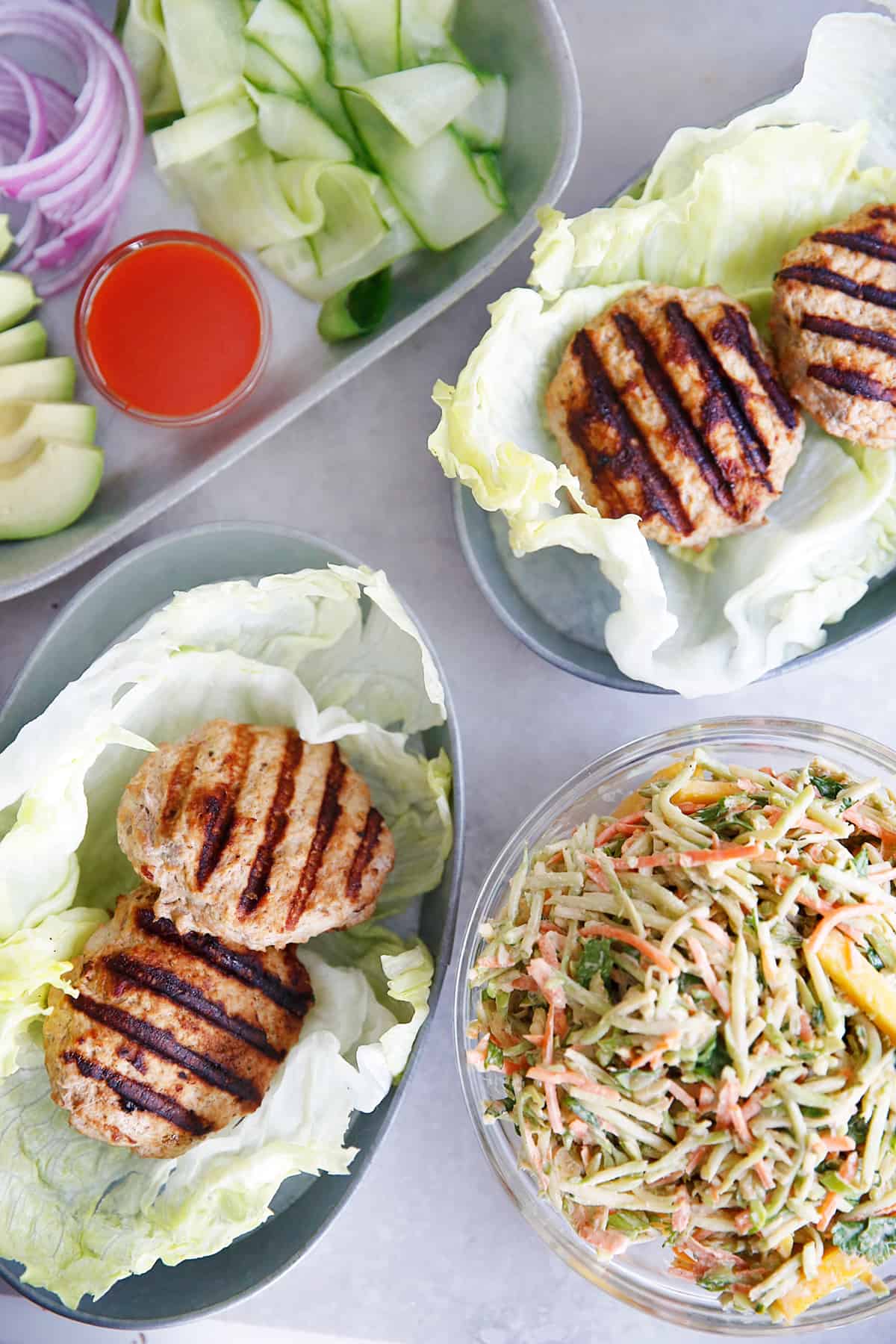 Or make it into a low carb burger bowl with the slaw, cauliflower rice, avocado, red onion, and ribboned cucumber drizzled with a little extra sriracha. PERFECT!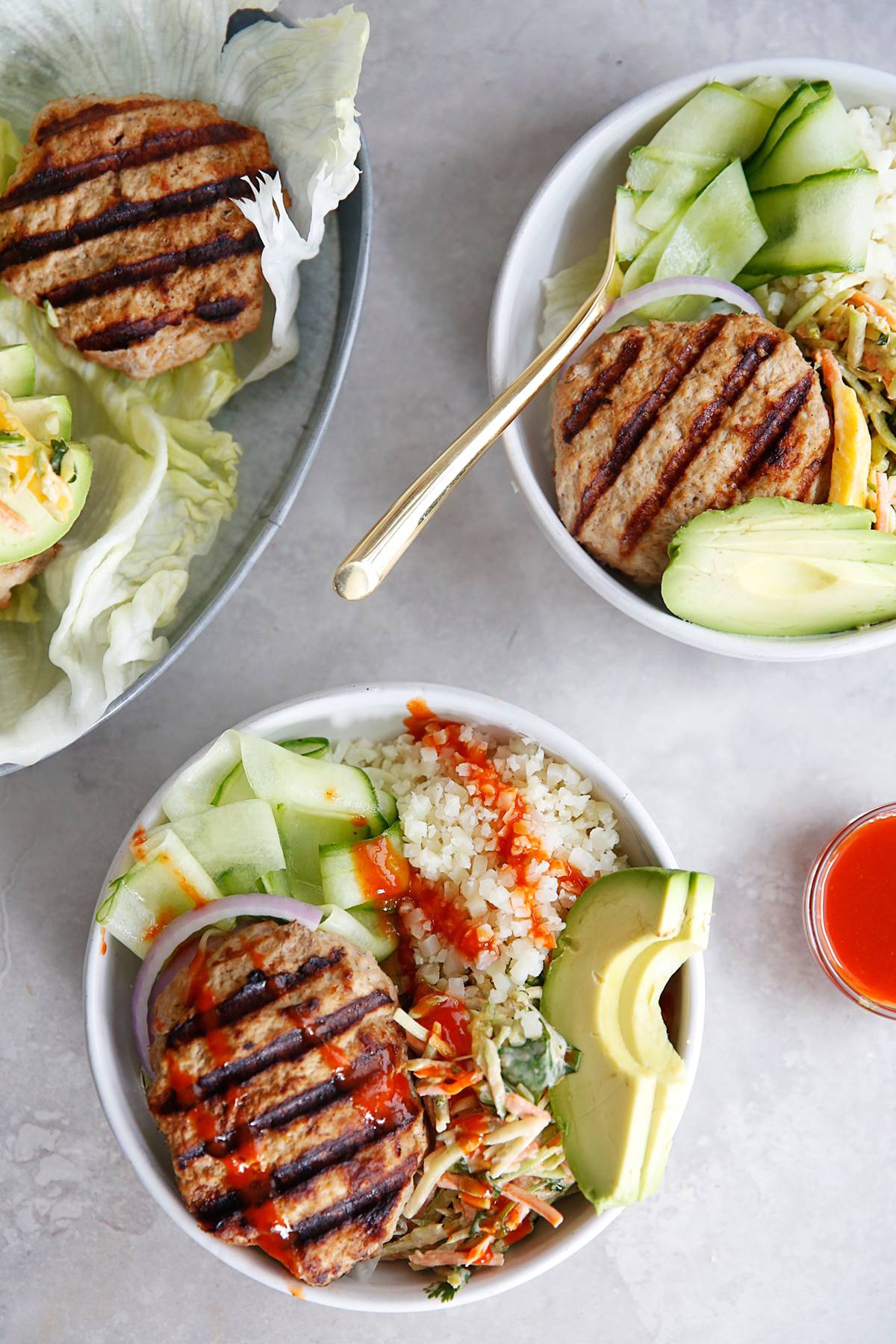 Want other burger recipes? Try these favorites:
Thai Turkey Burgers with Spicy Sriracha Slaw
This Anti-Inflammatory Smoothie is the perfect make-ahead breakfast! It's full of anti-inflammatory foods that are rich in vitamins and minerals, tastes delicious and will keep you satisfied until lunch time. It's vegan, naturally gluten-free and and so easy to prep! We make them into freezer packs for easy breakfasts that are already prepped in the freezer. Just dump into the blender, add your liquid, and blend!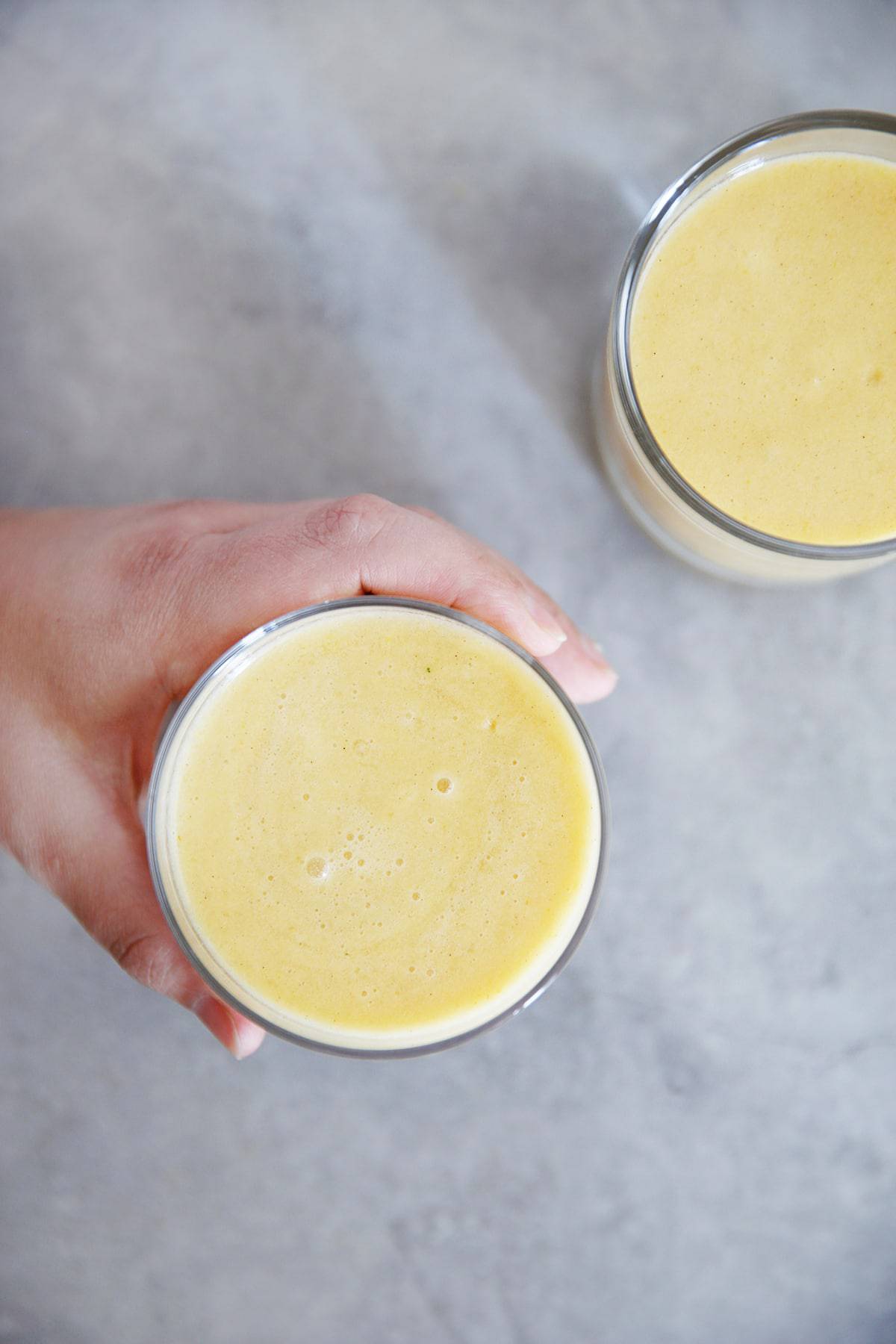 Anti-Inflammatory Smoothie
Smoothies are the easiest make-ahead breakfast! We love them because the possibilities are endless. In the past I've offered up many smoothie recipes, and even the perfect smoothie guide, but today we are focusing on the idea of smoothie freezer packs, and specifically nutrionally based smoothies.
Smoothie packs are so popular these days, and while they may be convenient, they can be pricey and you can't really control what is in them. For the next four weeks we're going to offer up 4 nutritional-minded smoothies that you can prep in advance, and in bulk if you choose, to be ready for a quick blend in the morning before heading out the door. And at the end we're going to do a round up and a bonus 30 Budget-Friendly Smoothies (in under 30 minutes) guide!

If you are a long-time reader of mine, you know that I believe that food can play a big part in not only keeping the body healthy, but also healing the body, so we're offering up 4 make-ahead smoothie packs that target specific health benefits! And today marks our first one: Anti-Inflammatory!
Inflammation in the Body
Our body uses a process known as inflammation to protect ourselves from invading foreign microbes  such as chemicals or pollen, or to help heal from a wound. When this condition persists without the underlying cause it can be harmful. This is known as chronic inflammation and it has been linked to a number of larger medical conditions such as diabetes, arthritis and heart disease. A natural and easy way to help keep inflammation down is through food!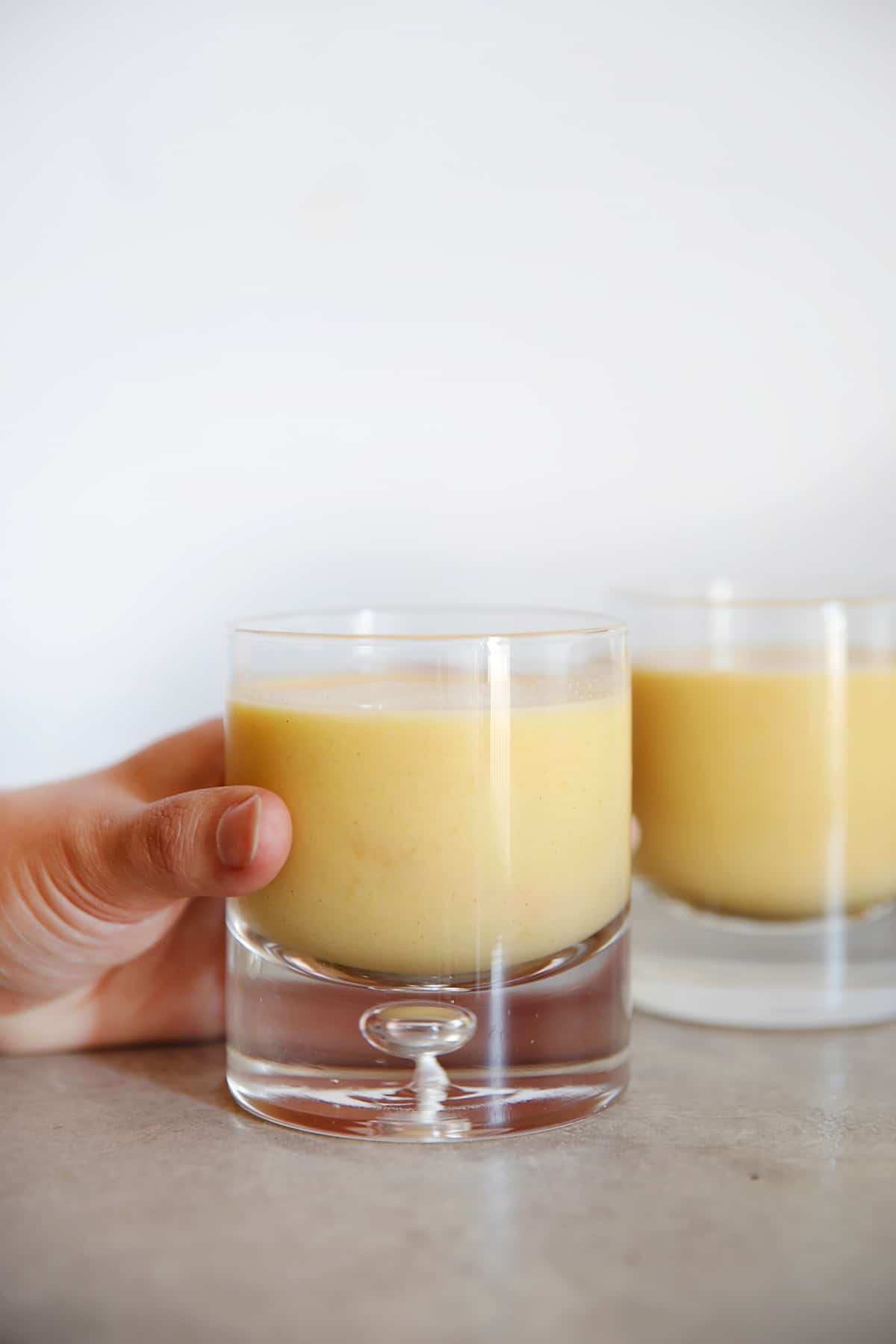 Best Anti-Inflammatory Foods
Eating a diet full of foods rich with vitamins and minerals is a great start to lower inflammation. Some common foods to help with this are leafy greens, nuts and fatty fish. For our smoothie today we've paired a few (delicious) foods together that are high in anti-oxidants and rich in vitamins in mineral to help reduce inflammation: mango, cauliflower, ginger, turmeric and black pepper!
Stay tuned for the rest of the make-ahead smoothie freezer pack series:
Anti-Inflammatory Smoothie Freezer Pack
Detox Smoothie Freezer Pack
Round Up + 30 Budget-Friendly Smoothies
Items we love for smoothie packs:
Anti-Inflammatory Smoothie Freezer Pack
These Chicken Wings with Mango-Chili Sauce are a delicious addition to any Summer BBQ! The Mango-Chili sauce is so tasty with a hint of smoky flavor, and compliments the wings perfectly! Throw them on the grill or in the oven for a perfect appetizer or main any night of the week. These wings are made in partnership with the National Mango Board.
I am so excited to partner with my friends at the National Mango Board to bring you today's recipe!
Mangos are a great source of Vitamin C, Vitamin A, and fiber and are a great lower calorie snack at 100 calories a cup! Plus, they are SO flavorful, juicy, and delicious!
These wings lasted about 2 hours in my house. Marinated to perfection with just the right amount of smoky heat, we could not get enough!
I am always on the lookout for flavorful recipes to make for Summer gatherings with friends and family and these wings will definitely be a hit! Blend the sauce, marinate the wings, toss on the grill and devour! The perfect combination of sweet and smoky with just the right amount of spice!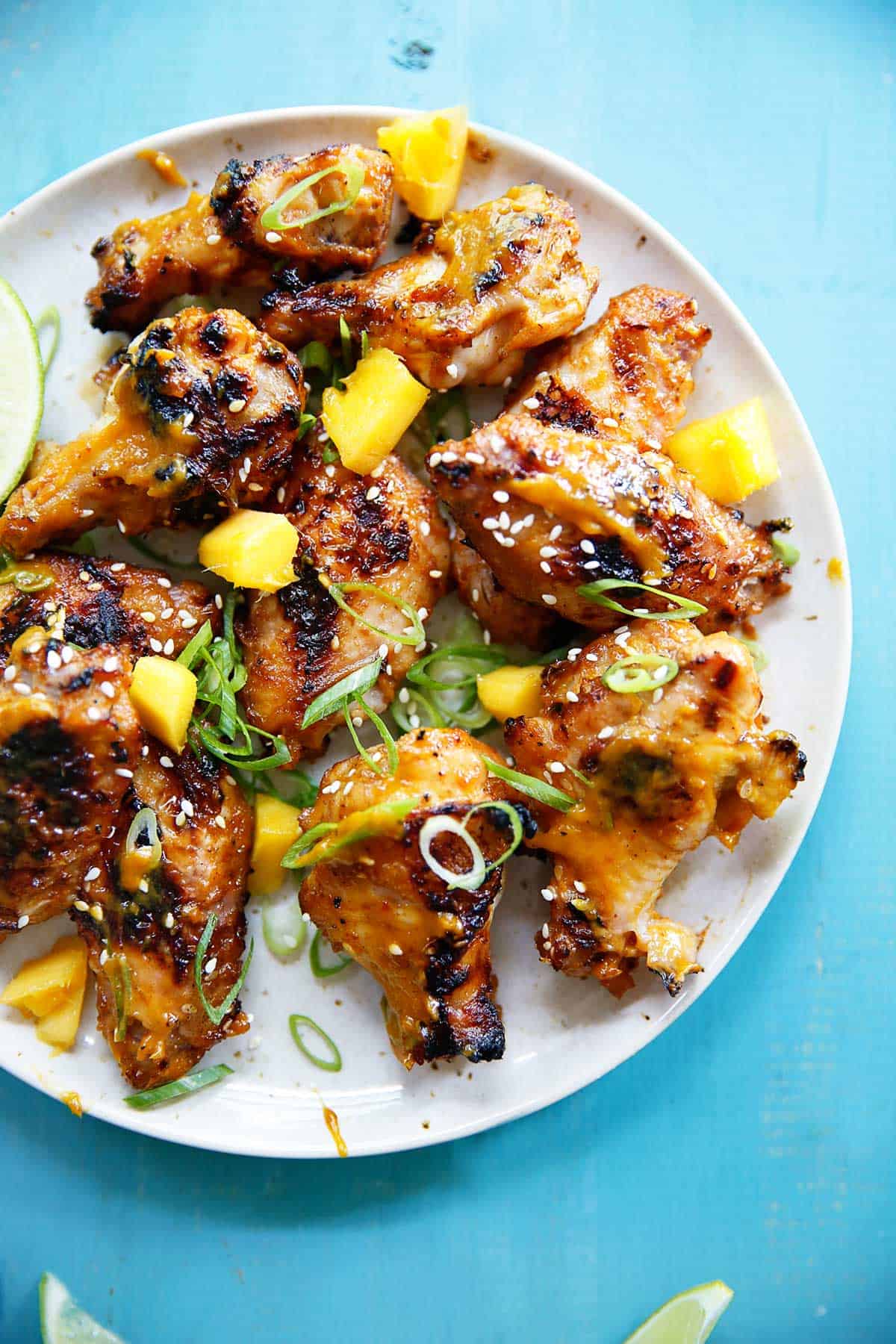 This post in sponsored by the National Mango Board. All opinions are 100% always my own! Check out the National Mango Board's tutorials on How to Cut a Mango and Selecting and Storing a Mango! They are both great tools for all your mango needs.
Chicken Wings with Mango-Chili Sauce
This creamy Mango Protein Smoothie is so refreshing and packed with delicious tropical flavors! The perfect smoothie for a beautiful Spring or Summer day! The best part? It is so simple to make with only 6 ingredients. Moreover, it's dairy-free and loaded with protein and fiber to help you stay energized throughout the day!
Mango Protein Smoothie
Smoothies are the easiest make-ahead breakfast! I love them because the possibilities are endless. This Mango Protein Smoothie is a hit with everyone who makes it! To build a perfect smoothie, you want it to be nutrient dense, creamy, and not super thin.  I think this one hits all those marks!
Here is what you need for this mango smoothie:
grass-fed whey protein
unsweetened vanilla almond milk
frozen mango (5 ounces)
vanilla extract
chia seeds
coconut oil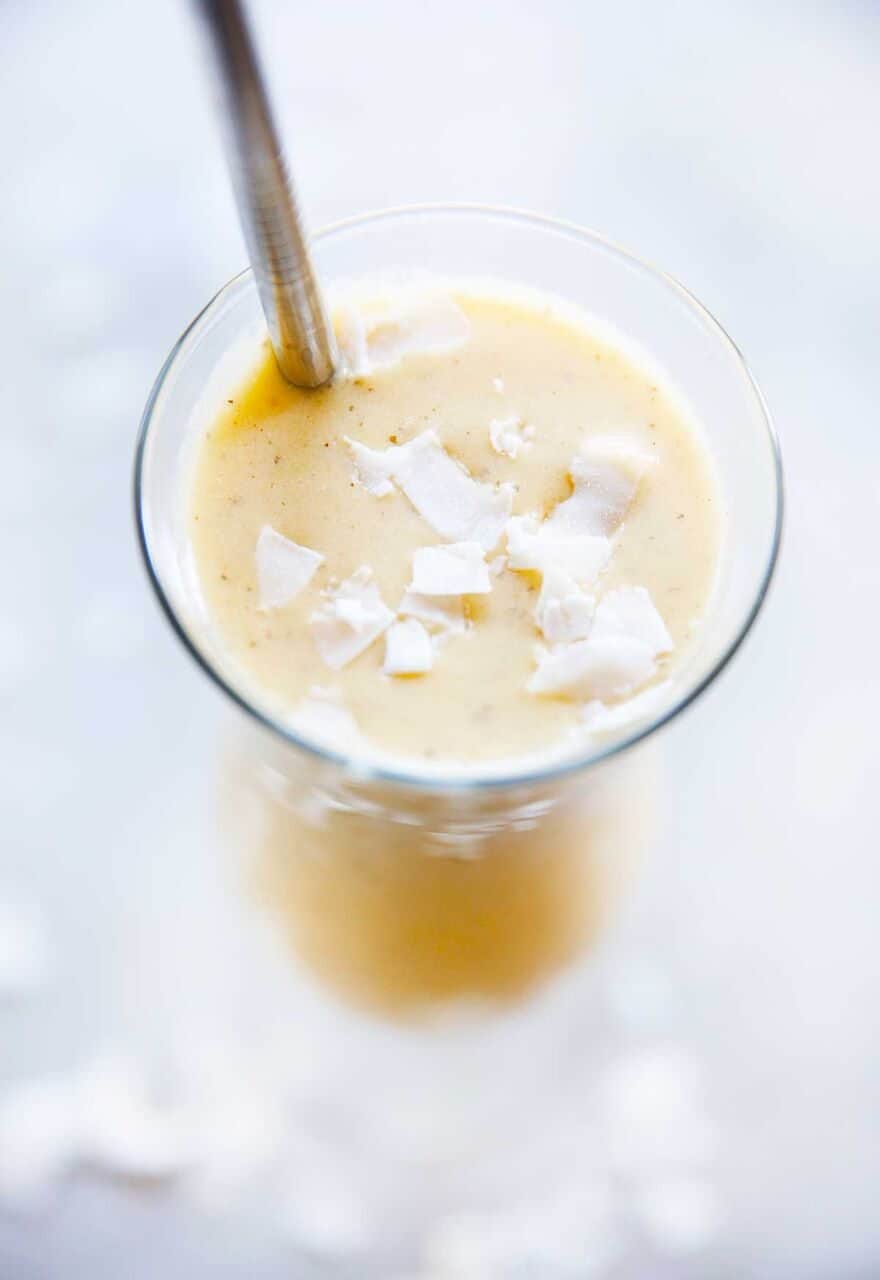 Want to turn this into a smoothie pack?
I love making my own smoothie packs for easy breakfasts that are already prepped in the freezer. Just dump into the blender, add your liquid, and blend! Simply place all of the ingredients inside a container with a tight seal or a plastic bag, except the almond milk. When you are ready to use remove from the freezer and add the almond milk to the blender basin.
If you like this smoothie recipe, check out these others: