How to Make Paleo Mayo
Homemade Paleo Mayo is so easy to make, using a handful of ingredients you likely already have on hand and made in under 5 minutes! Want to make it even more special? Turn that homemade mayo into 4 easy and delicious flavored ones in just a matter of minutes.
Easy Paleo Mayonnaise Recipe
If you follow a strict paleo diet, or you care about avoiding unhealthy fats like canola or soybean oil, finding a clean store-bought mayo can feel impossible. Luckily there are a few brands on the market now that are selling mayonnaise made with avocado oil, but the downside is that they are super expensive, and some of them do have a strong flavor. If you've never made it before, you might think that making mayo at home is hard or involves a lot of ingredients, but we're here to tell you homemade mayonnaise:
is easy
is inexpensive
and it taste so much better than anything you can buy
You may be wondering what the difference is between paleo mayo and regular mayo? Simply put, it's the oil! There really is no other change to making paleo mayo then to switch out the canola or soybean oil with a paleo-friendly oil. We're suggesting to use half avocado oil and half light olive oil. We love the flavor of olive oil, but if you make mayo with only olive oil the taste is overwhelming, and the same goes for only avocado oil. And if you only have a really heavy tasting olive oil than use even less of it proportionally.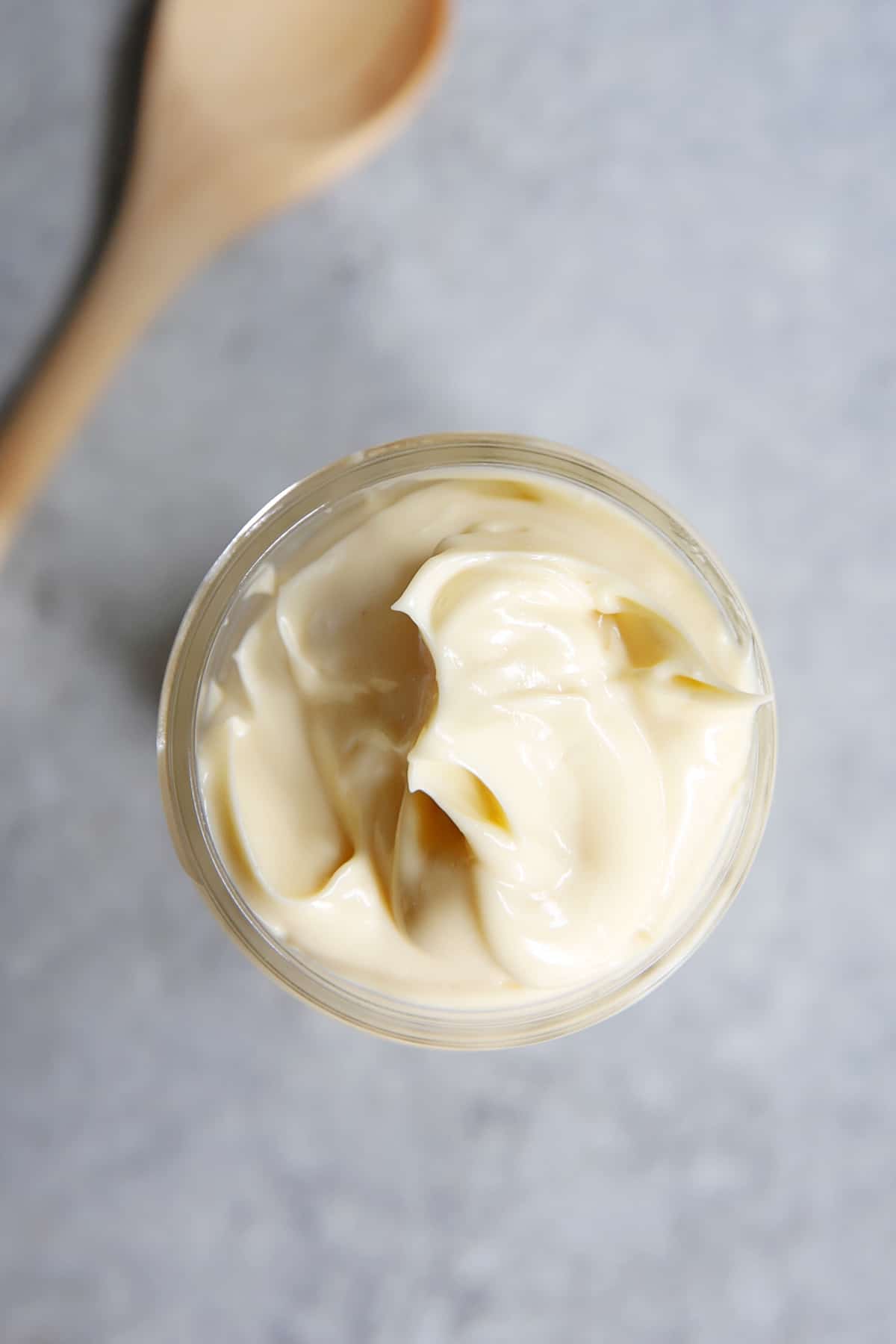 Here's what you need:
1 egg
1 lemon
dijon mustard
salt and pepper
avocado oil or light olive oil
Tips on Making Paleo Mayo
In our recipe below, we've offered 3 different ways to make paleo mayo with a food processor, a blender or an immersion blender. They basically all have the same concept in mind though. A mayo is an immersion of oil into an egg, with a few other flavor components to it. The dijon mustard also helps bind it, so don't skip that.
The most important part when making mayo is to slowly (very, very slowly) drip the oil into the blending egg. It's important to start dripping the oil in at first so that it has time to emulsify. Once it is stable, you can drip the olive oil in faster.
Troubleshooting Tips
If your mayo is thin: it has "broken" which means that it didn't emulsify properly. You can start over with the whole broken mayo. Start by getting a clean bowl and adding in an egg yolk and another drop of dijon mustard. Place a wet towel around your bowl to stop it from moving and then whisk it together and very slowly add the broken mixture, while whisking constantly, a tiny bit at a time until the mayo becomes thick and creamy.
If your mayo is too thick: you can thin it out with a little extra bit of lemon juice or even some warm water. But start with a small amount at a time.
If your mayo is bland: season it more with salt and pepper, and more lemon juice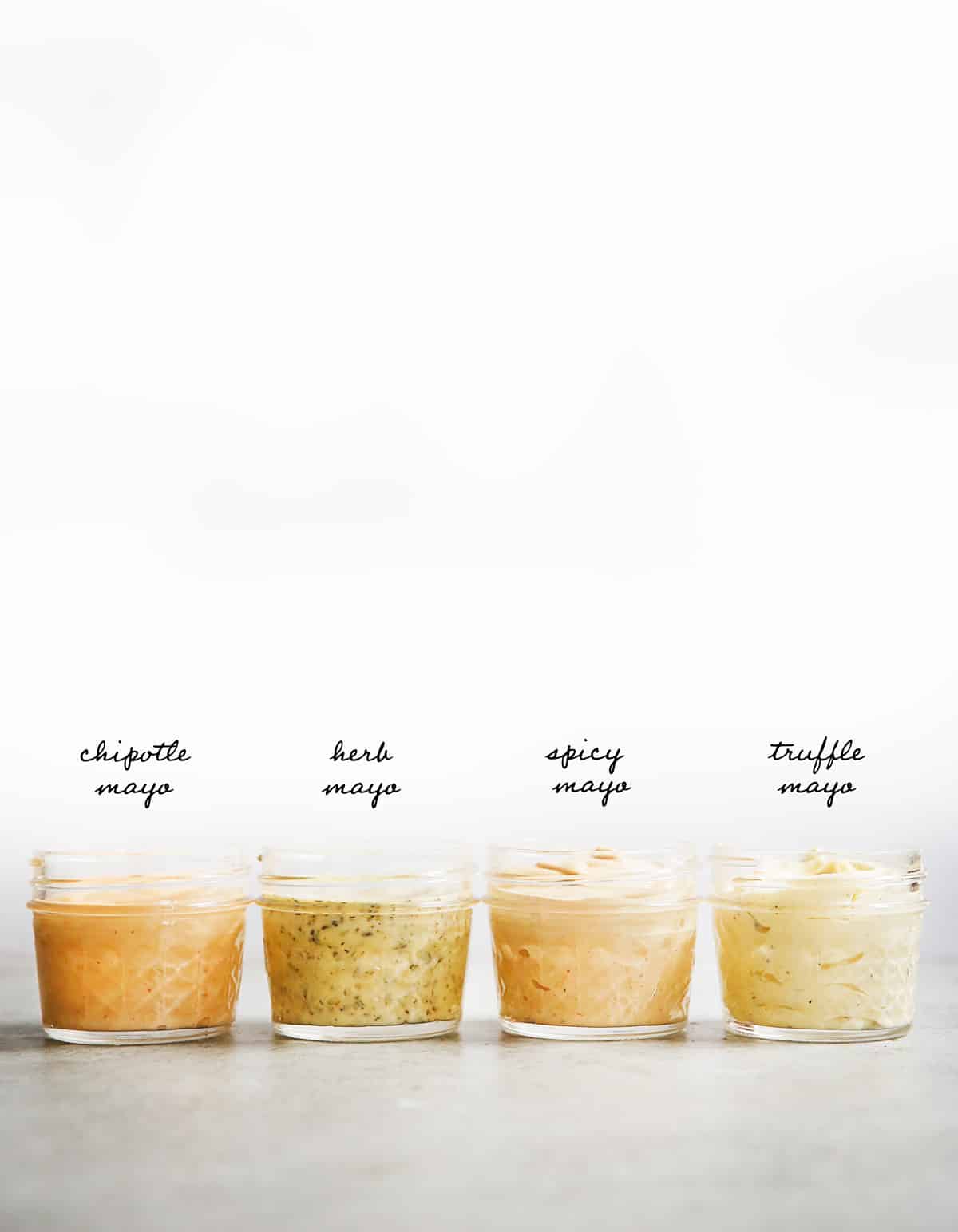 How to Make Flavored Mayo
Here are a few different flavor variations for the mayo. Simple whisk the ingredients into the mayo.
For Spicy Mayo:
1/4 cup mayo
1 teaspoon sriracha (or more to taste)
Herb Mayo:
1/4 cup mayo
1 tablespoon Italian seasoning
Truffle Aioli:
1/4 cup mayo
1 clove garlic, grated
2 teaspoons truffle oil
Chipotle Mayo:
1/4 cup mayo
1 tablespoon chipotle adobo sauce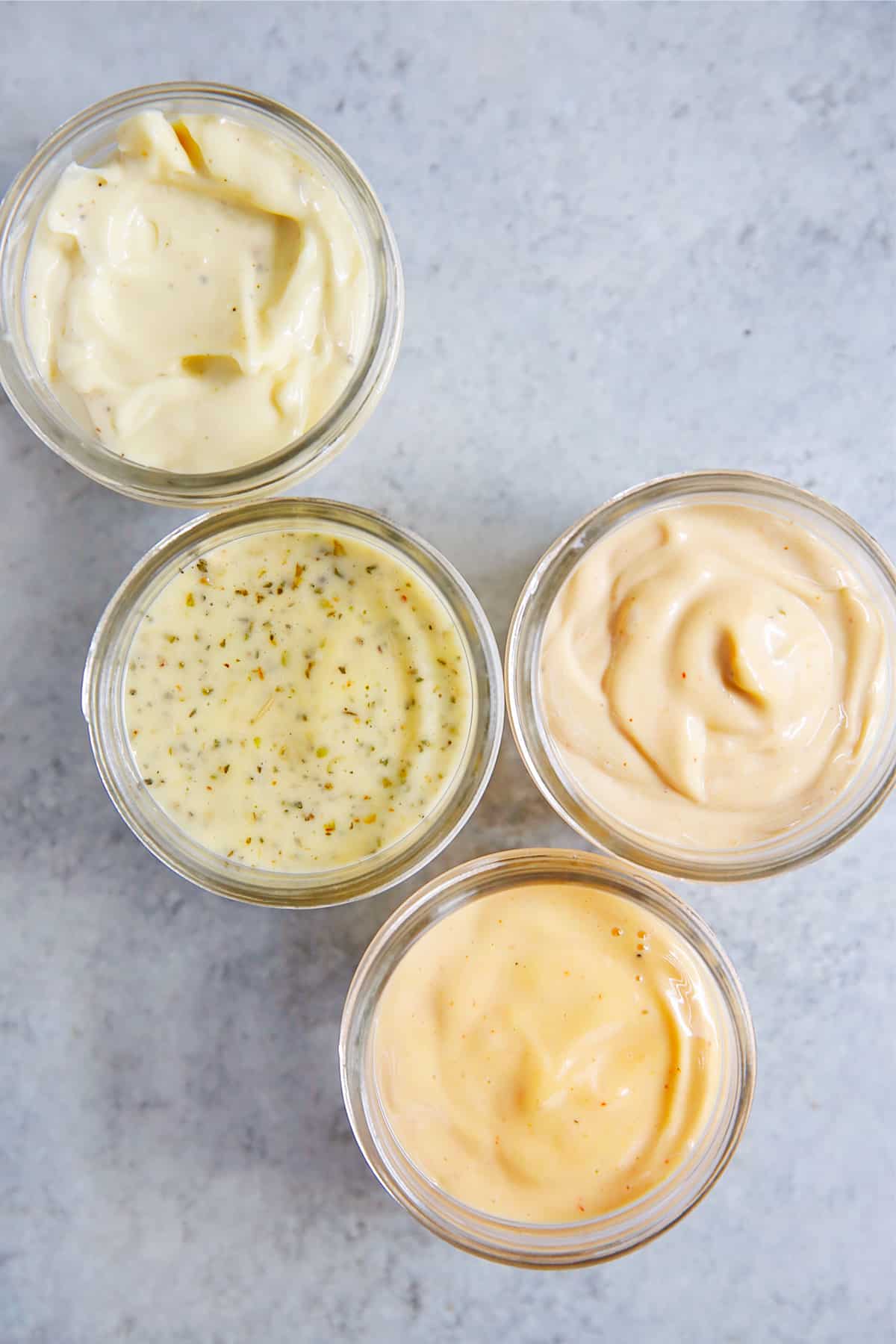 How long will paleo mayo last?
It will keep for 1-2 weeks in your refrigerator. This makes a smaller batch so that you can use it up quicker. If you go through mayonnaise quickly you might want to double a batch.

If you like this How to recipe, check out these others:

Watch the video:


[yumprint-recipe id='127′]
How to Make Paleo Mayo
A fresh take on a classic lunch staple: tangy sun-dried tomato and capers with a light mayo based chicken salad!
Sun Dried Tomato Chicken Salad
If it's not broke, don't fix it and chicken salad for meal prep is a recipe that sure isn't broke. We've made it a few times here on LCK, but this time we're making it with an Italian-esque makeover: a mayo based chicken salad with sun-dried tomatoes, capers, parsley and white wine vinegar. It's salty, tangy and really delicious.
As with all chicken salad, it's easiest to use either leftover chicken or grab a rotisserie chicken. If doing it this way, this meal prep takes about 5 minutes! If you're using a rotisserie chicken you can either double up on this recipe since it only calls for 2 cups of chicken, or use the remainder of the chicken for a dish such as Buffalo Chicken Dip, Loaded Paleo Nachos, or Chicken Soup. If you want to make the chicken fresh, you can make shredded chicken in the Instant Pot or slow cooker!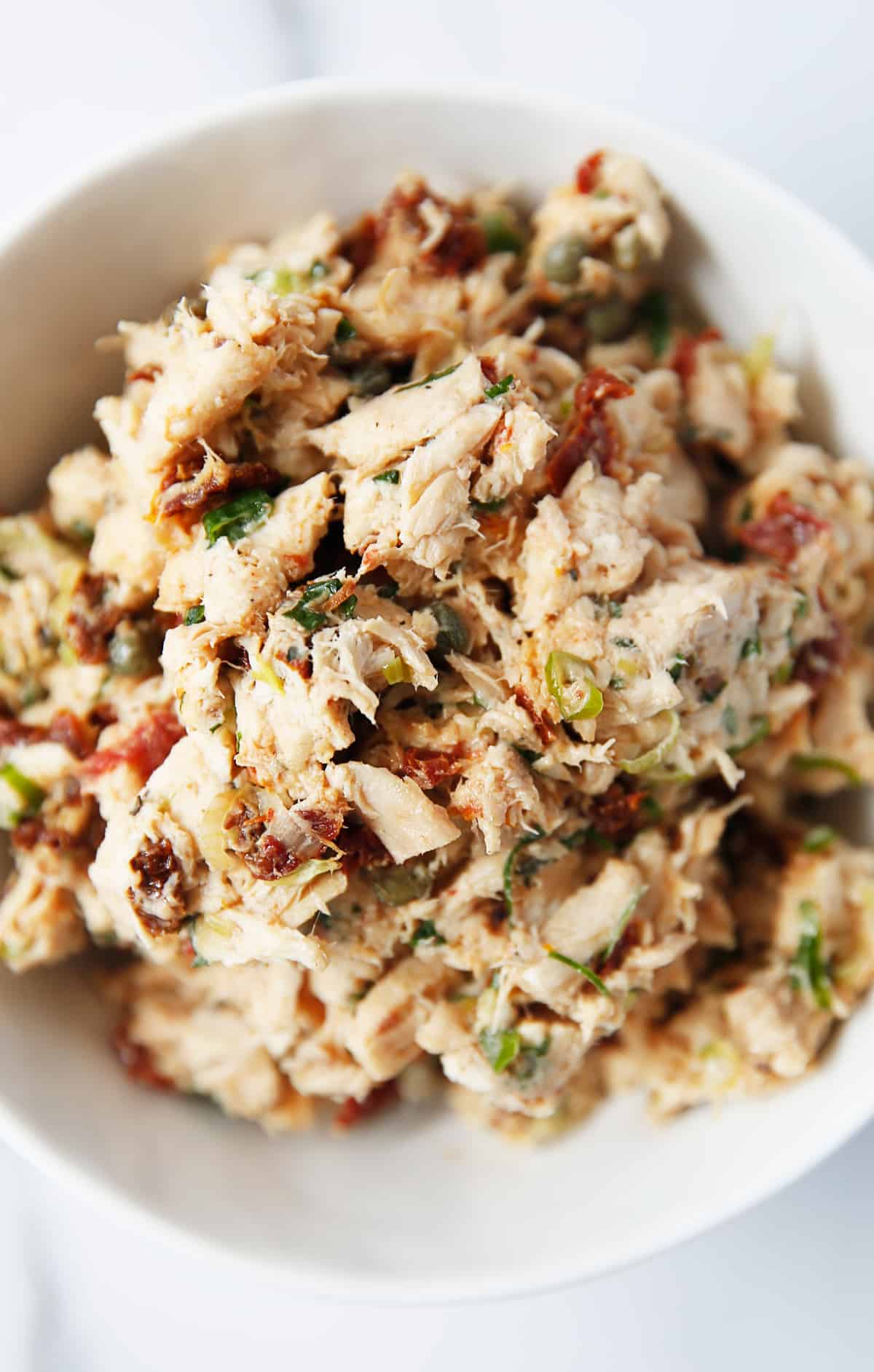 Ingredients for this Sun Dried Tomato Chicken Salad:
shredded chicken (make fresh or better yet use leftover or a rotisserie chicken)

mayo (we love avocado oil mayo for healthy fats)

sun-dried tomatoes packed in oil

capers

parsley

green onion

white wine vinegar (or lemon juice)

salt and pepper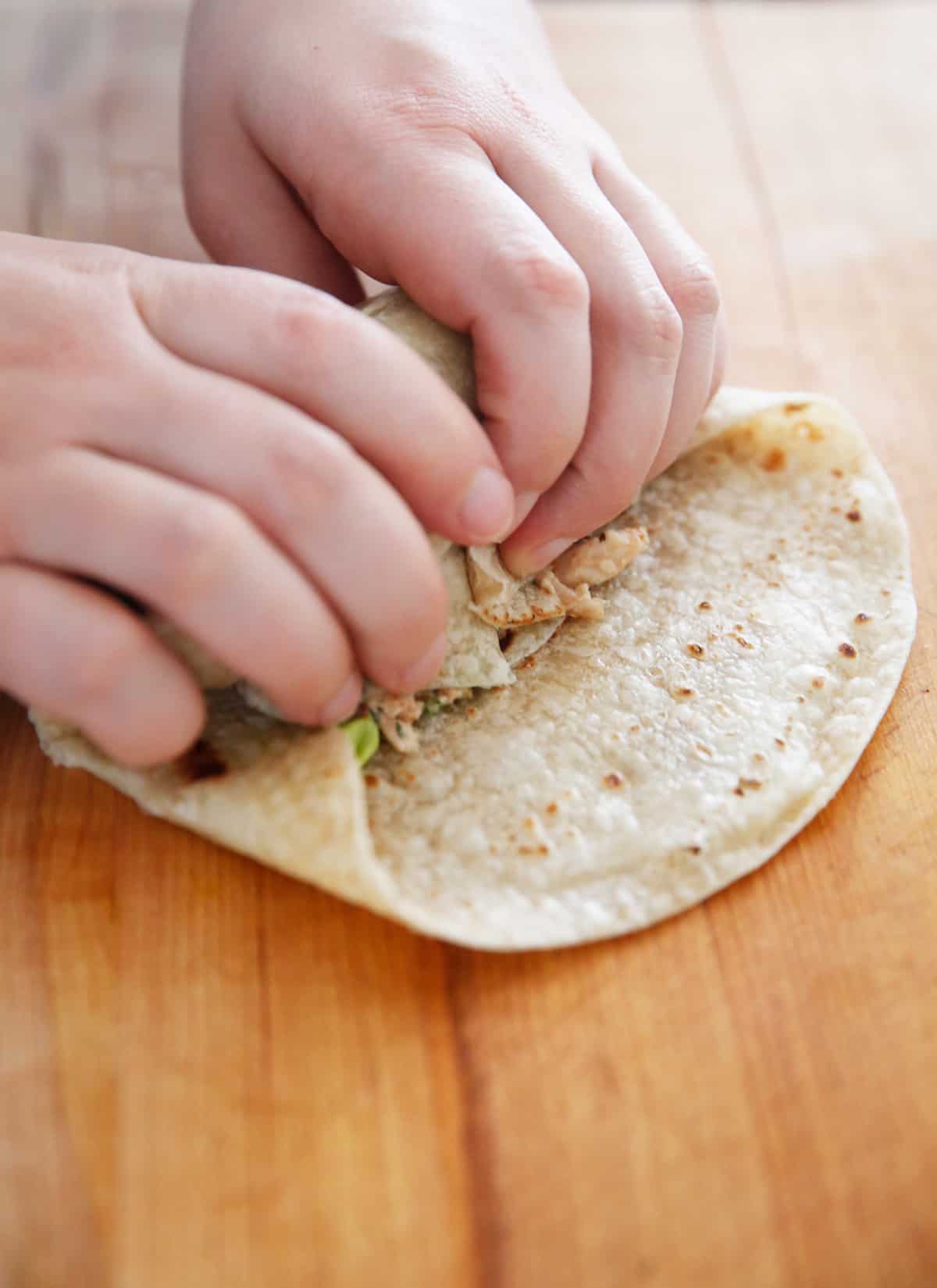 Ways to Use Chicken Salad:
Make it classic with a sandwich! Add baby spinach and avocado if you're feeling fancy.
Wrap it up! There are luckily now a lot of gluten-free wraps, or you could try using a gluten free tortilla, like Siete brands.
Serve it over a bed of lettuce. Any lettuce would work here ranging from a classic romaine to a baby kale or spinach.
Or wrap it up with lettuce! Check out our post all about making Lettuce Wraps.
Put it in an avocado! This flavor combo will be pretty awesome.
Serve it with crunchy crackers. There are lots of gluten-free brands, and also some seed based or cheese crackers for low carb.
Stuff it in a scooped out cucumber. Scoop the seeds out of the cucumber and stuff in the chicken salad! We'd recommend a traditional cucumber here, which tend to be larger than the European or greenhouse cucumbers.
Or just eat it! It's that good.
How many days can you keep homemade chicken salad?
Homemade chicken salad stays good for 3 to 5 days in the refrigerator!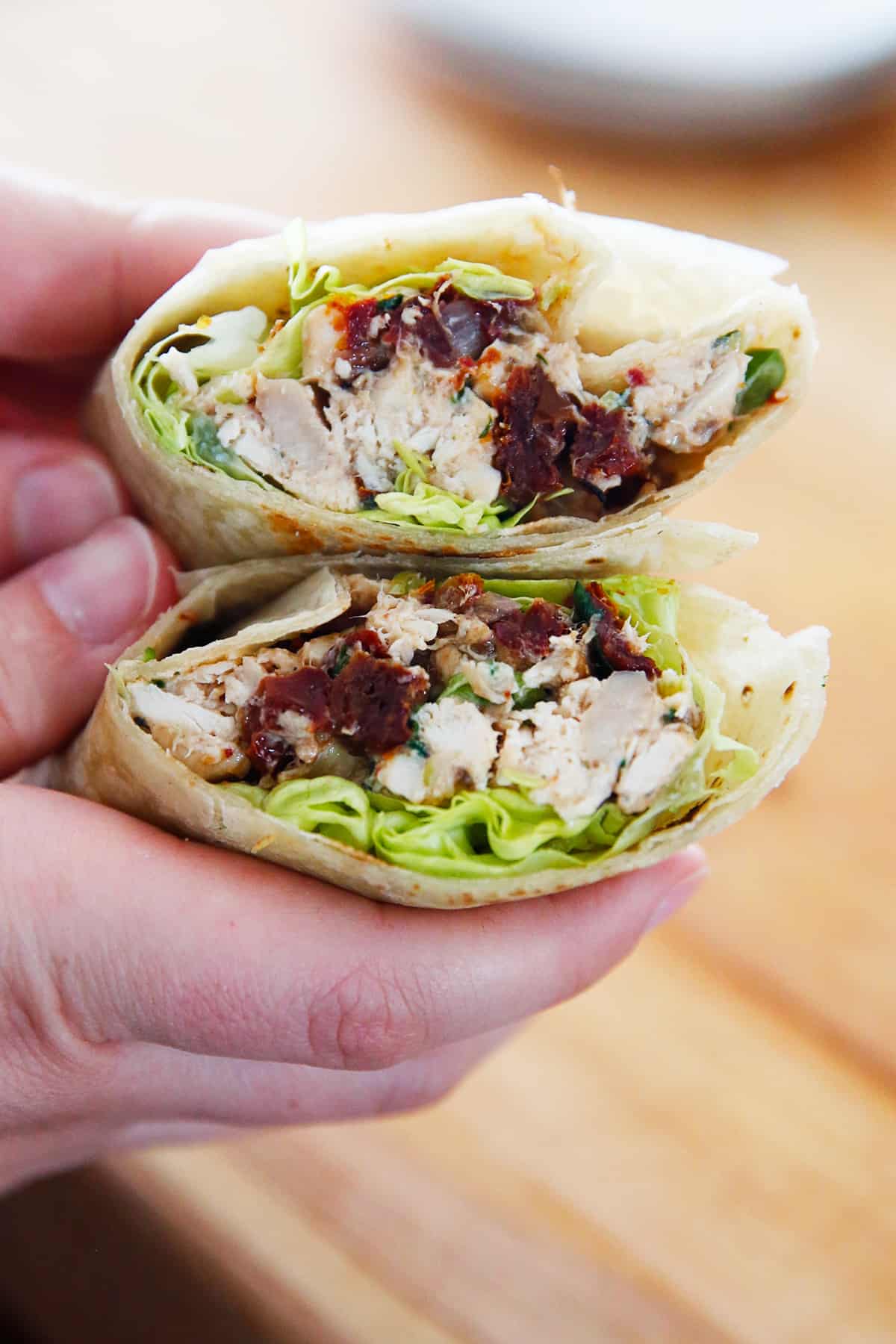 Like this chicken salad recipe, check out these others:
Sun-dried Tomato Chicken Salad
A fresh take on a classic lunch staple: tangy sun-dried tomato and capers with a light mayo based chicken salad!
---
---
Ingredients
2 cups cooked chicken,

shredded

1/3 cup organic mayonnaise (homemade or store-bought), add more as needed

2 tablespoon parsley

2 tablespoons capers

2 green onion

2 teaspoons white wine vinegar, or lemon juice

½ teaspoon salt
½ teaspoon black pepper
Directions
Add all ingredients to a medium bowl. Stir to combine. Taste and adjust seasoning.
Store in a container and use for up to 5 days.
---
Nutrition
Loading nutrition data...
Pin it for later: