One Pan Moroccan Fish
This One Pan Moroccan Fish is a super flavorful and easy-to-prepare weeknight dish! It's got a nice hint of heat and is loaded with hearty veggies! Made in under 30 minutes, this Paleo and Whole30 friendly dish is your ticket to healthy and comforting dinner.

One Pan Moroccan Fish
I love getting inspired by other cuisines. I am always impressed with the different combinations of various spices and how they come together to bring delicious warm flavors. This one pan Moroccan fish recipe is just that: it's loaded with flavor and packed with veggies. It's also an elegant looking dinner that nobody would guess was super easy to prepare. It takes less than 30 minutes and requires only ONE pan.
This spiced Moroccan Fish recipe is so hearty and comforting. You start off by sautéing some veggies in a pan and then keep building the flavor up from there with warms spices and tomatoes. Next, you nestle in the halibut for a quick 7 minute cook time. It is filling all on it's own, but certainly can be served with some rice or even some light beans, like chickpeas!
How can you tell when fish is cooked through?
Fish cooks quickly and becomes more "fishy" if it's overcooked so it's important to cook it correctly! There are a few ways to tell when a fish is done. A fish is cooked through when it is opaque and flakey on the outside. To ensure it's cooked through in the middle you can stick a thin butter knife into the center of the fish. If the fish gives any resistance, then it's still needs a bit more cooking time. If the butter knife is inserted easily inside the fish without any resistance the fish is done. Remove it from the heat immediately.
Alternatively you can take the fish temperature with an instant read thermometer. Properly cooked fish can be taken off of the heat at 140ºF, and it will continue to cook for another minute or two off of the heat naturally and will bring it up to the proper temperature of 145ºF.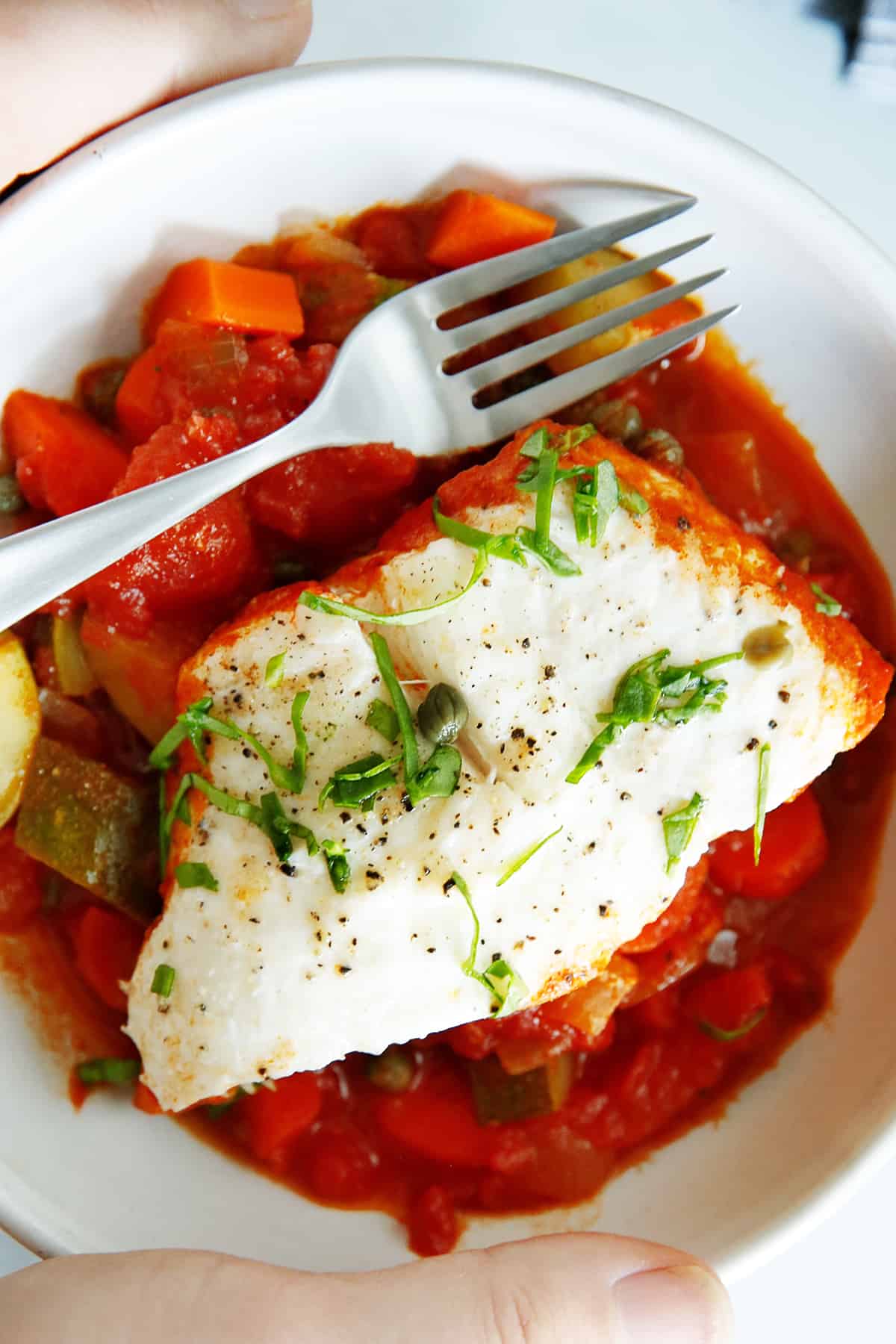 If you like this Moroccan inspired recipe, check out these others:
If you like this fish recipe, check out these others:
One Pan Moroccan Fish
---
---
Directions
Heat oil and garlic in a pan
Add in zucchini, onion, carrots, and garlic and sauté until veggies are soft
Add in whole peeled tomatoes, paprika, turmeric, cinnamon, cayenne, salt, pepper, and red pepper flakes
Bring to a boil then reduce and let the sauce simmer for 5 minutes
Spread a space slightly for the fish
Salt the fish lightly
Place fish in the sauce, cover, and let cook until the fish is opaque (about 7 or so minutes)
Add capers and serve!
---
Nutrition
Loading nutrition data...