Letter From Lexi: Why I'm All For New Year Resolutions
Friends,
We are now well into 2019 and I know this is going to be a good, good year! But there has been something on my mind that I wanted to discuss. As the New Year came and went there has been so much more negativity around the idea of setting goals or resolutions. I'm hearing so much push back this year on the whole "new year, new you" mindset. I've heard a lot about NOT setting resolutions, not trying a Whole30 or cleaning up your diet, or the notion of "new year, same me." But I feel the need to push back on this a bit.
Before I do, I'll preface it by saying I TOTALLY GET where this attitude against New Year's Resolutions is coming from! There is a lot of societal pressure to become some ideal version of yourself, and a lot of focus on weight loss and dieting come January 1. This is not what I'm advocating here. Setting goals does not mean that you are not okay exactly how you are right now. Please take that in for a second. Goal setting or setting intentions does not need to come from a place of what you lack in life as a person. It can come from a place of self-acceptance and self-love that you can and you do deserve the chance to improve your life and the lives of those around you.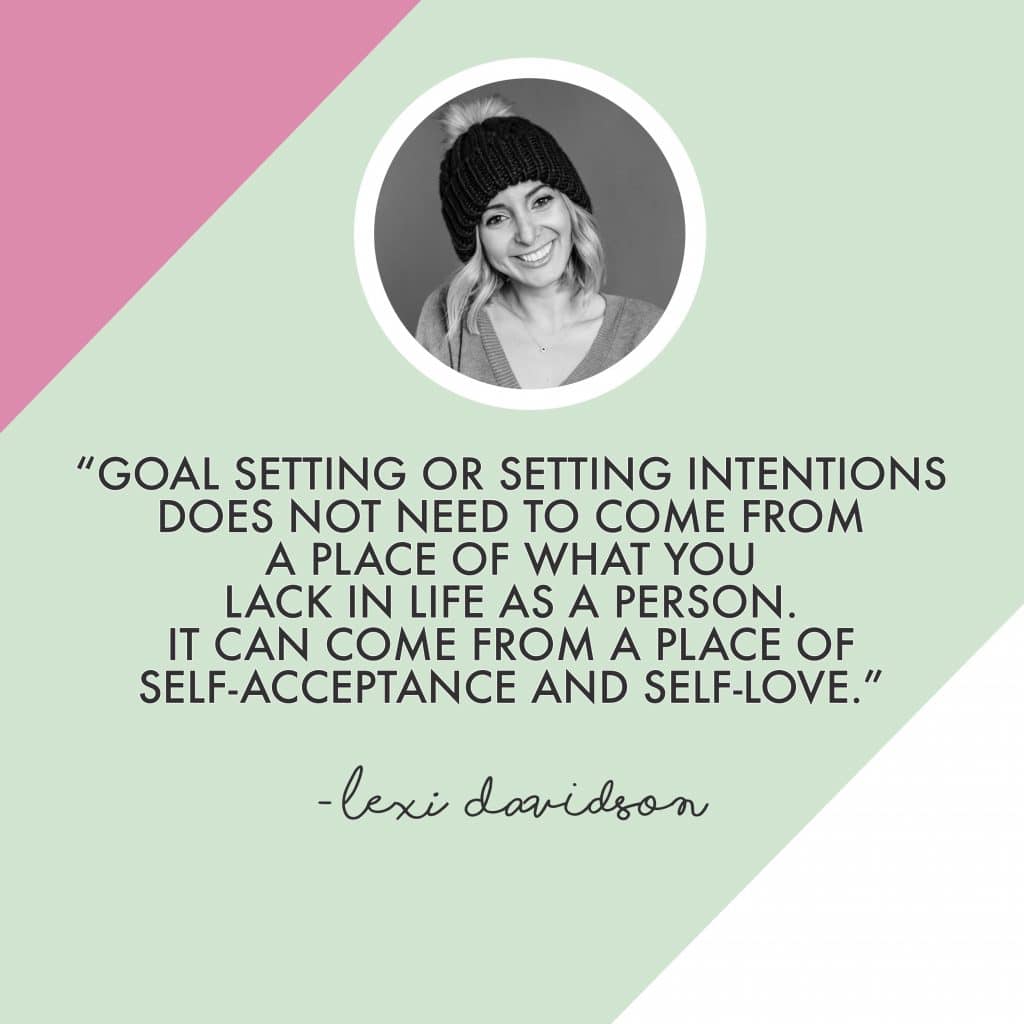 From my perspective, there is nothing wrong with wanting to kickstart your new year healthy, wanting to set some new goals and resolutions, trying something new that might better your life and create some healthy growth for yourself. On the flip side of the coin, you know yourself best. If setting a goal to eat healthier, or exercise more brings up more negative emotional energy or habits than positive, maybe that shouldn't be on your resolution list!
So yes, I unapologetically am for YOU setting a goal for yourself, whether it be health-focused or not. For example, if setting goals or intentions makes you feel like you are inadequate as you are, then maybe the best resolution you can set is for more self-love and self-acceptance! And if you want to try a new way of eating or give a Whole30 a try to explore how different foods are affecting you, go for it!
If you do nothing else this year, may I offer you support to drown out the loud noise of advice and try to listen in to what YOU want? We're lucky to live in this time and space where there are so many different tools and resources out there to help you live a healthy and happy life and I want to be here to cheer you on while we sort through making all of the right decisions for ourselves and our families.
Over on my Instagram post there was such a great discussion on this topic and I hope to spark one here today! So head on down to the comments and tell me your thoughts on this topic! Leave a note and tell me what your intentions are for the year!
Here's to a GREAT new year!
Your friend,
Lexi
---
Tips for a Balanced Approach to New Year Intentions
Setting resolution or intentions for the new year is not to say you shouldn't embrace your wins of 2018! Celebrate what worked for you last year and capitalize on what you learned.
Consider setting an intention! The difference being is that you can still choose a place your headed (otherwise known as a goal or resolution), such as spending more time with your children, but instead of focusing on the end result such as (play with my kids 1 hour a day) focus on being kind with yourself on the journey to get there and the actual time spent with the kids instead of setting a timer and making sure you've achieved the whole hour. Enjoy the time with the kids instead of beating yourself up if it was only 10 minutes instead of 1 hour.
Setting realistic goals is fun and healthy as long as you don't put pressure on yourself! There is no need to be bummed out if you don't reach them and no need to compare yourself to others and their goals.
If setting resolutions and intentions for the whole year is daunting think about setting goals for the month. And take it one month at a time! And it doesn't need to be something big! Micro goals are good too! This might mean you are going to be more intentional about drinking water!  Whatever makes YOU happy.
I cannot say this enough: Resolutions are not just about diets.  A reader on Instagram said it perfectly, "The New Year's Resolution has been muddied with exercising and eating right to lose weight for so long that it has become a source of negativity. But…a resolution can be ANYTHING you want it to be… It can be anything from deciding to brush your teeth more than once a day to buying a strangers meal once a month to walking outside and taking a deep breath of fresh air once a day. And yes this can be started at any point of the year, but some people find it fun and motivating to start with the first day of the year."
And finally, if you feel you don't want to change anything, that's great too!
I'd love to hear your thoughts on this!
Letter From Lexi: Why I'm All For New Year Resolutions
Lexi's Weekly Dinner Plan 2017- Week 2 is here! Week 1 was such a hit, and I hope you are feeling fabulous. Here is week 2!
Friday: Leftovers
Saturday: Out or Take Out
Download your printable shopping list here!
Option: Swap these meals for meals or a meal from the Lexi's Clean Kitchen Cookbook!
Monday: Beef Barbacoa Lettuce Wraps (page 202)
Tuesday: Leftovers
Wednesday: Maple Crusted Salmon (page 186)
Thursday: Eggplant Parmesan (page 216)
Friday: Dinner Out or Take Out
Saturday: Chicken Fajita Salads (page 134)
Sunday: Pad Thai (page 214)
Download your printable shopping list here or grab your copy for under $15 here!
As always, you can mix up the days you eat these on depending on what you are in the mood for, how busy you are, and so on!
Happy Cooking!
Lexi
Lexi's Weekly Dinner Plan Week 2 (2017)
Hi friends! It's here, Lexi's Weekly Dinner Plan (Week 2)!
But first… How are you? How are you feeling? I am honestly overwhelmed by the wonderful responses and feedback so far on my meal plan series. If you missed week 1, you can find that here. I have loved seeing your remakes on Instagram this week. Keep them coming! Don't forget to hashtag #LEXISCLEANKITCHEN so I don't miss them, and can repost them.
Let's get this week going. Tons of delicious recipes coming your way to nourish you and your family, give you energy, and help you get on track for the new year!

Friday: Leftovers
Saturday: Out
As always, you can mix up the days you eat these on depending on what you are in the mood for, how busy you are, and so on!
Download the printable grocery list PDF here!
---
Also, feel free to email me any feedback you may have on these meal plans! I want to make them perfect for all of you!
---
Lexi's Weekly Dinner Plan Week 2 (2016)
January means a new year and new goals, often revolving around healthy eating and transforming old habits into new ones to create a healthy lifestyle. Since that is the basis of Lexi's Clean Kitchen, you can imagine I love having new people on board and new visitors to LCK! Already this month has been amazing. I love hearing all about your new journeys, whether a Whole30, a 21DSD, or simply just eating better and working out!
In leu of all the January diet/detox kick-offs, American Express and I wanted to give you some easy healthy swaps to make your life easier, and to make you feel the best you can!
Here are six recipes to get you started. They are all Whole30 compliant, gluten-free, grain-free, dairy-free, and paleo-friendly!

How are you kicking off 2015?
I was selected by American Express to contribute to their Tumblr community. As such I was paid for my services, but all opinions in general and about American Express are my own.