Instant Pot Chicken Fajitas
Switch up taco night and make Instant Pot Chicken Fajitas your new go-to easy weeknight dinner. Simple to prepare by adding sliced chicken, peppers and onions to your pressure cooker and then cooking with the push of a button. It can even be optionally prepared ahead of time and stored in the freezer (hello "dump" dinners). Serve with all your favorite fajita fixin's! Made in partnership with my friends at Farmer Focus!
Instant Pot Chicken Fajitas
We are all about super simple weeknight dinners here, and this Instant Pot Chicken Fajitas checks all of those boxes. It takes minimal amount of time to prepare, is cooked using our favorite hands-off cooking kitchen gadget and is SO DELICIOUS. But the bonus? This can be prepared in batches ahead of time and stored in the freezer for the ultimate fast, healthy dinner. We're talking another great dump dinner idea with this fajita recipe!
The truth is, fajitas are already a pretty quick dinner idea. But what makes cooking them in the Instant Pot so unique, especially when prepared ahead of time as a dump dinner, is that it truly is a place-all-the-ingredients-in-the-pressure-cooker dinner, set a button and walk away until you hear it beep. Some weeknights, especially when you have a busy family, are too chaotic to think about cooking. But everyone needs a healthy delicious dinner, so this recipe is good to have on hand.
Serve the chicken fajitas with ALL the fixin's (or the ones that are easy) like avocado, cheddar cheese, cilantro, shredded lettuce and cauliflower rice.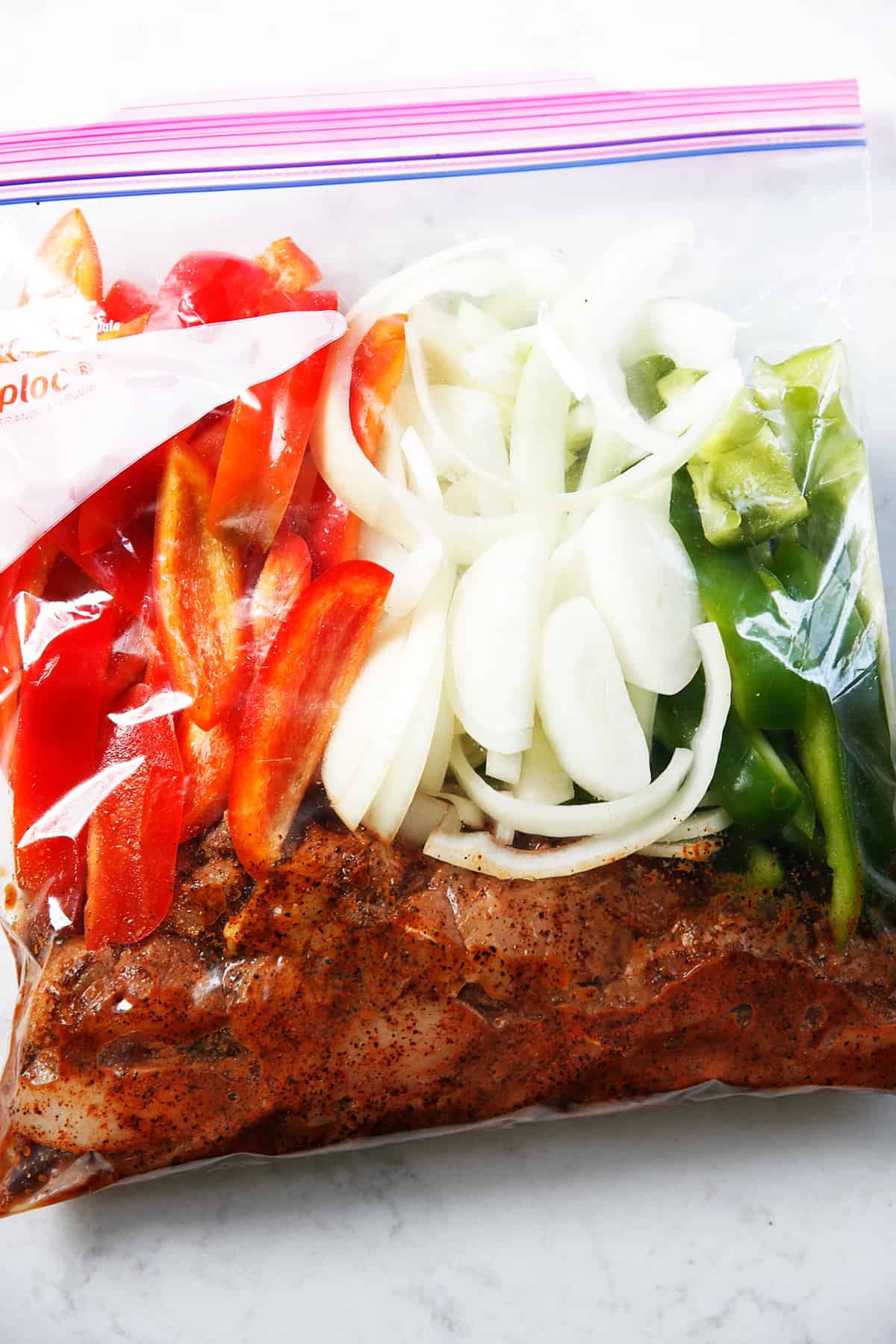 How to Make a Dump Freezer Dinner
So let's talk a little bit about the concept of a "dump" dinner!
A dump dinner is recipe that doesn't really require too many steps in terms of preparation before it is cooked. Typically you just gather the ingredients, with minimal chopping, and dump them into the cooking equipment. Usually this is either a slow cooker, a stock pot or an Instant Pot. A Freezer Dump Dinner is a meal that is gathered ahead of time and frozen. When you want to cook it, you defrost in the refrigerator overnight and then dump the meal in the cooking vessel when ready to cook!
For this recipe, it will work either way. Gather all off the ingredients for the Instant Pot Chicken Fajitas and either prepare one (or more) batches ahead of time and freeze, or gather up all the ingredients and cook immediately in the Instant Pot.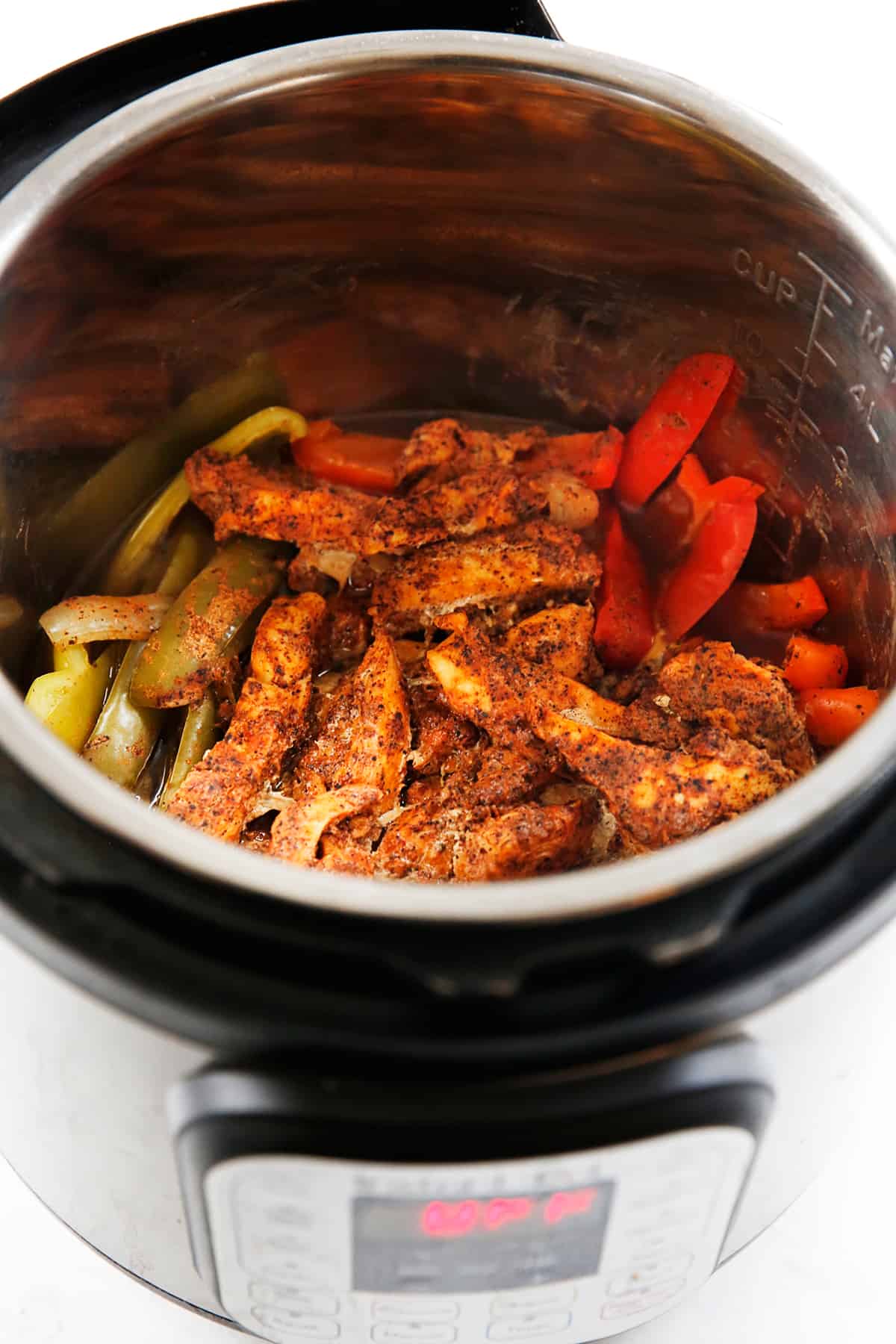 Ingredients Needed
Chicken

Bell Peppers

Onion

Spices

Lime

Salt
Tomato Paste
A Note about the Amount of Liquid
Typically, Instant Pot recipes require a minimum of 1/2 a cup of liquid to work. This recipe doesn't require any added liquid, minus lime juice. We originally started testing this with 1/2 cup of added liquid and the Instant Pot Chicken Fajitas quickly turned into soup, so we kept testing less and less liquid until we discovered that there was no added liquid needed because the peppers, onions and chicken release so much. We've tested this in 3 different types of Instant Pots, including an Instant Pot that has the "burn notification" ability. We never ran into a problem of there not being enough liquid released before the dish came up to pressure, and nothing ever burned.
If you are really concerned, you can add in liquid, but it will result in more of a soup than fajitas.
Why We're All About Good Quality Chicken
I am so happy to partner again with my friends at Farmer Focus to bring you today's easy Instant Pot chicken recipe! Farmer Focus has been my go-to, trusted chicken for years now, because they pride themselves in producing the highest quality meat grown on family-owned farms. I love being able to grab up a package of Farmer Focus chicken at the grocery store and not having to question whether it is truly coming from meat raised in a humane way.
Farmer Focus is building partnerships with growers through their innovative Farmer Focus Business Model
Farmer Focus is a company that supports their farmer partners and that is working hard to do things right and truly raise and produce the highest quality chicken! Every Farmer Focus product includes a 4-letter farm I.D. that traces your chicken to the farm that raised it. Buying meat from Farmer Focus also gives me peace of mind that I am supporting hard working family farmers.
Farmer Focus chickens are humanely raised and fed a diet free from animal byproducts, pesticides, and antibiotics. On their website you can see where all of the farms are located, so you know just where your chicken was raised! How awesome is that?!
You can also use their easy store locator to find where you can get this amazing quality chicken near you.
Fajita Toppings
Scallions
Avocado Slices
Cheese
Cilantro
Diced or Marinated Onions
Cilantro
Diced Tomatoes
Guacamole
Shredded Lettuce or Cabbage
Sour Cream
If you like this Instant Pot Chicken recipe, check out these others:
Watch the video:
---
Instant Pot Chicken Fajitas
These easy meatless Chipotle Mushroom Tacos are a weeknight dinner win that are hearty and flavorful. They're vegan, but nobody will know otherwise because they have such a "meaty" flavor that will be a loved by everyone. Serve it up with your favorite taco fixin's for dinner on the table in well under 30 minutes!
Chipotle Portobello Mushroom Tacos
Recently you've been asking for more meatless dinner options and there isn't a greater substitute for meat than mushrooms! Mushrooms are hearty with an ability to compliment many different flavors. In this case we were going for a smoky fajita type taco, so we're pairing portobello mushrooms with onions and peppers and adding in some quick flavor from a few spices and a bit of adobo sauce from canned chipotle. While these aren't terribly spicy, you can omit or decrease the amount of adobo to make it more palatable to kids if you need to.
This weeknight dinner recipe comes together in just about 20 minutes and is so hearty and flavorful! Serve with all of your favorite taco / fajita fixin's and enjoy a delicious meatless meal.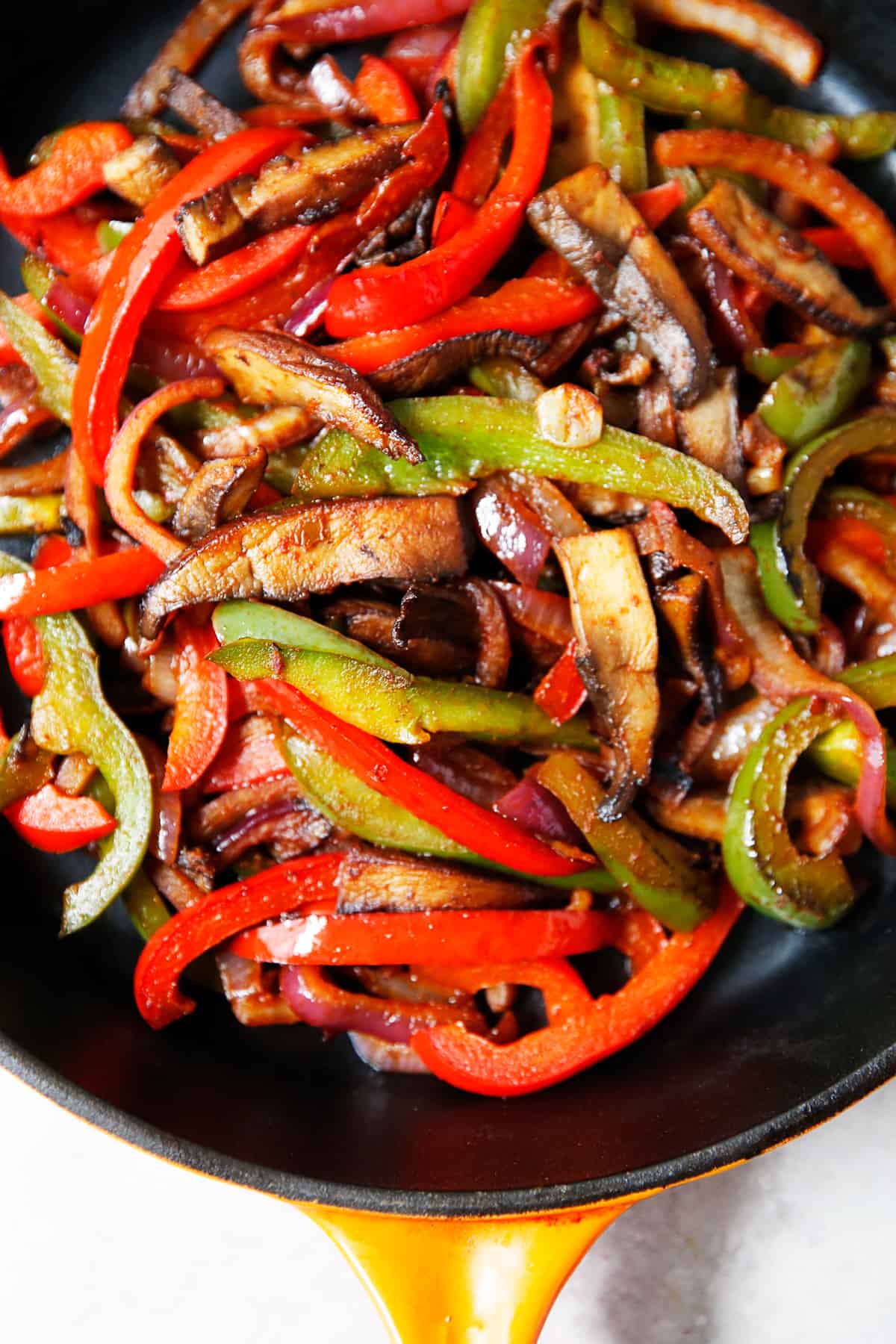 What kind of mushrooms to use:
We use portobello mushrooms in this recipe. The idea for this recipe was to be similar in profile to a steak fajita taco. Portobello mushrooms have a similar texture, look and umami taste to steak so they are the perfect mushroom to use. Look for mushrooms that smell fresh are firm and dry. Avoid ones that have bruising, look slimy or have an unpleasant smell to them.
How do you clean portobello mushrooms:
Wipe off any excess dirt on the cap
Take out the stem
Scoop out the "gills" underneath the cap with a spoon as these do not taste good so remove before using the mushroom
What are the health benefits of mushrooms?
Mushrooms are high in vitamin B and antioxidants. Antioxidants are our body's army against free radicals which are unstable molecules that naturally occur in your body that damage cells and cause disease (and aging). Consuming a diet rich in antioxidants help counteract the effect of free radicals and build your bodies defense.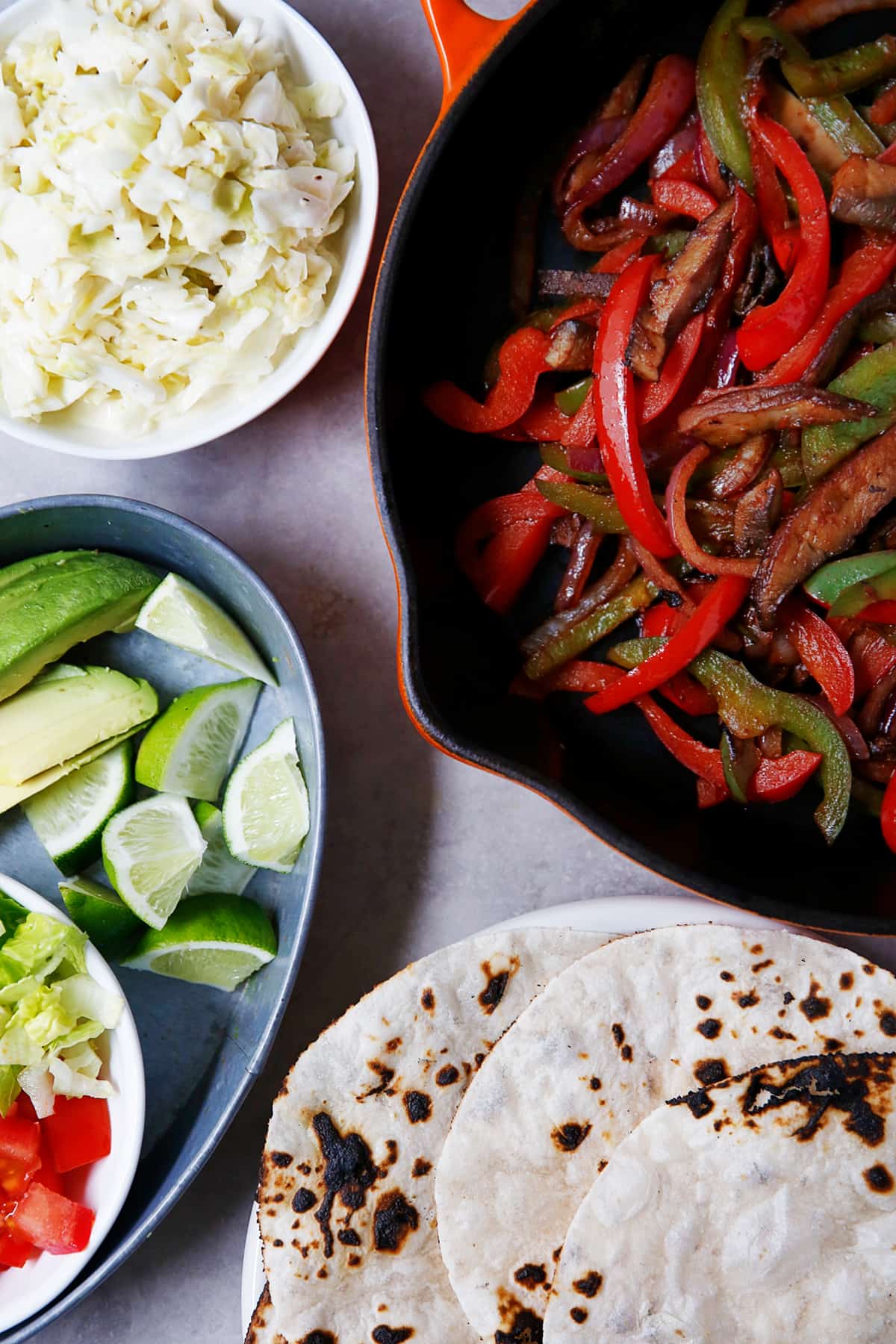 If you like this taco recipe, check out these others:
Meatless Chipotle Mushroom Tacos
This gluten-free and healthy Slow Cooker French Onion Soup is comfort food at it's finest. It's made using simple ingredients you likely already have in your pantry, is largely hands-off cooking, is an economical meal and is so rich and flavorful. It can be eaten as is as a light soup, or more traditionally topped with melted cheese and either store-bought or homemade bread.
Slow Cooker French Onion Soup
French Onion Soup is such a classic comfort food, it's hard not to love. If you've only eaten it at restaurants you might think it's difficult to make because it's SO rich and flavorful, but truly it isn't that hard at all! And we've made it even easier by throwing the whole thing in the slow cooker for easy, hands-off cooking! This Slow Cooker French Onion Soup is a great example of taking really basic pantry items like onions, broth and a few other simple ingredients and turning it into something amazing by slow and low cooking. Recipes using pantry staples are a great to have in your back pocket on days when you don't have time to run to the grocery store but still want to be able to cook up a great meal for your family.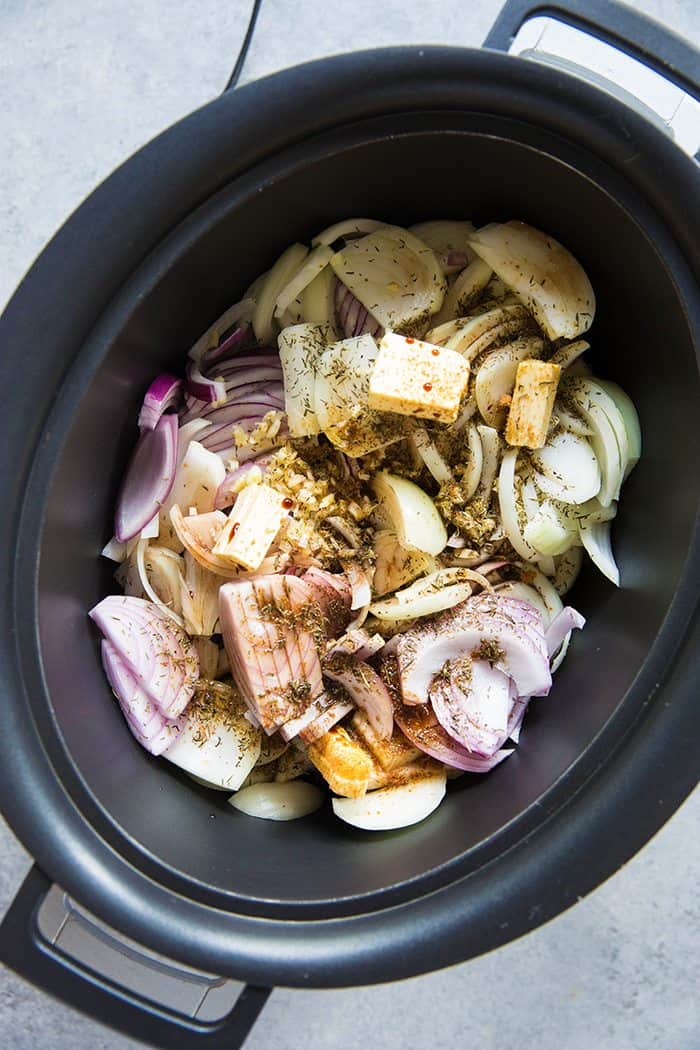 What is French Onion Soup Made Of
Traditionally French onion soup is made by slowly caramelizing onions on the stove top, which can require lots of babysitting and stirring to make sure the onions don't burn. The onions are then coated in flour and simmered for longer with broth. This Slow Cooker French Onion Soup recipe however takes all the amazing flavors of this bistro classic and tosses them all in the slow cooker to make while you are busy doing other things! The first step is to cook all the onions for about 6 hours, which doesn't require any stirring. This step can have some wiggle room if you are about and about because it's hard to burn onions in the slow cooker, so if you aren't home during the end of the 6 hours of cook time, the onions will likely be fine for 2-3 hours after. Next you simmer the onions in the broth for the remainder 2 hours of cooking time. Classic French onion soup is topped with a large crouton-like piece of bread and cheese. We've given directions on how to do this, but truly you can leave this off and this soup is still really flavorful!
What is the best onion to use for French onion soup
This Slow Cooker French Onion Soup recipes uses two kinds of onions. Yellow onion are more sweet with a really bright flavor and red onions have more depth with a touch of bitterness. Together they make a really nuanced and flavorful french onion soup!

Can you cook French Onion Soup in the Instant Pot?
The short answer is: yes! We've included the directions for cooking this soup in the Instant Pot in the notes section of this recipe. However we have to say that it is a little bit more hands on cooking than the slow cooker version.
If you like this slow cooker SOUP recipe, try these other favorites:
Want to try other crock pot comfort food favorites? Try these:
Watch the video:
---
[yumprint-recipe id='389′]
Slow Cooker French Onion Soup (Gluten-Free)
This Curry Butternut Squash Noodles recipe is an easy weeknight meatless dinner that is full of flavor and packed with veggies! A delicious curry sauce with tender butternut squash "noodles", peppers, onions and spinach can be prepped and cooked in under 30 minutes and is paleo, gluten-free, dairy-free and keto and whole-30 friendly.
Curry Butternut Squash Noodles
This super easy Curry Butternut Squash Noodles recipe is the perfect weeknight dinner to spice things up! Well, at least as spicy as you want it to be because it's easy to control the heat so you can make this family friendly. A simple coconut based curry is cooked while you cook up some veggies so you can have dinner ready in under 3o minutes. It's so flavorful for such little effort it's quickly going to be a new favorite!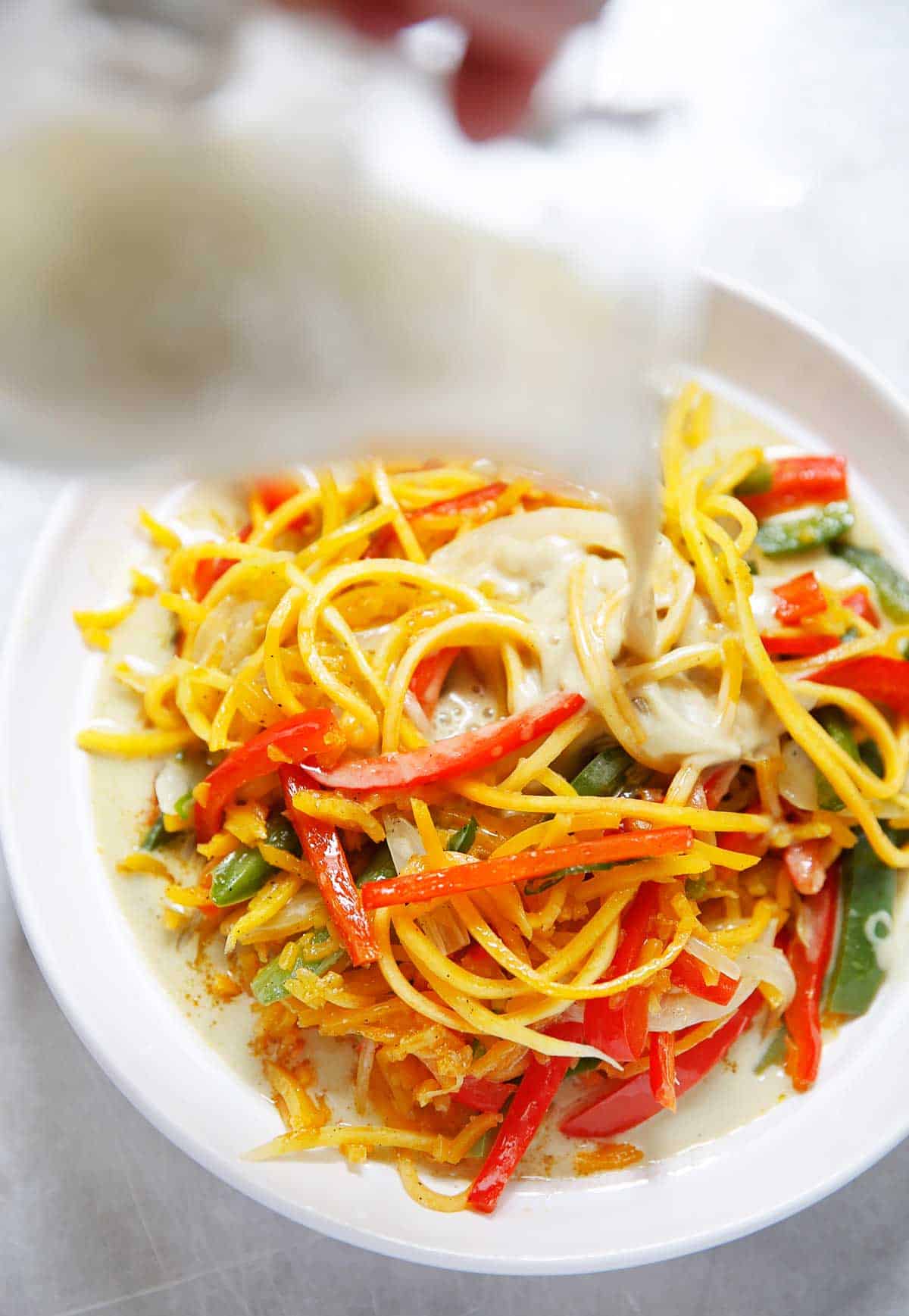 How to Make Butternut Squash "Noodles"
If you can't find these at your local grocery store (we sometimes buy already made butternut squash "noodles" at Whole Foods if we are short on time) you can spiralize them at home! A few tips:
Buy the straightest and longest butternut squash you can find. You can't spiralize the bulb at the end, so look for a long one!
Remove the bulb and reserve for another use. Peel the squash really well, trim the tip off and cut in half so it's easier to handle.
Spiralize using the large noodle fitting! We like this spiralizer: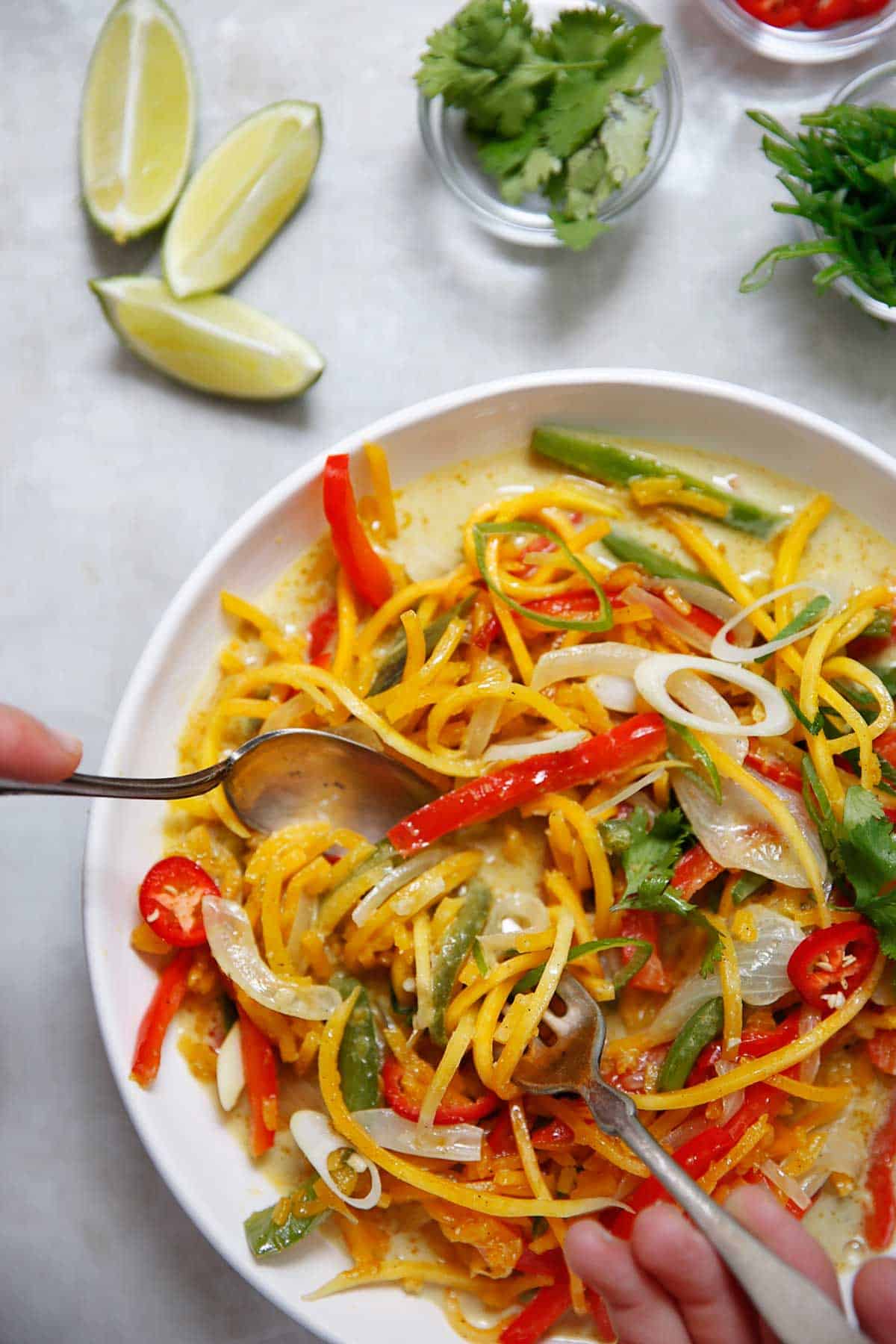 If you like this healthy weeknight dinner, check out these others:
Curry Butternut Squash Noodles
This Sheet Pan Chicken Fajitas recipe is an easy and delicious weeknight dinner that you need to add on rotation right now! It comes from my girlfriend Gina's newest cookbook, Skinnytaste One and Done and I am so excited to share it with you today! It's a no mess, no fuss, easy dinner that everyone will love, plus you can serve it with all of your favorite fixins'!
Sheet Pan Chicken Fajitas
Most of you probably know Gina, but if you don't, let me tell you — she is seriously one of the most talented, sweet, humble, caring, and genuine people out there. She is also a killer cook, and makes the most GORGEOUS cookbooks. This is her THIRD cookbook, and I am beaming writing this because I am truly so proud of her. It's just one of those books that needs to be in your collection. It's stunning, packed with incredible recipes, and absolutely has something for everyone!
Skinnytaste One and Done is organized to help you make amazing dishes without all of the mess. It  includes everyday cooking equipment such as an Instant Pot®, a sheet pan, a Dutch oven, a skillet, a slow cooker, and an air fryer. This book is so well done (not surprising!), and I have so many other recipes bookmarked, like the Open Faced French Onion Burgers, Turkey Cheeseburger Soup, Weeknight Chicken Souvlaki, and so many more.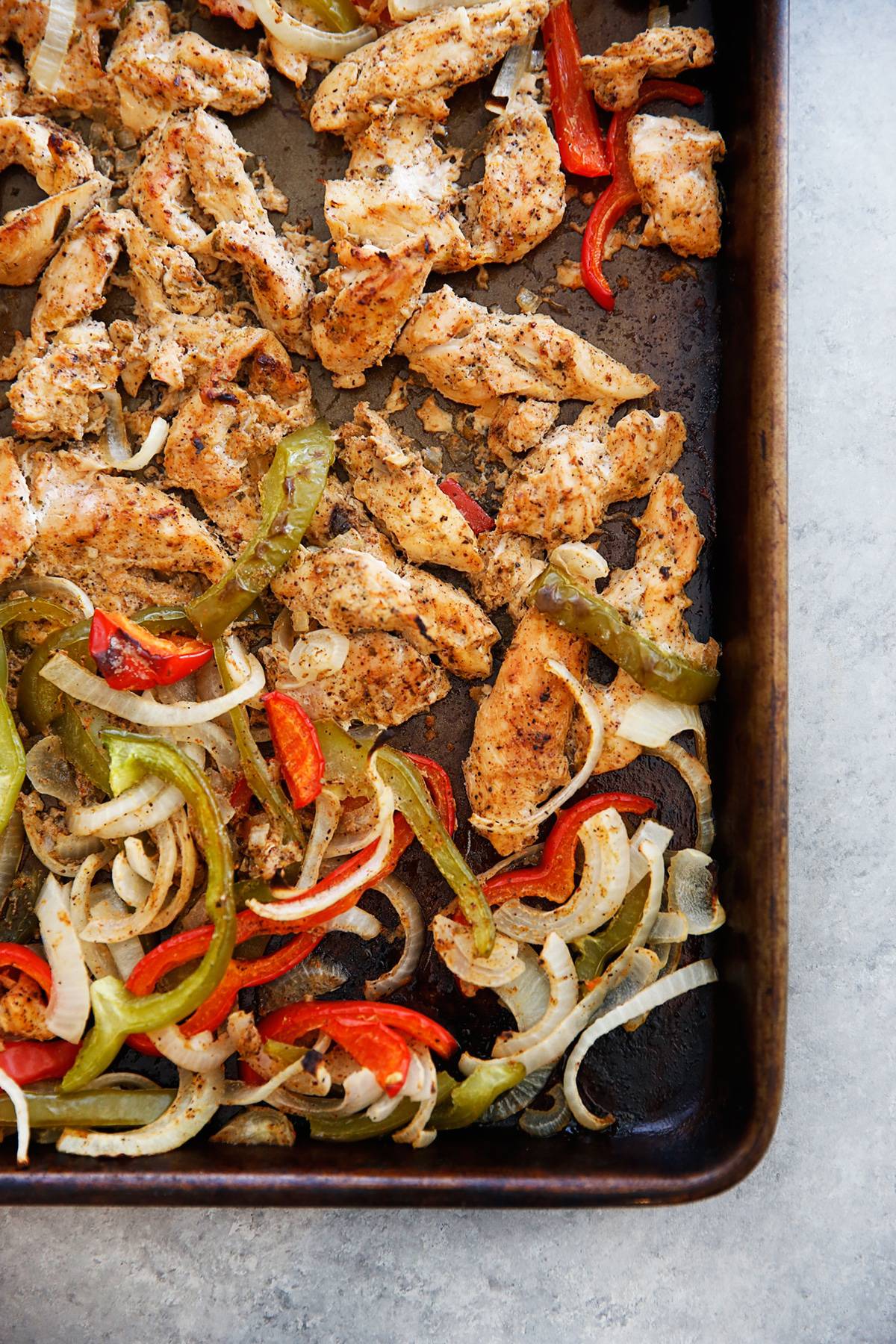 This book has 140 healthy, family-friendly recipes, 120 full-color photos, nutritional information for every recipe, and Gina's cooking tips! PLUS, even if you don't own all of the appliances, Gina gives alternative cooking directions using everyday cooking equipment where possible, so you won't miss out!! She's just the best.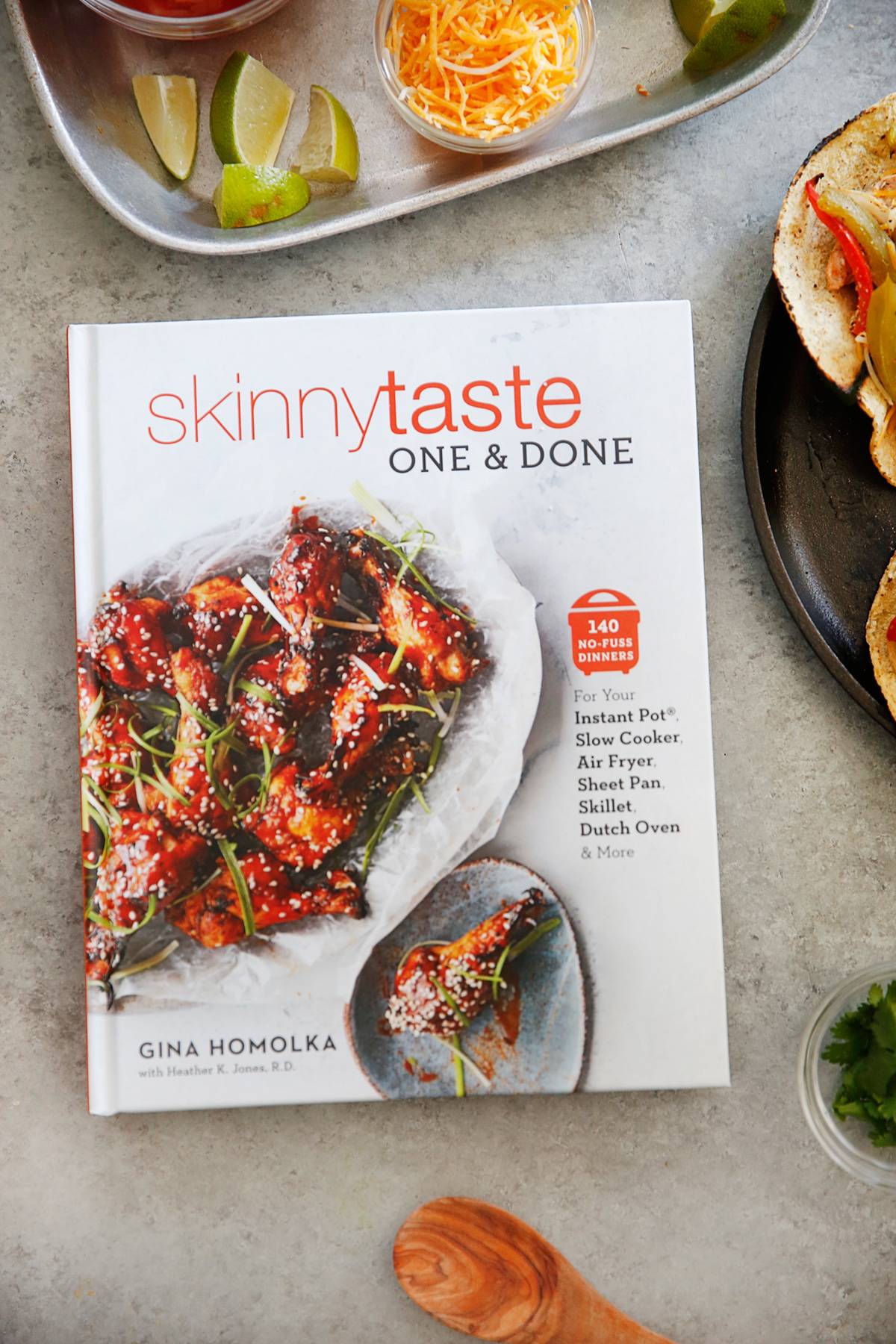 These healthy sheet pan chicken fajitas are marinated to perfection, and come together in under 30 minutes. You will be the star of dinner!!!
Want other sheet pan recipes? Try these LCK favorites:
And make sure to grab this amazing cookbook, Skinnytaste One and Done!! Those of you that know Gina, know that she puts her heart into her work and you can absolutely trust that these recipes will be family favorites! Plus, with the holidays approaching, it will make for the PERFECT gift (for yourself and others)!!