This post is all about How to Cook Quinoa! We tested so many different types of quinoa recipes with different cooking methods until we found the three that produced the easiest and most delicious quinoa!
Ultimate Guide on How to Cook Quinoa Perfectly
If you aren't on the Quinoa bandwagon yet, it's time to jump on! And now is the perfect time because we set out in search of the best ways to cook quinoa and we're giving you all the details here. There are a lot of different methods and techniques out there for how to cook quinoa perfectly, and we're sharing our favorites.
After trying and testing every type of quinoa cooking method we had heard of, we have decided on three different methods (stovetop, oven and Instant Pot) as the best ways to cook quinoa. Each recipe produces a slightly different taste and texture of the quinoa and each has its own redeeming quality and characteristics. Depending on what you are cooking your quinoa for will decide for you which method is best!
We also made a recipe for an easy flavorful quinoa dish to serve alongside just about anything. You can check that out here!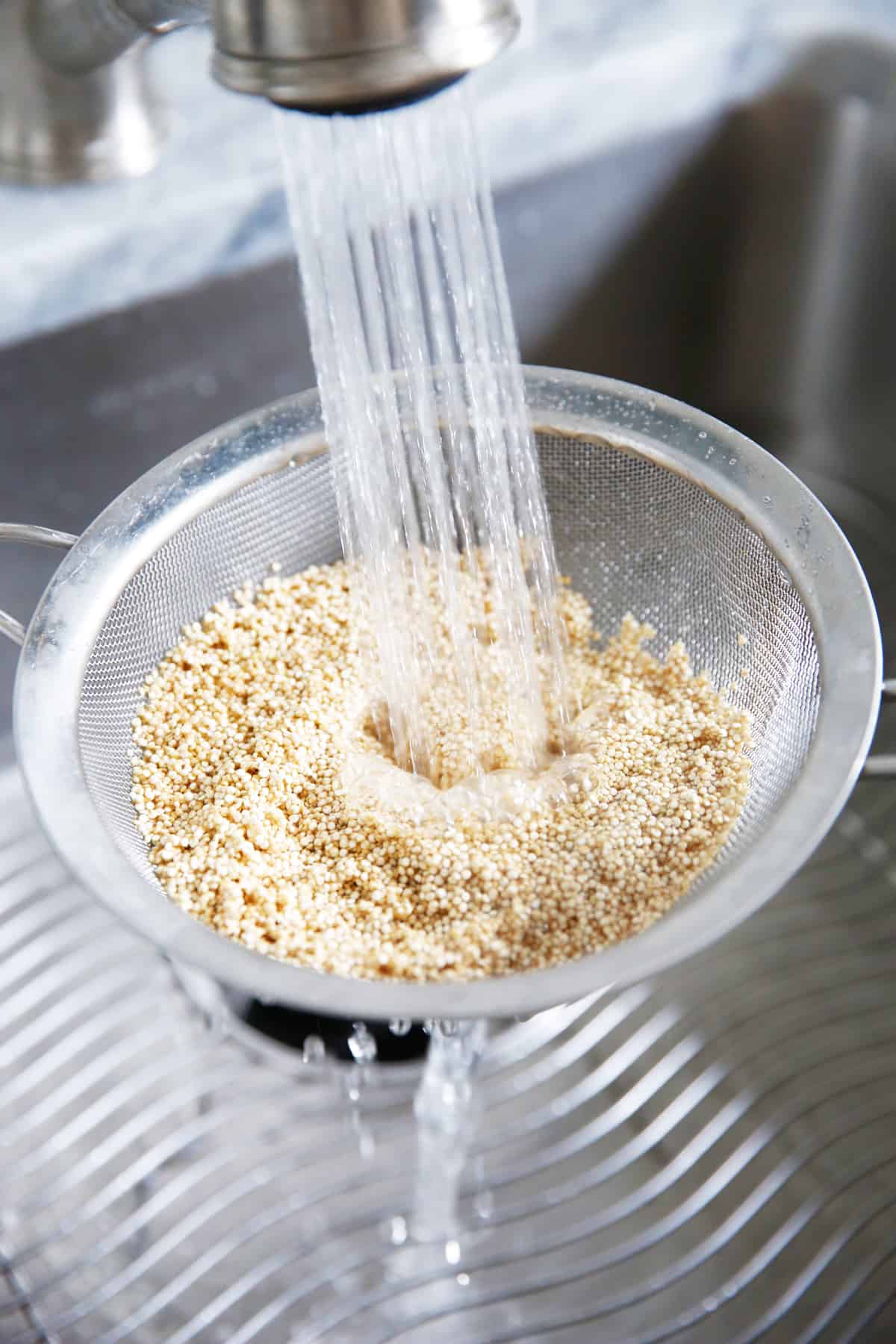 How to Cook Quinoa
We ate a lot of quinoa for a few weeks while we tested out many different methods until we found what we think are the top three recipes for cooking quinoa. We found that the best methods for cooking quinoa are on the stove, in the Instant Pot or in the oven.
Which method will work for you will depend on what you are cooking the quinoa for and / or what you are making simultaneously with the quinoa! For instance, making quinoa in the oven might not be the best choice if you are making a stove top chicken recipe that doesn't require the oven. But making it in the oven is a great choice if you are making a large batch of make-ahead quinoa to place in the freezer for meal prep!
How to Cook Quinoa on the Stove:
This is probably the most common way of cooking quinoa! You bring quinoa up to a boil and then simmer until all of the liquid has been absorbed! Finally, let it sit for a few minutes, and fluff with a fork. It takes about 20-25 minutes.
How to Cook Quinoa the Instant Pot:
You know we love our Instant Pot in the LCK test kitchen. So it's obvious we had to try making this grain in it too. It cooks quinoa perfectly. To cook it you'll place oil in the Instant Pot first, and then add the remaining quinoa ingredients. We have found that when you place oil in the bottom of the pot it prevents the quinoa from sticking to the Instant Pot liner and scorching. Set your Instant Pot to cook for 2 minutes with 8 minutes of natural pressure release and we promise you'll have perfect quinoa.
How to Make Quinoa In the Oven:
You might not have thought to cook quinoa in the oven, but it's a great set it and forget it way to do it! You simply place all ingredients in an oven safe dish and cover tightly with aluminum foil. After it's finished cooking, the quinoa will sit to let the excess moisture absorb into the quinoa.
Quinoa FAQs:
Is Quinoa gluten-free?
Yes! Quinoa is a "pseudo-cereal" grain, or a grain that is similar to a cereal grain with a similar nutritional profile but that is not actually a cereal grain or wheat grass. It's safe for those with a gluten allergy or intolerance to consume as it is is gluten-free. Though, some people find they have sensitivities to quinoa. Quinoa is not considered Paleo, if you follow a paleo diet.
What does quinoa taste like?
Quinoa has an earthy flavor, and actually is related to the beet, chard and spinach family of plants. It tastes somewhat similar to brown rice with a very fluffy texture!
Is quinoa healthy?
Our in-house nutritionist Gabby says: Quinoa is tremendously healthy, especially for those following a vegan or vegetarian diet. Quinoa is one of the very few plant proteins that contains all nine essential amino acids that our body cannot make on its own, making it a complete protein. Not only is quinoa a rich source of protein, it is also naturally gluten-free and safe for those with celiac disease.
There is much debate about whether quinoa is a seed or a grain. Either way it is a nutrient-dense, high-fiber substitute for things like white pasta. Quinoa is high in many vitamins and nutrients that Americans are deficient in such as magnesium, thiamin, folate, iron, potassium, calcium and phosphorus.
Why are there different colors of quinoa?
There are so many different types of quinoa out there! Much like there are different varietals of rice, there are many types of quinoa. The most common are white, red and black. We find that the white quinoa has the most neutral flavor. If you are new to quinoa this is the first one you should try.
Each color and varietal of quinoa has a slightly unique flavor and can even vary from brand to brand, as well. The darker colored quinoa has a more pronounced and earthy flavor. They will all generally cook the same, but we find the red and black quinoa sometimes need a few extra minutes to absorb the water.
Do you need to rinse quinoa?
This is controversial because some people feel strongly that they prefer to not rinse quinoa. But after all of our testing we feel that this is not a step that should be skipped, even if your quinoa says "pre-rinsed". Rinsing the quinoa gets rid of the natural powdery coating called saponin that has a strong, somewhat unpleasant flavor. To rinse it, put the quinoa in a strainer and rinse really well under cold water for 1-2 minutes. Then it's ready to use.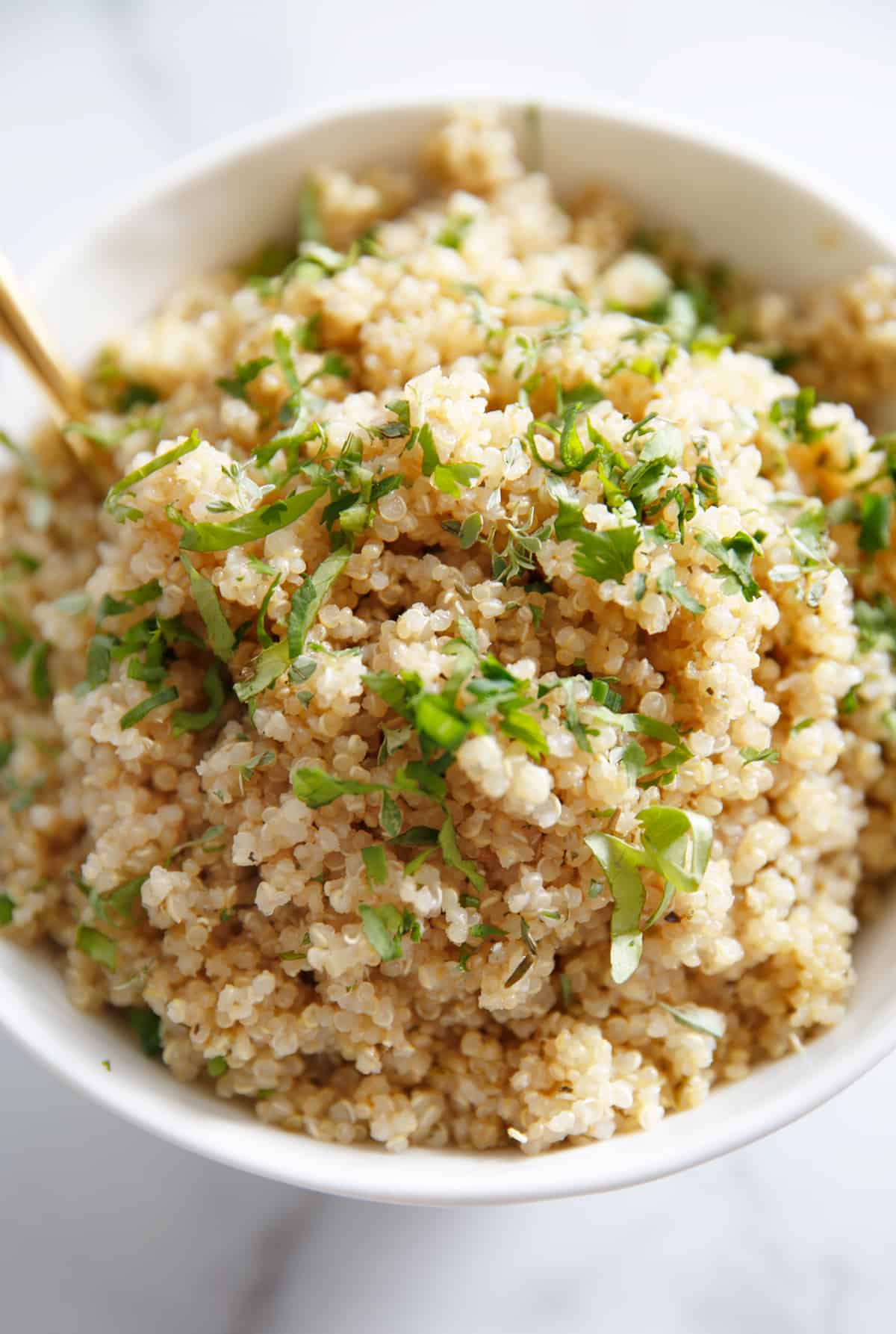 Check out these quinoa recipes:
If you like this how to guide, check out these others:
Ingredients
For Quinoa in the Instant Pot:
1 tablespoon oil

1 cup quinoa, rinsed

1 cup water or broth

½ teaspoon salt
For Quinoa on the Stove:
1 cup quinoa

2 cups water or broth

½ teaspoon salt
For Quinoa in the Oven:
1 cup quinoa

2 cups water or broth

½ teaspoon salt
Directions
How to Cook Quinoa in the Instant Pot:
Rinse quinoa under cold running water really well.
In the liner of an Instant Pot place oil, quinoa, water, salt, in that order. Stir to combine.

Close the lid and set to sealing. Cook on manual high pressure for 2 minutes with a natural release of 8 minutes. Then release any remaining pressure.

Fluff with a fork and serve!
To Cook Quinoa on the Stove:
Rinse quinoa under cold running water really well.

In a medium pot add quinoa, pinch of salt and 2 cups of water and bring to a boil. Reduce heat to medium-low, cover, and simmer until quinoa is tender, about 10 minutes.

Remove from heat and let stand, covered, for 5 minutes.

Fluff with a fork and serve!
To Cook Quinoa in the Oven:
Preheat oven to 375ºF.

Rinse quinoa under cold running water really well.

In a 9" square baking dish place quinoa, water and salt and stir to combine. Cover the dish tightly with aluminum foil.

Place in the preheated oven and bake for 25 minutes.

Remove from the oven and let sit for 5 minutes, or until the quinoa has completely absorbed the water.

Fluff with a fork and serve!
Recipe Notes
To freeze leftover or meal prep quinoa:
Place cooked and completely cooled quinoa in a plastic or silicone bag.

Smooth over the quinoa so the bag is flat.

Label and freeze for up to 3 months.

Defrost in the refrigerator overnight, or let sit at room temperature until it is defrosted, about 30 minutes.

Reheat and serve!
Loading nutrition data...
There may be affiliate links in this post! By clicking on them, or purchasing recommended items I may receive a small compensation, at no cost to you! However, I only recommend products I absolutely love and use in my own home! Thank you for supporting Lexi's Clean Kitchen when you shop! See my
privacy policy
for more information about this, the information we save, and more!