Garlicky Blistered Green Beans [VIDEO!]
These Garlicky Blistered Green Beans recipe from my cookbook are a once-a-week type of side dish and certainly perfect for a holiday meal! Crispy, flavorful garlic and greens cooked just right. Made in one pan, they start on the stove-top in an oven-safe skillet, then head into the oven for the perfectly blistered green beans!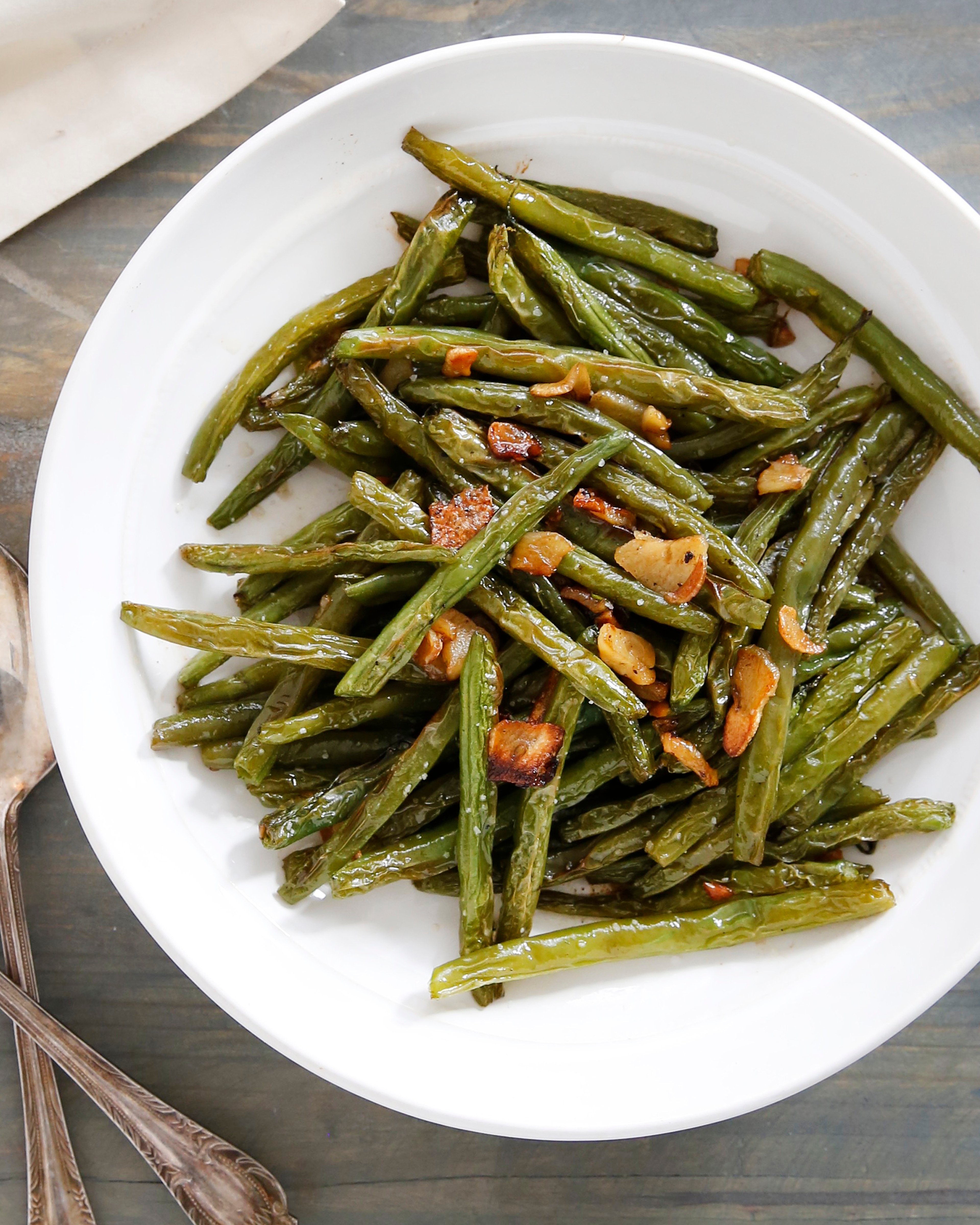 These green beans are the perfect holiday side dish! I wanted to share them with all of you, because they are easy to prepare, nutritious, and SO delicious. I love the blistered green beans with all of the crispy, fragrant garlic! If you're looking for the perfect holiday or weeknight veggie, look no further!
What are the benefits of green beans?
The fiber content is very high in green beans! They provide some of your daily protein requirements, and they also act as an easy source for acquiring vitamins like A, C, K, B6, and folic acid.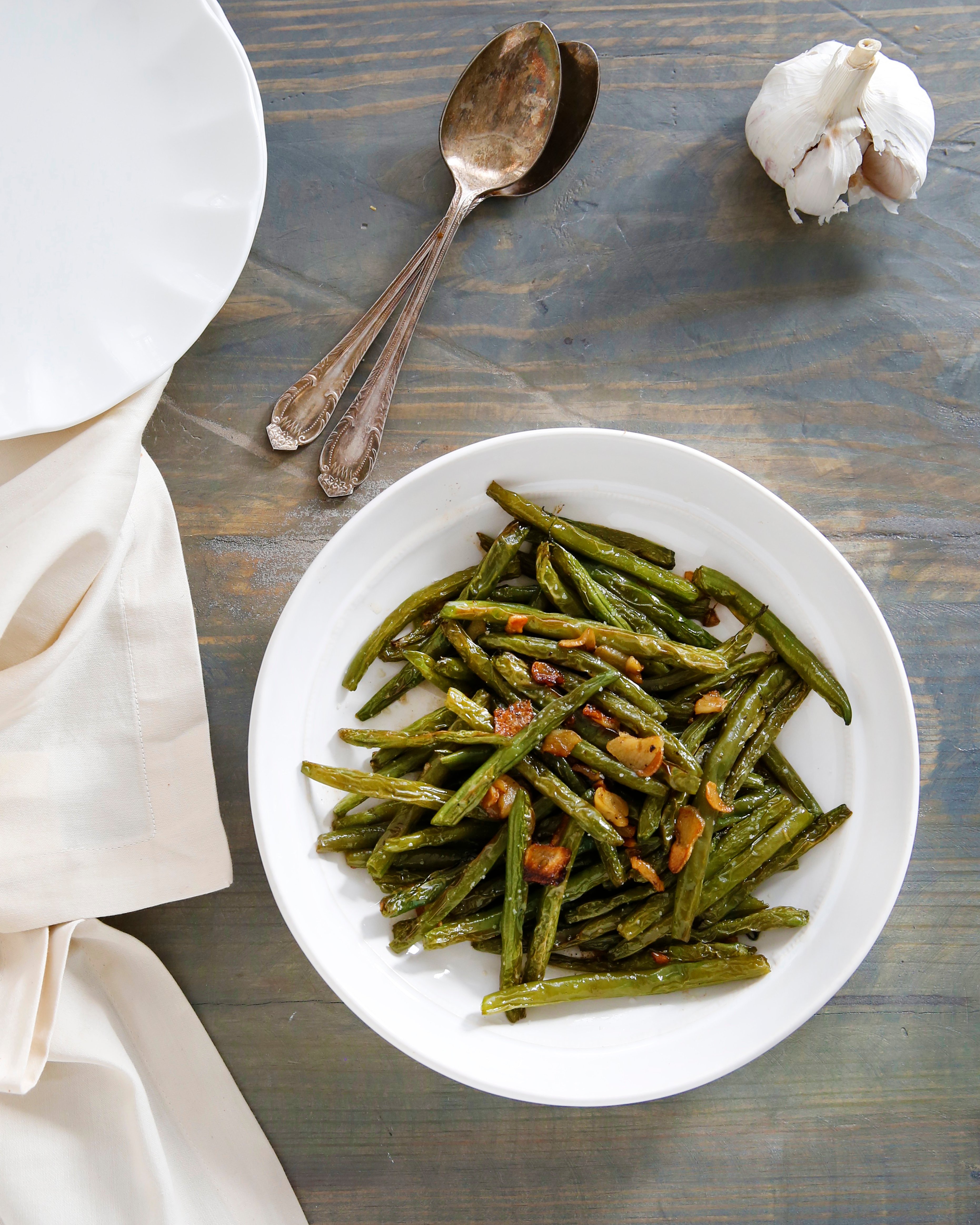 Serve this side dish with these main dishes:
Like this side dish? Try these other great side dishes:
From my cookbook, I love serving them with Nanny's Potted Chicken and the Braised Short Ribs!
Watch the video: 
Garlicky Blistered Green Beans
---
---
Directions
In a large oven-safe skillet, heat the ghee for 1 minute over medium heat.
Add the garlic and sauté for 2 minutes until flagrant, stirring to avoid burning.
Add the green beans and sauté, mixing often, for about 10 minutes, until fork tender. Sprinkle with salt and pepper.
Place an oven rack in the center of the oven and turn the broiler to high.
Place the skillet into the oven and broil the green beans for 3 to 5 minutes, until slightly crispy and browned, watching to avoid burning.
Recipe Notes
---
Nutrition
Loading nutrition data...
Garlicky Blistered Green Beans [VIDEO!]
This Cranberry Walnut Roasted Acorn Squash is the perfect Fall side dish, and perfect for Thanksgiving. The roasted onion and fresh cranberries give it warm bursts of delicious flavor, and the walnuts add a fabulous crunch!

This week has been a truly amazing whirlwind. The Lexi's Clean Kitchen Cookbook is here and it has been so much fun connecting with so many long-time readers, new faces, and friends! I see so many of you receiving your books and I hope you have a blast cooking your way through it!
But first, are you thinking about Thanksgiving yet? I am! Definitely, definitely add this to your Thanksgiving menu this year! It is my new favorite and festive side dish. We are having a Friendsgiving next week to kick off the season, and you can bet this will be on the menu!

[yumprint-recipe id='404′]
Fresh cranberries, roasted red onion, tender acorn squash, and walnuts. The perfect combination!
What is on your Thanksgiving menu this year?
Cranberry Walnut Roasted Acorn Squash
---
---
Directions
Preheat oven to 375°F and line a baking sheet with parchment paper.
Drizzle veggies and cranberries with oil, spices, ginger, and honey.
Roast for 40 minutes until fork tender.
Add the walnuts and bake for an additional 5 to 10 minutes.
Garnish and serve hot.
---
Nutrition
Loading nutrition data...