Skirt Steak with Italian Salsa Verde
This Grilled Skirt Steak with Italian Salsa Verde is flavorful and easy to make! Grilling this inexpensive cut of meat makes it tender and delicious. Top it with the savory salsa verde and you have an easy dinner win! Serve with a side like this Avocado and Corn Salsa.
Grilled Skirt Steak with Italian Salsa Verde
This flavorful dinner made with inexpensive skirt steak cooked on the grill and doused in a bright Italian Salsa Verde sauce comes from the Feast by Firelight cookbook, written by the awesome Emma Frisch who also owns Firelight Camp Ground, a glamping location in Ithaca, NY that you may remember I visited for a second time in June! I love it there so much. This time around we brought JAX and had so much fun. I personally got to try this dish by the campfire and loved it so much, I asked if I could share it with all of you!

Also I'm so excited, they've offered my readers 10% off your stay with code LEXISCLEANKITCHEN for your Firelight glamping reservations. I can't recommend it enough. So if it's close enough to you, head there with family or friends! You'll have the best time. Code expires 12/31/19.
What is Salsa Verde?
Salsa Verde can mean many things to different people, but generally speaking it refers to a sauce made from raw ingredients like green herbs. Depending on the region its coming will dictate what ingredients are used. For this recipe, the ingredients used such as anchovy and capers make it more of an Italian style green sauce. This sauce is the perfect complement to nearly any dish, or could even be used as a dip with crudite.
What are the ingredients needed to make it?
Aside from the skirt steak, you need these ingredients to make the sauce:
Garlic
Anchovies
Capers
Red wine vinegar
Dijon mustard
Parsley
Olive Oil
How to Grill the Perfect Skirt Steak
Check out these tips from Emma Frisch on how to cook the perfect steak:
Light the grill to high heat and position the grill grate as close as possible to the coals or pile the coals high under

the grate to maximize the steak's proximity to the fire.

Pat the steaks dry with a paper towel to eliminate moisture on the surface and ensure a crispy crust.

Season appropriately: Dry brine it the night before and sprinkle with pepper right before grilling.

Place the steaks over the hottest part of the fire.

Look for an evenly caramelized and browned outer crust to check doneness. Slight char is okay but don't let the crust burn!

Use a thermometer to check that the internal temperature of the thickest part of the steak. The ideal temperature for a skirt steak is between 125° and 130°F for medium-rare to medium. (Check the guide below for other temperatures)
What temperature to cook a steak to
If you like rare steak, stop cooking at 125°F.
If you like medium-rare steak, stop cooking at about 130°F.
If you like medium steak, stop cooking at 140°F.
If you like a well-done steak stop cooking at 150ºF-155ºF.
What does cutting agains the grain mean?
If you look closely you can see that the muscle of the steak generally goes in one direction. In a skirt steak it is really easy to see because it's a tougher cut of meat with more defined muscle fibers. It's important to cut the grilled steak in the correct direction. By cutting against the grain, you are making the muscle fibers short, therefor resulting in a tender piece of meat.
To cut against the grain: cut the steak in the opposite direction of the muscle fibers. If the grain goes from right to left, cut from the top to the bottom. If possible, cut at a diagonal.
Serve this Flank Steak with:
Skirt Steak with Italian Salsa Verde
This Grilled Skirt Steak with Italian Salsa Verde is flavorful and easy to make! Grilling this inexpensive cut of meat makes it tender and delicious.
---
---
Ingredients
2 pounds skirt steak (see Note)
2 teaspoons kosher salt

1 garlic clove, peeled

One 2-ounce can anchovy fillets, rinsed and patted dry

2 tablespoons capers

1 teaspoon red wine vinegar or sherry vinegar

1⁄2 teaspoon Dijon mustard
1⁄2 cup coarsely chopped fresh parsley
1⁄3 cup olive oil, plus 1 tablespoon
Ground Black Pepper
Recipe Notes
If you steak is excessively fatty you can trim some of it to prevent flare-ups when the fat drips onto the coals. Skirt steak isn't very fatty, but still, leave any fat on for flavor and just be prepared for flare-ups.

Store leftovers in an airtight container, chilled, for up to 3 days.

Reprinted with permission from Feast by Firelight cookbook, written by Emma Frisch.
---
Nutrition
Loading nutrition data...
Skirt Steak with Italian Salsa Verde
When your garden is overrun with cucumbers this summer, this is the salad to make! Or, when you just are really in need of a refreshing, flavor-packed, and super simple salad to throw together. This Easy Cucumber Salad with Herbs uses all of the fresh herbs (parsley, dill, and mint) and features the fresh, cool cumber to complement any dish you're serving up this summer
Easy Cucumber Salad Recipe
This recipe is for when you have found yourself googling: "How do you use a lot of cucumbers?" this summer. Throwing together this Easy Cucumber Salad with ALL THE HERBS is just the answer! This recipe is light, refreshing and a great side salad to accompany all of your grilling mains, seafood or chicken dishes this summer! And it's a great way to use up all those fresh herbs you have too!
This recipe works with either farm fresh large cucumbers you find in the summer, or if you're craving a refreshing side it can also work with store-bought English hot house cucumbers. If you are using extra large cucumbers from your garden or the farm feel free to scoop out the seeds and slice in half moon shapes.
Here's what's in it:
2 large cucumbers, thinly sliced
3 tablespoon extra-virgin olive oil
lemon juice
dijon mustard
dill
parsley
mint
salt and pepper
garlic powder
Pinch of red pepper flakes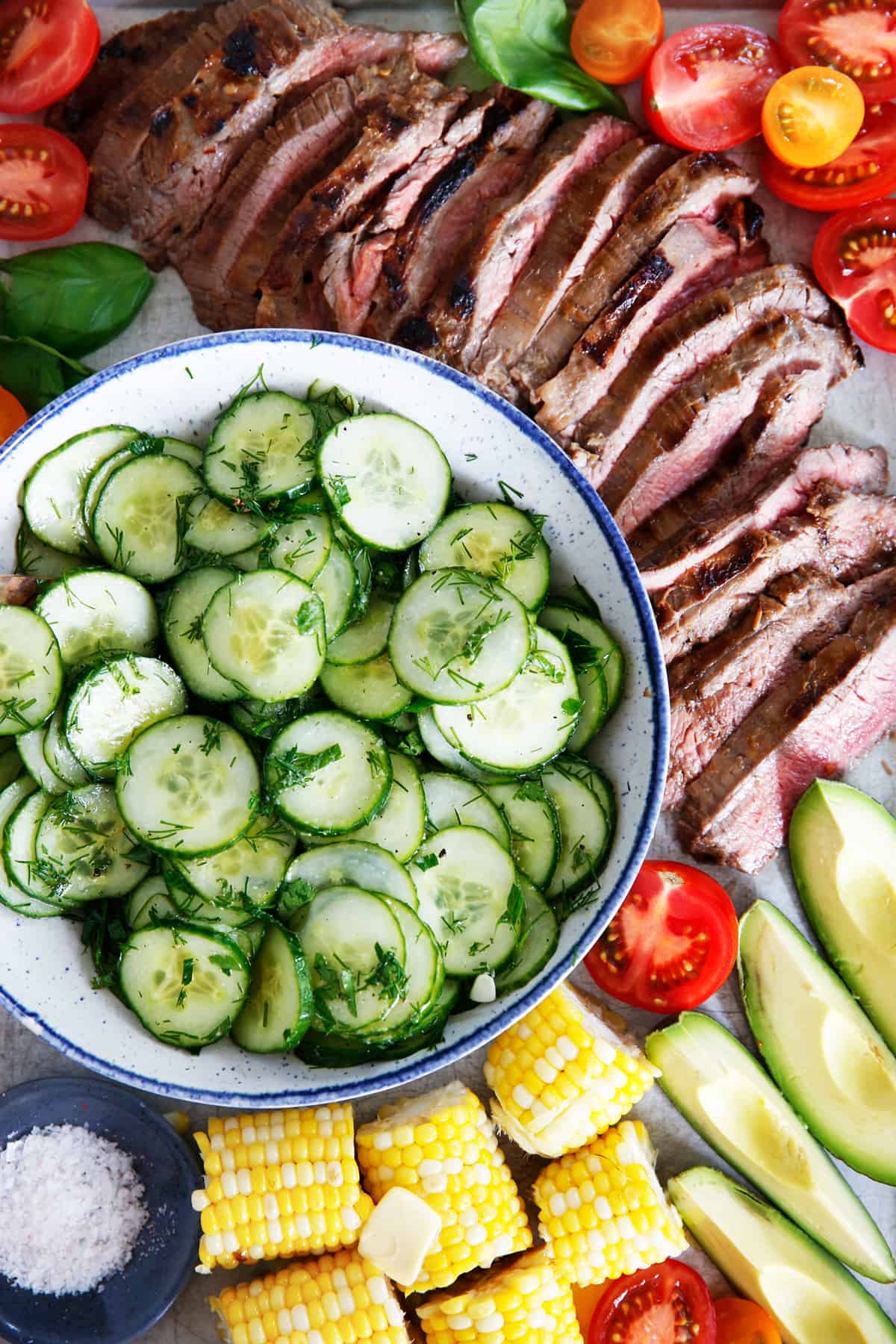 What goes with cucumber salad?
To begin, the best thing about this cucumber salad is that it is oh-so-versatile! It can go with just about anything! It's great to serve as a side for a barbecue, alongside seafood or just about any chicken dish. Here are some of our favorites that go great with this clean cucumber salad:
Looking for more summer sides recipes, check these out:
[yumprint-recipe id='369′]
Easy Cucumber Salad with Lots of Herbs!
Fresh herbs can accumulate quickly in your refrigerator, whether you have a bunch of fresh herbs from the farmer's market, your garden or the grocery store we are sharing tips on how to store them in your refrigerator so they remain fresh for as long as possible! If you are looking for how to preserve fresh herbs in your freezer, see this post!
How to Store Fresh Herbs So They Last
Using fresh herbs is a great way to brighten any dish and bring it from just ok to wow! But sometimes a little goes a long way with fresh herbs and you can be left with a whole lot leftover from one recipe. Or you have an overabundance of herbs from your summer CSA or your backyard garden and want to make them last as long as possible. We're sharing all the ways we've succesfully stored fresh herbs in the refrigerator to get the maximum use out of them. If you are looking for ways to preserve fresh herbs in the freezer to last all year, check out this post here.
There are two main ways we recommend storing fresh herbs for maximum longevity in the refrigerator. But how you store them depends on what type of herb it is! Soft herbs, or herbs with a soft stem, such as cilantro, dill, parsley, basil should be stored liked fresh flowers, in a jar of water. Hard herbs, or herbs with a hard stem should be stored rolled in a slightly damn paper towel in a bag in the refrigerator.
How to Store Soft Herbs: treat as flowers
Storing soft herbs in jars with water prolongs the life of the herbs by keeping them alive like flowers.
Pro-tip: Don't wash these herbs until right before use.
To store parsley, cilantro or dill cut off 1" of the stems and place in a jar with water and store in the refrigerator. We found it unnecessary (and wasteful) to place a plastic bag over the top of the herbs as they stayed just as fresh without one. Check and replace water as necessary, or every few days. Store until the leaves start to turn yellow or very limp, about 2-4 weeks (seriously).
To store fresh basil: cut off 1" of the stems place in a jar with water and store at room temperature just like fresh flower. Refresh water as necessary, or every few days. Store for about 1 week or until the basil has turned soft and limp. Please note: this only works with very fresh basil cut from a garden or the farmers market. The boxes of basil that you buy in the store is typically grown in green houses and are not hearty enough to be stored for longevity. Store bought green house basil must be used within a few days before it starts to go bad.
How to Store Hard Herbs: prolong moisture content
Storing hard herbs in damp paper towels prolongs their moisture levels and keeps them fresher, longer. You'll notice there is one herb included in here that is not technically a hard herb: chives. Chives last the longest when they are frozen, see this post, but they can have a longer shelf life in the refrigerator when stored the same way as hard herbs.
To store sage, thyme, rosemary, mint, or chives: Clean and dry the herbs very well (see below for cleaning tips). Place in a pile in a slightly damp paper towel and wrap them up. Place inside of a plastic bag with a few punctured holes. Keep in the refrigerator about 1-2 weeks or more.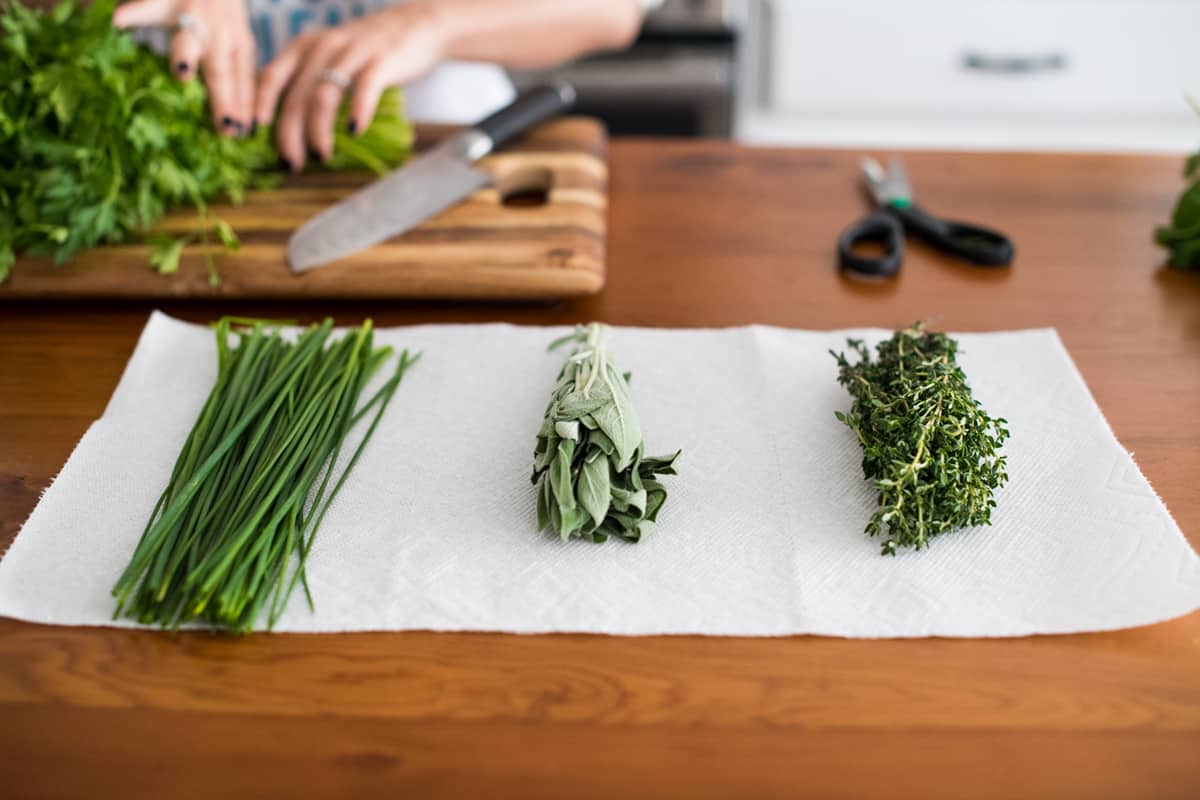 The Best Way to Clean Herbs
Herbs can be very dirty and gritty, whether coming from the supermarket or the farmer's market. The best way to clean herbs is to fill up a big bowl with clean, cool water. Dunk the herbs in the water, letting all the dirt and grit sink to the bottom a few times. Empty the water, fill it back up and repeat until no sand or dirt remains at the bottom of the bowl.
It is best to dry herbs in a salad spinner. If you do not have that you can let the herbs dry in a clean kitchen towel, taking off as much water as possible.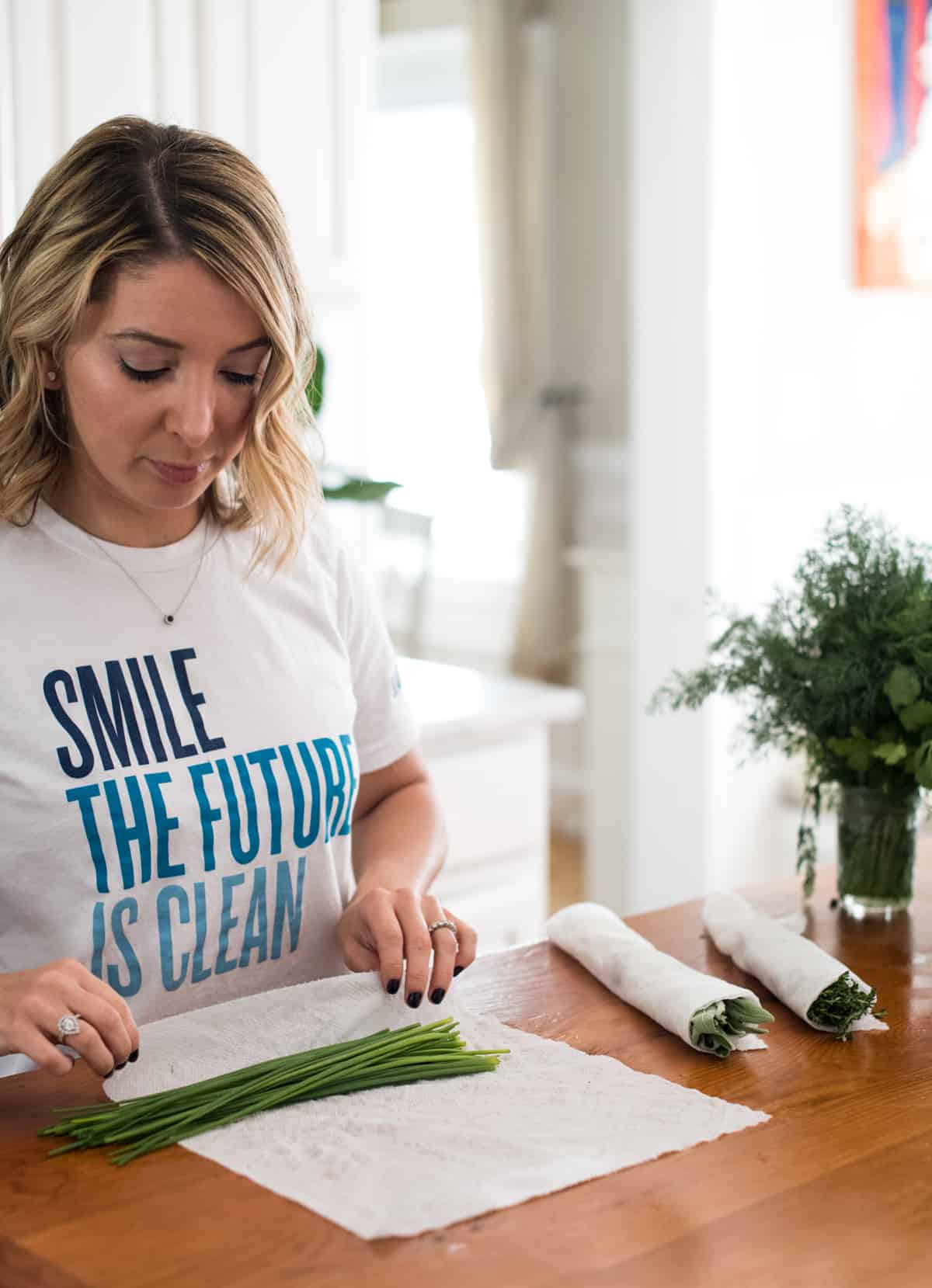 Recipes that feature herbs:
Pin it for later:

How to Store Fresh Herbs in the Refrigerator
This one-bowl Israeli Salad is the perfect refreshing Spring and Summer side-dish! I like to make a big bowl of it and keep it in the fridge all week long! The flavors from the lemon, tomatoes, onion, and herbs go so nicely with almost anything!
Israeli Salad Recipe
I discovered the delicious Israeli salad a number of years back on a trip to Israel and I have loved it ever since. I often forget about this simple salad, and go a long time without making it. This summer I am teaching art classes at the Jewish Community Center and have rediscovered my love for it, as they often have it in the Cafe. Now that your tomatoes are ripening, get ready to make this delicious salad all season long! Low-carb, vegan-friendly option, and so so simple to toss together!
Ingredients for this Israeli Salad:
Cucumbers
Ripe tomatoes
Red onion
Italian parsley
Extra-virgin olive oil
Lemon Juice
Salt and pepper, to taste
Feta cheese (optional)
Green pepper (0ptional)
Chickpeas (optional)
How to Make it:
This isn't complicated to make, but does involve some chopping! Once that's done, place all the ingredients in a bowl and toss to coat!
How long will this last?
I keep this salad for up to 5 days in the refrigerator, but it is best served within 2-3 days.
If you like this salad recipe, check out these others:
---
Israeli Salad
This one-bowl Israeli Salad is the perfect refreshing Spring and Summer side-dish! I like to make a big bowl of it and keep it in the fridge all week long! The flavors from the lemon, tomatoes, onion, and herbs go so nicely with almost anything!
---
---
Directions
Combine cucumbers, tomatoes, onion, and parsley in a medium mixing bowl.
Add in lemon juice, olive oil, and spices and mix well to coat. Taste and adjust seasoning as desired.
Cover and refrigerate until ready to serve.
Recipe Notes
*Tip: to prevent salad from getting too watery, scoop out the seeds from the tomatoes before chopping.
**Photos updated April, 2017
---
Nutrition
Loading nutrition data...