Easy Baked Ziti
Perfectly baked noodles, hearty meaty tomato sauce, and three different types of cheese all baked up together to make this classic dish. But just because it taste like a million bucks, doesn't mean it should be difficult to make! We're breaking it down to make the best Easy Baked Ziti for a hearty dinner tonight and leftovers for days.
Easy Baked Ziti Recipe
There is nothing more comforting than digging it to a giant tray of baked ziti! It's cheesy, saucy and such a classic comfort food. It's like an easier version of lasagna and It's also a great way to make a large portion of food to feed a crowd, or to have a make-ahead meal for your family. We're sharing all the tips for making this easy baked ziti and for optionally freezing and reheating!
Ingredients Needed
Pasta (If gluten-free, we recommend Tinkyada and Jovial)

Ground B

eef

or Ground Turkey

Store-Bought Marinara Sauce

Cheese (Ricotta, Mozzarella and Parmesan)
Seasoning
Garlic
Onion
Eggs
How to Make It
There are a few steps for making baked ziti, but nothing very complicated! We also take advantage of using a st0re-bought marinara sauce to save the time needed to make a from-scratch marinara.
Start by cooking the pasta! You want to make sure it's cooked about 1-2 minutes less than the package directions. Drain it and then toss it with a little olive oil so that it doesn't stick together while you make the sauce.
Next make the meat sauce. Saute the onions and garlic first, and then cook the meat. Add in the marinara sauce and seasoning and let it simmer for for 10 minutes. The longer you can let simmer, the better! Once the sauce is done combine it with the pasta.
Meanwhile mix together the ricotta mixture.
Then assemble the baked ziti and bake until bubbly!
Make Some Now and Some for Later
What I love about dishes like this is that they are easy meals to have some now and some later! This makes a huge portion of food. It's perfect for parties but also perfect to prepare the baked ziti in two smaller containers (an 8×8 baking pan works well) and bake one for today and freeze the other for another day.
To reheat leftover baked ziti: Heat the oven to 350 degrees and cover the baked ziti loosely with aluminum foil. Heat until warmed through, about 15-20 minutes.
To prepare this for the freezer: assemble this dish up until the point of baking. Then let the dish cool entered, wrap in two layers of plastic wrap and then freeze. When ready to bake, defrost in the refrigerator overnight. Bake until the cheese is bubbly and the middle of the pasta is hot, about 30-40 minutes.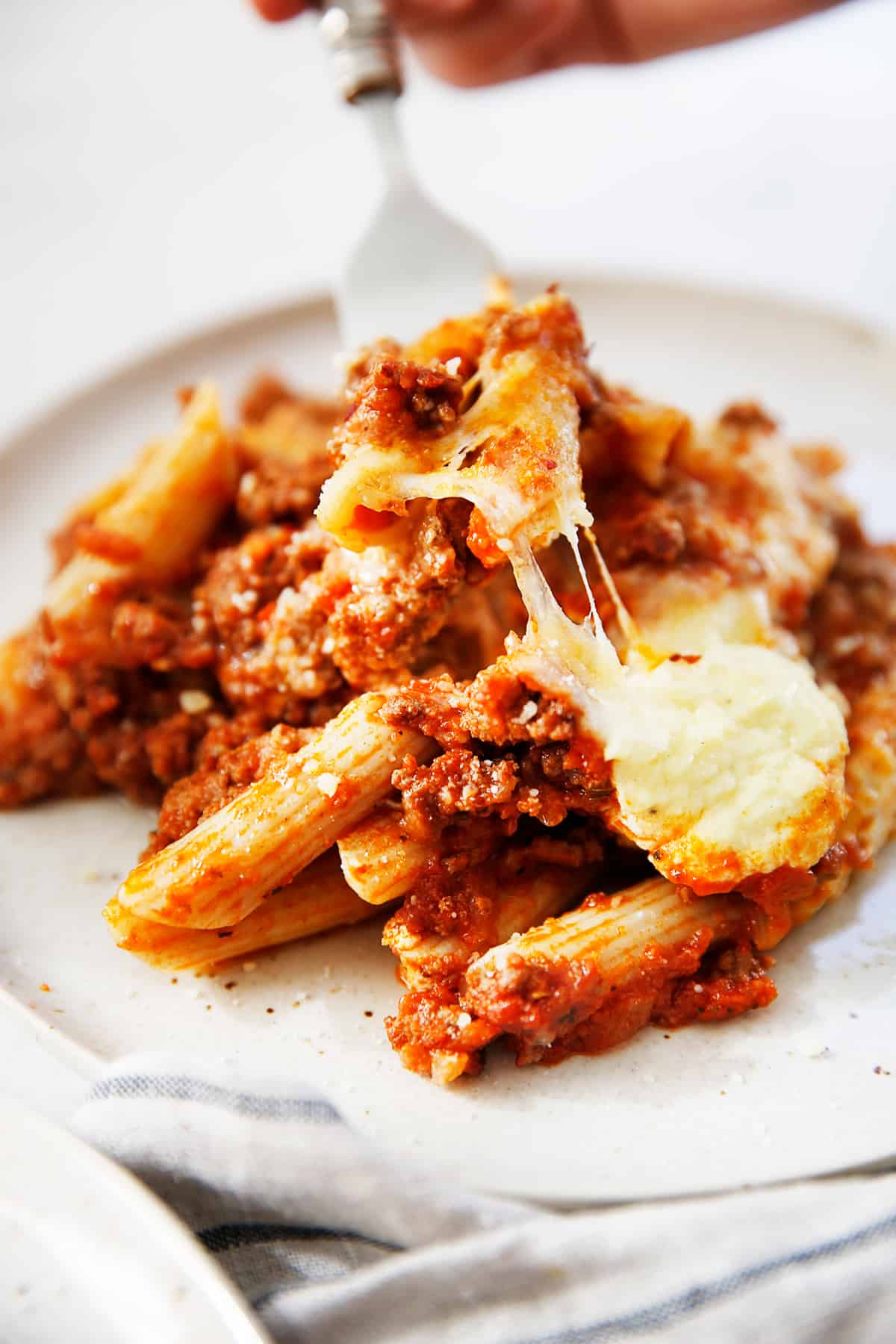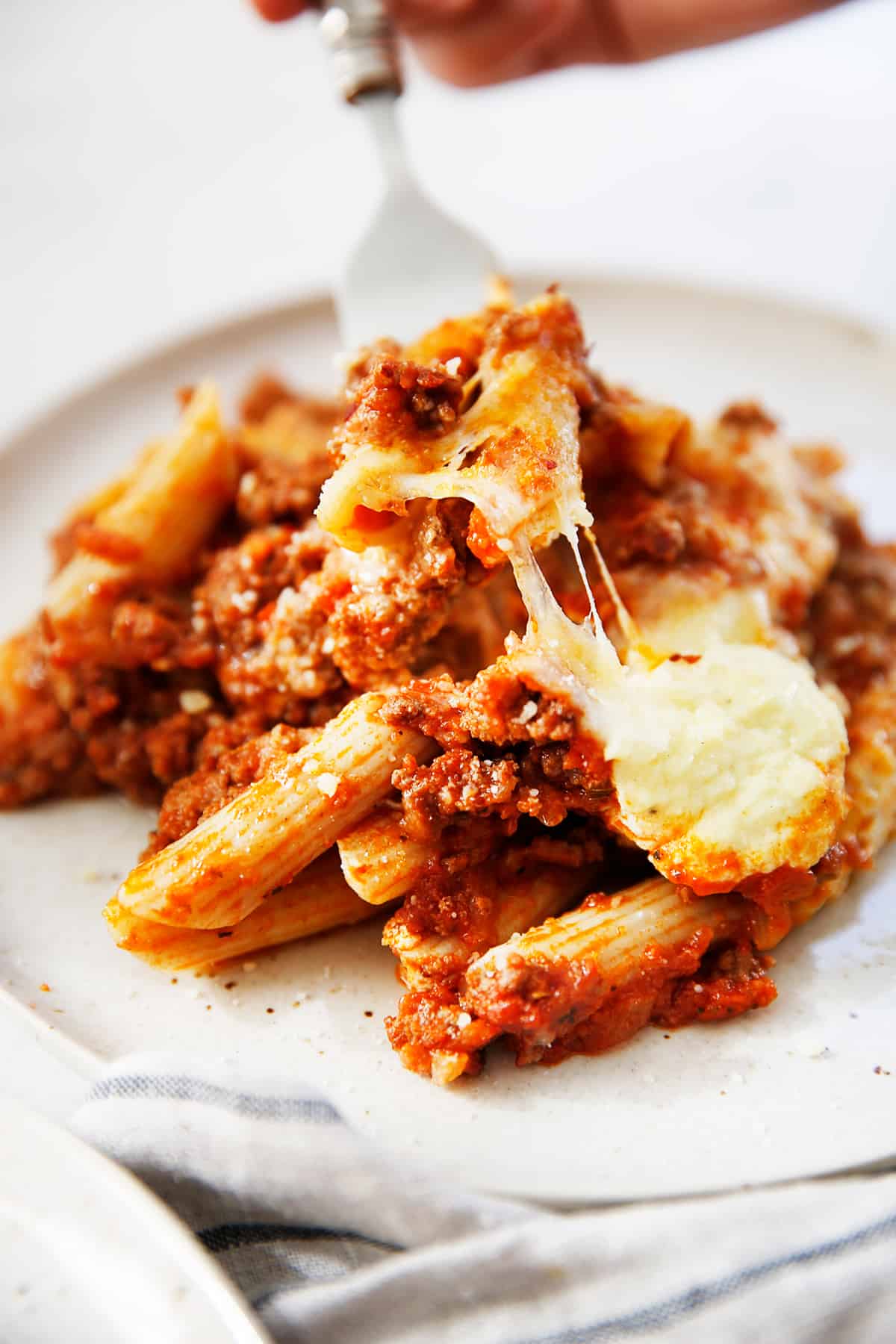 If you like this Italian classic, check out these others:
Easy Baked Ziti
Need a quick dinner idea? This Pantry Pasta with Chickpeas and Roasted Red Peppers is it! This delicious dinner uses only ingredients that are likely to be in your pantry and it's made all in one pot! It's also dairy-free and vegan and sure to a be a hit with the whole family.
Quick Pantry Pasta
We are all about quick and easy dinners, especially during busy seasons of our lives. This Quick Pantry Pasta with Chickpeas and Roasted Red Peppers is definitely a winner. It's made all in one pot, with items you likely already have in your pantry and will surely be a hit with everyone. Did I mention it takes less than 20 minutes to cook? That means that if you are walking in the door with absolutely no idea what you are going to make for dinner, this will save you! It's also easy to swap in other ingredients in case you don't have the chickpeas or roasted red peppers so this one really is a life saver. Save this recipe and hang it on your fridge for the next time you need dinner fast.
Pantry Pasta Ingredients
Marinara Sauce

Penne Pasta

Roasted Red Peppers
Chickpeas
Water / Broth
Salt + Pepper
Garlic Powder

Onion P

owder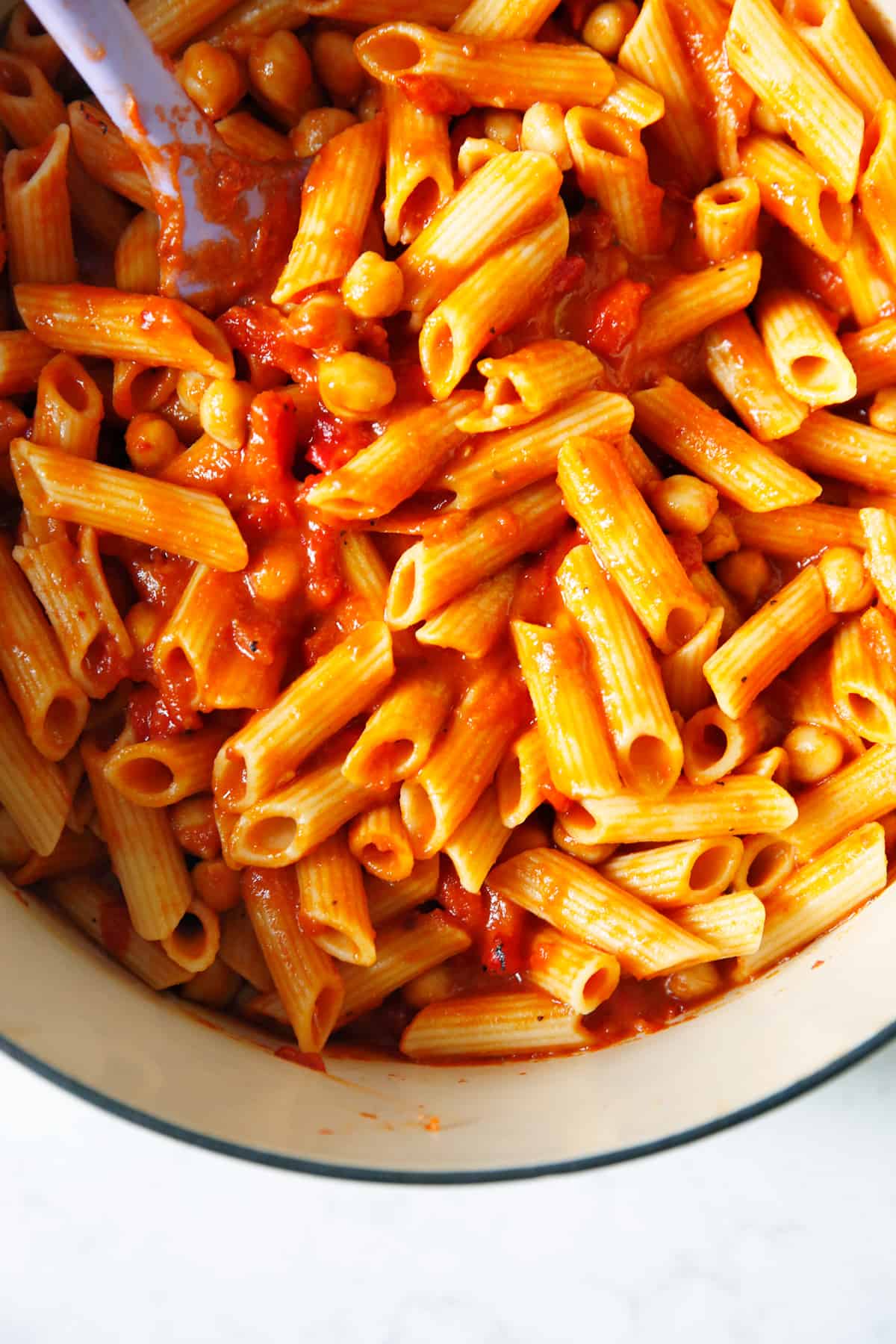 How One Pot Pasta Works
If you are new to the concept of cooking pasta all in one pot, let me explain how it works! Typically pasta is cooked separately in lots of boiling water, then drained before being used in whatever dish you are making. But a one pot pasta instead boils the pasta directly in whatever "sauce" you are using. In this recipe, the pasta is boiled in a mixture of marinara sauce and water (or broth, if you have it in your pantry!). Instead of just filling the pot with water, a precise amount is added to ensure that when the pasta is finished cooking, there is just enough liquid leftover to make your sauce. The resulting sauce is "creamier" because any starch that is leftover in the cooking liquid is left in the pot, instead of being discarded when draining the pasta. Because it's all cooked in one pot, follow the directions and ingredient amounts precisely to ensure the correct amount of sauce leftover at the end.
Also note that when the pasta is finished cooking, the sauce might look like it is too watery. It will thicken in about 5 minutes to be the perfect amount, so have patience.
What Type of Pasta to Use
We tested this one pot pantry pasta with a lot of different types of gluten-free pasta and with traditional wheat pasta as well. It all worked the same! However, you must use penne pasta for this, as the amount of water called for is based off of the type of pasta used.
When you are cooking this, the recipe calls for you to cook the pasta as long as the package directions call for, after it has come to a boil, so be sure to check for that information on the pasta package.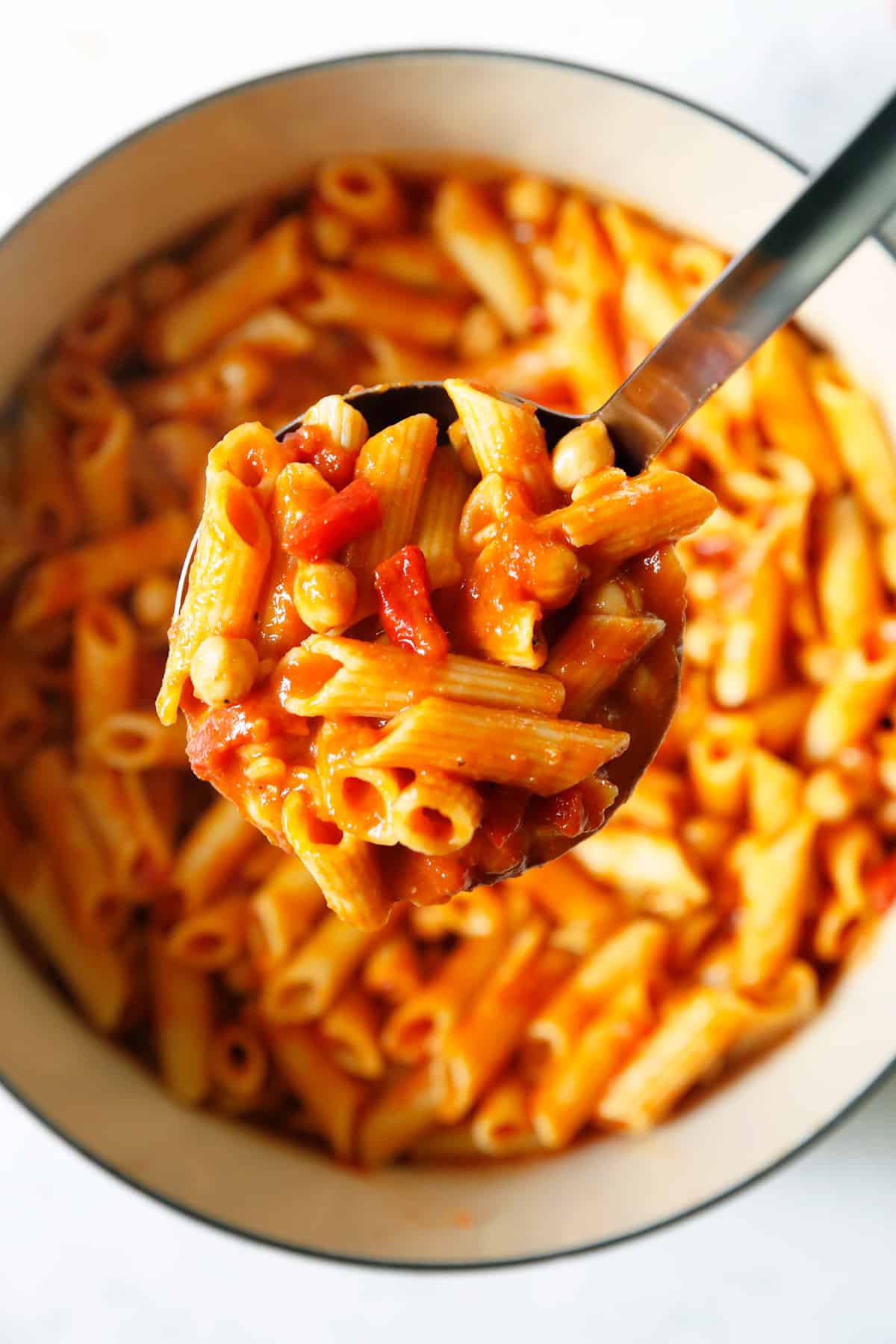 Alternative Ingredients for Pantry Pasta
We based this recipe off of the idea that marinara, chickpeas and roasted red peppers are often what can be commonly found in the pantries of many families. However, you can make some swaps for what you have on hand, such as switching the beans (or omitting them) or even adding meat to this dish. However, you can not swap out the use of 25 ounces of marinara sauce or the amount of water/broth called for, because it will affect the final dish.
Some other ideas for swaps to make:
Canned White Beans
Frozen Veggies (peas, cauliflower)
Canned Artichokes (maybe add in some olives for a mediterranean twist!)
Sun Dried Tomatoes
Canned Tuna
Leftover Veggies
Adding Meat to this Dish
If you wanted to add ground meat, cook it first in the pot, then add the remaining ingredients.
If you like this pasta recipe, check out these others:
Watch the video:
One Pot Pantry Pasta with Chickpeas and Peppers
This might be a recipe for a Classic Macaroni Salad, but that doesn't mean it has to be boring! This dish is a staple at picnics and potlucks and for good reason–it's delicious! Serve it for a crowd, or pair it with protein for a cool, summer dinner.
Classic Macaroni Salad Recipe
This site is no stranger to pasta salads, having previously made a BLT Pasta Salad, Caprese Pesto Pasta Salad, and Chicken Caesar Pasta Salad. But we realized as summer rolled on in that we were missing the beloved deli style pasta salad! This refreshing Classic Macaroni Salad may look simple, but it's bright, with crunchy veggies and perfect for any summertime gathering. This creamy pasta salad looks like the same version you can buy in a deli, but obviously OH SO DELICIOUS because it's homemade with fresh ingredients.
Want to know the best part about this pasta salad? It is a make-ahead dish! So make it a day before that party you're bringing it to, or combine it with some protein like tuna, hard boiled eggs or shredded chicken and prep yourself lunch for a few days.
Ingredients for our Classic Macaroni Salad
We admit, using the word classic can be touchy because everybody can have their own version of what makes something classic. But we decided on a version that's creamy and bright (thanks to a hefty addition of apple cider vinegar), with lots of crunchy fresh vegetables and just the right amount of sweetness that brings the whole thing all together.
Here's what's in it:
Elbow Macaroni (gluten-free if you need it, of course!)

Mayonnaise (we use avocado oil mayo)

Apple cider vinegar

Honey

Dijon mustard

Salt and pepper

Celery

Red bell pepper

Carrots

Red onion
Proteins to Pair to Make it a Meal
This is the perfect side dish to pair with just about any grilled main dish, but it would also make a great summer dinner or lunch meal prep. Pair it with a protein to make it a but more substantial:
Canned tuna
Canned chickpeas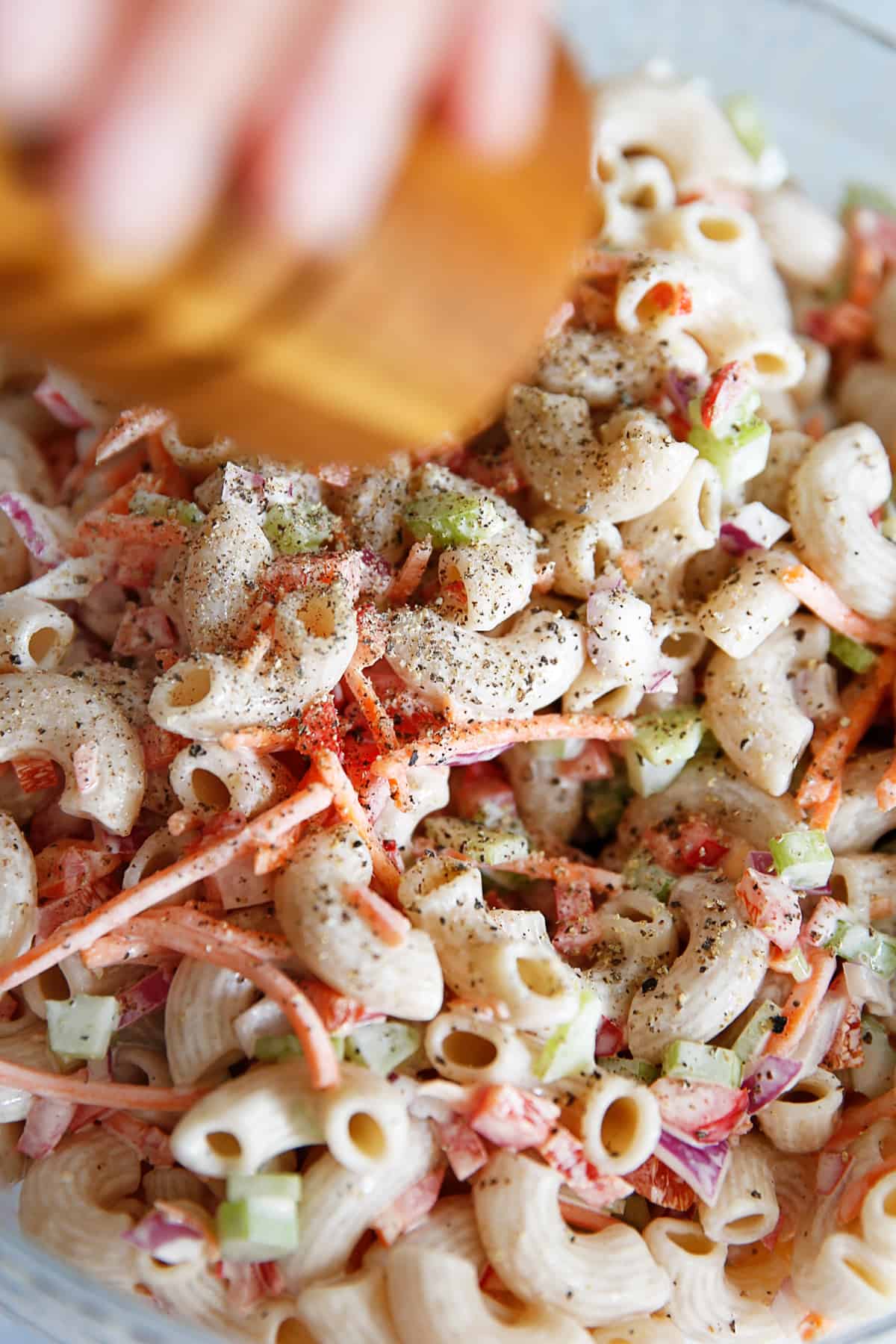 If you like this potluck favorite, check out these others:
---
Classic Macaroni Salad
When we were in Italy, Carbonara was a staple at almost every restaurant. What I love about this dish is that it uses pantry staples and it's easy enough to make on a quick night, while having robust flavor. It uses minimal ingredients that are inexpensive and easy to find! I knew I wanted to give you a perfect Gluten-Free Spaghetti Carbonara that everybody will love! You'll feel fancy and totally surprise your family and guests. Made in partnership with ALDI.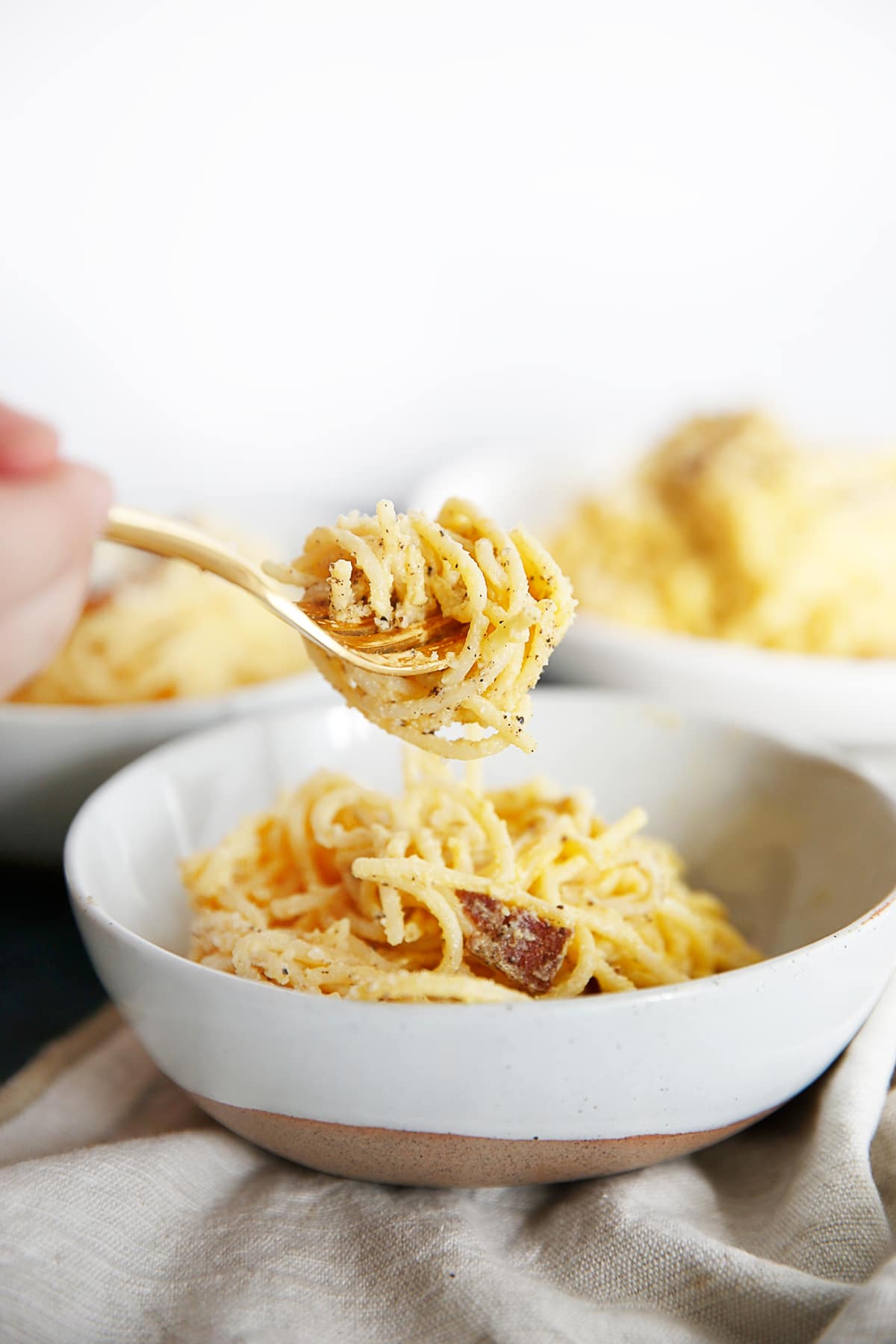 Gluten-Free Spaghetti Carbonara
I am so excited to partner with my friends at ALDI to bring you today's easy spaghetti carbonara recipe! It's a total staple that's affordable and beyond delicious.
There's more to love about the liveGfree line at ALDI! The gluten-free brand is now backed by the Good Housekeeping Seal! This means that each liveGfree product was evaluated and quality tested by the food and nutrition experts at the Good Housekeeping Institute, so you know it's a product you can trust. They also guarantee quality on all of their private-label products. If a customer doesn't like an ALDI-exclusive product, they can bring it back and they'll return your money and/or replace the product!
Essential Carbonara Ingredients:
Gluten Free Brown Rice Spaghetti: I'm loving liveGfree Brown Rice Pasta from ALDI
Egg Yolks: ALDI has SimplyNature Organic Cage Free Brown Eggs
Bacon or Pancetta: I'm loving Appleton Farms Never Any! Bacon that was raised free from antibiotics, added hormones, steroids and animal byproducts. The more than 20 Never Any! meats have also earned the Good Housekeeping Seal.
Pecorino Romano or Parmesan: We used Priano Shredded Parmesan Cheese or you could use the Priano Parmesan Cheese Wedge in this recipe
Tons of fresh Stonemill Ground Pepper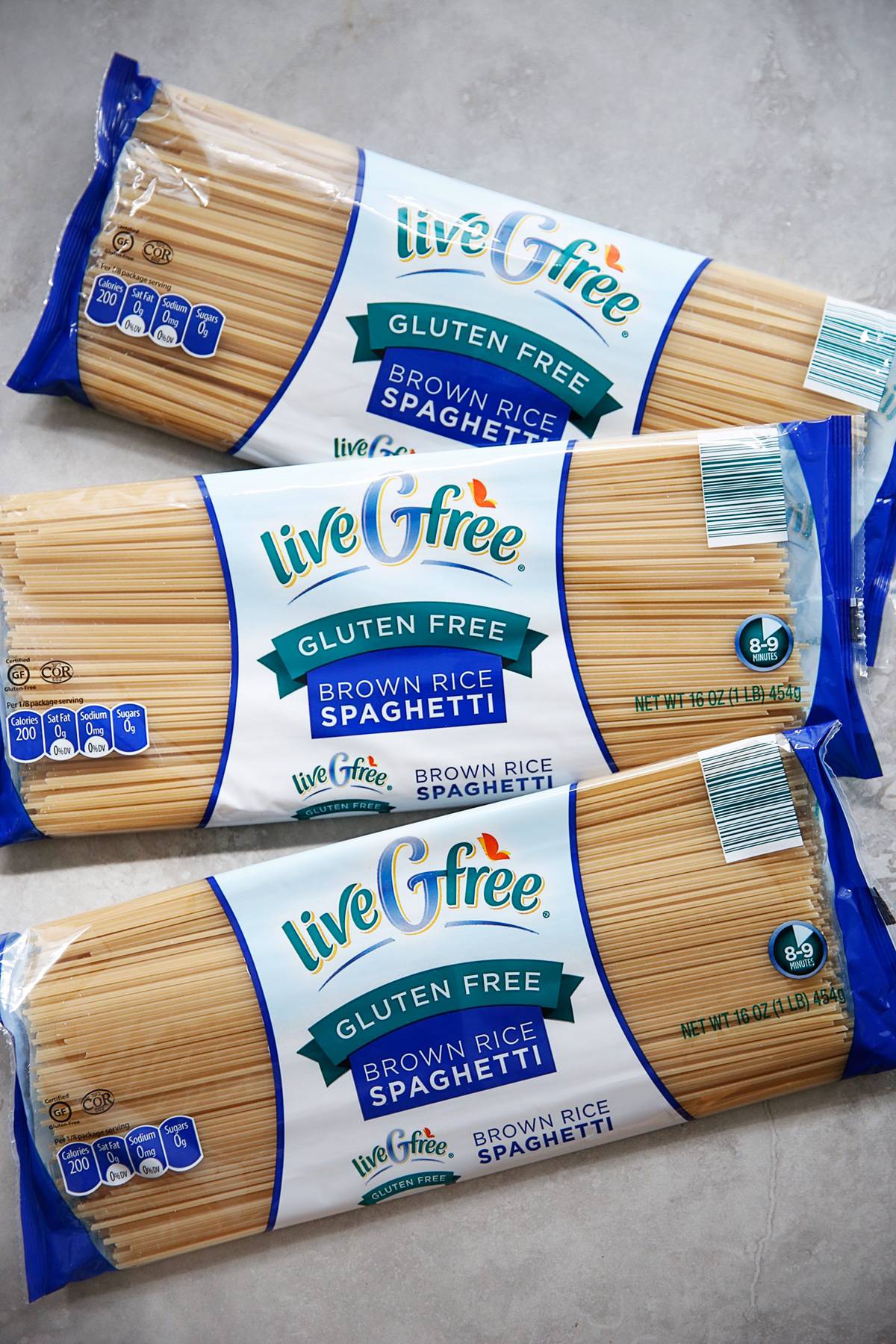 Because it's only a few simple pantry ingredients, you want them to be high quality! Normally when making a cheesy type of pasta, you thicken with some sort of starch or flour, but this dish is thickened with egg yolks, making it naturally gluten-free (assuming you are using gluten-free pasta).
How do you make carbonara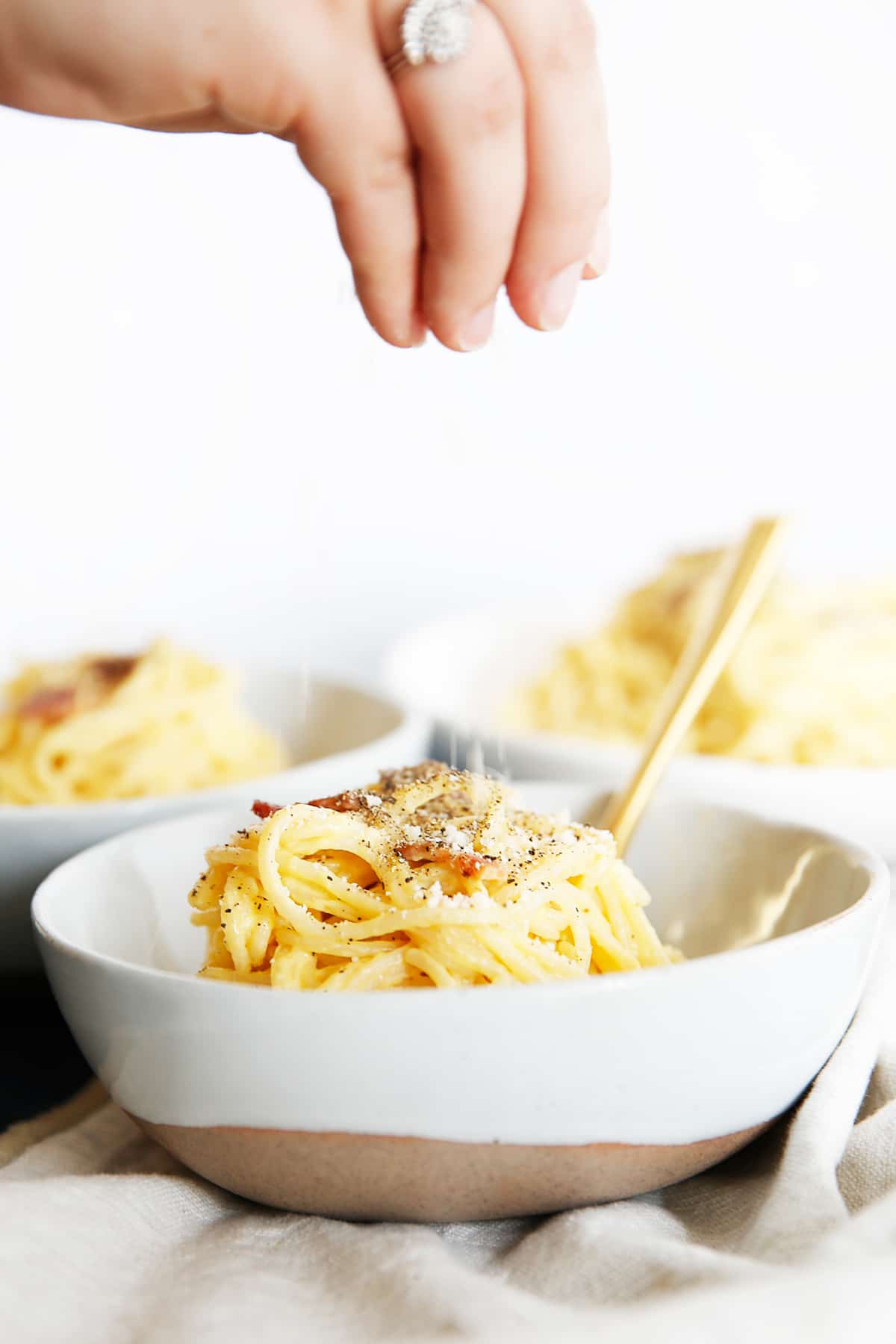 Here's the lovely GF Carbonara we enjoyed in Italy at Rome Cavalleri!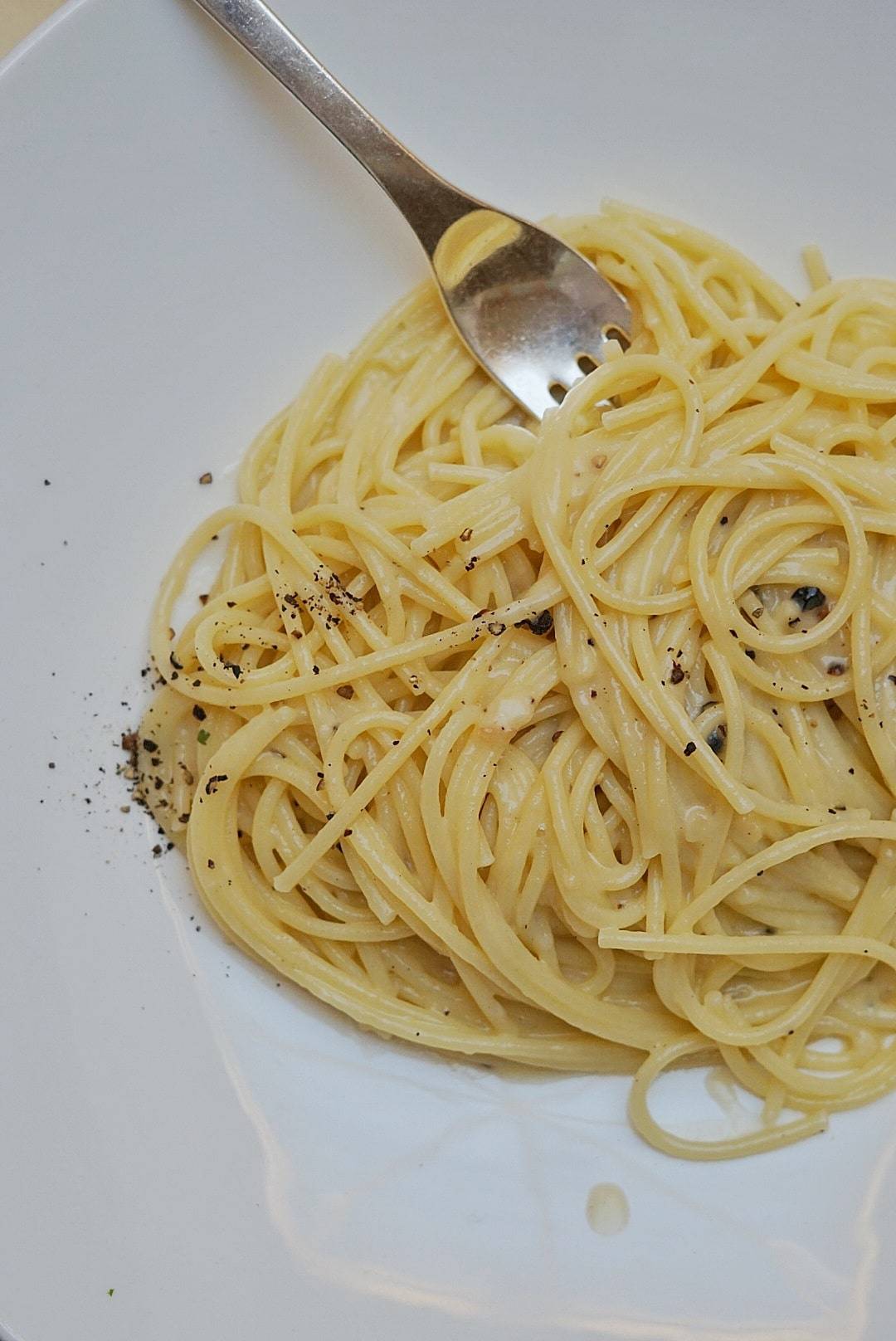 Want other gluten-free pasta dishes? Try these favorites:
This post is sponsored by ALDI. All thoughts and opinions are always 100% my own! I love the integrity of their products and think you'll love them too. Thank you for continuing to support LCK and the brands I work with!
SaveSave
SaveSave
Spaghetti Carbonara (Gluten-Free)
This Sausage and Vegetable Pasta is my go-to gluten-free dish for a quick weeknight meal or for entertaining. It's delicious, serves a crowd, is easy to prepare, and is made using only ONE POT!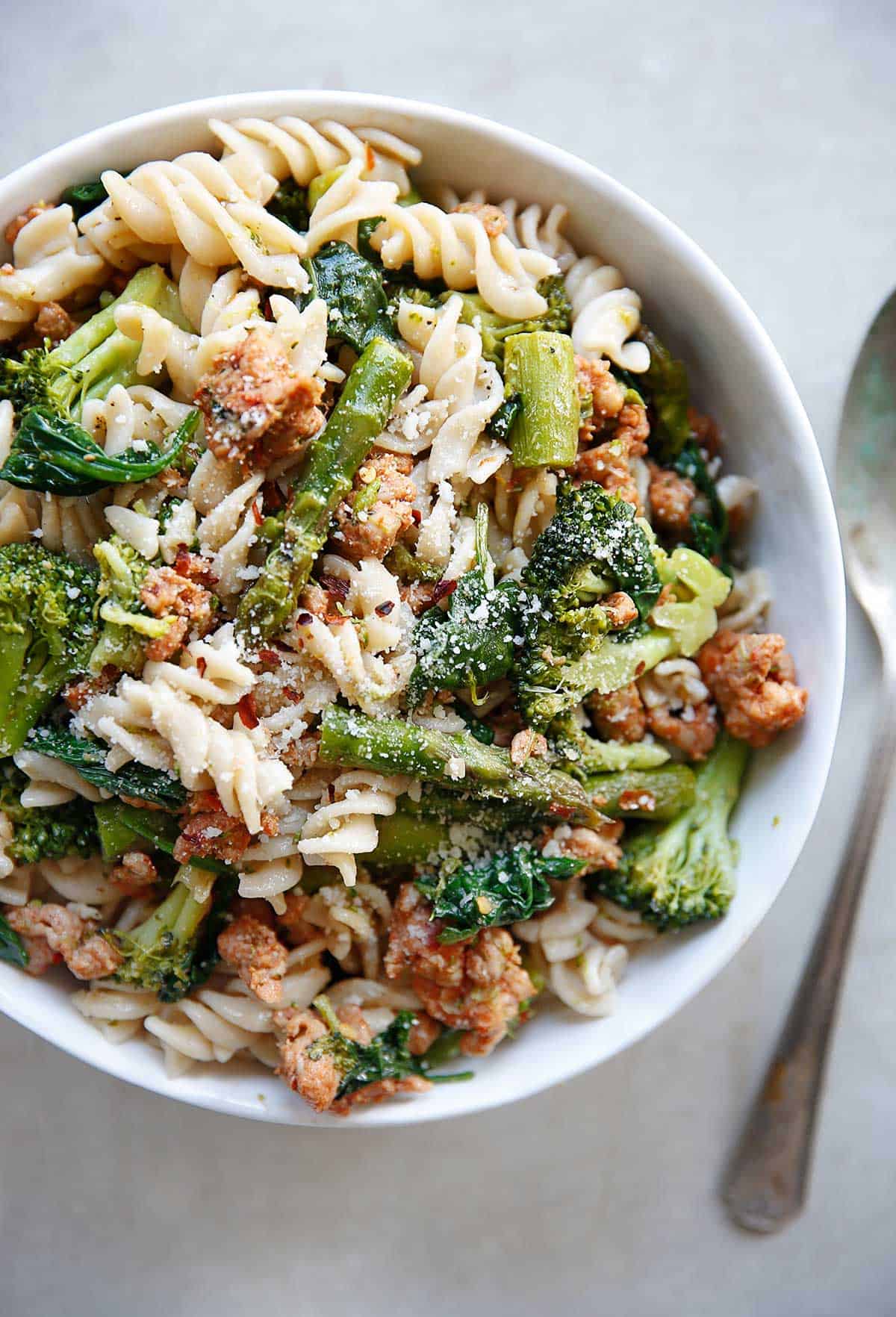 Sausage and Spring Vegetable Pasta
My blogging girlies and I are excited for SPRING, so we've teamed up to bring you five recipes packed with our favorite Spring produce. You have carrots, potatoes, leeks, broccoli, asparagus, spinach, strawberries, peas, and radishes!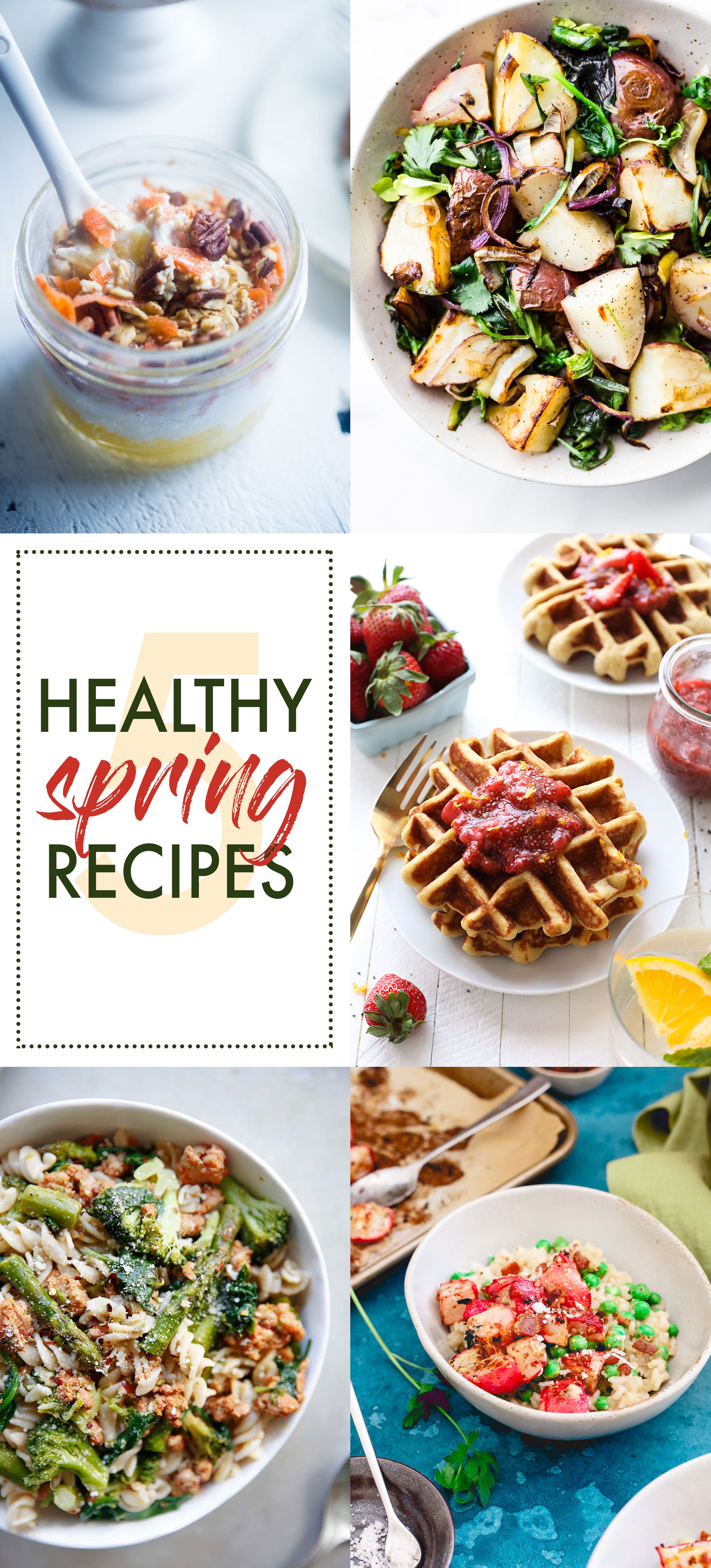 Now, this pasta!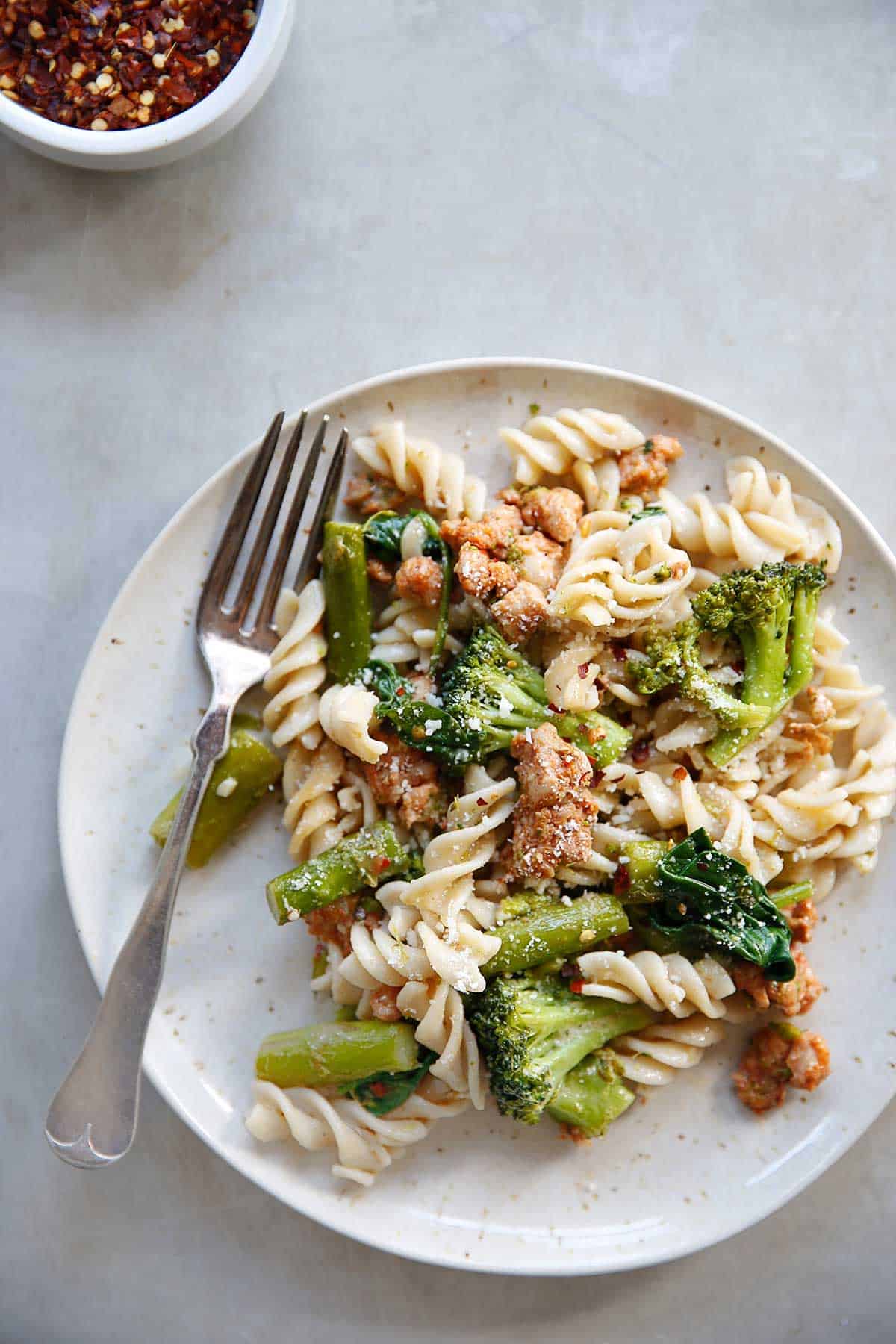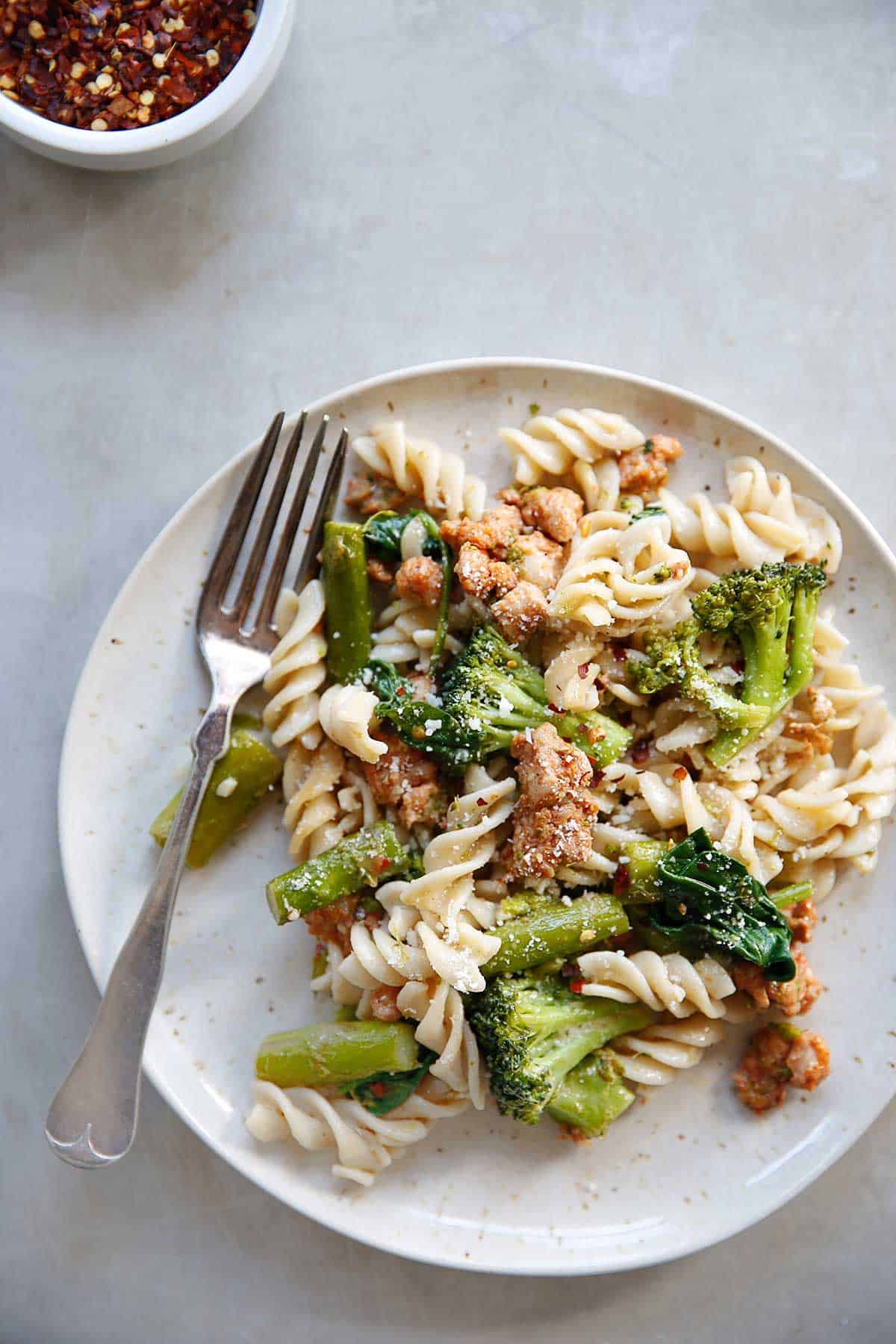 I always make this dish when entertaining. Super Bowl, a dinner party, or just having friends or family over. It's always a hit, and super easy to prepare!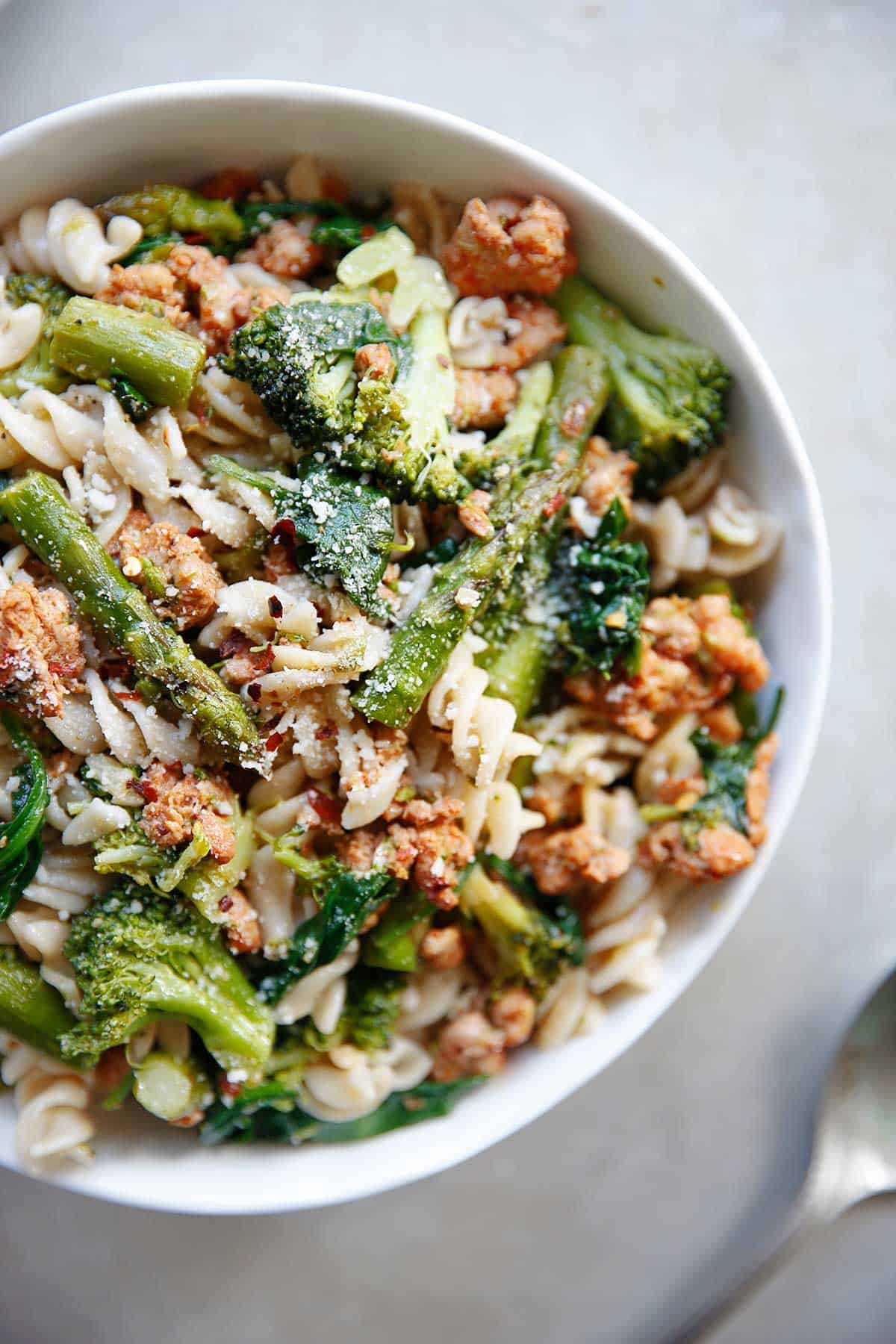 Watch the video:
Want more gluten-free pasta recipes? Try these favorites:
Sausage and Vegetable Pasta
This Zucchini Noodles with Scallops is a super delicious lightened version of scallop pasta using zoodles. This quick weeknight dinner is perfect for summer time. It's gluten-free, Paleo, and Whole30 friendly.
Zucchini Noodles with Scallops
This year I joined a local CSA and cannot believe it has taken me this long to get involved in one. So many of you ask how to shop and eat clean on a budget, and I highly recommend joining a local CSA to help with your shopping. For the money we spent for the 20 weeks, the amount of produce we get weekly is AMAZING. I am making all the fresh veggies with dinner. And lunch. And breakfast!
Like this delicious Zucchini Noodles with Scallops!
Probably one of the easiest, most delicious, light dinners around.
Perfect for SUMMER!
Ingredients Needed for Scallop Pasta recipe:
Fresh Scallops
Butter or oil
Garlic
Onion
Broth (Vegetable or Chicken)
Lemon Juice
Basil
Summer Squash or Zucchini
Bacon
If you like this seafood recipe, check out these others:
If you like this zoodle recipe, check out these others:
[yumprint-recipe id='298′]

What is your favorite Summer dinner?
Easy Scallop Pasta
If you have been here a while, you know I'm all about the spiralizer these days! I love pasta, so it really is the perfect way to satisfy that pasta craving- BUT WITH VEGGIES. So much yes!
This Creamy Pesto Chicken "Pasta" is flavorful, delicious, full of good-for-you ingredients, and makes the perfect nutritious dinner for your family.

This weekend was kind of relaxed. We laid low and managed to have a fun-filled day of registering *gasps* for our wedding!  We binge-watched The Jinx (a new HBO Documentary short series), and I met my girlfriends for brunch yesterday.  A nice relaxing weekend for busy week ahead! Cooking for Passover, heading to NY, taking care of wedding stuff, blog work, gym time, and so much more. Busy busy busy. That's why I need to fuel up with dinners like this.
Protein, good-for-you fats… the works!


[yumprint-recipe id='268′]


What is your favorite type of pasta dish? How do you fuel your mind & body for busy weeks?
Creamy Pesto Chicken "Pasta"
This Sweet Potato Gnocchi: Two Ways takes some time to make, but it isn't complicated once you get the hang of it and makes for such a fun hands-on task! Simply delicious, and guilt-free! I served it two ways, with my favorite easy tomato sauce and then with a spinach and butter sauce. So so good.
For a while now I've wanted to make a gnocchi recipe. I knew with the right combination of gluten-free flours I could achieve that dough-like pasta that is loved by many. I also knew it could be customizable based on your desired taste.
This dish was a huge hit. All of my trusty taste-testers requested seconds! I plan on making a spinach version, pumpkin, pesto, and so on one day!
Sweet Potato Gnocchi Without Ricotta
Disclosure: This is a sponsored post with Muir Glen Organic Tomatoes. I was compensated  for the time spent developing this recipe. All opinions expressed on Lexi's Clean Kitchen are always my own. My sponsors help make this blog possible!
What is your all-time favorite pasta dish?