With bold flavor and super fresh ingredients, these Thai Chicken Lettuce Wraps are perfect for meal prep for lunch or for a flavorful dinner. Marinated chicken is cooked together with Thai flavors, cabbage, bean sprouts and carrots before being placed inside of a lettuce wrap. Top with the creamiest peanut sauce to really make this special! Made in partnership with my friends at Stonewall Kitchen.
Thai Chicken Lettuce Wraps
I used to love the lettuce wraps at that popular Asian chain restaurant, and they are totally the inspiration for this dish. Of course this recipe is a healthier version using real ingredients and my favorite soy-free alternatives to still get that classic taste. These lettuce wraps are topped with a creamy peanut sauce that completely makes the dish. Don't worry though, there is an easy swap to make this peanut-free making this dish Whole30 and Paleo friendly.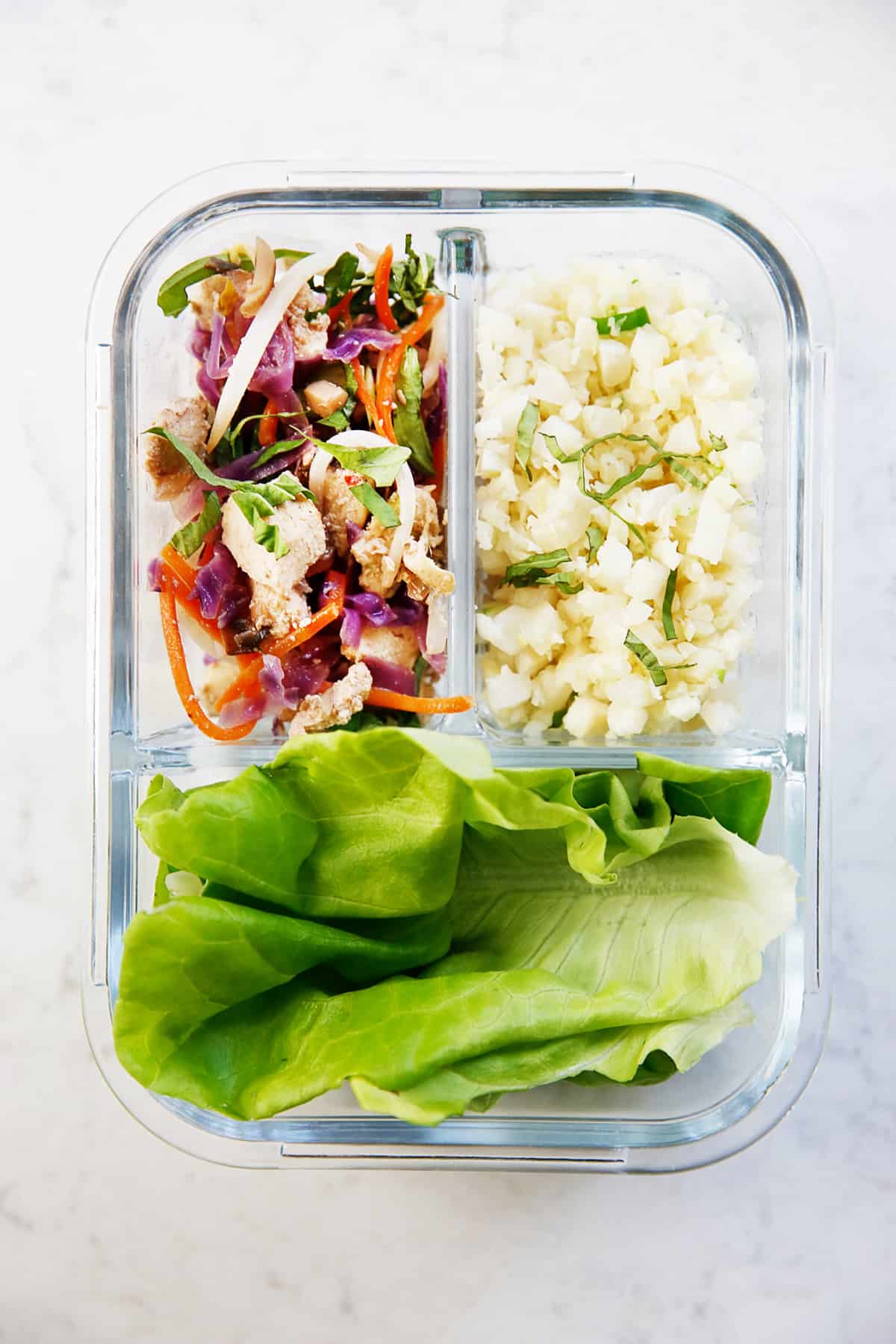 Ingredients for Thai Lettuce Wraps
Chicken

Coconut aminos

Rice vinegar

Avocado Oil

Sesame Oil

Mushrooms

Scallions

Garlic

Ginger

Red Pepper Flakes

Red Cabbage

Bean Sprouts

Carrot

Basil or Cilantro

Lettuce

Sesame Seeds

How to Make It
The first thing you want to do is marinate the chicken! This is going to add in some savory flavor to the dish. While we are suggesting to do this for about 30 minutes, it can be as quick as 15 minutes or as long as overnight. Obviously the longer you do it the better the flavor.
Once the chicken has been marinated, and all of the ingredients are prepped up heat up a large pan. Once hot, cook the mushrooms until all of the liquid has been evaporated.
Next add in the cabbage and a big pinch of salt and pepper cook until it's softened. Move the mixture to the side to make room for the chicken! Add in the remaining 1 teaspoon sesame oil to the pan and cook chicken until no pink remains, about 3-5 minutes. You'll be leaving behind any of the excess marinade.
Finally, add in bean sprouts, and carrots and let cook until the bean sprouts are slightly wilted. Season the chicken and veggies to taste with salt and pepper and garnish with fresh basil and remaining green parts of the scallions. That last addition of the fresh herbs really helps this dish pop in flavor.
This dish will be garnished with a peanut sauce, that can be made with peanut butter or almond butter for those looking to keep it Whole30 or Paleo-friendly. To make it add all of the sauce ingredients to a bowl and whisk together. Depending on your thickness of nut butter, you may need to add in a bit more hot water. Add in more hot water if needed to reach desired sauce consistency.
Serve the chicken and veggies inside of lettuce cups and drizzle with the peanut sauce. Garnish with additional fresh herbs and sesame seed! Or make into meal prep. See below for more details on that!
Why Stonewall Kitchen Products are Always in My Pantry
One of the most frequently asked questions I get about maintaining a clean-eating lifestyle is: what's in my pantry? The simple answer is that it's important to keep a wide range of products in your pantry that allows you to whip up a quick dinner or snack at a moments notice. Ones that don't compromise on ingredients and that you can feel good about eating and serving.
Headquartered in York, Maine (the cutest place ever), Stonewall Kitchen is the maker of some of my favorite gourmet specialty foods that always have a place in my pantry. Chances are, you've likely seen their famous jam in a grocery store near you (even Costco has it right now!). But in case you didn't know, they have a wide range of healthy products that make it easy to maintain a good-for-you diet.
Their Creamy Peanut Butter is one of my favorites (you can also grab it on Amazon) and it's the perfect addition to these Thai Chicken Lettuce Wraps. Made with only roasted peanuts & salt (no added sugars or oils) you can feel good about enjoying it! While the chicken filling is good on it's own, adding that creamy peanut sauce on top REALLY makes the dish.
Meal Prep Options
There are two ways that you can prepare this dish for the week ahead! If you wanted to eat this as actual lettuce cups you'll want to store cleaned and dry lettuce leaves separately from the cooked chicken mixture. You can eat this cold or warm, so if you wanted to heat it up make sure to pack it separately from the lettuce so it can be heated.
Or you could make this into meal prep bowls by serving with cauliflower rice or regular white rice, and omit the lettuce cups all together.
If you like this meal prep recipe, check out these others:
For more chicken recipes, check these out:
---
 Thai Chicken Lettuce Wraps with Paleo 'Peanut' Sauce
Ingredients
Marinade
Chicken & Veggies
1 pound boneless skinless chicken breast
2 teaspoons avocado oil
1 medium onion, diced
2 garlic cloves, minced
8 oz mushrooms, thinly sliced
1 cup bean sprouts
1 cup fresh spinach
2 scallions, thinly sliced
1/2 teaspoon sea salt
1/2 teaspoon pepper
1/4 teaspoon red pepper flakes
Paleo 'Peanut' Sauce
1 tablespoon peanut butter
1 teaspoon fresh lime juice
1 tablespoon and 1 teaspoon filtered water
1/4 teaspoon fish sauce
1 teaspoon honey or coconut sugar
Directions
In a bowl combine marinade ingredients and chicken and set aside.
In a large skillet, heat oil over medium-high heat. Add in onion and and garlic. Sauté until onions turn translucent.
Add mushrooms and let cook for 3-5 minutes, stirring occasionally until mushrooms soften and begin to brown.
Add in marinated chicken, salt, pepper, and red pepper flakes, and cook chicken until no pink remains. Cover the pan to decrease cooking time.
Add bean sprouts, scallions, grated carrot, spinach, and basil. Let cook for 5 more minutes or until bean sprouts are translucent and the spinach has wilted.
Taste and add additional salt, pepper, and red pepper flakes as desired. Set aside to cool.
In a small bowl, mix together peanut sauce ingredients.
To Assemble;
Lay out lettuce leaves on a plate and add fill with Thai chicken mixture
Garnish with paleo 'peanut' sauce, scallions and sesame seeds if using.
Recipe Notes
Omit peanut sauce for Whole30 Compliant!
Loading nutrition data...
There may be affiliate links in this post! By clicking on them, or purchasing recommended items I may receive a small compensation, at no cost to you! However, I only recommend products I absolutely love and use in my own home! Thank you for supporting Lexi's Clean Kitchen when you shop! See my
privacy policy
for more information about this, the information we save, and more!