The Best Winter Fruit Salad
Think fruit salads are just for the summer? Well we've got the perfect Winter Fruit Salad to serve when the weather is frightful but you are still craving a big, refreshing bowl of fruit. This fruit salad uses commonly found winter fruit and it's mixed together with a delicious greek yogurt and poppy seed dressing. Perfect for parties or for a delicious dessert!
Winter Fruit Salad
This Winter Fruit Salad is just what you need when it's been cold for months and you are dreaming of warm summer days spent eating giant bowls of fruit…or that just us?! For this recipe, we paired together accessible winter fruit with a delicious and tangy greek yogurt dressing with poppy seeds to make the most for the best cold weather sweet salad.
What's in it?
We included some of the most commonly available winter fruit. Feel free to substitute in what you have. We loved the addition of bananas here, but don't use very ripe bananas or they can turn mushy quickly. Use bananas that have just turned yellow.
Apples

Mandarins

Bananas

Kiwis

Pomegranate Arils
What other fruit can be added?
Most fruit would work well in this salad! You can change it out for whatever is in season or what is available for you.
How to Make the Dressing
The name of the game for this dressing is EASY! Just mix up all of the ingredients in a bowl and add to your cut up fruit.
Here are the ingredients:
Greek Yogurt (feel free to use dairy or dairy-free)
Honey
Fresh Squeezed Orange Juice
Poppy Seeds
If you like this fruit forward recipe, check out these others:
The Best Winter Fruit Salad
This Apple Cider Sangria is everyone's favorite Fall cocktail! It's flavorful, packed with cinnamon, ginger, apple cider, and white wine for the perfect dinner party sangria! Serve it with a caramel rim (or opt out for simplicity), make a large pitcher, and enjoy this easy fall cocktail!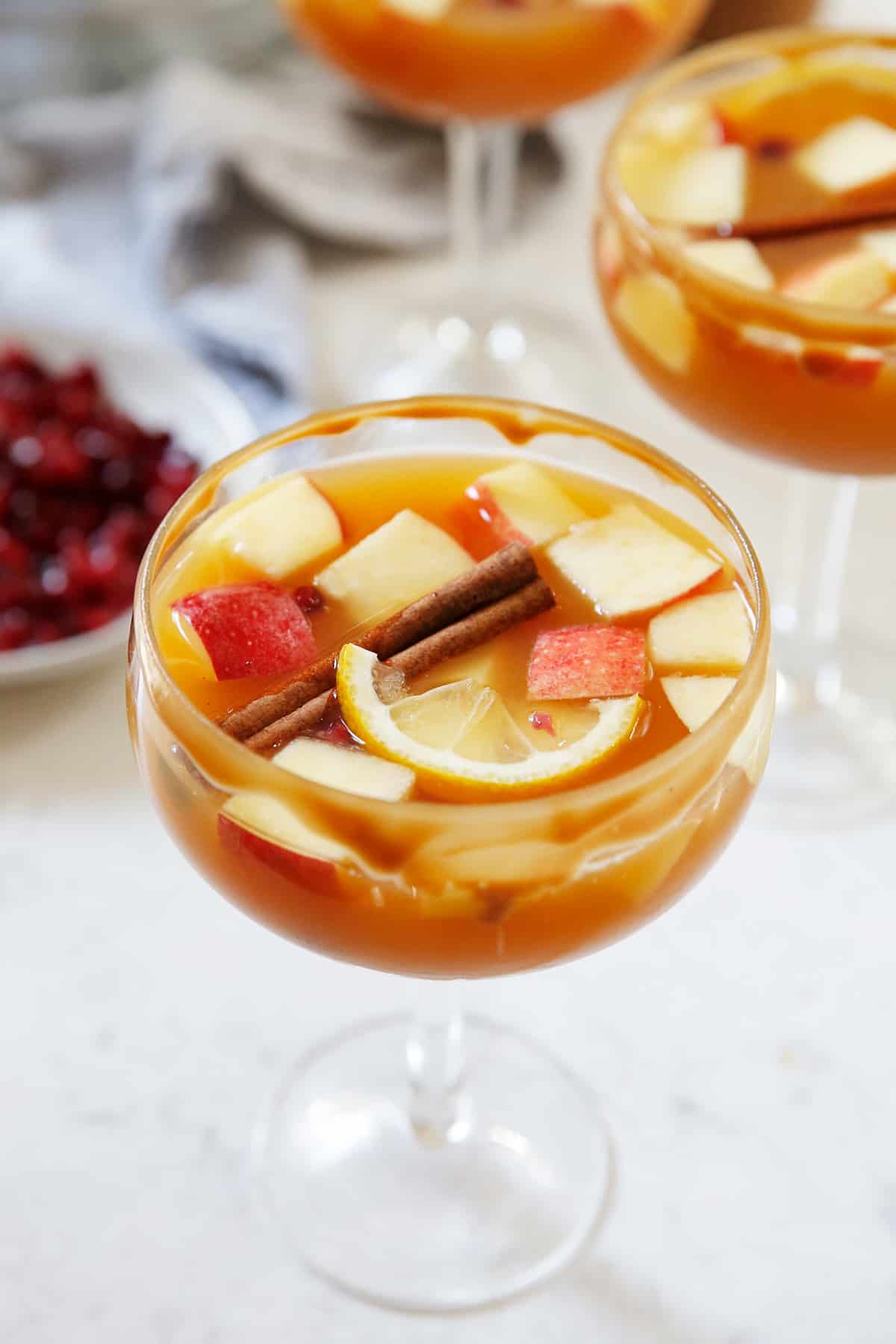 Apple Cider Sangria
This Apple Cider Sangria has everything you love about fall: it's spiced just right, is so comforting and has all that classic apple flavor! It's also super easy to make and a great cocktail to serve at a party without having to individually make drinks for each guest. Make this sangria using white wine flavored with fall fruit ahead of time and check one thing off your to-do list. It's refreshing, festive and so delicious. Want to make it even more special? Garnish the rim of the glasses with this paleo caramel! It'll be worth it!
Ingredients Needed
1 bottle white wine
Fresh apple cider
Carbonated water
Cinnamon sticks
Gluten-free vodka
Apples
Honey
Cinnamon
Pomegranate Seeds
Orange slices
How do you make Apple Cider Sangria?
We're not lying when we say sangria is easy to make! All you do is mix together all of the ingredients and then let sit for anywhere from 2 to 24 hours. When you are ready to serve, you can add in the carbonated water. Additionally, you may want to have some fresh fruit on hand to top off the glasses with.
How to Make it a Mocktail
This drink is so festive for all of the fall holidays and gatherings. Make it a cocktail by omitting the white wine and vodka and replacing it with additional half carbonated water and half fresh squeezed orange juice!
How far in advance should sangria be made?
Sangria should be made at least 2 hours before serving, so all the fruit can mix well with the rest of the ingredient and so that it can have time to chill! Sangria gets better and better as it sits, so even 24 hours ahead will be great.
Watch the video:
Other favorite cocktail recipes:
---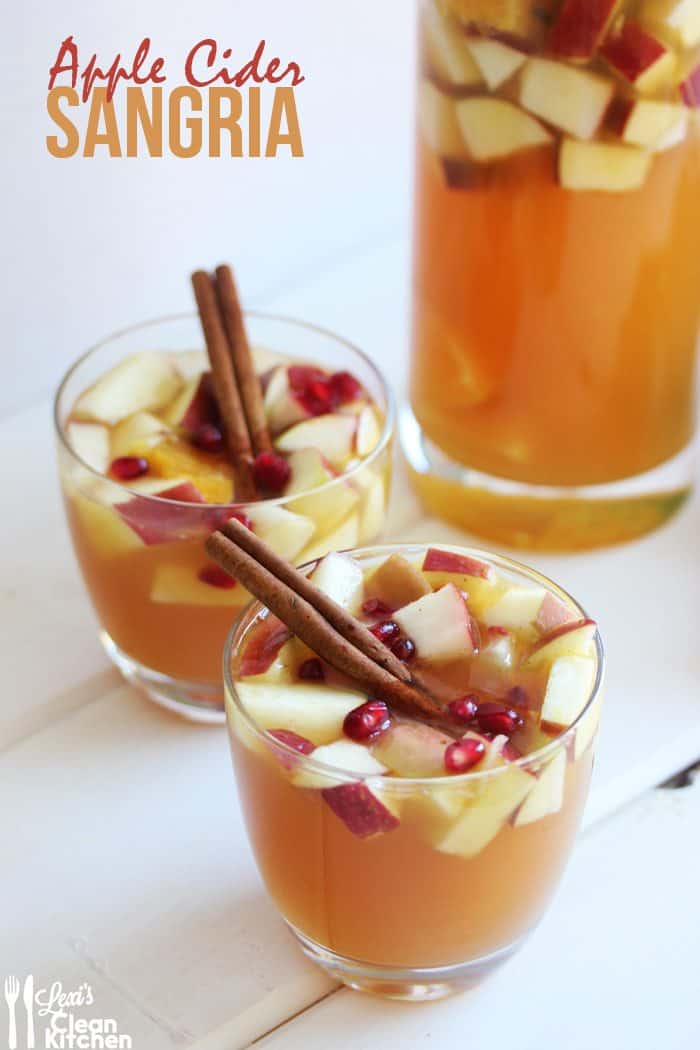 Apple Cider Sangria
This Lamb Chops with Crispy Shallots and Pomegranate Sauce recipe makes for a decadent meal done in under 20 minutes! It's elegant, super flavorful, and comes together quickly and works equally as well for a romantic dinner for two, or a weeknight easy meal. They're gluten-free, dairy free and paleo.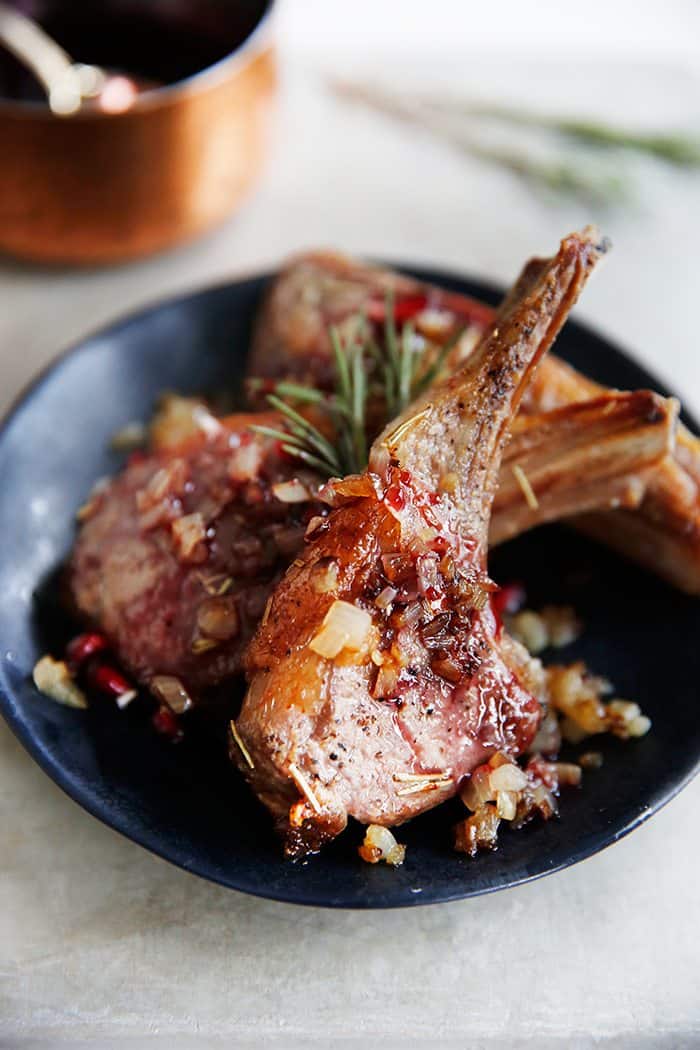 Lamb Chops with Crispy Shallots and Pomegranate Sauce
This Lamb Chops with Crispy Shallots and Pomegranate Sauce recipe is a great date night in meal to make with your significant other, or the perfect elegant holiday meal! The lamb chops are so easy to make and do not require much cooking at all, other than a quick broil in the oven. The crispy shallots are another effortless way to add something special to the meal and the pomegranate sauce adds a tough of sweet that brings the whole thing together. A special dinner in under 20 minutes? Sounds like the perfect meal!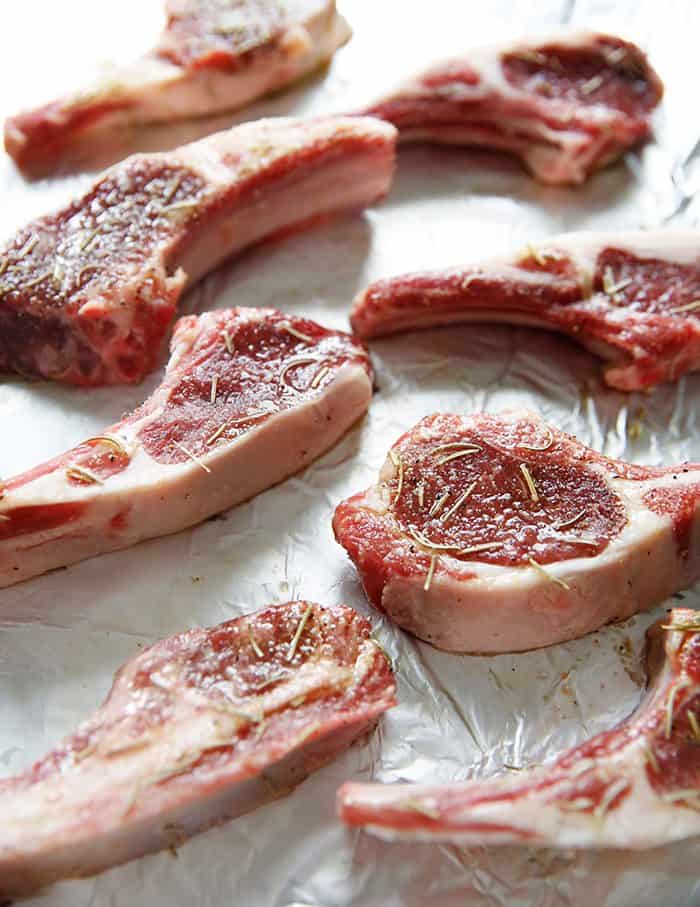 We love when delicious meals come together so quickly, using minimal ingredients, but taste so amazing!The recipe calls for pomegranate juice to make the sweet sauce. You can either purchase pomegranate juice or you can juice your own by blending together 1 cup of pomegranate
What to serve with lamb chops:
Mashed Cauliflower or Mashed Root Veggies (in my cookbook)
Rice
What temperature do you cook lamb chops?
Whole muscle meats such as roasts, steaks, and chops may be cooked to 145 °F (medium rare), 160 °F (medium), or 170 °F (well done). Times here are based on lamb at refrigerator temperature (40 °F).
How can you tell if your lamb chops are cooked?
Use your finger to estimate if roasted, grilled or broiled lamb is done to your liking. Press firmly on several sections of the lamb. If the meat gives easily but is firm and has cooked for the recommended length of time, it is likely medium-rare. A firmer texture and feel indicates more well-done meat! For best results, use your Thermopen!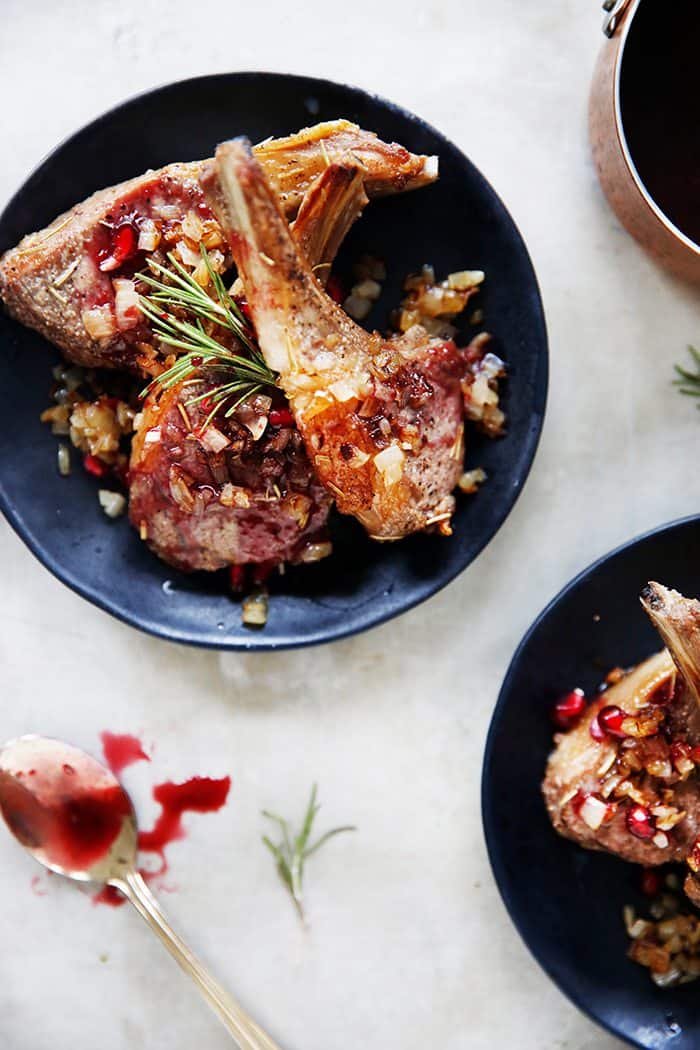 Watch the video:
If you like this showstopper main course, check out these others:
---