Savory Breakfast Sausage Oatmeal
Savory oatmeal with breakfast sausage is a great start to the day, filled with fiber and protein and so delicious. It's gluten-free, optionally dairy-free and a great make-ahead breakfast idea.
Savory Oatmeal with Breakfast Sausage
Oatmeal is often thought of as a sweet food. But have you ever thought of making it savory? We love this savory breakfast oatmeal made with breakfast sausage, cheddar and green onions. You can even put an egg on it, if you'd like! It's prepared almost the same way as regular oatmeal, but with added savory flavor like red and green onions, extra salt and garlic powder. We use ground breakfast sausage (from our Butcherbox) but you can use chopped up fully cooked breakfast sausage (either pork or chicken) if you prefer.
What is Needed for this Breakfast Sausage Oatmeal?
Water or Stock (veggie or chicken)

Rolled Oats

Garlic Powder
Maple Syrup (it doesn't taste sweet, it just helps balance the flavor)
Ground Breakfast Sausage
Red Onion
Green Onion
Cheddar Cheese (or nutritional yeast, for dairy-free)
Cooked sunny side up or poached eggs (optional)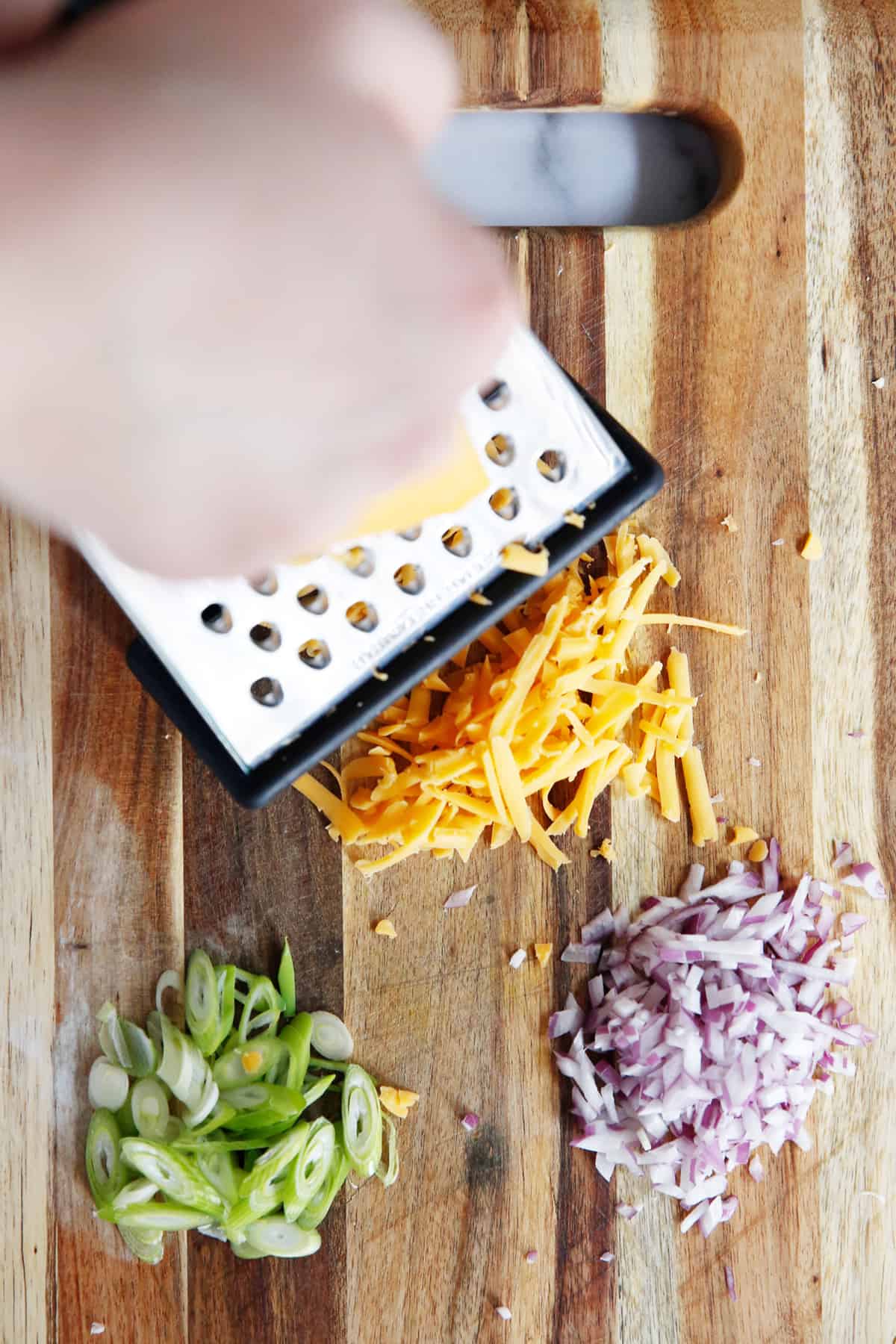 Are oats gluten free?
Oats are naturally gluten-free, but they can sometimes be processed in a facility where wheat products are also processed so there can be cross-contamination. If you are sensitive to gluten be sure to purchase oats that are labelled gluten-free!
How to Make Old Fashioned Rolled Oats?
We are recommend to make old fashioned rolled oats with two methods: stove top or instant pot! The stove top is the quickest method, and is included in the recipe below, with oatmeal ready in about 15 minutes. If this still feels like too much than you can make ahead of time and simply reheat it! The other method is in the instant pot which is the easiest method. It requires no stirring and you can accomplish other things while it's cooking!
Check out this post for everything you need to know about cooking oatmeal, including how to cook it in the Instant Pot.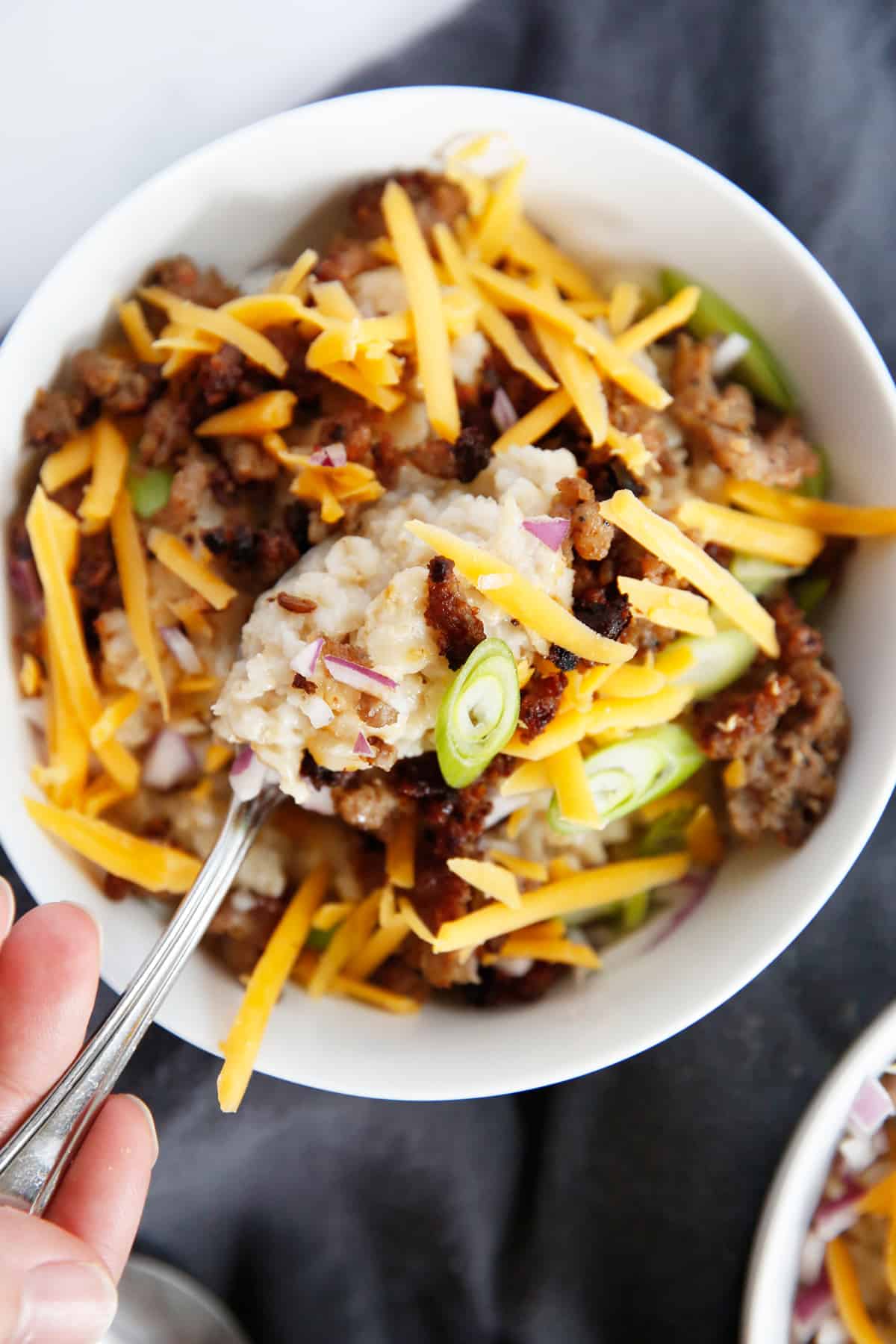 If you like this breakfast recipe, check out these others:
---
Savory Breakfast Sausage Oatmeal
This Sheet Pan Kielbasa Sausage and Sauerkraut Dinner has unique flavors and is an easy way to get dinner on the table. Aside from prepping up a few veggies it's largely hands-off cooking which means more time in your life! It's Paleo and Whole30 friendly and will be a hit with the whole family.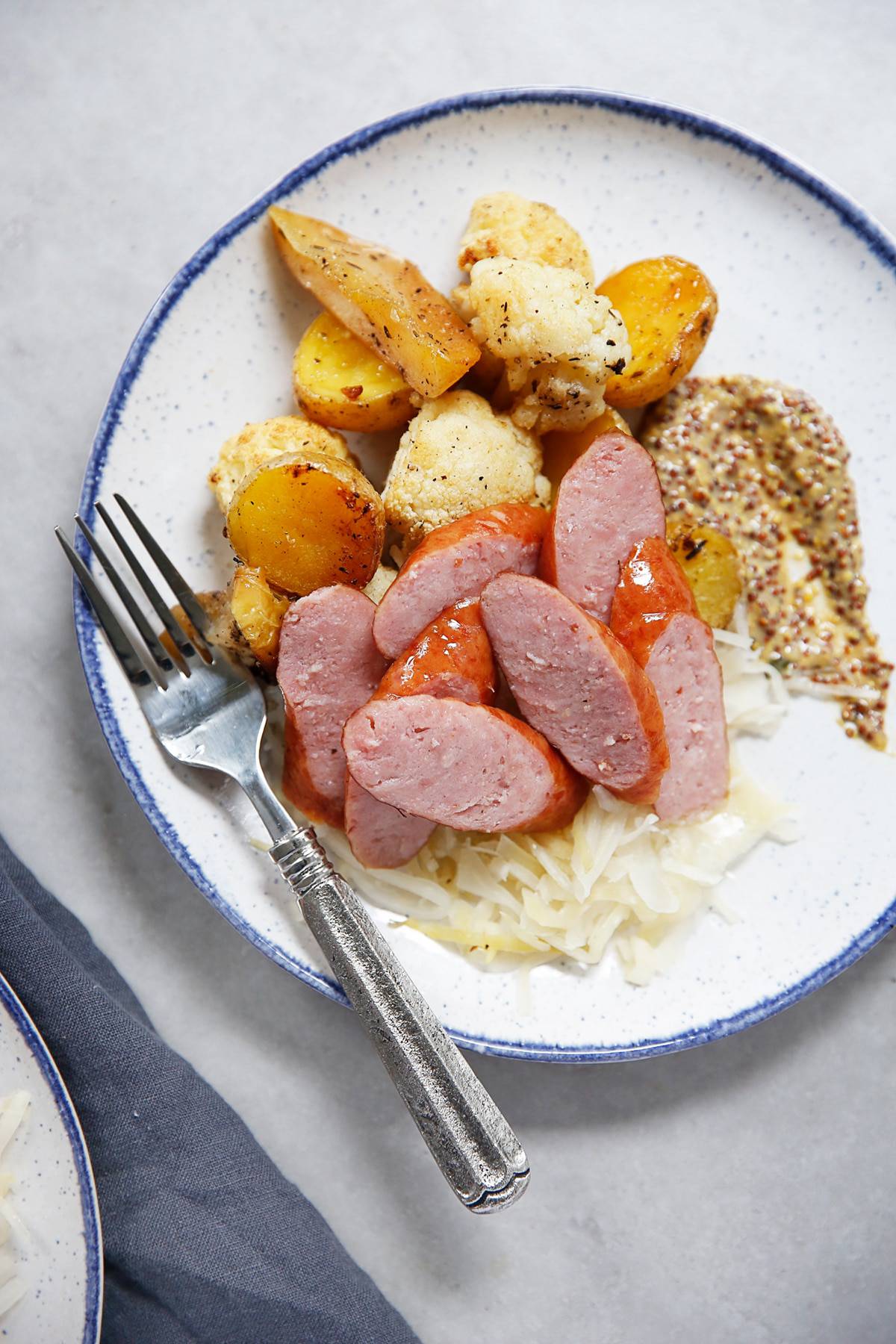 Sheet Pan Kielbasa Sausage and Sauerkraut Dinner
Another Sheet Pan Dinner for the win! We love the unique flavor combination in this Sheet Pan Kielbasa Sausage and Sauerkraut Dinner! The cauliflower, potatoes and smoky kielbasa are complimented nicely with the sweet apples and sour sauerkraut. It's easy to throw together using only a sheet pan and your oven! This would also make a good meal prep lunch as well! Make a double batch to serve as dinner and few make ahead portions or make the whole batch for lunches.
And sauerkraut is a great way to get a nice hit of probiotics naturally so we always love to sneak in these foods whenever possible. Plus, if you've never tried the combo of salty sausage with sweet apples and umami sour sauerkraut, we promise you'll love it.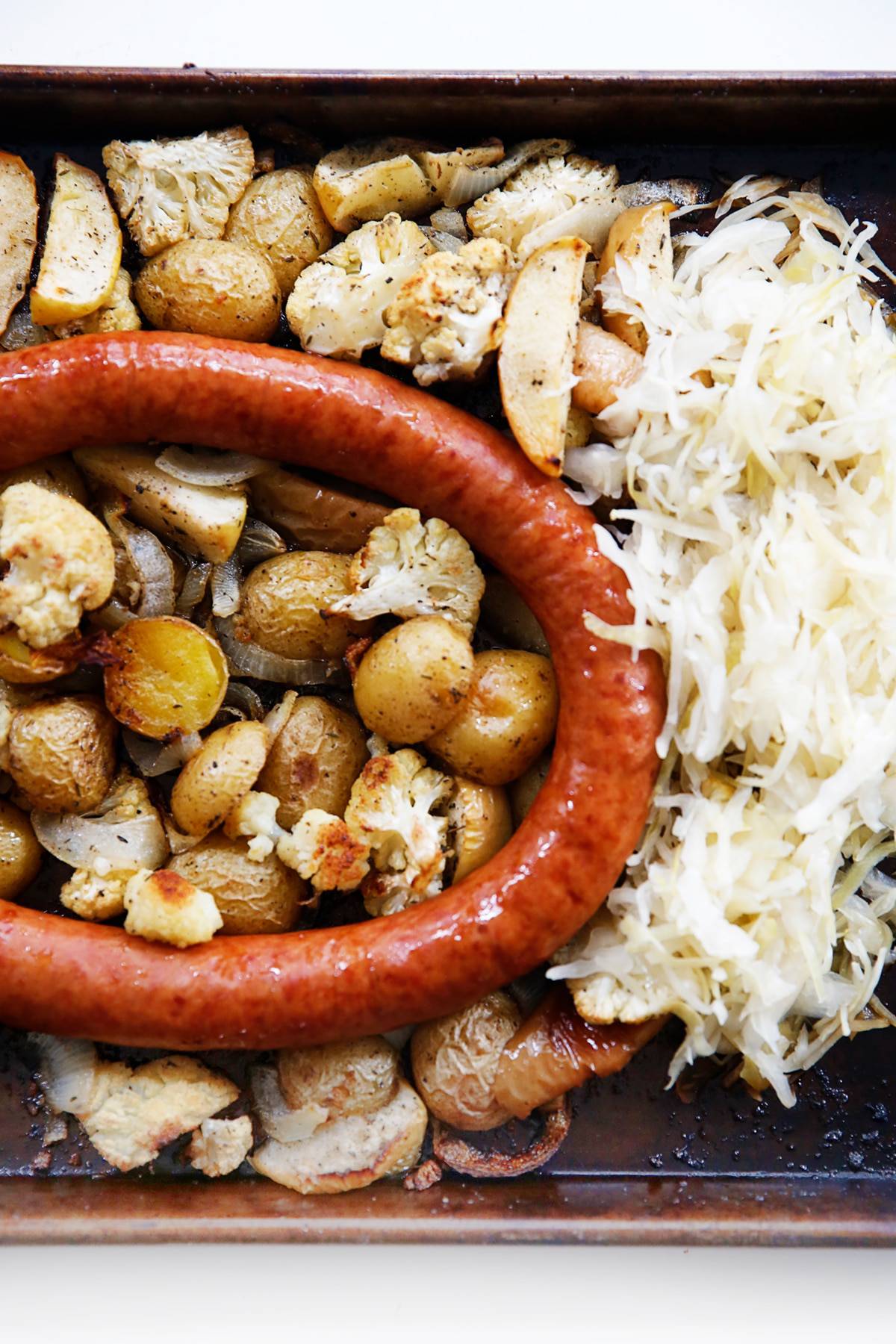 Whenever we make sheet pan recipes we always try to harness what makes this oft overlooked cooking tool amazing: it produces perfectly cooked food that doesn't require much attention other than to set a timer and add in ingredients. The recipe sometimes indicates moving the food around the sheet pan, and this is because depending on how you position the food it uses different cooking techniques. In this recipe we first have the cauliflower, potatoes and apples spread out evenly on a pan so that they can roast. Next we have you pile them close together to finish cooking with the power of steam and add the kielbasa, with a splash of oil on top to help bring the flavor all together. And finally we like cooking the kielbasa whole because it gets a nice crisp skin.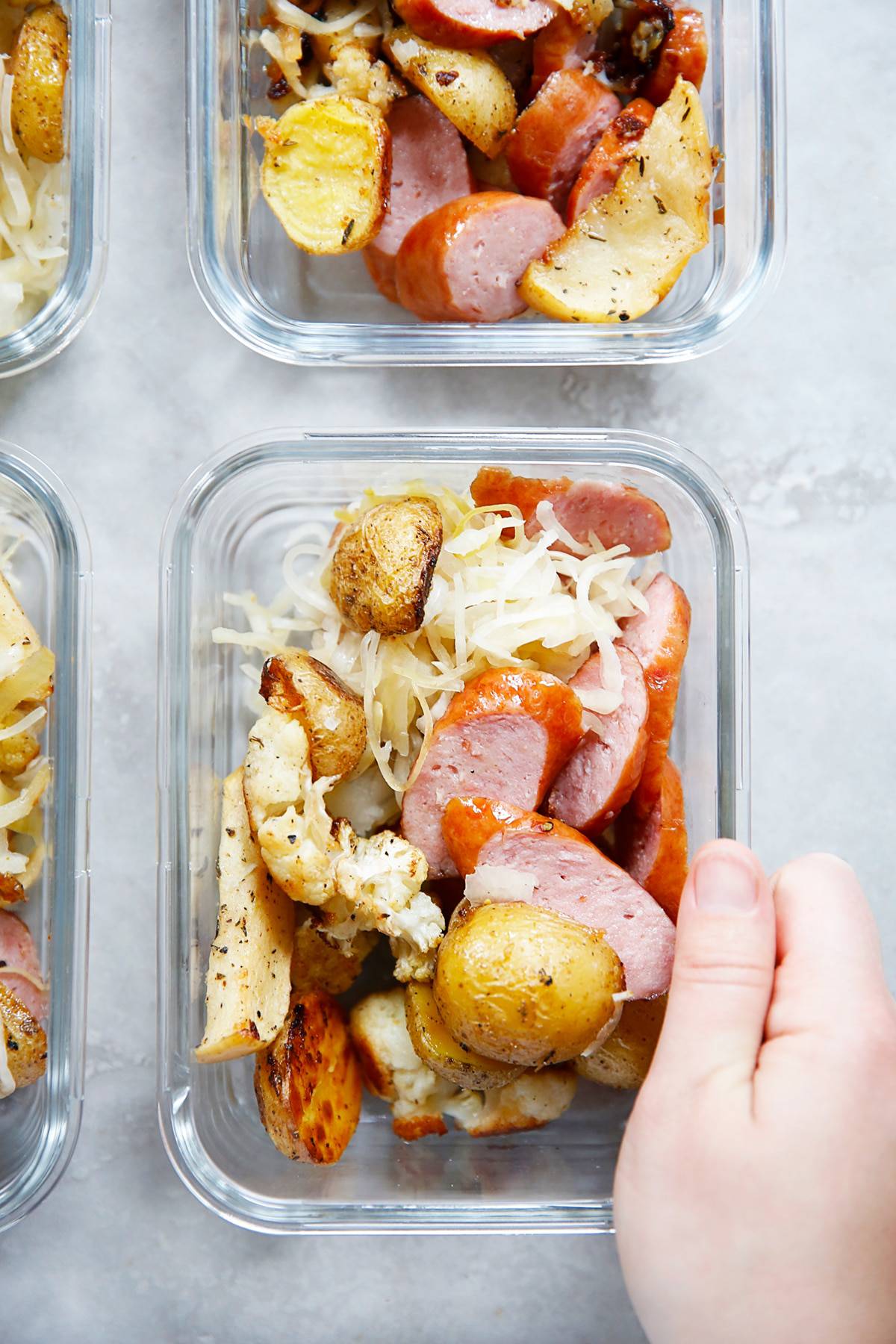 Tips for sheet pan cooking:
Sheet pan dinners are the best. Make sure to read the recipe all the way through (of course) and plan to use a timer! This way you can truly walk away from the oven and not have to worry about when you need to add anything for the next step.
Do the prep ahead of time: Cut cauliflower and onions the night before and mix with oil and spices, then you only have to cut apple and potatoes once you are ready for the actual cooking.
Use the correct size sheet pan. When we say sheet pan we are referring to the rimmed half sheet pan which is 18″ by 13″. The size of the sheet pan matters because you do not want to overcrowd the pan when cooking, so if you are using a smaller sheet pan you may need to use 2 to achieve the same result.
What is Kielbasa
Polish kielbasa is traditionally made from ground pork. Kielbasa (from Polish kiełbasa) is any type of meat sausage from Poland, and it's a staple of Polish cuisine.
What are the best sausages to buy
We purchased natural nitrate free Kielbasa at Whole Foods. If that isn't an option we like to shop organic and local whenever possible for our sausage! Ask your local butcher if you can't find the quality you want in your local market.
If you like this recipe, try these other sheet pan meals:
---
Sheet Pan Kielbasa Sausage and Sauerkraut Dinner
This Loaded Paleo Breakfast Hash is such a delicious hash for weekend BRUNCH or when you are craving breakfast for dinner! The spicy chicken sausage and bacon pair so perfectly with the sweet potato, onions, and peppers. It can be eaten as is for a veggie and protein filled breakfast, or topped with an egg!
Loaded Paleo Breakfast Hash
Normally when preparing sweet potatoes for breakfast I make these Roasted Cinnamon Sweet Potato Home Fries. But today, seeing as it was a 'breakfast for dinner' kind of night, I decided to be adventurous. I loaded up my skillet and cooked up a hash that was a huge hit. This loaded hash with eggs and hot sauce… I think I could be in heaven!
Ingredients Needed:
Olive oil
Garlic
Sweet Potato
Red Pepper
Green Pepper
Onion
Tomato
Chicken sausages
Bacon
Salt and pepper
Baby spinach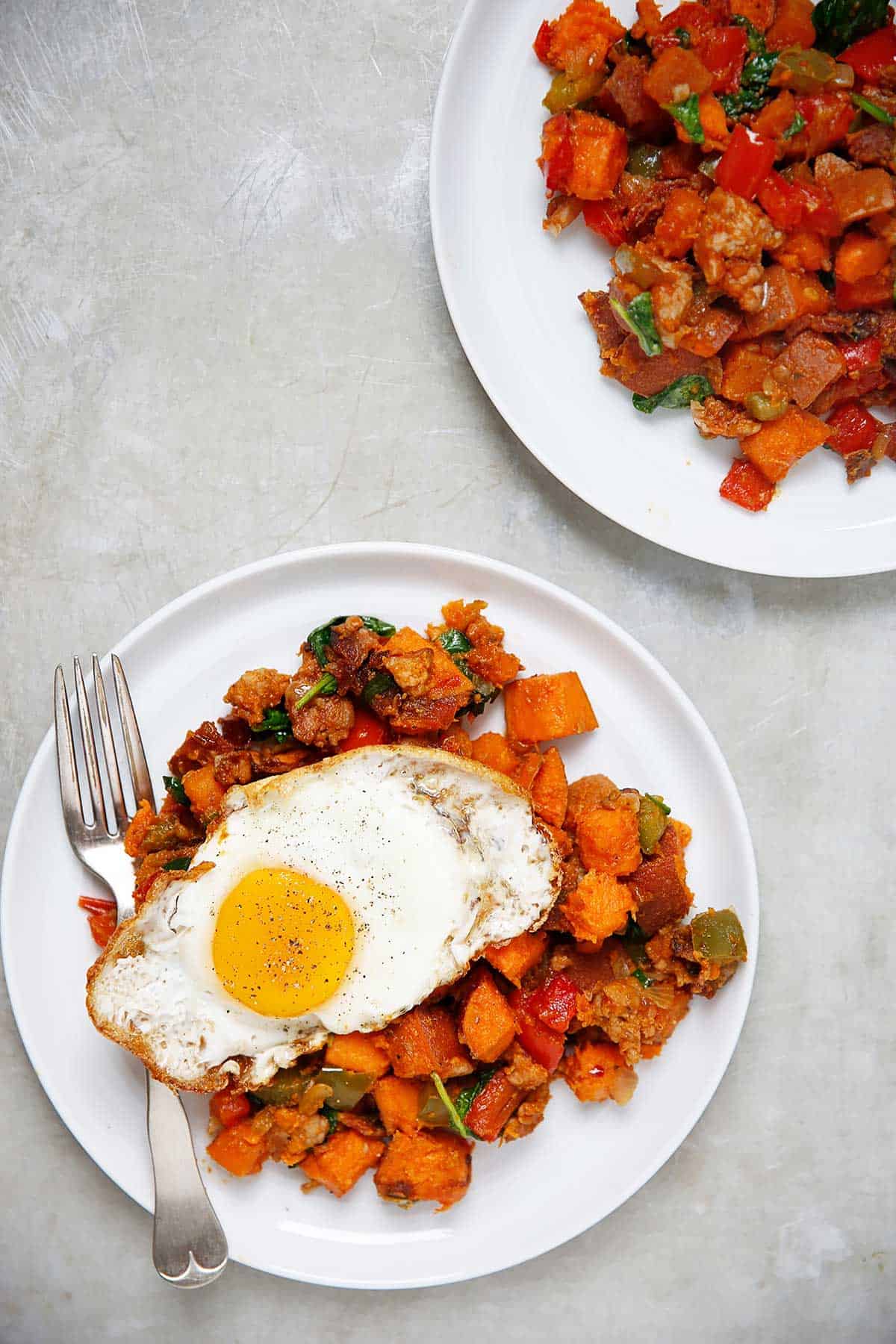 This would also be a great make ahead breakfast idea that you can prep ahead of time on a Sunday and enjoy the next three mornings, with or without eggs! It's great because it's packed with veggies, protein and fat and will keep you satisfied for the whole morning!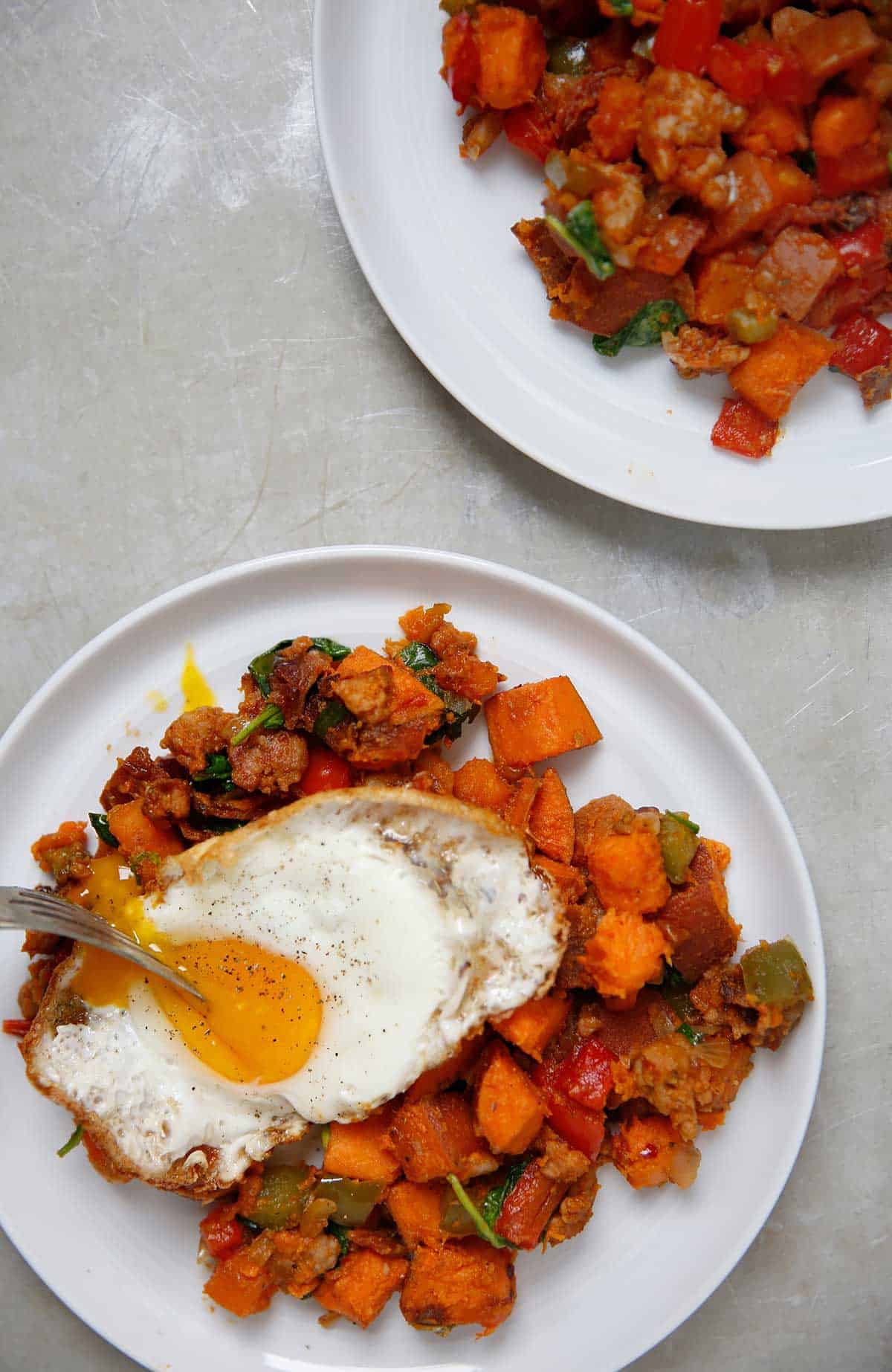 If you like this Sweet Potato Hash Paleo recipe, check out these others:
Loaded Paleo Breakfast Hash
This low-carb and keto-friendly Sausage, Peppers, and Onion, one-pan dish is made in just twenty-minutes! Such a perfect sausage and peppers recipe for any night of the week.
Sausage, Peppers, and Onions
Did you know that peppers are at their growing season peak right now? I was over at my favorite little farm and they had a bin with the most beautiful looking peppers, so I just had to get a bunch! This dish went over big time here.
This is the EASIEST sausage and peppers recipe! It is made in one skillet, is so flavorful, and you can use chicken sausage, pork sausage, or any sausage you like! I like to find ones with minimal added ingredients.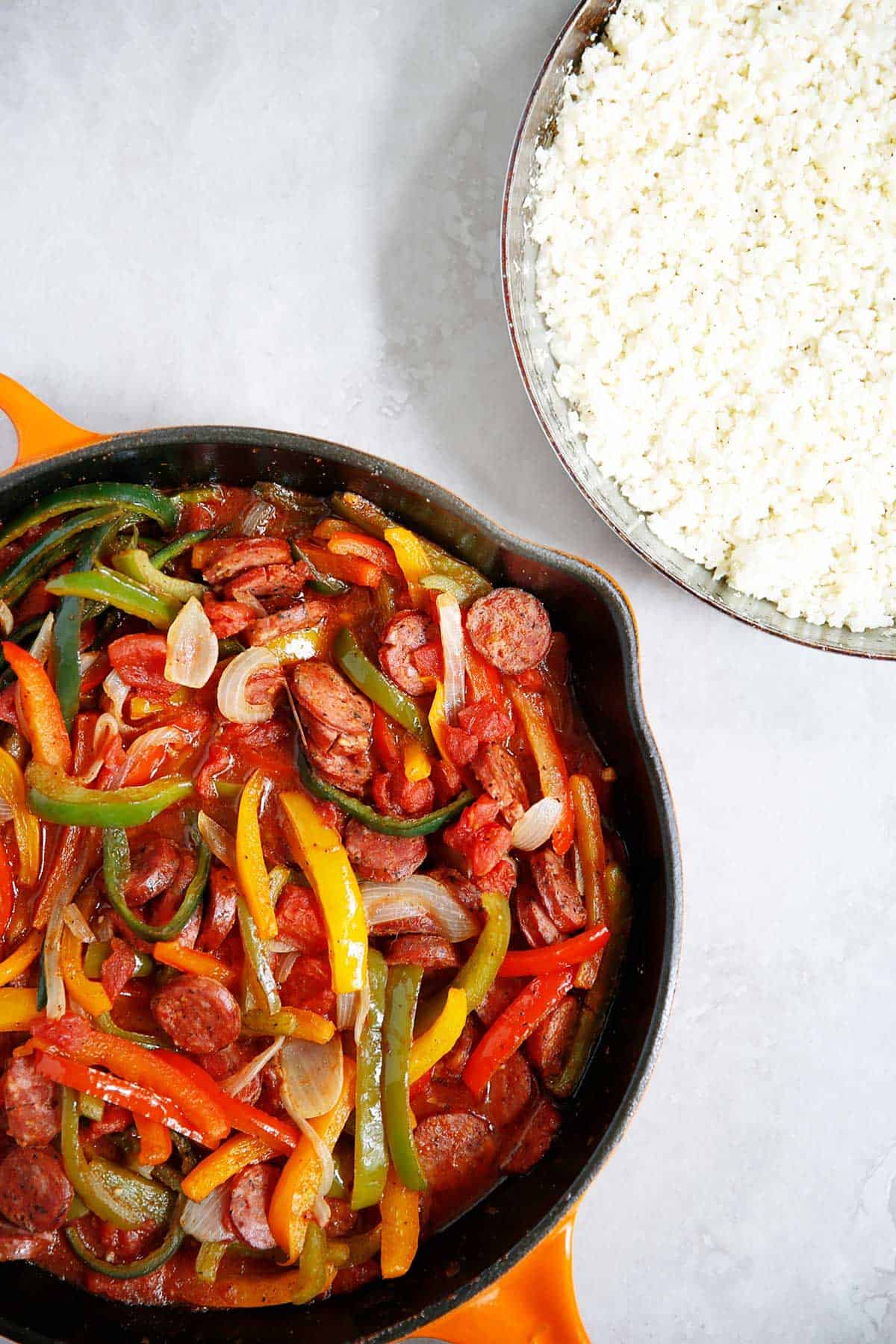 It is flavorful, comforting, and just plain delicious with the perfect amount of sauce. A great dish for football Sunday or those nights when you need a quick and easy meal!
How to make Sausage and Peppers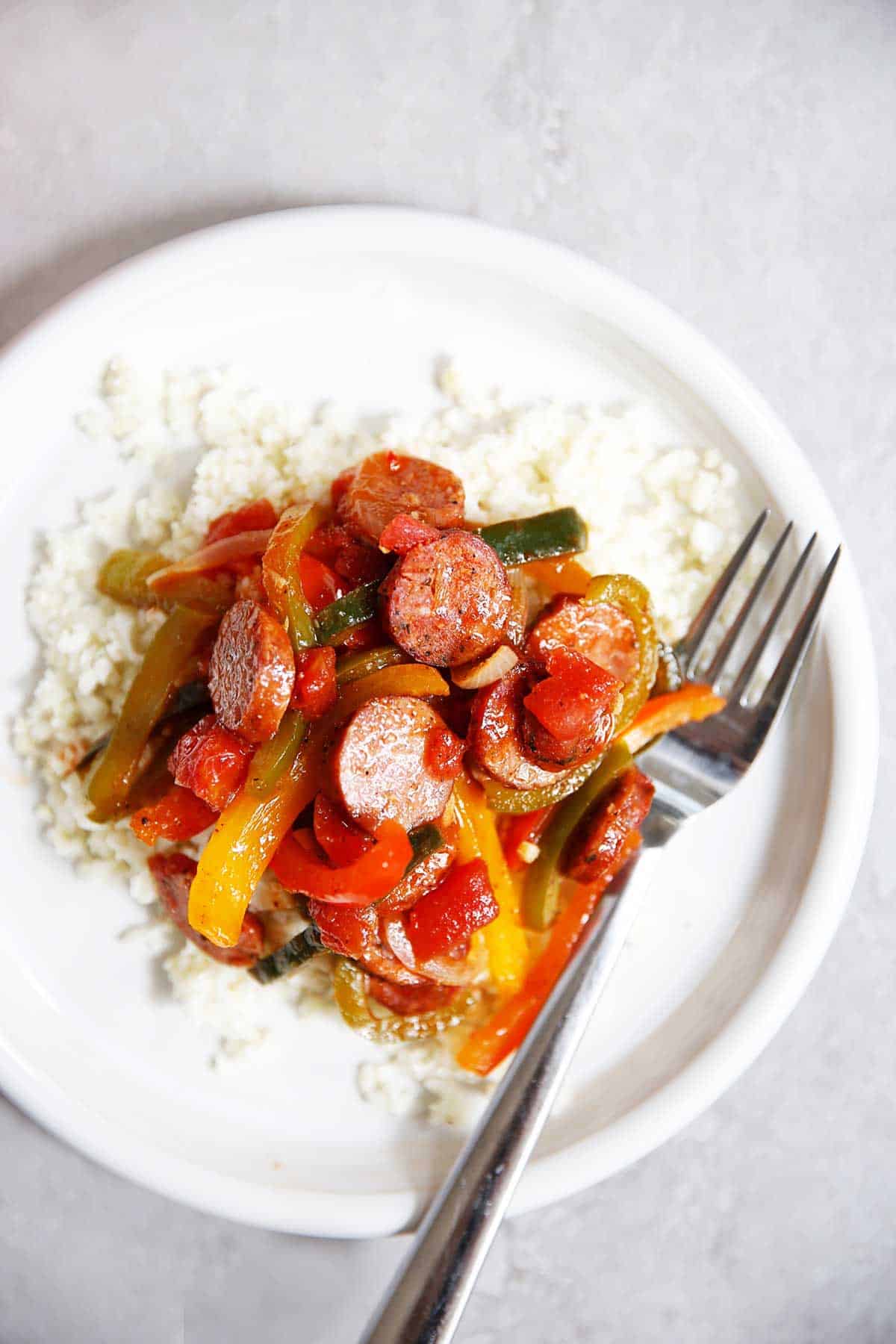 You can get creative with how you serve this dish! I love it served over roasted spaghetti squash or cauliflower rice but I bet it would be great with gluten-free pasta or spiralized veggies as well! This sausage and peppers recipe is Paleo friendly, whole30 compliant, dairy-free, grain-free, and no sugar added!
Like this easy skillet recipe? Try these other favorite one pan meals!
Sausage, Peppers, and Onions
These Freezer Breakfast Burritos are the perfect grab and go breakfast filled with all of your favorite breakfast fixings! They are great when cooking for others or for when you needed a meal prep breakfast ready to go! They're customizable based off of what you love and easy to make.
Freezer Breakfast Burritos Recipe
Monday mornings come fast after a long weekend, but that doesn't mean you shouldn't have a healthy, filling breakfast. Cue the make ahead Freezer Breakfast Burritos! These burritos can be customized to your liking, frozen ahead of time and heated up for a handheld on-the-go breakfast! The prep doesn't really take that long, and when you pull one of these from the freezer you'll be thanking yourself you did it. I stuffed my burrito with home fries, ground Spicy Italian Sausage, bacon, fluffy scrambled eggs and beans for the ultimate protein packed quick and easy breakfast! But feel free to get creative and add your favorite burrito add-ins!
Meal Prep Breakfast Burrito Filling Ideas
The truth is you can put just about anything you like in your meal prep breakfast burritos. The trick is to make sure the filling is too wet, or else it will make the burrito soggy. Here are some of the filling ideas we used for our breakfast burritos, but feel free to get creative.
Homemade Homefries
Bacon
Sausage
Scrambled Eggs
Cheese
Scallions
Black Beans
Avocado
How to Store Freezer Breakfast Burritos
The first tip I have to offer is to make sure that when you assemble your burritos that the filling isn't very hot. Let it cool slightly before packing it. The quicker you can get this to freeze, the better.
Once you've assembled and wrapped your burritos in either plastic wrap or aluminum foil, lay them on a sheet pan to flash freeze in your freezer. Once they're fully frozen, place them in a tightly sealed bag for long term storage. You can store these up to 3 months in the freezer.
How to Heat them Up
To reheat, unwrap them and place on a plate with the seam side down. Reheat in a microwave for 2-4 minutes until heated through, or place in a toaster oven and bake for 15 minutes, or until heated through.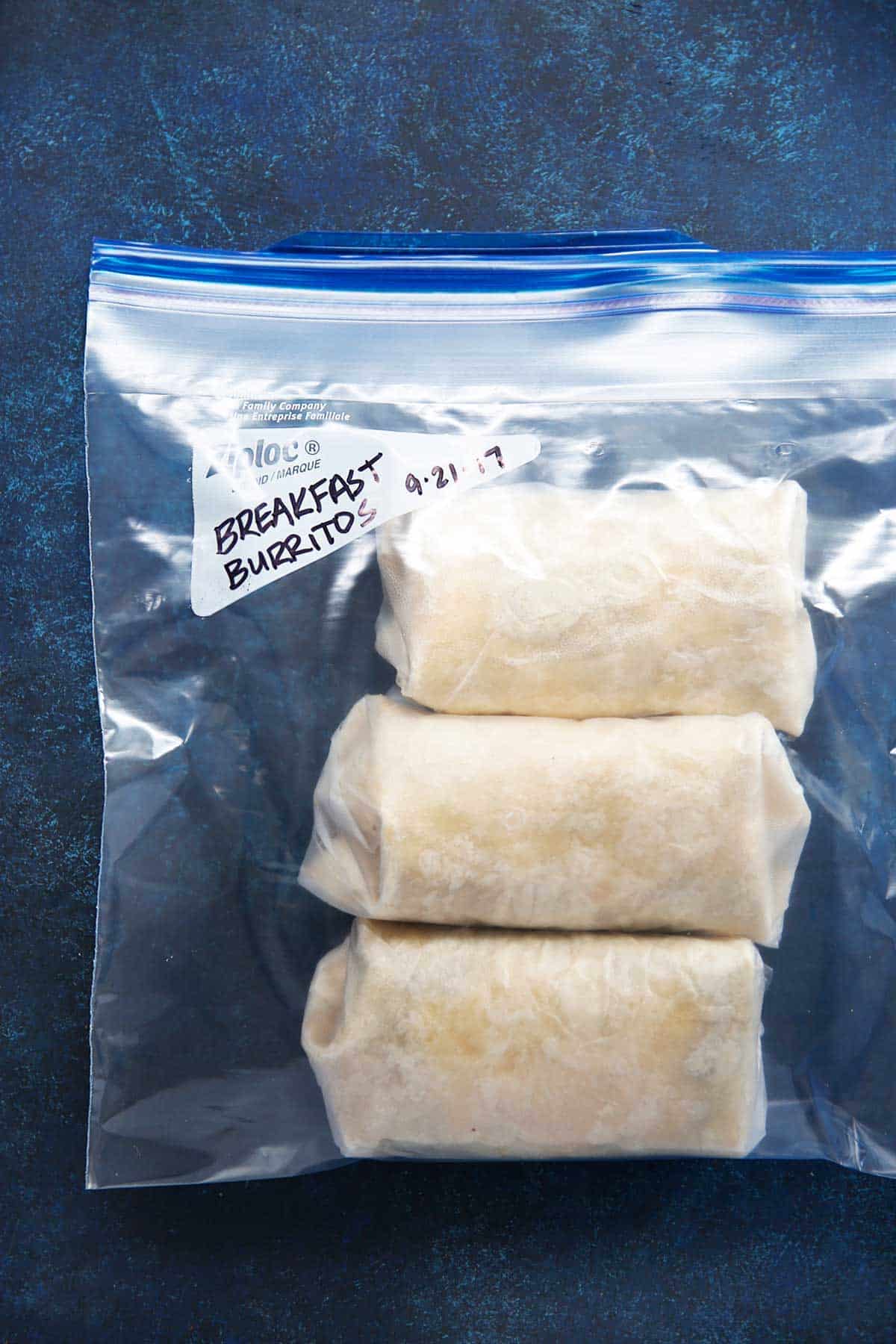 If you like this meal prep recipe, check out these others:
If you like this breakfast recipe, check out these others: