My new favorite Fall faux pasta dish is this Creamy Pumpkin Casserole. I love savory pumpkin dishes just as much as I love baked goods with pumpkin in it! This creamy casserole has pumpkin, spinach, and chicken slathered in the most delicious sauce, then baked to perfection.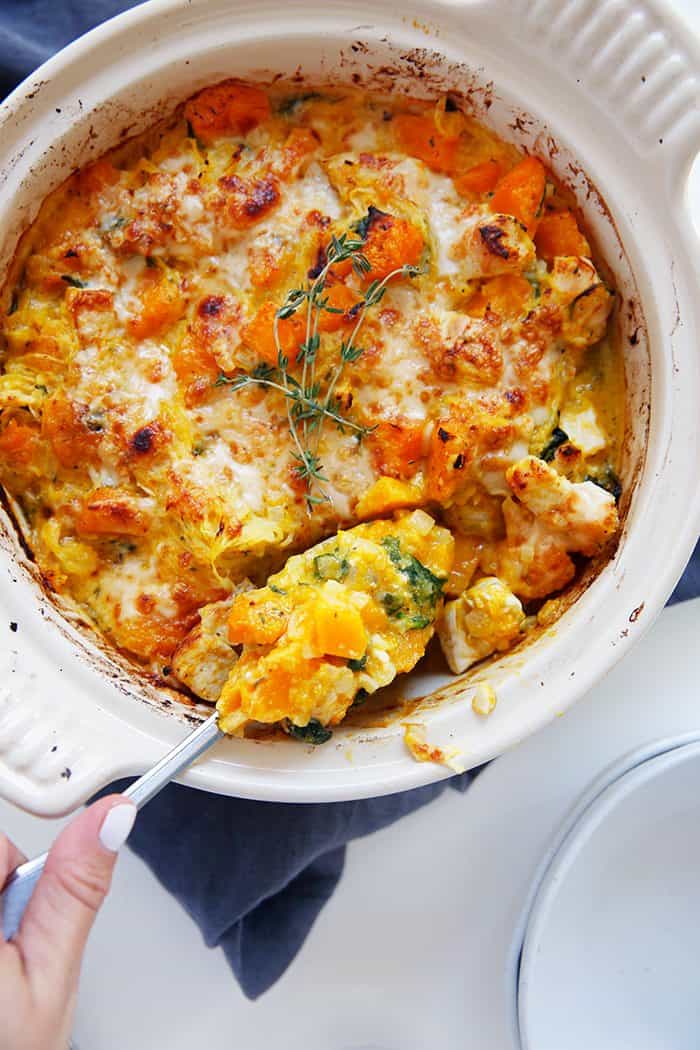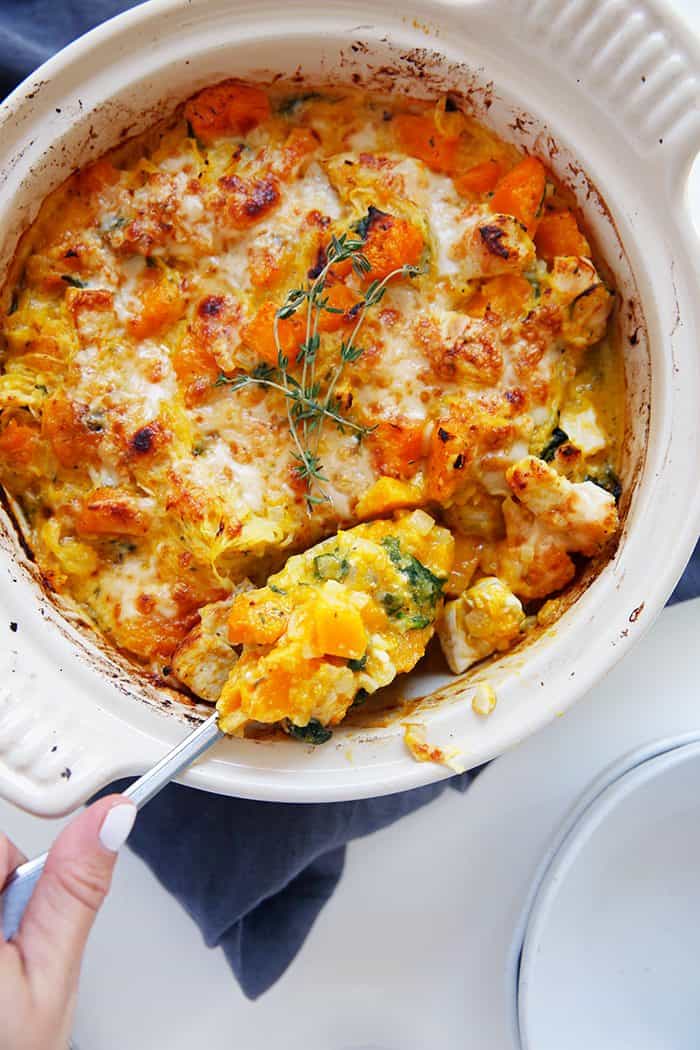 I am so excited to partner with my friends at Pacific Foods to bring you today's recipe. It's not one you'll want to miss! It uses both a dairy-free milk and their pumpkin puree (which is my all-time favorite), more on that below.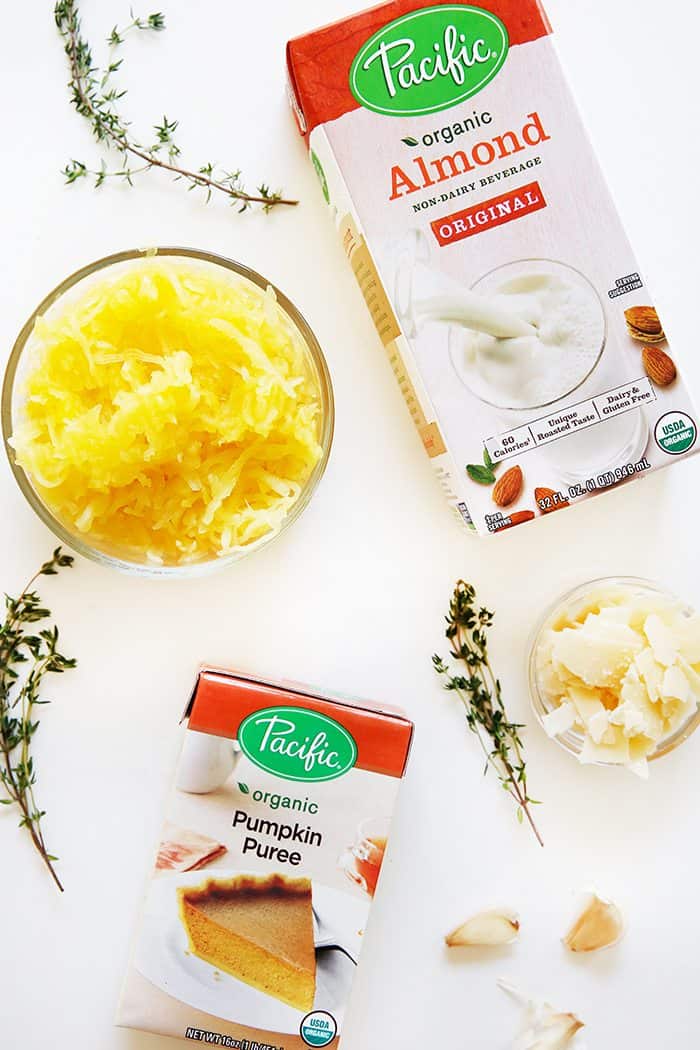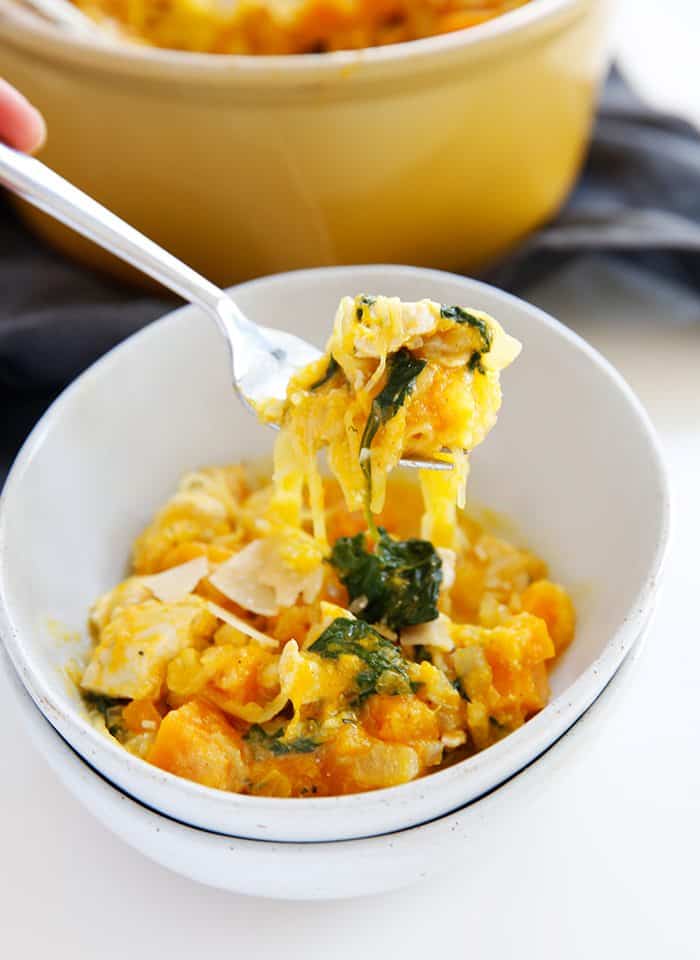 Look at that creamy bite of heaven!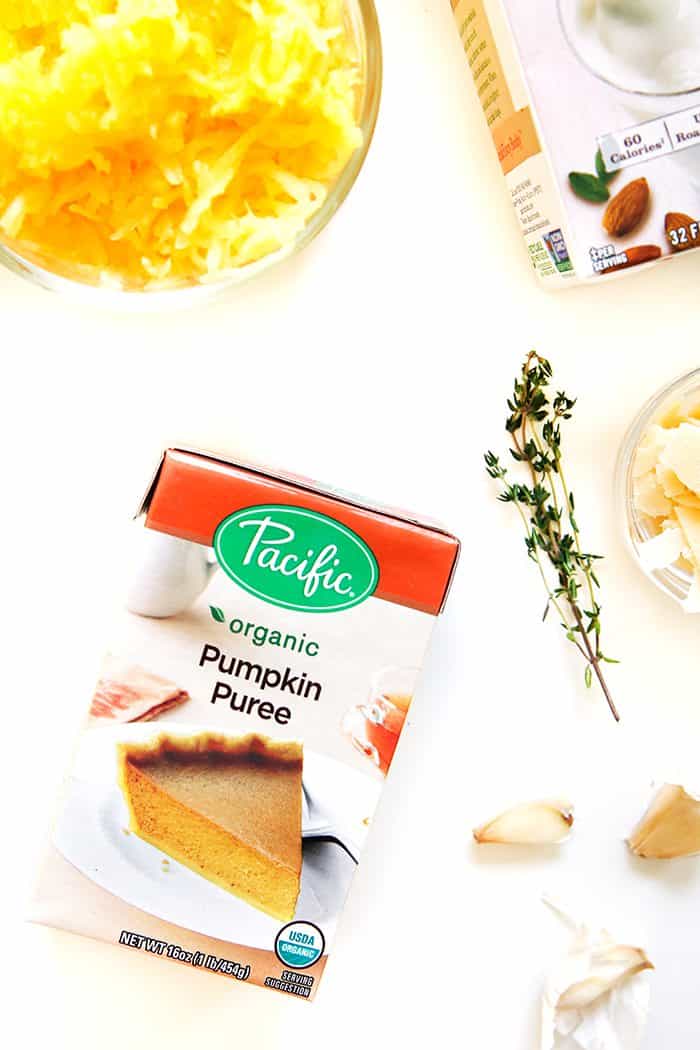 Let's talk about pumpkin puree for a second. This pumpkin from Pacific Foods is hands down my favorite. There's only ONE ingredient: Pumpkin. That's it, friends, nothing added! It has a great shelf life, is smooth and delicious, and is often a great sub in cooking and baking. In my recipes that call for applesauce, I'll often sub it for pumpkin puree for a wonderful twist! AND personally, I find easier to store versus can, if you don't use it all!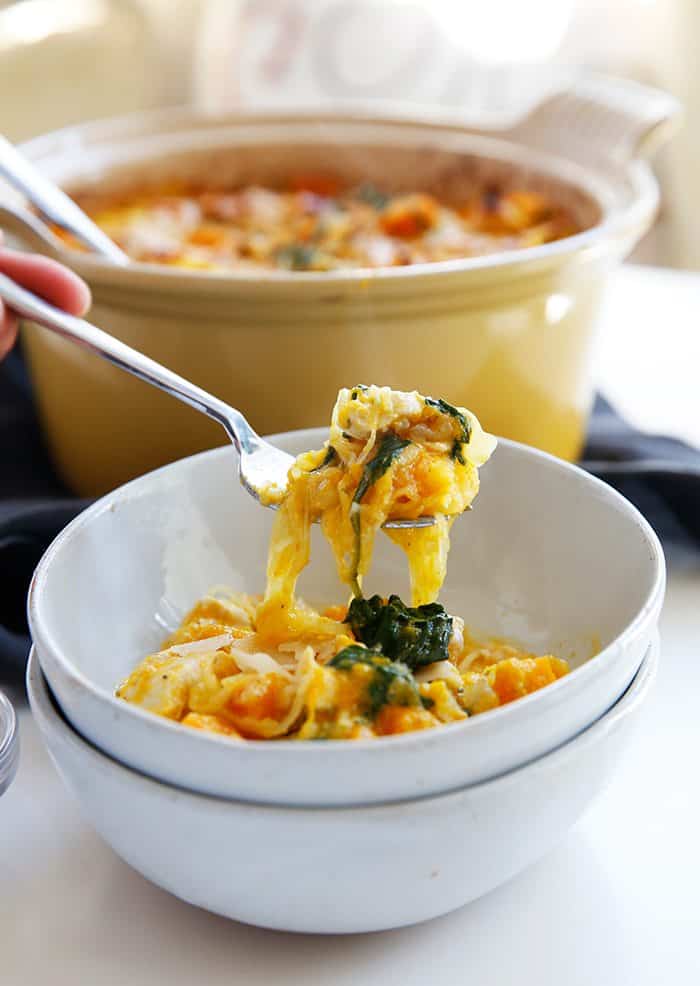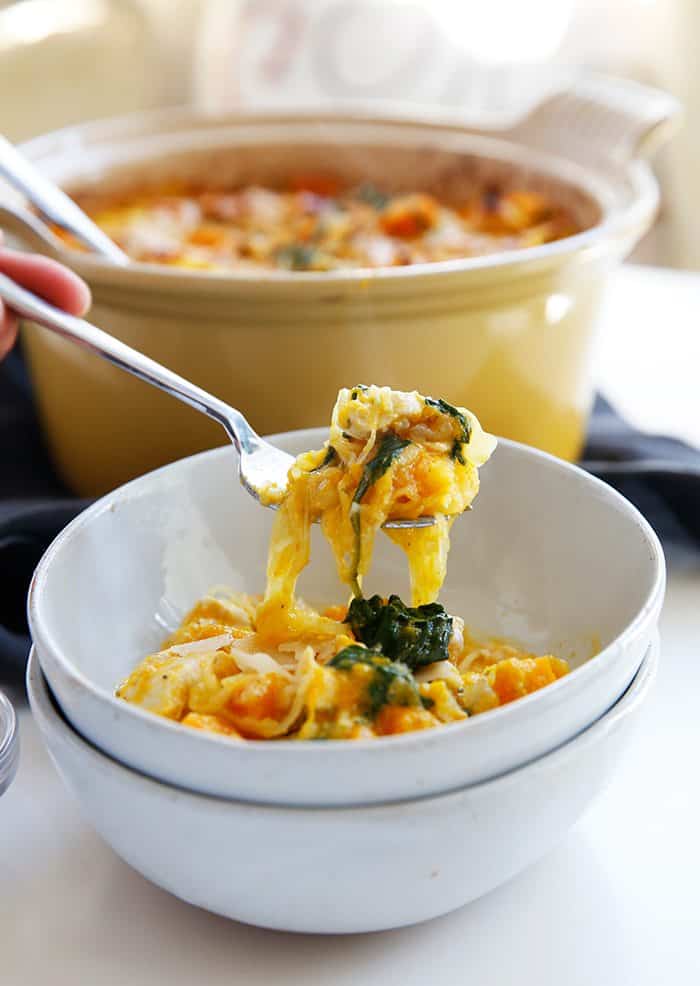 Creamy Pumpkin Casserole
2016-10-07 19:19:47
Serves 4
Ingredients
1 large spaghetti squash, about 5 cups cooked
1 shallot, minced
1 onion, minced
2 garlic cloves, minced
4 cups pumpkin or squash of choice, peeled and diced
1 pound boneless skinless chicken breasts, cubed
2 cups spinach
Optional: 1/3 cup fresh Parmesan cheese
For the sauce
1/4 cup mayo, homemade or store-bought
2 tablespoons Pacific Foods Pumpkin Puree
2 tablespoons Pacific Foods Original Almond Milk
1/4 teaspoon fine sea salt, more to taste
1/4 teaspoon garlic powder
1/4 teaspoon black pepper
1/2 tsp onion powder
1 tablespoon fresh thyme
Pinch of cinnamon
Instructions
Pre-heat oven to 400 degrees°F. Cut spaghetti squash in half and scoop out seeds.
Drizzle with 1 teaspoon of oil then place face side down on a parchment lined sheet tray.
Drizzle skin of squash with 2 teaspoons of oil and add 2 tablespoons of water to the pan to make the cooking process faster.
Place squash in the oven and bake for 40 minutes, turning part way through.
In a small bowl mix all sauce ingredients together and set aside.
In a skillet over medium heat heat 1 tablespoon oil and add onion shallots, and garlic cook for 1-2 minutes, until shallot just starts to become translucent. Add in pumpkin or squash and cook until tender, about 8-10 minutes.
4. In a separate skillet, cook cubed chicken with 2 teaspoons of oil until chicken is white, and fully cooked through. Sprinkle 1/2 teaspoon of salt and pepper over chicken. Add in 2 cups of spinach and cook for 3-5 minutes, until spinach starts to wilt. Remove from heat and set aside.
5. Take spaghetti squash out of oven, let cool. Using a fork scrape out the spaghetti squash into a greased casserole pan. Add in chicken/spinach mixture and pumpkin or squash mixture, and add the sauce. Toss to combine. Top with Parmesan if desired. Bake at 400 degrees for 10 minutes, and broil for 5 minutes.
Notes
How To Cube A Pumpkin: Cut pumpkin in half. Clean out pumpkin halves, spooning out the seeds and pulp. Place pumpkin half on a cutting board. Then, using a downward motion with the knife, remove the peel in small sections. Cut peeled pumpkin into wedges, then hold wedges and cut into cubes.
Lexi's Clean Kitchen https://lexiscleankitchen.com/
Happy pumpkin cooking!