Gluten-Free Apple Scones
These Gluten-Free Apple Scones are the perfect fall baking recipe. They are light and crumbly and full of apples and cinnamon. They are such a treat to serve to serve on crisp fall morning! I am so excited that we've finally perfected the ultimate gluten-free scones that will be the hit of your weekend brunch, the star of the dessert table, or the perfect snack!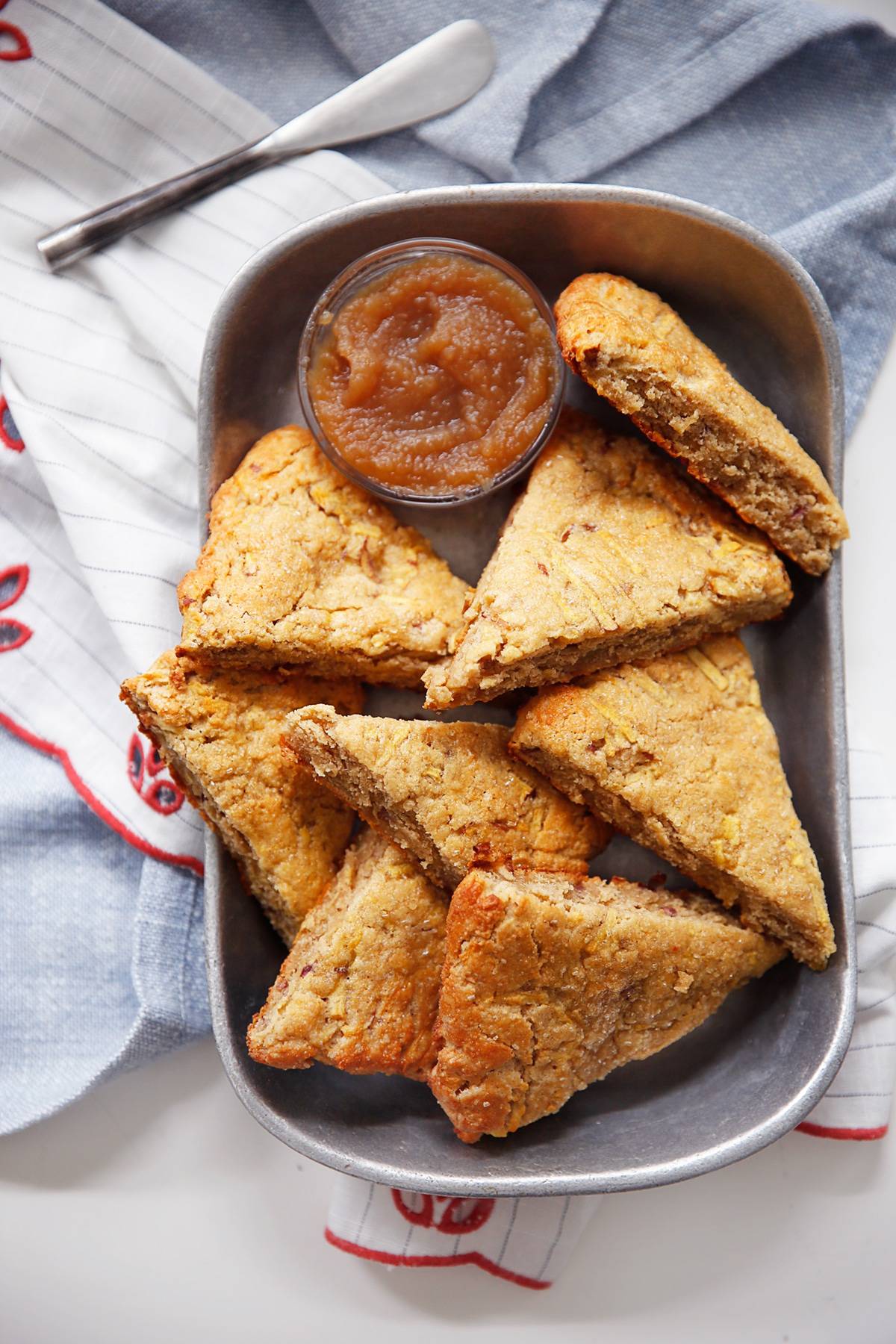 Gluten-Free Apple Scones
While I have a few other scone recipes on this site and in my book, I'm really excited about these super fall Gluten-Free Apple Scones! They are light in texture but heavy on apple flavor! We had a few rounds of recipe testing on this one, to get just the right crispness on the outside and to incorporate as much apple flavor as we could. We love to serve them with apple butter for an extra oomph of seasonality!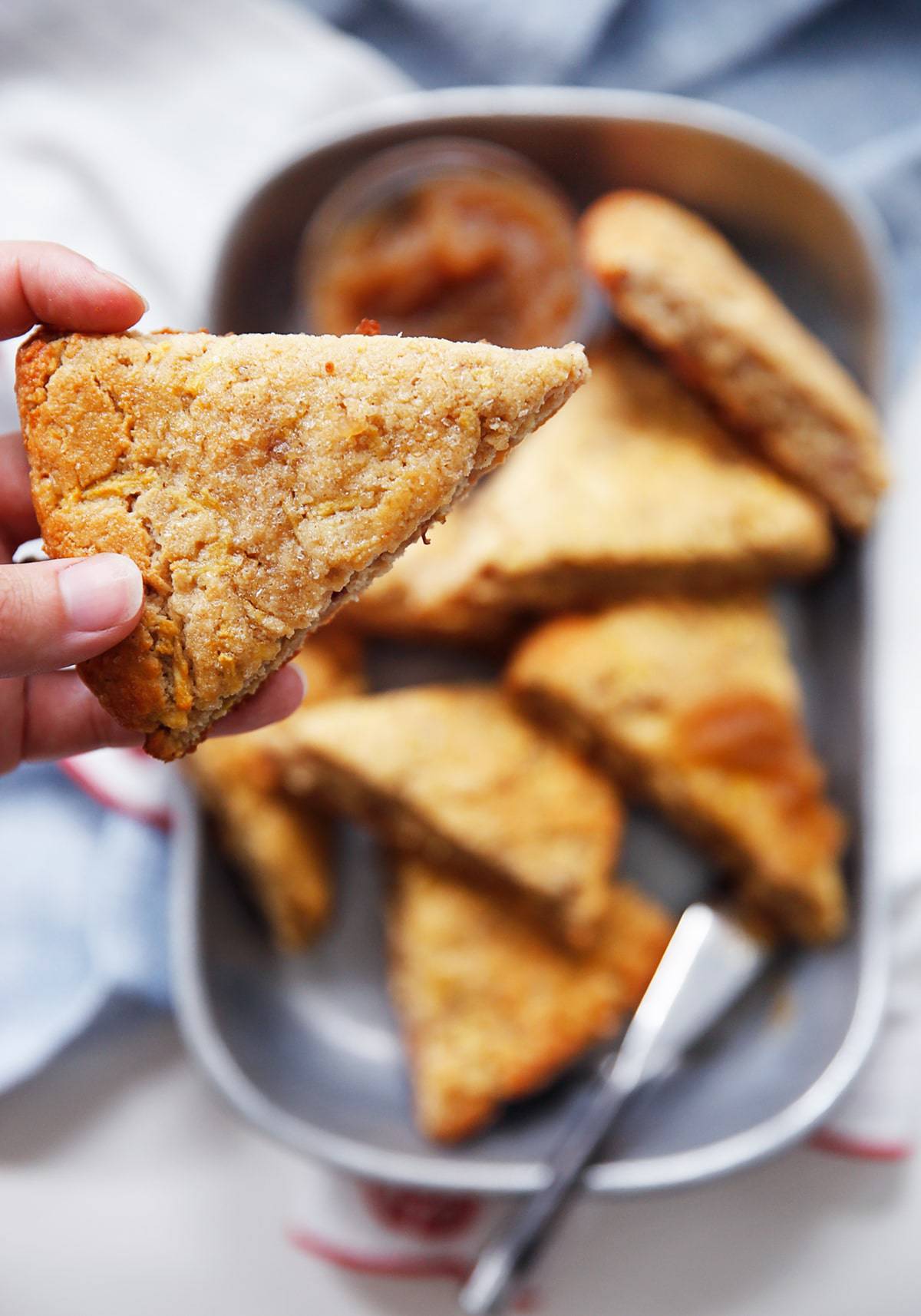 There are a few tricks you need to use in order to get crispy edges on these scones. Because we often stay away from gluten-free mixes and typically use a blend of almond and coconut flours on this site, it meant we were dealing with a dough that has a lot more moisture. Don't be afraid when the dough you've mixed is a little wetter than you would imagine. We have a longer baking time on these scones to ensure crispness, and instruct you to (gently) move the scones around the baking tray a bit so all parts of the scones get crispy. Follow the directions and we're sure you'll get just the right texture!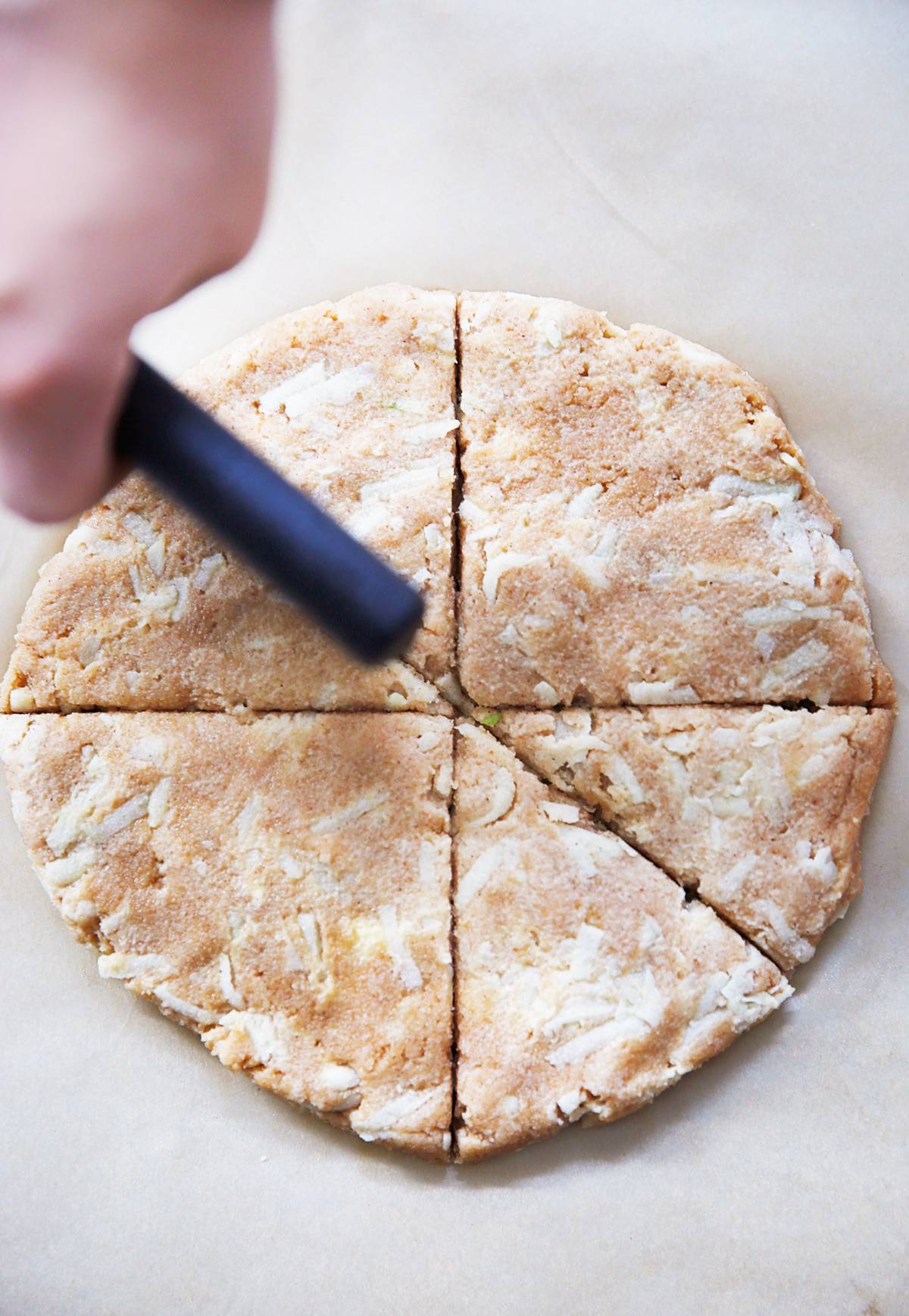 How do you make gluten-free scones?
Gluten-free scone recipes are a bit different from traditional scone recipes, but typically follow the same steps. The batter does look a bit different, but we were pleased with the outcome of these gluten-free scones.
Whisk together the dry ingredients!
Add in cold butter and quickly blend into the flour.
Add in the wet.
Pat scone batter into a round on the baking sheet. Don't free if it's a little wet! Cut it 8 times to get scone shape.
Brush with egg wash, and sugar and bake!
Cut scones once more, bake again, and then remove from oven one last time to shift the scones in the opposite direction to ensure an even crispness, and return to oven to finish baking.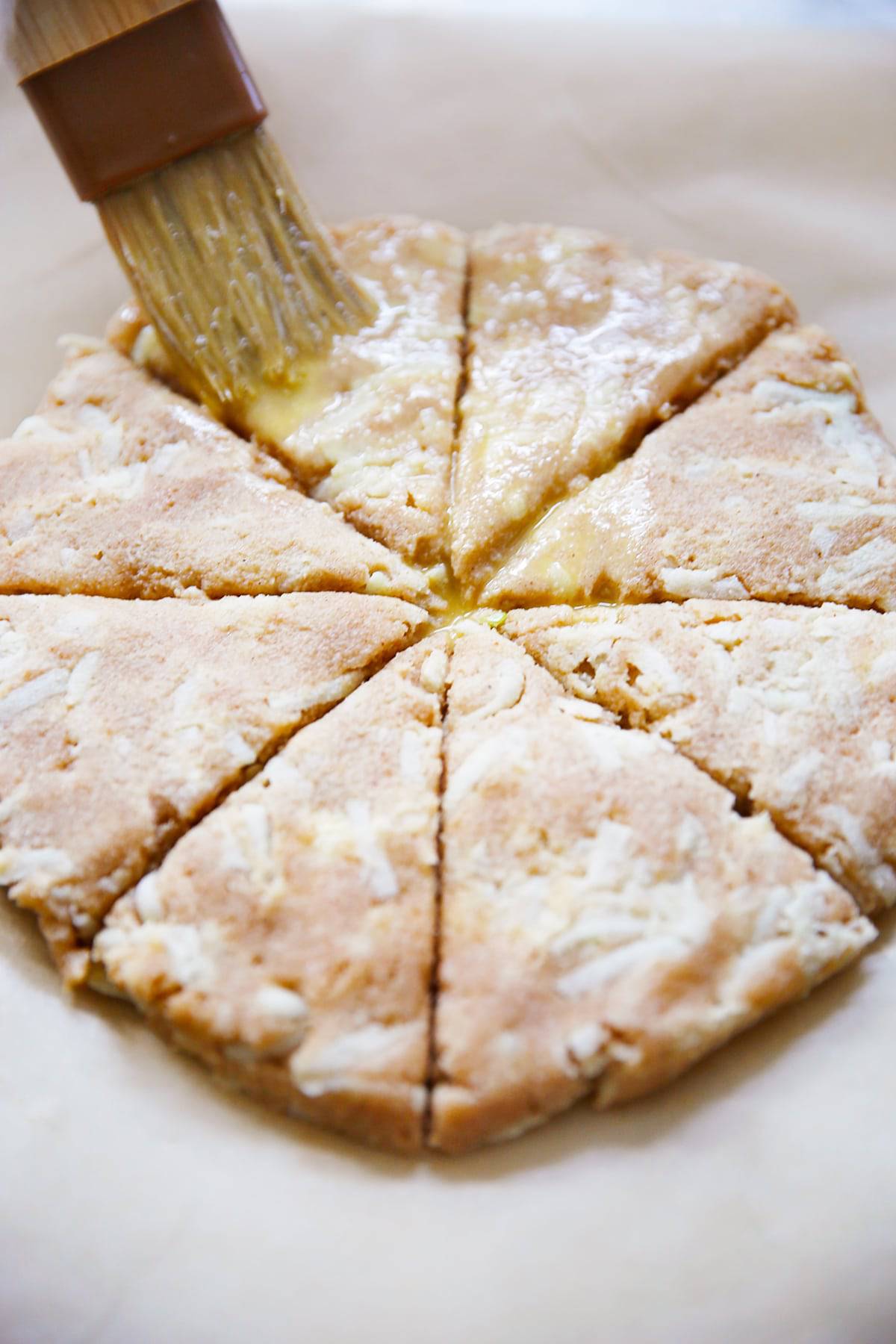 For this recipe, we used these tools: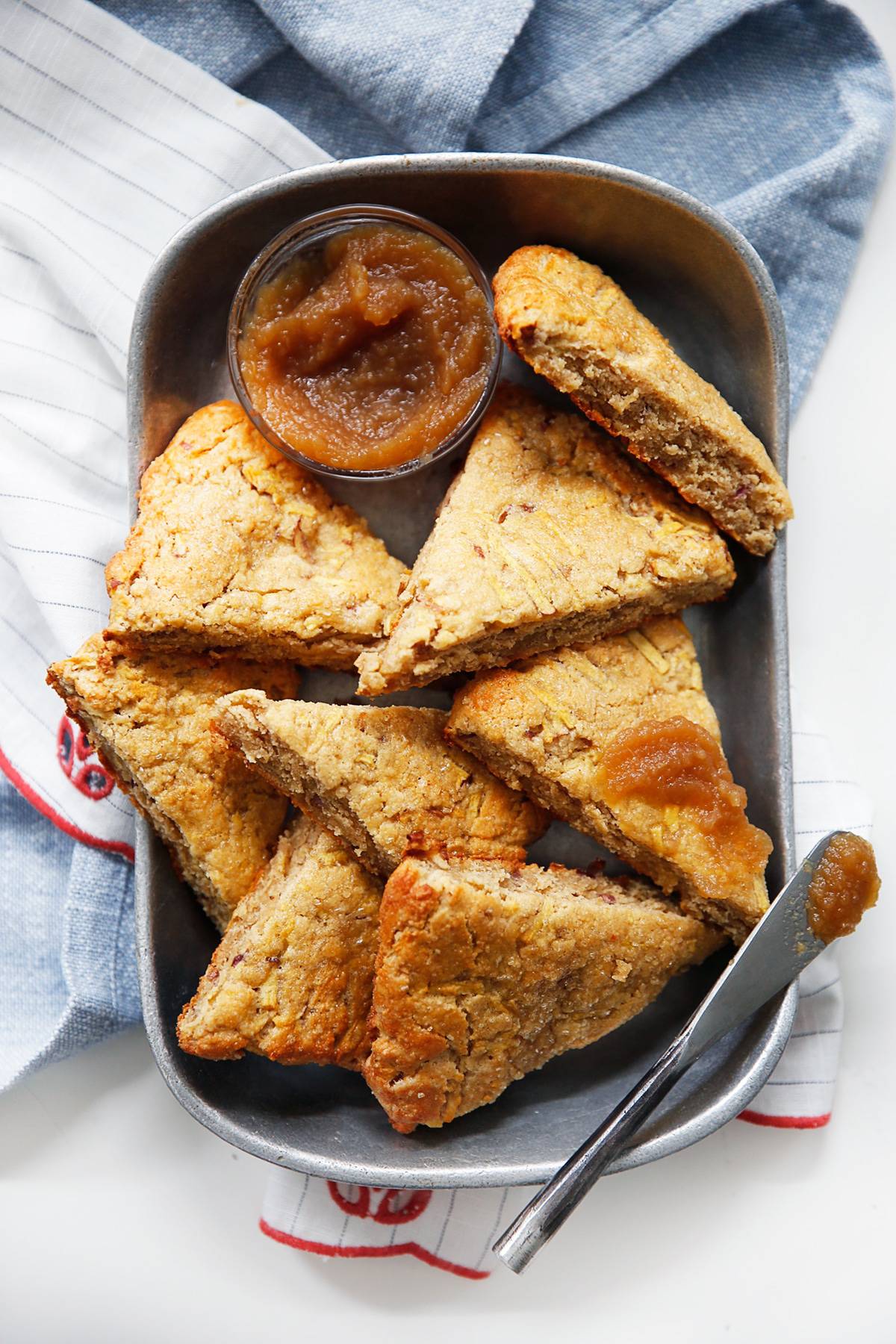 If you like this fall breakfast recipe, check out these others:
Watch the video:
Gluten-Free Apple Scones
---
---
Ingredients
2-1/2 cups almond flour
1/4 cup tapioca starch
2 tablespoons coconut flour
1-1/2 teaspoon ground cinnamon
1 teaspoon baking powder
1/2 teaspoon salt
1/4 teaspoon ground nutmeg
4 tablespoons butter, cold and cut into 1/2" pieces
1/4 cup maple sugar
2 eggs, divided
2 tablespoons almond milk
1 teaspoon vanilla extract
2 apples (we like gala, granny smith or braeburn)
raw sugar, optional
Directions
Pre-heat oven to 350ºF and line a baking sheet with parchment paper
In a large bowl whisk together almond flour, tapioca starch, coconut flour, cinnamon, baking powder, salt and nutmeg until no clumps remain.
Add in cold butter and quickly using a pastry cutter or your fingertips blend the butter into the flour until only small pieces remain. Add in the maple sugar and toss to combine.
In a separate small bowl whisk together 1 egg, almond milk, vanilla extract. Grate one apple, skin on if desired, into the wet ingredients.
Add wet ingredient mixture into flour mixture and combine thoroughly.
Peel and chop remaining apple into 1/4" dice and fold into scone mixture until mixture is completely combined.
Place scone batter onto the parchment paper and pat down into an 8" circle. Using a pizza cutter or bench scraper cut circle in half 4 times to create 8 scones.
Whisk together remaining egg and then brush on top of scone mixture. Top with raw sugar, if using.
Bake for 25 minutes. Remove from oven and cut again. Carefully using a flat spatula move scones apart leaving at least 1" of room apart.
Return to oven to bake for 10 more minutes. Remove and turn scones around so that the pointed edge faces the outside of the baking. This ensures those edges are crispy as well.
Bake for the remaining 10 minutes, until all the edges are crispy.
Serve with apple butter.
---
Nutrition
Loading nutrition data...
Gluten-Free Apple Scones
Fall mornings call for these gluten-free and paleo-friendly Chocolate Chunk Pumpkin Scones! Soft in the middle, crispy on the outside, and just the right amount of sweetness!

Pumpkin and October go hand-in-hand. But chocolate goes perfect with every month, am I right?  Thus, the obvious addition of chocolate in my pumpkin recipes this Fall.

I love these scones. I love them so much that when half of the batch plopped right onto the floor prior to photographing, I gasped and for a brief second thought the world was over. Thank goodness they didn't all go; that would have been tragic.
I love scones that are still soft in the center but have a nice crisp edge so I always take mine out of the oven a few minutes early! The crisp edge, chewy center, and delicious chocolate
Chocolate Chunk Pumpkin Scones
---
---
Ingredients
Dry Ingredients
Chocolate Drizzle
Directions
Preheat oven to 350°F and place parchment paper on baking sheet.
In a bowl, whisk the almond flour, baking powder, pumpkin pie spice, sea salt, and cinnamon until well blended.
Add the egg, coconut oil, maple syrup or honey, and vanilla extract and mix until soft dough forms.
Using your hands, roll the dough into a ball and place on lined baking sheet. Gently flatten the dough into a disc about 1-inch thick.
Using a pizza cutter or a knife, cut into 8 wedges. Gently separate, but leave in a circle.
Bake for 35-40 minutes. I like a soft center, and take them out at 35 minutes, but let bake for 5-10 minutes longer, watching closely to avoid burning, if you like crispier scones.
Transfer to a cooling rack to cool.
Using the double boiler method or a microwave, melt the chocolate and coconut oil in a small mixing bowl. Whisk to make sure that the chocolate and oil is well combined.
Once scones are cool, drizzle with chocolate and devour!
Store leftovers in an airtight container for up to three days or in the freezer for up to three months!
Recipe Notes
*If the dough is too wet, slice with a wet knife. Let bake for 20 minutes. Slice again and separate scones. Bake for another 20-25 minutes until firm on the outside.
---
Nutrition
Loading nutrition data...