Chili Maple Glazed Salmon
Adorned with a sweet glaze and seasoned with chili powder, this Chili Maple Glazed Salmon is just what a fun and delicious dinner looks like. Plus, it's super simple to put together and pairs well with just about any veggies for a side. It's gluten-free, dairy-free and Paleo and calling your name to put on the dinner list this week!
Chili and Maple Glazed Salmon
This Maple Glazed Salmon recipe is hands down one of my favorite ways to prepare salmon. I was first introduced to a recipe like this at a dinner I had at Mike's parent's house. His mom made a delicious salmon dish, and she mentioned it using brown sugar and maple syrup, and having a rub on it. I loved that idea so I knew I had to recreate at home and thus this Chili Maple Salmon recipe was born! It is simple to put together and a unique flavor combination. The chili and and the maple together are so good! Serve with a simple side of steamed or roasted veggies and dinner is served!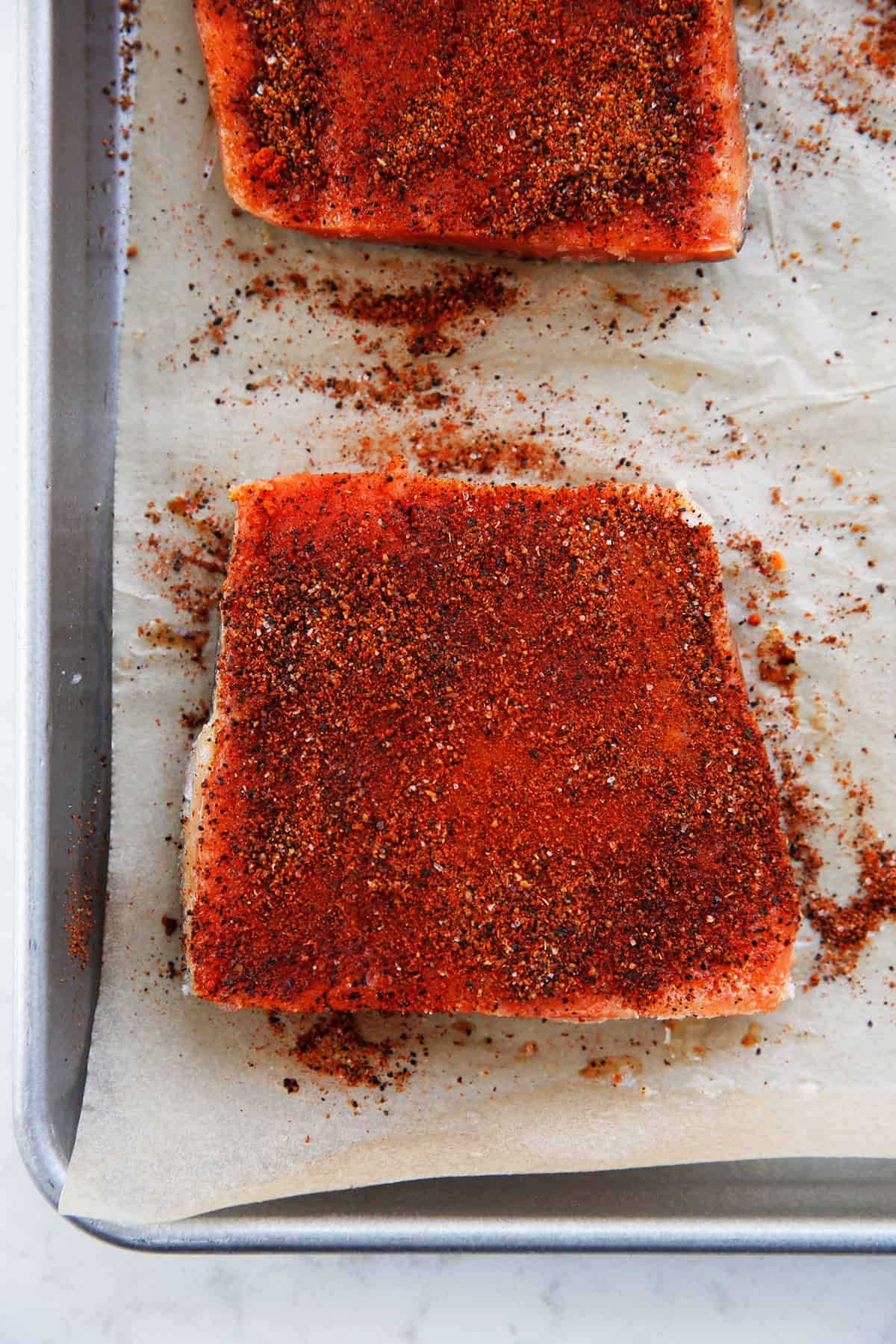 Ingredients Needed
Wild Salmon
Chili Powder
Paprika
Coconut Sugar
Sea salt
Pure Maple Syrup
What to Serve with Maple Glazed Salmon
Because salmon is such a quick dish to make, it's best to serve with either a prepped ahead veggie dish (we like to roast a big batch of veggies at the beginning of the week to use throughout the week) or something that takes just a few seconds to put together, like a salad!
Some other options are to serve with a quick cole slaw, like this one or this one, some zucchini noodles or other veggie noodles, or some cauliflower rice.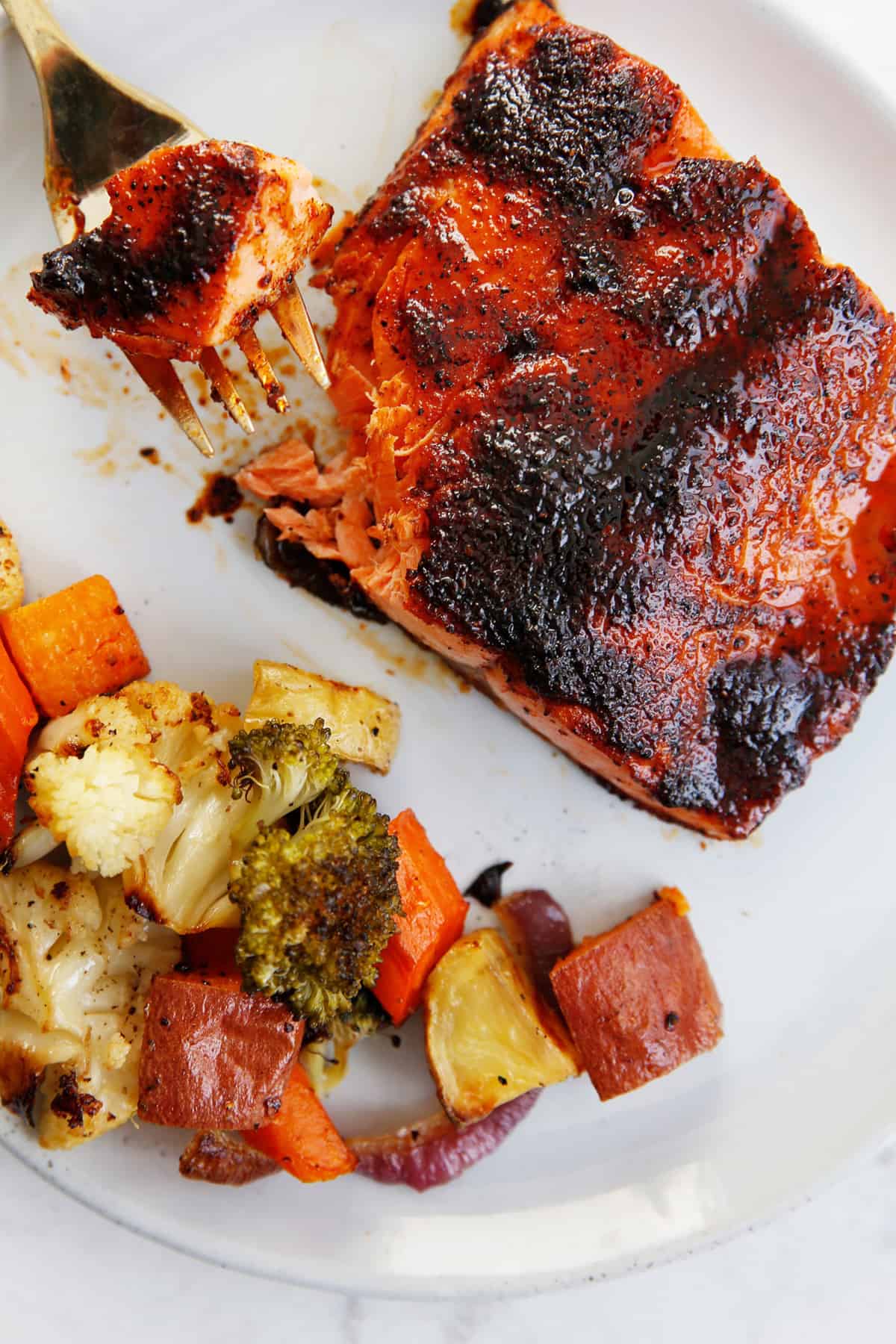 If you like this salmon recipe, check out these others:
Watch the video here:
Chili Maple Glazed Salmon
Cajun Blackened Fish
These Air-Fryer Fish Sticks are a great update on the traditional store-bought frozen fish we all hate-to-love! While that version usually has a long list of foreign ingredients, our gluten-free version is made with tapioca and almond flour and cooked in an air-fryer! They're paleo, kid-friendly, and they reheat well so you can make them in a big batch for a quick lunch or dinner anytime.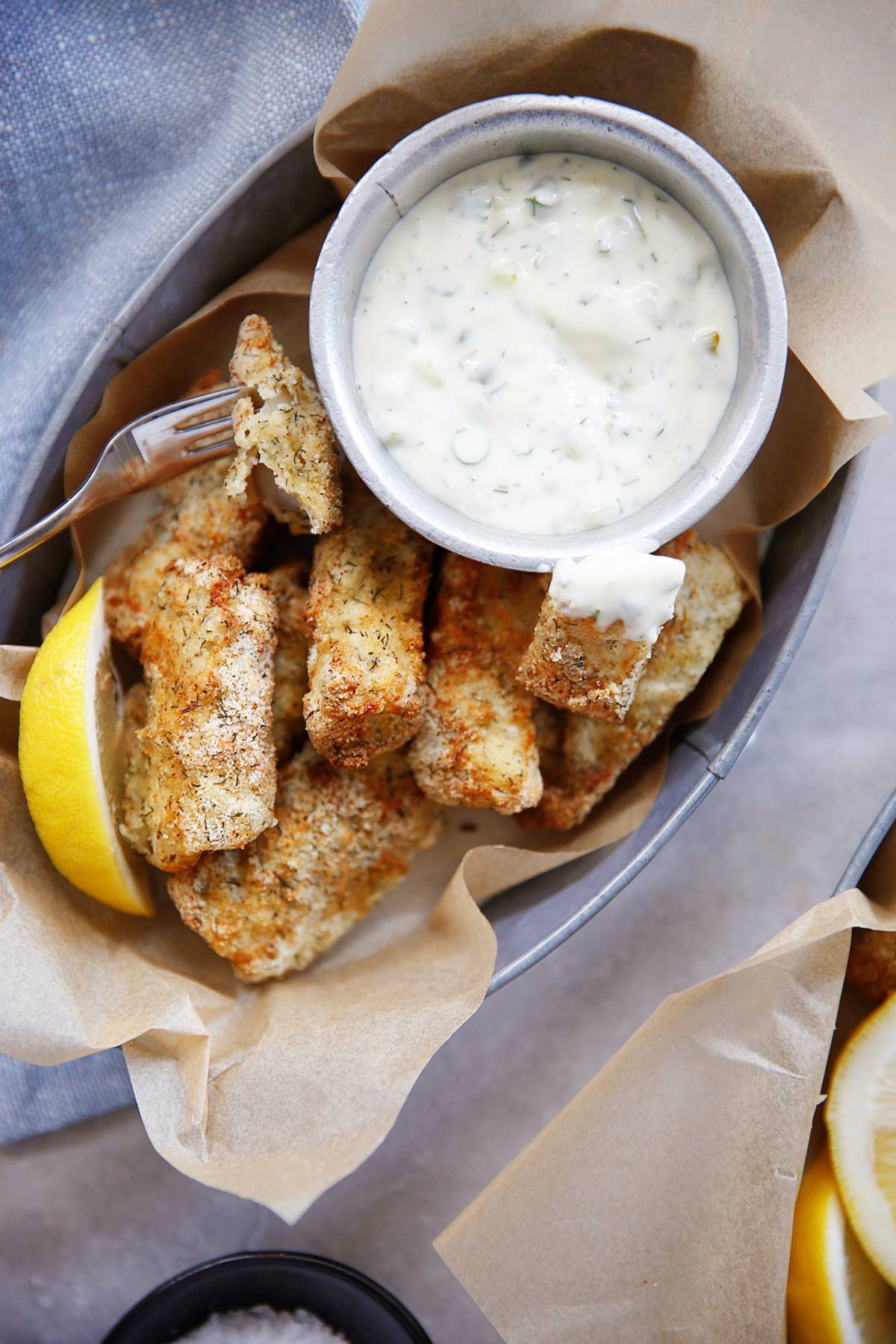 Paleo Air-Fryer Fish Sticks
By now many kids have returned to school and adults are starting to get back in to normal routines as summer rolls to a close. I know that an easy lunch or dinner is just what this time calls for! We busted out our (still-new-to-us) air fryer to remake a classic: Fish Sticks! We of course made them gluten-free, with a short list of ingredients you can pronounce and included a tasty side of tartar sauce to go with it.
Admittedly, we had to test this recipe MANY times. We loved the idea of skipping the deep fat fry on these (though we aren't afraid of fat over here!). Deep frying can use a lot of oil and we will always take the opportunity to experiment with our air-fryer, but we still wanted it to be crisp. Because fish holds so much moisture the fish needs to be cut somewhat small, or similar in size to store-bought fish sticks, about 1/2″ by 1/2″ by 2″. Fish of course isn't uniform, so you will have some pieces that are slightly different so you don't waste any fish pieces, but try to keep most pieces about that size.
We also found that we needed bit more oil than we typically use in the air-fryer. We added two tablespoons to the bottom of the basket, and then additionally sprayed the basket and breaded fish with avocado oil. As always, we love using avocado oil because of its nutritional benefit and its high-smoke point, but feel free to use whatever oil you normally do.
How Long Does it Take To Cook Fish in the Air Fryer
We cooked our fish sticks for a total of 11 minutes at 390ºF, flipping after the first 5 minutes. Fish should be cooked to an internal temperature of 145º F. Take care not to overcook the fish as it becomes too flaky and delicate and it can break.
Best part about these fish sticks? They held up well in the freezer and were great when reheated. We froze ours for one month and had great results, but likely they will last at least 2-3 if properly stored. If you want, you can make a larger batch and freeze for a future quick lunch or dinner.
They must be frozen individually first so they don't stick together. Simply place them on a plate or sheet pan with plenty of space in between. Once frozen you can place in a storage container or bag until ready to use. We reheated ours in a toaster oven and have included the instructions in the notes of the recipe.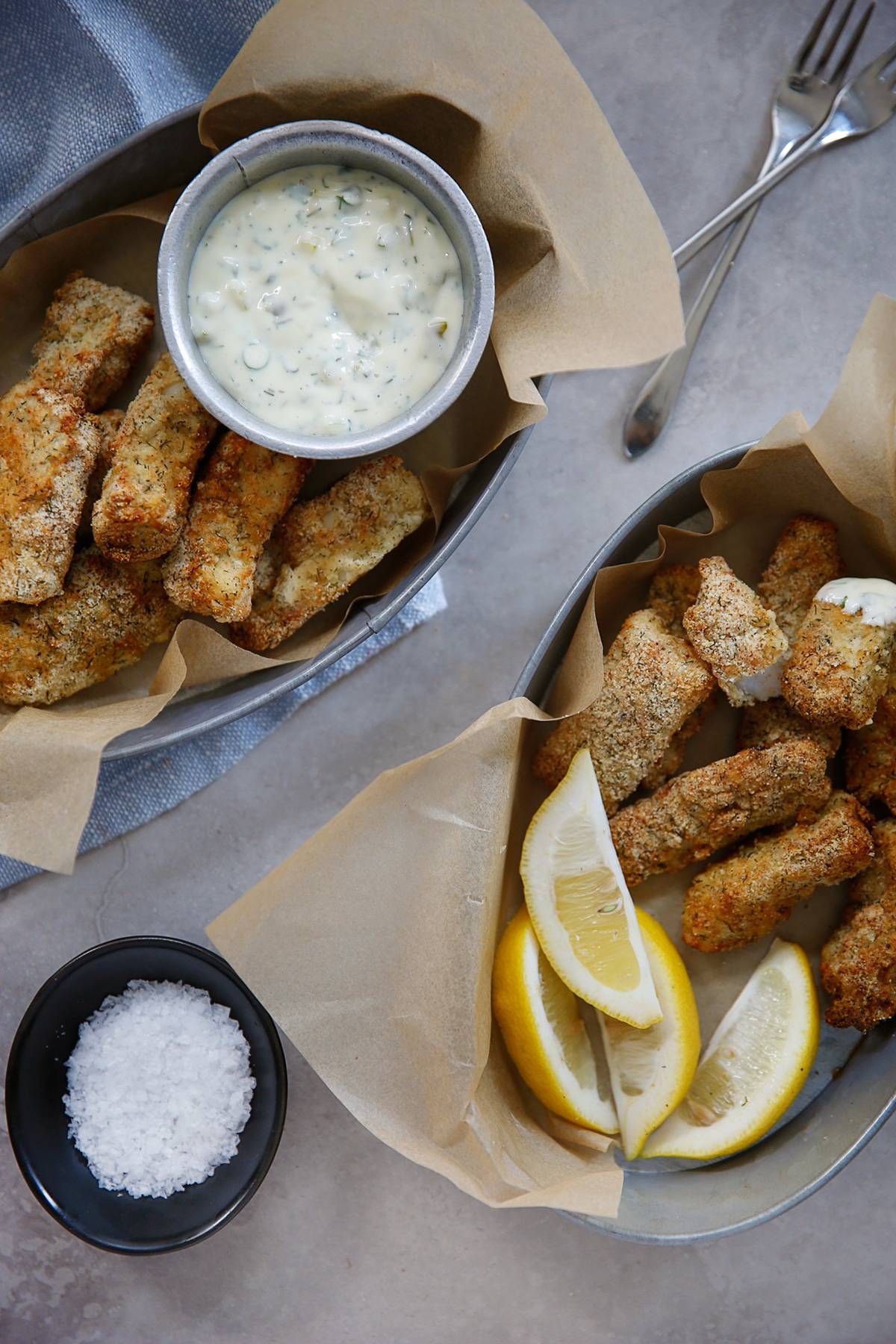 Let's also talk about the AIR FRYER!
I have this one and I really like it, but one thing to keep in mind is despite the large size of the appliance,  you can't overcrowd the food you are frying so you have to cook in batches.
It's not a small appliance, so make sure you have space for it!
I am really excited about the air fryer! It cooks things SO well. Really, I am super impressed with it and excited to make my chicken tenders and chicken nuggets in it moving forward!
If you like this fish recipe, check out these others:
Paleo Air-Fryer Fish Sticks
These Paleo Fish and Chips are everything you want in this classic summer dish: crunchy and flavorful on the outside with the freshest fish on the inside and of course, gluten-free. And those oven baked fries served alongside? They're the crunchiest you'll ever have, with minimal preparation. This is a must-make before the summer is over. They are paleo-friendly and nut-free and SO delicious!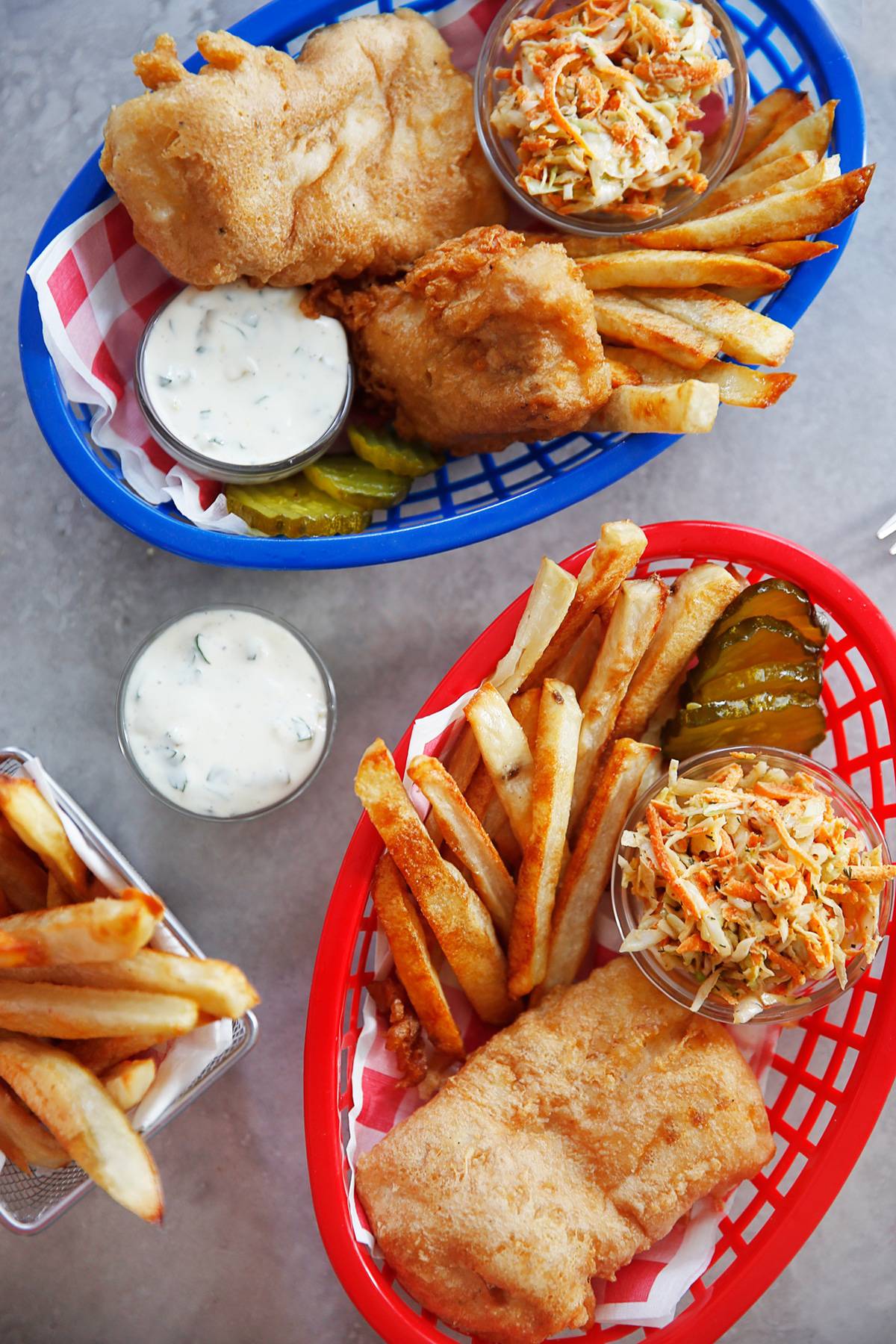 Paleo Fish and Chips
I love making a classic dish, that traditionally contains gluten, updated to include better-for-you-ingredients without sacrificing on any of the flavor or texture. This Paleo Fish and Chips recipe is exactly what you expect from this summer-time favorite without any gluten and a short list of ingredients.
For ease of making this dish we choose to oven bake the fries, instead of frying. We do this so that both the fish and the chips are finished cooking at the same time, and you don't have to wait for oil temperature changes to achieve crispy fries. Also, we really love the taste of baked fries and it's so simple to do.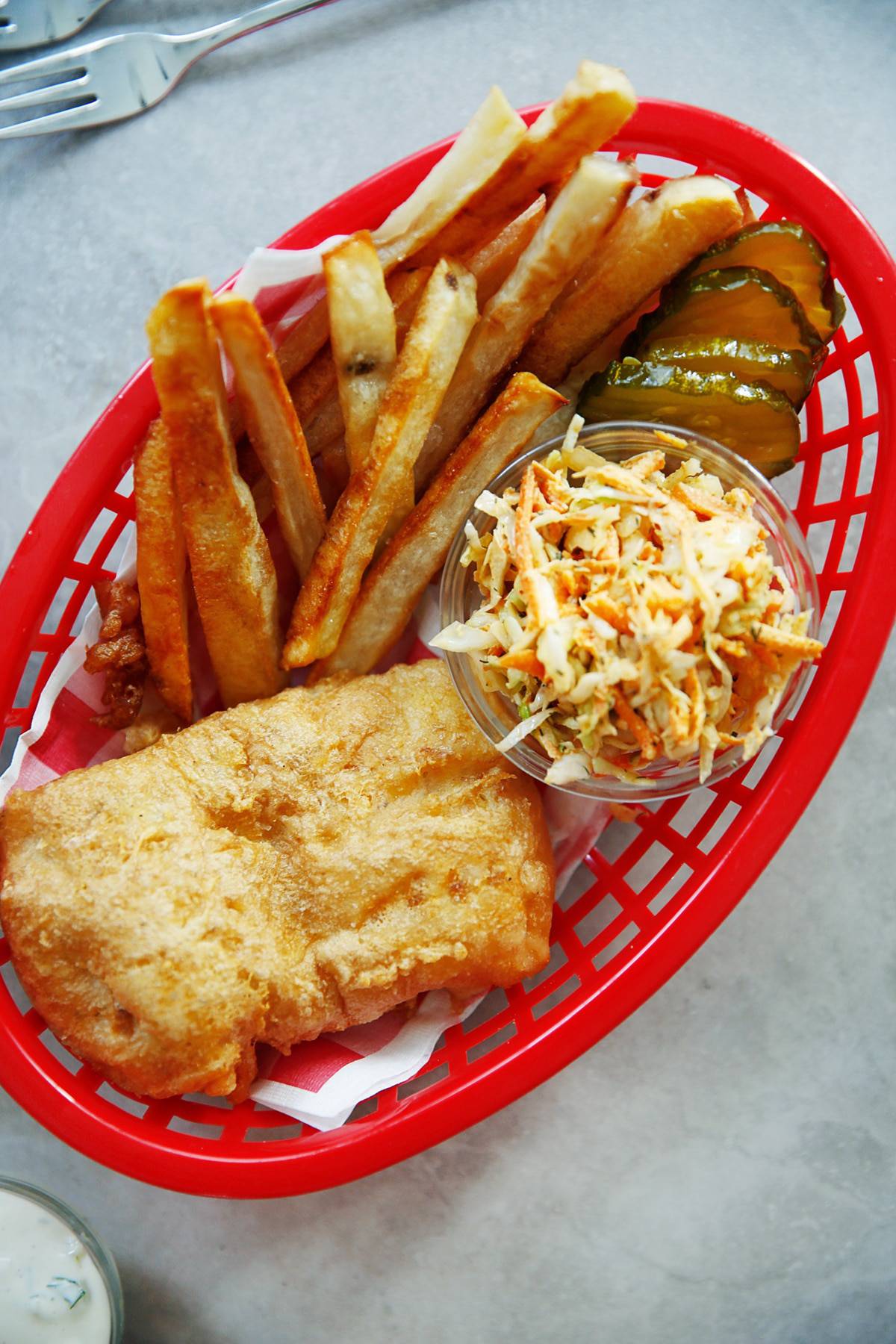 Our fish batter is super simple, using only 4 staple ingredients any gluten-free household has stocked up. All you do is whisk it up and dip in your fish before frying.
How to Make Crispy Oven Baked Fries
If done incorrectly, oven fries can be soggy and disappointing. To match the crispy battered fish we wanted REAL DEAL french fries. Below we've shared our best tips for making super crispy oven baked fries:
Start with the right potato: We like russet potatoes for these oven baked chips. You can peel the potatoes or leave the skin on if desired. We also tested these by soaking the potatoes in water before hand to see if losing some of the starch would help make them crispier, but we did not feel it made a huge difference in the final outcome, so have decided to streamline the recipe and leave it out.
Pre-heat the oven! Make sure the oven is nice and hot when you place in the fries.
Give the potatoes space to crisp up: You cannot crowd the pan when making oven baked fries, you have to leave space in between each potato. We found that two large russet potatoes fit on a standard sheet pan. Anymore than that and you will have a tougher time making the chips crispy.
Use enough oil: We like to spray the potatoes with oil one last time after we flipped them to get them extra crispy!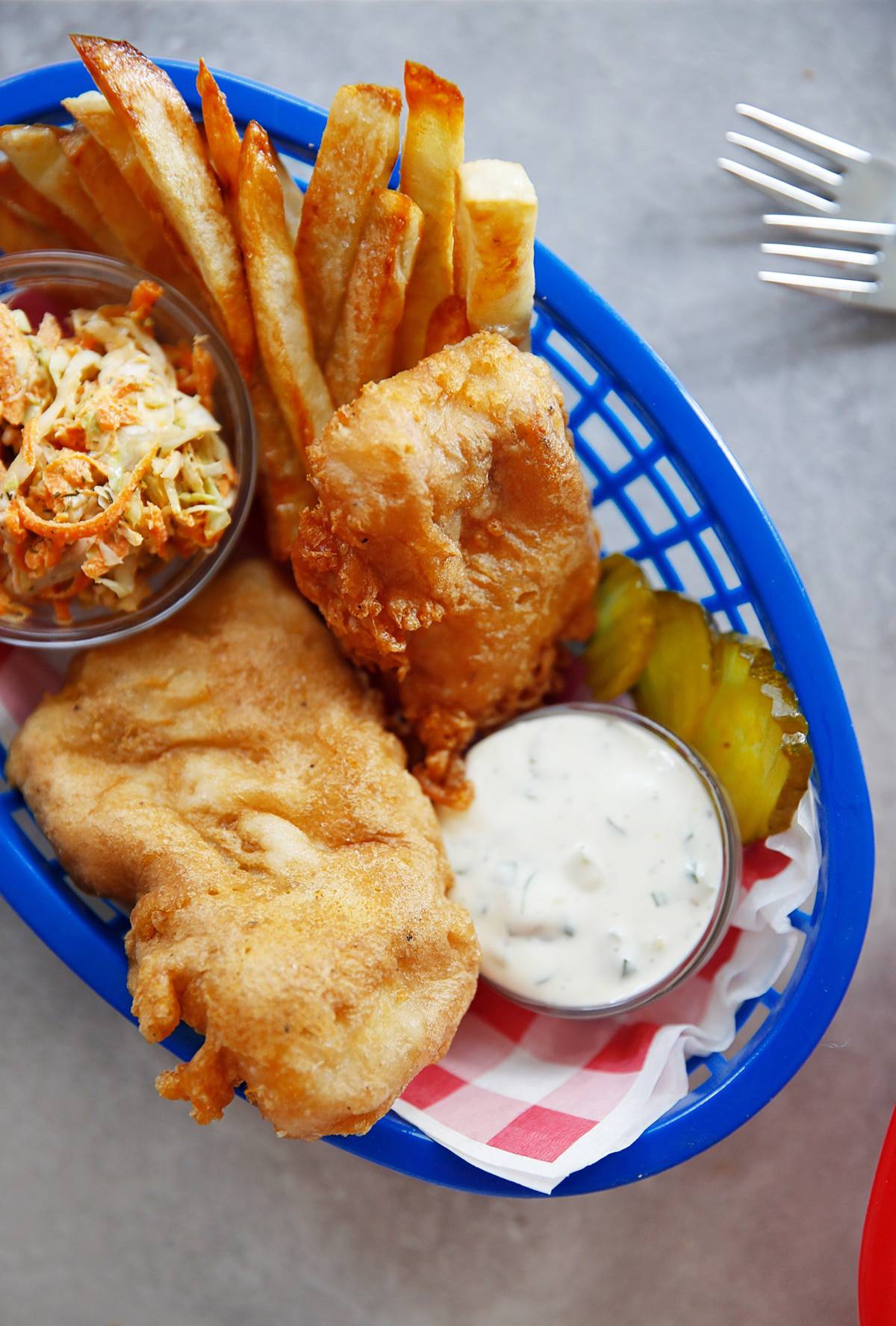 Want other summer seafood favorites? Try these recipes:
Paleo Fish and Chips
This Salmon En Papillate (Baked in Parchment Paper) is my new favorite way to prepare salmon. It's a super simple, Whole30-compliant, and paleo-friendly dinner option for any night of the week! The lemon, fresh herbs and shallots make this salmon such a bright, light and flavorful salmon recipe, and the vegetables cook right with the fish for an easy clean up!
Salmon and Veggies En Papillote (In Parchment Paper Packs!)
I like the idea of foil pack meals, but I'm not super into wrapping my food in aluminum foil! Parchment to the rescue! Place all the goodness in your sheets of parchment: salmon, veggies, aromatics, and fresh herbs.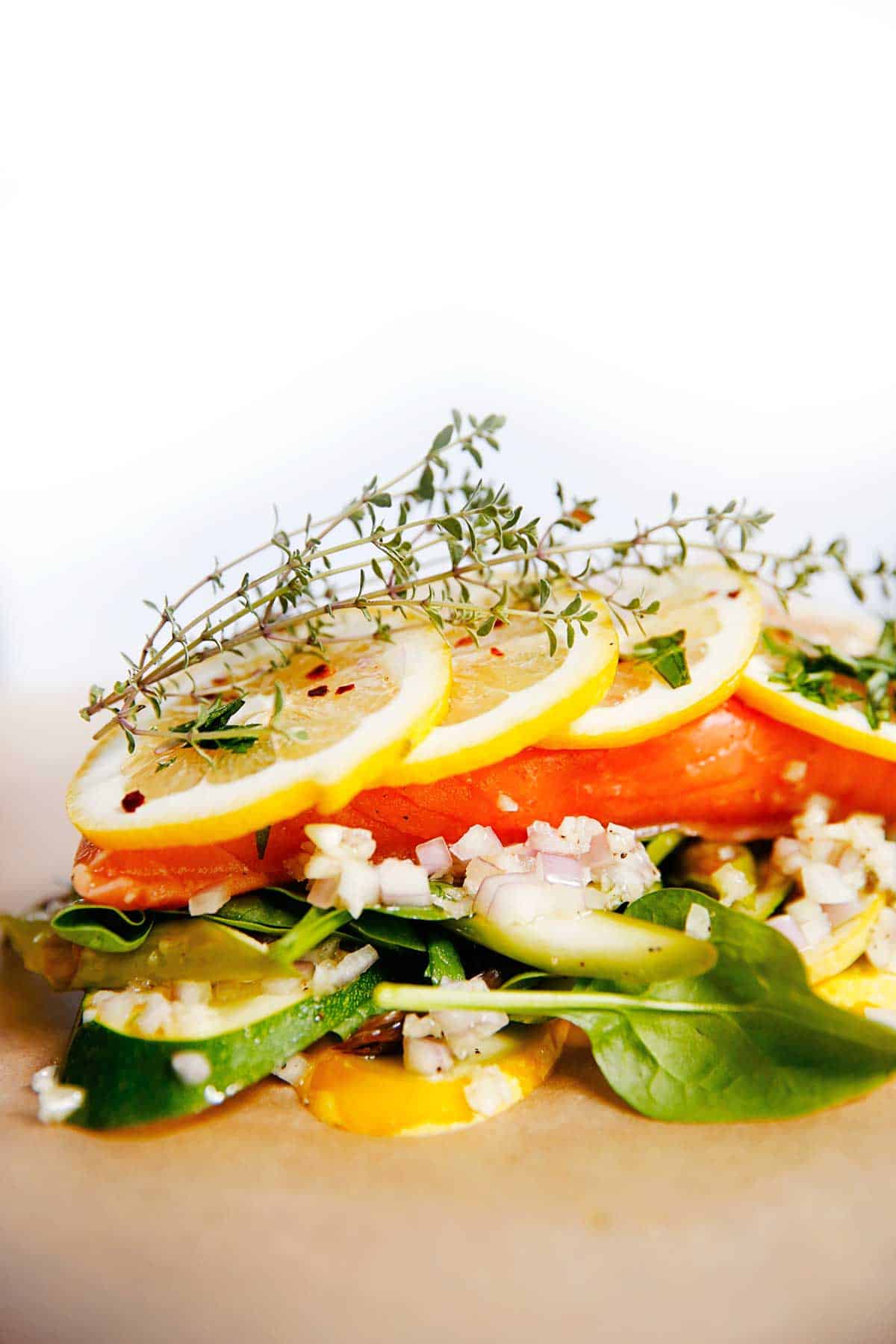 MMMM… look at that goodness ready to bake! You are then left with a fabulous, flavorful, and cooked-just-right salmon dish! Plus, the veggies are done, too! Easy weeknight dinner alert.
What is fish en papillote?
En papillote (French for "in parchment") is a method of cooking in which the food is put into a folded pouch or parcel and then baked.
Want to see exactly how to wrap them up? Watch here:
Like this recipe? Try these other seafood dishes!
Salmon and Veggies En Papillote (In Parchment Paper Packs!)
This Grilled Salmon Bowl with Garlic Scapes and Kale makes for the perfect summer meal in a bowl. Packed with flavor and fabulous ingredients, this dish is packed with everything you need for a delicious and nutritious lunch or dinner.
Grilled Salmon Bowl Recipe
This Grilled Salmon Bowl is the perfect healthy dinner that will leave you feeling way better than before you ate it. It starts with some perfectly grilled salmon. You can grill either outside or "grill" underneath the broiler in the oven. Then pile that salmon with some garlicky wilted kale, rice and your choice of pairings. This is the perfect spring or summer dinner that is also paleo-friendly, Whole30 and gluten and dairy-free.
Last year was my first year of joining a local CSA and frequenting my new town's farmers markets. I came home week after week with incredible amounts of produce like this kale and garlic scapes, many of which at a loss of what to do with. (P.S. if you're looking to save money eating organic, a CSA is an amazing resource). This year I'm working through all the different types of produce I take home to create into delicious meals that can be recreated by you.
Salmon Rice Bowl Ingredients
For the fish:
Wild Salmon
Olive Oil
Dijon mustard
Coconut Aminos
Lemon
Salt and Pepper
Kale
Garlic scapes (if available, or garlic cloves)
Cooked White Rice
Salmon Bowl Toppings:
Top your salmon bowl with whatever you have handy or you think might go well with it. I enjoyed topping mine with these options:
Avocado
Cucumber
Scallions
Radishes
Soft-boiled eggs
Sesame Seeds
How to Grill Salmon
There are two choices for grilling this salmon. The first is on a traditional grill outdoors. Though if that isn't available to you, feel free to "grill" this under your broiler.
To "grill" fish in the oven: Place broiler on high. Place fish on a lined and greased baking sheet and broil for 7 to 9 minutes depending on the thickness of your fish. Add sesame seeds to garnish.
To grill on an outdoor grill: Grease grill and heat to medium. Place fish on a sheet of tin foil and cook for 8 to 10 minutes until fully cooked to your liking. Add sesame seeds to garnish.
If you like this salmon recipe, check out these others:
[yumprint-recipe id='368′]

Grilled Salmon Bowl with Garlicky Kale
Happy Savory Sunday, my friends! I hope you had a wonderful Valentine's Day weekend. I absolutely loved seeing you pictures through Instagram, Twitter, and Facebook of all your LCK creations! It makes my heart happy to hear that you guys have success with my recipes and that it makes your transition to a clean eating, allergy-free lifestyle just a bit easier!
I made this recipe for Mike and I earlier in the week as an easy weeknight meal (yes, actually easy!), with no intention to photograph it. The life of a food blogger in the Winter months means not being able to photograph at night (unless using artificial lighting). So when we both tried it and nearly ate the entire batch in one sitting I knew I had to share it with you guys! I also knew that meant making another batch later into the week (fine by me), so I could catch some natural light. Perfect. We loved it both times. Traditional Cioppino Stew often times has mussels and clams, which you can definitely feel free to add in!


[yumprint-recipe id='120′]

What is your favorite type of soup? What is your go-to easy weeknight meal?
Easy Cioppino Stew
This Seafood Primavera is the perfect healthy alternative to the classic pasta dish! Such a great simple, veggie-packed Dinner for any night of the week!
I realized yesterday that of my many dishes made with spaghetti squash, almost all are meat-based and none of them contain seafood. That had to be changed! I was in Whole Foods when I began conjuring up ideas. Spaghetti squash infused with white wine, spices, garlic, veggies, and seafood? DONE! Eating healthy never has to be boring!
Seafood Primavera
This Citrus Mahi Mahi with Avocado Salsa is such a great light and healthy Summer dish! The creamy avocado, fresh orange juice, and delicious smoky grilled fish is such a flavorful combination. I can't wait to make this again and again.
I am always looking for quick and simple meals, and this Citrus Mahi Mahi with Avocado Salsa is just that! It takes 30 minutes to prepare, and is loaded with delicious bright flavors! If you are having trouble finding fresh mahi mahi, feel free to substitute it for another white fish. The perfect tropical flavors for warm Summer days!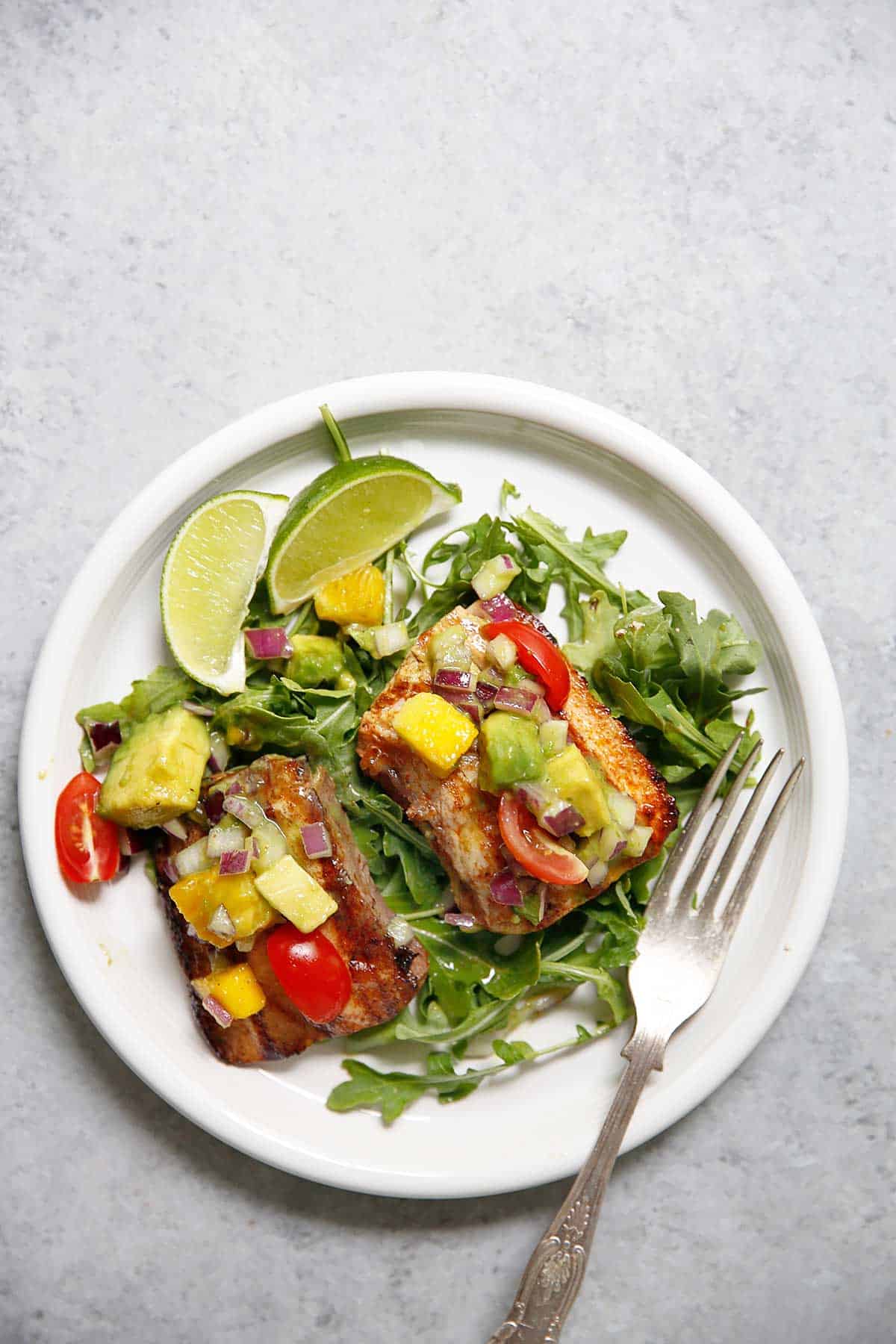 Citrus Mahi Mahi with Avocado Salsa
---
---
Ingredients
Mahi Mahi Marinade
1 avocado, diced
1/2 cup red onion, chopped
1 orange, diced  (can sub diced pineapple or mango)
1/8 teaspoon cayenne pepper
2 teaspoons lime juice
3 teaspoons fresh orange juice
1/2 teaspoon cilantro
1/2 teaspoon salt, more to taste
1/2 teaspoon black pepper, more to taste
Other Ingredients
1 lime, sliced into wedges for garnish
1 cup arugula
1/4 cup sliced cherry tomatoes
Optional: 1/4 cup diced mango
Optional: Pinch of red pepper flakes
Directions
In a bowl mix together the fish marinade ingredients. Place fish in the marinade, cover, and place in the fridge.
In a medium mixing bowl, combine all ingredients for the avocado salsa.
Mix well and set aside. Taste and adjust seasoning as necessary.
Oil your grill pan and place on the stove over high heat. Once hot, cook fish over medium heat for 4-5 minutes on each side. Fish should be opaque and flaky.
On a serving plate of choice lay down a bed of arugula with sliced tomatoes. Place cooked fish filets on the arugula and top with a generously amount of avocado salsa.
Drizzle with lime juice right before serving.
---
Nutrition
Loading nutrition data...