This Gluten-Free Carrot Cake is so easy to make, has such classic flavors and is perfect to serve a crowd. This healthier, more nutrient dense take on the classic carrot cake is gluten-free, dairy-free, paleo friendly and made without any refined sugars! It can be topped with a classic cream cheese frosting, or made dairy-free with homemade fluff. Either way it will be welcome at any celebration or holiday dinner (or just a regular tuesday afternoon)!
Gluten-Free Carrot Cake
We are so in love with this Gluten-Free Carrot Cake! Aside from the fact that this carrot cake is just darn delicious, our version is so much more nutrient dense and healthier than a traditional cake that we don't feel so ridiculous eating it for breakfast. It's the perfect cake to serve at a celebration of family holiday and is a breeze to make! The cake itself is also dairy-free and paleo, plus we give options below for changing out the cream cheese frosting..
This Gluten Free Carrot Cake is SO EASY to make because it's made all in one bowl! So we wanted to keep the rest of the cake simple too by making it a sheet cake. We baked it in a 9×13″ cake pan, but it will work in any similar sized baking dish. We've done layer cakes in the past year (see chocolate and vanilla versions) so this just felt like the way to go, though you can bake this as a layer cake if you wanted. In the past we've recommended always baking our style of gluten free cakes in 6″ pans because they are slightly more delicate while also being heavier than traditional wheat cake, but this one might work well baked in 2-8″ cake pans if you'd like to make it a layer cake.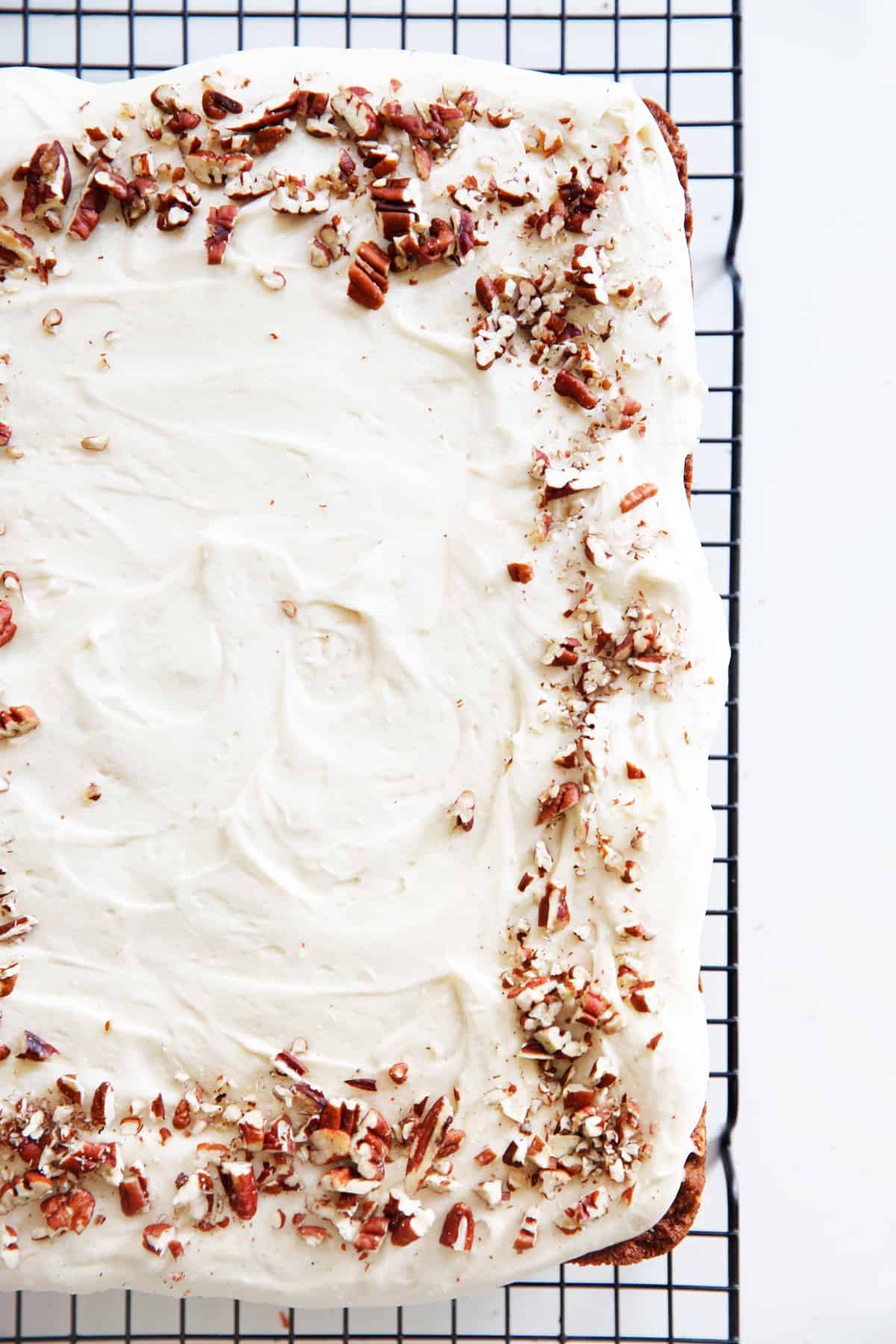 Which gluten free flour is best for cake?
As always we love our favorite blend of almond and coconut flour. It is so moist and tender and really easy to use. Most people wouldn't be able to tell the cake was gluten free. If you are looking for a nut free cake, check out this recipe here.
Other frosting options:
We've opted to top this with a classic cream cheese frosting, but you can feel free to use either a dairy-free cream cheese with this recipe or instead top it with our Marshmallow Fluff recipe which is dairy and refined sugar free. This cake is also delicious by itself and can be served alone, but this gluten-free carrot cake uses less sugar than most carrot cakes so you may notice it more without a frosting.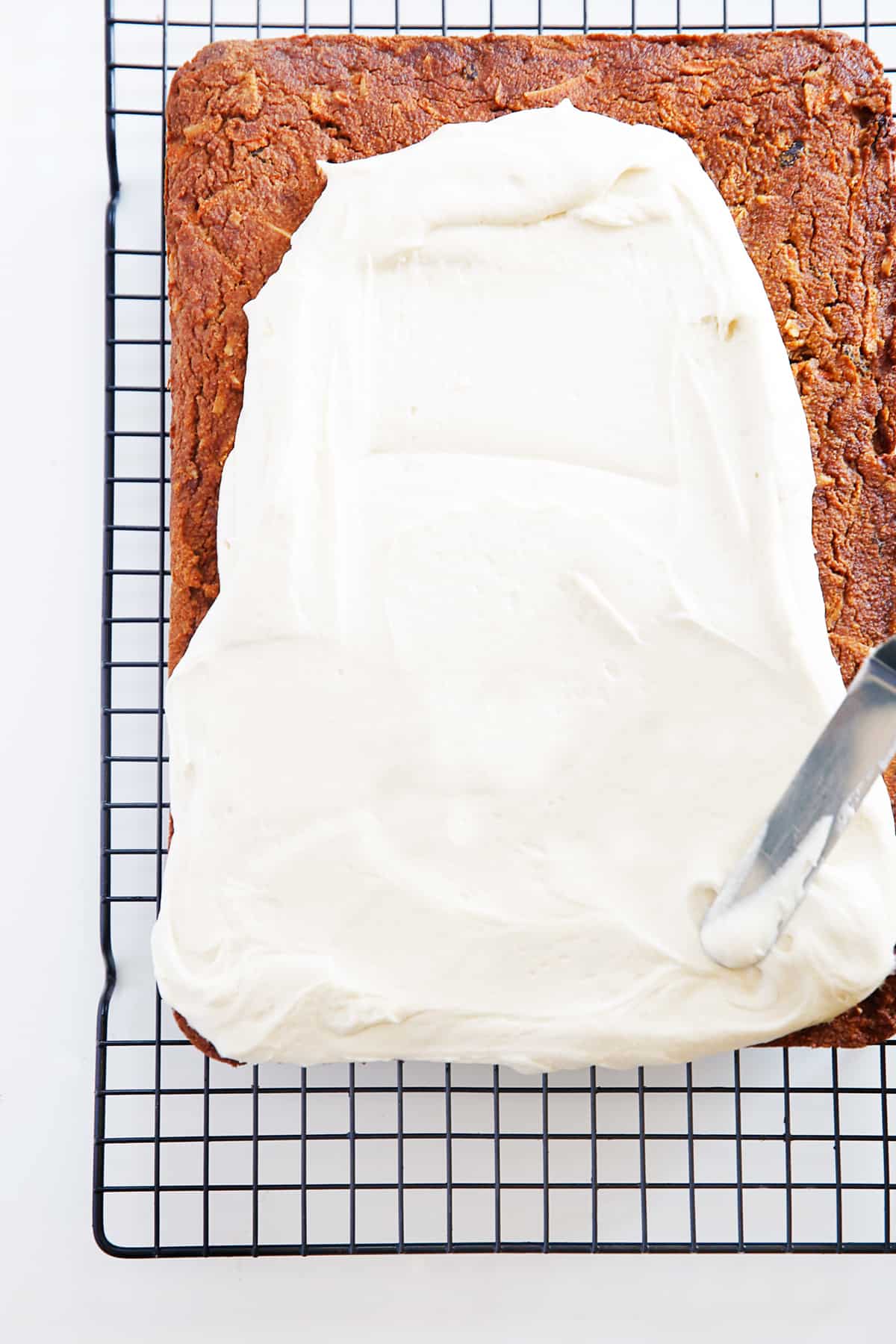 Tips for Making Gluten-Free Cake
Sift your almond flour and coconut flour first if they are lumpy. It makes it easier to fully incorporate.
Use an electronic kitchen scale if you have one. It makes it easier to measure the gluten free flours, and we've included grams in the ingredient list.
Gluten free cakes are a little tricker to check when they are done. Some signs to look out for: the cake is nice and golden brown, it has completely puffed up throughout, cracks are not uncommon, when you stick toothpick it it should come out clean, and when you gently press in in the center of the cake it will spring back as opposed to leaving a dent (which is a sign it is underdone).
Let the cake cool completely before frosting.
The cake can be made up to two days in advance. Leave it at room temperature covered until ready to frost.
We direct you to use a parchment paper sling to bake the cake in. If you plan to serve the cake inside of the baking pan you do not need to use this. If you want to take the cake out and serve on a different platter the sling will help you easily take it out of the pan.
Once it is frosted it needs to be kept in the refrigerator. It can be assembled up to two days in advance. As most cakes, it will get more moist each day it sits.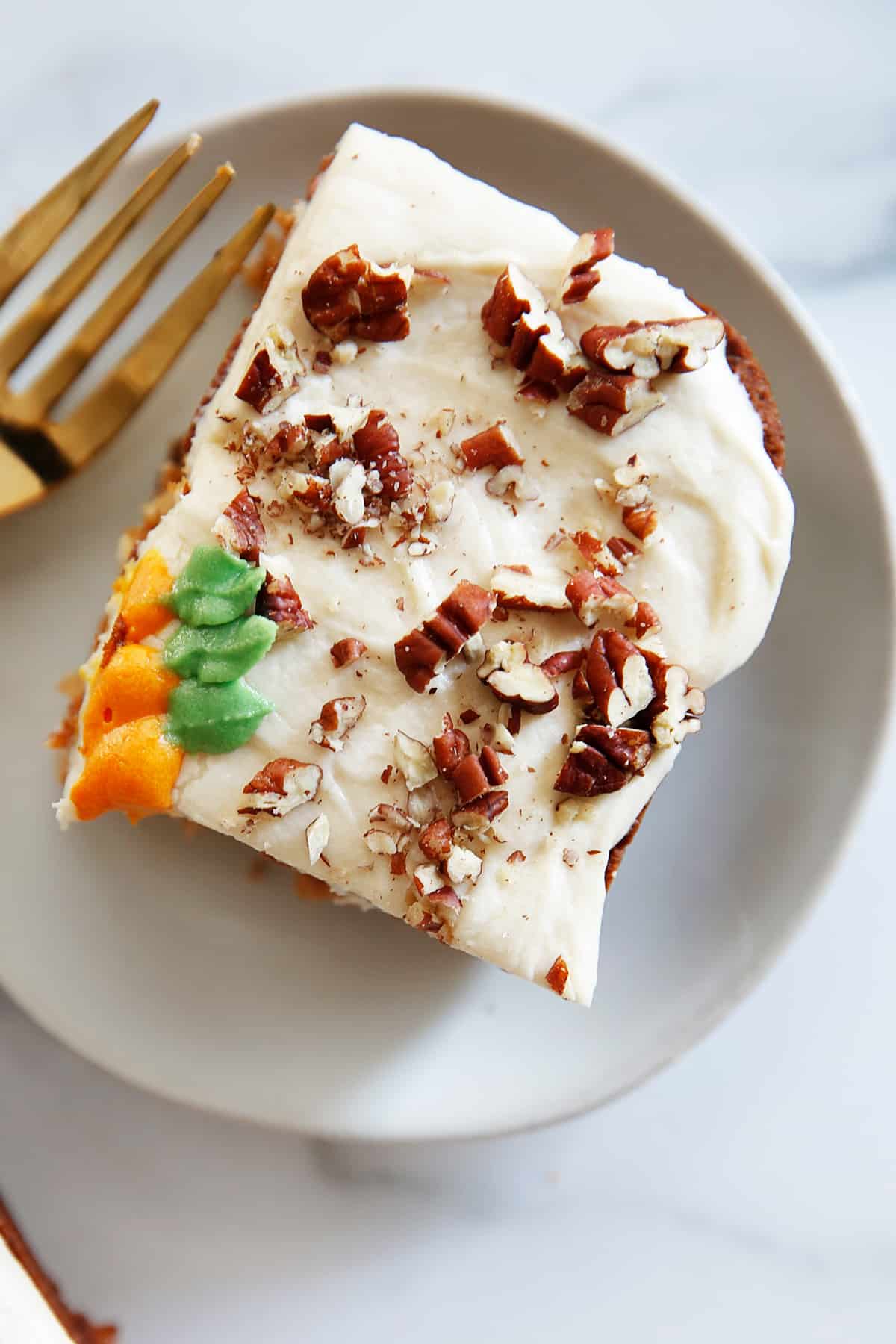 In this recipe, we used these tools:
Electric Mixer (for frosting)
Other Essentials:

Bowls
Whisk
Rubber spatula
If you like this cake recipe, check out these others:
Ingredients
For Cake
For Frosting
Directions
Preheat oven to 350ºF. Prepare a 9" x 13" cake pan or baking dish by coating with cooking spray and making a parchment paper sling. Set aside.
In a large bowl add the avocado oil, coconut sugar, eggs, almond milk and vanilla extract. Whisk well until fully combined.
To the bowl add the almond flour, coconut flour, baking powder, baking soda, spices and salt and whisk it together until it's fully combined.
Fold in the carrots, pecans, coconut and raisins.
Place batter into the prepared baking dish and smooth down the top with an offset spatula.
Baking in the middle rack for 45 minutes, or until the top is puffy and the cake springs back when lightly pushed down in the center.
Let cool completely. This step can be done up to two days in advance.
To make the frosting:
With an electric mixer beat the butter until fluffy, about 2 minutes. Add the cream cheese and vanilla and beat until the mixture has lightened up, about 3 minutes.
Add the salt and sugar and mix on low speed until well blended. Increase the speed to medium and beat until fluffy, 1 to 2 minutes.
To assemble:
Place the frosting in the center of the cake and smooth it over the cake with an offset spatula, creating waves.
If desired top with chopped pecans.
Recipe Notes
You can swap out the avocado oil for another baking oil you have on hand, such as melted coconut oil or light olive oil.
Looking to make a smaller cake? We've included a halved recipe below. You can bake it in either an 8x8" square baking dish, or a 8" cake pan. Baking time will be between 30-35 minutes. Look for a lightly browned top that has puffed up all over and the middle springs back when lightly pushed in.
Ingredients for a half recipe of Gluten Free Carrot Cake:
1/4 cup avocado oil

1/2 cup coconut sugar

3 eggs

1/2 cup unsweetened almond milk (or milk of choice)

1-1/2 teaspoon

vanilla extract

2 cups (192g)

almond flour

1/2 cup (48g)

coconut flour

1/2 teaspoon cinnamon
1/8 teaspoon ginger (optional)

1 teaspoon baking powder

1 teaspoon baking soda

pinch

fine sea salt

1-1/2 cup carrots (2 large)

1/2 cup pecans (optional)

1/4 cup shredded coconut (optional)

1/3 cup raisins (optional)
Cream Cheese Frosting:
Nutrition Facts
Servings: 16
Amount per serving
Calories
240
Total Fat 16.1g
21%
Saturated Fat 10.1g
51%
Cholesterol 46mg
15%
Sodium 136mg
6%
Total Carbohydrate 23.1g
8%
Dietary Fiber 0g
0%
Total Sugars 22.2g
Protein 1.7g
Gluten-Free Carrot Cake WITHOUT Frosting:
Loading nutrition data...
There may be affiliate links in this post! By clicking on them, or purchasing recommended items I may receive a small compensation, at no cost to you! However, I only recommend products I absolutely love and use in my own home! Thank you for supporting Lexi's Clean Kitchen when you shop! See my
privacy policy
for more information about this, the information we save, and more!